Showing newest entries, #6 to #10 of 22.
Still Our King
2017-09-29
Hey, friends. So, I know I said a new series was going to start 'very soon,' and I actually had planned to get it up this weekend, but... I didn't get enough gameplay done to make an entry yet. While I did play a lot, there's a lot of repetitive chore stuff in Harvest Moon, and it would be a really boring diary to be like "Today I watered the potatoes again. Still haven't come in." and stuff like that XD
But!! I did a thing!! I actually got out my Wacom and not only started a project, but finished one! To be honest, I have no idea how I did this at all, much less in only three evenings. I was trying out a few new styles and techniques and I really think I'm refining my painting skills.
Anyway, here it is: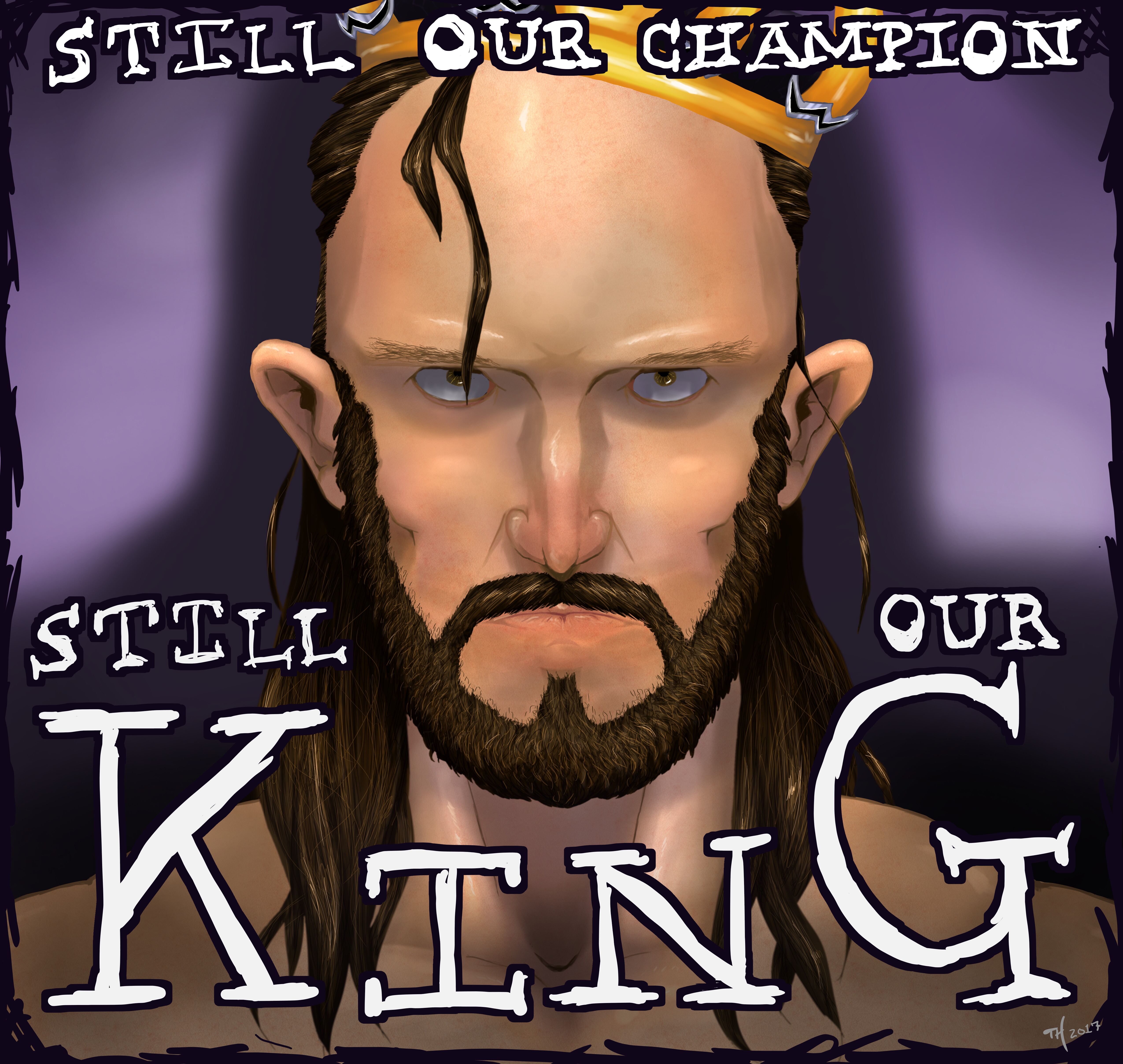 If you follow me outside of ThaaoNET, you probably have noticed my recent obsession is the WWE Cruiserweight Division, and I've been ridiculously engrossed in the recent happenings (and have way too many feels about it). If you know anything about it, you know exactly what I mean, and if you don't... well, I don't feel like explaining it all here, soz lol.
Anyway, the King in the pic is Neville, who I love very very much. There are rumors he might be getting pushed to the Raw main roster now that he's lost his title (which would be such a kick in the crown jewels to us 205 fans because we all love Neville), but honestly I would much rather have 205 Live become a huge hit show with Neville still as a primary member of the roster. But it has had struggling ratings, and the ratings are going up now but only because the show's going in a different direction that doesn't involve Neville reigning as champ.
I used FireAlpaca with default brushes and a few brushes I made myself (which are just modified defaults). I used a seamless human skin texture that you can see overlayed in some parts -- this was from Giles Hodges's textures. Reference pictures were from WWE's official site and screencaps of 205 Live.
If you want to see the full-res and/or without the writing and stuff on it, here's full-res and alt versions:
Full-res
Full-res textless/borderless
Full-res Neville only
Thanks for stopping by :D Should be getting some more episodes of ROCKMAN and Final Fantasy V up this weekend. And maaaaaybe I'll play a bit more Harvey enough to write up an entry for it this weekend, too.
Coming Soon!!
2017-09-26
Hello friends! Thaao here. Thanks for reading and commenting. Just wanted to make a little announcement...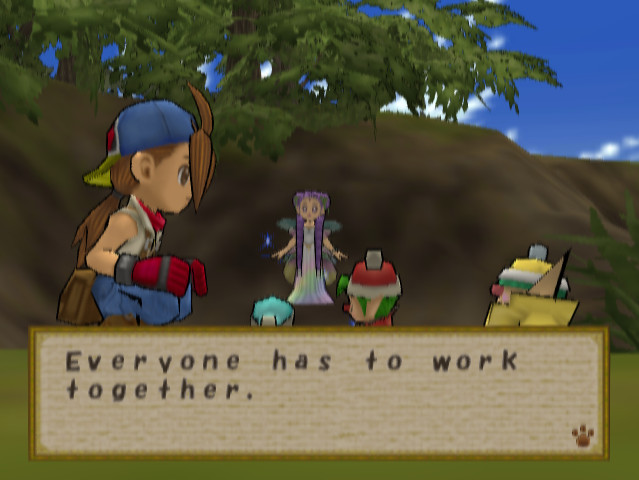 A new series is coming very soon!! :D Doing the gameplay right now, which you can also follow on Twitch. And speaking of Twitch, I'm also doing a playthrough of Pokemon Crystal, where viewers get to choose the monsters I use. The whole party is accounted for already, but hopefully it should be fun. Not gonna make a diary series about it though, sorry :P
I've been wanting to have a game that I just play on my own recently... as in, not streaming. So I guess I should really get back to TokiMemo3 and RSG3, huh? But I have a weird hankering to play Rune Factory 4. I really shouldn't get into that, though... I have too much to focus on right now XD
Anyway, thanks for stopping by. Also I put a link to my Twitter in the main menu. But really I need to make little icons for Twitter and Twitch and stuff, so people can follow them more easily. I really doubt people want to bother bookmarking my site and checking up on it regularly XD (ETA: Okie, the icons have arrived. ENJOY!!)
But yeah, as always, I'm terrible at ending things. BYE
ROCKMAN LAUNCH!!
2017-09-20
Hey friends! I'm excited to launch that I've finally written the intros and the first entry to the ROCKMAN Play Diary! Check it out!
If you don't want to read the giant intro stuff, in short: I'm doing a play diary based on my attempt to clear the game (one stage at a time) taking no damage whatsoever. It's... very hard at times. In fact, the very first entry took hundreds of attempts to finish.
I didn't want to blather any more than I already was in the diary proper, so I'll talk a little bit about naming conventions here.
It took me a while to really decide what naming conventions I wanted to use for the game titles and characters (lol remember my Wod/Ward thing) because they aren't consistent across the series nor the fandom. So I'll explain why I chose the things I did:
Japanese names - I decided to play the Japanese versions of the games because they are much more consistent. Plus the titles are a lot easier to distinguish. Some examples: Wily is called Wily, Willy, Willey, Waily, etc. throughout the series. In Japanese he's always just "Wily." Later in the series, you'll see even weirder things, like in Mega Man X5, they decided to create all new names for the characters (even more different than the normal name changes), but then had Squid Adler (originally Volt Kraken) refer to Launch Octopus (originally Launcher Octopauld) as "Octopardo," using not only the Japanese name, but spelling it wrong... And then with the game titles, there's stuff like how Mega Man 5 is the fifth NES title, and Mega Man V is the fifth Game Boy title, but Mega Man 5's title is written as Mega Man V in the game, and stuff like that... This kind of confusion just doesn't exist in the Japanese version. There are many times I actually prefer localization changes (and when talking about the game casually myself, I will use my preferred titles and names for everything using my own consistent conventions I've created lmao), but for the sake of the diaries, I'm siding with consistency.
Character name stylization - This is something that differs throughout the games and fandom as well. Is it "Magnet Man", "MagnetMan", "MAGNETMAN", "Magnetman" ...??? I double-checked with the eleven main games (I didn't really look at the GB games) and the first two write the names like "MAGNETMAN", while after that they are consistently stylized with a space ("MAGNET MAN"), except for in ROCKMAN6, which for some reason reverts to the former style. Also, they're usually only in all-caps because they appear in places where all the text is capitalized anyway. In the few cases where it is not, they're either written in Japanese or with normal capitalization rules. So I'm going to be consistent with that stylization and use "Magnet Man." There is one exception -- the titles of the games and the lead protagonist seem to always be stylized as "ROCKMAN" even in contexts where the other characters' names are not stylized as such, so I will continue to use "ROCKMAN" for the game titles and the name of the main character when specifically referring to his ROCKMAN persona in contrast to his character as a whole or his service robot persona. In general, I will just refer to him as Rock, because that's his name and it's a lot easier to type.
Game Titles - To make this one short, I'm stylizing the titles this way simply because it's the way I like it best. There's lots of competing stylization here, too. Classic main titles are written with no spaces (ROCKMAN2 &c), the same with X titles (ROCKMANX7 &c). Titles that use multiple words will be spaced (ROCKMAN & FORTE, ROCKMAN WORLD 3). Except for the words "X" and "ZX" titles that contain multiple words will be spaced (ROCKMAN & FORTE, ROCKMAN WORLD 3, ROCKMAN Zero 4, ROCKMANZX Advent &c). Again, all this is just... the way I like it.
The period after "Dr" - This is just a personal stylization thing. I don't write a "." after "Dr" (Doctor) and other titles (Mrs, Lt, etc.) because I don't like the way it looks, even if this is prescriptively improper. Since there are many "Dr" characters in this series, it will come up a lot, lol.
That's all I can think of for now. Hope to get Judy's scenario finished today, too, so be on the lookout for that!
No video games for a whole weekend
2017-09-18
Hello, friends. I was planning on doing a lot of updating this weekend, hoping to finish up FF5, Judy's scenario, and get to work on ROCKMAN (and maybe even finish that), but I left my power cable for my laptop at my dad's apartment so I couldn't use my computer at all...
I did actually end up writing a couple of the ROCKMAN entries on my phone (lol) and watched a bit more of Star Trek; I finally watched The Undiscovered Country, which actually was really great, especially compared to the rest of the movies lol.
I also got out the ol' notebooks and took a bunch of notes on Rogue Nightmare stuff, and I'm kind of eager to get back into dev for that. So maybe once I get caught up on the diaries, I'll keep going with Harvest Moon (which is next on the agenda) and Tokimeki Memorial (which I, uh, still have been neglecting) and try to work on game dev a bit. But that seems like a lot of things...
Anyway, I do want to start Save the Homeland very soon, so I'll be happy to go ahead and start taking name ideas. I will probably prioritize regular readers and stream viewers first, though. But, uh, I don't even know if anyone actually reads these blogs :,) And in the end I will just choose the name suggestions I like the most first.
But yeah, leave comments with name ideas for the following things:
The farm
Pet doggie
Six or so chickens?
Cows. Lots of cows.
Gonna do the player character's name and horse's name myself, sorry :P I sell cows and get new ones regularly, so I will probably need lots of cow names.
Anyway, gotta go to the grocery today, which is an event in itself, but I'll probably stream later, even though I have no idea what to play since I don't really want to go on with unsaga right now and in general just don't have anything to play. Maybe I'll do another run of Dream Daddy or just mess around with some more Mega Man. Any requests?
Where have all the updates gone?
2017-09-01
HEY FRIENDS.
So, I haven't updated in like... three weeks?! Well, other than the update I just posted today (new unsaga entry~ check it out).
Besides the normal health stuff (which is kind of an all-the-time thing) I was also trying to get my FF5 playthrough done for the end of the Four Job Fiesta. I did! And my victory was verified, yay~
I'll be continuing to update the journals on it. I've also been heavily working on getting ready for the newest play diary that I'll be adding to the site -- I know, I know. I already have three going and I can't even keep up on them properly. But, uh, there are times I become super hyperfixated and it's pointless to try to work on anything else.
Also I had another obsession unrelated to this site, but luckily the initial fixation of that has at least worn off where I can get back to work.
I'm also thinking of trying to get back into streaming again. I'm thinking of making Wednesdays in general a 'chill day,' spending the daytime catching up on stuff I'm watching (which is pretty much Hello!Station, 205Live, and sometimes RAW and Smackdown, and then maybe some Star Trek of course) and then streaming the rest of the day. I did stream the other day, playing ROCKMAN, and a few people came even though it was my first time ever streaming on YouTube, so that was cool (twitch was dead idk)
I kinda like the YT streaming, honestly, so maybe I will move over there...? But I have a lot of friends on Twitch, so IDK.
Anyway, now that the playing of FF5 is completely finished, I'm going to be posting a lot more entries. Judy's scenario is almost done, too. I really need to play TM3 again lol... I stopped playing after the xmas party so there's not any more to write.