Chapter 11
Evanescence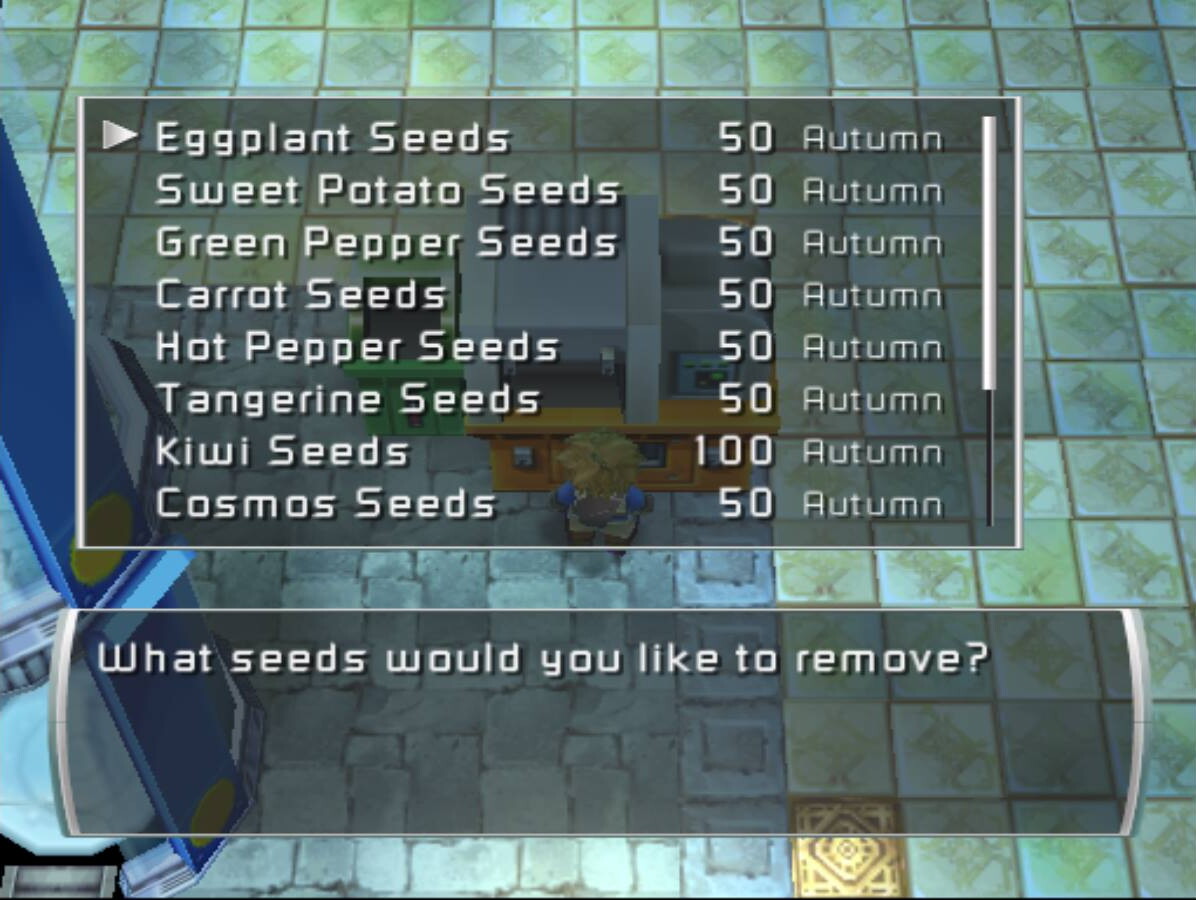 Well, this week was fairly uneventful. I started out by going to the store and buying. A lot. Of seeds. And the new engine thing for B&R even though I can't really use B&R yet.
But yeah. I spent a lot of money XD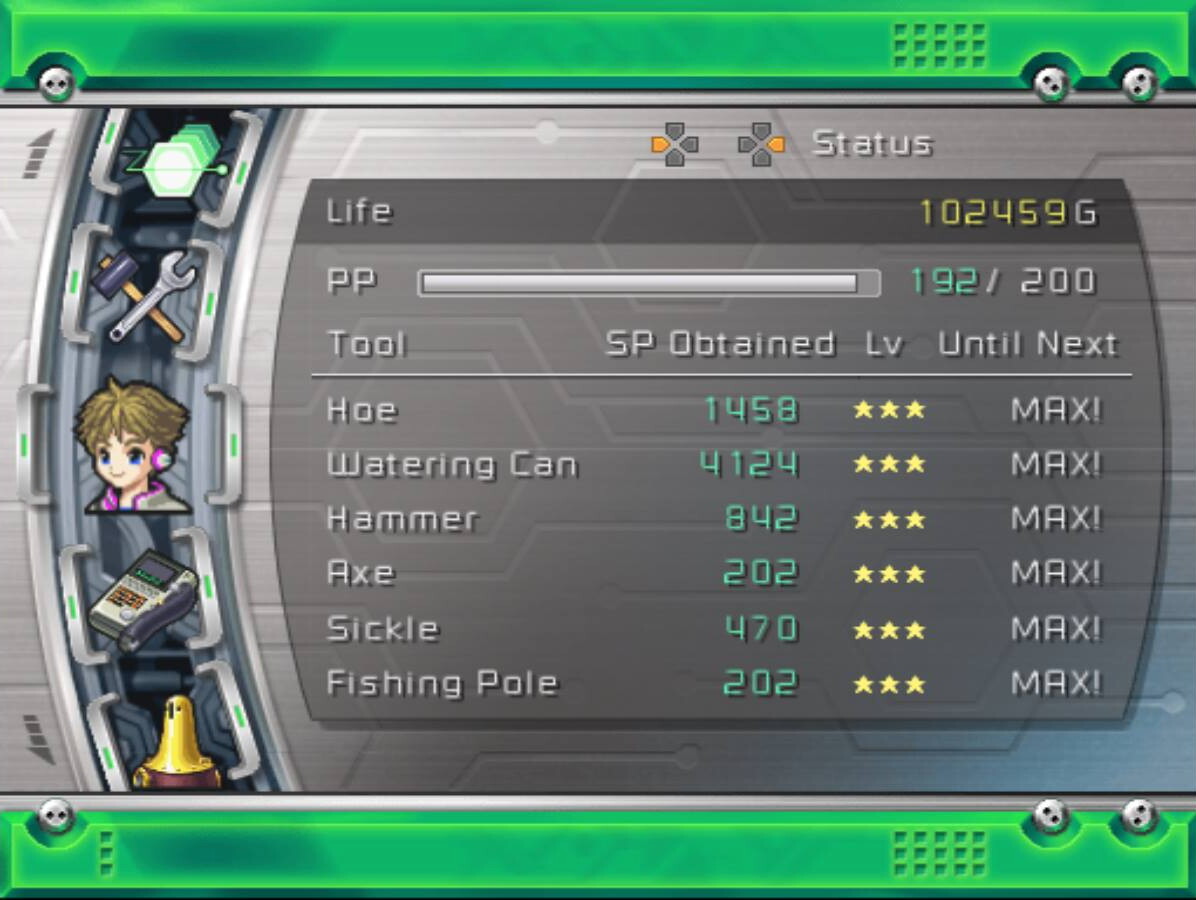 But it doesn't really matter because I have tons of money anyway O_o
I also bought the Cat Tails from the vending machine, since they weren't available in the store, and accidentally bought an extra 9 because I lost count of how many sets I had bought. I really wish they didn't make you buy them 9 at a time... it's so obnoxious!
I spent all of Monday and Tuesday planting. I made the left (yellow) field completely filled with renewable crops, and then the right field (blue) is about half full of the crops that only come in once. I don't plan on replanting after they're done -- at this point I'm rich enough and still have a steady income from animal products that it doesn't really matter about the money... I'm just focusing on getting every type of crop shipped for now.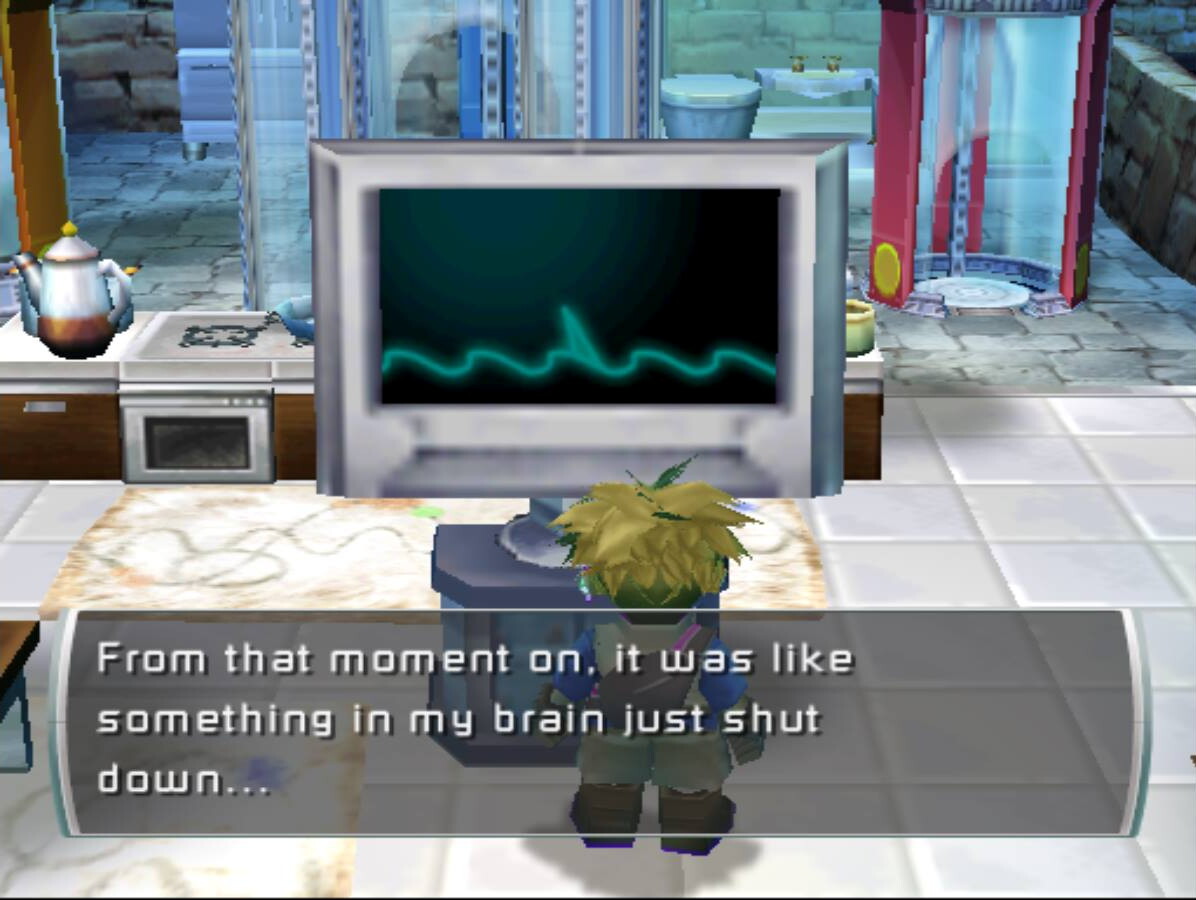 This week's TV was eh. Melancholy Woods revealed that the siblings were hit by a car, and narrator kid said their brain shut down. Same old.
Final Z was about some new aliens appearing, and Blue seems to be slowing everyone down by trying to manage their budget (taking different vehicles/routes to conserve gas/money even if it takes longer to respond to threats) and Pink got turned on when Green told Blue off, which made Green choke because Green has had crush on Pink since the beginning.
Where's My Mommy was just more of the cat realizing the fake mommy was a bully??? Then cried. Like... I hate this show LOL
Miss Cute was horrible, too... a guy wished to be 2in taller so she like hit him on the head so he got a 2-inch bump...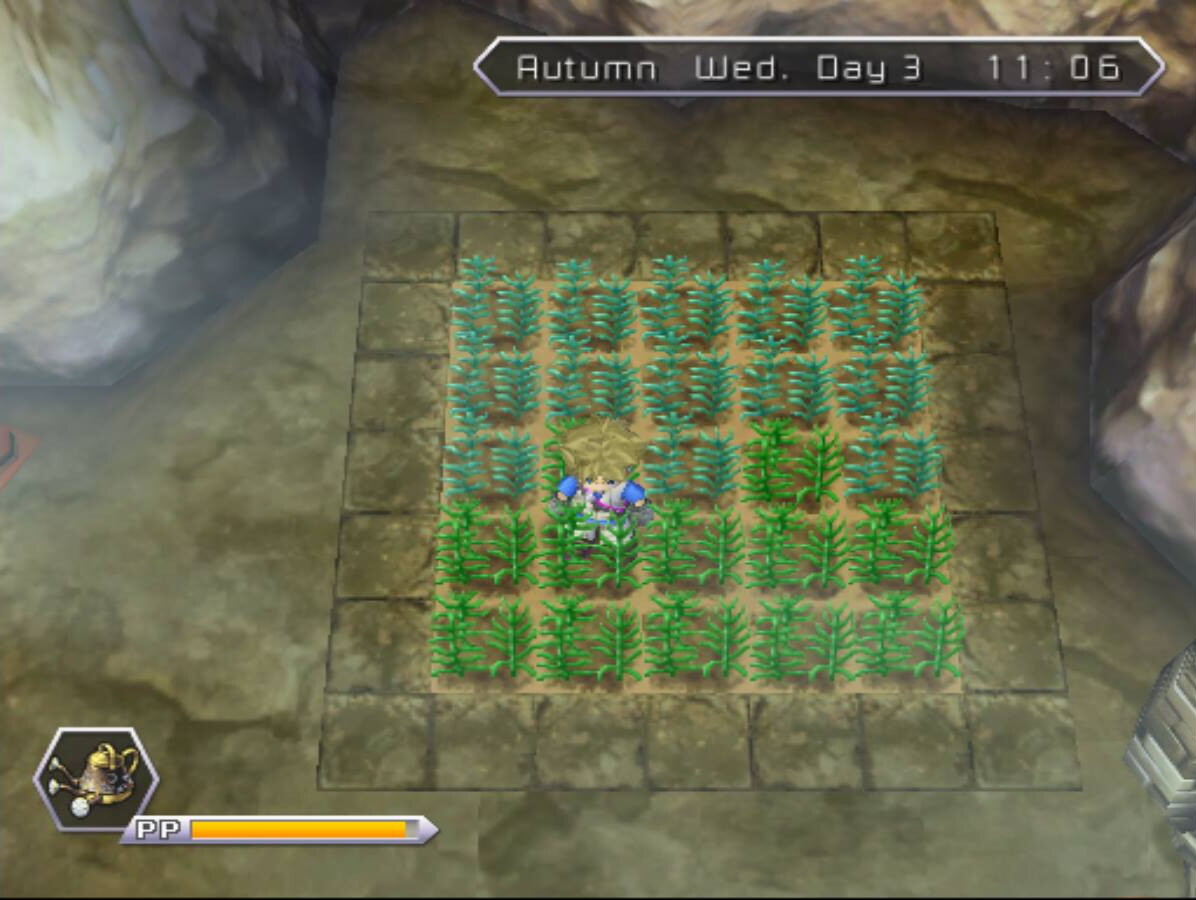 The herbs in the cave seem to be coming in slowly...? They're supposed to take 10 days but going based on when I thought I planted them, it should have already been 10 days?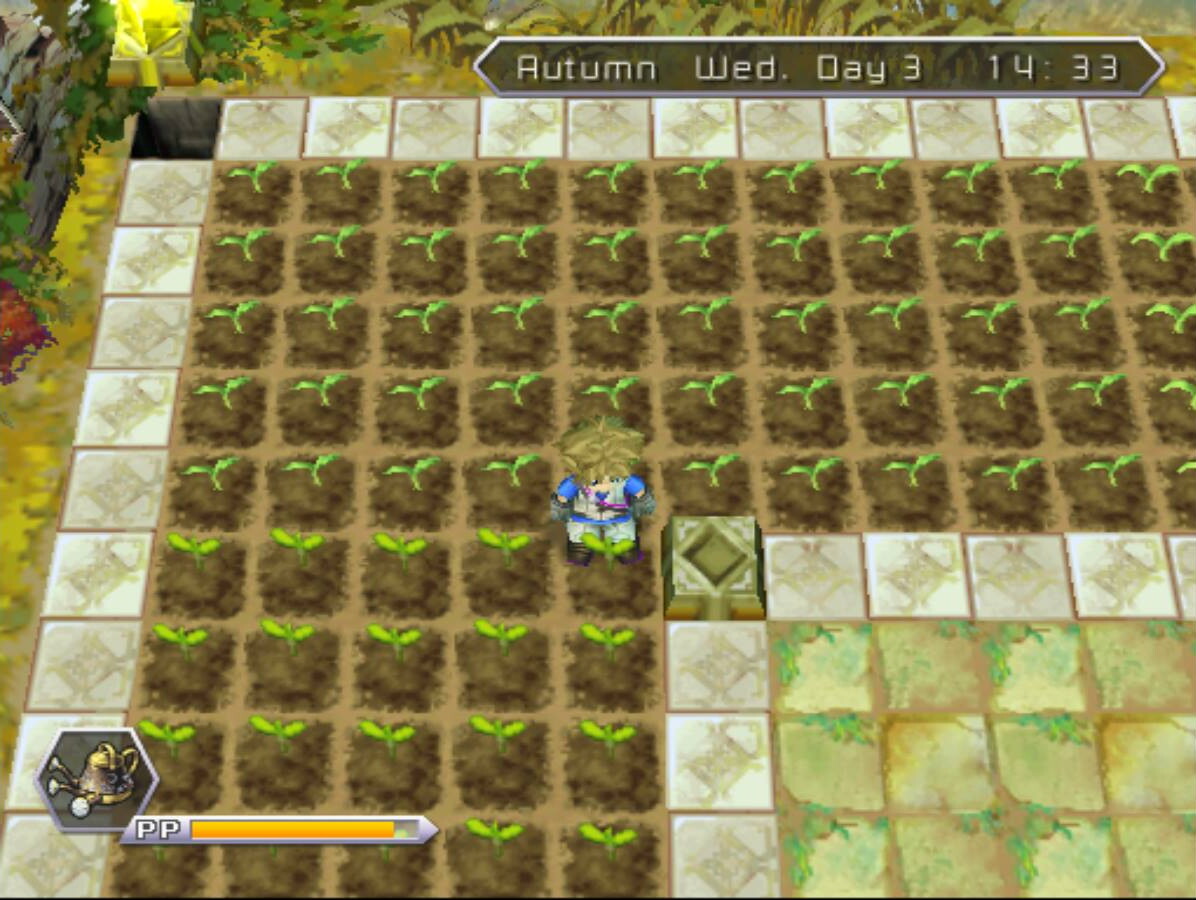 All my lovely crops are sprouting :D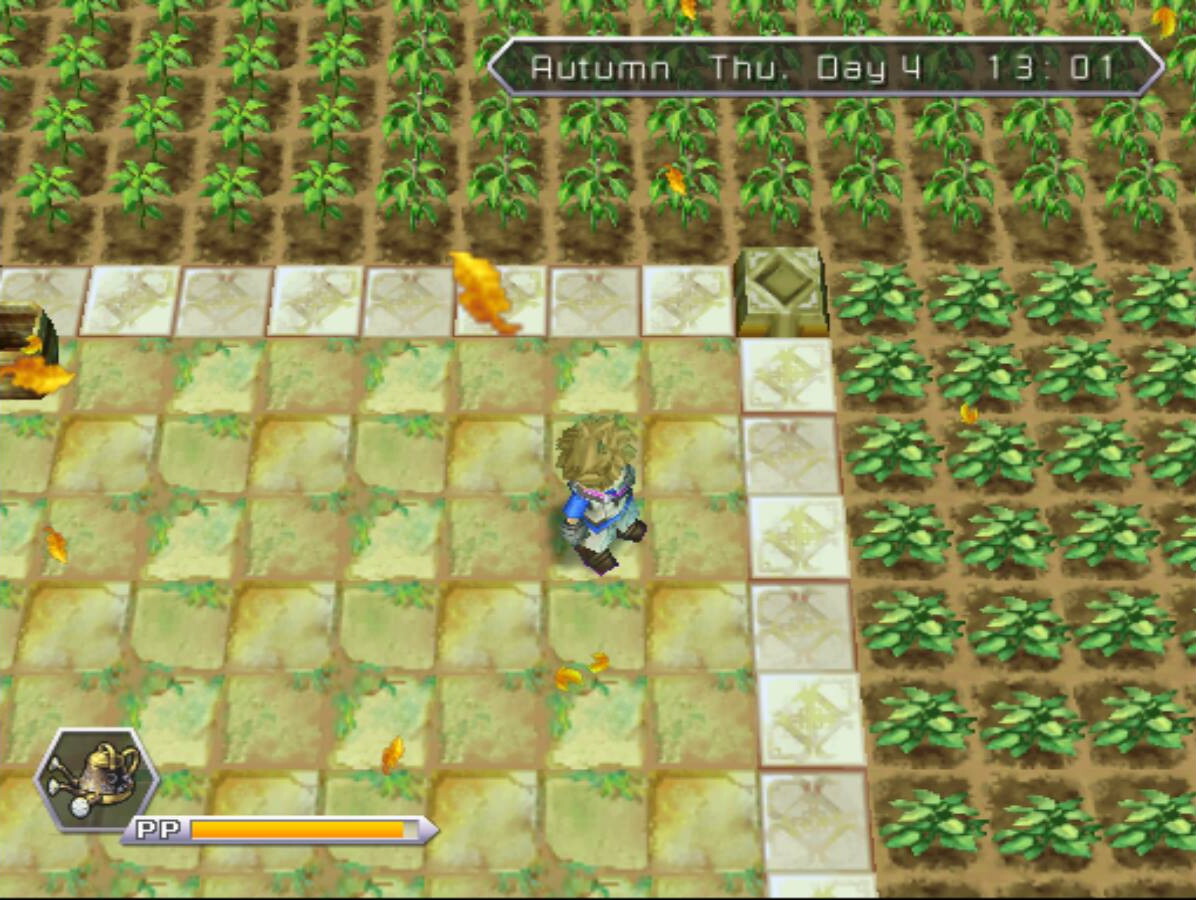 A day later...
Yeah, really not much happened this week :\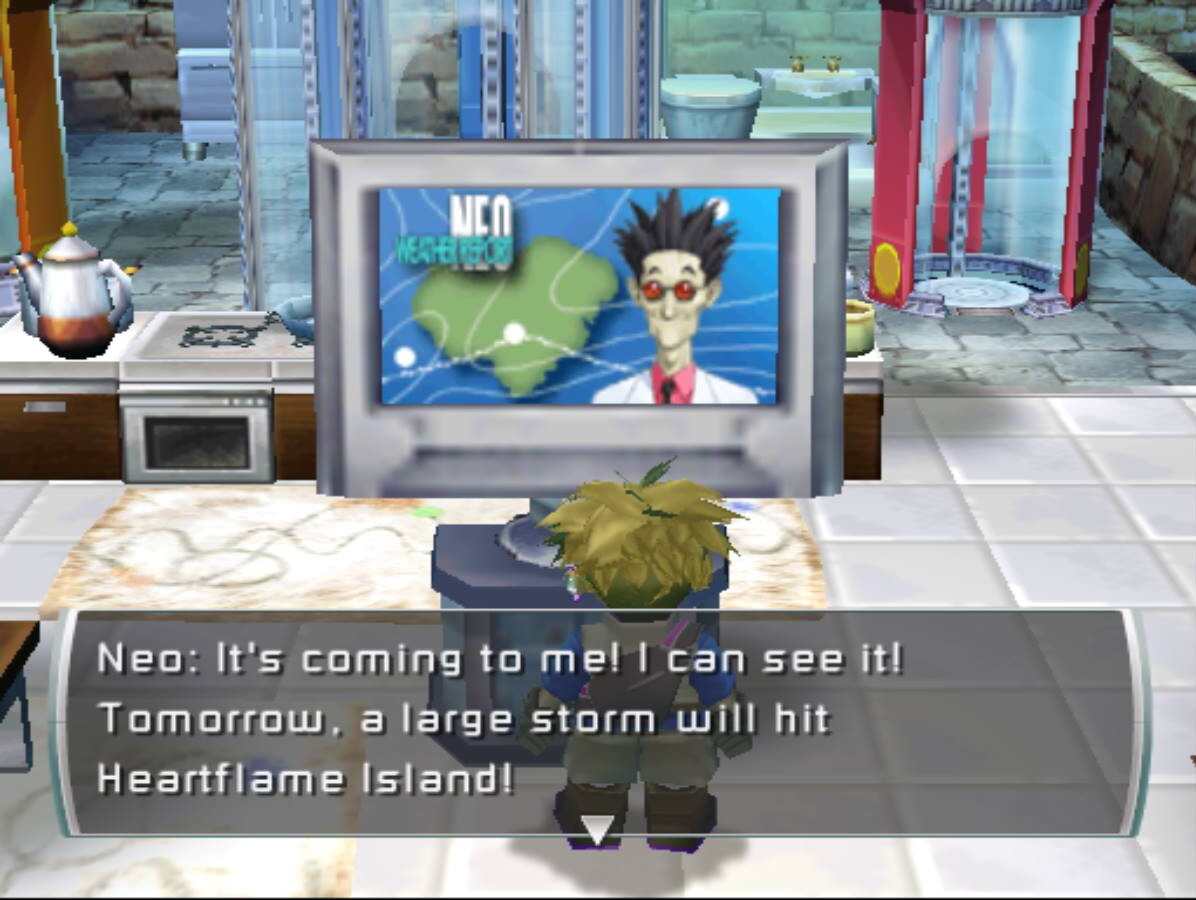 ... Except this...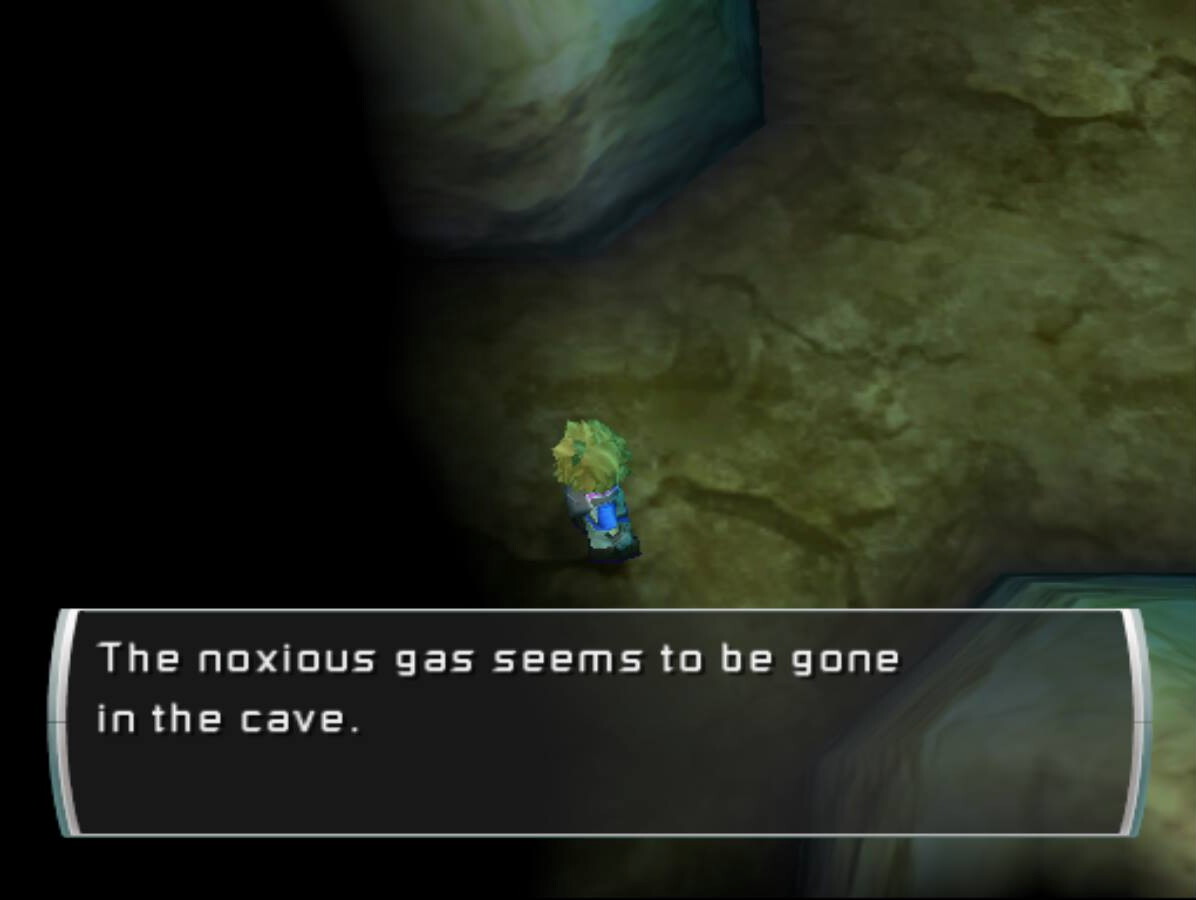 I still trudged to the cave slow-buggying all the way there to make sure I watered the herbs... but apparently they already grew!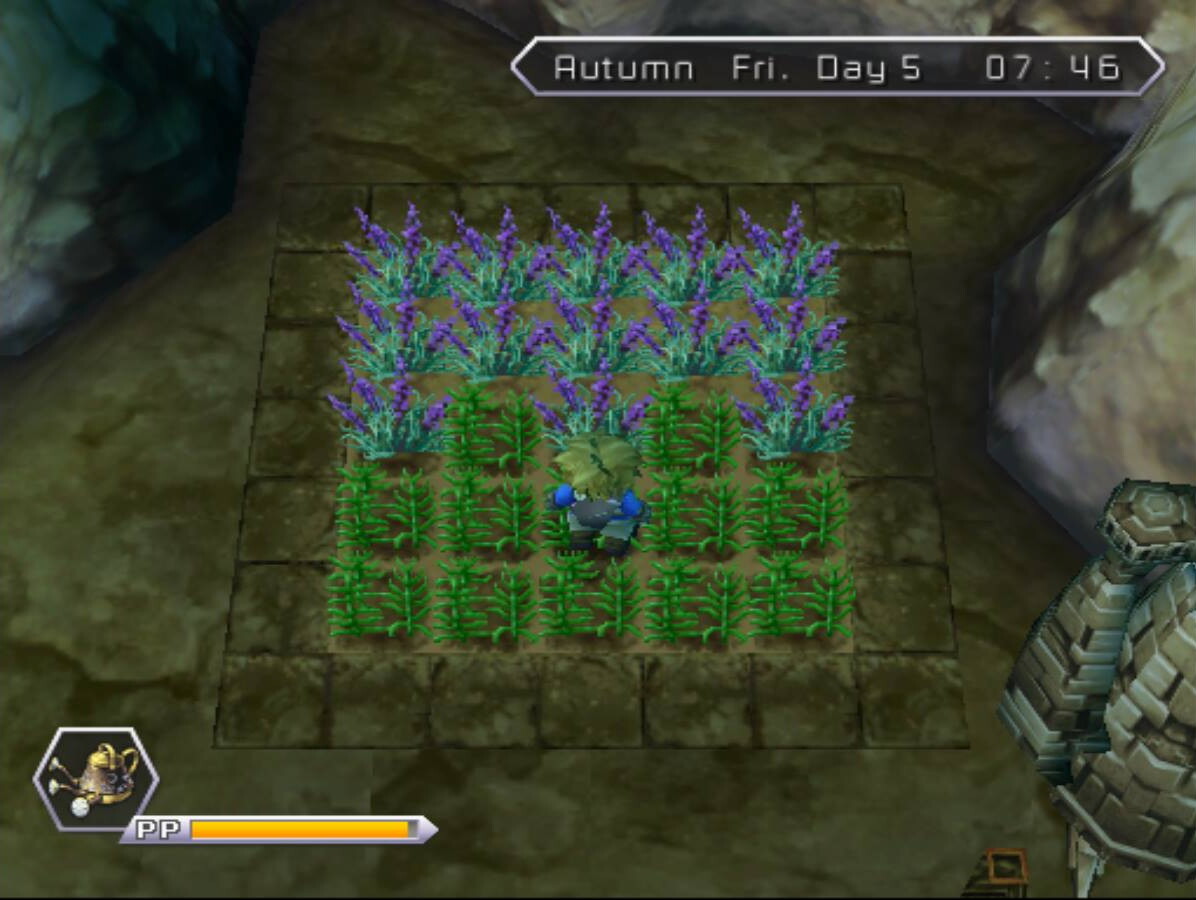 I'm starting to think the rosemary was supposed to look like that fully grown, and now the lavender has come in, too, completing the square.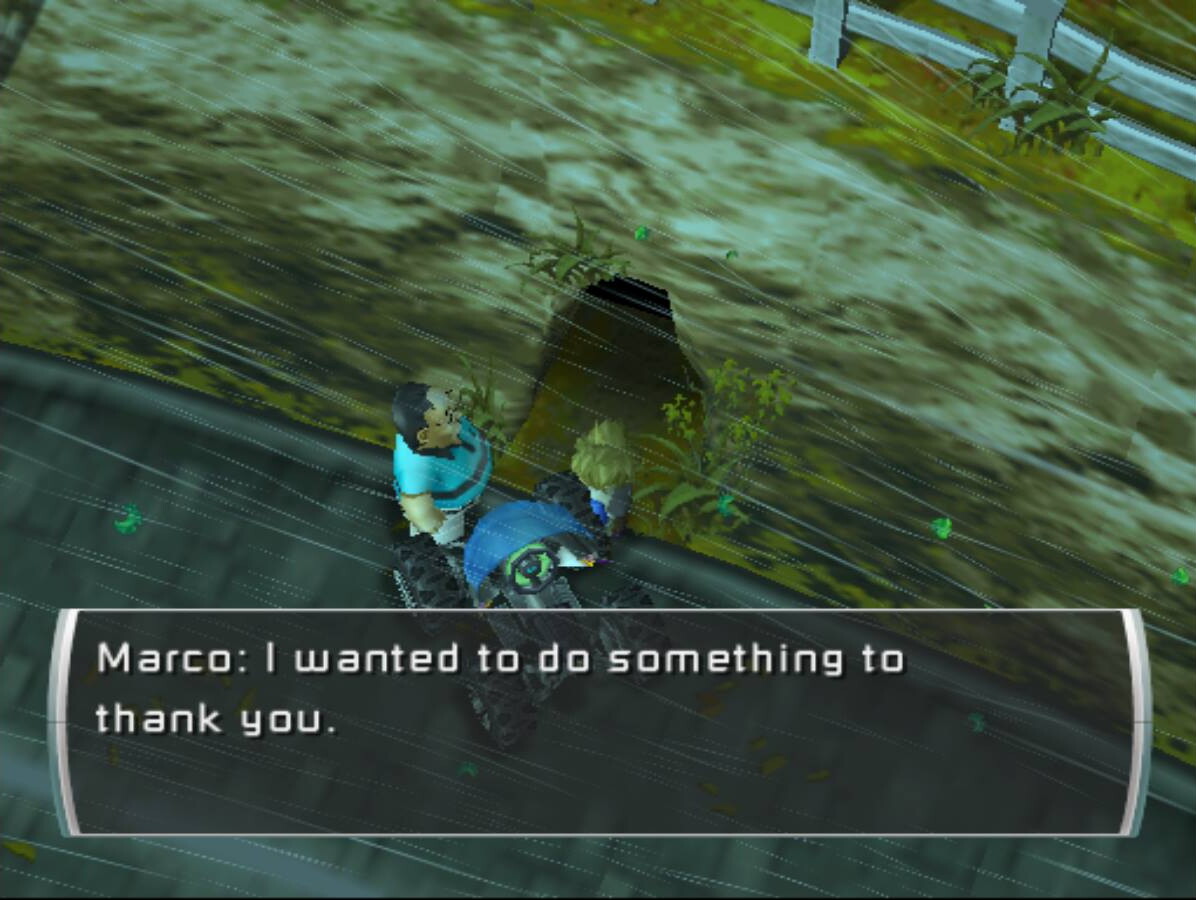 It triggers this Marco scene... so he came all the way out here in a storm just for me XDDDD
But he said in order to thank me, he'll build extensions for Naoki :D :D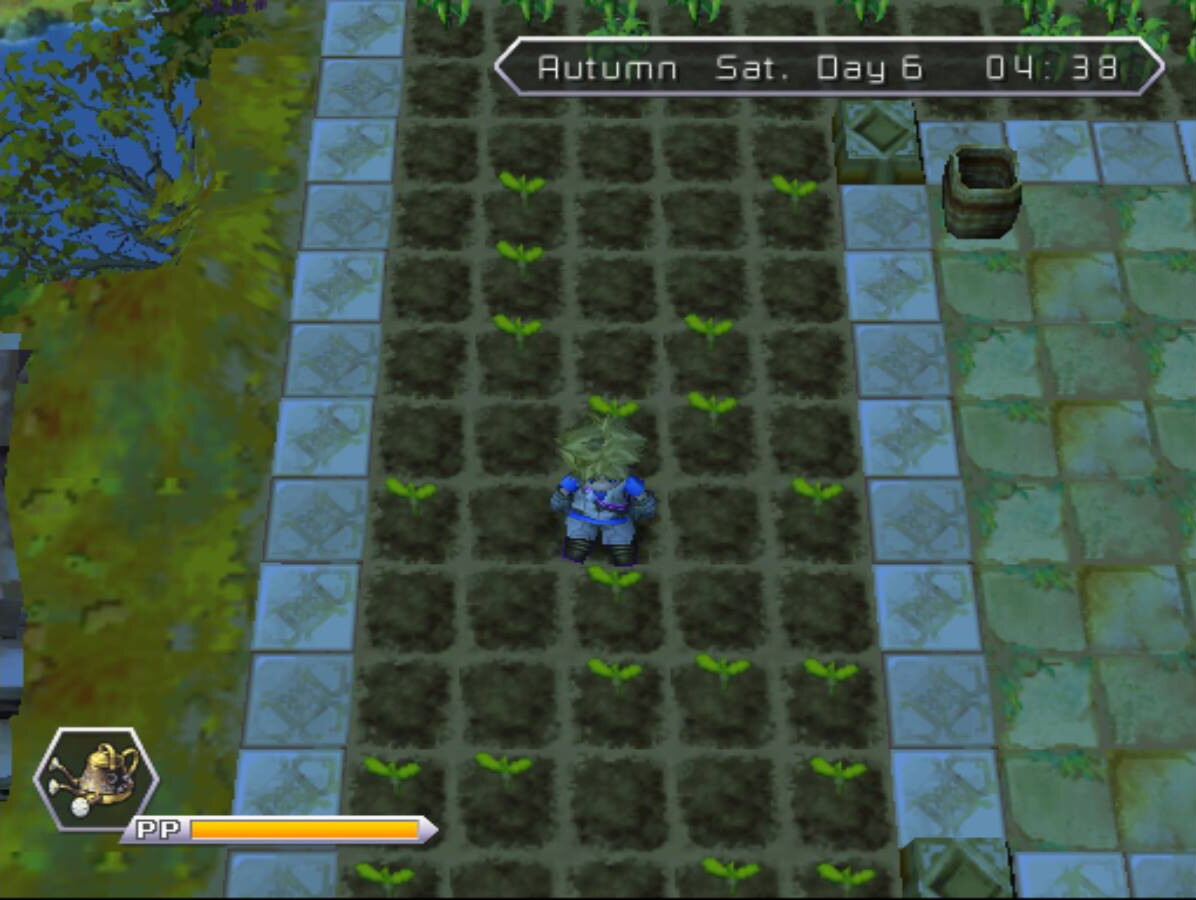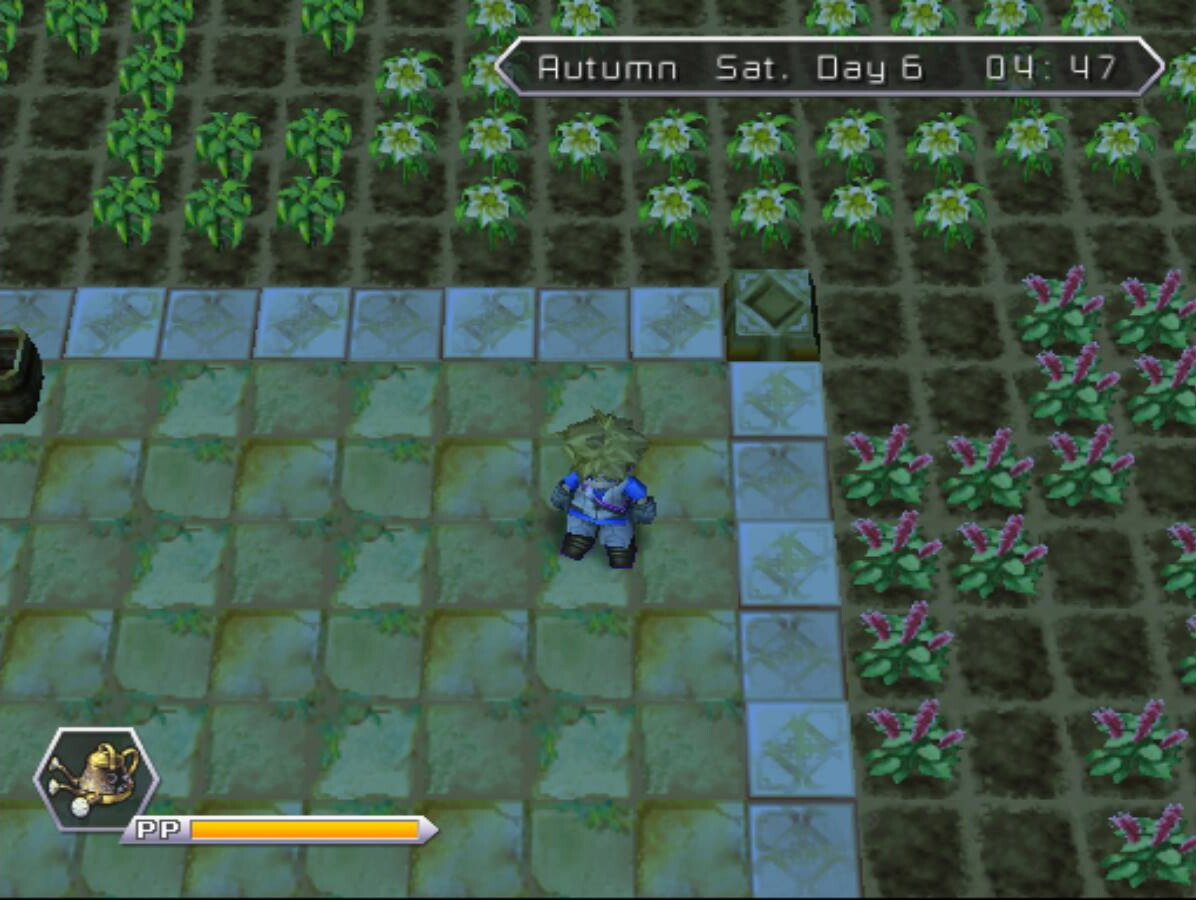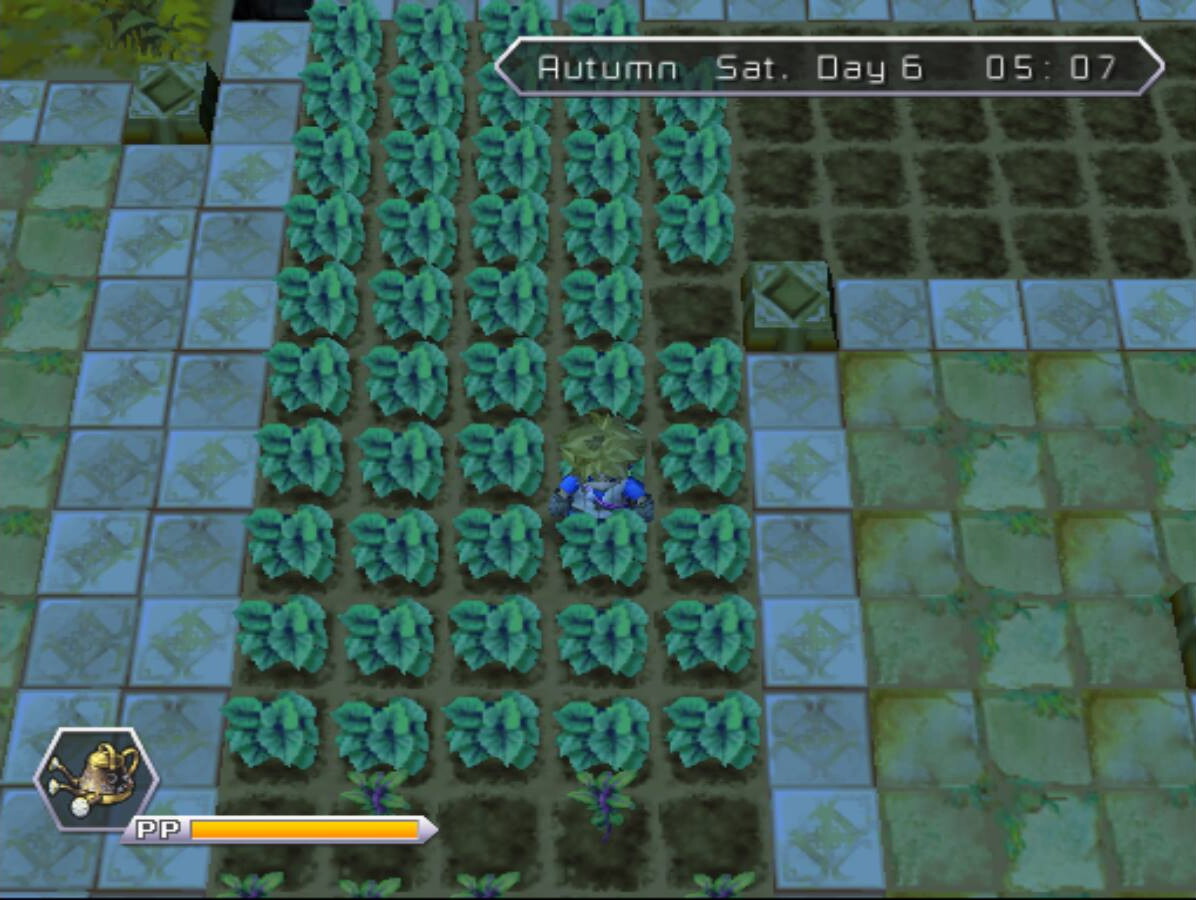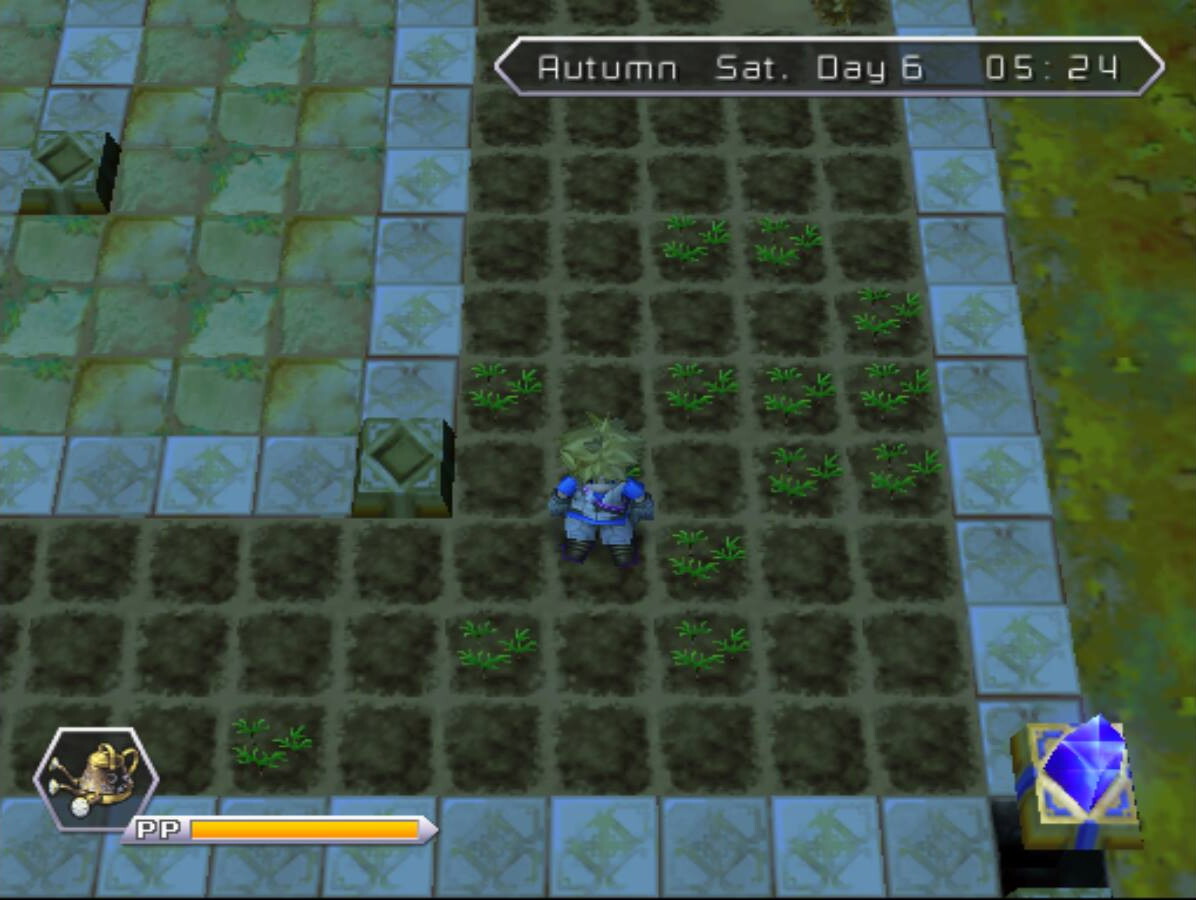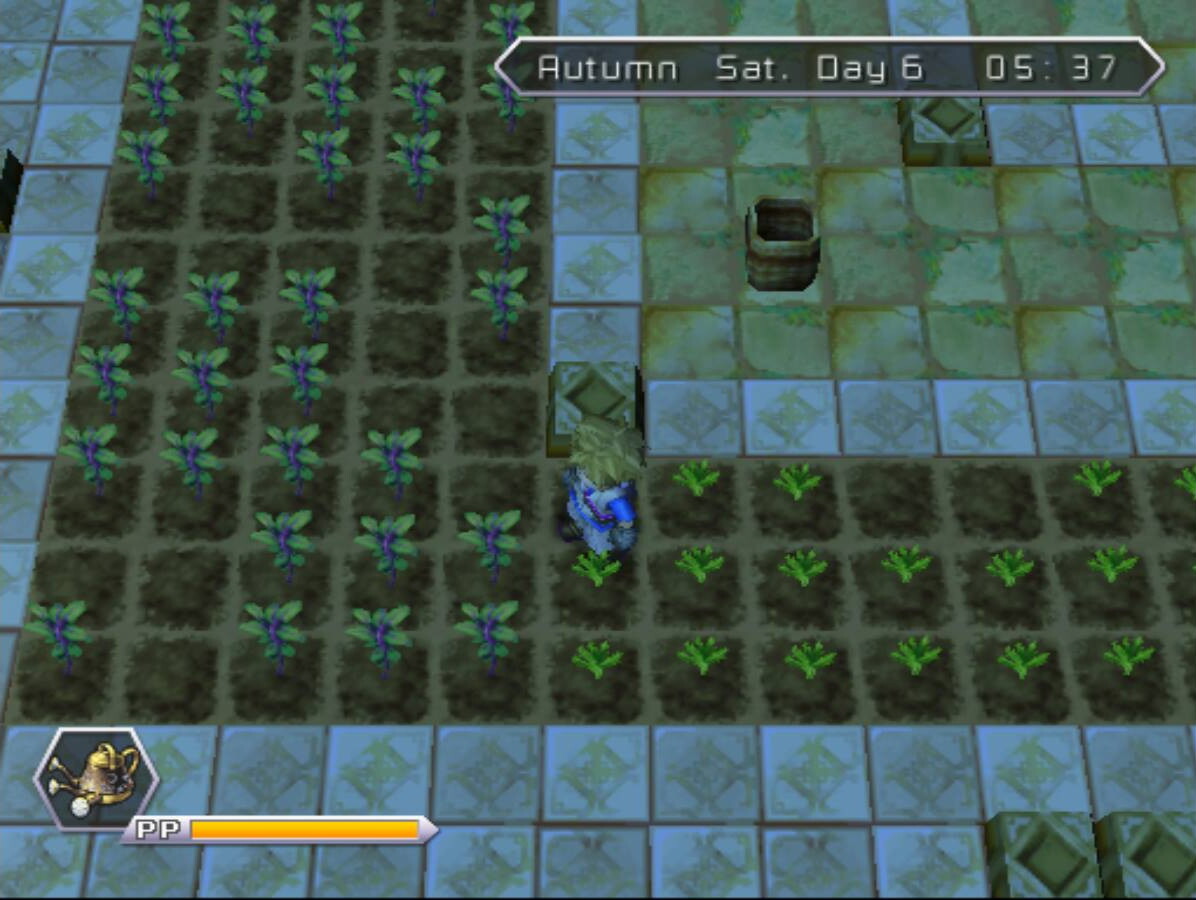 Storm damage... Most of the fall crops seem to hold up pretty well to storms. Also I didn't realize there were going to be fall storms :( :( :( Anyway, I'm fine with this result as most stuff lived. Hope too many more storms don't hit... are we gonna have three again like fall? :(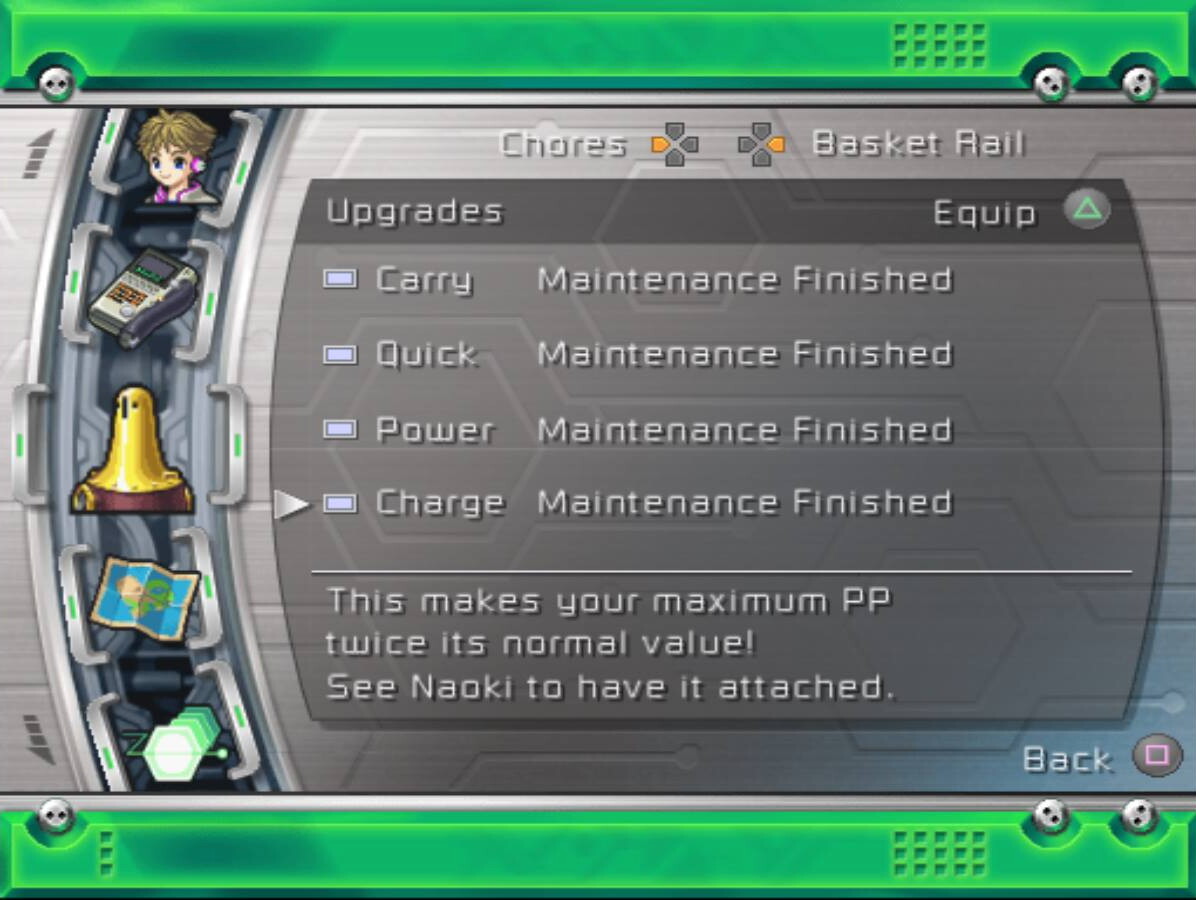 Naoki upgrades :D I don't really know how they work... I meant to try it out but forgot >_>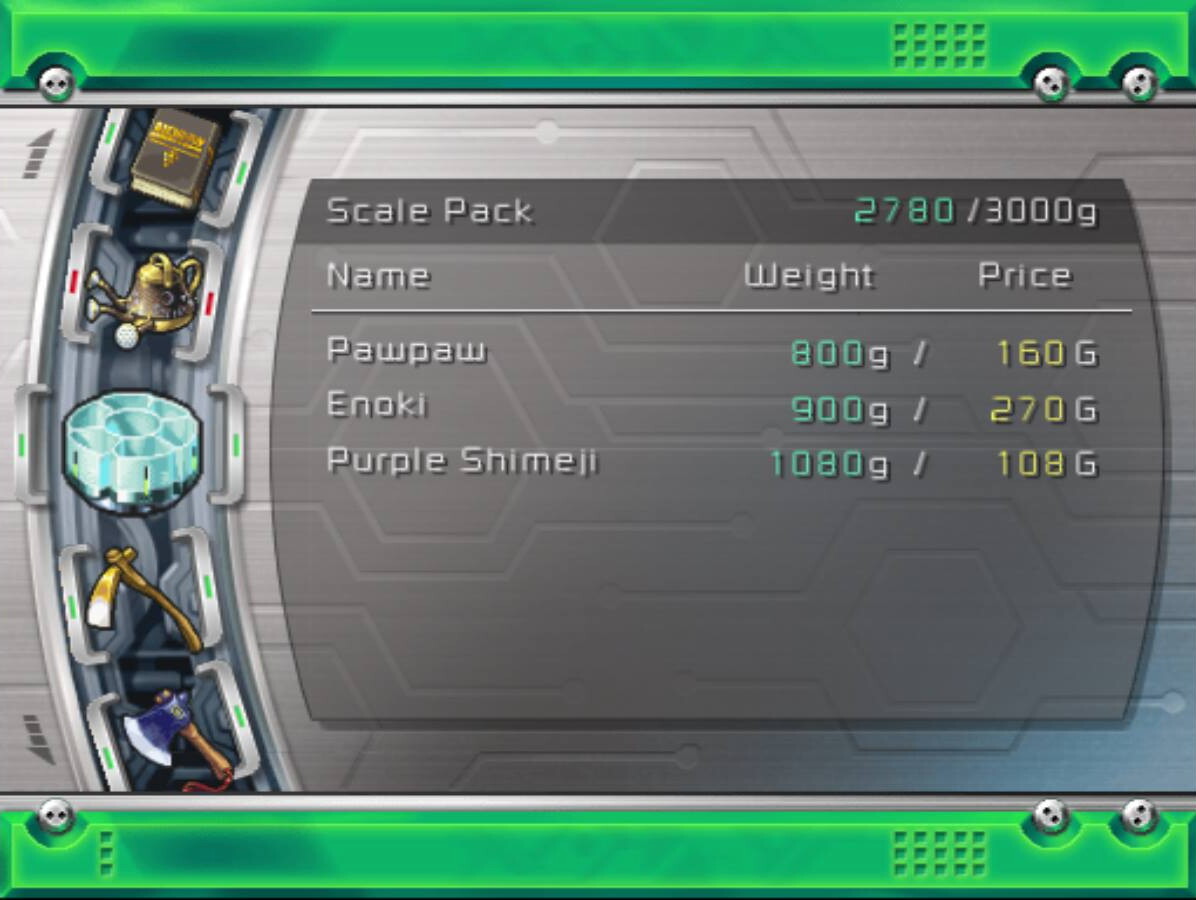 I also remembered that there were supposed to be new shrooms in the forest... went and grabbed some, and some pawpaw from a tree on the way. None of it was worth anything :\
WTF is this...??? It looks like some kind of... corn dog? I can't put it in my bag???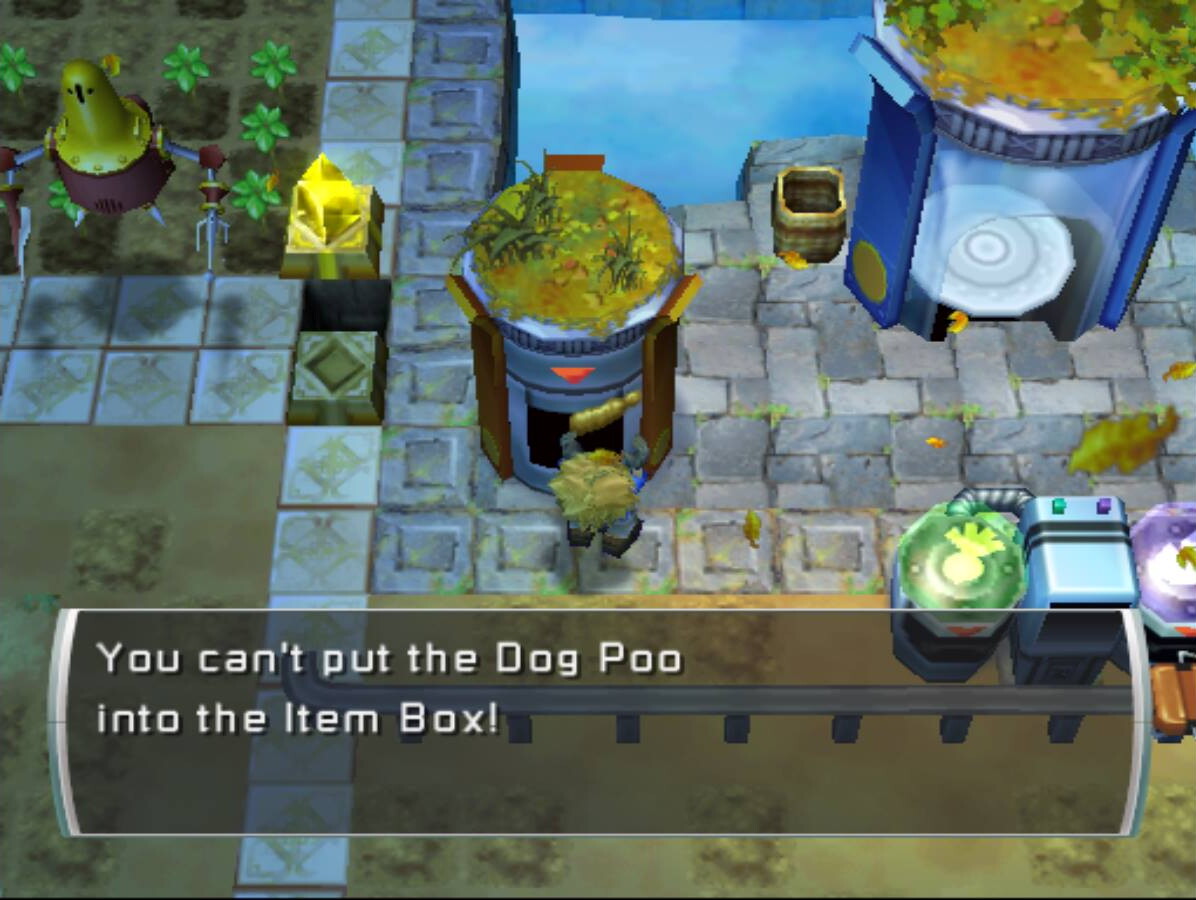 OHHHHHHH LOL... I just left it on the ground for Naoki to eat :)
On Sunday, the peppers came in... both the bell peppers and the chilis... SO MANY CHILIS ON ONE PLANT. I actually filled up my basket completely and then filled up my bag too o_o I don't want to pick chilis again; this was horrible T_T It took forever!! The bell peppers didn't take so long. I noticed the yams had come in, too, but I didn't have time to pick them. I picked the renewables first, since that means the next harvest will come as soon as possible. Since the yams just disappear after I pick them, there is no hurry.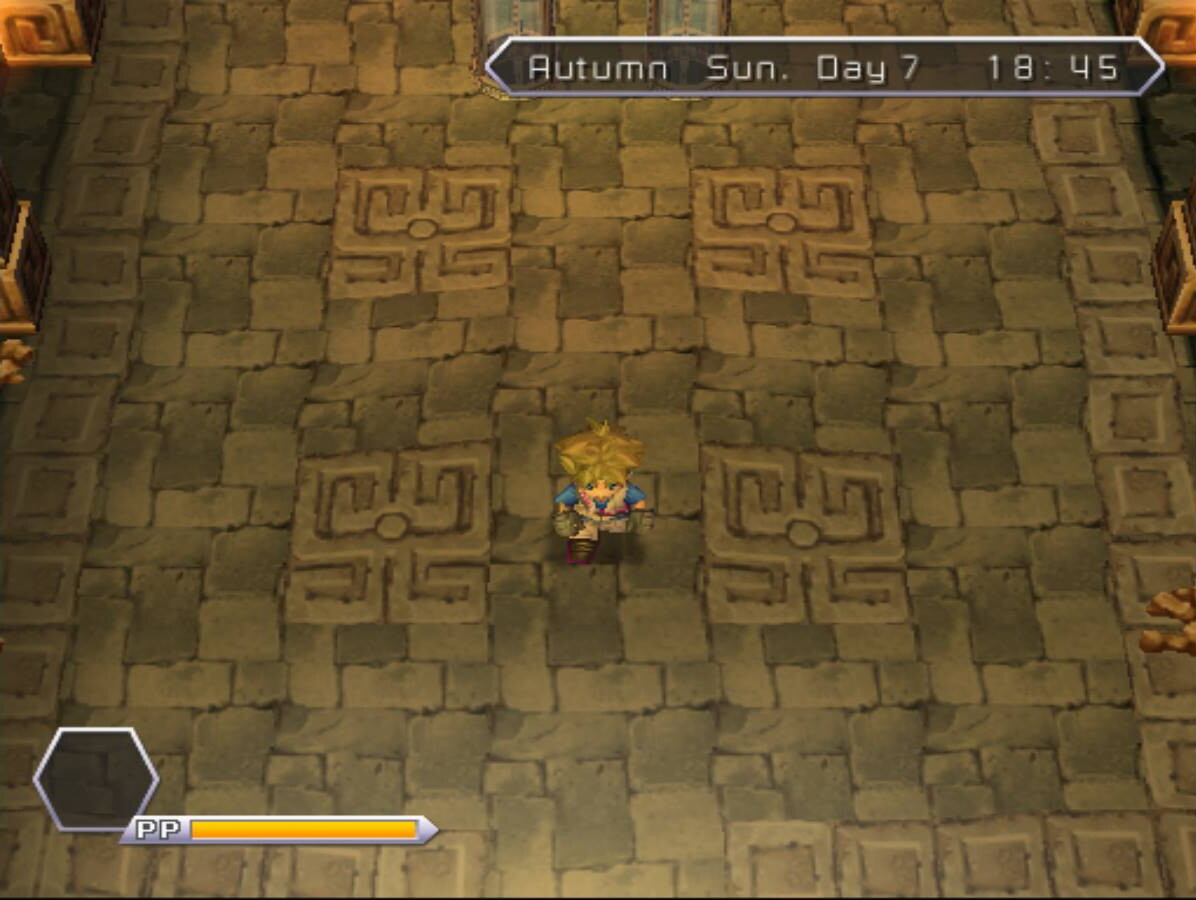 It was so late when I finally finished work!! (I also brushed all the animals, though I didn't bother manually collecting their products and processing them...)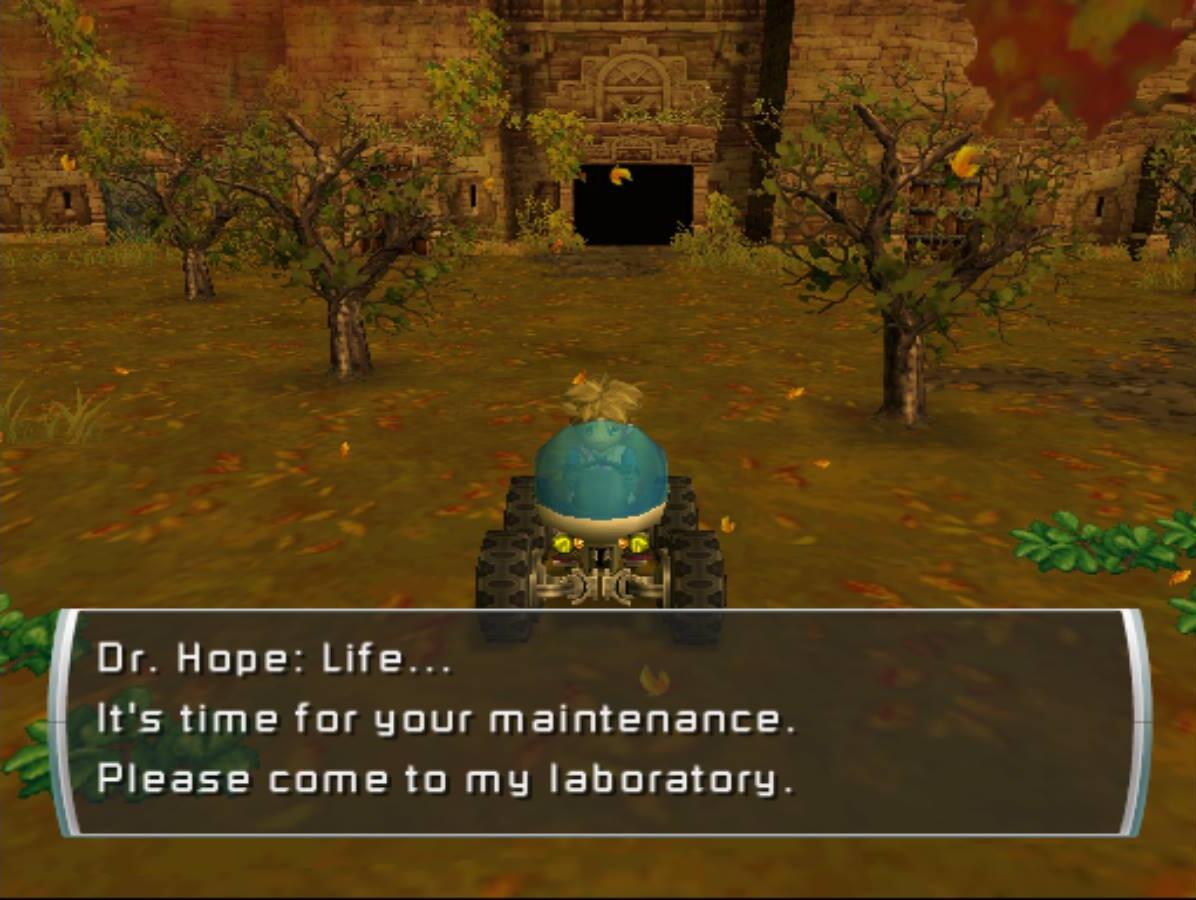 As I was driving away from the ruins, though, I got a call from Dr Hope?! He ended up warping me directly to his lab for the maintenance. I didn't actually have to go on my own...????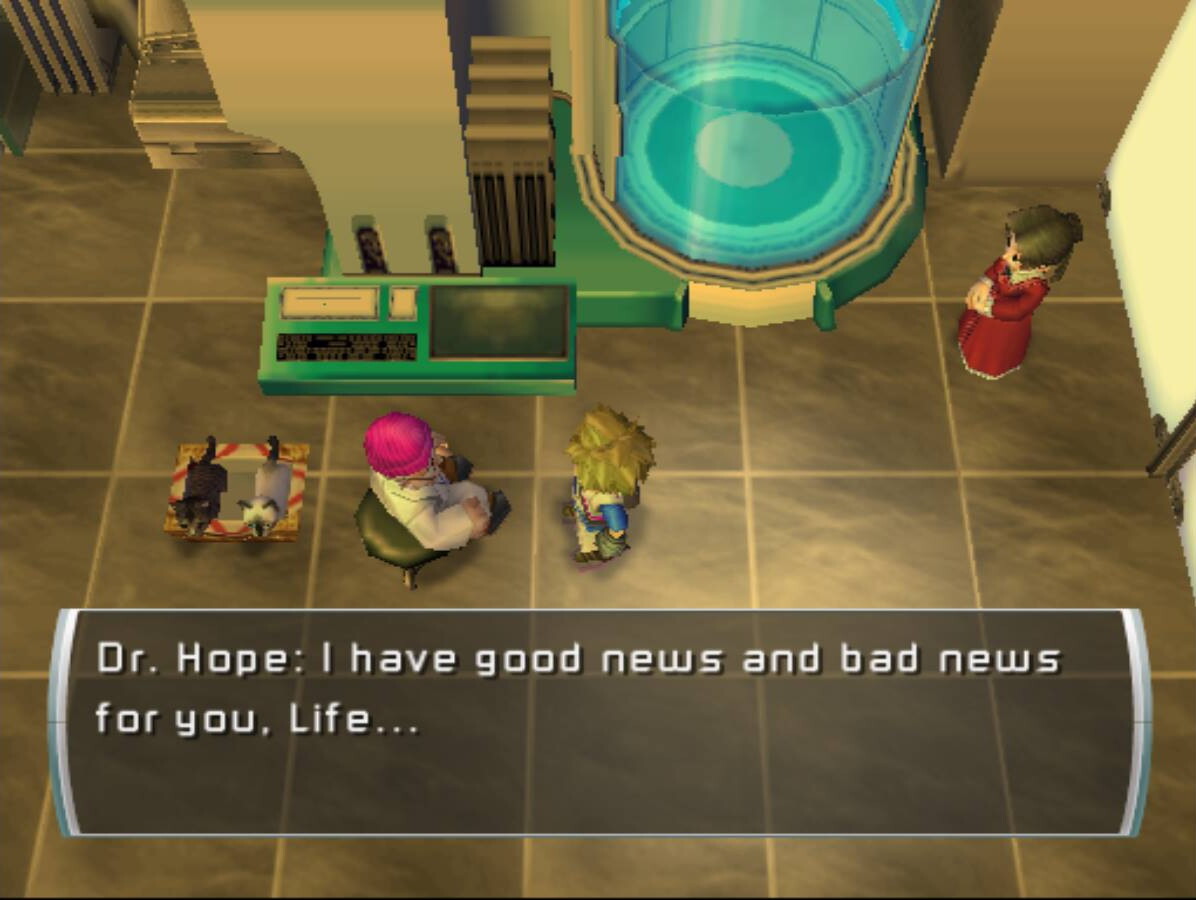 Uh oh...
The good news was that his cat had had her kittens... but the bad news was that she died giving birth to them :(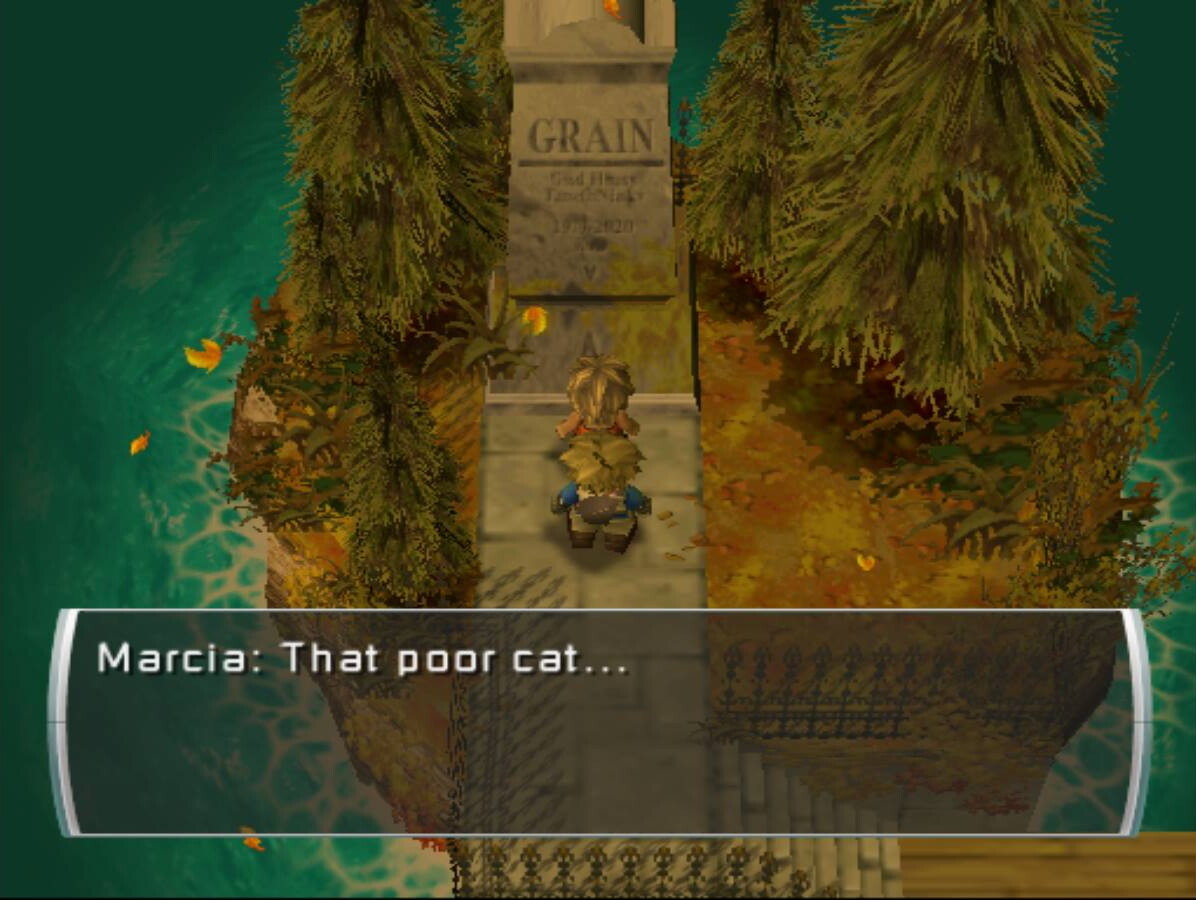 Marcia and Life go to the gravesite where all of the Grain family are buried, apparently the cat, too (Gayak and Hope buried her together).
Life kept staring at Marcia as she cried, until she got flustered and ran off.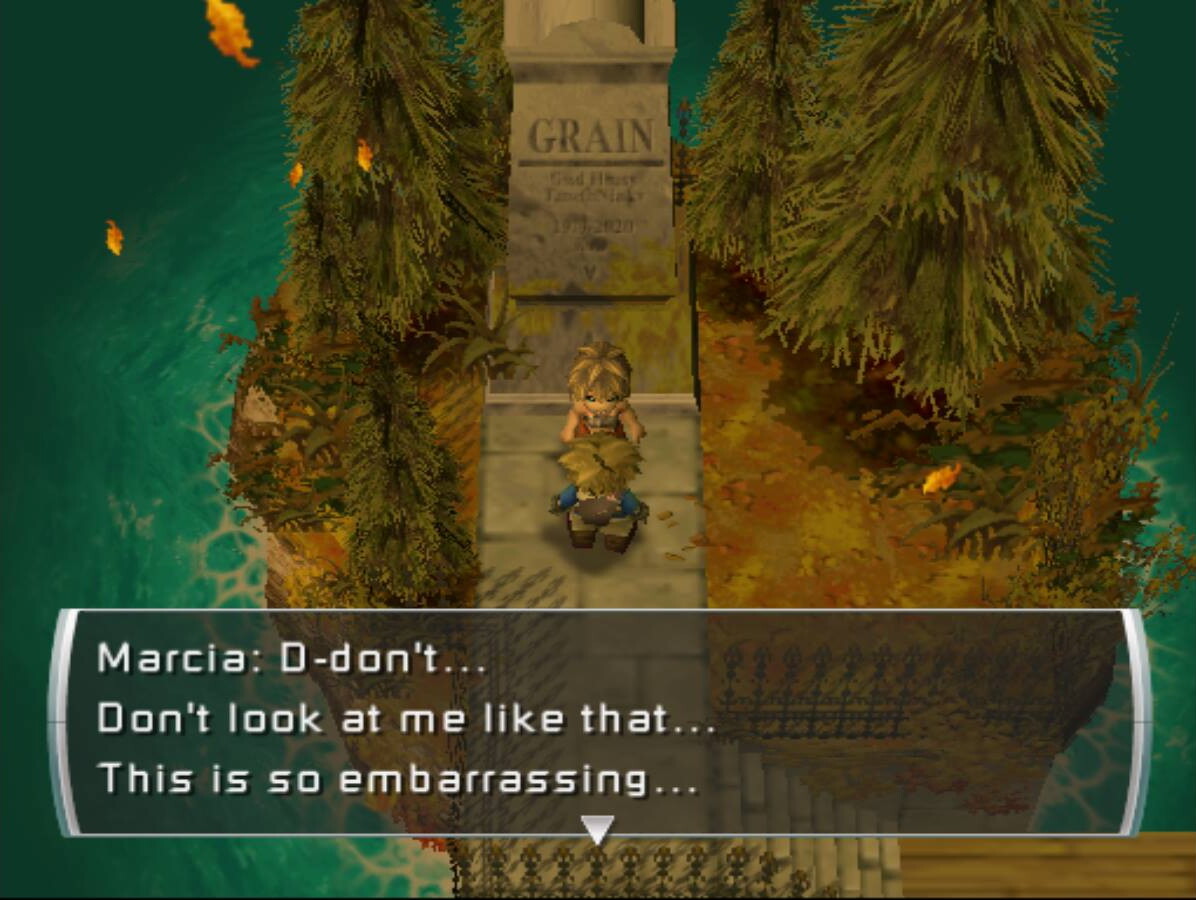 Life had strange feelings after seeing Marcia cry and thinking about the cat's death. I have a feeling he learned not just about "sadness" like the game said, but also about the evanescence of life, as well. Maybe life started to experience his first heartbreak, too? Marcia is his best friend, after all, so it probably was painful to see her crying.
A huge boost in Love for seeing this scene! Most of Life's stats went up~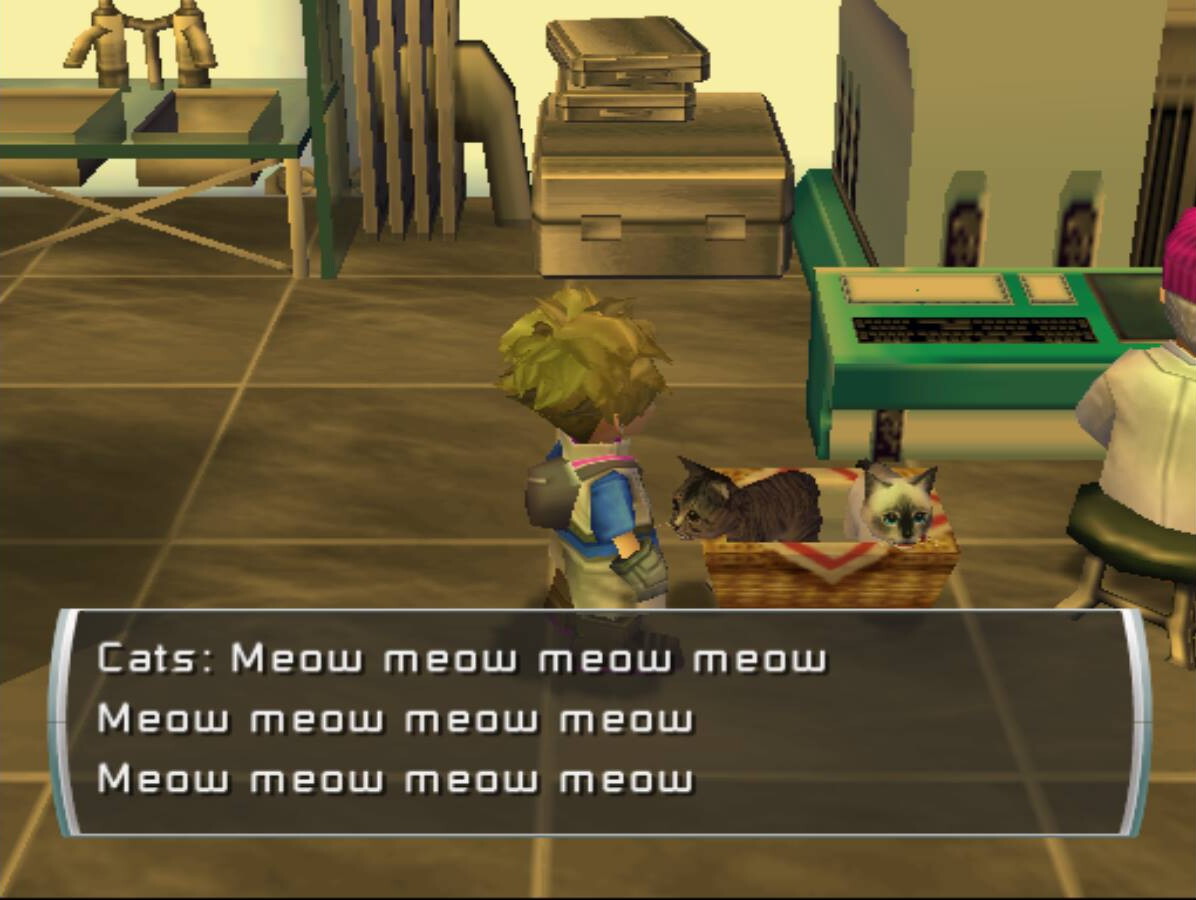 Hope let me take a kitty (you can pick the white one or the "brown" one, I ended up picking brown even though I kinda wanted the white one more? But I figure Nico is already white and grey so this will be a different color XD) I named it Griffin.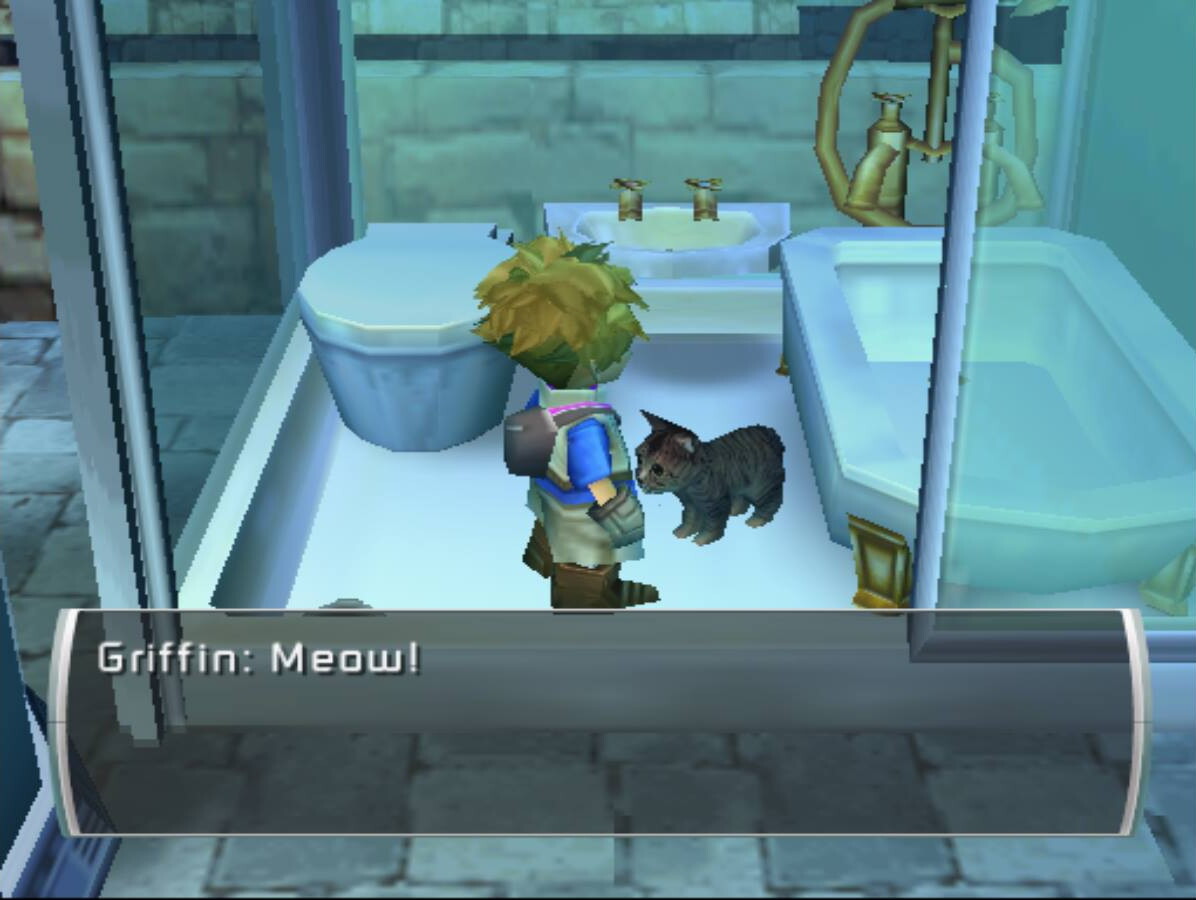 Griffin lives in the bathroom, apparently.
And that's all that really happened this week... not much with the characters, oops.
Though since clearing the fumes from the cave didn't seem to do much story-wise, perhaps there's something I'm supposed to be working on now...? I might wait for next Sunday before really trying anything, though. But I don't really know what I should be doing at this point. I guess I can just focus on the farm. But I can't really build a rail system without clearing more fields... if I had put the red jewels at the top center field I could have started working on it though :( But you can't place the rails on those weird tiles so I get 'stuck' trying to build it how my farm is now.
So all I really have to do is just take care of the farm until Sunday I guess. I can keep going and checking to see if the apples have grown...? That's about it. So next week might be even more boring...
---