Chapter 10
Anticlimax

After the wild ride that was last week, this week was extremely dull. Almost all of this week was just... talking to some people to see if they would say new stuff (except for one day, there was pretty much NOTHING) and doing minimal farm work and stuff. There wasn't really anything to do lol.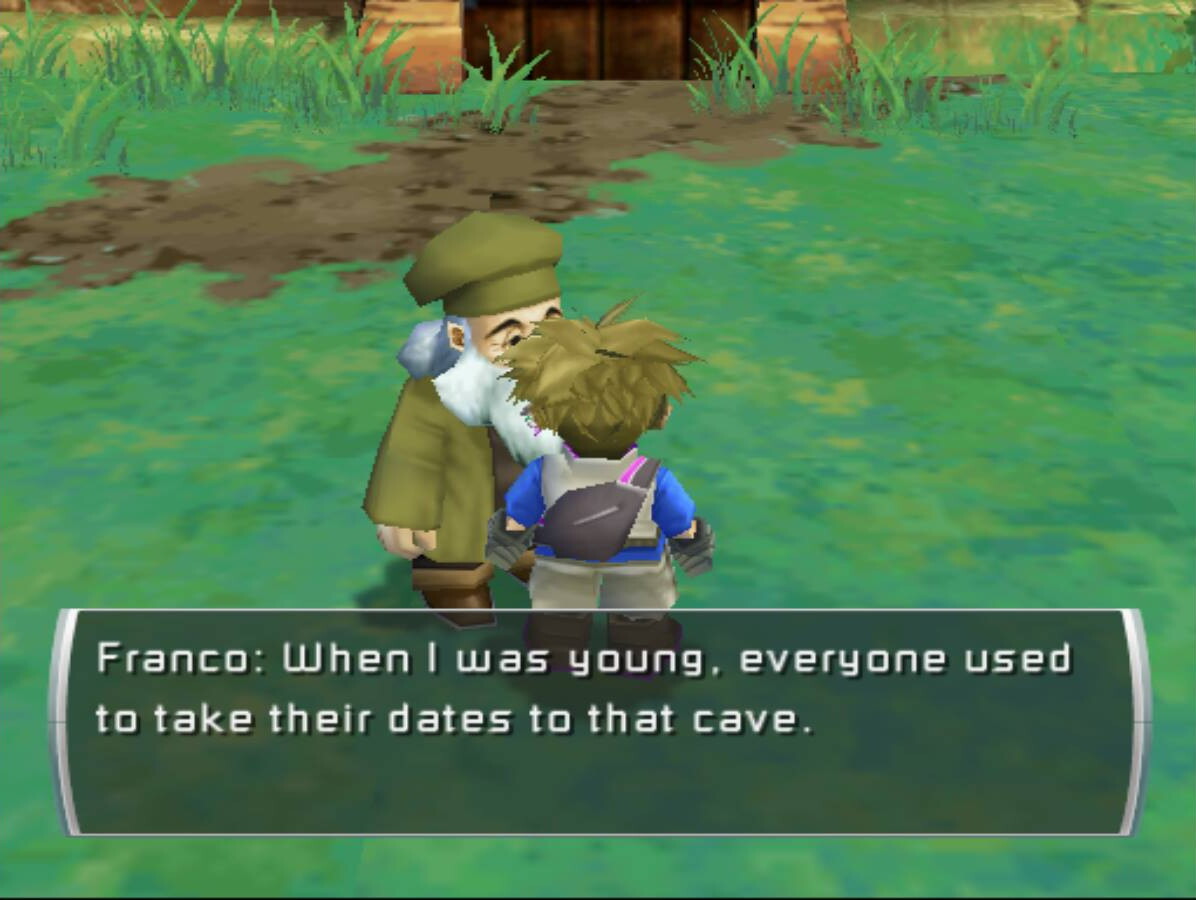 Franco told me that people used to 'take their dates to that cave.' Now, I don't think giving an offering to the Fire Spirit is much of a date idea... so I guess the Fire Spirit shrine was also the sex cave.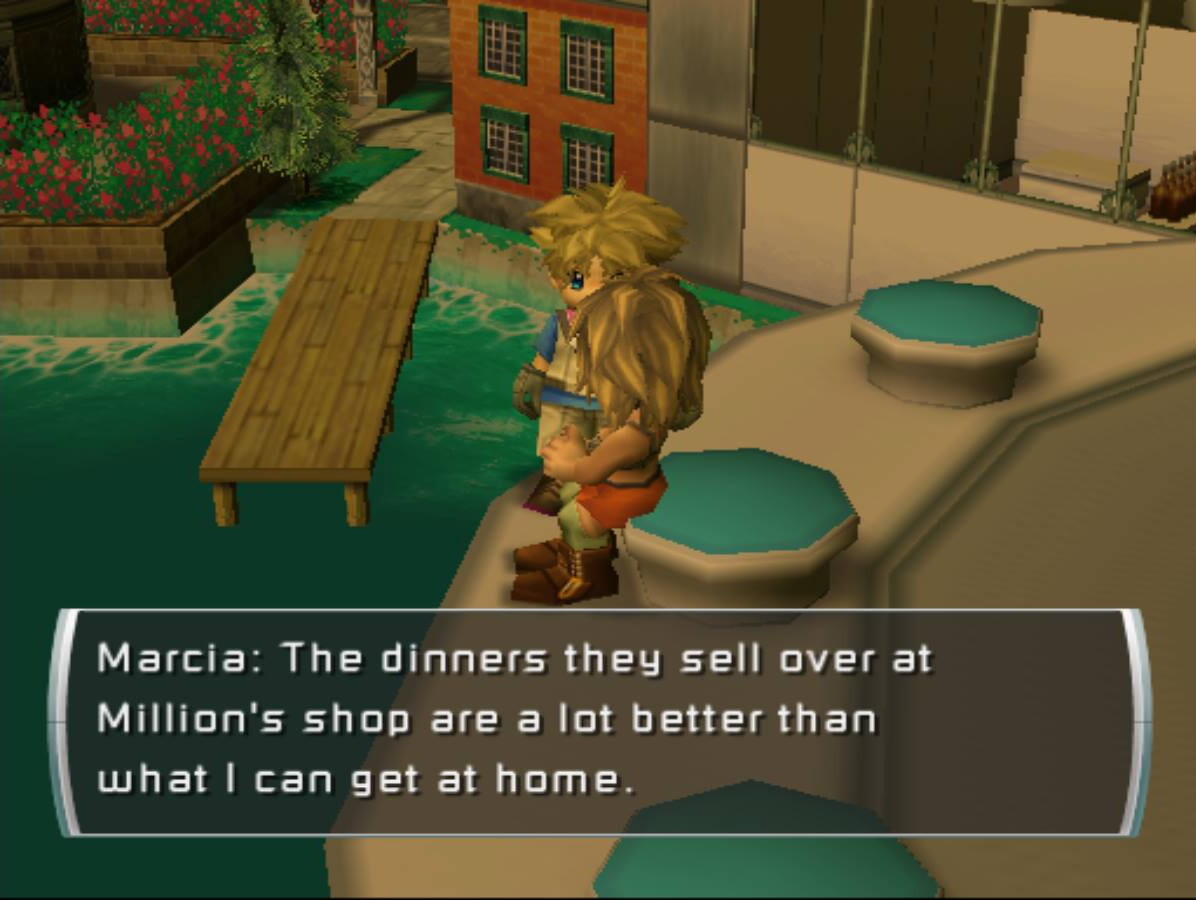 I guess those raised platforms that I discovered are called "Mushroom Bay" and are a "park." They were built by Moonlight's father who was an architect. Marcia sits up here a lot -- in evenings she buys a prepared meal from Shop-a-Million and eats it alone, because she prefers it to eating with her family.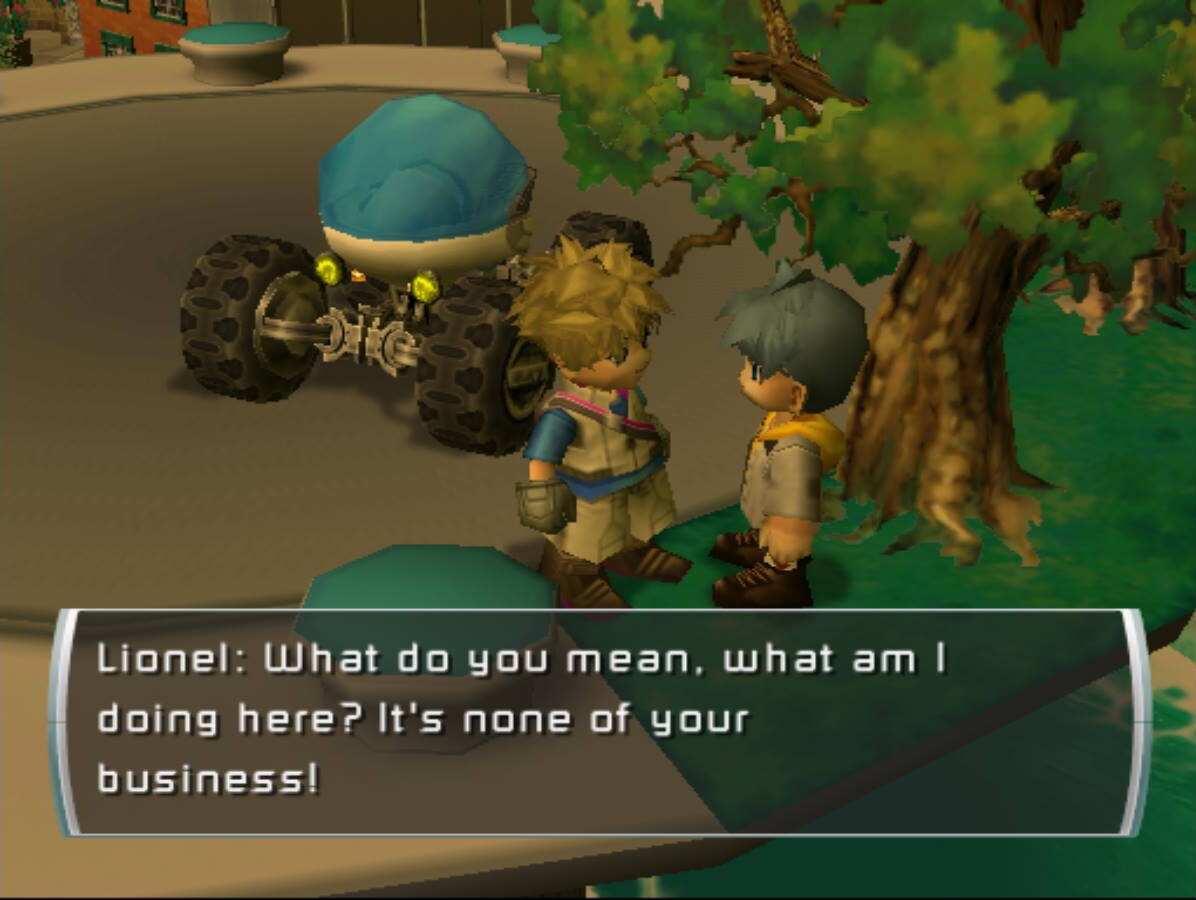 ... And apparently Lionel stalks her? He also seems to perv on their teacher Sharon lol.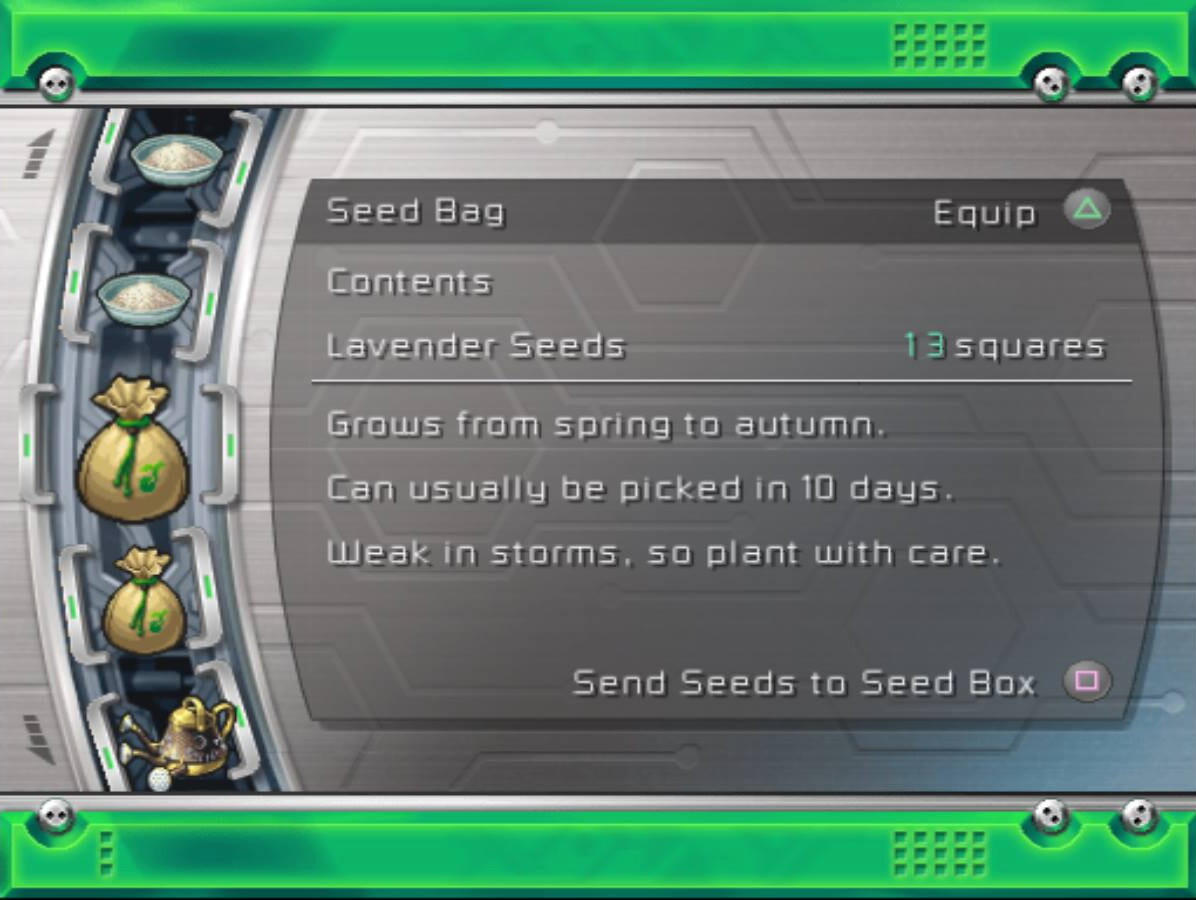 I got the Earth Power Sand or whatever it's called from Shop-a-Million but didn't find any herbs... I was really worried that it was going to make me wait a week for the herbs or something, but when I went to the vending machines in the ruins, I found herbs there. They're listed as being 'fragrant' and were just added after the event, so I assume these are what I need. The vending machines are considered part of Shop-a-Million, so...
There are 25 plots inside the cave, so I bought 13 lavender and 12 rosemary seed packets. I don't really know what I'm doing, so I hope this works...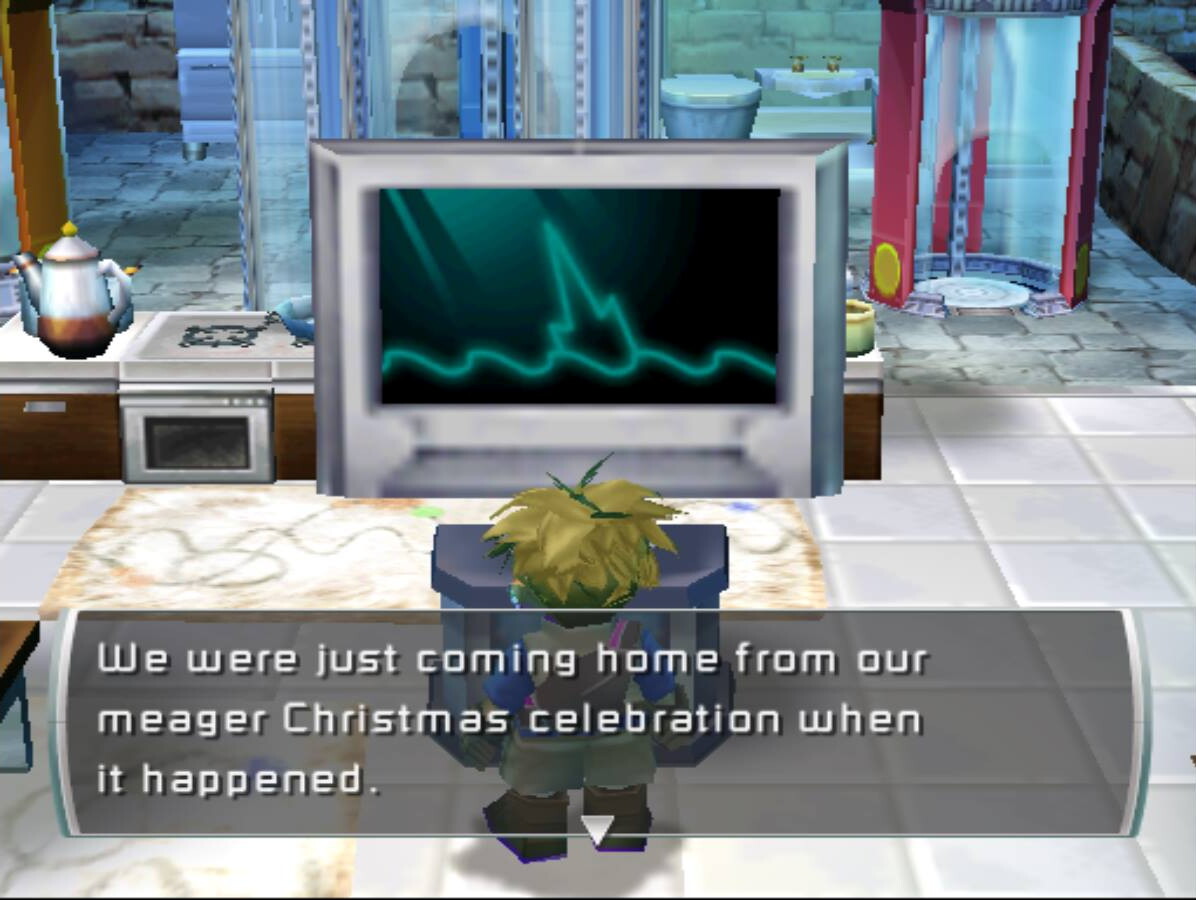 I TOLD YOU. It ended with a bit of a cliffhanger -- the brother and sister were walking the narrator home, narrator holding each of their hands. Then ... somehow narrator wasn't holding their hands anymore (idk lol) and when they realized they were gone, they looked around and saw "the last thing they wanted to see."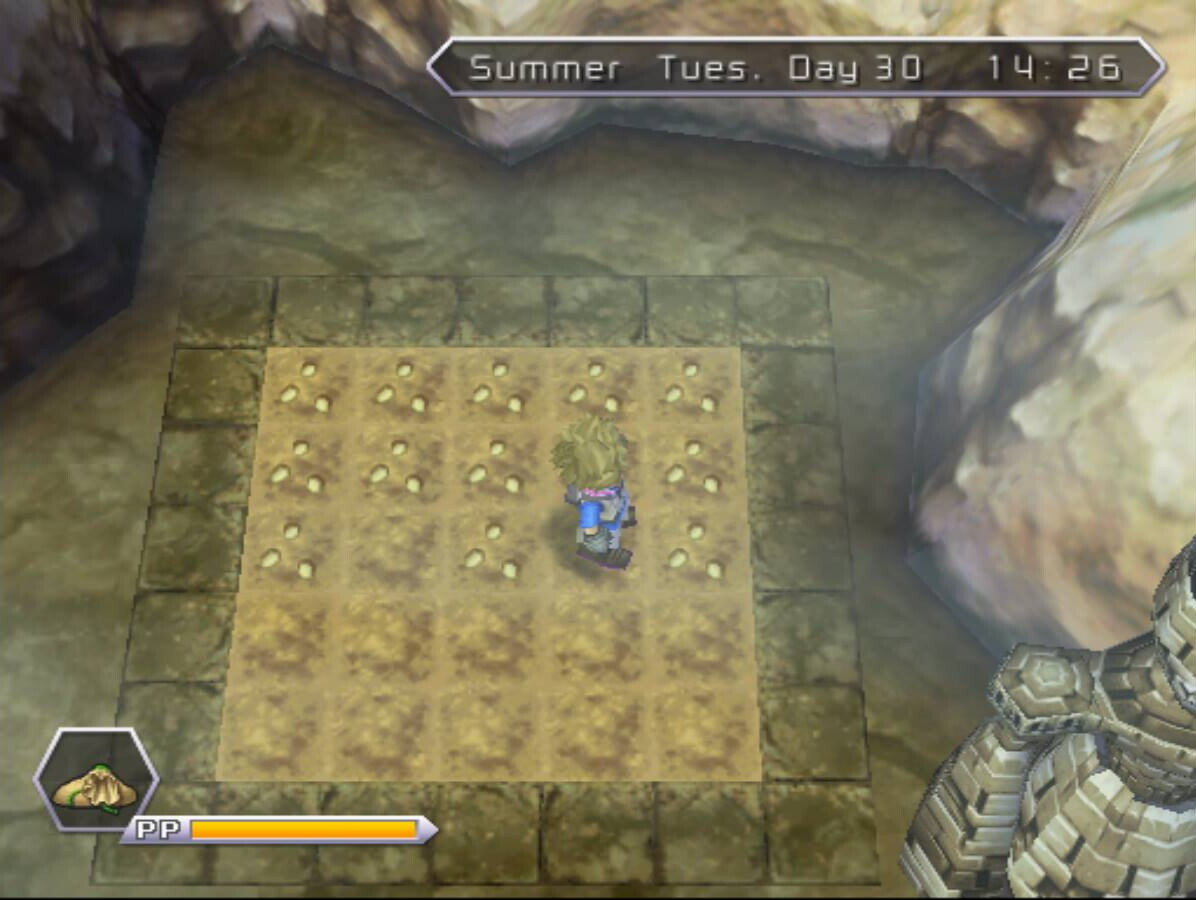 I planted the seeds in this pattern. The 13 here are the lavender, and then I put the rosemary in the rest of the spots.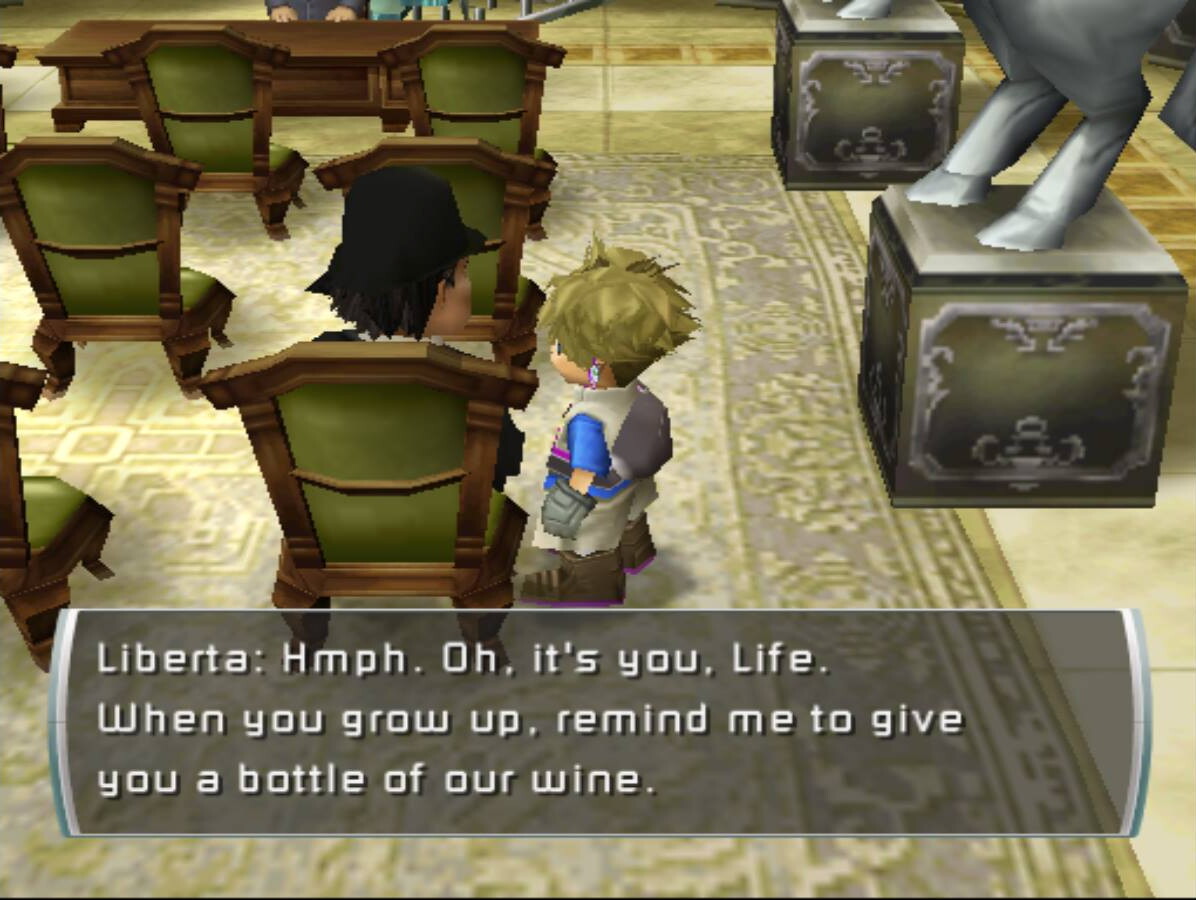 Liberta said a different thing????????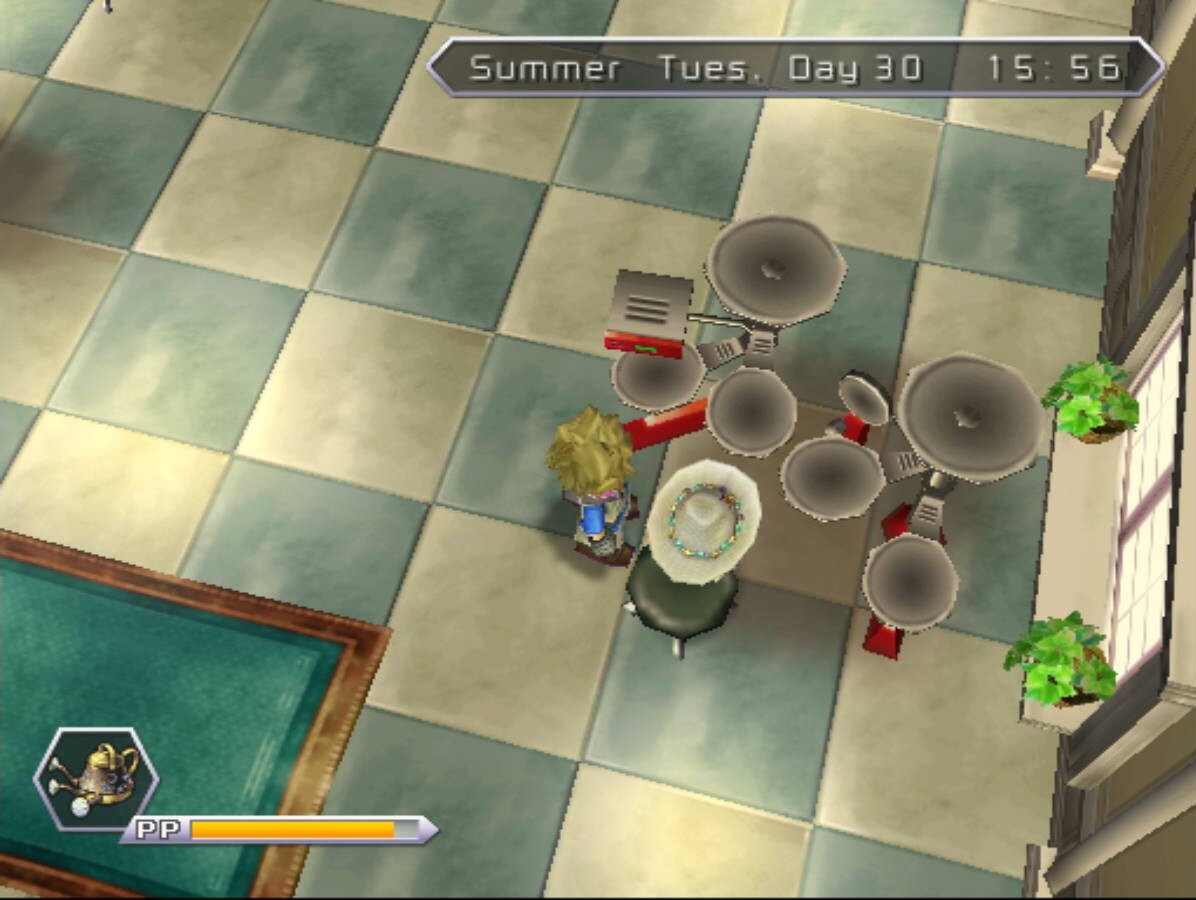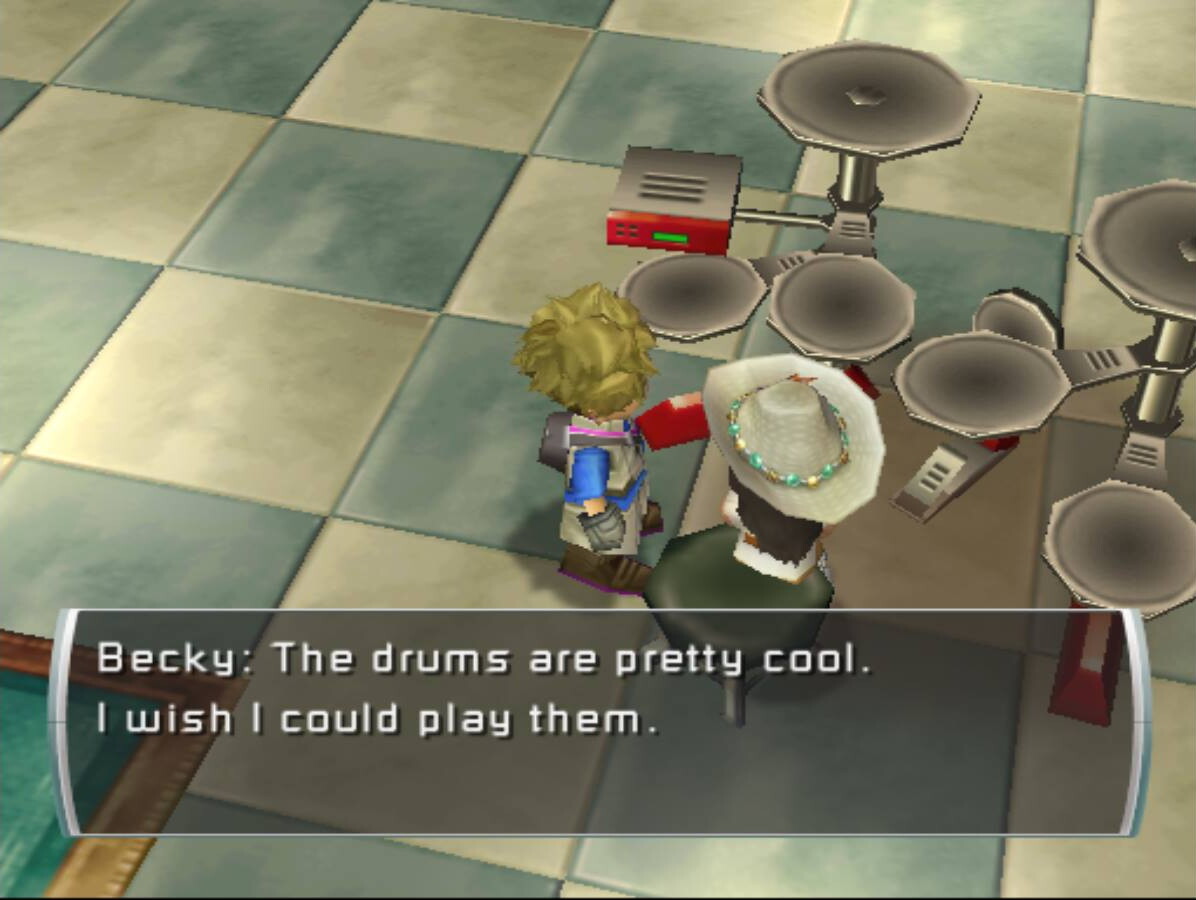 I was running past this and then noticed one of the drums looked weird, then realized it was Becky's hat. I wonder how my times I've gone past this and not realized Becky was sitting there LOLOL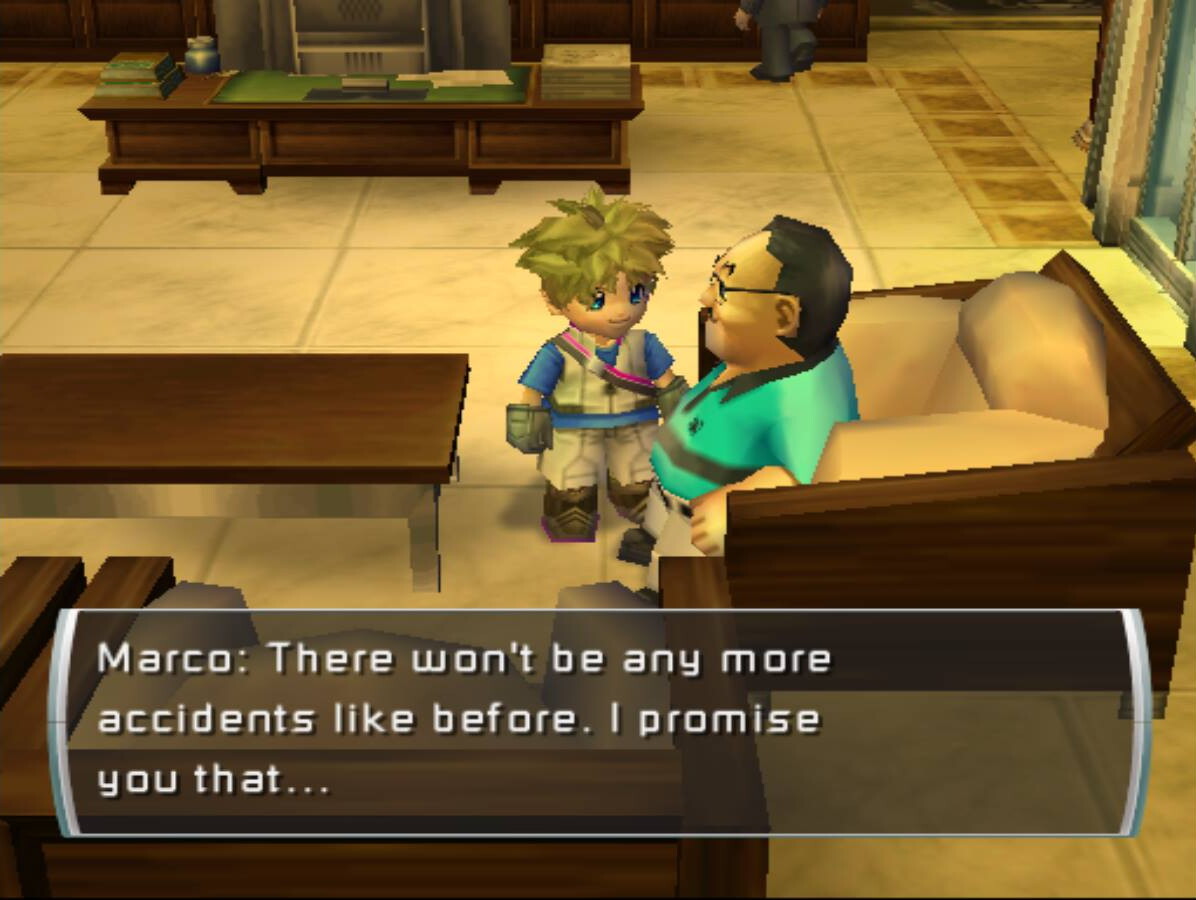 I went to the Mayor's place to see if it would be different now that Banks Corp already got the funding to start the project in the cave.
Apparently, it's the same thing as before, but now Marco says something different. I guess now Chuck isn't giving funding because of the coolant leakage accident, and Marco is trying to convince him to give funding again........ Everyone else says the exact same stuff (Charles is pacing in the corner and tells me I should watch the weather, the wives are in the dining room talking about how worrisome the whole thing is, and sadly, Chuck just says "I'm having an important conversation.")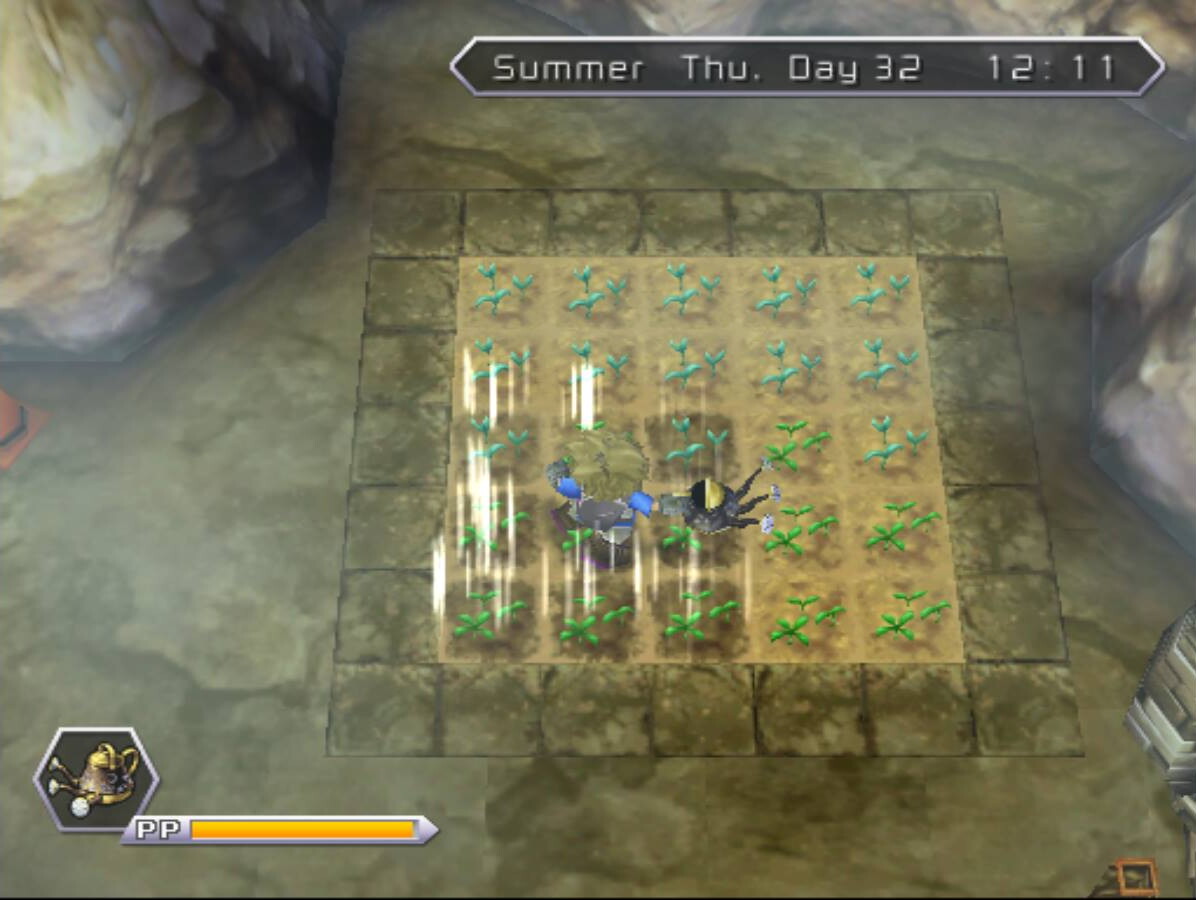 Pretty much every day was nothing but this. The only things left to do on my farm are harvest the very few renewable crops that still exist after three storms (a bit of lemons, corn, and tomatoes), and animals are just petting and picking up their products. That's it. Then I go to the cave and water. Since there's a trip between the ruins and the town every day, there's not really too much time to do much else. Not that there's anything else to really do. I get plenty of money from farming so I don't need to mine, and I've explored everywhere I can go...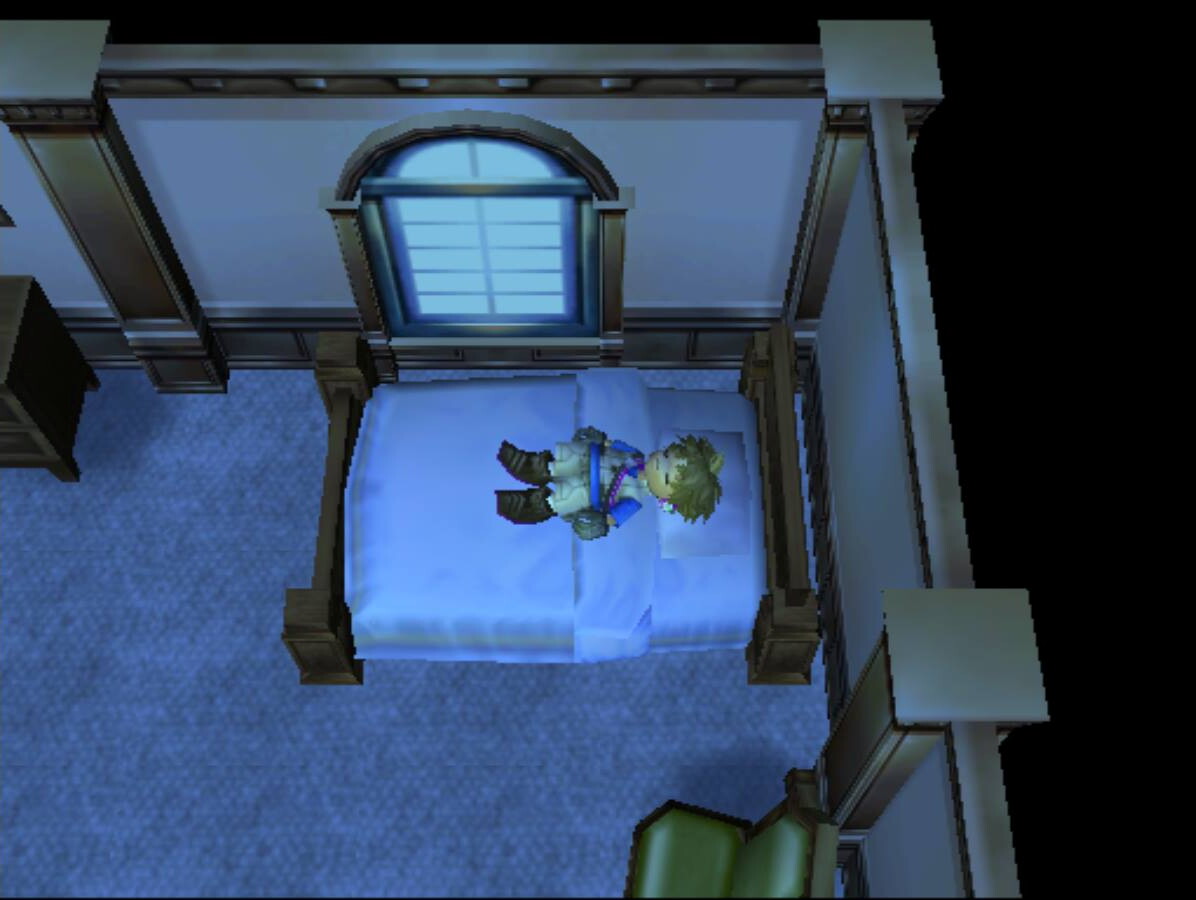 You can actually sleep in your room in Dr Hope's house (yeah, Life has his own room there XD) if you want to wake up there instead of your home in the ruins. Convenient if all you need to do is stuff in the town, or you want to get your examination out of the way early on Sundays.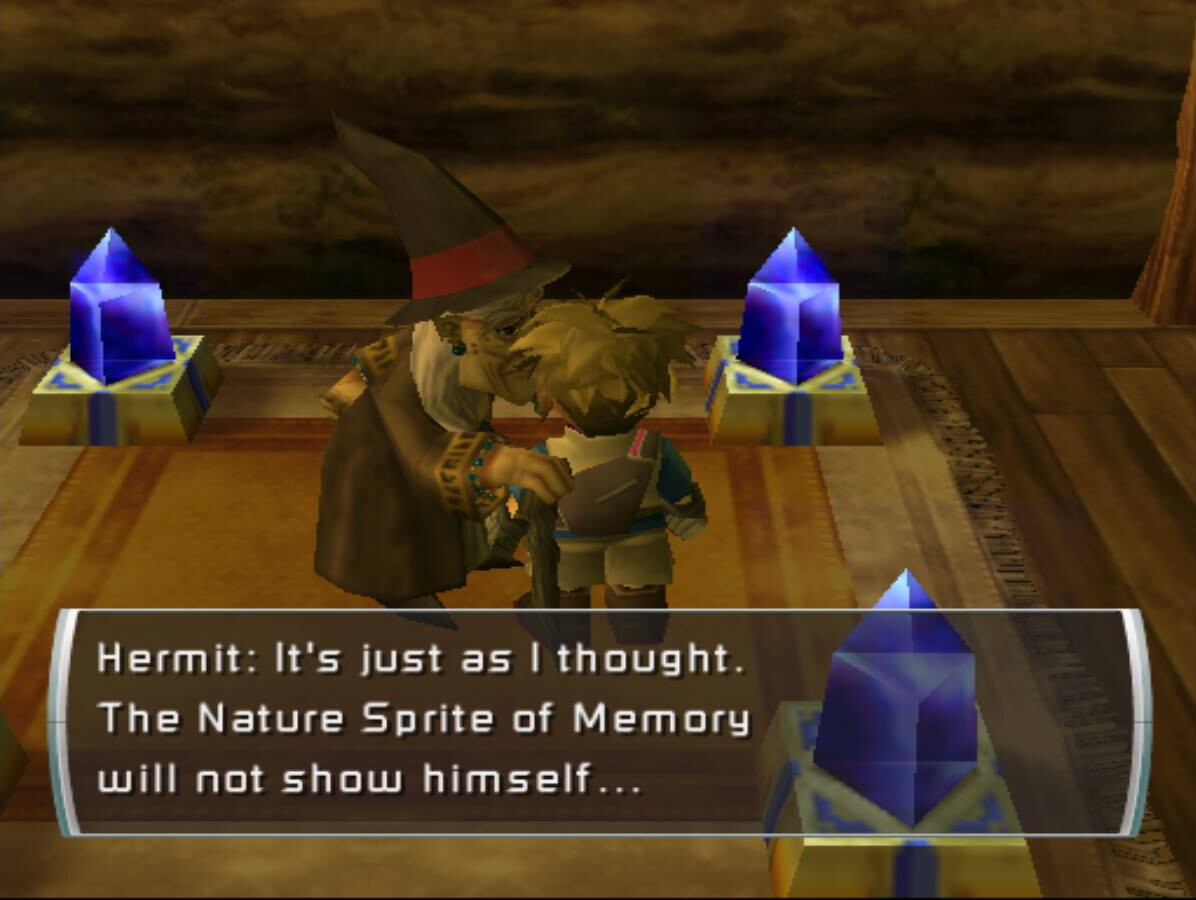 I did this so I could get the watering in the cave done early, then head back to the ruins to get my chores out of the way, then leave from the ruins to the hermit's hut. Trying to cram it all into one day :P
Anyway, something interesting was said. The hermit said it will take a lot of effort to get the Nature Sprite of Memories to come back after what she did. So she is responsible...? Also (oh holy shit I just had a theory as I was typing this LOL I'll say it in a second) I was thinking as I saw this (btw after this she turned translucent and walked through the wall and disappeared, saying she'll wait for me in the tower of Mermaid Lake LOL) -- Anyway, the hermit is REALLY old, right? Like she said she's lived for over 100 years (I think she actually gave an exact number that I forget, like something around 150?) -- so maybe she was around during the Thing in the ruins.
But then I was also thinking just now... what if she's the one that caused the disaster in the ruins? There could be many reasons for this, but... one is that she could actually be the Water Spirit in disguise. I mean, she surrounds herself with blue jewels and wanted the Water Crest, and now she's going to Mermaid Lake's tower, which is where the Water Spirit is supposed to hang out or whatever... either she is the Water Spirit, or she's some kind of devotee. Maybe she got angry when the Water Spirit was angry and decided to further punish the Easter People herself when they were sealed in the ruins (maybe they were able to live in there?), or maybe she made a deal with the Water Spirit that if she caused the disaster that killed the Easter People, then she would be granted a long life or immortality or something (and maybe be allowed to escape? Maybe she was one of the Easter People trying to appeal to the Water Spirit in the ruins?)
Of course, these are also based on my ideas about the ruins and what happened to the Easter People to begin with. I can't believe I'm being this inquisitive and thoughtful about this honestly. I usually just let the story tell itself and don't put much thought into it (and so I miss a lot of subtle things hahaha)
Anyway, I think it's really interesting she said that. When I was playing, I interpreted it as she did something to upset the Nature Sprite directly, like maybe told him bad memories or attacked him or something?? They said the reason he went away was because his memories became so sad he couldn't handle them and ran off to isolate himself. So maybe the hermit is referring to the fact that she caused the genocide of the Easter People, and that's the memory that is causing so much pain to the Nature Sprite of Memories.
Also, if the hermit was indeed one of the Easter People and made a pact with the Water Spirit, that could explain why there is a descendant of the Easter People... the hermit could be a great-grandmother to Masami (she's about 100 years older than Masami). That would explain why Masami protects jewels and seems to know more about the island than others, but still doesn't seem to know about what happened in the ruins (or she's just not telling Life).
Anyway, the hermit told me that the only thing we can really do is to wait for the Nature Sprite to decide to show himself again, and that he'll be more likely to show his face if we can create a lot of happiness. My guess is this means we're gonna have another festival, but unlike the Fire Spirit's festival, this one will need to be bigger and more joyous? Just a guess, idk.
Right now all I can focus on is clearing out the fumes from the caves, though.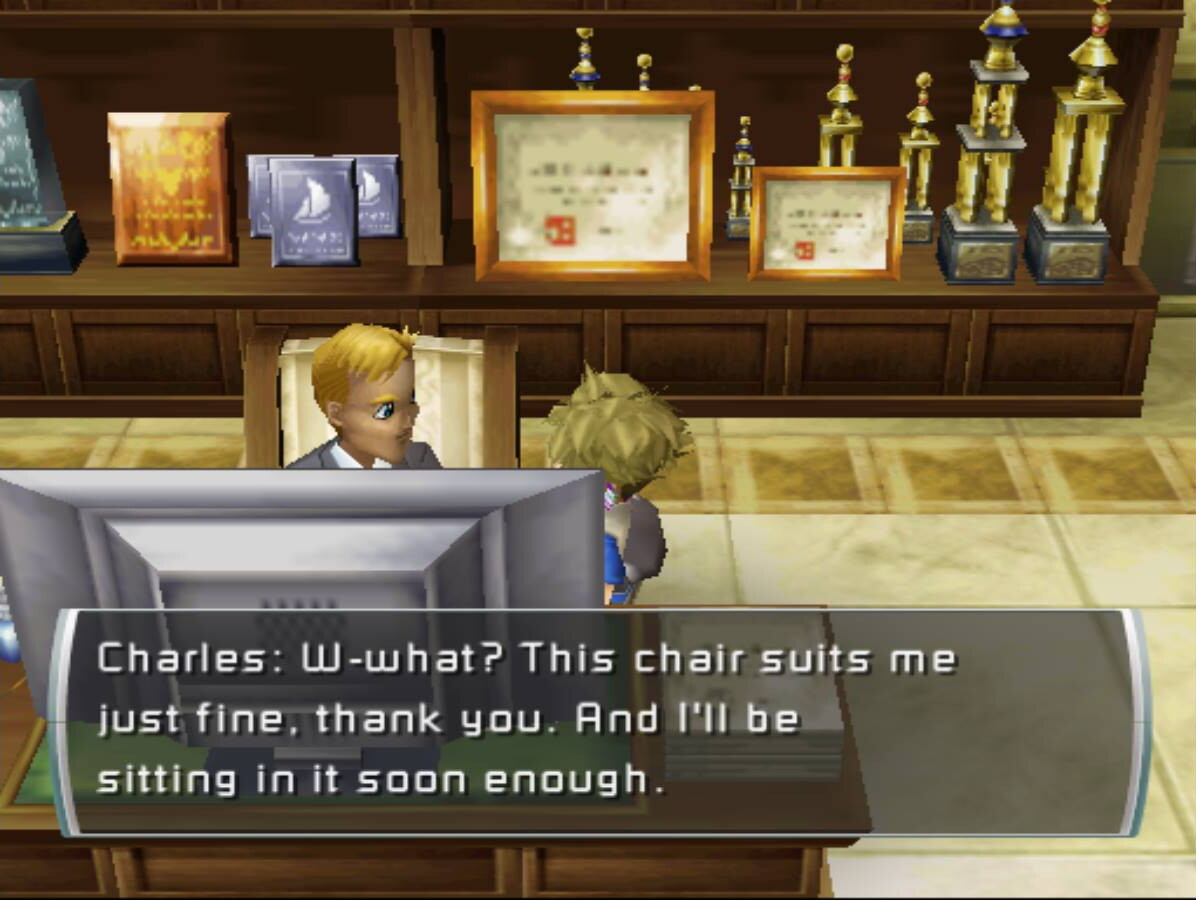 I did a lot of running around on Saturday... have I never visited everyone on Saturday...? I saw a bunch of new stuff! I was around town all day long, so I got to see everyone during all the hours. I even tried staying up past the 'you better go to sleep' bell, to which everything was locked and Liberta was sleep-drinking in the chair again lol.
Anyway, Charles is a bit flustered in the Mayor's chair.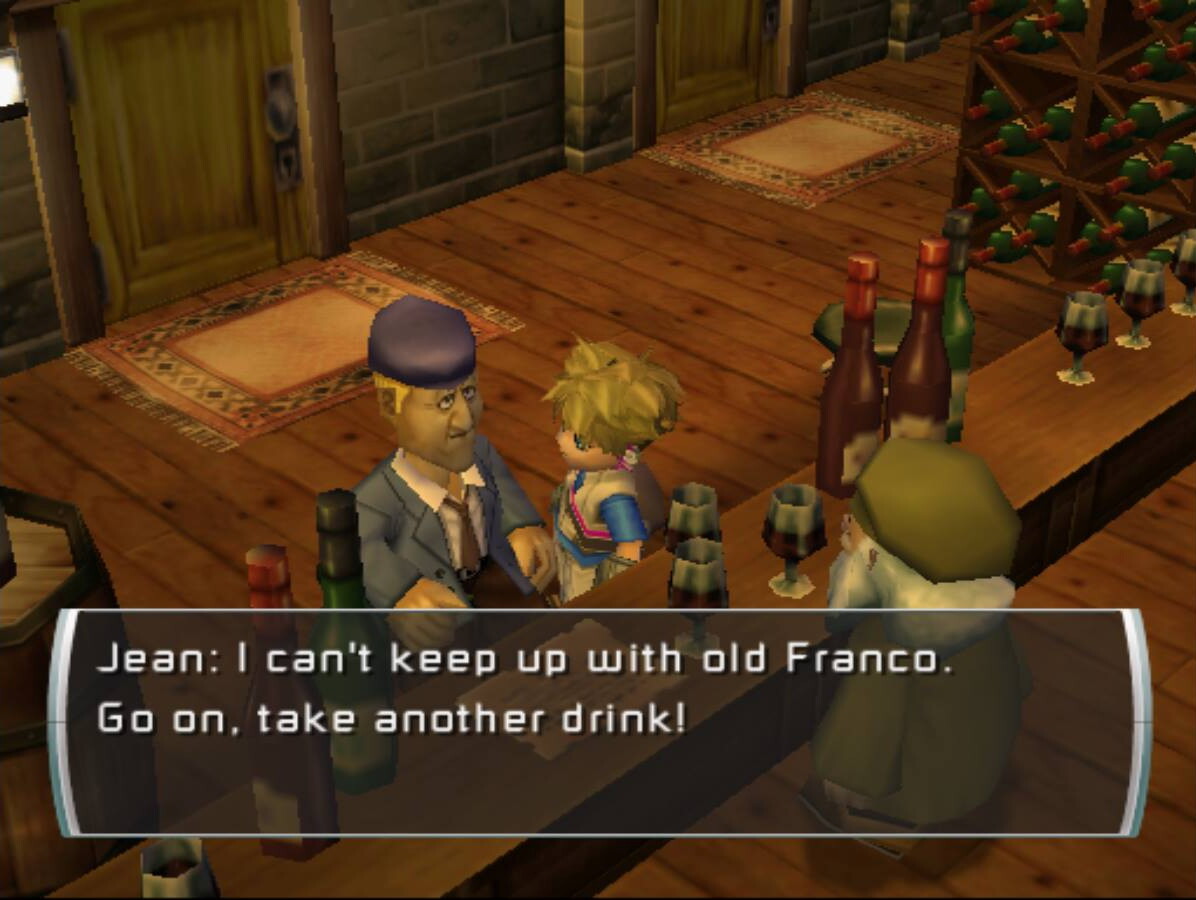 Jean finally said something different!!! It seems he and Franco are drinking buddies??? Hahahaha. And apparently Franco is an aggressive drinker XD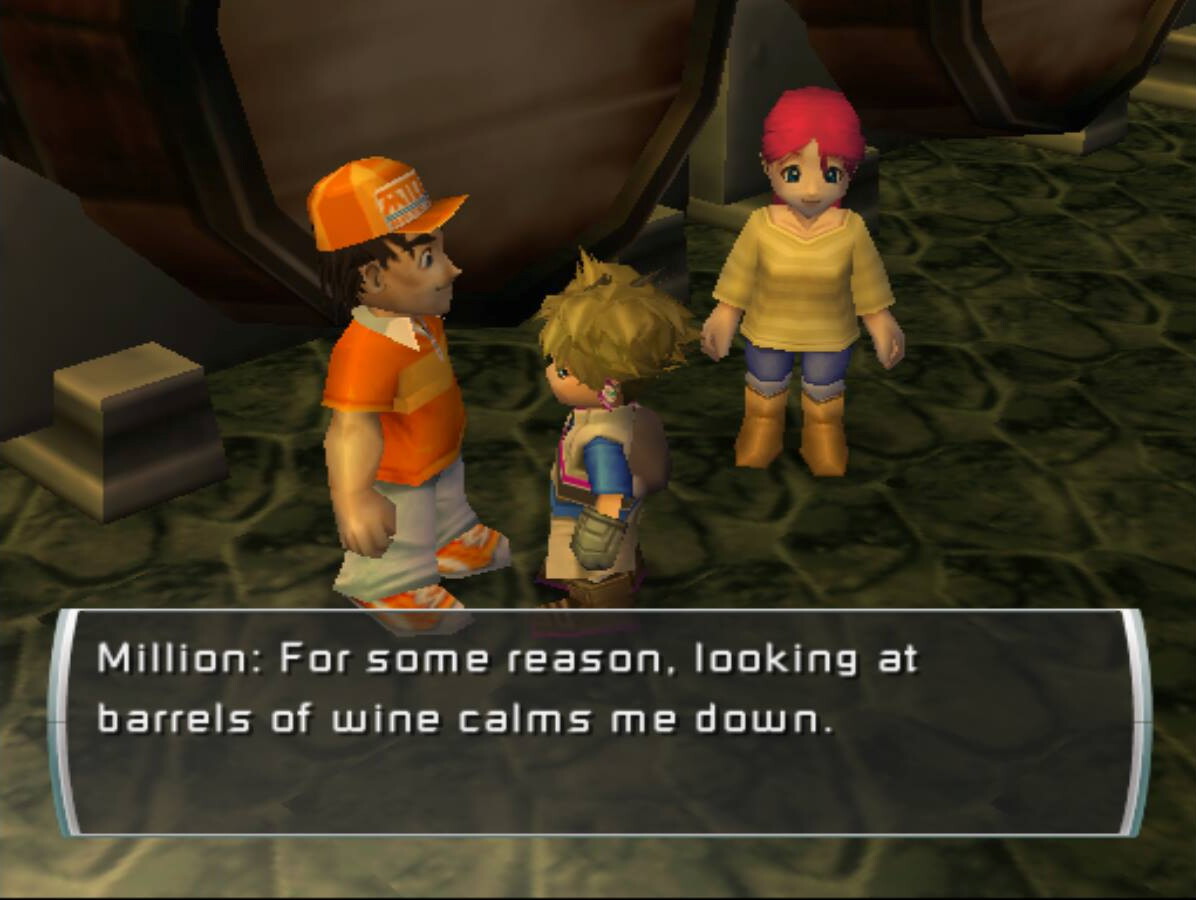 Emma and Million were together (uh oh, it's happening!) and Emma was talking about how she admired Million and stuff for how much he wanted to know about wine simply because he sells it, and how he's great and stuff. Million just seemed interested in barrels.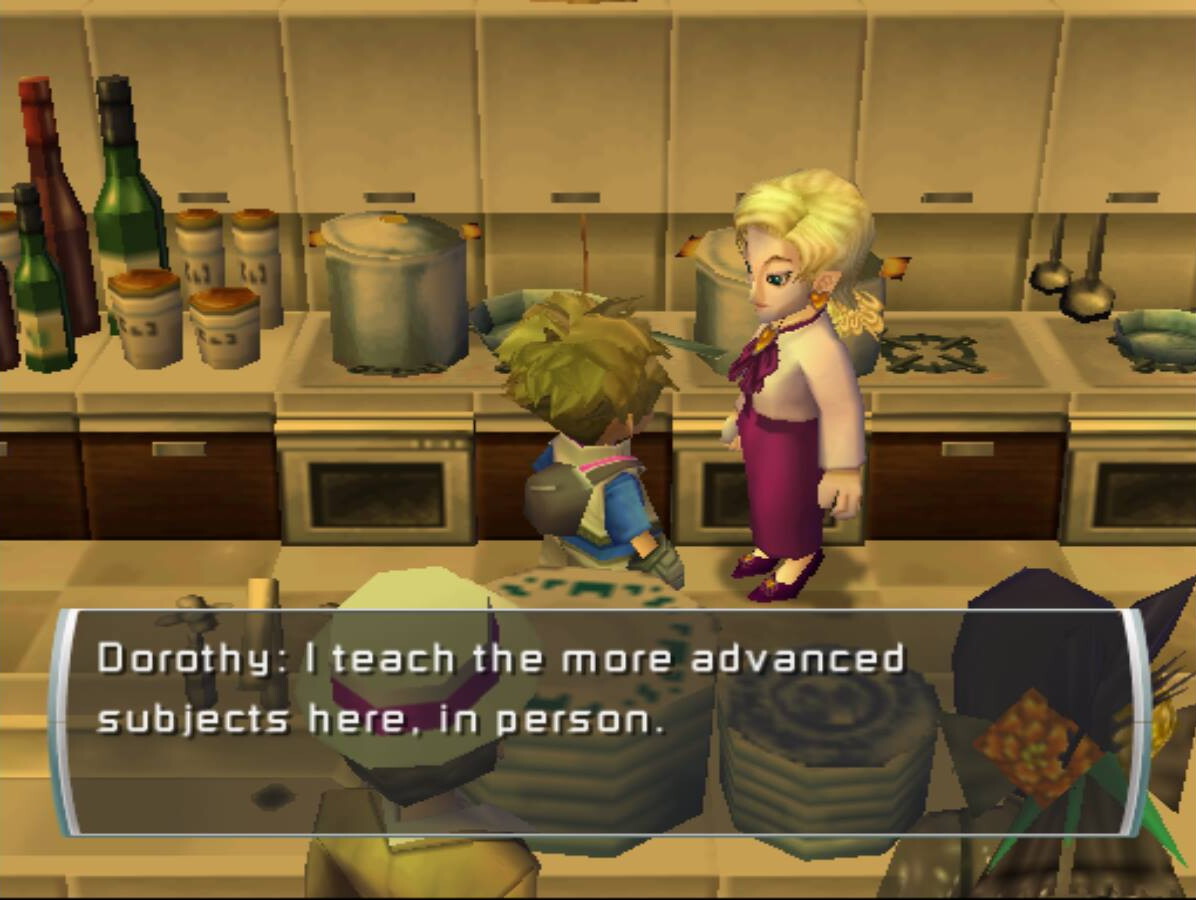 Dorothy seems to host an advanced cooking class in her kitchen on Saturdays. Masami and Rose are the only participants.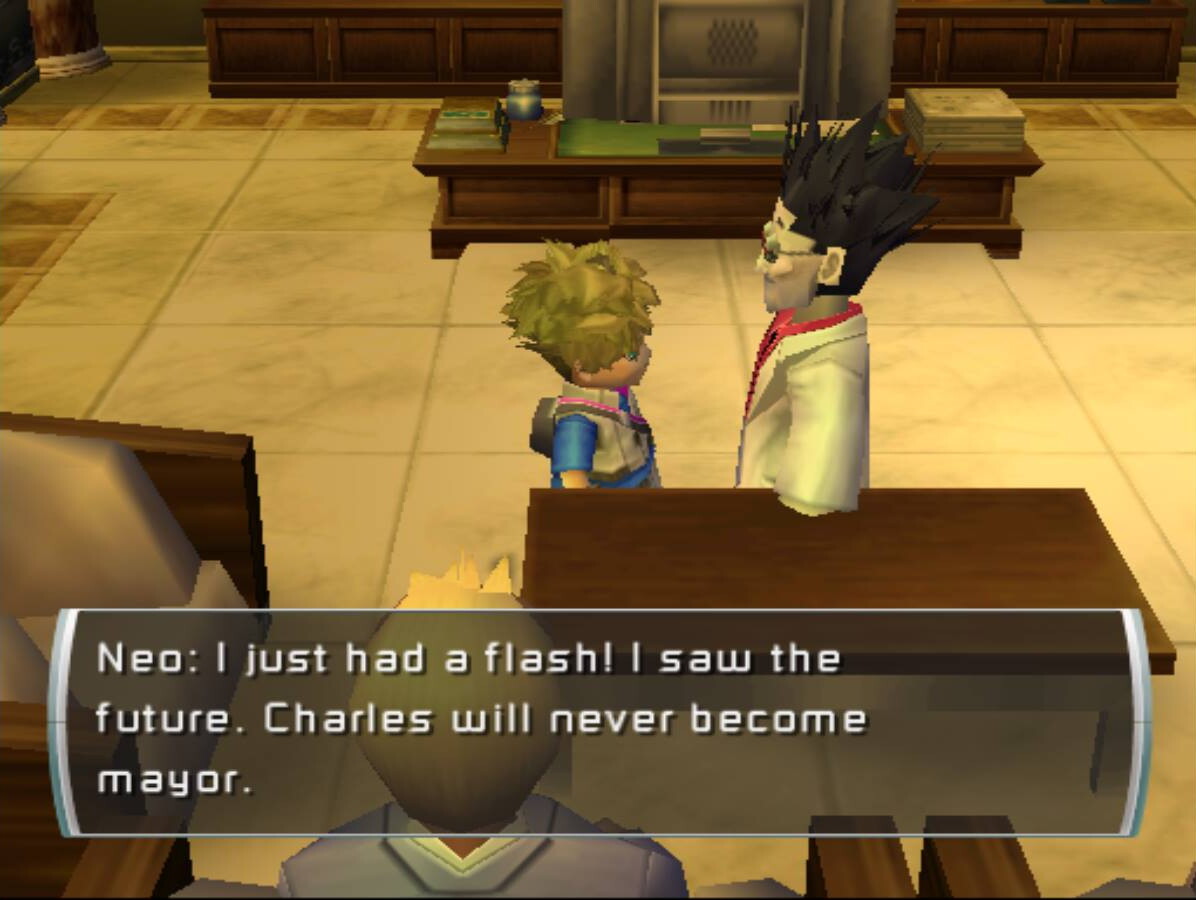 Neo, who claims to have psychic abilities, says he saw a vision that Charles will never be mayor. He's also the one who can see the impending eruption (both through his scientific means, but also through his psychic powers).
I wonder what this means? It could mean all kinds of things; perhaps Charles will choose not to be mayor (he seems to have a TON of anxiety about it and isn't very good at it, even moreso than his father Chuck), or maybe Neo is referring to the fact that everyone is fated to die before that will ever happen. What if the game ended with Life becoming mayor? XDDD I don't think Jessica would decide to take over, as she's very devoted to her research and seems to show no interest in the position at all.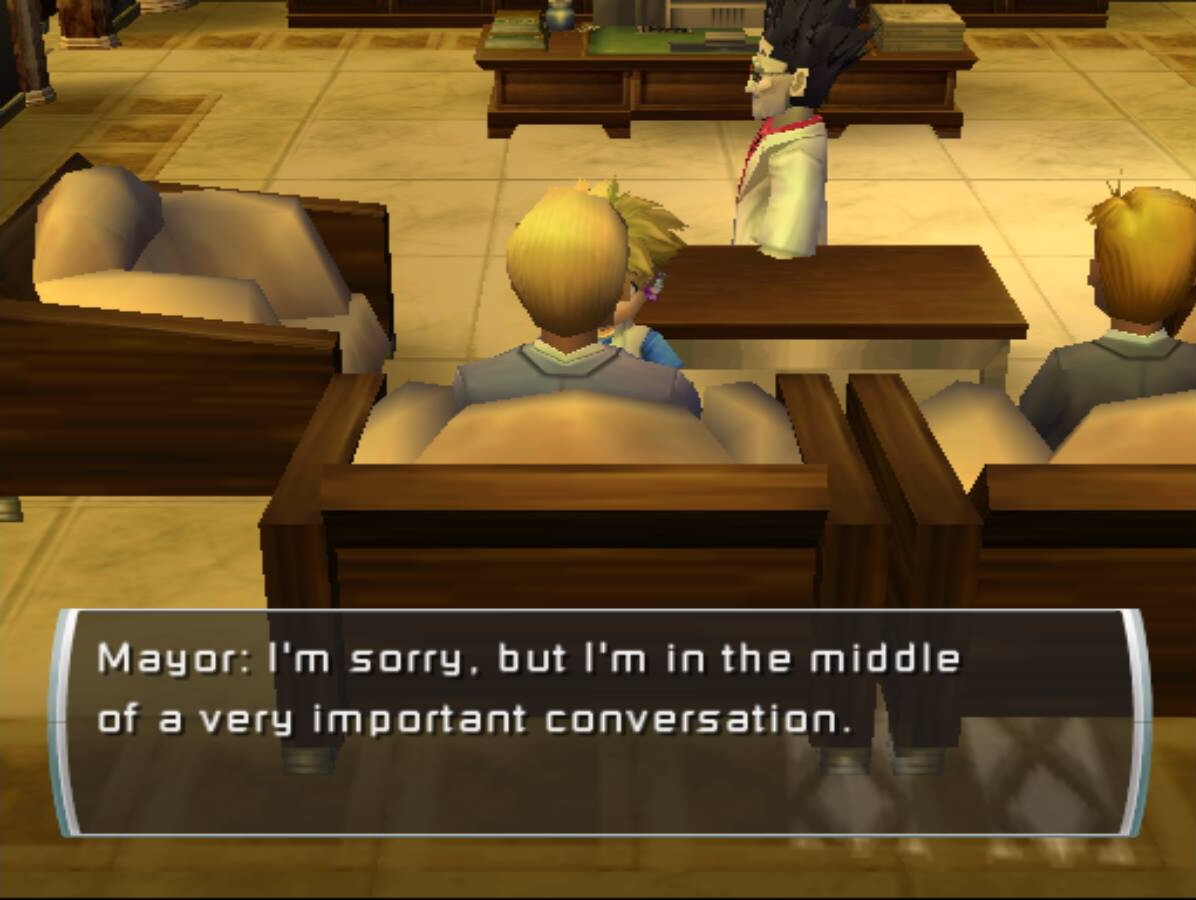 Chuck still says the same stupid thing -_- BTW Neo was in the mayor's office talking to Charles and Chuck. Probably they meet with him to talk about the whole volcano thing. Charles said the same stupid "you should watch the weather" thing.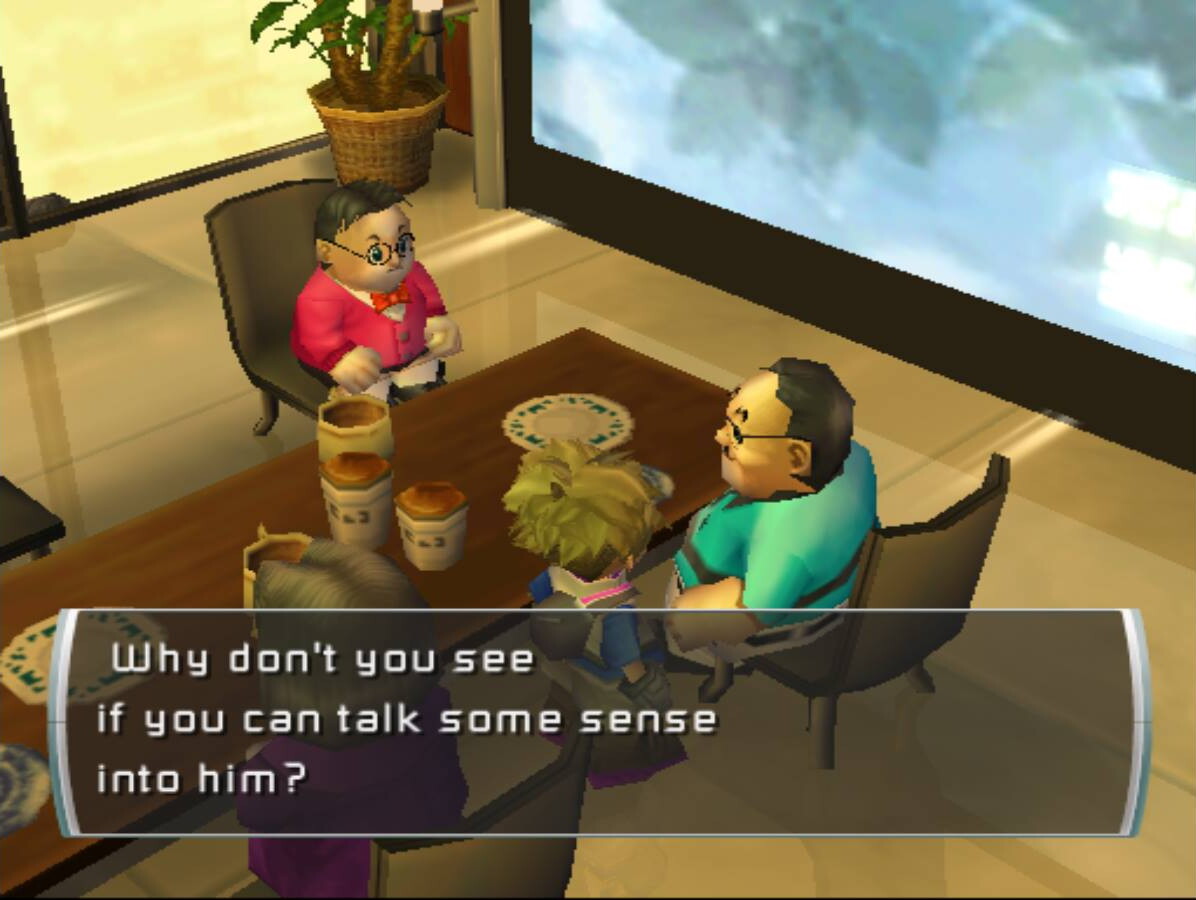 The Banks family eating together (minus Marcia). Marco recognizes I know Gayak and asks me to try to convince him to move into a modern house and start autofarming.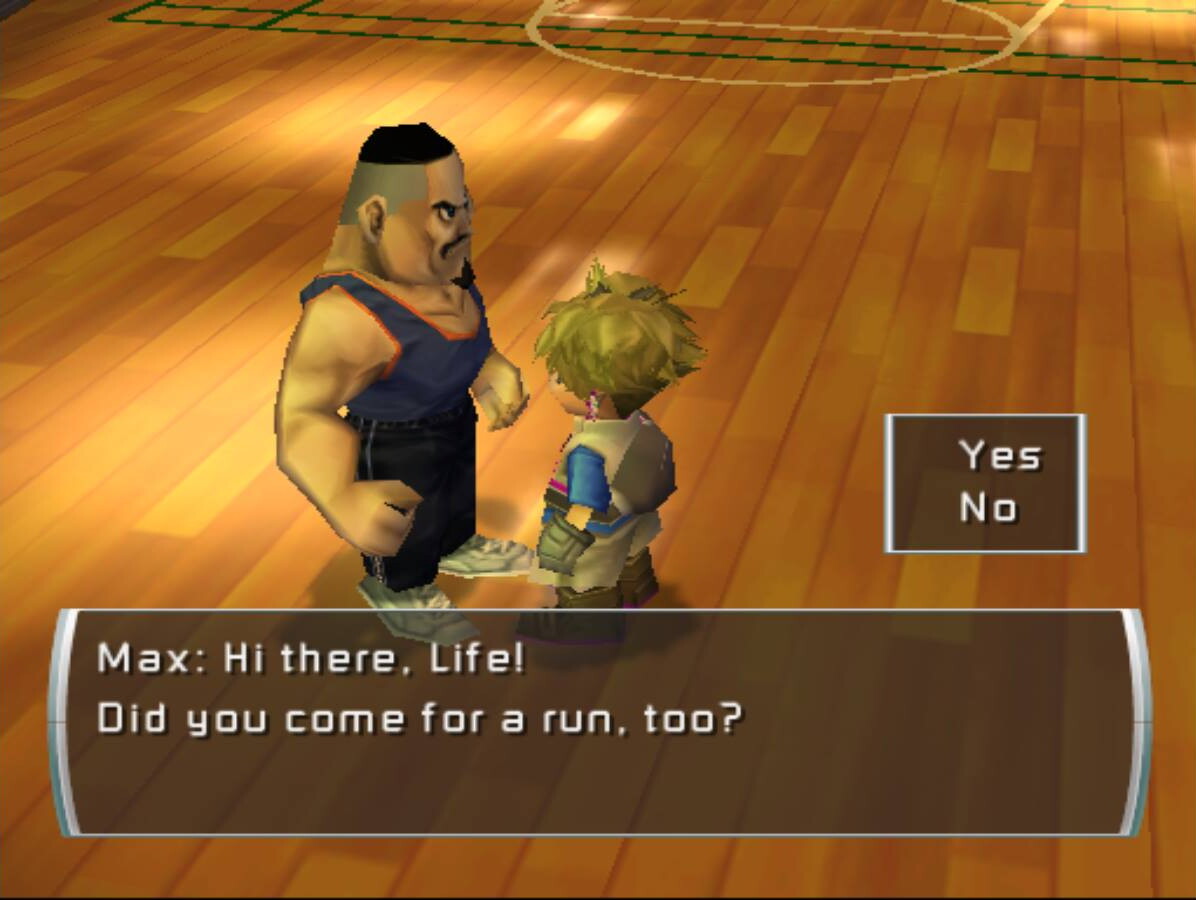 MAX RUN. MAX LOVE RUN. Seriously, he's always running XD How he get them massive arms if all he does is run around? XD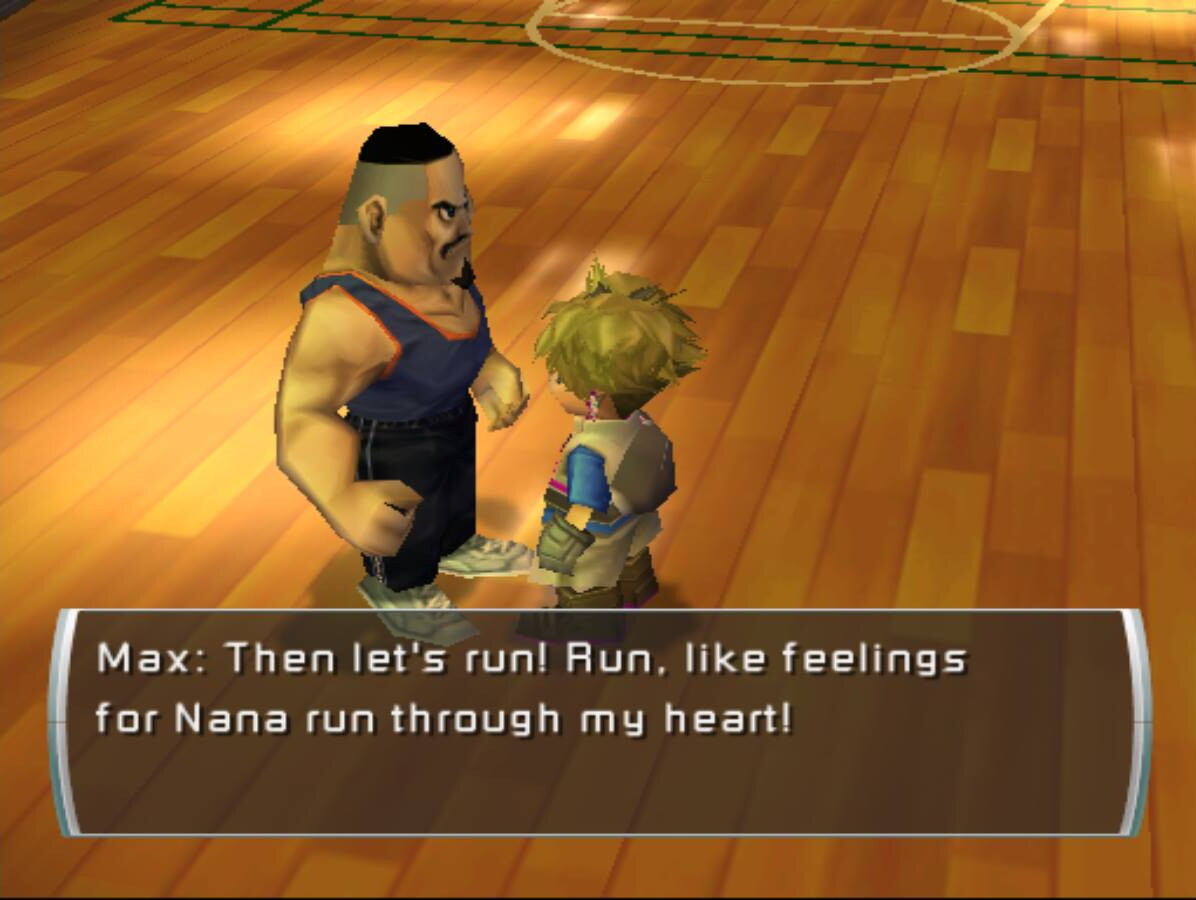 If you say yes, he'll say we should run like his feelings for Nana run through his heart... so cute!!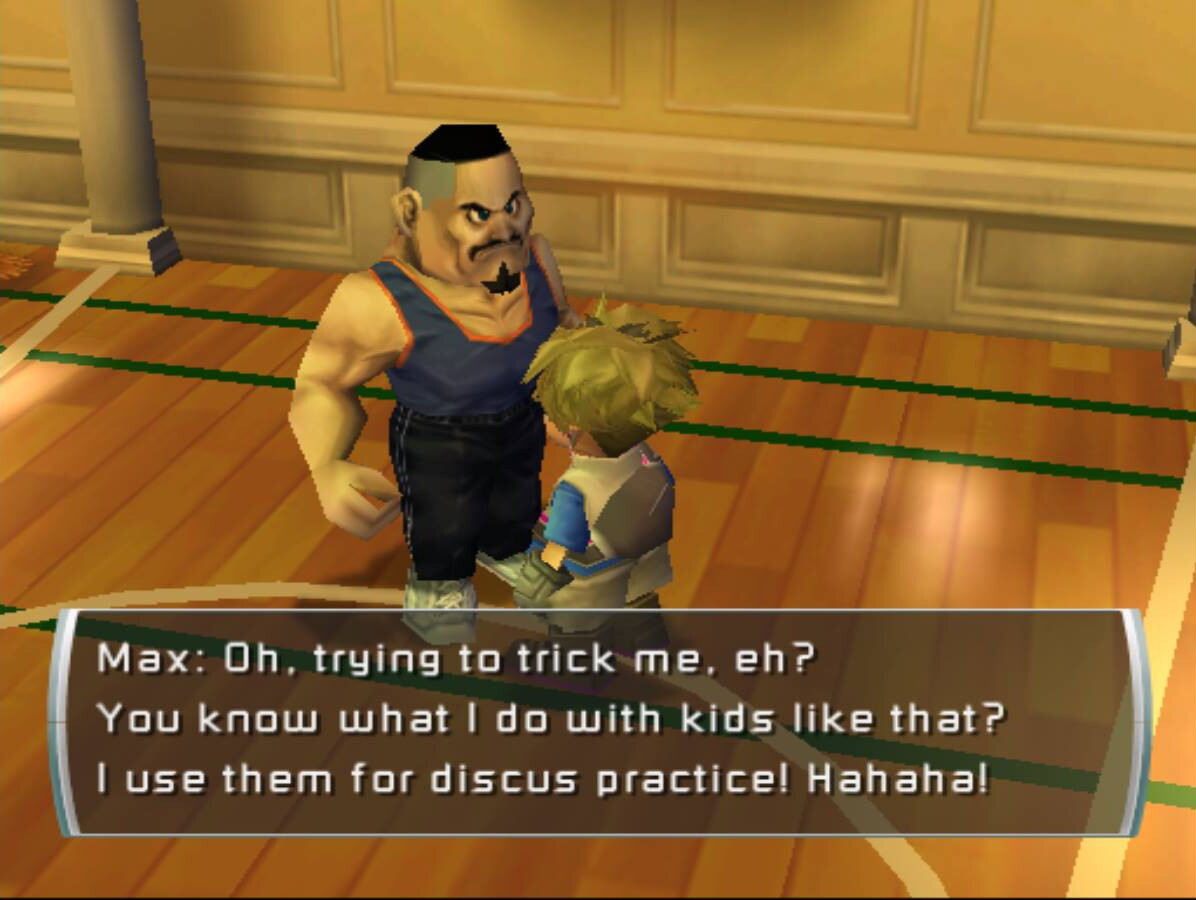 If you say no, he says... he uses childrem for discus practice??. WTF does that even mean, use them for discus practice? Does that mean he picks up children and throws them? Or does that mean he shoots them like... clayshooting???? Is he threatening to kill Life?? hahaha. Or it's just some kind of creepy euphemism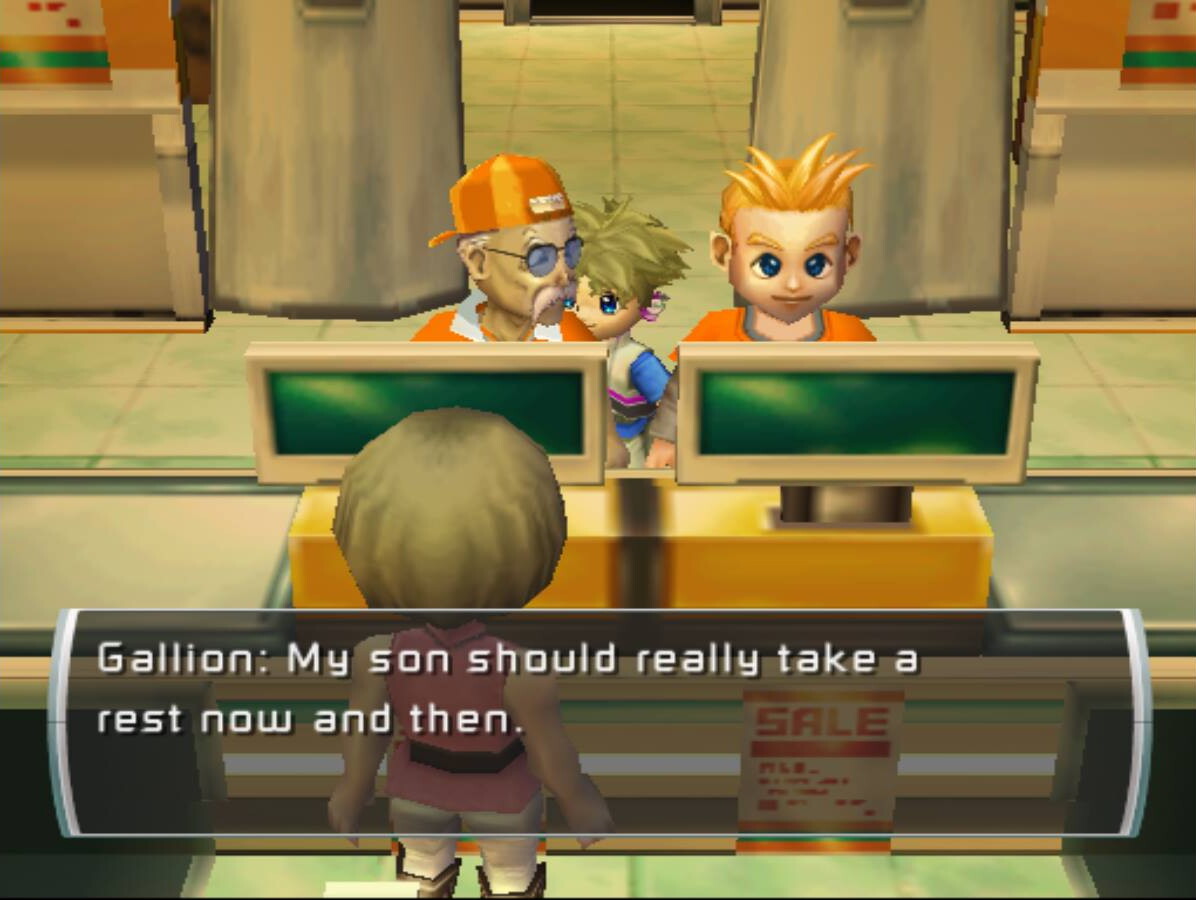 Gallion working the register! I've never seen any of this before so I guess I just don't walk around town on Saturdays enough?!?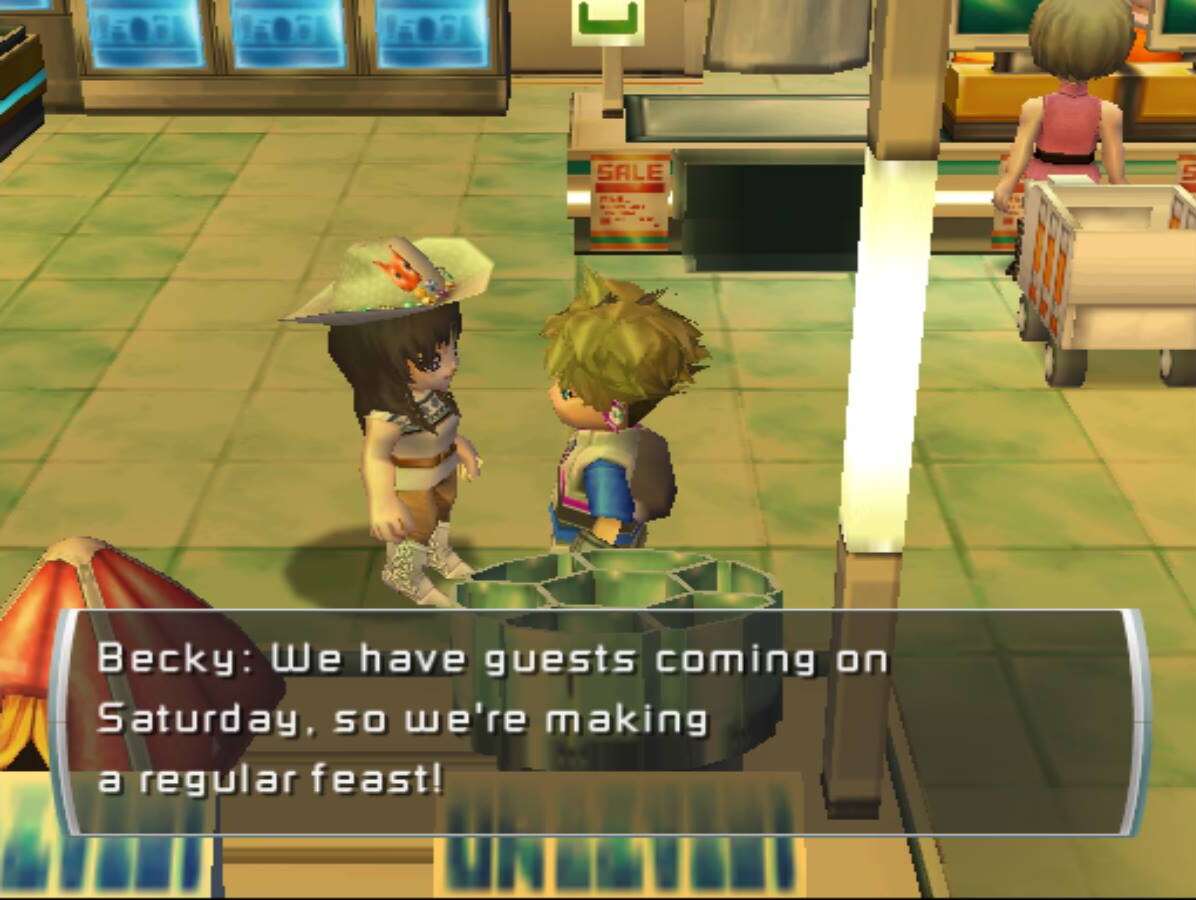 ... but it IS Saturday? And IDK what this was even about. I actually forgot to go to their house (it's kind of out of the way in a weird place and I miss it a lot) during the night to see if they were having guests???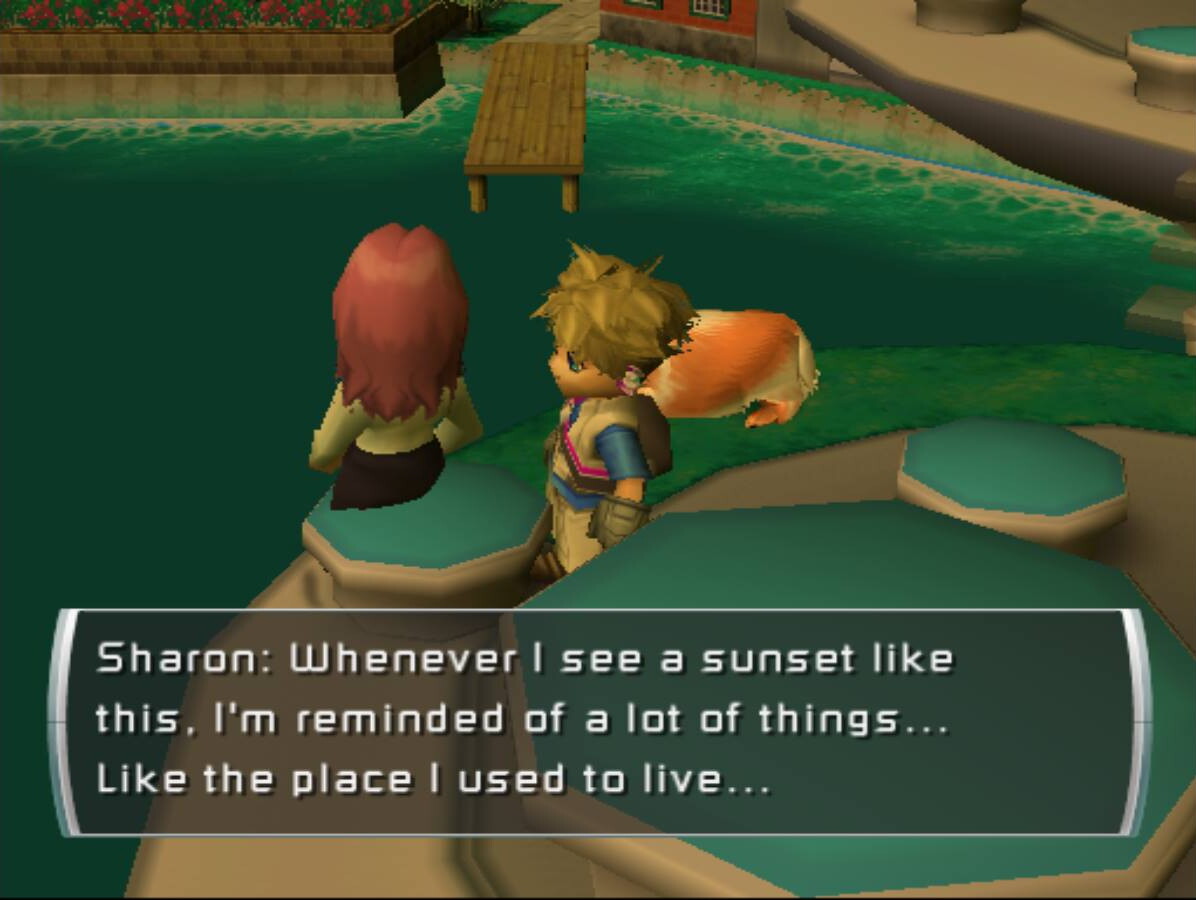 O_o But hey, I found someone else up here that wasn't Marcia XD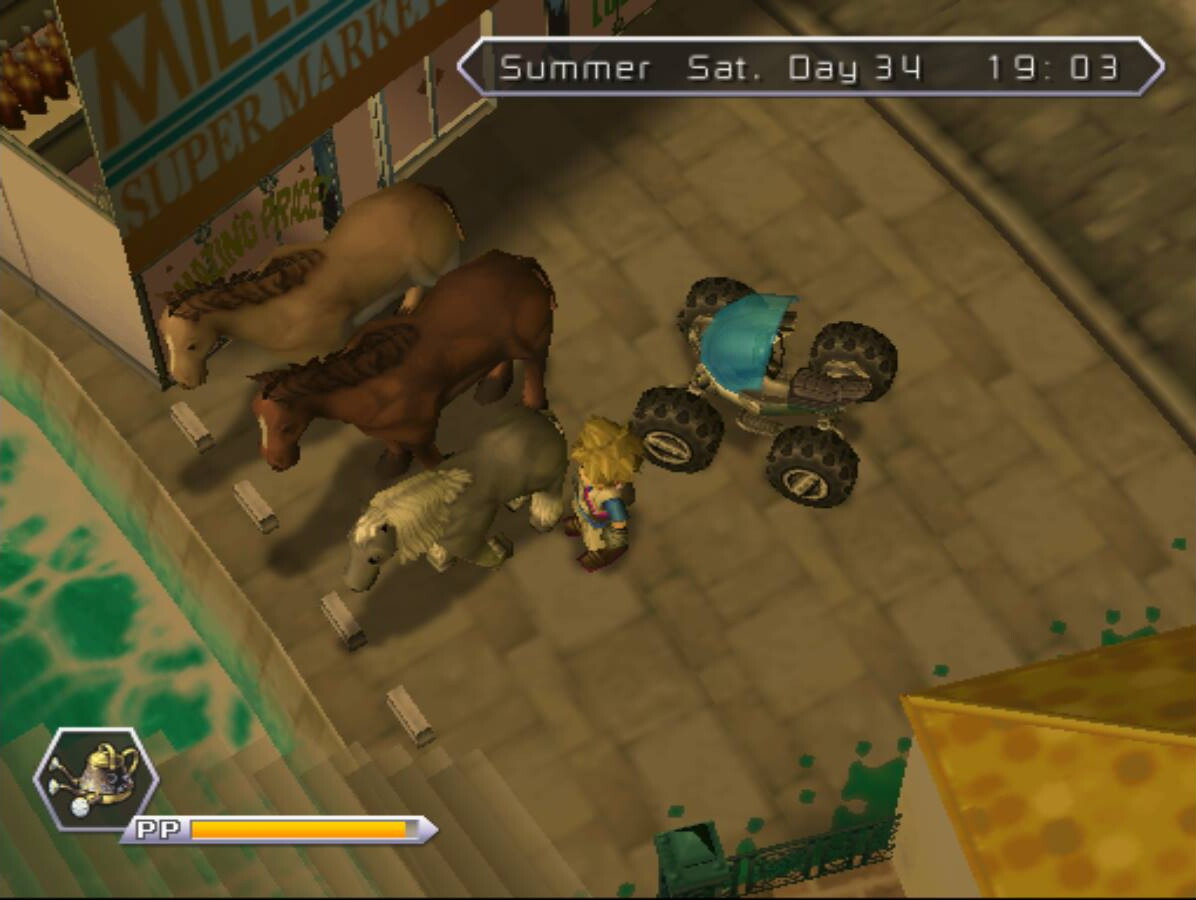 The Branch family's horses. Their house is not even that far from here; they didn't need to ride a horse like... half a block away. (Branch family is Jonathan's family)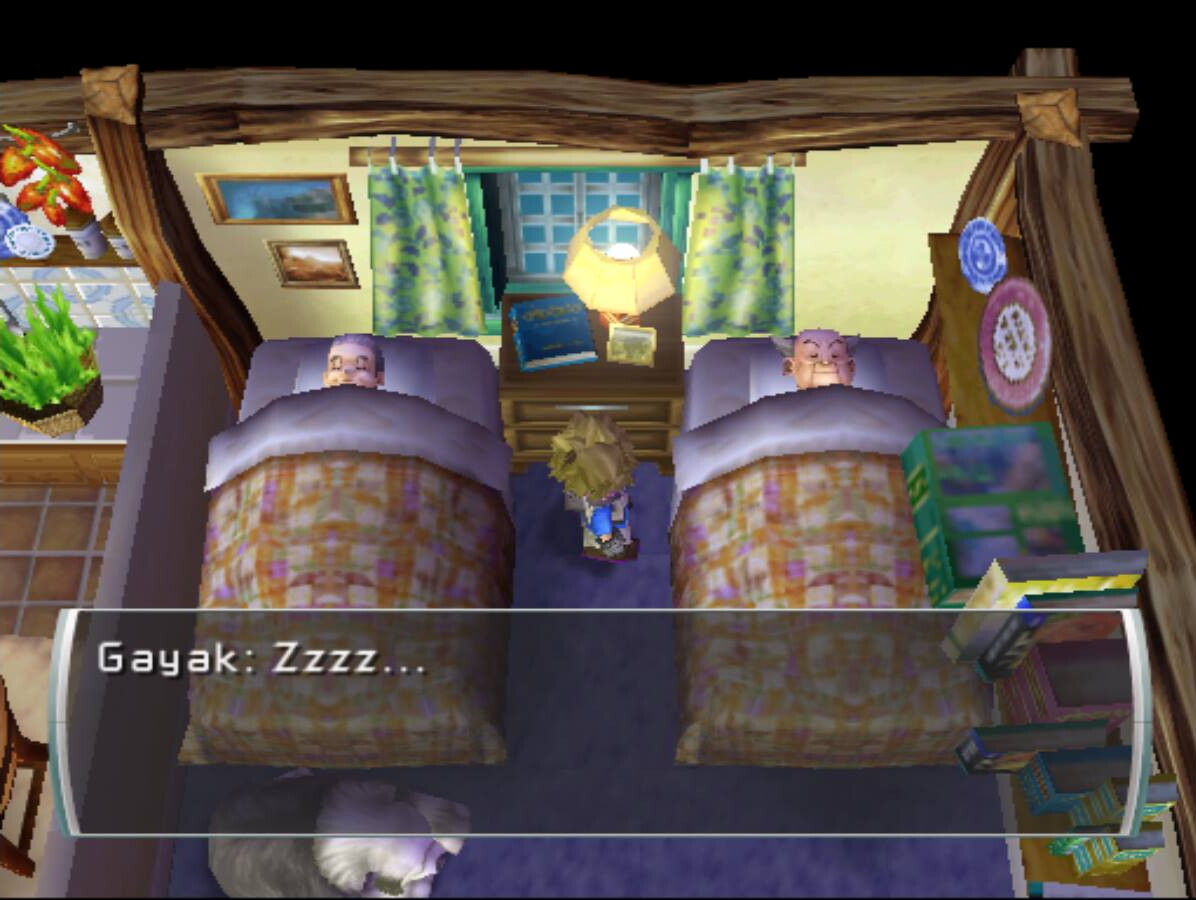 Marlene and Gayak go to bed EARLY.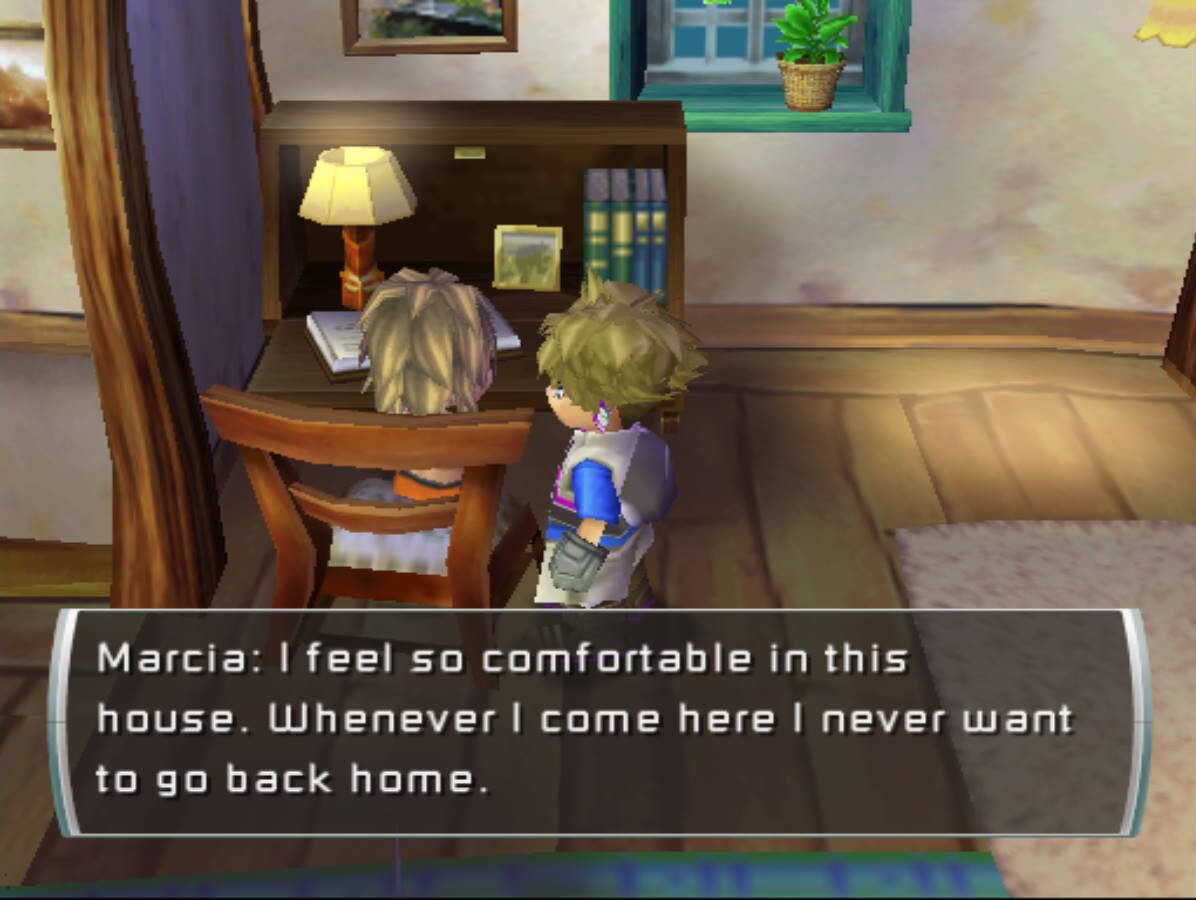 Marcia stays with her grandparents over the weekends.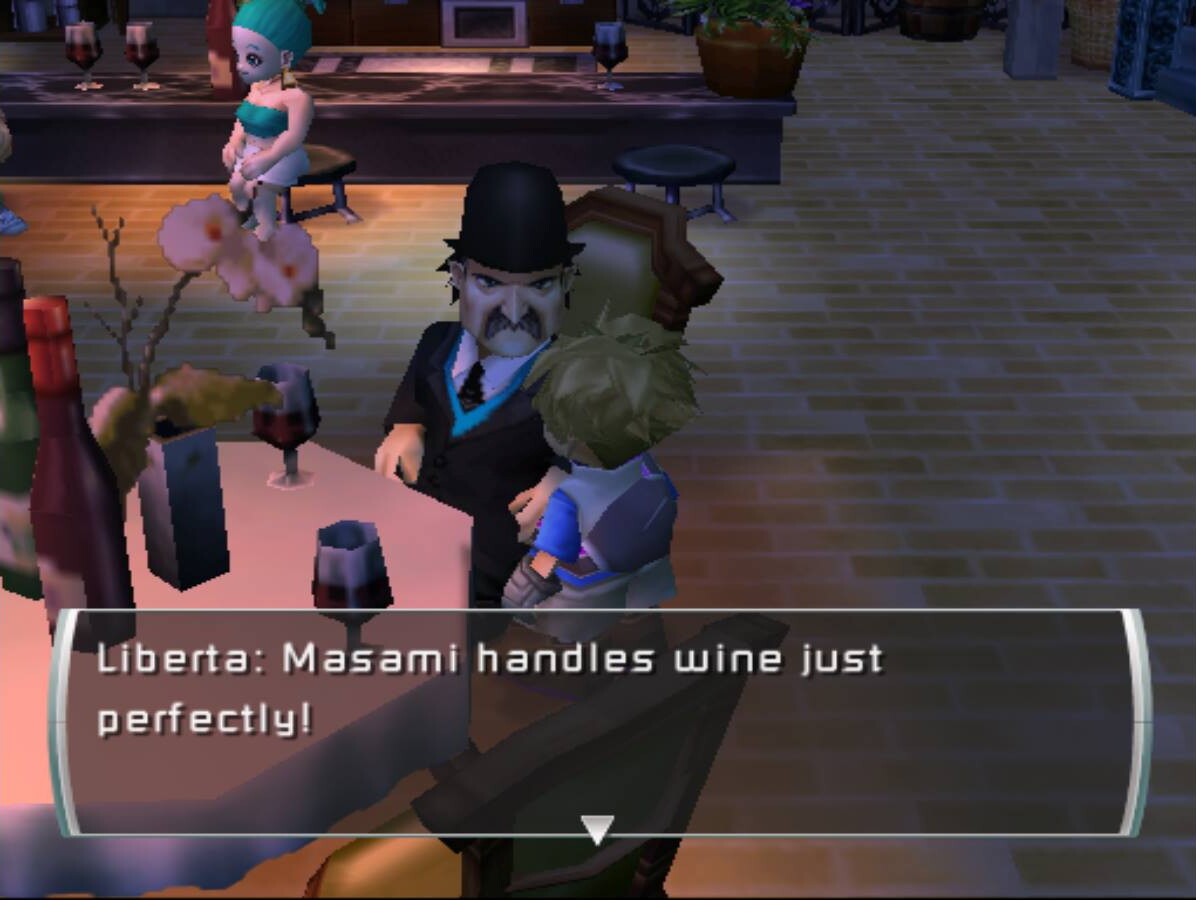 Is this also a euphemism? A NEW LIBERTA LINE LOL YAY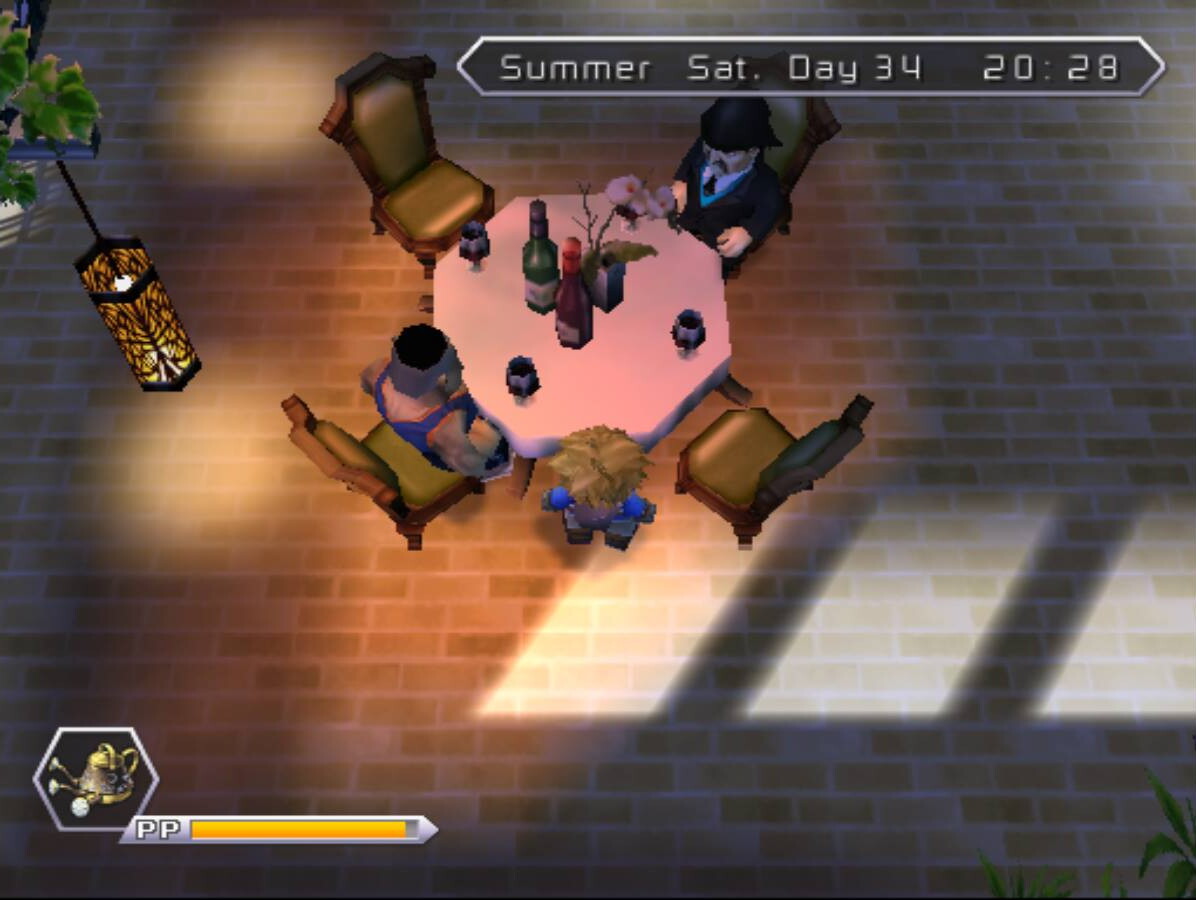 Also, Liberta and Max are drinking together! They're the only ones at the bar except Lenny and Nana (who work there), and they're actually just sitting at the bar together themselves, not even waiting on Max and Liberta. This is such an oddly romantic setting, too...
And Max says he goes because he's worried about "Nana working in a place like this" but it seems pretty relaxed and safe...? Is he afraid of Liberta and Nana being alone together, or is he making an excuse to have a date with Liberta? (I'm gonna go with the second because honestly how can anyone resist being attracted to Liberta. I mean, let's be real.)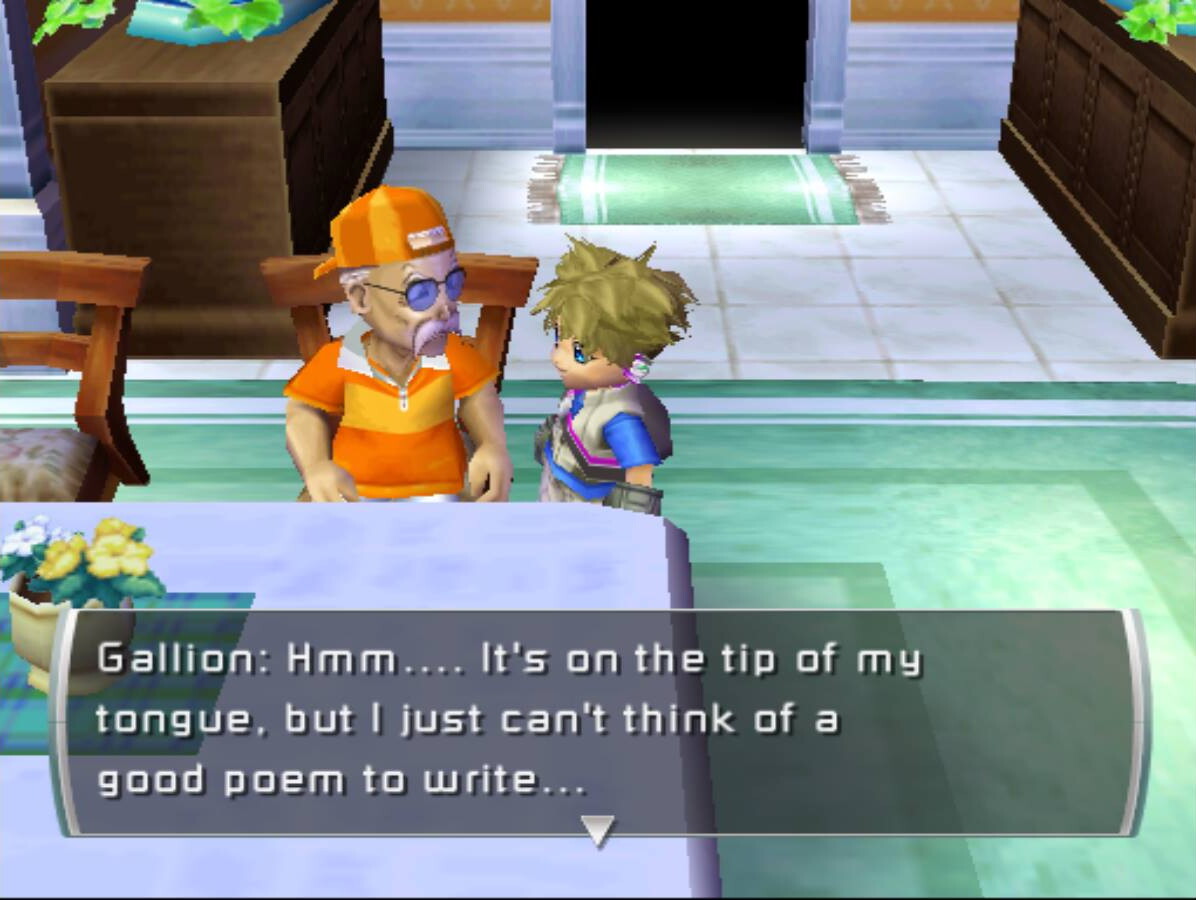 Apparently Gallion writes poems outside of Masami's class, and considers Franco his poetry rival lol.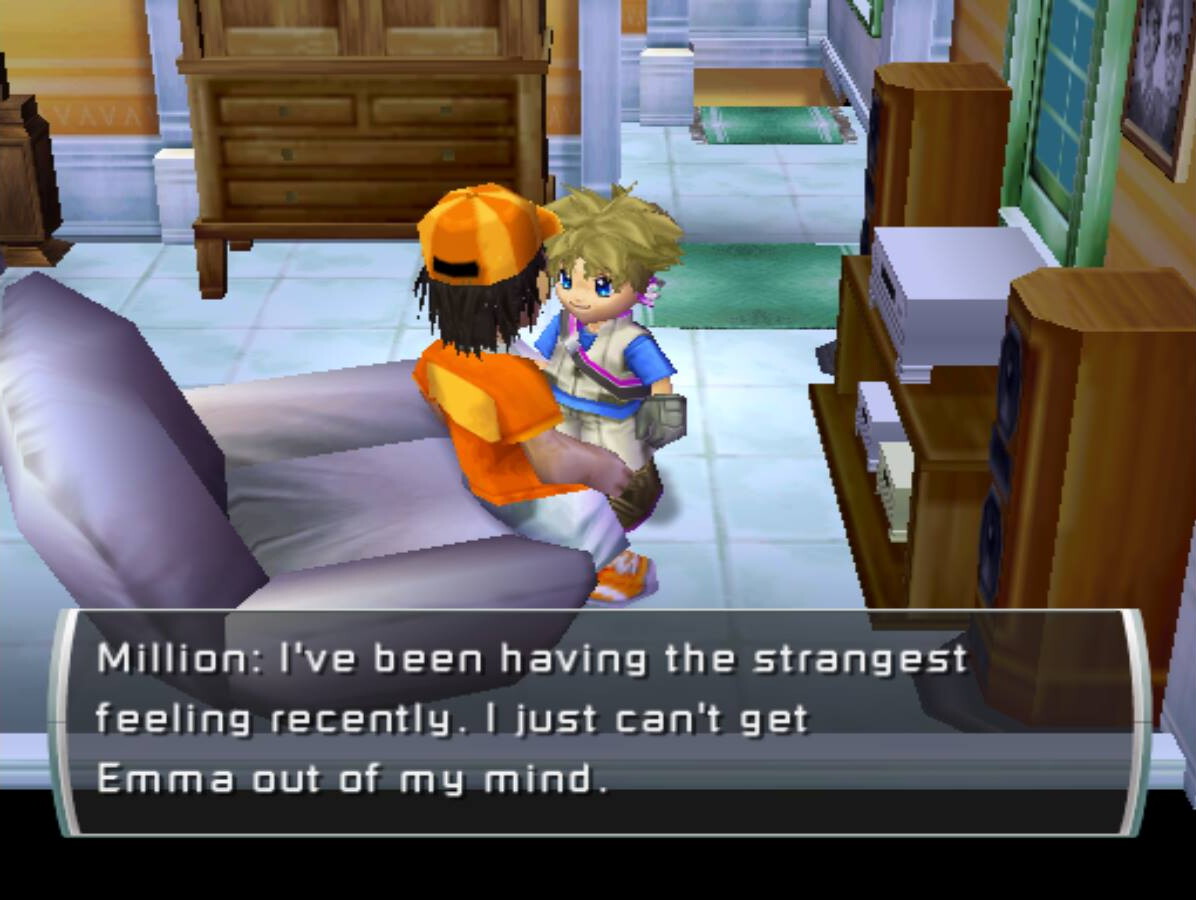 omg it really is happening lol...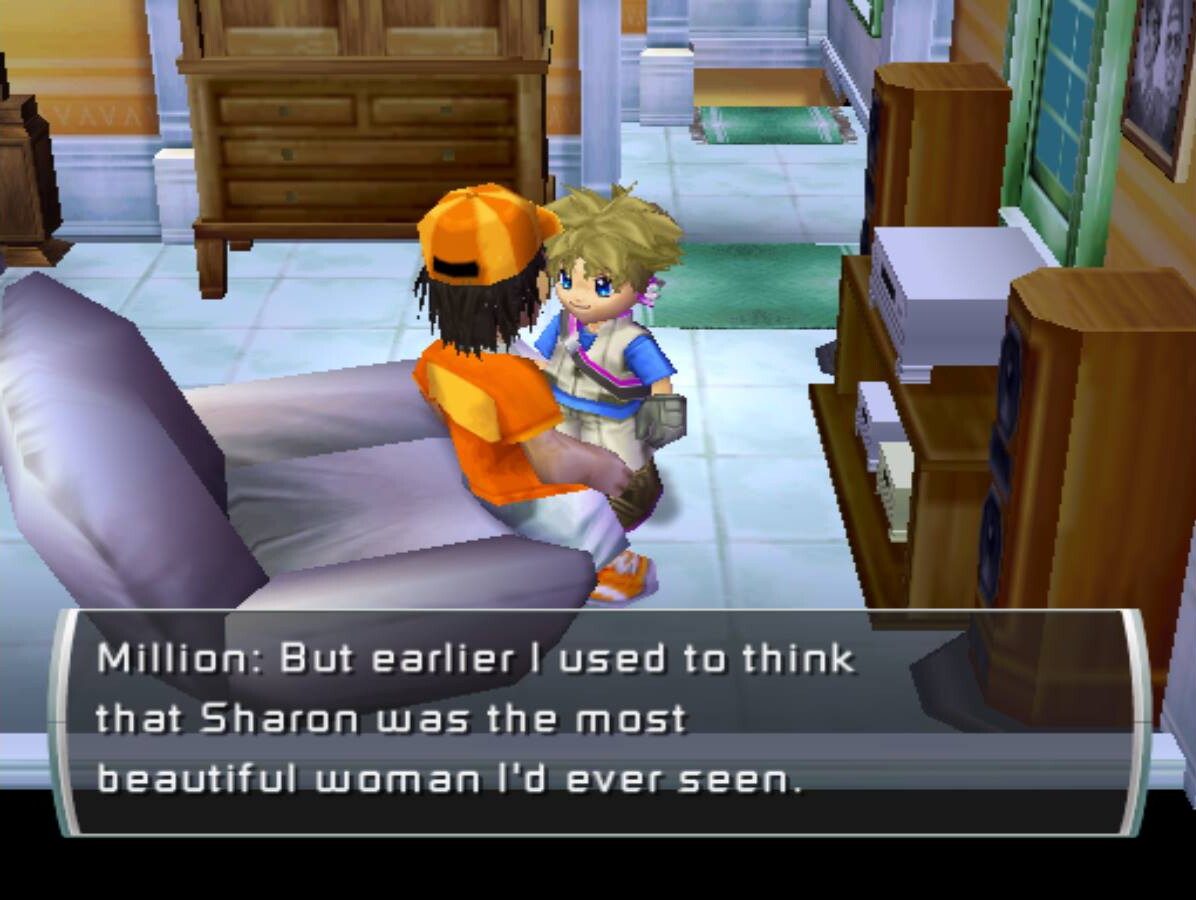 LOL it's the ribbon. It influenced your will. Now you will only see Emma. XDDDD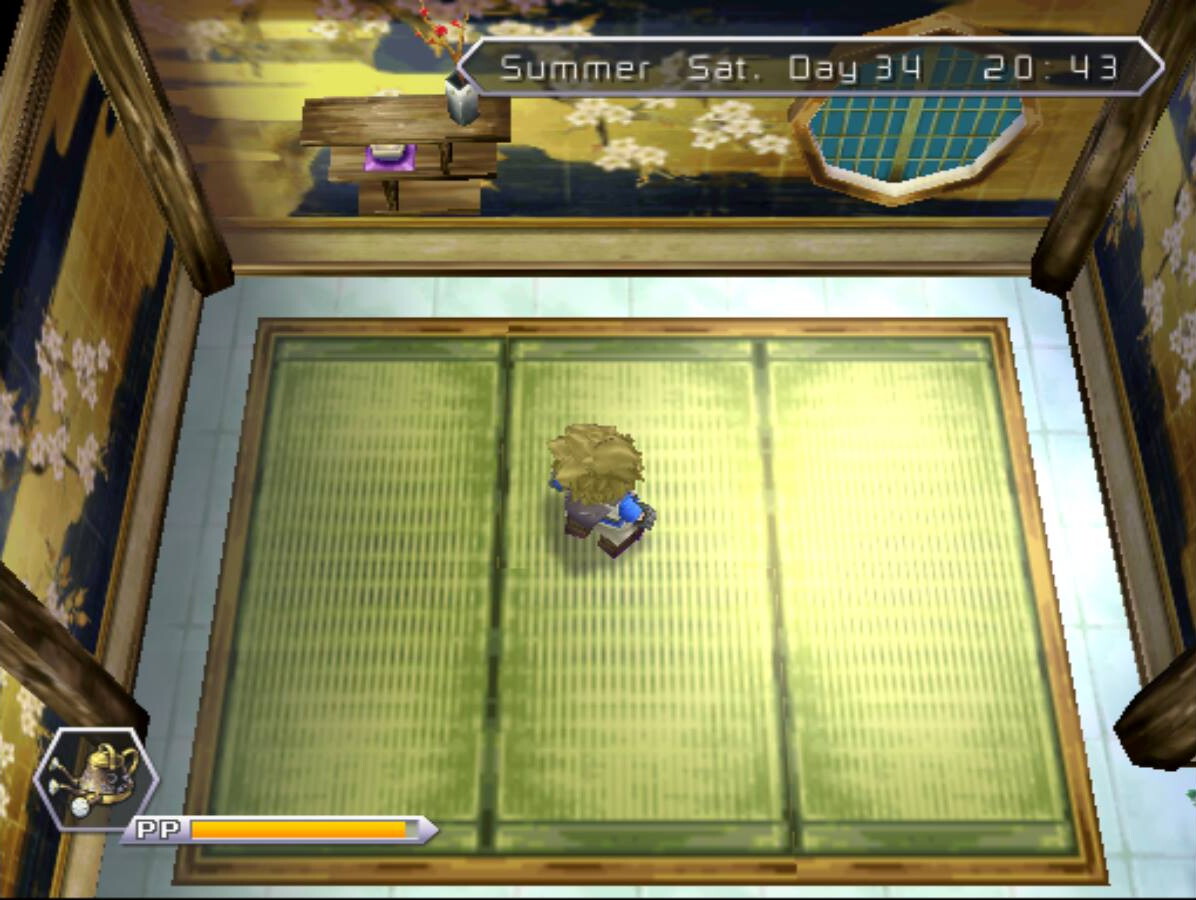 The Marche house has a tatami room in it. I wonder if Masami also does tea ceremony?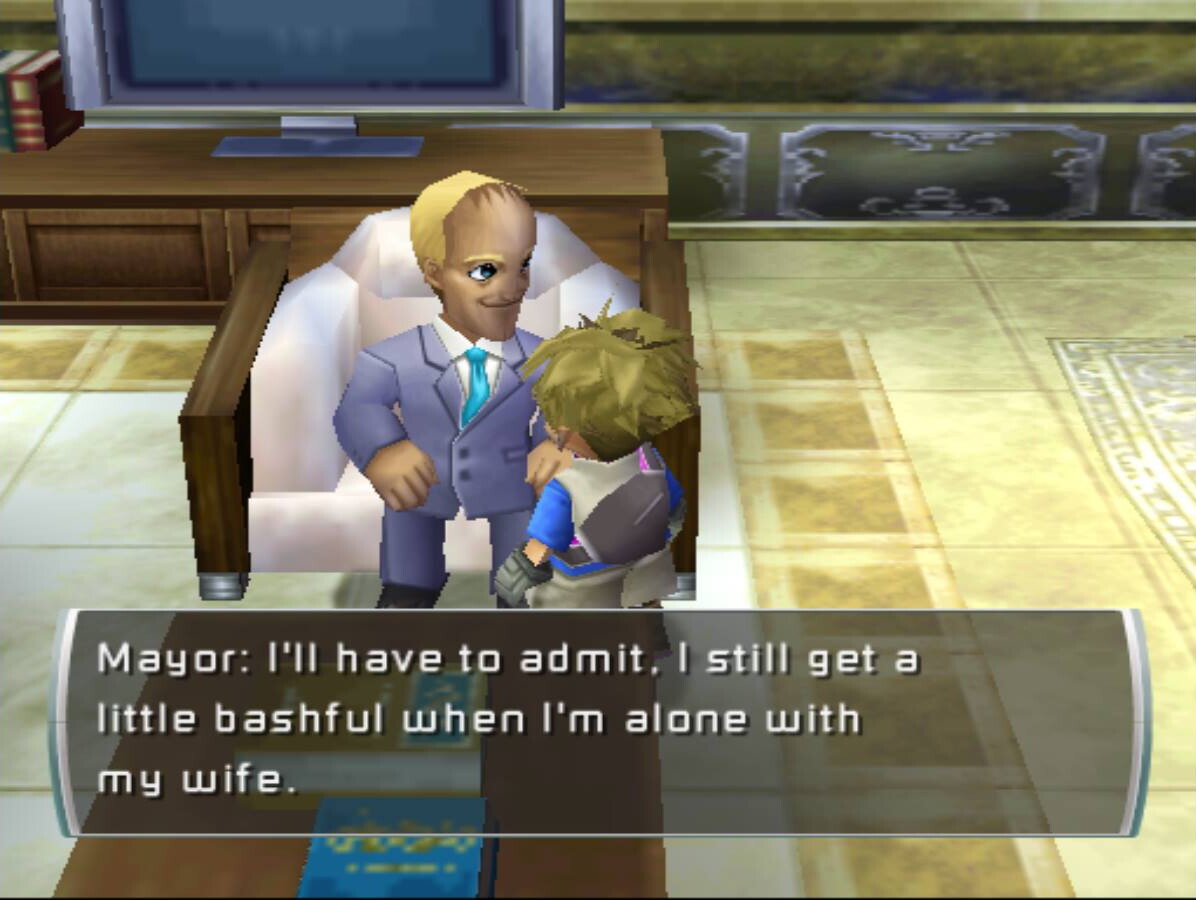 FINALLY AFTER ALL THIS TIME, I GOT A CANDID, NON-WORK LINE FROM CHUCK. AND IT IS THE MOST ADORABLE THING OMGGGGGGGG I LOVE HIM LOL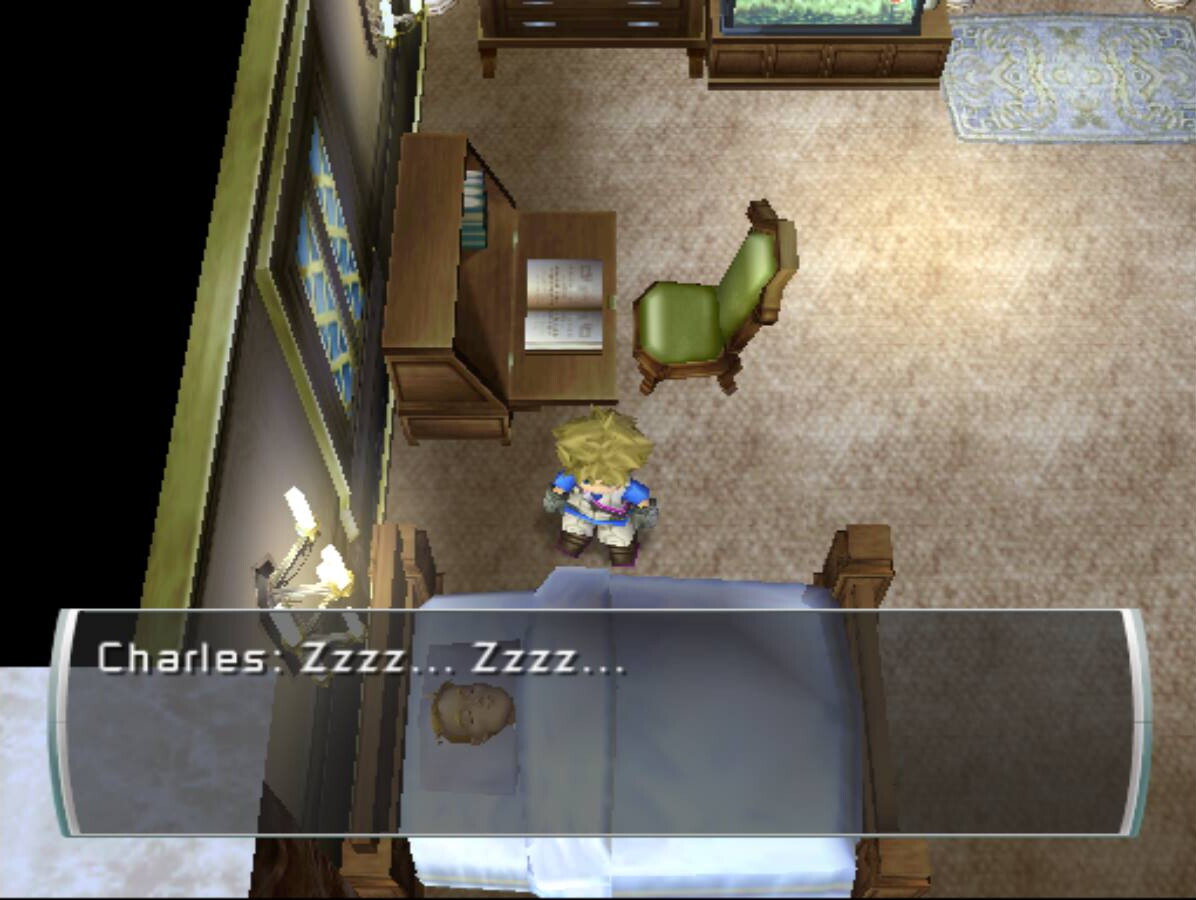 Charles goes to bed at like 8PM, what a nerd XD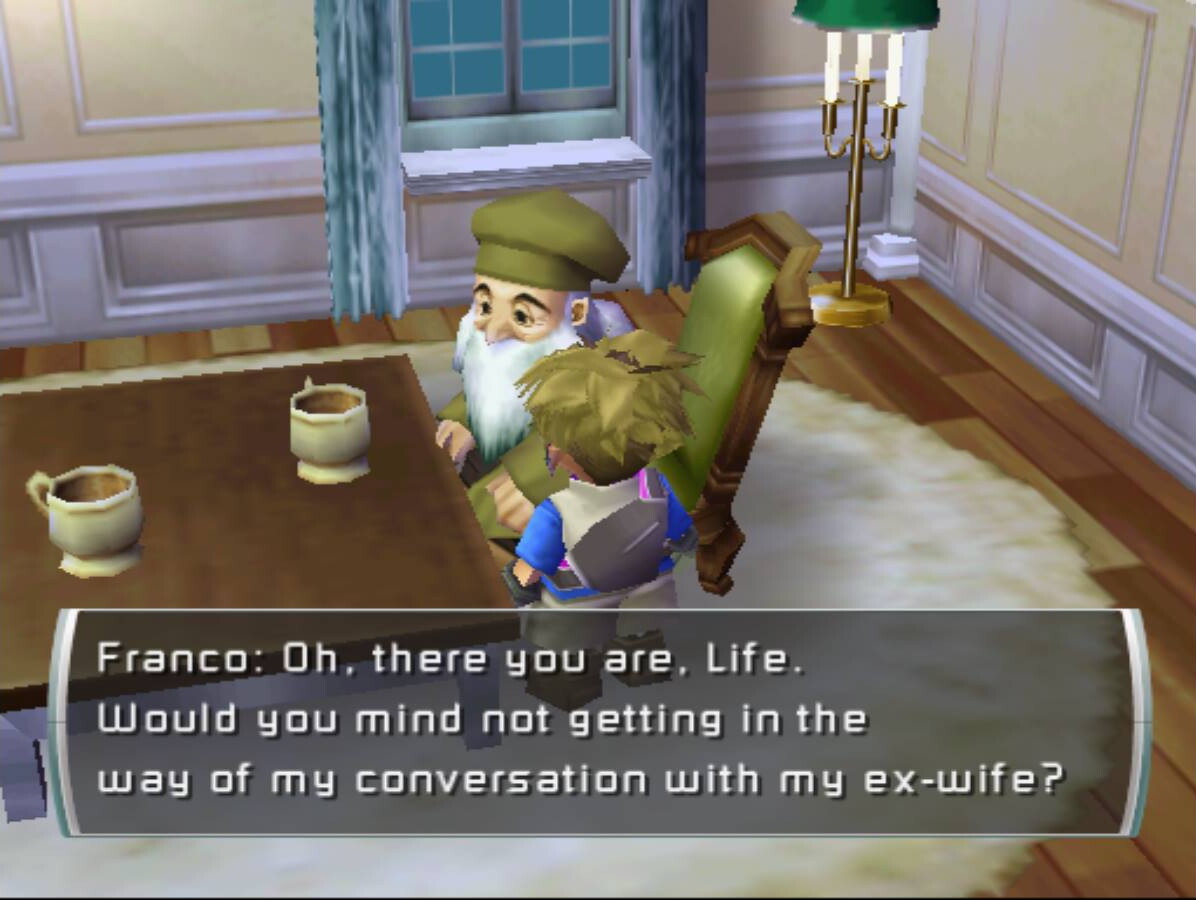 SO MUCH STUFF HAPPENS ON SATURDAYS GUYS OMG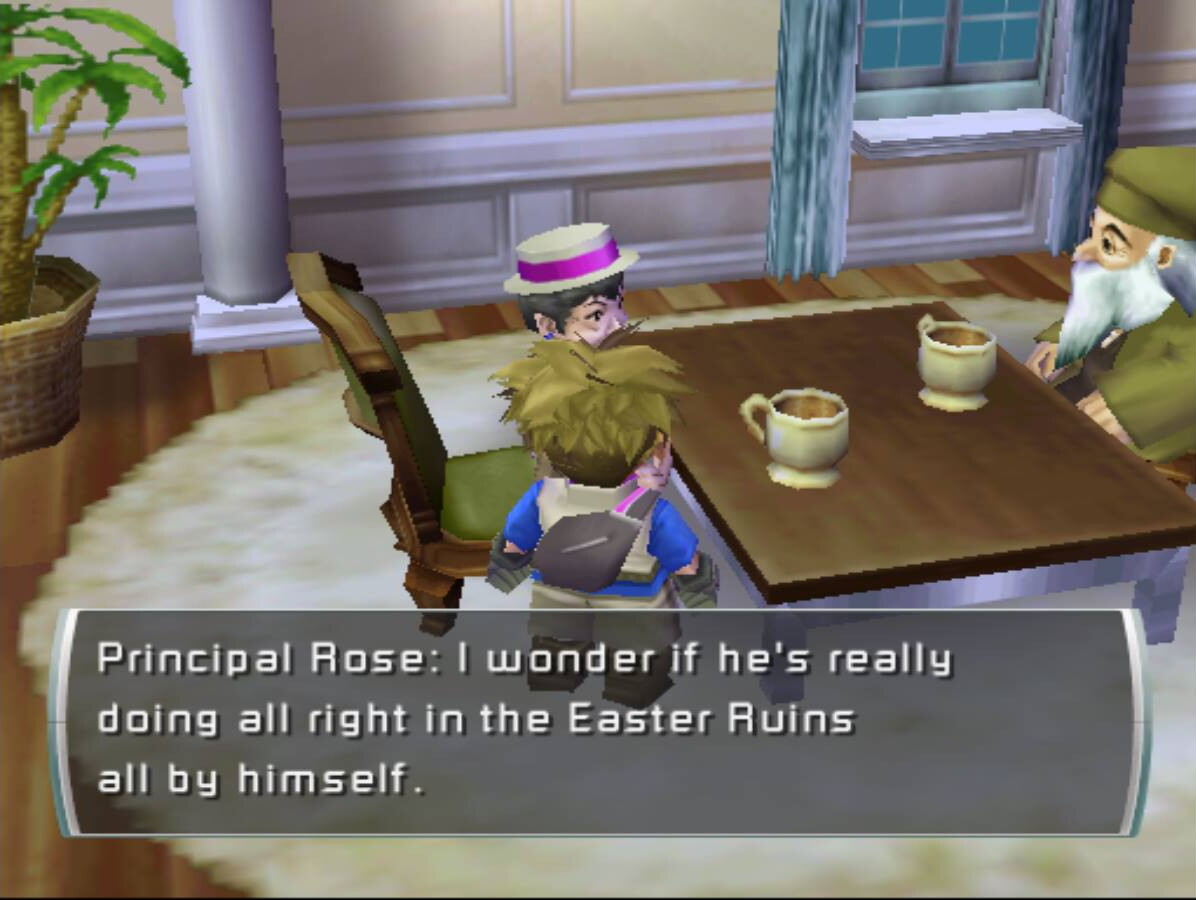 So I guess Rose and Franco used to be married... wow XD Neither of them have too much personality so it's not terrible interesting, but... XD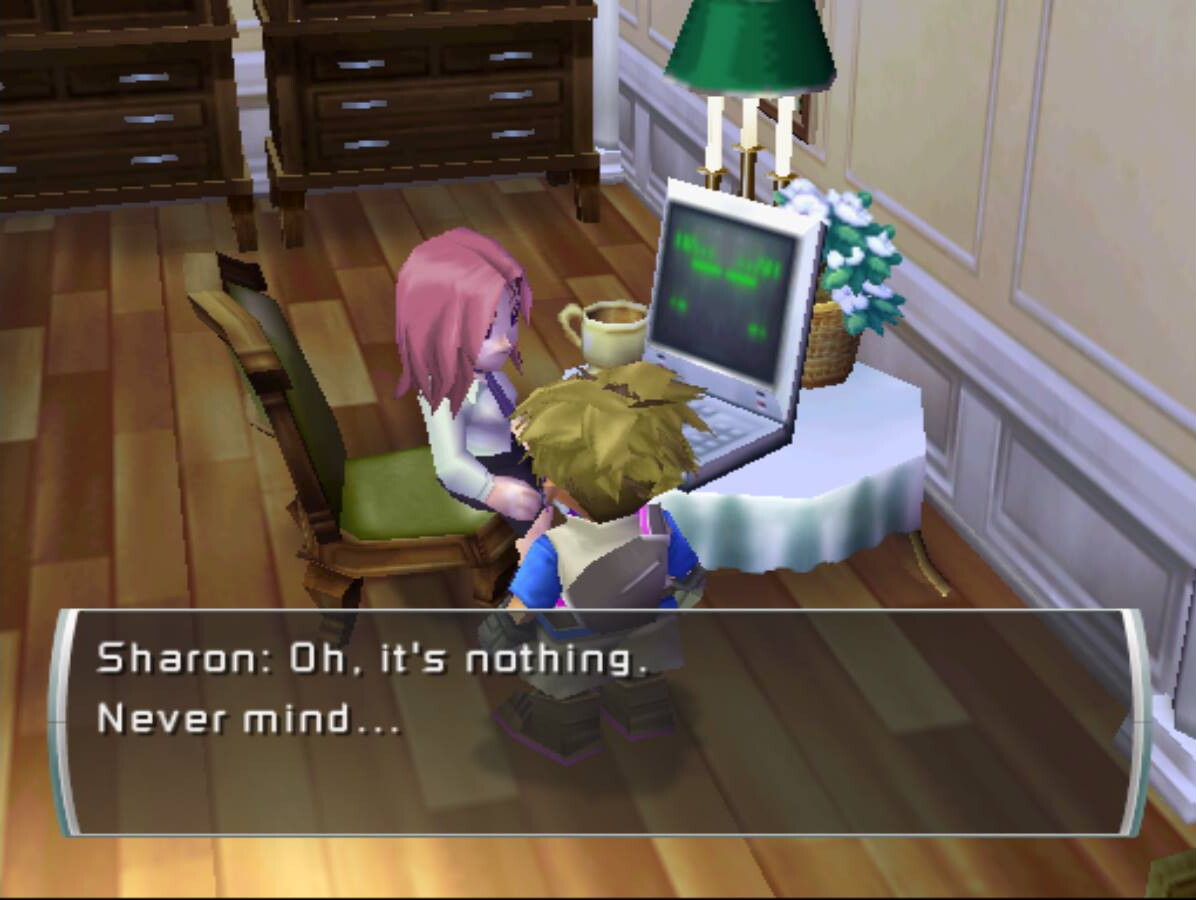 Sharon was like "If you travel around the island a lot, you meet lots of people right? Does that mean you've met--" and then cut off to this O_o??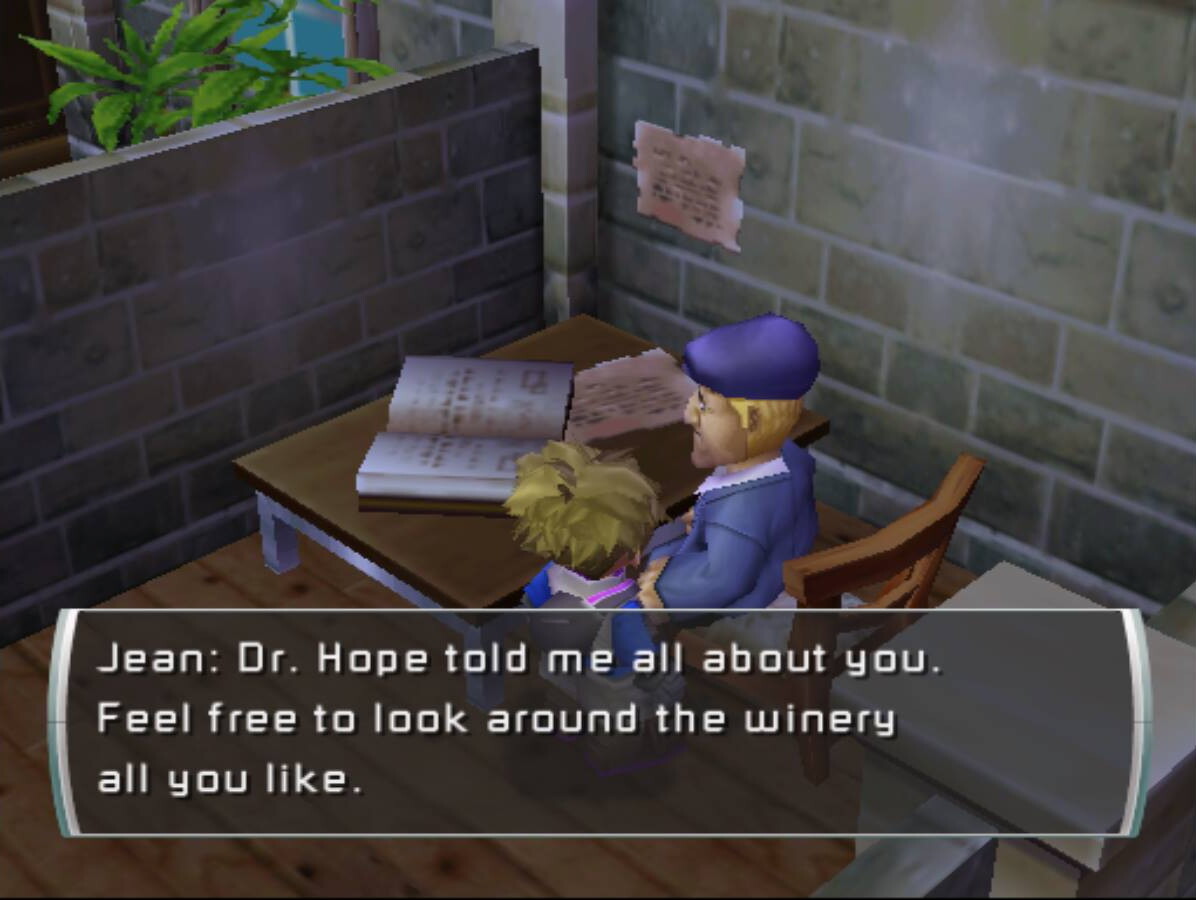 ............................... OK so Bobby literally says NOTHING ELSE in the game except telling me not to run around the classroom while it's in session... for the entire game that's all I could get him to say to me. And FINALLY... we see something different... And it's literally Life watching him take a dump.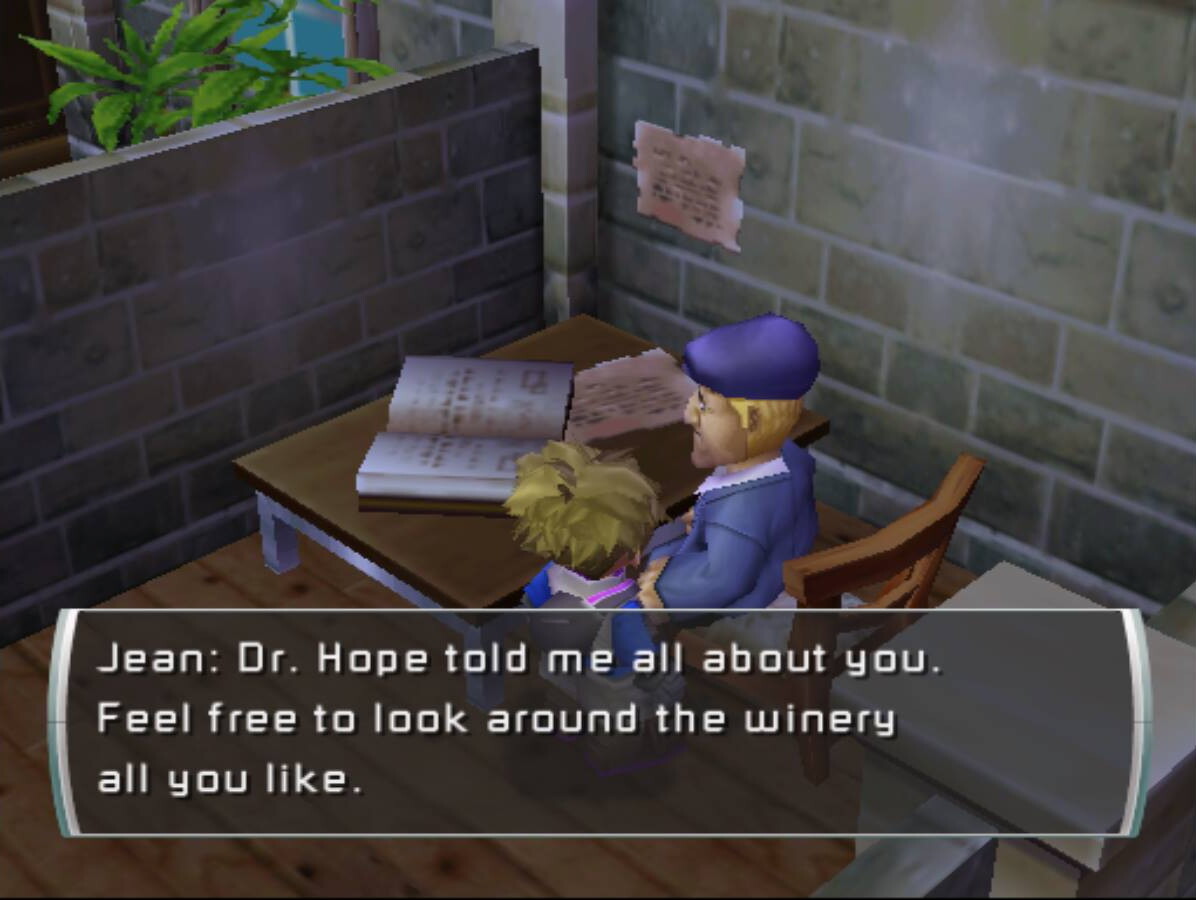 Jean was at this desk on Saturday night. Unique location! He's gotta say something new, right??? WRONG IT IS THE SAME STUPID THING JEAN I HAVE BEEN TALKING TO YOU NONSTOP FOR TWO MONTHS WHY DO YOU KEEP ACTING LIKE THIS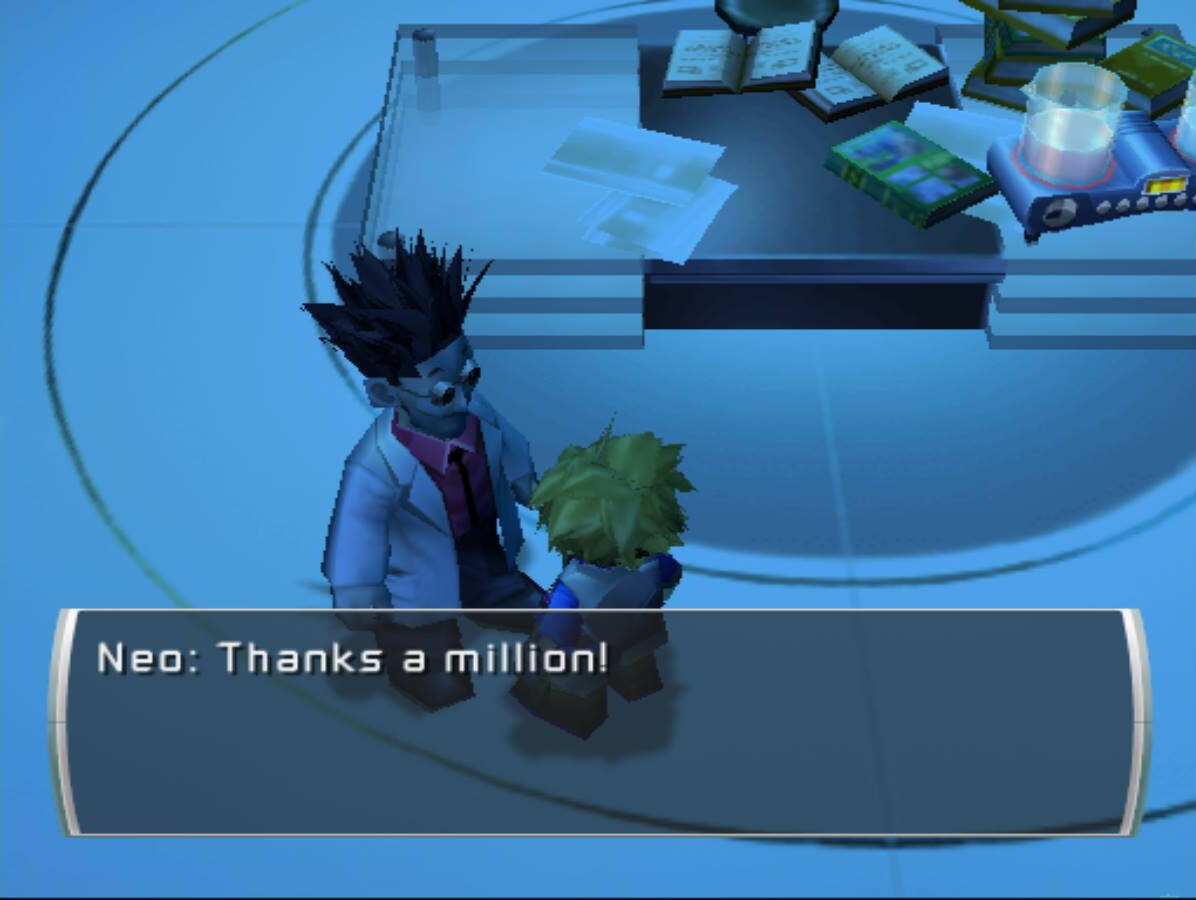 Neo asked me to donate 5000G to his research. I just said yes because I had like 110k anyway, so what's 5k? He said I'd definitely see a return but didn't explain how or anything, so... idk LOL I wonder if I just lost money?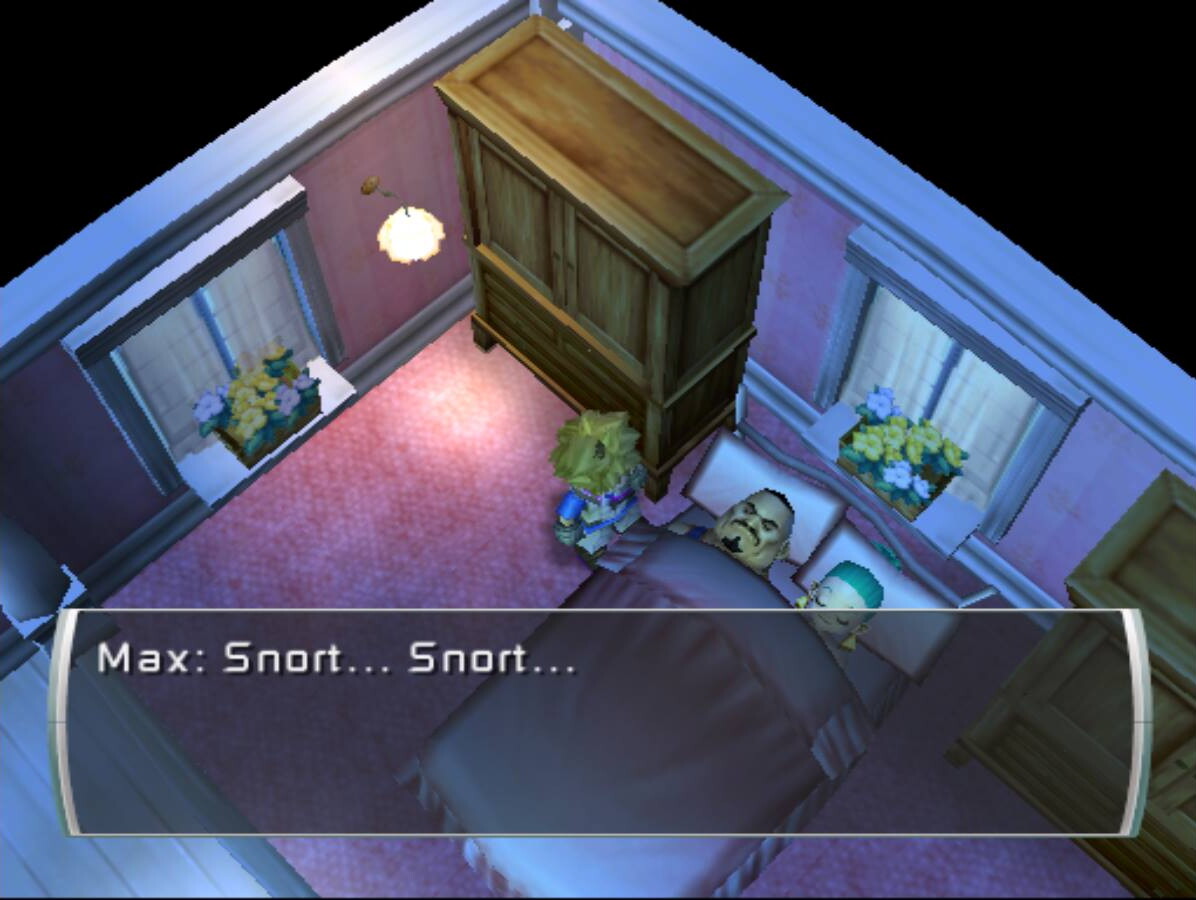 I caught Max and Nana sleeping together! No, not like that. Max says "snort" when he sleeps... everyone else says "zzz" or "snore." But that means Max must be the snorty type of snorer which is really hot.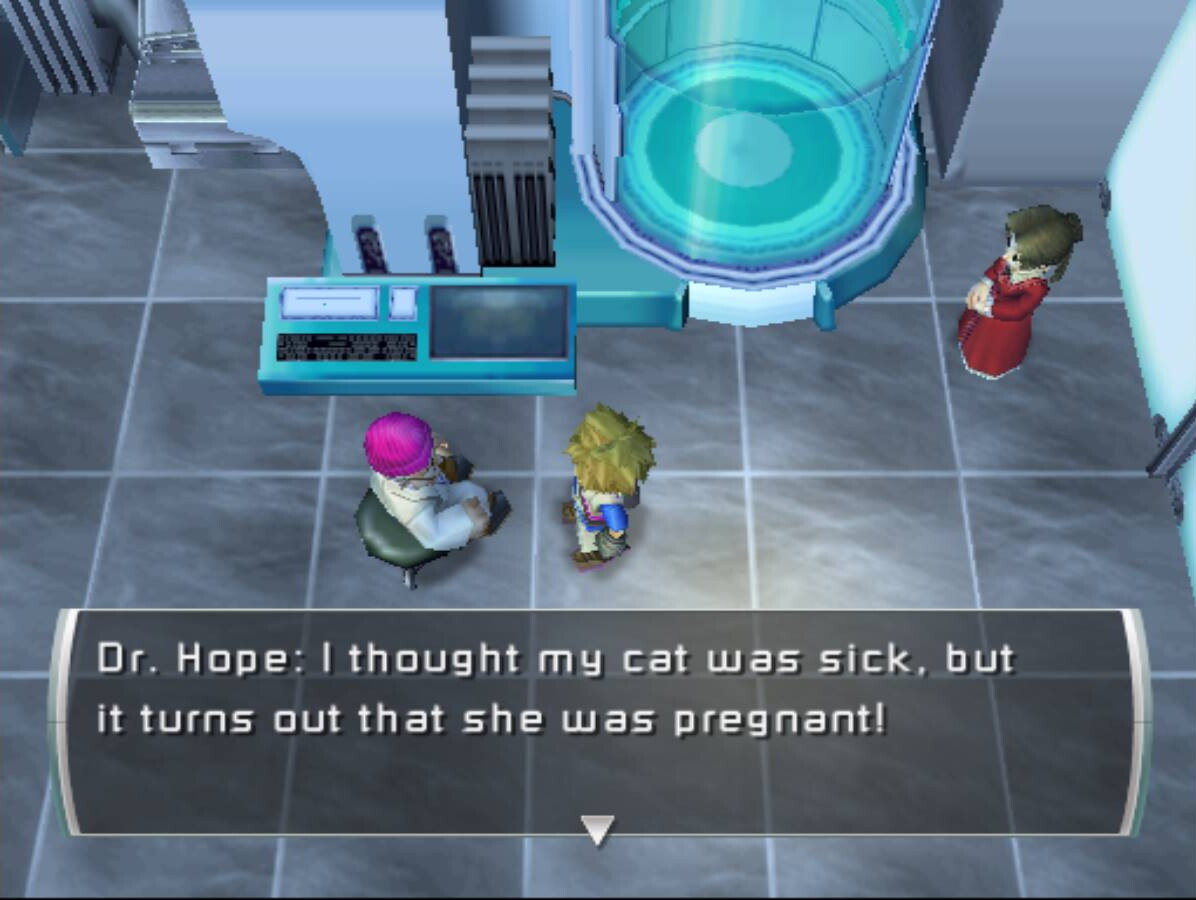 I stayed the night at Hope's again after running all over Saturday night and seeing all these things. My Sunday Surprise was that his cat is preg. OK, great? And did we really need the somber foreshadowing before? I'm guessing this is how you get the second kitty :P But, uh, no story at all?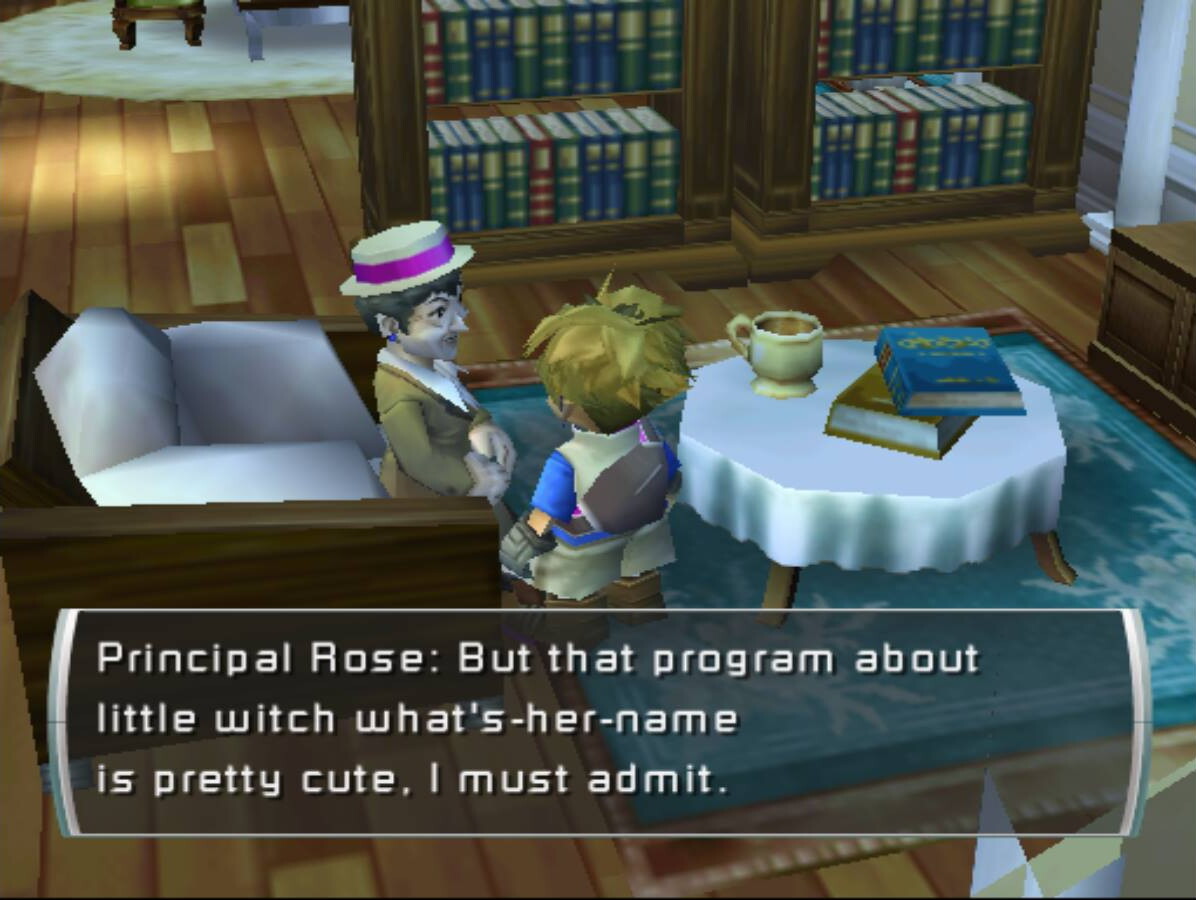 I ran around a bit Sunday to see if I could get more stuff, but since I always have to go to town on Sundays, I quickly realized I've seen all this before. Even in poetry class, everyone gave their same poems as last week :( Maybe they change for the season, though? Since Masami talks about poems should have a seasonal word and stuff.
ANYWAY, I ran into Rose who I can't believe not only likes kiddie anime, but the worst one on TV. How can you complain about TV when you like the worst show. Miss Cute is a horrible show. *tries to push Final Z-Rangers on her*
And yeah, that's... all that happened this week...
---