At the turn of the 21st century, the field of robotics was propelled to amazing new levels thanks to the work of genius roboticists Dr Albert Wily and Dr Thomas Right, both graduates and friendly rivals from the Robert University of Technology. Most notably, after finishing a successful prototype (DRN-000) and building two personal assistant robots Rock (DRN-001) and Roll (DRN-002) that he saw as his own children, Right went on to produce an entire series of these DRN (Dr Right Numbers) humanoid service robots to perform tasks such as construction work and arctic expedition, surpassing the abilities of their human counterparts. This propelled the role of robots in society from helpful machines to citizen-like comrades.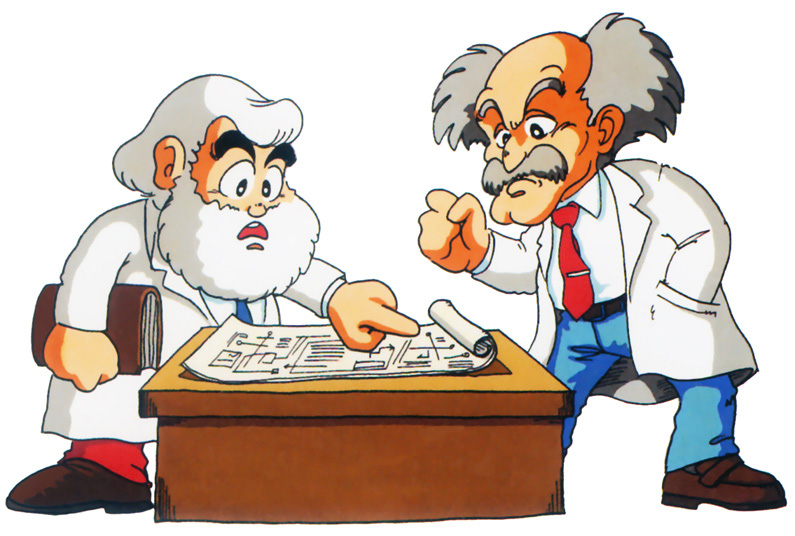 Right's advancements in the field started to overshadow Wily's, constantly winning awards and recognition, while Wily settled for receiving only nominations. After Right won the Nobel Prize in Physics, he built a laboratory dedicated to furthering the DRN series. Around this time, however, Wily seemed to disappear from the face of the Earth. Unknown to anyone else, Wily had built his own robotics laboratory somewhere in the Pacific Ocean, where he fervorously studied and experimented robotics in order to surpass his old colleague.
In the year 200X, Wily reappeared from seclusion enraged with envy, desperate to prove himself superior to Right. He kidnapped the DRN series and stole many of Right's normal service robots as well, reprogramming them to function as weapons and soldiers. He aimed to prove himself through world domination, using Right's own creations against him, along with some of his own battle robots, as well.
Wily made one critical mistake, however -- he didn't capture the child-like robots Rock and Roll, as he felt their function as housekeepers and lab assistants were not useful to his cause. After the later Dr Right Numbers were kidnapped, though, simple servant robot Rock asked Dr Right to weaponize him, too, so he could fight against Dr Wily's evil forces. While reluctant to turn his "son" into a tool of war and send him into the battlefield, he respected Rock's wishes, realizing that there may be no other choice.
Rock had been built with the unique ability to adapt his arm to various situations, changing its shape and purpose so he could be useful in a variety of ways to Dr Right. With this ability, it was easy to quickly turn Rock's arm into a plasma cannon, and he could get to work rescuing his brothers and stopping Dr Wily long before Right would have been able to create a new model of soldier robot. And this unique transformational ability would prove to not only be the key to fighting Wily, but also the key to an entire revolution in technology and society as a whole...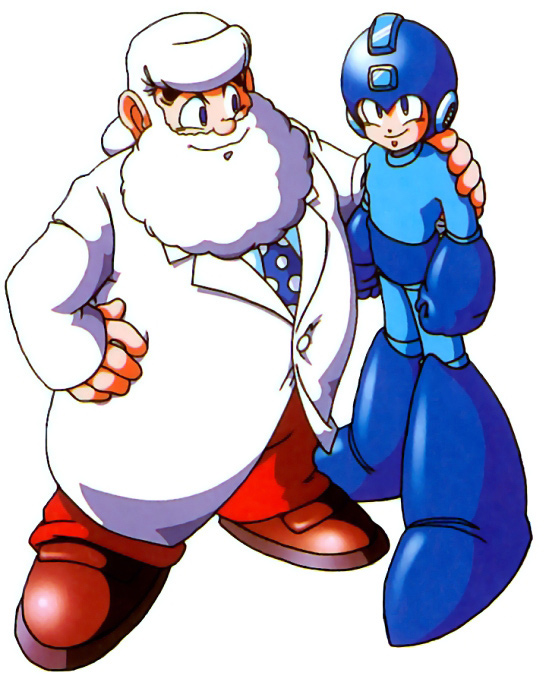 And thus, the Super Fighting Robot ROCKMAN was born! Welcome to my play diary of the classic ROCKMAN series. Since these games are short and fairly simple, but I really wanted to cover them, I decided to write not only about the games themselves, but also to attempt to 'perfect' each game, clearing each without taking any damage at all. The game is designed so that you can endure quite a bit of damage before failure, so avoiding it altogether proves to be a big challenge.
There are sixteen "main" games in the series -- the original numbered games (ROCKMAN1-10), an additional episode between ROCKMAN7 and ROCKMAN8 called ROCKMAN & FORTE, and five side-stories for the Game Boy (ROCKMAN WORLD1-5). There are tons of other ROCKMAN games, from board games to sports titles, and countless remixes, remakes, and ports, but for the sake of this diary, I'm going to focus on these sixteen games as "canon."
I chose to use the ROCKMAN series instead of the Mega Man series (as the game is known in the West) for the sake of continuity. The localization of the series, like many older-generation games, was very inconsistent, using all kinds of different names for characters and other things in the games, as well as sometimes rewriting parts of the story to create additional confusion and plotholes to a story that already has enough of that as it is.
I'll be posting a "No Damage Clear" video of each stage along with the diary for that stage, delving into both the story and mechanics of the games. If you've ever wanted to get to know the series, hopefully this will be a great way to learn about it. What's great about these games, though, is even knowing my personal strategies, the games encourage different playstyles and are all non-linear, so you can still experience the game and challenge yourself if you desire!
Please enjoy and thanks for reading!
ROCKMAN
ROCKMAN2: The Mystery of Dr. Wily
ROCKMAN WORLD
ROCKMAN3: The End of Dr. Wily?!
ROCKMAN WORLD 2
ROCKMAN4: A New Ambition
ROCKMAN WORLD 3
ROCKMAN5: Blues's Trap?!
ROCKMAN WOLRD 4
ROCKMAN WOLRD 5
ROCKMAN6: The Greatest Battle!
ROCKMAN7: Fated Showdown
ROCKMAN8: Metal Heroes
ROCKMAN & FORTE
ROCKMAN9: The Ambition Resurges
ROCKMAN10: The Threat from Outer Space
---