Seven Wonders #1
Starship Anchor
It's time to start taking on the seven wonders...! The more I play Ruby's story again, the more I'm starting to realize this was probably meant to be the final scenario you play :P Almost nothing is explained to you and there are so many random little cameos and reference to anything else with no context lol. Anyway, on to Starship Anchor, the first of the wonders we have to conquer... for Sapphire... for some reason.
Also we meet like... three of my favorite sub-characters (one playable) on this adventure :D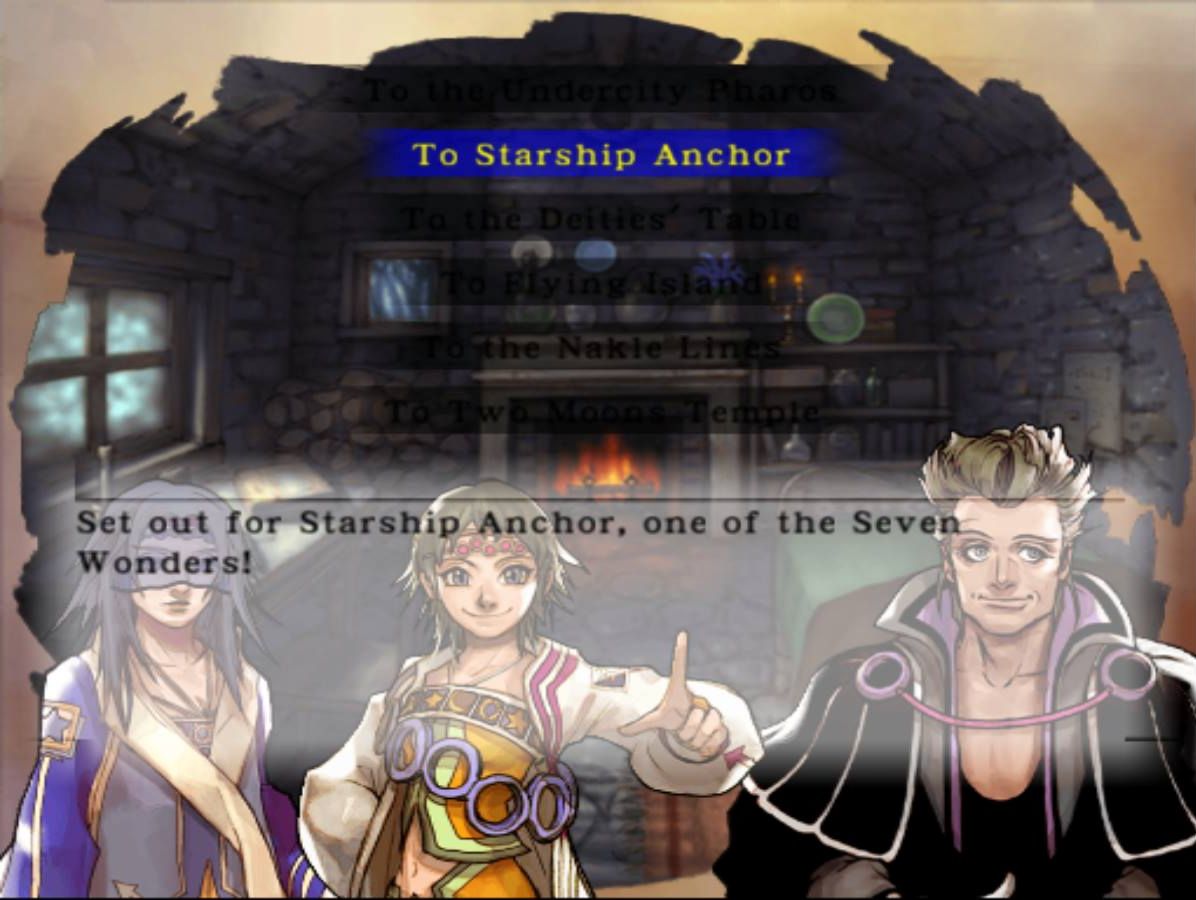 So last time, we ended at this screen... basically you go back to the supposed birthplace of Leith Torles now any time you want to select a new Wonder to try to conquer.
The Seven Wonders are artifacts of an lost era called the Golden Age. People tend to have varying levels of knowledge about them. There are people who know quite a bit about them, and people who simply know them as those places that adventurers like to see if they can conquer. We'll learn more about them over the course of the game.
The Seven Wonders, gameplay-wise, exist as very difficult subadventures you can challenge, and can be pretty brutal. Each main character's fate also seems tied to a certain Wonder, and each of their stories will end at one of them, though the normal course of events will not always happen at their special wonder, so if you want to try to understand them better, it's good to try to go to them as subadventures in other characters' scenarios... Or in Ruby's scenario, I guess. I haven't ever gotten past all six in her story so IDK what is really revealed about them. They still are pretty cryptic to me, honestly.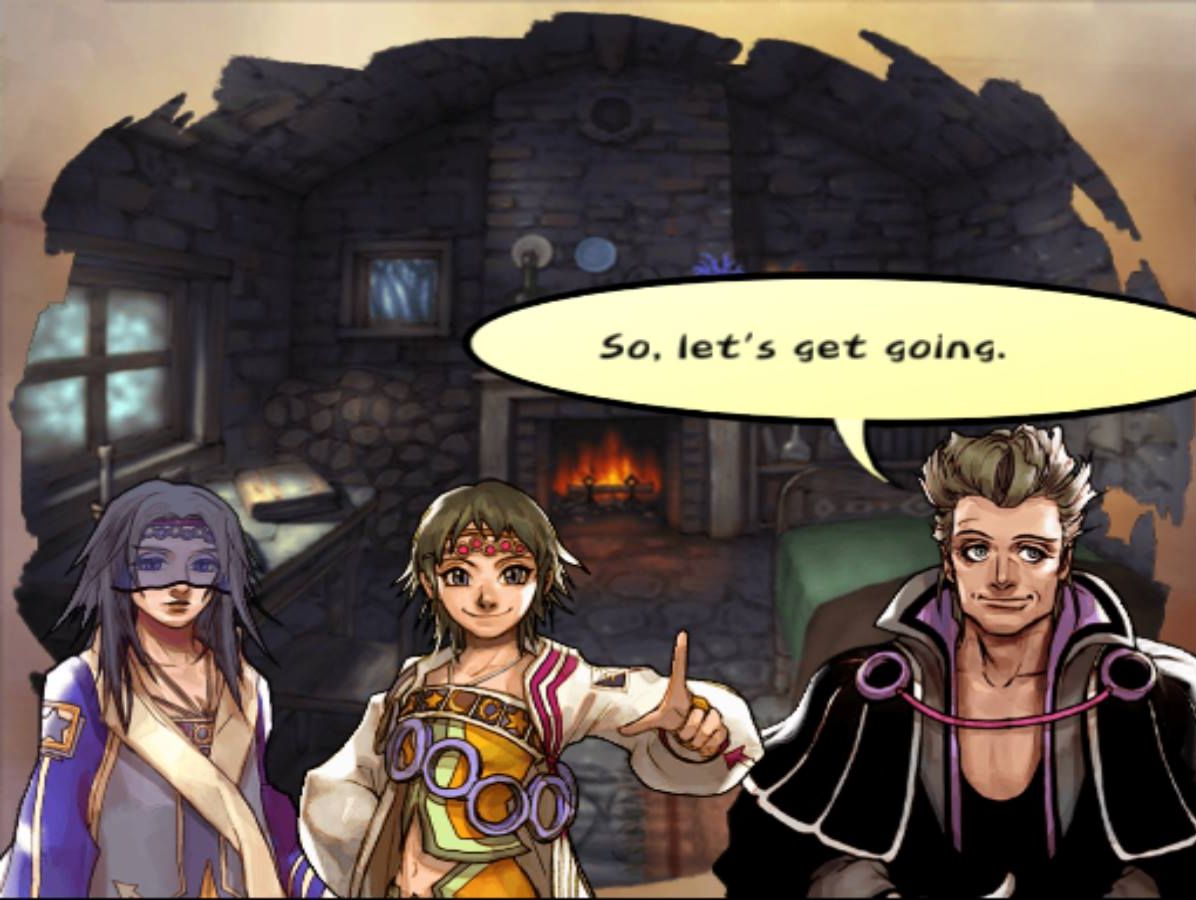 Anyway, I select Starship Anchor from the list, and Iskandar says we're off...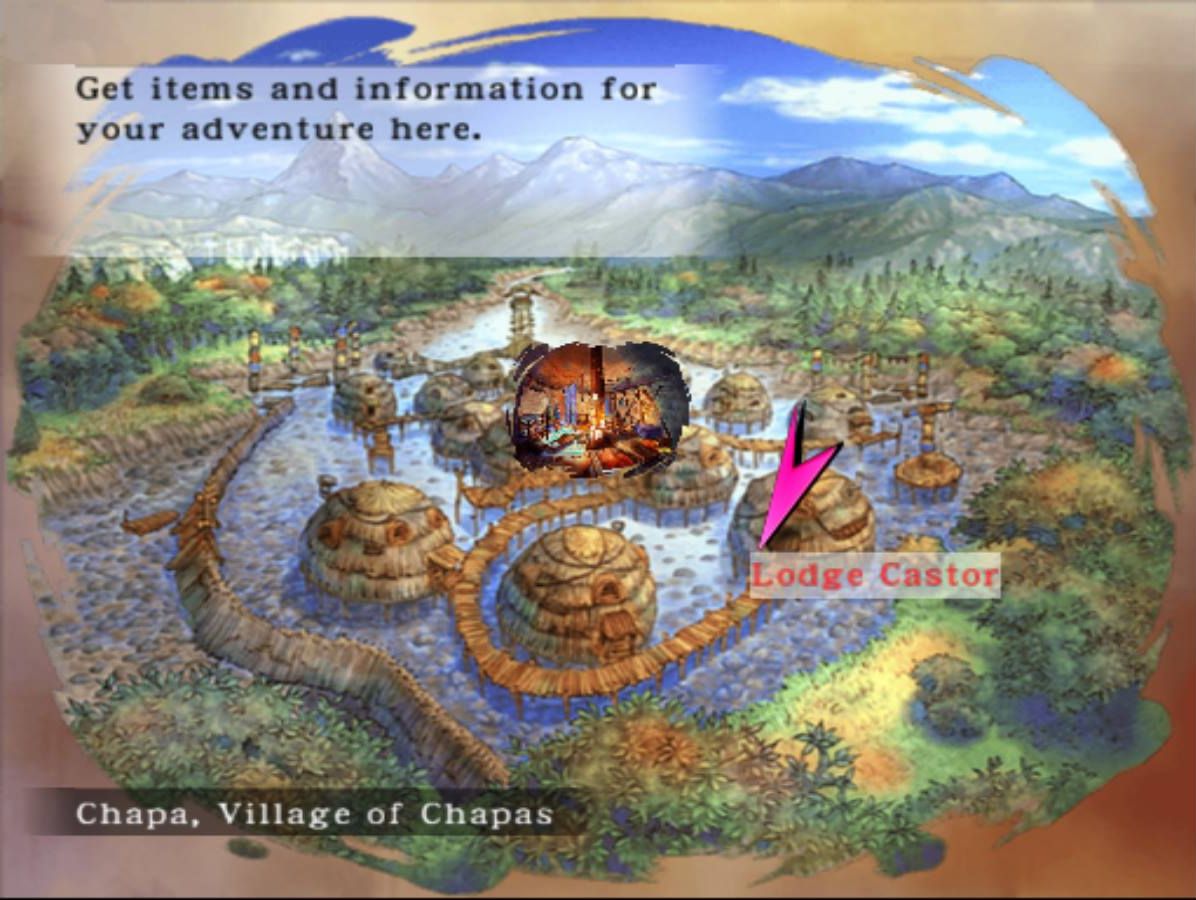 And suddenly we're in Chapa! We don't have to actually do "travels" there like before; we just get to skip that part. Each Wonder is technically only accessible from a certain place, so we had to come to Chapa to set out for Starship Anchor. Since we can embark on story adventures from any town, though, we don't need to embark from here, but it's still assumed that we will have to go to Chapa to actually get to Starship Anchor... Basically, starting this quest gave us access to Chapa on the map.
Chapa is another of my favorite places in the game. Honestly I just love all the unique cities so IDK why I keep saying that. Anyawy, Chapa is home to the Chapa Tribe, which are a race of these kind of ... chipmunk-beaver things that must live near water or something... Armic (one of the main characters) is a Chapa. There are actually five major races in the game's world, but only two (or maybe three, I guess) are really developed much. The other two don't seem to really interact with the others and there don't seem to be many of them.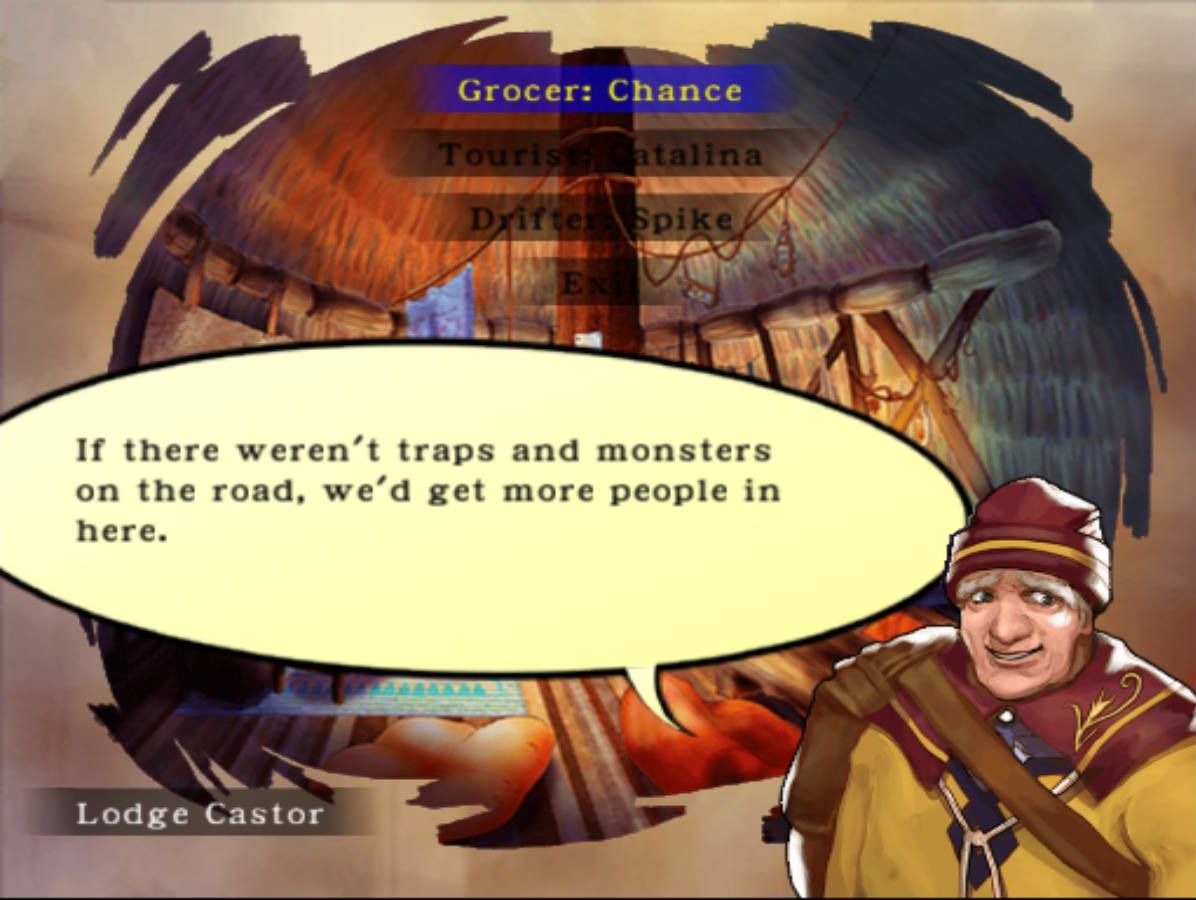 Anyway, despite this being the Chapa village, all the people in the inn are humans lol. I mean these are fellow travelers, so I guess it makes sense, but IDK why they didn't put any Chapa in here. You can go to the village chief's hut and talk to him but I forgot to do that. It doesn't really do anything though lol.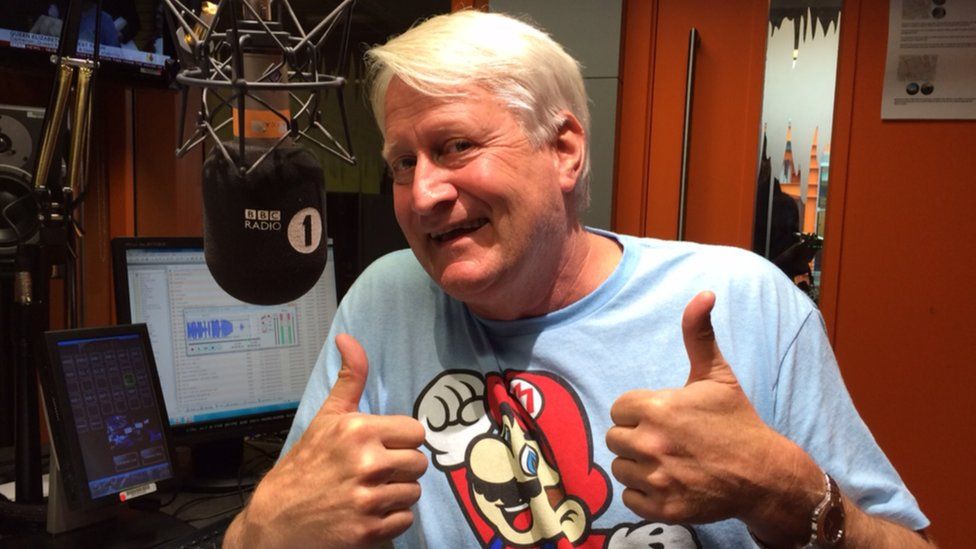 Anyway, Chance looks like Charles Martinet.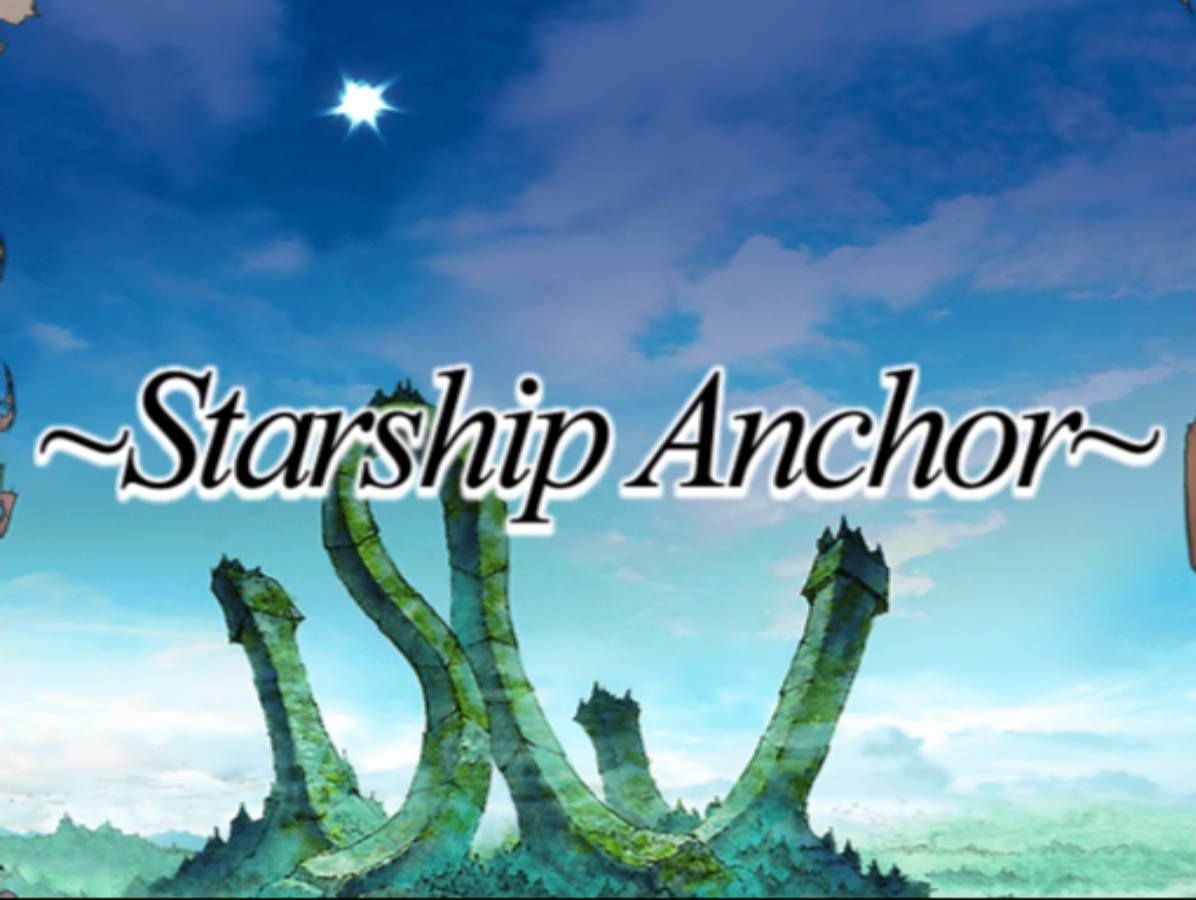 From Chapa we head out to Starship Anchor :D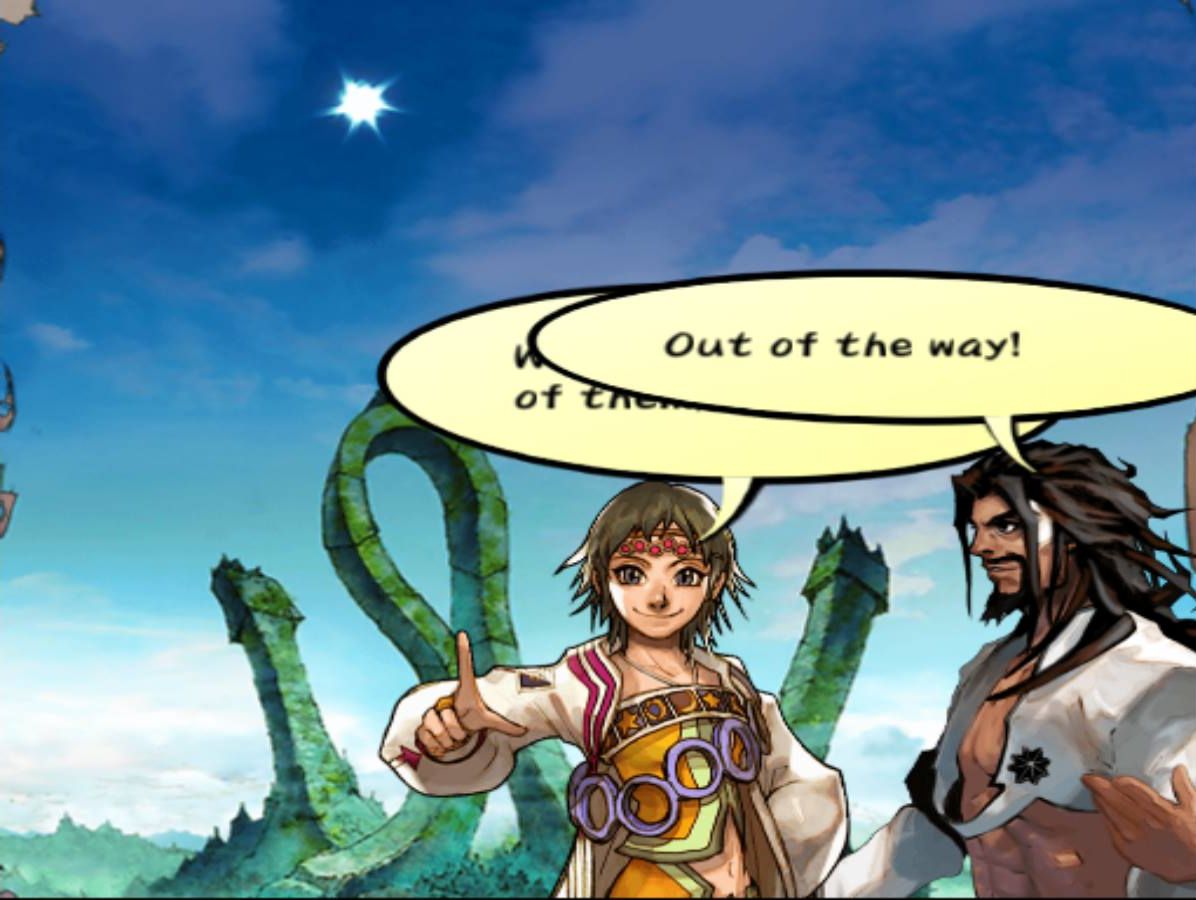 This guy runs by in a hurry. This is actually Lord Basil Galeos, head of the House of Galeos, which is a family in servitude of the royal family of Escata (so I guess he's like a Duke or something). This isn't explained here, but we can meet him in another scenario, so I already know about it. Though a little dialogue after this adventure is done will be a bit of hint toward a major spoiler of Laura's story, since Galeos is a major character in her story. So, uh, oops.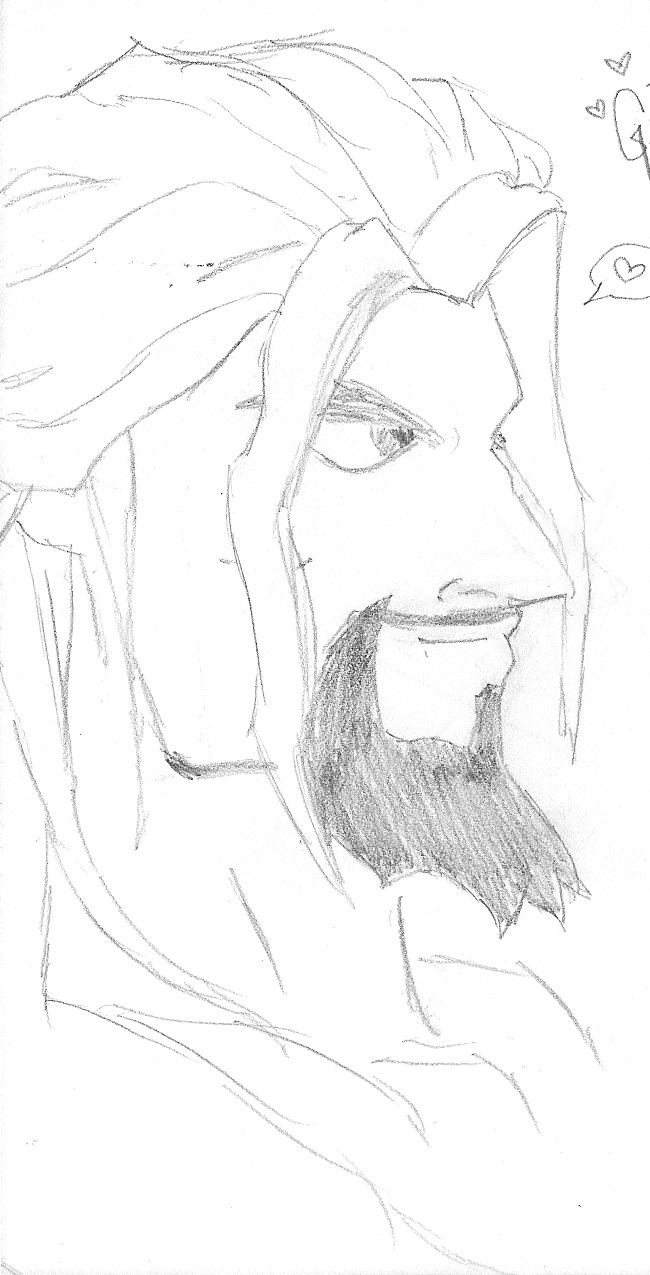 But for now, all we need to know is that he was in a hurry and he's really fackin' hot. Galeos was my first crush from this game and I still have stupid old art of him I drew back when I used to draw on printer paper and scan it XD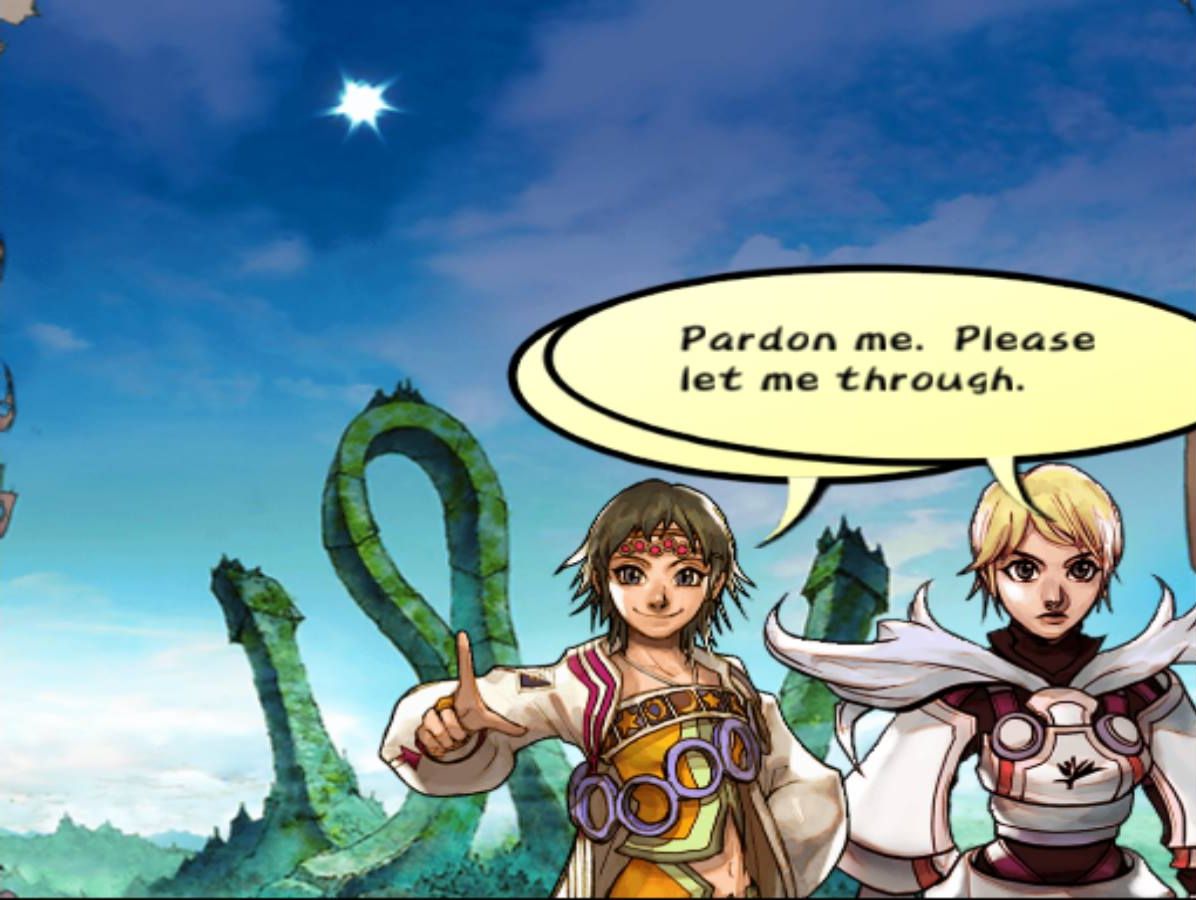 Then another person rushes by, though a bit more polite. This is Jeanne Maure, a Temple Knight. She's a pretty complex character and she is developed a bit in many of the stories, including Ruby's.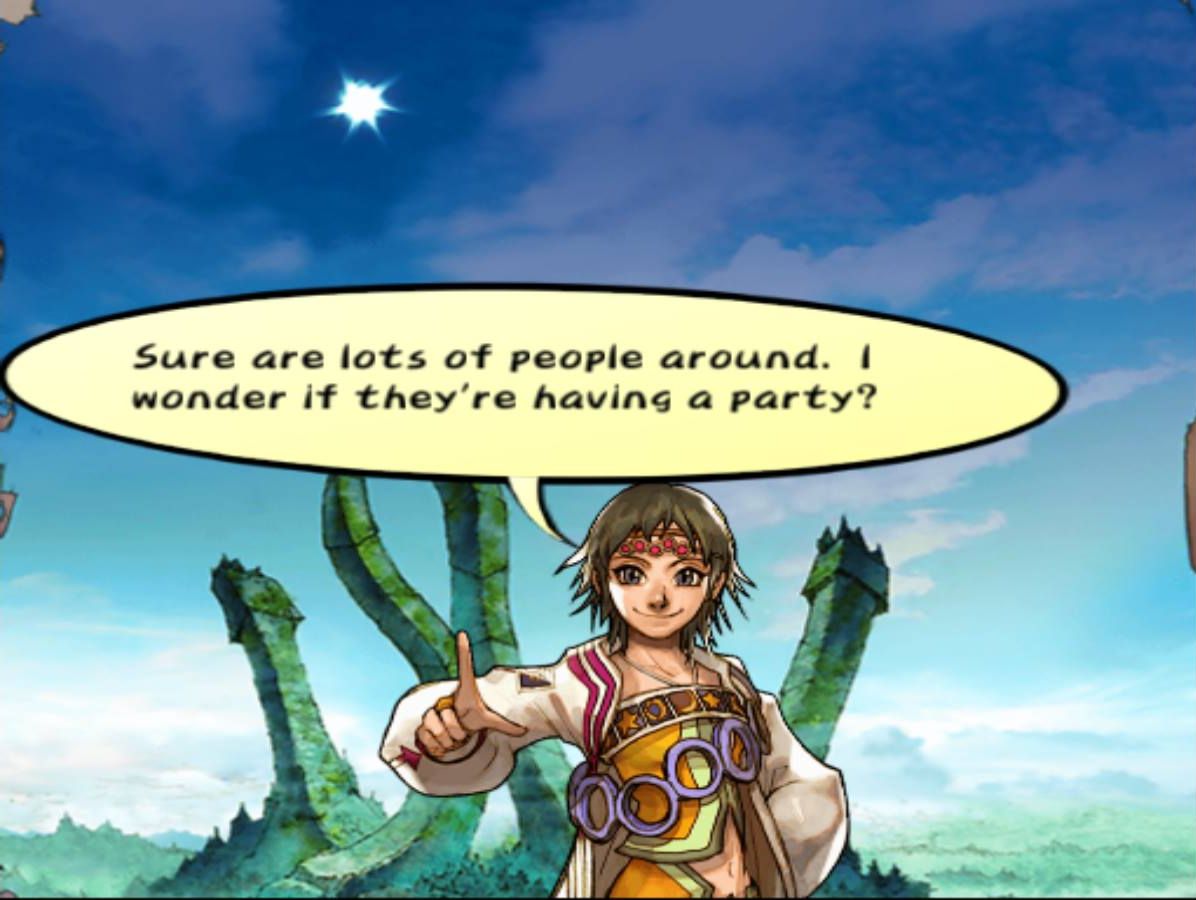 Yeah people are just having a party at Starship Anchor XD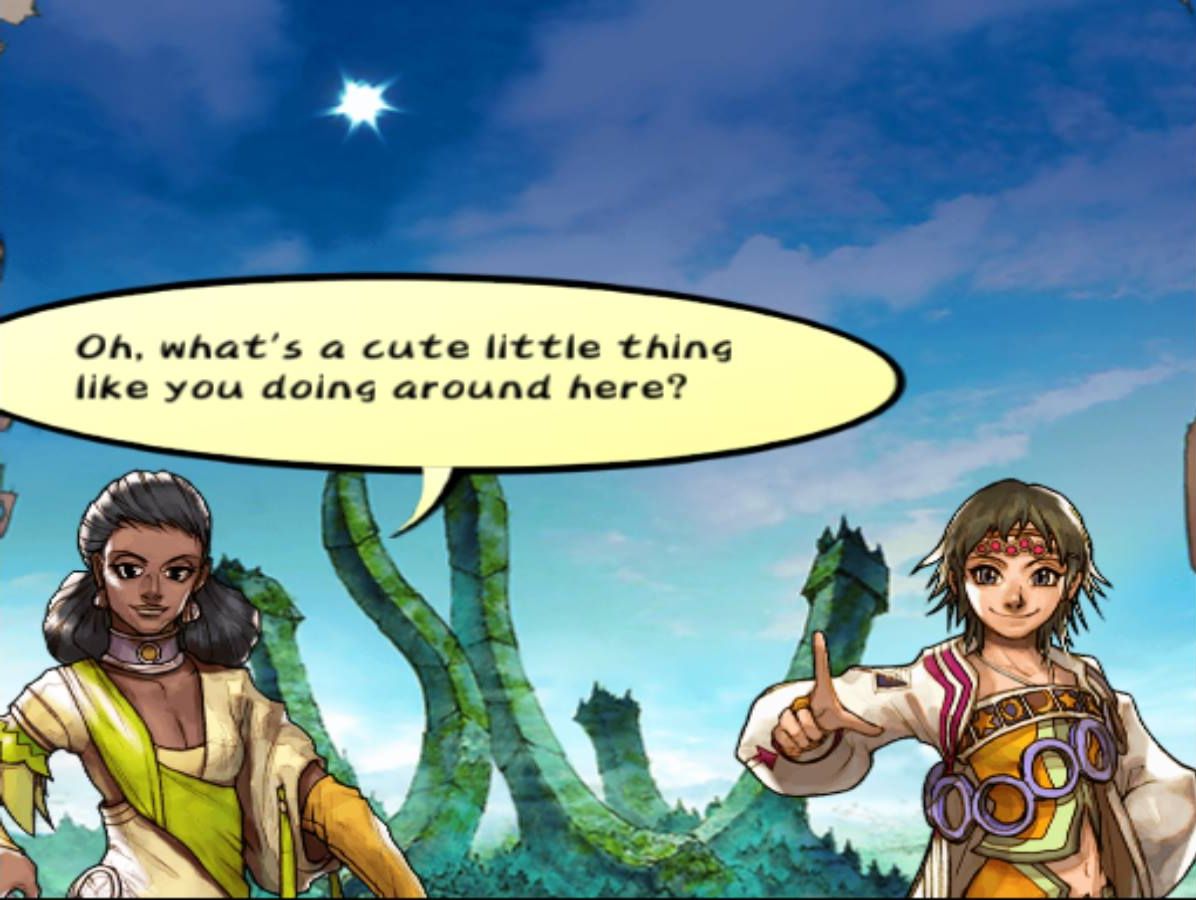 And then one more character shows up :P This is Grace. Honestly I have no idea if she even has a story -- if she does, it will be more explained in Mythe's scenario most likely, and even then it will probably be very minor.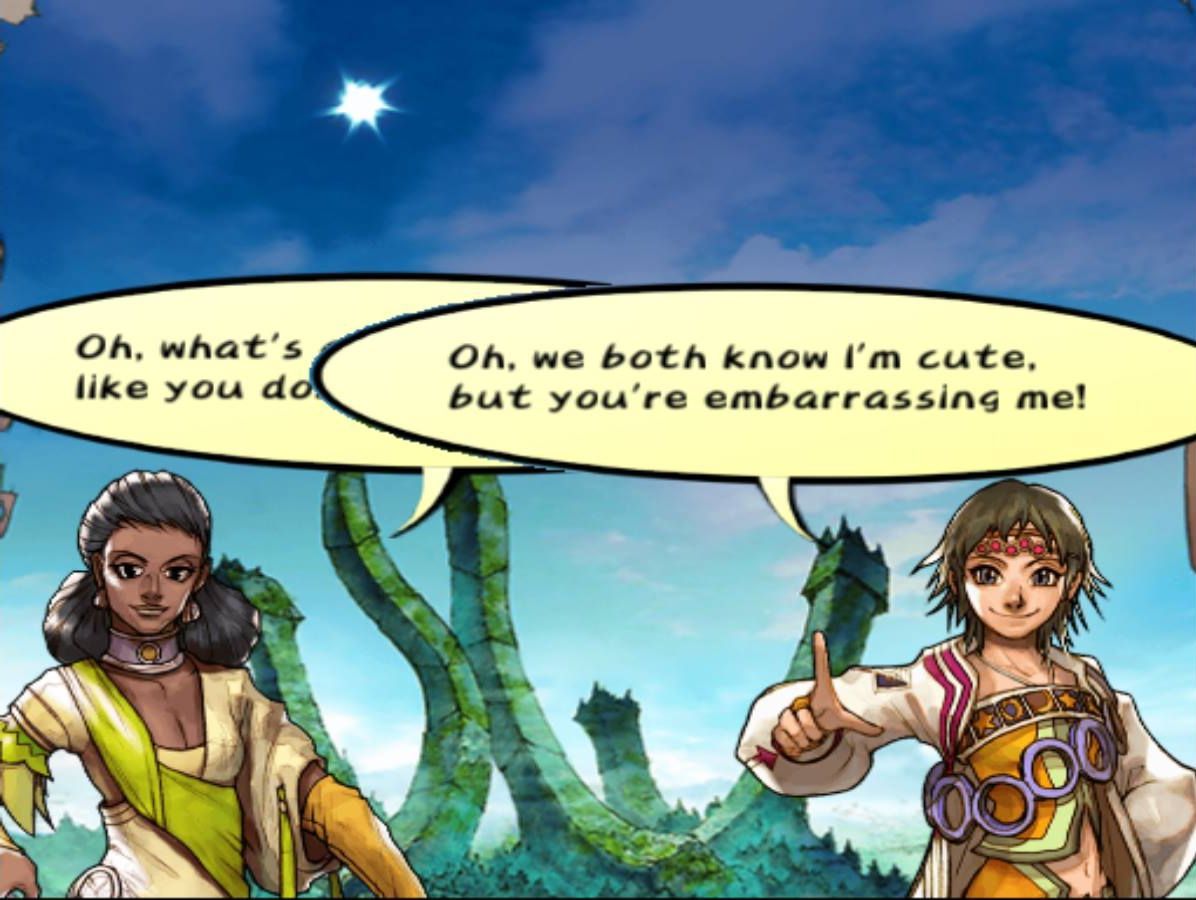 Are they flirting or something?? This is weird XD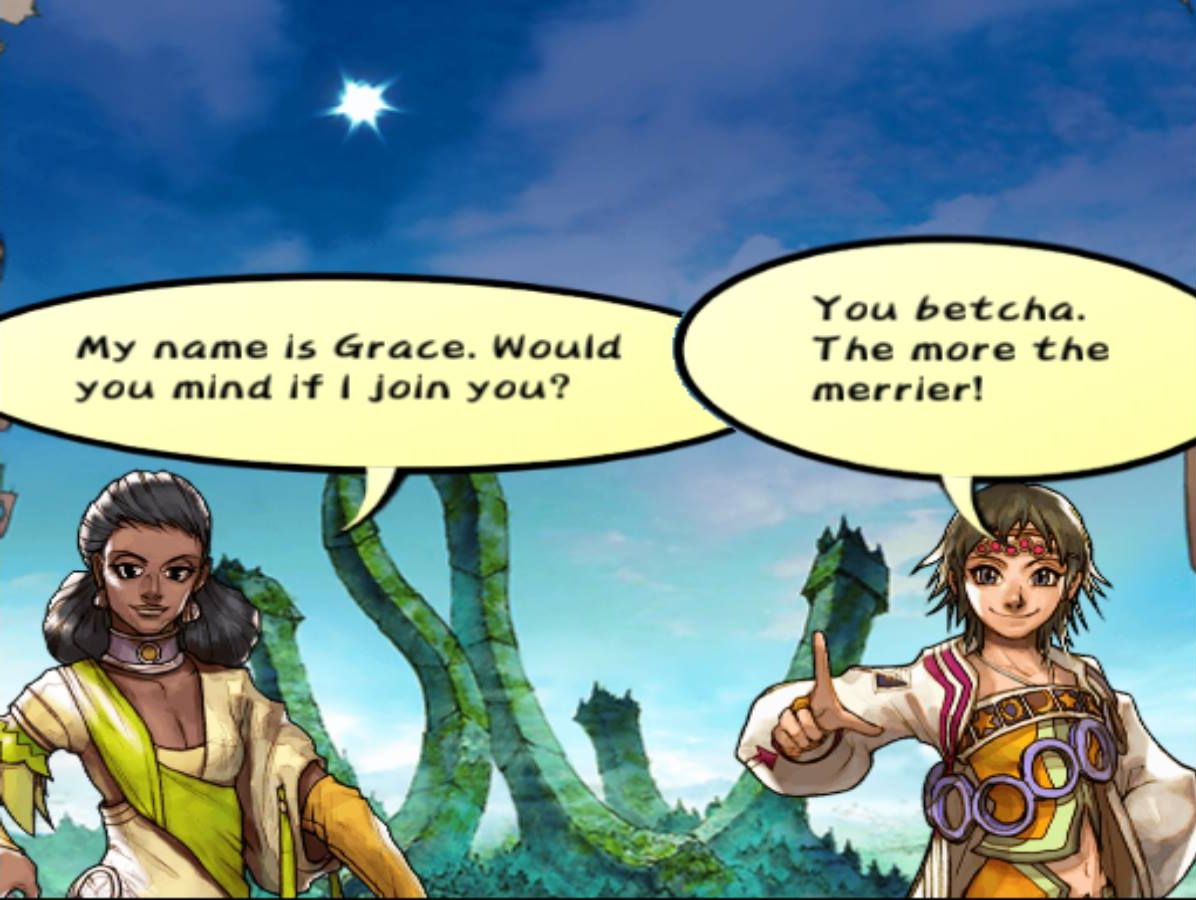 Anyway, Ruby tells Grace they're going to uncover the truth of the Seven Wonders, and she asks to travel together, which Ruby seems pretty happy to accept! (Ruby x Grace...???)
I love Grace mostly because she's super pretty, and how often do you see black women in JRPG, much less as playable characters?! Oh, yeah, and she's 42 years old. So she's pretty freaking awesome. Let's check out her stats...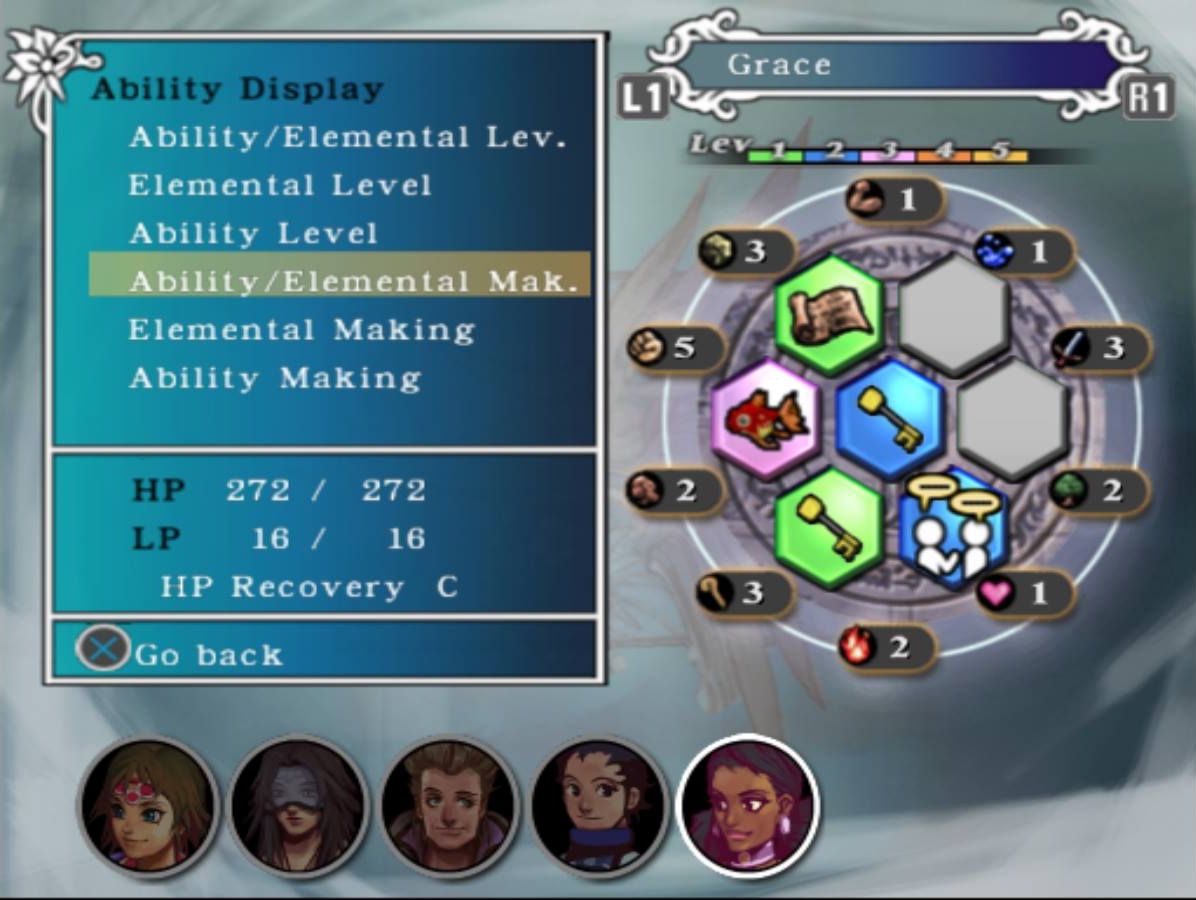 Here are her Makings. 3 in Magic, Skill, and Metal. That's pretty nice. And the Metal doesn't really compete with any stat except Endurance, but that's 5 so we'll get pretty decent endurance even with a panel that doesn't raise it too much. Strength is bad, but that's nbd if we're not giving her strength-based weapons anyway. Spirit is only 1. Importantly, note that Water is only 1...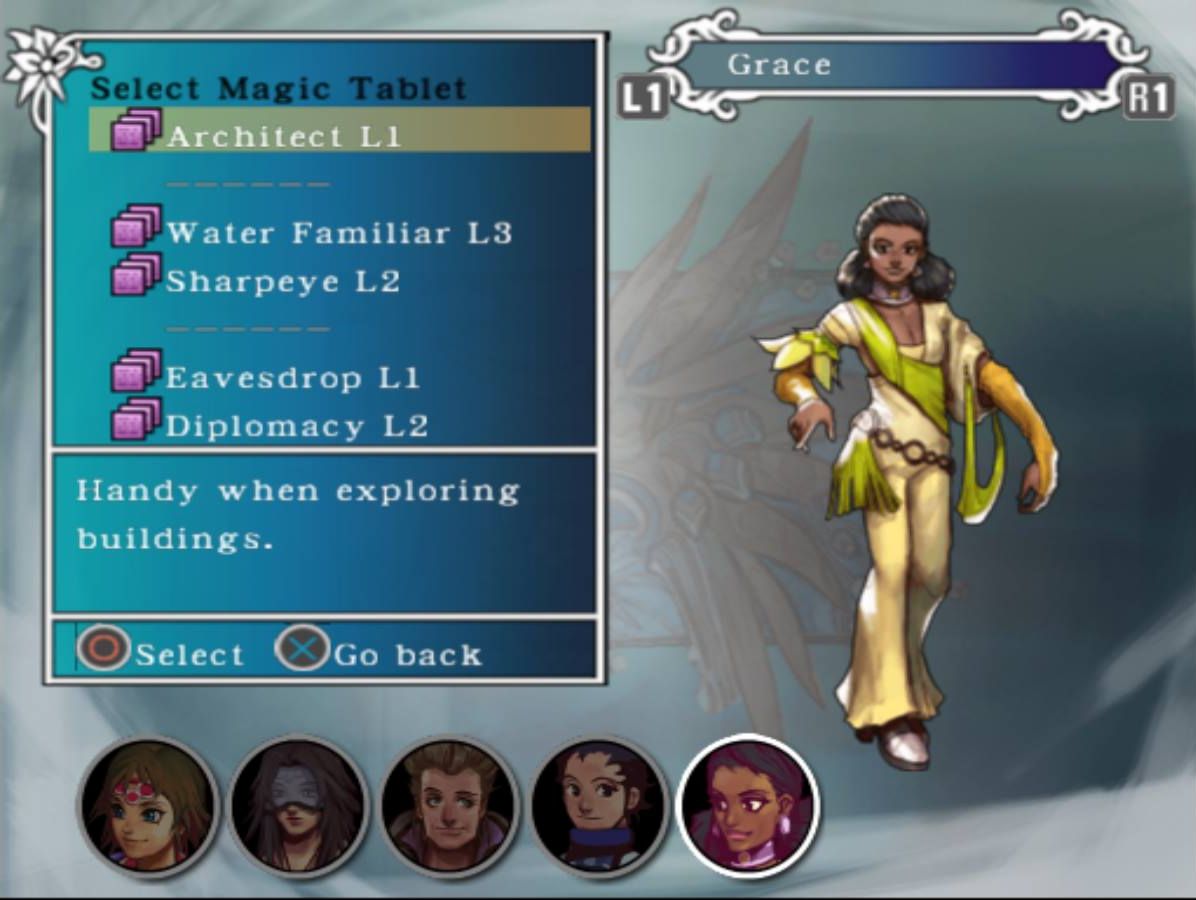 Here are Grace's starting panels. What I like about this game is they really were careful to make the starting panels indicative of each character's personality and background. She has architect, which is kinda weird, so she must know a bit about buildings for some reason. She has sharpeye, diplomacy, and eavesdrop so she seems pretty crafty. Maybe she's a politician XD I have no idea what her real background is supposed to be, though. She looks like a dancer or something. She does have a L3 water familiar, though! That's not particularly useful or anything, but I wonder what its importance might be in her backstory.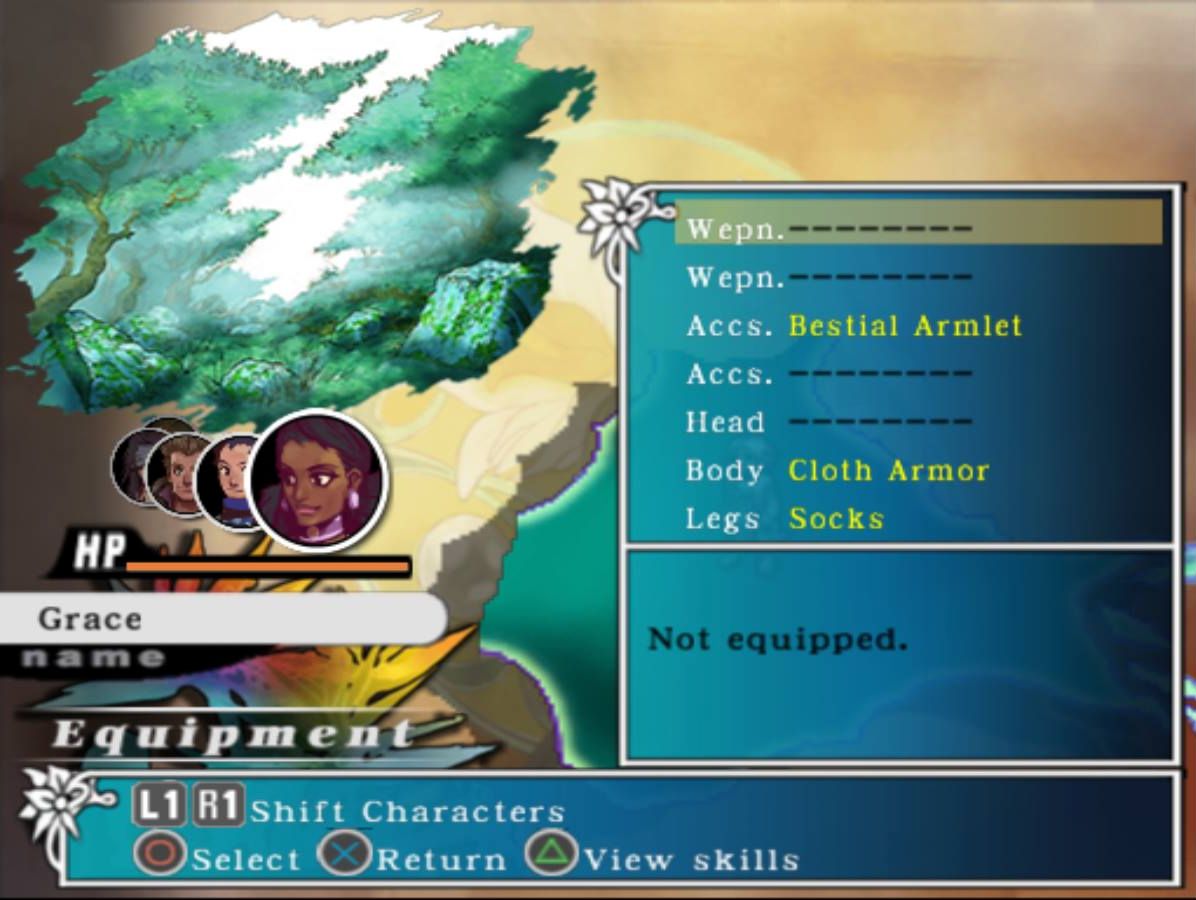 Also she comes wearing almost nothing. Her armlet is made of Ravenite, which is a material that channels Water Arts. And she has that water familiar.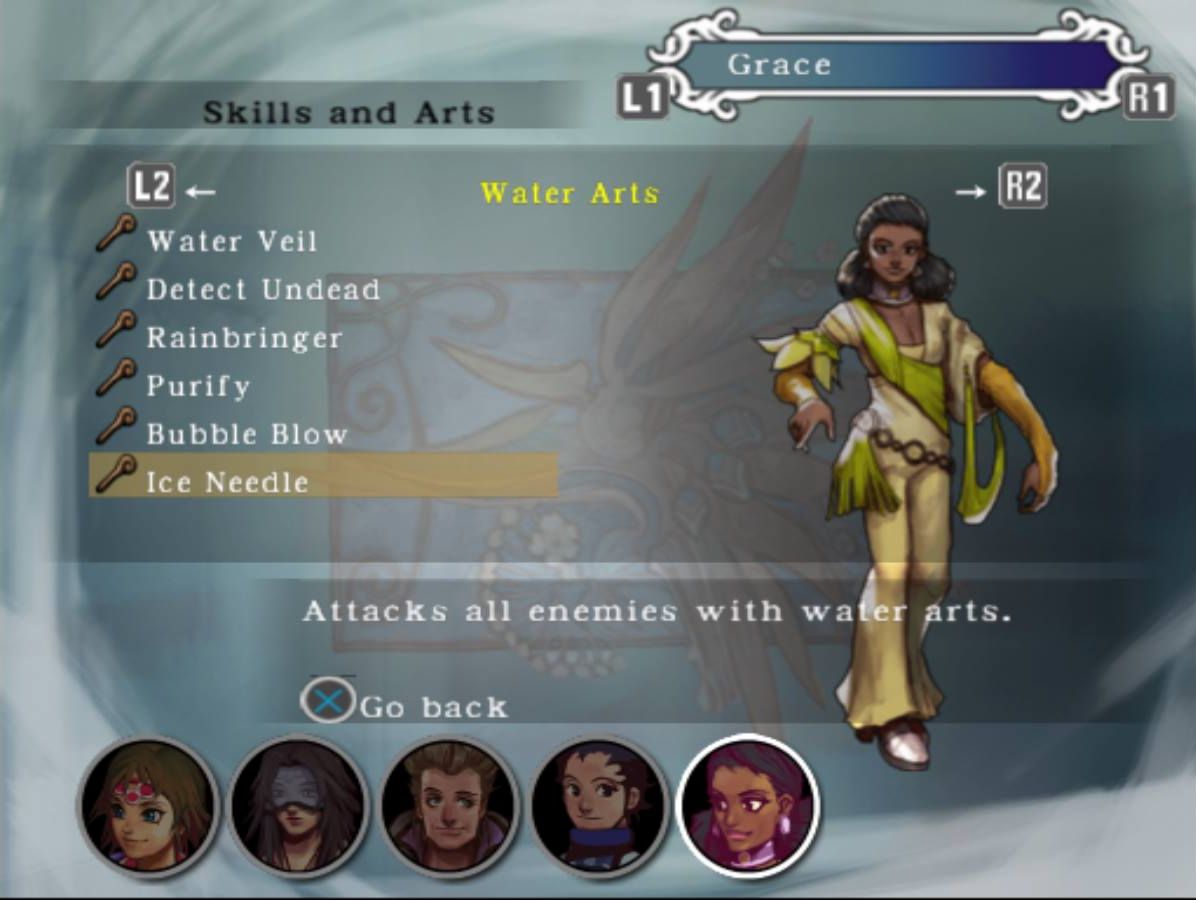 ... And she comes with pretty much every water art already learned. It's pretty rare that characters come with ANY magic arts at all. Even Ruby and Sapphire didn't have any! Her panels, equipment, and ALL THESE ARTS are screaming that she is supposed to have some kind of high affinity for water but.................... her Water Making was only 1?!?!?!?!??!!?!?
Yeah, IDK lol. Why would they do that??? Anyway, I love her little circle portrait image thing. I really love Grace in general.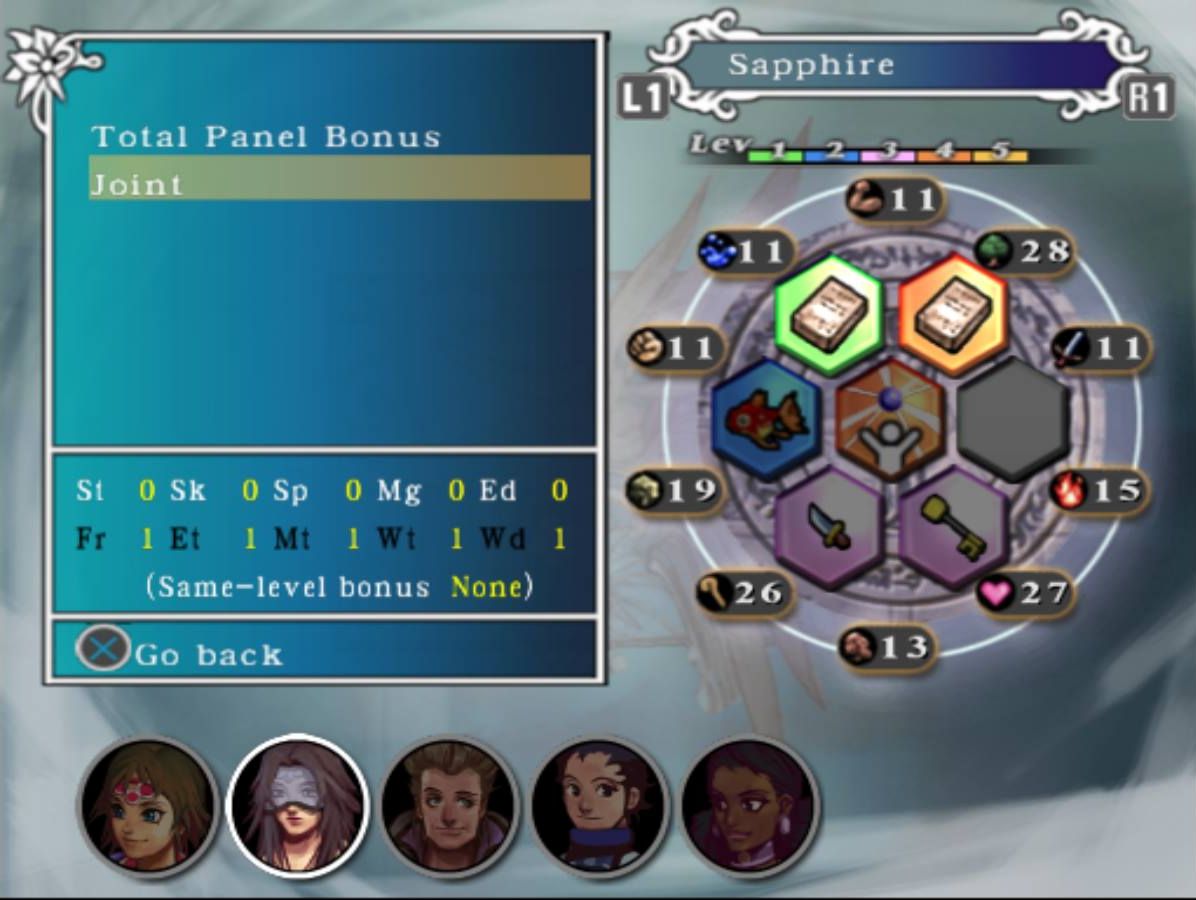 BTW here is the screen where you can check what kind of panel combo bonuses you've made and how they're helping you. Sapphire's two magic tablets are giving +1 to all elements, as I talked about previously.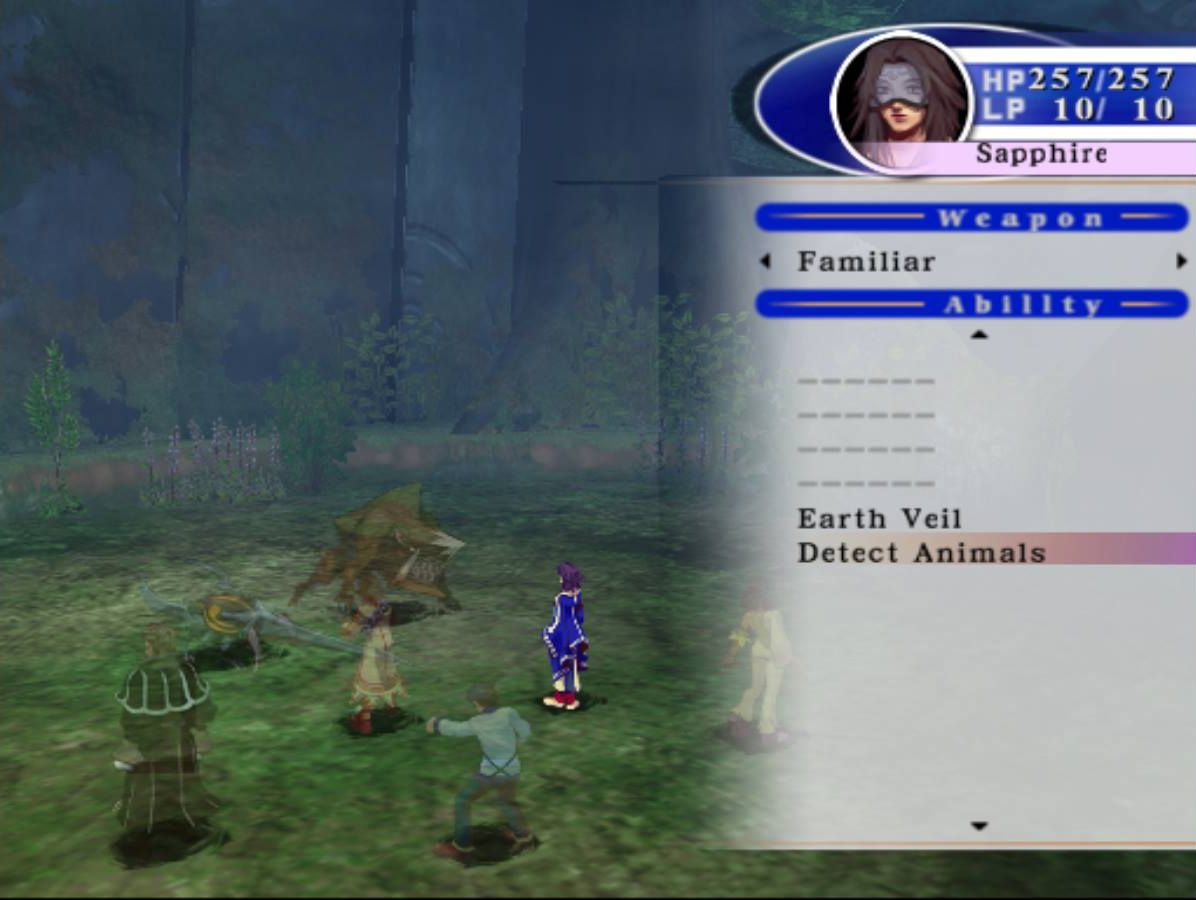 Sapphire has a familiar now so I don't have to waste item durability using magic to study her tablet; however, the spells are not very useful because it's only a Lv2 familiar. Detect Animals weakens animals' defenses, though, so at least I can use it sometimes.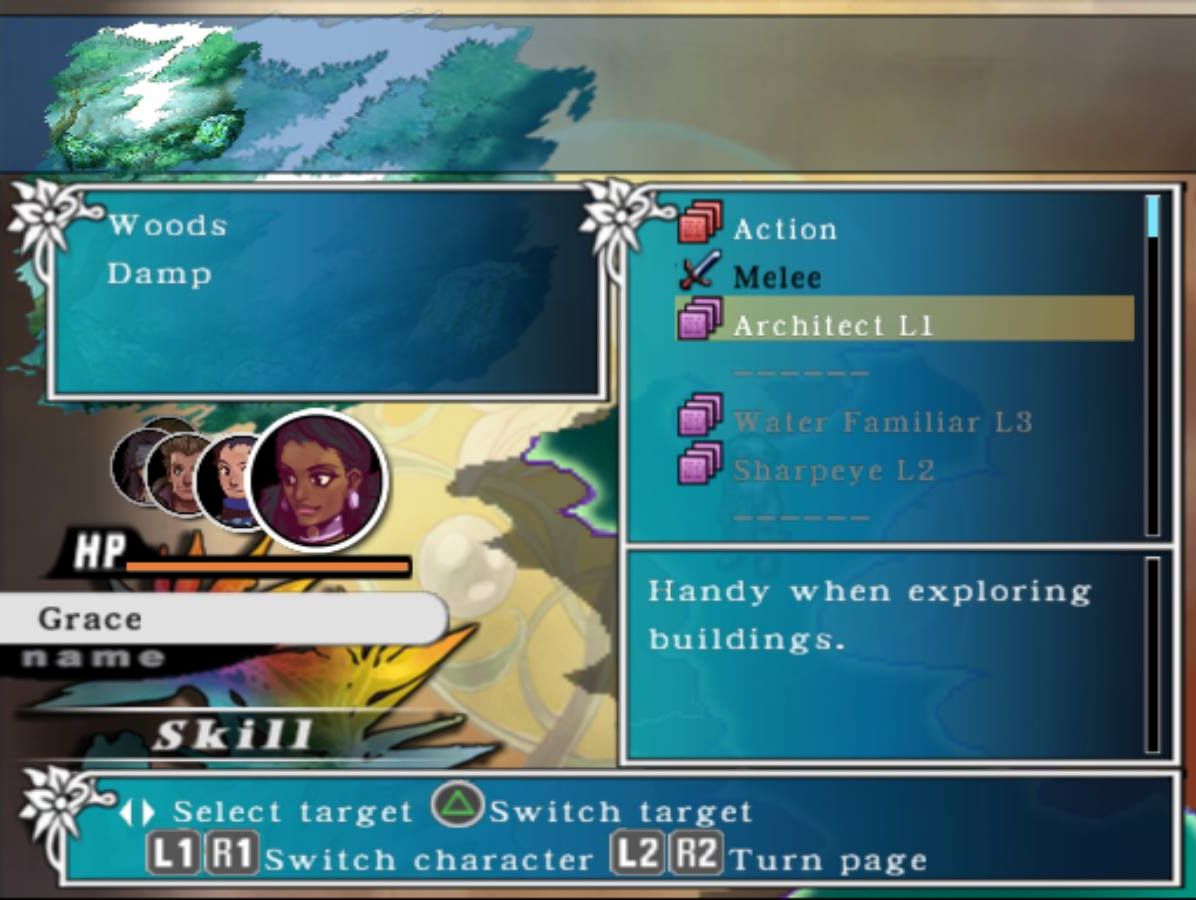 As we walk around the forest here... we use Architect to search the area, and not Cave Guide or Road Guide. This is because most of Starship Anchor is a building, and these are just the woods outside :P And each map is given one 'type' of area, so this map counts as a building, even when we're in the little wooded areas outside.
From here on out I'm going to be giving away the solution to Starship Anchor's puzzle/gimmick (it's not hard at all to figure out on your own, but it still is a bit fun discovering/exploring this place the first time not knowing what to expect) so if you don't want to know, you can stop reading now?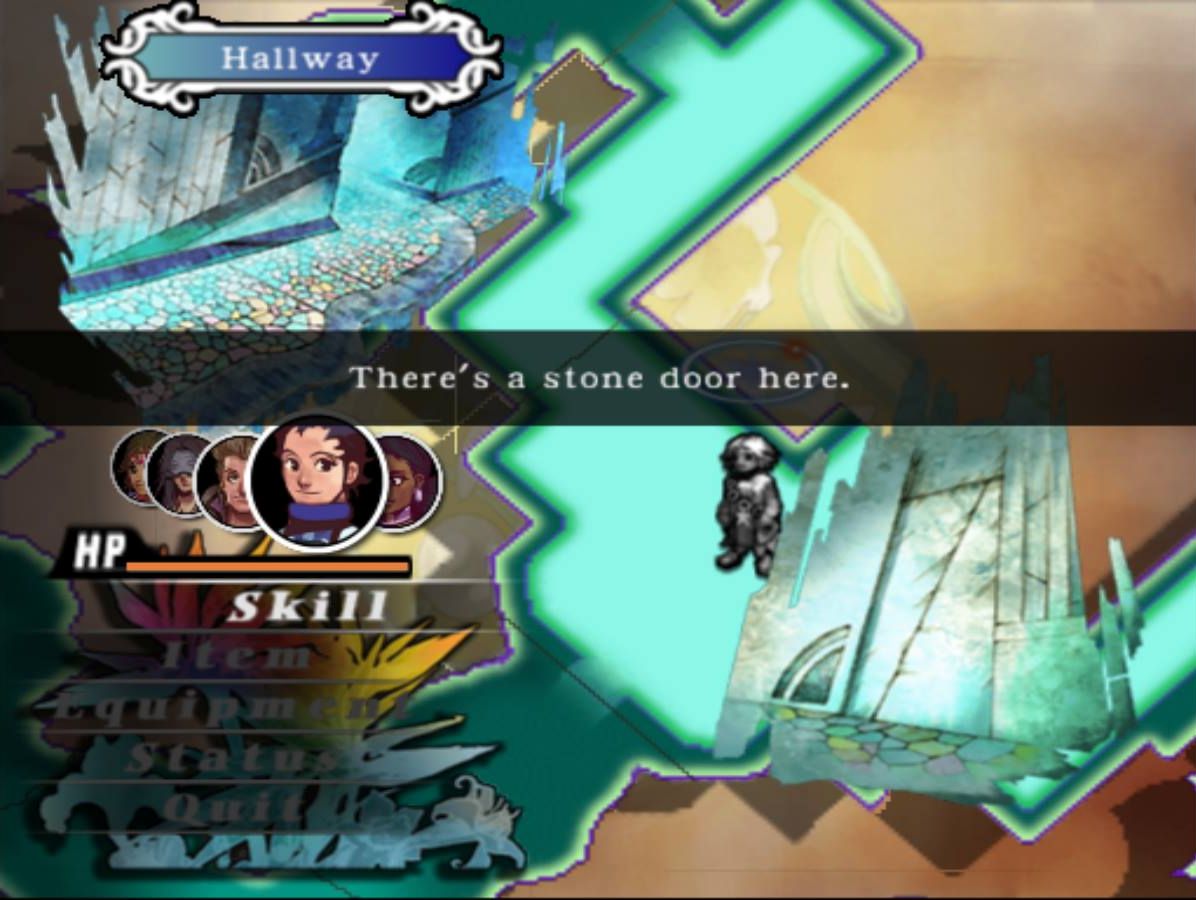 So, Starship Anchor itself is a really strange place. It's a series of weird structures surrounded by a dense forest. In some of the structures, there are stairways leading to these big planetarium-like places where you're literally walking amongst the stars. It's easy to get lost in them! There's a solution to this, though.
There are many doors like this throughout the area that They are nothing special, you can just open them.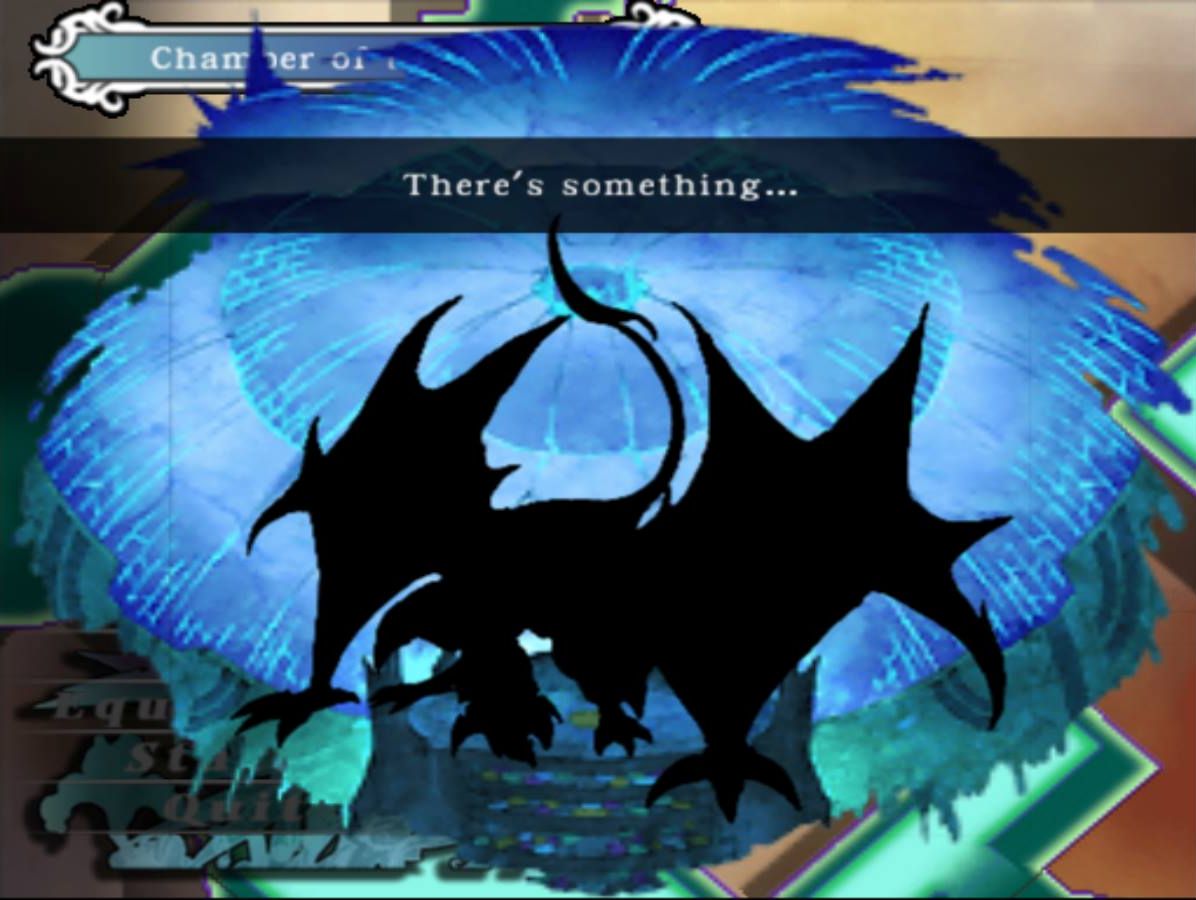 Most of them just lead to some little rooms, a couple to staircases that go to the planetarium things, but this one leads to ... this!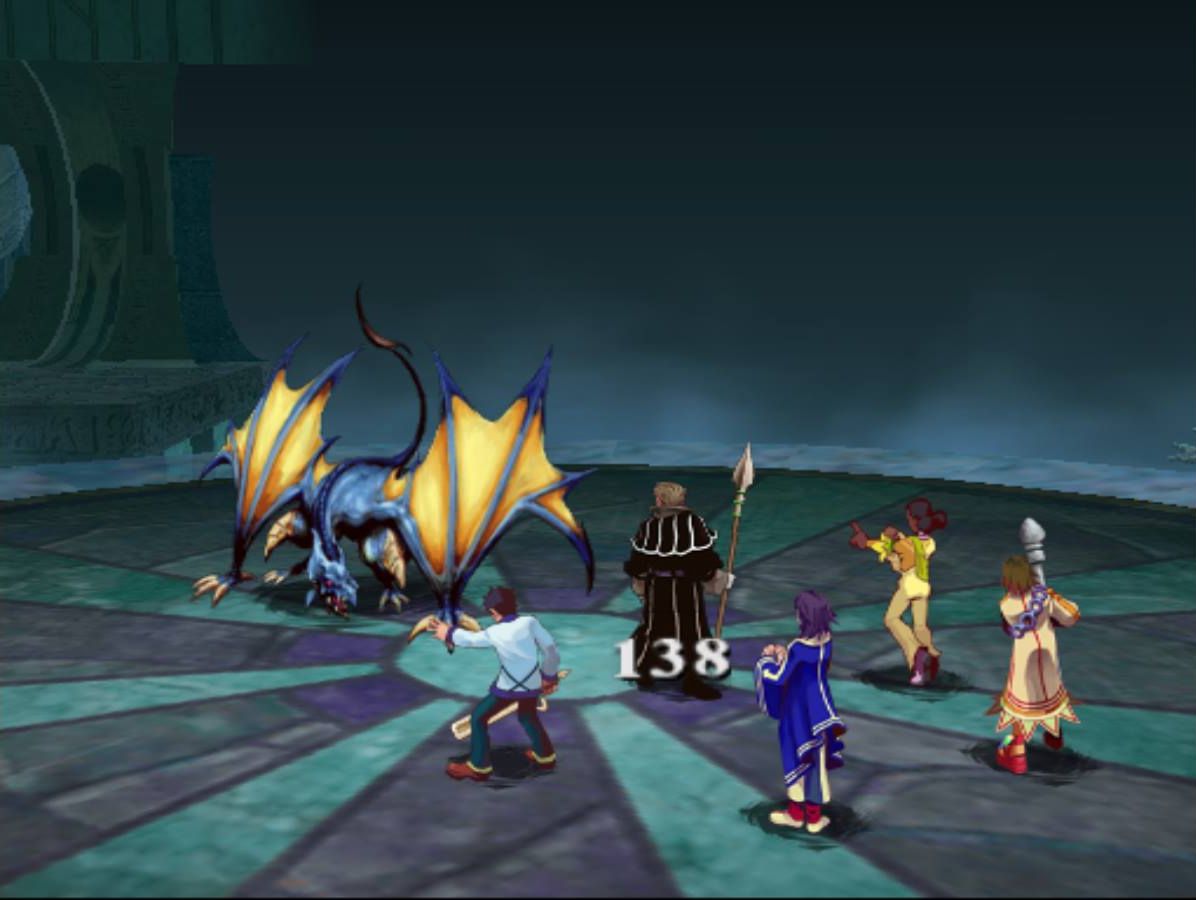 Big dragon guy :) Actually this is a pretty little dragon-type thing compared to the elder dragons. There's cool boss battle music for fighting him though :) There's actually a ton of battle musics in this game (like 15 or so?) and they're all great. This one isn't even in my top 3 :P But it's still pretty cool and I think the first time I've heard anything other than the basic battle music so far since all we've been doing is travels and the ice cap thing...
Anyway, the soundtrack to this game is by far the best OST I've ever heard. Like... leagues above others, honestly. I can't even think of something that even comes close, even Hamauzu's other soundtracks (which are pretty cool, but this is just... next level XD) and even other stuff I love a lot like FF9's soundtrack and stuff...
Seriously, the UN:Saga OST is honestly the best music I've ever heard in my life and it's really hard to imagine anything ever topping it. OK, back to adventure...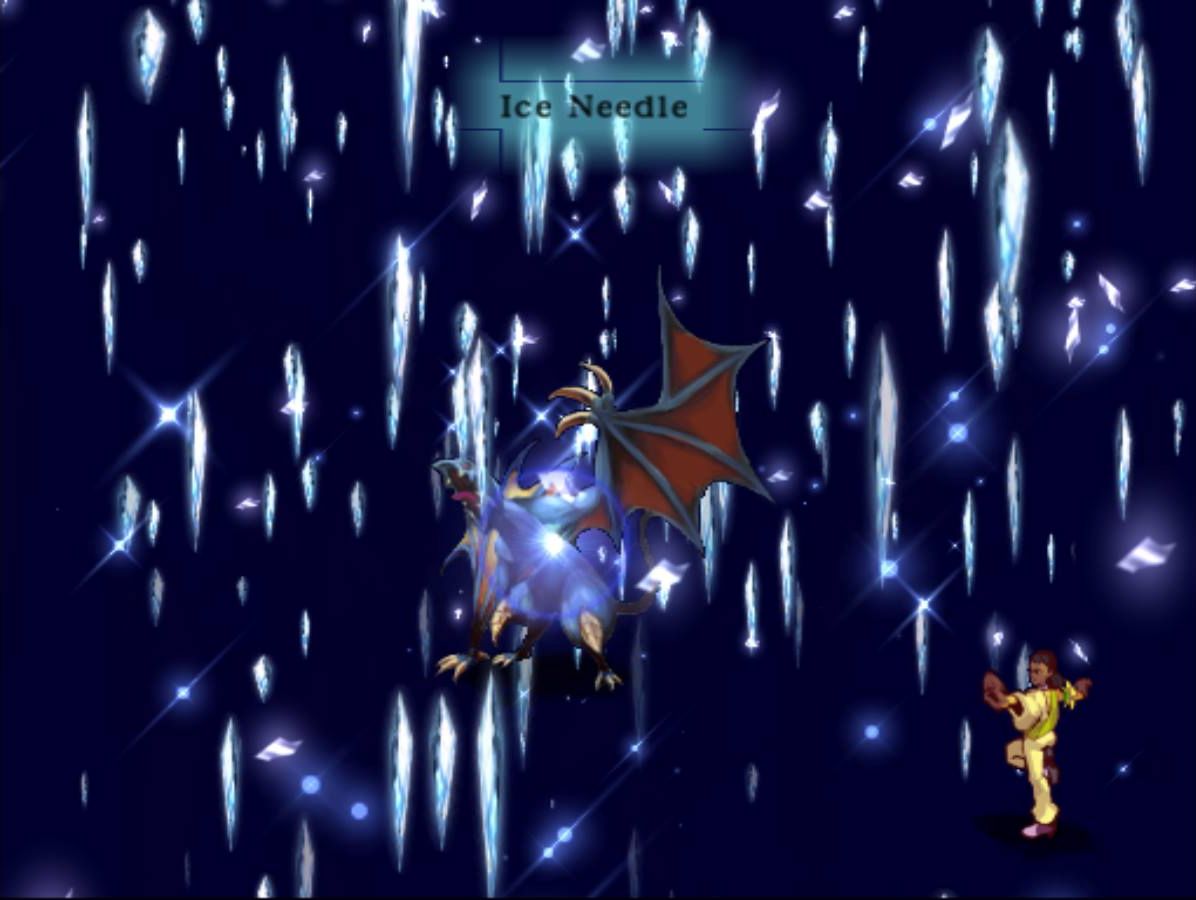 Grace using her Ice Needle art :) It makes icicles rain down and damage all enemies. It's pretty powerful, too.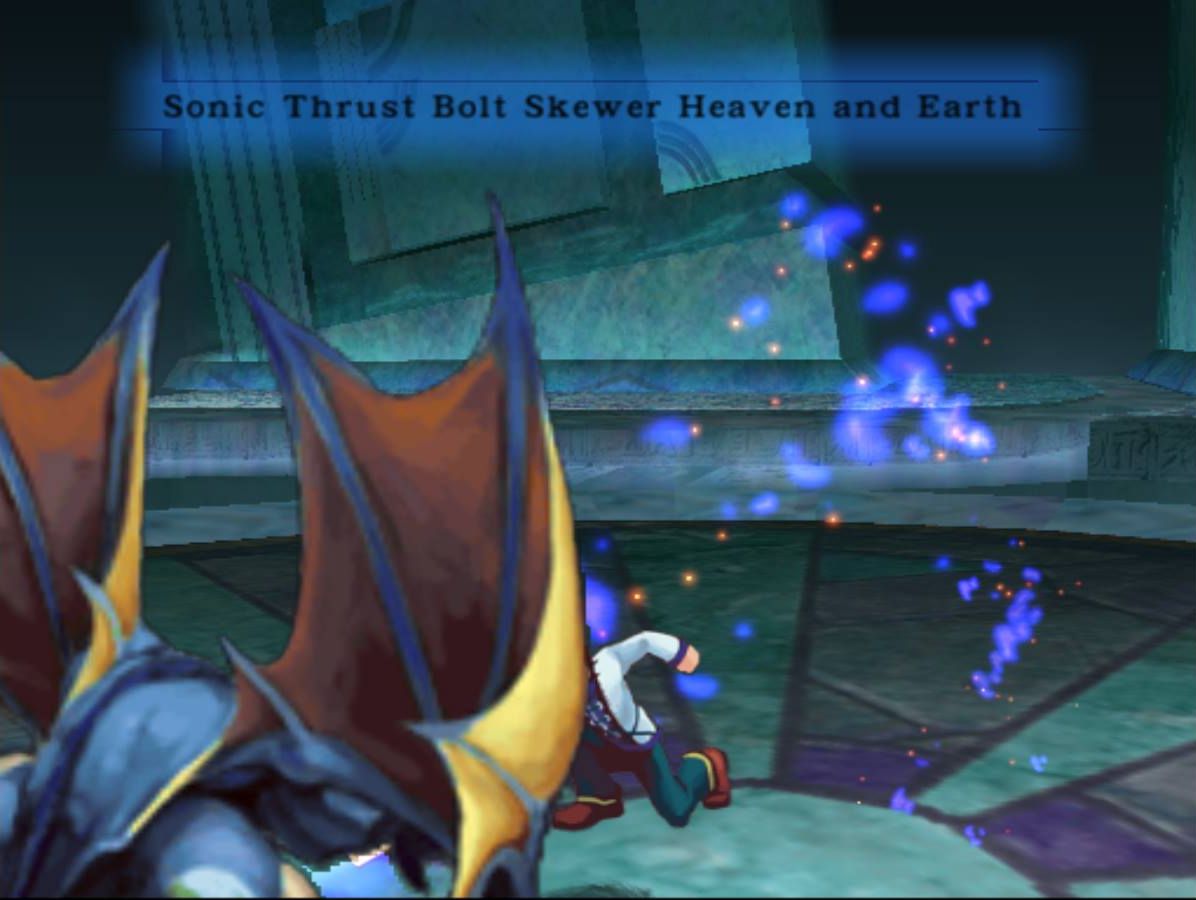 Hiro glimmered Heaven & Earth. It's a sword art where they like... jump kinda high and slam the sword down as they fall. There are a few skills like this and the sword makes these sparkles come off. It's kinda cool looking. I tried to cap it but I did it a little late and Hiro is mostly hidden, but you can still see the sparkle trail.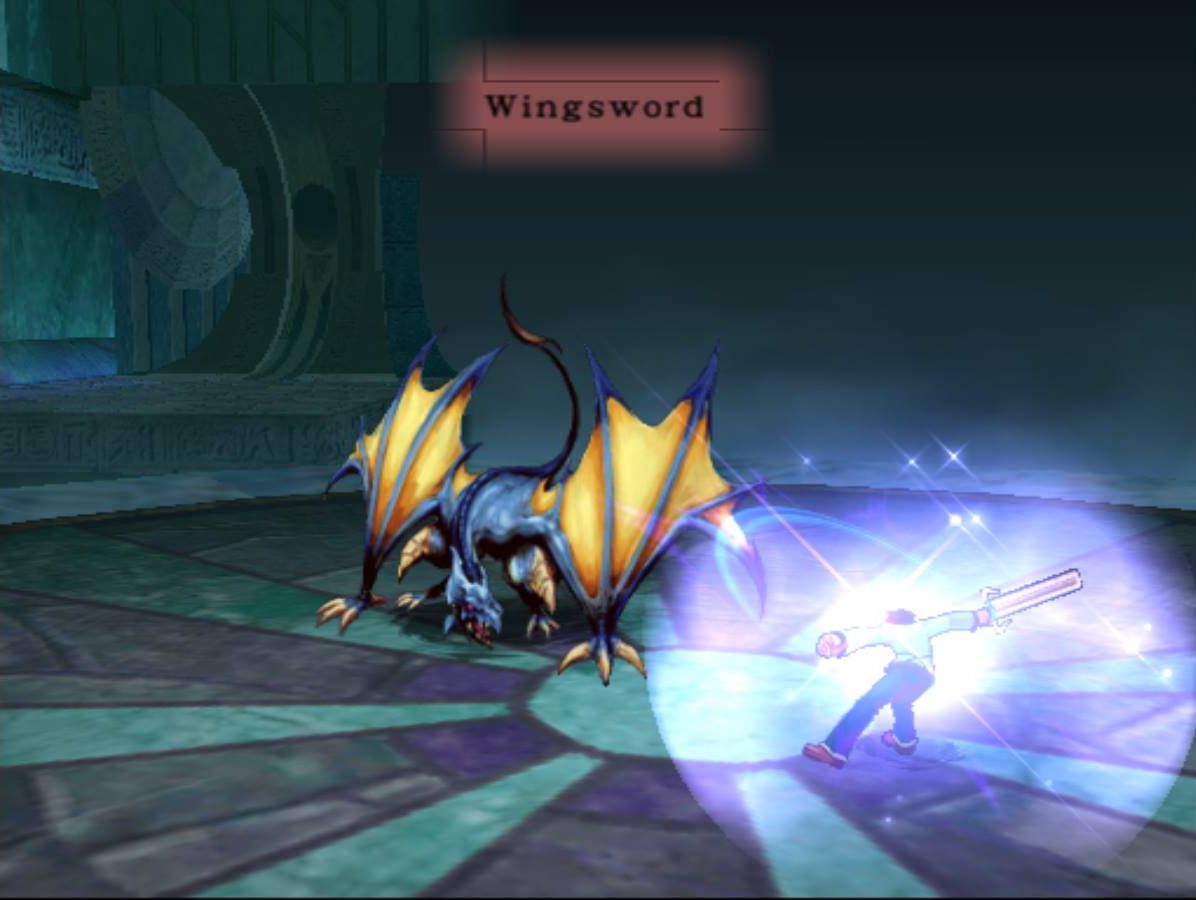 Hiro deflecting an attack. Deflecting is the most SATISFYING FEELING EVER.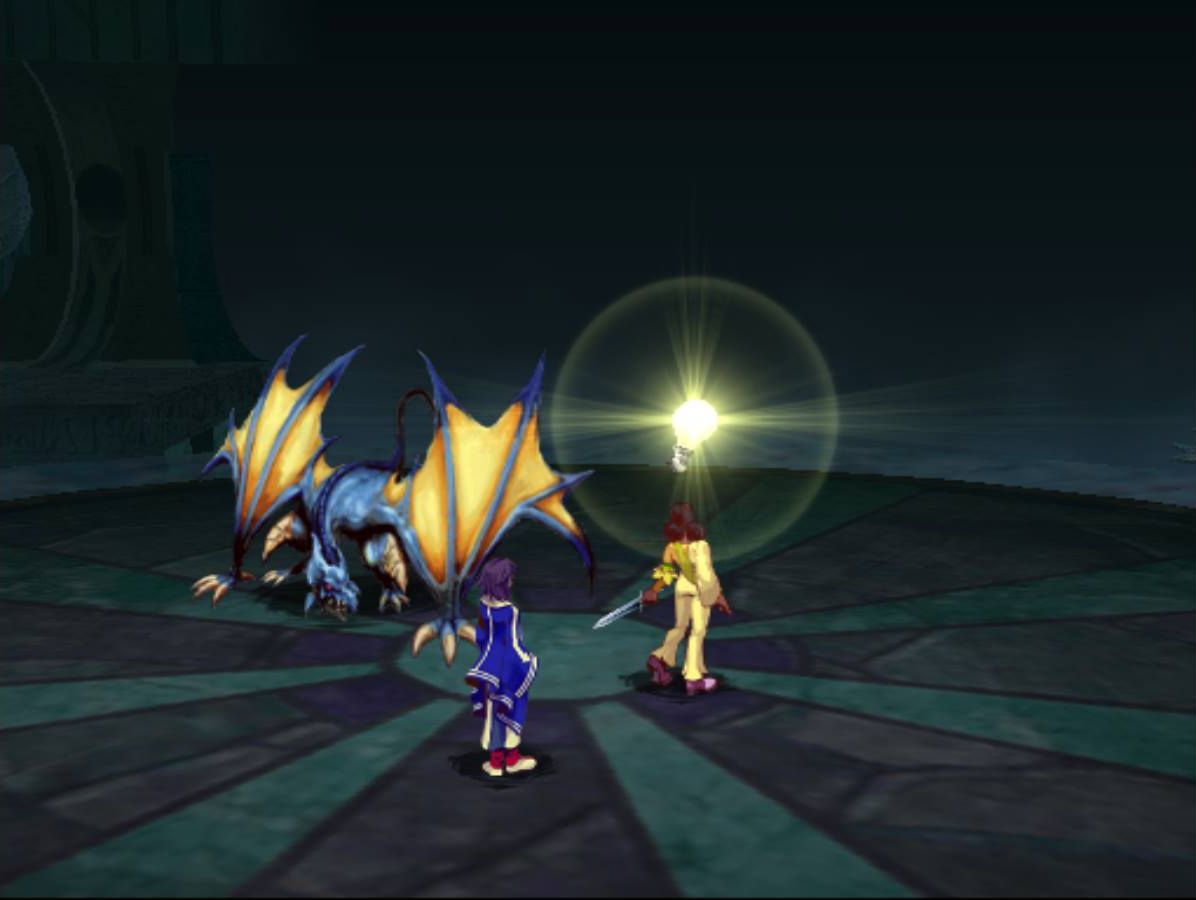 I kept trying to catch the glimmer lightbulbs with a screencap. They only appear for like a half second XD I finally got one! I glimmered a lot of stuff during this battle.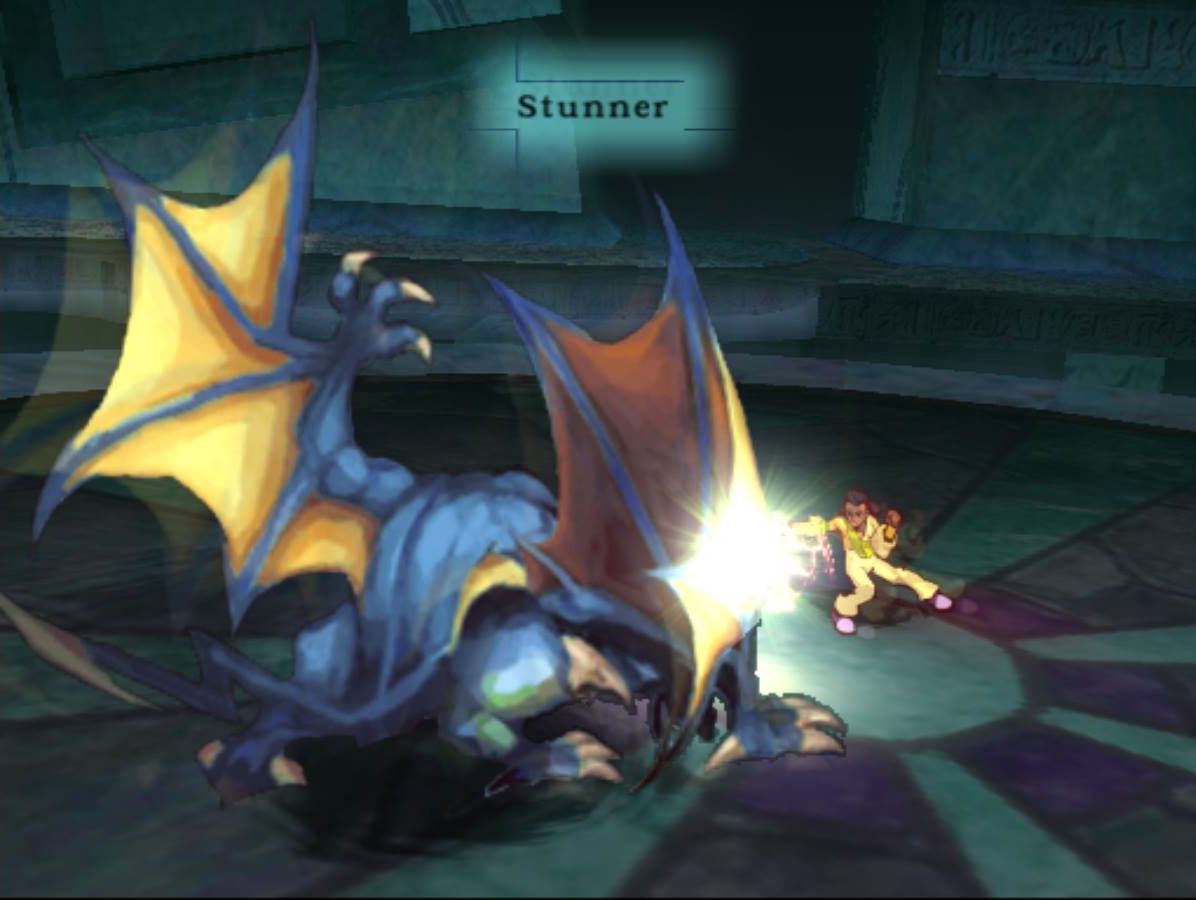 Grace stabbin'. She has really weird poses lol but I love them.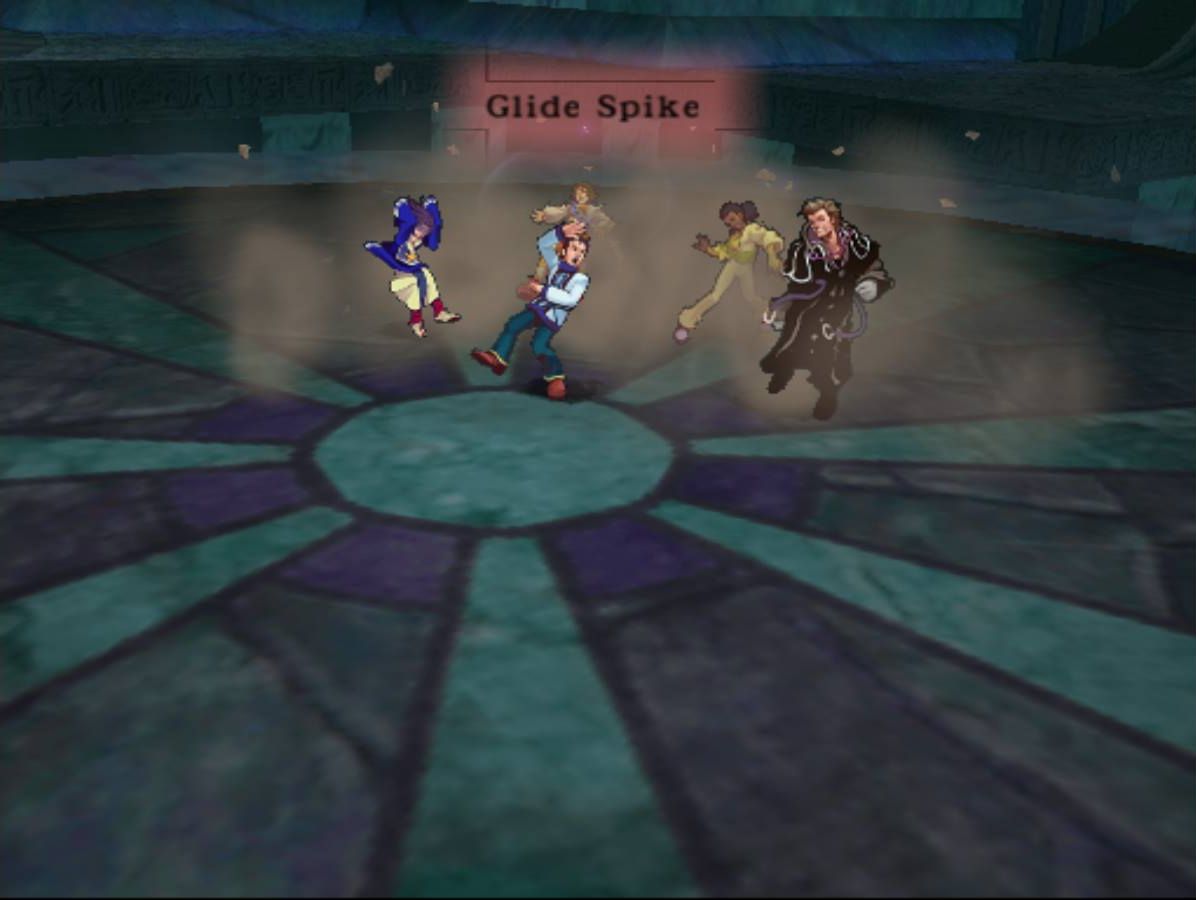 Here's everyone being hurt. It did this thing where it like... flew through everybody. It was already off the screen at this point.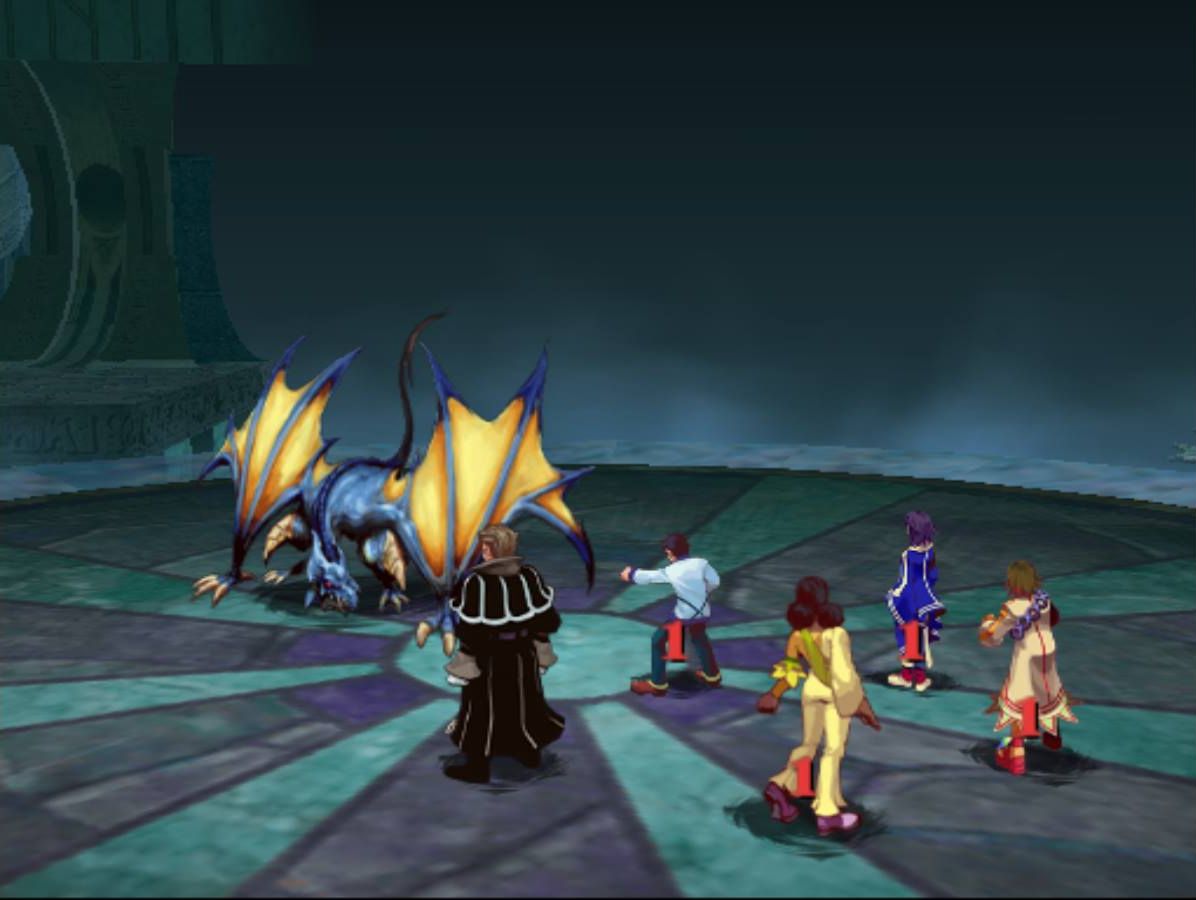 Everyone lost an LP except Iskandar... :,)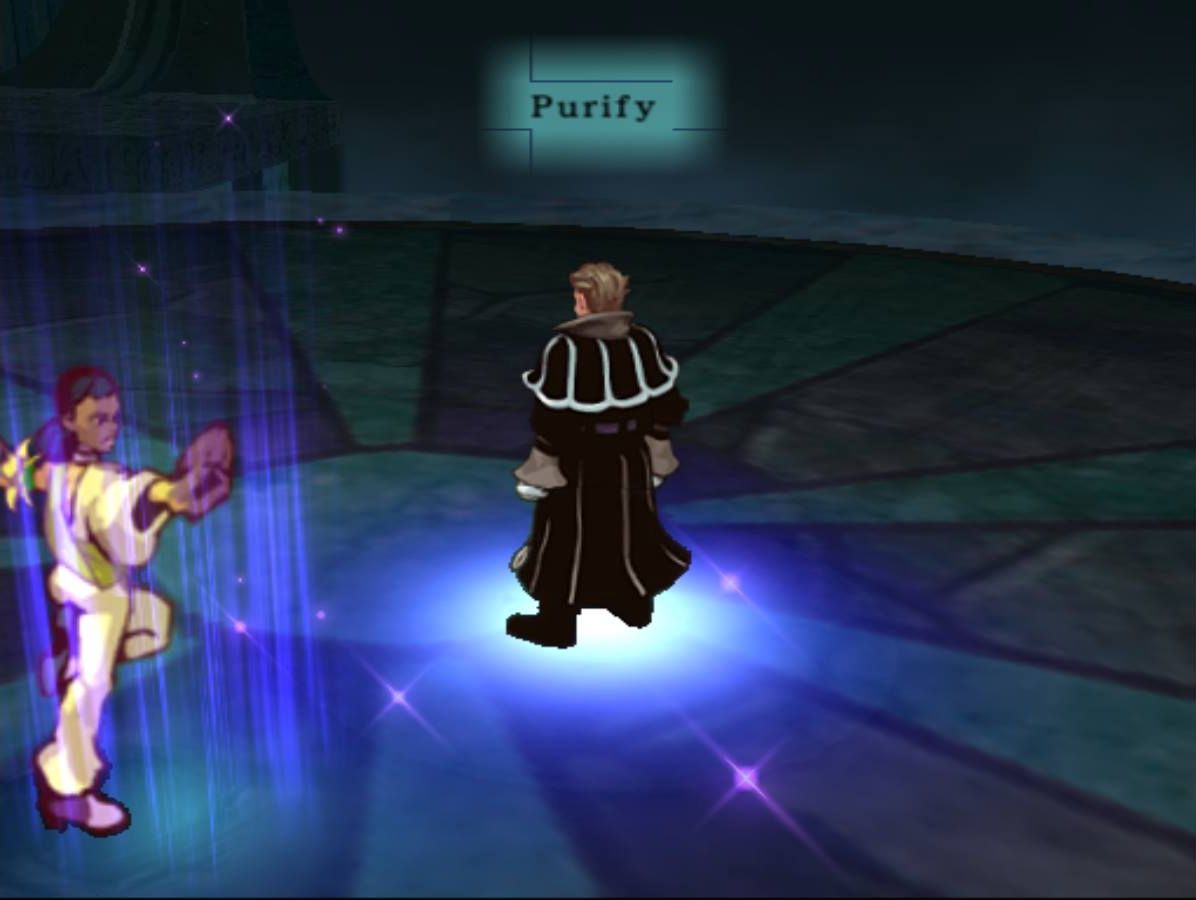 Grace healing Iskandar :)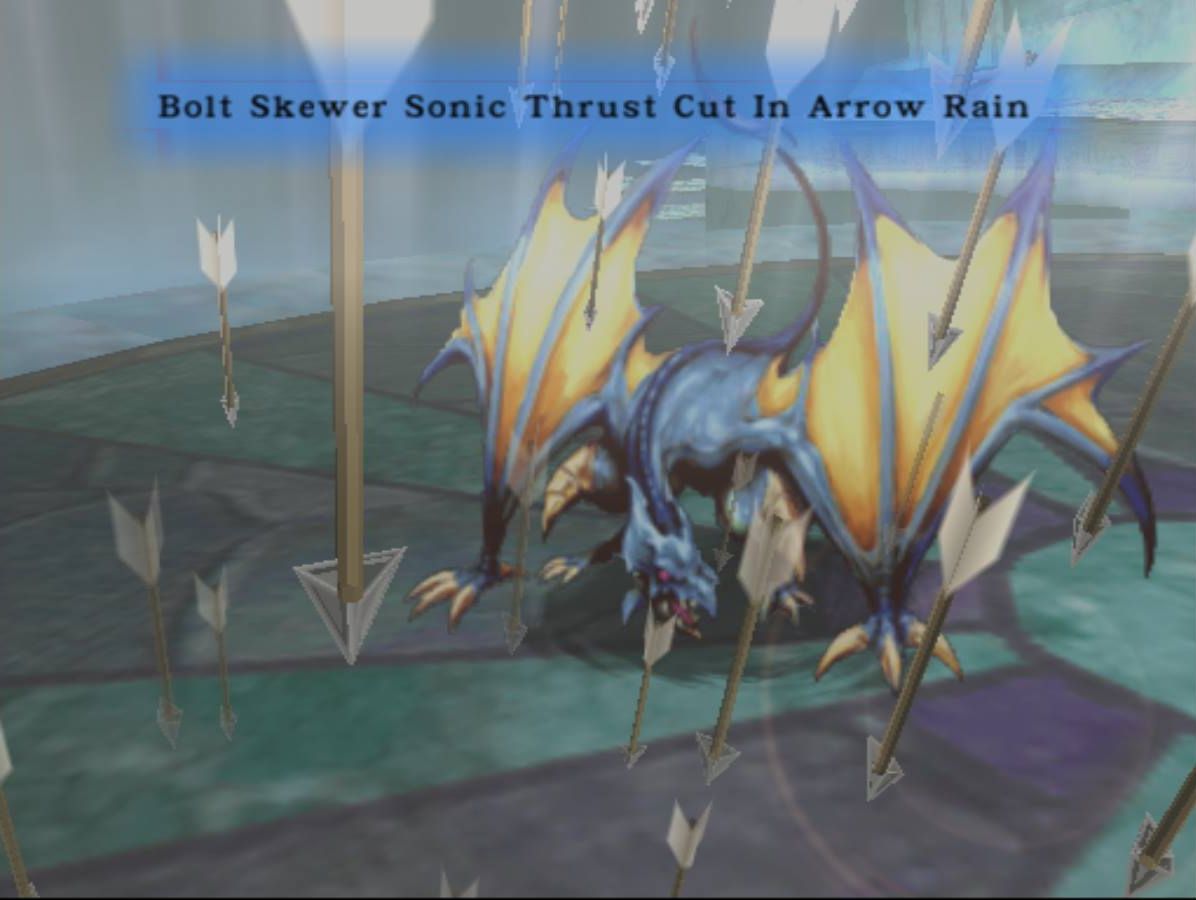 Sapphire glimmered Arrow Rain!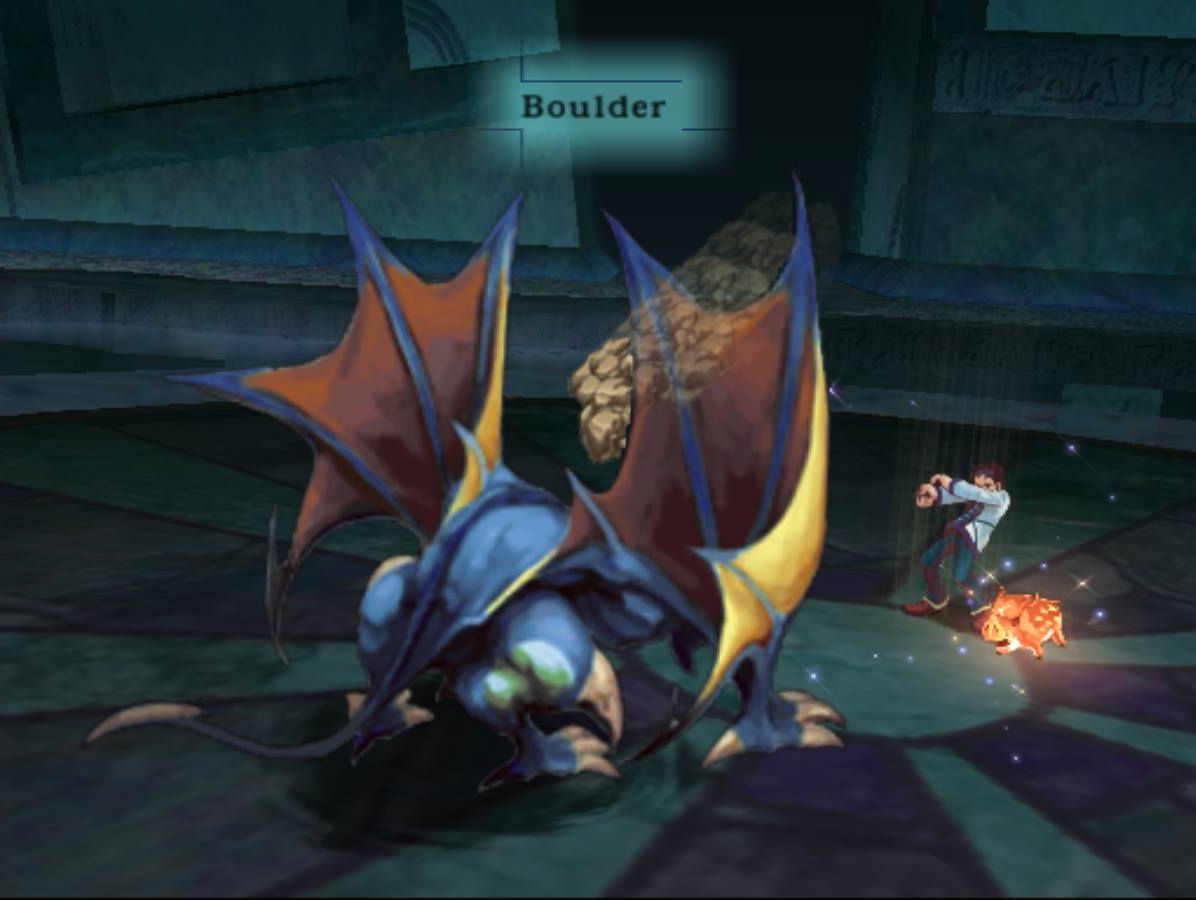 I kinda forgot that Hiro had a familiar. Look at the little piggy XD I wish I could have captured the beginning of Hiro's casting animation, when he's like looking at the sky and chanting or something. It's SO cute.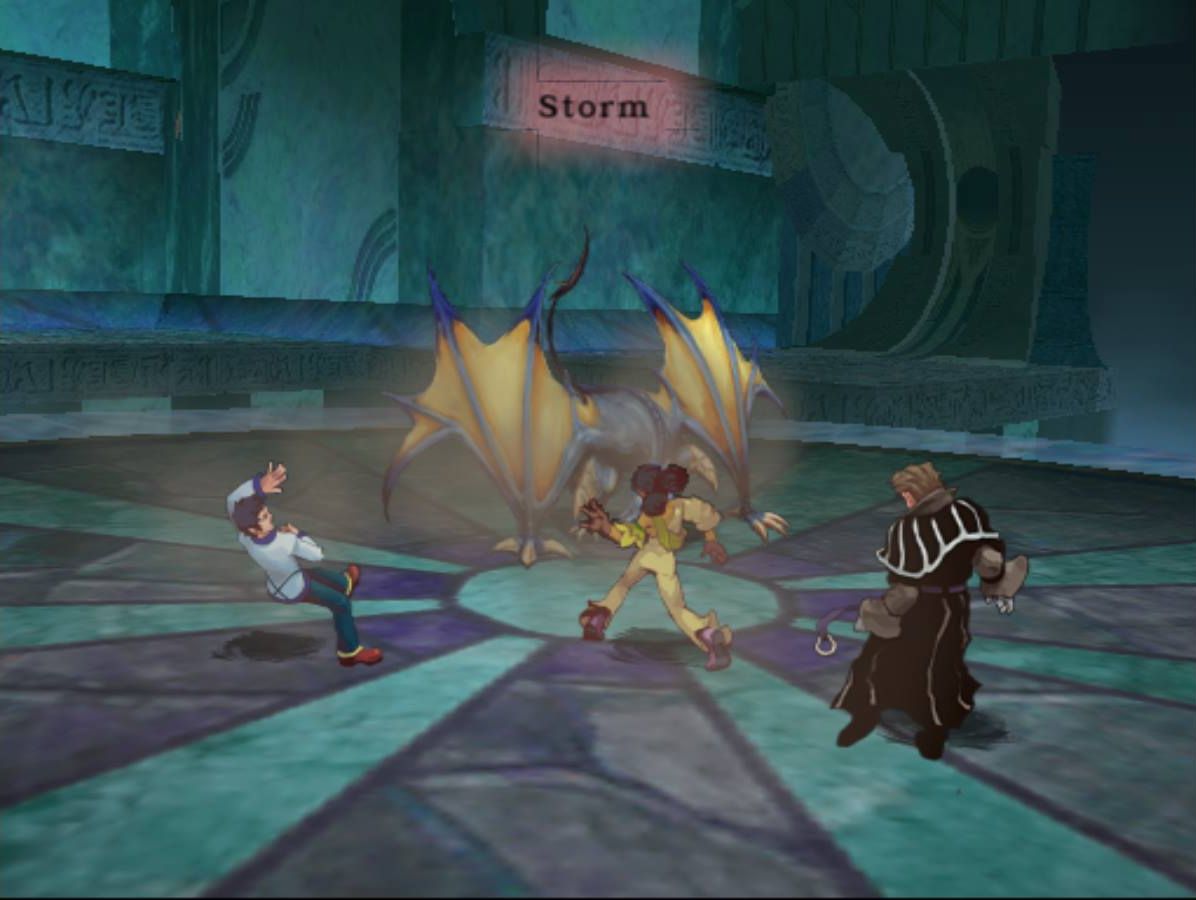 This thing hits everyone too much :( Look at Grace's weird pose again XD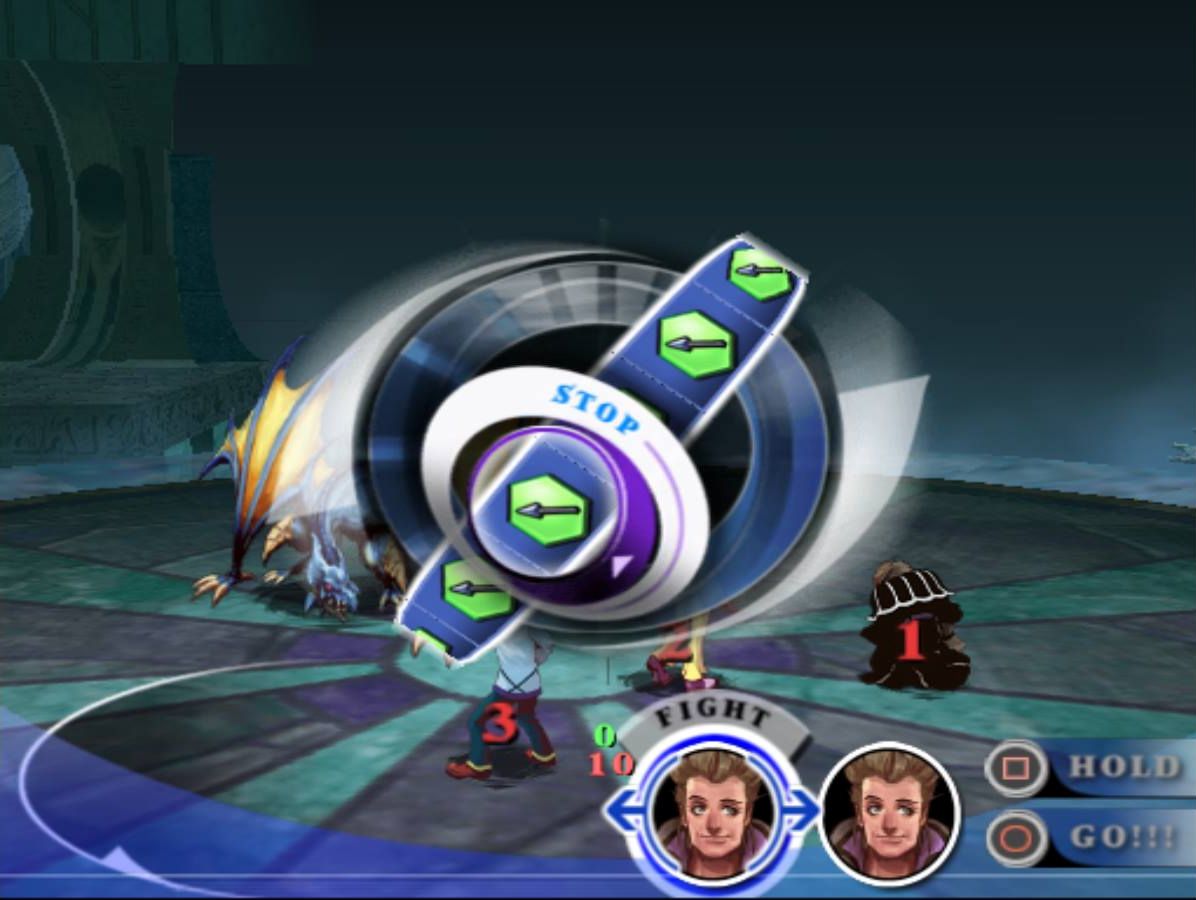 I capped a bit late so the reel already appeared, but look at that LP damage... Hiro lost THREE.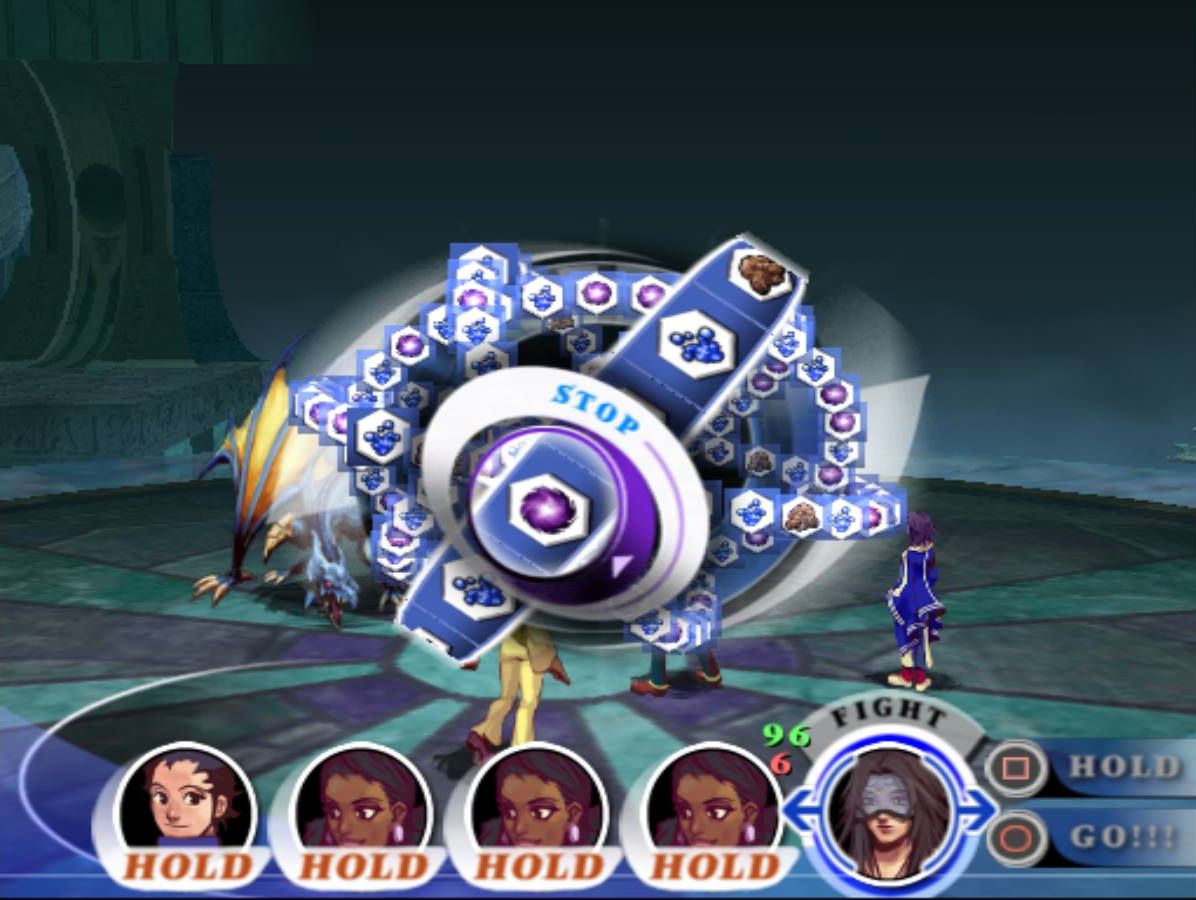 About to do a 5-action combo *__________*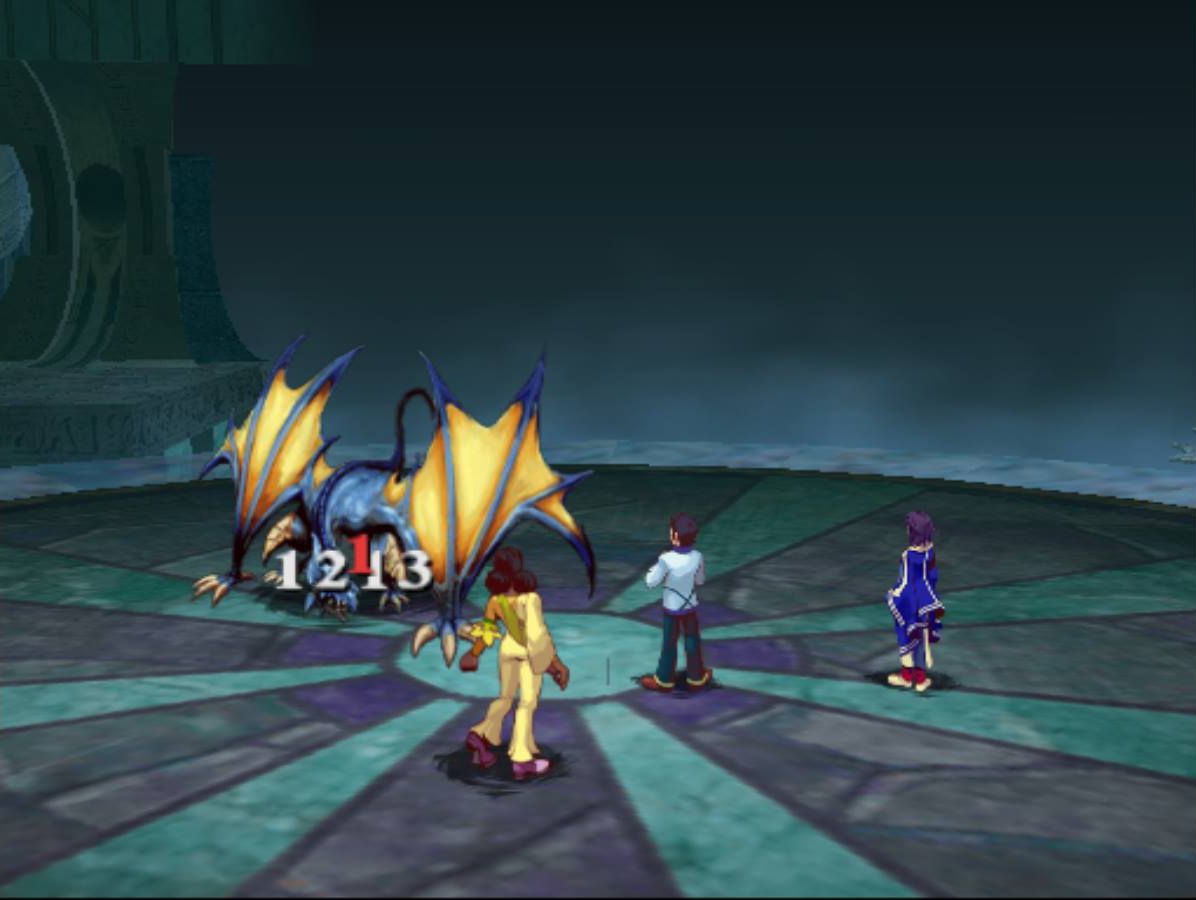 And I finally did my first damage... And for many turns after this it was the only damage I could manage to get in...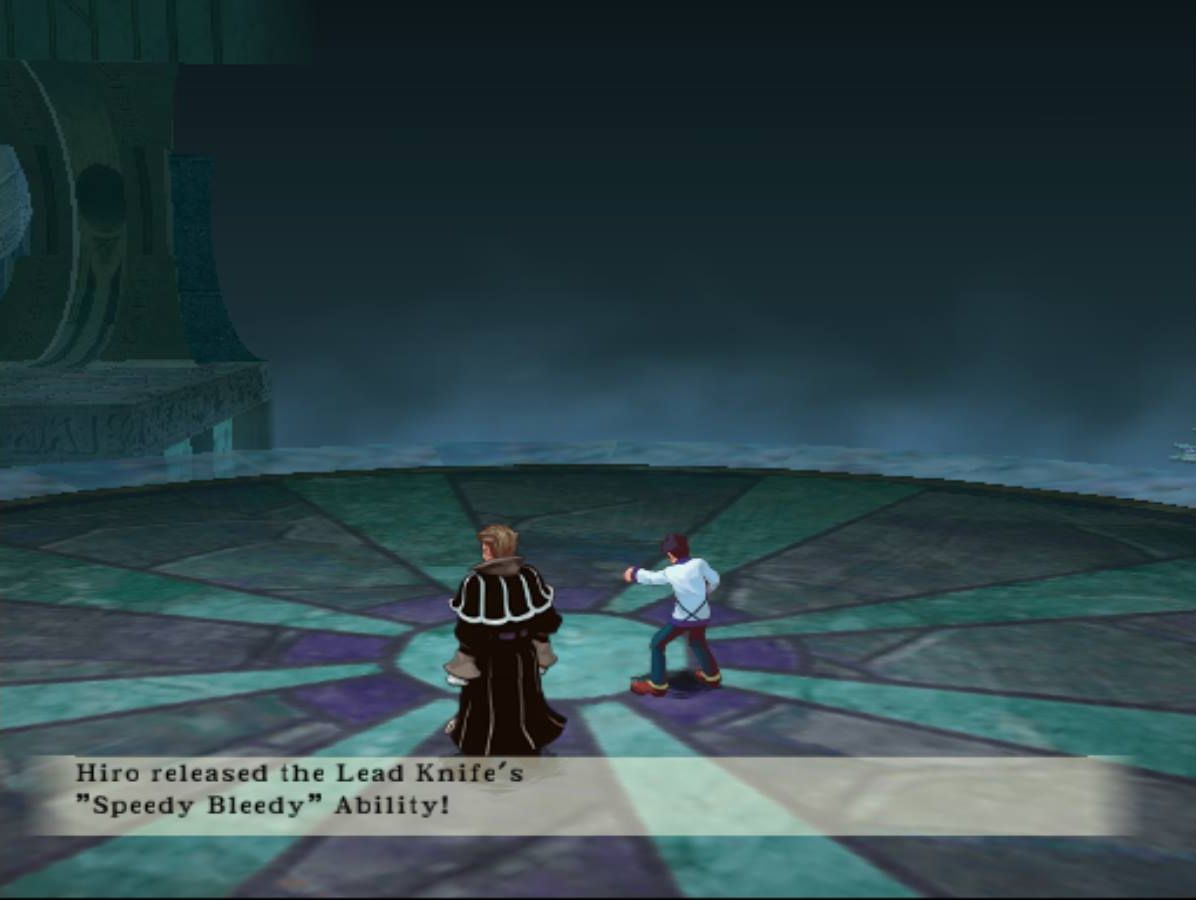 I finally managed to defeat it, though. I was starting to worry that I wasn't going to be able to...!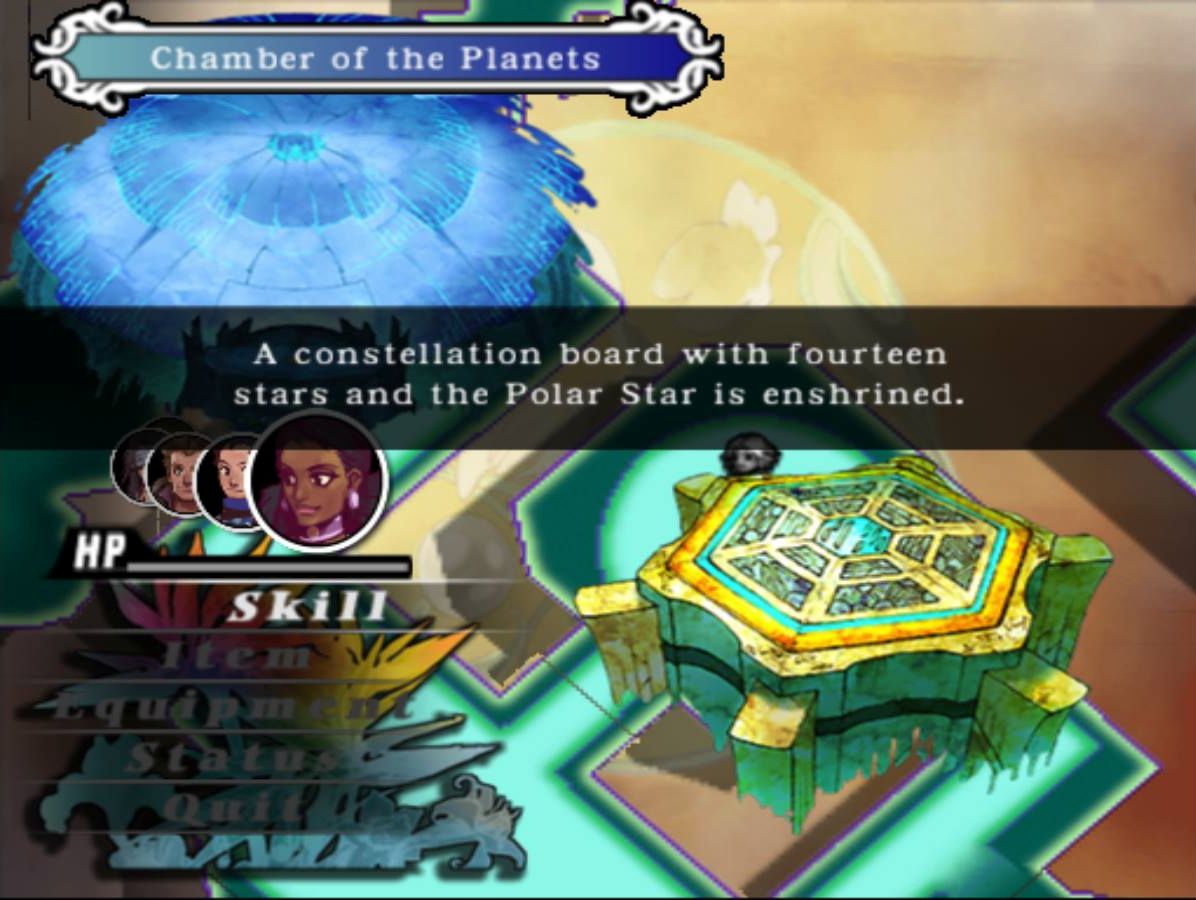 Behind that boss, we find this thing. You can touch it if you want. (EDITING THIS NOW I FEEL LIKE JUST SAYING "YOU CAN TOUCH IT IF YOU WANT" SOUNDS WEIRD LOL)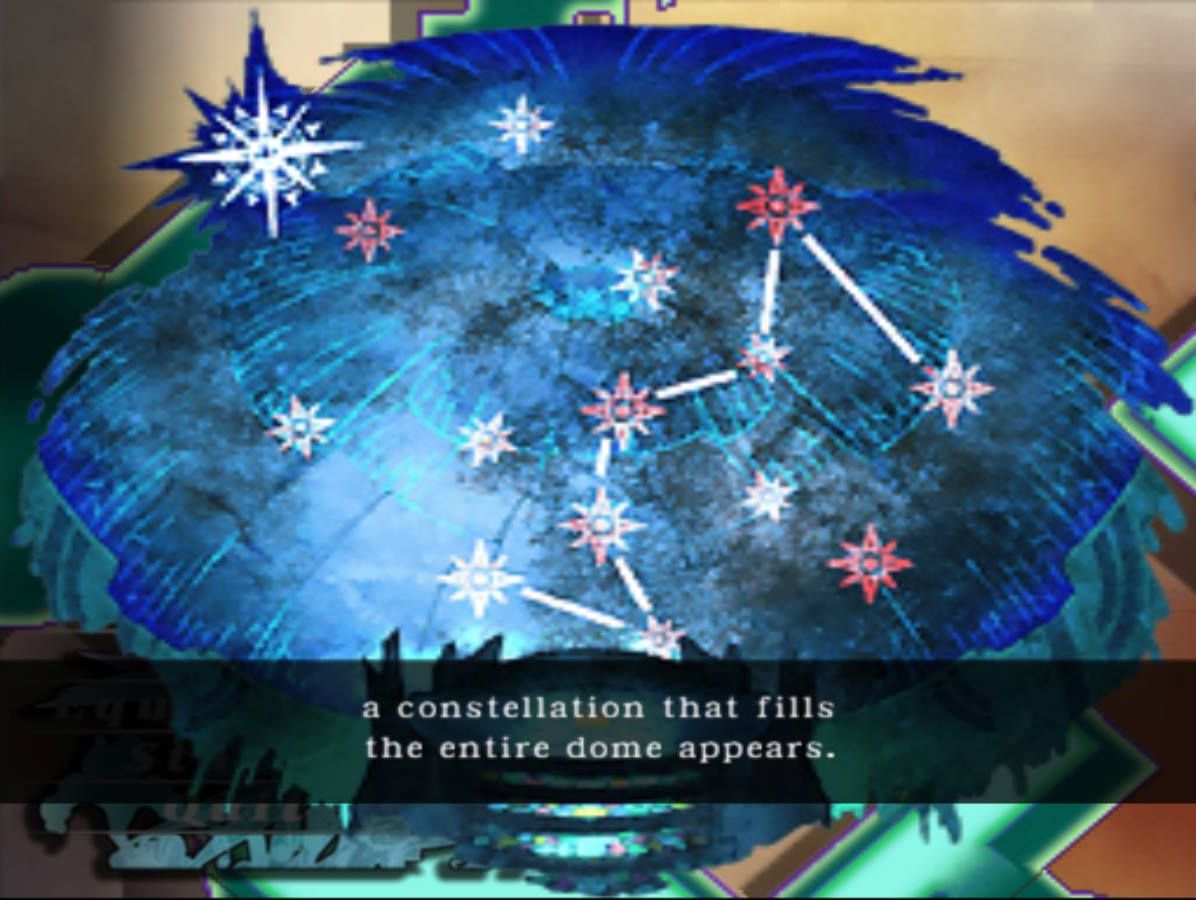 And you should touch it (EDIT: OMGGGG), because it will show you a constellation on the ceiling. This is important. Don't worry, though, you don't need to memorize it or anything. You just need to have turned on the planetarium's constellation light thing.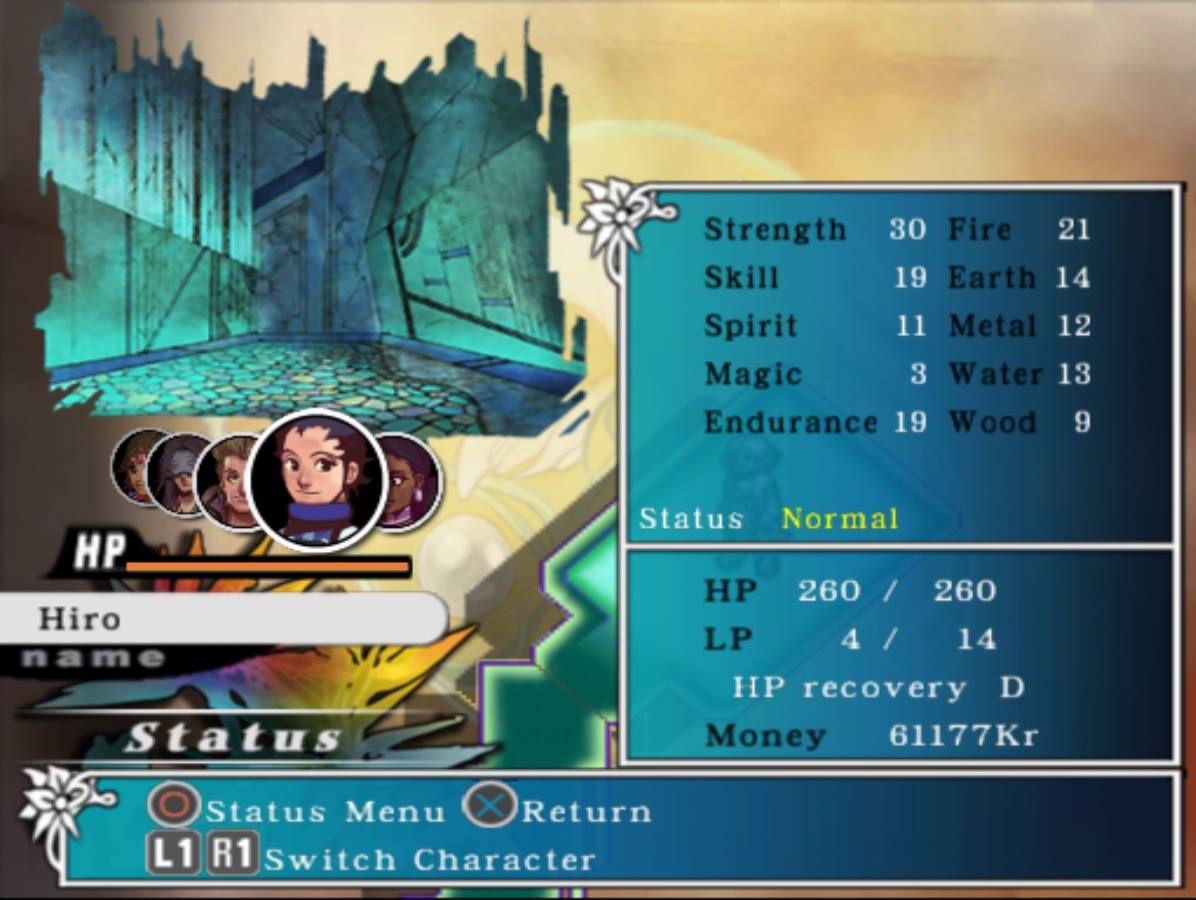 That battle really drained the party... Hiro is at 4LP. Sapphire is at like 5... everyone is really low. I definitely wouldn't be able to survive another one of these. Well, maybe, because I found some tactics that worked better by the end of the battle. It's kinda hard to work with what I have at this point. (spoiler: there's another one.)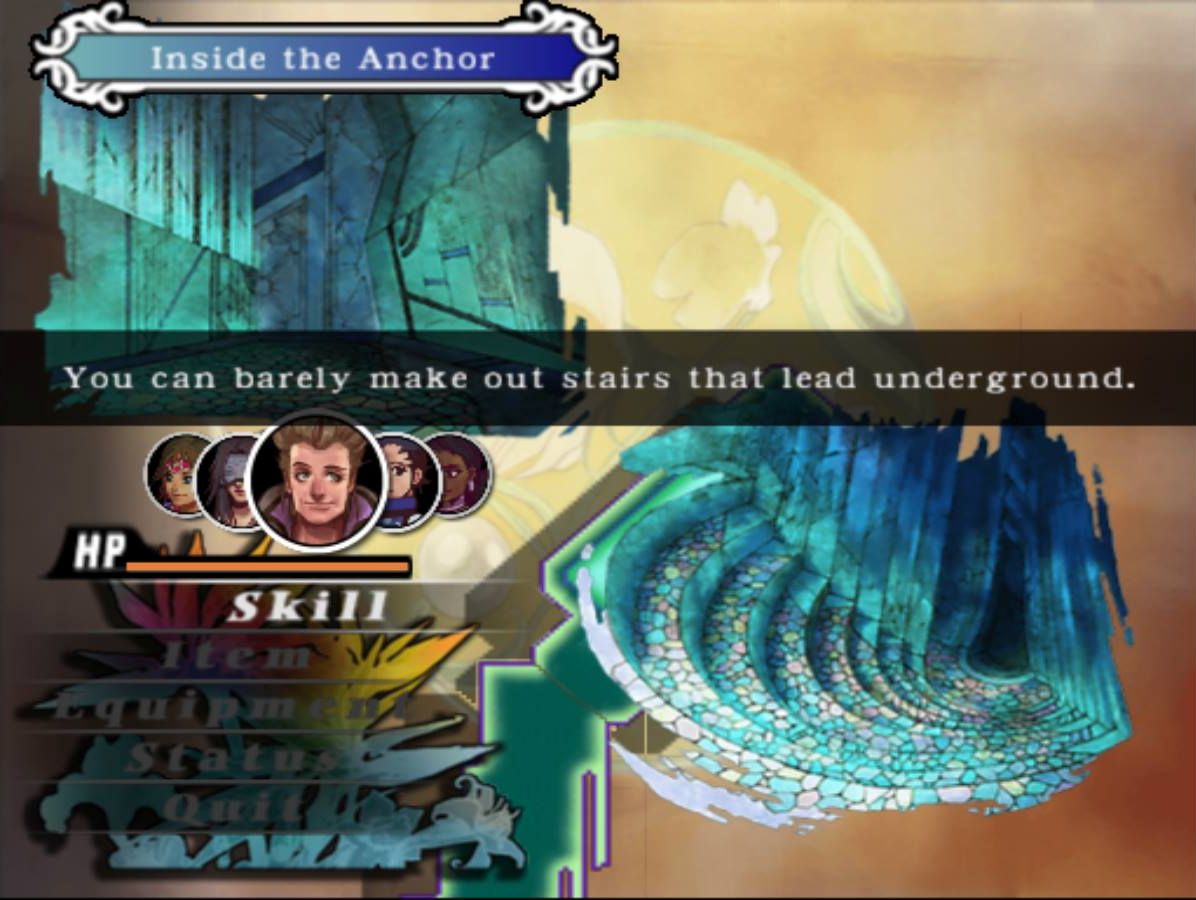 We find some stairs behind another door.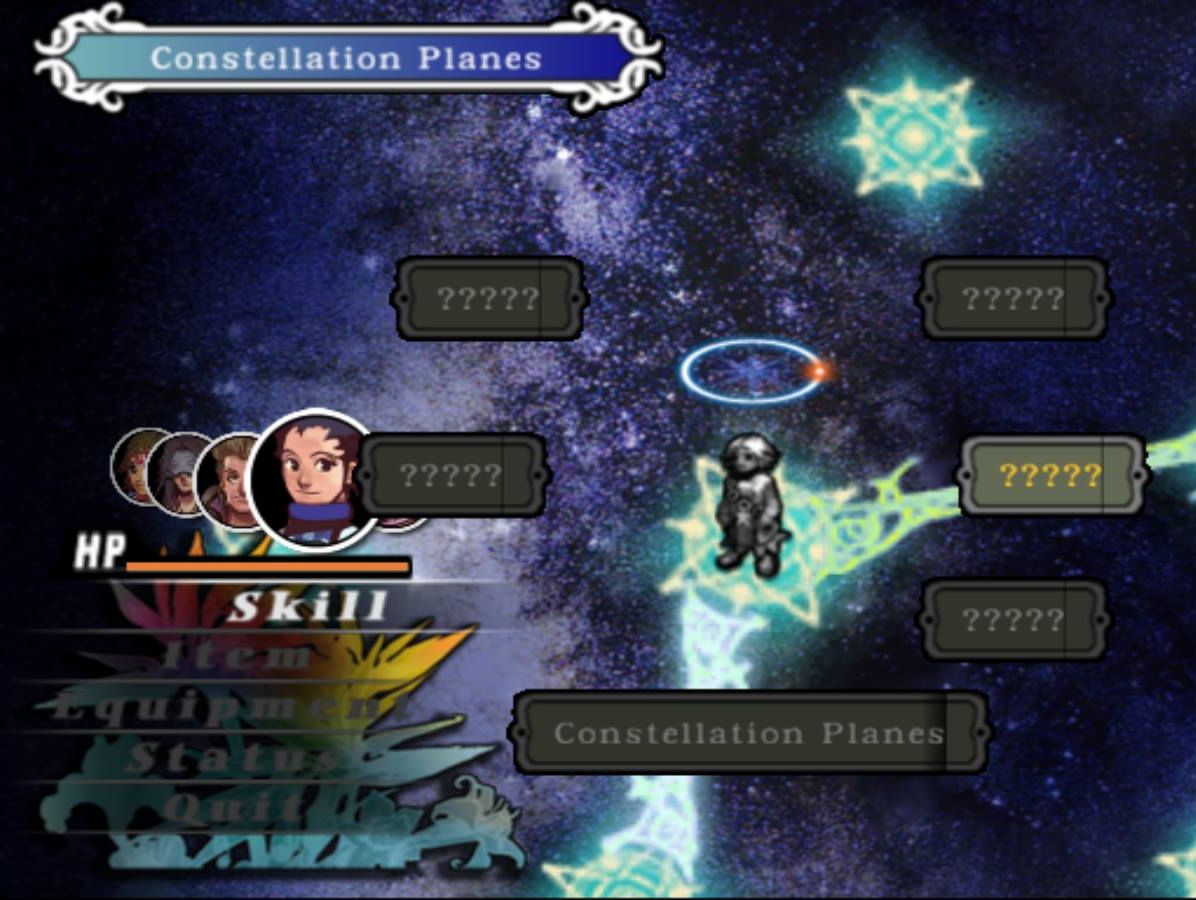 Down the stairs is this like... weird underground planetarium... space... world. I don't really understand what this is but you are jumping between stars. you're kind of teleported here as you go down the stairs. I don't think it's a literal basement. I think it's some kind of weird plane of existence, not a normal part of the physical world (it will talk about this later but not really explain it). The name of the area is "constellation planes" and I think it's both Cold and Windy or something so resting here is difficult.
Anyway, you have LOTS of options of where to go. The place where you first come in has a weird like... teleporter thing called Milky Way. You can go back to that to get back to the main building in the woods. But what you're wanting to find is another Milky Way transport thing. But if you come in here without touching the constellation board, there will be no pathway among the stars, so you'll just be jumping around aimlessly. In order to find the other Milky Way, you need to step on every star that is part of the constellation. I don't know if you can do this without touching the constellation board. I guess in theory you could just hop on every star until you solve it... but as you hop on stars that aren't part of the constellation, these like shooting stars pop out... and sometimes they will contain hoardes of monsters... so it would probably be pretty hard.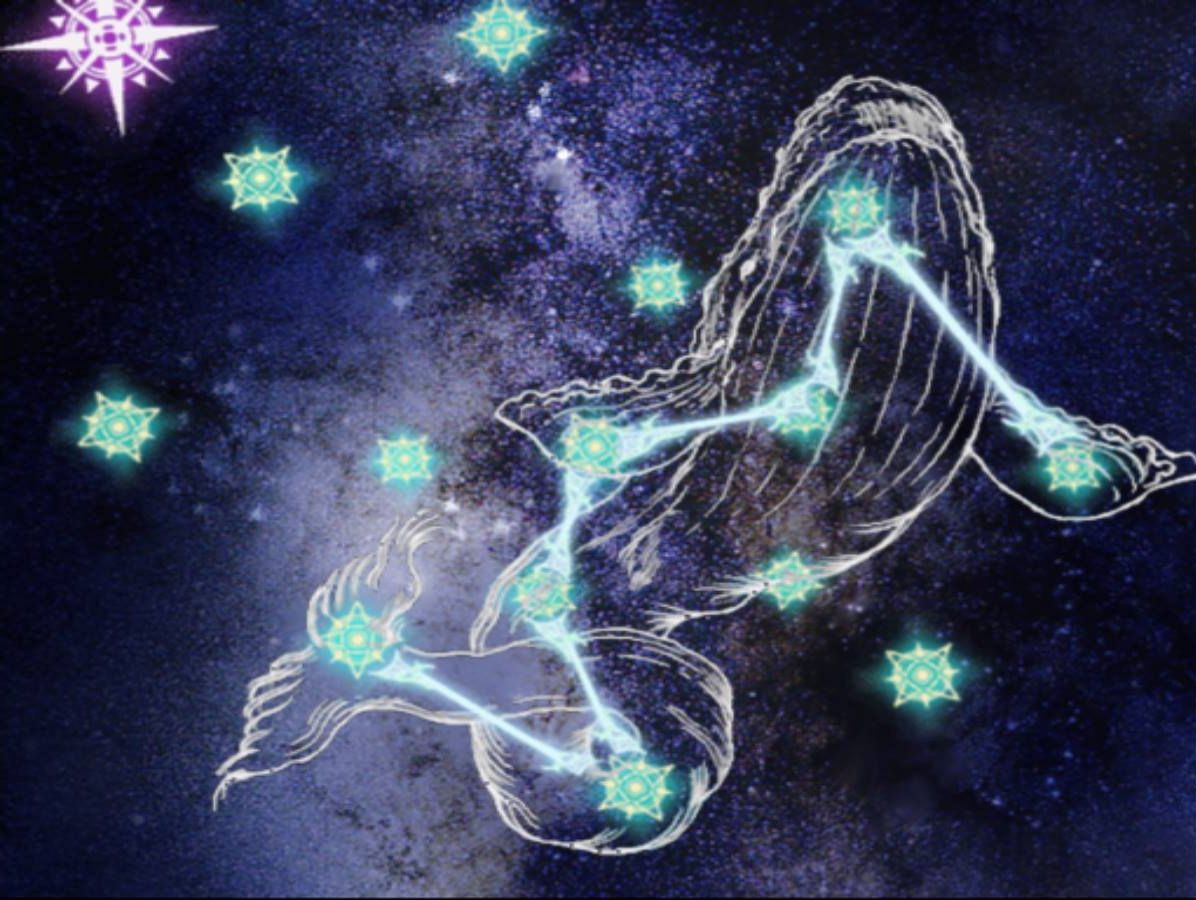 Once you have stepped on all the appropriate stars, the constellation image will appear under your feet.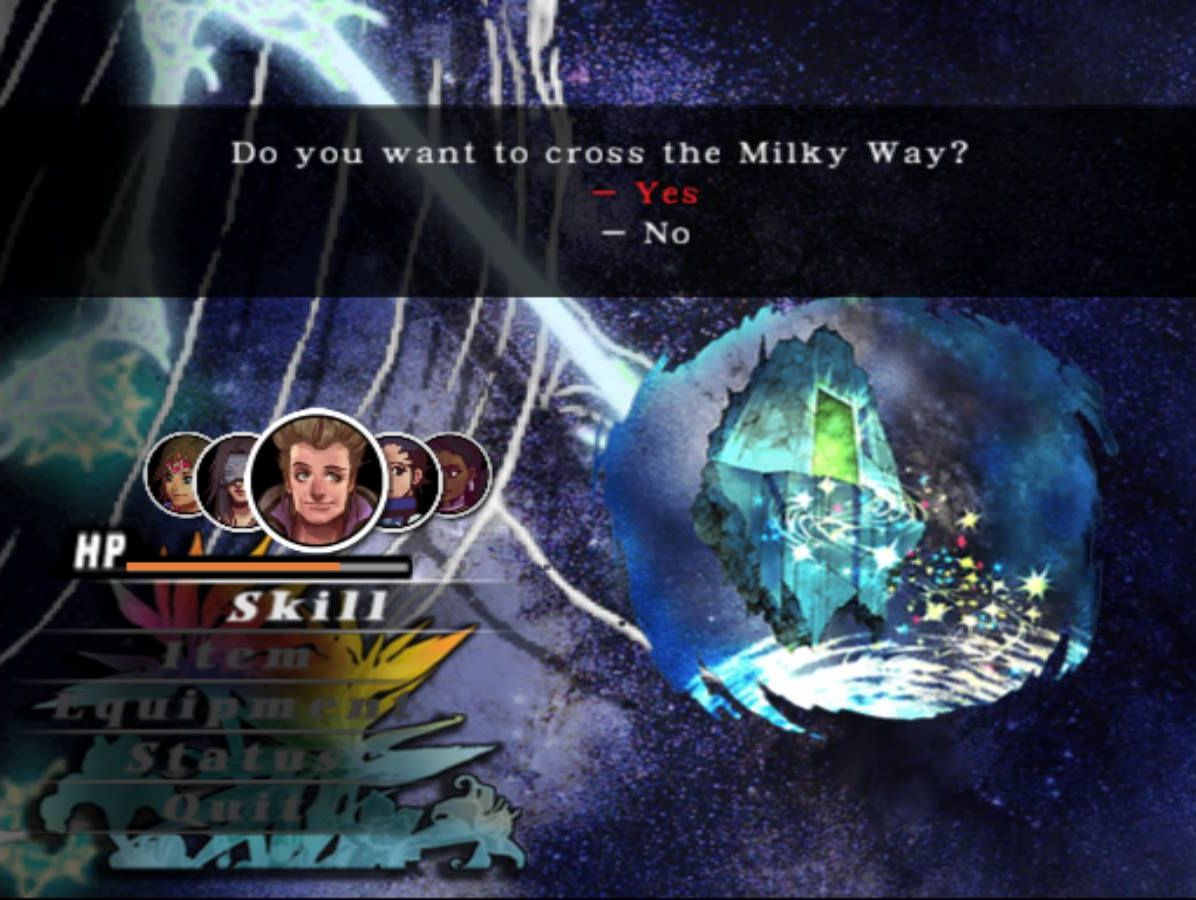 This makes the Milky Way appear, and you can cross it. This will take you out to another building like the one before, also surrounded by woods, but it seems that you can only access this by crossing through the Constellation Planes. Maybe this is an alternate dimension with a similar building/forest?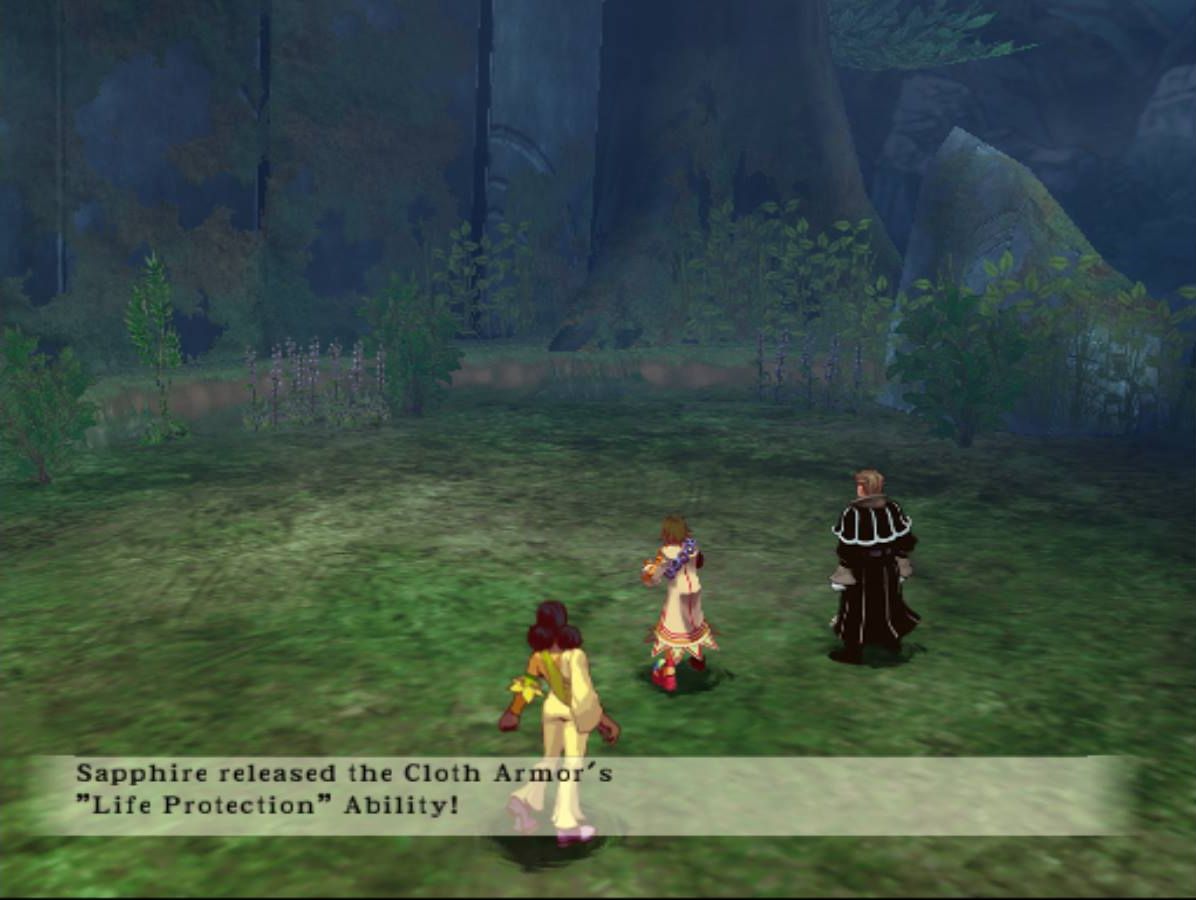 Anyway, outside, Sapphire released Life Protection on her clothes. This is super helpful. Life Protection makes you less likely to lose LP, and it stacks, so every piece of equipment you have with Life Protection increases the effect. Normally the max is three because only accessories and body armor have this, but in Laura's scenario you can get a special headgear and footwear that have Life Protection to have a stack of five! Needless to say, that really helped in my SCC :P
Then in another battle, Hiro released Dice on one of the knives that was like strapped to his head or whatever (maybe he's wearing it as a hair accessory). This is EXTREMELY IMPORTANT because Dice is a really powerful line of arts. Even the base art (Dice) has a huge LP damage rate. Its glimmered arts, though (Puree and Bloody Mary) are insanely powerful and can deal like 6LP damage+ when the enemy has low HP. The final boss only has like 20LP if you want to know how powerful that is :P (though even with an insanely powerful Dice in my SCC, the most LP damage I could deal with a single Dice to the final boss was 3. But even still, that's a lot for a single attack when you get 5 attacks per round of combat).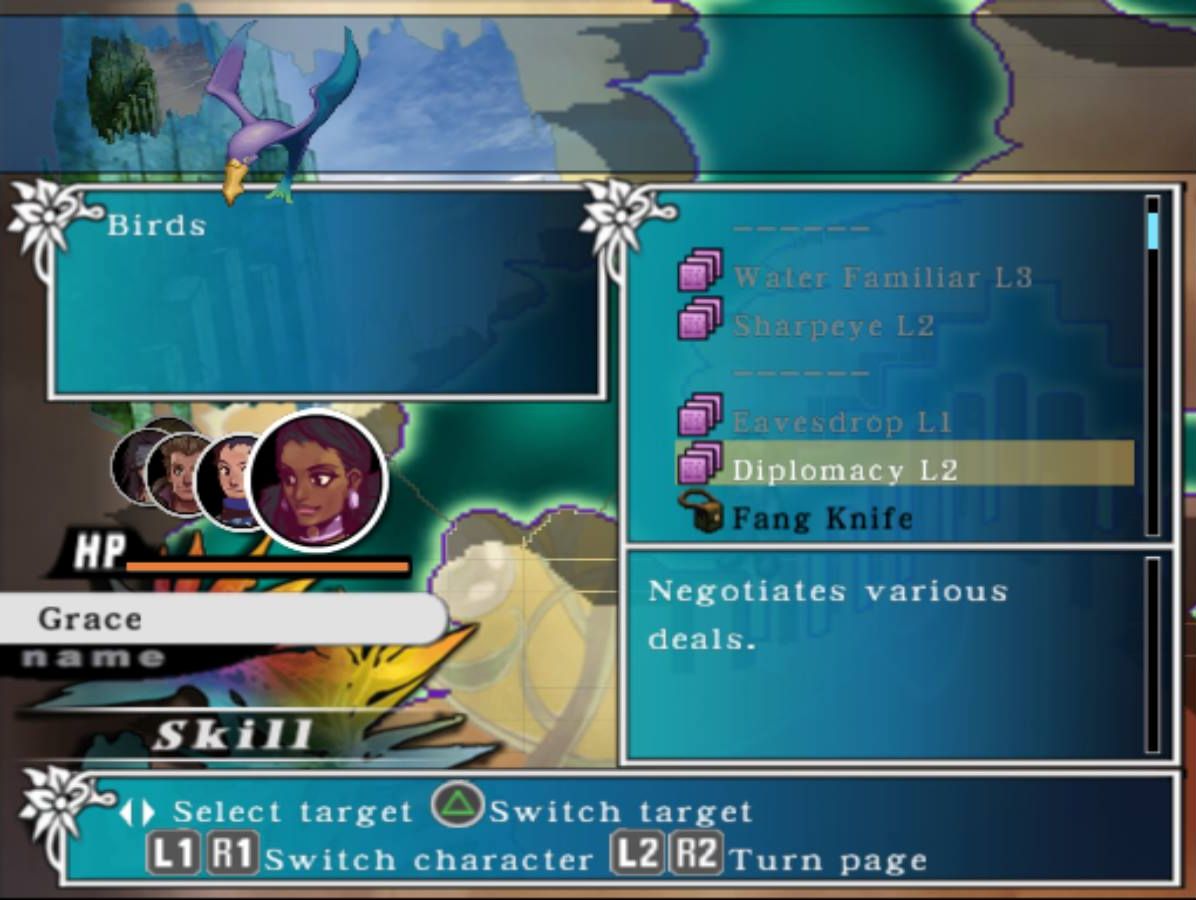 Before, I said that Diplomacy was mostly a waste. I think later in the game maybe it is, but early in the game it can be very helpful. This stupid bird was following me around, and my characters were REALLY not wanting to lose any more LP. Birds are pretty aggressive, and every time I moved it seemed to want to move onto the same spot as me. Birds tend to like to follow you too -_-; I really didn't want it to initiate a combat with me...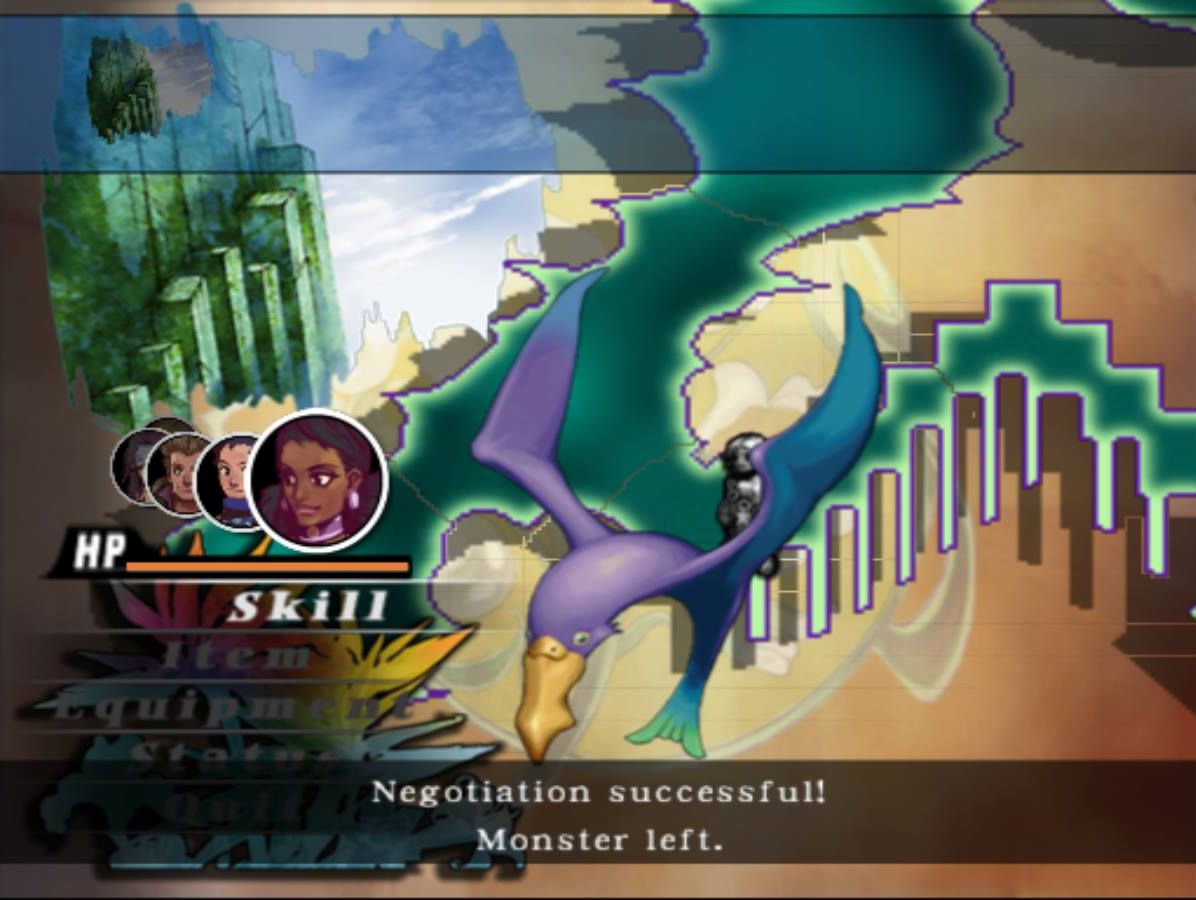 So Grace asked it to go away and it was like "k cool"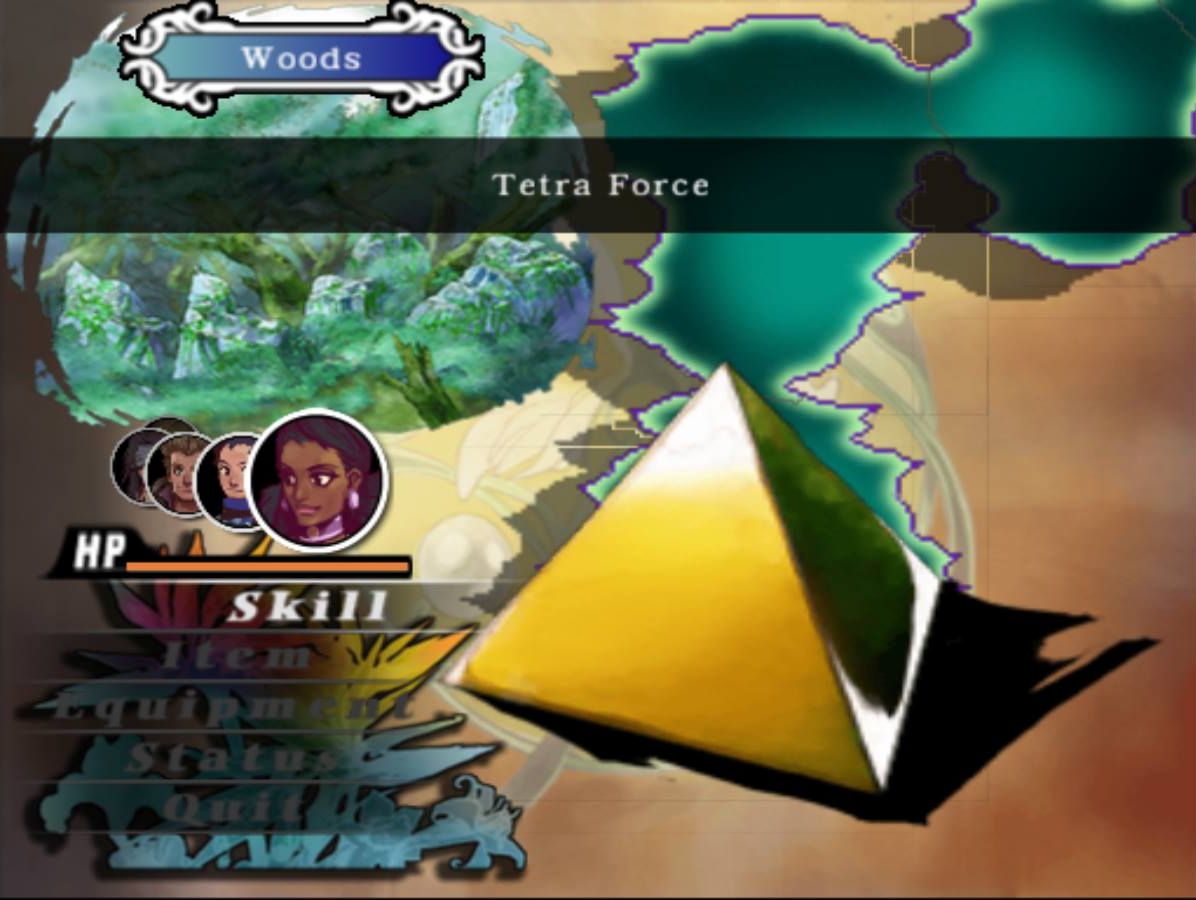 Fortunately, there was a Tetra Force nearby :D These are special items that only appear in the Seven Wonders, and usually only in the 'final adventure' version, but Ruby gets to see them in all of hers.
A Tetra Force is like a save point -- you can save your game here. But what's great about it, is that it counts as completing an adventure, so you get panels, and you completely restore all your HP and LP! Your market rank can even go up lol. But after the first time you use it, you have to have "low LP" to use it again. I think each time you use it, the threshold for how much LP you have to have lost increases, so it gets more likely to 'reject' you, meaning you don't get to save, recover, or get panels anymore. But I'm not really sure, as I never use them that many times.
I went to explore the rest of the area before using the Tetra Force just in case I got swarmed by monsters or something. There really aren't a lot of monsters in this area but still...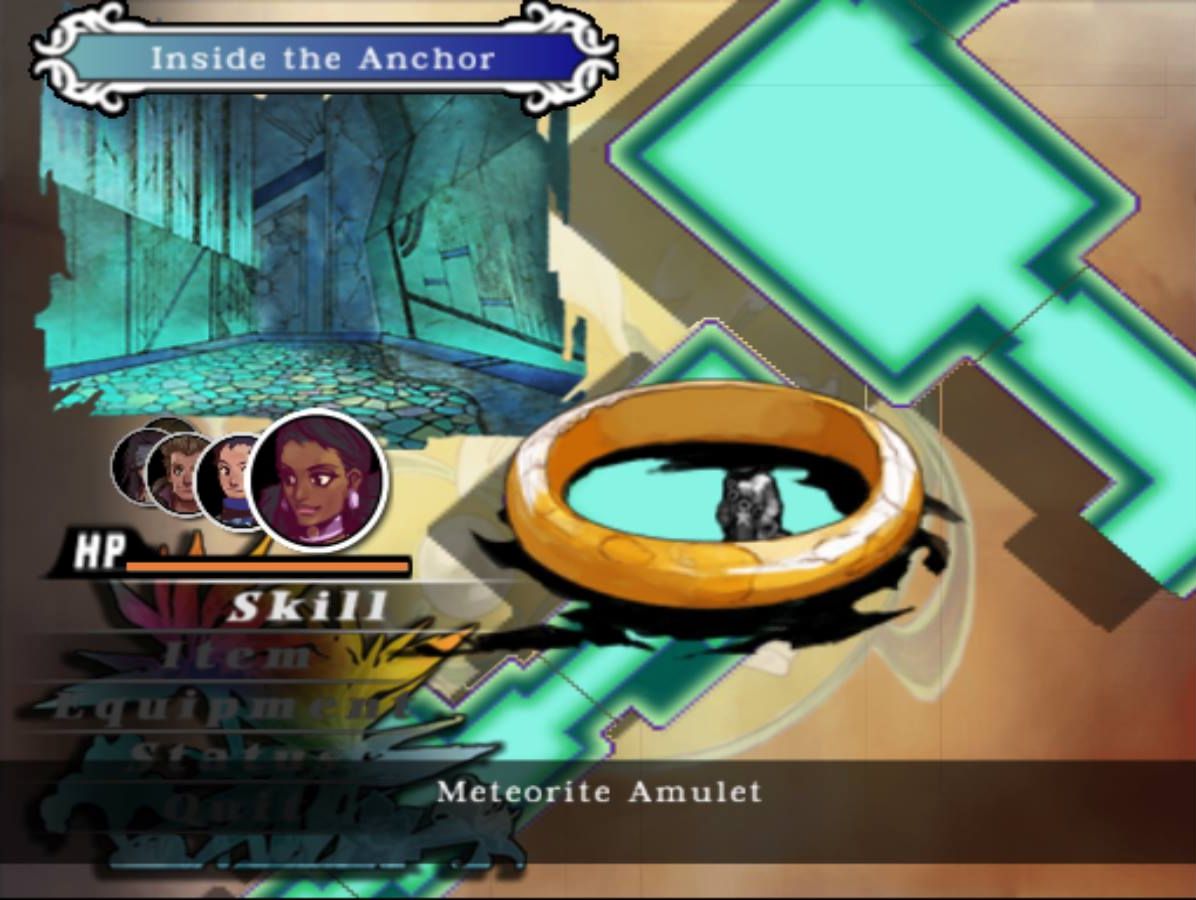 On the ground, I found a Meteroite Amulet. This isn't anything particularly special on its own, but Meteorite is a hard material to come by until your market rank is very high (and even then it's not super common and is very expensive) so this would be useful if I could use it in blacksmithing at least.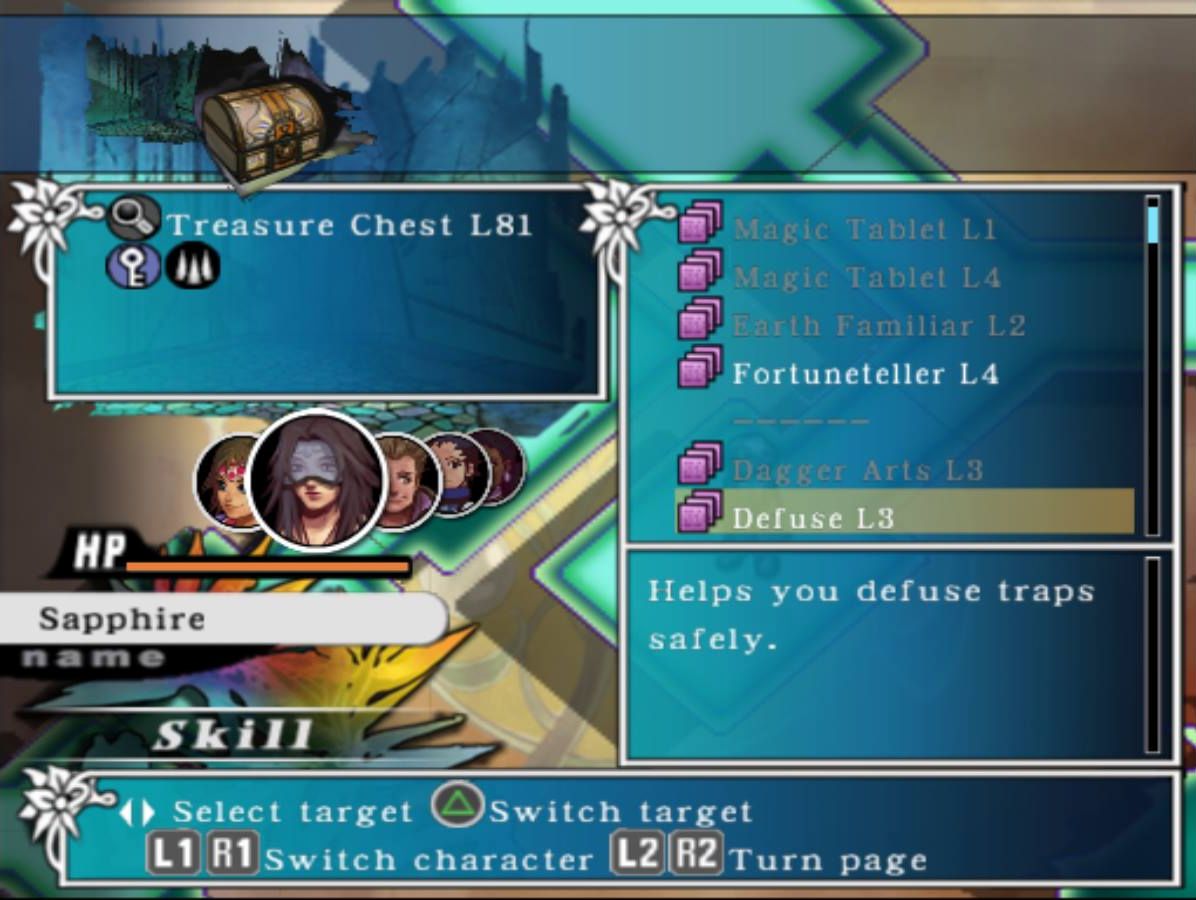 Wonders adventures tend to have some really high-level treasures in them, too...
Though all I got was a cedar bow wtf T_T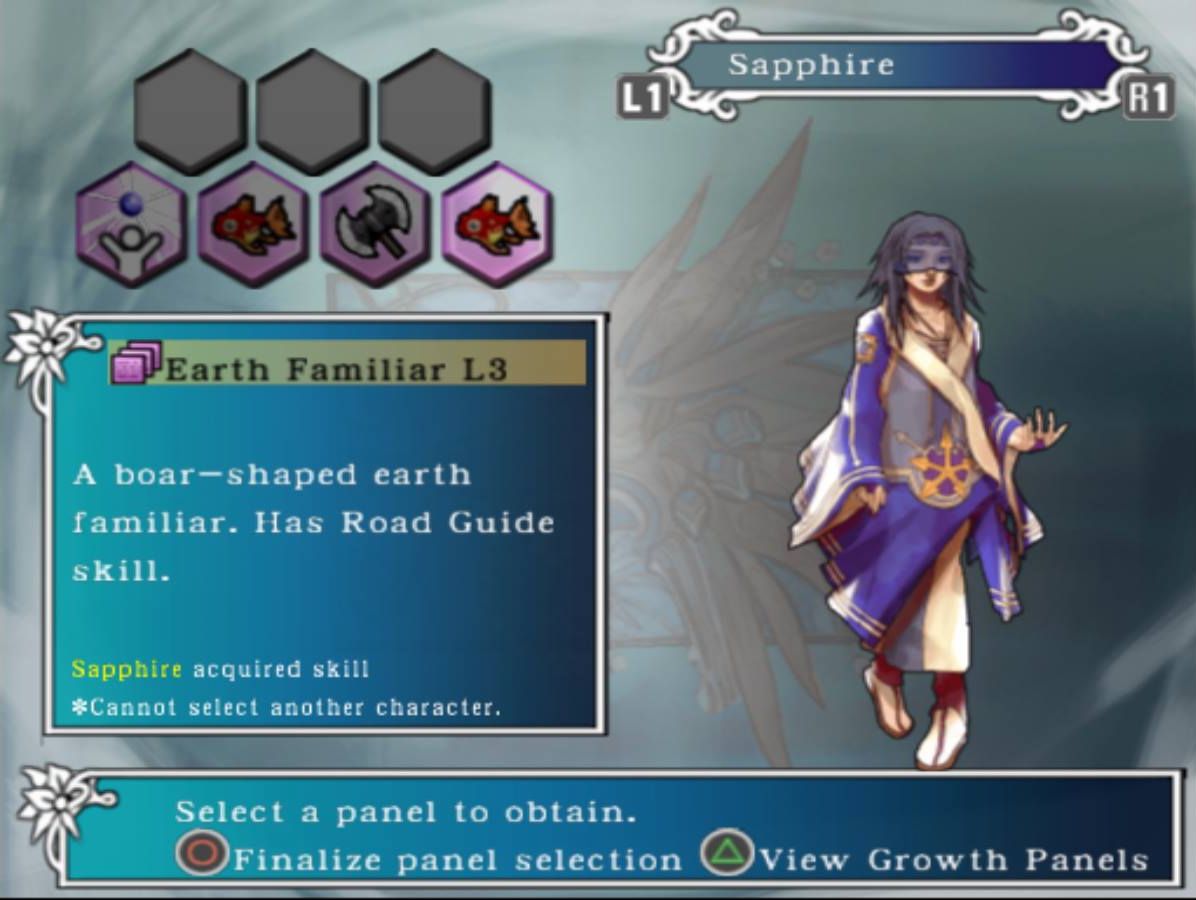 I went back to Tetra Force after exploring and Sapphire leveled up her Pokémon so she can use Boulder now. It's nice to have a damaging art she can use to help study her tablet and not waste weapon durability.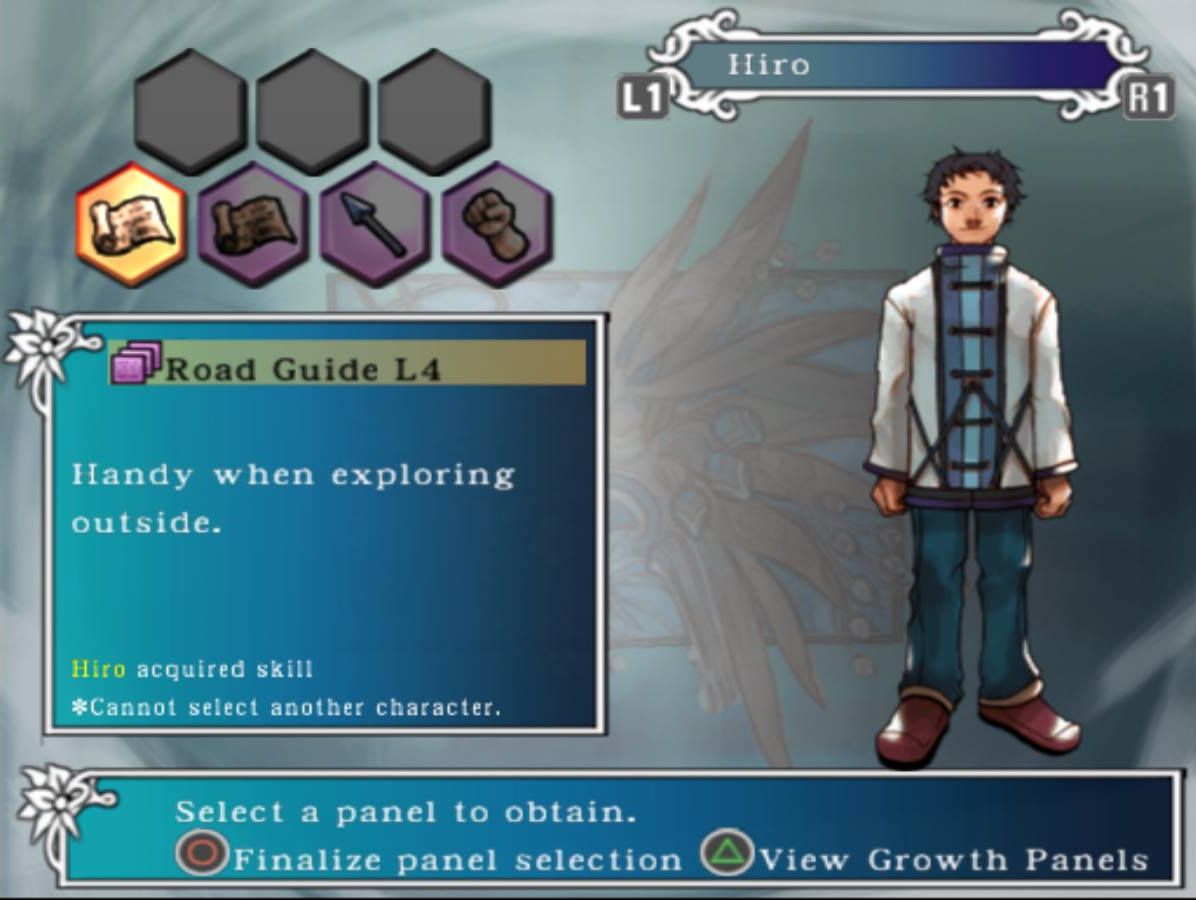 Hiro got the first Lv4 panel I've seen pop up. Sadly I do not need this panel hahaha. He got the spear instead.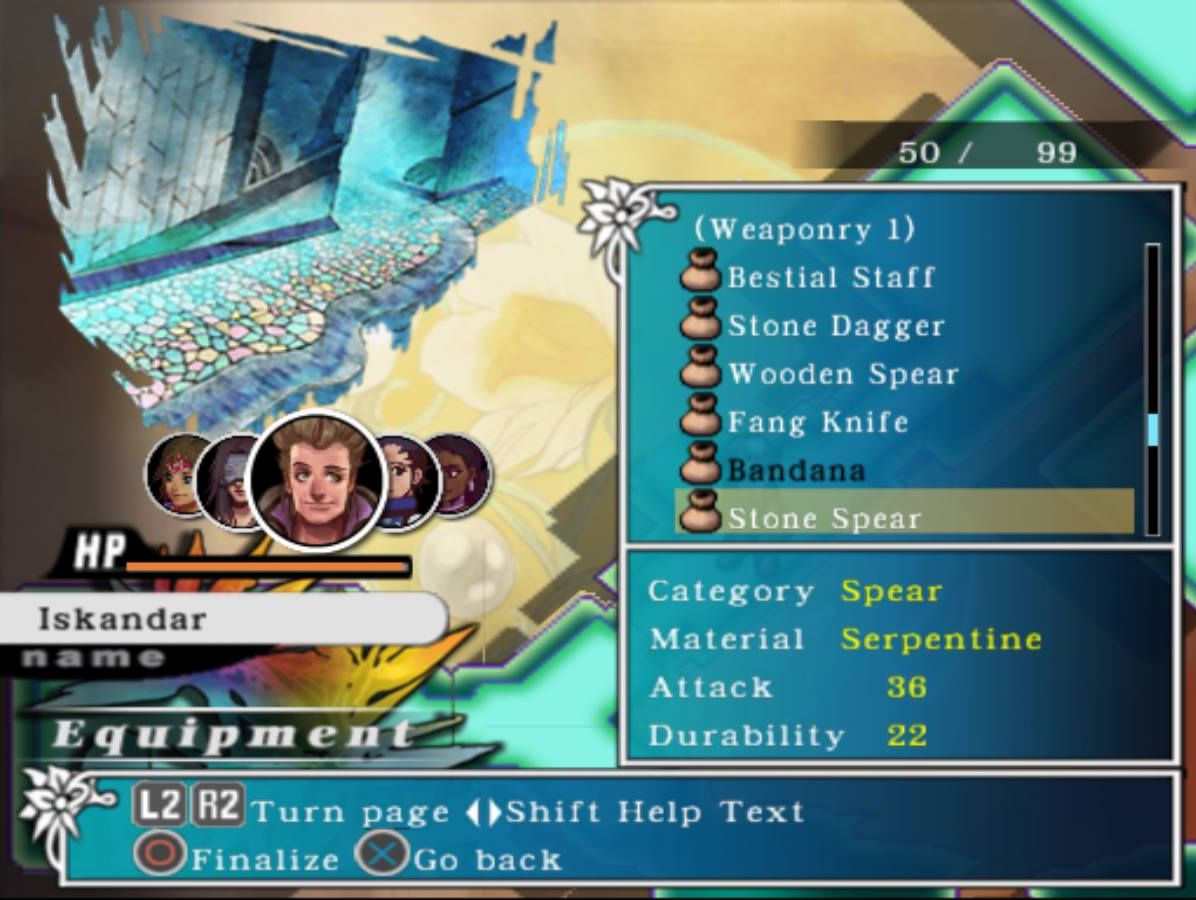 Before going on to the next dragon mid-boss, I changed around some of my equipment so that I had stronger weapons instead of the junk stock I had been carrying around.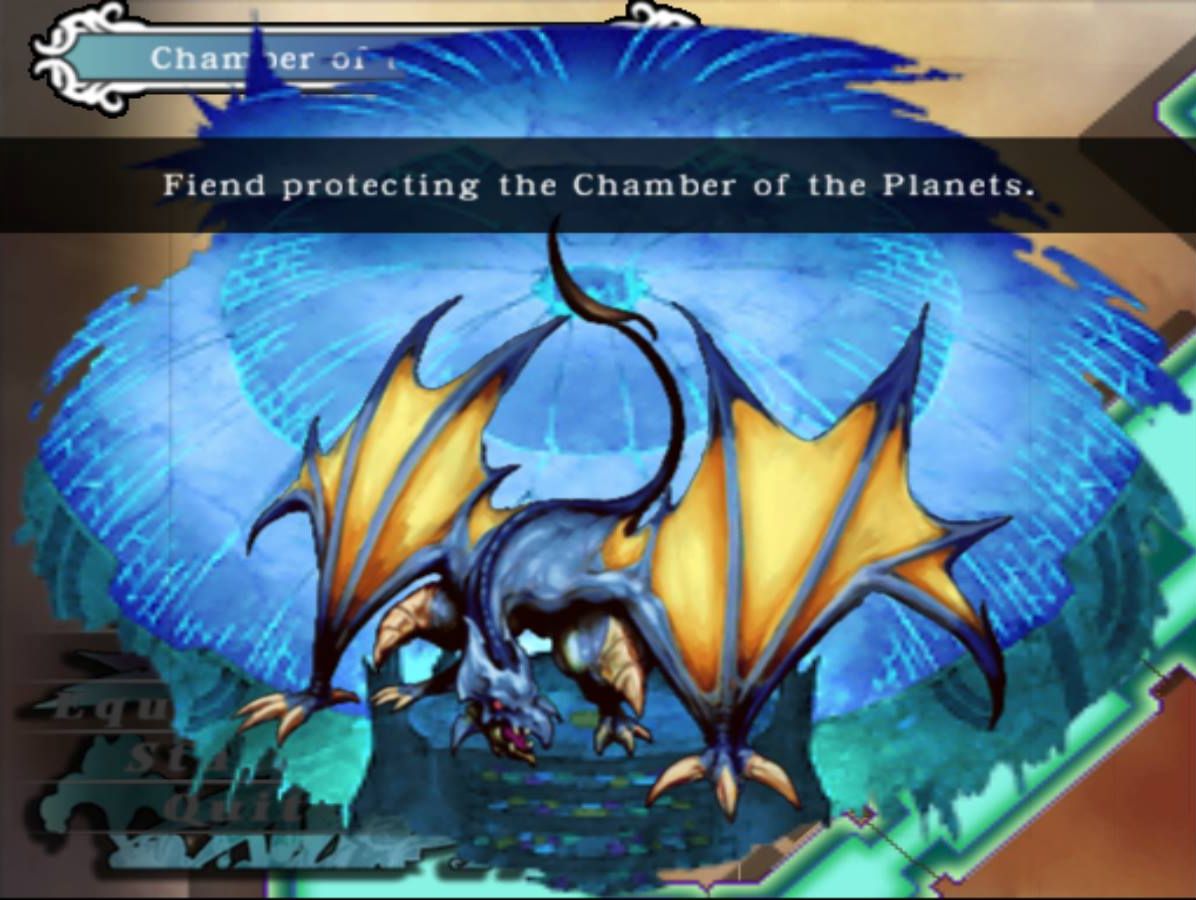 Now with Dice, better weapons, and a bit more strategy...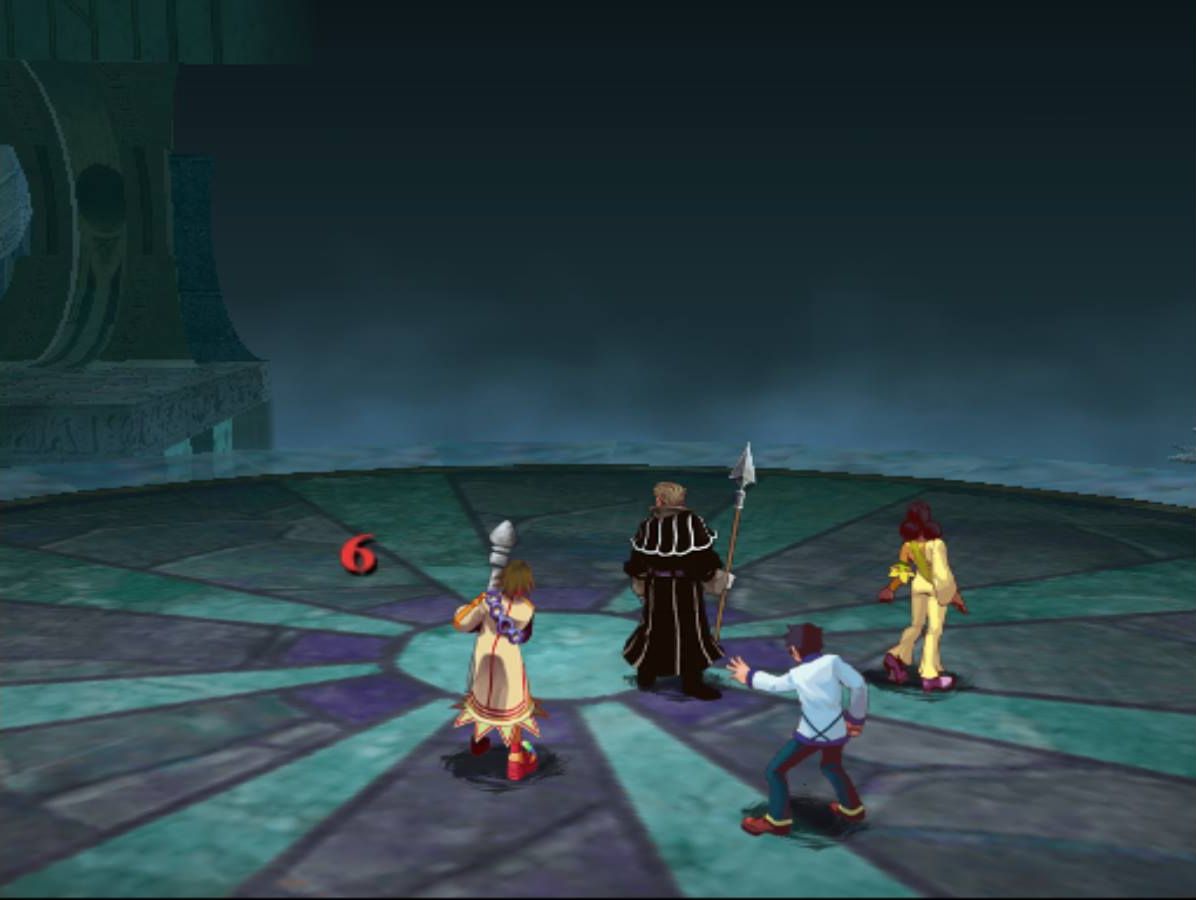 Defeating it was a lot easier. I think the party only lost about 3 LP total!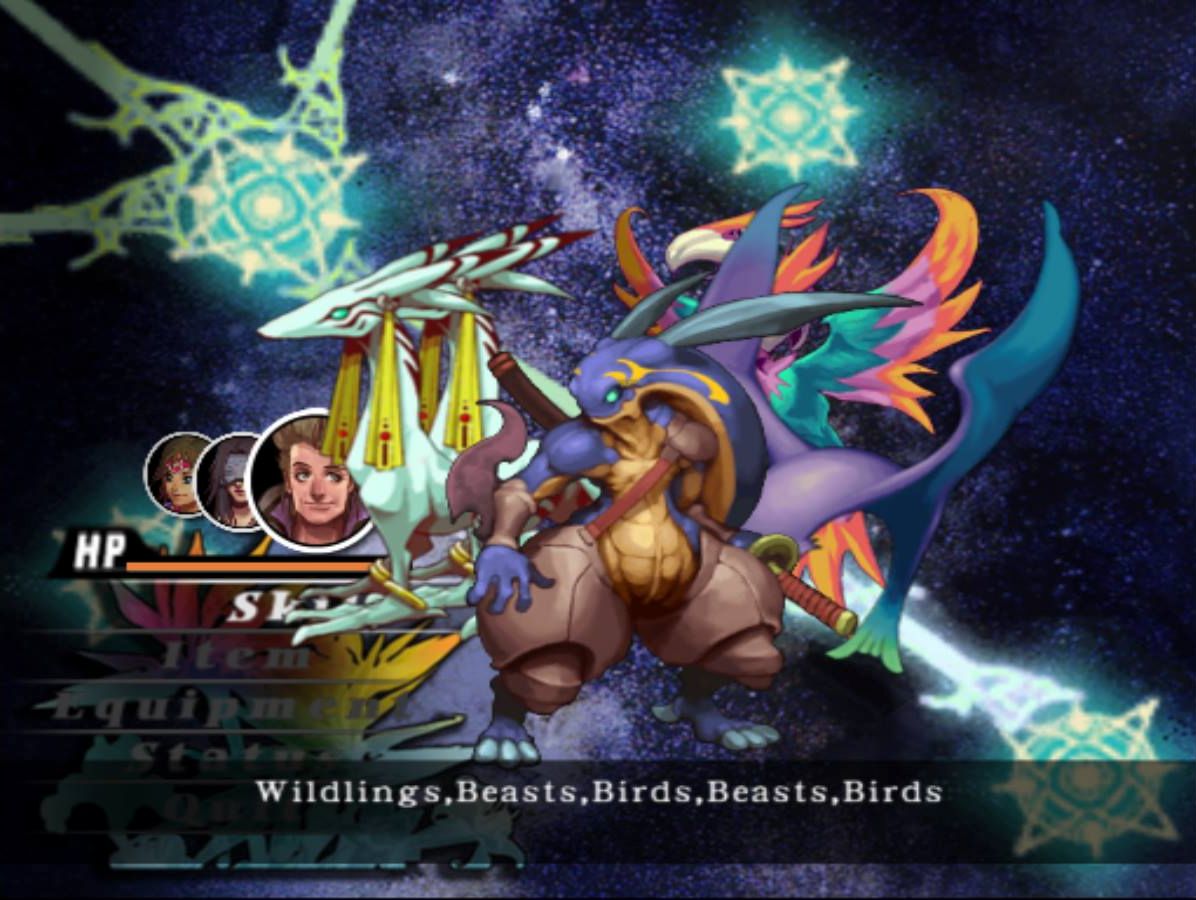 But then this happened T_T
Time to break Sapphire's armlet, I guess...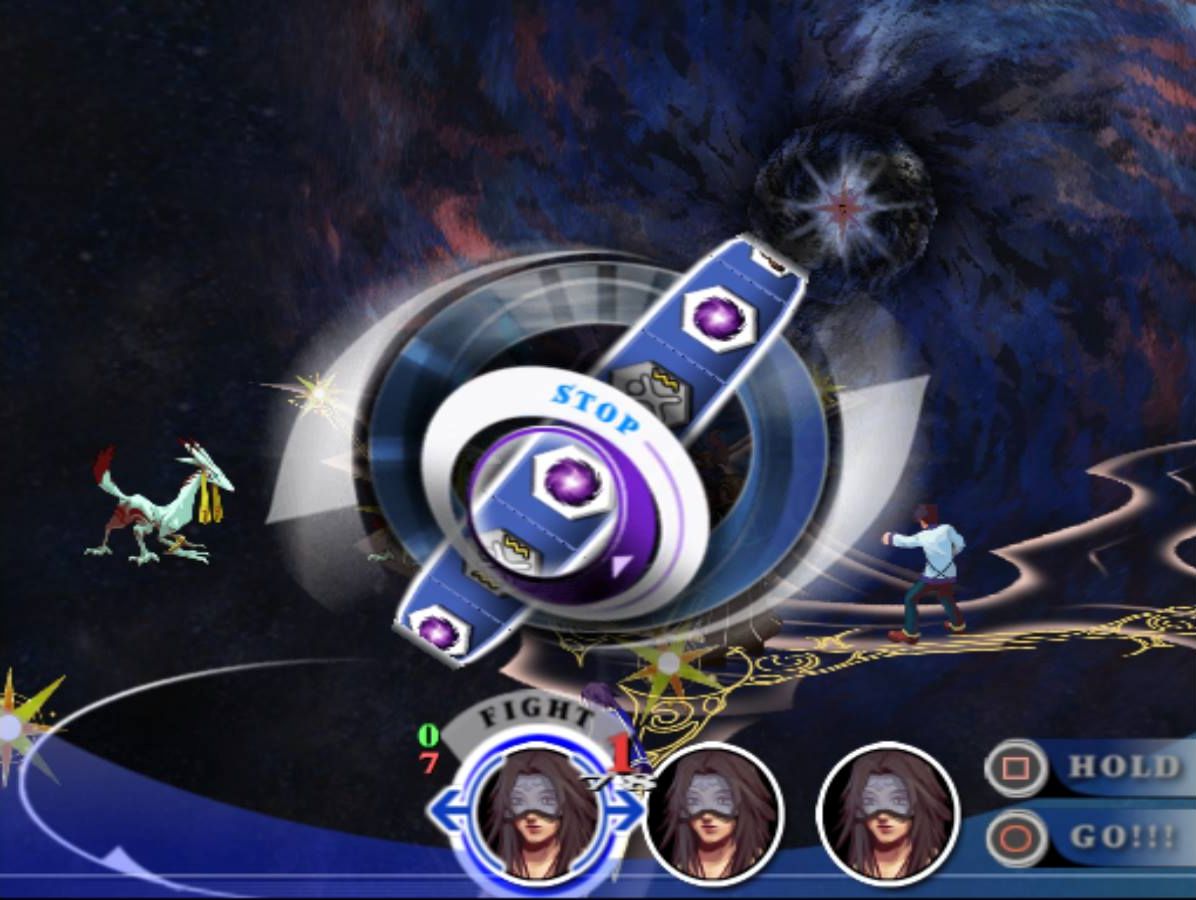 Sapphire got "numb", which puts these stupid things all over your reels. Basically you hit one and you do the lowest skill in that category + it is weaker than normal. For magic it just weakens it. Also you can't glimmer while numb.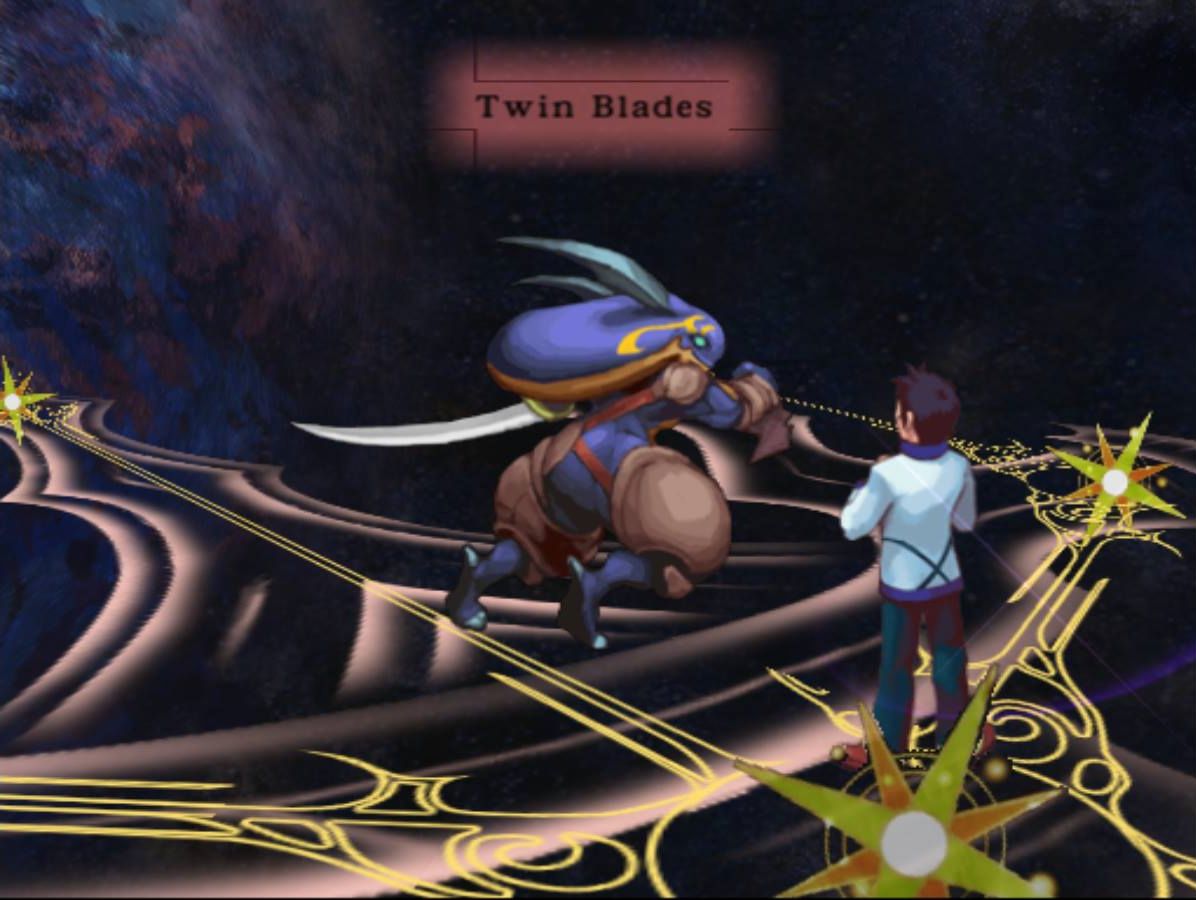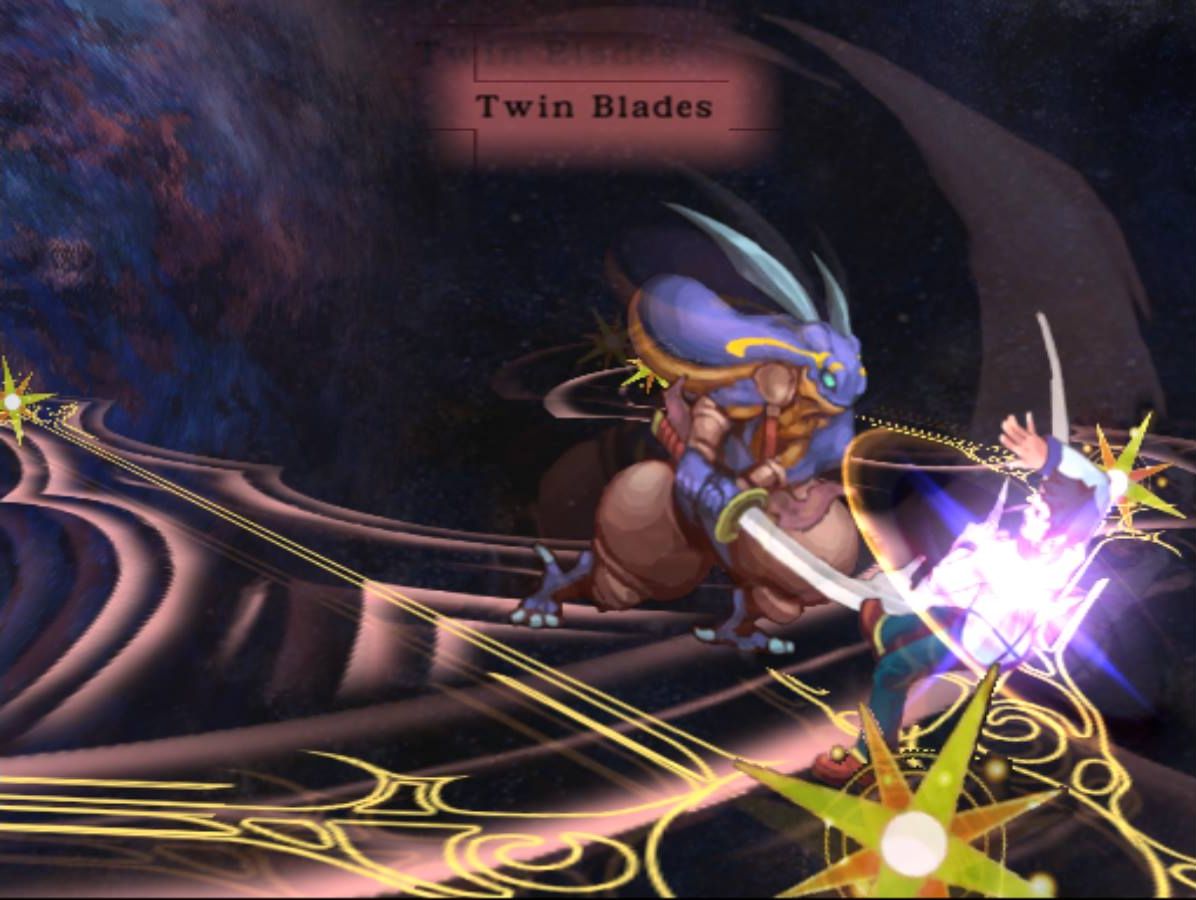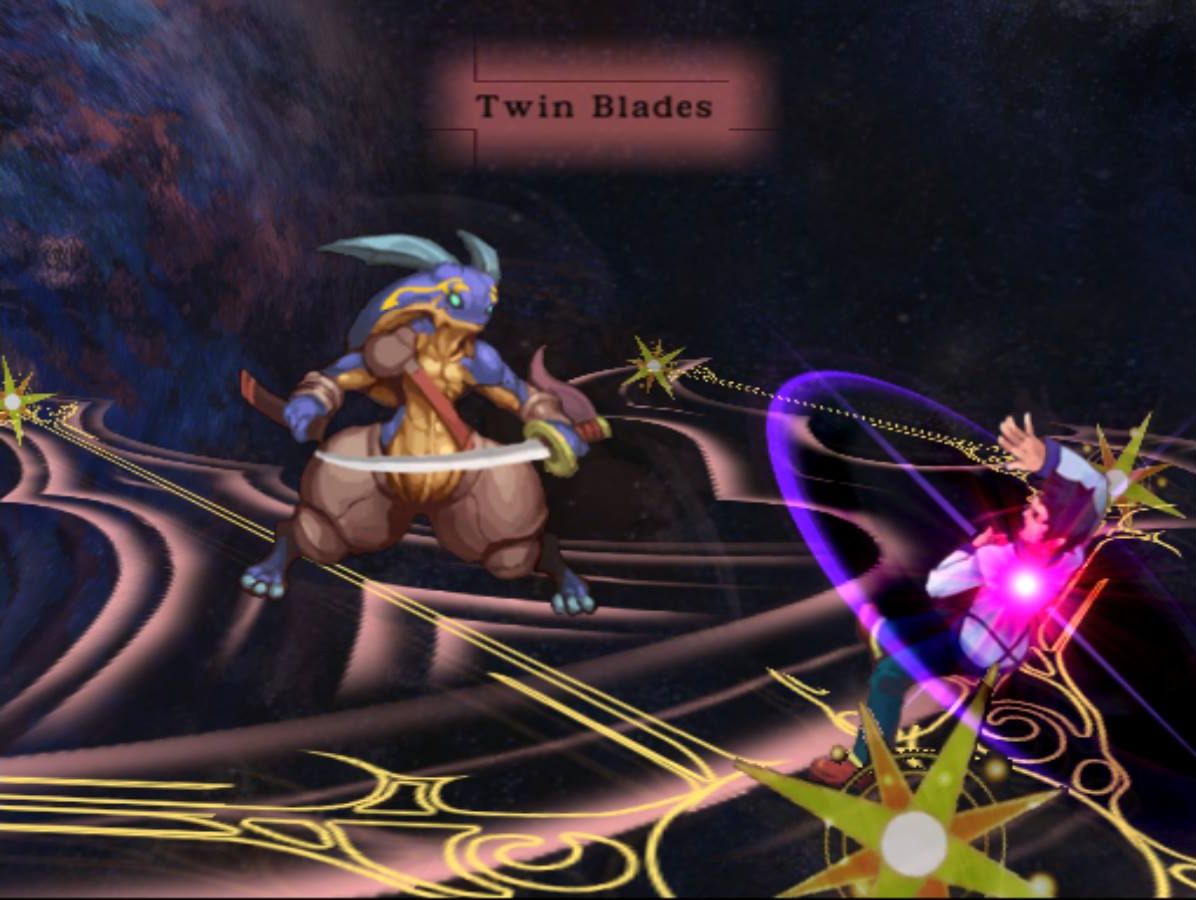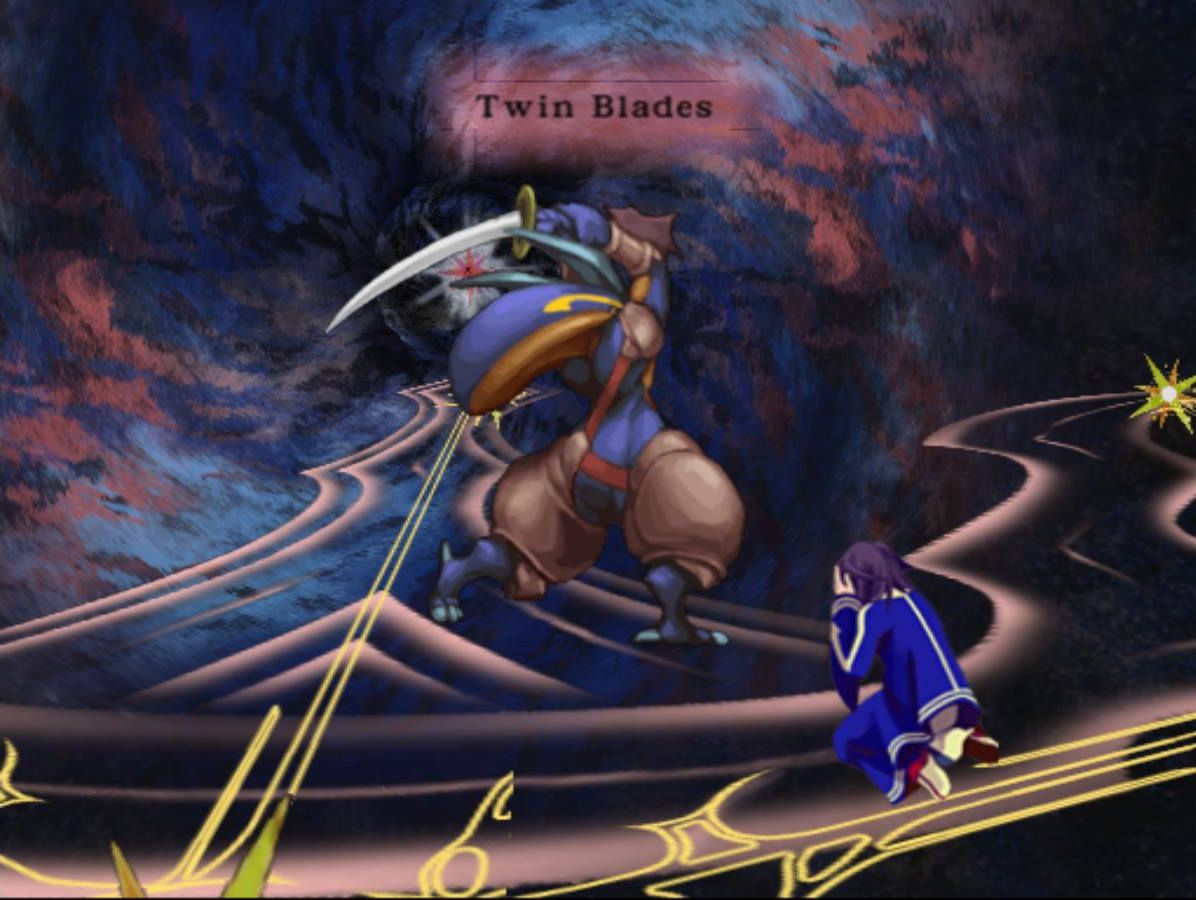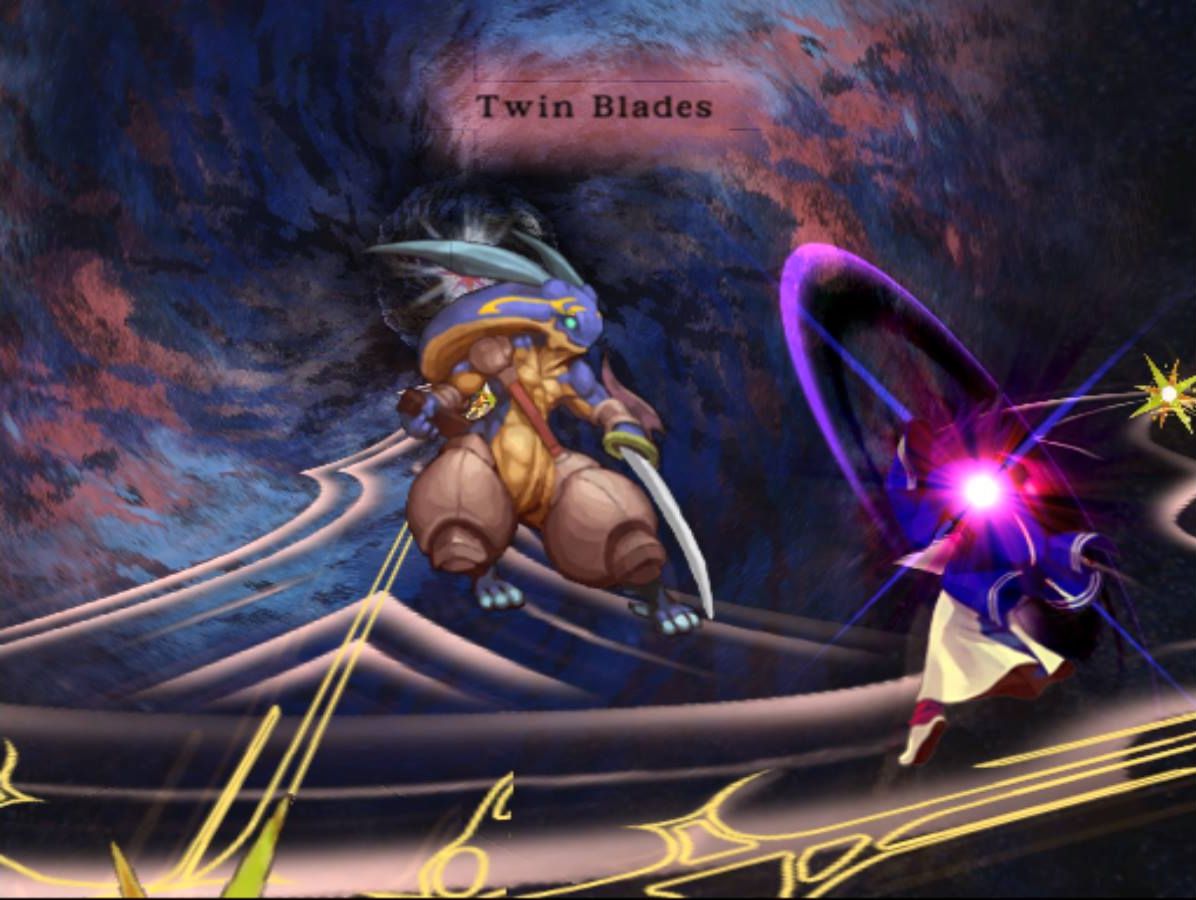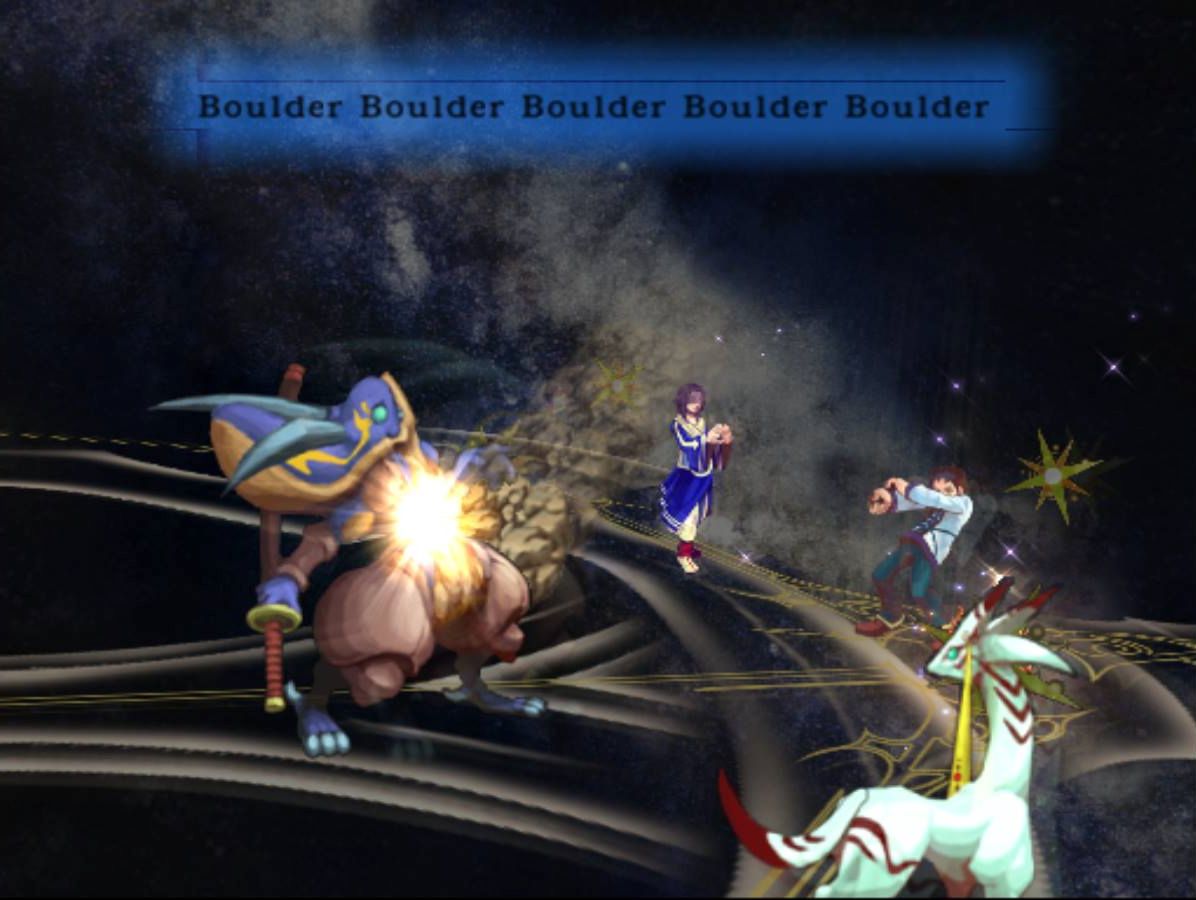 I tried to cap a bunch of these guys' different animation frames because I have a crush on them and their animations are so cool.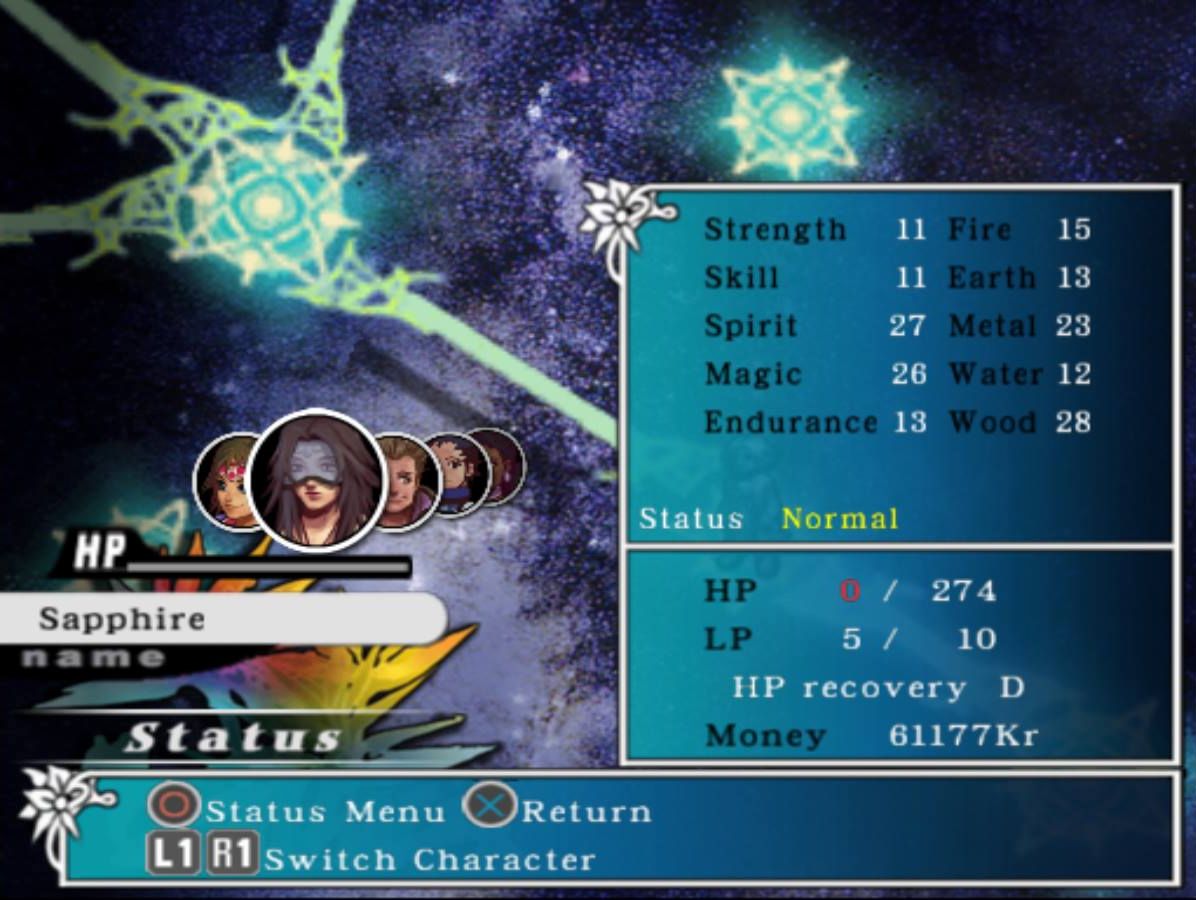 Anyway, I was feeling good about going on, but then that swarm really hurt my party :(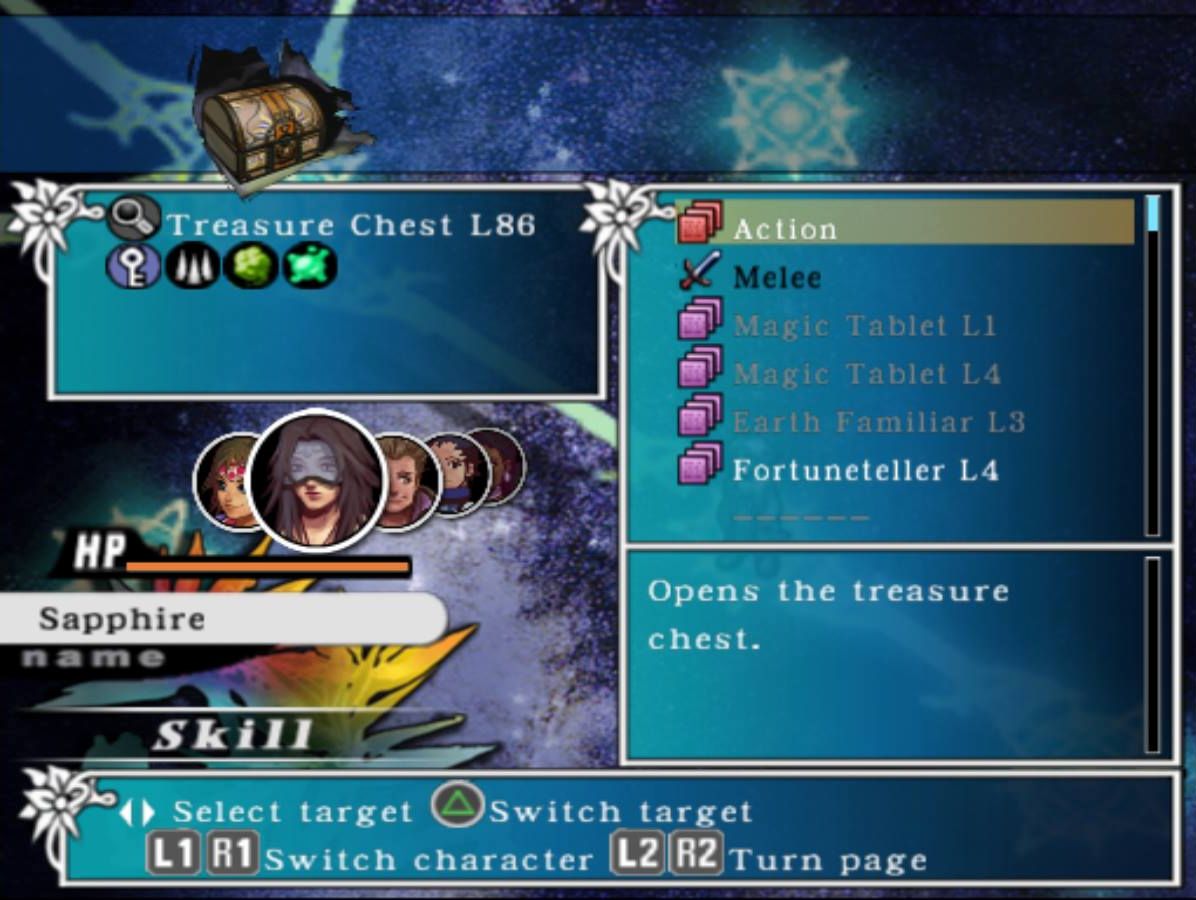 I explored a little more though since I already know this area well and knew where to quit :P
I found this chest and actually managed to pick the lock despite it being Lv86 and my Locksmith being only Lv2 XD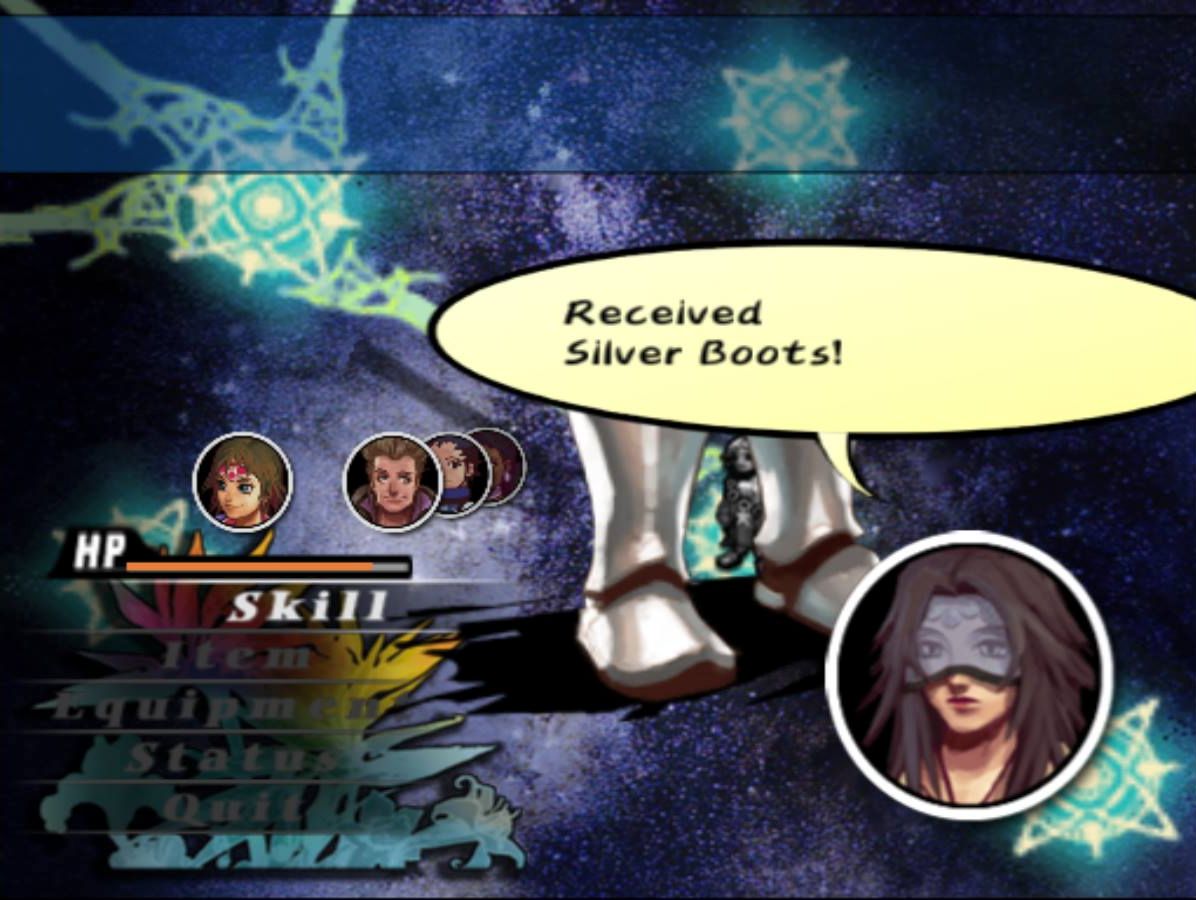 I purposely triggered the traps to set off the mimic trap, but the slime didn't drop a magic tablet. HOWEVER! I did get Silver Boots from the chest!!
Silver equipment is great because it's a bit hard to come by (sorta rare + high market rank, a little expensive), but it has pretty good defense, and has Water Support! Water Support is a passive ability that boosts the power of your water magic arts. And like Life Protection, you can stack it! And you can even stack up to five of them easily if you wear silver armor. Water Making 1 be damned, I am going to make Grace into a powerful water mage clad in Silver---!!!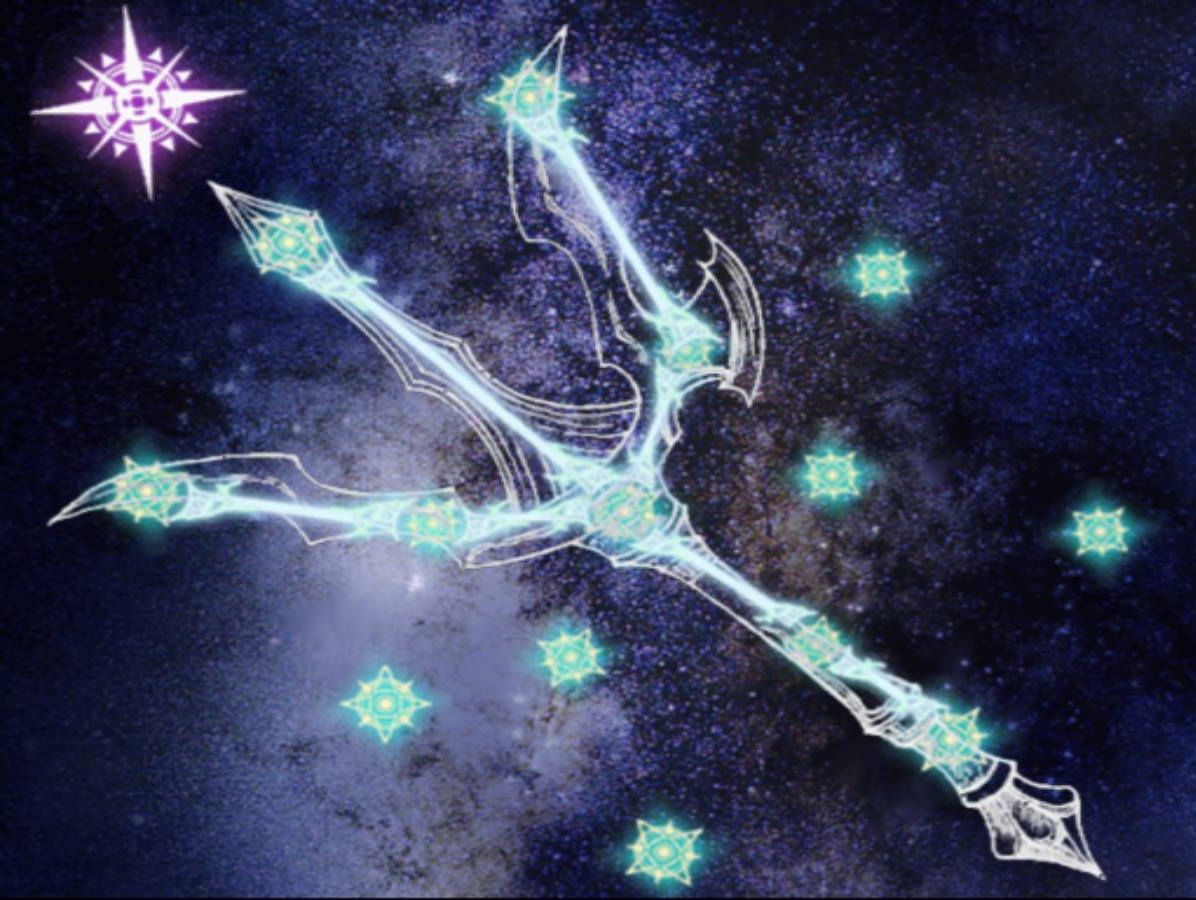 Finished this constellation too :)
Time to go back to the Tetra Force... since I'm dying it accepts me XD I was very careful to place my panels to get the most important stats for fighting a boss because the boss is going to be pretty tough... Basically, made sure to put panels in places where I had been waiting for good panels, so that I actually had some decent stats. I still hadn't put anything in Sapphire's far right spot, so even though she has amazing Skill Making, her Skill was something stupidly low like 8. I put a sword there or something and now it's like 30 LOL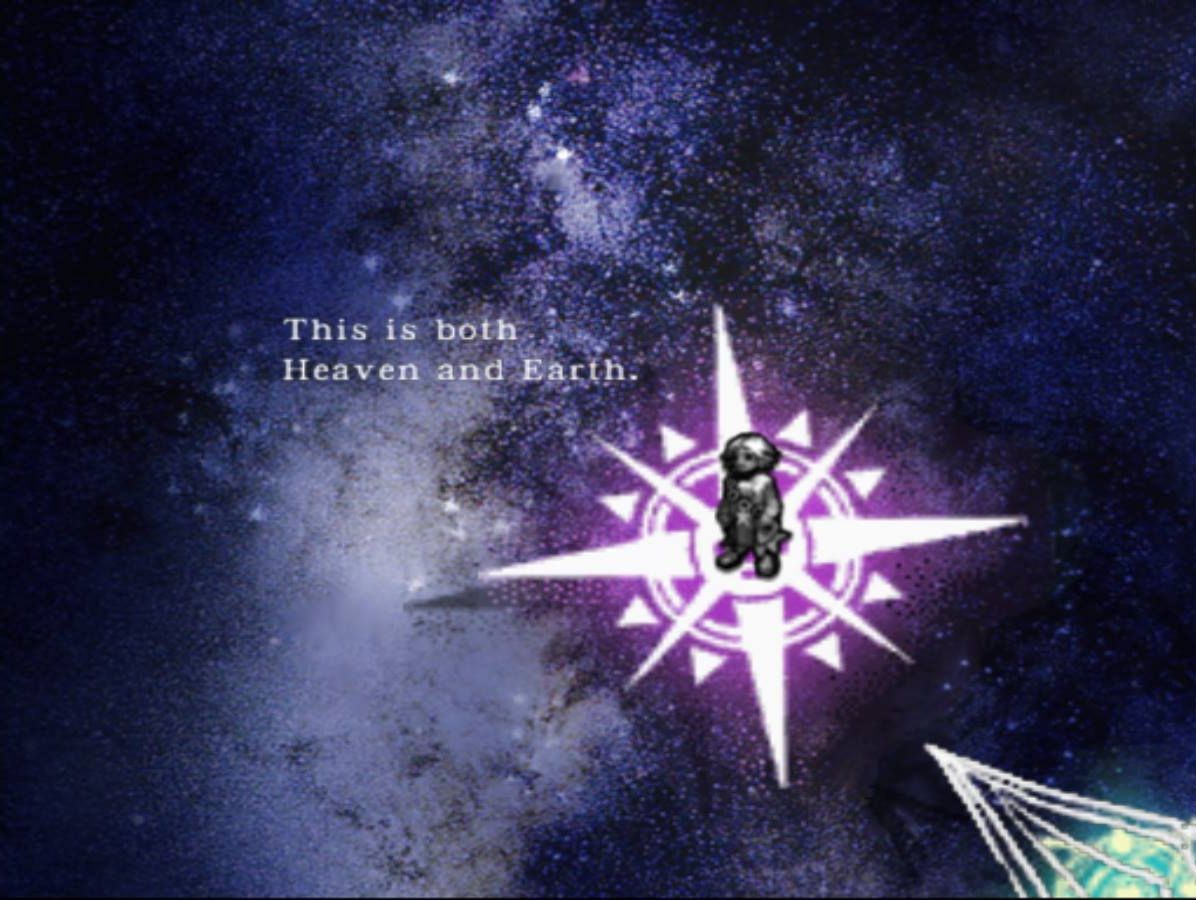 On the way back I ended up getting into another stupid fight that hurt me a lot -_- Leaving an area respawns monsters onto the map, and the Tetra Force was outside, so I had to re-enter the Constellation Planes where there are many monsters... Even though I went straight to the end since I didn't need to hop on all the stars, I still got ambushed :(
Anyway, traversing the Milky Way at the end of this constellation planes takes you to this like big purple star.
It says "Dimensional Gap. Constellation Asylum. This is both Heaven and Earth." So I think this is supposed to be some kind of spirit realm that we wandered into...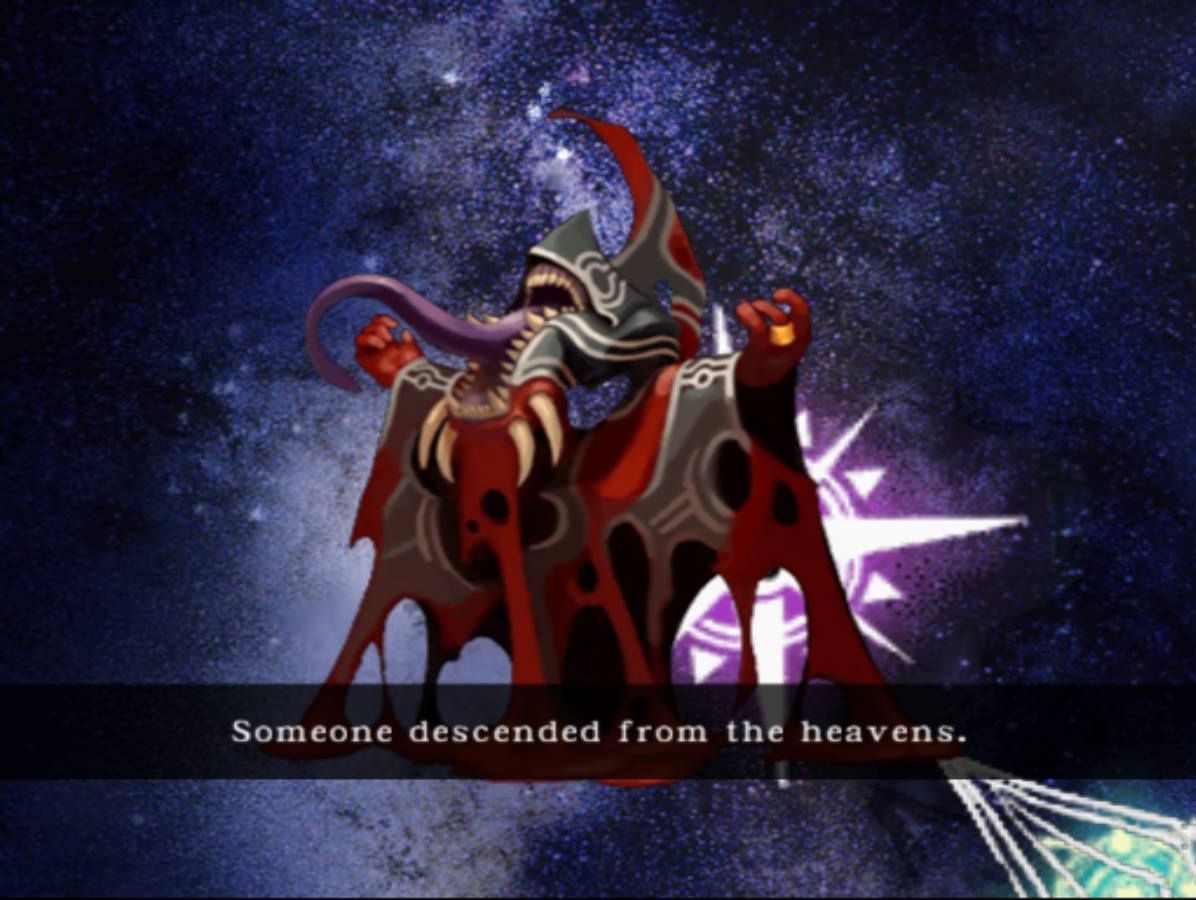 Then "someone" descends. I want to say right now that I LOVE THIS MONSTER DESIGN A LOT AND IT IS SO BEAUTIFUL AND I GET SO EXCITED WHEN I SEE THESE even though they are a pain in the ass to fight. This is actually a Rank 9 undead called 'Lich' but this one is different -- it's a special boss version, and has different stats than the regular enemy ones.
He says, "Who dares step foot in my temple that defends the heavenly aurora?" and then the battle starts. But before you fight, it pans around the stars and around the undead guy and he says, "I sought evil... and knowledge. When I awoke to bitter cold, my body was no longer human. But I have no regrets... I have gained the power of the gods!"
It says these all like fractions of a line at a time and I screencapped them all so I could type that but I'm not going to embed all the images here lol.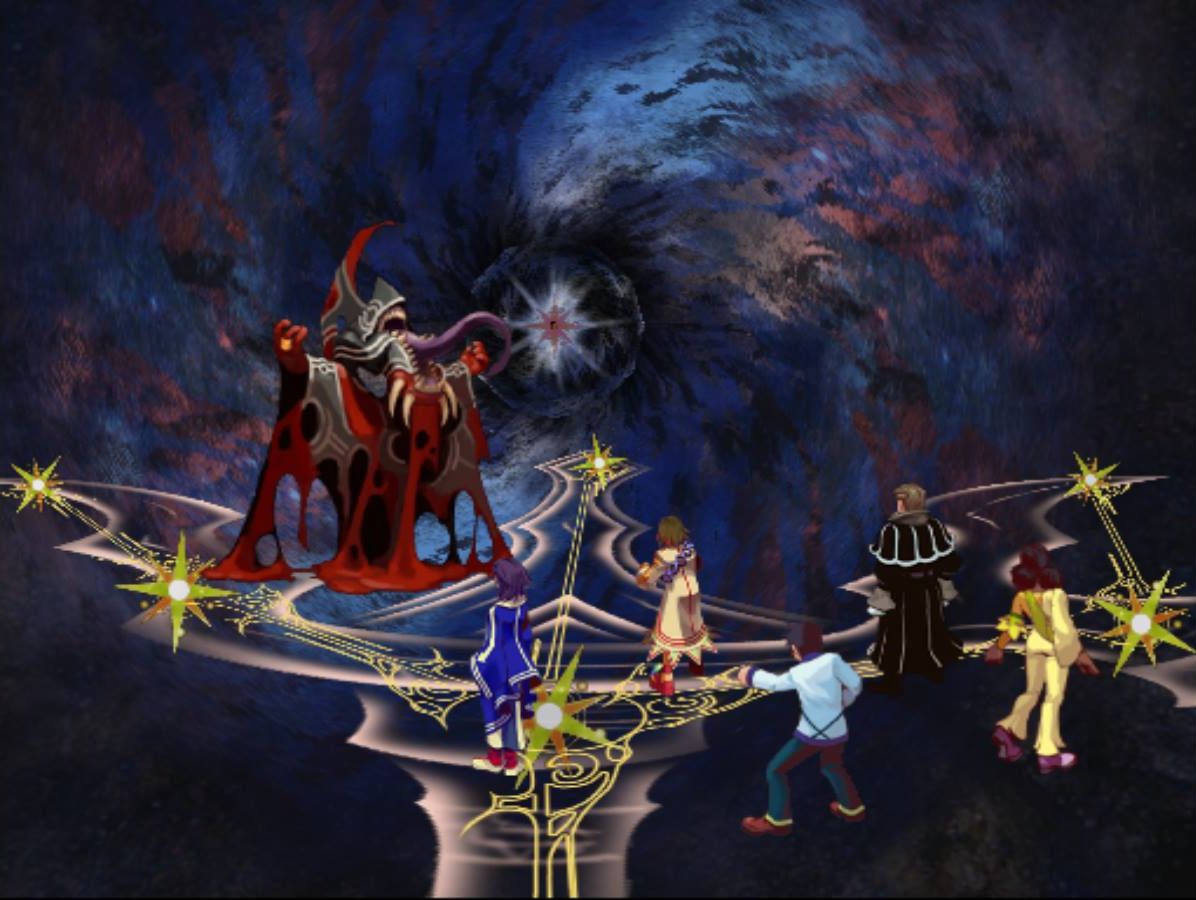 HOWEVER!!!!!!!! Very importantly/interestingly!! Iskandar has a unique voiced line at the beginning of this battle. He says "Hm? I thought I'd seen the last of you..."
?!?!?!?
So he knows this guy???? Now if this is the real Iskandar (which he probably is), then he is a sort of demigod that has been alive much longer than normal humans and knows a lot of stuff. But interestingly he knows actually who this is specifically?? I wonder if it's one of the characters in the lore that is never shown but just talked about (like Leith Torles). Honestly I forget a lot of the details on them to be able to pair one with this undead ... That's part of why I'm writing all this out so I can reference it later because I forget stuff like this easily.
Anyway, check out that sexy design. I love the little like gem things in the hands? And you can't tell from looking at it in still images, but it doesn't really have a concrete shape. Everything under the "head" is like a constantly flowing fountain of blood and... that weird grey stuff, which kinda looks like clothing but it is flowing too so it's kinda neat because even while flowing like water it still resembles clothing somehow. But yeah its body is literally like a concentrated blood waterfall thing that partly looks like clothing?!?!?
BTW if you're wondering which awesome battle music is playing for this fight, it's this one. This might be in my top 3 hehe.
It can do Detect Blood. IDK if the regular ones do this but other than this I think it has all the same attacks as the regular ones (though the regular ones maybe can do this too lol). Detect Blood is a forbidden magic and it weakens the defenses of anything that has blood. So all the party members I have lmfao.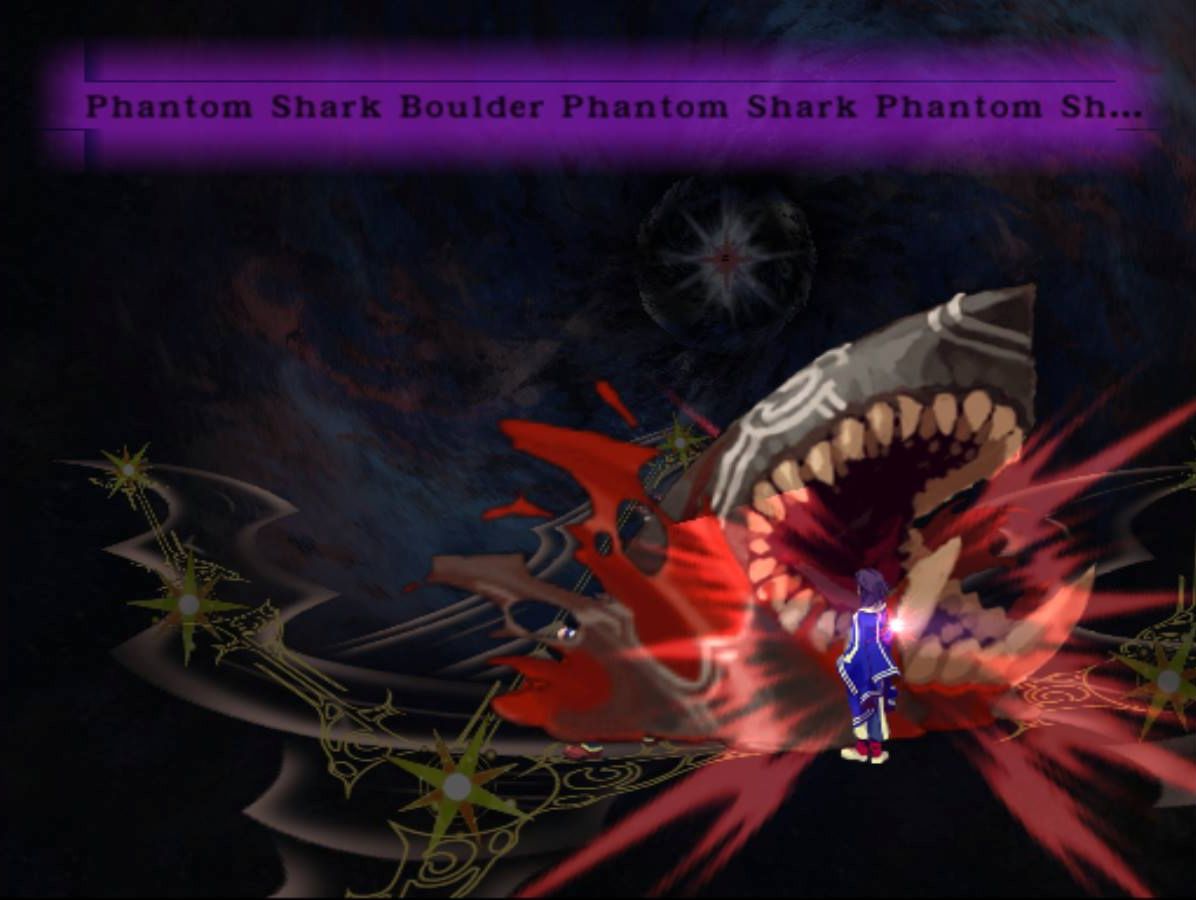 Another attack it loves to spam is Phantom Shark. It dives into the ground and pops up in a shark shape and bites you. It's really cool looking but also scary. Phantom Shark does no HP damage at all... but if your HP is low at all (like maybe 50% or less?) it's guaranteed to do 1LP damage. And this guy gets a TON of actions per round of combat so be prepared to get hit by this like 7 times in a row sometimes... Fortunately it can only target one character at a time, though he really likes to focus on the front character in the formation so you have to be careful about that.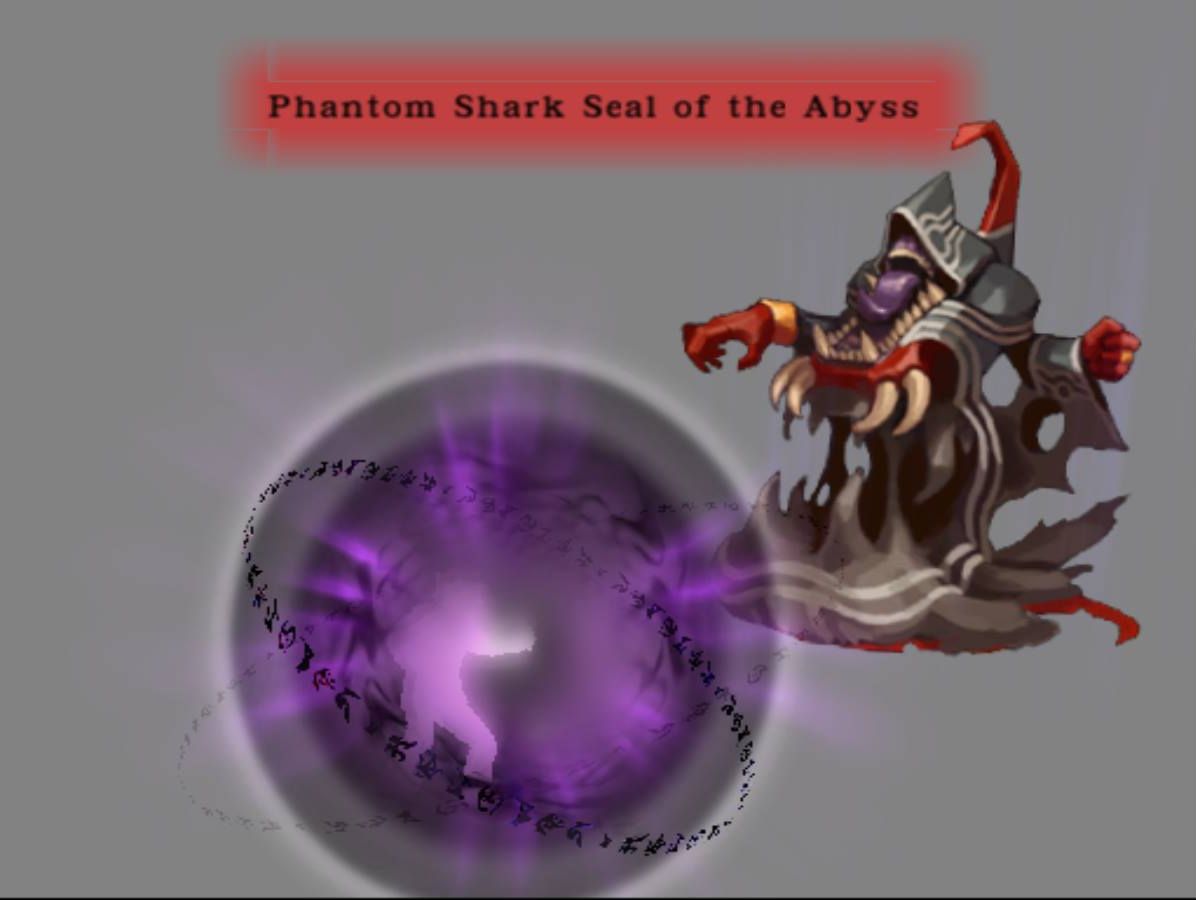 Another ability he has is Seal of the Abyss. This is a powerful forbidden magic spell that can do tons of HP damage, quite often does LP damage when your HP is low, and can inflict many status effects, and importantly bad one being Blackout. Blackout renders you completely useless. It's pretty much like being dead, except you're still alive (lol). You waste space on the battlefield, your body takes up an action every round of combat for being on the battlefield, and you have to be rescued to get off the field.
Unlike being dead, though, if you do get rescued, you'll eventually 'wake up' out of your coma after waiting some turns. Also, the water spell 'Purify' heals all physical status abnormalities, so you can be healed that way whether you're on or off the field.
Paralyze is another status effect that is pretty much the same as blackout. During paralyze, you still recover HP when resting between turns, but it's reduced. For blackout, you do not recover HP from resting at all.
Needless to say, this is a scary thing.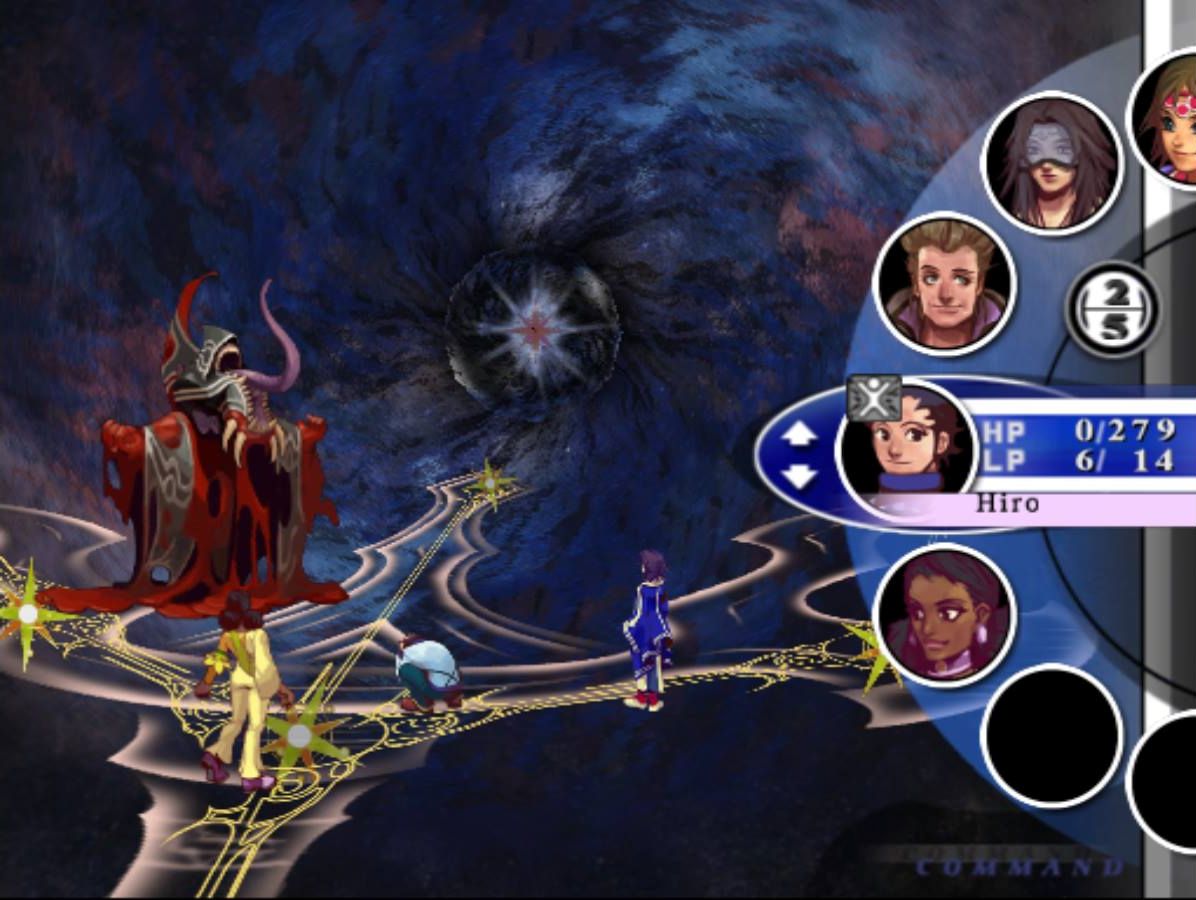 Hiro got paralyzed lmfao.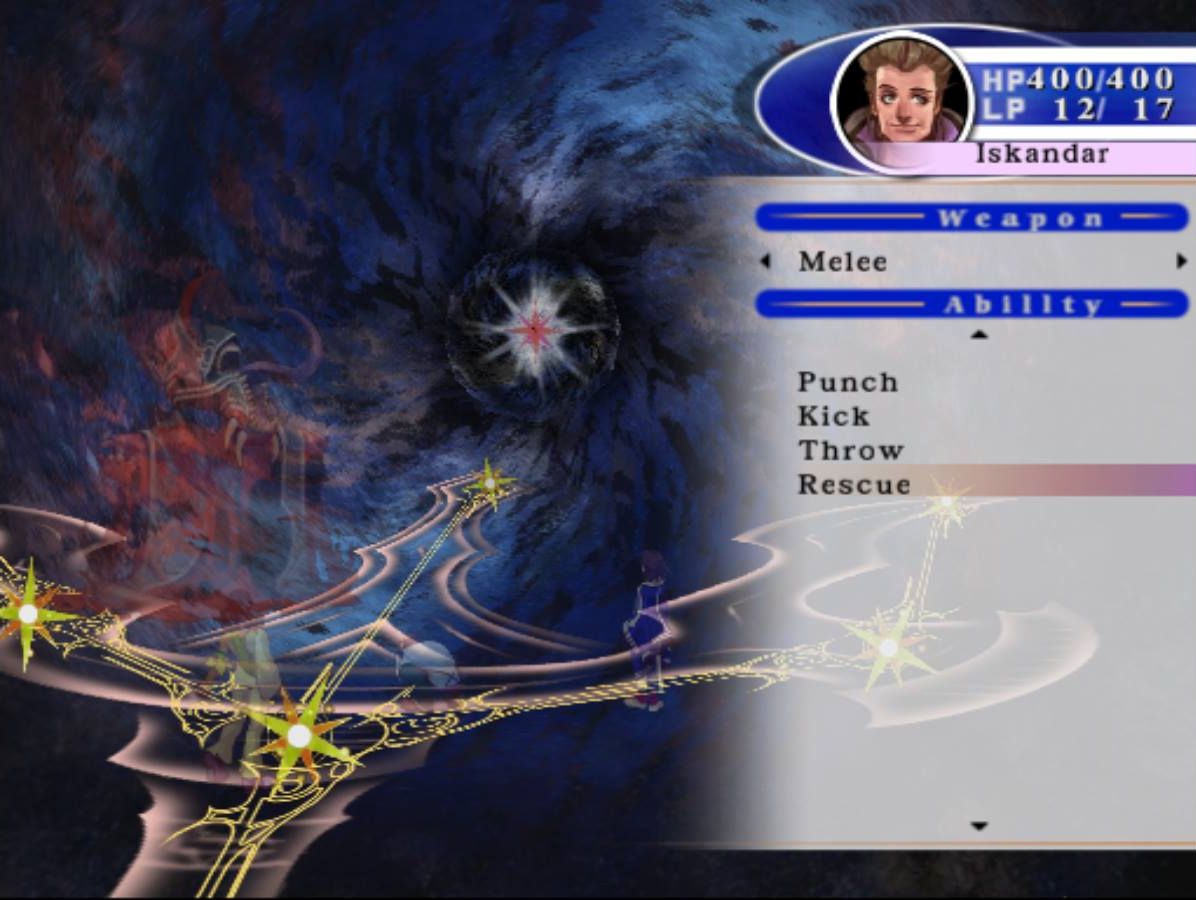 When anyone on the field is paralyzed, blackout...ed..., dead, etc., you will now have "Rescue" available in the martial arts list.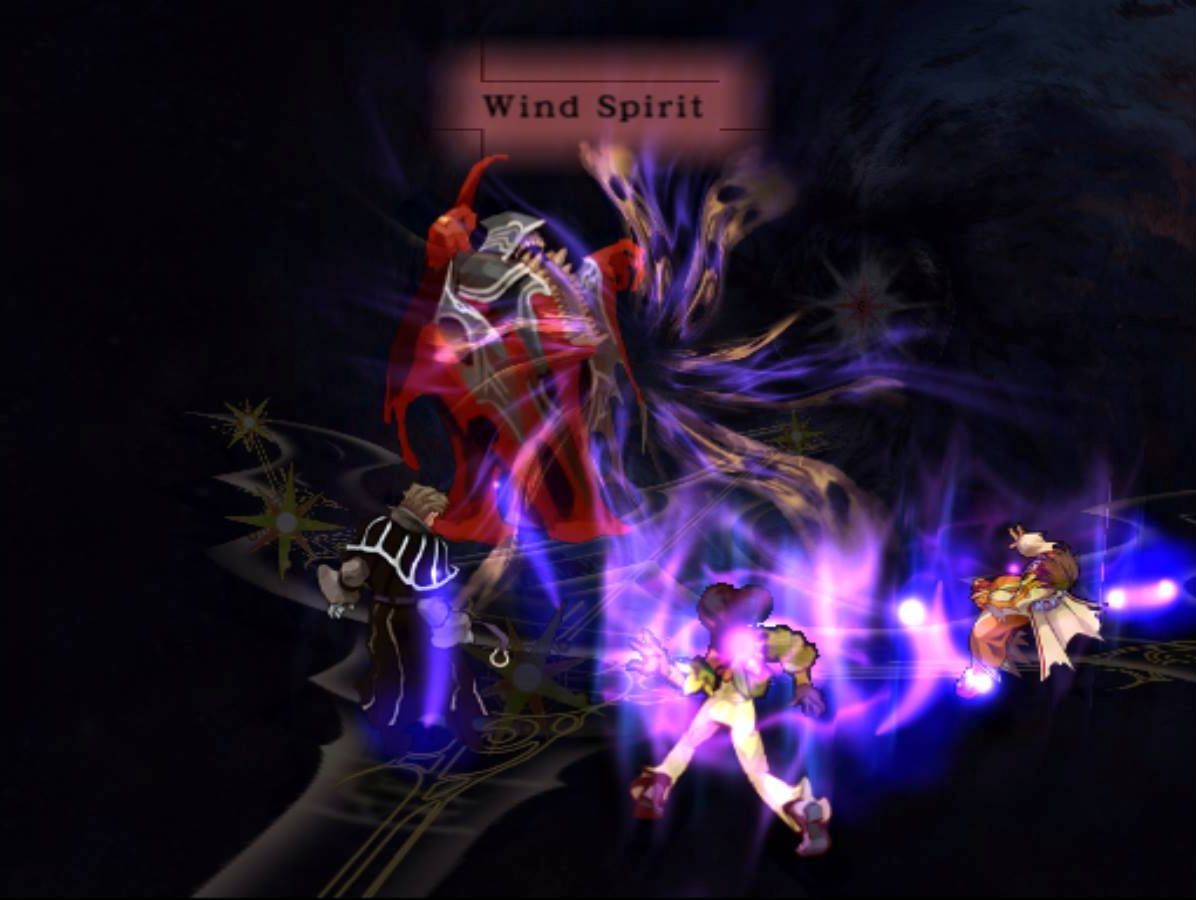 Another attack this thing does is Wind Spirit. It doesn't do this often, but it does a ton of damage to everyone on the field...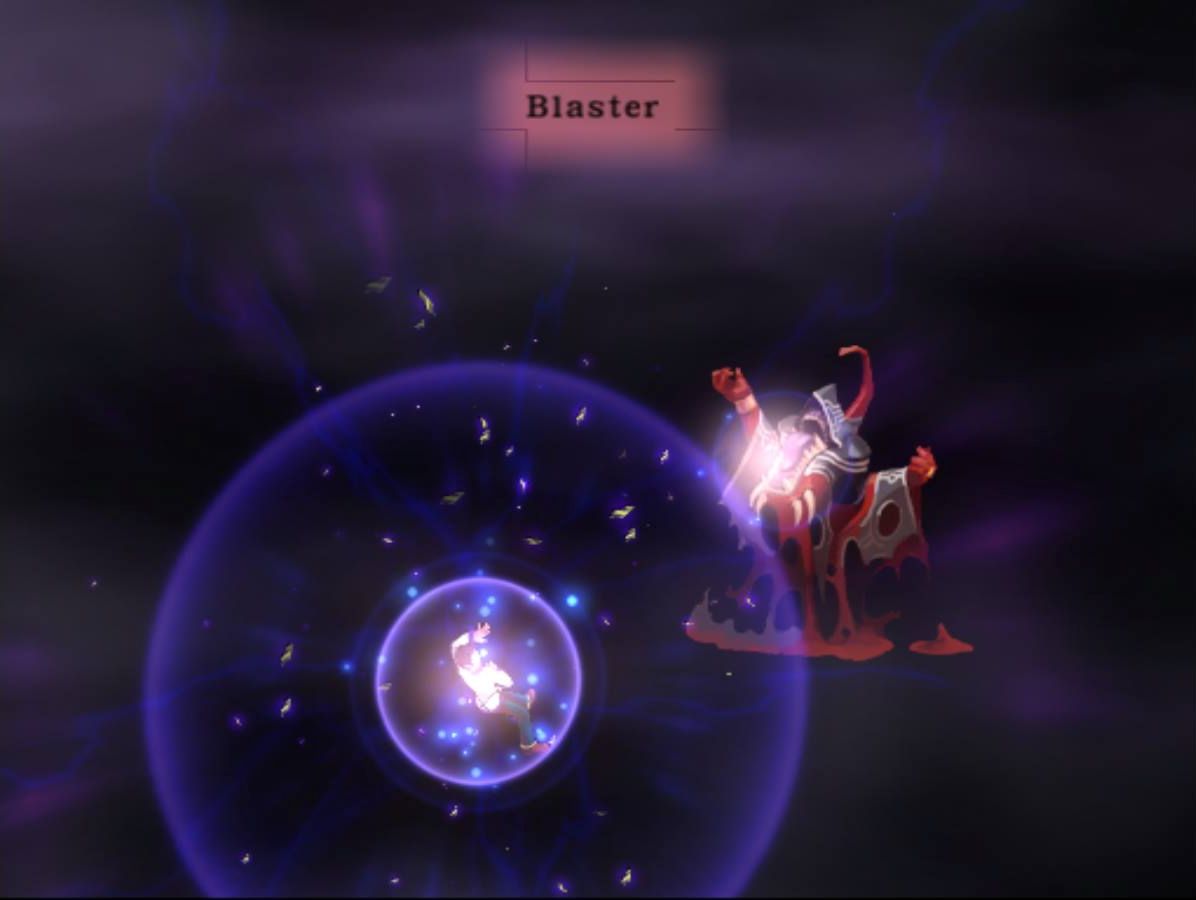 It can also do Blaster. This is just a little laser beam thing that does big HP damage but has a really low LP damage rate. I'm usually glad to see this one lol. It often doesn't do any LP damage, and since everything else has probably already taken my HP to 0, that means I'm getting off easy on this one because it essentially has no effect :P I think it can numb you or poison you or something though lol.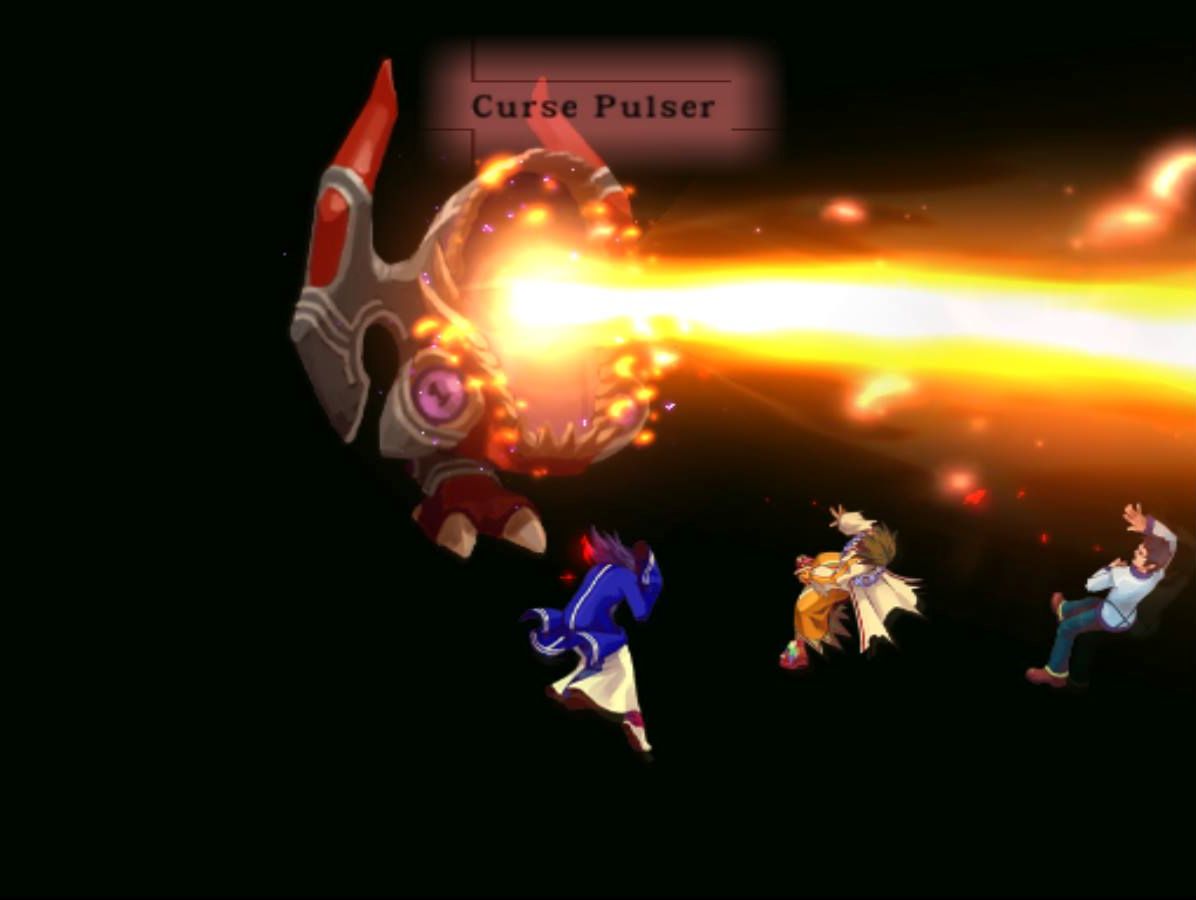 It also does this which is really rare. I'm not sure what all it can do but it hits everyone, does tons of damage, and inflicts status effects...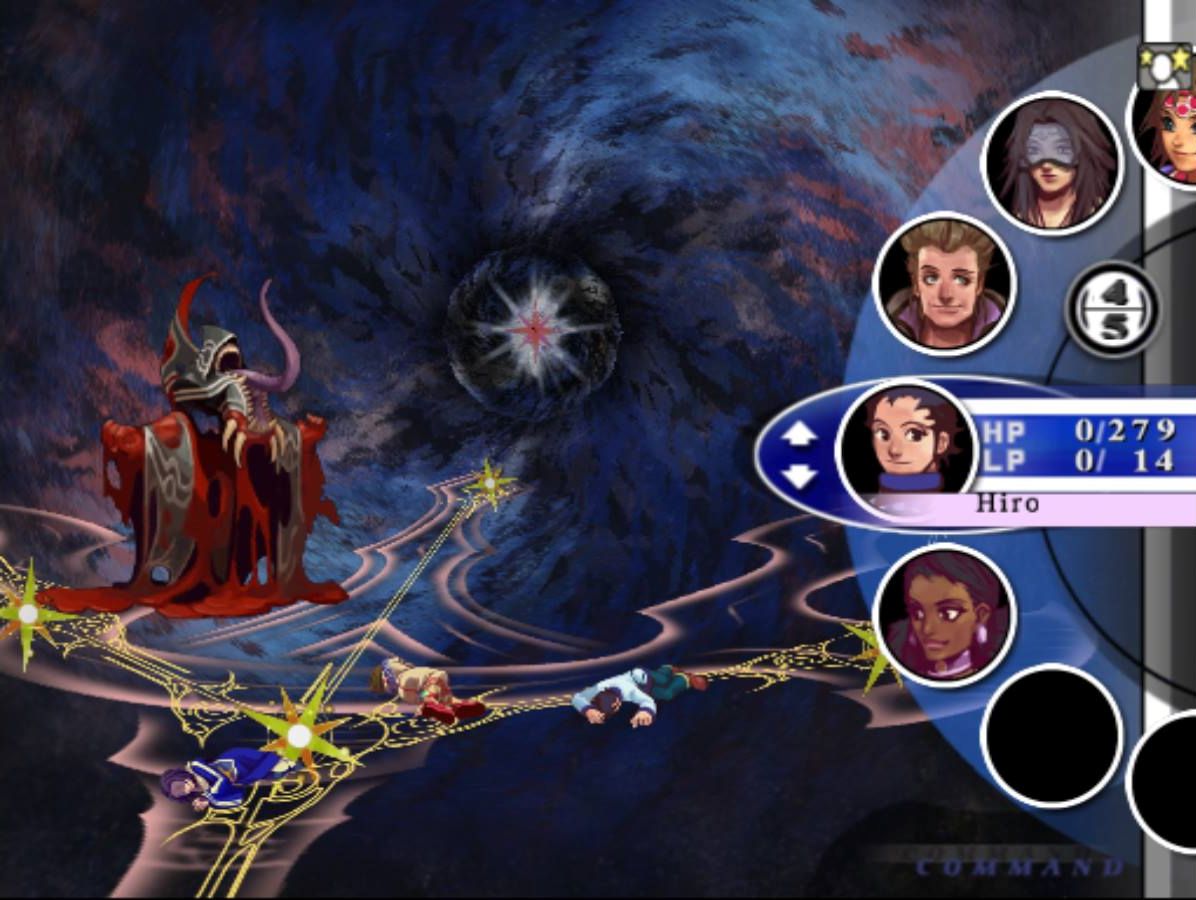 Or just flat out kills them by doing like 4LP damage and stuff T_T
Ruby is only blacked out, that's why I didn't get a game over yet XD
But if you're curious what a game over looks like...

It's this :D
Yeah... it just plays some sad music and the screen fades out quickly. Then it's just black for a while while the music continues to play.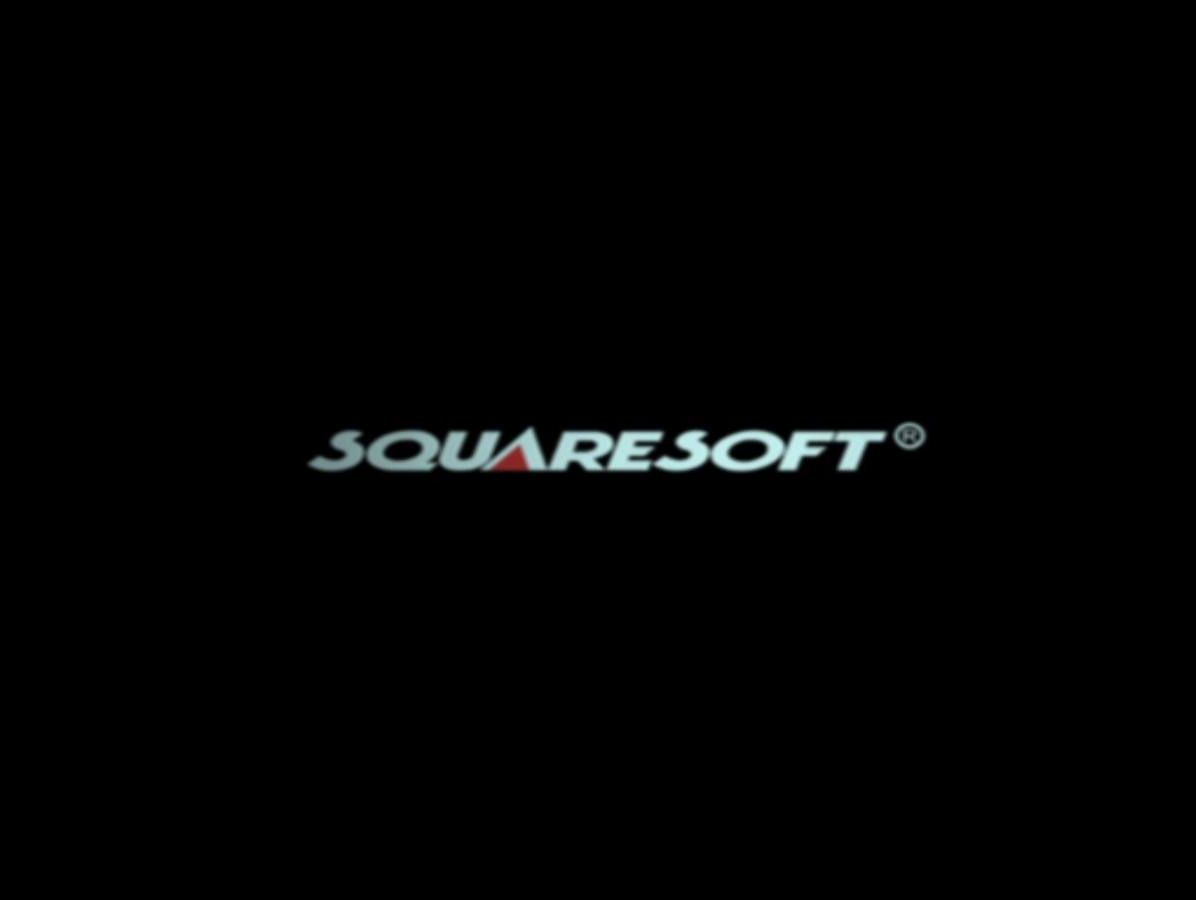 Then it just reboots the game lol.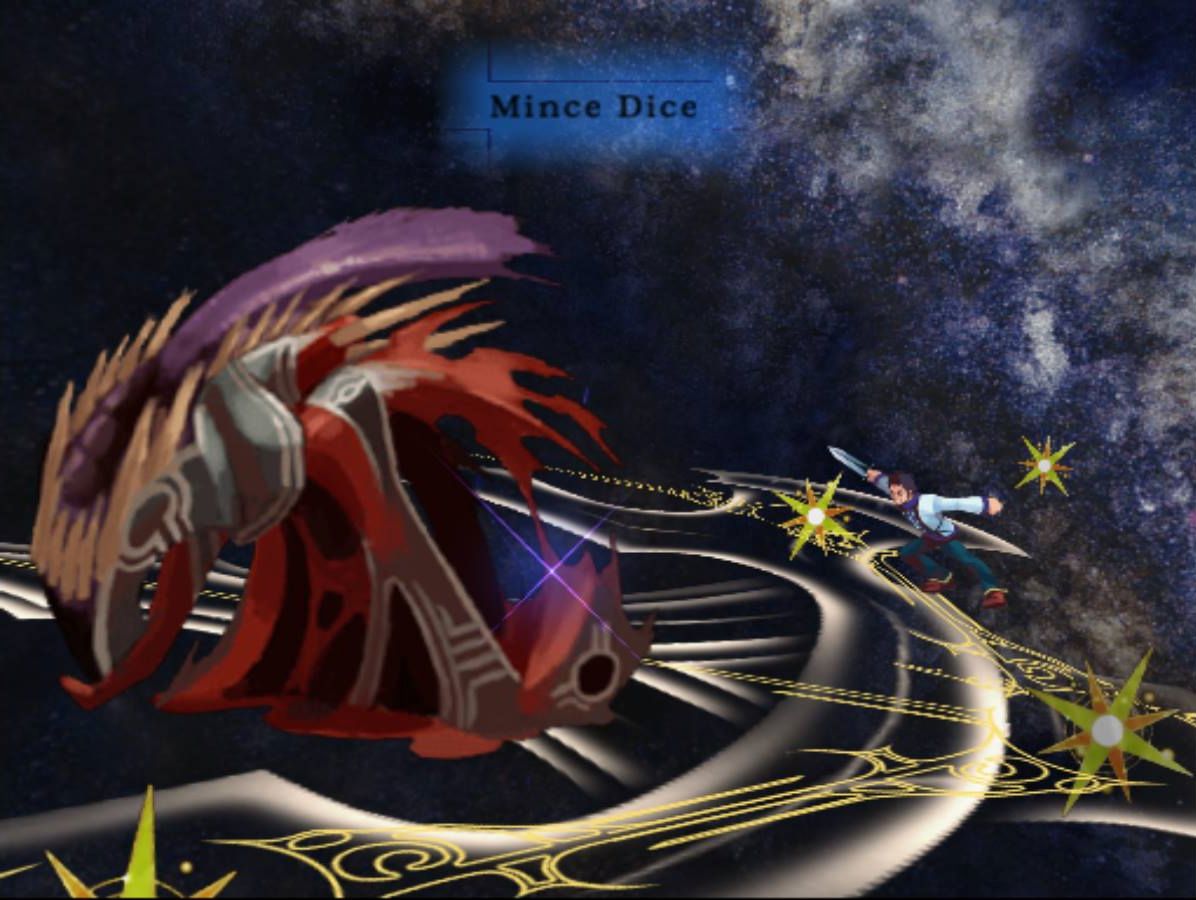 I tried again though and didn't get into stupid fights on the way and was able to defeat it. I was also a LOT more careful about how I used my party members. I tried to only have one or two on the field most of the time, since it has a lot of hit-everyone things. And I had Grace spend a lot of time healing, since generally someone gets reduced to 0HP every turn, and everyone in Ruby's party has terrible HP recovery, so even resting they only get like... 37 HP or something stupid.
This way when I cycled a character back in, they would have plenty of HP so Phantom Shark could hit a lot and do no damage at all. This thing only has about 8LP but it's hard to do LP damage. Monsters also recover HP every turn (even though you can't see how much, and you never know how much HP they have ever lol...) so you have to keep up on damage or you can fall behind on bosses like this with lots of HP. If you spend too much time buffing and healing and stuff, you'll never get their HP low enough to deal LP damage.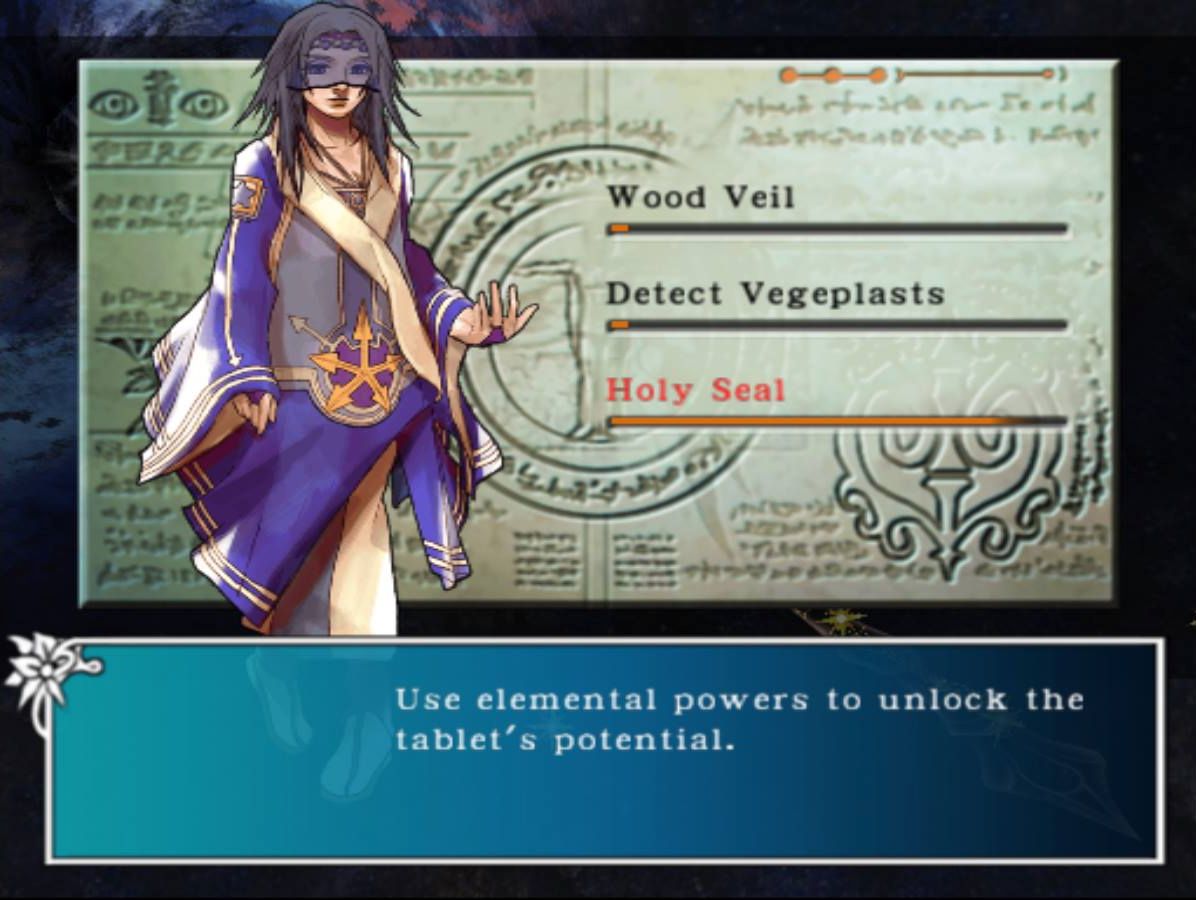 This is how the progress on Holy Seal is coming along. I probably could have just grinded this out before the boss so I could use it...
Afterwards, you're back on the map and you get this little victory message. Then it just immediately cuts to the Panel Development screen lololol. Like I said, the end of adventures are always kinda... anticlimactic like this lol. There's no victory fanfare or "Adventure clear!" or reward or anything, just usually some text like this, or sometimes nothing at all, you're just suddenly on the panel select screen and you're like "oh, I guess it's done" XDDD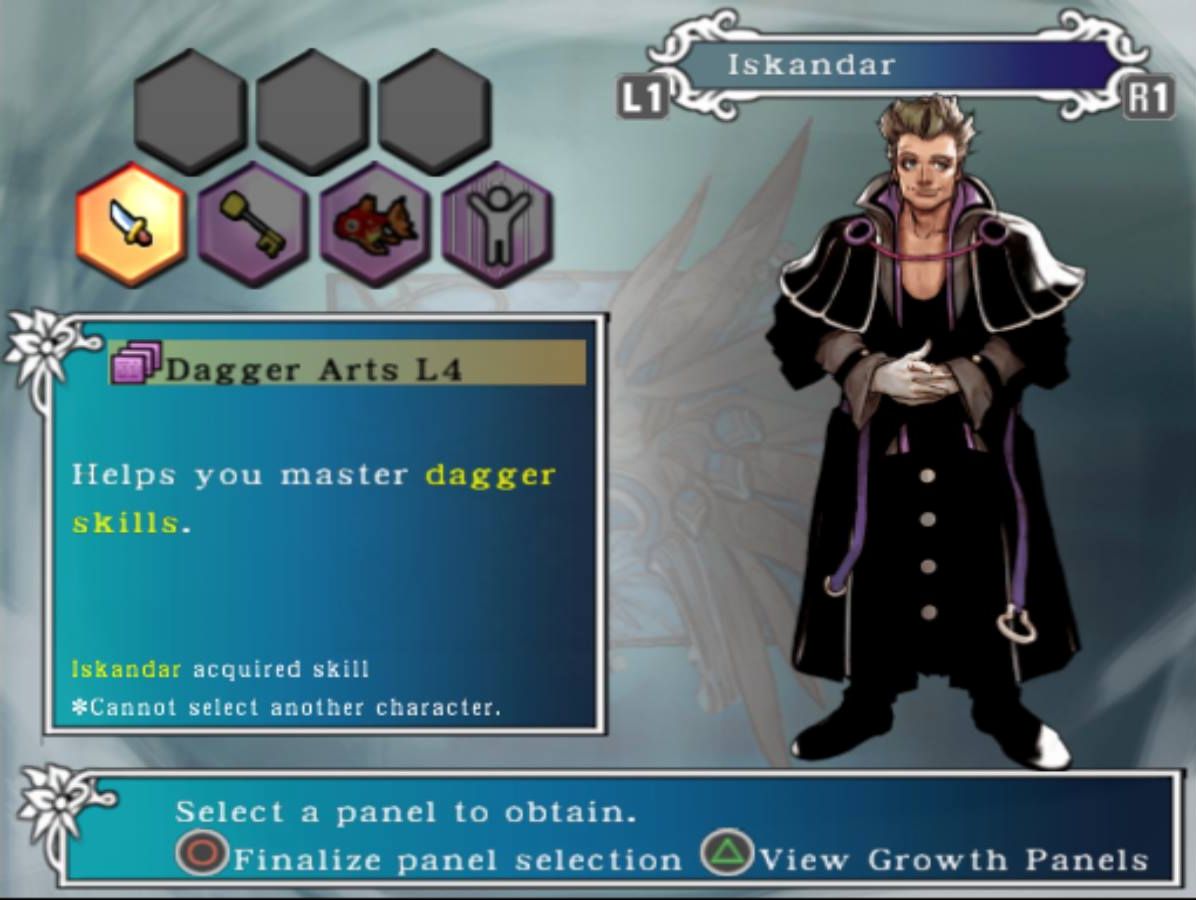 Iskandar got a Lv4 panel I can actually use though :D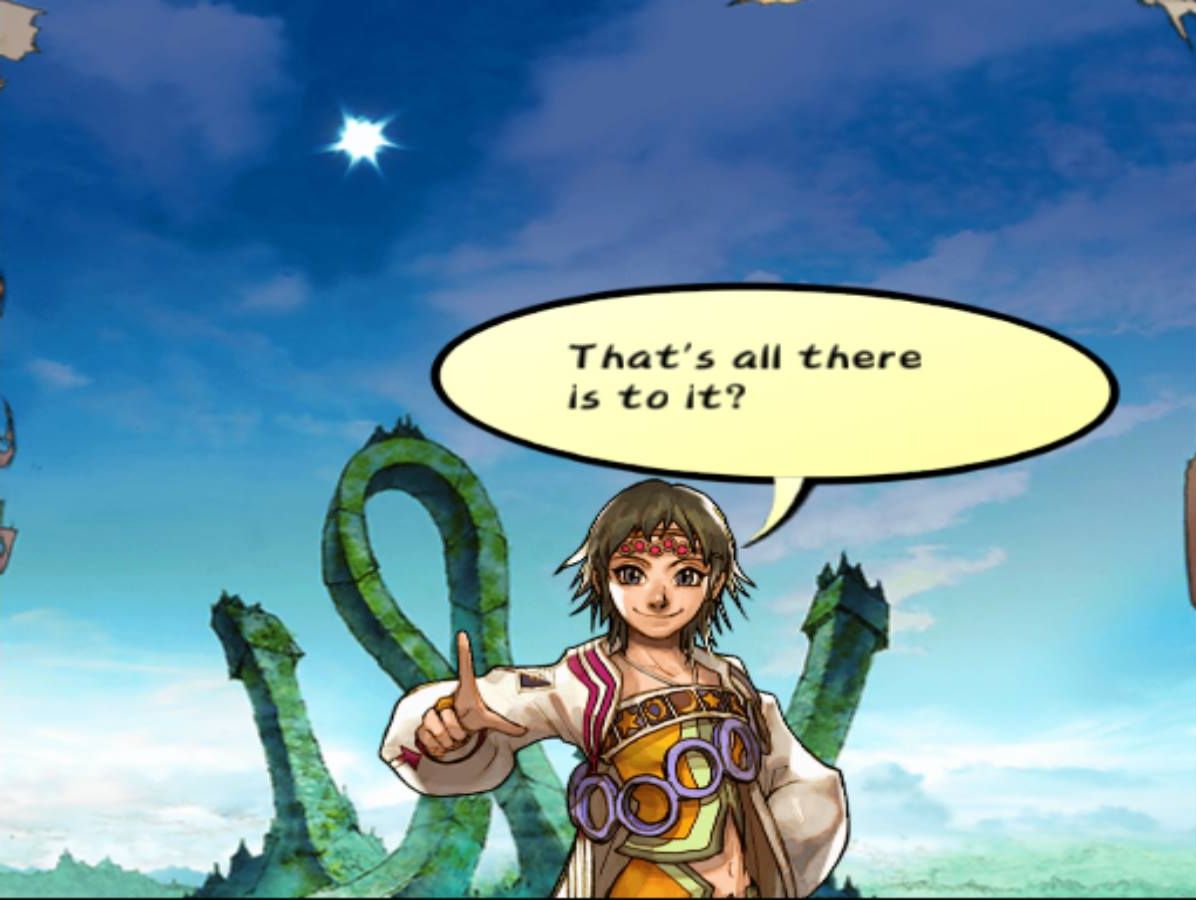 Even Ruby seems dissatisfied with how adventures end XD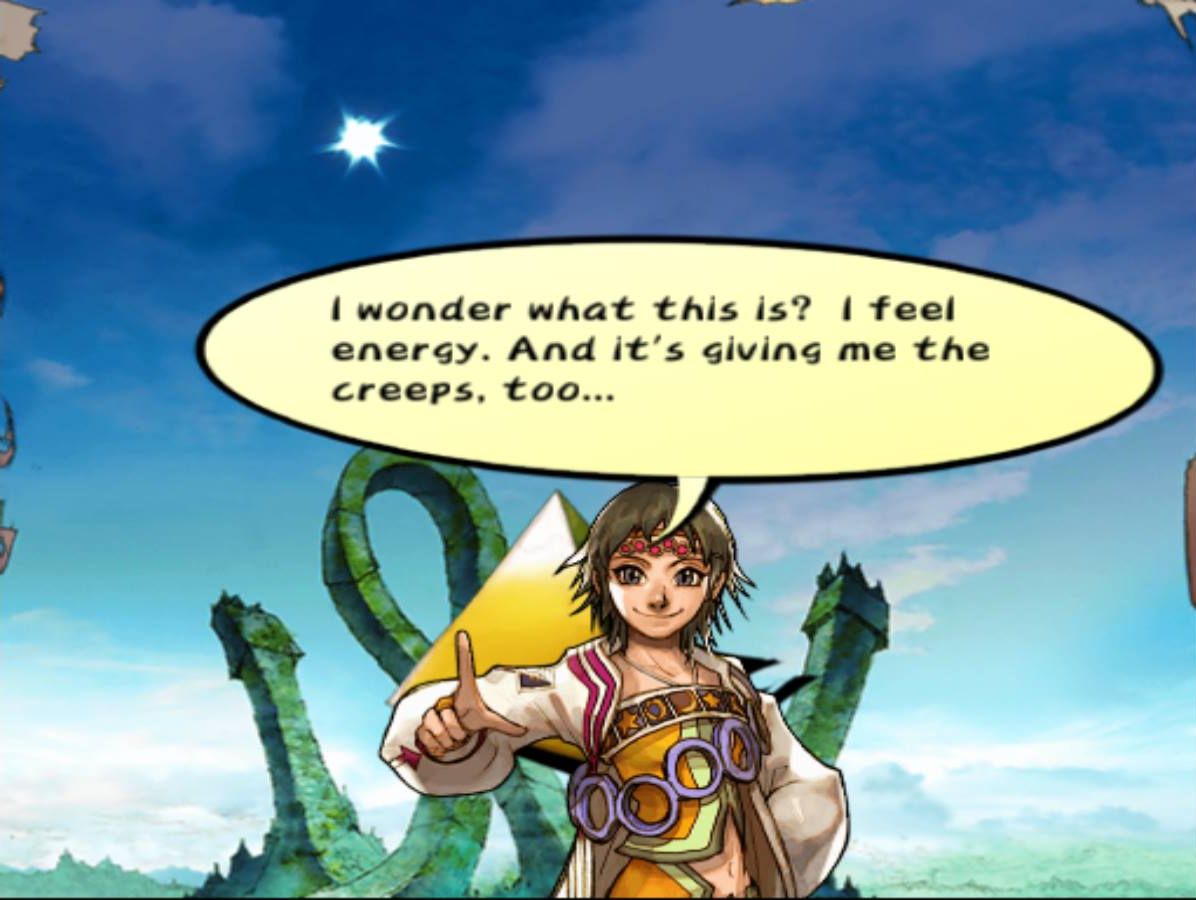 Ruby like... brought the Tetra Force with her??!?! I always imagined they were like... giant pyramid things that you're like... touching with your hand to get some power form them or something. Like, bigger than humans. But Ruby is just like carrying it around so IDK LOL. I've seen this before but I just ... kinda forgot XD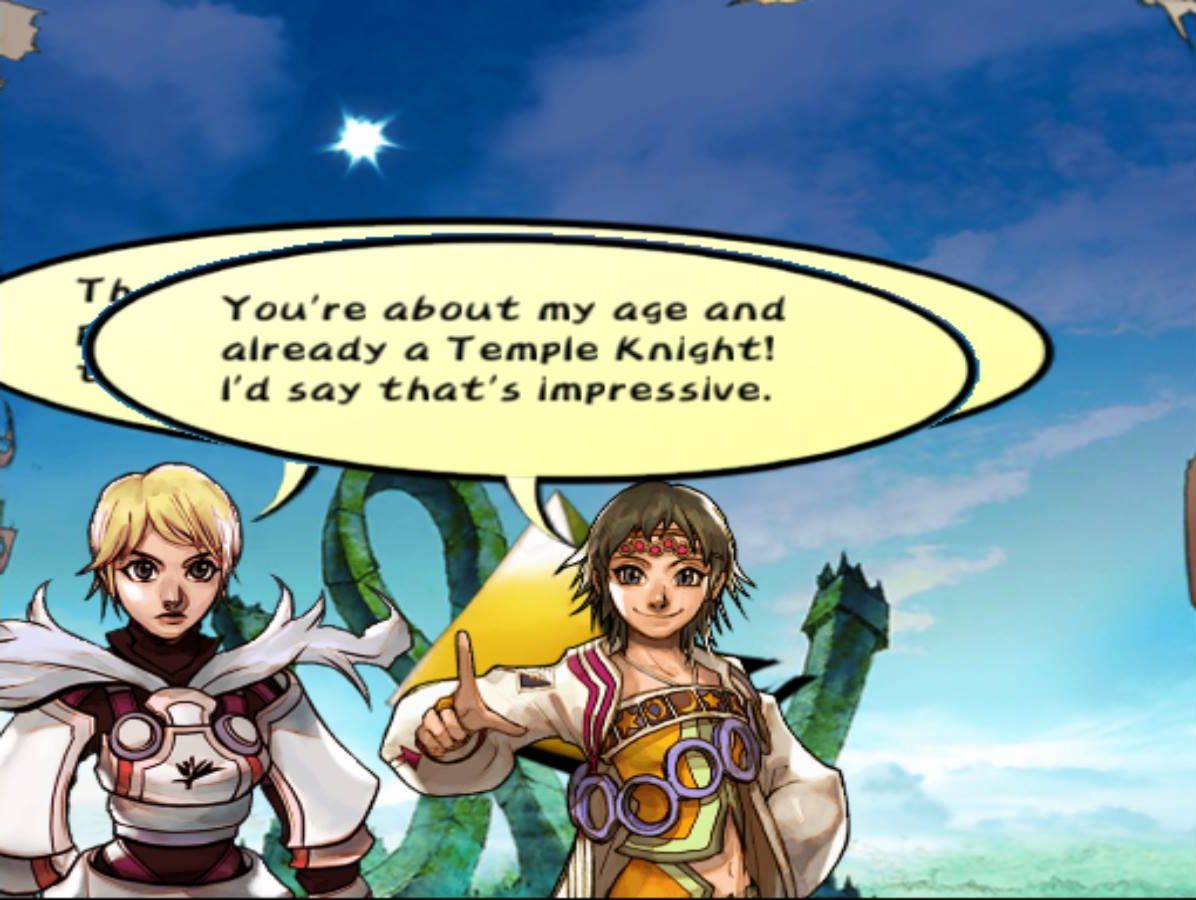 Anyway, Jeanne shows back up and thanks Ruby for stopping Basil. Ruby is like wtf I didn't do anything.
Ruby crushes over Jeanne or something. Jeanne says it's her destiny to be a Temple Knight. I love Jeanne btw. Also, apparently Jeanne and Hiro are both 18 years old. I think Ruby is 16? The main characters' ages are listed in their profiles when you choose which scenario to play, but I already forgot. Oops.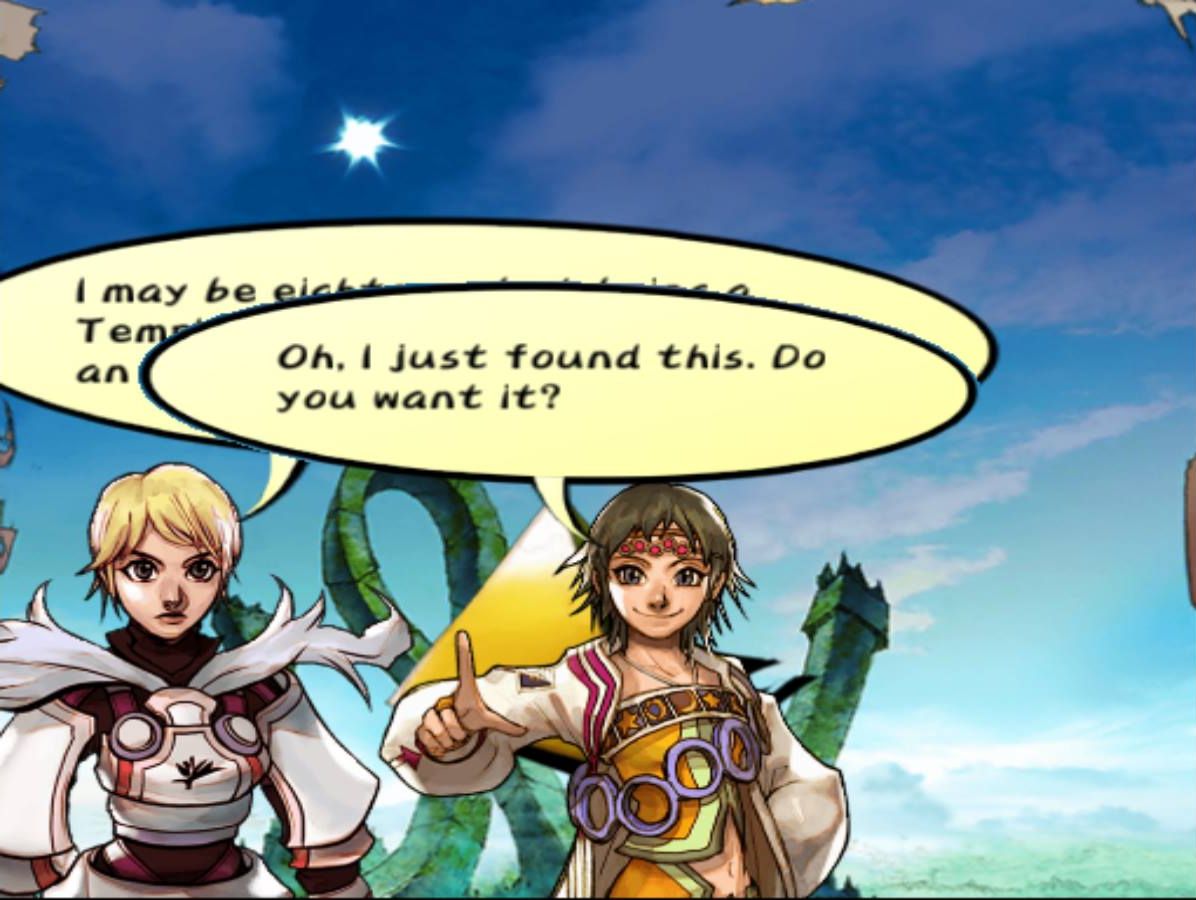 THEN RUBY IS JUST LIKE "HERE HAVE A TETRA FORCE" LOLOLOL
Jeanne suggests Tetra Force might be the power of the Seven Wonders...? I don't think it is, though, but...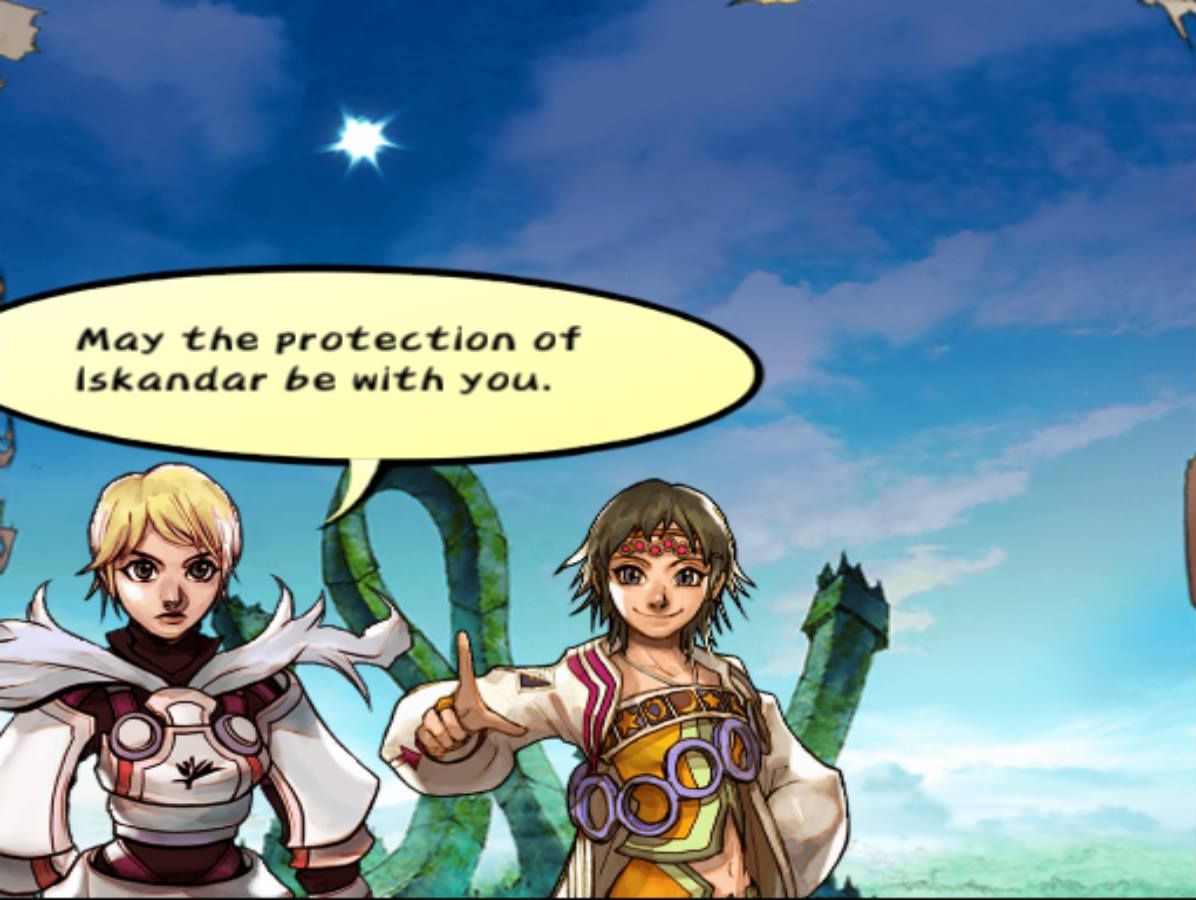 Jeanne ends up taking it, and says this weird Iskandar thing. Iskandar is a legendary-hero-turned-god sort of like Mirsa from Romancing SaGa btw. The story of Iskandar is actually in the instruction manual XD It's like the ONLY story element explained in there.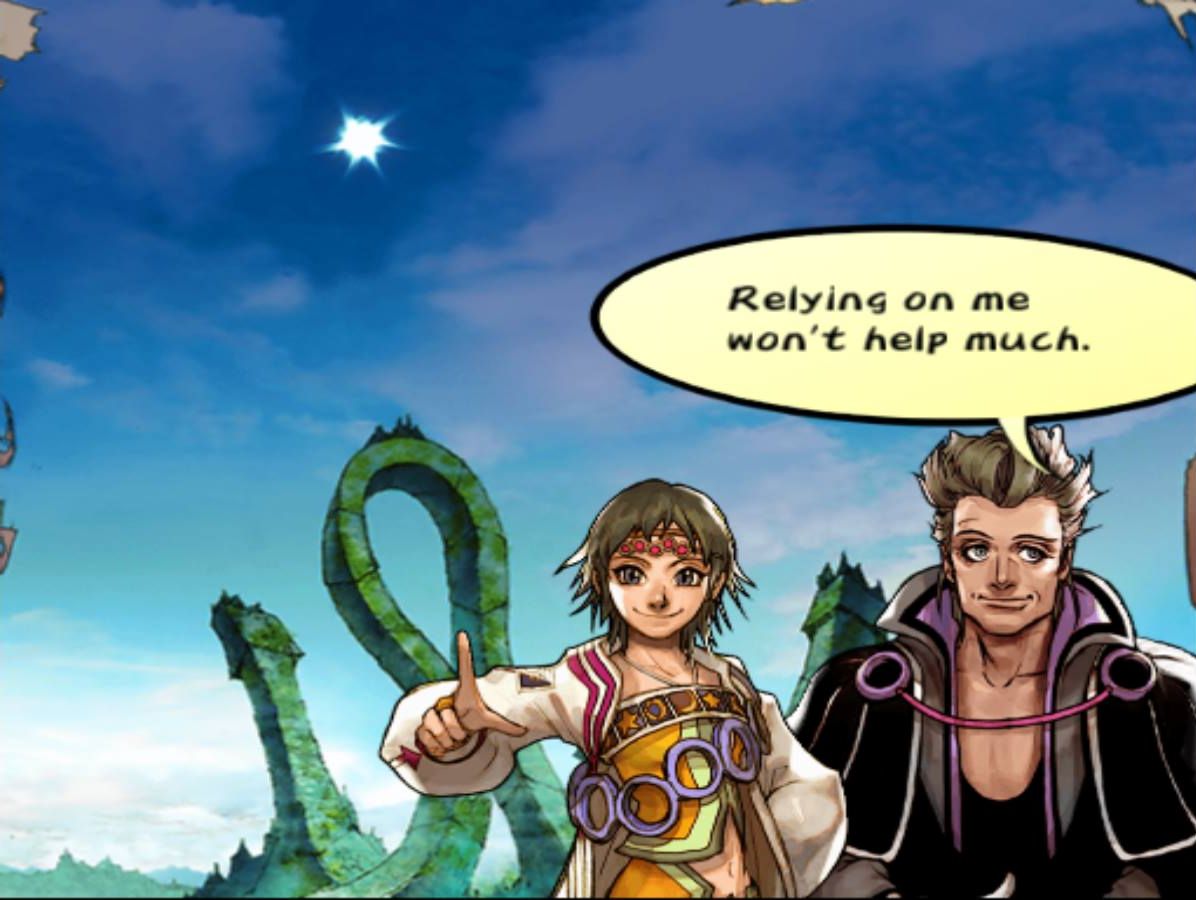 Then Iskandar pops out and is like "hahaha me?"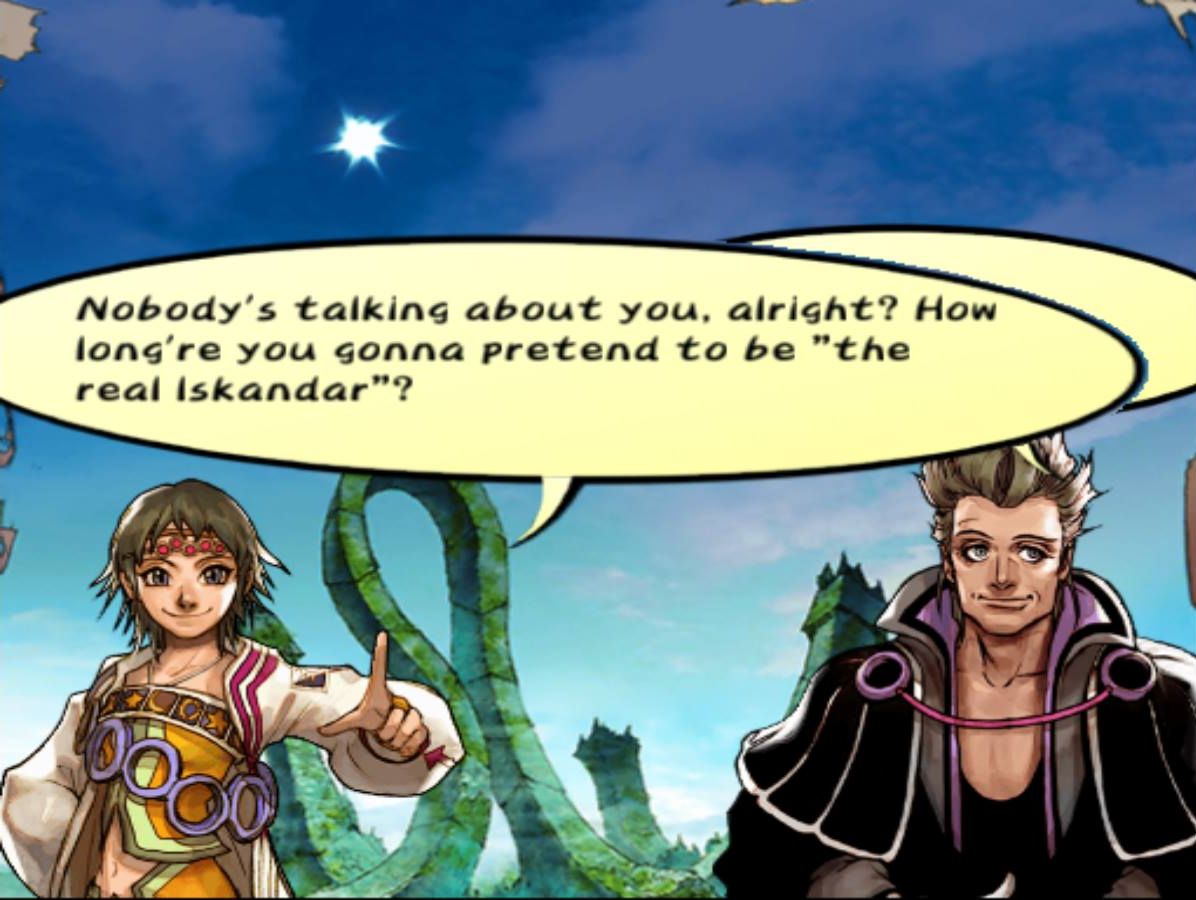 lolol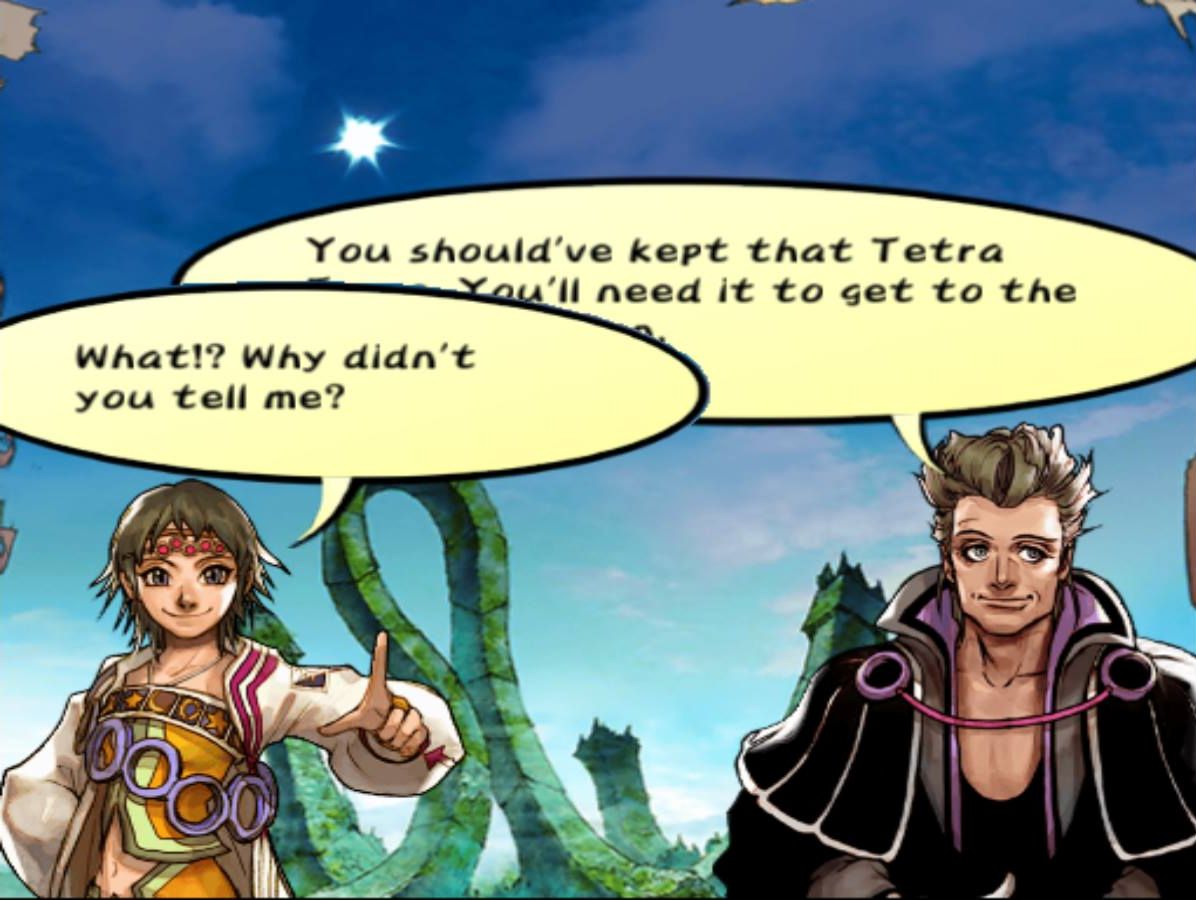 Iskandar tells Ruby she should have kept the Tetra Force, because she'll need it to get to Hanging Garden. Ruby asks why he didn't tell her.
... No, seriously, though. Why didn't you tell me???? So apparently we need the Tetra Force (are we supposed to be collecting all of them or something?) and now Jeanne has it lol. Well she seems nice so maybe we can get it back XD
I know I've played more than this but I don't know exactly how this unfolds after this. This is as far as I really can remember clearly. So from here on out the story should be surprising to me too XD But uh... the story is pretty much told in this fashion for the whole game so it will be a lot of ... trying to figure out even what is going on and who these people are and stuff because it will hardly make sense XD
---