On Somebody's Trail
Henri tried to defeat Dagul Bos to retrieve the Gloves of Venus, the last of the Elemental Gears we need to unlock the power hidden in the Blade of Escata. But Dagul Bos won instead, at least letting Henri go. But when we returned to Lord Galeos's castle, we find that he was planning to steal the Blade and the Gears that we had left in his care after he was able to grab the Gloves of Venus. But because of our failure, he heads off to try to retrieve the Gloves from Dagul Bos himself. We chase after him and fight him, and after weakening him, Dagul Bos appears and kills Basil in his anger, taking all of the Gears and the Blade for himself.
And now Dagul Bos has run off to Nakle Lines, undoubtedly to release the power hidden with the Seven Wonders. And, well, we've had four scenarios of this already so we can guess how that's going to turn out...
But if you remember, I told you before that Laura actually has a branching story path similar to Kurt, and that you can get variations on the end of her scenario, too.
Imagine if instead of the scenario above, Henri really had defeated Dagul Bos and retrieved the gloves from him. Well, that's also a possible outcome to the battle! I had screenshots of it but deleted them when I was deleting screenshots in bulk oops. But when I replayed the Decisive Battle adventure, I actually fought with the whole party and didn't just stick to guns either, so it wasn't so bad.
Upon his defeat, Dagul Bos tells Henri that he's foolish for believing Dagul is solely responsible for Escata's downfall -- it was inevitable, as Escata was already rotting from the inside with corruption. Henri refused to believe that his family was corrupted. This is left open and never mentioned again for the rest of the game, but it's kind of an interesting idea I hadn't thought of. We're led to believe the Escata royal family is probably some great people like Henri, but what if Henri was the good one? I mean, remember how Minister Hogg had a strange stash of hidden money? Where did all that come from, and why did he hide it in the palace? Maybe there were some corrupt things going on within Escata that Henri simply didn't know about. Maybe his mother or father or both knew about them, but they weren't sure how to stop them. Or maybe they were involved themselves. Who knows, though...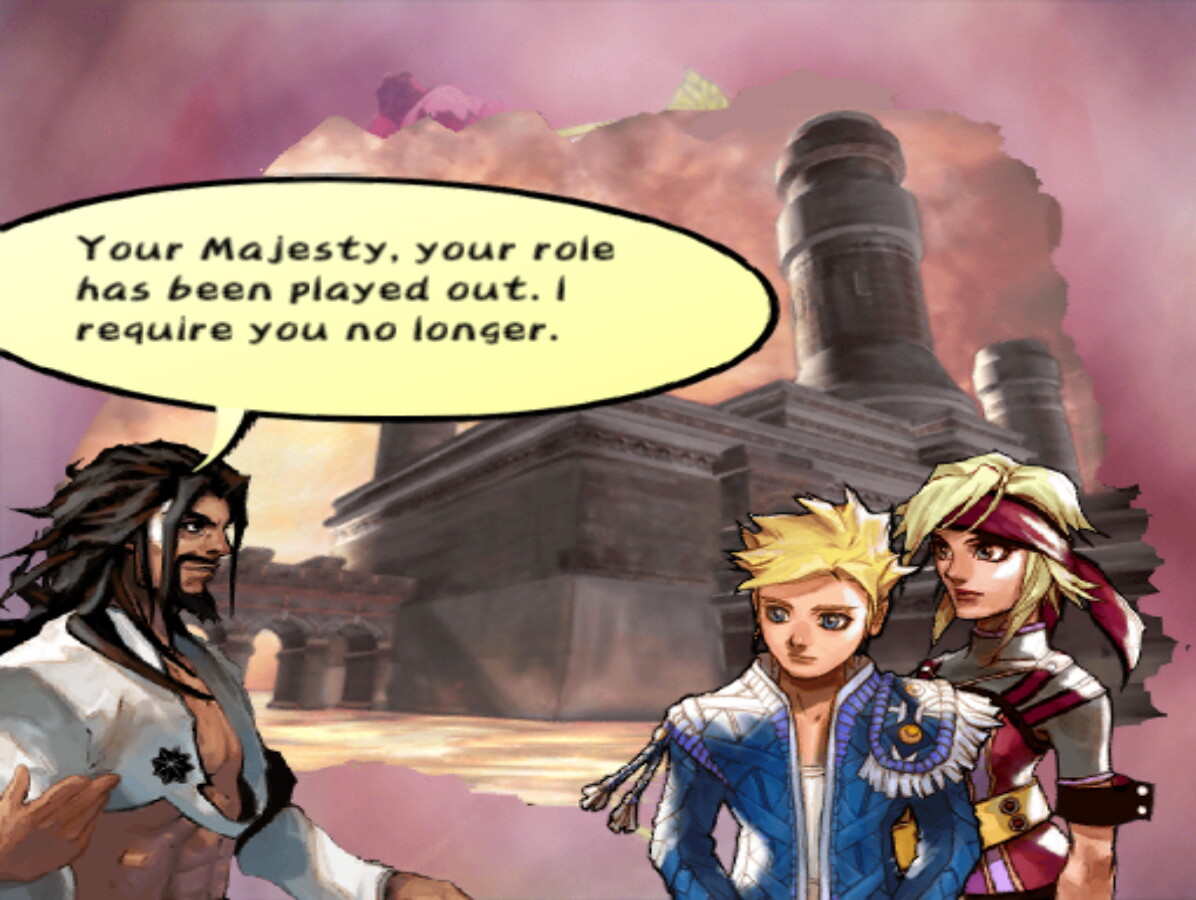 As expected, after we defeat Dagul Bos and return to Daddy's House with the Gloves of Venus, he swipes them from Henri and runs off. The beginning of the conversation is a little different, but the whole thing with Francis and stuff afterward is exactly the same.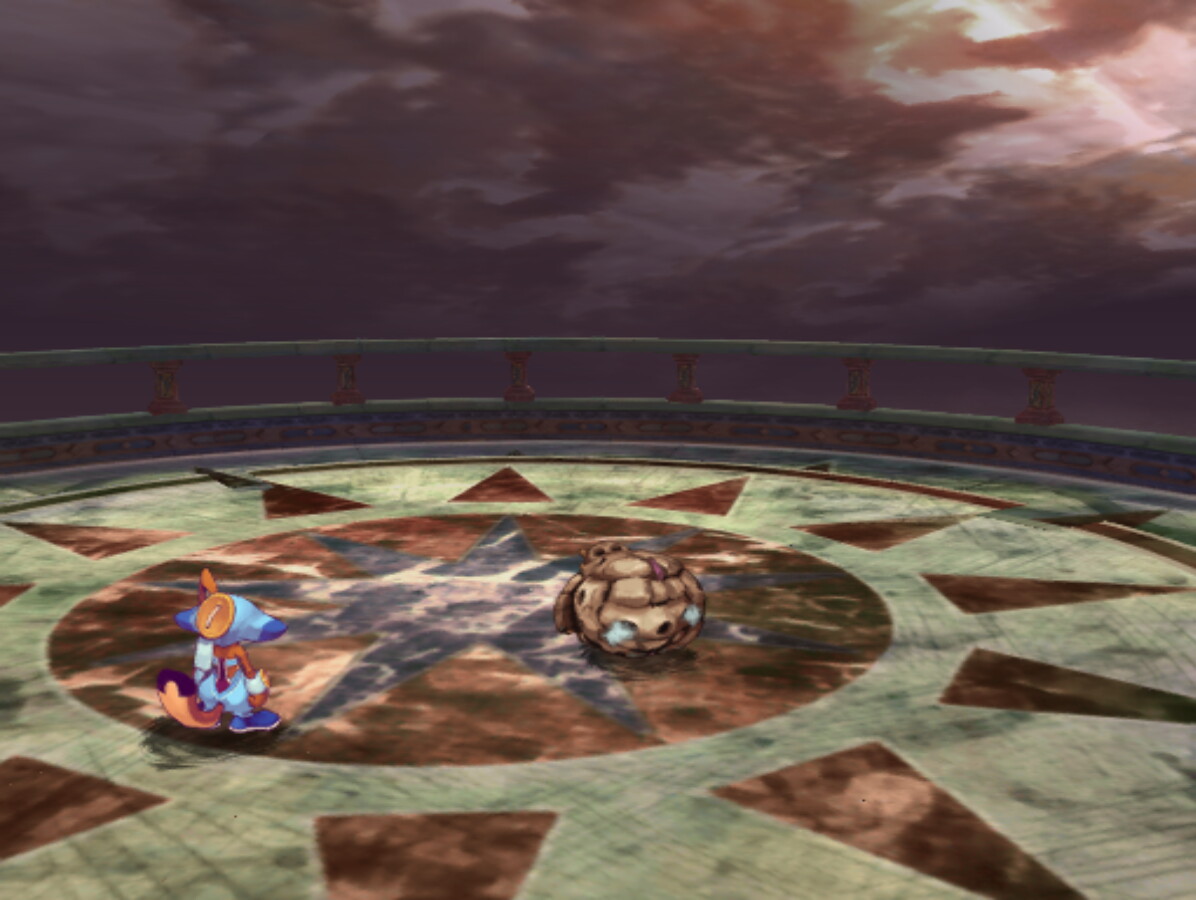 And just like before, we rush off to fight Galeos in the tower, which plays out just like before: first he summons four Minotons to fight us, and then we have to fight Ajatar while climbing the stairs. The Battle with the Beard is the same as before, too, except for at the end. Instead of Dagul Bos coming and vanquishing Basil, he is able to escape, since we defeated Dagul Bos already.
This second time through, I got some really great panels at the end of the tower climb. Platy got Iron Body L5 (which is the best panel in the game for raising Ability Levels, plus gives them great protection in battle). It's a shame, though -- I wasn't expecting this panel, so I had Staff Arts in the best position for Strength growth, and we could have gotten their Strength Level to 49 by placing it in the top right. But instead, we had to settle with a Strength Level of only 39, placing Iron Body in the top left.
Francis got all L5 panels in his selection, including Axe Arts and Punch L5, both tied for the second best ability growth after Iron Body (along with Kick). And Anzan got Fortuneteller L5, raising his Earth level to 54 without any combination bonuses.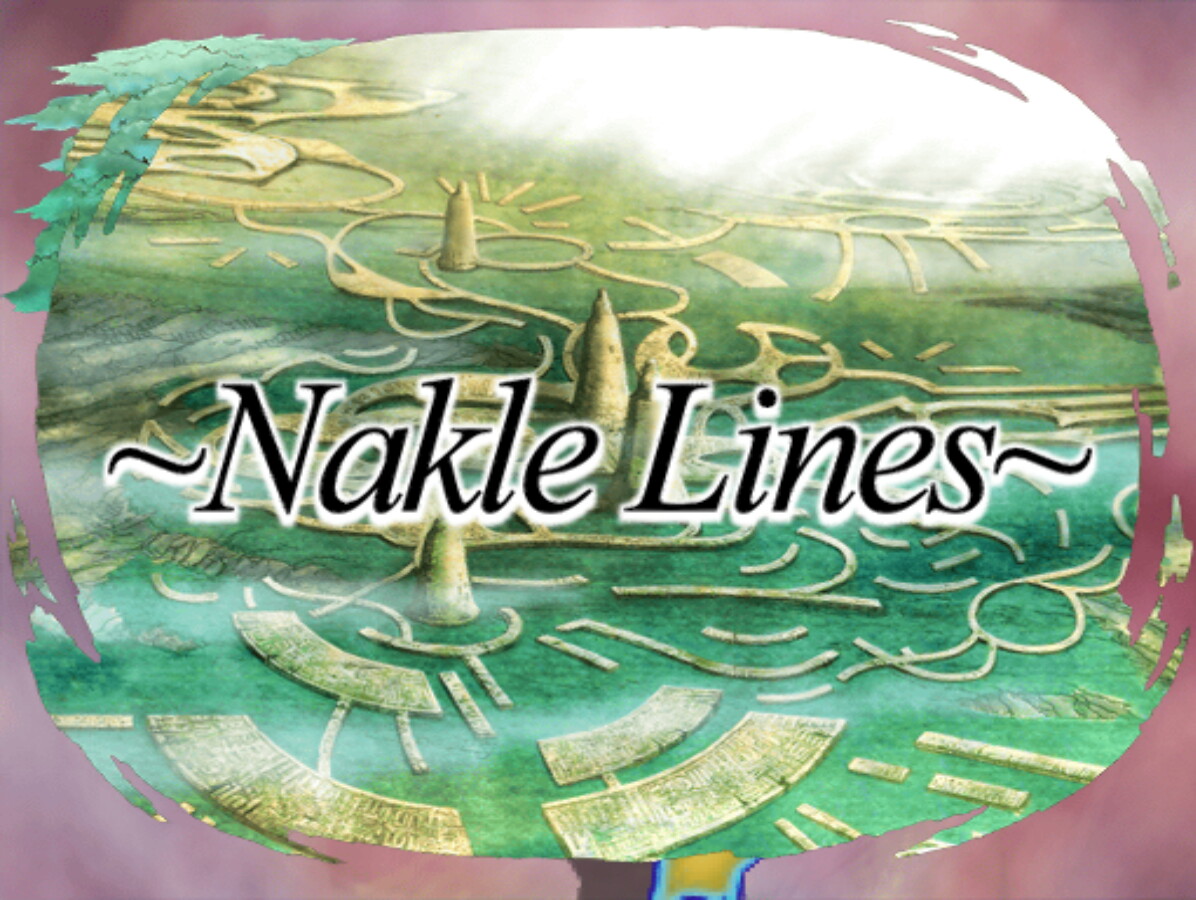 The final adventure will either be titled "On Dagul Bos's Trail" or "On Galeos's Trail" depending on which villain ends up with all the Gears and the Blade, based on whether or not Henri was able to defeat Dagul Bos. Either of them will run off to Nakle Lines to try to gather the hidden power contained in the items and the Wonders.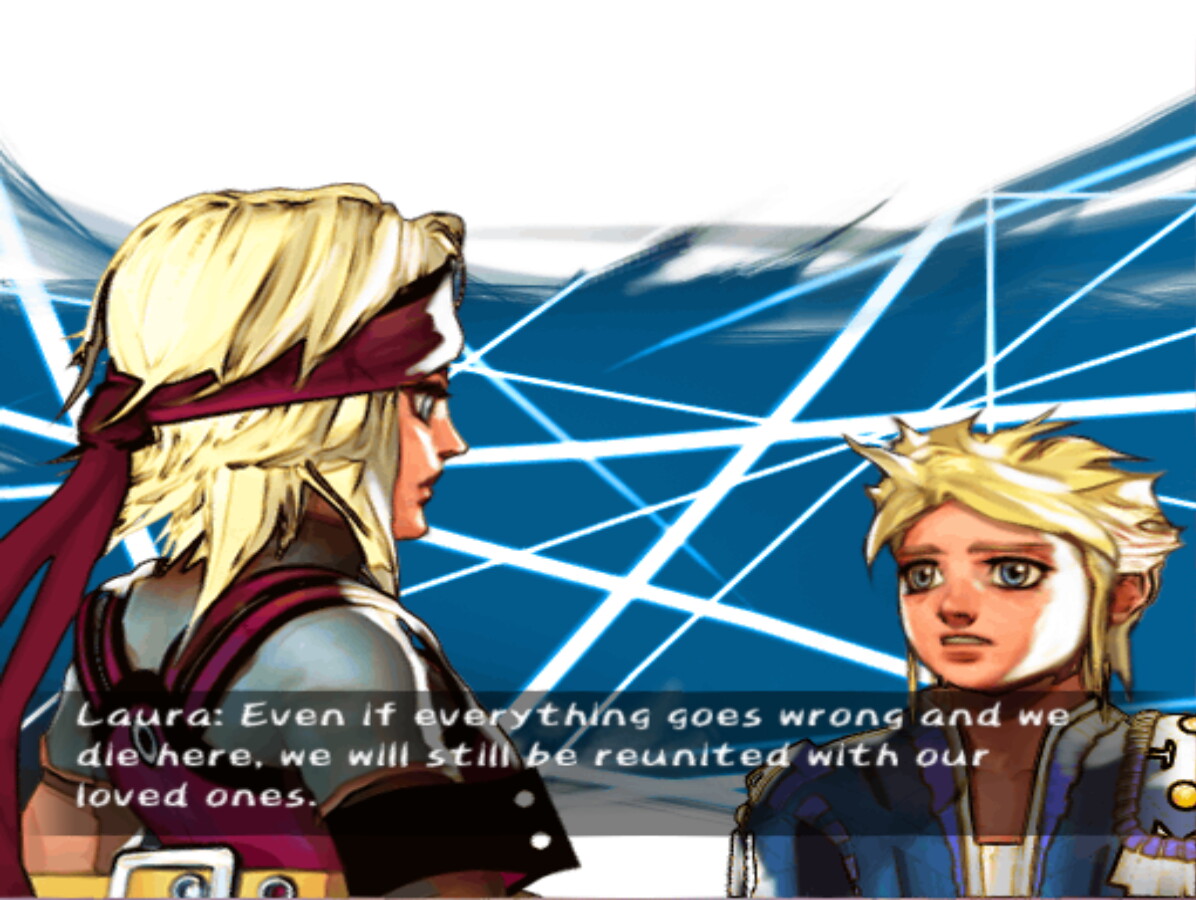 When we arrive, Laura seems surprised that this place is related to the Blade somehow, and asks Francis if he knew anything about it. Francis said he only escorted Galeos here once when he wanted to check it out, but Galeos didn't reveal anything about the place to him.
Then Henri tells Laura that she can go now -- she has nothing left to prove and doesn't need to follow them through Nakle Lines. At first I thought this was a strange thing for Henri to say, since he seems to not want to part with Laura, but Laura's response made it a bit more clear: she tells Henri that even if they die, they'll at least be reunited with the loved ones that they lost. After losing his home and family, Laura has become Henri's family now. It's not that he wants to part with her here -- it's that he's afraid to see her die here. He doesn't want to go through losing his family all over again.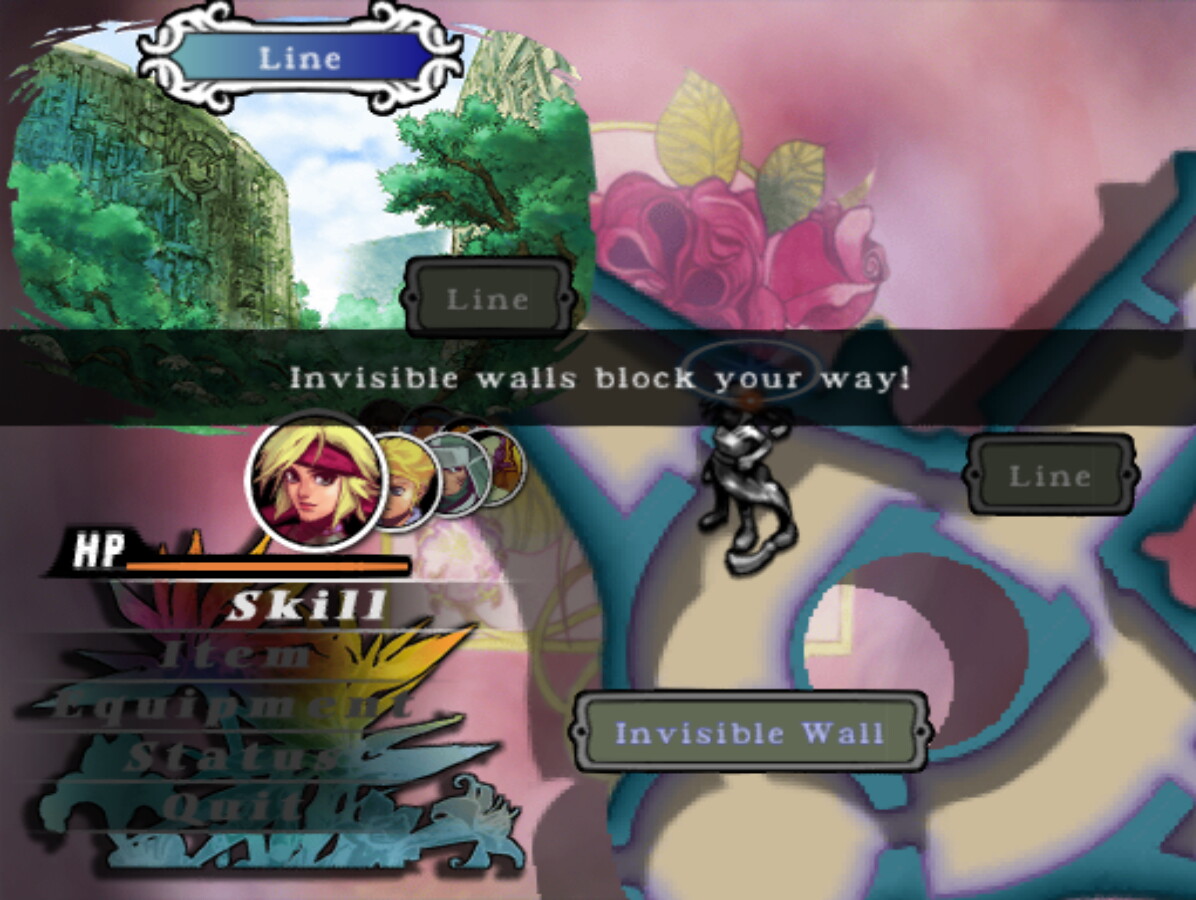 Nakle Lines is an adventure we're quite familiar with by now in this diary. It's widely regarded as the most challenging subadventure in the game when you normally come here and fight Tagut. Not only is it full of puzzles you have to solve on the map, but there are tons of enemies everywhere, a brutal midboss you have to fight five times, and the most powerful adventure-ending boss in the game.
Though, Laura's scenario has it play out a bit differently. Dagul Bos or Galeos have already come here, and it seems they already defeated most of the monsters, as the place is sort of empty. They even seem to have fallen Maane and Malig, as there are no midbosses throughout the Lines! We're able to get through much more smoothly than before.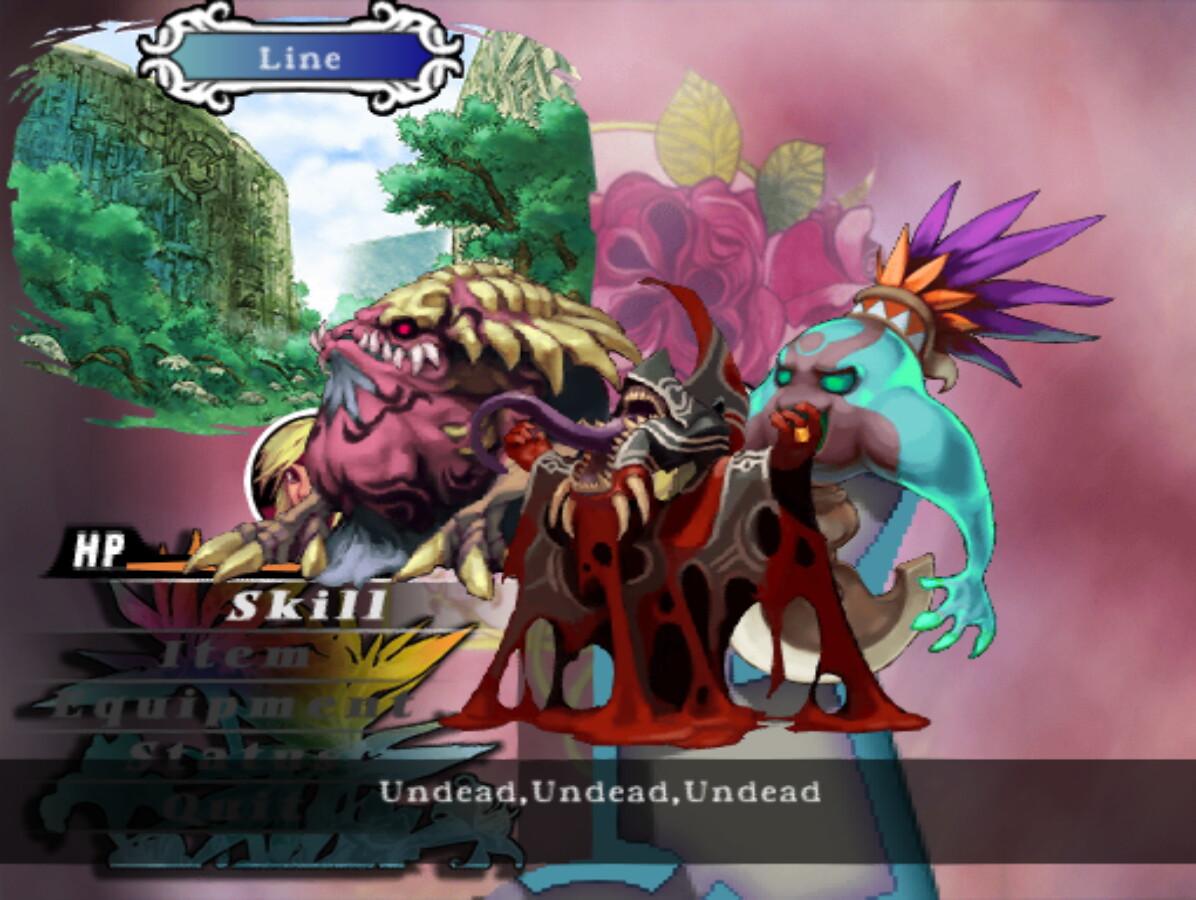 There were a couple obnoxious spots, like when these three undead all landed on the same space as the party at once. But for the most part, Henri's Diplomacy and Aura couple with the fact that we didn't really have much need for opening treasures at this point meant we were able to blaze through the adventure with little more than just running around pressing switches and stepping on magic circles now and then.
And since we haven't done it yet, let's go ahead and review our party as we reach the end of the game: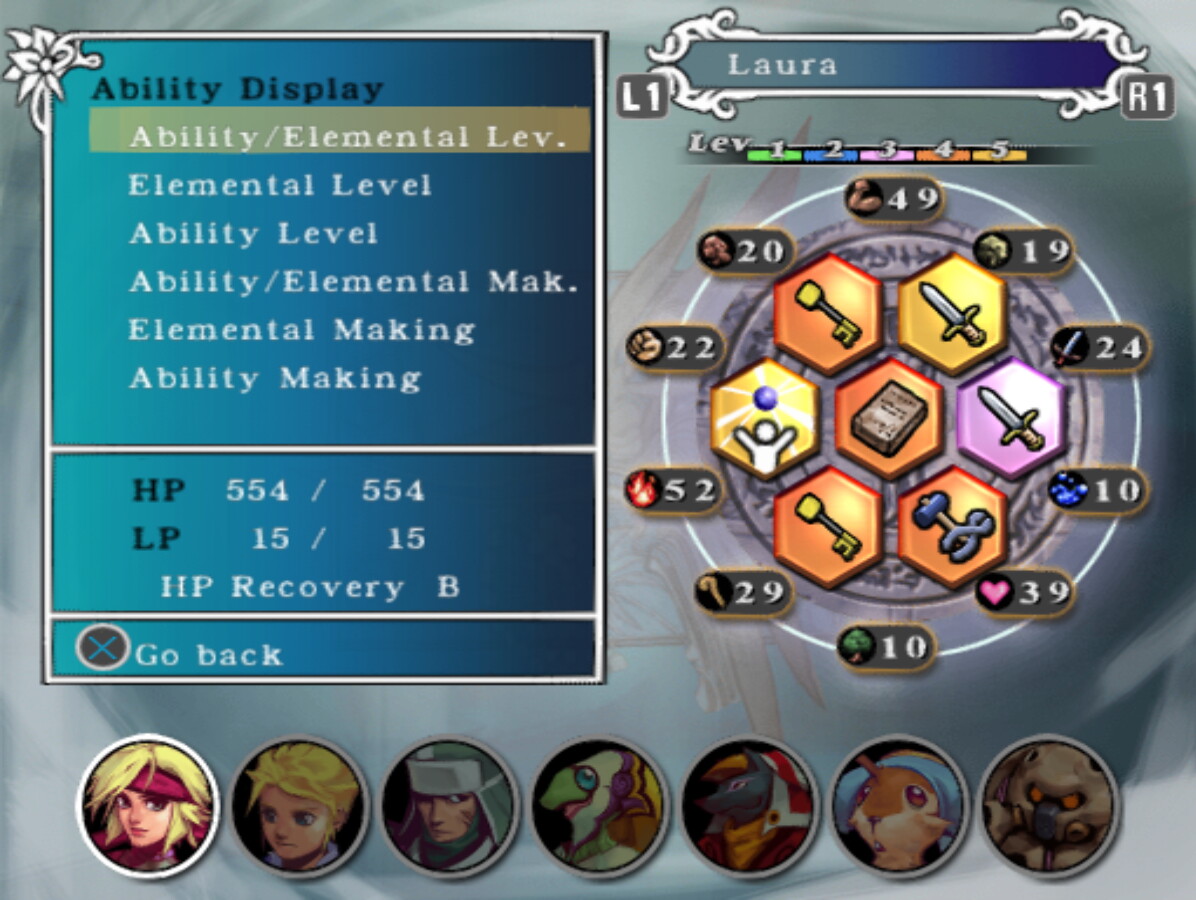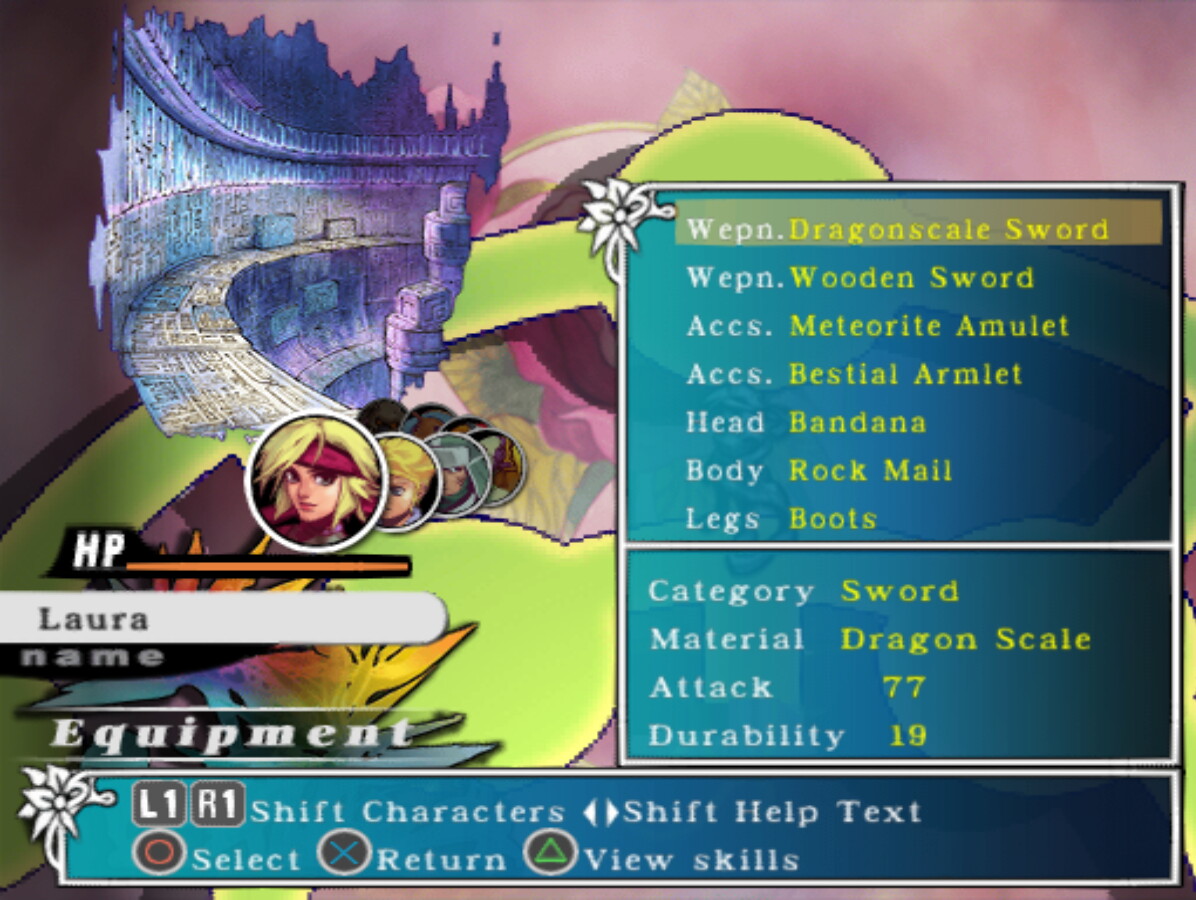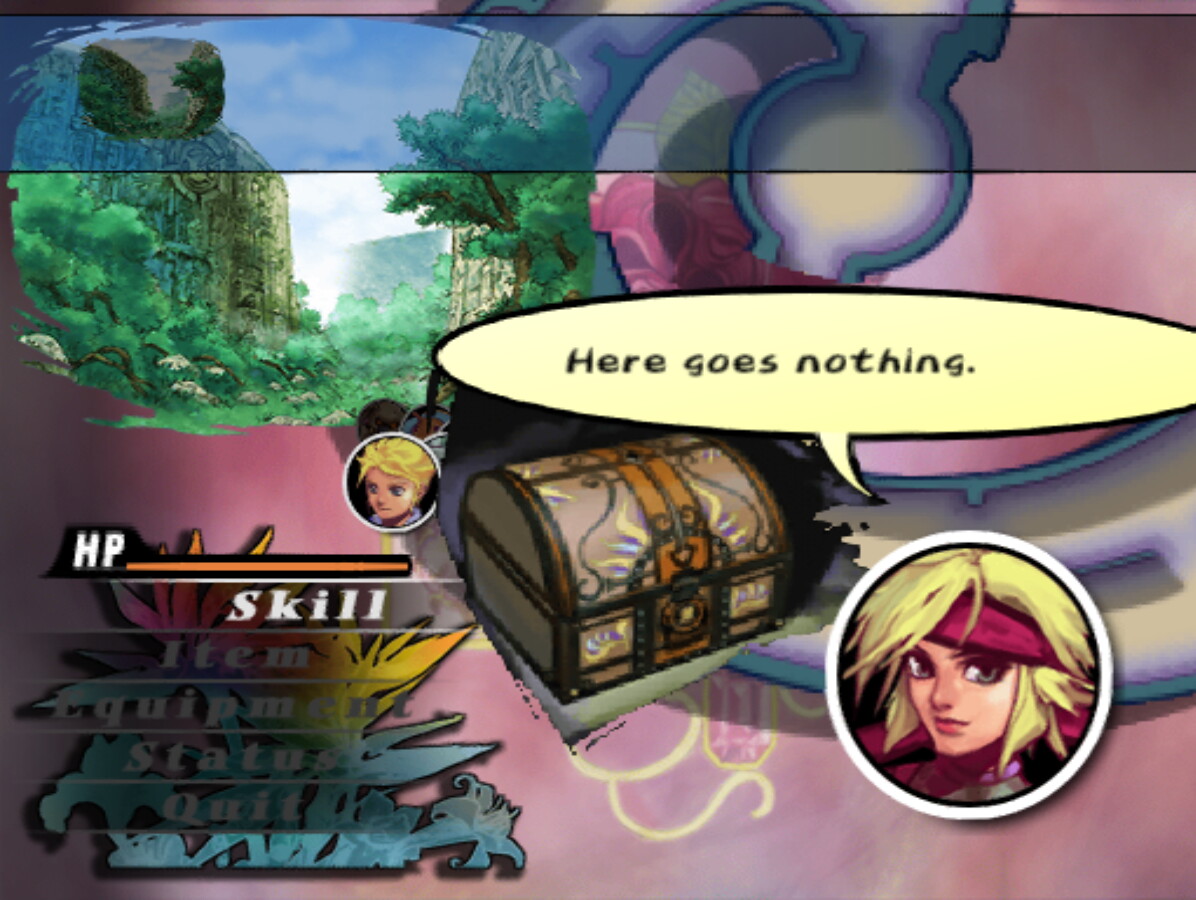 First up, our heroine, Laura. Laura started out the game quite useful with her box-unlocking powers and Fire Arts, and overtime grew not only in both of those areas, but in her swordplay as well. Wielding the powerful Doppelgangers Sword Art, the furious Corona Fire Art, and L4 Defuse and Locksmith, Laura was certainly showing off the experiences she gained as a pirate and through her adventures with Henri.
Since she's the protagonist and her fall in battle is a Game Over, it's nice that she was also quite useful out of battle, as sometimes she had to sit out because it was too dangerous.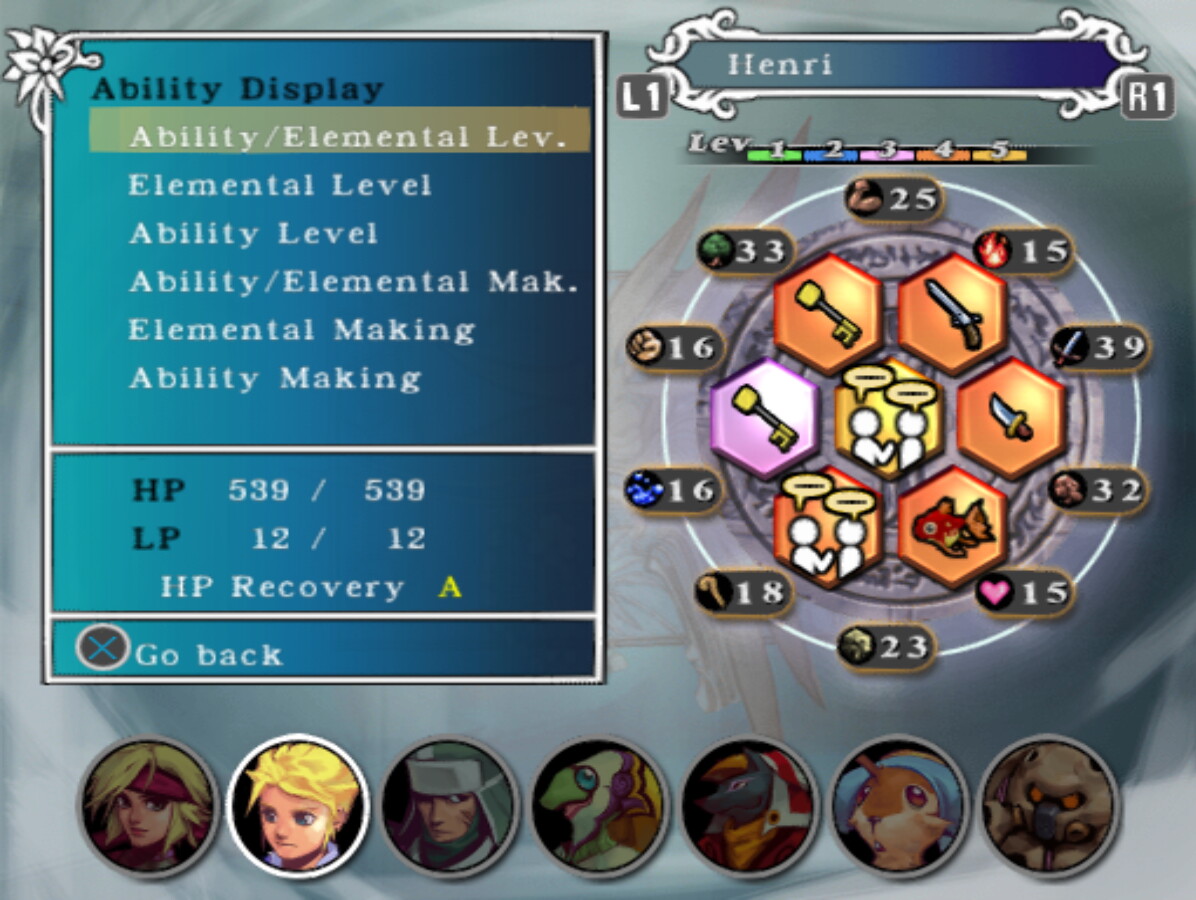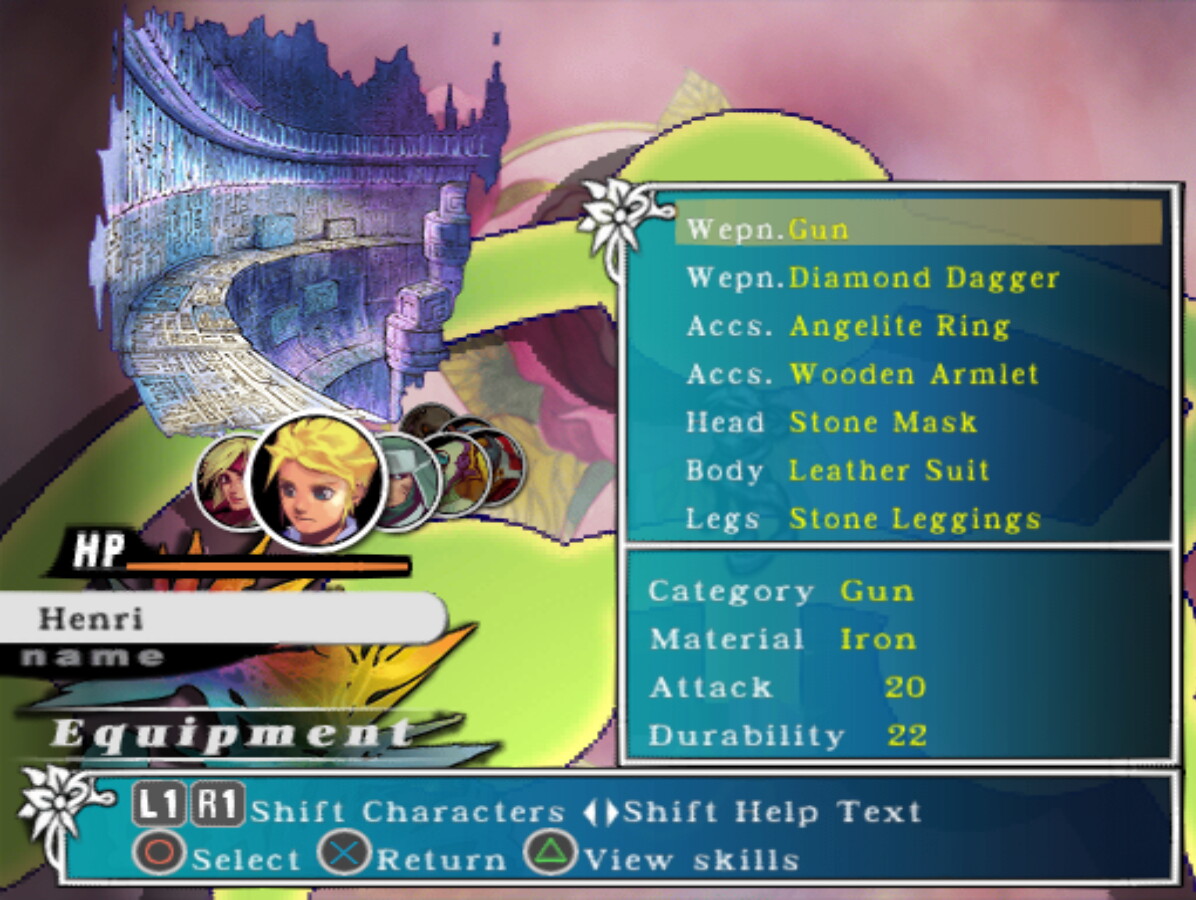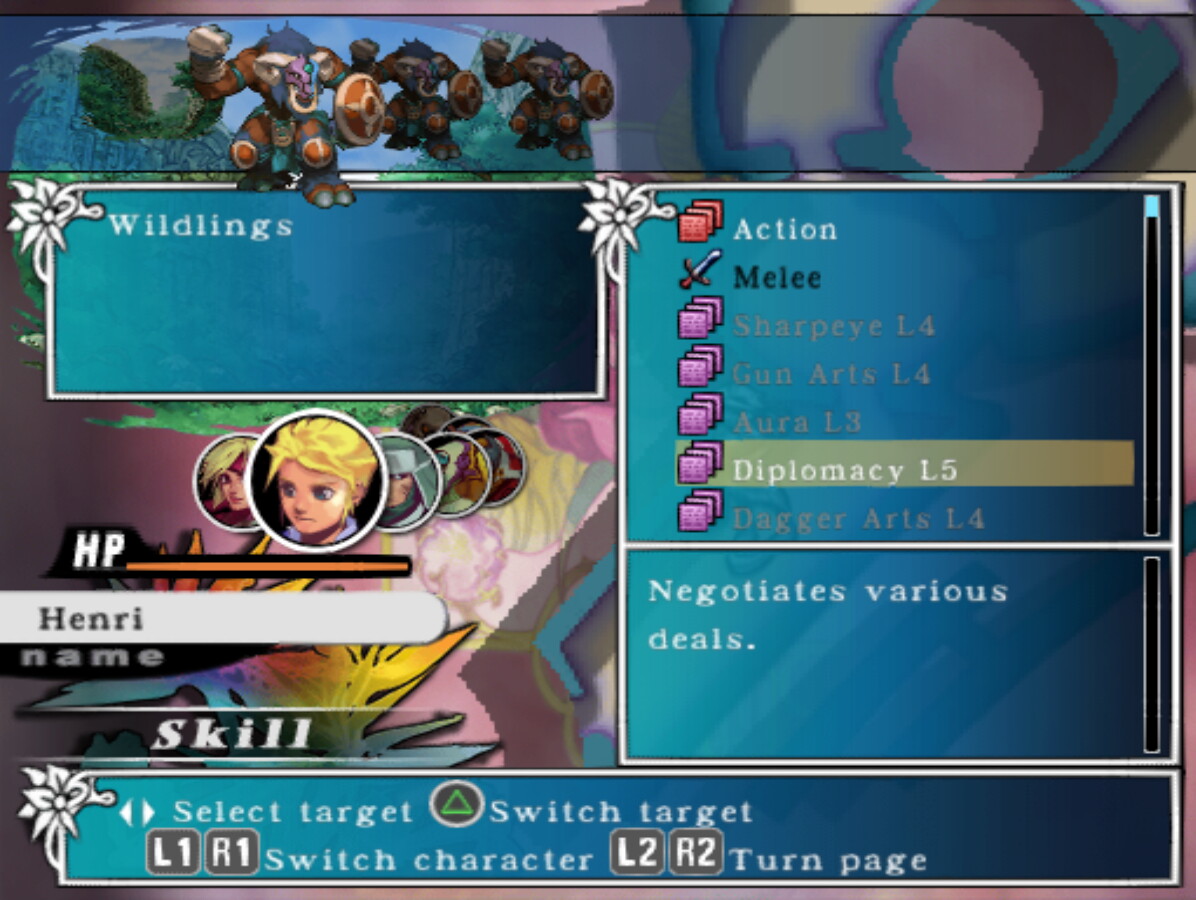 Henri was also an interesting character from the beginning of the game. Unlike Laura, he was pretty weak in battle with his low HP, but he did at least have his Diplomacy ability. Early on, he helped in fights by deflecting stuff with his knife and shooting stuff with his gun. Eventually he learned to use the knife quite well, and replacing the Blade of Escata with a Diamond Dagger, he was able to use powerful arts like Bloody Mary and deflect a lot of attacks.
Outside of battle, his Diplomacy skill only became more wonderful, with Henri being able to talk away even the most vicious of creatures, and even sometimes convincing them to give us treasures, which was quite useful for a no-shopping game.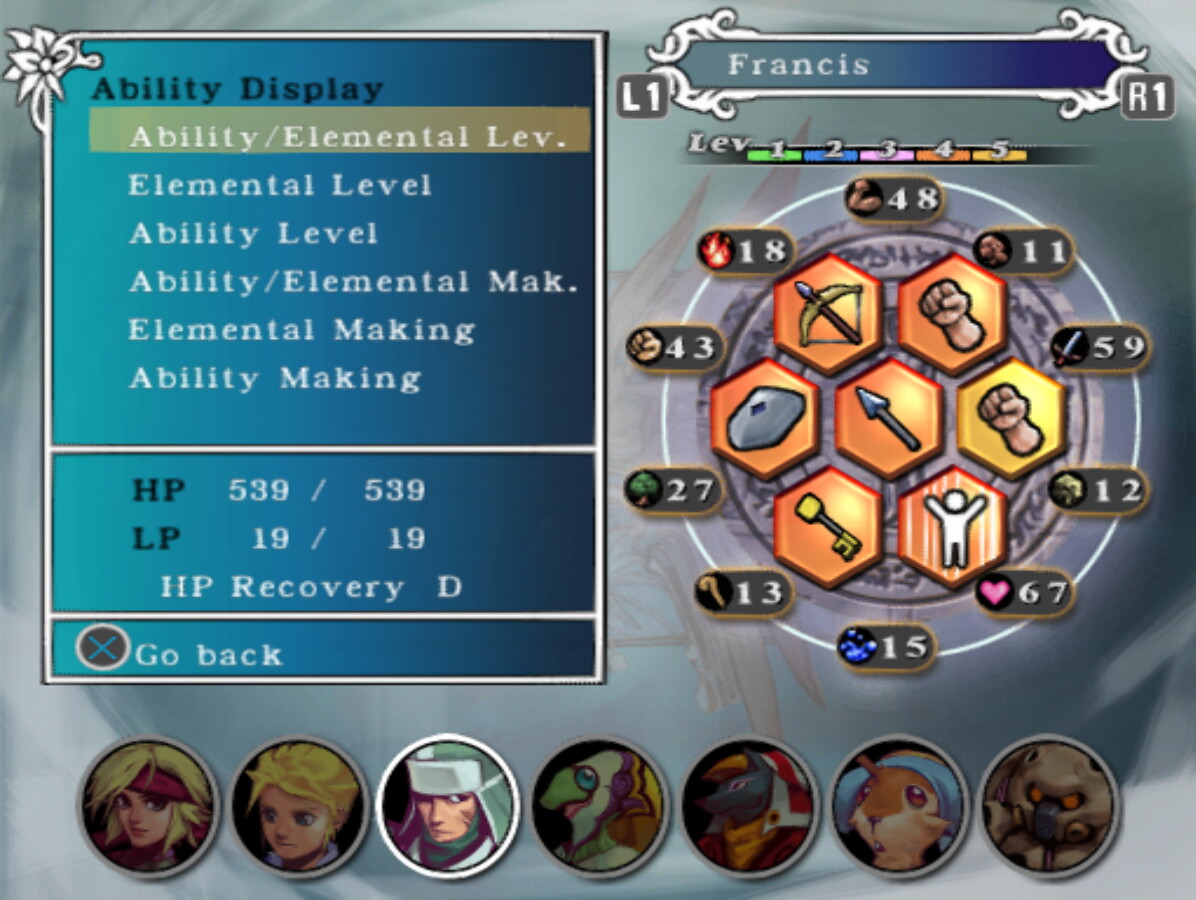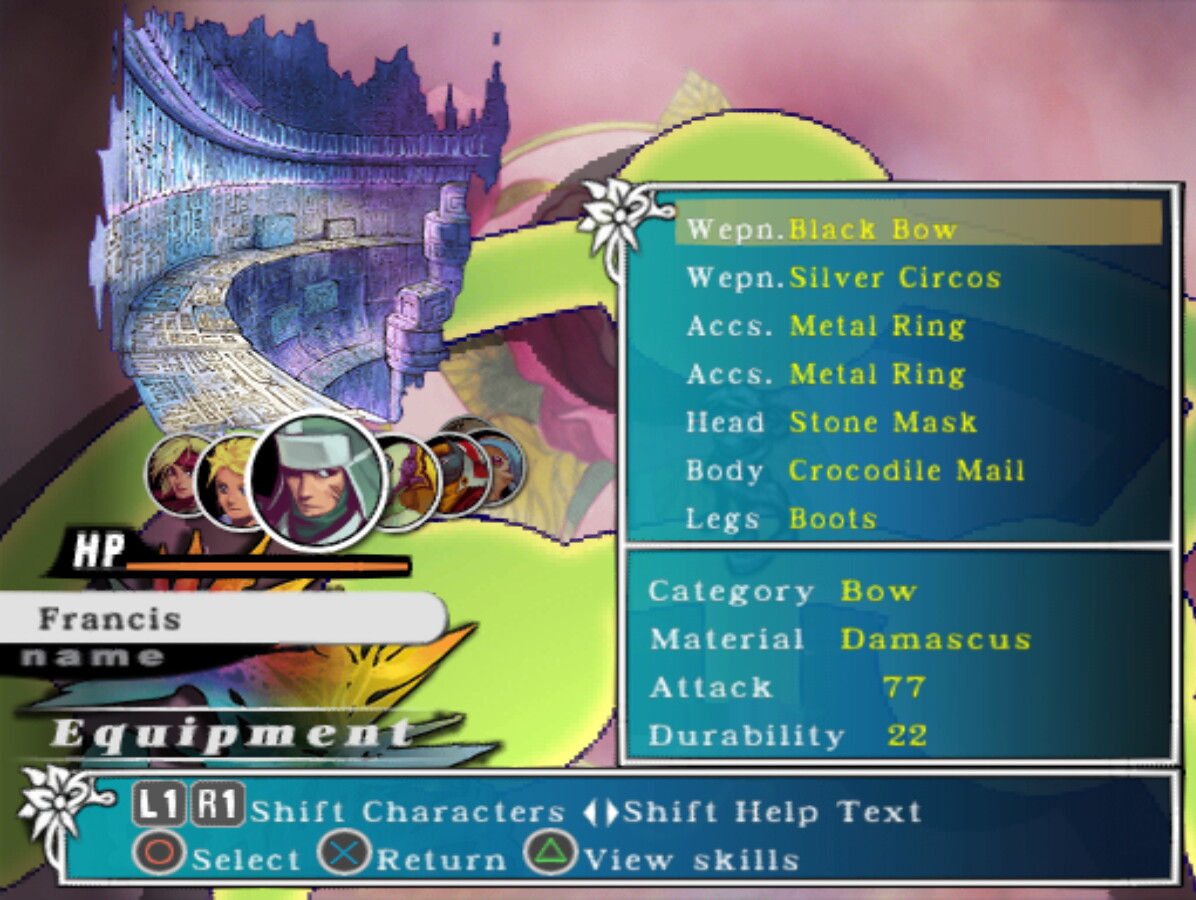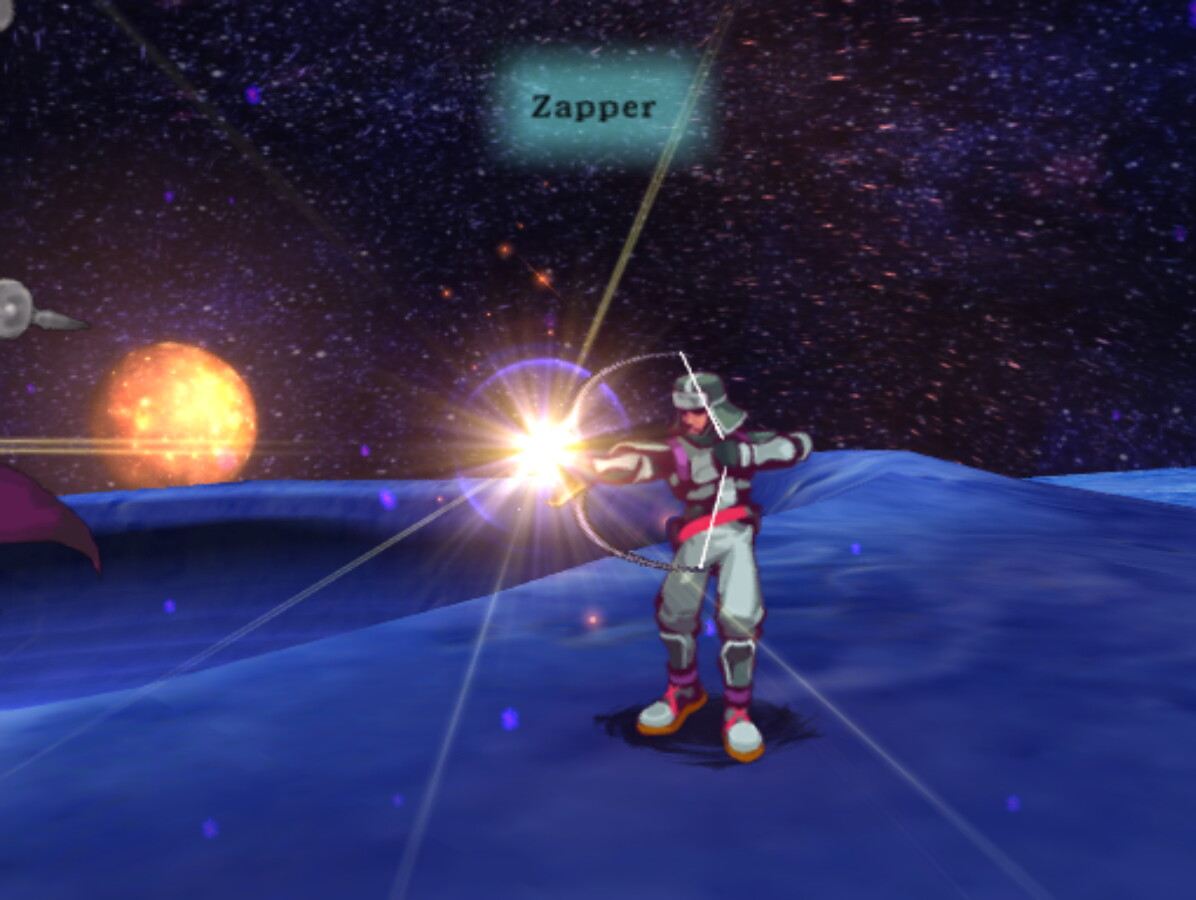 The suspicious bodyguard Francis, who really was not a bad guy at all, ended up being the powerhouse of the party. His stats lent him to this well, though I only really utilized his Skill Level, having him focus on using Bow Arts. Bow is already so useful with great arts like Parashots, Thousand Needles, and Zapper, so really anyone who uses one is bound to be one of the more well-utilized characters in the party, most likely.
Dishing out the LP damage, Francis probably saw more time in battle than any of the other party members.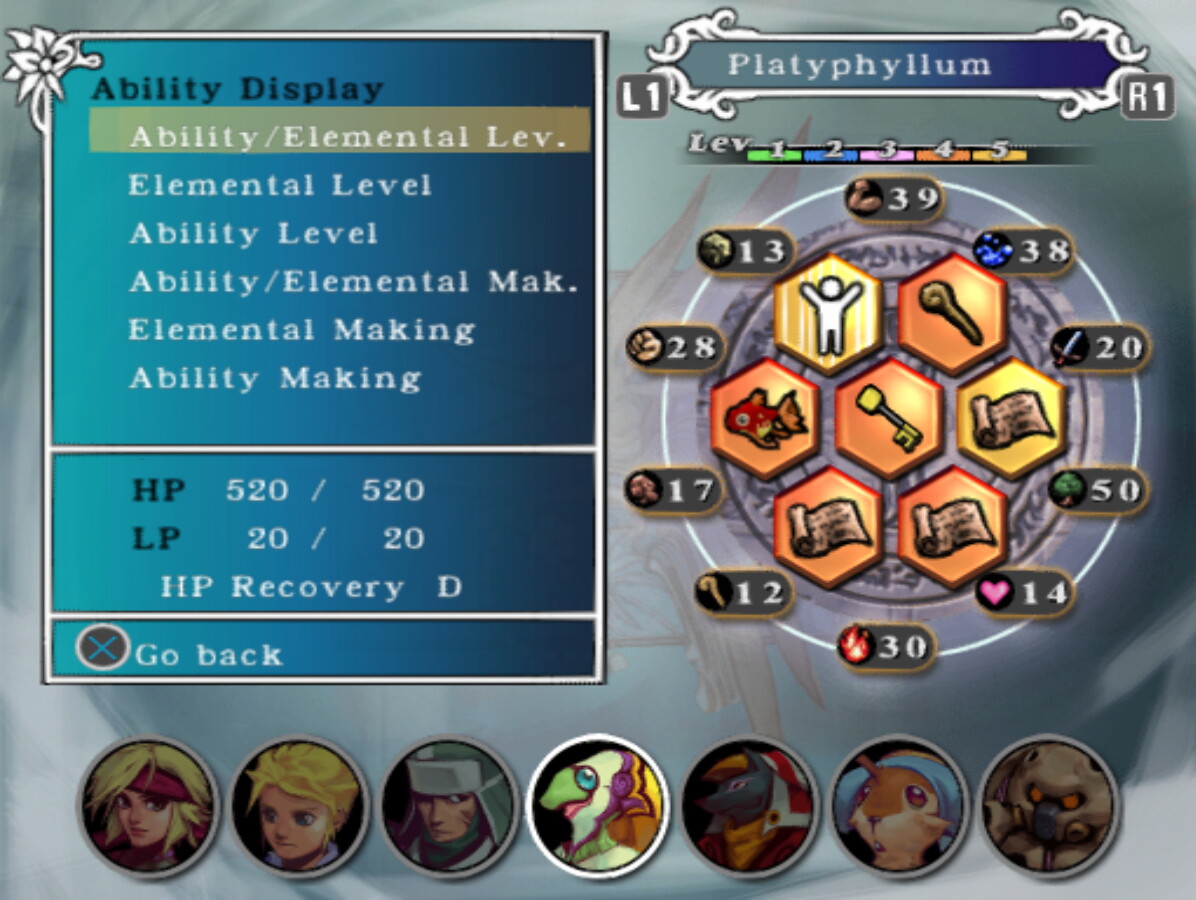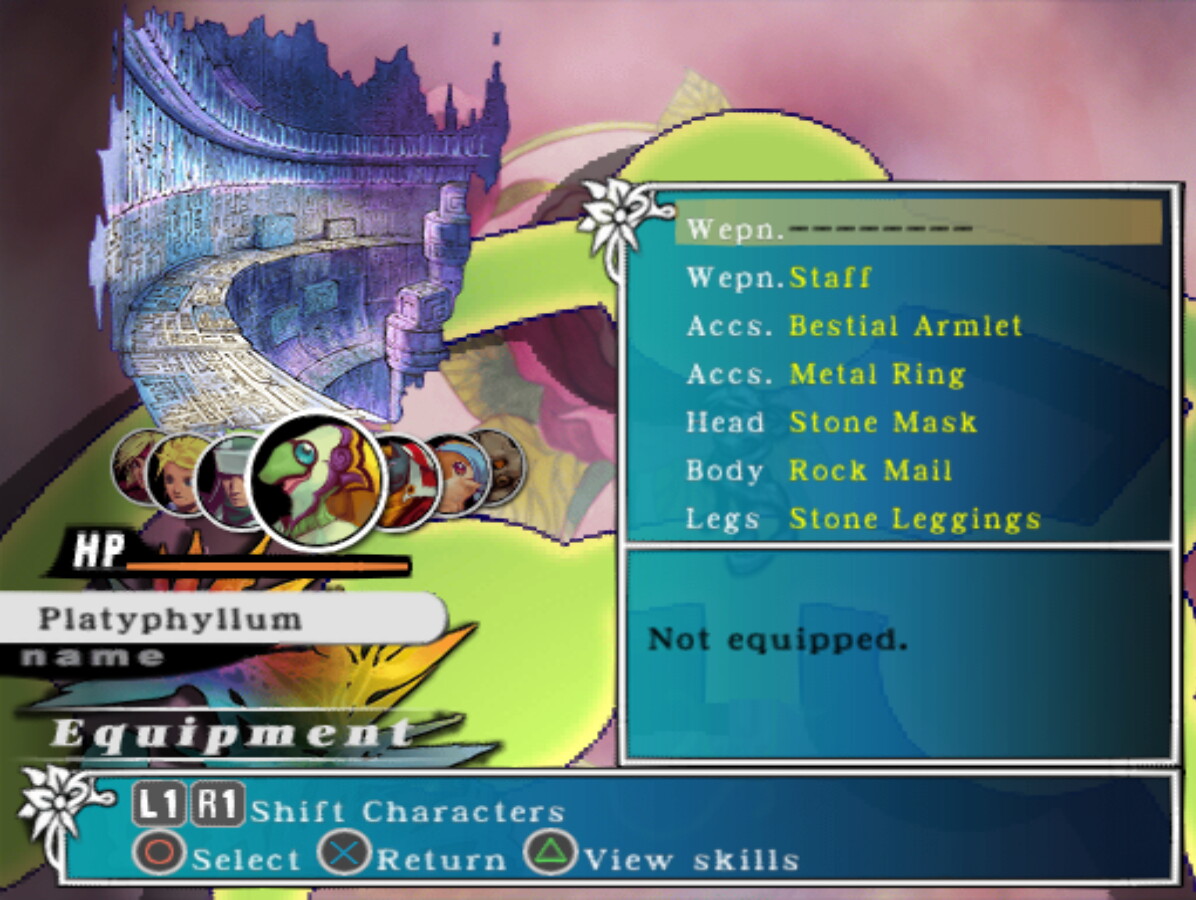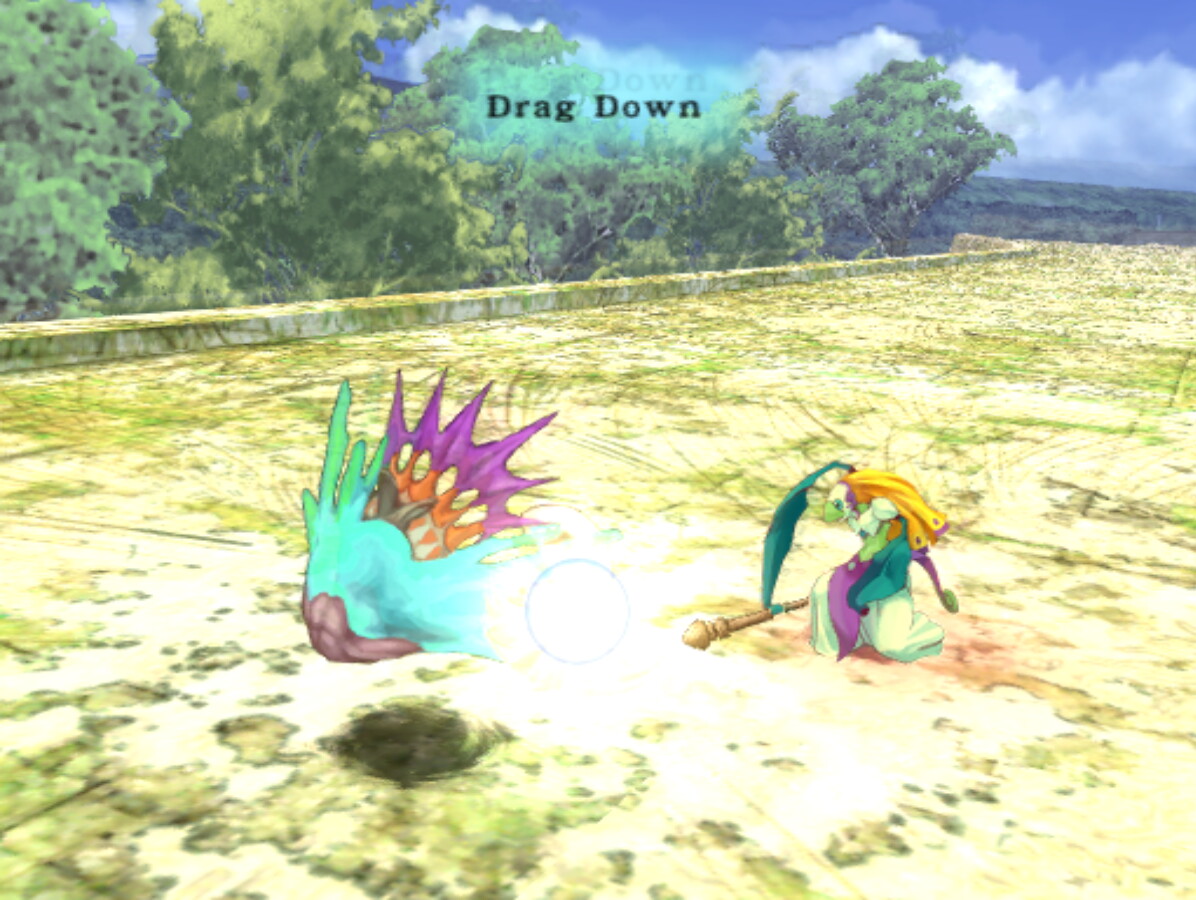 Paralleling their position as the Lilean Tribe's ambassador and support to Henri in his search for the Ring of Jupiter, Platyphyllum played largely a support role throughout the game. Their staff arts like Drag Down helped debuff enemies, and they made more use of their support Wood Arts like the ever-wonderful Missile Guard, as well as Life Boost, which I haven't utilized much in this entire diary.
In addition to the sometimes-convenient Eavesdrop skill, Platy was a pleasure to have as a participant in the party.
(... alliterationnnnnnnnn XD)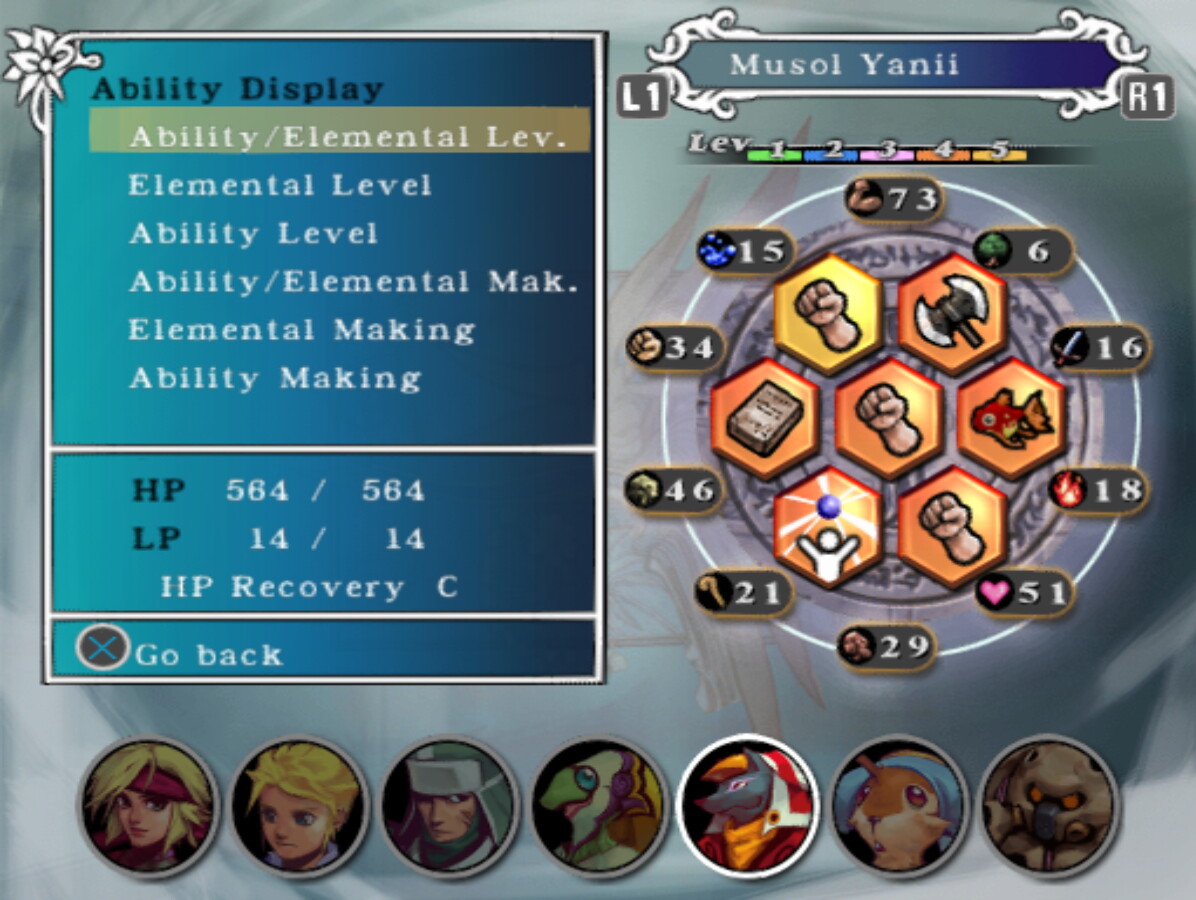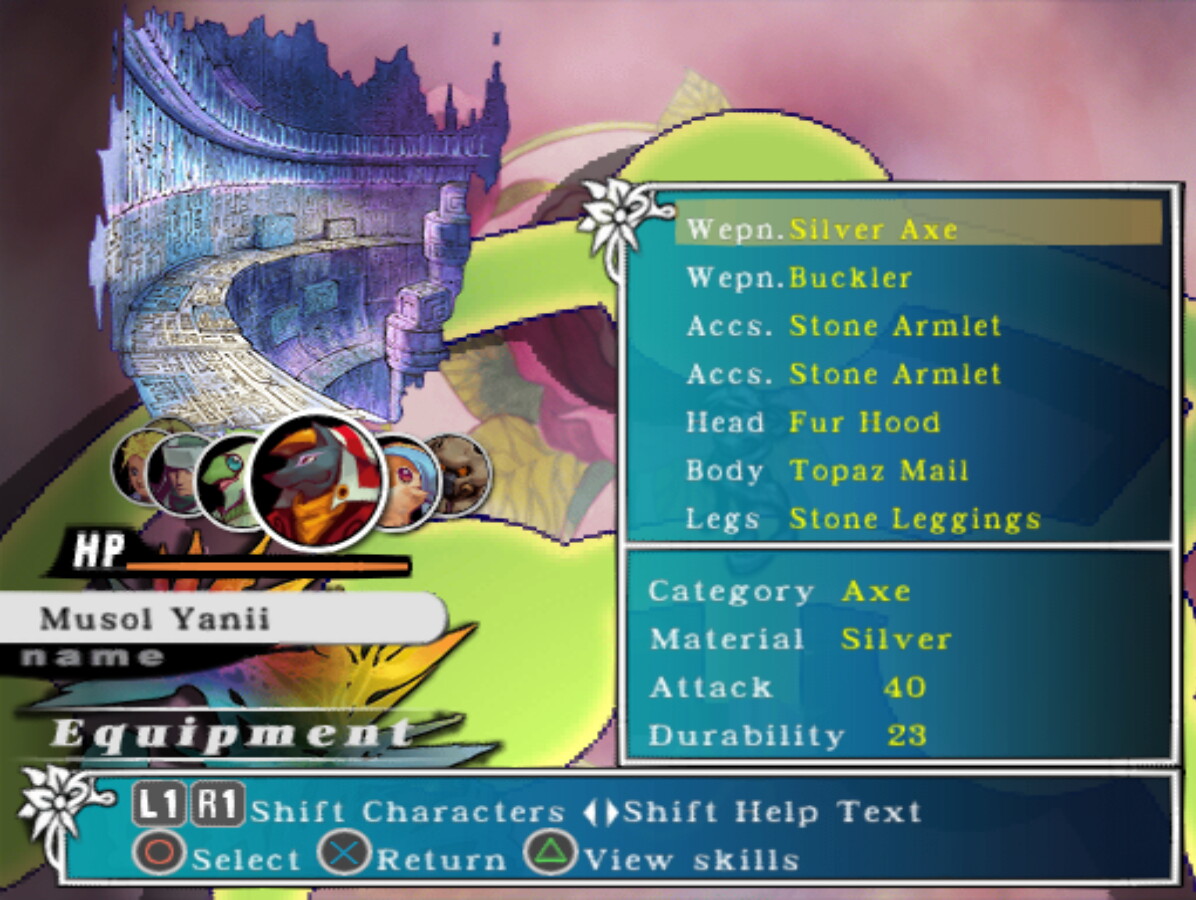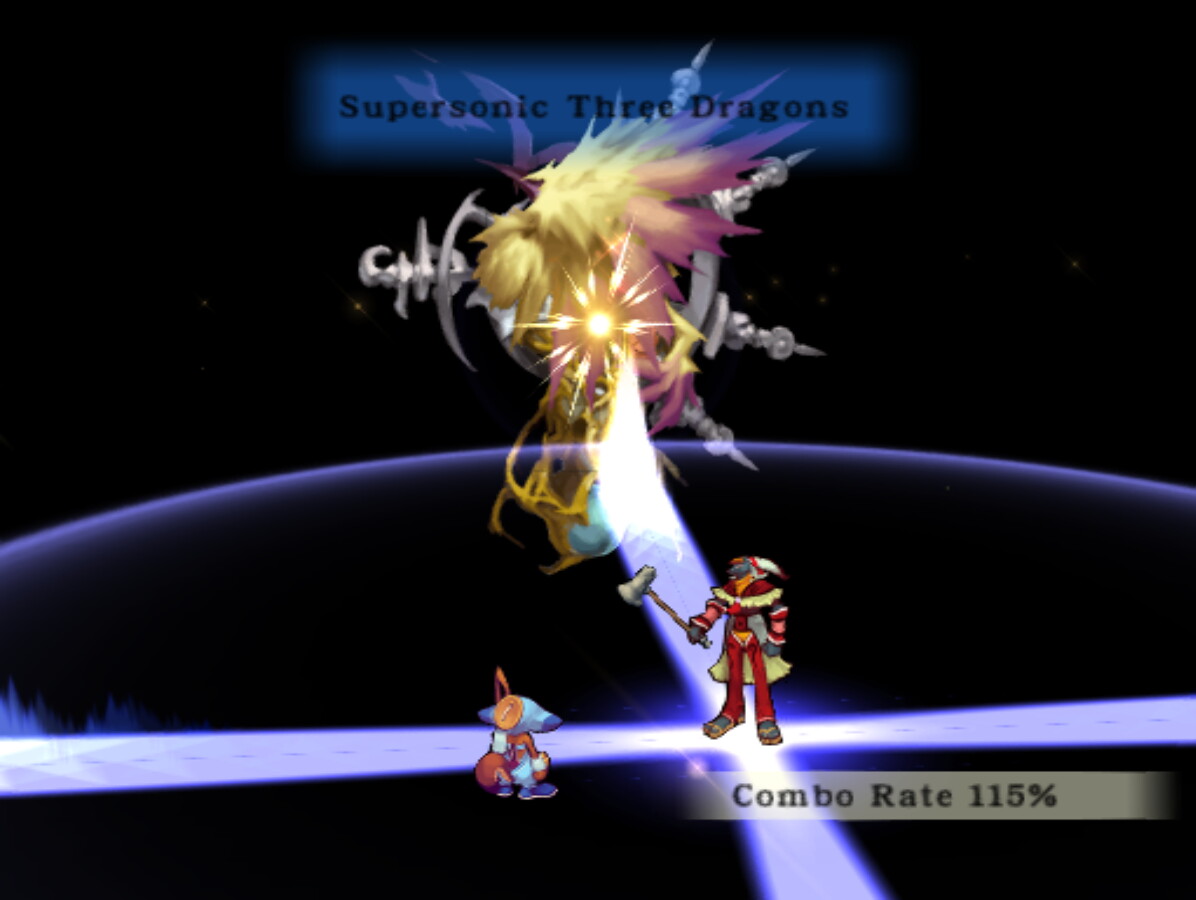 Originally intended as a situational axe-user, Musol Yanii turned a different road when we stumbled upon Silent Sorceress Siren's magic tablet, allowing him to learn and master a lot of great Metal Arts. The invaluable Magic Lock proved useful throughout the game, especially since we were heavily focused on treasures, and offensive arts like Supersonic allowed him to aid the bigger damage-dealers in battle quite well. As Henri's representative Anubito, he turned out to be quite helpful.
While he never ended up getting any great Axe arts to rival the power of Pharr, even with his huge Strength Making, his Heartbreaker Axe Art was still vital to the party, since it was the only art we had access to that could lower the enemy's Skill Level.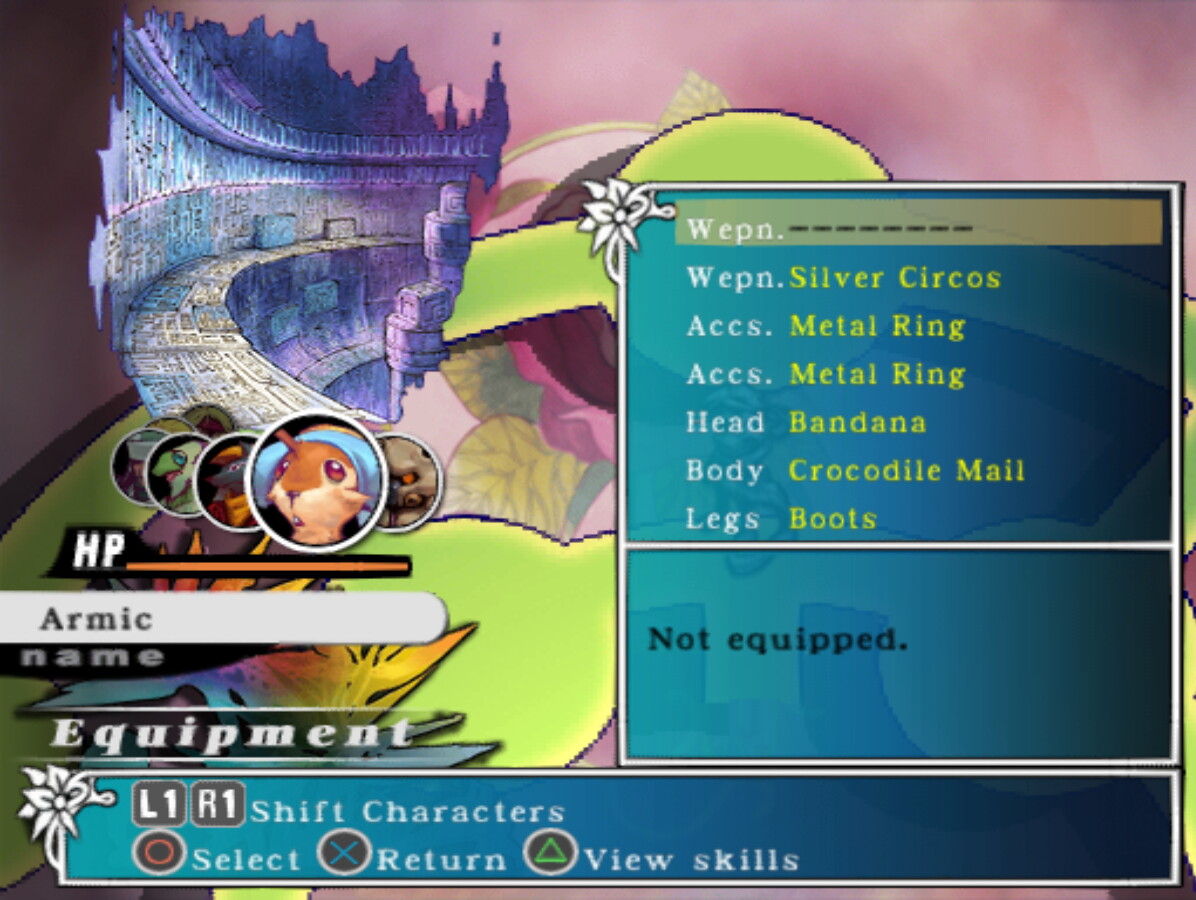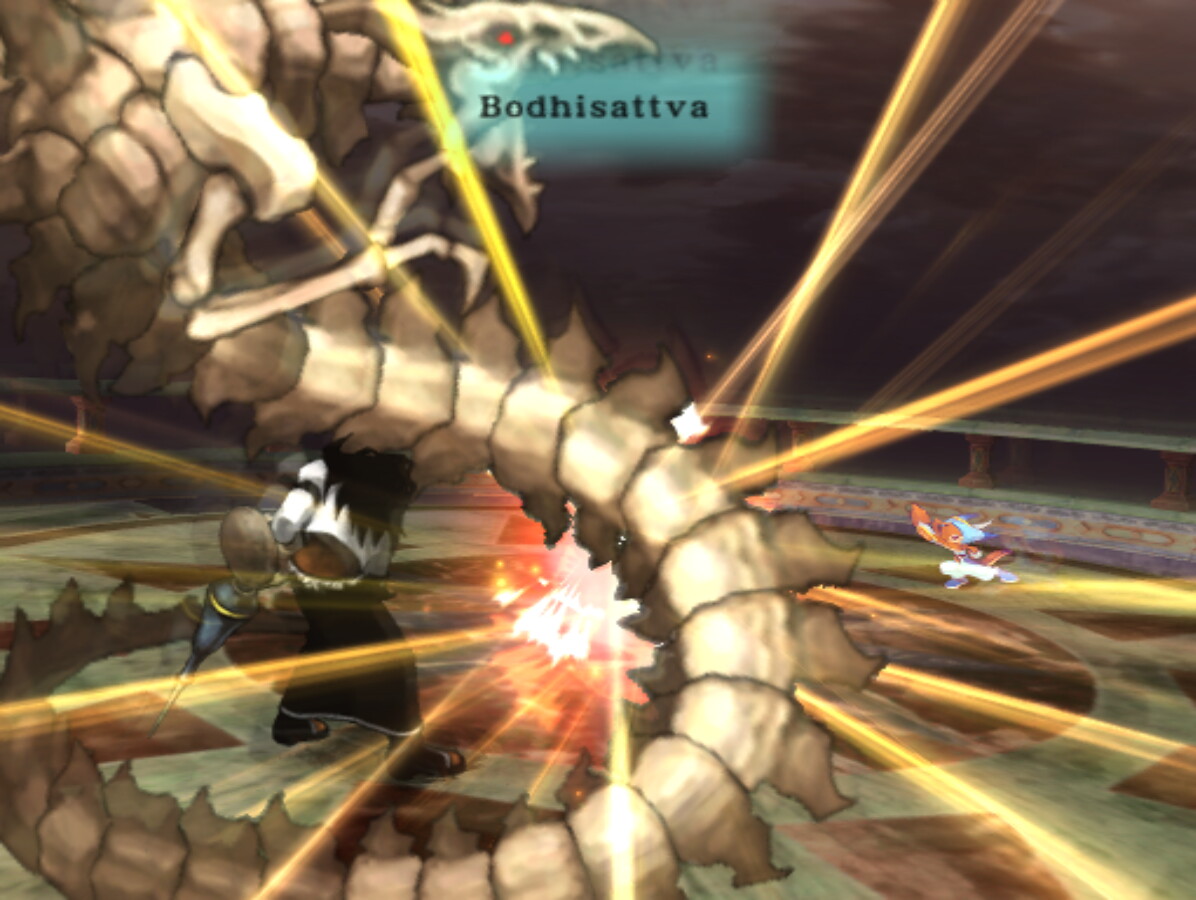 Armic, Henri's guide from the Chapa tribe, ended up being one of the most fun characters to play with in this run. While I had originally built him to be able to excel with both Water Arts and Martial Arts evenly, he never did get lucky with Magic Tablets, and ended up only knowing Purify by the end of the game. Nonetheless, he learned all of the top-tier light Martial Arts, and actually became one of the best, if not the best, damage-dealing party member in battle.
Healing and pummeling, Armic was also able to guide us through caves and swim us over water hazards, making him a very useful and entertaining (and adorable!) party member to have along for our adventures.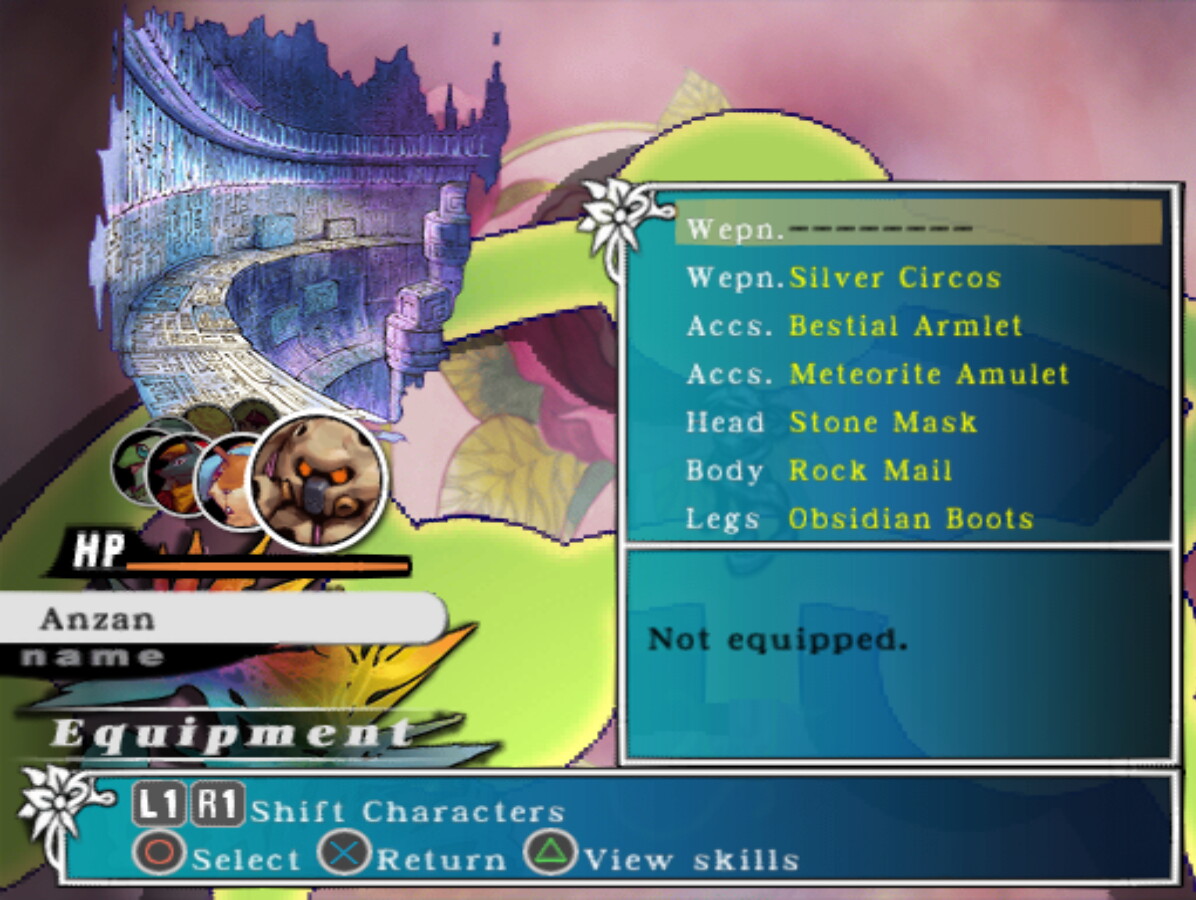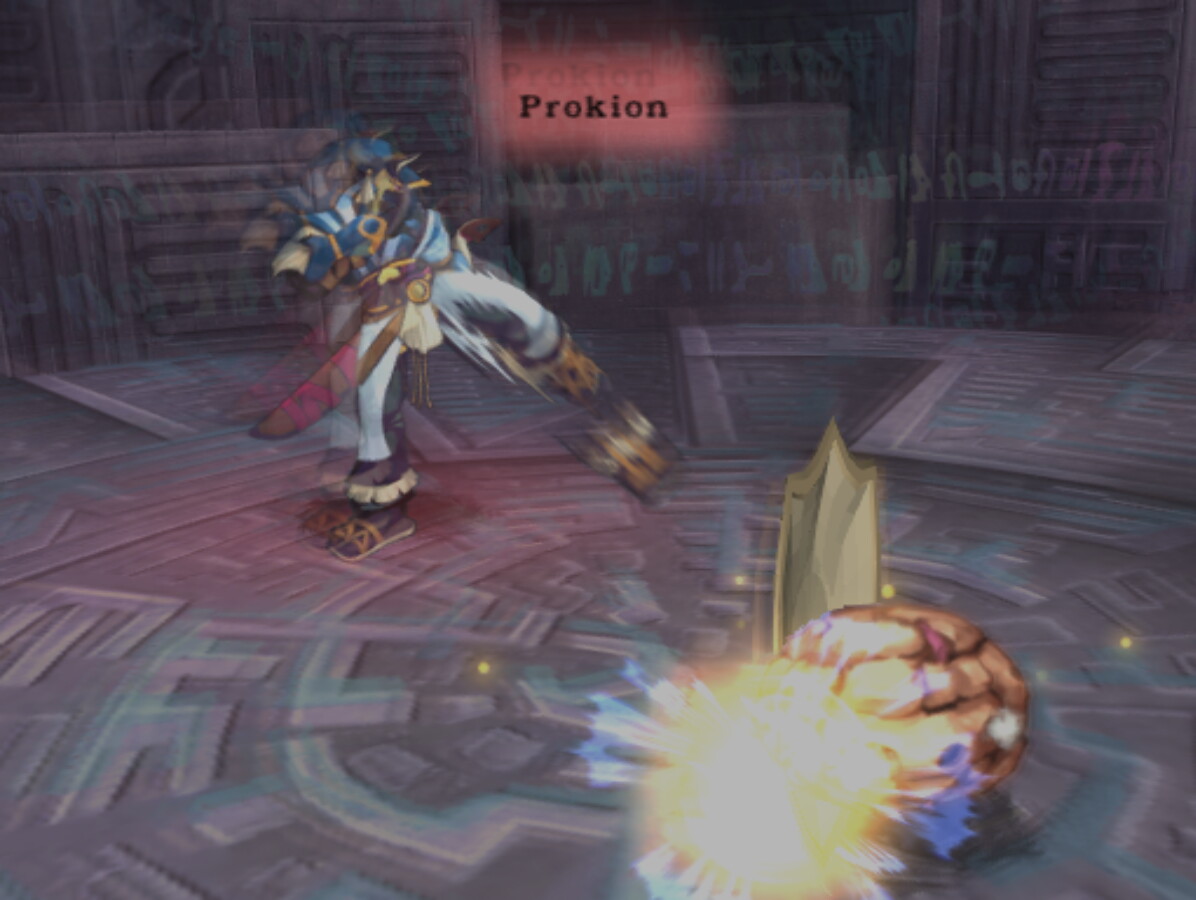 And lastly, we have our Petran friend Anzan. Anzan got very lucky with the magic tablet drops, so he has all kinds of great abilities, but of course, his natural role is still a big rock in the center of the field, absorbing up all the damage he can. But he was able to do quite a bit more with all his Earth and Metal Arts this time, from support with arts like Weapon Blessing and even some offense with things like Boulder and Shock.
And with his great HP recovery rate, Anzan was able to stay in the front of the formation easily throughout entire adventures.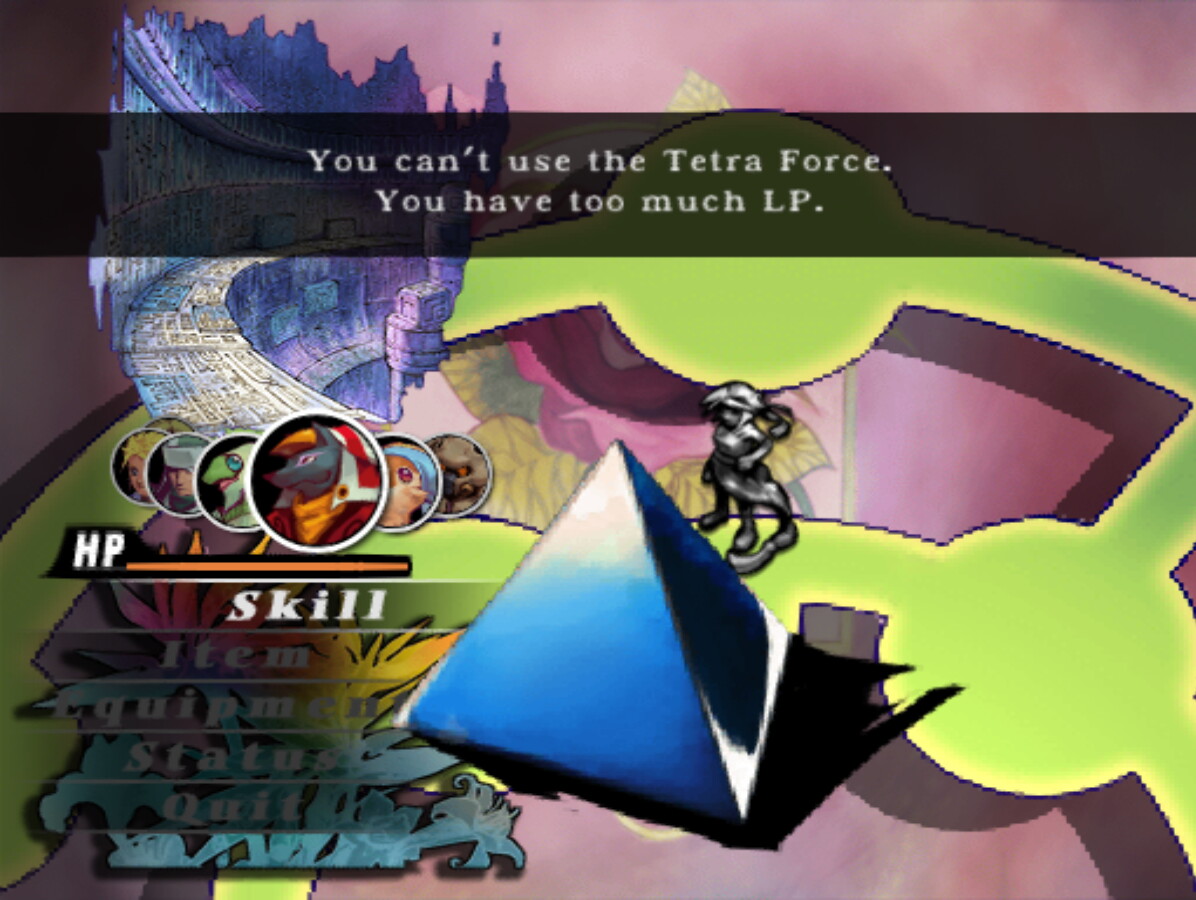 I mentioned before, but the main thing that makes Laura's scenario "difficult" is that once you reach the Tetra Force, you can't go back, so you're stuck with whatever party setup you have at that moment, and must continue on to the final boss. The Tetra Force is in the Laboratory area, and only after you've broken the seal to the center, which means the magic symbols on the ground will not teleport your back to the central area of the Lines.
Tetra Forces only work the first time you use them, and then subsequent times only if you have "low" LP (exactly how low it needs to be is unclear). The problem here is that not only can you not move back to the old areas, but the Laboratory area has no enemies in it, so there's no way to change your LP. The "low-LP" rule is to prevent you from essentially spamming the Tetra Force to 'reroll' your panels unlimitedly (even though this is UNLIMITED Saga...), but here it also just locks you out of powering up the party anymore all together.
The only option is to continue to the center of the Laboratory area, where we will encounter...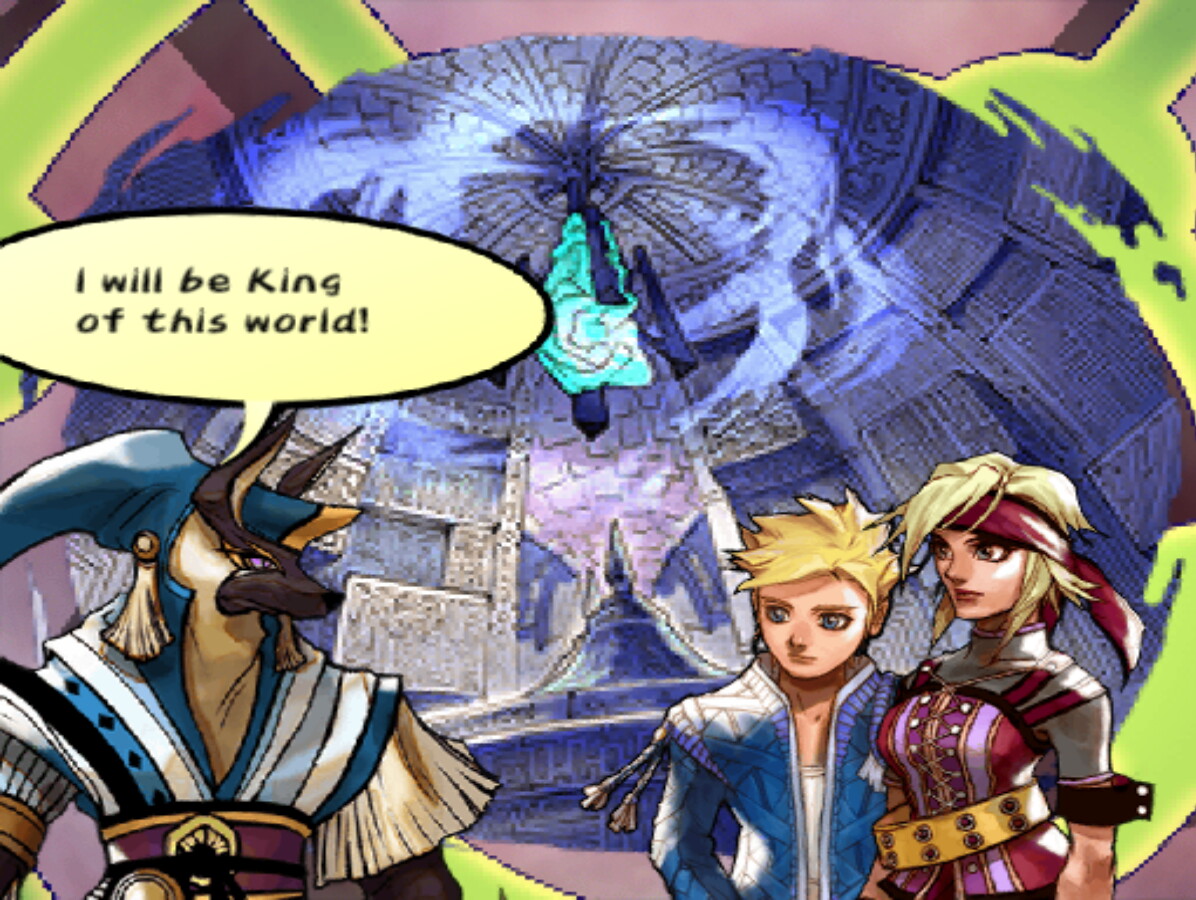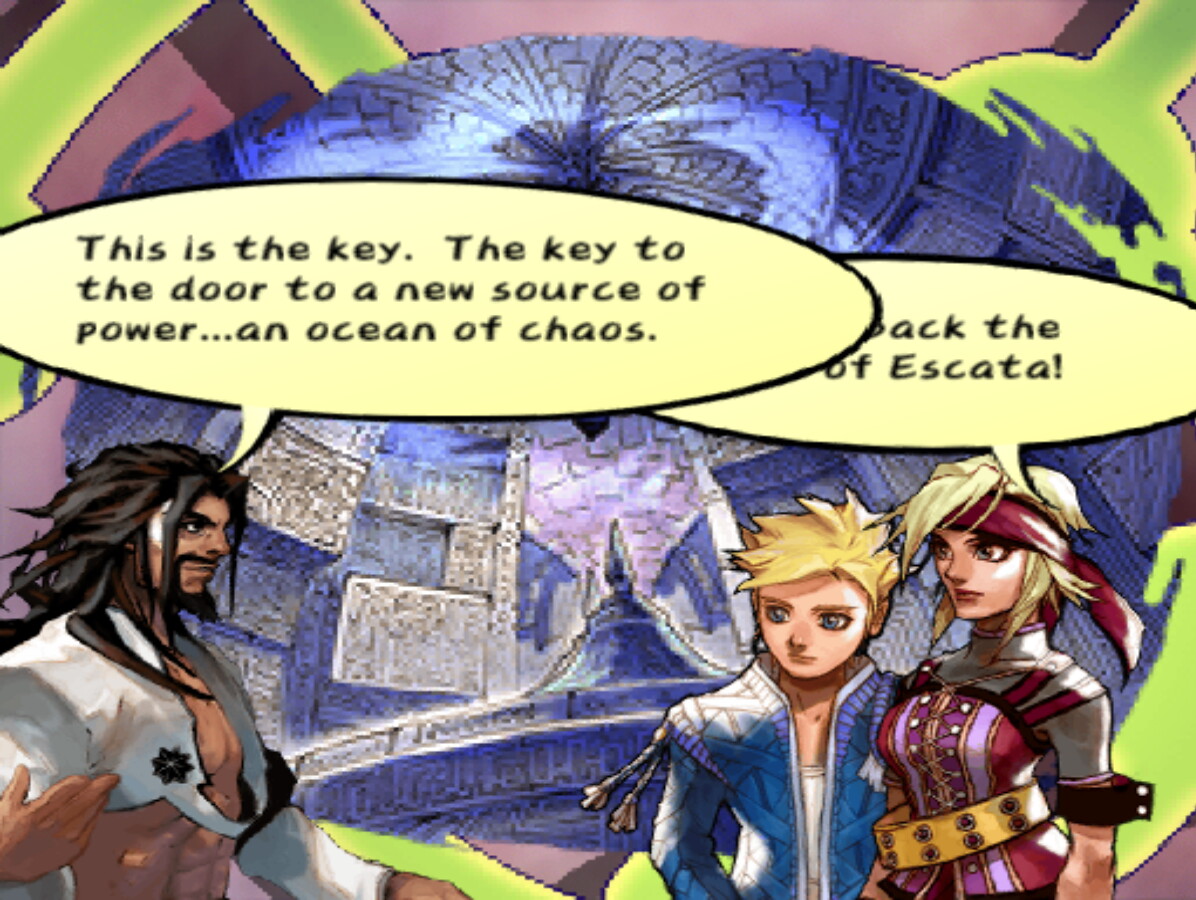 Either Dagul Bos or Galeos, depending on which story path we're on. Dagul Bos doesn't seem to entirely understand what the Blade and Gears are for, but knows that they'll give him great power, and decides to use that power to become the new world ruler. Galeos, however, seems to recognize the power in the Blade -- probably because his family was one of the keepers of the Gears -- and says that it's a key to unlocking a new kind of power, a wave of chaos. He says he doesn't even need that power to defeat us, though, and so we start a fight with either of them to try to prevent them from summoning this great power. But uh, I bet you know how that's going to turn out...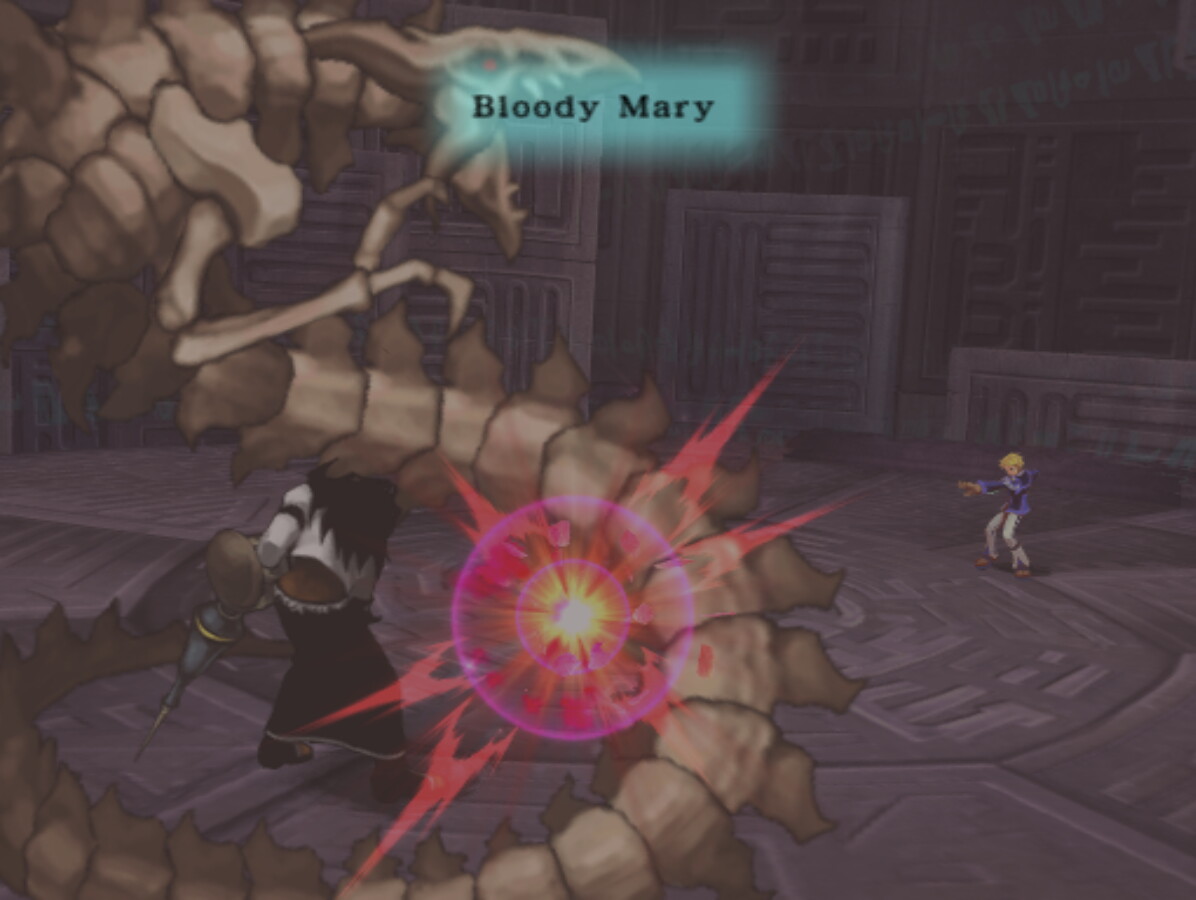 While the locale is different, the battles with Dagul Bos and Lord Galeos are the same as they were before when we fought each of them earlier in the story, which is a little disappointing. And after defeating either of them, they use their final bit of strength to call on the power of the Blade of Escata, powered up by the five Elemental Gears, and they summon Chaos.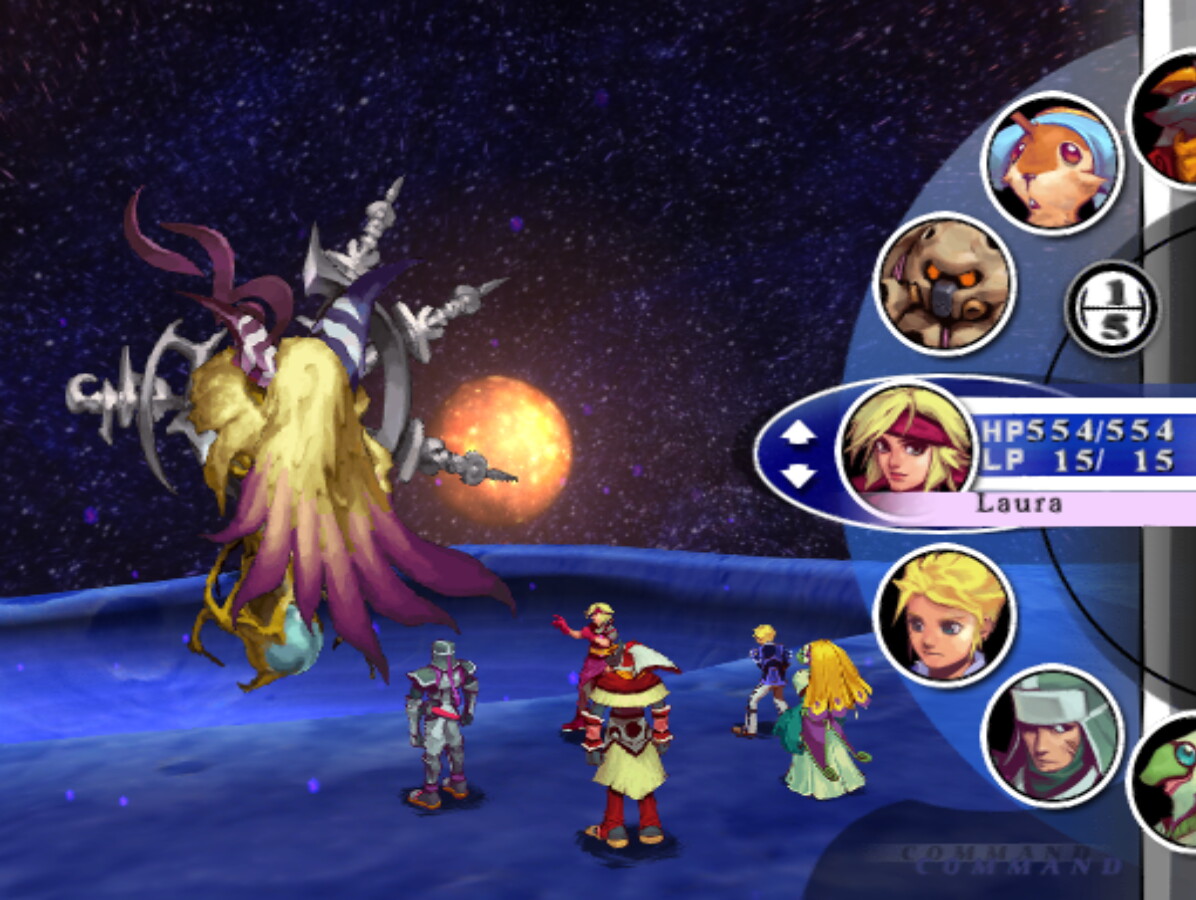 Yup, this again. At this point, the story paths converge back into the same thing again; there's no differences beyond this point, other than a few things that the characters yell out during the fight. Like Musol Yanii will call out to Dagul Bos and say he is a disgrace to the Anubito people. Actually, that's the only one I remember being different. Everyone else says fairly generic things that would work no matter what circumstances under which they arrived.
Henri, though, says, "Escata... Mother... Father... They were all killed to gain this power?!" with his voice transitioning from shocked to angry over the course of the line. And I loooove cheesy stuff like that, so I really love that line a lot, and it makes me love Henri so much XD I feel bad for him, though.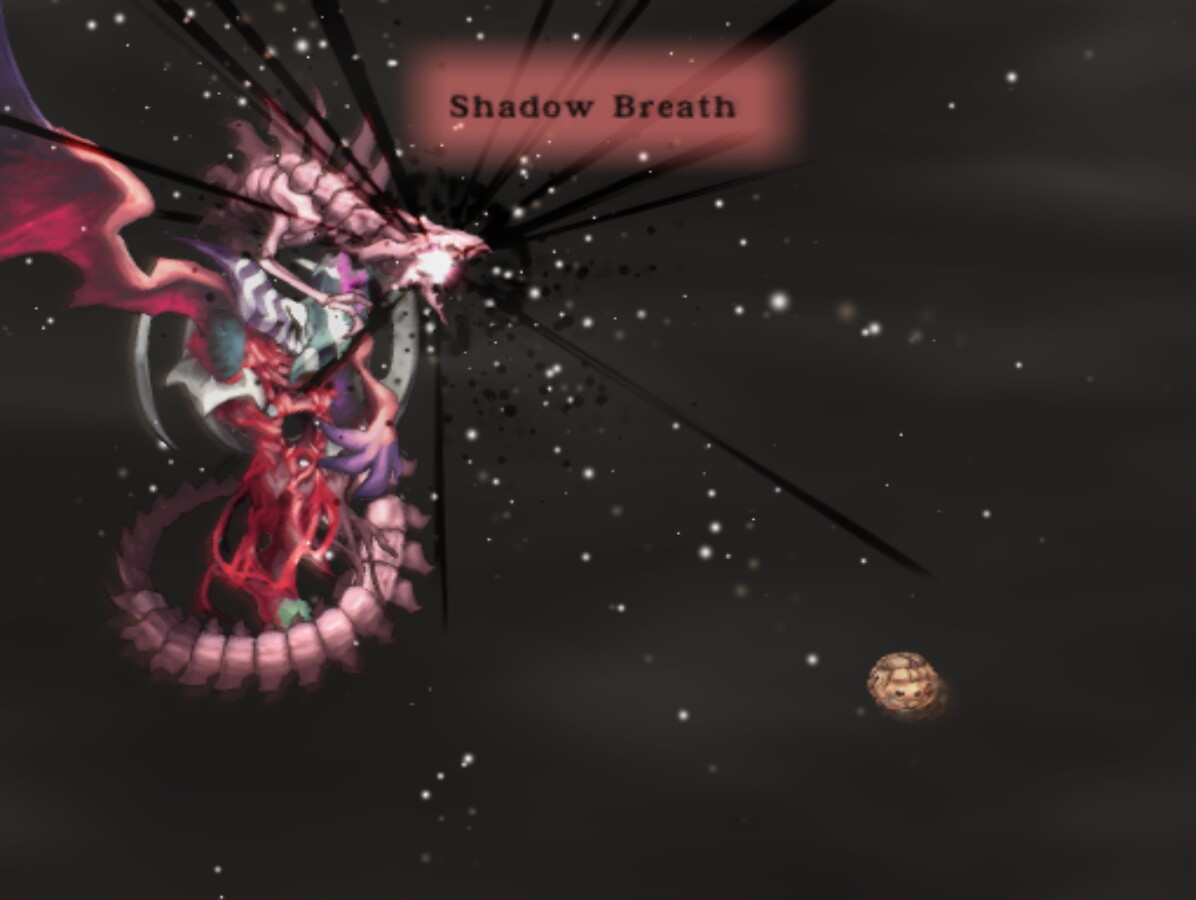 The battle plays out just like it did the last four times, pretty much. Like always, Chaos absorbs the soul of the person who summoned it, and gains a bit of their power. He has access to Dog goD that Dagul Bos uses (and, by the way, is Dagul's is the story path I never took before, so that's why I had never really seen the Dog goD art XD), which isn't too threatening, especially since it can be deflected easily enough. And then it gains the terrifying Shadow Breath from Dagul Bos's necropet (it even summons the thing when it uses the art, too!) which gives it access to yet another ability that can cause Blackout.
That one difference alone made the Galeos version of Chaos much more difficult to fight, as it required rescuing of party members and sometimes party members taking up space on the field and getting dangerously close to dying. In fact, I compared the timestamps of the save files between saving at the Tetra Force before the boss, and saving the clear data at the ending of the game, and it took me ten minutes longer to defeat the Galeos version of the final boss.
And in the Dagul version, I had actually lost access to Heartbreaker because when I tried to add the Opal to Musol's Silver Axe, it not only failed to change it into Faerie Silver, but it also un-released the Bash ability from it... and Musol never managed to release it again before reaching the end of the game. So we weren't able to lower Dagul or Chaos's Skill Level at all, making it harder to deal LP damage. Plus, Francis had actually glimmered Zapper while fighting Dagul Bos himself, allowing us to chip away at Chaos's LP earlier while still breaking down its HP. But even with both Zapper and Heartbreaker, it took ten minutes longer...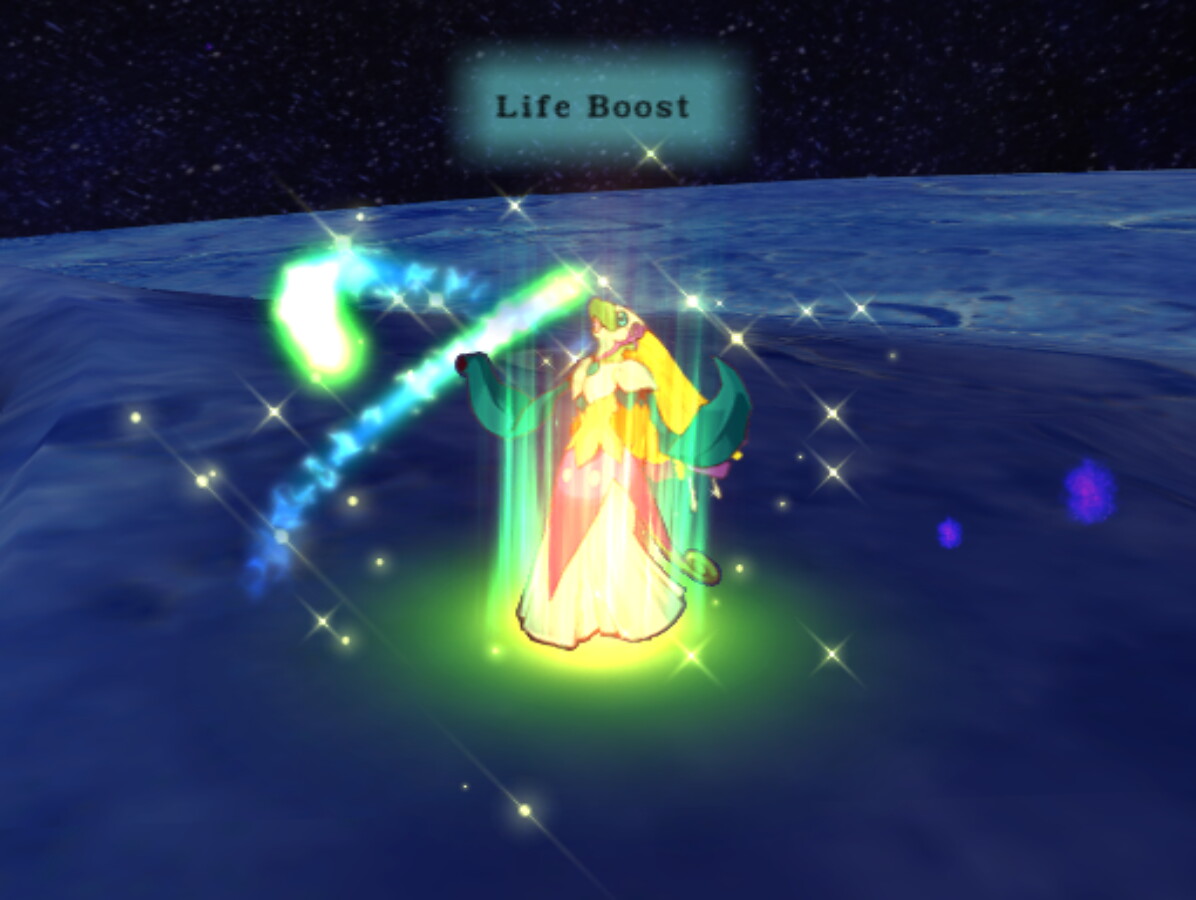 The only really tanky character we had this time around was Anzan, and the only access to healing we had was Armic's Purify. Anzan could pretty easily stay in front of the formation if he could be healed only just once per round of combat -- but the problem with this was that sometimes Armic would get hurt, and we'd lose access to healing. So an alternate strategy formed, using Life Boost, which increases the amount of HP the target recovers during their 'resting' time outside of battle. Using Life Boost on Musol Yanii allowed him to step in for Anzan when Armic needed a break. Anzan's HP regeneration is already very high, and with Life Boost on him, too, he only need to rest for a single turn to be in fighting shape again.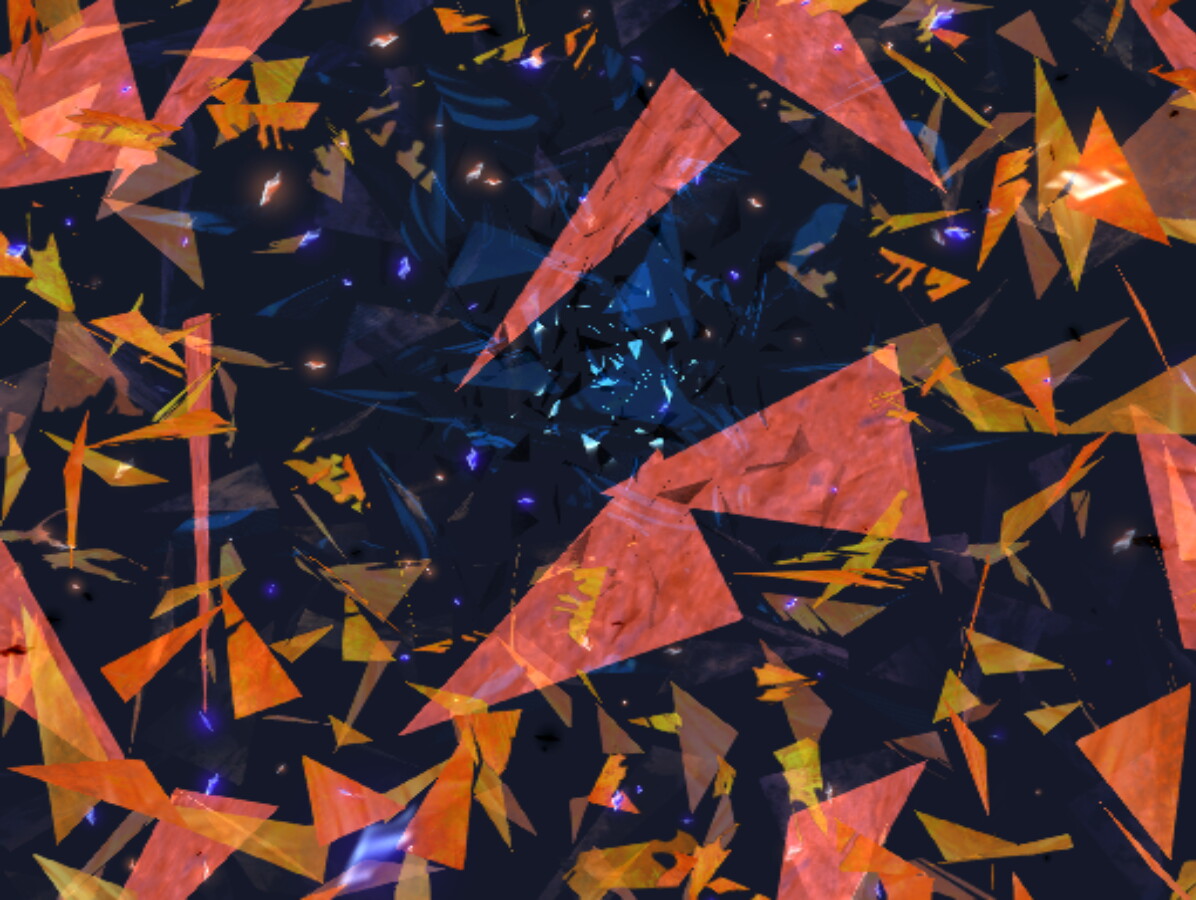 In the end, we didn't have too much access to LP-damaging attacks. Henri had Bloody Mary, which isn't as good as Puree, but could still do good damage once Chaos's HP was low. Francis had Zapper in the Galeos version of the battle, which was surprisingly effective; he was able to deal LP damage to Chaos long before anyone else could, and it drained a lot of HP from him as well. In the end, though, Armic ended up being the strongest damage-dealer, somewhat surprisingly, with Three Dragons and Bodhisattva. I tried comparing them to see if one was stronger, and it seems that Three Dragons consistently deals a little more damage than Bodhisattva, though not terribly too much more. So if you're trying to maximize a character's damage output but can only go for one of the light martial arts, go for Kicks... Though, honestly, I think Bodhisattva's animation is a lot more fun.
Anyway, at this point, it's getting really hard to comment on the Chaos battles because while there is a different party and Chaos absorbs a different ability each time, the character growth system in this game means that you will utilize the same types of strategies no matter which characters you build, since they all have access to the same weapons and arts. That's not a complaint at all, since there are so many options you can make a lot of different combinations and it does feel different every time, it's just that this battle itself is not different enough to where I really feel like there's much more I can say about it after doing it five times.
So, uh, Chaos falls, and we jump back down from the moon.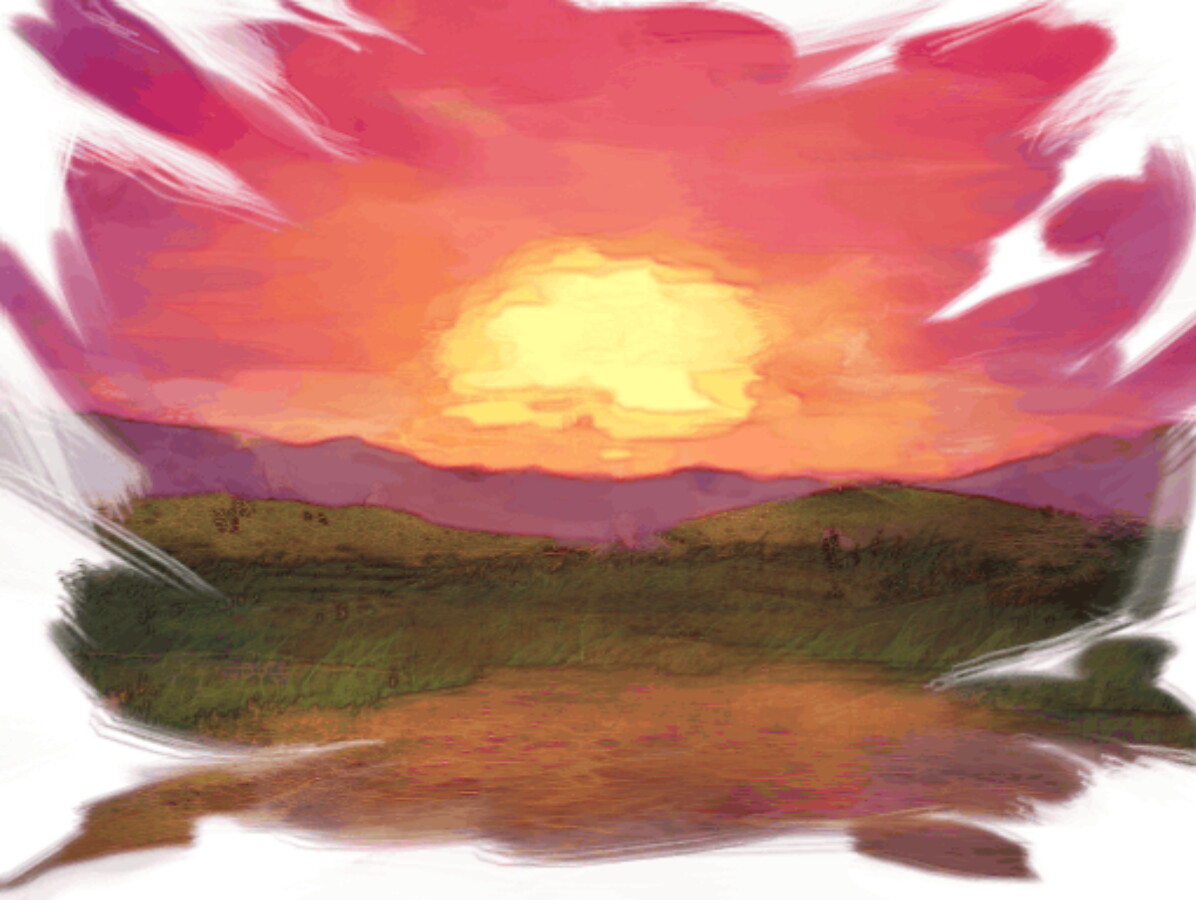 The first thing we see after the battle is a sunset. Or a sunrise. A sunsomething. It's pretty!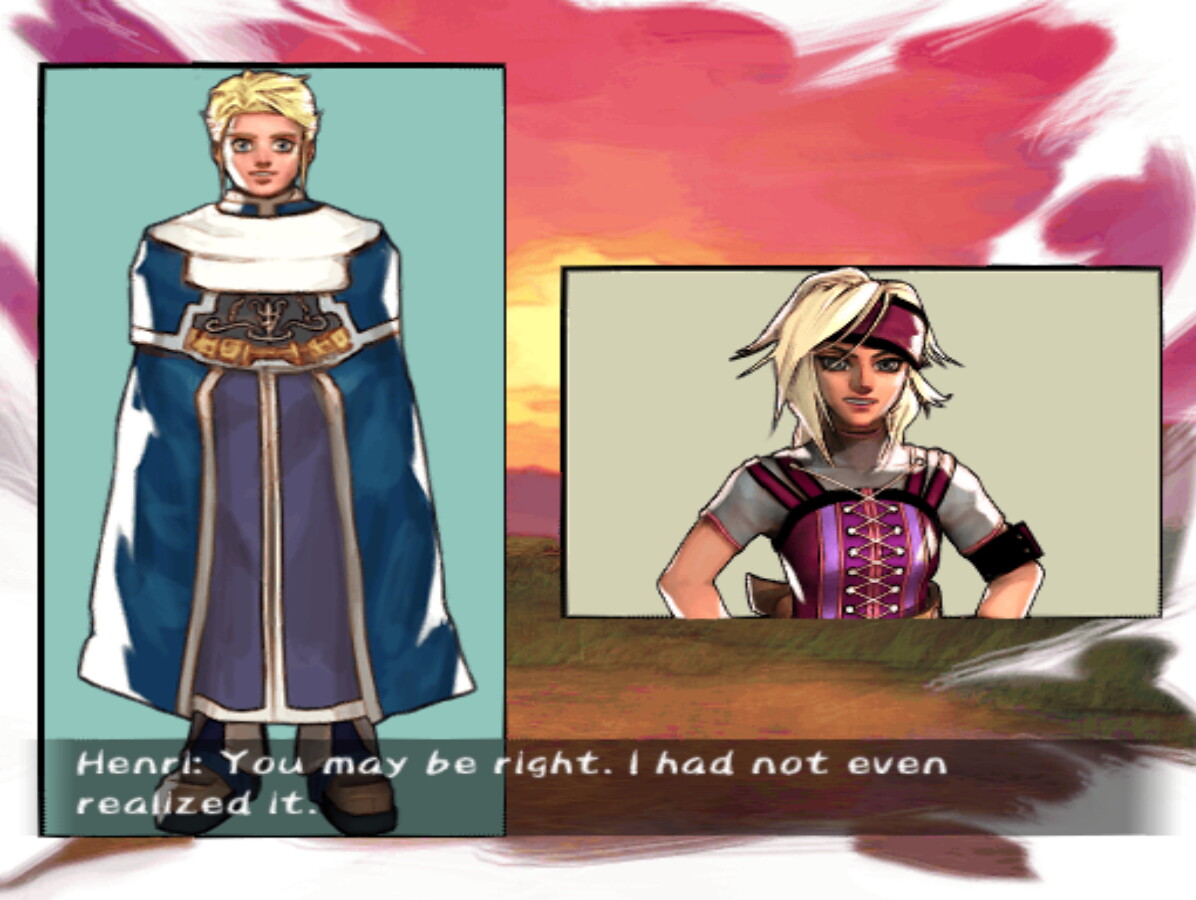 Laura tells Henri that she thinks he's gotten a bit taller. It seems that this takes place a bit in the future, because we're probably in or just outside Escata, which is being rebuilt, and, Henri has some new clothes. I really hope he wasn't carrying those around the entire time we were on this journey lol.
Anyway, Henri comments that he hadn't even noticed himself get taller (... does anyone notice themselves get taller...?) and Laura tells him that he is a fine young man who will be the one to lead Escata in its rebuilding.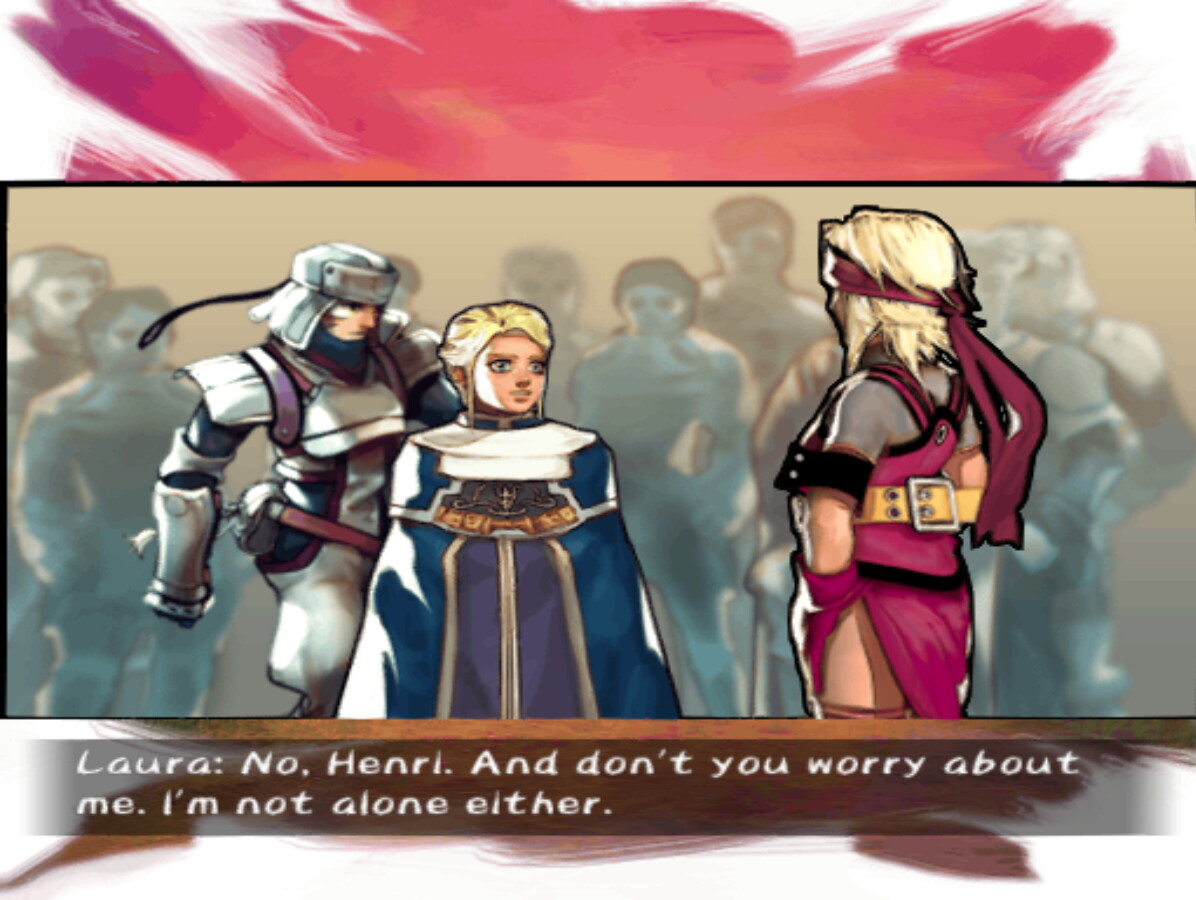 Henri, though, says that Laura's help is still needed, and begs her to stay; however, Laura bluntly replies, "No."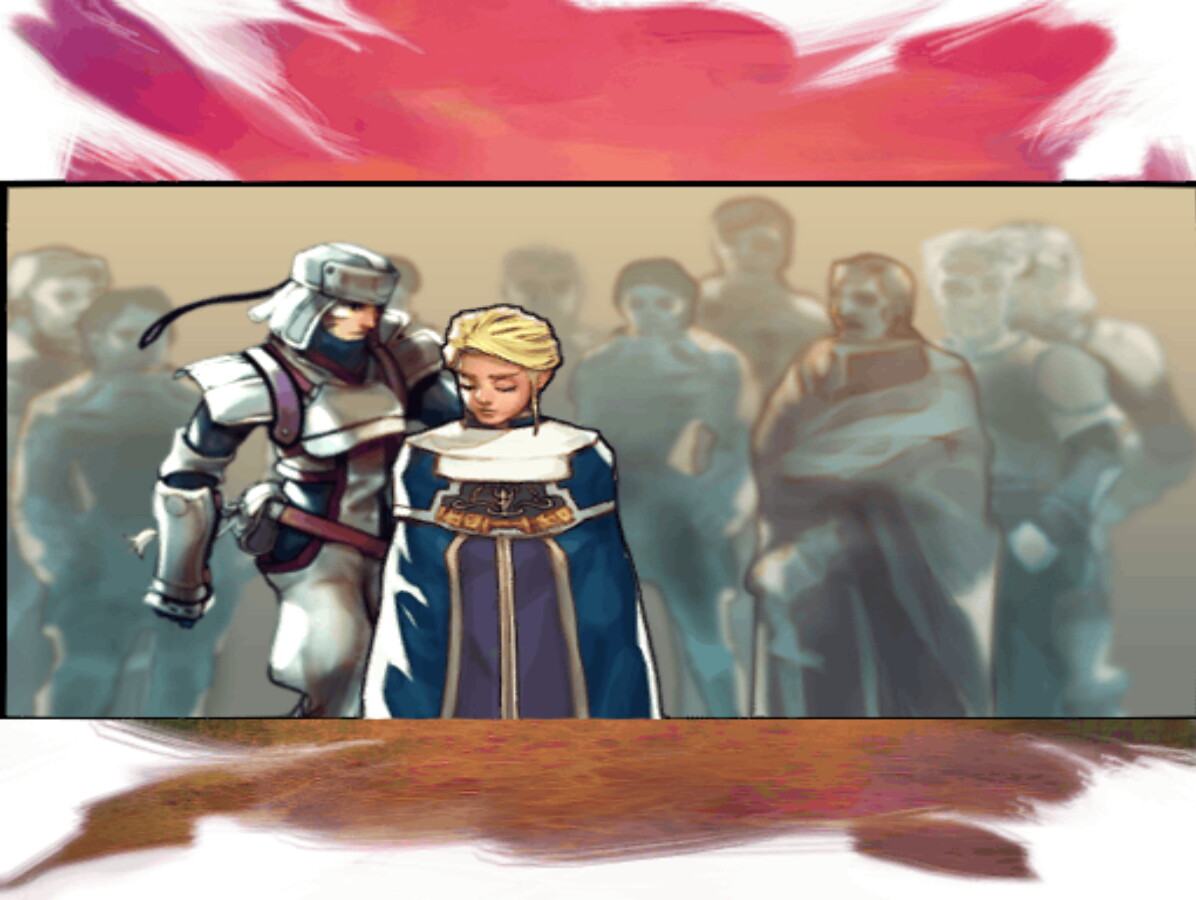 And with that, Laura leaves Henri alone...
Henri begins to cry, and Francis reminds him that "we cannot have tears." Henri dismisses the advice, saying that Laura cannot see him. If you remember, Henri promised himself never to let Laura see him cry again. Now that she is gone, he finally lets his tears out... But he doesn't seem ashamed of it. He seems to have a lot more confidence in himself now, and carries himself proudly. He isn't even ashamed to cry in front of the people of Escata. I'm sure he doesn't need Laura's help; he was only asking her to stay because he wants to be near her.
But I think Laura realized it was time for the two to part. Henri lost his parents still as a child, and Laura was able to fill that hole in his life. But her time of being a mother-like figure to Henri is over, and she knows that he has to move on and rule Escata without relying on her anymore. In a way, this is how Henri is "leaving the nest," I guess, but it's Laura who is the one literally leaving.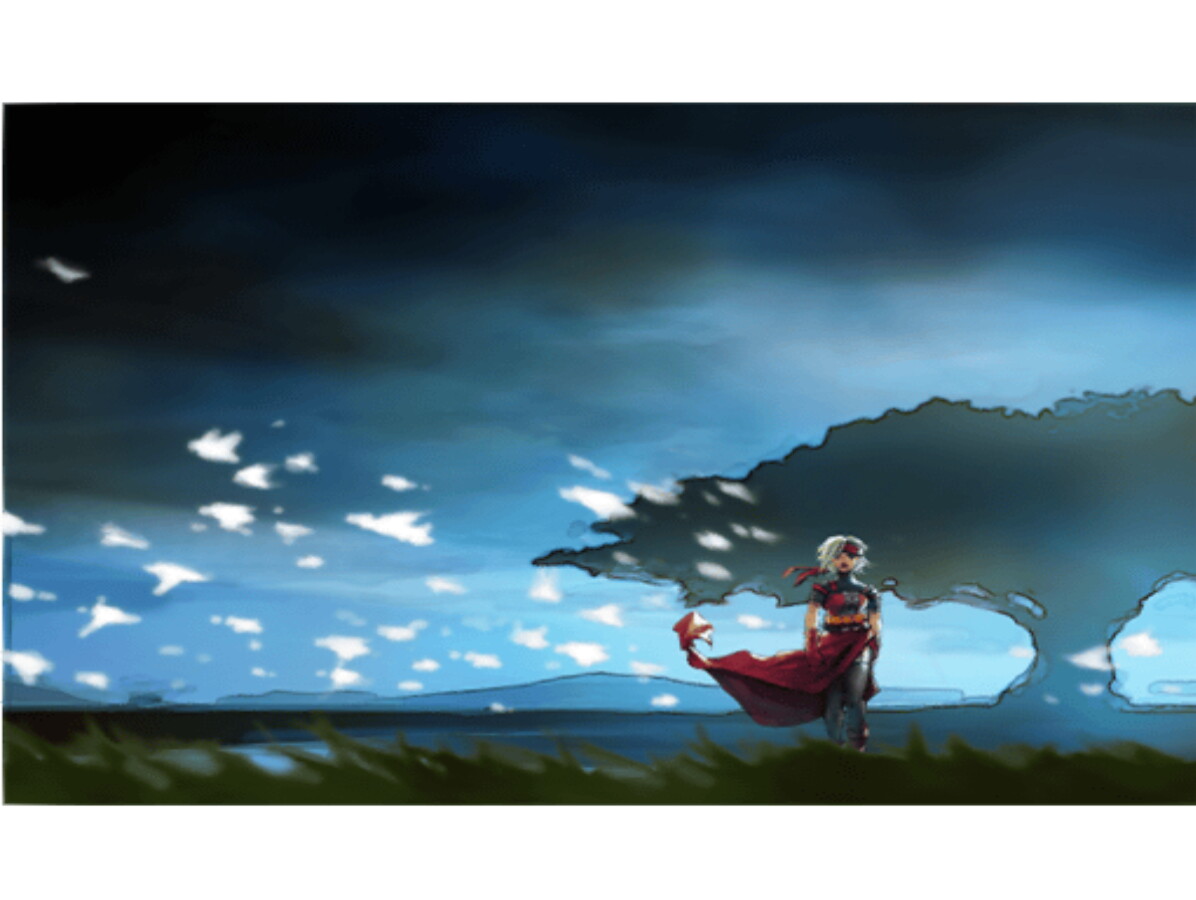 And so Laura begins her journey back home, alone. Of course, it wasn't just Henri that needed Laura -- Laura herself started to realize she had been overcome with loneliness after losing Pablo, and her journey with Henri helped her to heal and realize that she was never really alone in this world. Helping rebuild Escata and meeting people from all the different tribes of the world seems to have given her a new outlook on life, and she's no longer unwilling to travel by herself.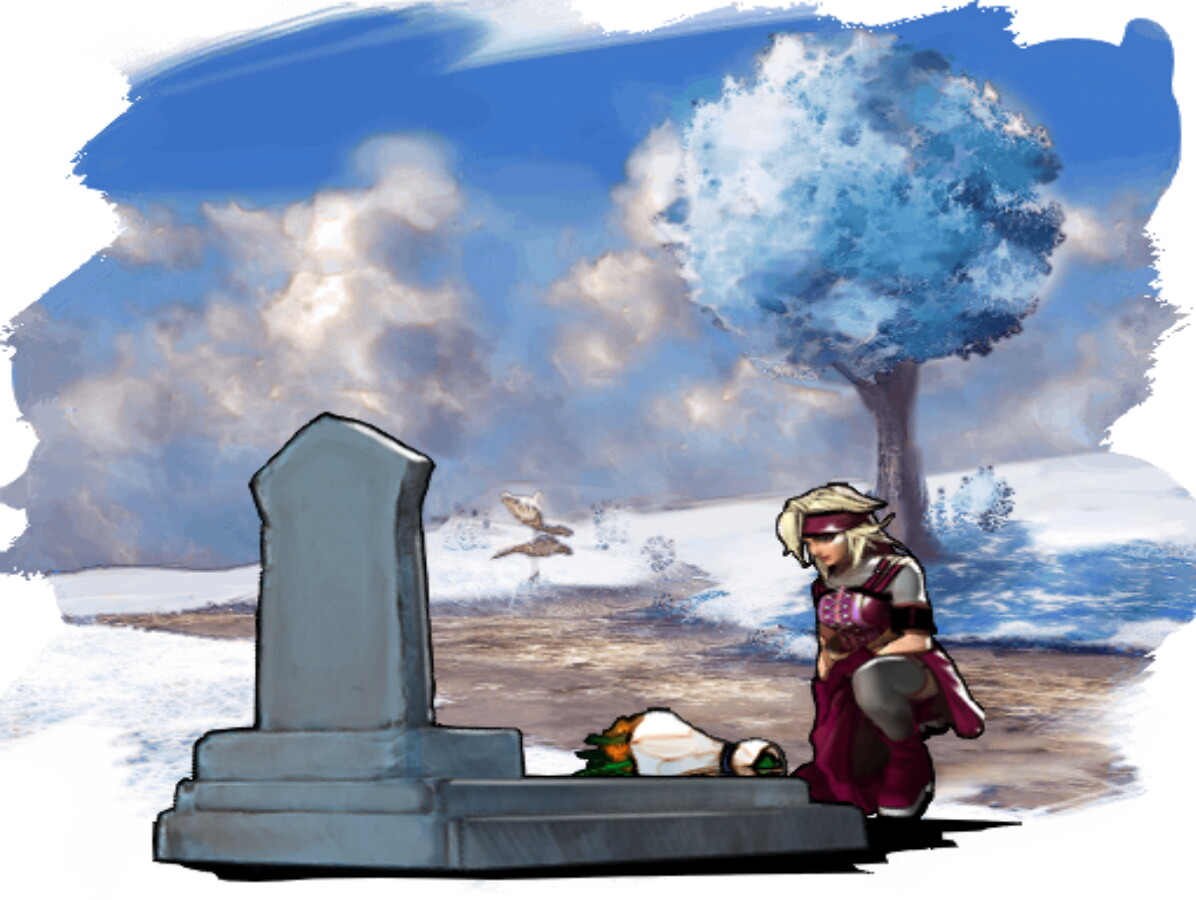 Laura returns to her home of Nivacolina, stopping by the grave of her departed husband...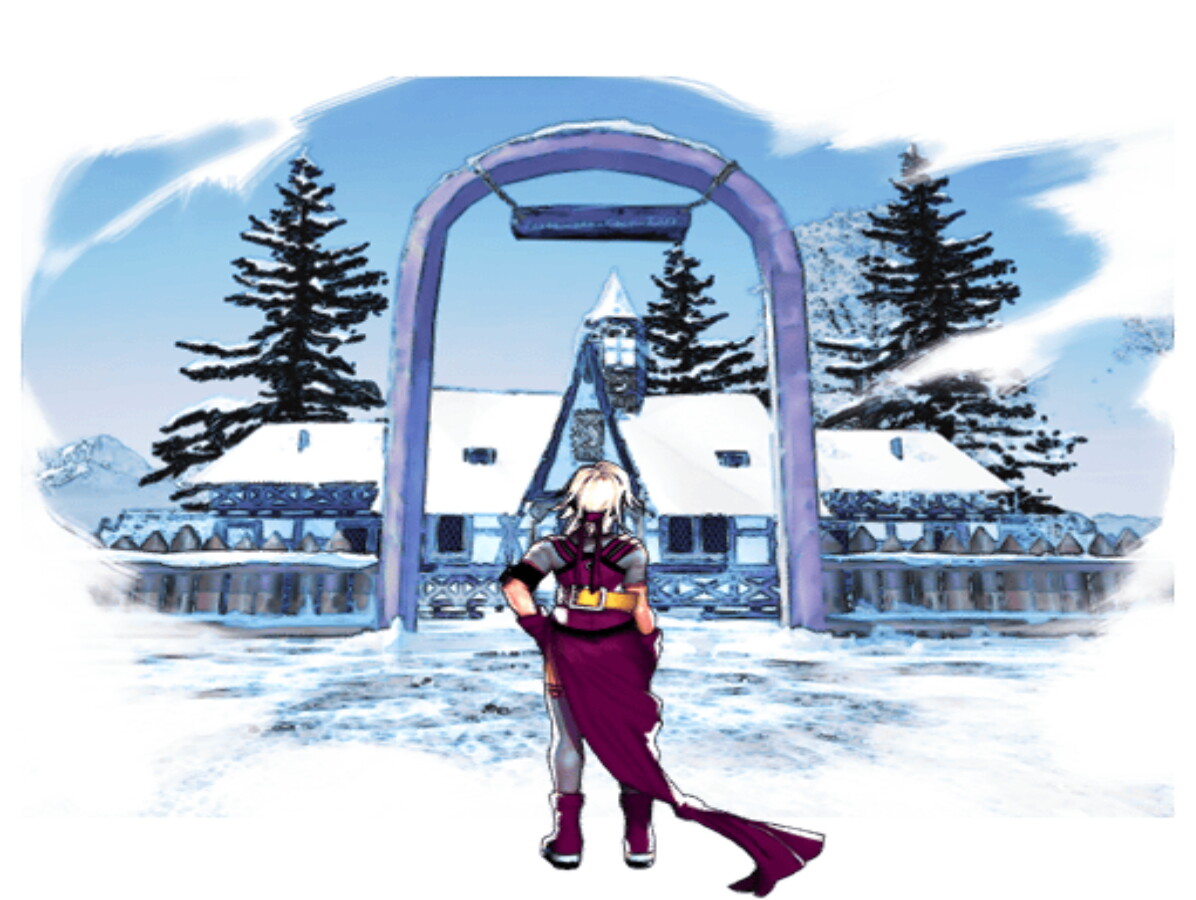 And looks upon the school where he once taught the local children.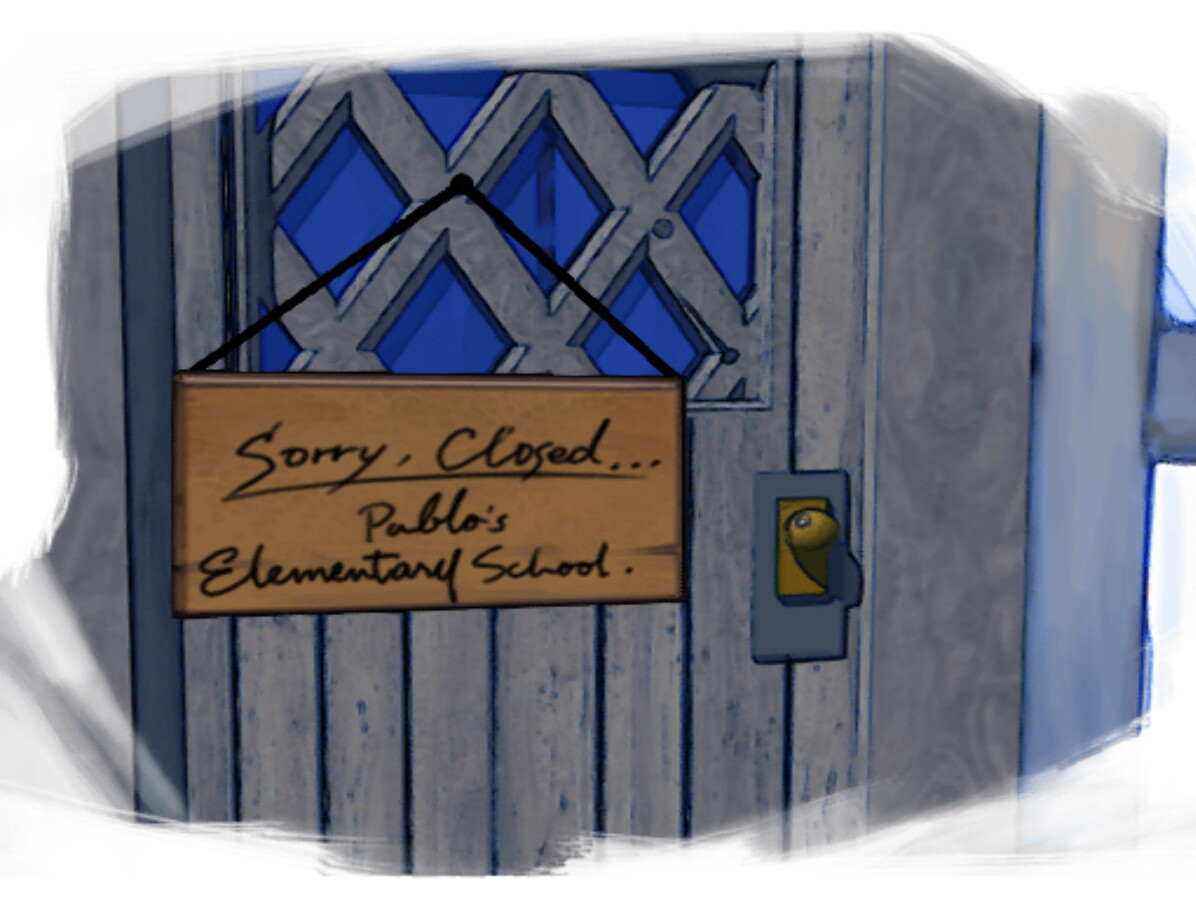 The "closed" sign still rests on the door... will these reminders bring sorrow back into Laura's life again?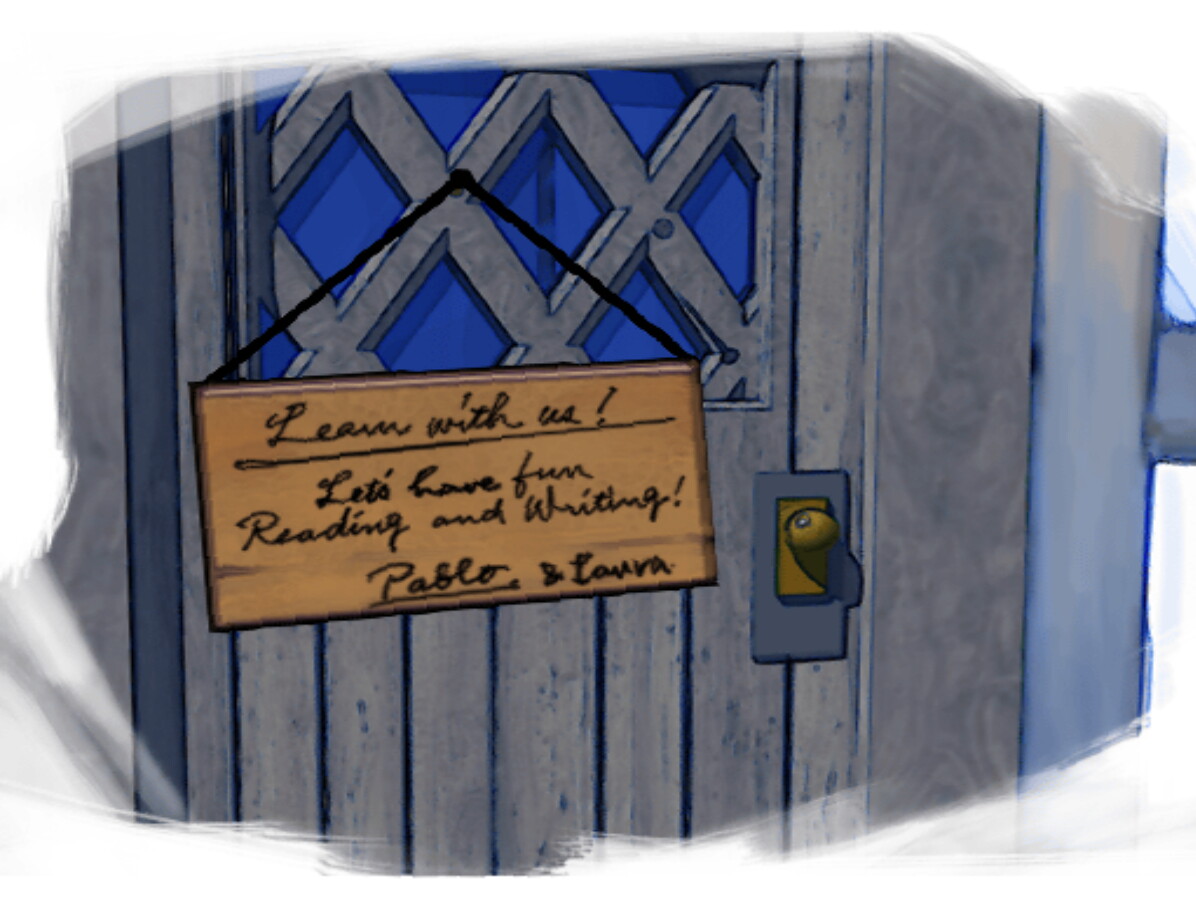 Laura turns the sign around, adding her own name to the end. The school is open once again! We can hear Laura's voice from inside, encouraging the children as they learn.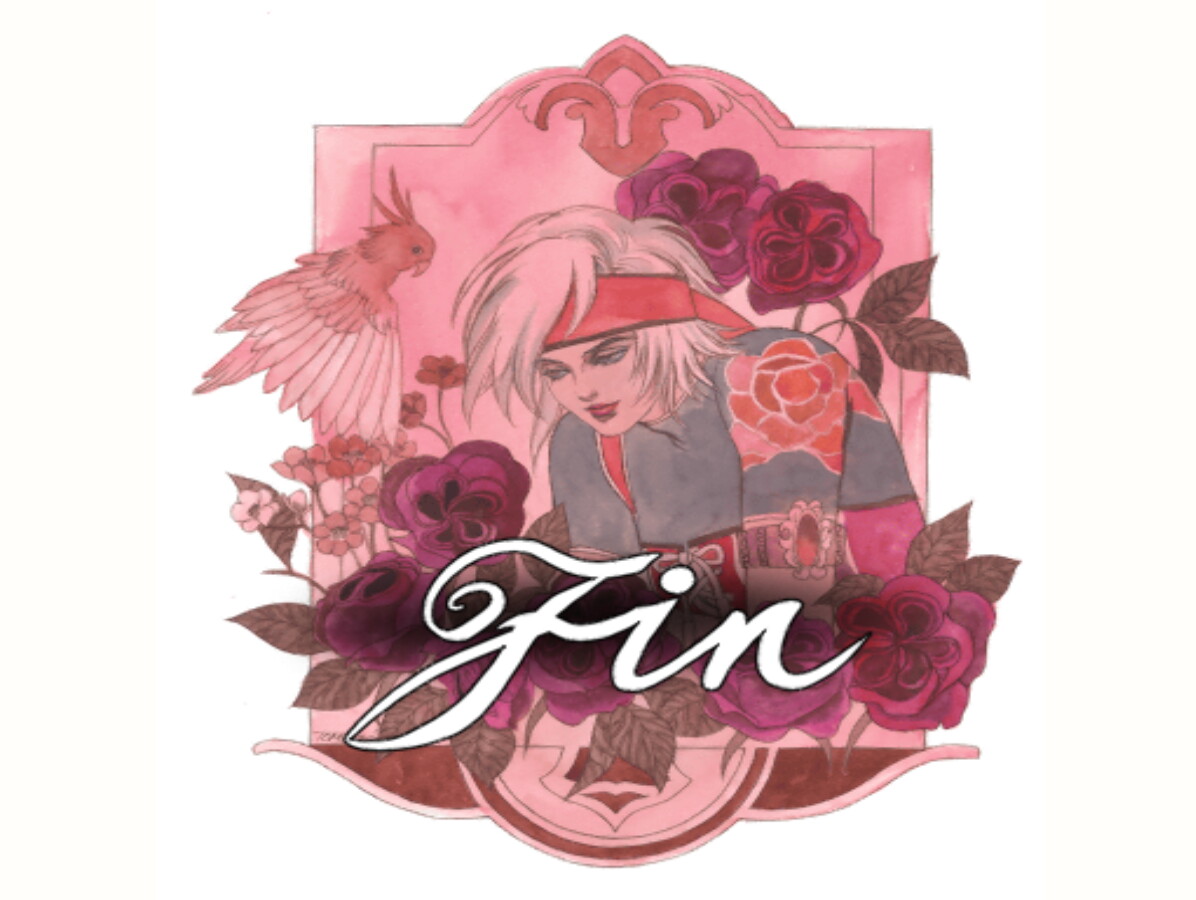 And with that, Laura's story comes to its close.
It seems that through her adventures, Laura not only was able to escape her loneliness, but realized the importance that youth will play in the future, and decided to dedicate herself to making that future brighter through teaching.
Personally, I really love this ending. It's bittersweet, with Henri and Laura having to part, after they had grown so close, but both of them parting because they move on to fulfill important roles in their own life and grow on their own, something they could not have done while they were still dependent on each other. I really love seeing the way that both Laura and Henri have grown and matured over the course of their journey, and how they each learned things about themselves, each other, and the world by traveling together. There isn't really a lot of character development in this game (or this series in general), so I think this story was written especially nicely for a SaGa story.
While the growth was subtle and there's very little narrative in general to really allow you to notice the change throughout the game, through the ending I think you can really tell that Laura and Henri both have become different people and grown from their experiences. While it's not much for other games or stories, it's a lot for this one. And I think that it's a real shame that Laura's story seemed to get the worst attention from the localization staff (which is especially weird since Laura and Henri are in the front of all of the game's promotional materials...)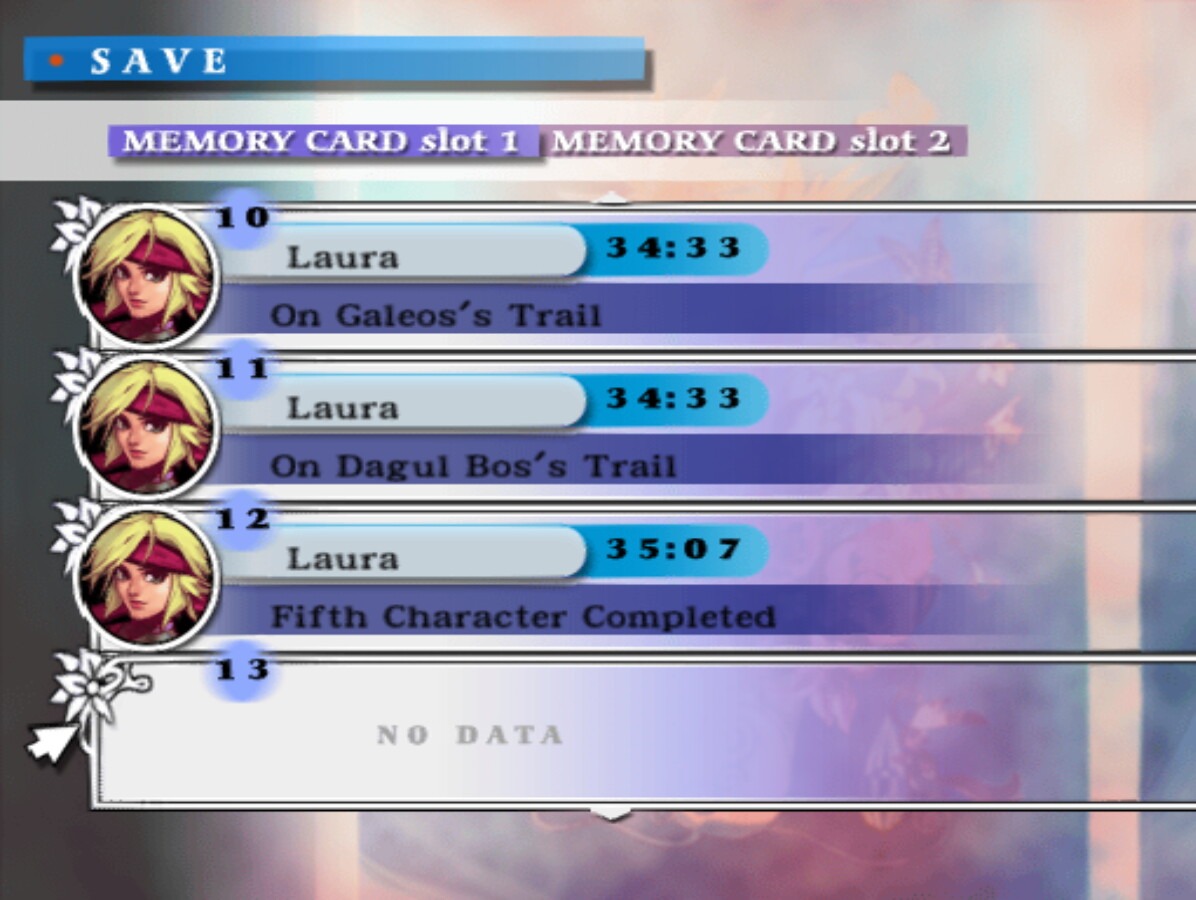 And with that, we've cleared five of the seven scenarios in the game. I really enjoy Laura's scenario and have played through it multiple times, and this time was just as fun as I always have. The no-shopping was a fun dynamic without making the game tedious or annoyingly difficult, too.
Getting to travel with members from all of the world's races, hunting down the Elemental Gears, and seeing Henri and Laura's relationship evolve by the end... it really makes for a fun experience to me. A great story for a SaGa game, a great cast of characters, and a lot of fun.
I really did enjoy Mythe's scenario, too, though. Laura definitely wins in the story department, but Mythe's gameplay was very engaging and intense with its challenge and amazing party cast. I'm having a lot of trouble really deciding which of the two I would consider my "favorite," but definitely I love both a lot. They'd both be the ones I'd be most likely to replay just for fun in the future.
But we're still not done yet! Stay tuned as we move on to Judy's scenario next...
---