Where's My Family?
As always, I can never wait very long after finishing a scenario to start up a new one... So, excitedly not long after clearing Laura's scenario, I've already started on Judy :)
This time around, I'm going to be doing a "no weapons" challenge, which I've defined to mean that you cannot equip any items that allow you to use Weapon Arts (swords, knives, axes, spears, staves, bows, guns), nor may you choose any Weapon Arts panels for the Growth Panel. That's the only restriction. Martial Arts do not count as weapons for the sake of this challenge.
This is essentially a modified way of doing a "magic-only" run, but "magic-only" can get pretty boring and/or super grindy. With at least the ability to use Martial Arts, you open up a large variety of arts without those arts becoming a crutch to depend on and ignore Magic Arts.
The biggest problem will be dealing LP damage, as Weapon Arts are best for that. Though, I guess light martial could do that... maybe I should not allow light...? Well, this is just meant to be a casual run anyway, so it doesn't matter too much. If I feel like I end up relying on light martial too much, I'll just stop using it.
Anyway, we load our clear data from Laura's scenario, and the game tells us we have cleared five characters in total. Time to go for one more...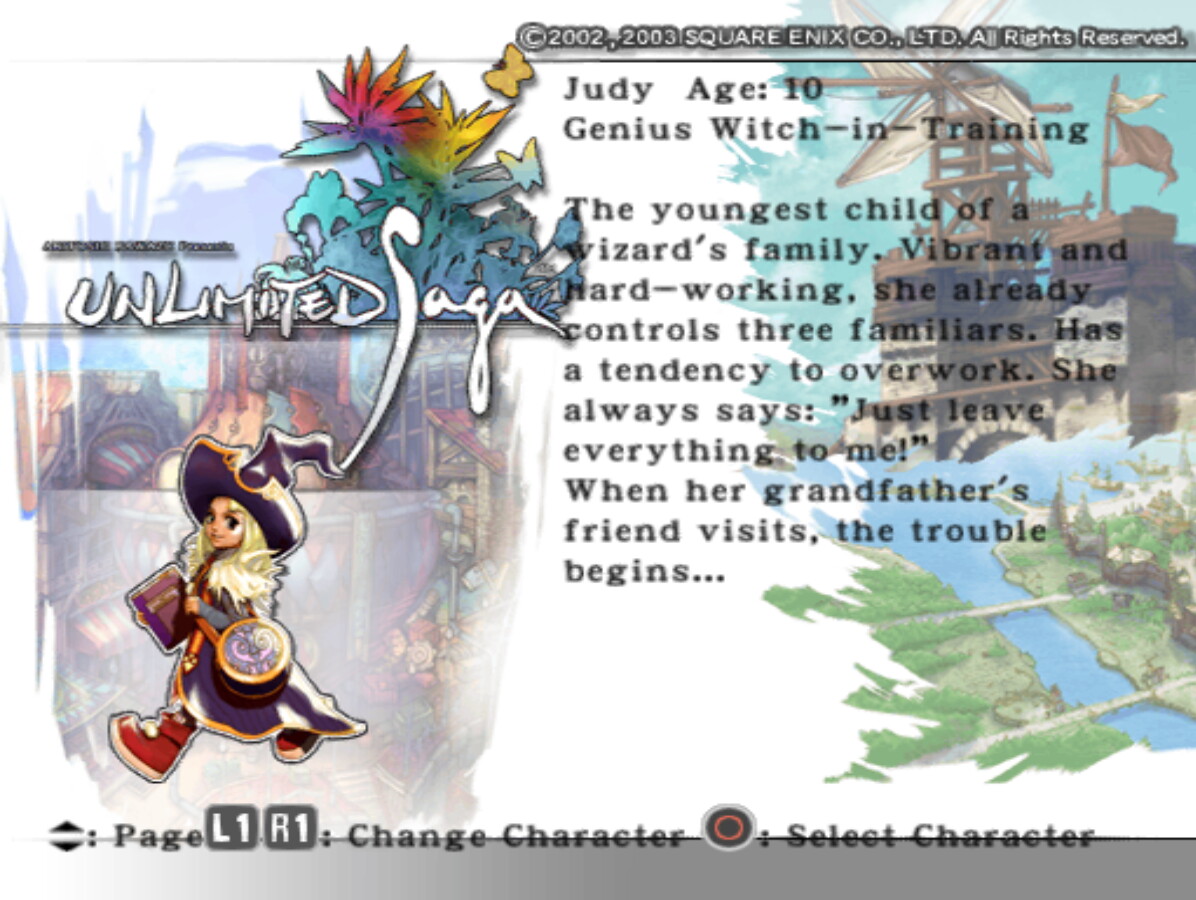 Judy is the youngest of all the protagonists, still only ten years old. Despite being a kid, though, she is pretty proficient with Magic Arts, though considering her family, it's no surprise. She starts the game with access to three familiars, each of which is unique to her alone.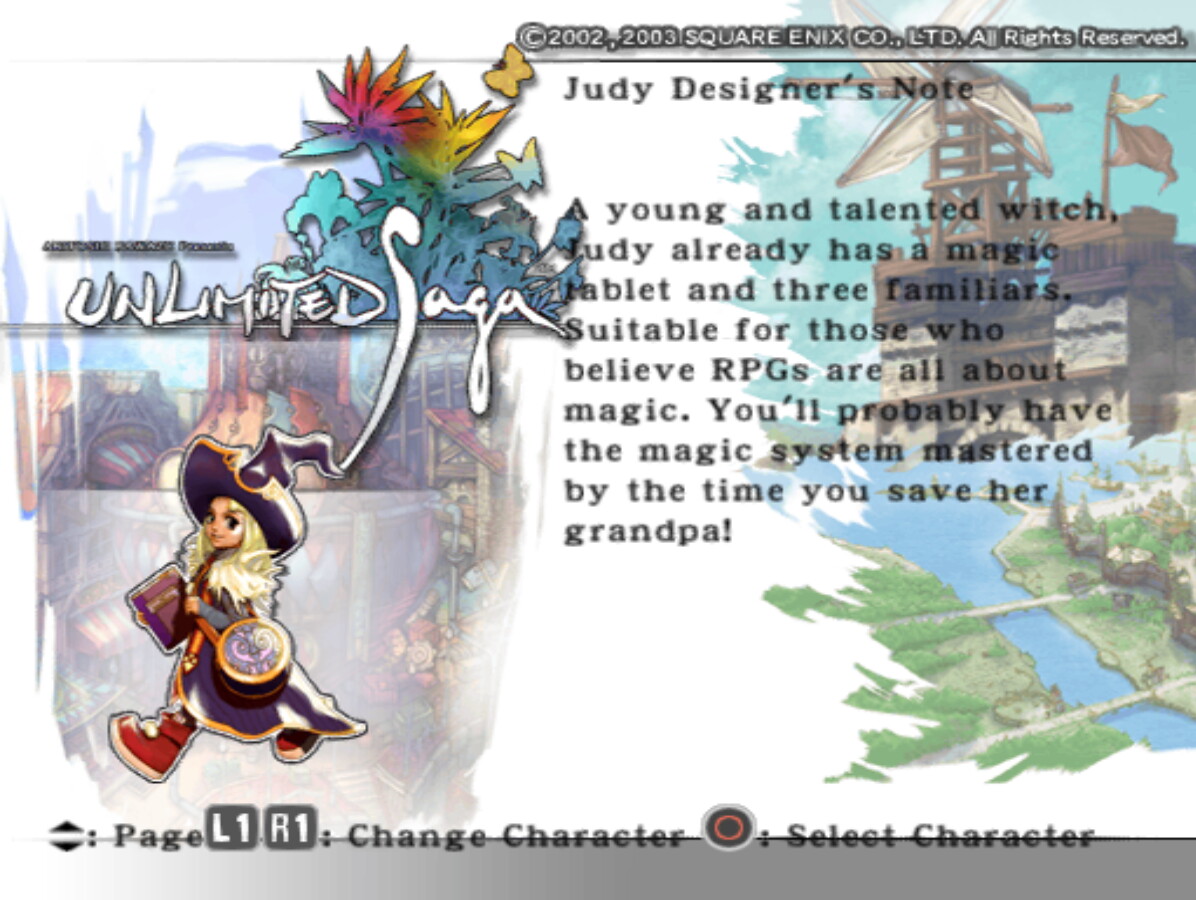 She also starts the game with a Magic Tablet. I like how the designer note implies that even if you play an entire playthrough of the game that focuses on magic, you still have a chance of not understanding the system by the end.
Mostly because that's 100% true, hahaha.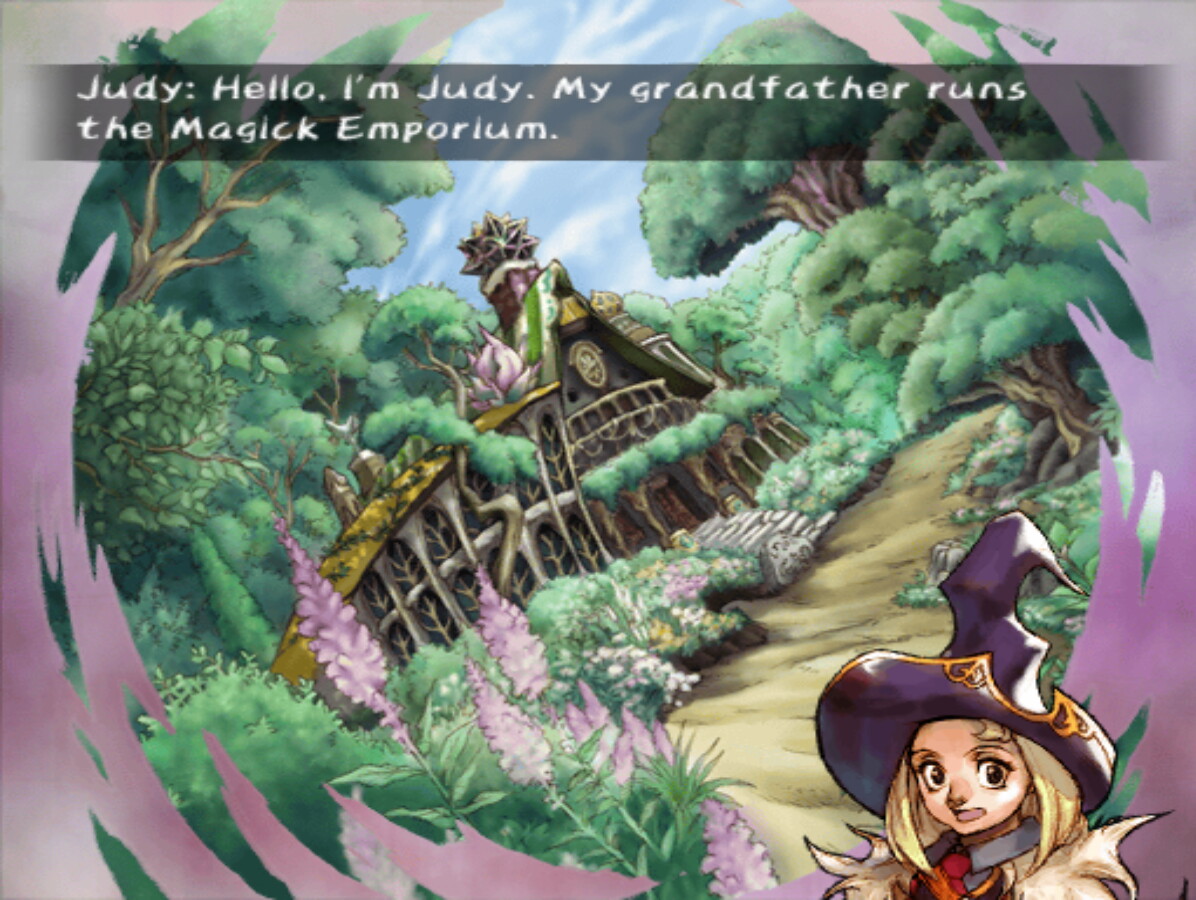 So, let's get started! When we begin Judy's scenario, we start in Sadovos, the southern city where the Magick Emporium is. We've been here several times before, and we've met or brought members of Judy's family here, too. So you should be pretty familiar with this place by now. It's the place south of the Jade Forest.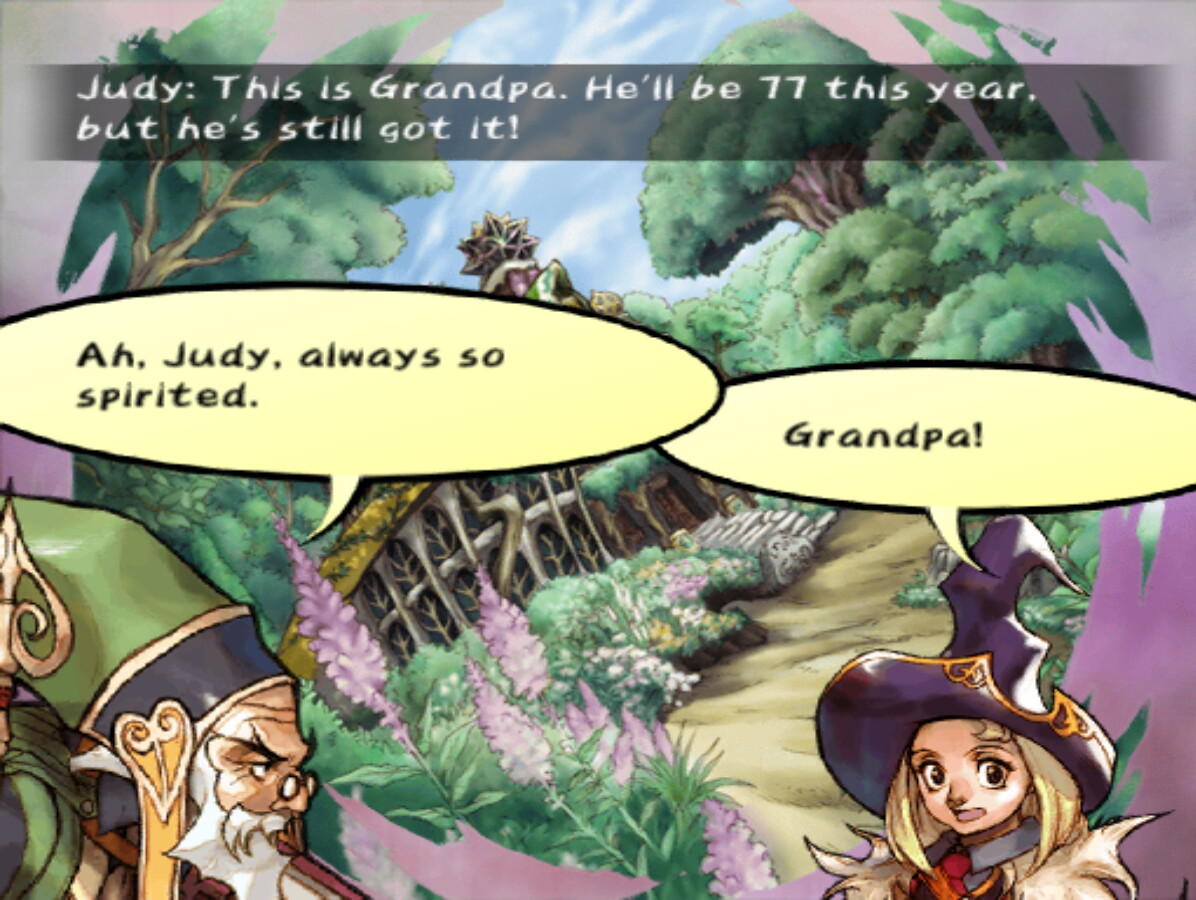 The story starts with Judy narrating and introducing each of her family members. First up is Josef, who we remember fondly from previous scenarios as both a support character in the story and as a powerful player character.
He's definitely still got it ;)
After each introduction through narration, we see a little interaction between Judy and her family themselves. Josef praises Judy on her hard work and gives her some candies.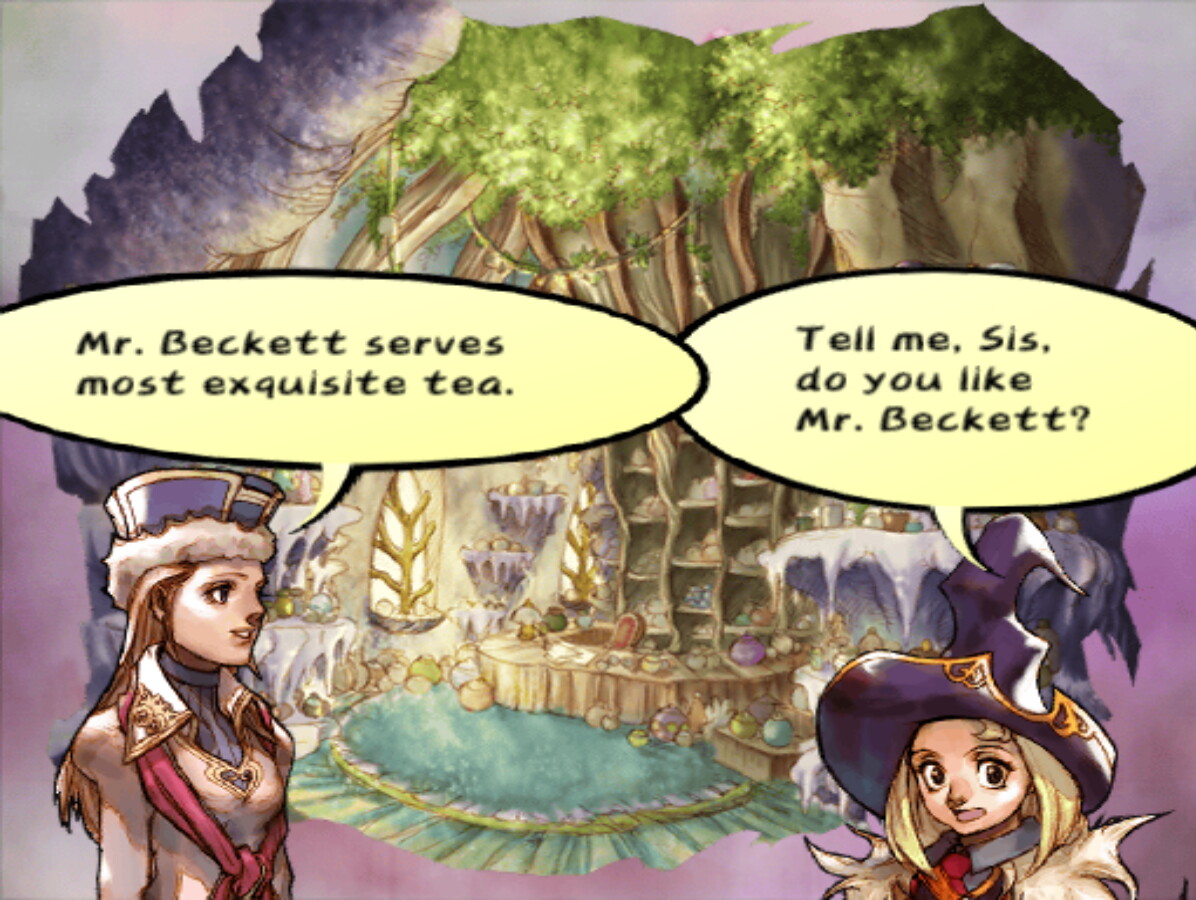 Next is Marie, who is introduced as being gorgeous. Apparently they get a lot of extra foot traffic in the shop simply due to guys coming to check her out or something. Judy thinks Marie is oblivious to it all. Marie is going out for tea at "Mr Beckett's," and when Judy asks her if she likes him, she only replies that he has nice tea. Because she's going out, though, it's Judy's turn to tend to the store, since no one else is really around anyway, and Marie was doing it before.
Next is Roy, who we've also had fun with in the party before, too. Judy seems disappointed in him for sneaking snacks all the time. Roy is glad he ran into Judy and not their mother. We kind of get the idea through their exchange that Mom is pretty strict about the snacking and he doesn't want to get caught.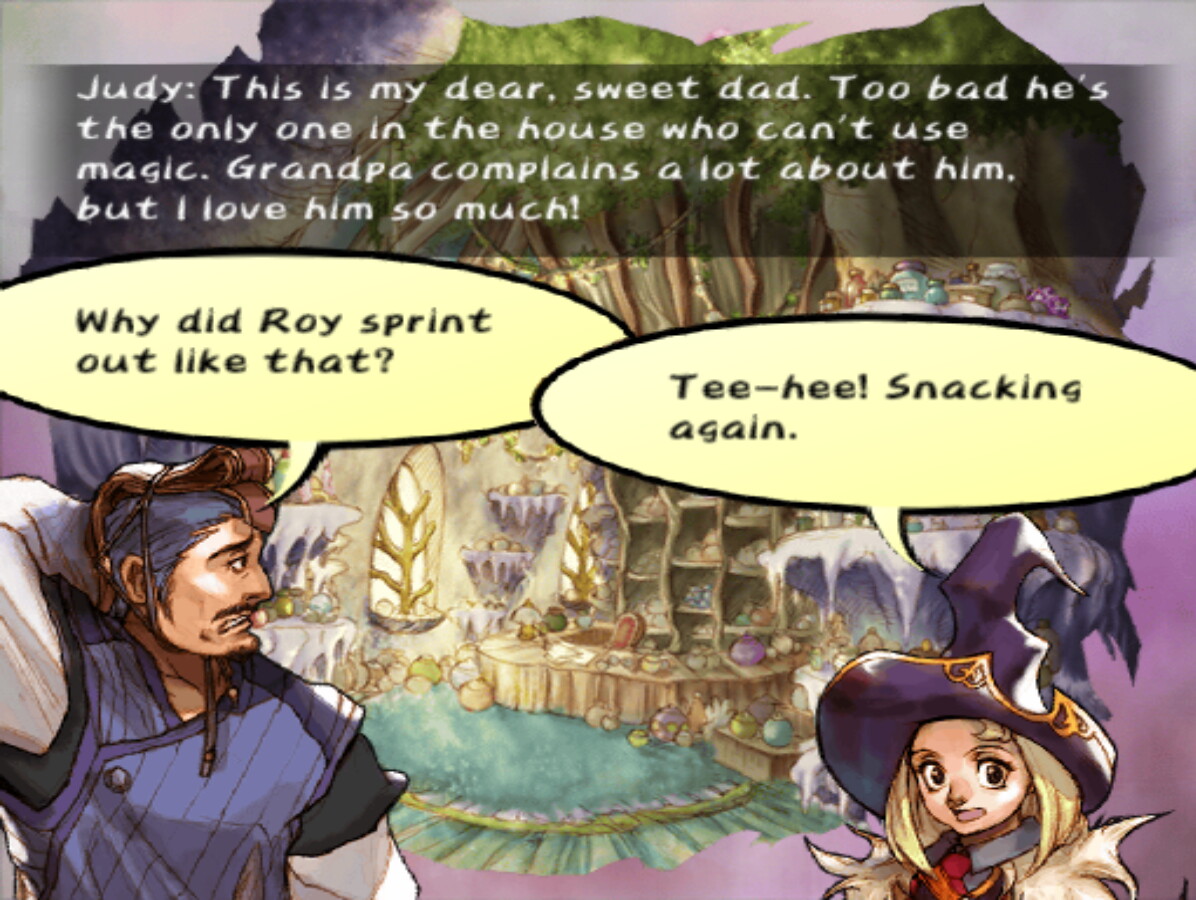 AND THIS IS THOMAS, JUDY'S DAD. JUDY LOOOOVES HER DAD AND I LOVE HIM TOO~~~~
I think it's kinda amusing that this is my #1 crush in the game and it took until the second to last playthrough to finally meet him...
Anyway, Dad doesn't have any magic powers whatsoever apparently, and so Josef was strongly opposed to him marrying into the family, as they are a family of powerful mages.
Both Judy and Thomas have a chuckle at Roy's antics, so it seems that it's only mom who really takes issue with the whole thing, I guess.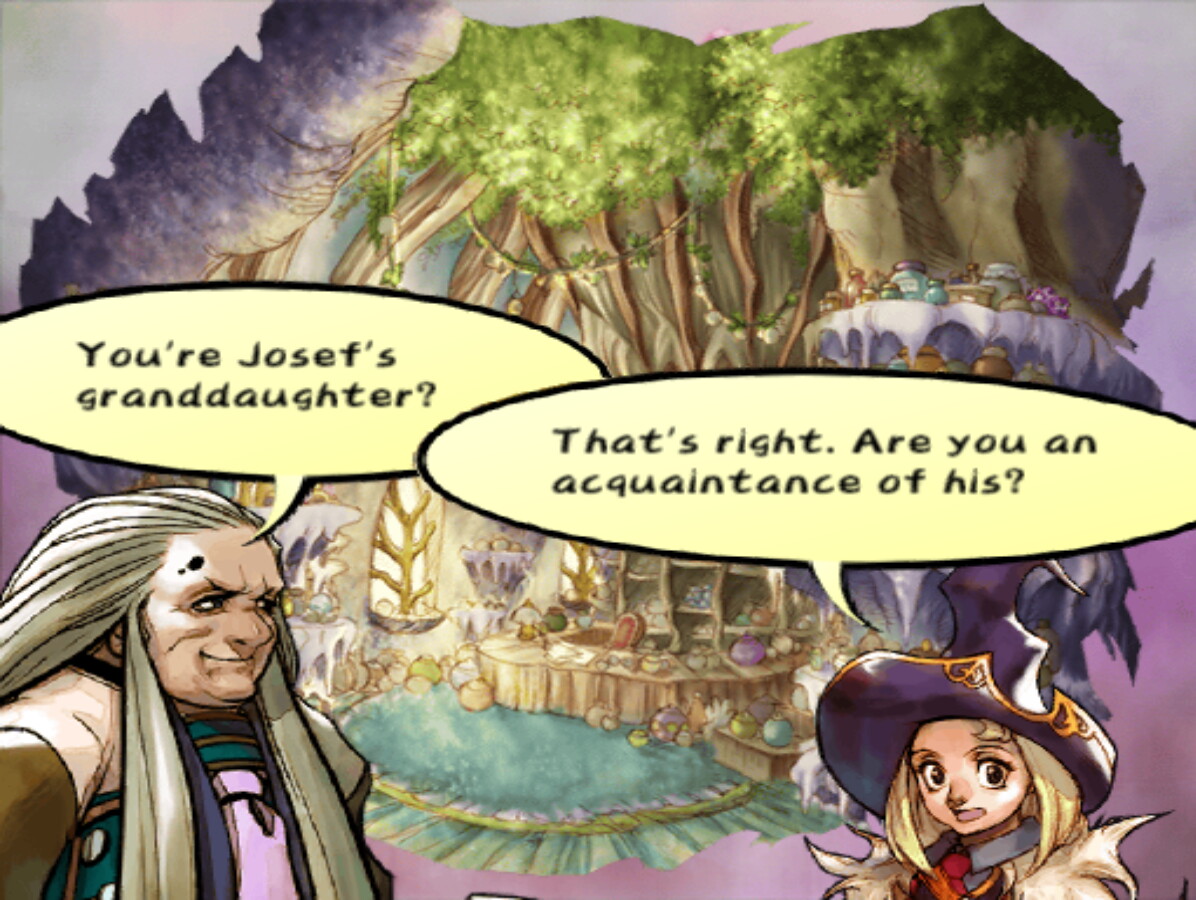 Before we can meet the final member of the family, though, a visitor enters the shop while Judy is tending alone. Apparently, he's here to see Josef, and introduces himself as Clyde, an old friend. Judy goes to tell her grandpa he has a visitor, and then returns to escort Clyde to Josef's room.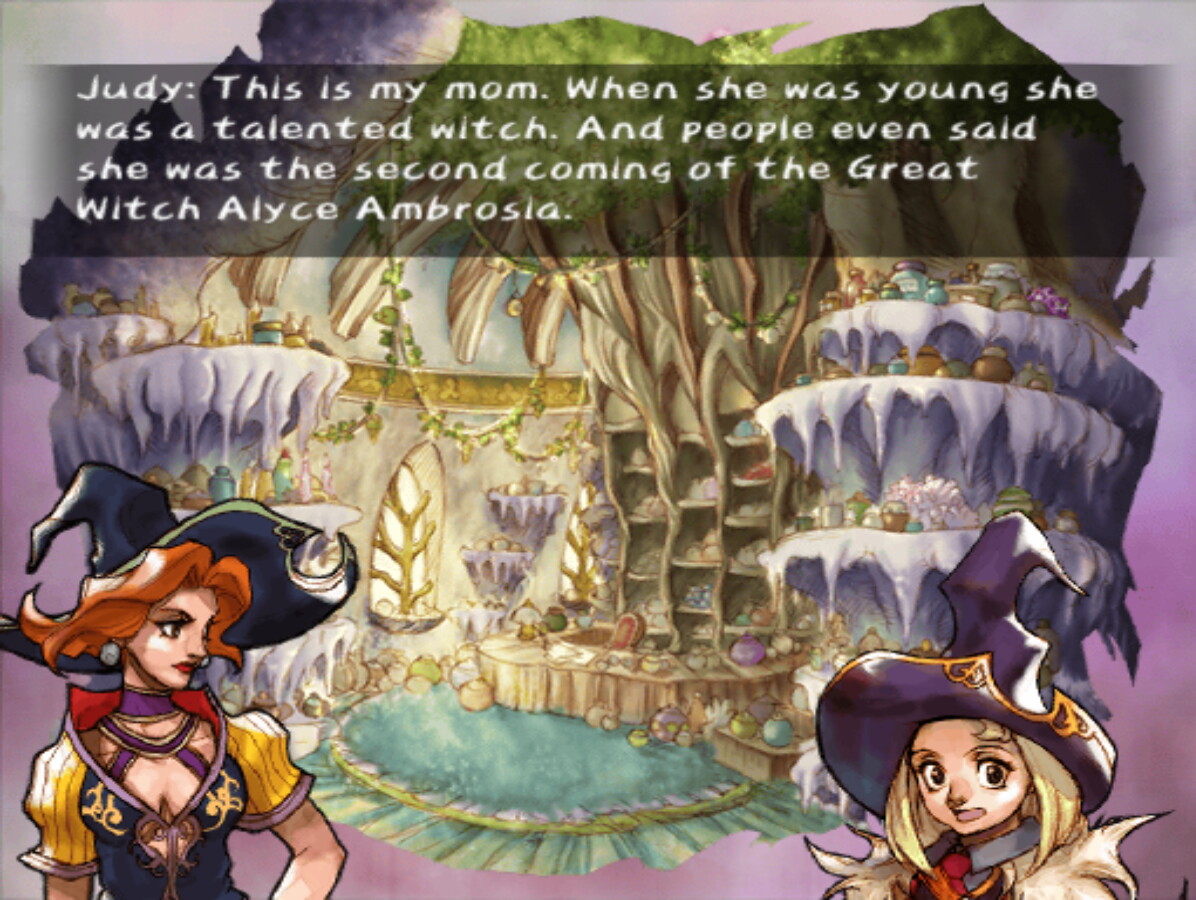 And finally, we meet Rebecca. Another of my biggest crushes in the game, also saved until near the end. Actually, she was the character we would have run into if we had deciphered the Fire part of the Rainmaking Tablet in Armic's scenario. But since that was replaced with us being tricked into going to Avalon, we missed out on her.
There's actually a sort of on-going injoke over at GameFAQs where we refer to Judy's parents as Hot MILF Becky and Sexy Daddy Tom. Anymore we can just say HMB and SDT and everyone knows who we mean, hahaha. I don't even remember how it all got started. I really love the little bunch that hangs out at the unsaga board, though. It's sad, though, because the board is mostly dead. But now and then someone new will be playing the game and post about it, and a lot of us will pop back up and get talking about the game for a little while. Then it dies again. Haa--
ANYWAY, Judy introduces her mom as being a very powerful witch, and people have called her the second coming of the great witch Alyce Ambrosia, who, if you remember, is one of the people who conquered the Seven Wonders with Iskandar long ago.
When Judy tells her mom that grandpa's visitor is a Mr. Clyde, though, she seems alarmed, and we hear the sound of someone using some kind of strange magic as she runs off toward Josef's room.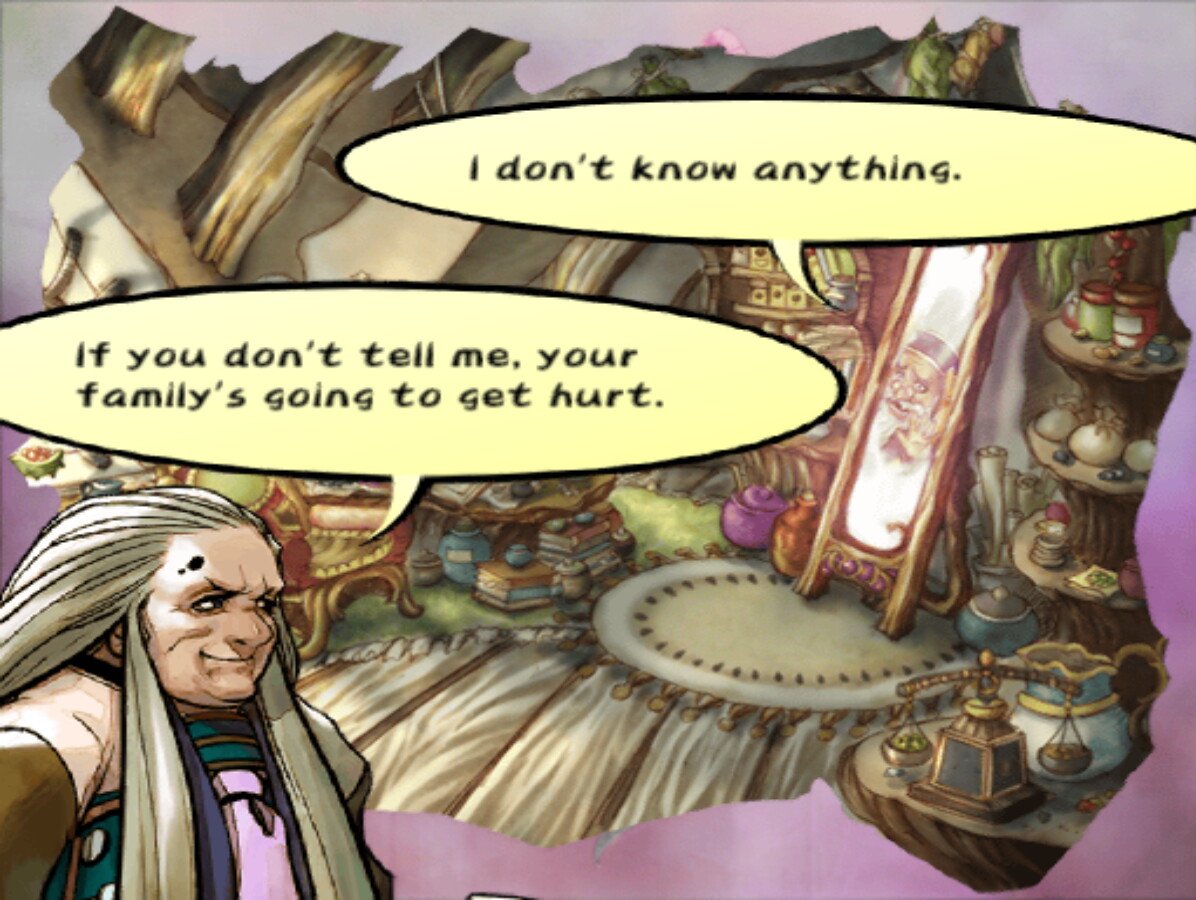 We overhear the end of Josef and Clyde's conversation. Apparently Clyde has trapped Josef inside a mirror, and is demanding information with the threat of hurting his family. Josef is insisting that he doesn't know anything, but he tells Clyde that the family's defense magic was activated because Clyde used magic against him.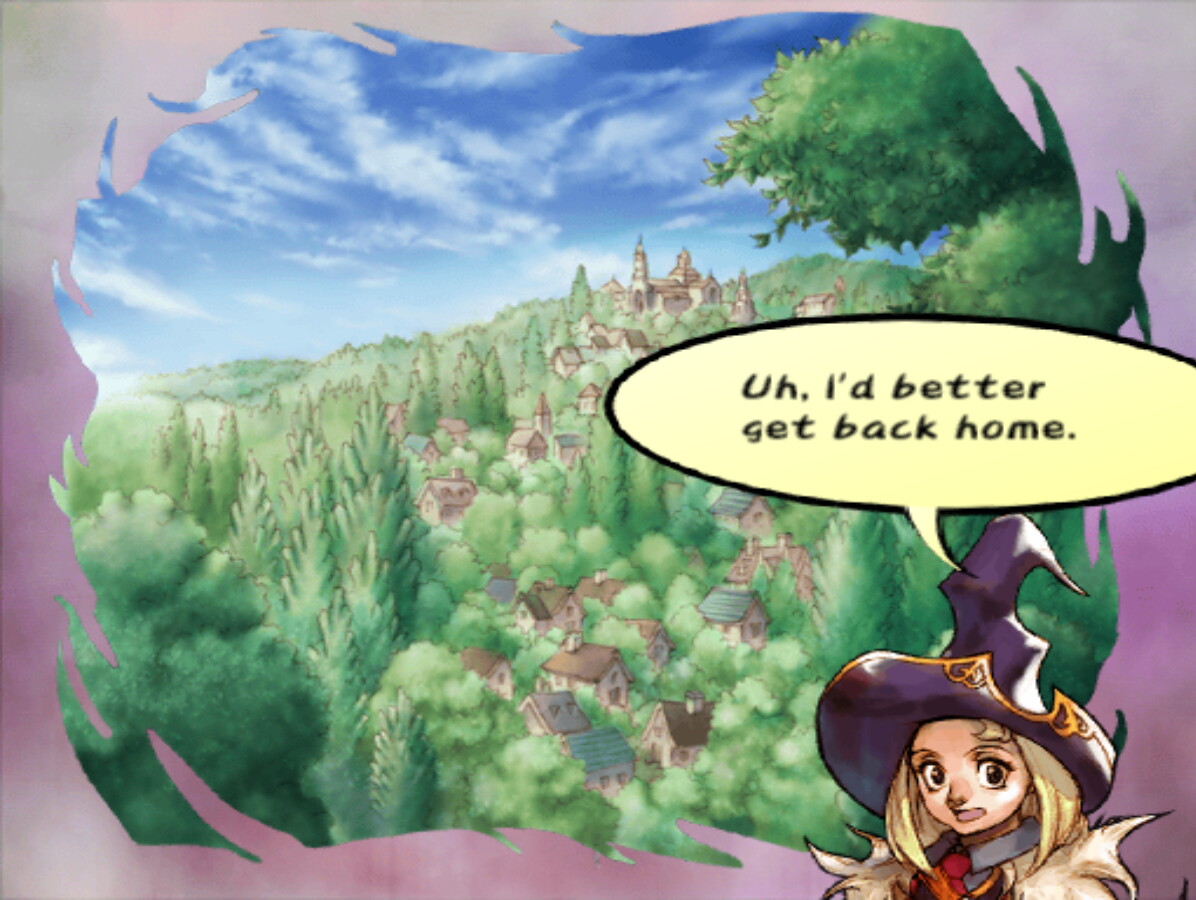 Then all of a sudden, Judy finds herself on the outskirts of Sadovos, confused as to how she got there. She hurries back home to find that no one is there except her grandfather, still trapped in a mirror.
Josef says he's not surprised that Judy was the first to return -- the defense magic set upon their home teleports people away based on their magical might, so the stronger your magic powers, the further away you get teleported.
Though I would assume Judy even would have more magical power than her father, considering he has none, but... whatever.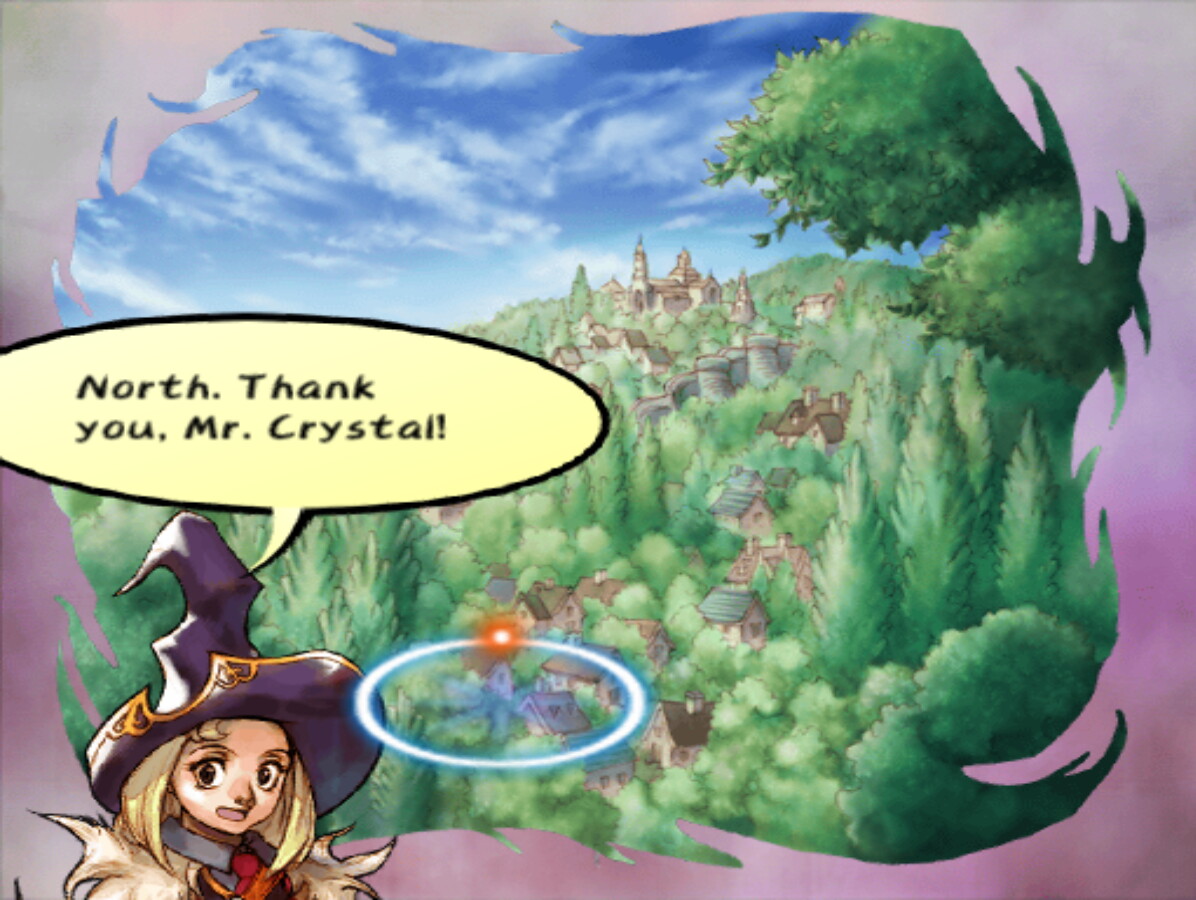 Josef gives Judy a crystal hoop that will point her in the direction she can find her family members, and asks her to go out and gather everyone back up and bring them home. So our journey is about finding Judy's family! A pretty fun goal, honestly, since I love all of her family.
Also, I like that the crystal hoop that points her where to go is the same thing as the hoop that you use to select the direction to move on the adventure map :) I mean, they probably just didn't feel like making some kind of new compass asset or something, but it ended up being a cute decision either way.
At the time, there's not much we can do here. The Magick Emporium is closed since there's no one to mind the store now. And we just have the inn and the Carriers' Guild. And like always, the Carriers' Guild is closed to anyone who isn't a Carrier.
In the inn, we have one available adventure: "Where's My Family?" which is simply about going north! But that means we'll have to pass through the dangerous Jade Forest. Despite being all alone, Judy doesn't seem worried about this at all. She's really confident for a little kid!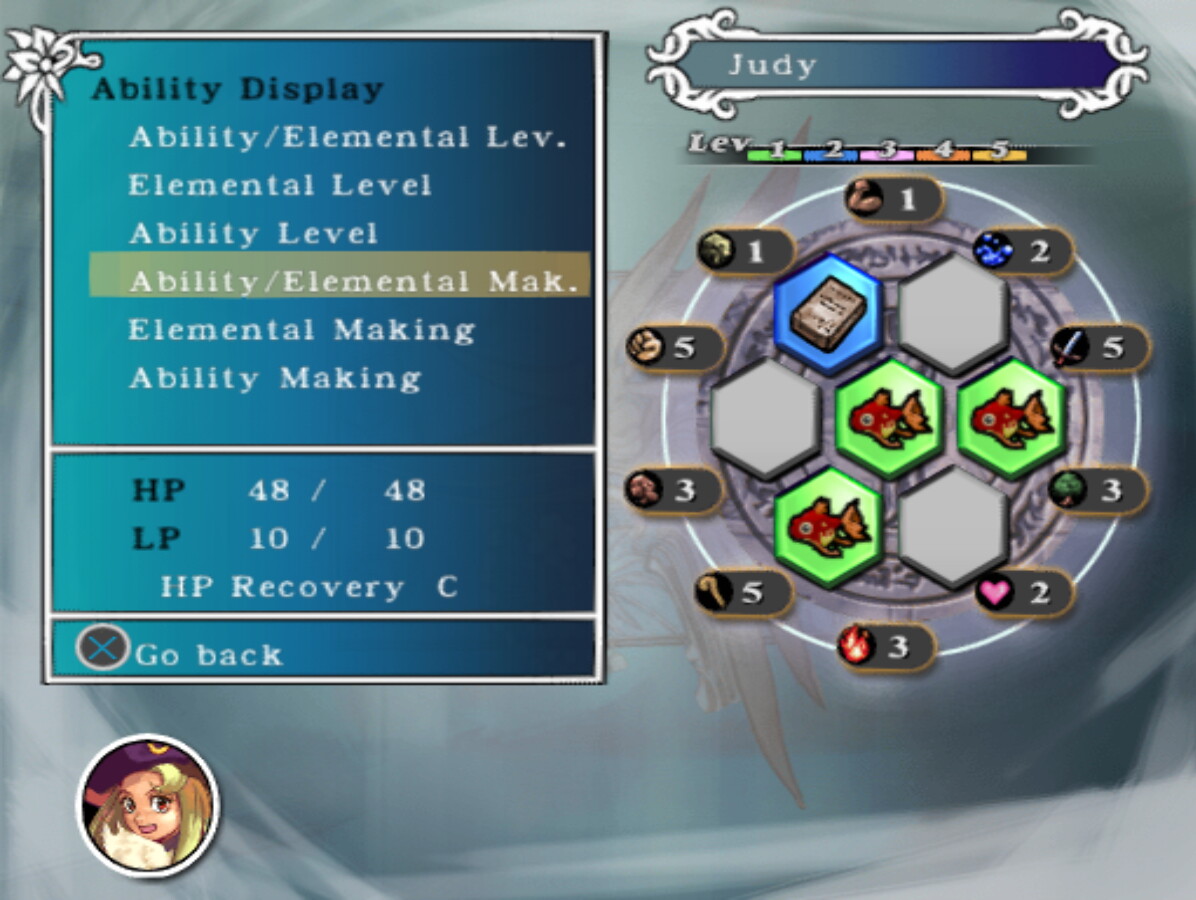 Since we're able to set out on an adventure now, we can look at the Status Menu! Judy's Makings are not terrible at all -- in fact, she's probably got the most potential of any of the protagonists in the game. Her Magic Making, Endurance Making, and Skill Making are the maximum, and her Fire, Earth, and Wood Making are all near max. Her Water isn't terrible, either. Her only really low Makings are Metal, Strength, and oddly, Spirit.
She starts the game with three L1 familiars, which as I mentioned earlier, are unique to her personally. We'll meet them in a bit. She also starts the game with a L2 Magic Tablet. And this is actually a Forbidden tablet that otherwise can only be obtained as a very rare drop from a Rainbow Guckie. So, uh, wow! Sadly, though, despite her supposed magical prowess, she doesn't have any inherent Magic Arts at the start of the game. But with a Tablet and three familiars, that more than makes up for it, right?
So we're taking this tiny firecracker into the Jade Forest. But even after just our first step, Judy sees a large figure rustling through some brush toward her, and fears it might be a bear.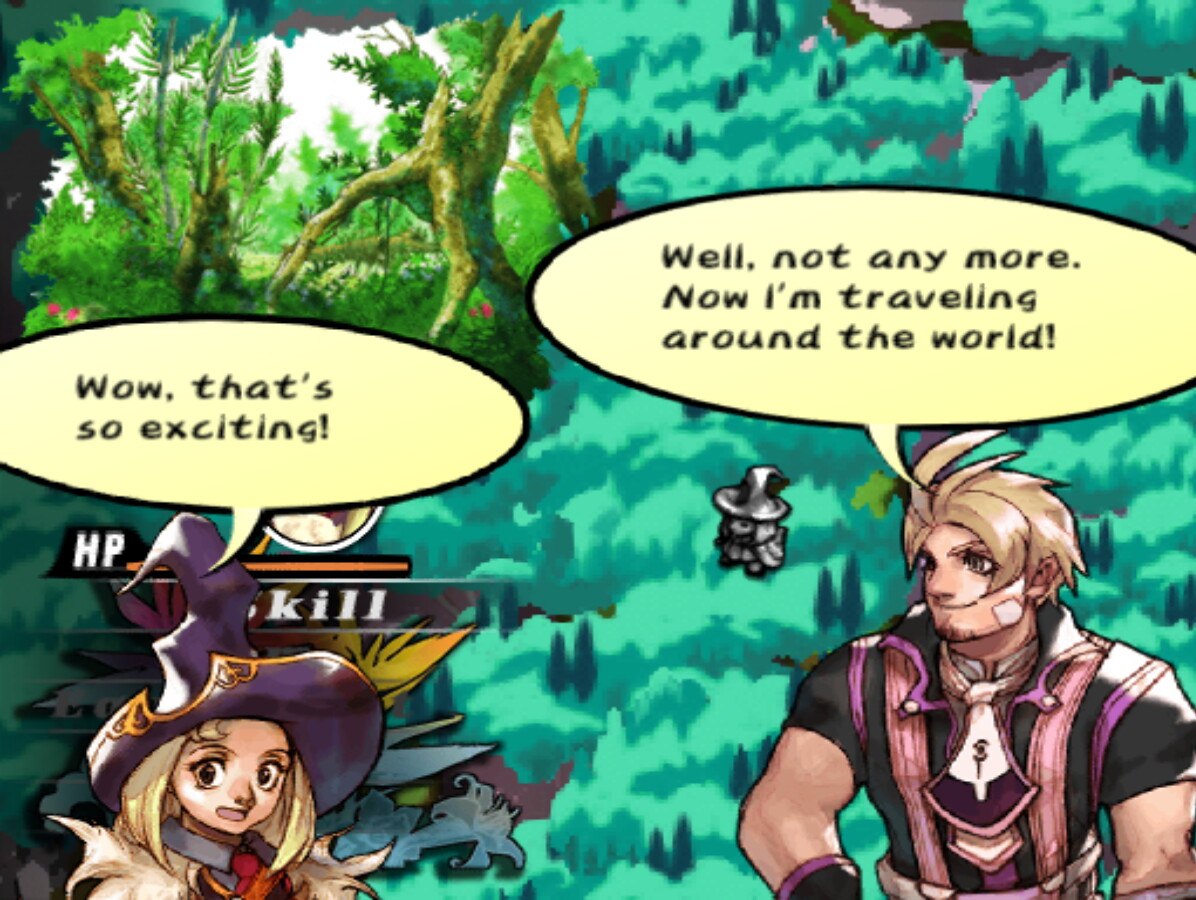 Well, he's a teddy bear at least :) Kurt appears, who is traveling the world. He's taken it upon himself to map out the Jade Forest since it's very difficult to travel, and he thinks a map would be able to benefit many people. Always such a Good Guy Kurt :) As not to scare the girl he's run across and make her think he's some kind of bandit or something, he amicably introduces himself.
Judy returns the introduction and says she's traveling through the forest for her grandfather. Kurt thinks it's extremely strange for a small child to be going through such a dangerous place on a family errand, and asks her what's up. Judy tells him the story of what happened to her family, and Kurt decides his new goal is to offer his protection to Judy as she hunts for her family.
We have to remove Kurt's equipped sword, as it's banned in this run. But Judy actually stars the game with a nice variety of items. We have a magic item of each elemental type, allowing the user to cast a different magic each. We give Judy the armlet that allows the user to cast the Metal Art Shock, and Kurt gets the Purify accessory.
Sadly, the Fire, Wood, and Earth items are all weapons, so we can't utilize them anyway... but we still have plenty with just the two we have now, and we'll surely be able to get many more soon enough.
And if you need a refresher on Kurt's stats, he's got a 3 in Magic, Water, Endurance, and Fire Makings, and everything else is pretty terrible. Plus he's stuck with that ugly Gauntlet panel in the center of his Growth Panel. And since this isn't Kurt's scenario, we'll never enter the Gauntlet battles, so that thing is going to be stuck at Level 1 for the entire game.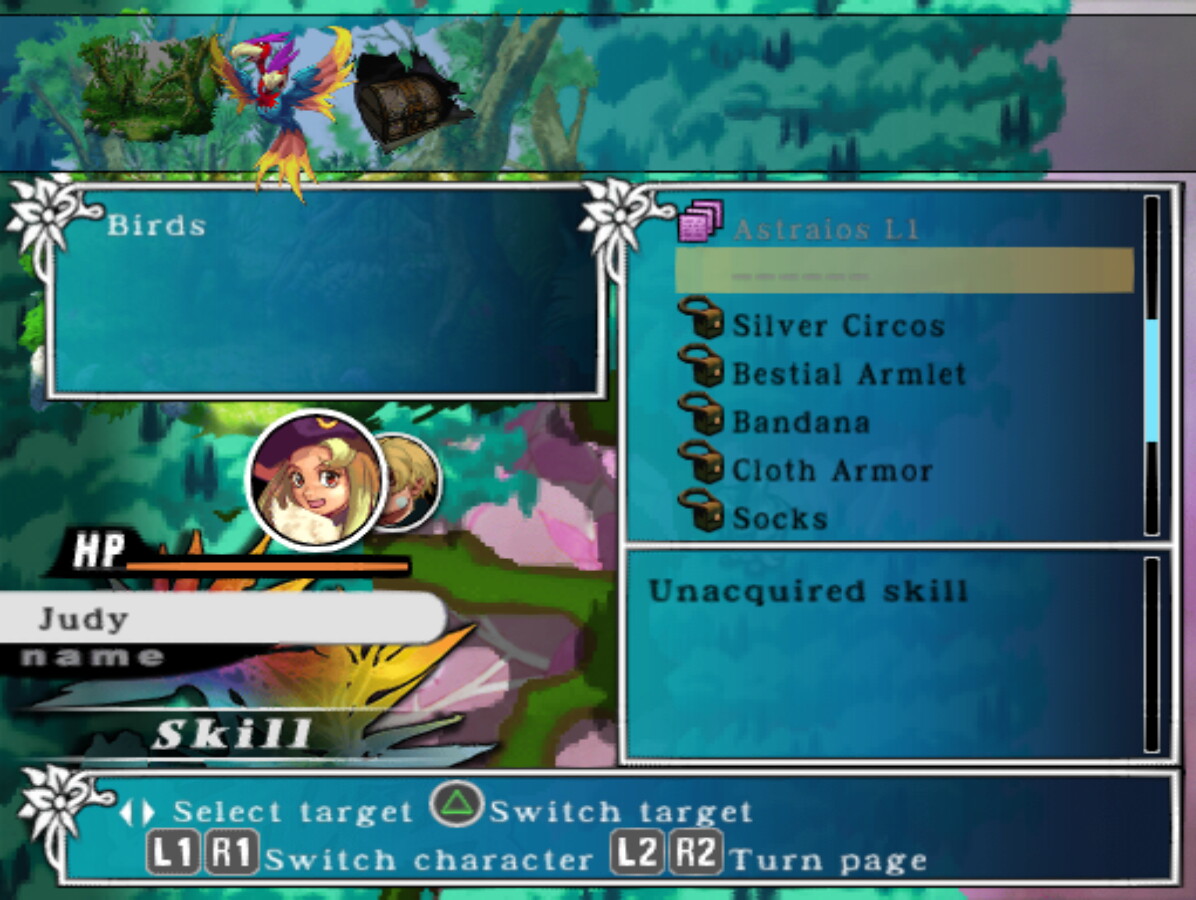 It's not long before we run across our first enemy, and I'm sorely missing Diplomacy already!
Judy's still very fragile, so I don't want to risk her dying, though we do need to have her battle a bit to raise her HP at the end of the adventure...
But since we're able to battle now, we can see Judy's familiars!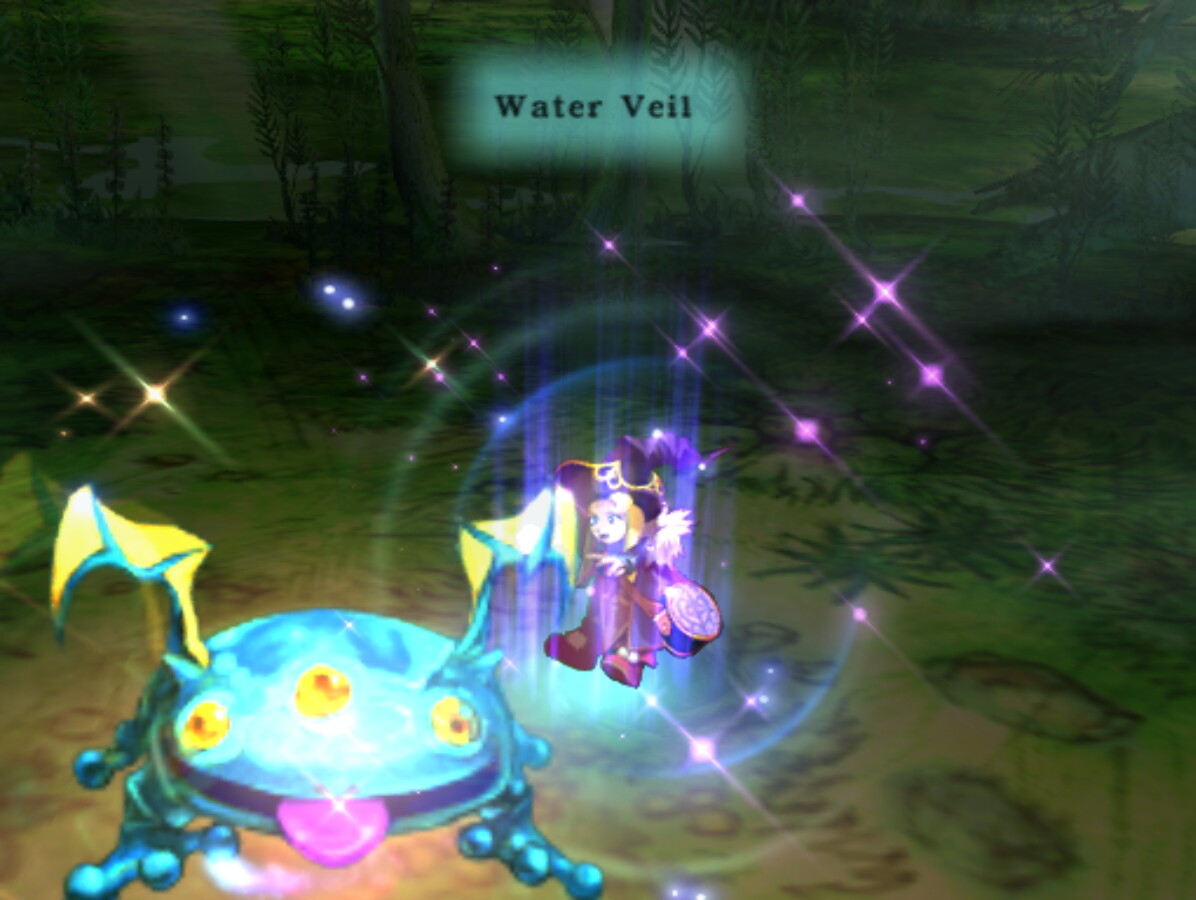 First up is Aigaion, a big frog-like thing with three eyes. This is usually the one Judy is depicted with in artwork or whatever, and it's Aigaion that she uses to hop over the crowd at the Festival when she meets Armic.
Aigaion is a familiar of the ocean (sea frog?) and has the Cave Guide skill.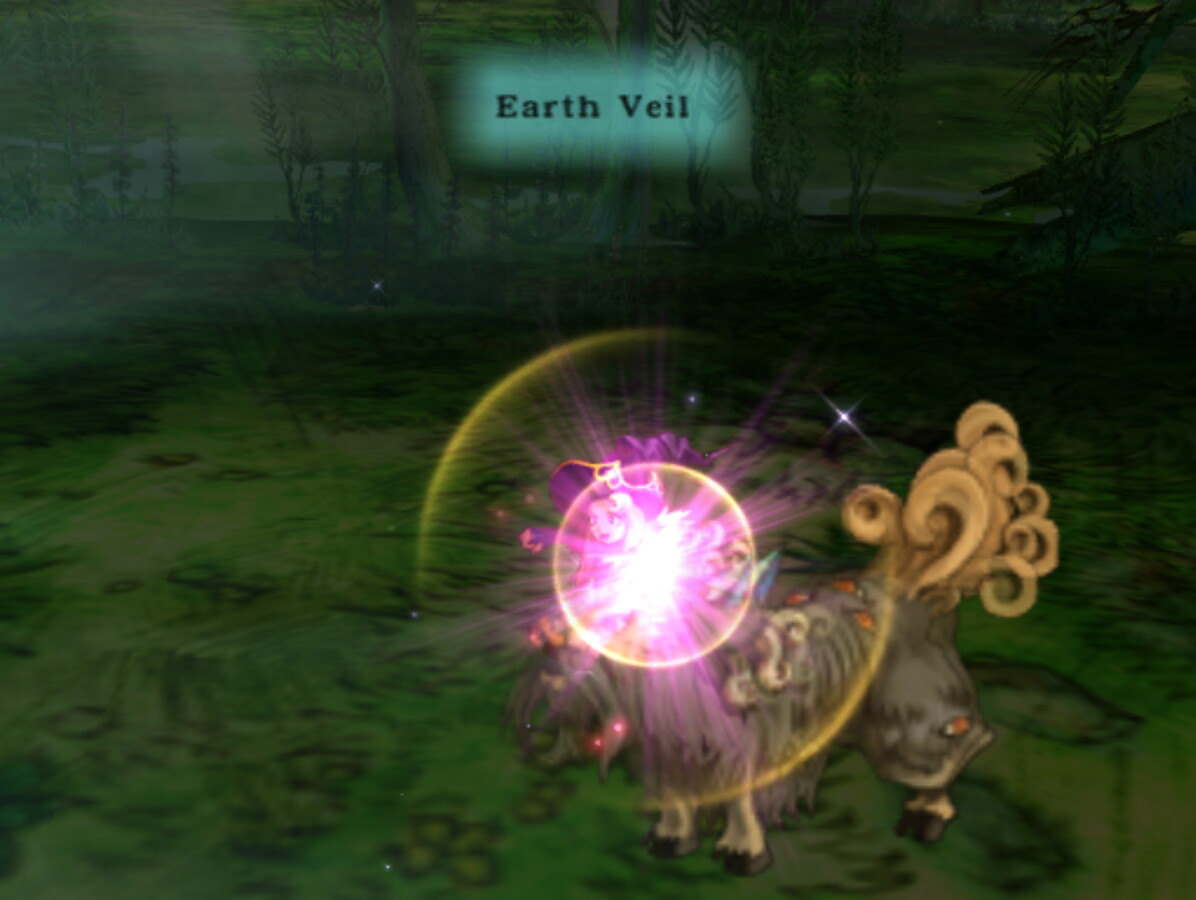 Next we have Atlas, who looks like... some kind of dog thing with like goat hooves? I don't know... its face reminds me of Herdier from Pokemon, and its body reminds me of vaguely those Korean foo dog things. And its tail is like... lol. Also, I noticed only just now looking at this screencap that it has like... a bunch of orange eyes on its back half...?? Kinda weird...
Atlas is a familiar of the earth who has the Architect skill.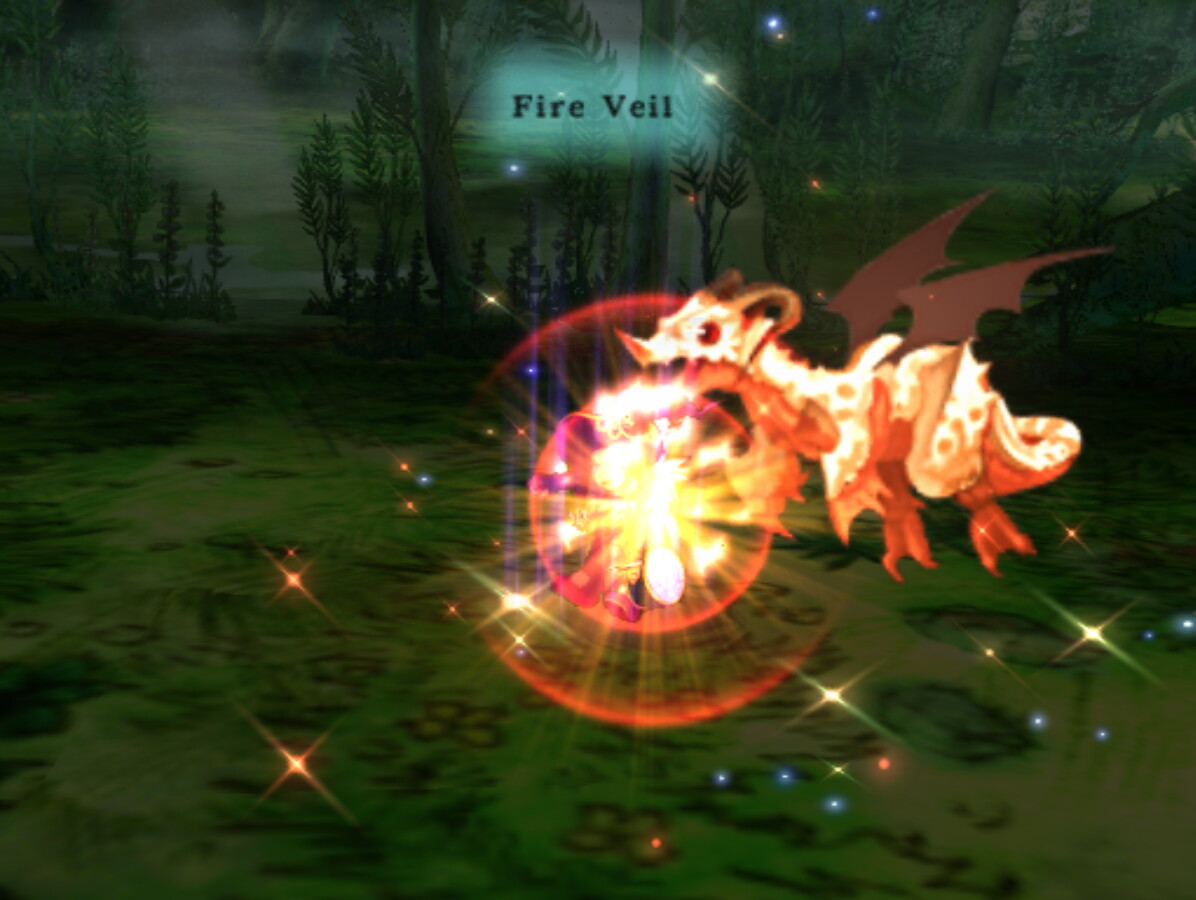 And lastly we have Astraios, which looks like... whatever the hell that thing is supposed to look like. I don't even know. But it's a familiar of the sky with the Road Guide skill.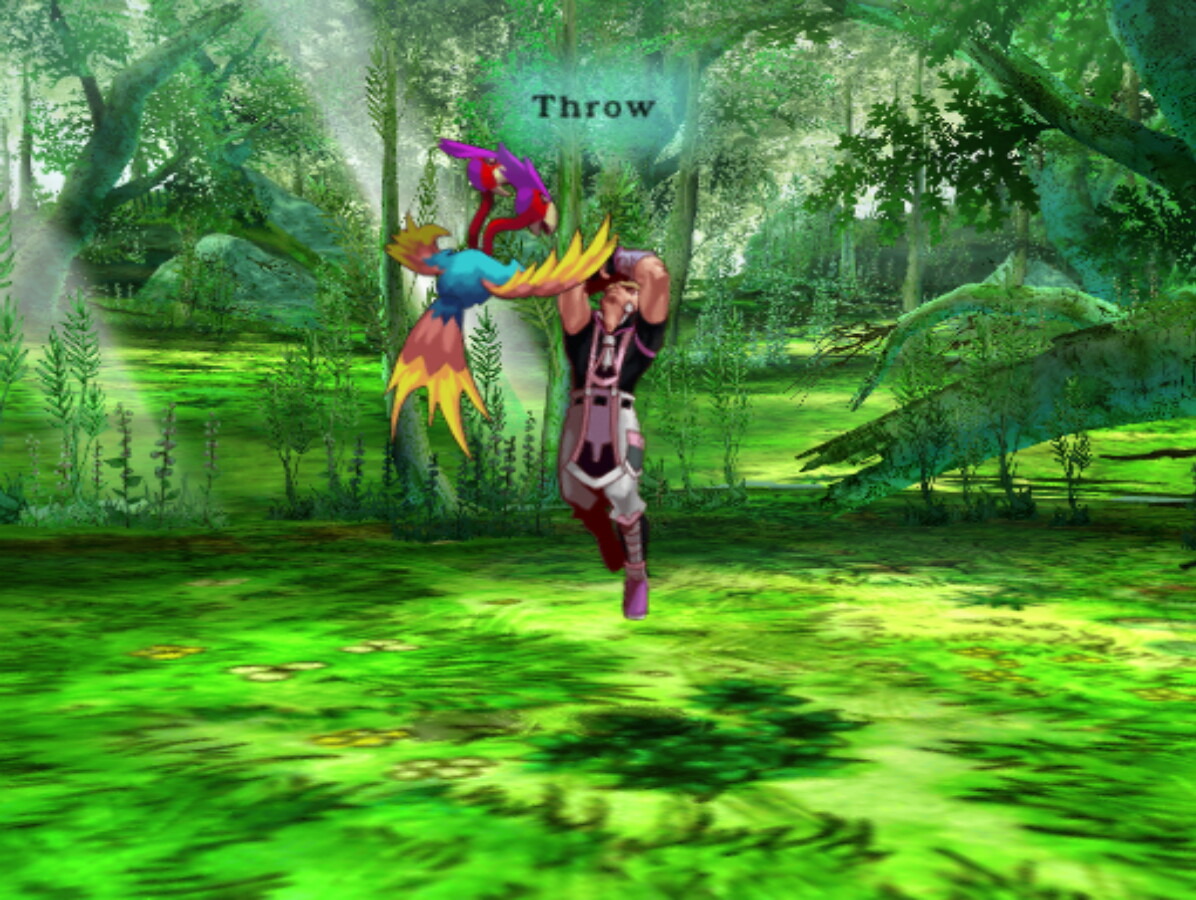 Kurt's only real ability in battle right now is martial arts. Since we have no way to repair the magic items we have, I'm trying not to use them as they don't have a lot of durability. The worst is the Opal Armlet that allows Judy to use Shock; it only has 10 durability.
And Judy isn't particularly better in battle at this point. Her familiars only know the basic "Veil" arts of their corresponding elements, which just raises Judy's respective Elemental Level temporarily.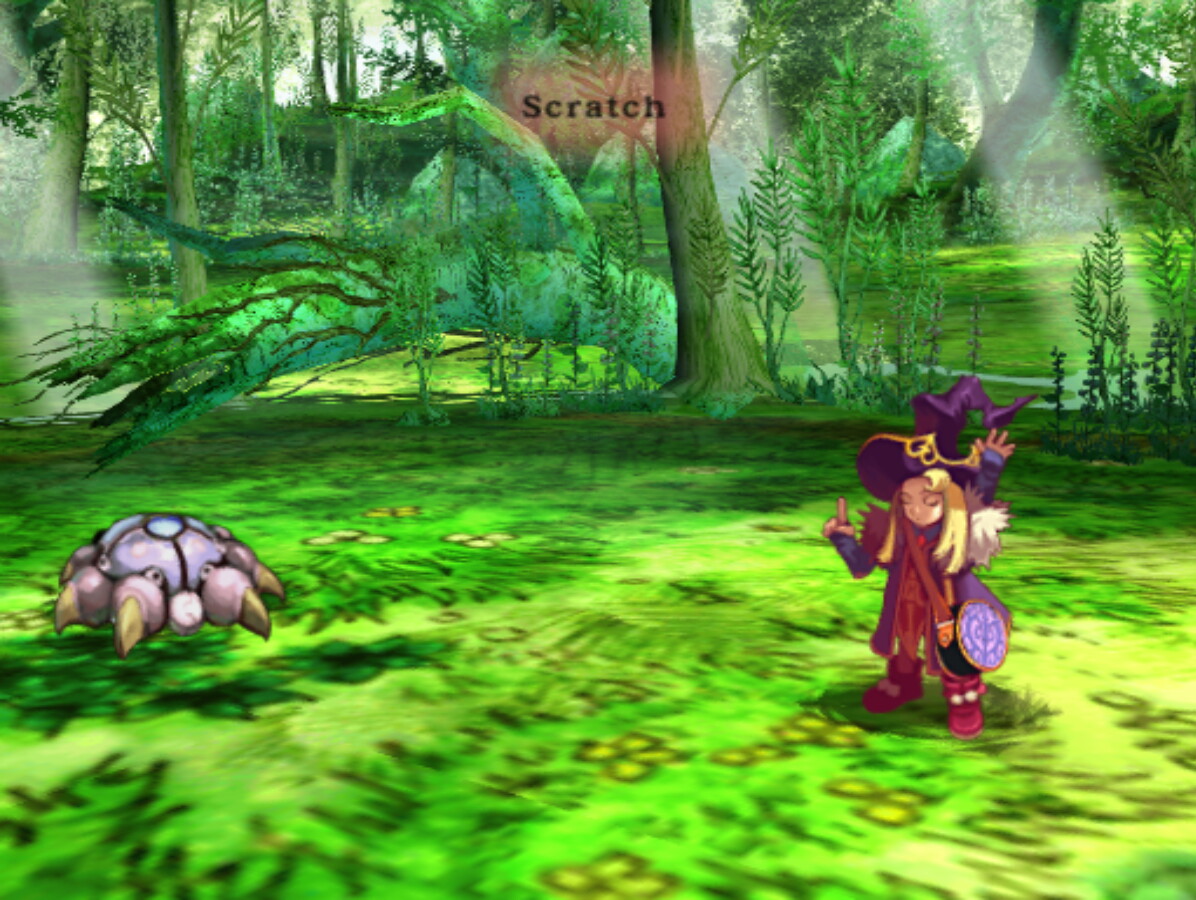 I did manage to catch a nice cap of the front view of Judy's casting pose! Which is pretty cute, and catching front poses is near impossible anyway, so this was really cool!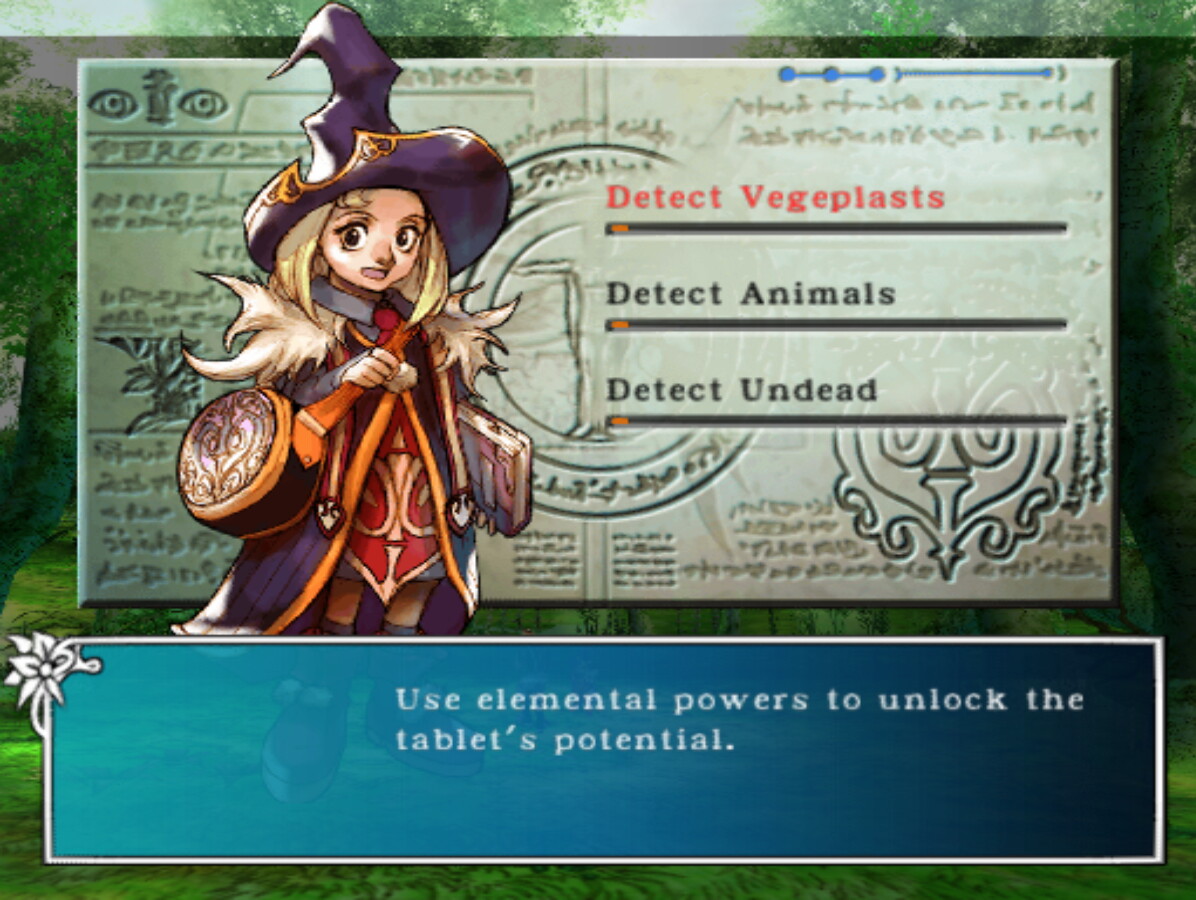 And Judy's Magic Tablet isn't really doing us much in the way of offensive abilities either... all we can study are these "Detect" Arts for now...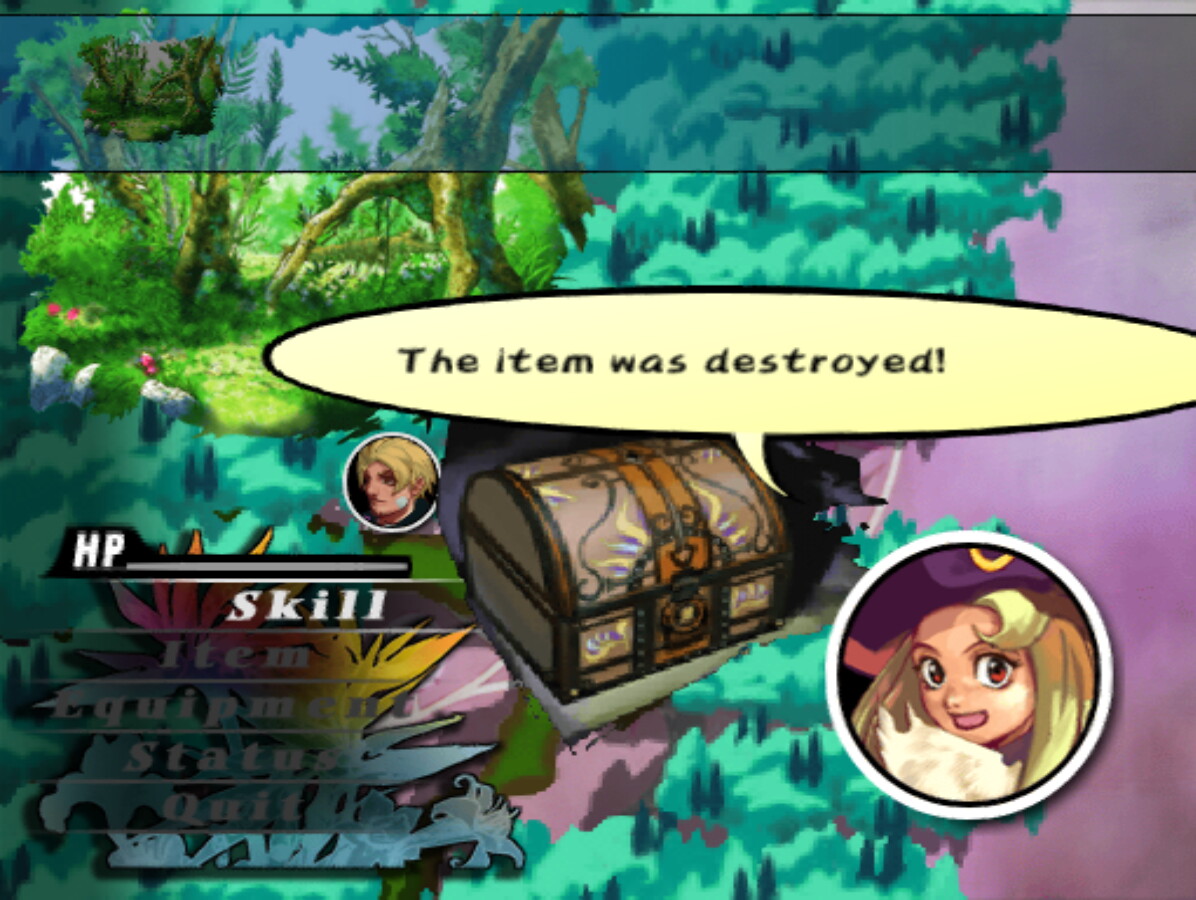 And since we don't have access to any treasure-hunting skills other than Kurt's Defuse L1, the only way we can try to open a treasure chest that's locked is by punching it...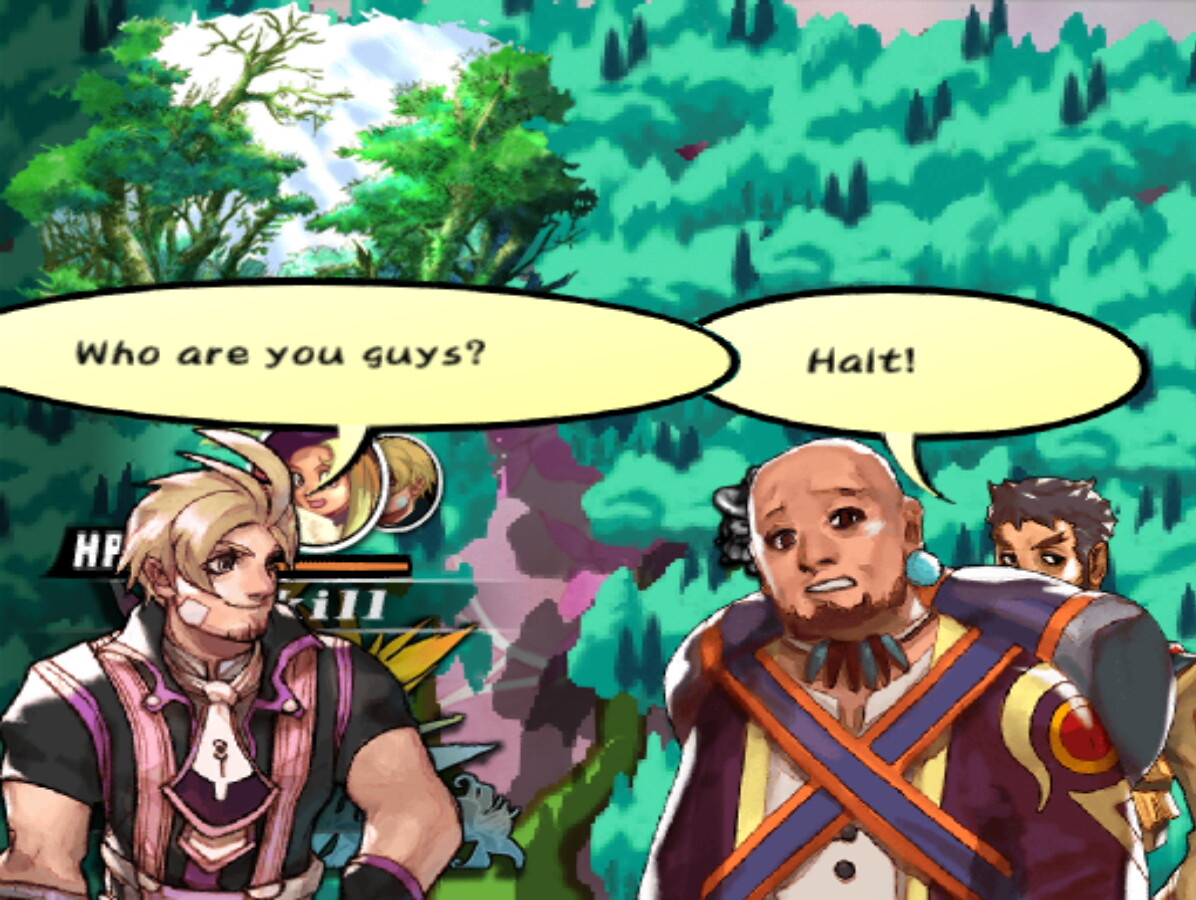 As we reach the northern part of the southern part of the forest (...) we encounter these crude-looking dudes, who are apparently Carriers. They ask Kurt if he's the one that has been mapping out the Jade Forest, and he says he is indeed, as people get lost here easily without a map. But the Carriers say they want to keep it that was, so the Carriers can remain the specialists here. Though they say they don't really need to threaten us since this place is threatening enough on its own, and they just tell us to "watch ourselves."
The duo heads along their way, and Kurt wonders what we should do next. Judy just says, "Head north, of course!"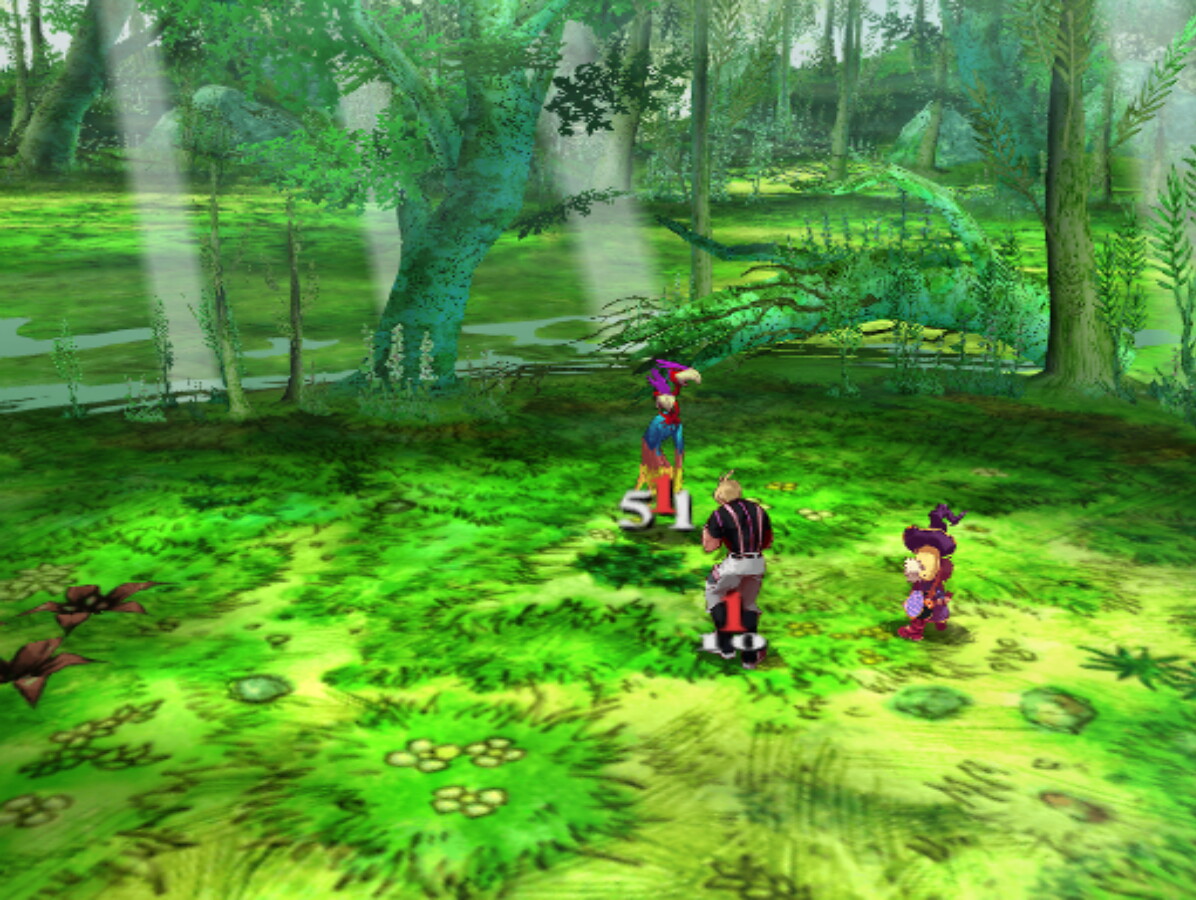 In the beginning of the game, it's so easy to lose LP... You have hardly any HP to begin with, and your armor is terrible and you haven't released Life Protection on anything yet...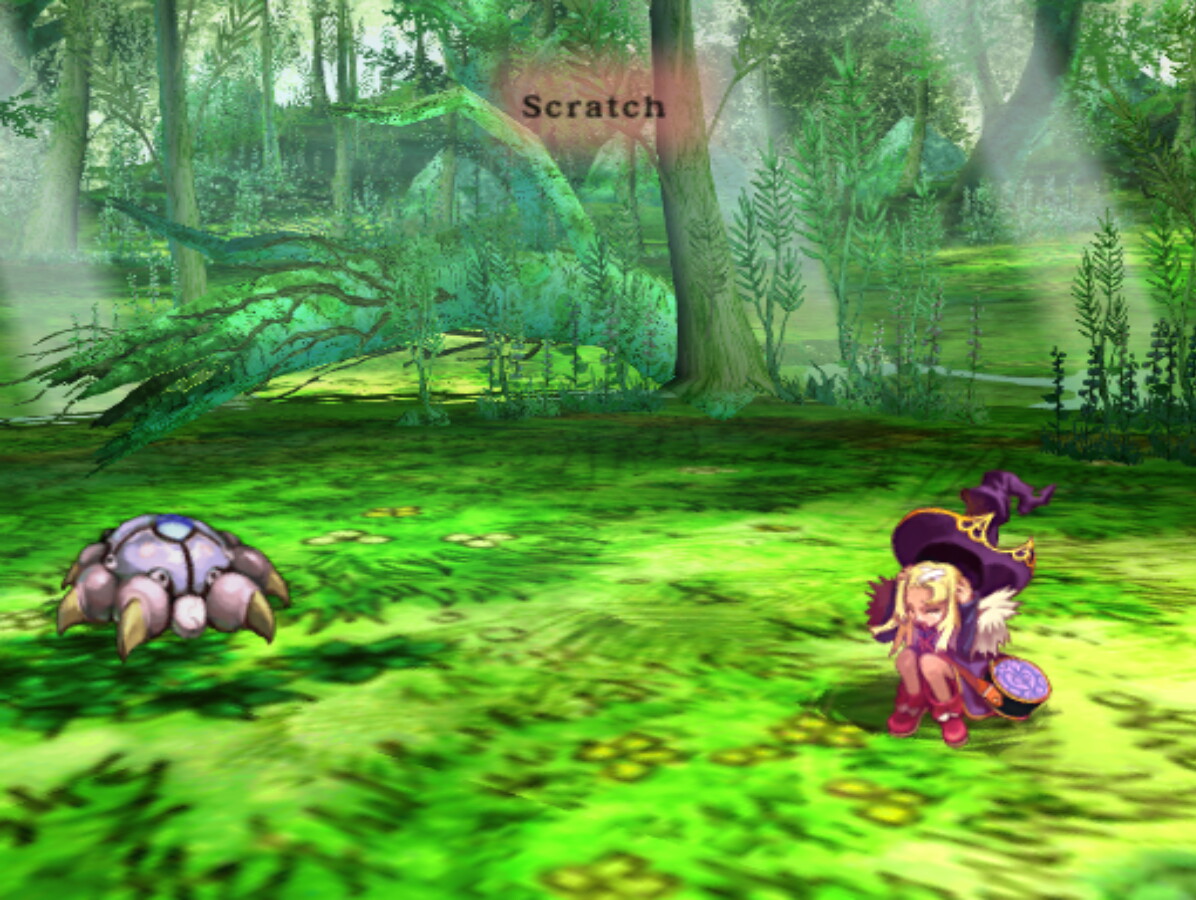 I got a good cap of Judy's 'getting hurt' sprite from the front, too!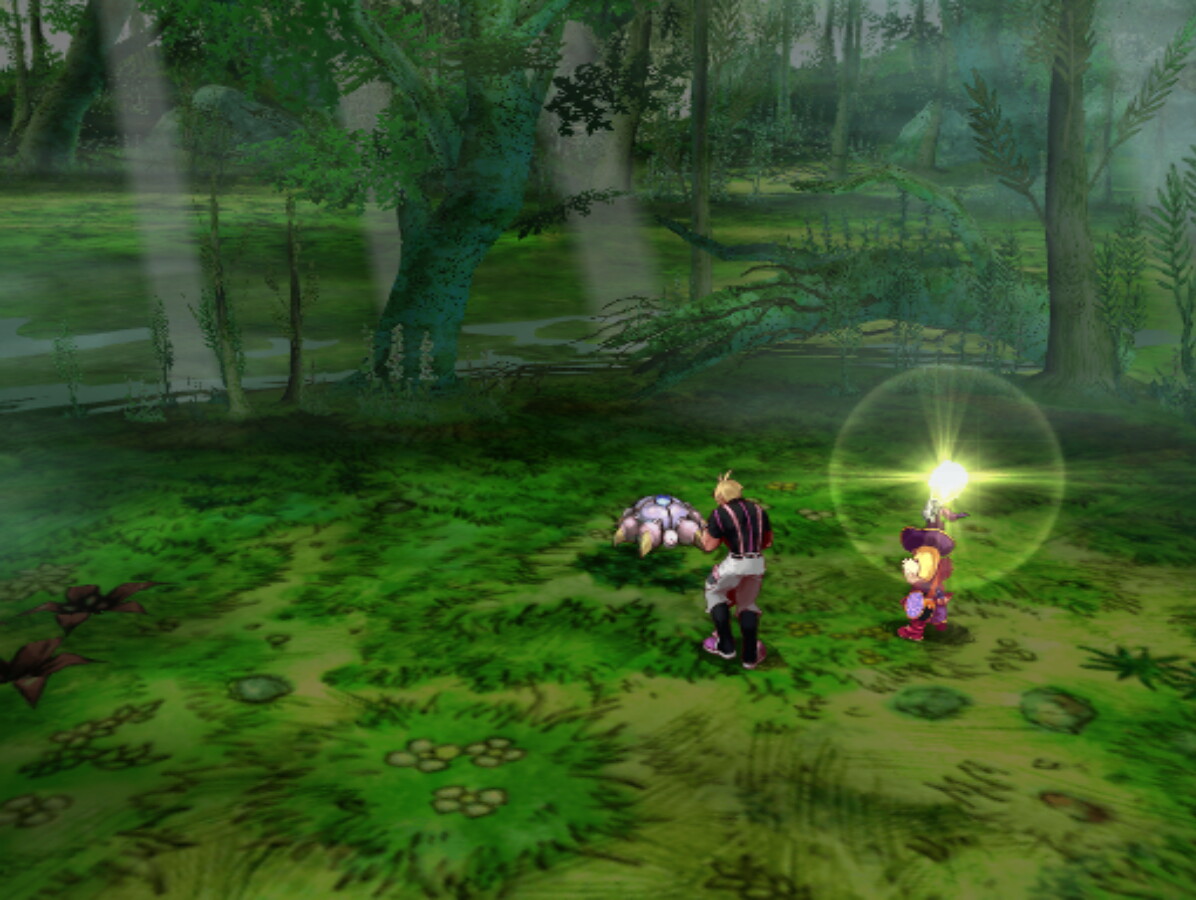 Judy was our first to glimmer a new art during the game! She glimmered Sinker, so now we can kick enemies to lower their Strength Level. Not that it's particularly helpful when they pretty much deplete all of your HP in the very first round of combat anyway...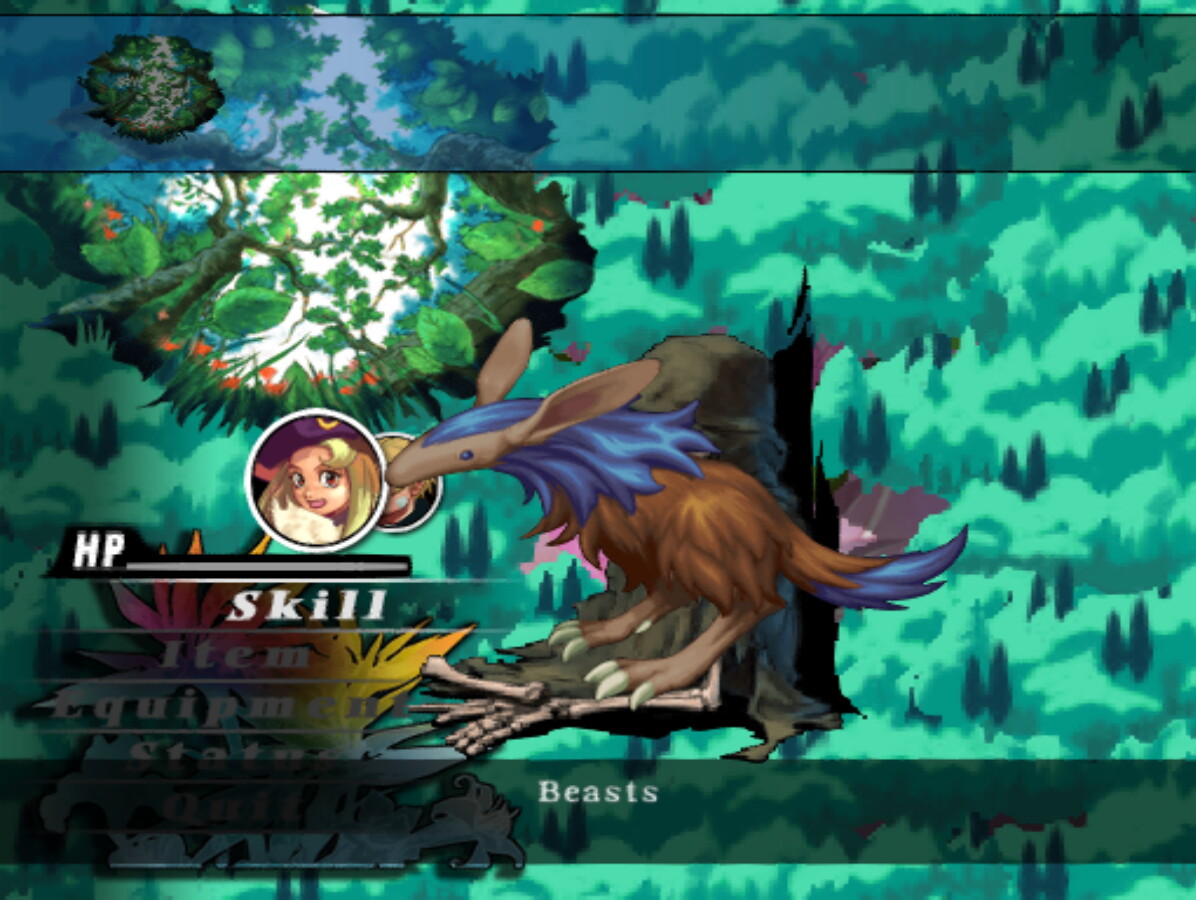 We found one of those dead body "chests" in the Forest's Eye, but then this little blue feller stepped onto the spot, too... I admit, I literally got a chill of terror seeing this thing... After running into early Rainbow Guckie in Kurt's scenario, this sprite is so scary! Even though it's quite likely just a regular Guckie at this point...
We did end up battling it, and fortunately it was just a regular Guckie. When the battle started, Judy called out, "Oh, it's so cute!"
Say that to a Rainbow, Judy, hahaha.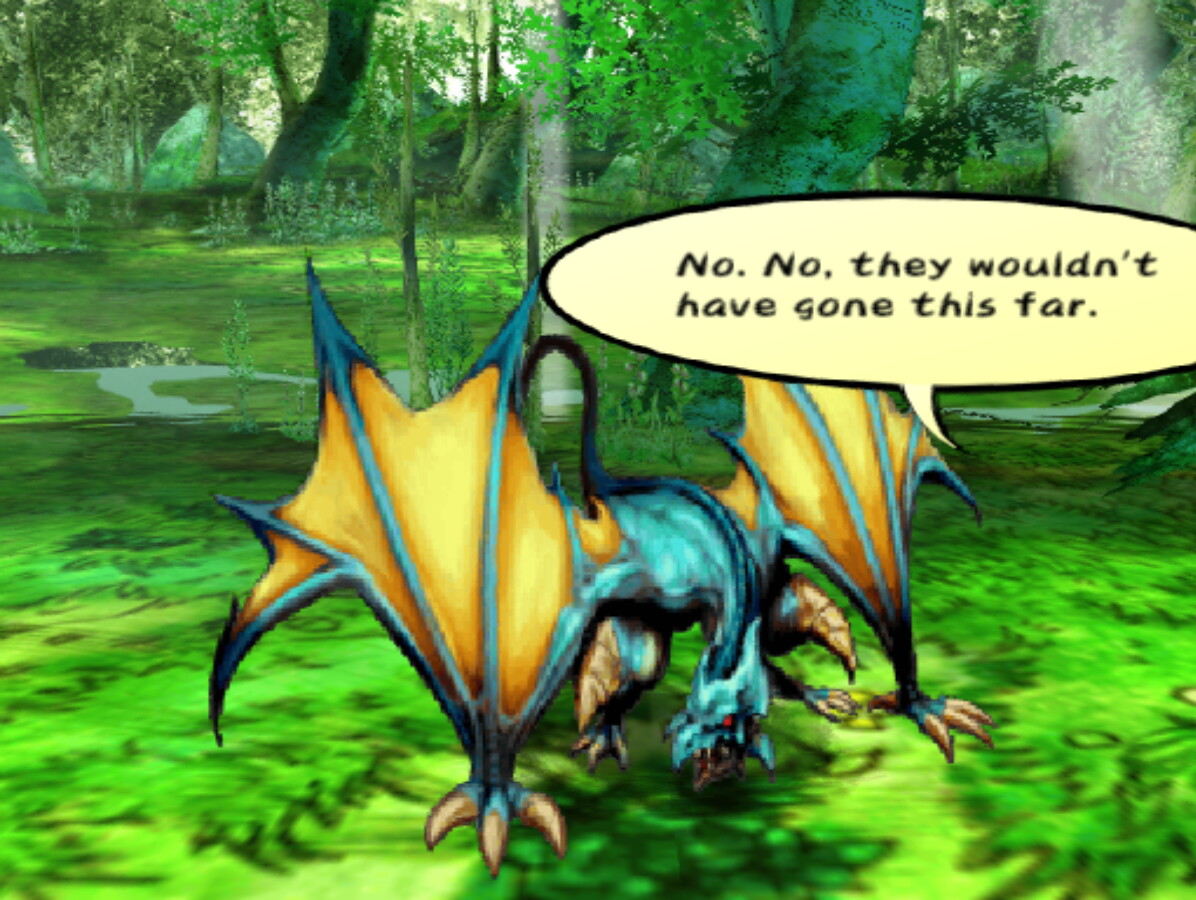 As we're about to finish our stroll through the dangerous woods, a Wyvern pops out of nowhere and challenges us to a fight! Judy wonders if it could have been the Carriers sending it after us. Kurt is certain that the Carriers would not go this far, though.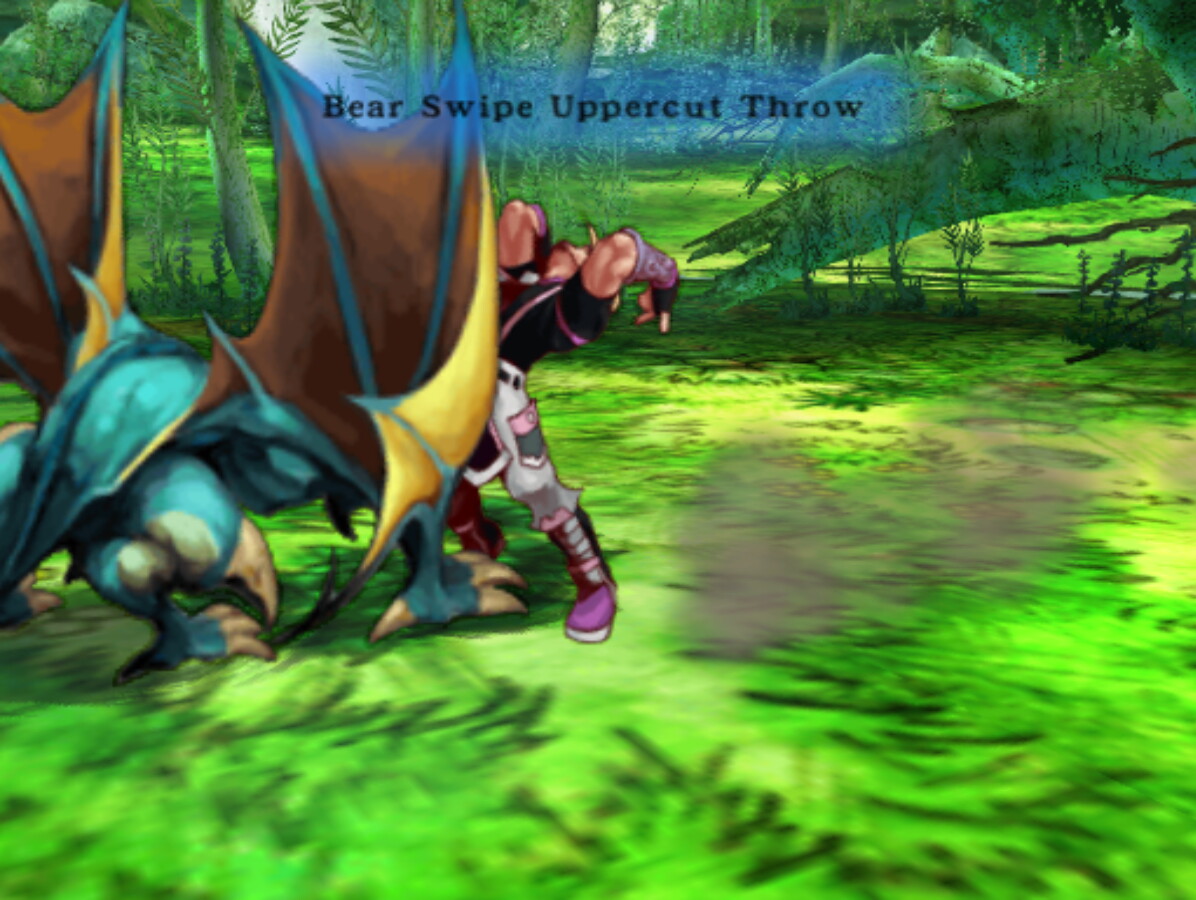 I was a bit unsure of this fight at first, but Kurt has a Punch panel to start with, and he glimmered Bear Swipe right away when I started having him punch. With Judy's familiars to manipulate the turn order, and Kurt chaining together Bear Swipes with panel support, we were able to take out the baddie.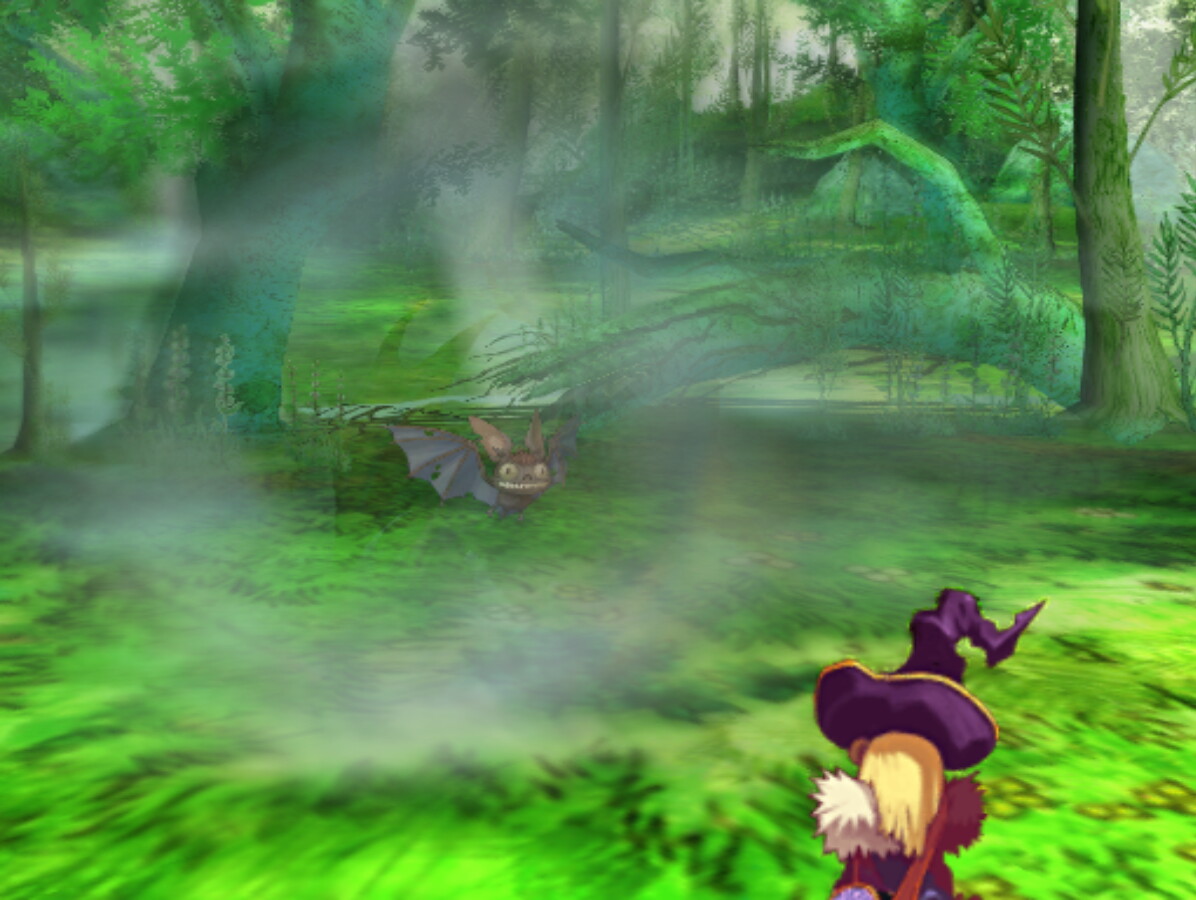 When it dies, it turns into a poof of smoke, revealing it was really some kind of weird bat thing with an unsettling sinister grin on its face.
Judy thinks it must be one of Clyde's servant spirits.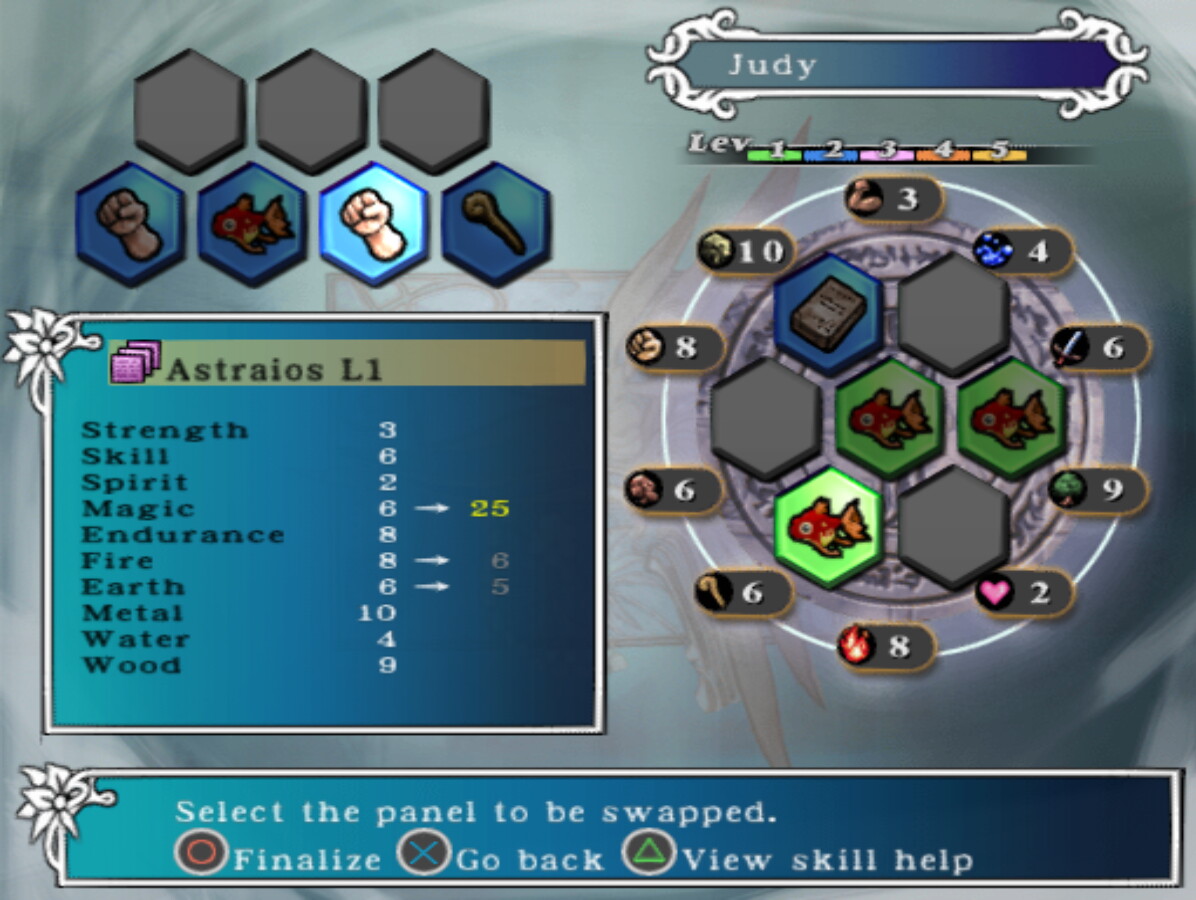 Judy got Astraios L2, but because it's a familiar, we'd have to replace the lower level version of it on the Growth Panel -- if we wanted it in a different spot, we wouldn't be allowed to put it there. And all of Judy's familiars start in inconvenient places on her Growth Panel...
Fortunately, though, she gets new panels for them all the time, so we take the Kick L2 panel we got and replace one of them with it, boosting her magic level up pretty high in the process.
Kurt got a L2 Defuse panel.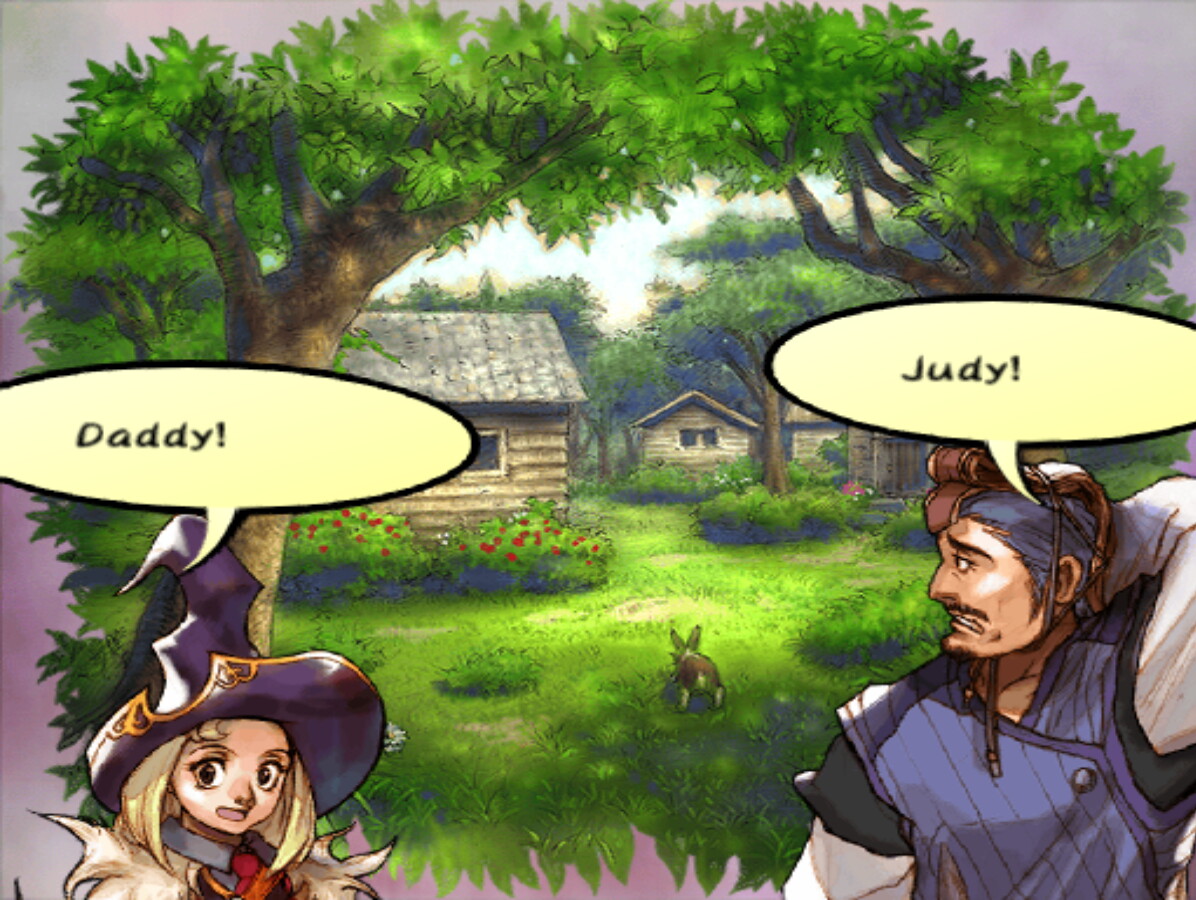 When we arrive in the small hamlet of Serin that's north of the Jade Forest, we are reunited with our dear, sweet, facking HOT dad!
Judy explains to Daddy everything that's happened so far. Thomas takes Judy and Kurt into Therese's house, where she's been helping him out since he teleported nearby.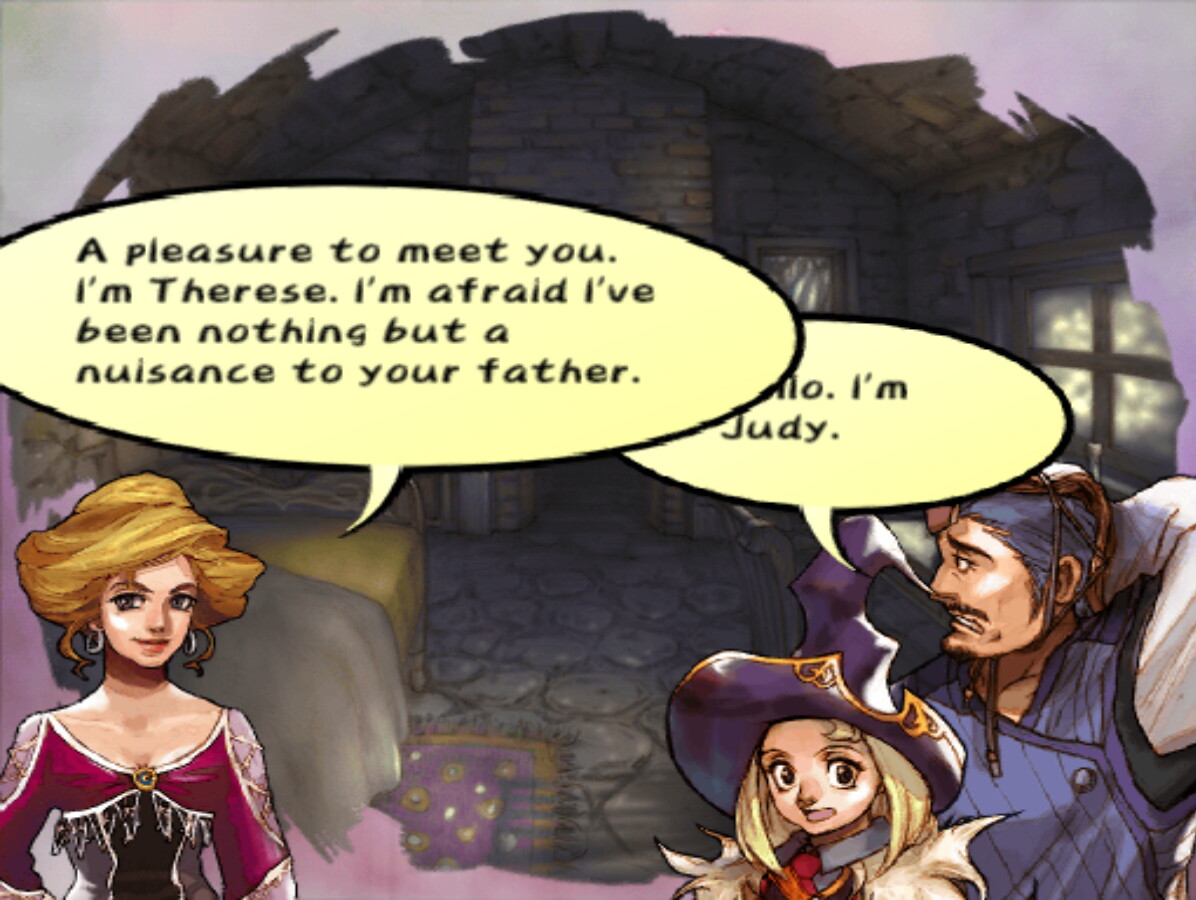 But while we're talking to her, a representative of Mr. Beauvais's arrives and essentially asks Therese to allow her daughter to marry his son. Therese is outright offended at the idea.
Therese and Heinz used to run the inn together, and Heinz was also the village chief. After Heinz died, Therese retired, and someone else took over the inn. But This Beauvais guy became the village chief. And if you're wondering why Therese is particularly offended that he wants his son to marry her daughter, it's because his son is Armand.
She complains specifically that Armand has made advances toward her daughter Ursula, but it's not like he actually is interested in her. He just wants what he can't have, so if he does manage to win it, he can show it off. Basically, he treats women like objects to be won as a prize and shown off.
Judy thinks this is pretty gross, because it is, and Daddy realizes that Ursula is late coming home, so he offers to go look around town for her.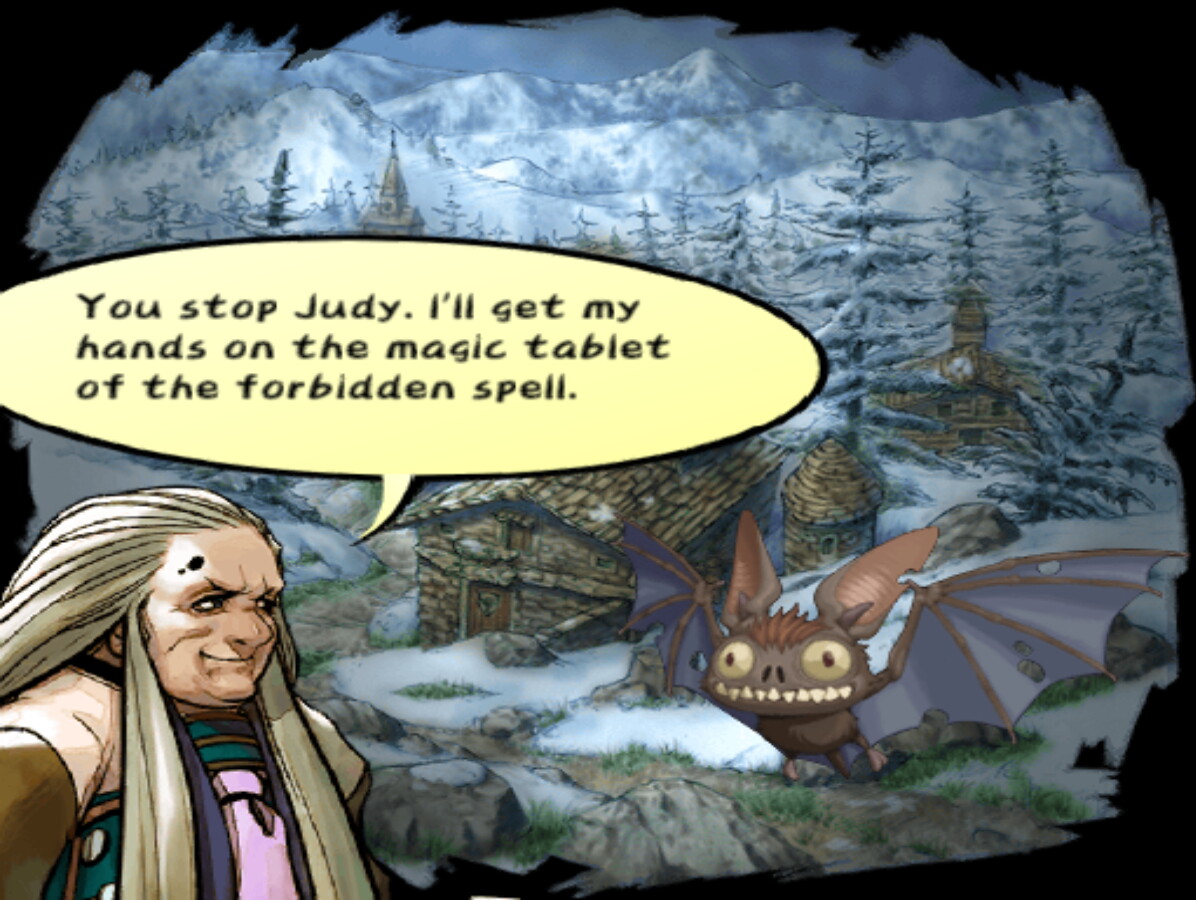 We're then shown a scene of Clyde, who recognizes that the defense magic sends you further the stronger your magical power, which means he must be the furthest (this isn't arrogance; Clyde is one of the most powerful mages in the world. I mean I'm sure he's arrogant, but this is just sensible reasoning at least LOL). He asks his minion to stop Judy (it doesn't explain exactly how he knows what's going on, but maybe his minion gathered the information for him and told him just prior to this scene?) while he gets his hands on the Forbidden Magic.
And before we get back to Judy and friends, Clyde says (with a voiced line!) that "Rebecca is the key." So I guess he's going after Judy's mom. Which shouldn't be that hard for him, since she was probably teleported almost as far as he...
Then we are back in Serin and gain control of Judy. And that's where we'll stop for today! I did do a bit of shopping, snatching up a Silver Helm, a piece of raw Silver, and some Ravenite that I found in the Cherub Inn. And next time, we'll start looking around for Ursula.
---