Save Grandpa!
Hey everyone! It's been a while. If you can't remember, we finally assembled all of Judy's family at her home, where we found out that Clyde had broken the mirror and sent Josef into the "mirror dimension," whatever that is. Daddy told us we can get there through Deities' Table, one of the Seven Wonders. And so now we only have one destination left before the scenario ends...
A lot of adventuring has happened since the last entry. I actually ended up streaming the last bits of this game, too. I might start streaming other stuff I do for diaries, too? But anyway, our party has evolved a bit. Rather than going through another subadventures digest when everything is just the same as before, we'll just jump right into the characters' stats so you can see how they've grown, and then head right on to rescue grandpa from the mirror dimension.
There's one little quirk about Judy's final adventure, though -- unlike the others, instead of being able to take a party of seven, we have a character limit of six! Knowing this in advance, I actually stopped training both Kurt and Armand for most of the game. Armand at least hung around in the party since most adventures require seven characters, though. But I never really used him to focus instead on the other characters. So here's our final part, with only six members: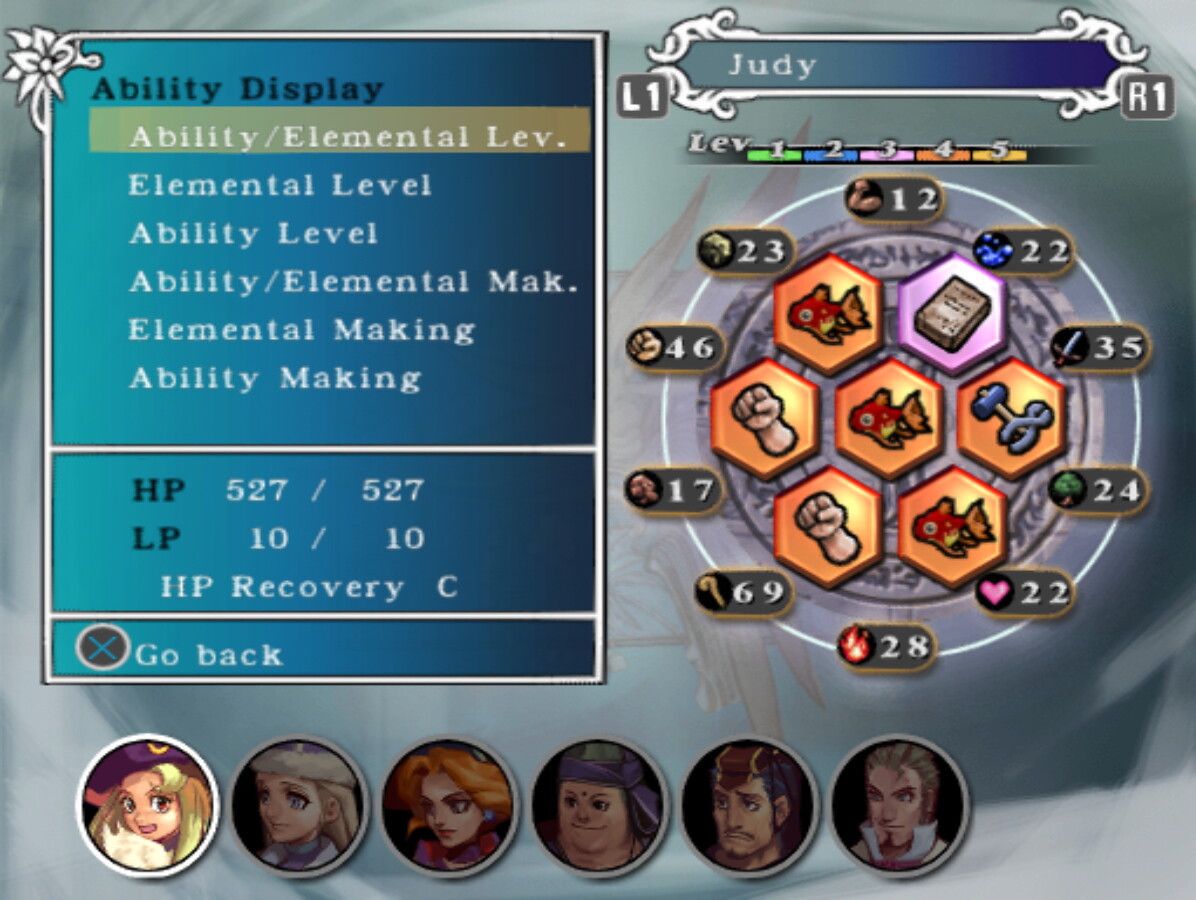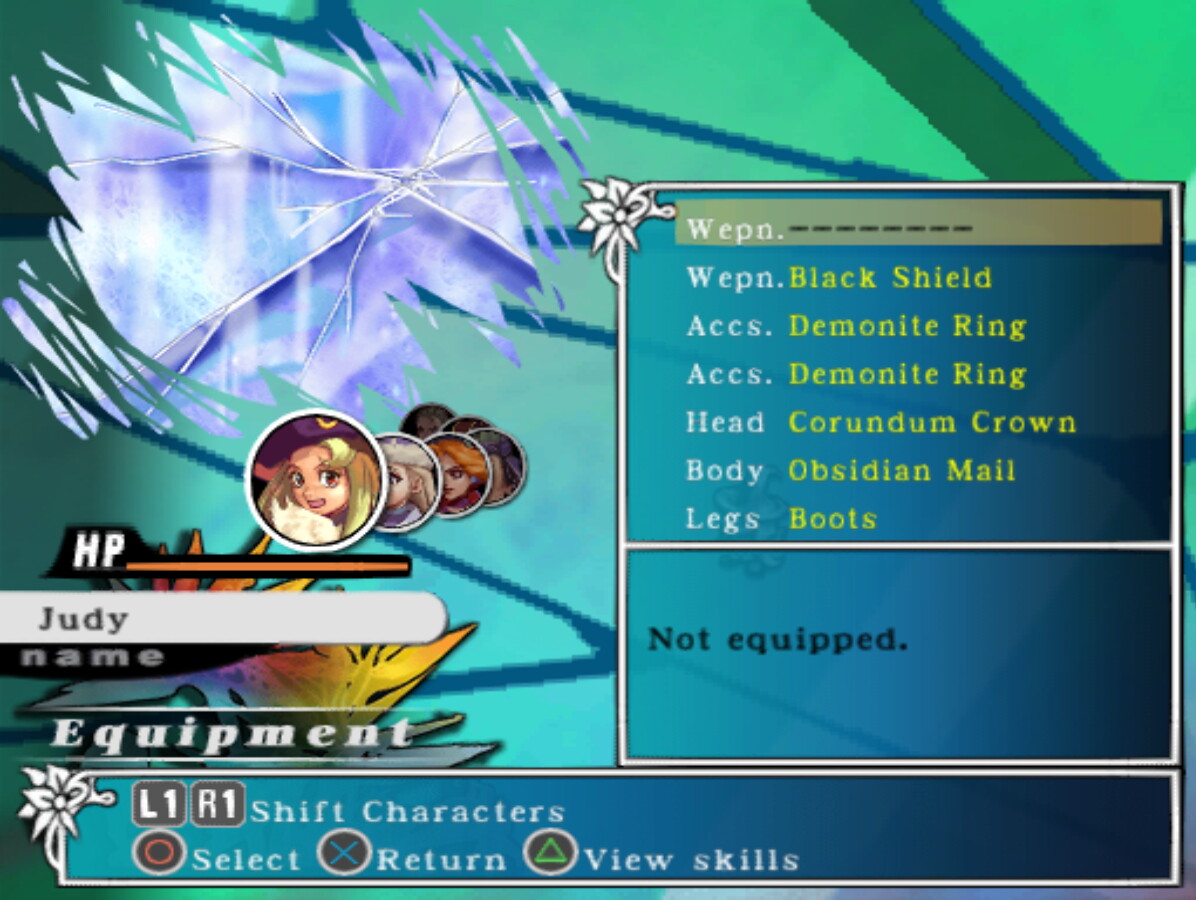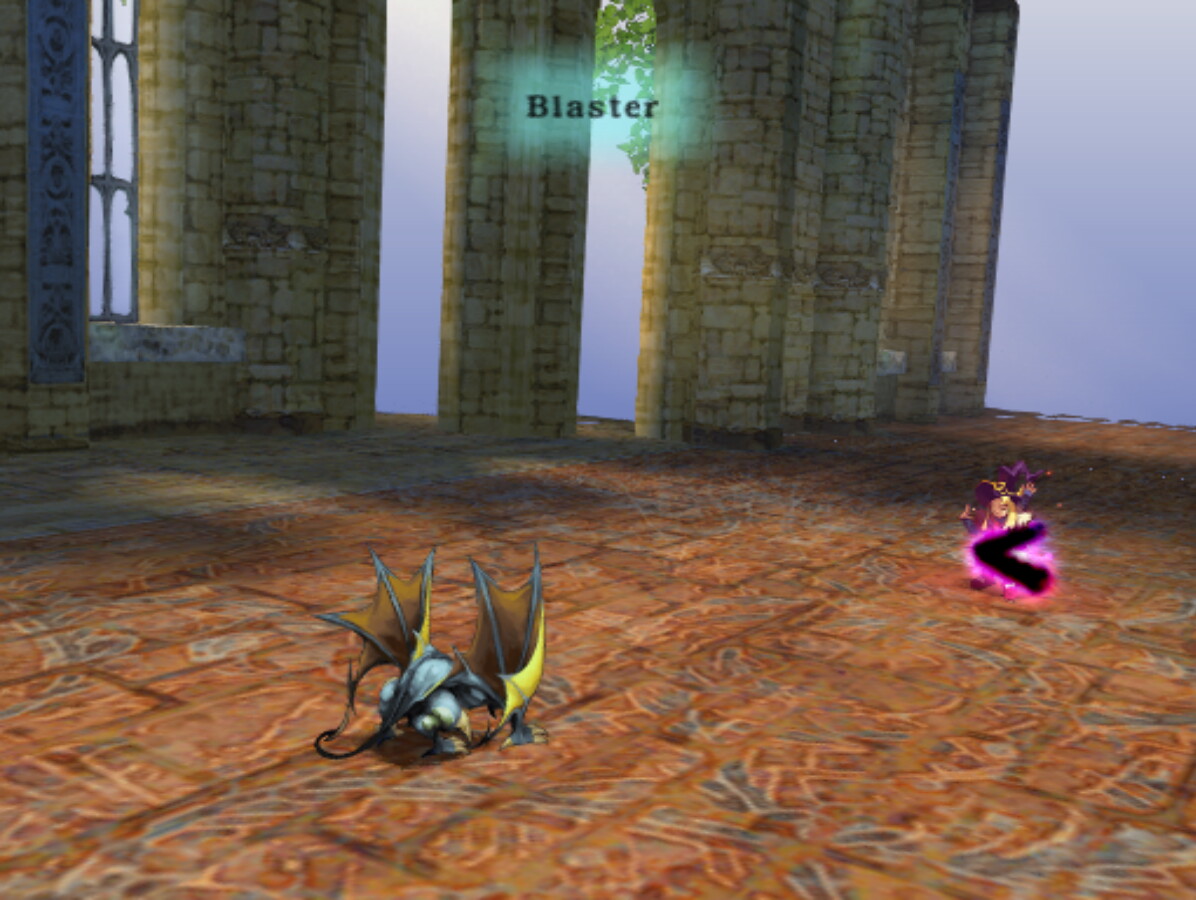 Let's start with our heroine, Judy! Judy was by far the most fun character to play around with in this run, thanks to her two Forbidden Arts tablets that she is given for free as part of the story. Thankfully I was able to get a few pieces of Demonite from the shops and get Forbidden Arts onto a Demonite Ring without save scumming. Getting the Forbidden Arts to land was one of the things I was really worried about, since Judy doesn't have a lot of subadventures (meaning less shop refreshes), Demonite is pretty rare, and getting Forbidden Arts to release is not the best chances, either.
And we got Forbidden Arts on her ring early enough to make some really great use of it throughout a lot of the subadventures! With two Forbidden Arts tablets, we were able to learn a wide range of useful Magic Arts, like Degeneration that poisons the enemy and prevents them from recovering HP every turn and Blaster which deals damage and has a good chance of insta-killing most enemies. Even some bosses and midbosses! In fact, comboing two Blasters together never once failed to kill something automatically, unless it was something that resisted or was immune to Blackout.
Judy also had her three familiars, giving her a myriad of useful Magic Arts from the Fire, Water, and Earth schools. Her Fire Arrows and Boulder came in handy for regular attacking, and she could heal, as well, all without having to use any durability on her accessories.
With amazing offensive prowess, Judy was the star of most regular battles. In longer and tougher battles like against Tagut (which was a really close call or Chaos, though, she had to sit out most of the time, since her low LP meant risking a Game Over.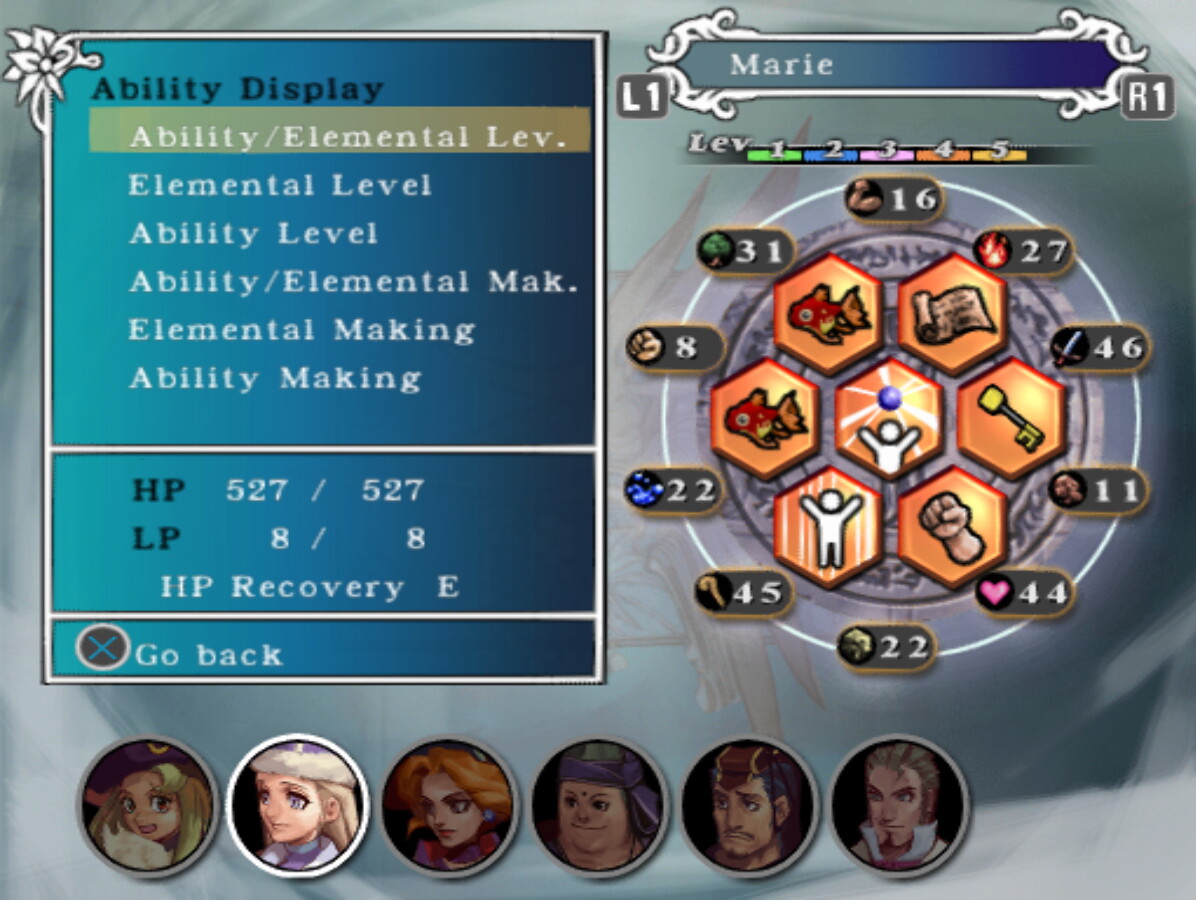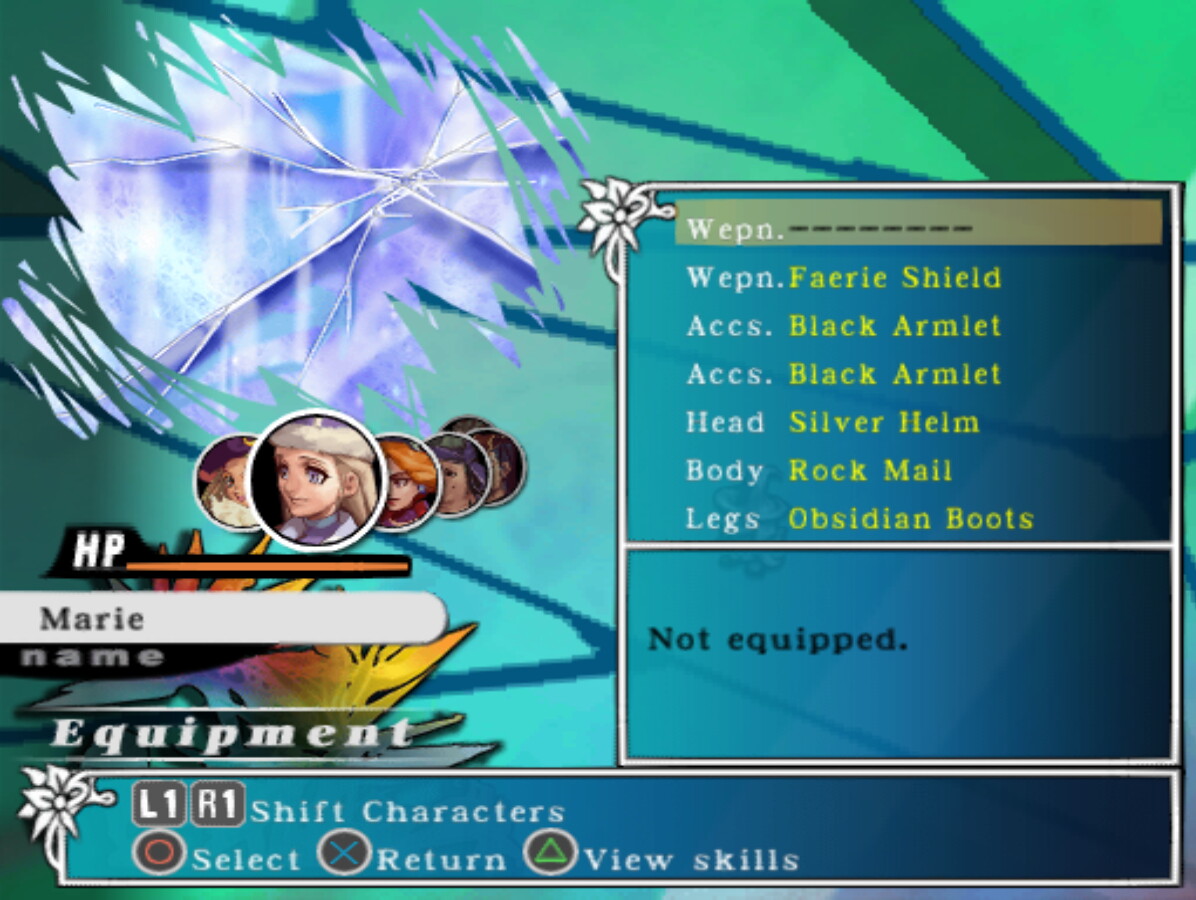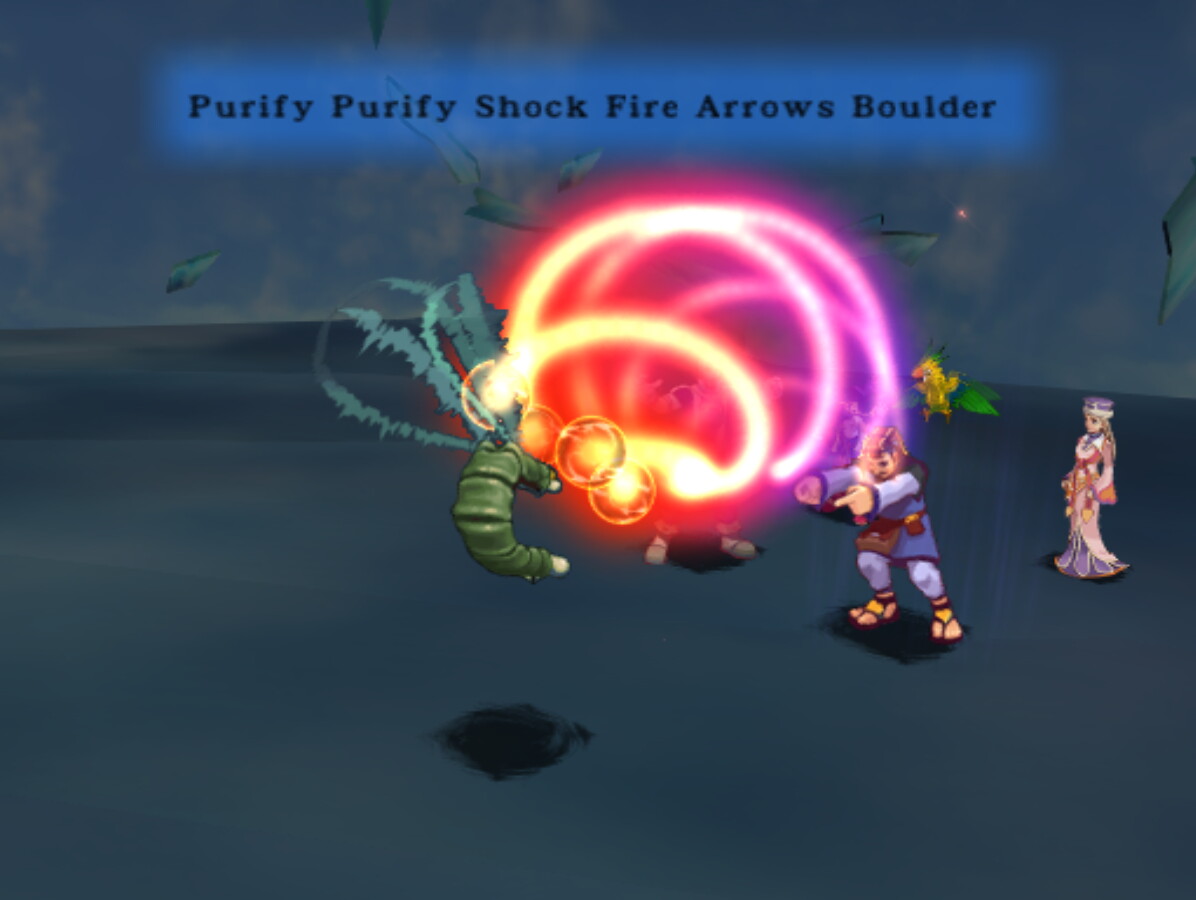 It's hard to comment on Marie because she ended up being one of the most underutilized characters. I had a lot of trouble with finding magic tablets for the entire playthrough (which is... pretty terrible considering we weren't using weapnos...) and Marie just never really got off the ground. Her offensive magic paled in comparison to the other characters, she didn't know any martial arts, and her Purify was nowhere near as useful as Nuage's. She basically ended up being a 'link' in combos, adding an extra step to beef up the other characters' arts, and a backup healer if Nuage got paralyzed or something.
Though being the link in combos was actually quite useful. Since Magic Arts have horrible speed, it was not uncommon to be able to combo all five actions together in a single turn (which is cool because the characters sometimes say little voiced lines during 5-action combos). I even added a five-action combo to the Sort Combos list, and used it throughout most of the game to try to bump up its repetition count. The combo went Purify-Purify-Shock-Fire Arrows-Boulder, and Marie having a few different familiars and learned Magic Arts was able to fill in for almost any of those when needed, making the combo extremely versatile. Judy's familiars helped out a lot here, too, since she had access to all of those but Shock.
Outside of battle, Marie at least found a little usefulness through being one of the only characters to ever get a Fortuneteller panel (which... seems really weird, honestly), and there was a long point where we were really desperate for money, so her Fortuneteller skill really paid off. And if I needed to open a magic lock on a chest, it was usually Marie who did it (but more because she always had plenty of durability on her armlet because she never really used it). She also was the Quick-Fixer of the party for most of the game, though that did swap around to someone else right at the very end.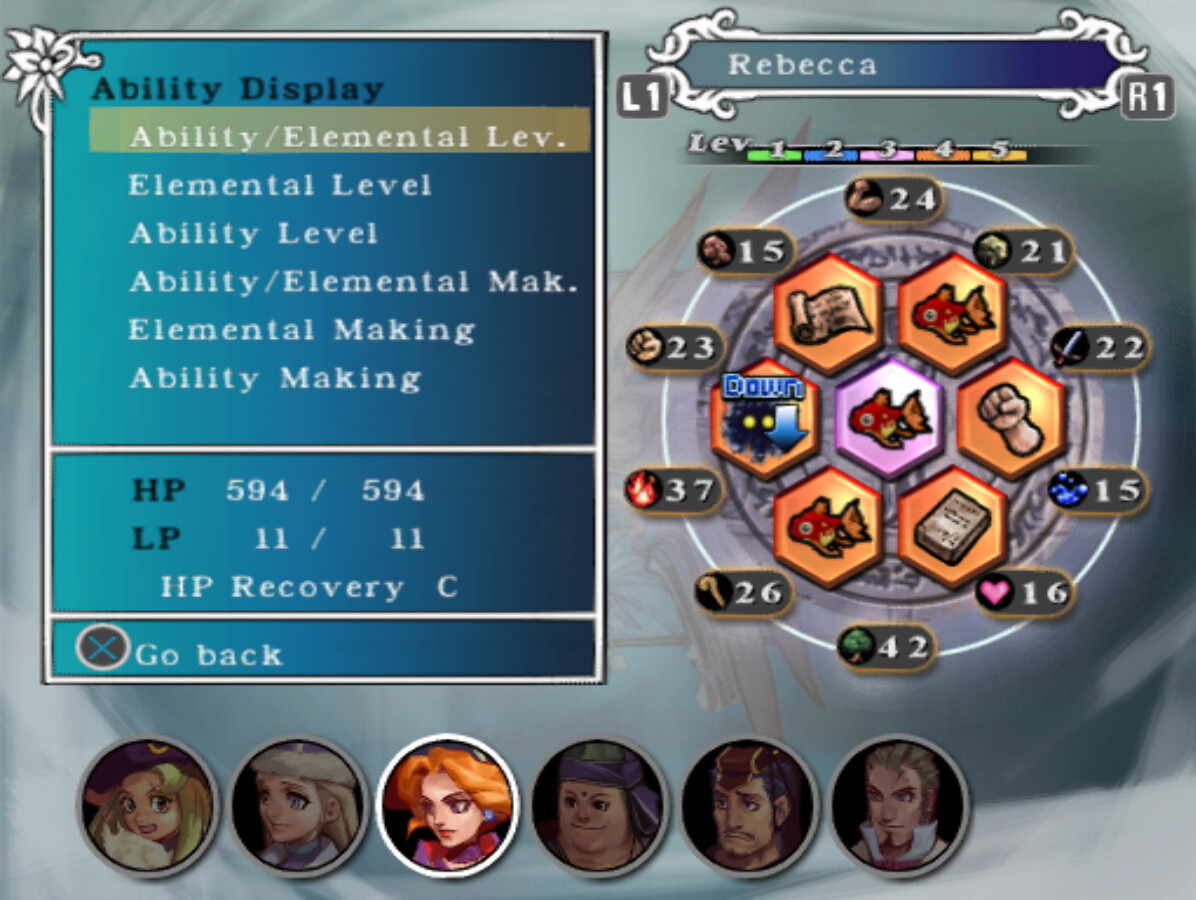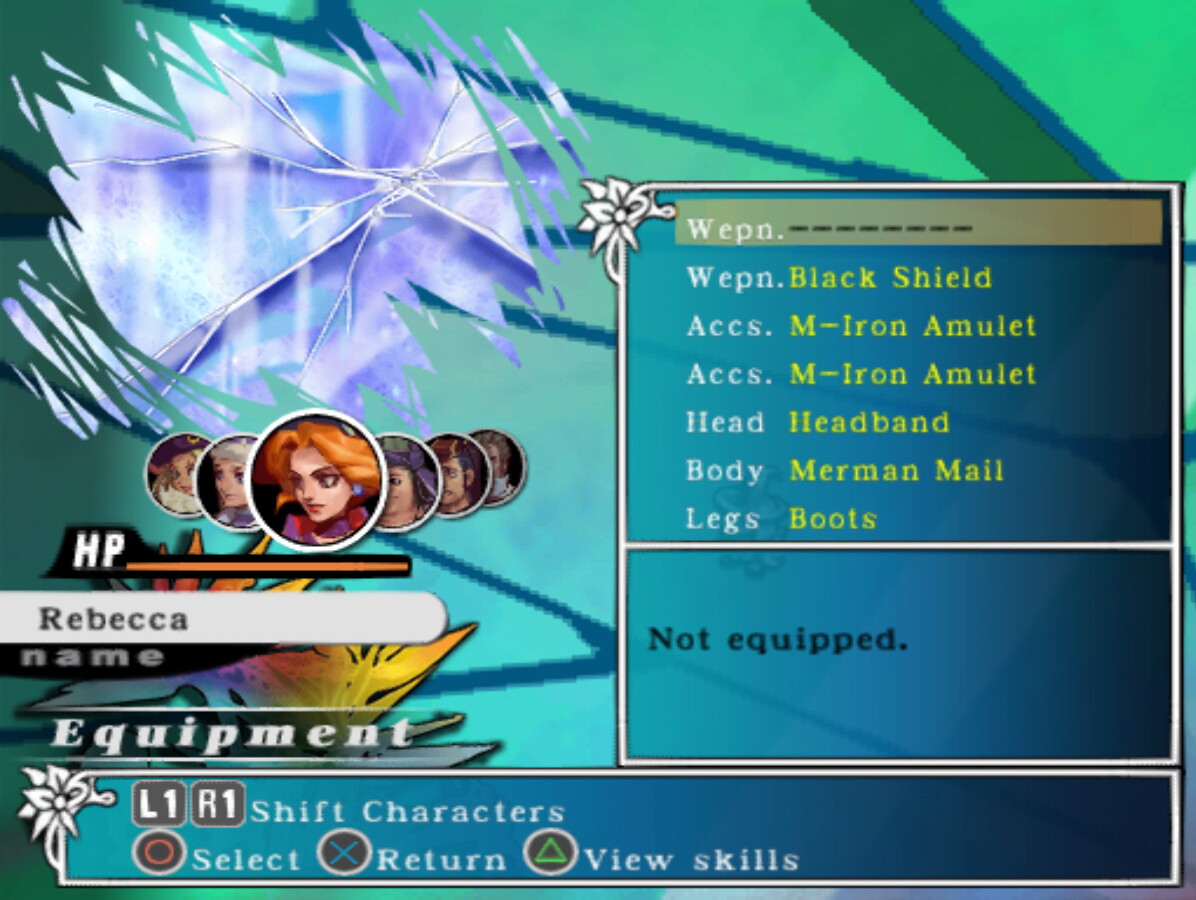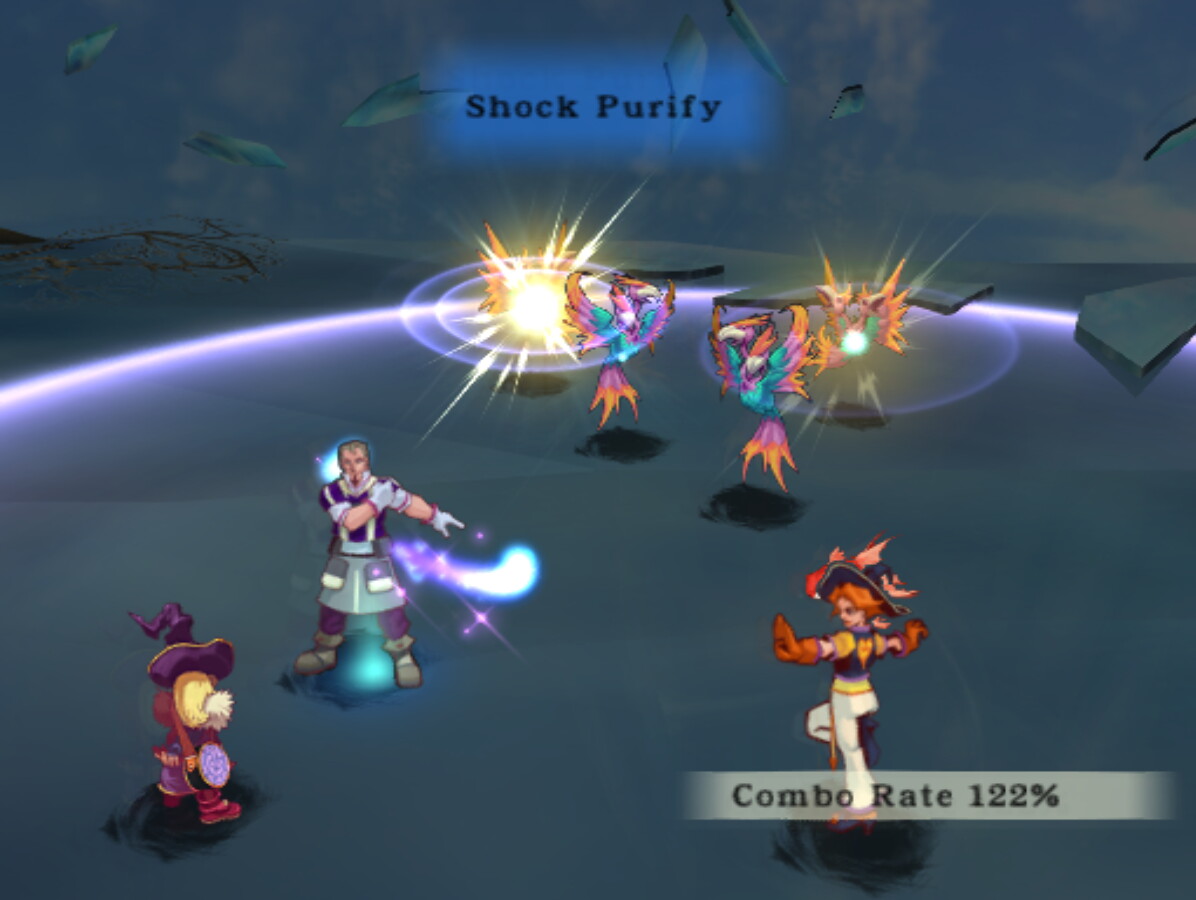 And then on to Mom. Becky is a lot harder to build because she arrives so late in the game, and you only have whatever subadventures you haven't cleared yet available for training her. Her Wood Making is fantastic, though, and I very luckily did end up getting a Forest Philosopher tablet, so she ended up being able to use Thunderbringer, though we did get it very late in the game. It because a great source of damage against bosses and tougher enemies.
Otherwise, she supported the party mostly with Metal Arts, using Shock to hit all enemies, which was the only art in the entire team capable of doing so until Judy got Ice Needle near the very end. She also could use Magic Lock to stop Treasure Slimes from attacking, and since this was a magic-focused game, we were definitely hunting out as many Treasure Slimes as possible.
Her three familiars did give her a lot of versatility, though, allowing her to do some of Marie's job, but just a little better, due to her higher Elemental and Magic Levels.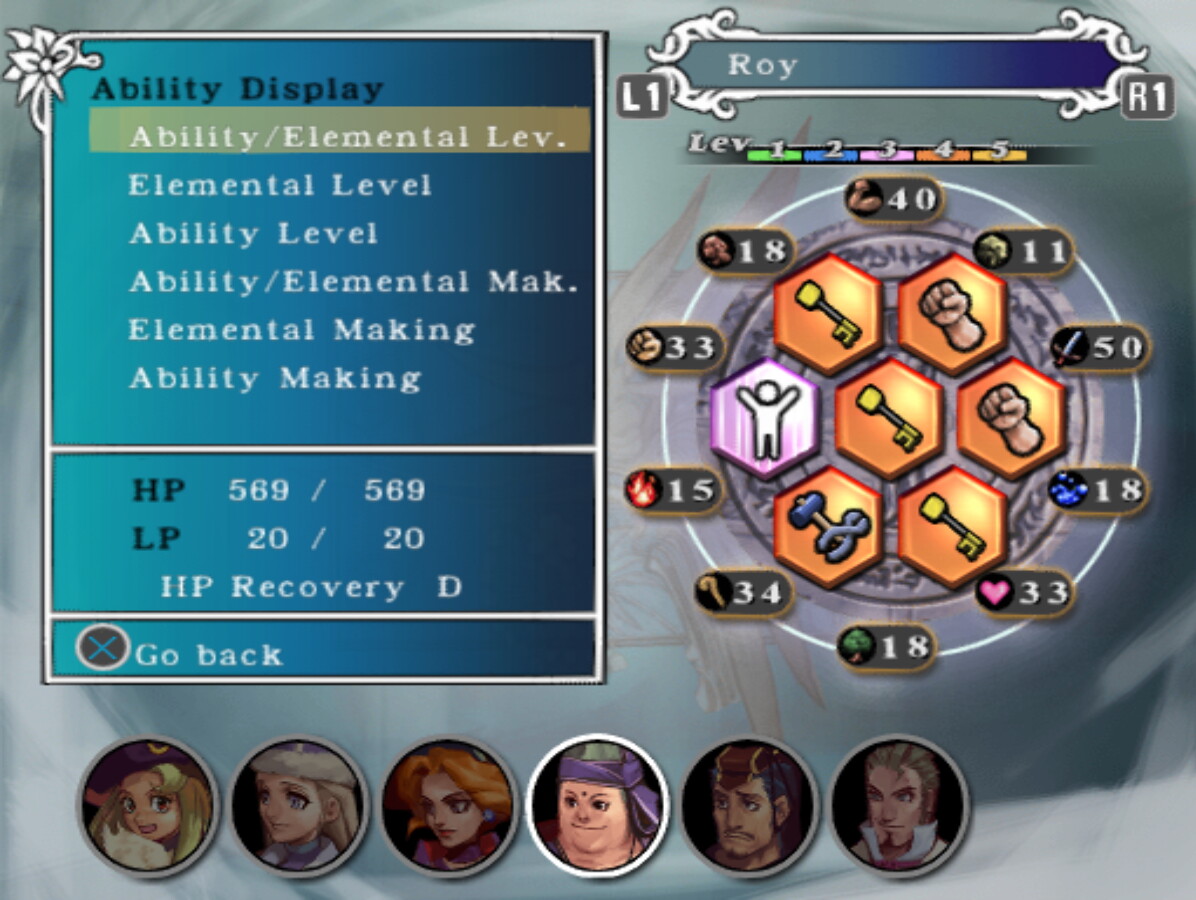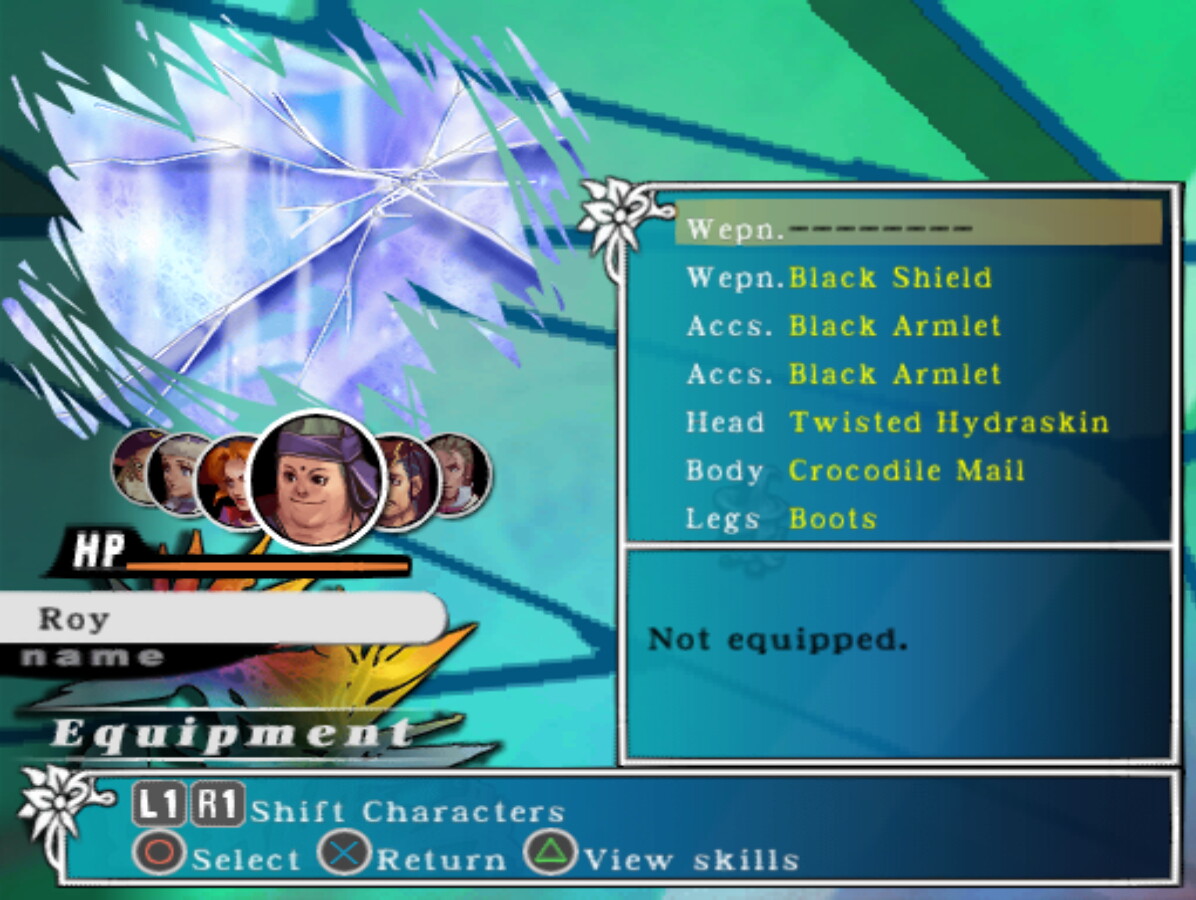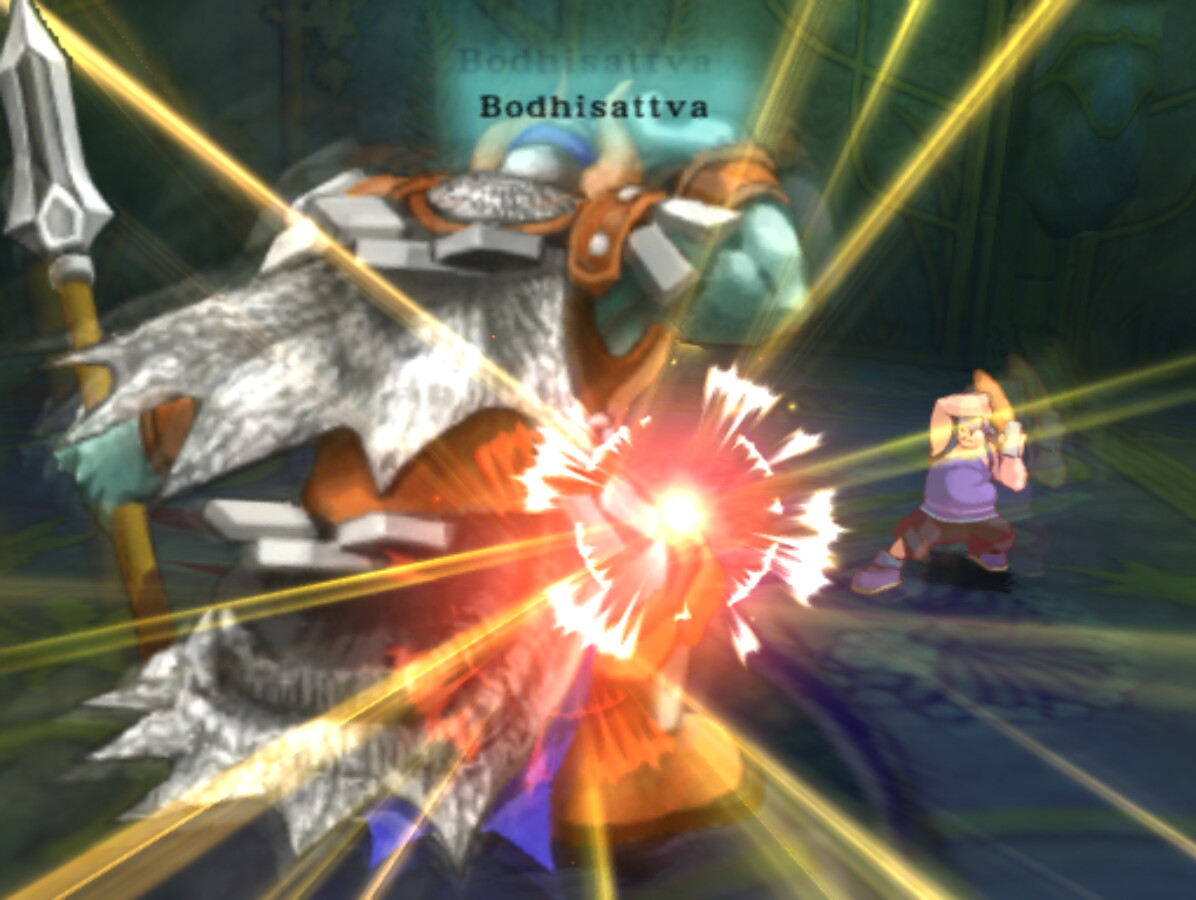 Roy!! Roy was the team's powerhouse, and the only character to actually focus on martial arts in the party. Even with some pretty hefty armor, Roy's physical dexterity still allowed him to use light martial arts, and he spent a lot of time throwing enemies before finally glimmering Bodhisattva in the last few adventures. The team probably could have been much stronger with more martial artists, but I really wanted the run to focus more on Magic Arts. Marie probably could have ended up being useful throwing some punches around, though.
Roy was also the designated "box guy" since he is a stealth machine. He took care of all of the investigating, unlocking, and defusing everywhere, leaving only the Fortunetelling to his sister. There's not a lot to say about the person taking care of boxes, since it's the same every time, and even though I don't have as many words to type about Roy, he was a key member of the party. He just happened to play very orthodox roles that don't need much explaining. He punched stuff and picked locks.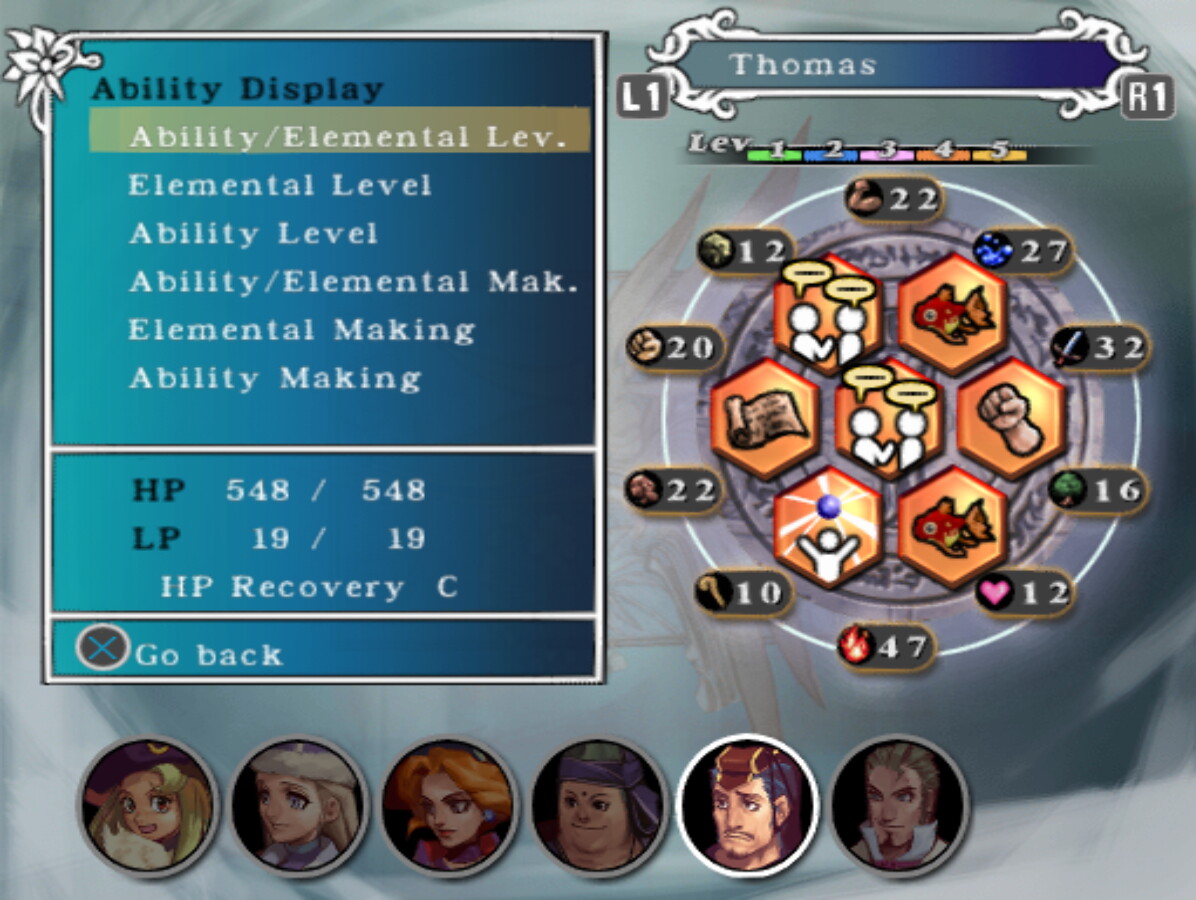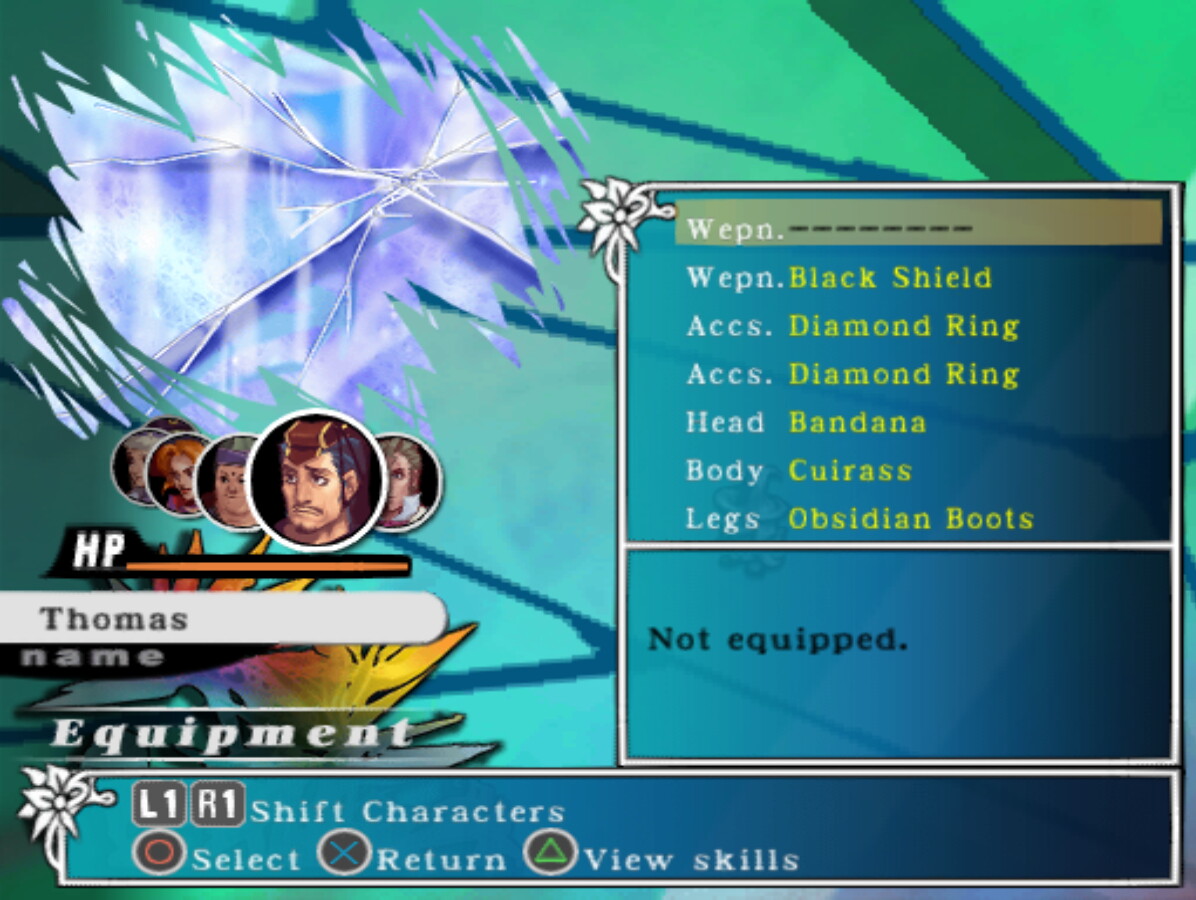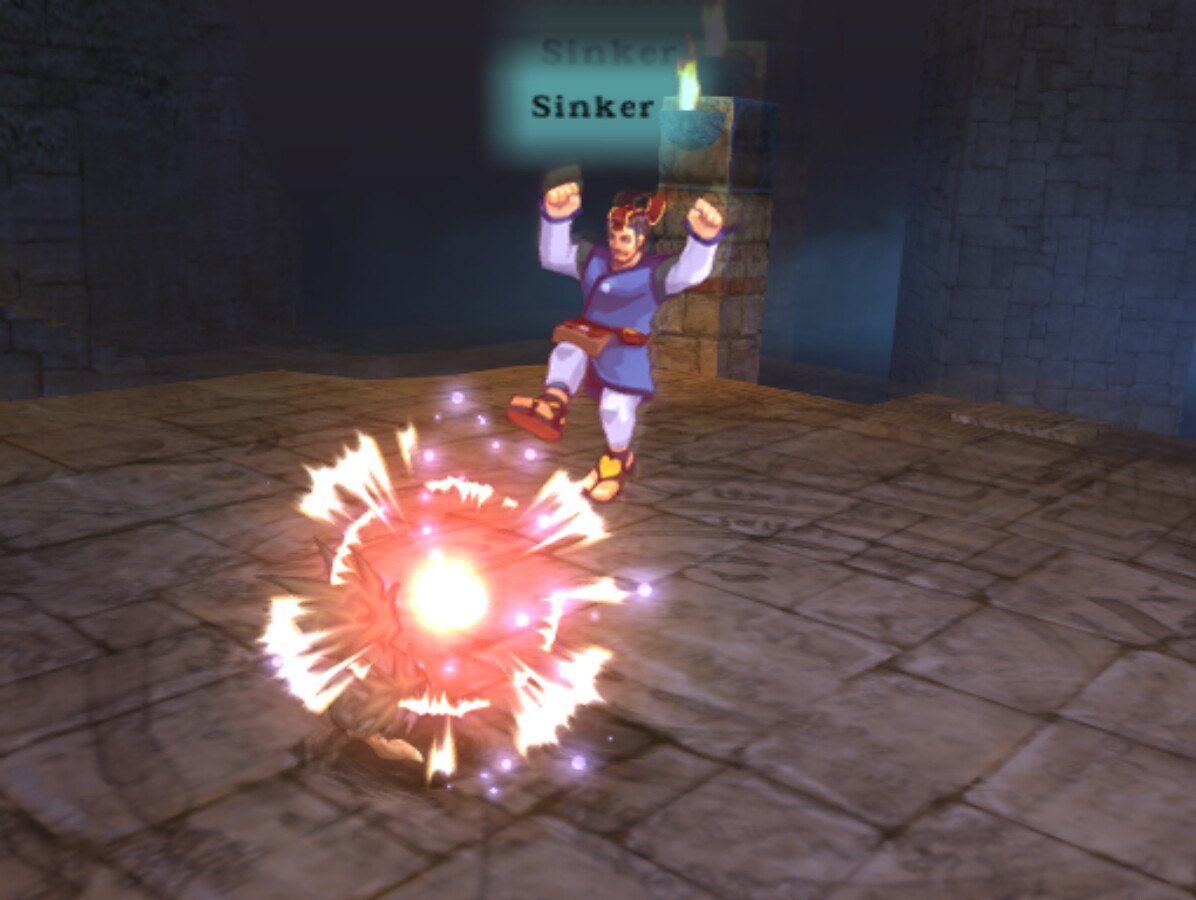 Then we have dear old Dad. While he is around for like one and a half adventures at the very beginning of the game, he disappears and then, like his wife, is only available for training at the very end with whatever subadventures you have left to play. Not wanting to rely too much on physical damage, I ended up working with Daddy's high LP, building him into a tank. We were also lucky enough to find a Cuirass and a Glossed Silk Headband for him, so he really absorbed HP damage.
Of all of Judy's family, for some reason the guy who can't do magic at all has the highest Fire Making of them all. So when he happened to get Fortuneteller out of nowhere, I placed it near his Fire growth, and later got him a Fire Familiar, too. Sadly he never got a decent tablet to learn from, though he did at least learn Purify from some random low-level tablet.
With Fire Arrows from his familiar, he could both tank and deal decent damage as well. With his huge Fire Level, he was even able to deal LP damage and even one-shot smaller enemies. And of course, he also served as the party's sex icon, with his delicious mustache and alluring southern drawl.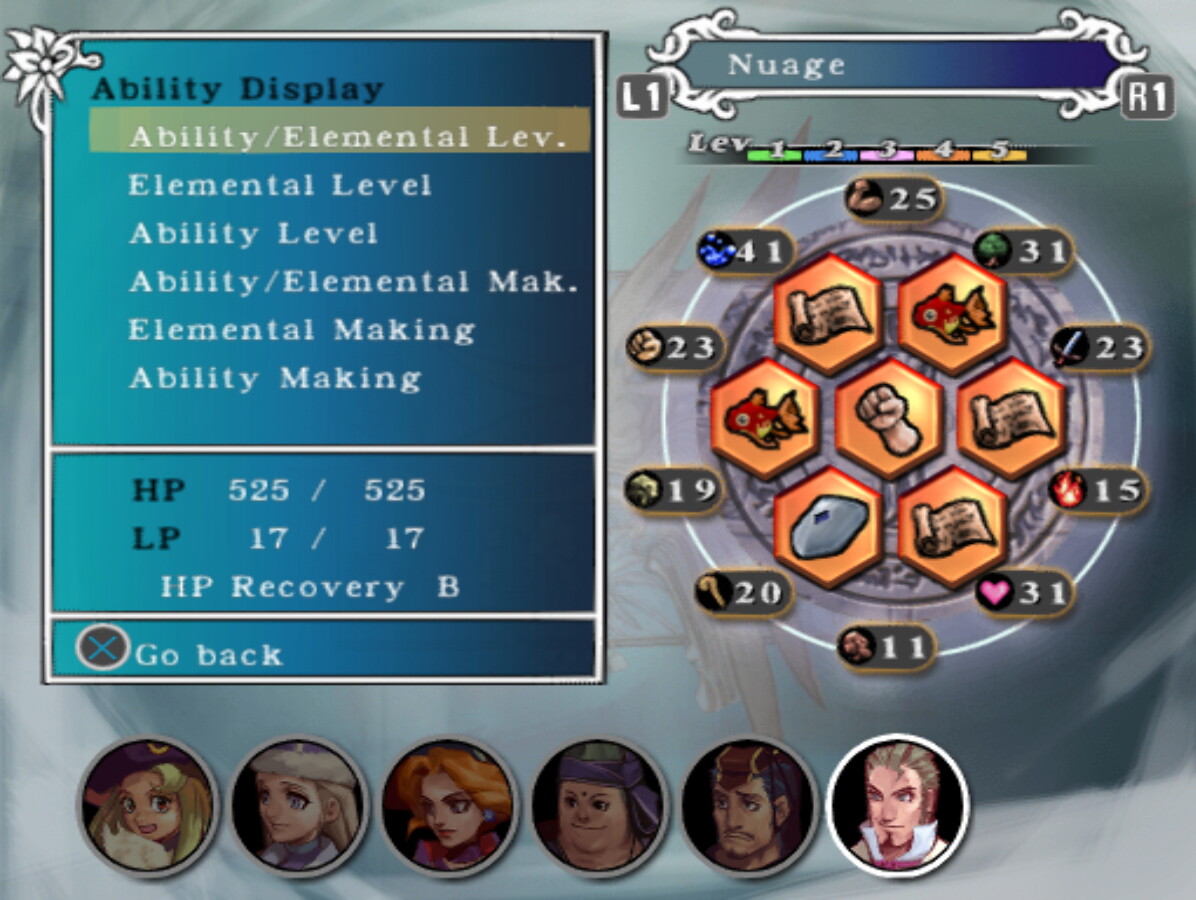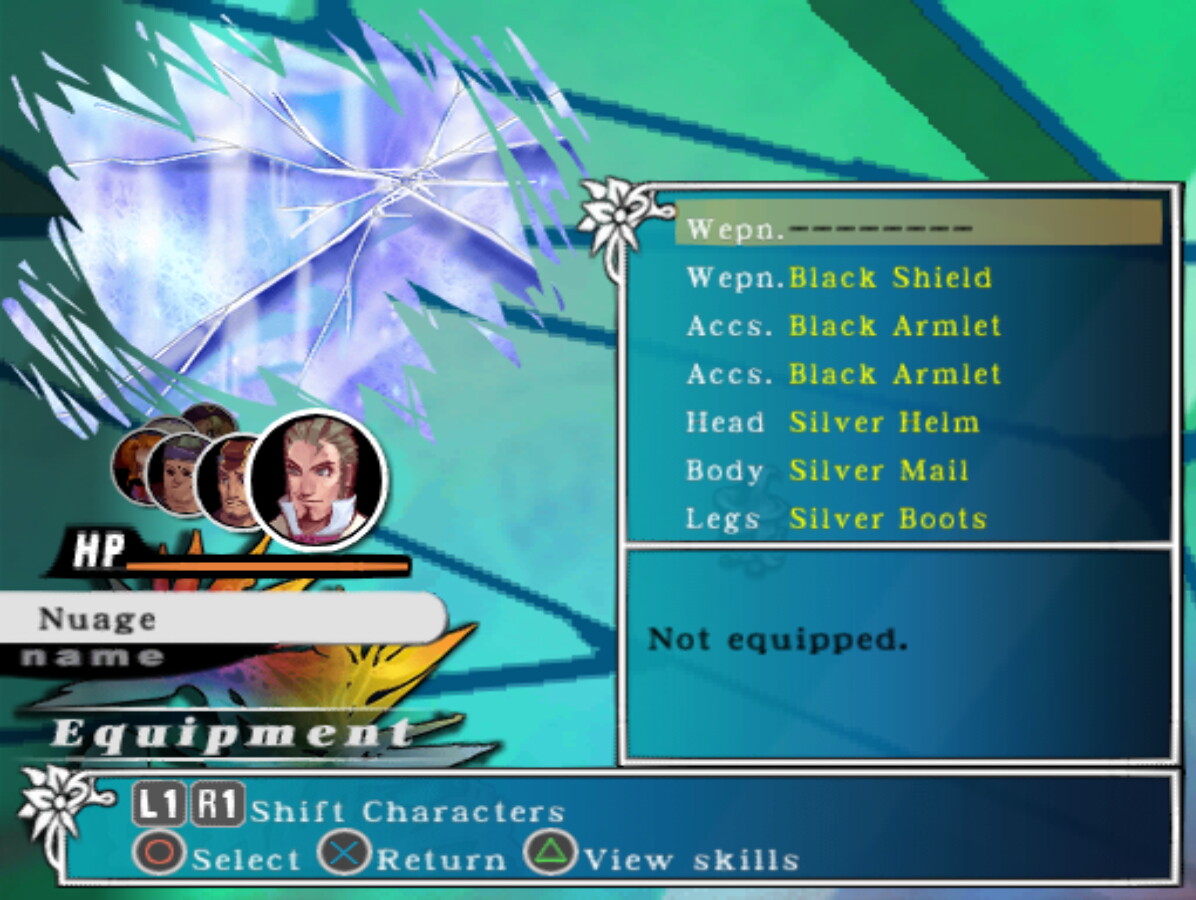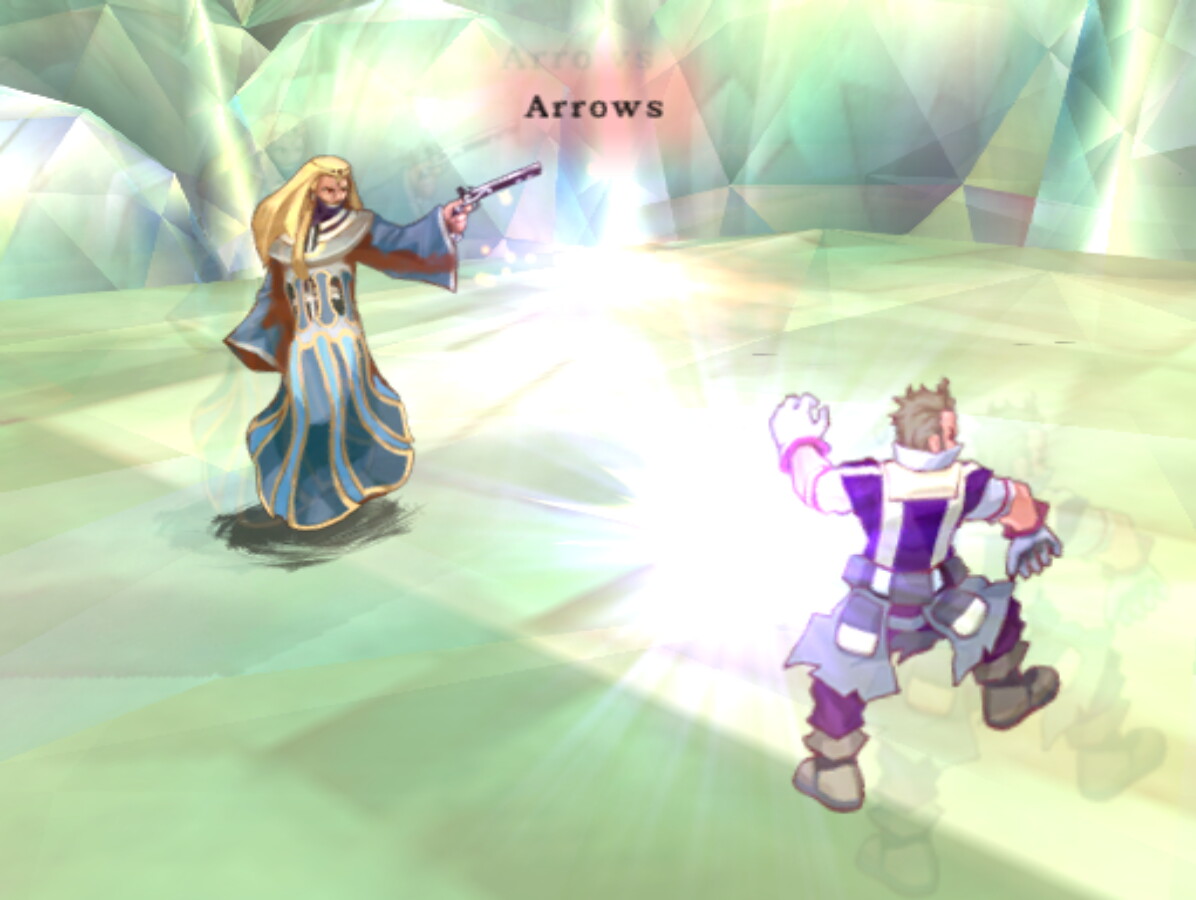 And finally Nuage, the obscure rando that has nothing to do with Judy's family or her story. Though he did attempt to steal some of the sex appeal limelight from Thomas with his rectangle head, big hands, and lovely Scottish voice.
But, uh, perving aside, Nuage actually functioned as the party's healer. I was hoping to get Ice Needles for him, too, but we never got a tablet for it. His Water Making is great, and he even got a L4 Shield Arts Panel, combined with his higher LP, allowing him to stand near the front of the formation as a back-up tank of sorts to Dad and heal all the while. During boss fights, Nuage was pretty much always in battle tossing Purify around. Too bad we never got access to even Bubble Blow for him...
And it is with this party that we head into Deities' Table. Something is reflecting!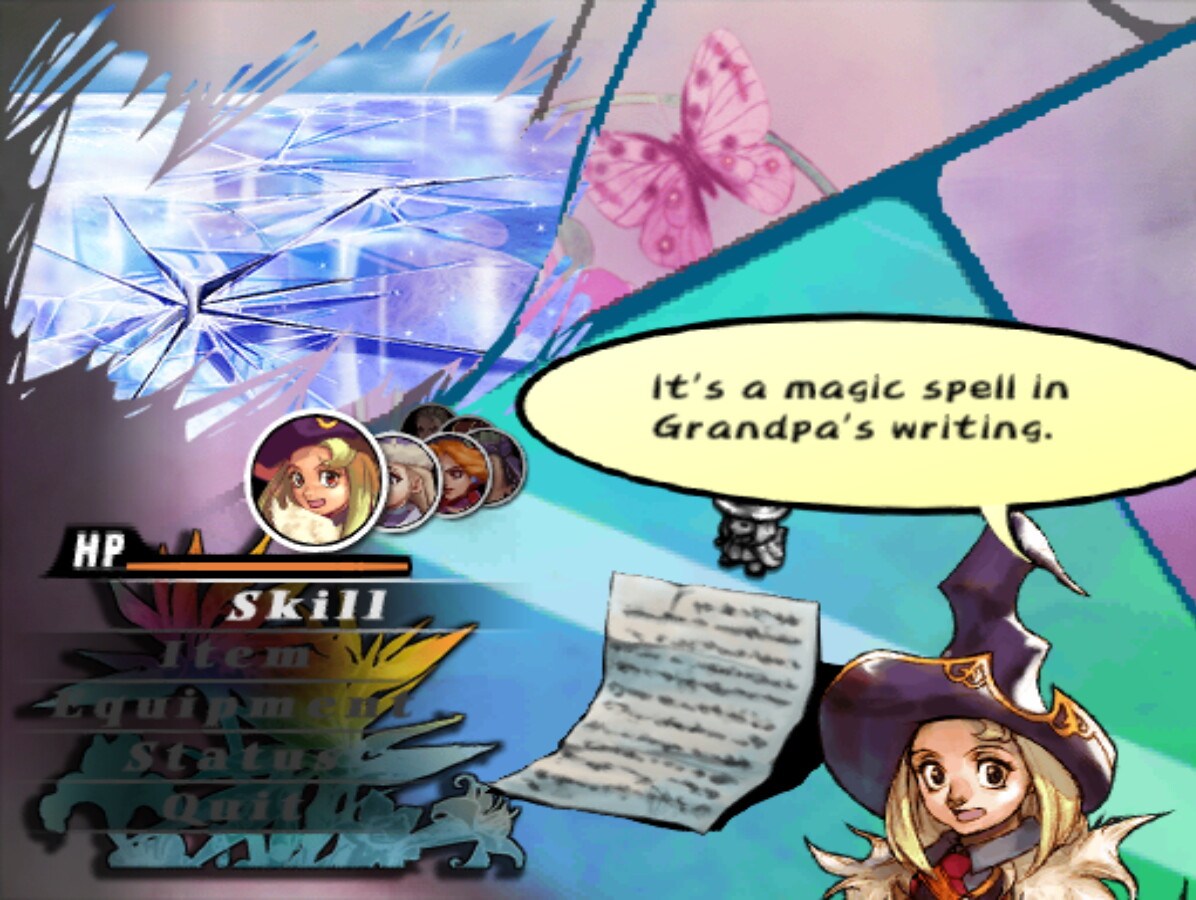 When we teleport up into the strange mirror world, Judy finds something reflecting on the ground. Picking it up, she finds it is a piece of paper with some sort of spell written by her grandfather. It seems he has split the spell up into five parts, however. We're not told what the spell is or why it's important to find it, but apparently that is our goal now.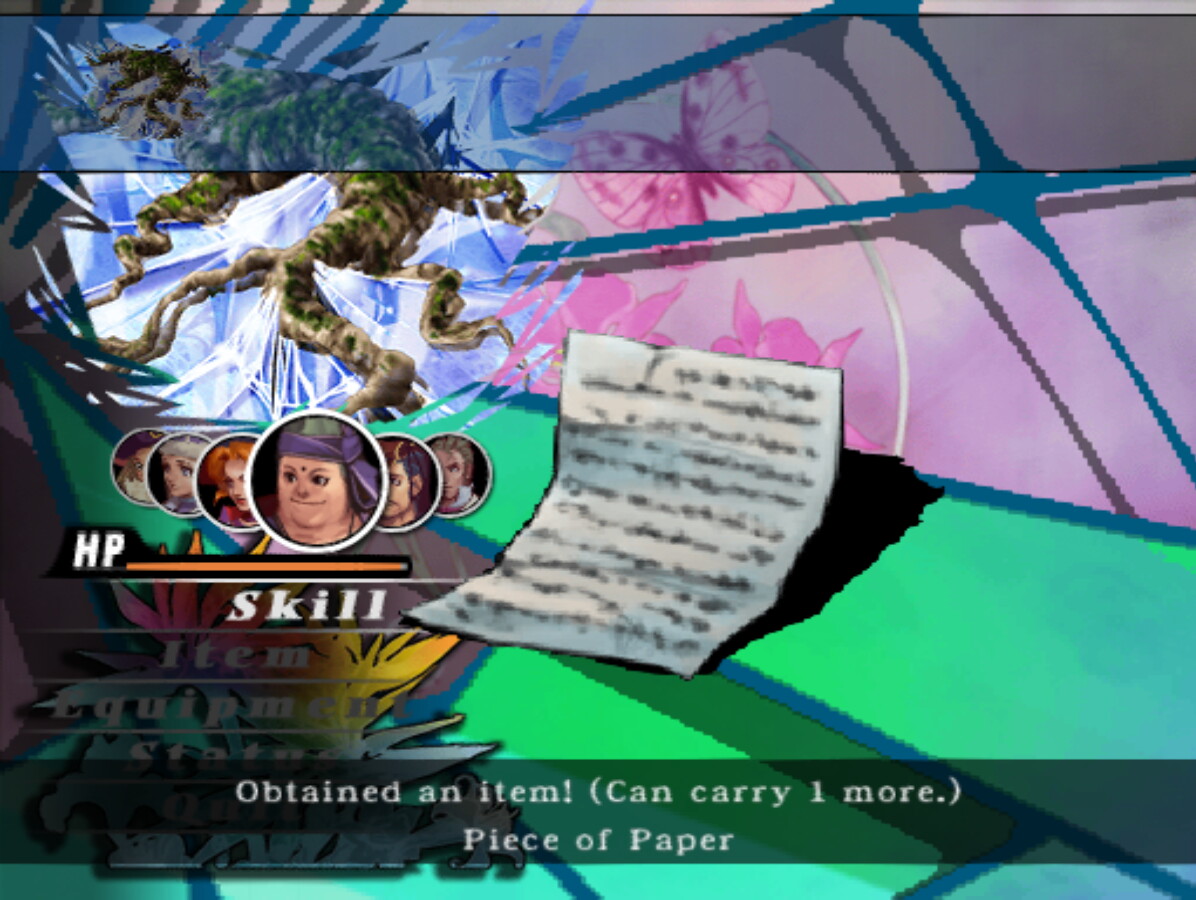 The five pieces are scattered around the different floors of Deities' Table in set locations. Basically we just have to make sure we explore the map fully to prevent ourselves from overlooking any of the pieces. Like everything here, the pieces of paper are just shown as "something reflecting" until we interact with them, so we also run the risk of triggering traps or aggravating or setting off treasure chest bombs when we're trying to pick up the paper. Of course, a little knowledge of the game mechanics and process of elimination can also tell you whether every object on a space is a monster, treasure, trap, or piece of paper without ever having to interact with any of them.
Other than picking planted pieces of paper (alliteration!!) this adventure plays out exactly like the normal subadventure. Well, and of course, the boss is going to be the final boss instead of a bird. And there's a Tetra Force. But, uh, you know what I mean.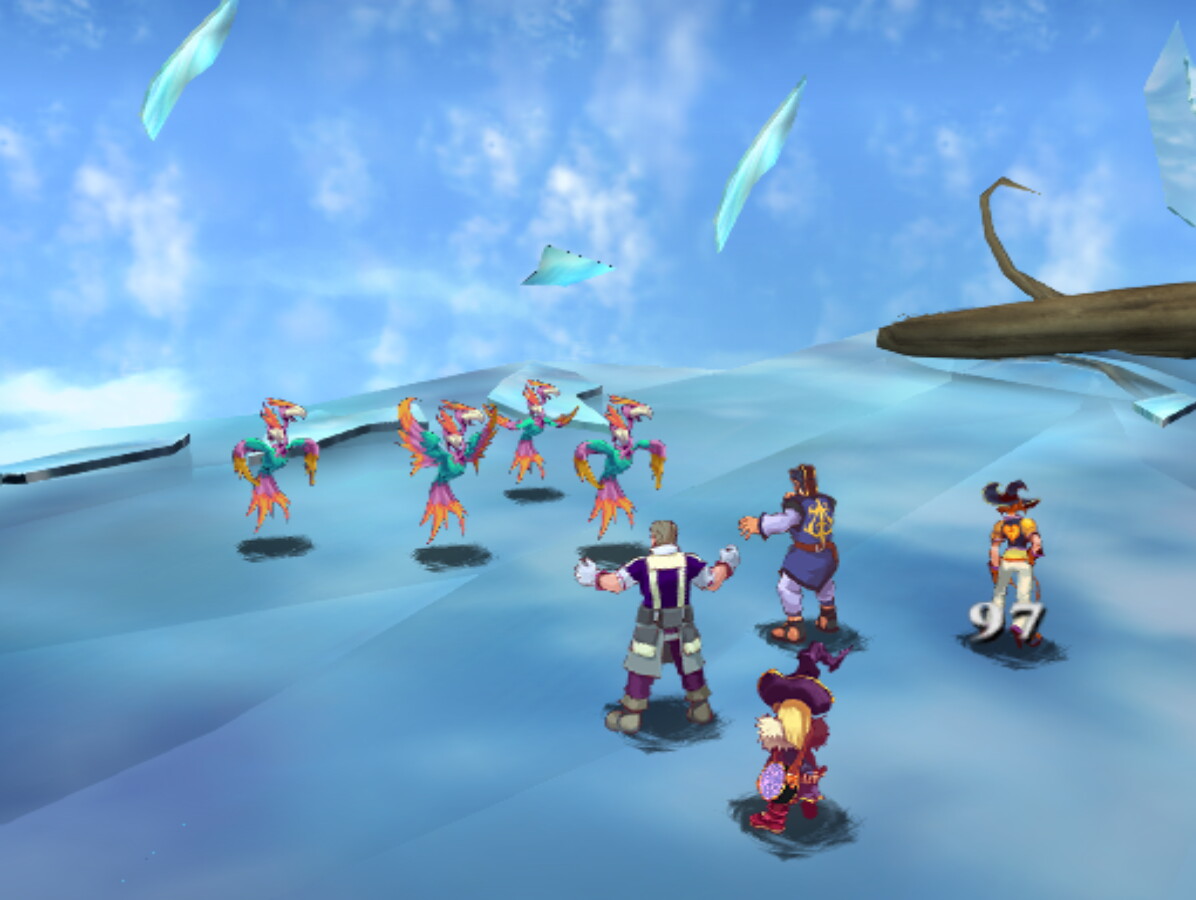 That means we end up running into Birds of Paradise, which are always a huge pain. Fortunately, though, it seems that Blaster is able to instakill them, so we at least have a decent strategy to use against them since we don't have any weapon arts to lower their Skill Level or deal mass LP damage to the entire enemy party. But even then, when the hoard gets really big, it's risky to send Judy out to fight them so much...
Since we've already covered this adventure twice before, there's not much else to really say about it.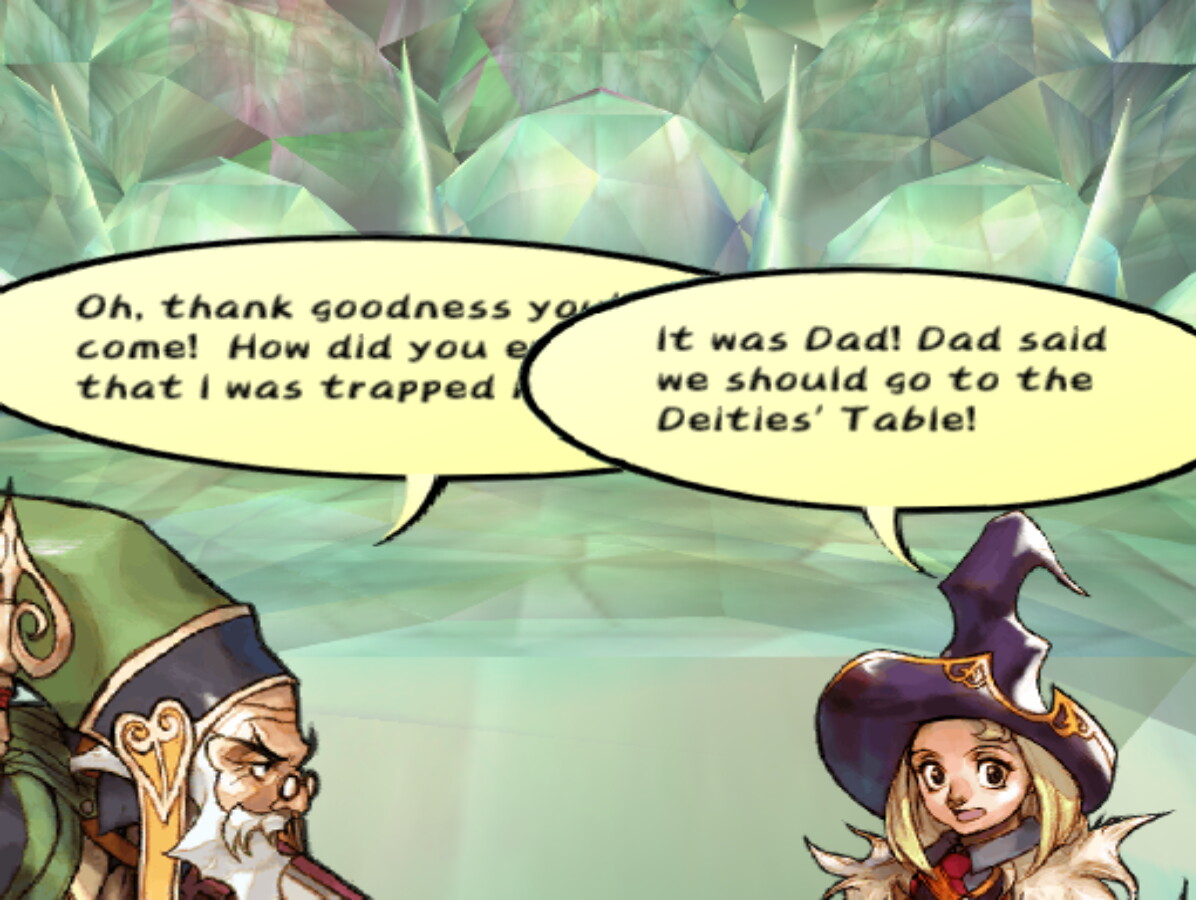 When we collect all five pieces of paper and arrive in the final area, we're able to find grandpa. There is no more mention about the contents of the paper or the spell that Josef had written upon it, so I have no idea what the purpose of finding all of those papers even was supposed to be.
Judy is of course happy to see her cute, bearded grandfather, and he is surprised to learn that it was Thomas who figured out we had to come to the Deities' Temple to find him. So I guess Josef didn't tell him anything after all. I really wonder how he even knew that stuff? Perhaps Daddy is actually some kind of magical genius but isn't telling anyone. I don't know.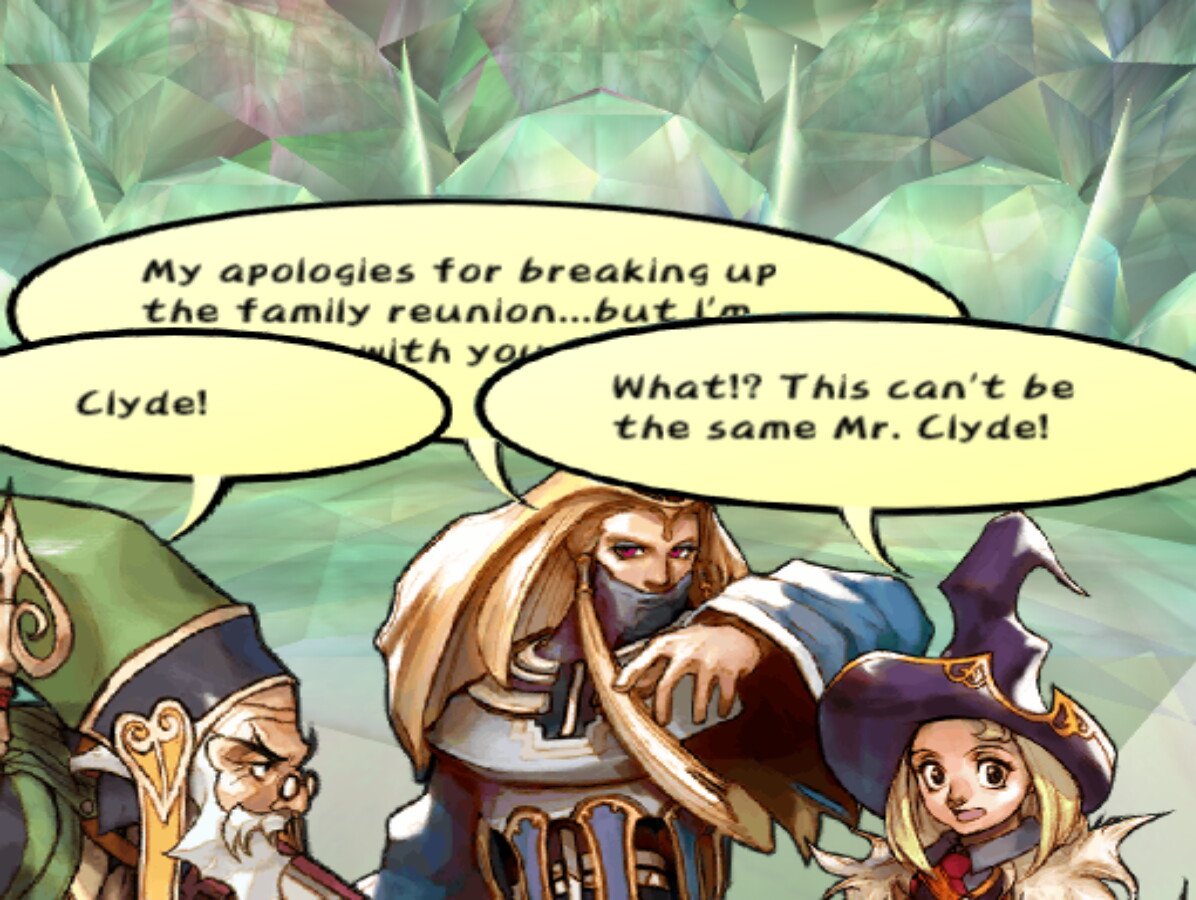 Before we can escape and go home, though, some weird guy appears and threatens us. Josef recognizes him as Clyde, which comes as a shock to Judy. It seems that Clyde "sold his body" to the vampires so he could achieve immortality. Vamp-Clyde demands the secrets of the Forbidden Spell, but Josef claims it does not exist. Josef tries appealing to Clyde's sentiment, reminding him that many years ago, Clyde, Josef, and Yun all swore to be best friends forever. Clyde doesn't care and decides to kill Josef lol.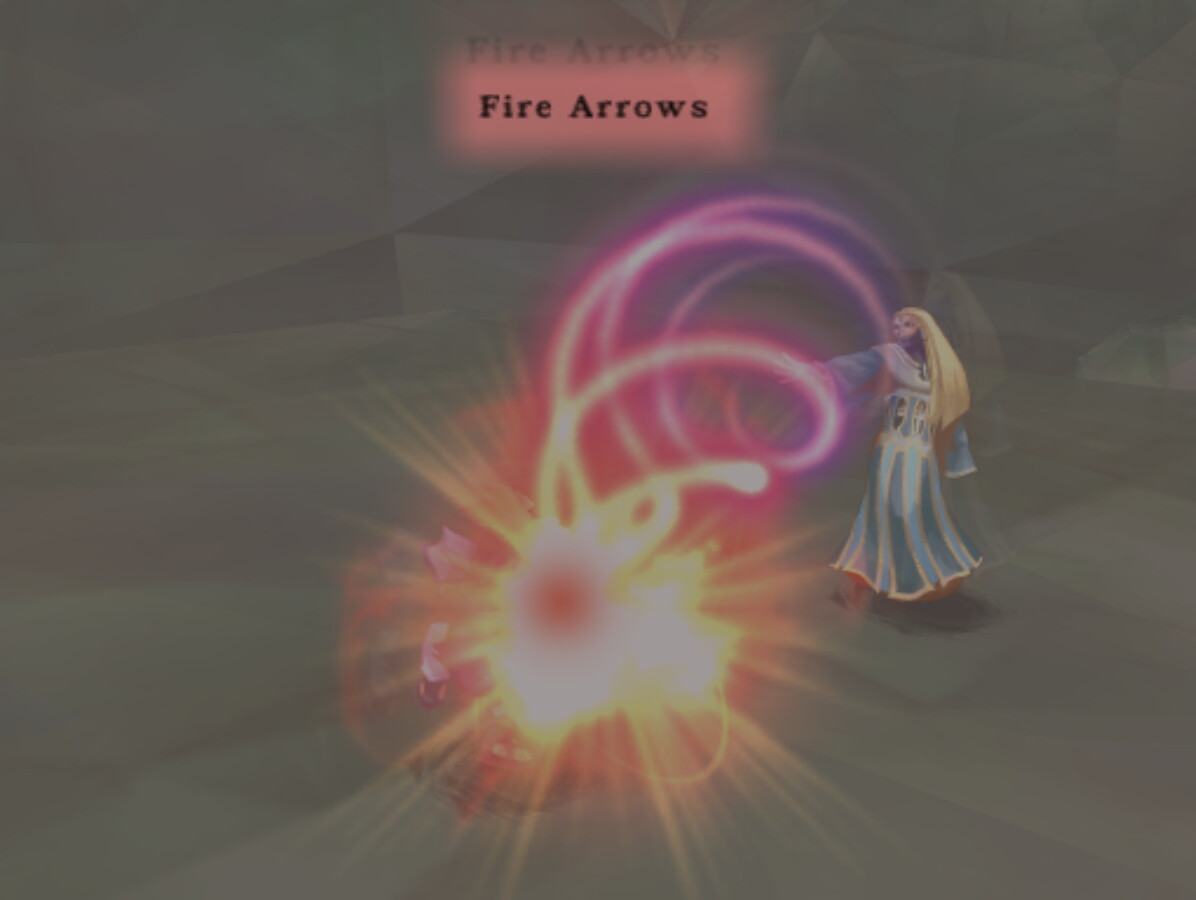 And so now we must fight Clyde Blackstorm, the kind-of-final-boss of Judy's scenario. Clyde is kind of like an even weaker version of Yun Crimsonrain -- omg. I just realized that their names are both color+weather. I wonder if Josef parallels this, too? I wonder what the Judy family name is? Whitewind?
Anyway, he's pretty fragile and just spams a bunch of weak familiar-level Magic Arts. He does have access to some Forbidden Arts like Seal of the Abyss, but he seems to favor just using junk like Fire Arrows and Bubble Blow. If we were able to use weapons, perhaps we even could have defeated him in just a couple of turns. But we have to drag it out a little and do some Purifying and stuff.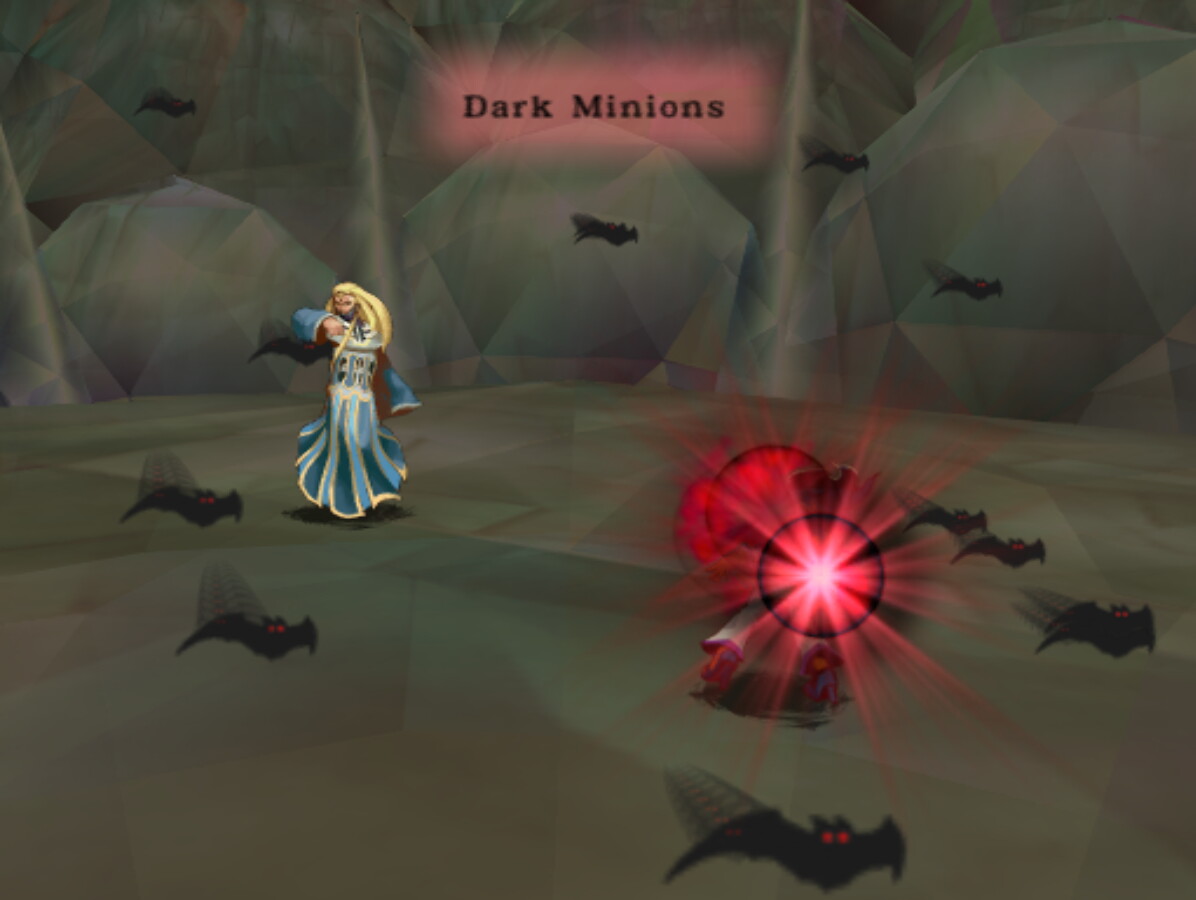 Clyde does have a unique art called Dark Minions. It just summons some bats that ram into a party member. It's not particularly strong or anything, despite looking kind of cool.
His only real offense comes in the form of some creepy Magic Art called Voidwalker. Unlike the other Forbidden Arts we see throughout the game used by enemies, this is not one that the party can learn, even with a L4 Forbidden Tablet drop from a Rainbow Guckie. Voidwalker has a scary animation, summoning all kinds of magic circles and stuff to blow up around the target, while making this weird blood symbol thing upon himself, too.
It's capable of dealing a large amount of HP damage and even multiple LP damage at once, so it's definitely worthy of its fearsome animation.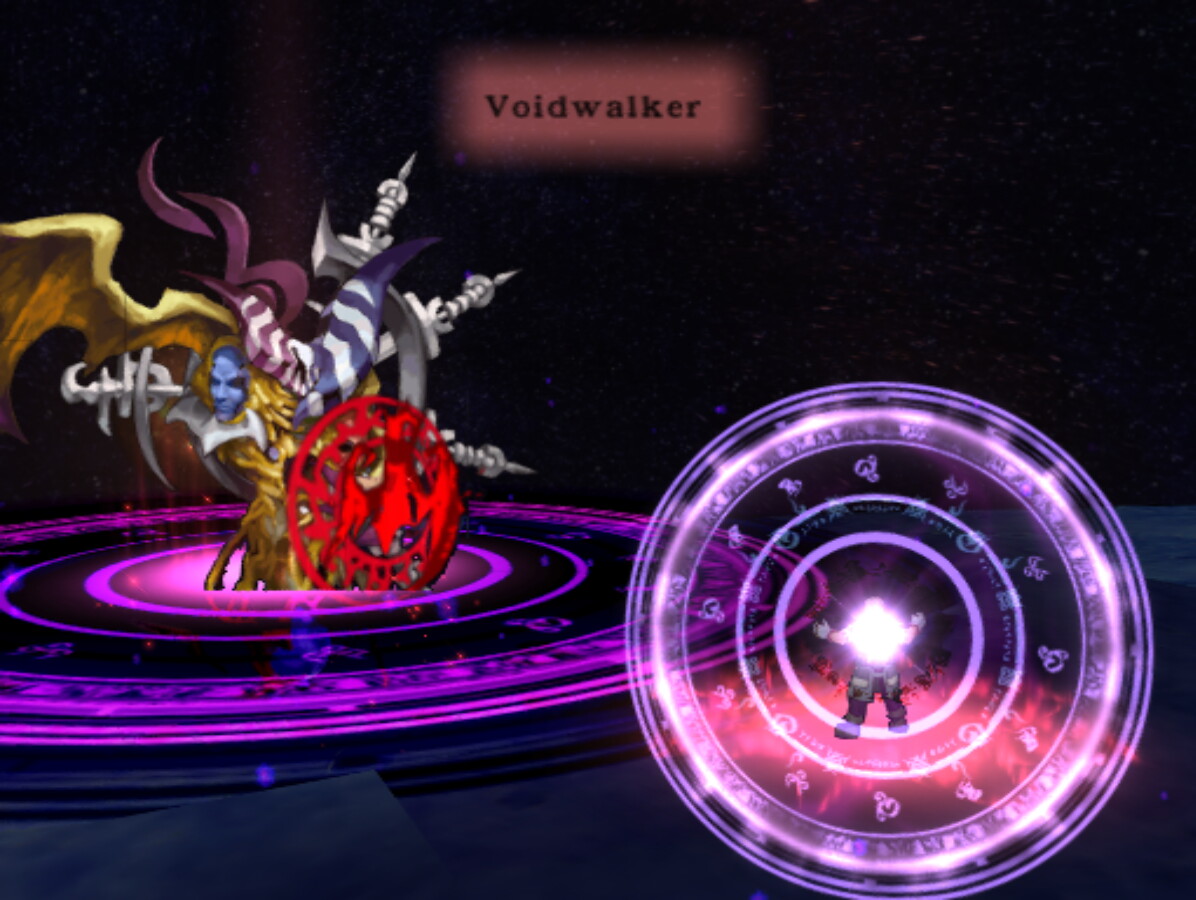 There's not much to say about fighting Clyde. We use our best offenses and he goes down fast. Afterward, he... does something to summon Chaos. He can't be using the Forbidden Spell since he doesn't know what it is and isn't even sure if it exists or not yet. So maybe he uses vampire magic or something. That should be another school of arts in the game. Vampire Arts. There are no HP-siphoning arts in the game, so that would be cool.
Also, Grandpa is just... in our party now. This is why we could only bring six characters into this adventure -- because we actually recruit one during the final battle. And yes, he comes with his starting equipment and starting stats, so he is very fragile and has very little HP on top of his tiny LP. In other words, he's doomed to die in a round or two of combat.
Chaos inherits Voidwalker from Clyde, which fits right in with the rest of its arsenal of ridiculous damaging attacks like Overkill and Neutron Slap. But it can use Voidwalker right from the start of battle, while it waits until its other forms to use those other arts. So Chaos is a little more threatening from the start this time. Still not as bad as inheriting Shadow Breath from Basil Galeos, though.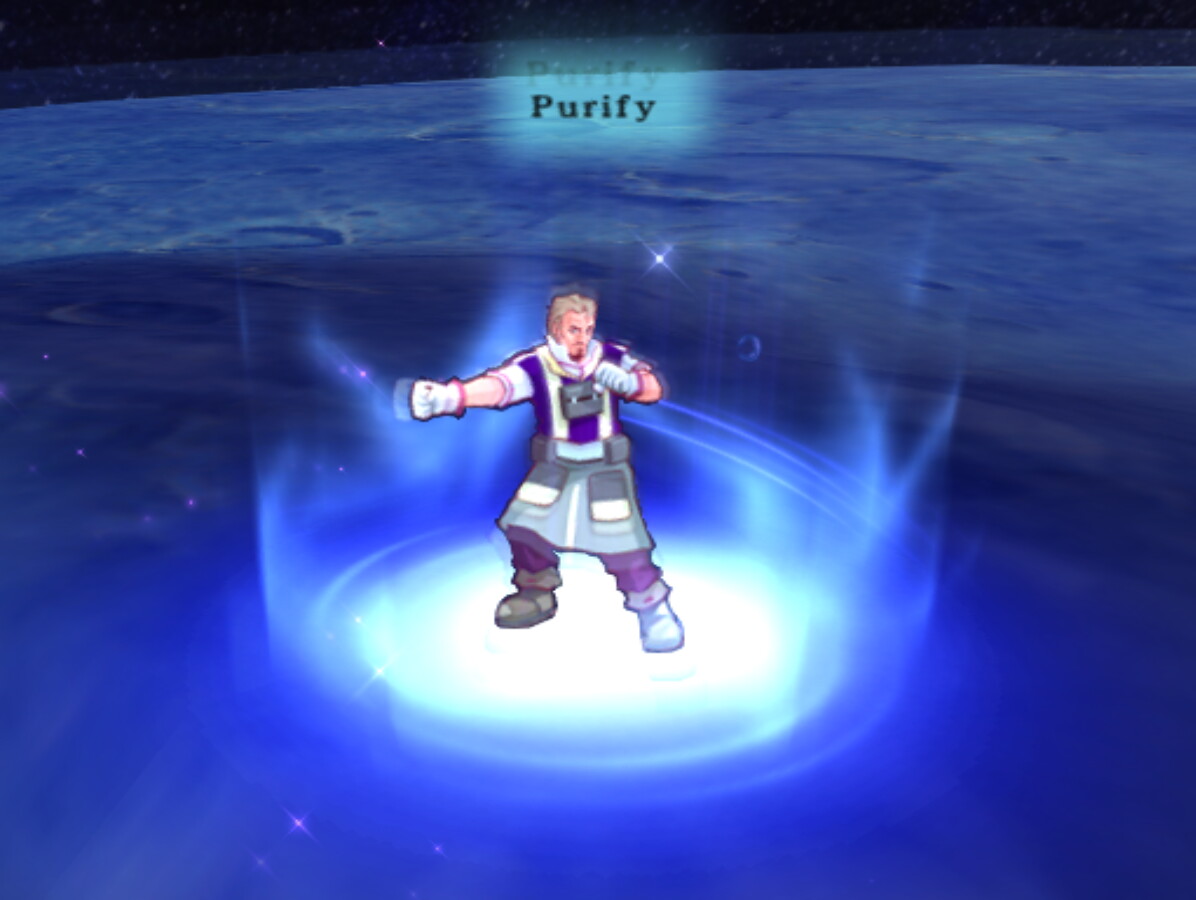 Needing to save Daddy's big LP and high Fire Level for the final form, the entire first set of forms kept almost entirely to a single strategy. Nuage stood in front and would queue Purify on himself, while the other characters rotated for the second slot on the offense. Marie and Josef worked on Chaos the most in the beginning, since they had the least offensive ability. Josef died pretty quickly, but Marie surprisingly held up pretty well, and was at least able to take off a lot of Chaos's HP.
Judy also hopped in a bit here, spamming Ice Needle and Seal of the Abyss. It's better to use her earlier when the threat is smaller, since using her later in the battle is a huge risk for Game Over.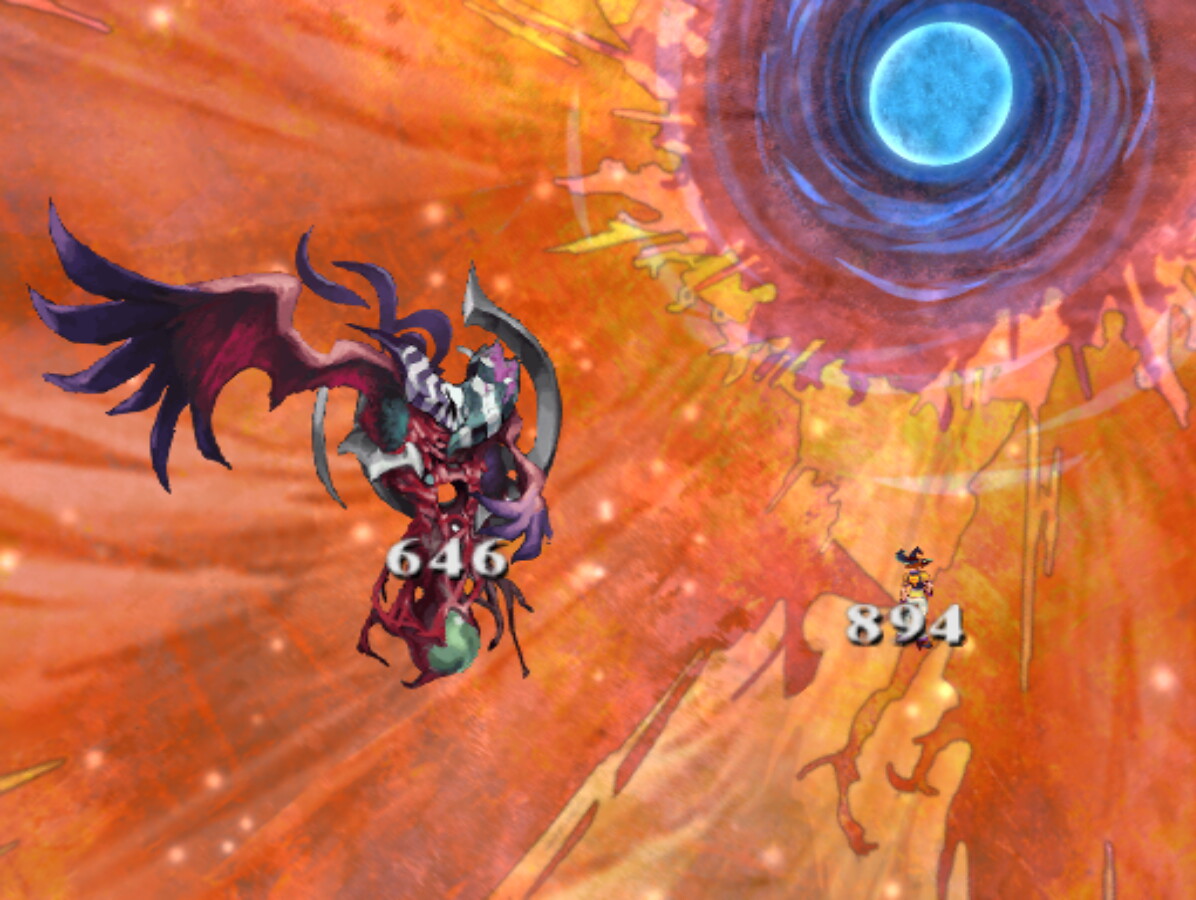 Our most offensive characters barring Judy -- Mom, Dad, and Brother -- stayed mostly in the background until the final form. I knew it would be even harder than normal to take it out since using no weapons means we have smaller damage output, much worse speed, and no real access to useful debuffs.
The three of them pretty much just took turns doing an entire round of their best art five times: Daddy on Fire Arrows, Becky on Thunderbringer, and Roy on Bodhisattva.
If they needed a little extra rest, Nuage or Marie could jump in, but it wasn't long before the both of them had died. Nuage also had no offensive arts other than the basic martial arts, so he would just come in for a quick round of healing. Judy did get a turn in, but it was too risky to send her out any more than that.
It was a very close call this time; everyone died except Judy and Roy, but Roy was able to save the day with his punches. Without them, I'm not sure we would have been able to win. Possibly, since Roy would have had something else, but it would have been a bit harder. Thunderbringer only did 1 LP damage at a time, while Fire Arrows couldn't even consistently deal one. Bodhisattva, though, could deal 3 at a time once the final form's HP was low.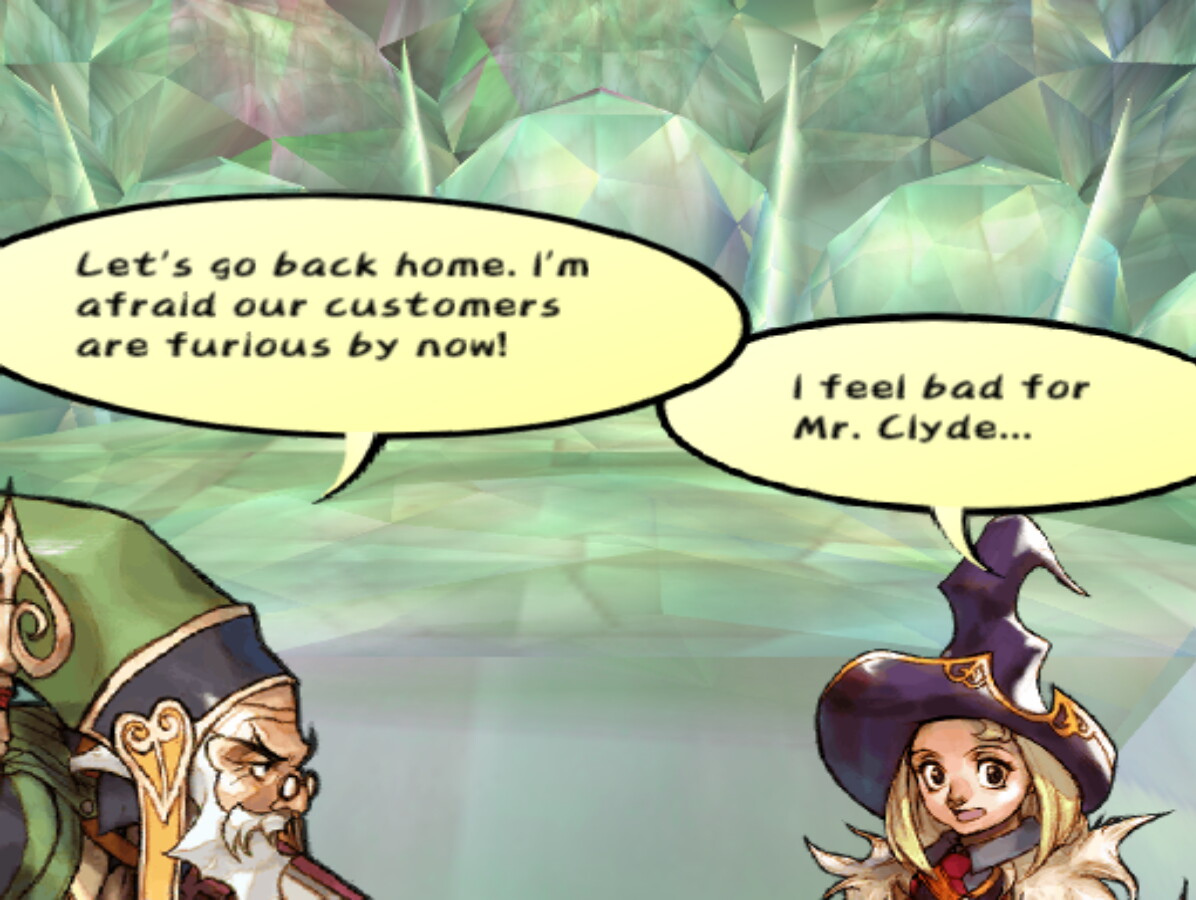 But we did manage, and Chaos fell for the sixth time. After the battle, Clyde seems to be back. He this time pleads with Josef to tell him that the Forbidden Spell truly exists. Josef says that there's no such thing, as any magic tablet can develop the Forbidden Spell (??) and that he had lost hope after learning that all magic leads to destruction. But Leith Torles had discovered this, and continued his research. Josef wonders why. Clyde says goodbye. Yes, it really is this disjointed and confusing.
Judy says she feels bad for Clyde, but Josef insists they get back to running the shop as not to make the customers any more angry.
And that's where our story ends... Yup.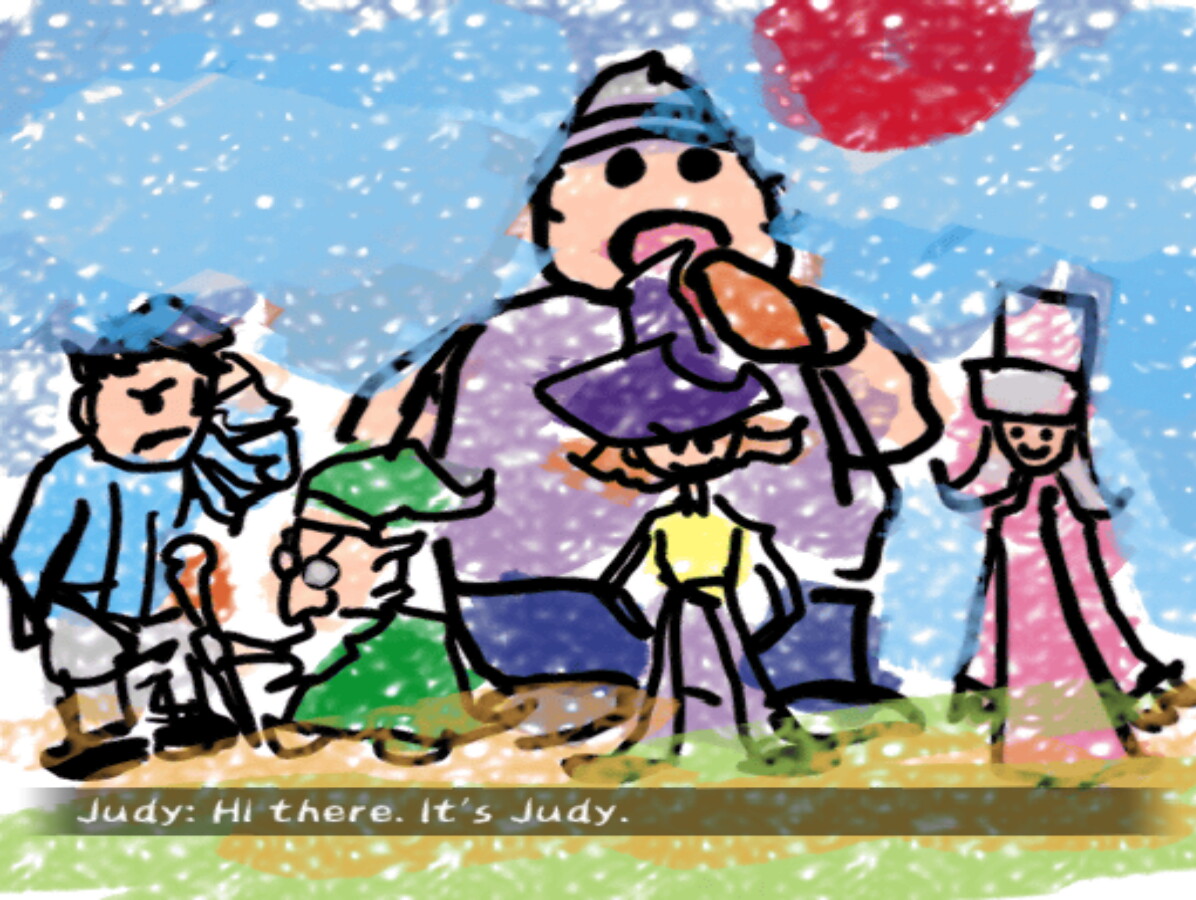 Well, there's a little more. We get a little slideshow of pictures drawn by Judy, with her narrating over them. It's ridiculously cute. The first picture is of her entire family. I love how Roy is like five times the size of anyone else. Mom looks devious and Dad still has that weird worried look on his face. I guess his face is just perpetually worried.
She lets us know that things are back to normal for her family, as if none of it had ever even happened.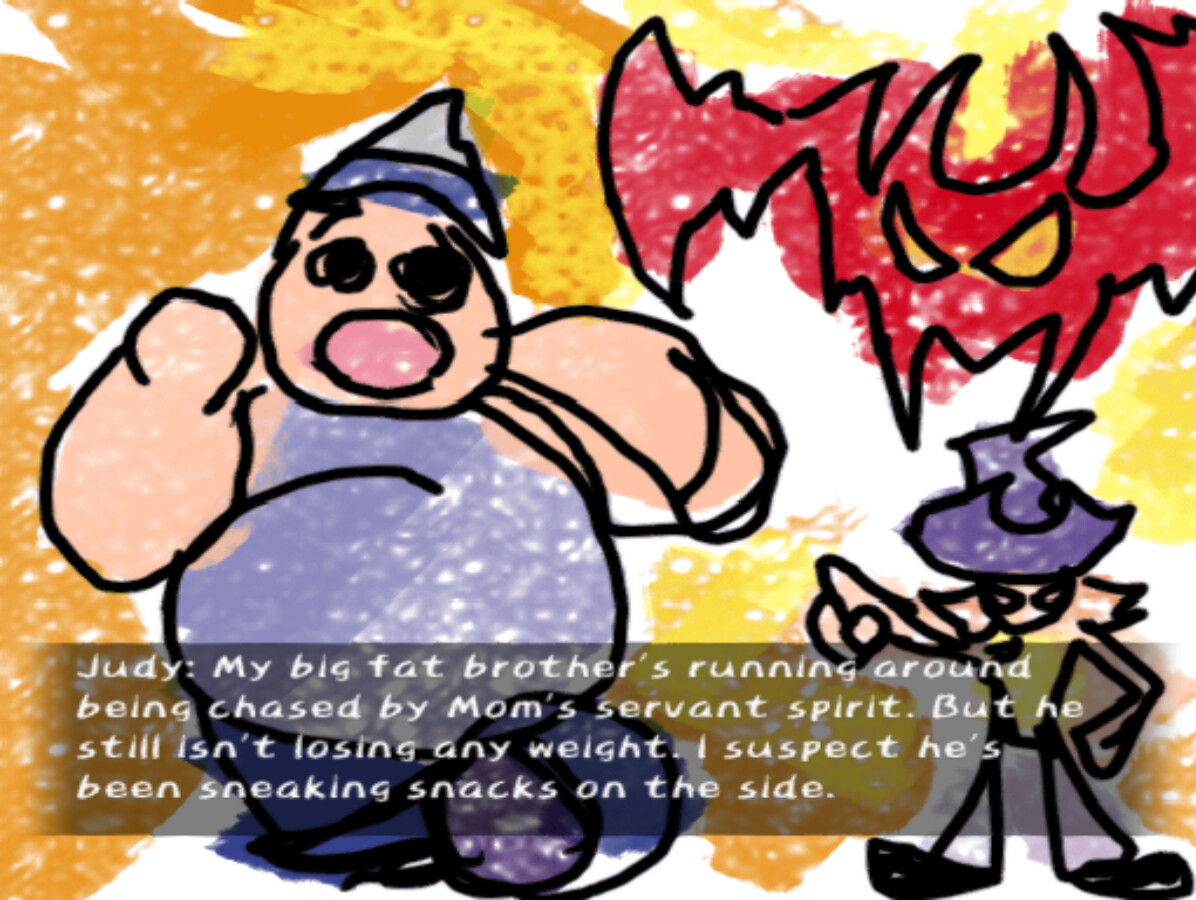 We then get little updates on how each family member is doing. So other than Kurt, Nuage, and Armand, we actually get to learn what's happened to all the characters! Sadly, it's pretty much just that they do the same things as before. Roy is still "being fat" or whatever the joke is supposed to be here. But apparently is still very good at running. You go, Roy!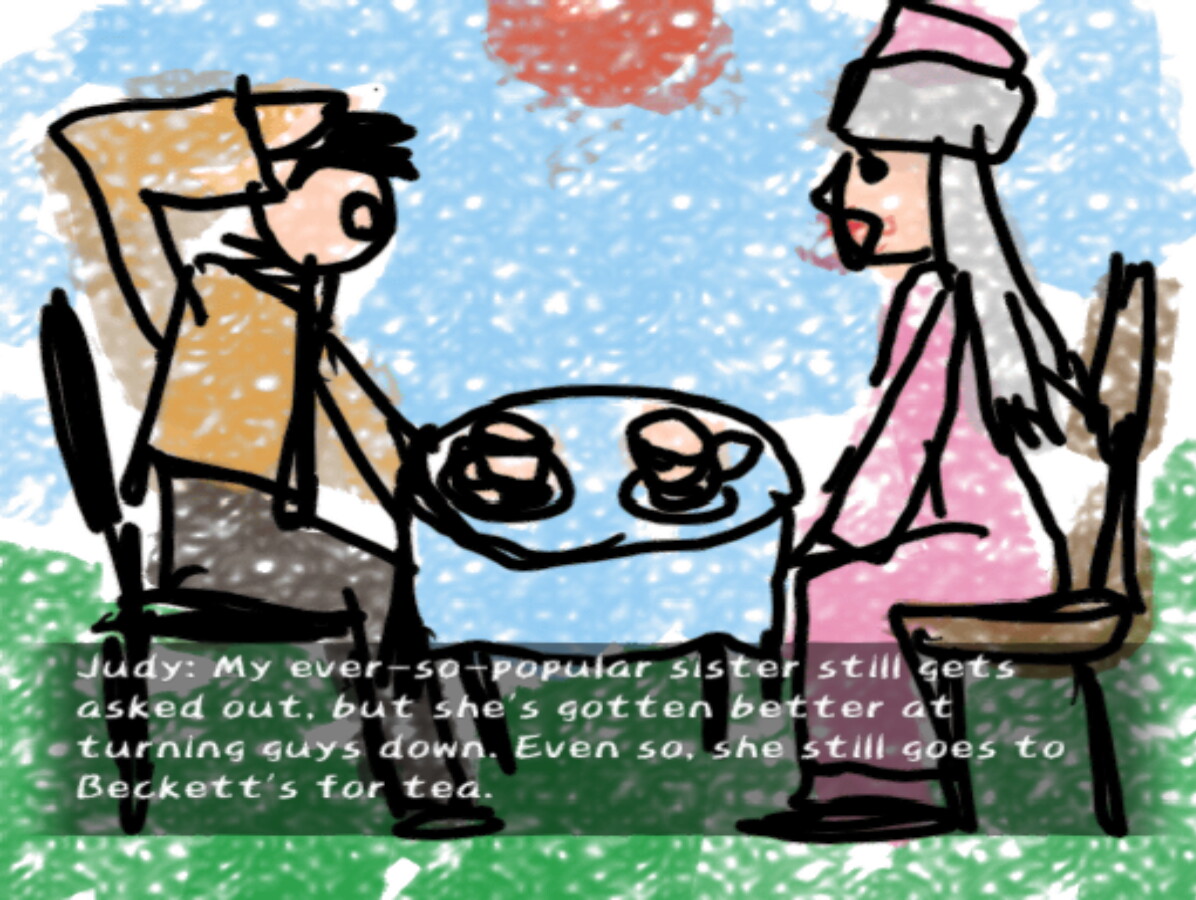 Sis still has tea. That's all. Poor Marie lol.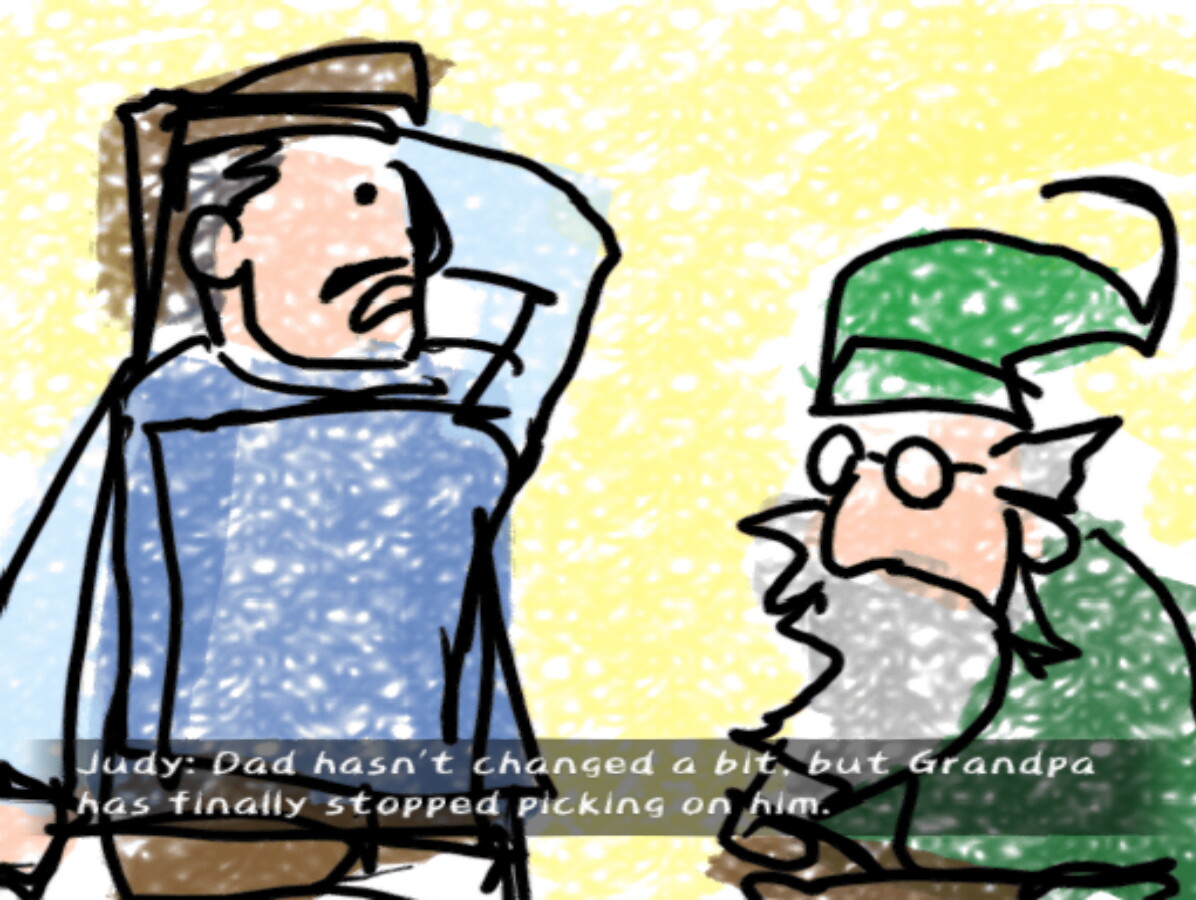 Daddy is described as having literally no development. But at least Josef has eased up on him. It seems the whole "knowing where to go for no reason" thing earned Thomas a bit of respect from the old guy.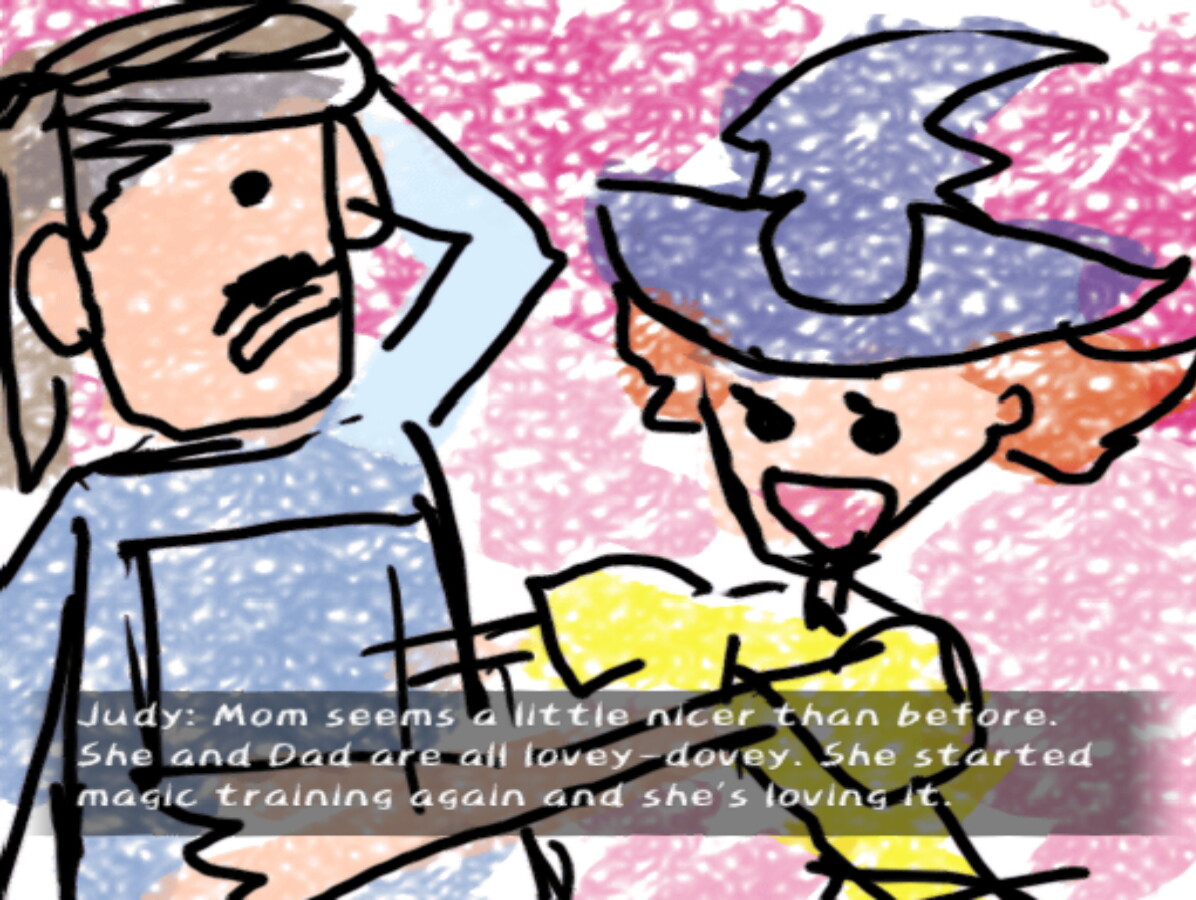 Mom can't keep her hands off our sexy Dad. Can't blame her. The most obvious of all the endings. When your husband is this hot what else are you supposed to do? But yeah, apparently she is "nicer" now (was she mean before?) and started magic training again (... did she stop? She was training magic the entire time she was in the party...???)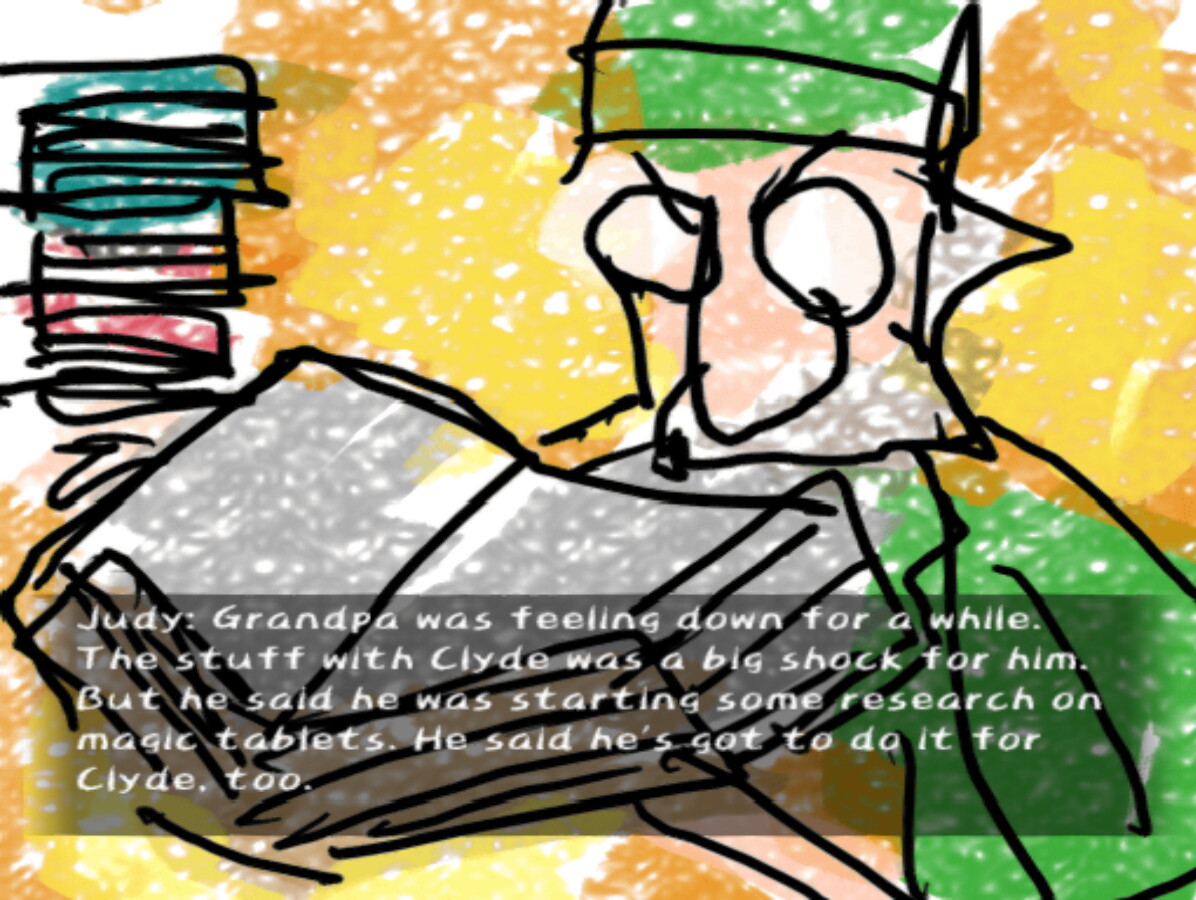 And still no details about the whole magic research stuff. Just that it's happening. And Grandpa was sad about Clyde for a bit.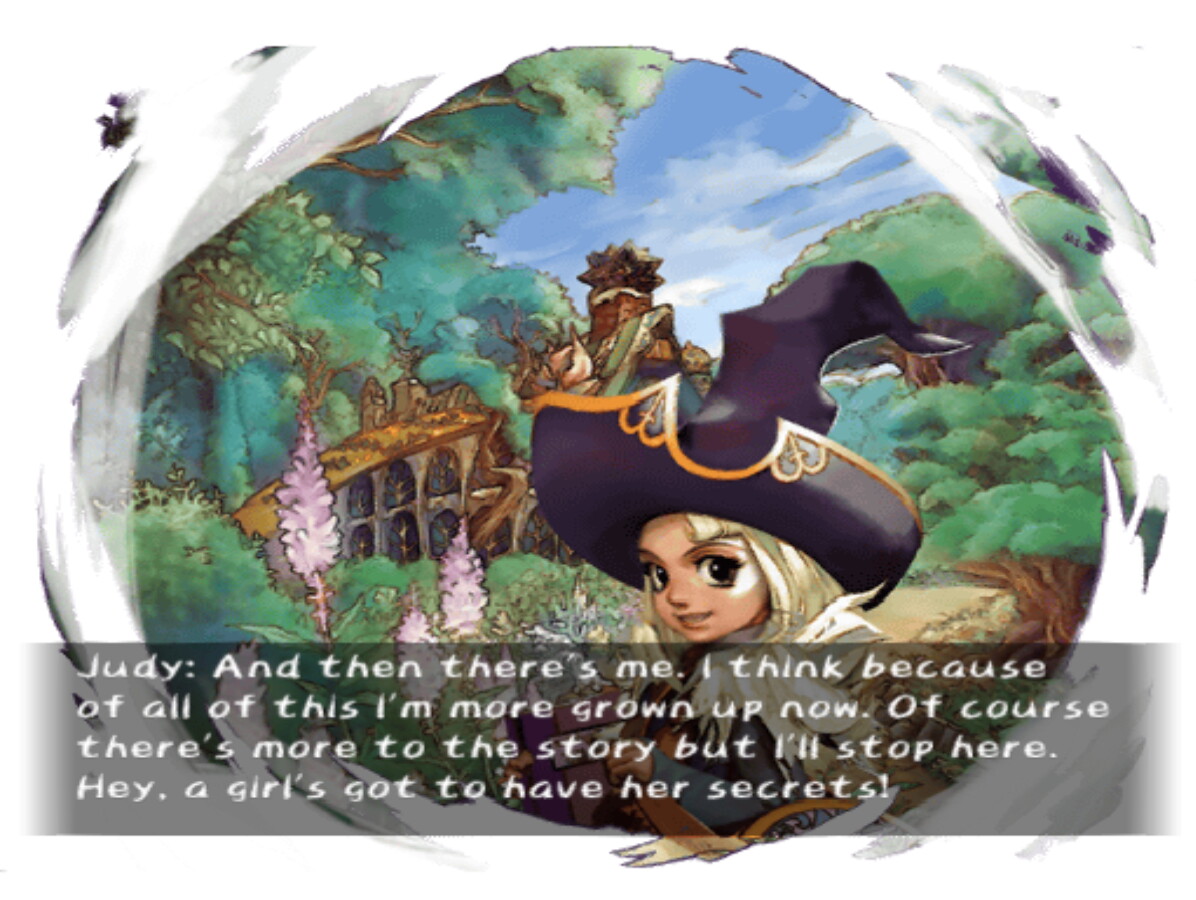 Then Judy appears on the screen and rubs it in our faces that the story was underdeveloped and there's so much we're not learning for it to make sense. Then she just says goodbye while her creepy 3D model fades away.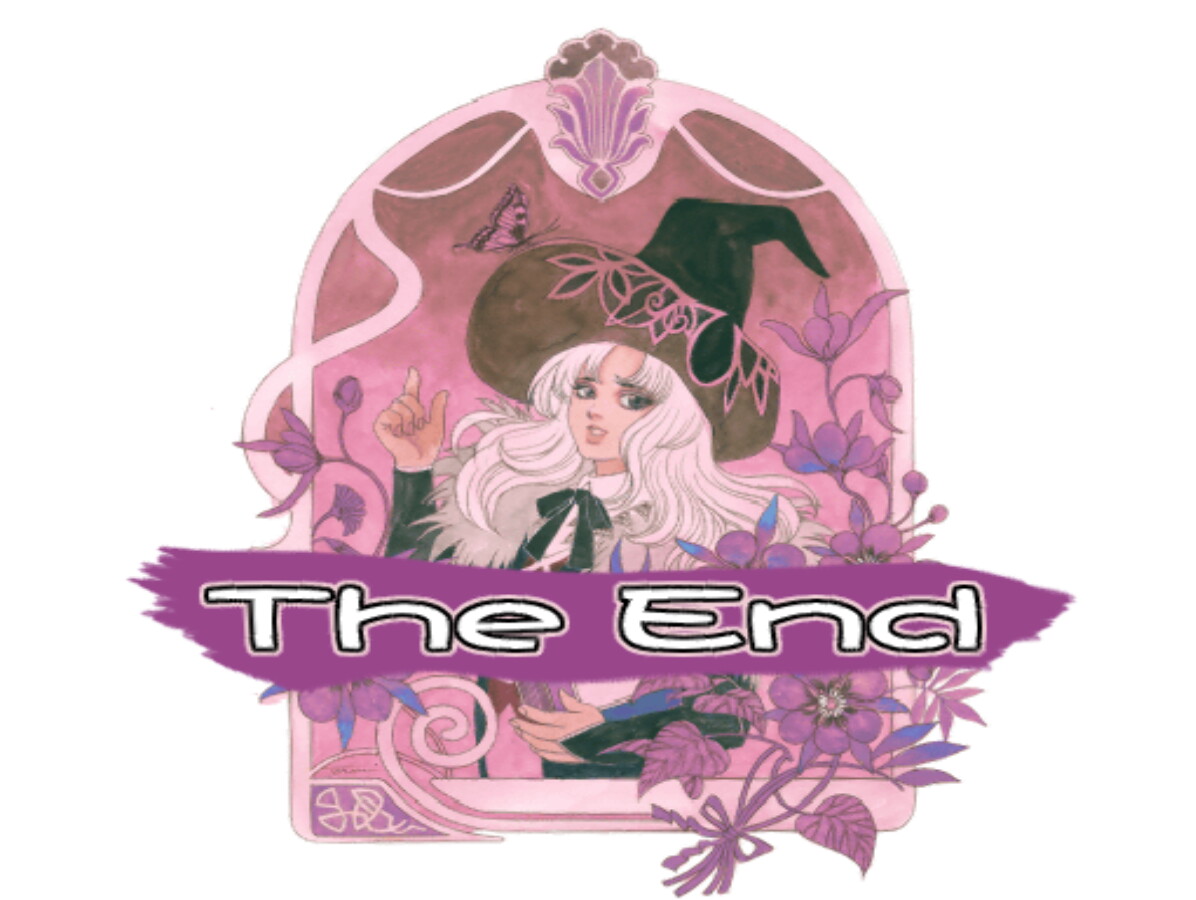 ... And that's the end! Judy's scenario's ending makes no sense and is kind of a let down as far as the overall story is concerned, but I just love her family members so much and the little kid drawing things were so cute that I actually enjoy this ending quite a bit. This is one of the shortest and easiest scenarios to clear, so I guess it's a bit fitting. I still can't help but want for more, though. At least we learned enough to theorize on stuff like the history of Iskandar and the Wonders and the Arcadians and stuff... but in the story about magic we learned nothing about magic other than there is and is not a forbidden spell.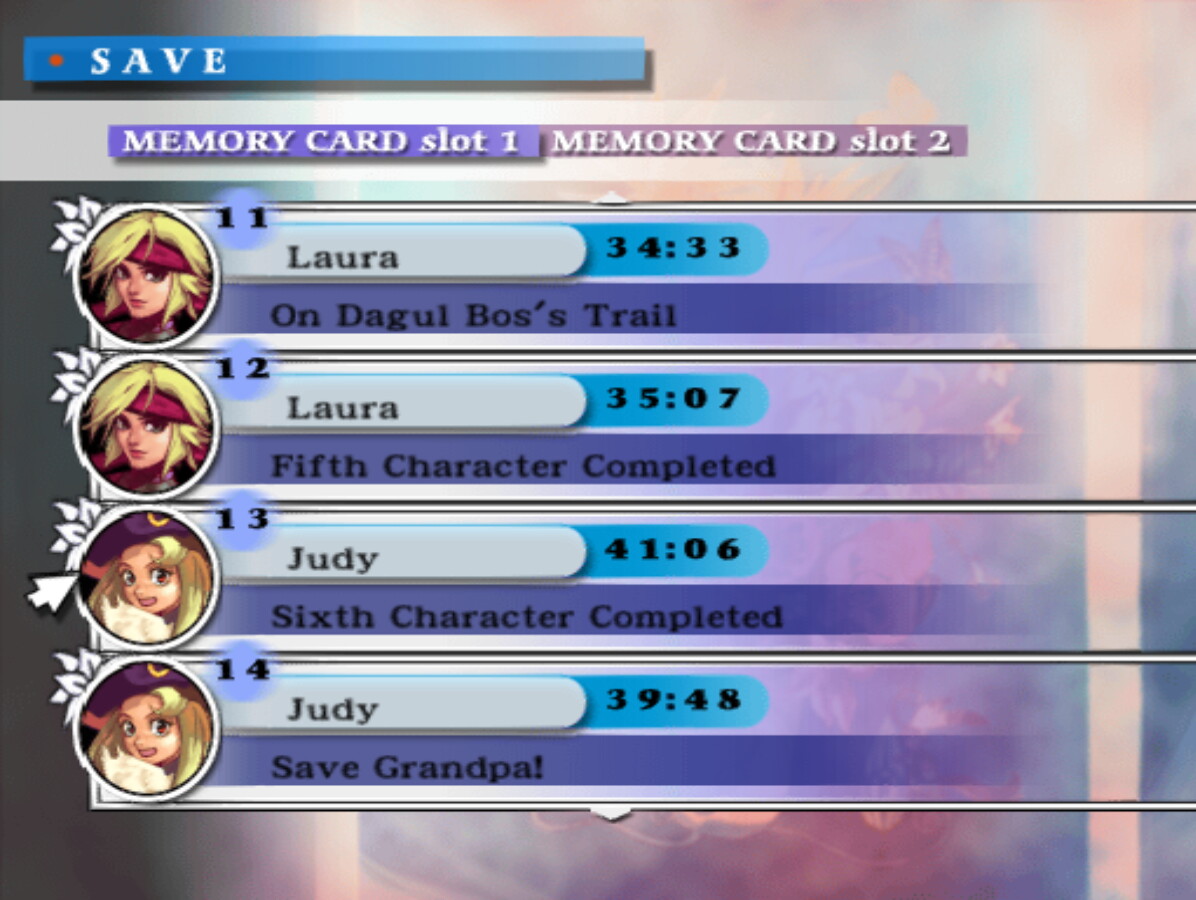 But oh well. We've now completed all but one of the stories in the game! I actually did start up Ventus's scenario immediately after this, but I'm not sure if I'm actually going to go through with it yet or not. Ventus and Tiffon were recently added to Imperial SaGa as recruitable characters, so that was pretty cool, and kinda got me hyped to keep going. But I have so much other stuff I want to get done for now -- finishing the writing on the FF5FJF and ROCKMAN, finishing playing Tokimeki Memorial 3, and starting up Harvest Moon: Save the Homeland, which is becoming high-demand in stream.
So for now, I don't know when I will start up Ventus 'for realz.' I really love this game and am eager to continue it, though, so I doubt it will be too long. Thanks for reading this far!
---