Fitness Tests

Well, we have successfully completed our first date, and it was very cute! But it's back to the daily grind. But we will meet some new friends this time!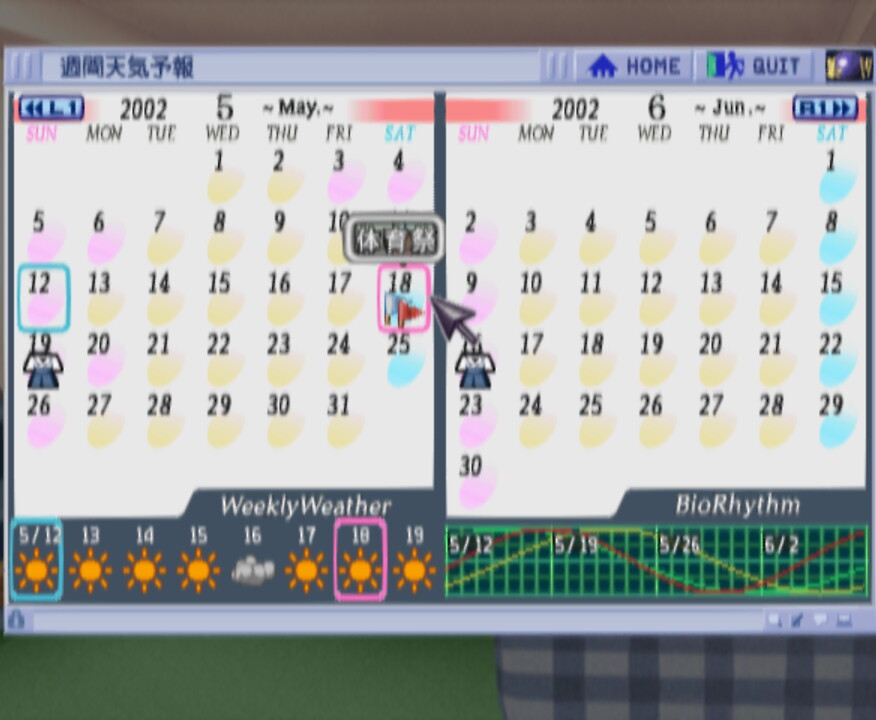 There's a Field Day coming up, and we have akido practice right after that, with a match with another school next month, too, so it's probably a good idea to practice akido this week and try to boost up our Athleticism.
Though the BioRhythm isn't really in our favor, so we might fail a bit in our efforts...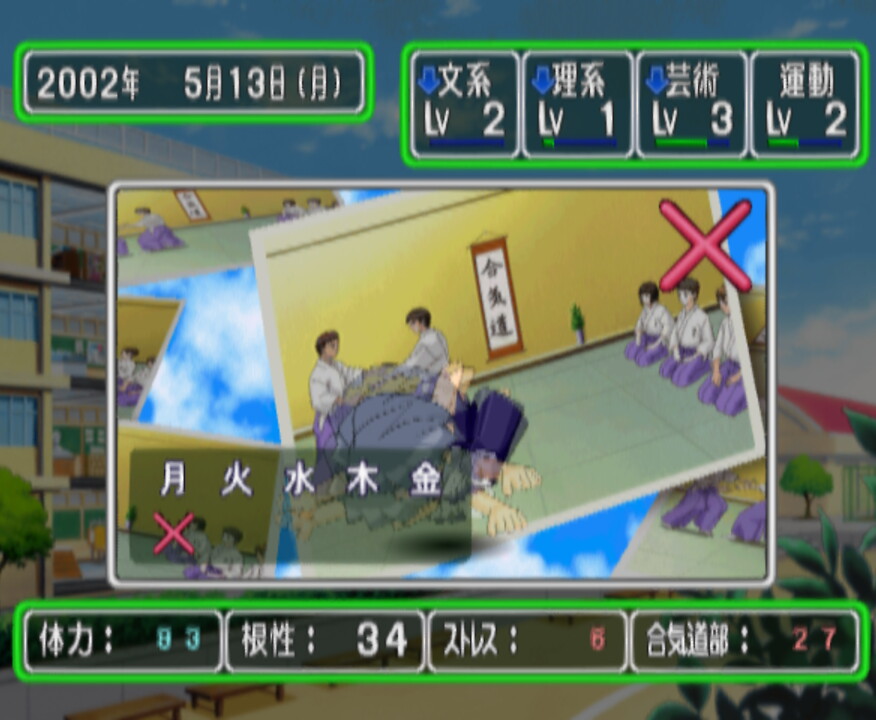 And indeed, on the very first day, we fall right on our face! I know I didn't capture a great moment of it in the screencap, but it had to have hurt :(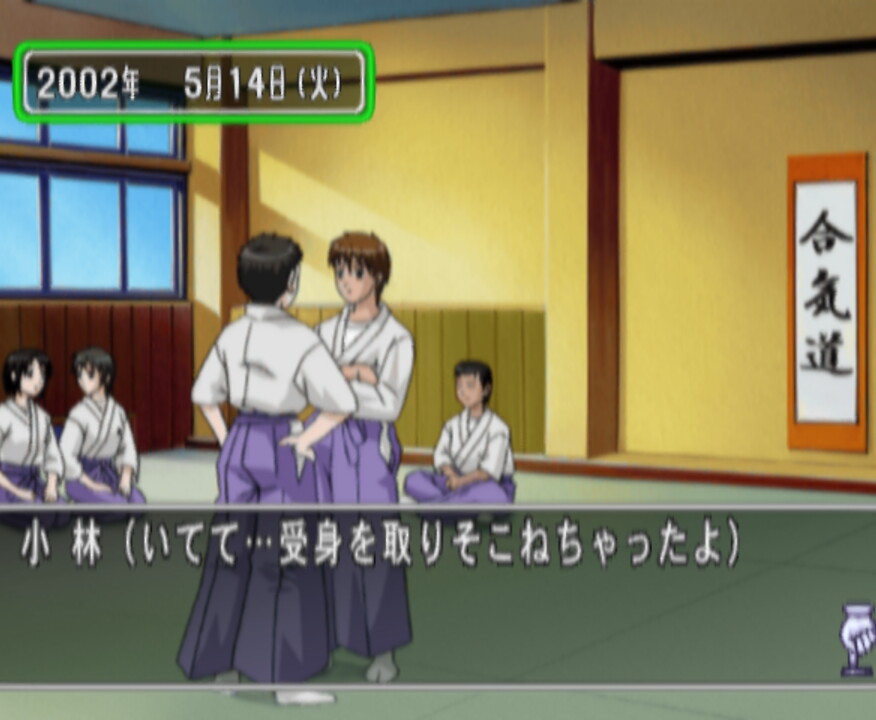 In fact, it triggered an entire cutscene about how it hurt! We complain a bit about the pain, but we seemed to have alarmed someone else in the club... A girl comes to our side asking if we are alright.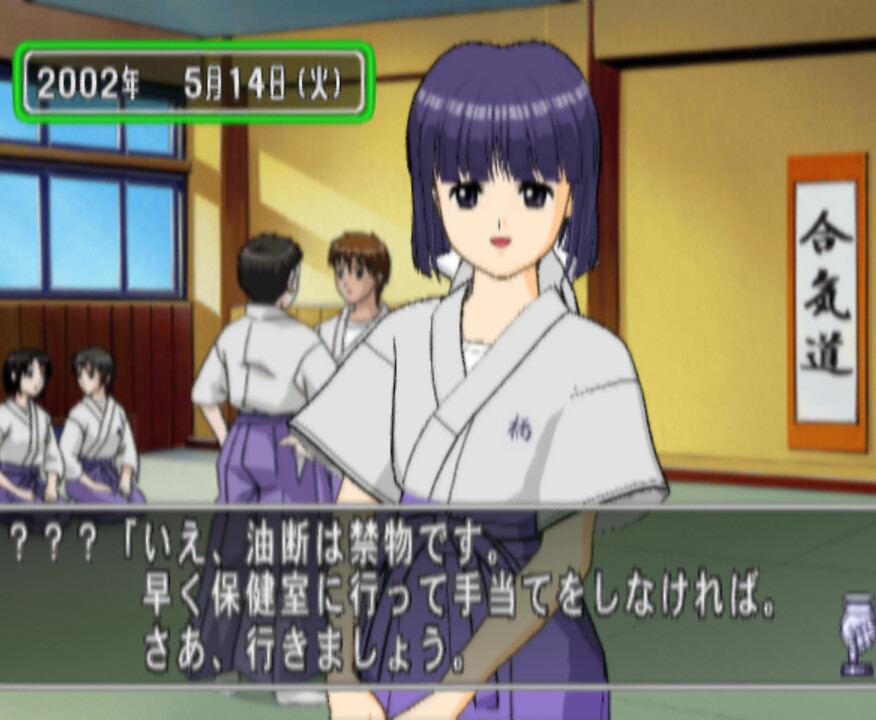 We say that we're fine, that our little fall was nothing at all. But she says we need to take care of ourselves properly -- trying to brush it off just won't do. We need to go to the infirmary and get it inspected.
We insist to her that it really was nothing, but she refuses to allow us to continue, even making us walk to the infirmary with her holding up our shoulder.
The screen fades out and back in. After our visit to the infirmary, she seems relieved to know it was just a minor bruise and should be better by the end of the day. We say to ourselves that we were saying we were fine all along.
She realizes we haven't been introduced, and tells us her name is Emi Tachibana. We introduce ourselves and thank her for her trouble. But she says she was only doing what one is supposed to do, and asks that we learn from today's experience, and she leaves us alone after that.
I should also note that Tachibana uses extremely polite language, especially for a high school kid. The kind of stuff Japanese adults do special training to learn how to use properly lol.
Anyway, she is very cute, and I like that the akido girl is a polite and considerate type, but still aggressive in her own way. I think it breaks some stereotypes of the 'sports girl' trope but still seems so fitting for someone on the akido team somehow.
Anyway, now that we've learned her name, she's considered another acquaintance of ours -- her profile will be in our profile list, and any time we have an option to select a friend for something (such as who to look for after school if we are able to try to find someone), she'll be included on the list, too.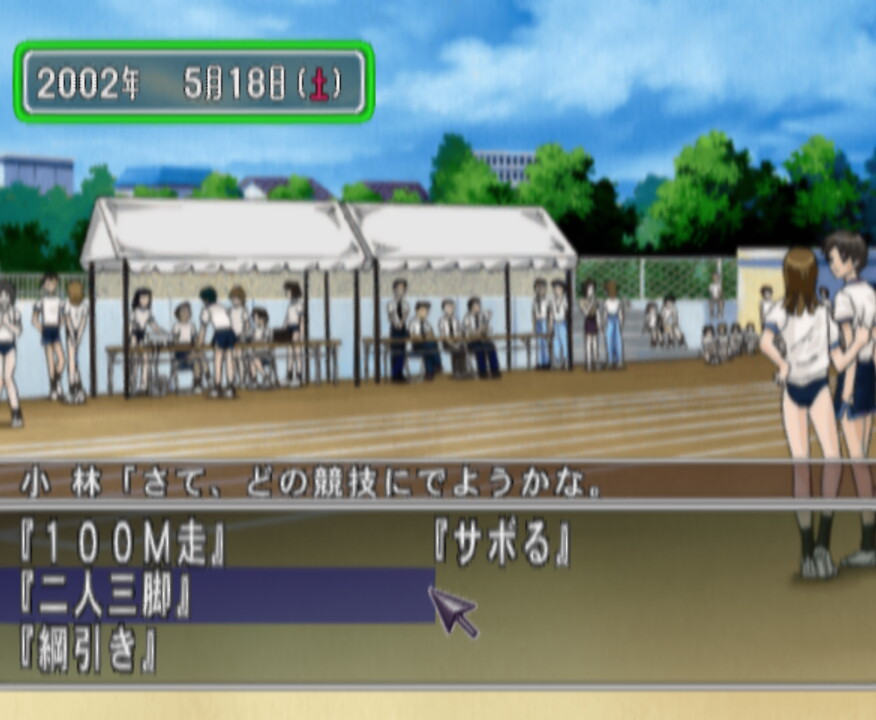 We fall on our face once more, but overall the week's training went okay, though we didn't get to level 3, and it's time for the Field Day!
Instead of our normal at-home choices for today, we spend the day participating in the event. We don't get a choice to go or not (probably because we still have school on Saturdays, so we can't just leave lol) and we get to pick which event we want to enter.
We're able to pick the 100-meter dash, the three-legged race, or the tug-of-war. We can also choose to sit out and not participate in anything, which can save us some Endurance and Stress, but it also will make most of our friends think less of us.
So, I decided to do the three-legged race since it's the only one I seem to be able to do decently (and even then, hardly ever can.)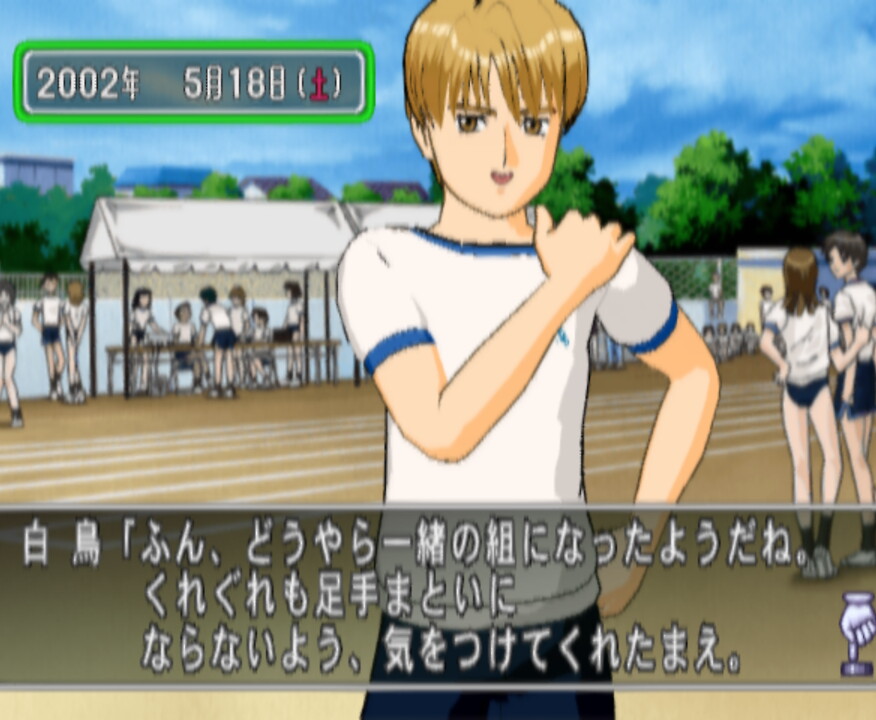 It seems like we got paired up with Shiratori. He tells us to be careful not to be a hindrance to his performance, to which we respond with silence.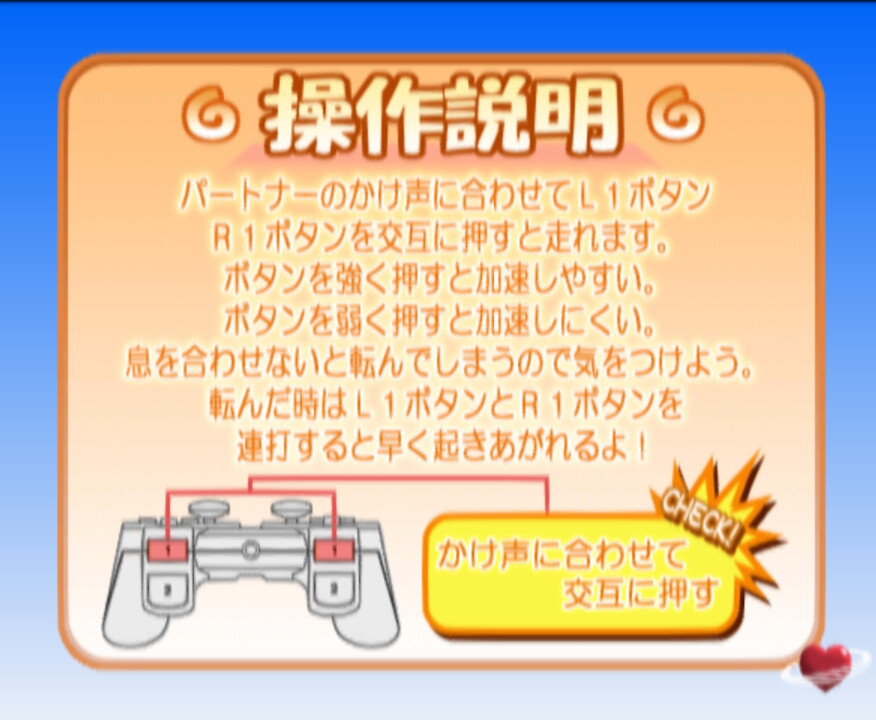 Some cute music plays and we're given a little tutorial on the upcoming minigame. I love this music and always bounce around when it comes on, even though it's really nothing special. It's just so cute~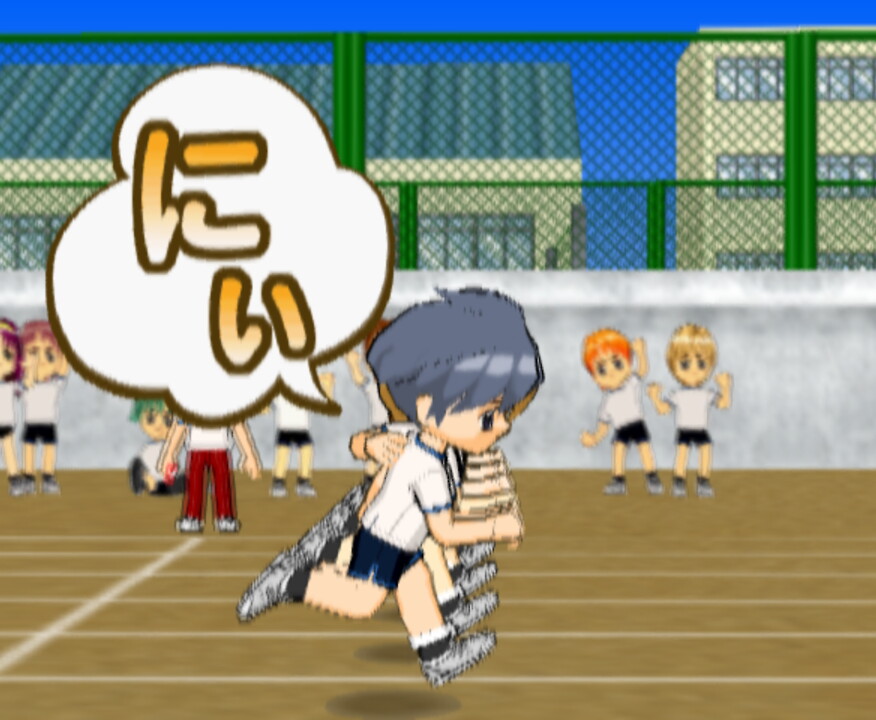 We wait at the starting line, and if we push any buttons, we'll get penalized for trying to run ahead of the gun. Then someone actually fires a gun, and we're off! Shiratori will constantly shout out "One, Two" and big "ones" and "twos" will appear in speech bubbles. You just have to press R1 for "One" and L1 for "Two," but the timing will get faster as you accelerate, and you have a pretty limited window in which to press it properly...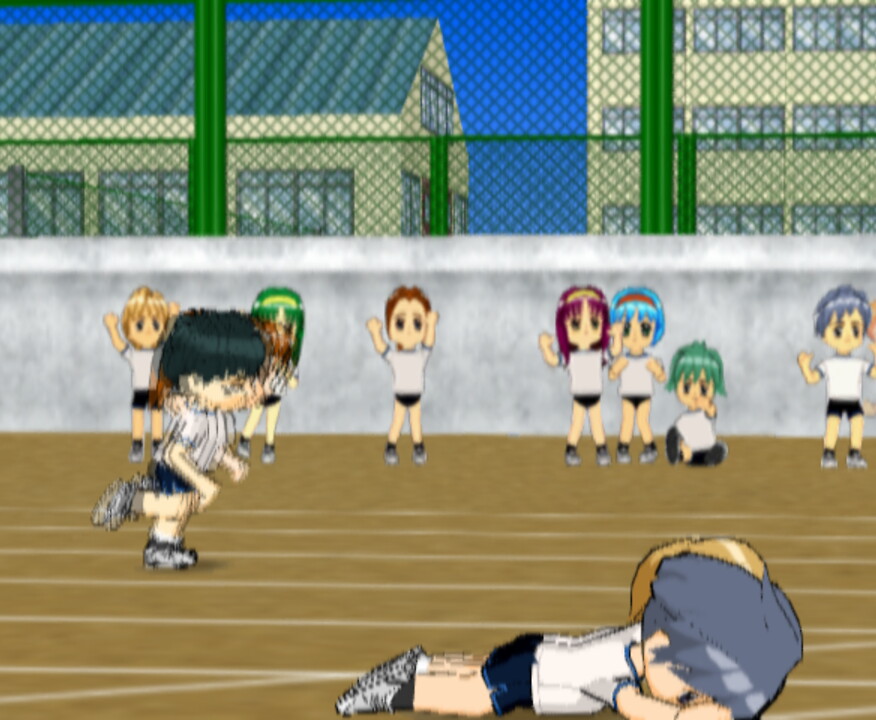 Or else you'll trip up and fall down. Then you have to mash R1 and L1 repeatedly to get yourself back up, and then you'll start back from the beginning speed and have to accelerate again.
The computer opponents will fall down sometimes, too, and we were actually in first for most of the race.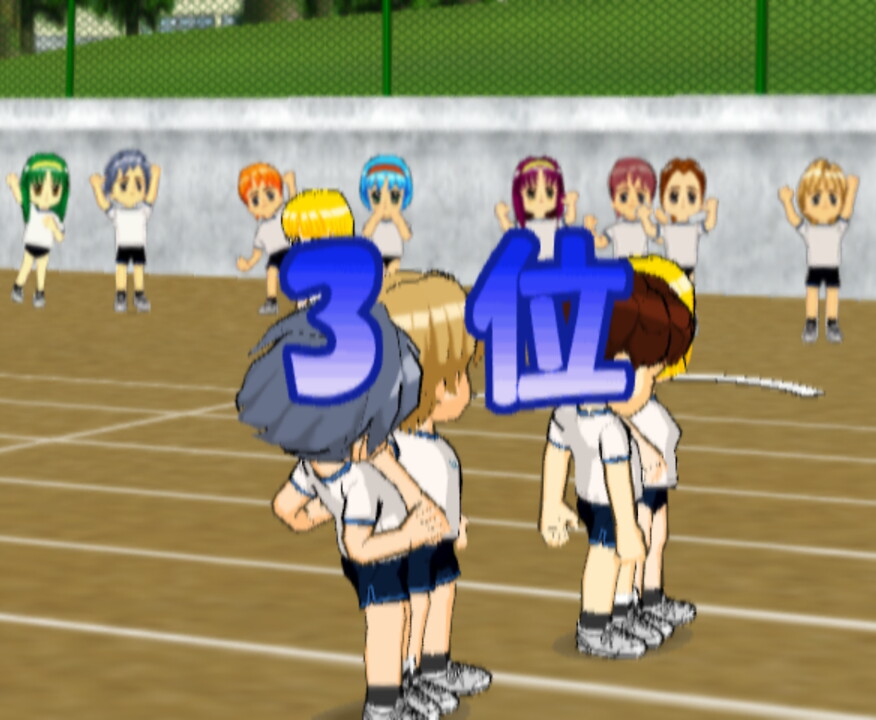 Then for some reason I could not even get started and kept falling down as soon as we'd get back up, and we fell like 5 times in a row, and ended up getting 3rd place. There were four places total, so whoever got 4th had to have been really bad...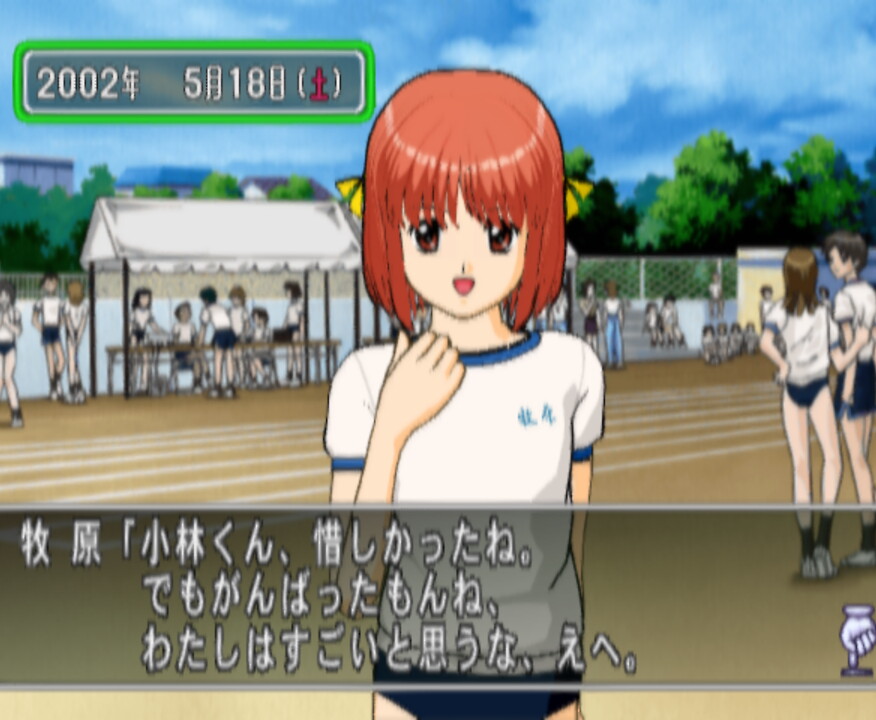 Depending on your performance, your best friend will say different things to you. Makihara tells us essentially that we tried our best and that's what really matters. She's very sweet... usually I'd expect them to say something that makes their disapproval obvious hahaha.
But we still seem to be disappointed in ourselves even after such a nice comment.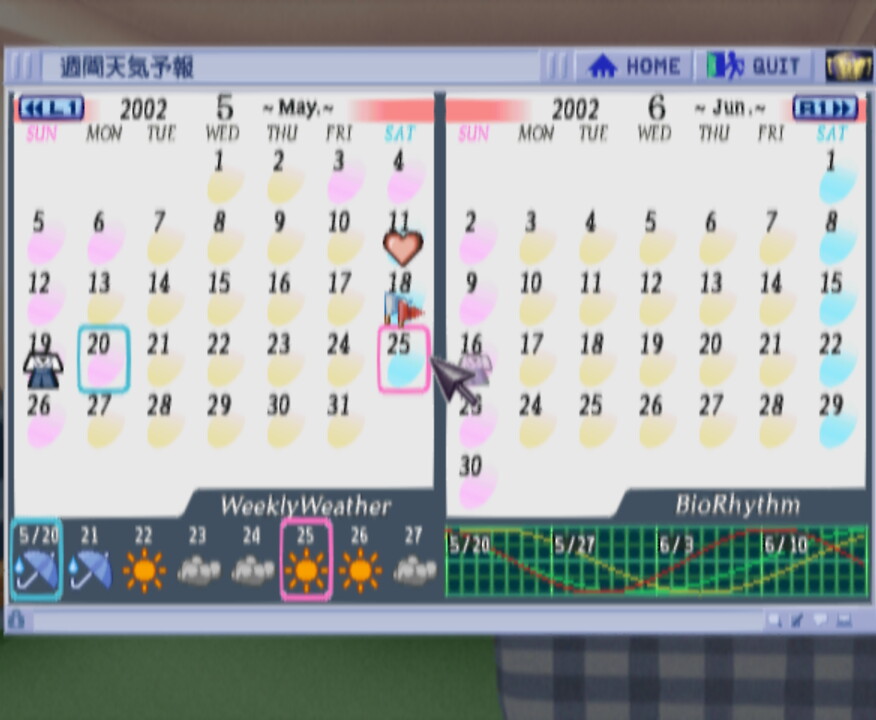 After our akido practice on Sunday, we have Monday off, and we can see that the upcoming Saturday (on the 25th) is going to be sunny, so I try to call Makihara and ask her out again. I feel like it's usually easier to get someone to accept your invitation if you ask for a Saturday; I don't know why. Maybe because it's the last day of school for the week, and they'd rather have fun then and spend time on Sunday studying and preparing for the next week?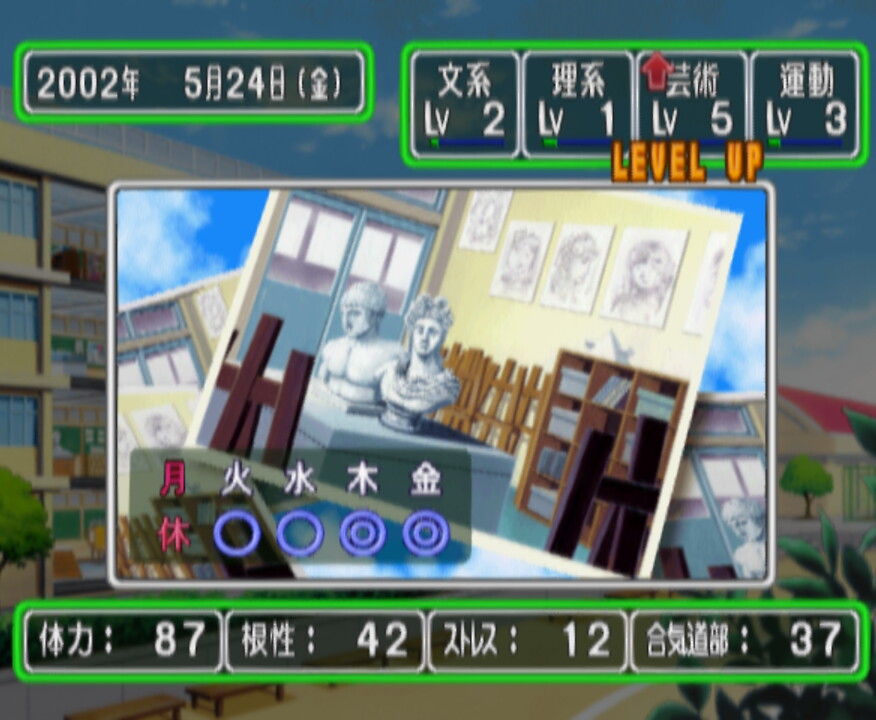 For some reason, the BioRhythm has really been favoring Fine Arts during the weekdays, so we end up practicing it again and getting two levels up! The first time, we run into Kawai after school, but she says she's busy and doesn't walk home with us. The second time, we're able to look for someone, so I try looking for Tachibana, but we don't find her and go home alone.
Since we didn't end up with any plans that weekend because we got rejected twice and didn't find someone the third time, we end up staying home and studying our literature again.
The next week, we're able to level up Humanities to level 3, which I was hoping for, because I was really hoping it would lead to a certain event...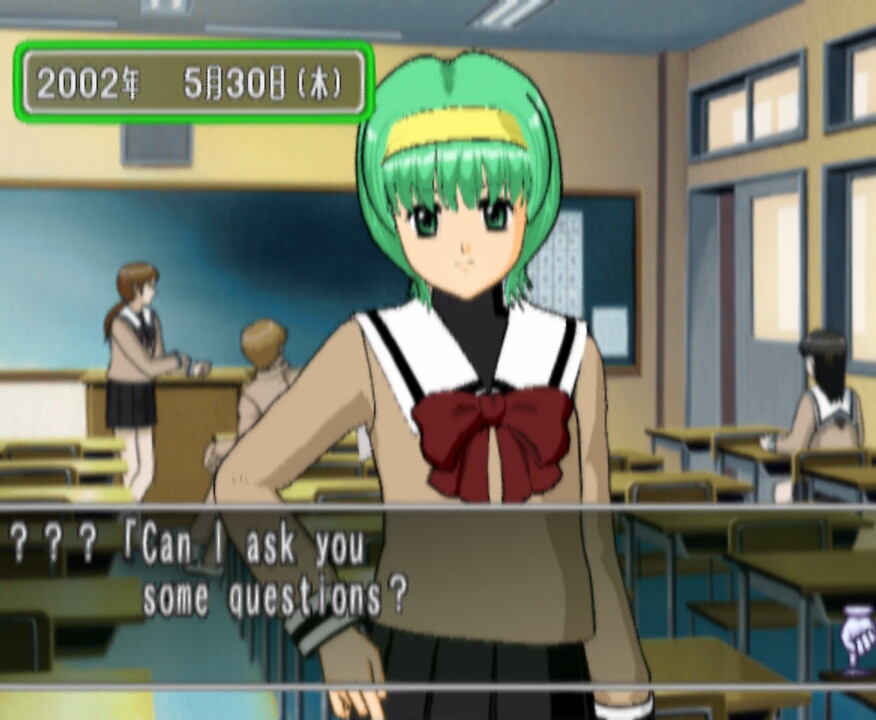 And it did!! A girl with bright green hair suddenly approaches us after class and asks us if she can ask us some questions.
In English.
In very strangely-pronounced English.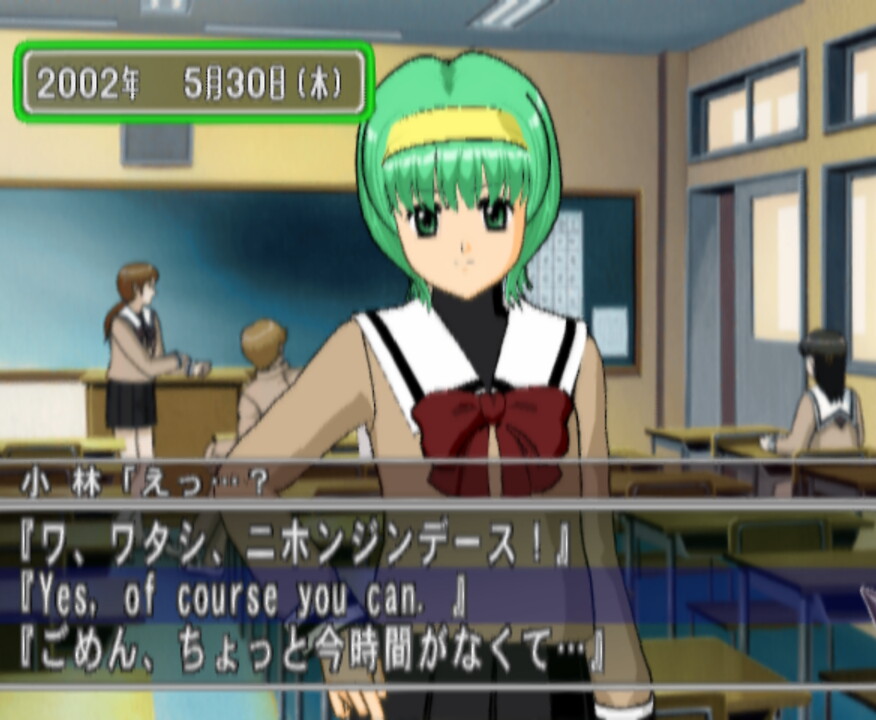 Our three options are to shout out "I, I AM JAPANEEEESE!" in Japanese, answer the question properly in English, or say "Sorry, I don't have the time for this..." in Japanese, too.
We respond properly, and she asks if we have ever been to Foreign Country. I've never even heard of a place called that, so we so no. You have the option to say yes or no, but either option gets the same response: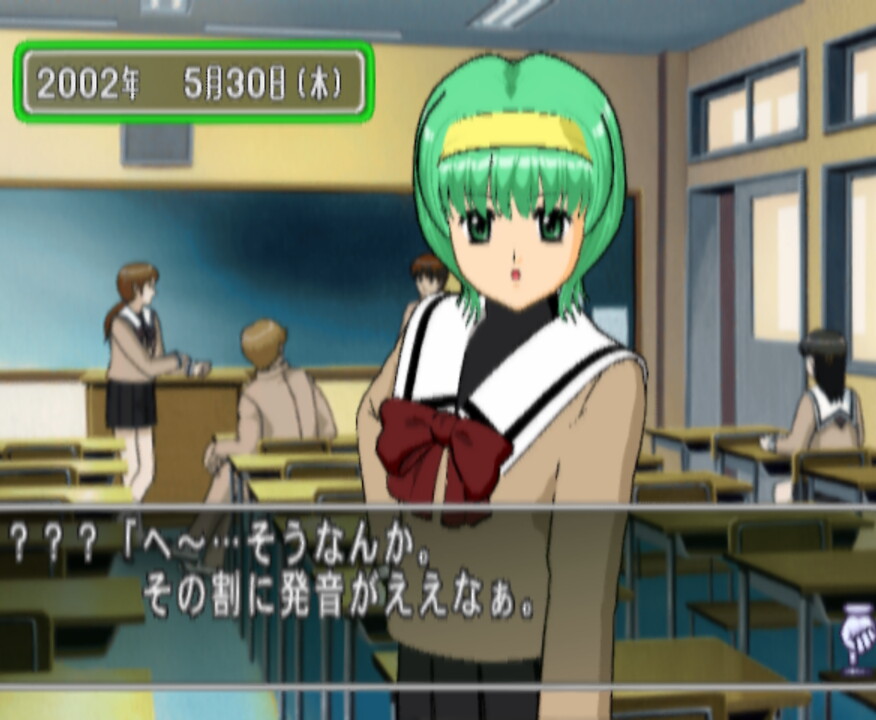 She suddenly starts speaking Japanese, and says our pronunciation is pretty good. She had heard we were good at English and wanted to see for herself. We seem surprised that she speaks with Kansai dialect. But before we can respond, she just walks away, and we're left thinking, "What the heck just happened?" to ourselves.
I should probably note that like 90% of the player character's response to anything is just to be confused and say "wtf" to themselves.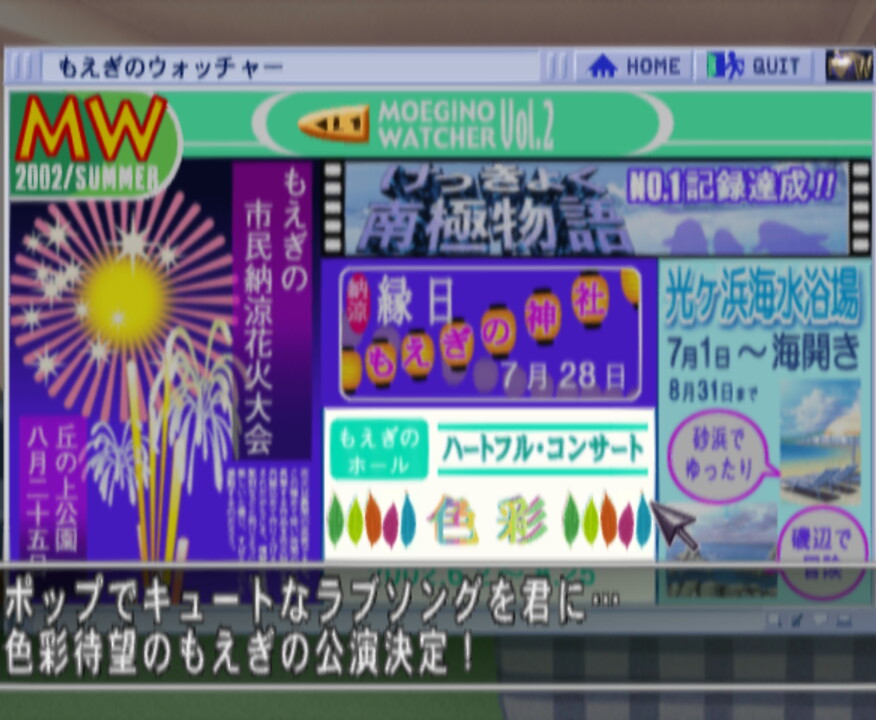 And with that week out of the way, Saturday is June 1, which means it's the game's summer season! The music changes, and Moegino Watcher gets updated with their summer issue.
There's a fireworks show at the end of August, a festival at Moegino Shrine at the end of July, that same stupid penguin movie is still showing, the beach is opening for the summer, and there's a pop love song concert thing going on at Moegino Hall.
We've been pretty busy, so we take some time to rest during the school week. We sleep around on the roof, or when it's rainy, we sleep around in the infirmary.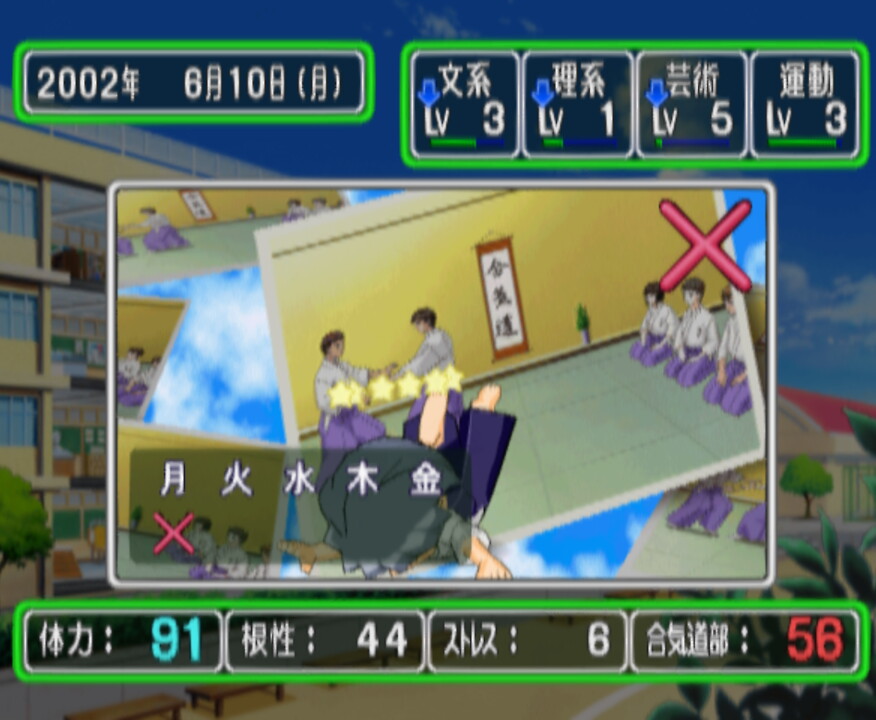 I also got a better screencap of falling on our face during akido practice...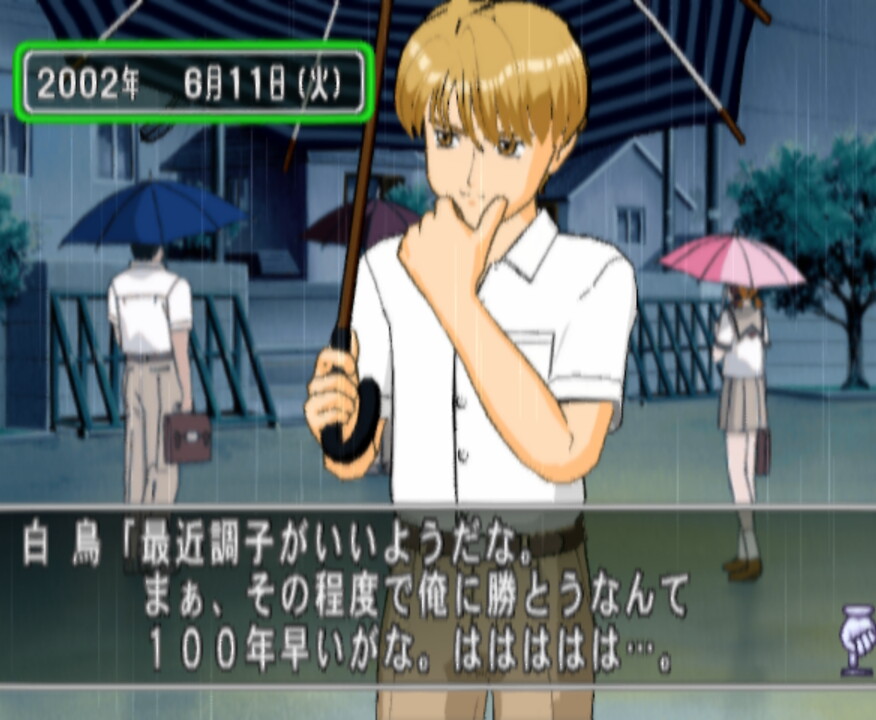 When we got to level 4 in Athleticism, our event was... Shiratori coming and "congratulating" us by saying how we'll still never be as good as him.
Yeah, sometimes you get these kind of booby prize events too :P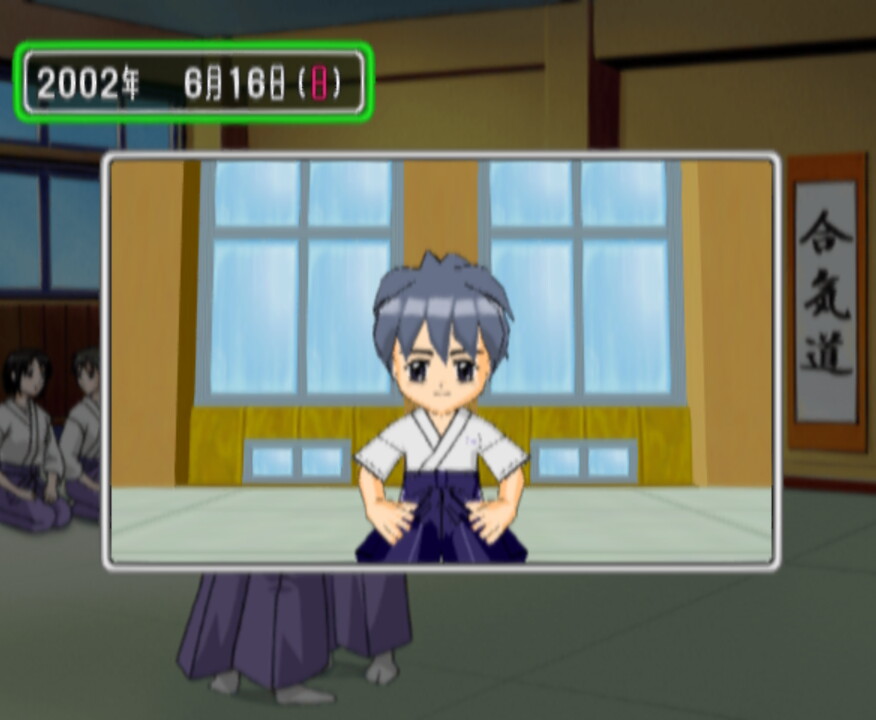 But after a fairly uneventful couple of weeks, it's finally time for our akido match! Before we start, Tachibana greets us as tells us that our opponent is a rural school (either that or the name of the school is Rural School) and it seems they have a pretty lax program, since they're motto is like "go at your own pace."
Instead of the usual practice, today we'll have three trials, where our success is randomly generated, influenced by our Athleticism and Akido Experience, as well as the difficulty of the opponent.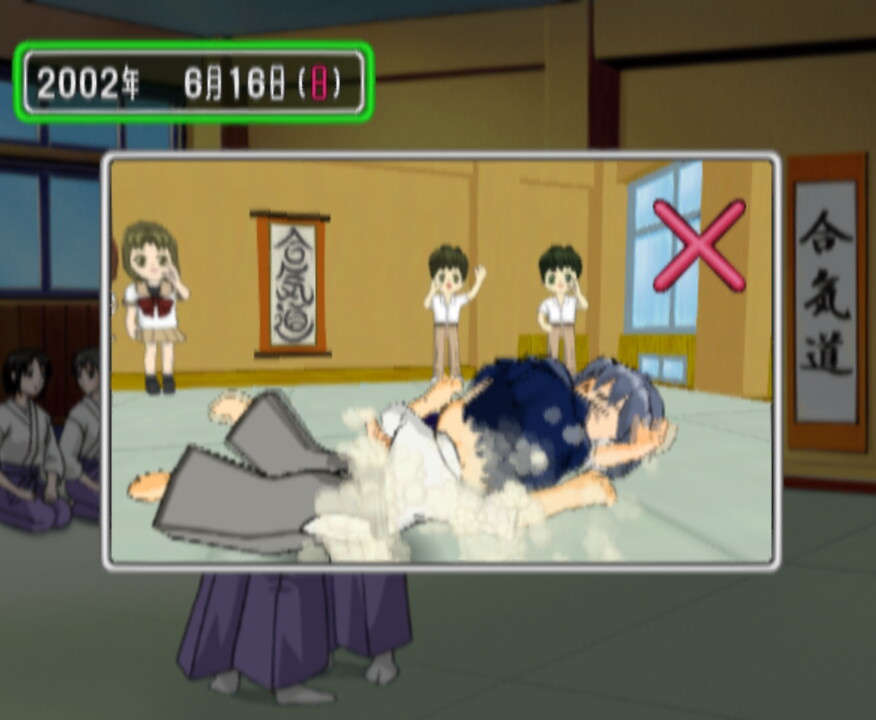 We got knocked down during one of the matches and lost...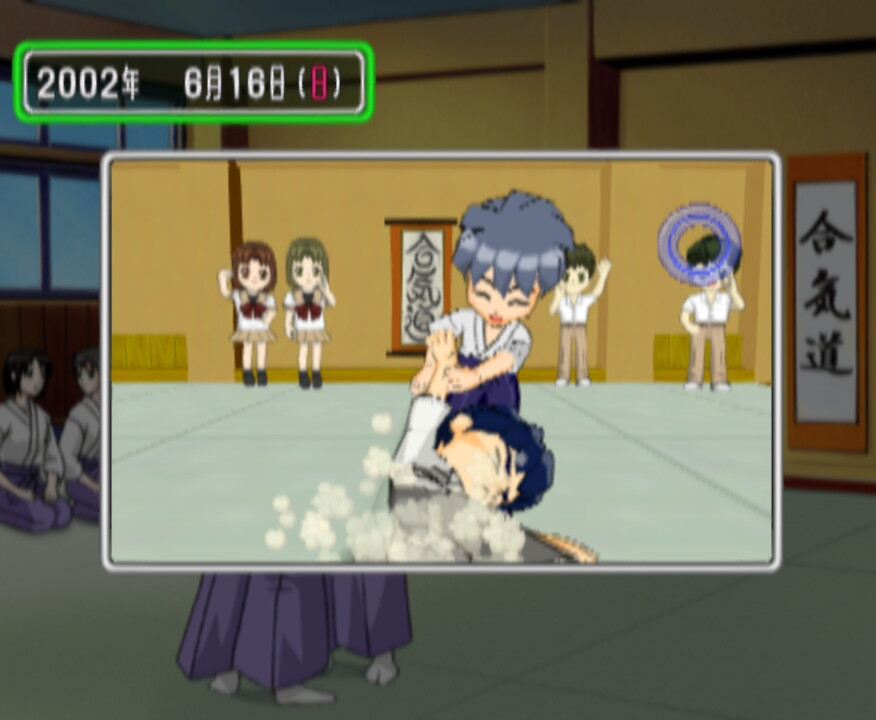 But in our other two matches, we managed to flip the guy over! Since we got the best out of three, we won the match!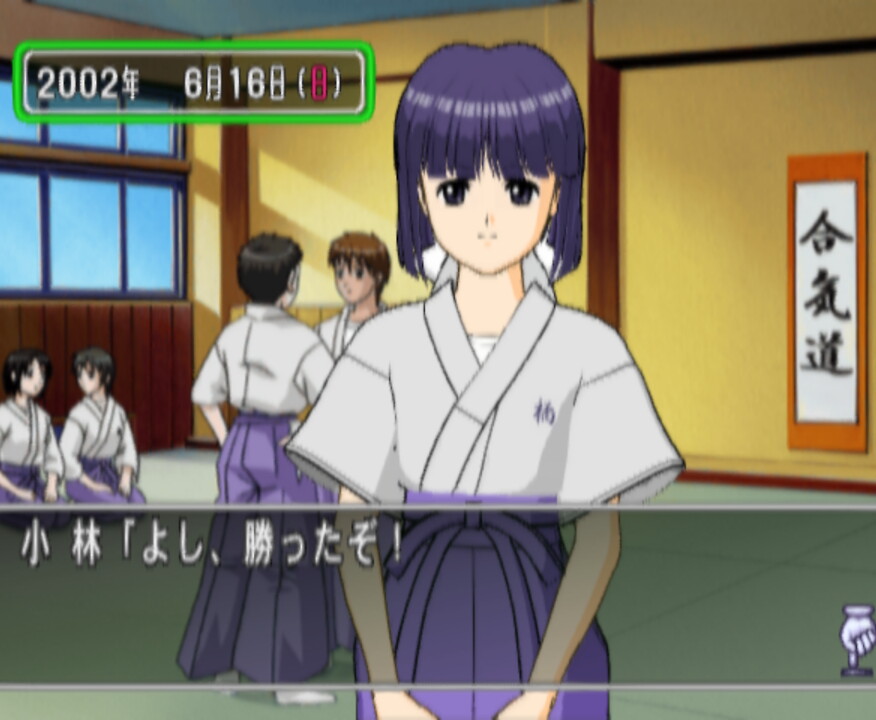 Afterward, Tachibana simply tells us to try our best next time, too. We seem a bit surprised that that's all she had to say. Not even a congratulations?
While we weren't able to do so hot on Field Day, we at least won our first akido match against another school! Things are starting to look up as we continue into the summer.
---