My Doppelganger and Me!
Curses Abound in Gladion
When we last left our heroes in Gladion Province, we were finally able to return Scarlet to her aunt, and defeated the ~Evil Librarian~ Francis who wanted to kill us all for protecting a baby.
Now we have the option to sleep in his house! How fun!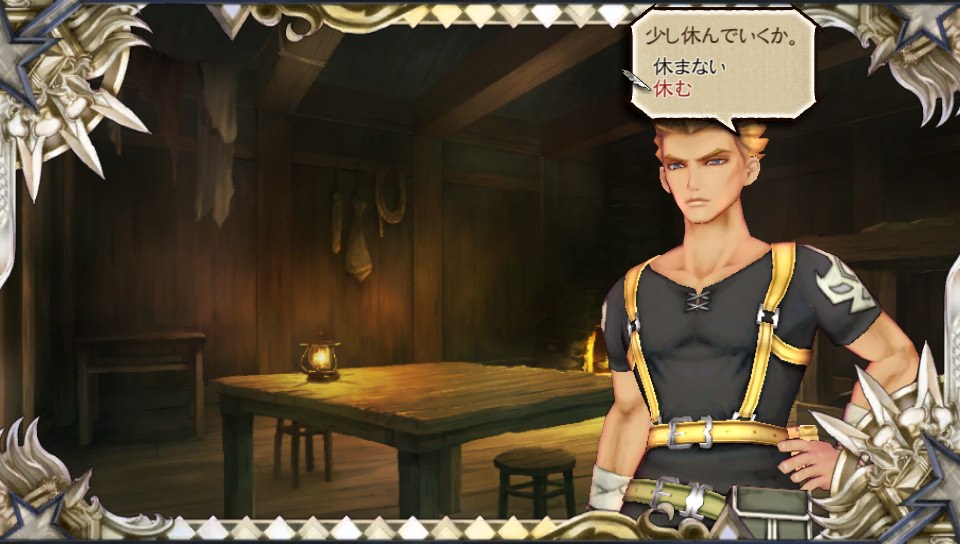 Sleeping in the hut brings about nighttime in the Gladion province. You can't really go many places or leave the province while it's night, so you have to sleep again to make it day if you want to do that.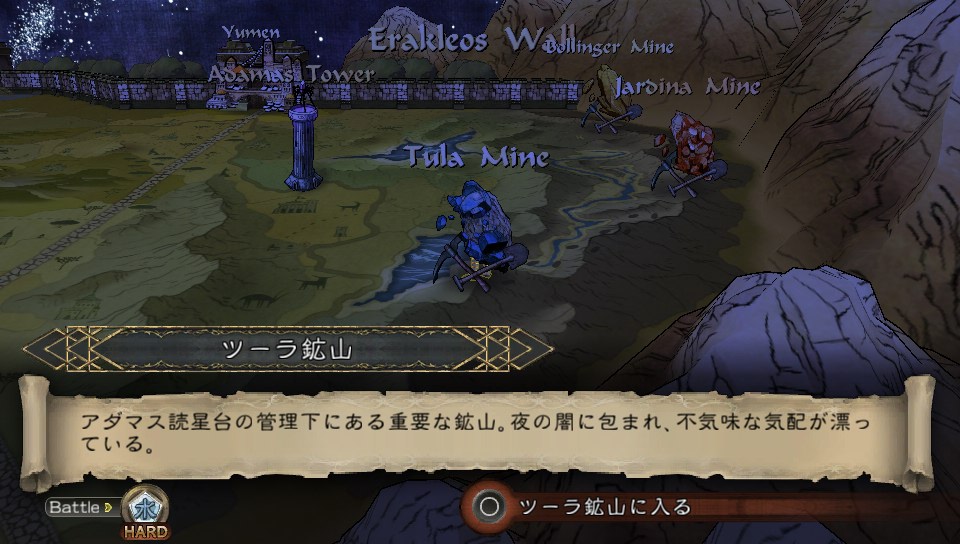 But I decided to check out what the mines were like at night, since they normally had people in them during the day, and at night the battle preview was different.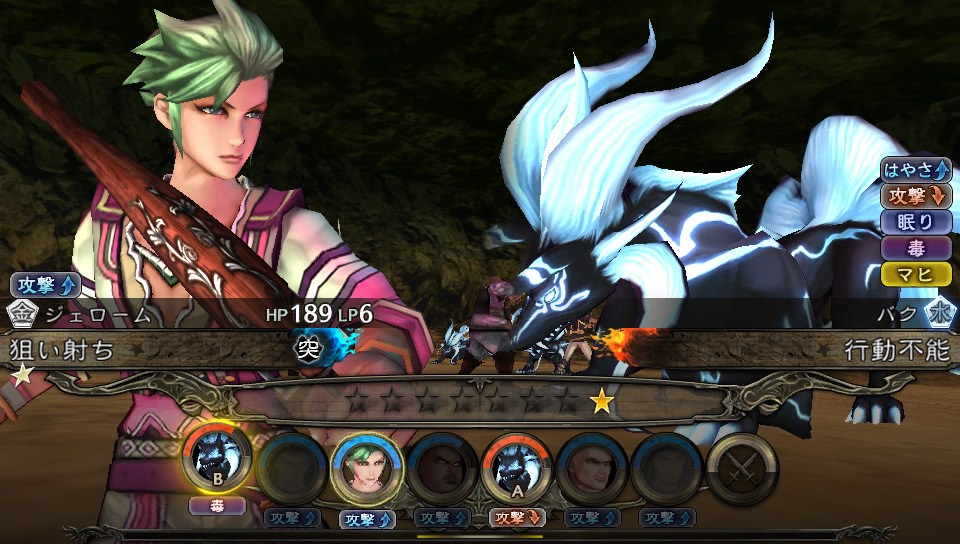 In Tula Mine, we ran into two Bakus. This was... harder than I expected it to be. But look at this Baku with all those status effects :) Speed up, attack down, sleep, poison, paralysis XD
Leo just commented about how no one was around. Also, if you die in this fight, instead of a Game Over with the option of rematch, you pass out and a miner rescues you, and it turns back to being daytime again. This happened to me the first time, but you can just keep sleeping in the hut to switch the time between day and night as much as you want.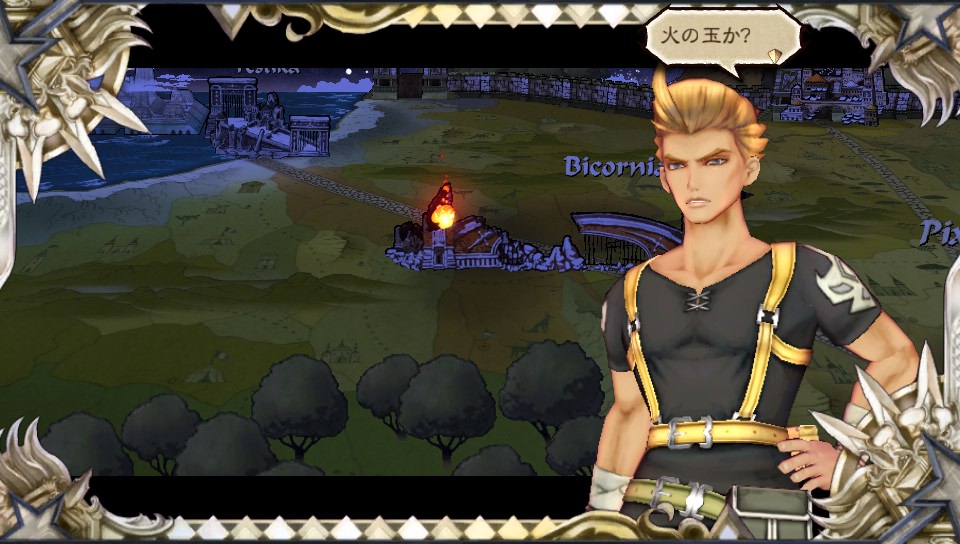 The mines were a bit difficult, so I didn't go to the other two. Instead, I headed over to Bicornia, where there was some kind of fireball hovering around the western ruins.
Leo decides to check it out, and it disappears. One of the bandits who likes to hang out here is running around now, and freaking out about how some kind of ghost of the Princess of Julanius is haunting the place. Then the fireball reappears and he takes off in fear.
Leo, being a proper game adventurer, decides to investigate further and enter the ruins.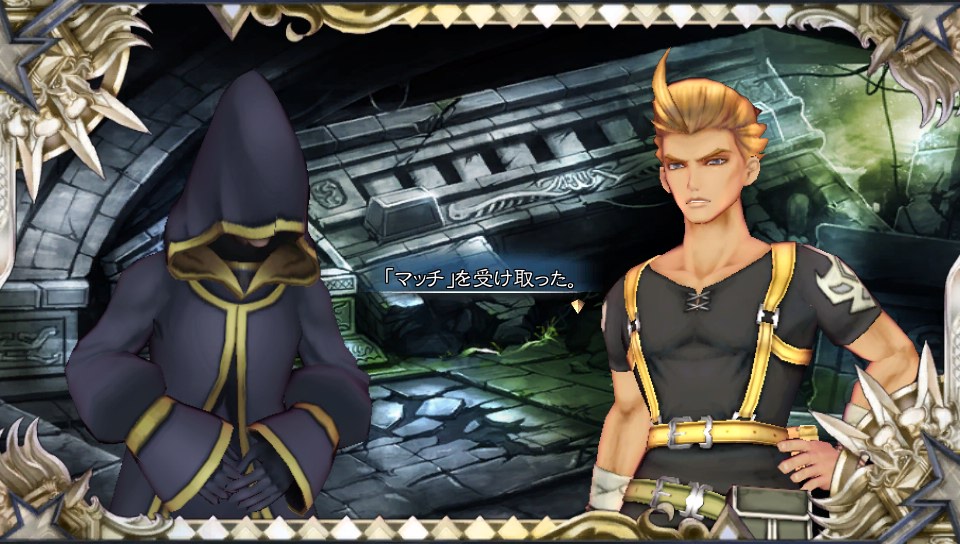 This creeper appears, and says Bicornia is cursed. As he talks, his speech goes in and out, so there's a lot missing, and random little "hehehehehe" and stuff mixed it. So it's kind of hard to understand what he's saying. This seems to be the way ghosts talk in Japan in general, lol.
Anyway, he says something like this:
"Bicornia is cursed.... No matter what... that thing they did... hehehe... serves them right... wouldn't let them run... Julanius did well..."
Leo figures this figure is probably not the ghost of Princess of Julanius, and asks it if it lives here (lol)
The response is equally cryptic:
"...familiar face. Take this. These are the only way to light it... What happens next is up to you... Only 3 chances. Don't forget."
And he hands us three matches.
Leo asks if they know each other (responding to the "familiar face" part), but the hooded figure vanishes. Leo thinks they may not have been human.
After leaving the area and wandering around a bit, I found a little shrine between the forest hut and Kathrin Fort. Liz thinks it's a cute little shrine, and wonders what you're supposed to pray for here.
Though the shrine looks old, the candle inside looks to be new. Leo remembers the matches we received and wonders if we should try lighting it. Liz suggests that we should, and we're given the option, so I take it.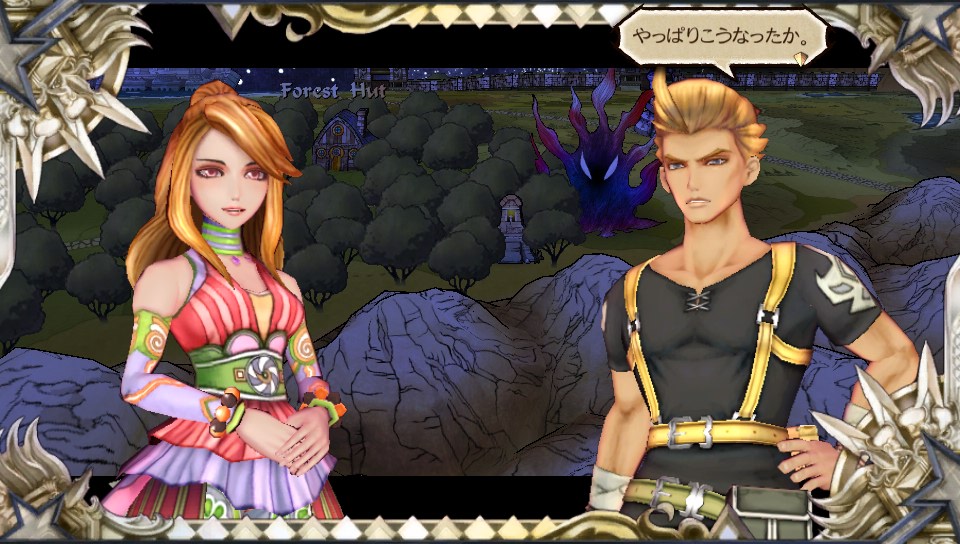 And a monster pops up. And Leo is just like "Yeah, figured something like that would happen." and Liz is like "It's cool, we got this!" happily. It's kinda funny, really.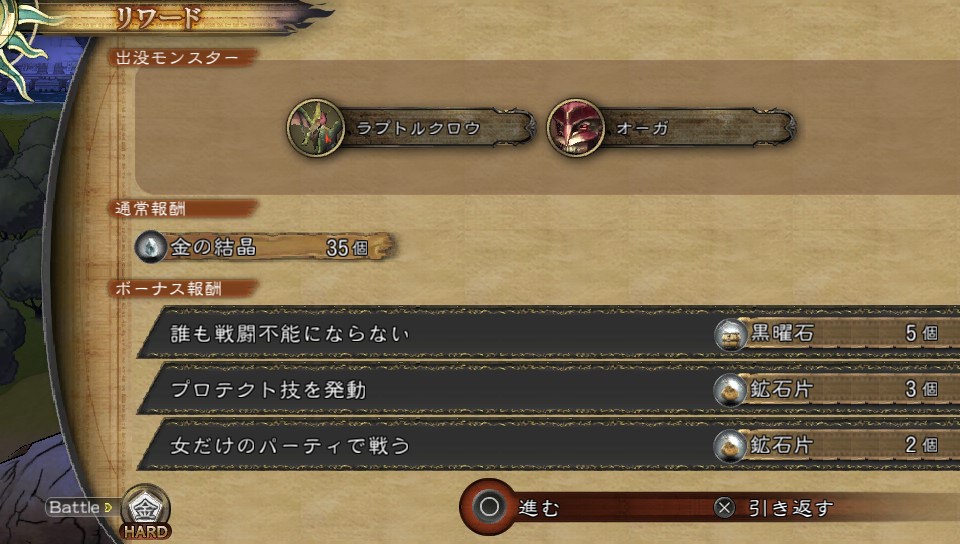 The battle is kinda tough -- lots of enemies, and the bonus objectives were not easy either. "Have no one die" usually is instant failure for me, hahaha. And "Use an all-women party" is not something I can really do feasibly at this point, at least not against a Hard battle...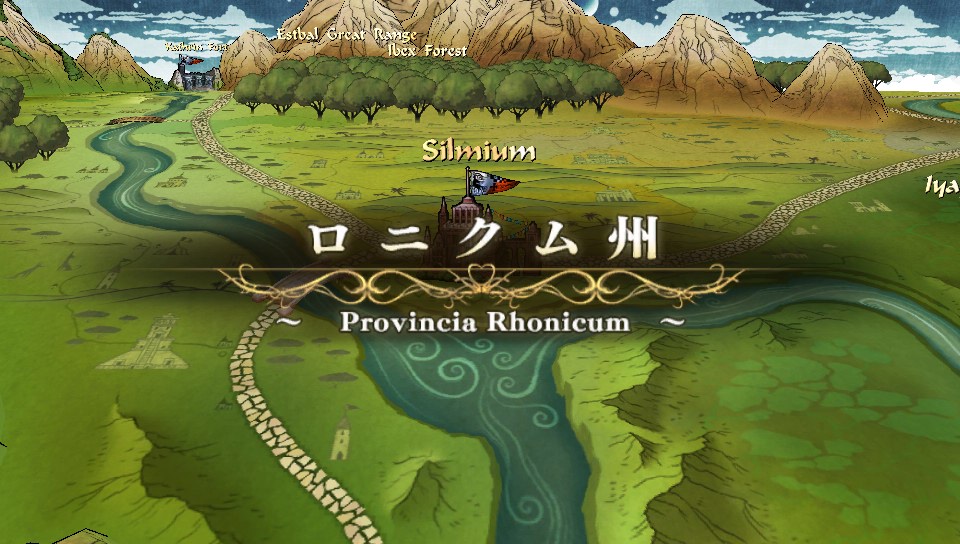 After finishing the fight, though, I couldn't find any more things to use the matches on, and nothing seemed available in Gladion Province, so I just decided to move on. I went through Kathrin Fort and arrived in Rhonicum.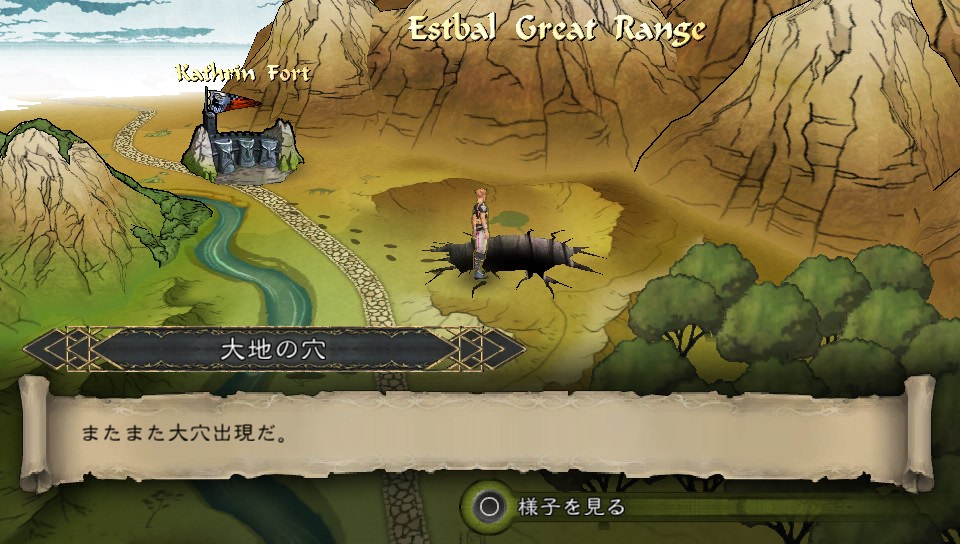 Right away I notice this giant hole in the ground with no real explanation. Seems like something worth checking out, right?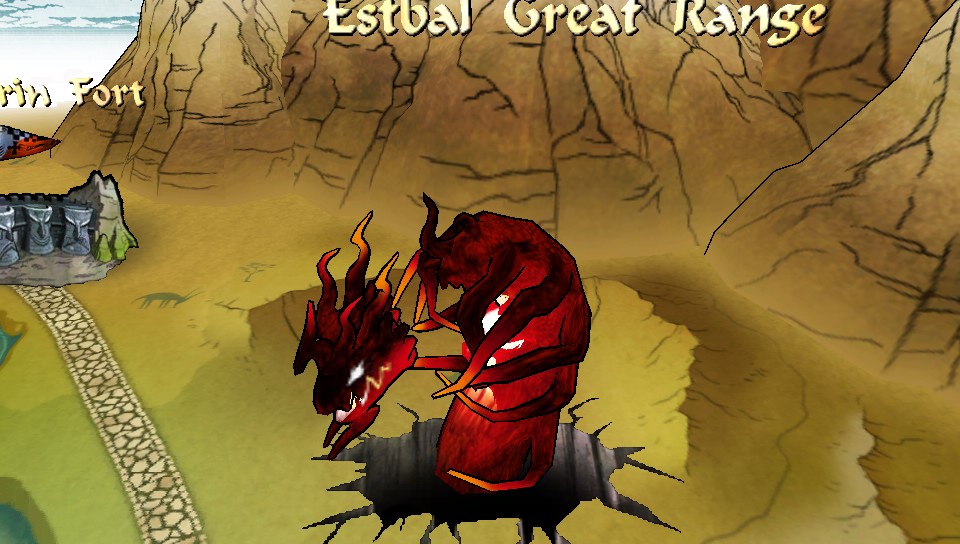 I... I really should have guessed...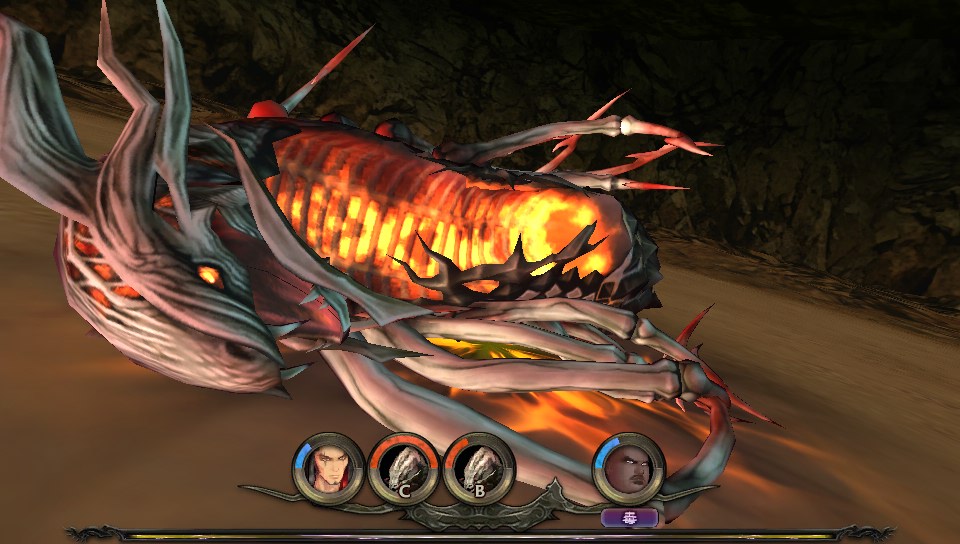 At this point, I don't even feel like it's worth talking about fighting Big Long since we've done it so many times. Though this time seemed a bit tougher -- I kinda barely scraped by.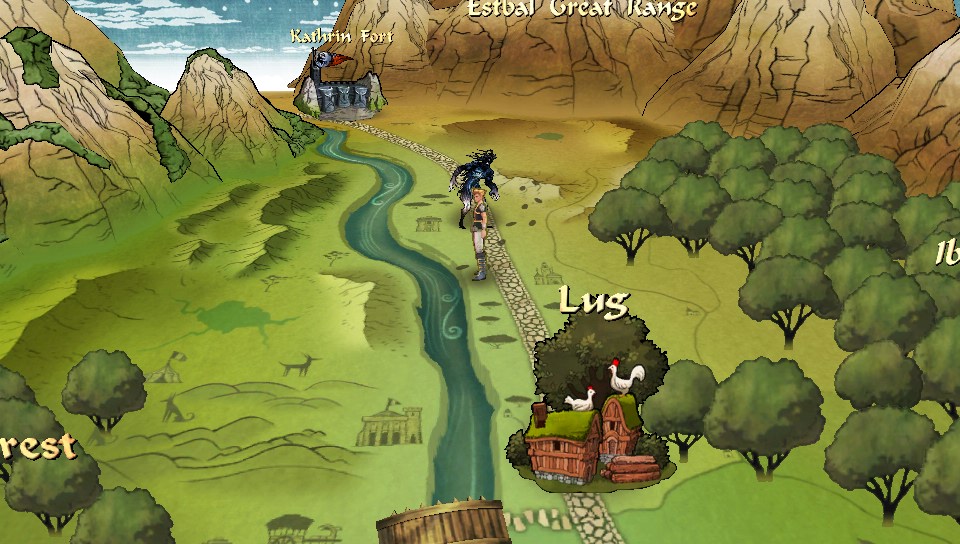 And where there's Big Long, there's usually minions... this time, we can't fight them, and they seem to be blockading along the Imperial Highway, stationed evenly apart.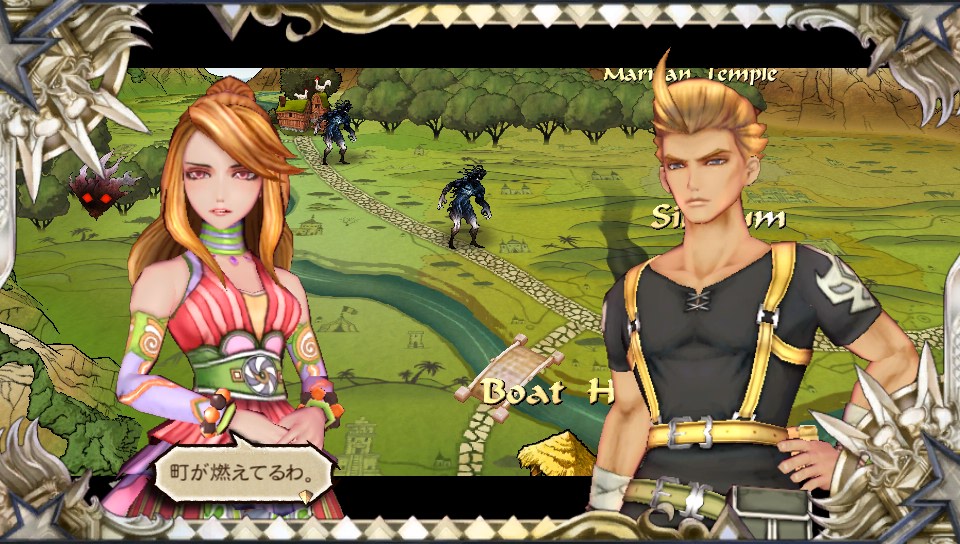 Continuing down the road, we find a city that is on fire. And Liz just kind of casually observes, "That town is on fire."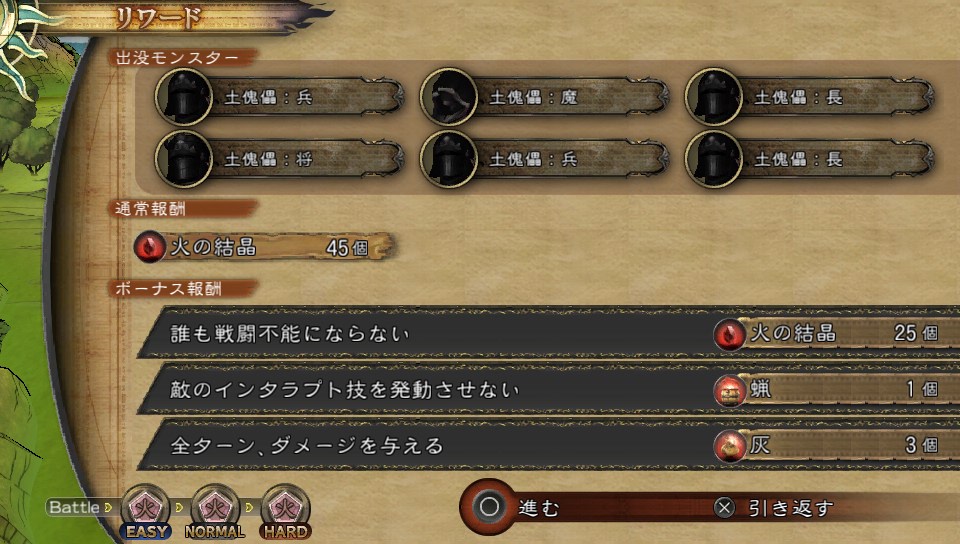 Approaching the town, it seems we can go there to enter a series of battles against a ton of different kinds of minions, including the scary axe-wielding one and archers, with the final battle being HARD, so that's a big NOPE from me right now. The party is not doing too hot, so I'd really like to do some easier battles to work on regaining LP for the resting characters.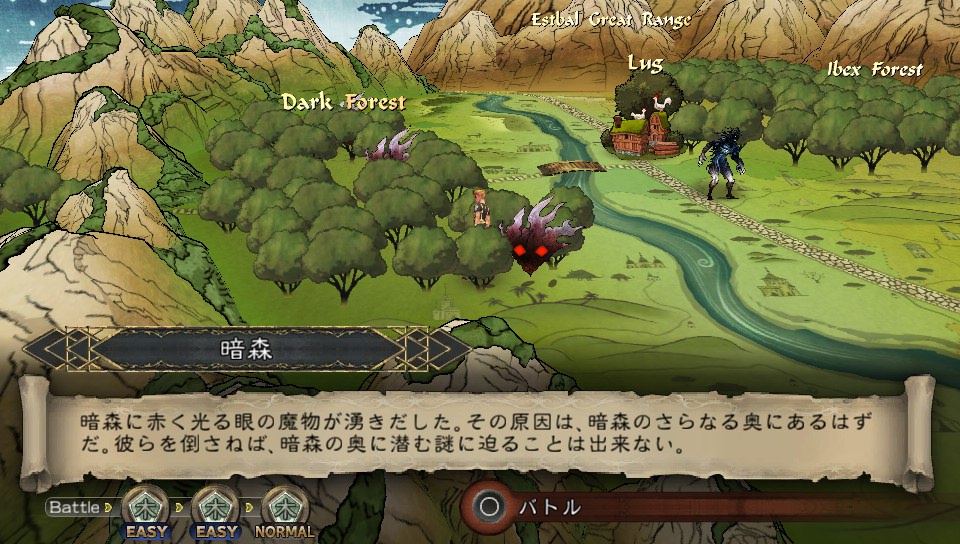 Nearby, there's a forest that seems crowded with monsters, and it's got two Easy battles and a Normal. That seems a lot friendlier!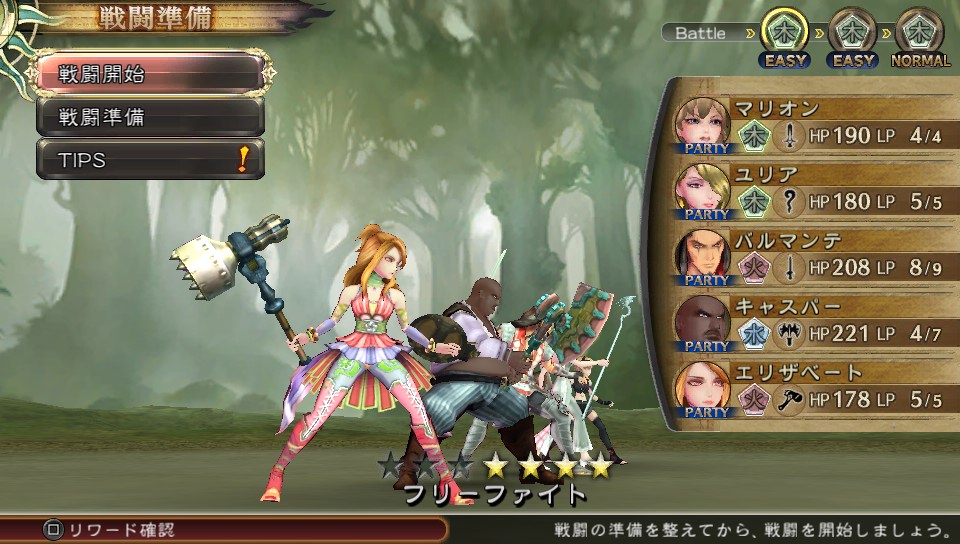 One of the bonus conditions is to fight with a different formation in every battle. Since the first two battles are Easy, I decided to try out some of the formations I don't really use. This one is called Free Fight and is probably one you'll always start the game with -- it's kind of the default formation in other SaGa games, too. Everyone gets a boost to Speed, but everyone is equally open to attack, and the max BP is only 7. But it's good if you want to prioritize speed.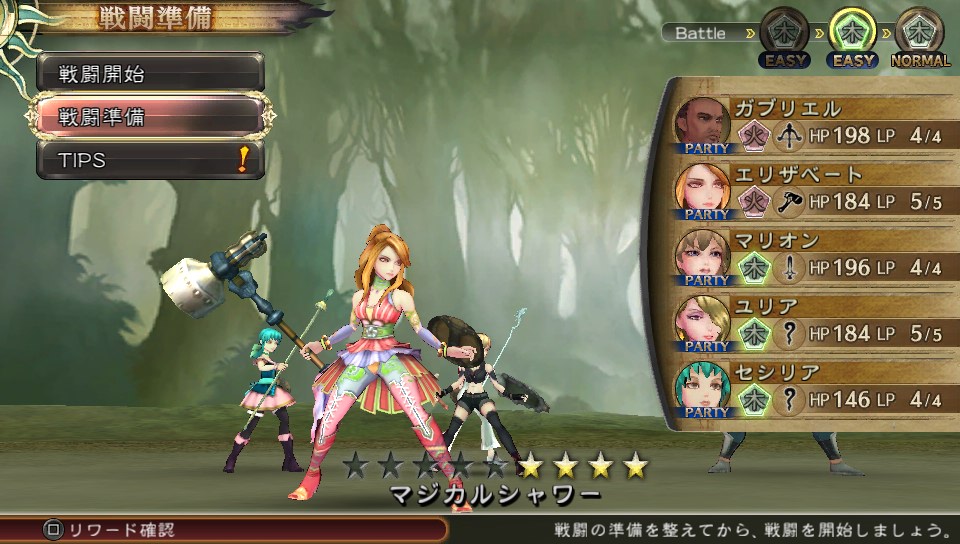 And this is Magical Shower, the formation that came with Julia. It has a similar shape to Double Combine, but now the front row doesn't get any benefit, while the back row gets a BP discount to magic arts. Pretty useful.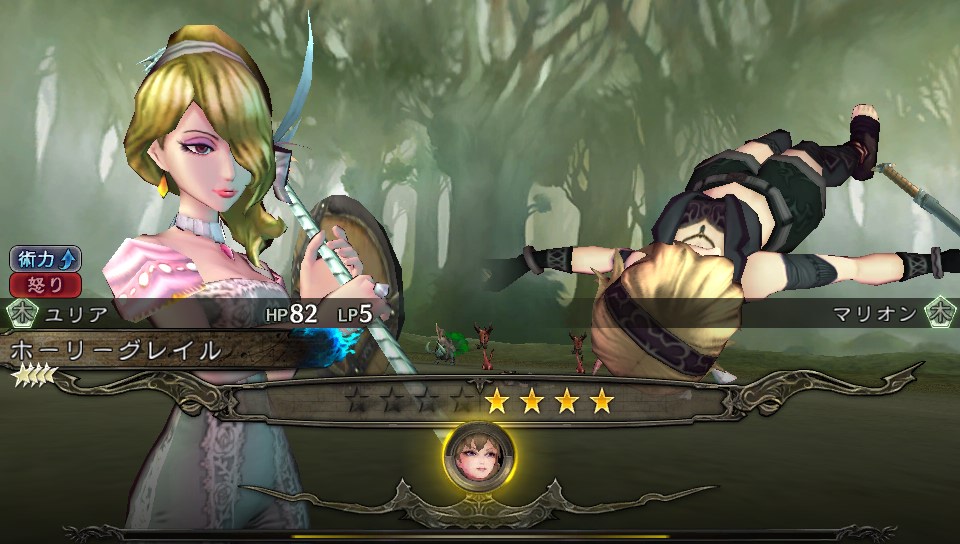 Julia glimmered Holy Grail, which is the first restorative magic I've seen in the game. If this is like other SaGa games, methods to heal will be few and far between. I'm fairly certain there are no healing items or anything in this game, so magic arts are probably going to be the only way to heal the party.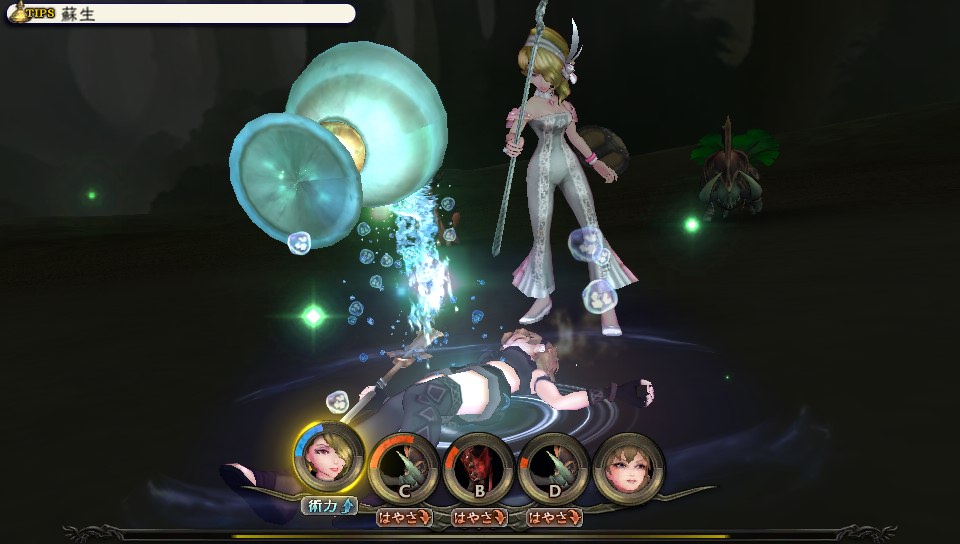 Holy Grail targets a knocked out ally, and will revive them! Sadly, they don't revive with full HP, and this costs 4BP and takes multiple turns to cast. And getting revived just means you have an opportunity to die again and lose another LP... It can be extremely useful, but it's probably not a good idea to revive everyone who dies -- only use it in cases when it will be vital.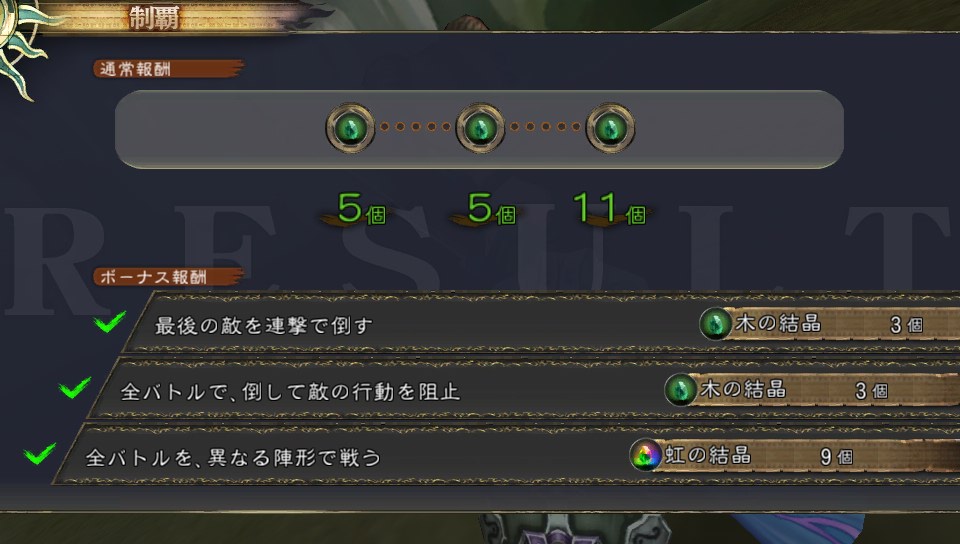 Afterward, I cleared all three of the bonus conditions and got my first rainbow crystals! I even got 9 of them, which is enough to make Zoisite lose his composure. I haven't seen any shop upgrades that require rainbow crystals yet, though. But I have seen shops with rainbow discounts.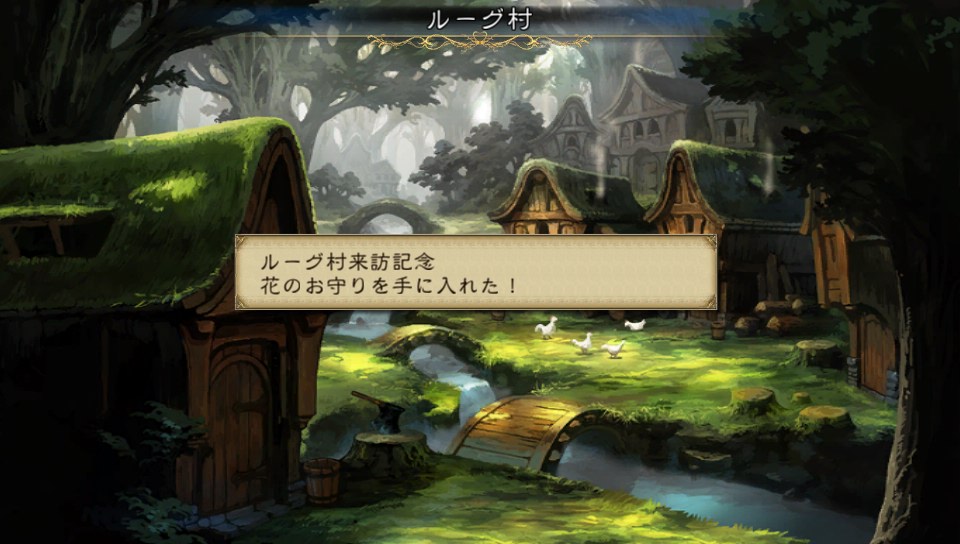 Afterward, a tower appeared in the distance in the forest. I guess we couldn't see it before because of all the monsters. But I didn't feel like going there yet, so we stopped by the town of Lug, who welcomed us with a flower charm.
The party was still in bad shape, so I decided to try heading back to places I've been and do some easier battles to win materials and let people rest.
When I go back to Kathrin Fort, something weird happens. Like, after Leo disappears for the screen transition, another Leo sprite appears and like... slides across the screen a little. I figured it was some kind of weird glitch or something.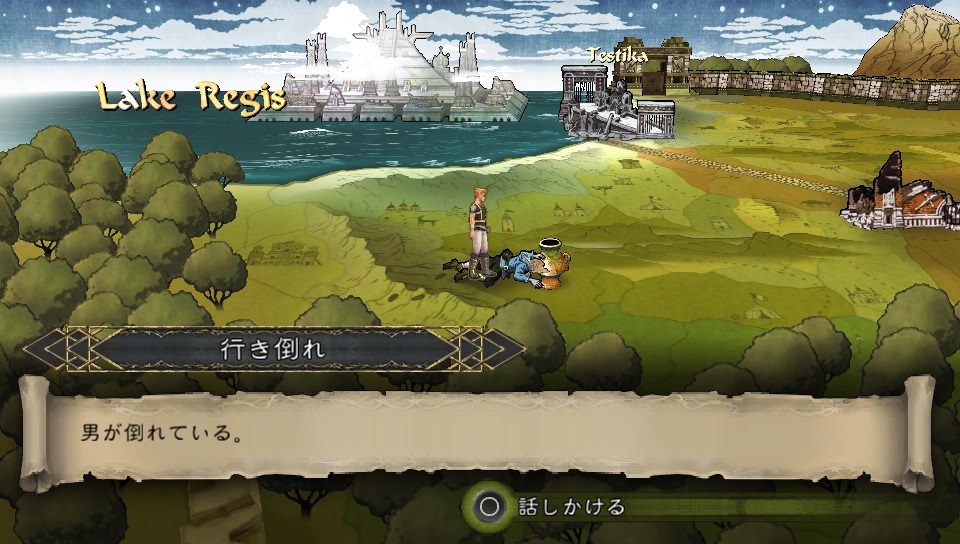 But before I could get anywhere, I found someone passed out in Gladion...
Excited that they may have a corpse to search, Liz and Leo eagerly approached the body, but it ended up being alive.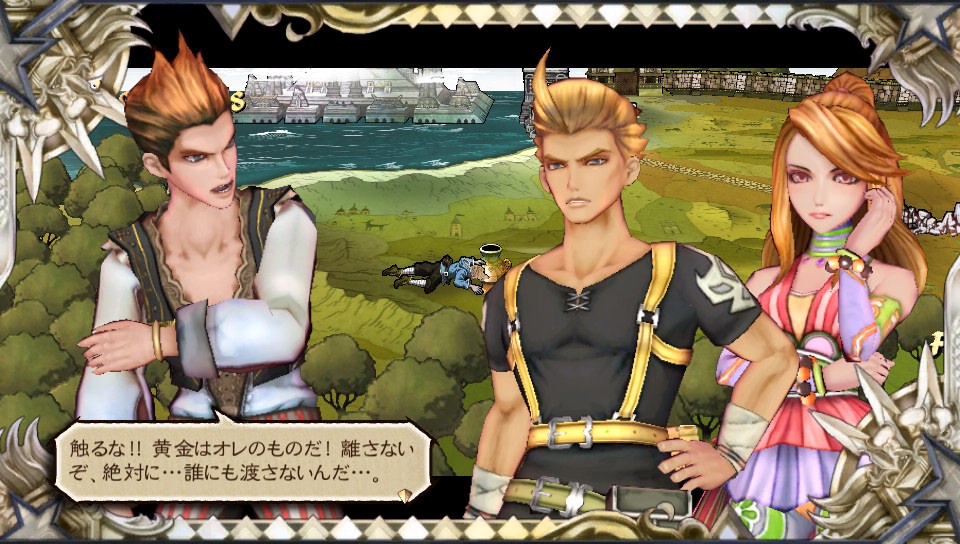 The guy was acting completely paranoid, accusing Leo and Liz of trying to take his urn full of gold. And no matter what they tried to say to him, it was as if he was hearing something completely different. But he seemed hurt, so they decided to go find him some medicine.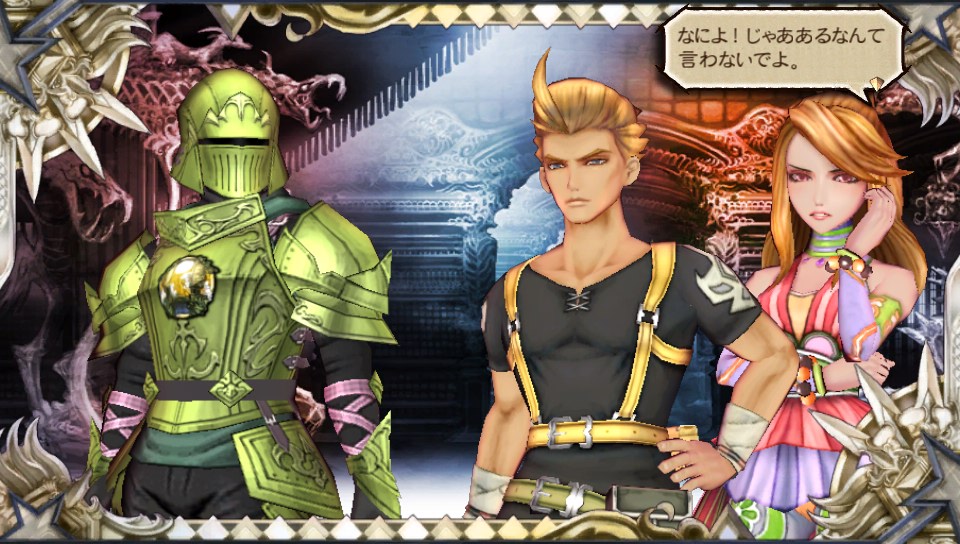 Yes, it's time once again for "talk to everyone in Gladion." At least this time we're not carrying around a baby. I don't know why every quest here basically just consists of running around and talking to all these weirdos over and over.
When we asked the knight from Bicornia if they had any medicine, he first started talking about how they had an ample supply of medicine that was used to heal the troops during battle and stuff, but ultimately told us that since it's provisions for the army only, we can't have any. Liz got pissed and told him he should have just said "no" from the start.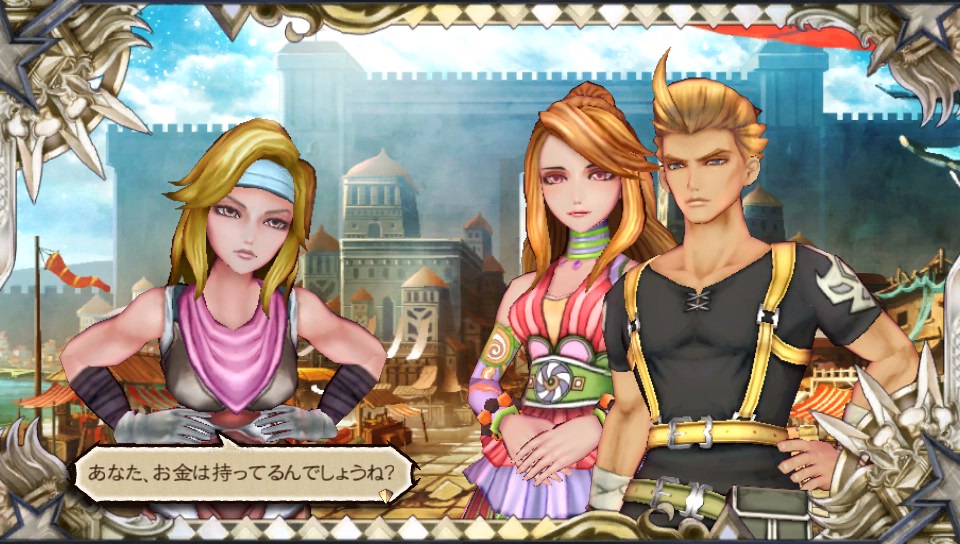 When we ask this shopkeeper about medicine, she demands to know if we actually have money. She seems pretty eager to gossip about her last customer -- a man who tried to buy something without any money, acting like he had a bunch of money in some big, weird urn, but when he tipped it over to dump it out, it was empty. Another merchant told us a similar story. When we asked one of the priests about medicine, he said that Adamas will provide for us and we should just pray.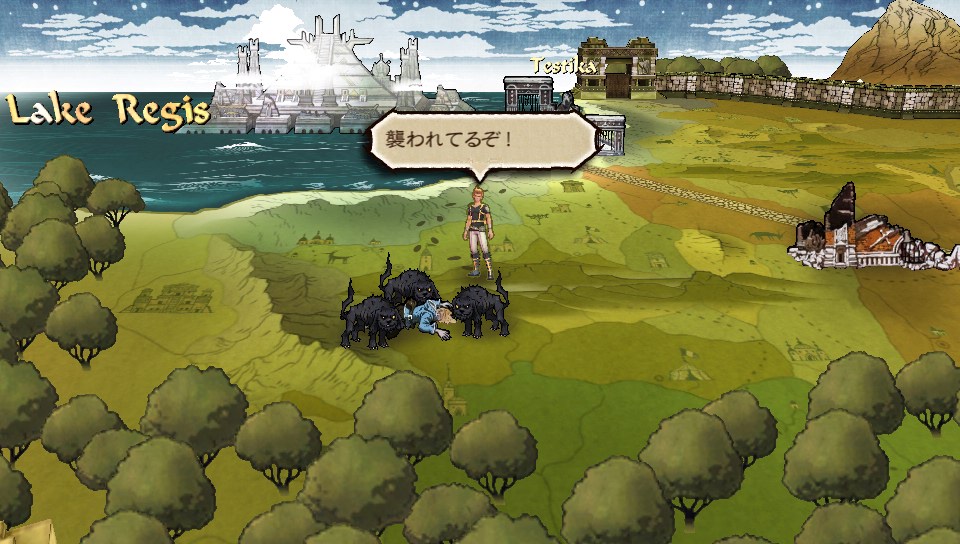 Running around trying to figure out what to do, I cross back over by the man and now there are some dogs attacking him!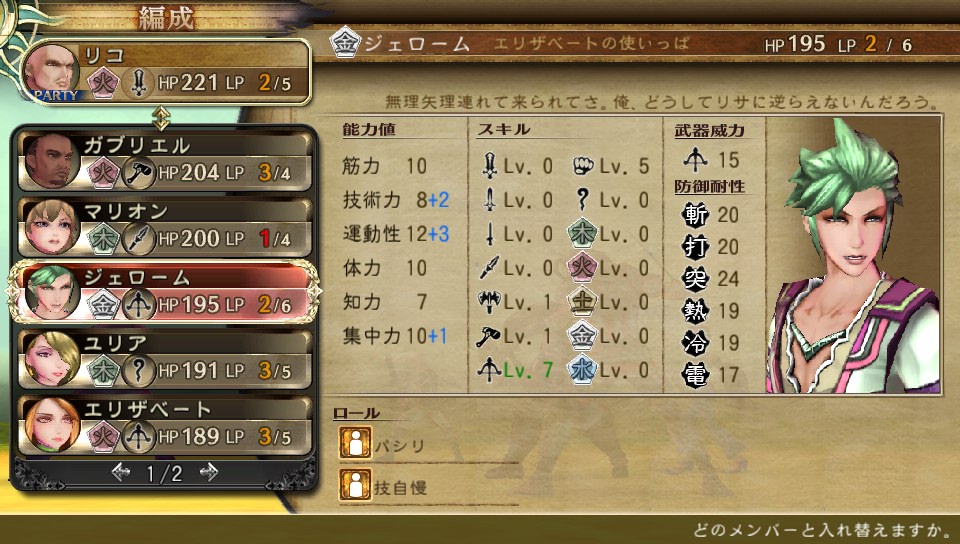 The party is in pretty bad shape, so I decide to run to a shop to see if I can upgrade any of my weapons yet before fighting.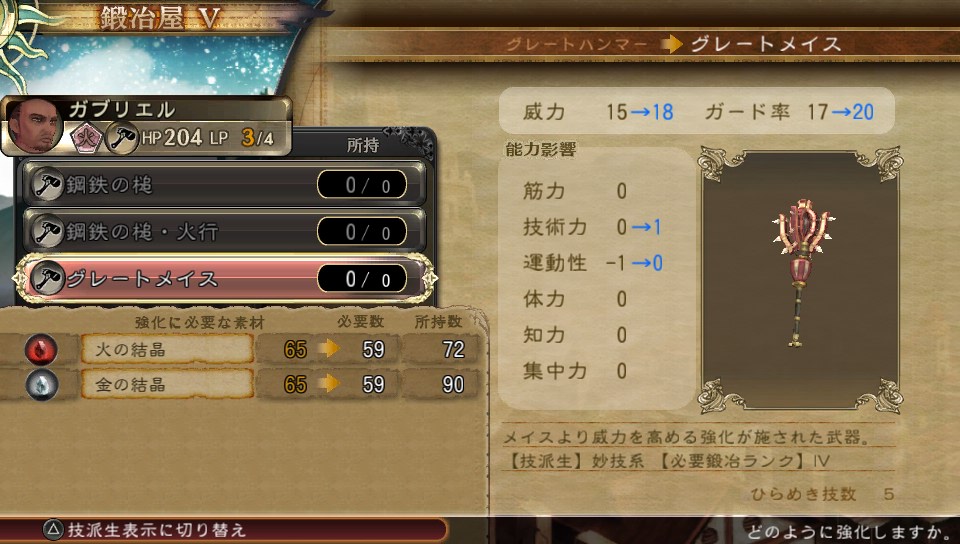 I do manage to make a Great Mace, which is a really great hammer-type weapon, and what's even better is that it has two glimmers that Liz hasn't learned yet.
(Also a random note: I can't get back into the capital, Azhuacan. The guy to take me there from Testika isn't around anymore, the ferry from Kei is still out, and the bridge from the south is gone, too... I wanted to go there to upgrade my weapon since it was close and I knew they had a metal+fire discount shop...)
Oh, I may have not mentioned this before, either, but there's a market rank system in this game. Basically, the more stuff you craft, your market rank goes up, and each upgrade unlocks a new set of available craftables.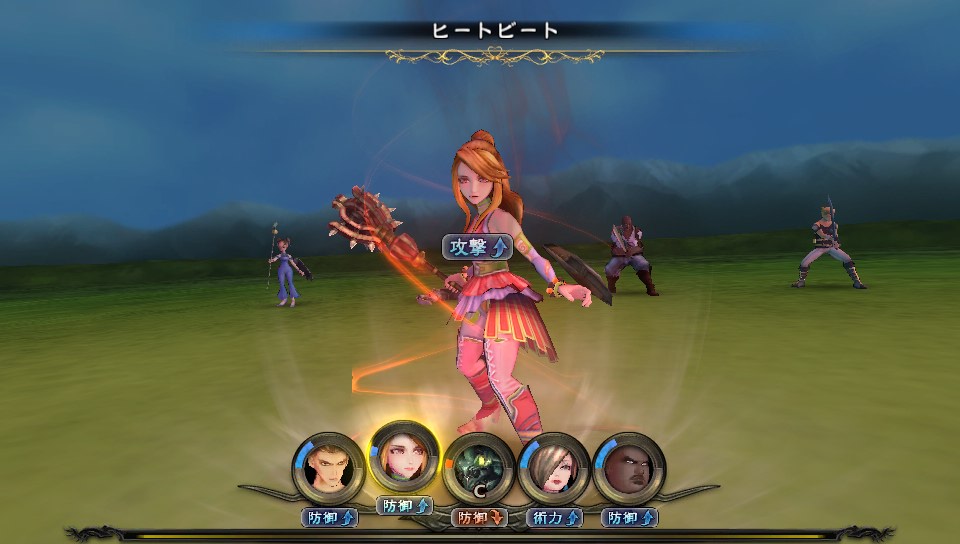 Wielding her new mace, Liz beat up all the wolves with ease...
But it seems we were too late to save the man, and he's now dead. All that's left is the urn he was carrying around. Liz wonders if there may really have been gold in it. Leo doesn't think it's a great idea to mess with the urn, but Liz wants to just take a peek. We have the option of choosing what Liz will do, and I chose to take a peek.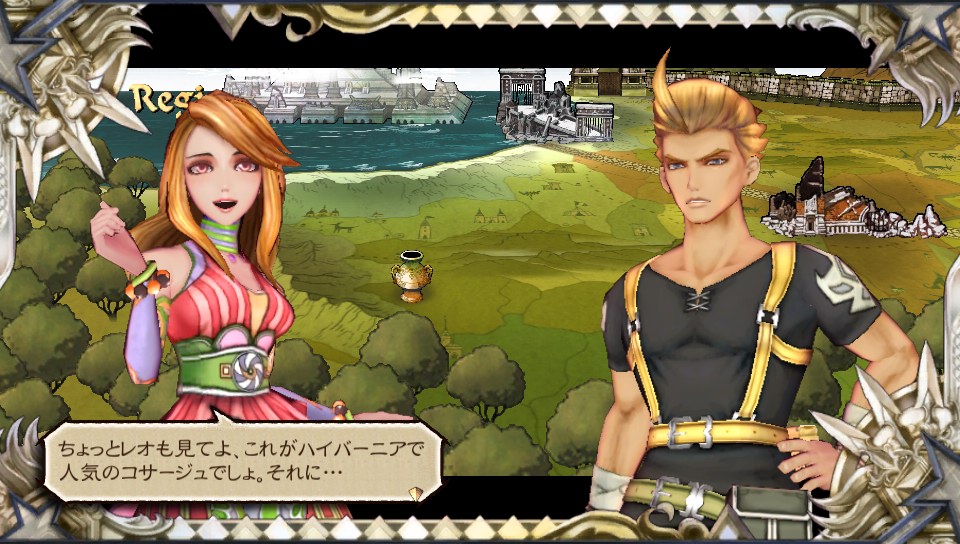 Inside the urn, Liz doesn't find gold but... tons of designer beauty and skincare products! Every lotion, soap, and cream she's ever wanted, the most popular trends, right inside this one urn! She goes absolutely nuts about them and makes a face she's never made before. She hasn't been able to take care of her skin or pamper herself this entire journey, after all, so this is very exciting.
The thing is, Leo doesn't see these supposed products. Liz is just kind of... waving her arms around and talking madly. No matter what Leo says to her, it's like she's hearing something completely different.
Leo realizes he has no choice but to... tackle her to the ground, causing her to black out and drop the urn.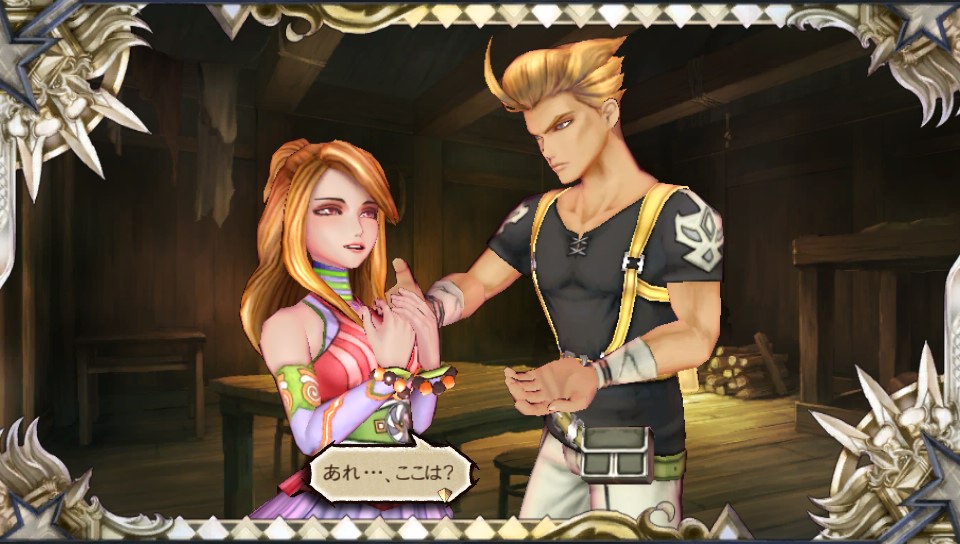 Some hours later, Liz wakes up with Leo watching over her in the forest hut where we fought Francis. Leo apologizes for knocking her out, and Liz starts to tell him how scary it was being possessed by the urn. She remembers what happened, but had no control over herself. She thinks it's best if we do something about the ghastly thing before it can bring harm to anyone else. Leo agrees and says we should maybe bury it in one of the mines or something.
We head back to where we left the urn, but it's not there. I started to get a bit worried, but it wasn't long before we found it again, just outside of Bicornia, surrounded by more wolves, who are just kind of... eating at the air around the urn.
We realize that the urn must show whoever touches it the thing they desire most, so the man was shown money, Liz was shown cosmetics, and the hungry wolves must be seeing food, but since they are not actually eating, they remain hungry and continue to desire food from the urn. Poor things. Let's kill them!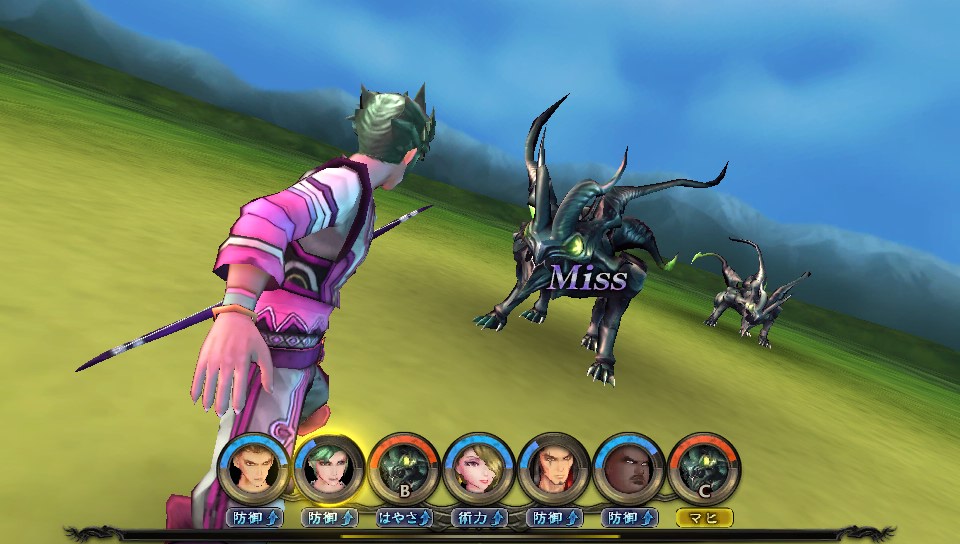 So, we fight the wolves off yet again, which isn't too hard, and now the urn is alone once more. Leo thinks that the key to the urn's curse is in direct contact, so they decide to cover it with a blanket before picking it up, which seems to work.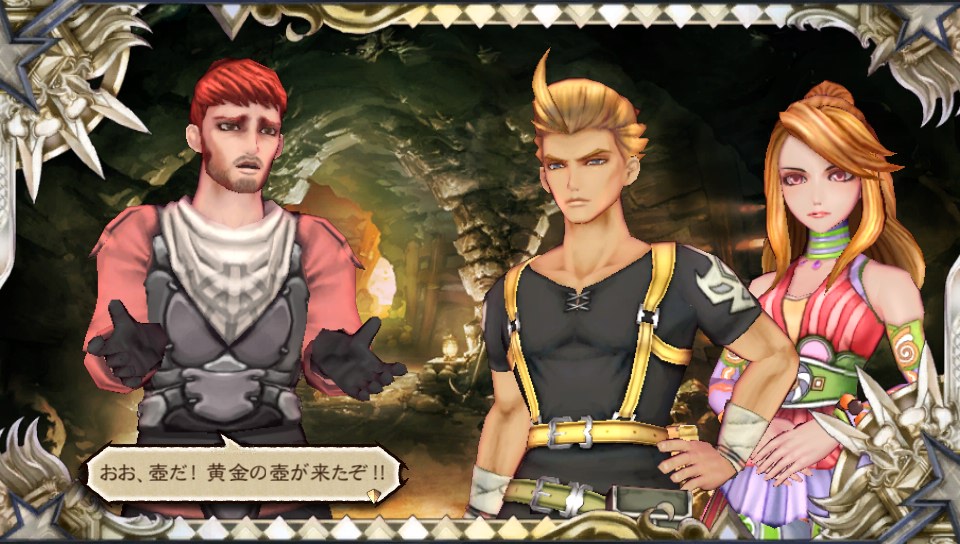 When we arrive at the mines, the miners see what we are carrying and start getting excited about the 'urn of endless gold' and begging us to share the gold, since, well, it's endless. They get angry that we won't share, but before we can get into a battle, we leave the place.
It seems burying it in the mine isn't going to work. I'm curious how many different ways these events could turn out. What if we didn't let Liz touch the urn to begin with? What if we tried coming to the mines at night when the miners weren't around?
Anyway, Leo suggests that instead of the mines, maybe we should try throwing it out to sea or something. So we head to the ocean and toss the whole thing in. Good riddance, right?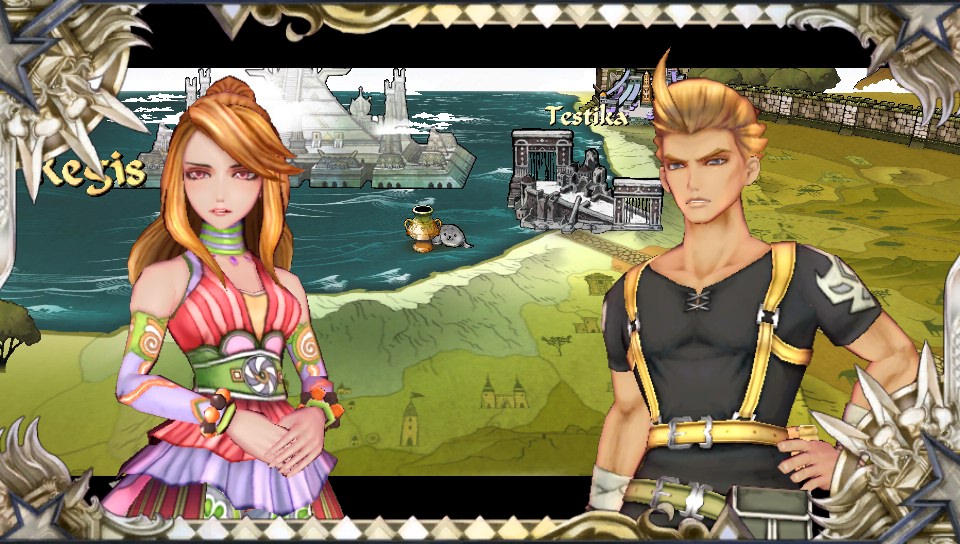 Well, instead, a seal just... brings it back.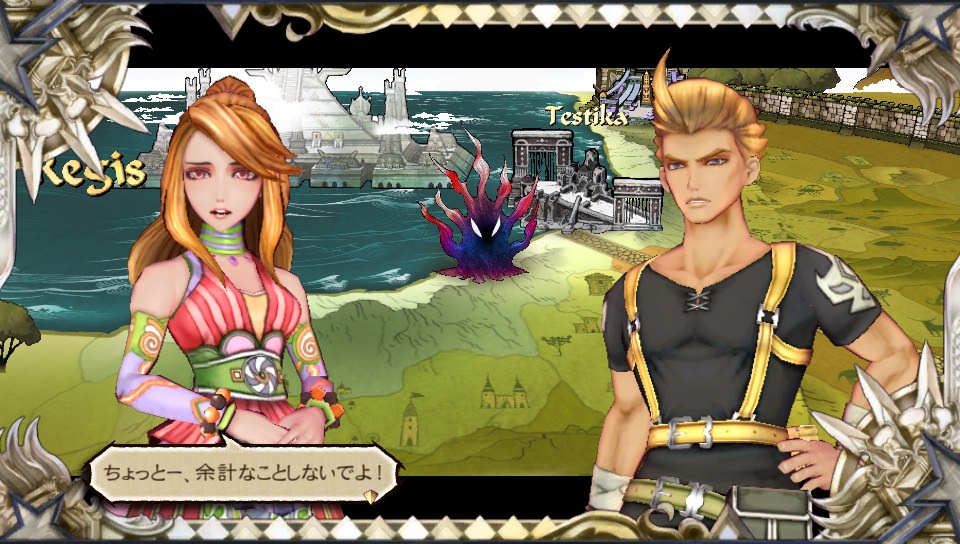 And then it suddenly turns into a monster?!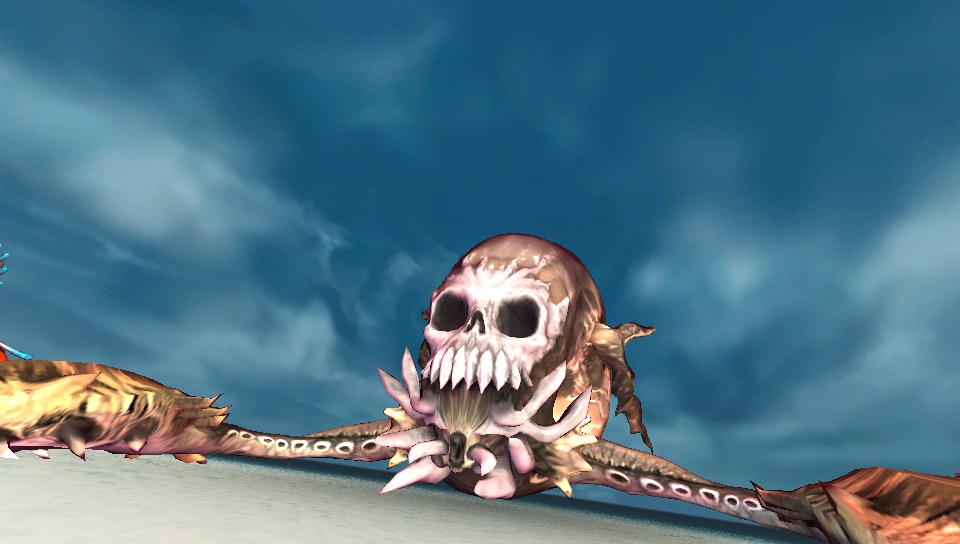 What have we gotten ourselves into?! This thing is called... Vojanoy? Something, I don't know.
Either way, it's terrifying!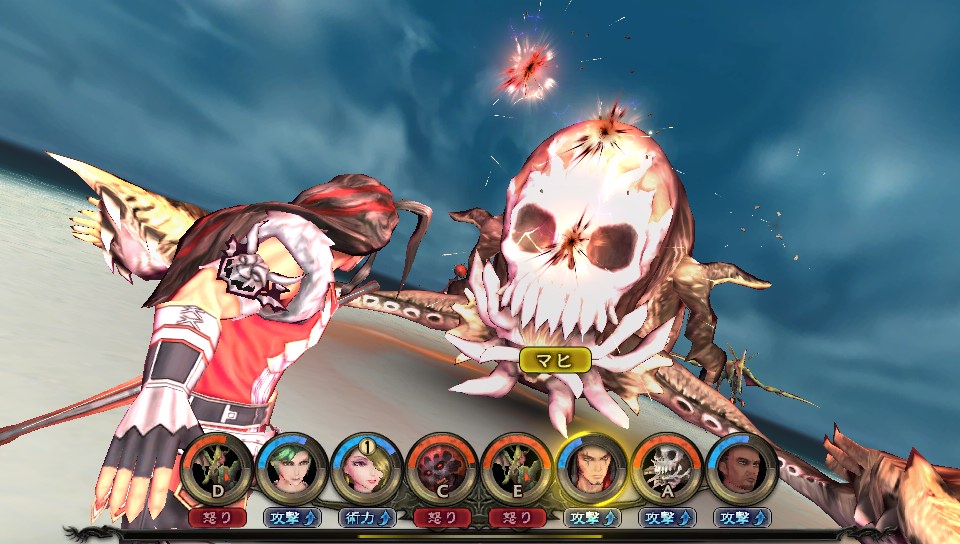 It can at least be paralyzed, though, which is a relief...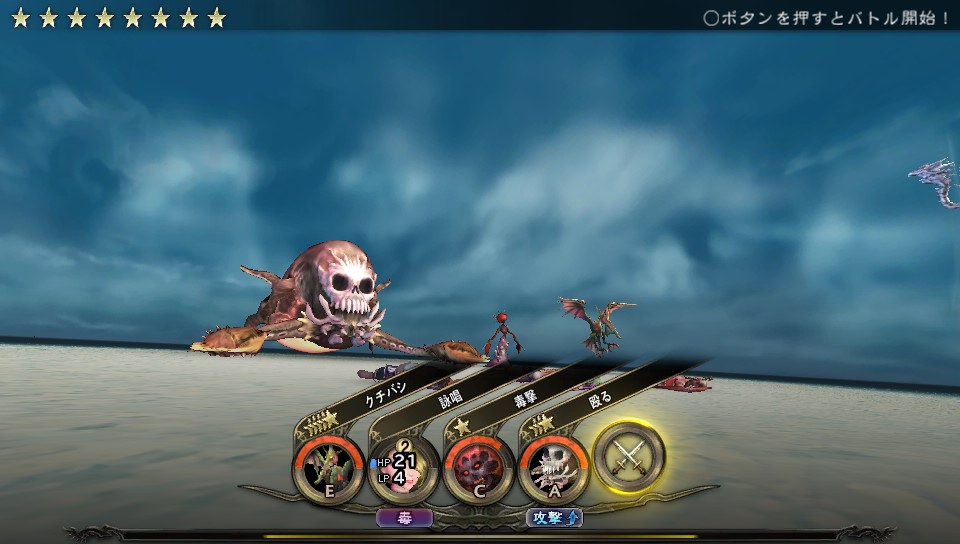 But it wasn't long before it completely overtook the party in power. It doesn't help that it has some pretty tough regular enemies as allies, too...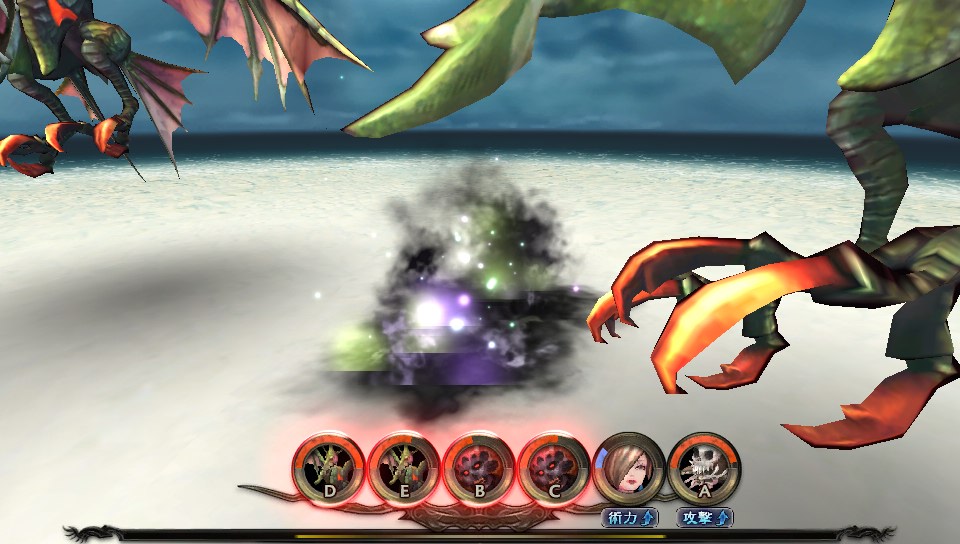 By the way, if you're curious, here's what it looks like when an ally completely loses all of their LP. They kind of... disintegrate into the ground through this weird sparkly abyss thing. Neat!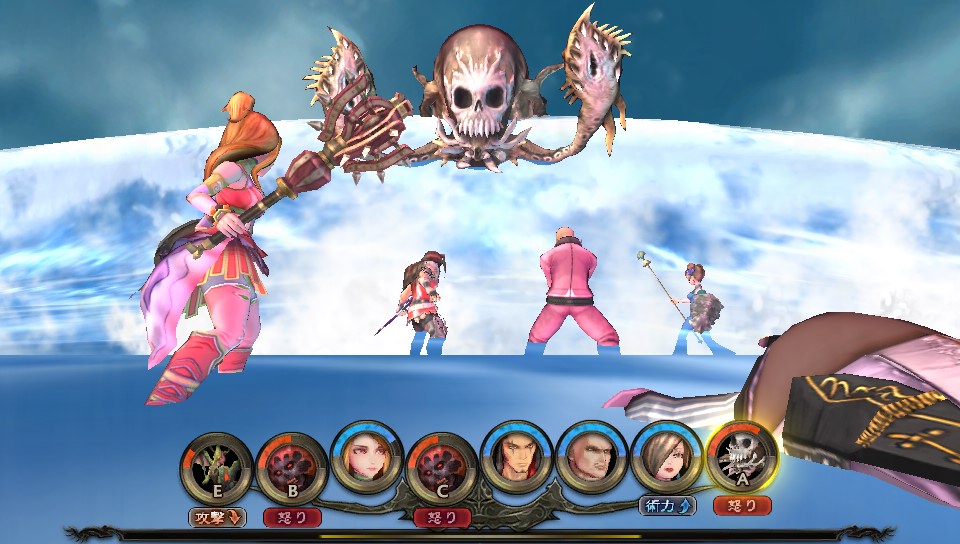 Virgin Oil has a very powerful ability called Maelstrom. And by very powerful, I mean... look at the screencap above. Notice how I seem to be doing pretty well, right? Four characters and mostly full HP. The enemies are running low on HP, too.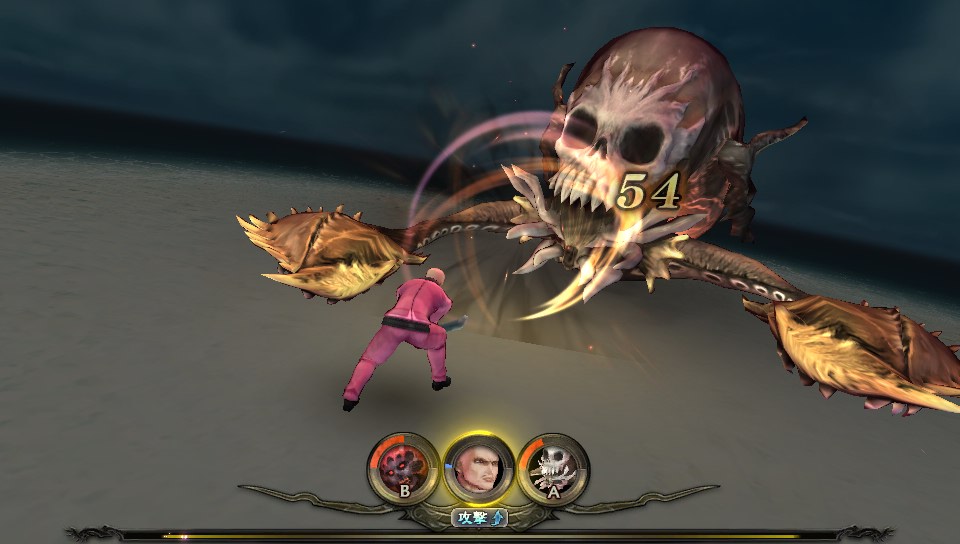 WELL NOT FOR LONG! Not only does Maelstrom do massive damage that can take some party members out in one hit from full HP, but it also confuses the entire party. Add to that the fact that the undead minions fighting alongside this thing can also poison the party all at once with a poison gas attack...
I really think this battle is outside of my league for right now. I got kind of curious as to what would happen if you just let EVERYONE run out of LP, but I got bored of losing the fight over and over and loaded an old save. The screenshot with Rico above is the closest I ever got, and that 54 damage was but a pixel on that thing's health bar...
So, I left Jarjar Ole here for now. There's just a bit demon thing chilling by the ocean in Gladion anymore. And I head back to Rho...ni...cum... or whatever that place was on the other side of Kathrin Fort, to see if there's anything to do around there.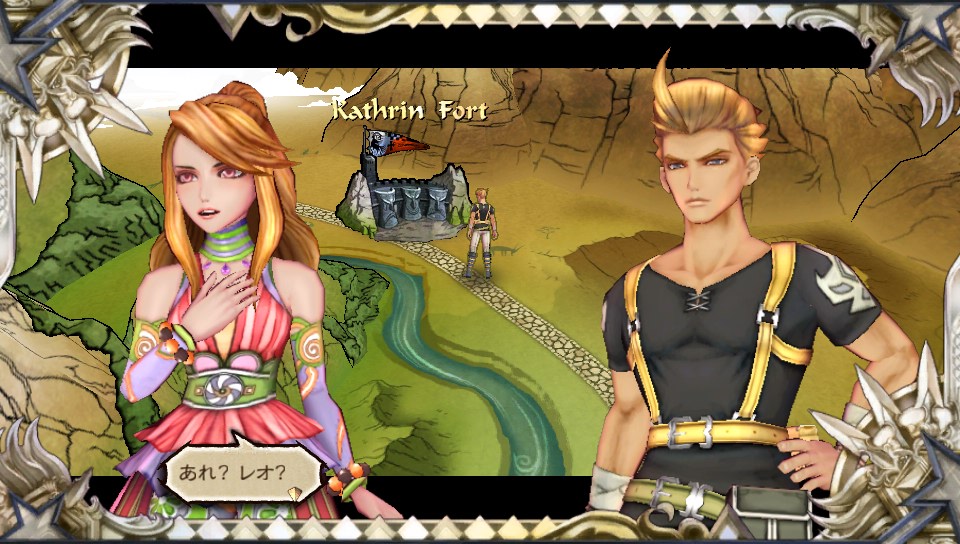 When we pass through Kathrin Fort again, Liz thinks she sees Leo passing by her, but Leo's on the other side of her. She says she saw someone who looked exactly like him -- too similar to just be a coincidence. He was even wearing the exact same clothes, down to the last detail. Leo thinks it's pretty interesting and wants to see this twin. And as we move around, that weird 'other' Leo moves across the screen again, and I realize that must have been what I saw earlier when leaving this area. It wasn't a glitch, but I guess Leo has some kind of doppelganger on the loose.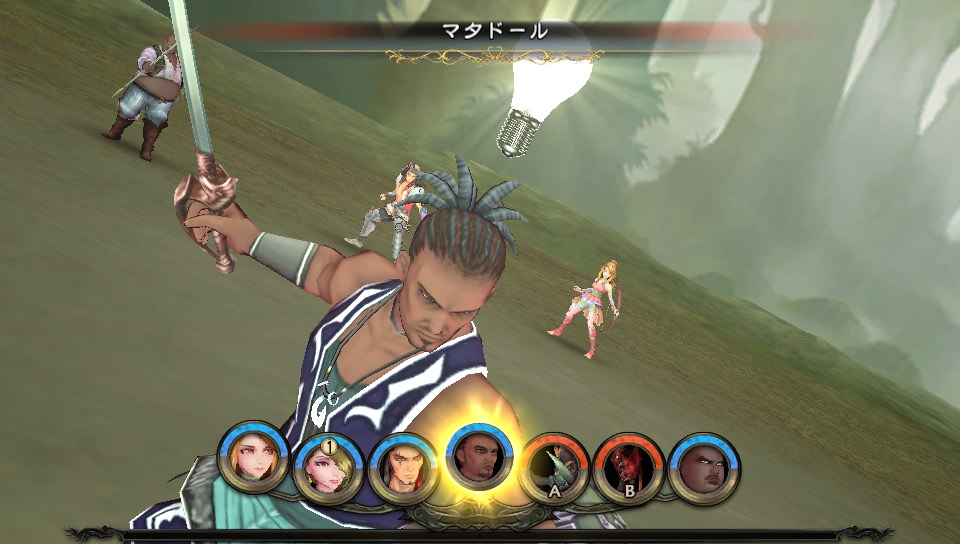 The demons haunting the forest southwest of Lug are back again, and since the battles are not too hard there, I use this as another opportunity to try to get in some rest and LP restoration.
Gabriel glimmered Matador, an interrupt foil art that also causes Bump, which is pretty cool on its own... But the best part of this art is the animation.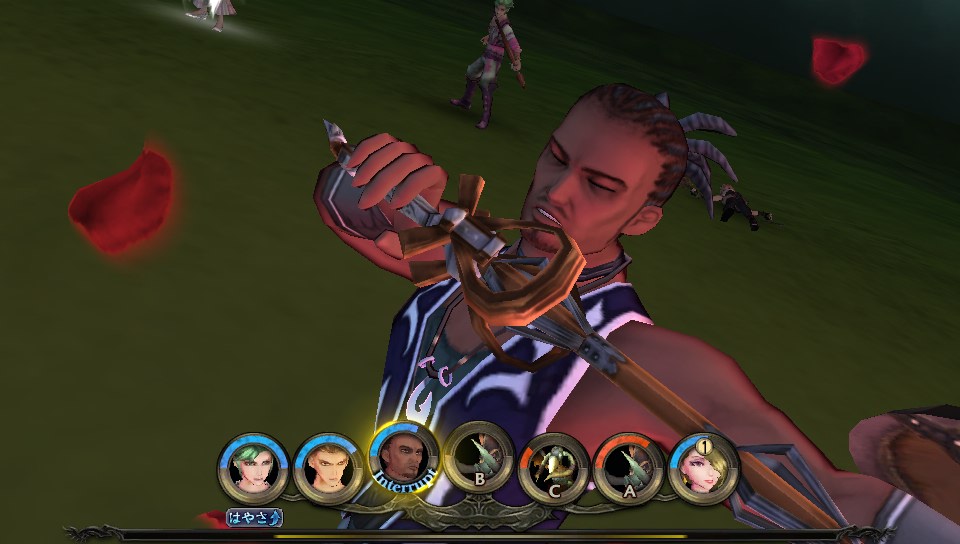 He strikes a fabulous pose, as the camera spins around him dramatically, and rose petals fall from the air around him. It's just... so much, hahaha.
Afterward I cleared the battle in the tower that appears, too, and I think I've 'secured' this area now, so the monsters won't come back, so I should be able to use the tower to transition to another province freely in the future.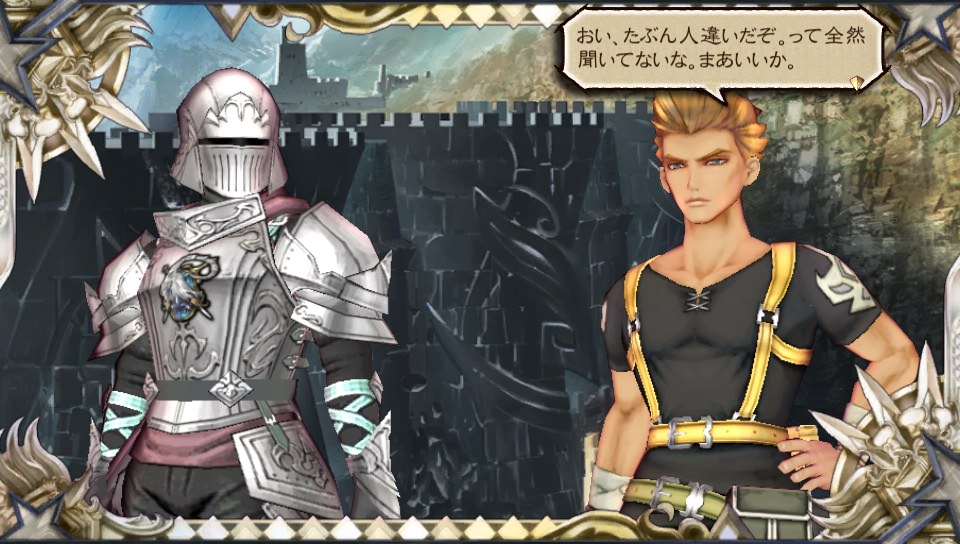 I remembered my original goal of fighting easier battles and gathering up materials, and decided to head backward yet again. But this time, when I got to Kathrin Fort, the guard stationed there told us the news about a dangerous cave that had suddenly opened up out of nowhere a bit south of the gate, and that we should stay away from there. But he also swears he already told Leo about the cave because he was just here, and it was weird he was already coming back through like this. Leo says he must have him mixed up with someone else.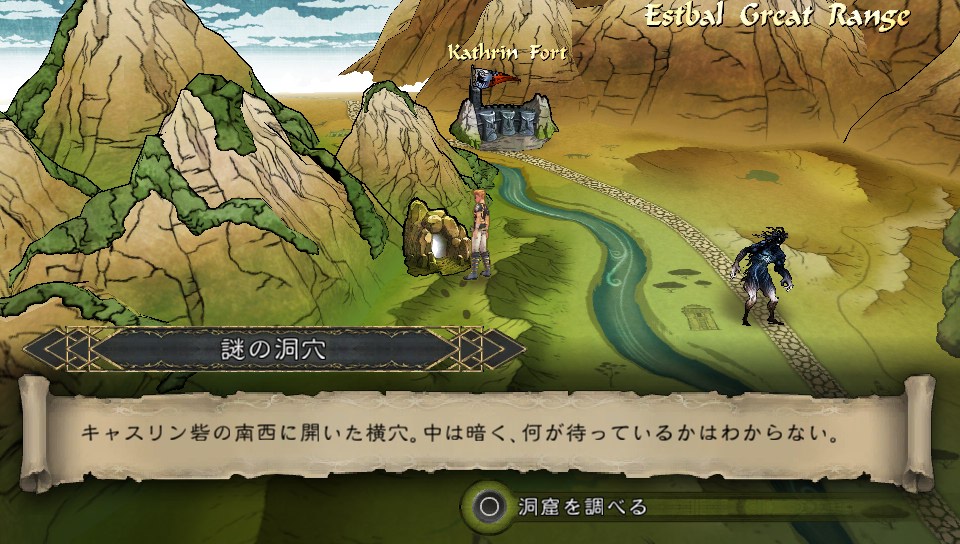 At first I thought he was talking about the hole that Big Long came out of, but it seems there's actually a cave on the other side of the river here. So, I postpone my material gathering yet again and decide to check out what it's about. Because when they tell you not to go, it means GO RIGHT NOW.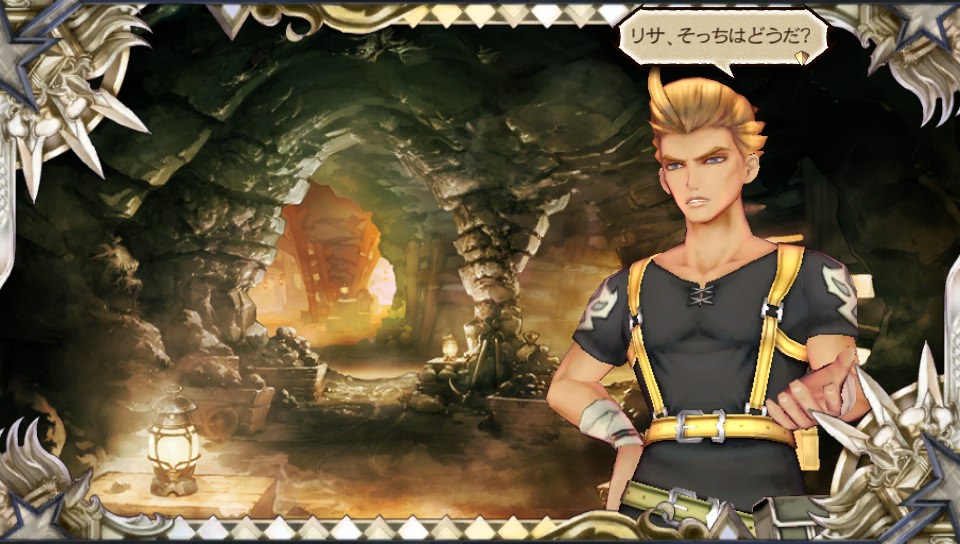 The cave seems harmless enough, and Leo and Liz wander around looking for treasures. Leo calls out to Liz to see if she's found anything but...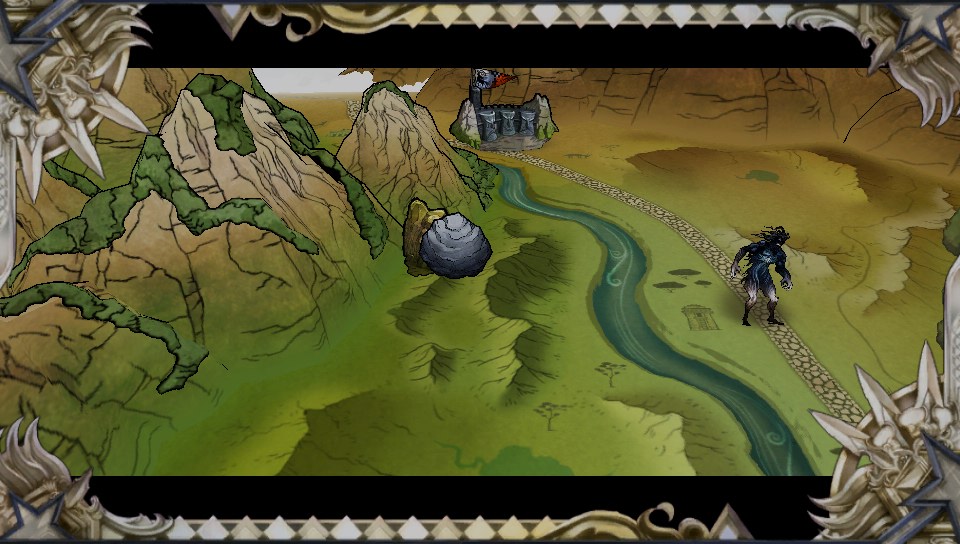 Doppelganger Leo lead monsters into the cave and then sealed it off with a boulder! He just kind of... rolled the boulder over there himself so he must be super strong. Maybe he got a strong back from working the fields for years. But yeah, it happened kind of fast, and Doppeleo just kinda... appears and disappears out of nowhere, so I didn't get a cap of him. But it's just... the exact same thing as regular Leo, so you should have an idea of what it looks like.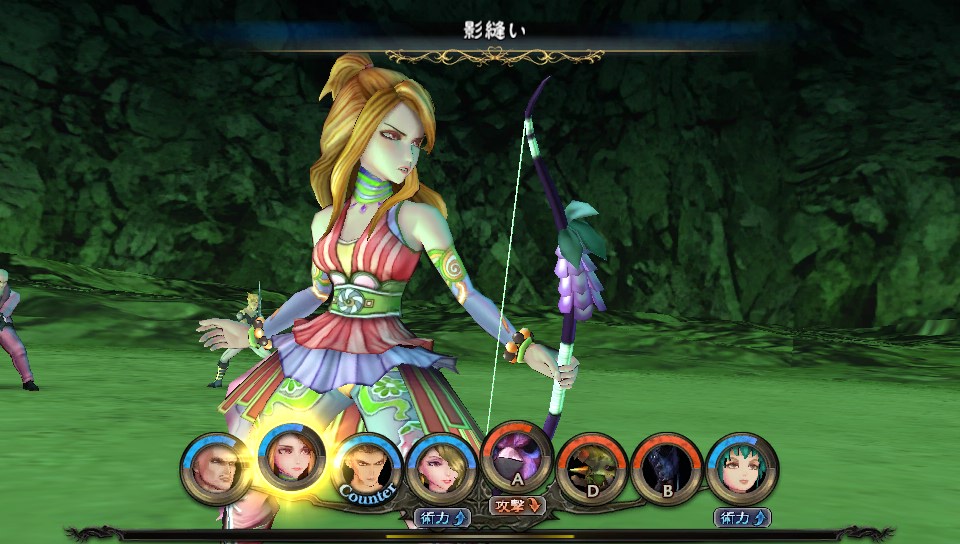 Liz glimmered Shadow Sew while fighting the monsters. She also makes the best expressions. Despite having her learn from quite a few weapons, she still hasn't learned any other roles yet :(
Outside of the cave, Liz starts cursing Leo out and saying she'll never forgive him. It doesn't really explain why, but I'm guessing she maybe was near the entrance and saw what Doppeleo did? But then... wouldn't she think that Leo was outside of the cave, and wonder why he was inside fighting with her? Also, she is the first one to discover Doppeleo so wouldn't she maybe assume that it had something to do with that twin she saw?!
Anyway, we head back to Kathrin Fort once again.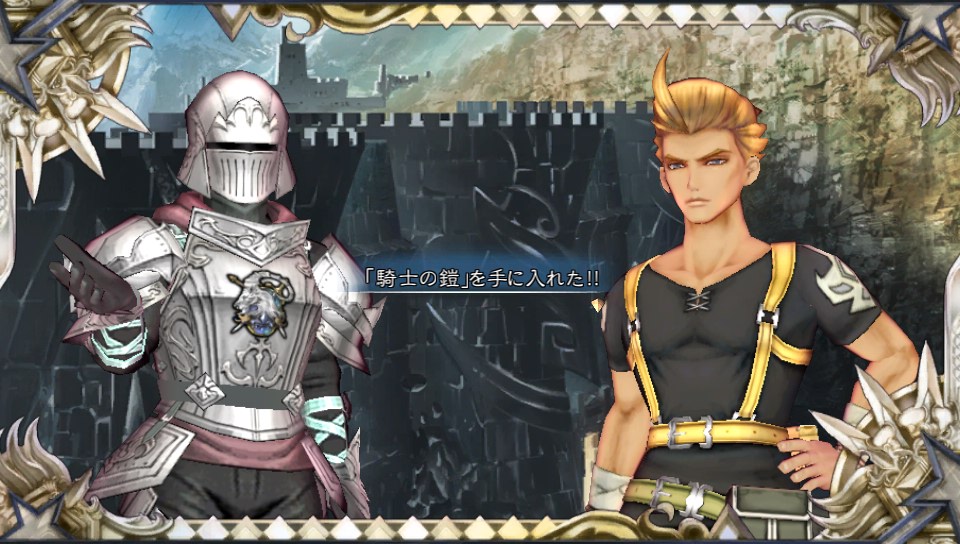 This time, the guard thanks us for investigating the cave in place of the knights. Leo tried to say that our intent wasn't to help out or anything, but he gave us a reward anyway -- a new armor!
Then I went to Dennis's (IRL lol, there's no Dennis in this game that I know XD) and forgot my Vita charger, so I didn't play for like 4 days.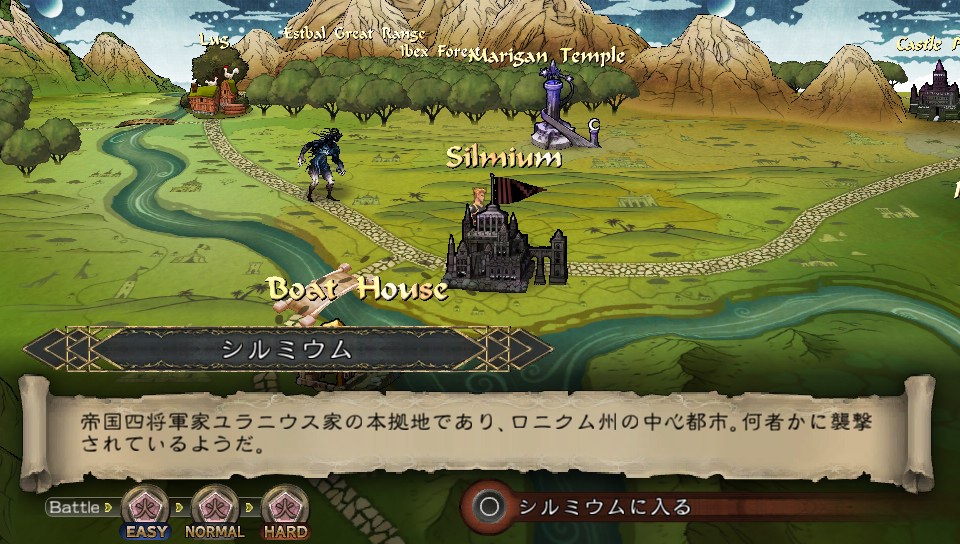 When I got back, I was still in Rhombusland and forgot what my goal was yet again, so instead of going back to fight easier battles and gather materials, I went to the burning city of Silmium and decided to try to fight all the minions inside. What a great idea!!!!!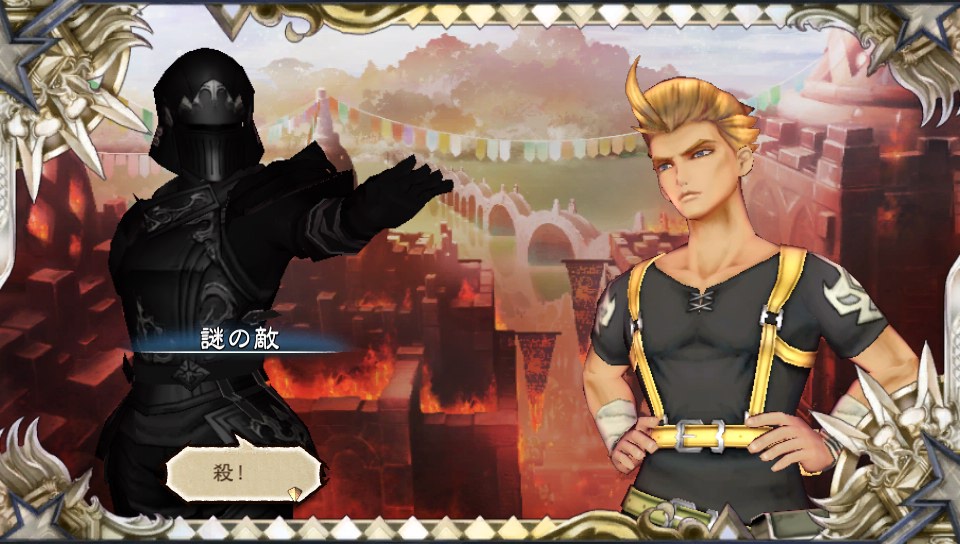 A minion approaches and just shouts "KILL" like the Black Mages from Final Fantasy IX. Leo doesn't seem amused.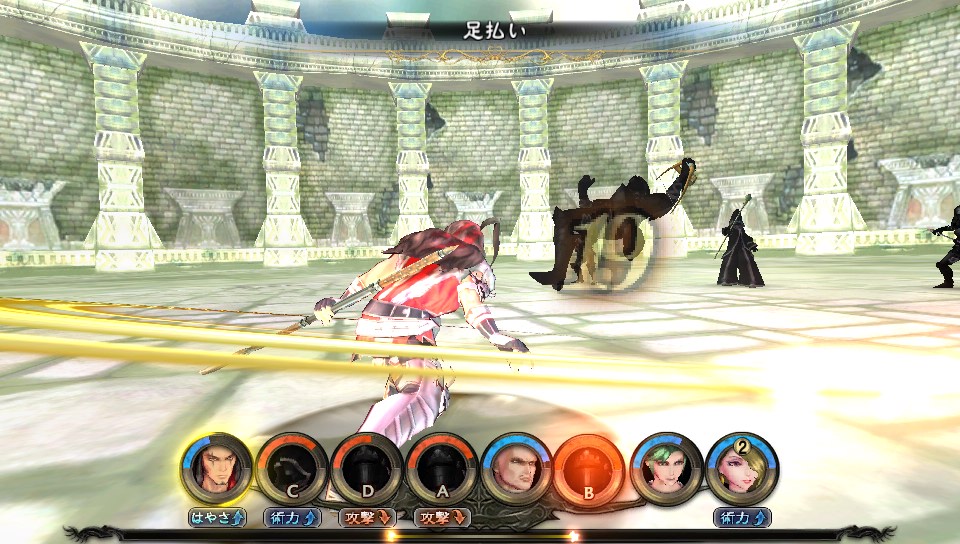 The minions are pretty tough. It's obnoxious because it seems that they can't be paralyzed, poisoned, or even stunned. You can lower their attack, speed, and magic at least, but... not being able to stun or paralyze (and I assume you can't put them to sleep either) makes them extremely difficult.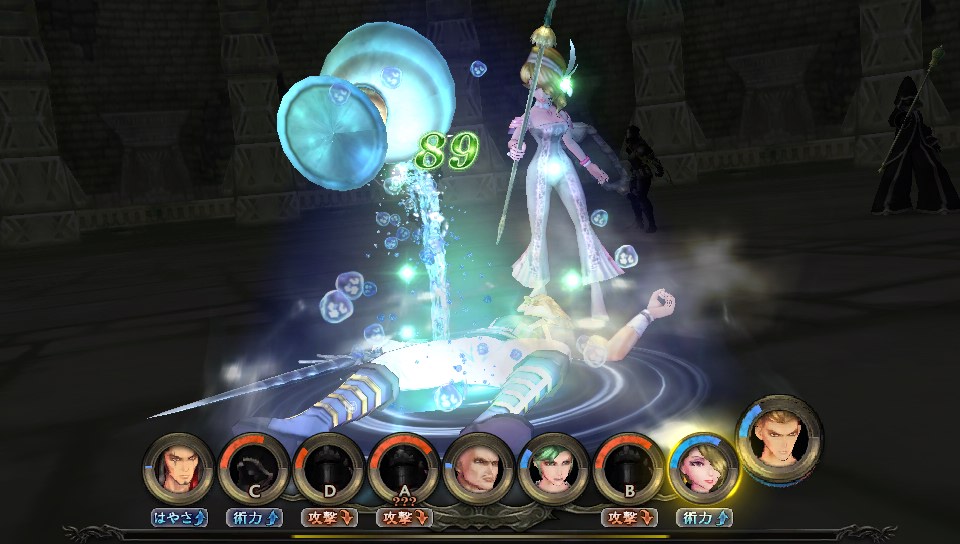 I actually had to make use of Holy Grail when Leo was knocked out. Which also means I had to use turns charging Holy Grail instead of being to use something like Siren, an offensive metal magic art that attacks all enemies, similar to Shock from UNLIMITED:Saga.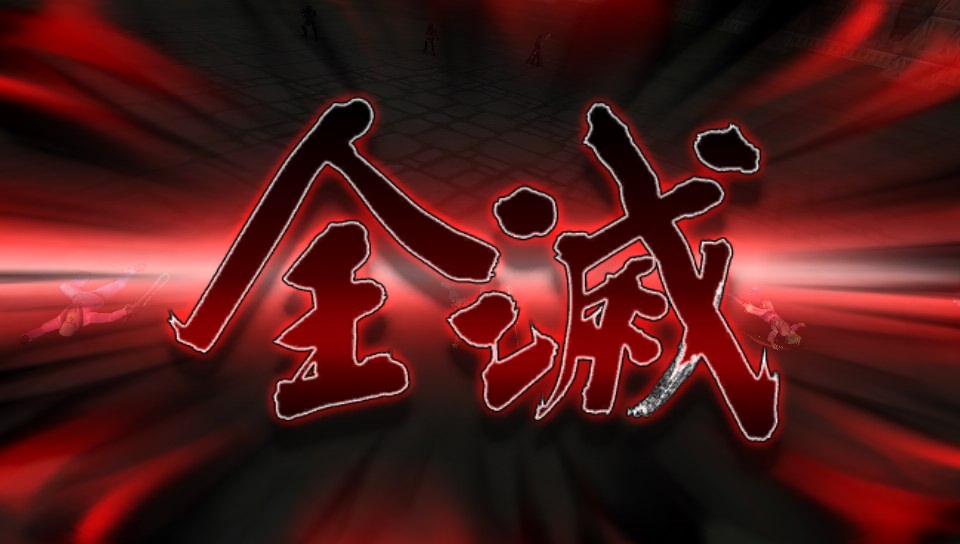 I died a few times, but I really wanted to win because I got a few nice Rank Ups and some cool glimmers -- Gerome glimmered Arrow Rain, even!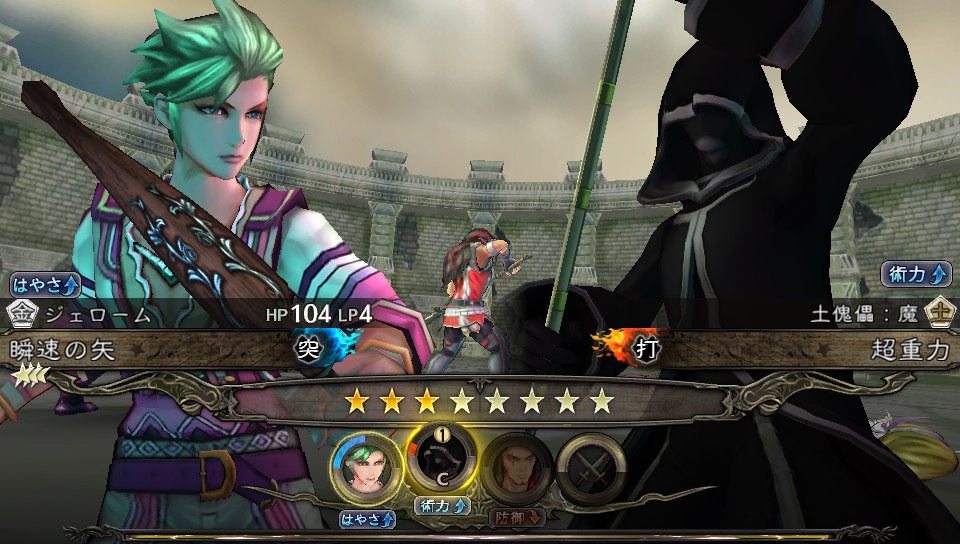 It came down to a single mage and the party was almost dead. The mage minion was charging a powerful magic art that would easily defeat both of the remaining party members in one hit, and it was going to cast this turn.
Gerome is pretty good with the bow, and pretty strong for a bowman, but bows aren't the biggest damage-dealers in the game. But mages are also not the most defensive units...
I used the Sonic Arrow that gives you a big boost in action speed, and hoped that it would land. I wasn't exactly confident -- I've seen this bow art miss before, and the remaining HP on the mage was right at the level where I wasn't sure if this was enough to take it out.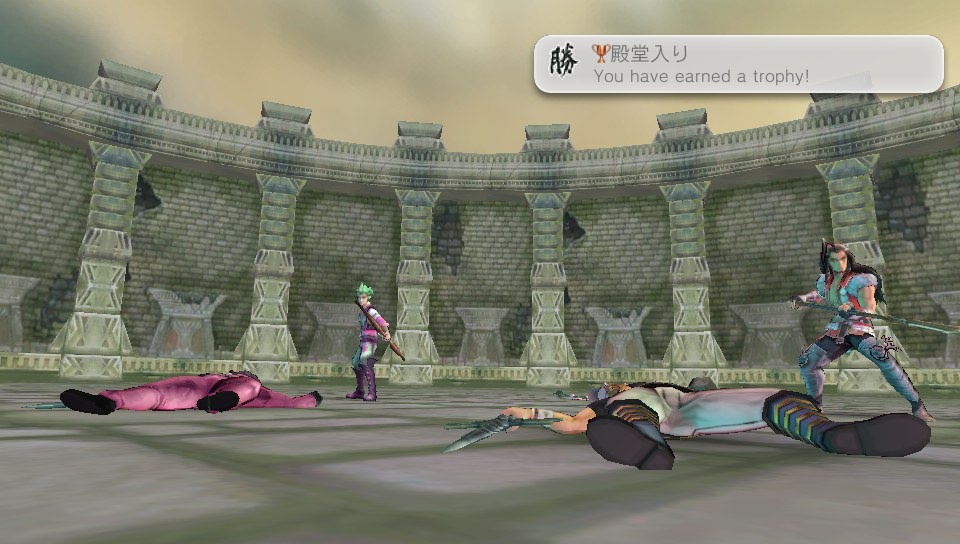 But I managed to do it!
There were a lot of nice battle spoils, too. Leo's greatsword skill level rose to 10, and he got an increase in his BP discount for participating in Rengeki! Julia glimmered a magic art called Flash Fire, and one of the battle rewards was a new axe weapon.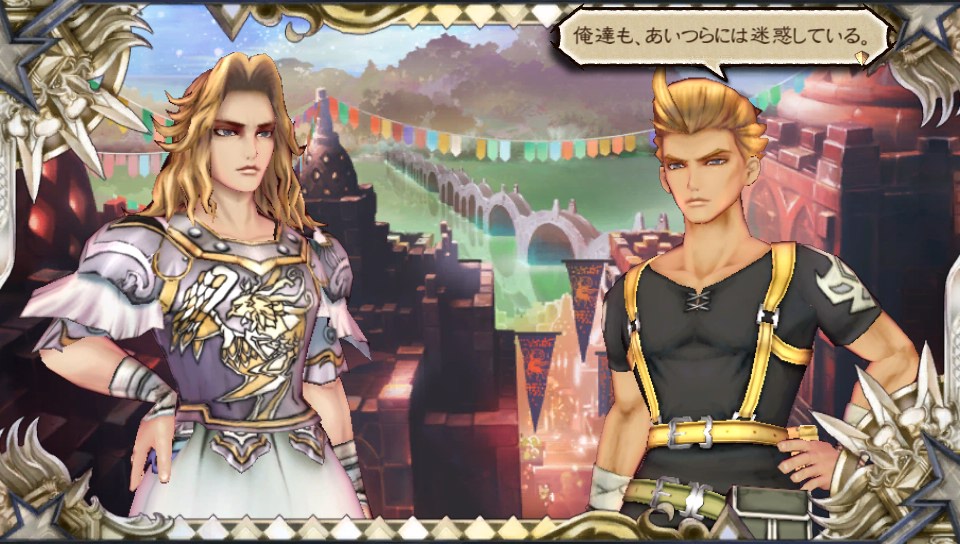 Afterwards, we run into this pretty boy in the city. He and Leo thank each other for helping defend the city (I guess we collaborated??? lol)
He can't stay, though, because he has to go survey the land, and calls Urpina over. He says he's leaving the showing of gratitude to her, and leaves.
She introduces herself as Urpina Julanius, and thanks us for helping defend the city. She speaks very formally. Leo introduces himself in return, saying he's from Yaxart. Urpina is surprised that he's come so far, and asks him where he's going. Instead of saying "Ai Hanumu," he says that we're headed to go outside of the northeastern borders of the empire.
Urpina wonders what kind of journey we'd be on that would take us so far like that, and Leo says we're taking the Scarlet Shards to Ai Hanumu. Urpina gets rightfully confused, and apologizes for asking such direct questions. If he doesn't want to say the real reason, he doesn't have to.
Leo says that's not it. We're going to Ai Hanumu to return the Scarlet Shards.
Urpina still seems a bit confused. He's really not joking? He's really heading to Ai Hanumu?
And Leo says yeah. To return the Scarlet Shards.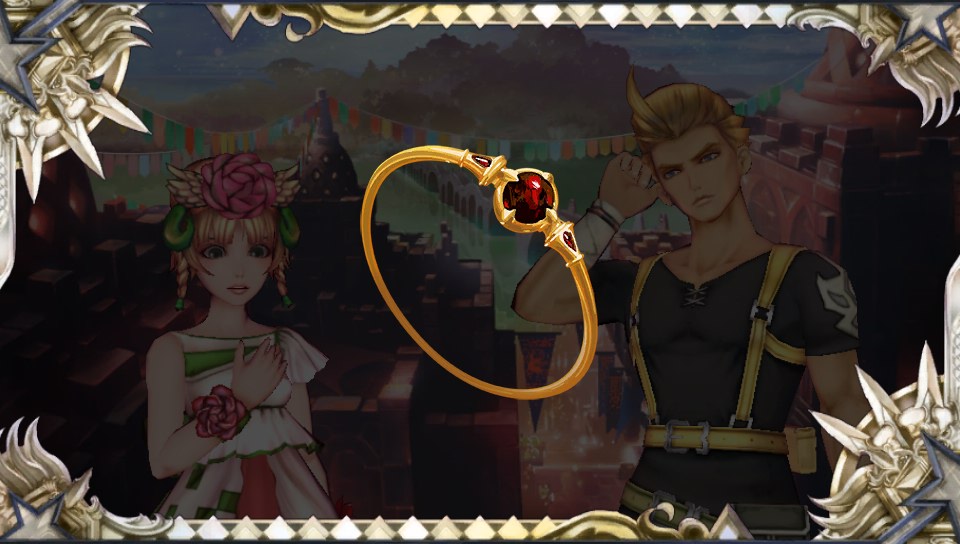 Suddenly, the Ring of Ibex that Urpina is wearing on her finger starts to glow. Leonard says that her ring is a Scarlet Shard.
Urpina objects -- this is a treasure of the House of Julanius, once from the Emperor, an heirloom passed down to her by her mother -- not some kind of "Scarlet Shard."
Leo shows her the other Scarlet Shards to compare, and says she should return the shard to Ai Hanumu.
I don't know if we're supposed to assume that Leo explained to her what Scarlet Shards are, or if she actually really knew, but Urpina starts talking to herself, saying that the stone in this ring must be a fragment of Firebringer that needs to be sealed away, but it's also an heirloom from her mother...
She seems pretty distraught, and Liz hovers angrily behind Leo and tells him to stop bullying the poor little girl. She tells Urpina not to worry about anything this idiot has to say.
Urpina says that rather, she wants to travel with Leo to find out if this ring really is what he says it is, and she'll be right back after getting her father's permission.
She rushes off and Liz gets worried. This is all because Leo had to go and say all that stupid stuff! That's the Princess of Julanius! What are we going to do if something happens to her?!
Leo says that if she chooses to travel of her own free will, whatever happens is her own responsibility.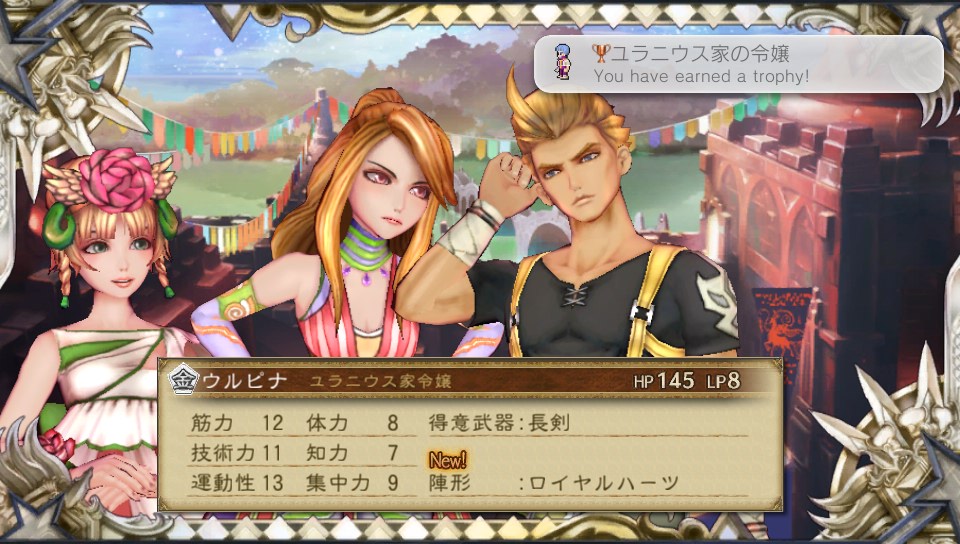 Liz starts to scold him for making excuses, but Urpina appears again seems in a great hurry to start her travels, rushing us out of the city. So, we've gotten a new party member! And with great timing, too, since everyone is pretty beaten up right now... her Strength, Skill, and Speed all seem pretty good, and she taught us the new battle formation Royal Hearts!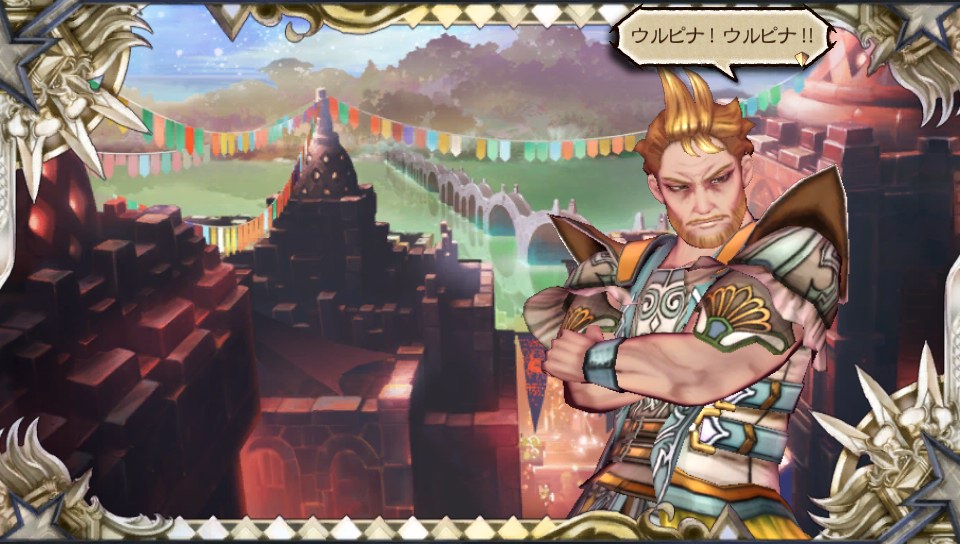 And as we leave, we see a scene of Urpina's undeniably sexy father, who clearly does not know what she's up to, and is looking for her...
And that's where we're stopping for now :)
---