Babysitting Adventures!
Gladion, Azhuacan, and Kei
So, Leo has a baby now. Where even is this going?!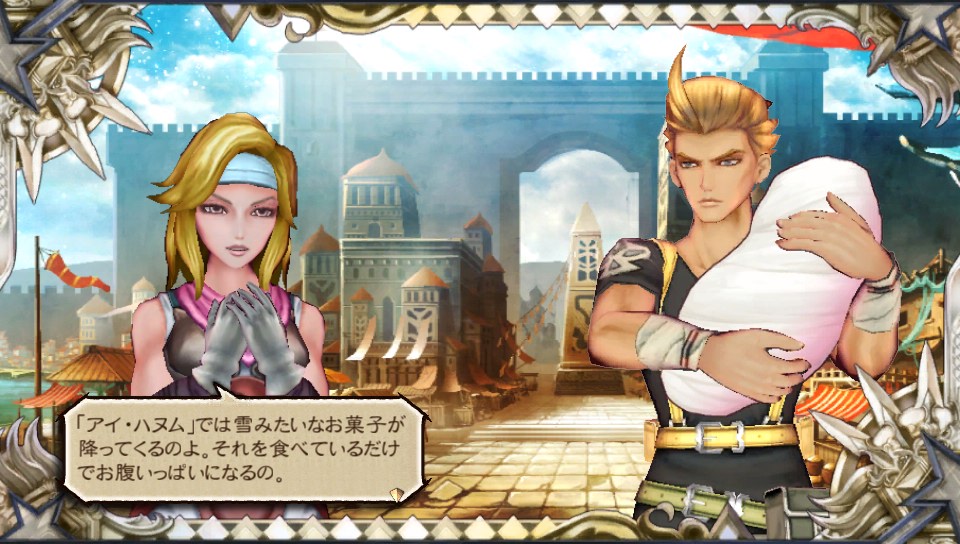 So, with baby in tow, I figured I might try to go back to the Forbidden Point thing, you know, cook it a meal on the flames there? Hahaha. IDK, it was just an idea. But when I went to Sanghai to leave this province, I ran into this scene unexpectedly.
Leo asked this lady what she knew about Ai Hanumu, and she said they have a type of candy that falls and looks like snow, and if you eat it you'll always get full. And they have a rain that falls and looks like milk, and if you drink it you'll always be healthy.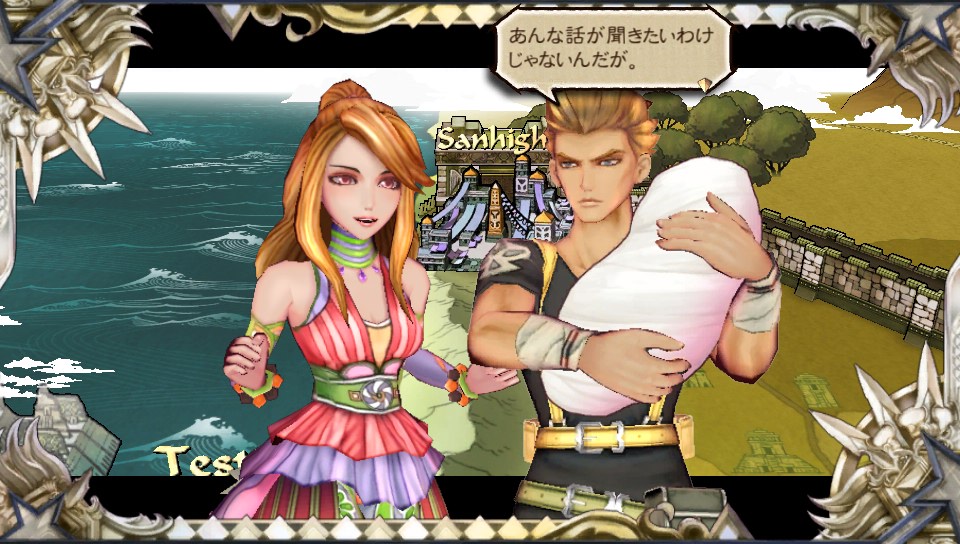 Leo seems pretty annoyed that she told him something weird like that, but Liz thinks it's fun for baby to hear stories like this. And we're still in the same province. So I decided to go around and see if visiting these other places might give clues about baby.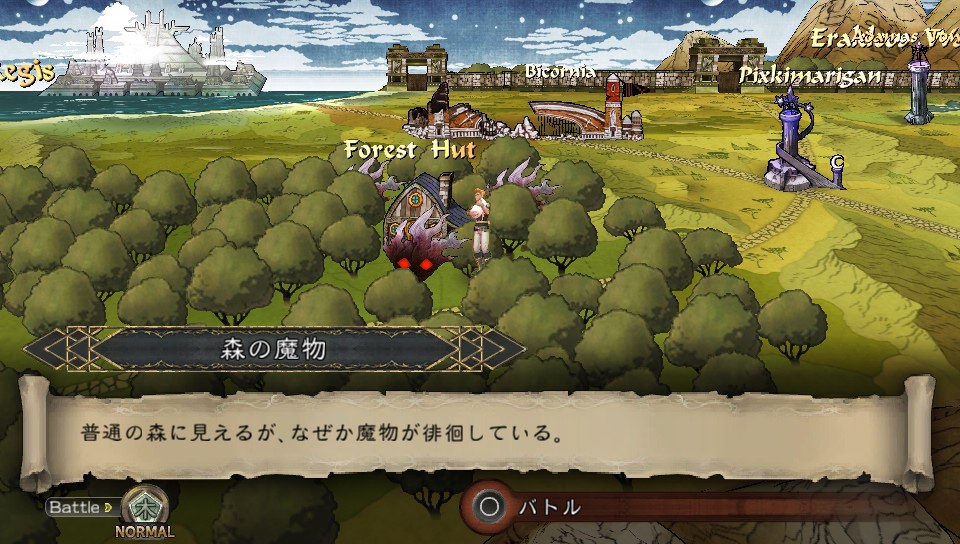 In the southern part of this region, there was a forest hut now surrounded by monsters that weren't here before. Thankfully, Leo does not fight while carrying Baby. That would be terrifying (but also hilarious).
We made quick work of the monsters and headed into the hut to see what was up.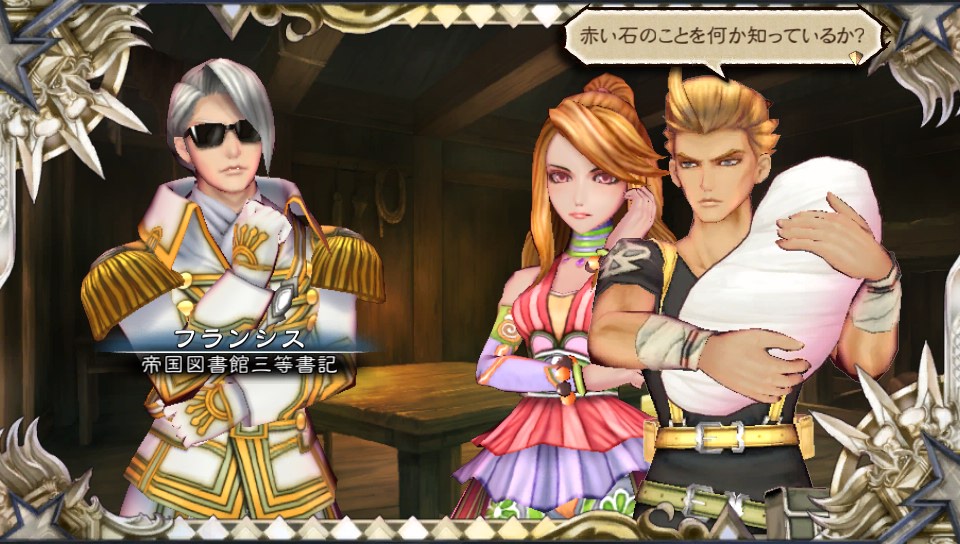 This weirdo was in there. I think he wears that outfit to try to mask that he has like a foot-long neck. Apparently his name is Francis, thanks to the game labeling him when we arrived.
Leo has no need for introductions, though. He just blurts out, "What do you know about red rocks?"
Which is weird because Leo always asks about Ai Hanumu. But I guess he just... knew to ask this guy something else.
Francis realizes that Leo must be talking about Scarlet Shards. This is pretty significant, as no one else has seemed to know anything about them so far except for Magical Coma Girl from the beginning, who wasn't able to tell us anything.
But the conversation gets weird, because the guy asks us to hand over Baby. Liz asks if he's the dad, but he says he wants to study the baby because he believes it's the reincarnation of the god Firebringer and this might have something to do with the Shards, so raising baby may give him clues about the Shards.
Leo decides to keep Baby.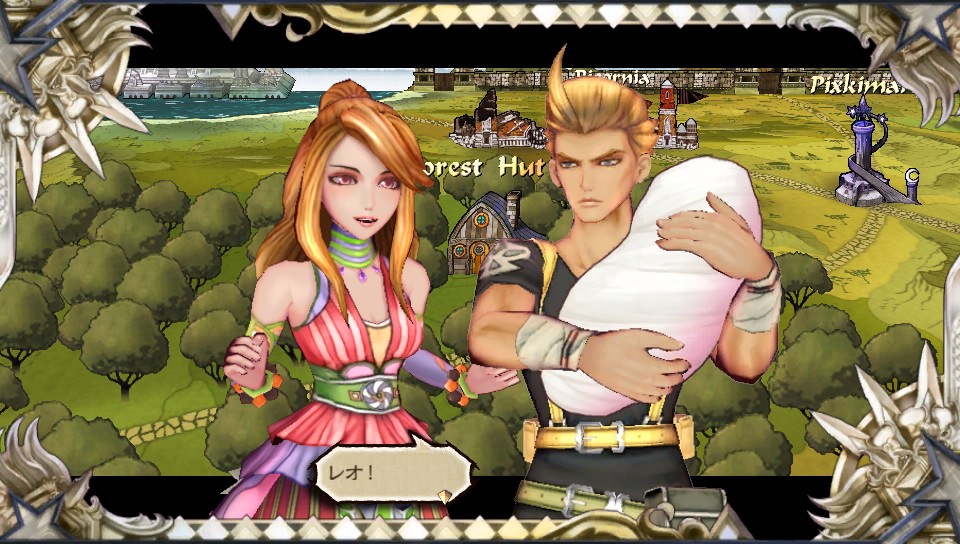 Outside, Liz assumes that Leo kept Baby because he thinks Baby will lead him to Scarlet Shards, and can't believe that he would believe such a wild story from this creeper.
But Leo responds that he didn't believe Francis; rather, he feels Francis believed himself, and didn't want to hand over Baby to someone with crazy ideas like that. Liz seems overjoyed to hear Leo say this, for some reason.
But at the end, Leo says, "I'm gonna find the Shards before that guy." So I'm not sure what to believe. There was no reaction from Liz so I don't know what Leo thinks about Baby, really.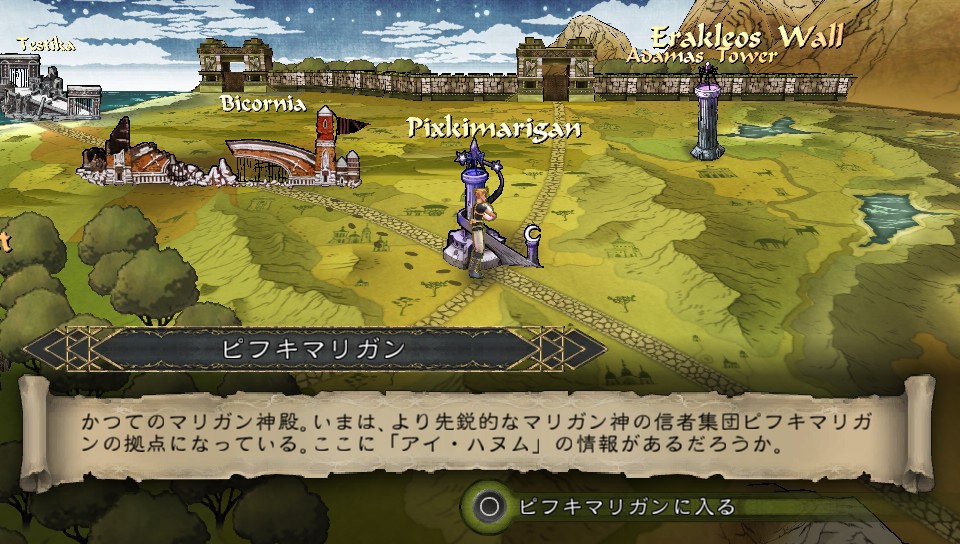 There are a lot more places around here to check out, so I decide to see what we can find.
This region is just full of priests, it seems. And they're all recolors of the same one priest...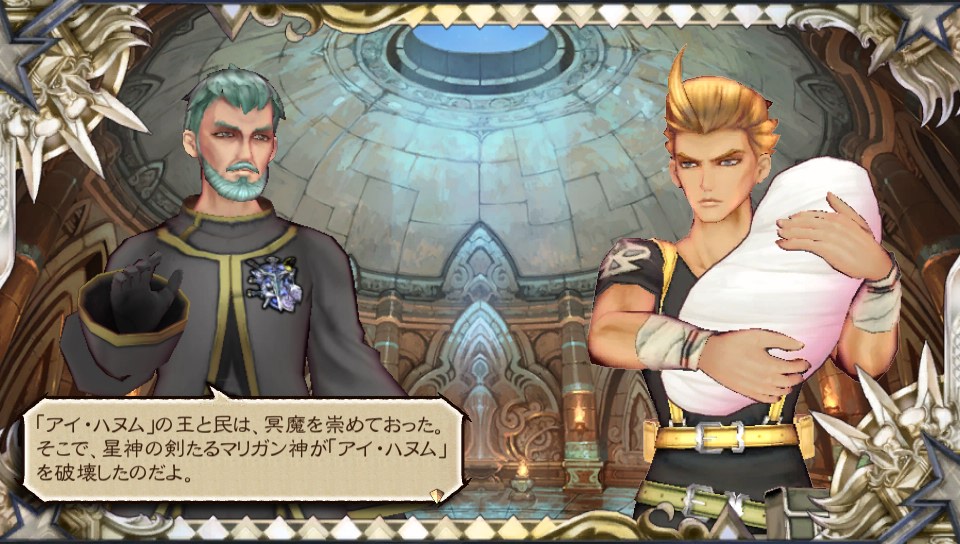 So, Leo goes to ask them all about Ai Hanumu.
This guy tells us that the king and the people vanquished some evil and the god Marigan founded Ai Hanumu. IDK. Afterwards, Liz says even Baby is bored.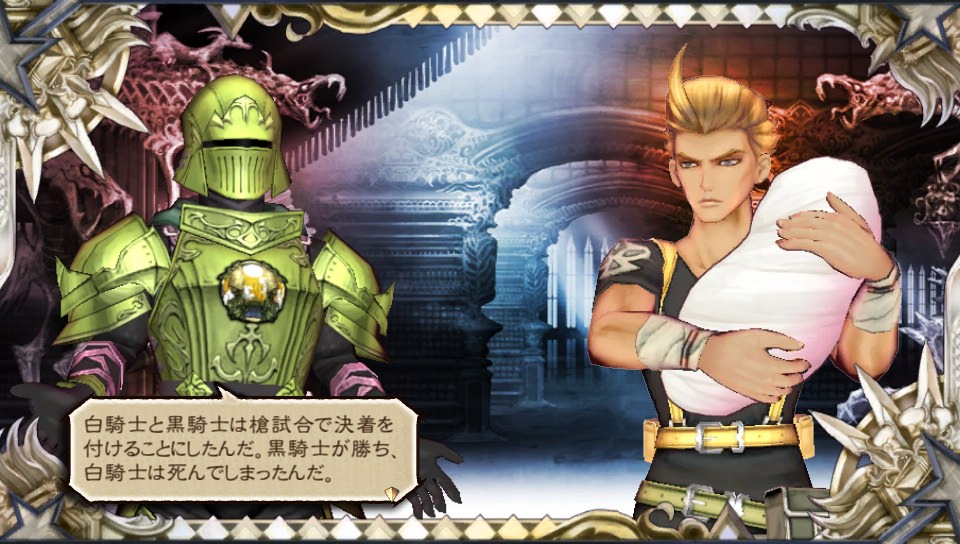 This knight guy tells a story about how in Ai Hanumu, it was custom for men and women to give their loyalty to one another, but one day a white knight and black knight fought over a woman they were both interested in, and decided to settle it with a duel. The black knight won by killing the white knight, but when he went to give his loyalty to the woman, he found that she had killed herself because she was overcome with stress of the two knights fighting over her, so the black knight kills himself in grief, and this is the story of men and women.
Yeah.
After leaving, Leo comments that everyone in the story is stupid because they all just died in the end. Liz says it would have been better if she just chose, and then asks Baby if they'd rather have a white or black knight. I'm pretty sure Baby can't talk, and Liz responds that if Baby is taking white, she'll take the black knight for herself.
Another priest talks about how Ai Hanumu was a place with a lot of exotic materials. I really should have screencapped more because I really forget what this story was about. In the end, he says that all the materials were destroyed when Ai Hanumu was destroyed, but by following the god Adamas, you might be able to find them.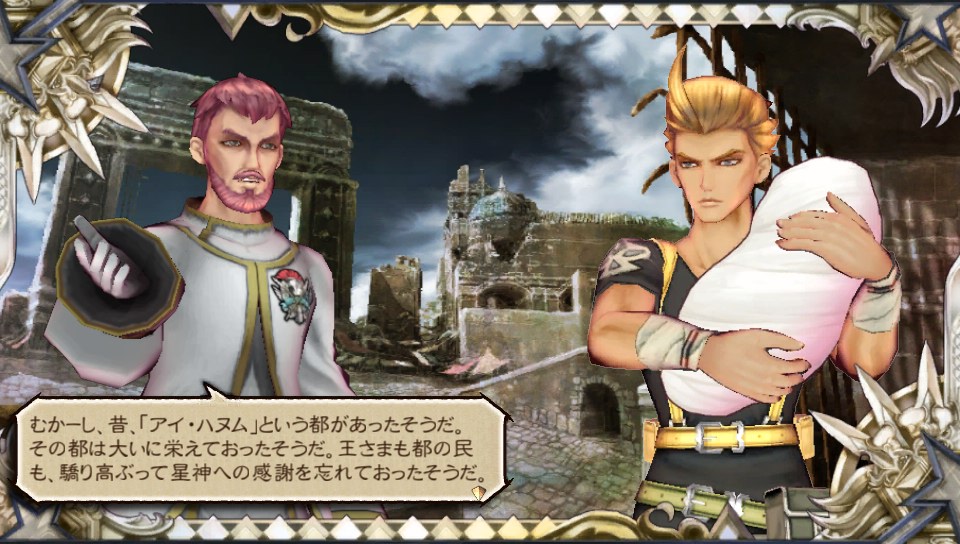 Then, I went to Testika, where I learned that in Ai Hanumu, everyone was really prosperous, but they enjoyed so much prosperity that they forgot their gratitude toward the gods, and the gods destroyed Ai Hanumu. This was a pretty short story. Entering again, I got an accessory as a welcoming gift, and found that there was a guy there who would take me to Azhuacan (the capital place with the Imperial Library that we've been trying to get to, to learn about Ai Hanumu there).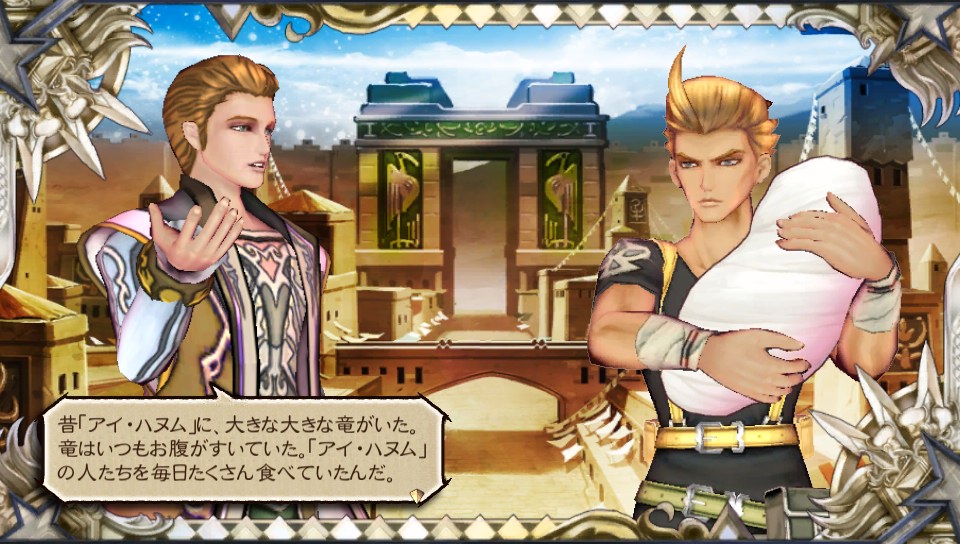 But I wasn't done hearing all these weird stories, so I walked around some more. This guy told us about how there was a huge dragon in Ai Hanumu that was always hungry, and every day it would eat many of the people of Ai Hanumu. then one day, a young man came from elsewhere and met the most beautiful woman in the city. But then the dragon was going to eat her, so the young man offered the dragon some wine to have before its meal, and the dragon accepted. But he had put a sleeping herb in it, and the dragon passed out, and he killed the dragon in its sleep, and then married the most beautiful girl, and became the King of Ai Hanumu lolol.
Afterward, Leo complains that the story is stupid and this guy killed a dragon just because he was lusting after some girl. Liz gets mad and says he did it for the people, and the marrying the girl was just happenstance. Even though the story clearly stated he did it for the girl lol.
Then, despite it being opposite of how she feels, Liz seems to be happy that Baby "said" they would put a beautiful girl before all else. Liz is super weird with this kid.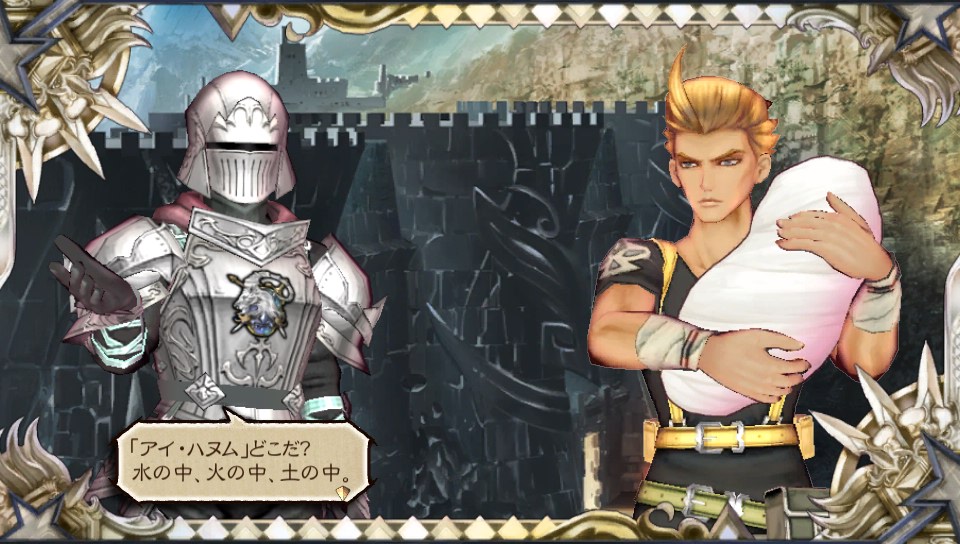 Finally, we go talk to this other knight guy, and when Leo asks him about Ai Hanumu, he says some kind of weird nursery rhyme.
Where is Ai Hanumu?

Above the forest! Above the mountains! Above the clouds!

Where is Ai Hanumu?

Within the water! Within the fire! Within the earth!

Where is Ai Hanumu?

Below your eyes! Below your neck! Below your belly button!

Then he seems happy that he 'made us smile' but Leo has that same angry face he always has.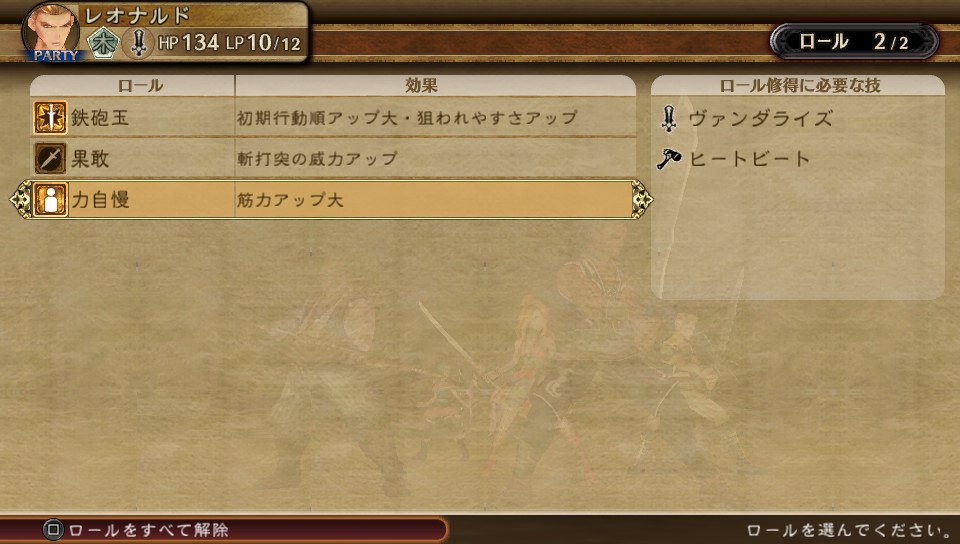 After that, there weren't many other places to go but some mines, so I decided to head over there. There are three mines along the eastern edge of this province. They have battle previews, so I mixed around the party a bit -- I don't remember if I talked about this last time, but I realized that you need to get weapon arts from multiple types of weapons to unlock new roles. And Leo has the ability to equip two roles at once now.
When we enter the mine, a miner inside asks us if we want to try this like 'Mining Challenge' thing, where we go into a dangerous part of the mine, and we fight monsters while the miners gather materials. In the end, they'll give us half the materials they dig up. Sounds good, so I go for it.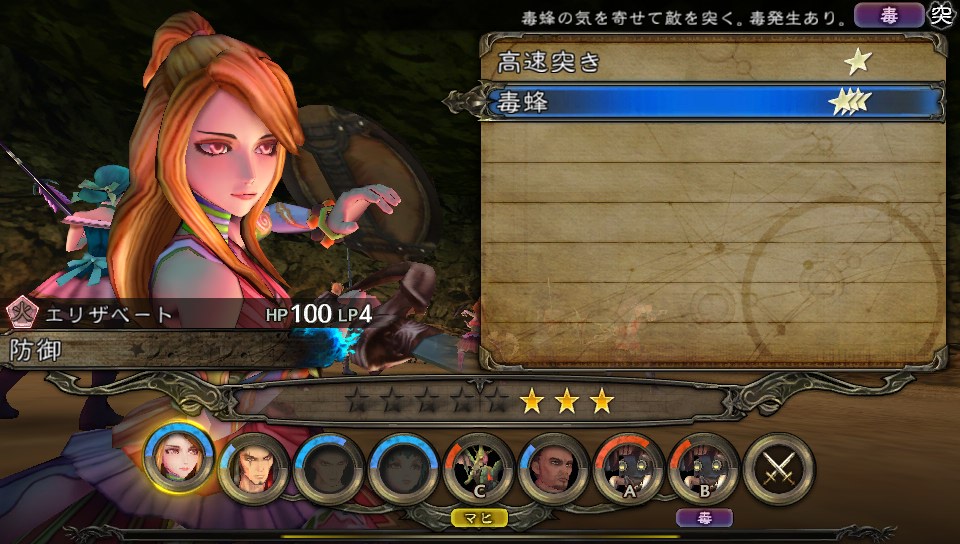 I gave Liz a foil and she's already rocking it. She glimmered right away a foil art that can poison the enemy, and it costs one less BP than Caspar's spear art, too.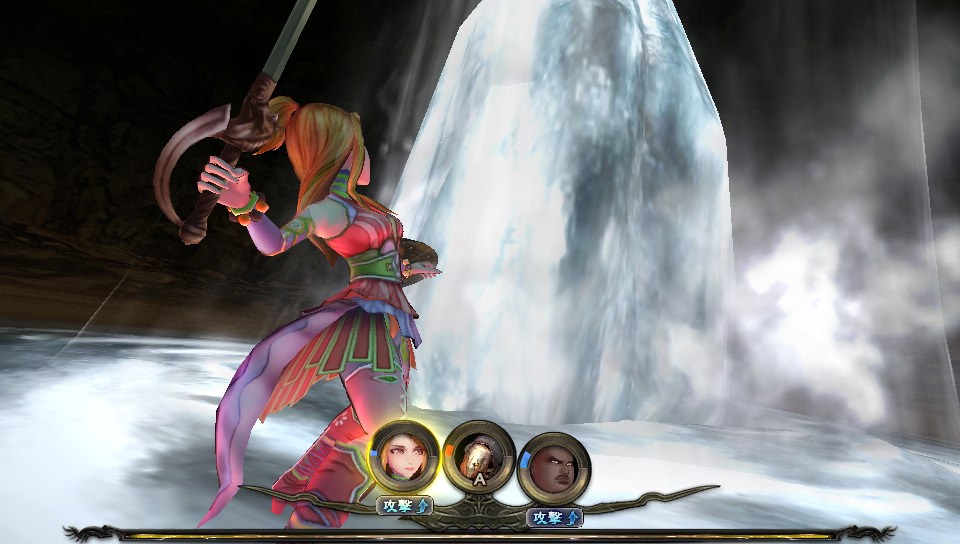 Then she glimmered another art in which she summons this giant glacier thing over the enemy with the foil (how?!) and then...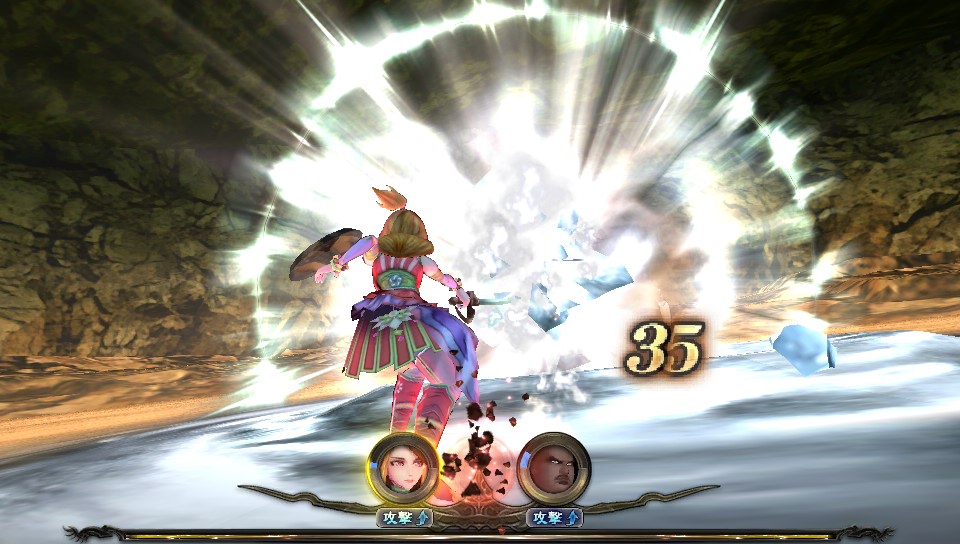 Shatters it! It's pretty cool to watch.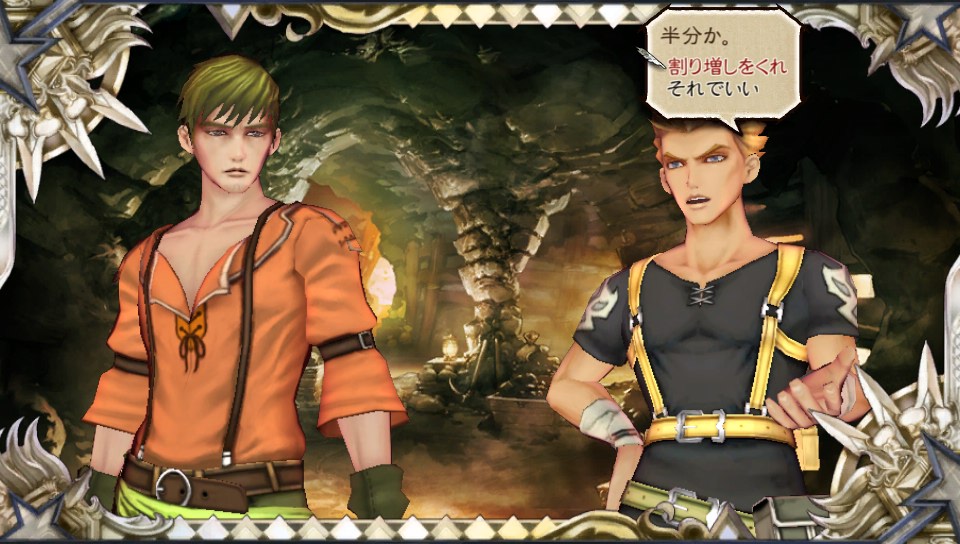 Afterward, the guy offers 3 crystals to Leo since no monsters appeared, and Leo seems upset. You have the option to choose "Quit it with the lame jokes." or "That's fine."
I figure there's probably a point to this, so I tell him to cut out the jokes, and he's like, "Okay, okay, here's 4."
Then you can choose "Do you wanna die?!" or "That's fine."
So, I decided to press him a bit more. I mean, there's a reason Leo is so angry, right...? He's trying to cheat me, right?
So I pick the first option again, and the guy is like, "C'mon, I was just joking. Here's half, just like I promised."
And then I have the option to pick "Give me a bonus." or "That's fine." I picked that's fine because I already felt bad for being threatening to him before lol. So we got an extra 5 crystals.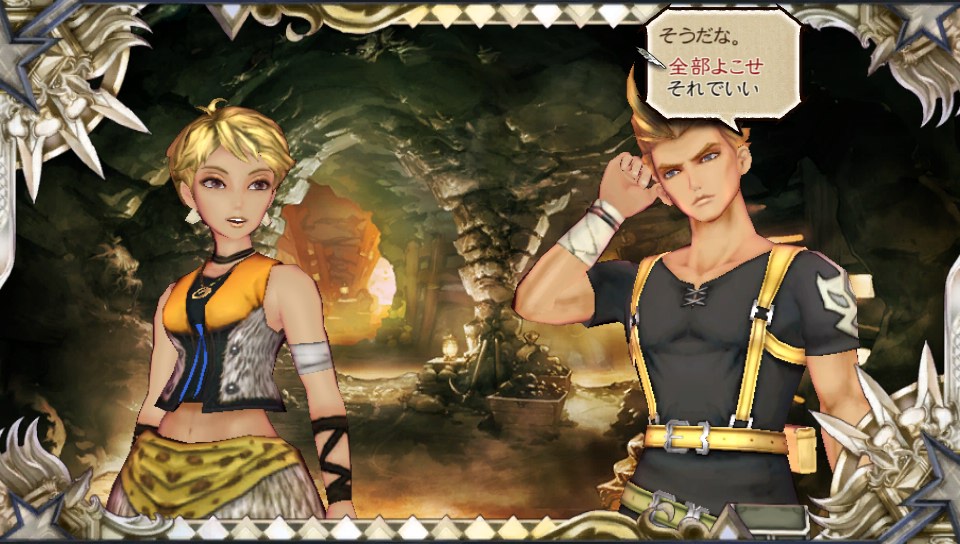 Then we head to the next mine, where there's a different character, but the exact same script as before. I do the fight again, and make the same choices.
I figure if it's going to give me generic dialogue, I might as well push it a bit more. I don't feel bad for this broken record anymore. So I ask for a bonus, and she seems a bit unsure, but decides to give me 6 crystals instead.
Then I have the option to say, "Just give me all of it." or "That's fine."
Well, broken record or not, I feel bad asking for ALL of it. So I just say that's fine. Plus what if that makes her decide not to give me anything at all?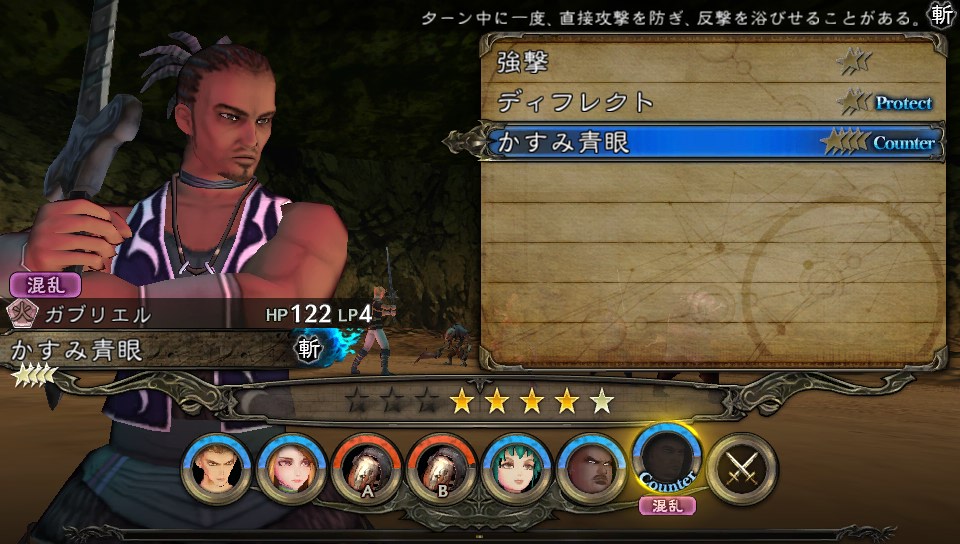 I also was inflicted with confusion for the first time. When it happens, each turn, the confused characters choose an action completely at random, and you have to spend the BP on it! Here, Gabriel used a 4-BP counter attack, and there was nothing I could do. That left me with only 1 BP left to actually spend on the party.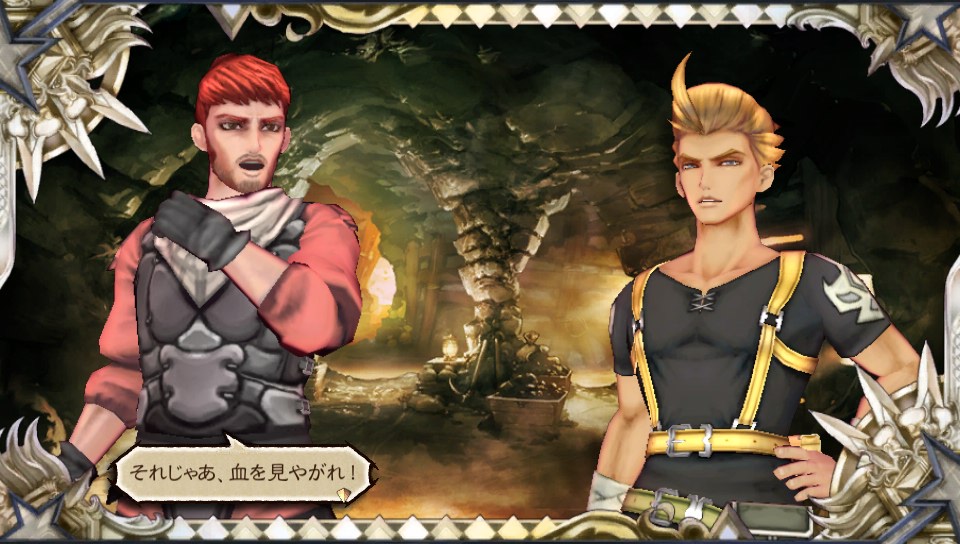 In the last mine, the exact same thing happened again. I figure I may as well see where it leads, and decided to ask the guy for all of the crystals. Instead he decides he's going to kill Leo. So we get in a fight, which is really easy, and kill them instead.
This... is not really what I wanted to happen.
But I got 10 crystals?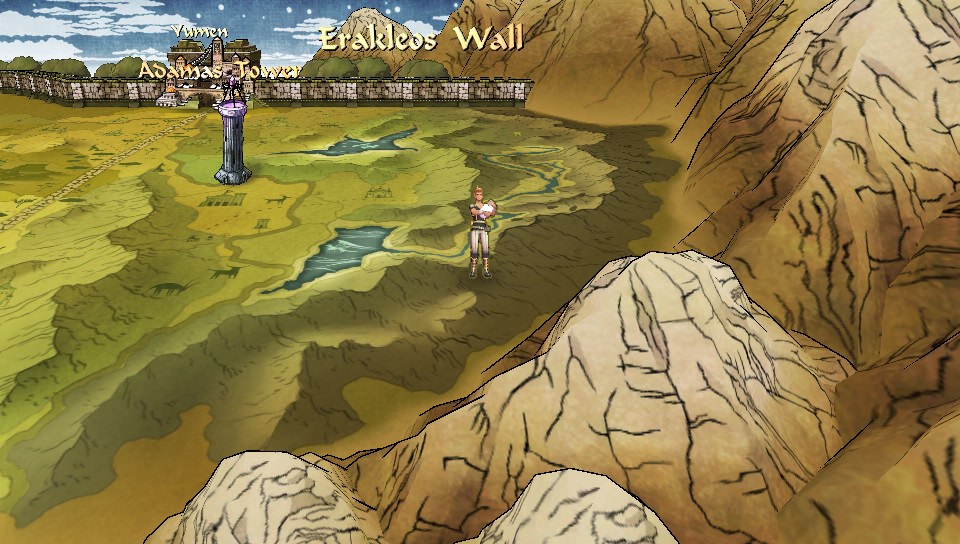 The mine disappeared from the map. This happened to that other mine back in Yaxart when we got the iron ore. Now I kind of want ALL of them to disappear, since it's weird to have only one gone... I try going back, and it goes through the same thing again each time, so I press them all for the whole haul, and kill all the miners, and all the mines disappear. Oops.
And yeah, Baby was witness to all of this. I'm sorry, Firebringer Jr. We're teaching you all the wrong ways to live your life.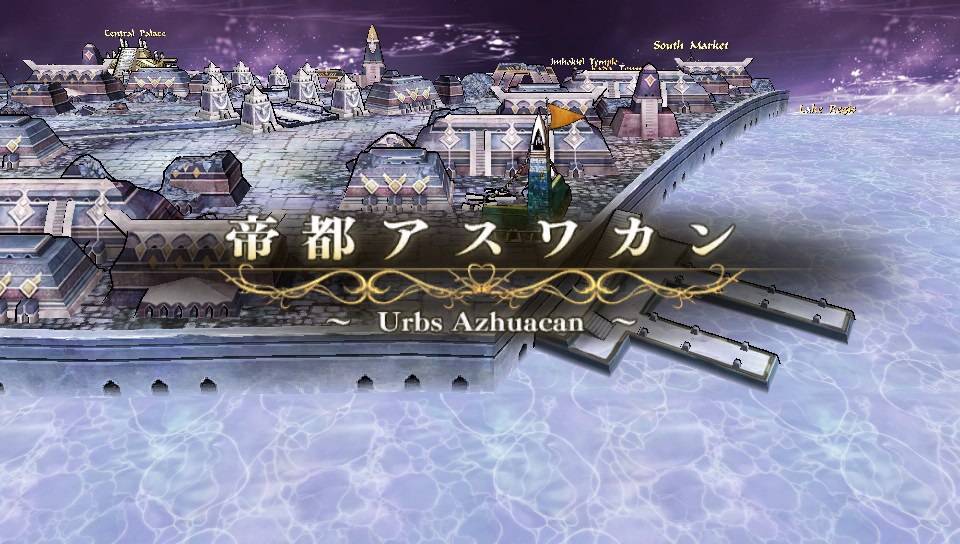 With nothing left to do in this area, I decide to take the offer of the guy in Testika to lead us to Azhuacan. Also it's not a "provincia" or "marchiam" but... "urbs."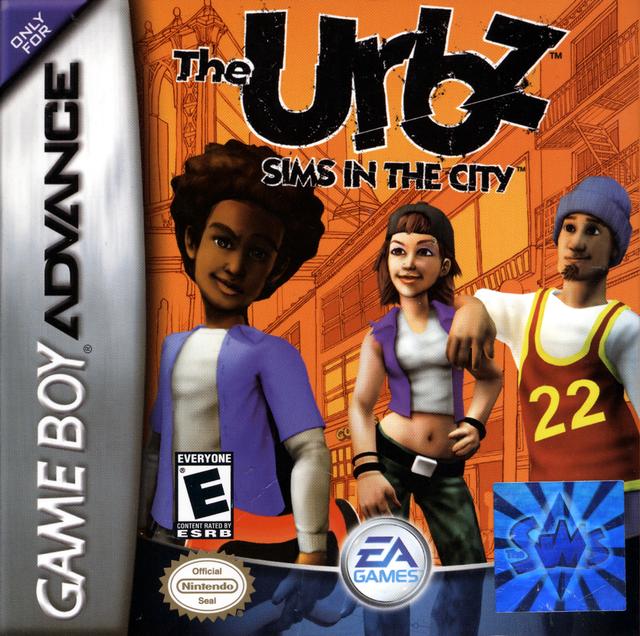 lol.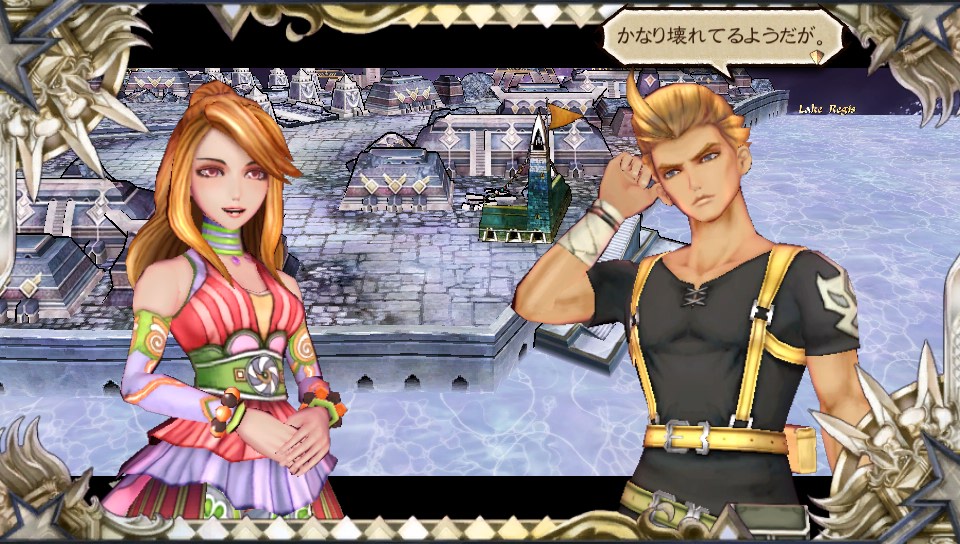 This place is actually pretty cool looking. Liz comments how it's amazing how many buildings there are, and Leo comments that the place looks run down. Liz scolds him because it's the capital.
But, uh, it does look pretty run down.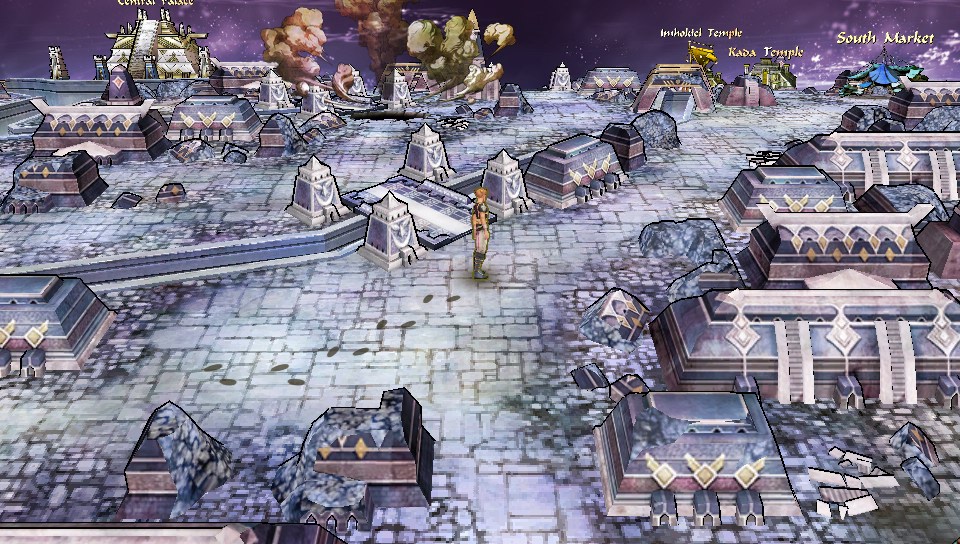 Not very far in, and kaboom! The ground explodes and now there's a big hole.
Oh, man. I already know what's coming...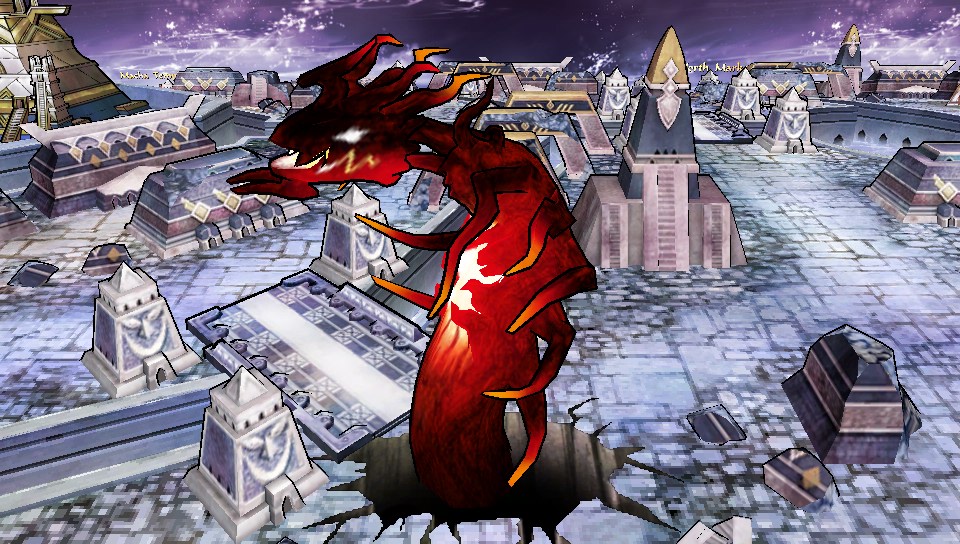 Big long is back...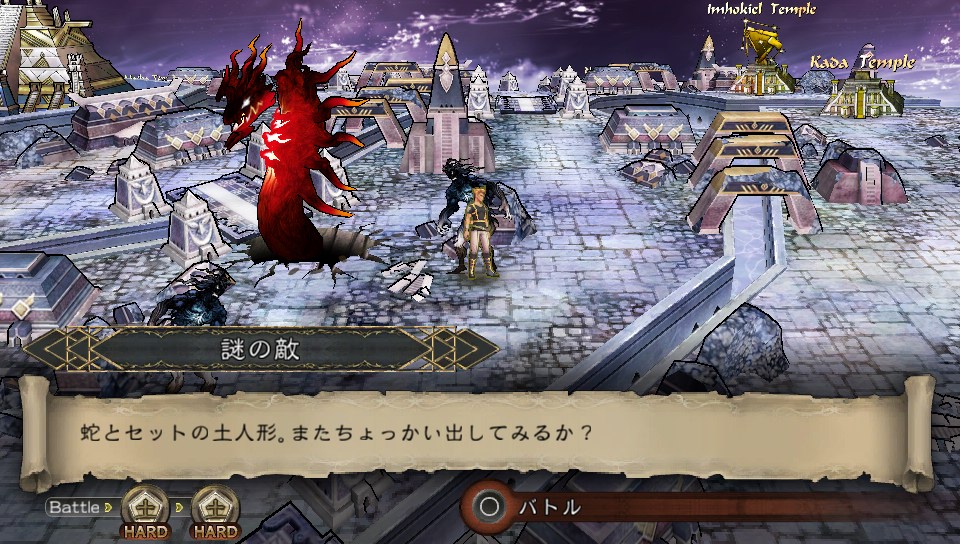 Now his minions are a stream of two Hard battles in a row! No, thanks...
I kinda ignore them for now and head a little further north, and then...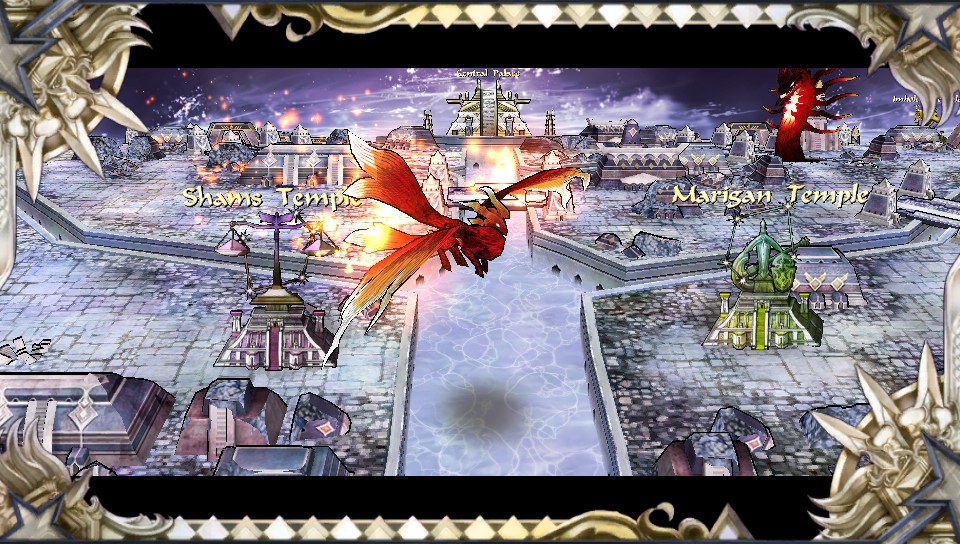 Pheonix appears again! I know I'm very slow to pick up on stuff, but I just realized that Phoenix tends to pop up always shortly after we find Big Long.
It lands briefly on Imhokiel Temple (which, BTW, was also the name of the dam that got destroyed and revealed the true Saqqara) and then flies away, after circling like the entire place in a way-too-long cutscene. But, while it was flying, I did catch sight of the library!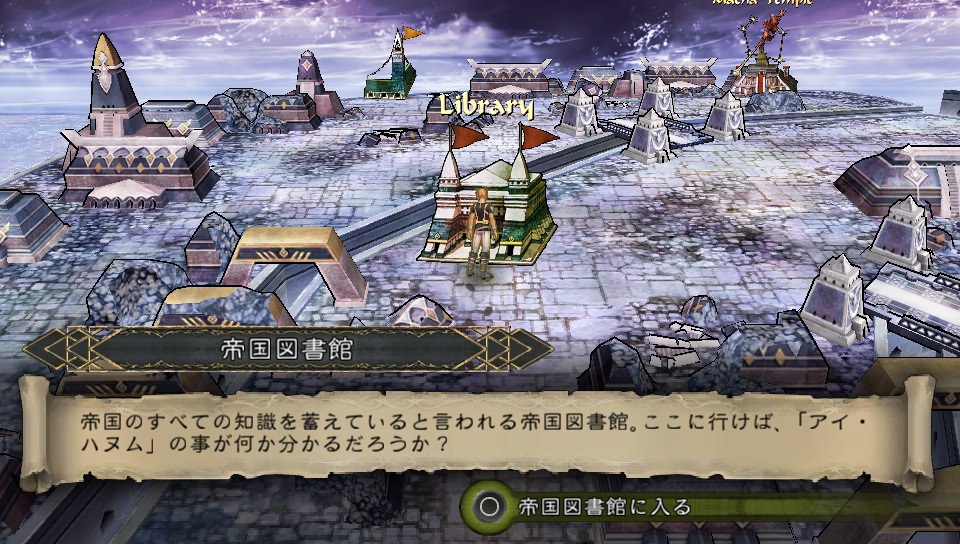 Here it is! The Imperial Library!
Feeling like something major will happen there, I don't want to go in just yet.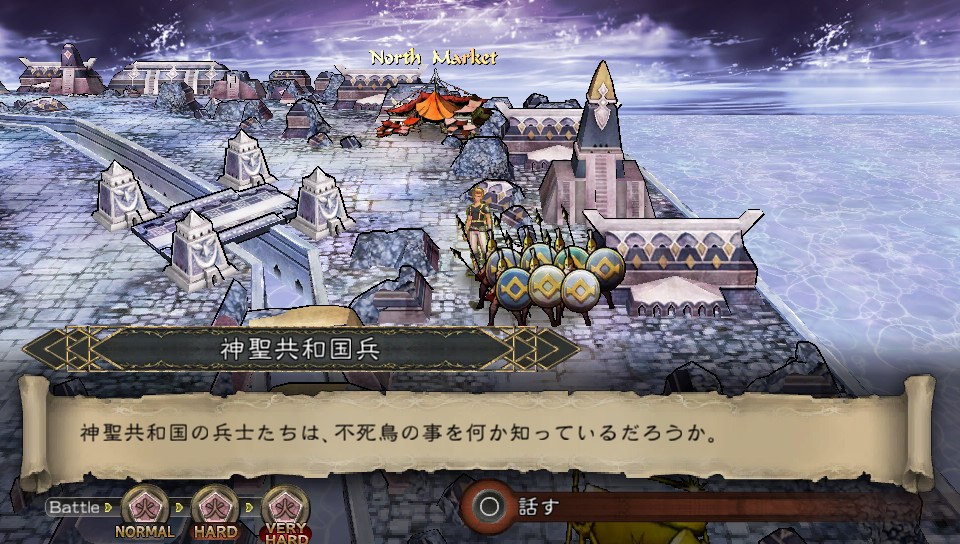 I found this little militia stationed here, and interacting them apparently leads to a bunch of battles, the last one being the first "Very Hard" battle I've seen. They may know something about Phoenix, but this is too scary.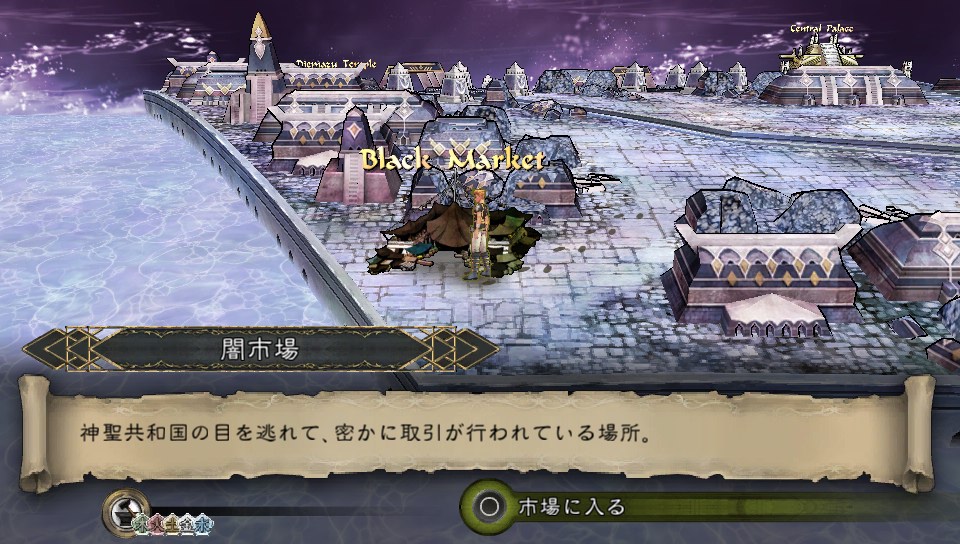 I also found a black market, hahaha.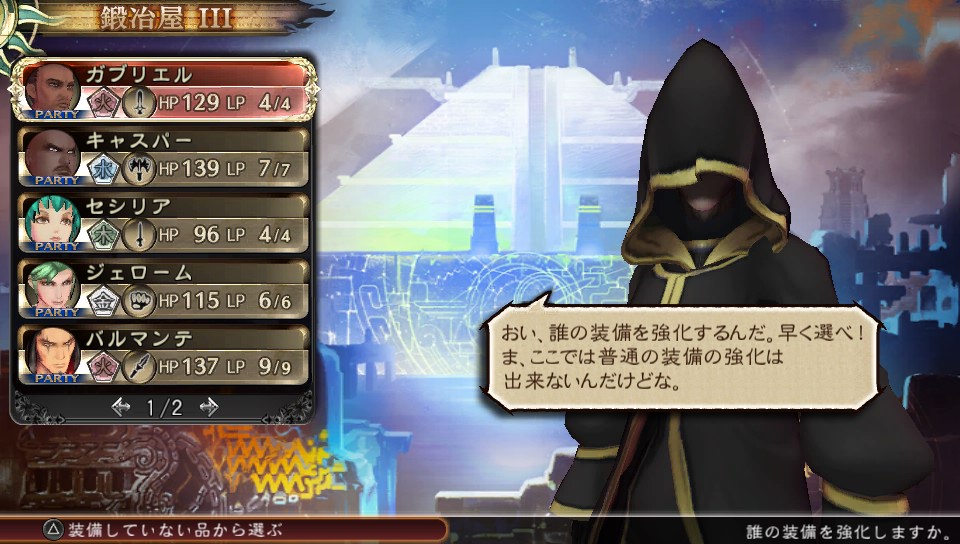 This guy looks like one of those Savnok dudes or whatever. They have discounts on all types of stuff, but they don't work with weapons.
Anyway, I decide to leave Azhuacan for now because I have a strong feeling that everything here is going to be tough. I'm gonna kinda see if I can find some stuff I missed, check out the Forbidden Point just in case we can make Baby some food, stuff like that.
I've been hesitant to interact with many things in the game, so I really need to go back and check on everything just to see what happens. I can't keep running in fear the whole game.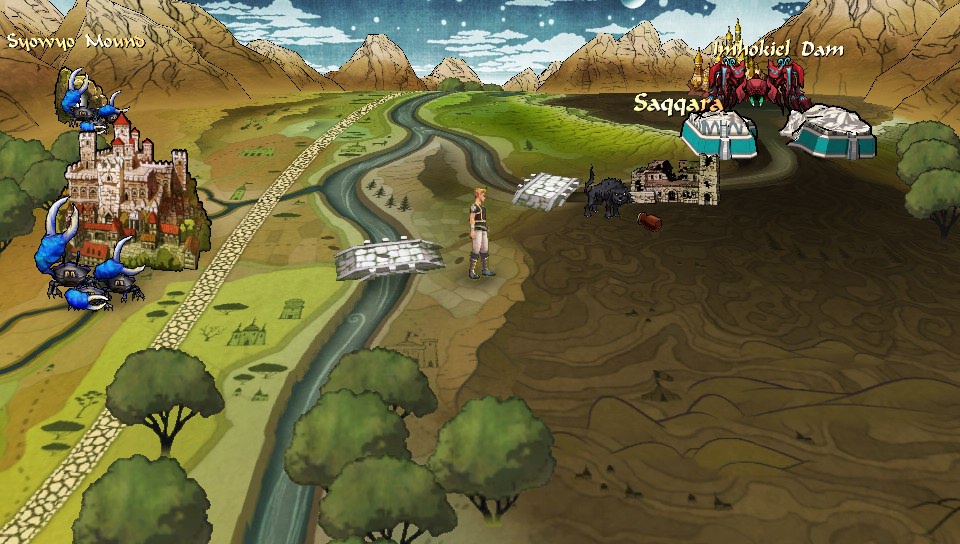 Stuff is already getting weird. There are crabs all over Cindrea, and now there's a giant spider guarding Saqqara for some reason. There's also a dog and some meat, which leads to a battle. The crabs don't lead to battles, though.
Even though I said I was gonna go back and try interacting with more stuff, there's too much new stuff here and it's scary and overwhelming. So I go back to Kei.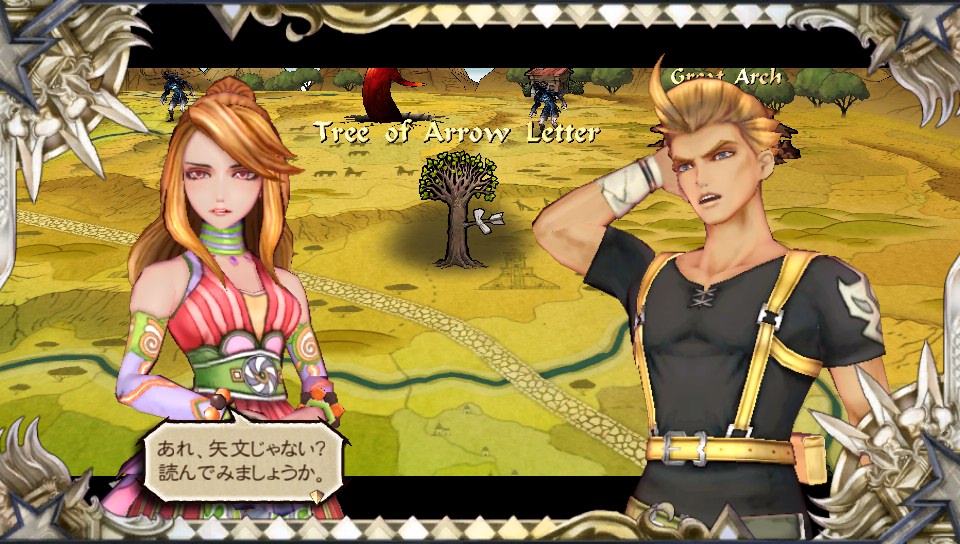 There was this tree that I never inspected, and when I did, suddenly an arrow came out of nowhere and pierced the tree! And the tree got a name suddenly, too. "Tree of Arrow Letter."
It seems there's a letter attached to the arrow. Liz takes it, and it reads that if we go to the abandoned shack, the fragments will become whole. Liz seems annoyed that someone would go through all this to send a request, and they should have come face-to-face to explain it better.
Leo comments that it might have something to do with the dead body we found before. And like I said, I'm slow, and I didn't understand how he came up with that or what this has to do with the dead body we found.
After this, I noticed I could inspect the tree again, so I did, and another arrow shot at the tree. I started to roll my eyes, because I thought that it was going to do the whole scene again, and just keep shooting the same letter.
But this was another one. I guess this must be a popular messaging tree or something.
This one said that the well is dried up and we should help. Leo comments that without water, the fields cannot be watered, and Liz comments that he's changed. But it was Liz who wanted to drain the water to see the stupid picture before, and Leo's always been into farming, so I don't know why she said that.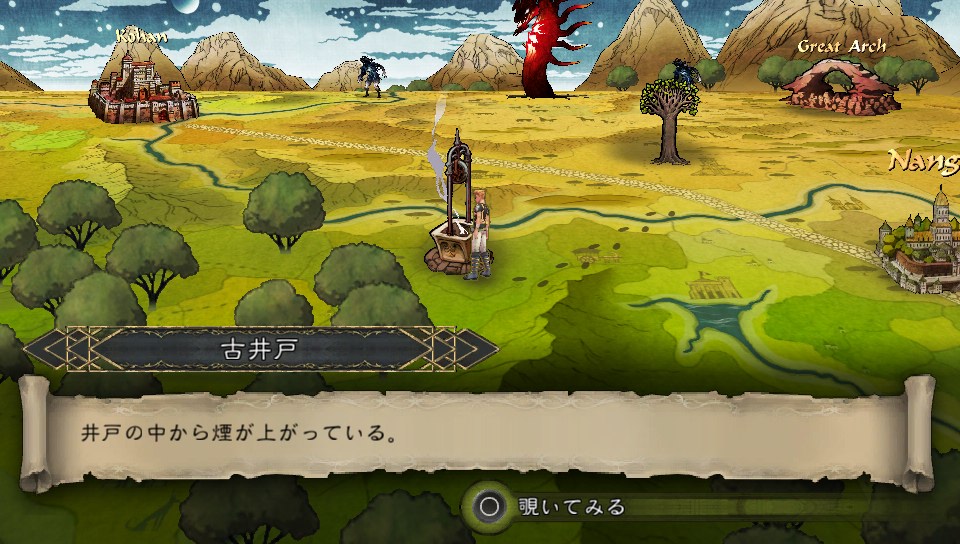 Shortly after reading that note, a nearby well began to smoke. Well, seems like a clue...
Inspecting the well, it seems the only choice we have to figure out what's going on is to jump in.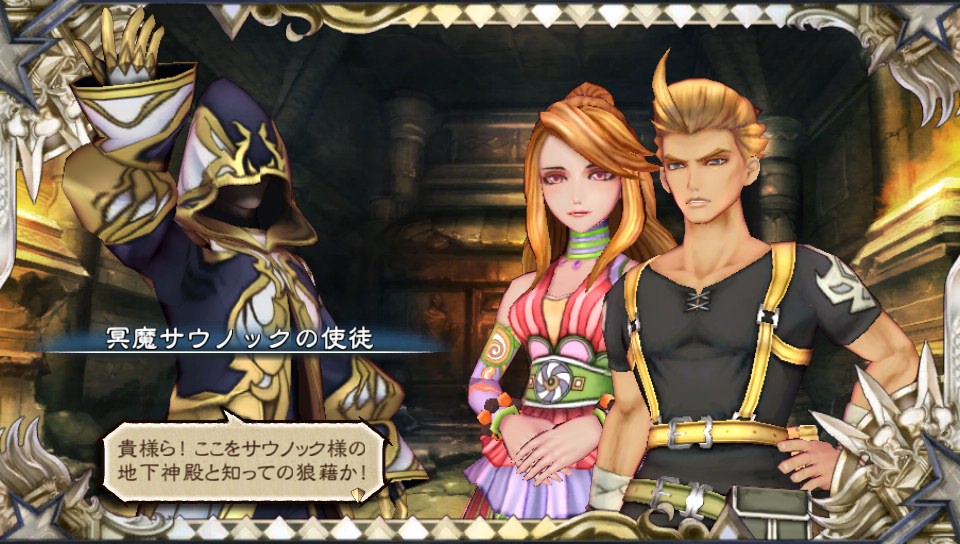 In the bottom of the well, there seems to be some kind of little temple, and another of those Savnok disciples. He's surprised that we found out about their location, but Liz scolds him that it's his fault for letting smoke rise out of the well lol. And he decides he's gonna sacrifice us.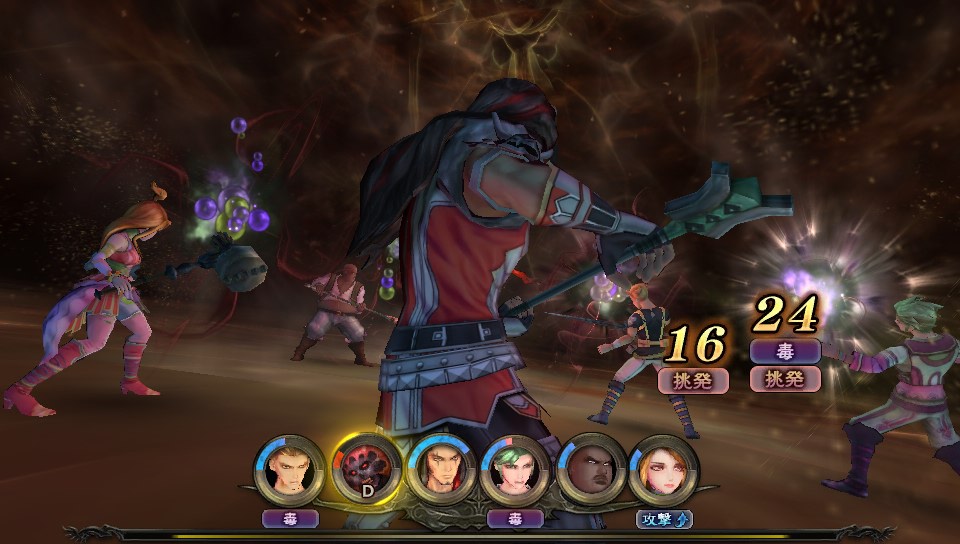 He summons a bunch of undead to fight us, but we manage to take care of them easily enough. Afterwards, we find out that he's the guy that's been resurrecting those minions around Big Long, who is still creeping around in this province.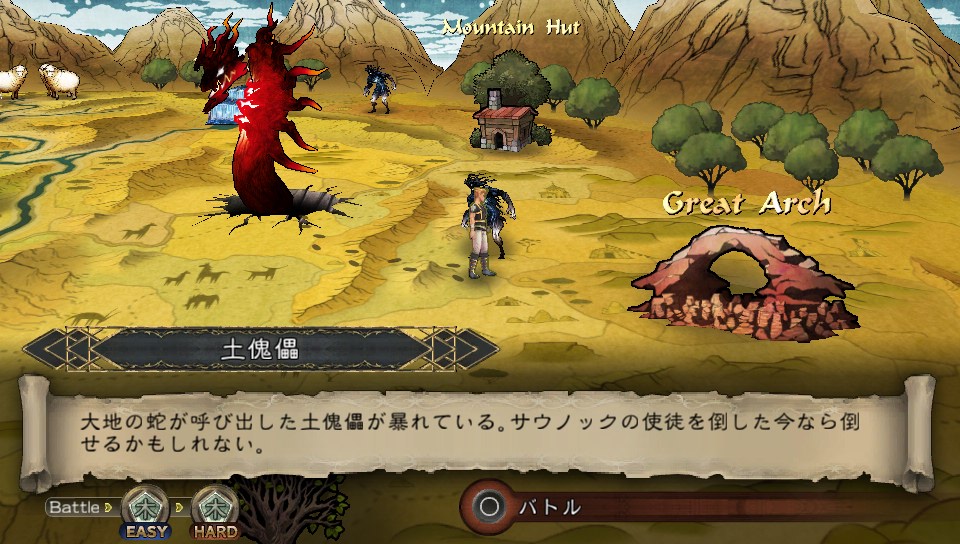 Now when we go to fight them, they have a series of two battles instead of just an Easy battle.
But we're close to the hut, so let's stop by there and see if we can't figure out what that other letter was about.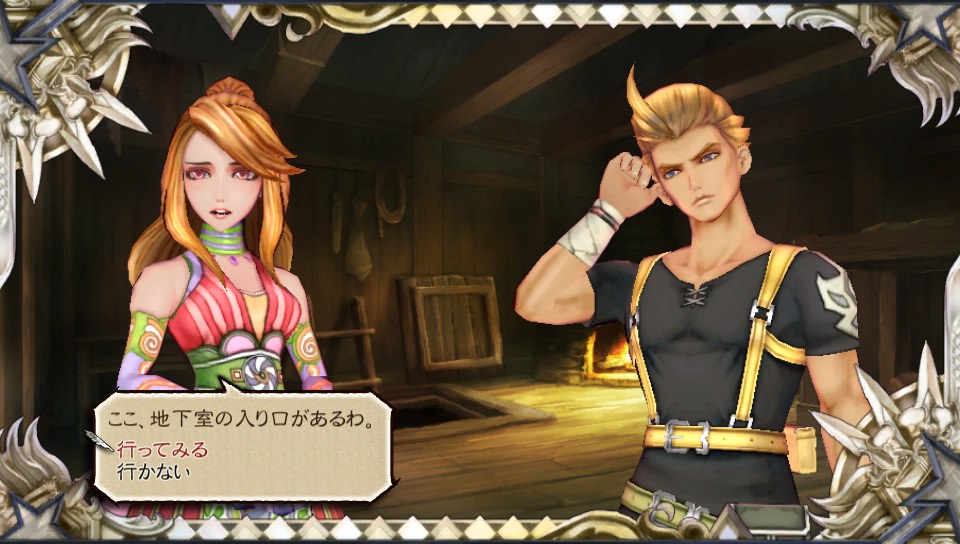 When we entered before, Leo would just comment that no one was home, and we'd leave. But now, there's a passage to the basement that seems to be left open.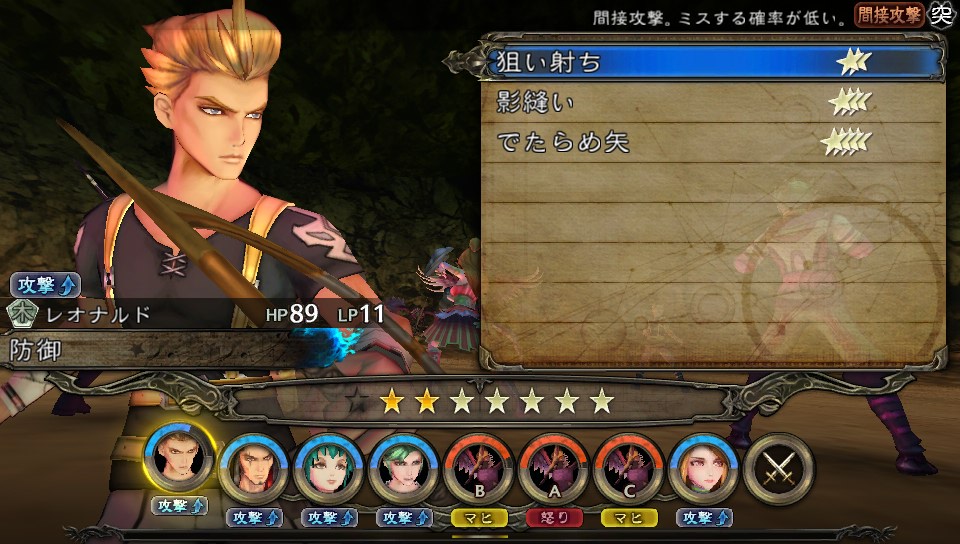 Down there, we get in a fight with some weird bird things for some reason. Look, everyone has a status change!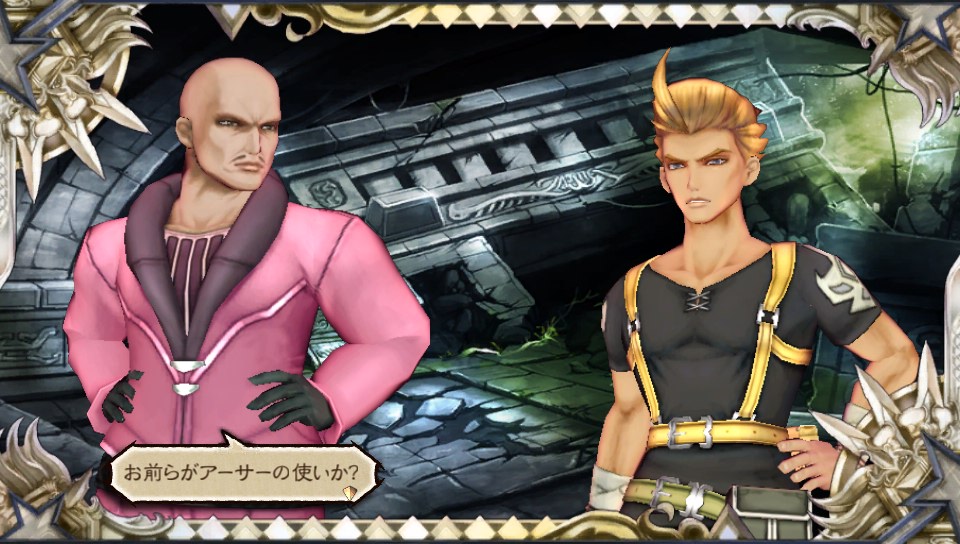 After clearing the enemies, we find this hot baldy mustache guy!!! I was super excited.
He asks us if we're "One of Arthur's crew" and Leo seems confused, and introduces himself as Leonard, and asks for the guy's name. The guy gets pissed and starts ranting about how we're messing with his plans, and then attacks us.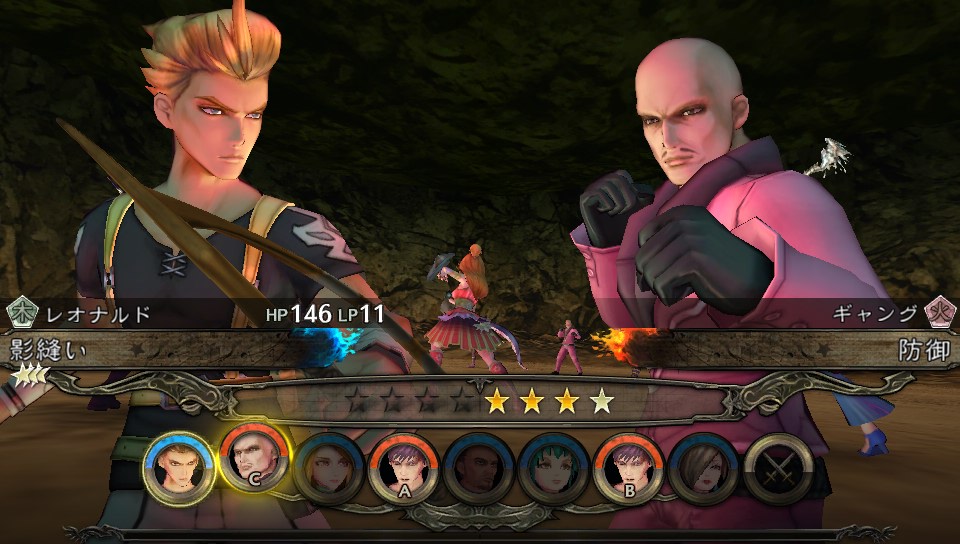 Kyaa~ <3
He was pretty easy to defeat. His lackeys were not tough at all, and even the guy himself (whose name is listed as just "Gang") wasn't that strong.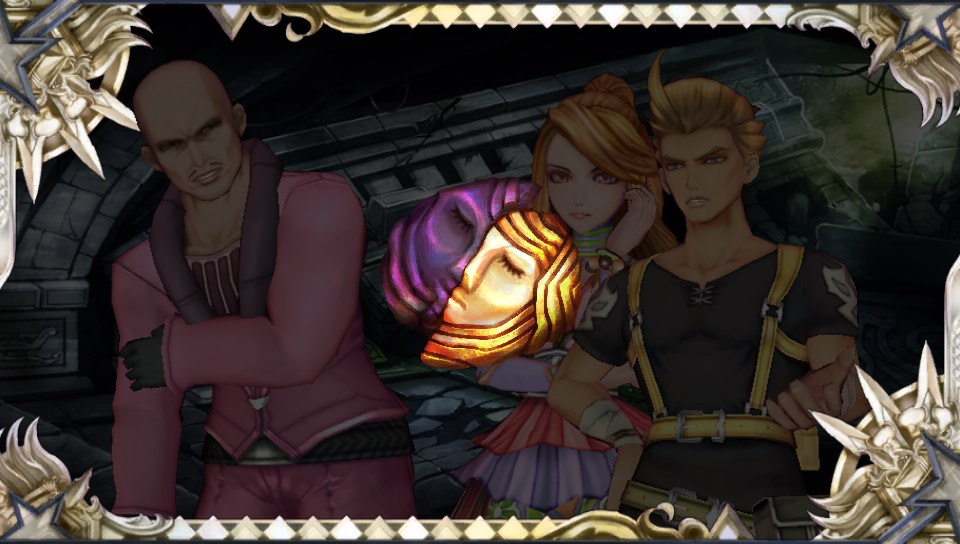 Afterward, with the guy defeated, Leo introduces himself again, and asks for the guy's name, a bit more sternly. The guy apologizes and says he's from Nangoon, and they had kidnapped Arthur's girl (?) and were going to use her as collateral to try to expand their turf in Loahn. Liz thinks the whole gang turf wars thing is pathetic, but Leo wants to know if he knows anything about the "fragments coming together," and the guy hands over the other half of that Phoenix Talisman thing we got from the dead body. So that's what they were talking about!
It's whole now, but Liz comments that it seems to be worthless after all.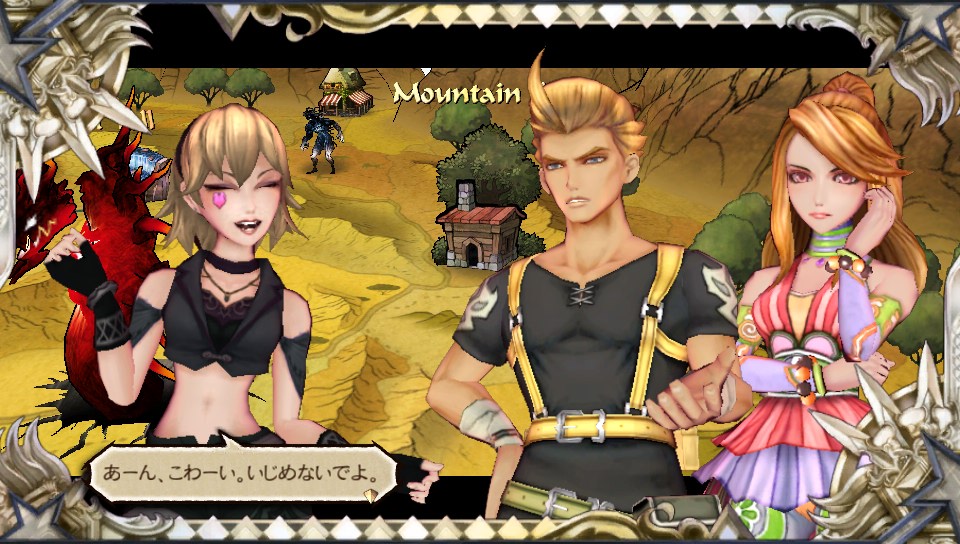 With all the talk from the mustache baldy, I thought maybe we were going to recruit him. Leo was uncharacteristically forgiving toward him. Maybe it was all for the talisman fragment thing, but I didn't think Leo really cared about that.
Anyway, we leave without him, and this hyper girl runs over and asks if it's okay for her to go now. She introduces herself as the "super cute captive," and asks if Leo will escort her back to her home in Lohan now that she's freed.
Liz comments that she should be able to get home on her own, and the girl whimpers and says Liz is scary and asks her not to bully her. Liz comments that she's too old for that kind of shit, but the girl says that she's really a kid at heart.
She latches onto Leo when he agrees to at least take her to Lohan since it's not far. Liz is furious now, and shouts at her not to touch Leo.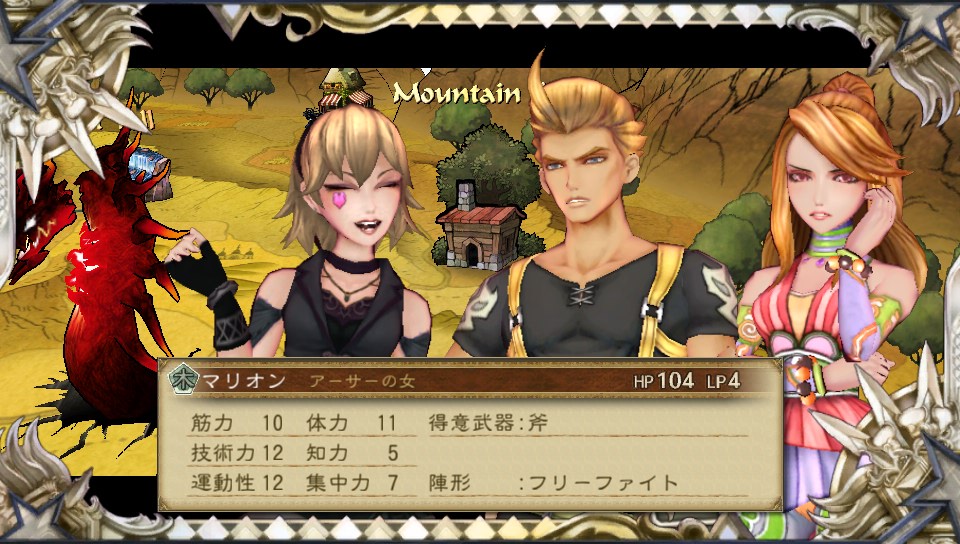 And so we have a new party member, Marian.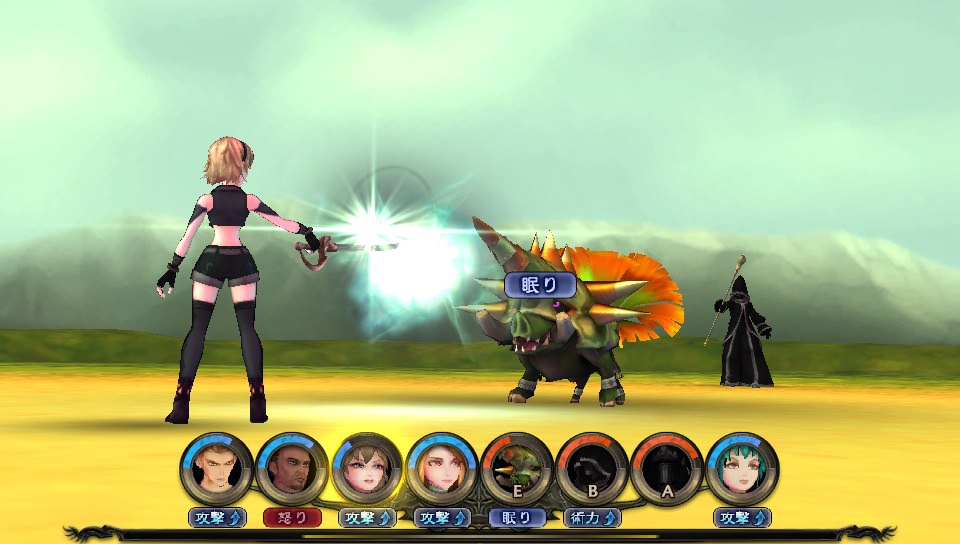 Her questionable wardrobe choice aside, she seems to be a great character. She came with Lv4 skill in many weapons, and has pretty good Skill level. Since Big Long's minions were on the way to Lohan, I decided to fight them with her in the party. She quickly glimmered Mind... thing. I don't know why I can never remember the name of it when I'm not playing (the name is even in English). It's a foil art where you essentially use the tip of the foil as a hypnosis tool to make the enemy fall asleep. (I think it's "Mind Stare" ??? EDIT: YES IT IS LOL)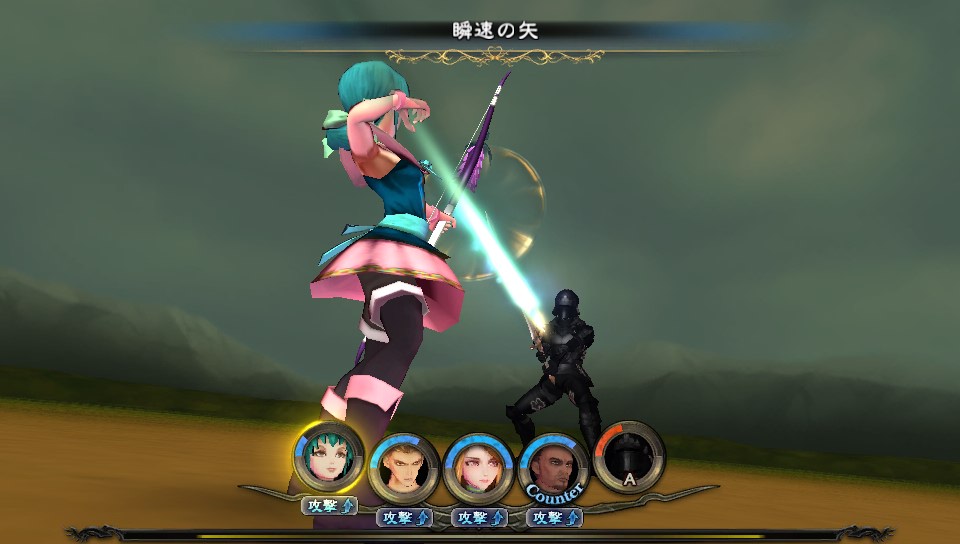 The minions were not as hard to take out as I thought they would be, though Marian did die in the process. Oops. She didn't have a shield because I don't have enough shields to go around the party now.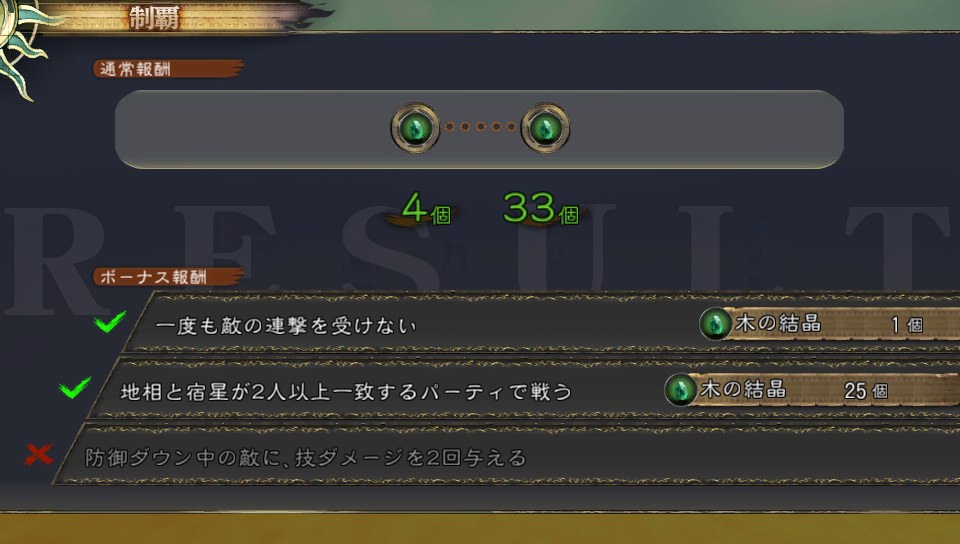 There was also this battle reward for "having more than two characters from the same land and zodiac together fighting in the party" or something and I have absolutely no idea what the hell that is supposed to mean, but I accomplished it, and got a ton of crystals for it. (EDIT: After looking in TIPS I realized these were the game's phrases used to mean the elemental field and the character's elemental affinity.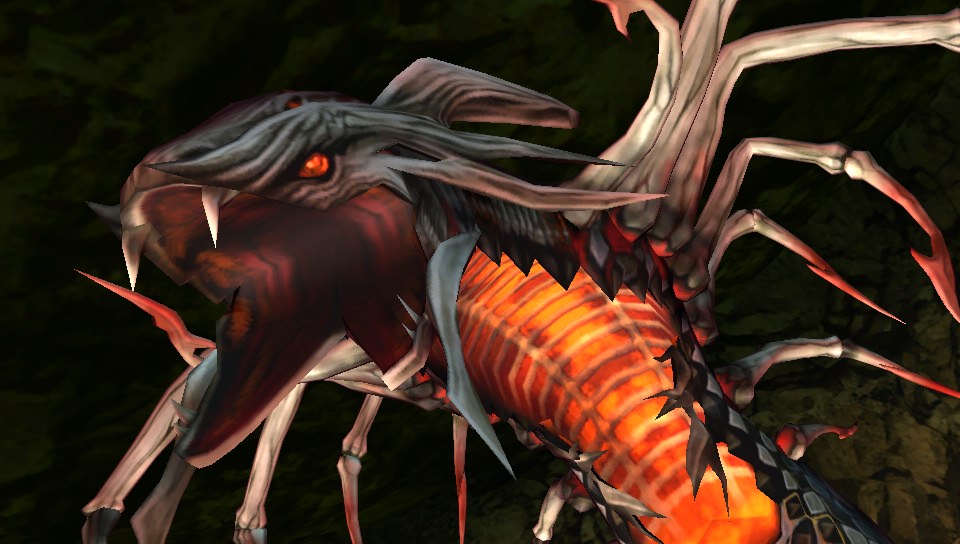 With minions defeated, Big Long wants to battle. Big Long has not been a problem so far the other two times I found him, so I thought it'd be a decent time to try to glimmer some new weapon arts from weapons my characters don't normally use.
Well, this ended up being a very stupid idea, because the reason Big Long wasn't so bad was because I had strong weapon arts to deal with him.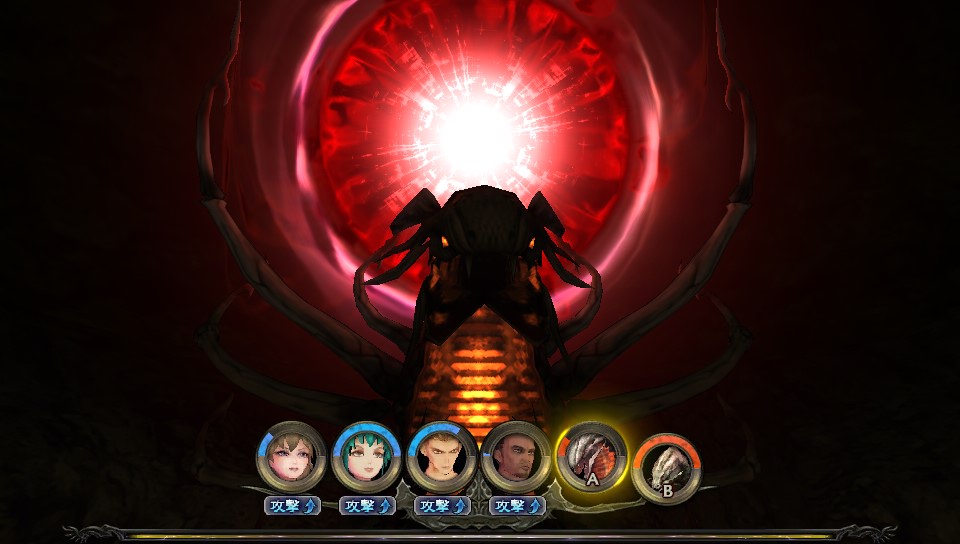 He did this wild attack that hit everyone in the party for massive damage...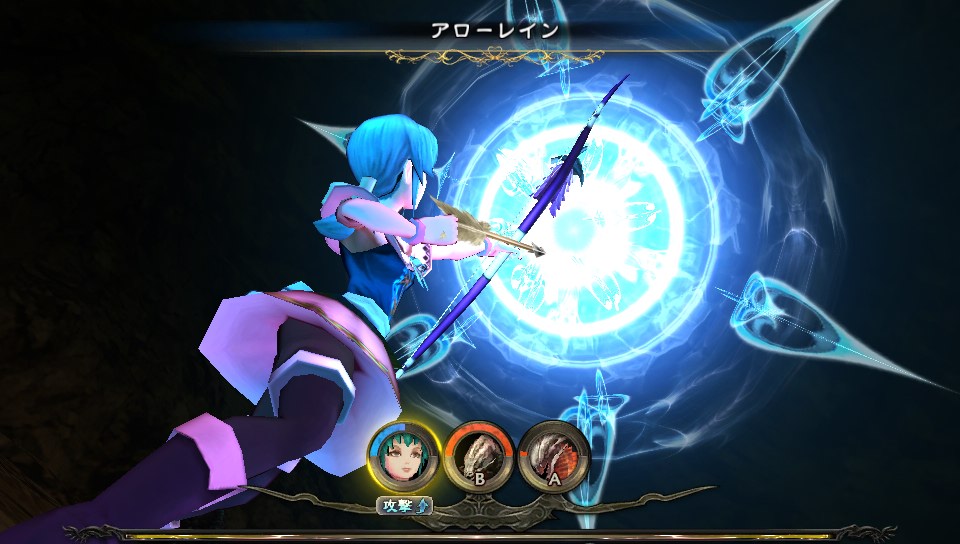 And it came down to just Cecilia. She only had one chance left to win the battle, and since I had all 8 BP to spend on her, I used Arrow Rain, which costs 7 BP. The accuracy is not that great, but it hits all enemies multiple times. If she didn't take them out now, she wouldn't be able to hold up against their attacks, and I'd lose the battle.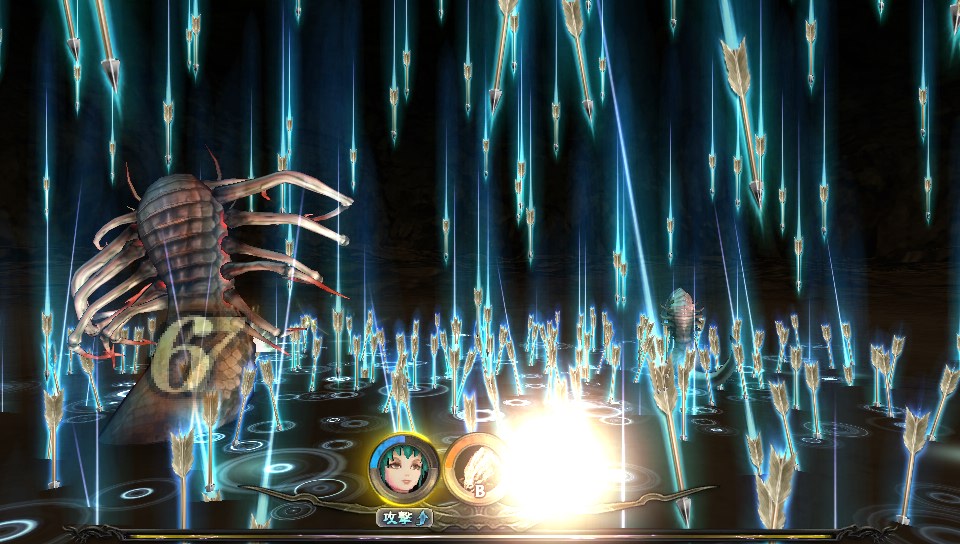 So, here goes nothing...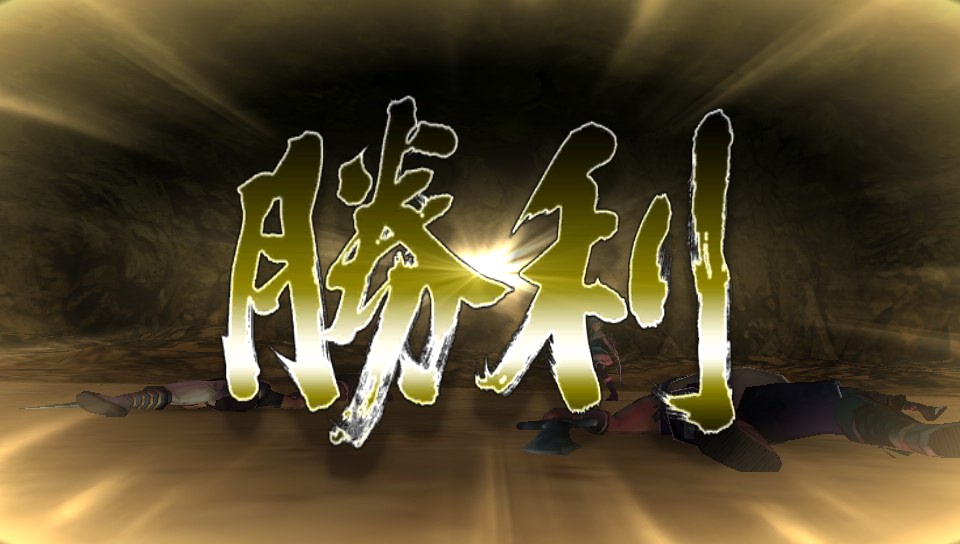 Annnnddd we won!
Afterward, Liz comments about how this was the second time we had to run into Big Long. I guess they intended for you to do them in order you find them, because for me, this was actually the fourth time we saw him and the third time we defeated him.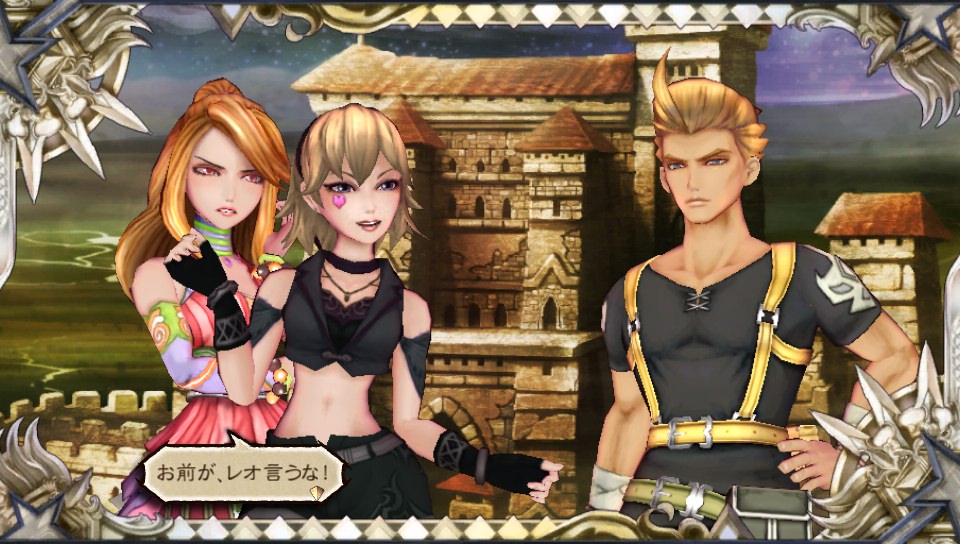 We take Marian back to Lohan, and now Liz is even telling her not to speak to Leo. Marian says she's so attached to us now that she wants to keep traveling with us. She's a permanent party member. I kinda figured that would happen...
Now in Lohan, we have a new 'conversation' option that wasn't there before. Maybe Arthur or someone is going to appear?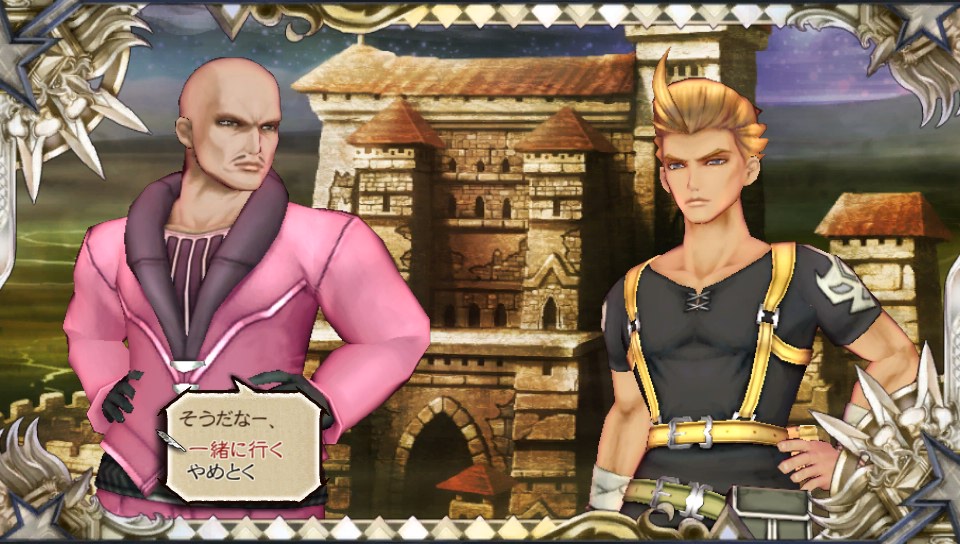 But instead, it's this guy. He's disbanded his gang and changing his ways.
And asks to join!! I was flipping out, not gonna lie.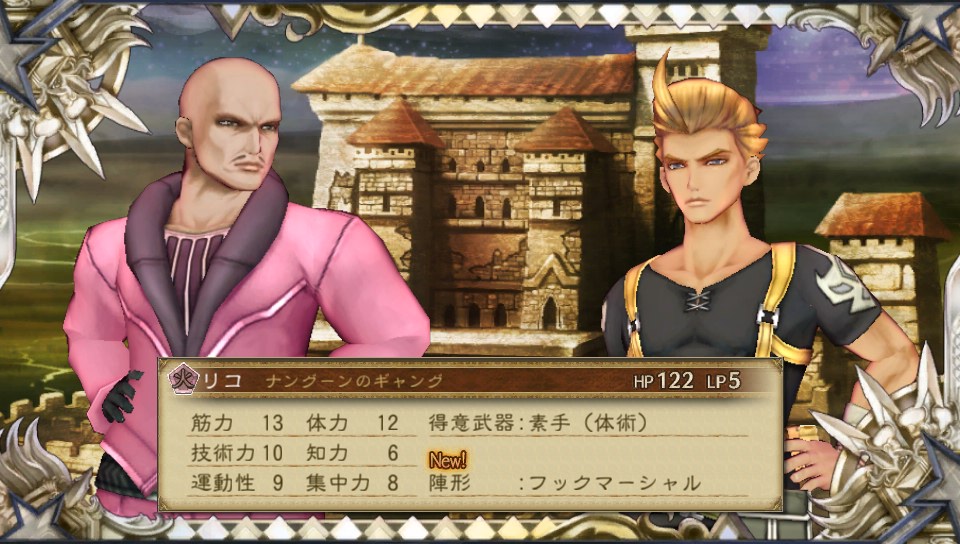 His name is Rico. He seems pretty strong with high Strength and Endurance, and he starts with a pretty high level of Martial Arts. He even taught us a new formation for battle! His Intelligence and Concentration are not great, and Speed seems pretty average, but he seems like he will do well as a heavy-hitter or a defender.
And with that, I was too hyper to even continue playing, because I really wanted to come brag about how I got this baldy mustache hottie in a weird pink outfit. So I haven't even had the chance to try him out yet.
I did run around a bit and look for a blacksmith that gives a discount to wood materials, because I want to upgrade Guin's staff again, and it costs 80 crystals, which is a lot, but a discount should drop that quite a bit, and I'd like to conserve my crystals as much as I can. I actually got out a notepad and started taking notes on where all the blacksmiths are that offer discounts and what kind of discount so I can reference it later.
---