Chapter 6
Crossing the Bridge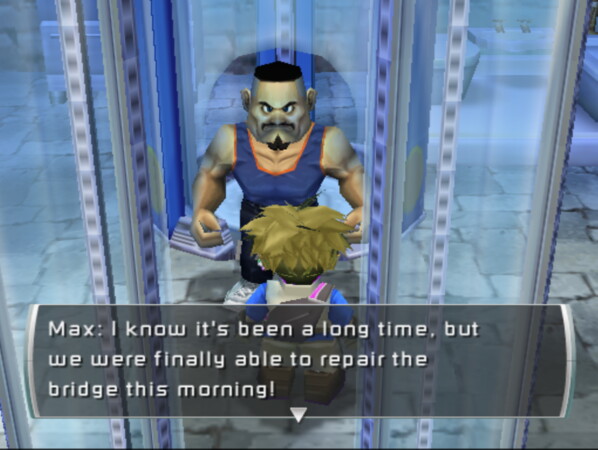 Well, we last left off, Max was at my house at 4AM lol. He probably had to get up at like 2AM to get here. Very important to tell this random little kid that you fixed the bridge XD Well, people know you're trying to revitalize the ruins and save the island at least. And I guess they thought this would be helpful. BUT YAY THE BRIDGE IS FIXED.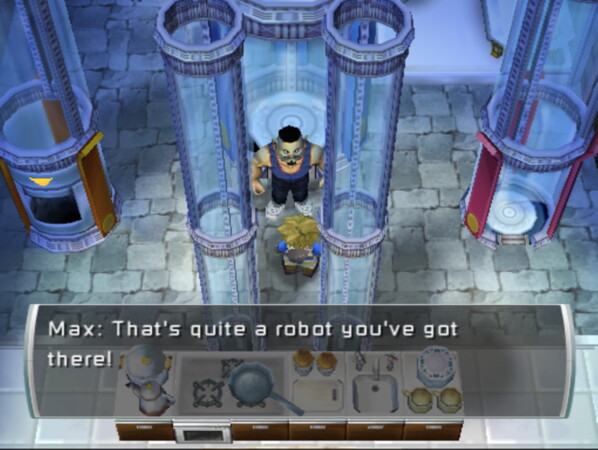 Max likes Naoki :)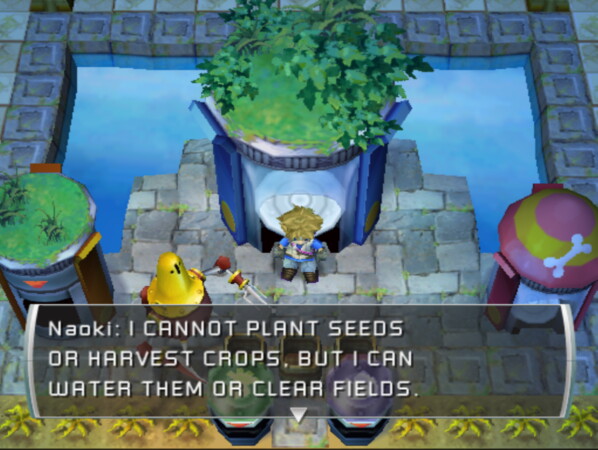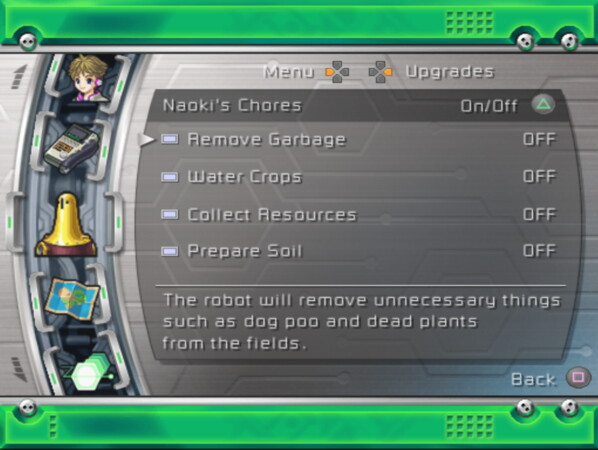 I go up to the farm and get to set up chores for Naoki for the first time :) You can make him clean the dog poo XD I don't even have a dog tho.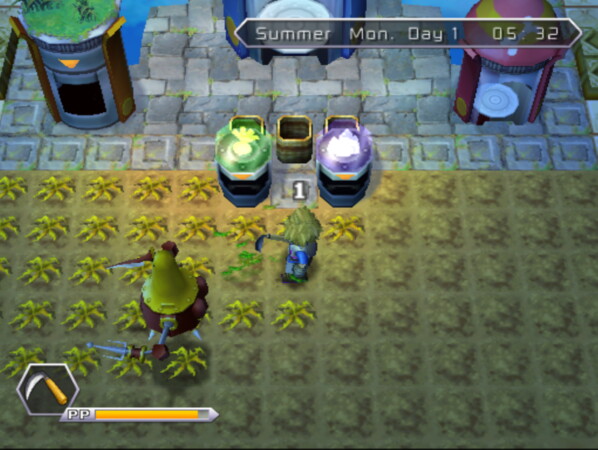 I had him help clear the field since I had all the dead plants from Spring still in the fields... he sucked the weeds up into his bottom XD It was kinda fun because I was also clearing them with the sickle to make it go faster so we were working together and it was cute :D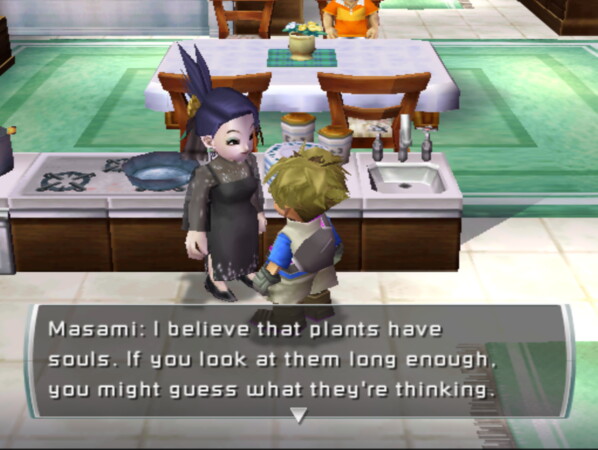 I went into town to buy new seeds for the Summer. Masami said a thing.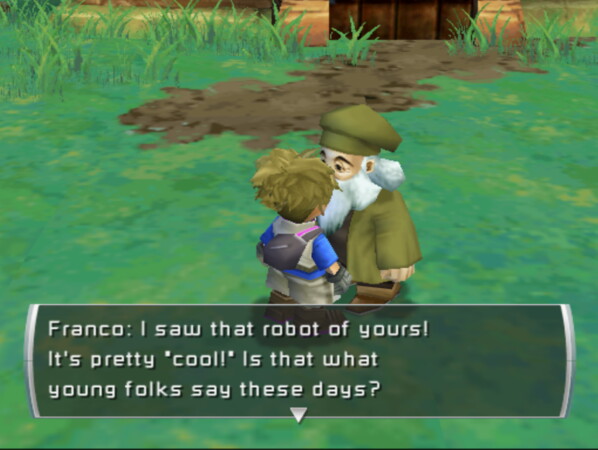 Franco likes Naoki too :)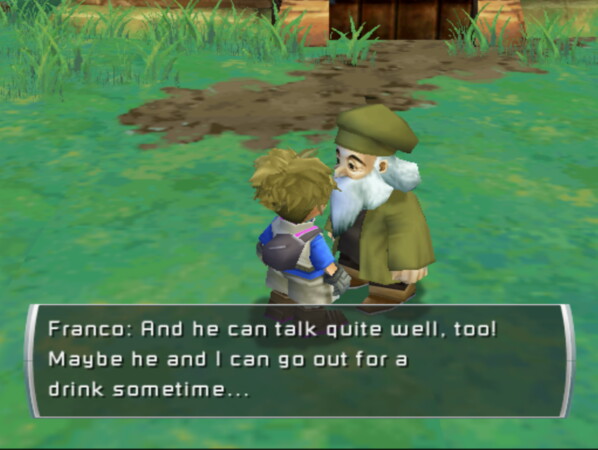 W-wait what?? You want to date Naoki?? I APPROVE but... ???? Didn't know you were a robofucker like me, Franco XD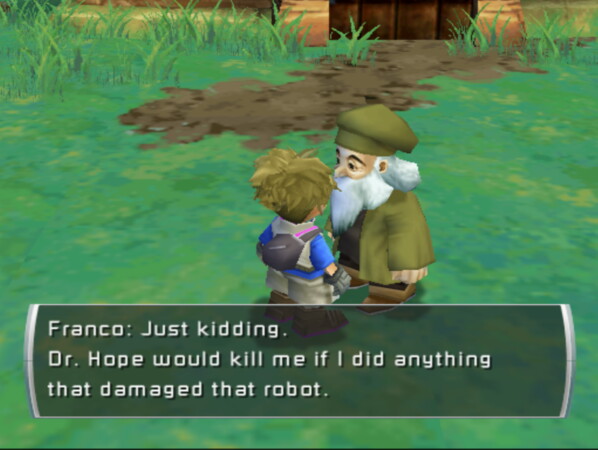 ... So the reason you're kidding isn't because you don't want to date the robot, it's because whatever you plan to do with him on your date might damage him...? Damn, Franco, are you that rough you think you'll break the robot? Or are you just thinking Naoki is that fragile? O_o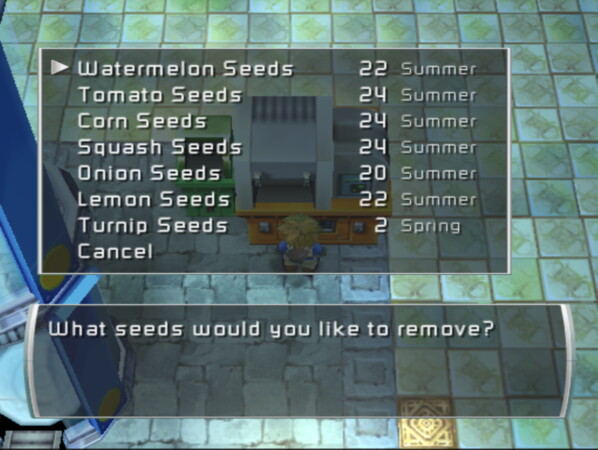 I planned ahead and counted all the space I needed to fill and bought seeds accordingly XD The 2 turnips are leftovers from spring, but I made sure to buy very specific amounts of the new ones so they'd look pretty and fill all the space.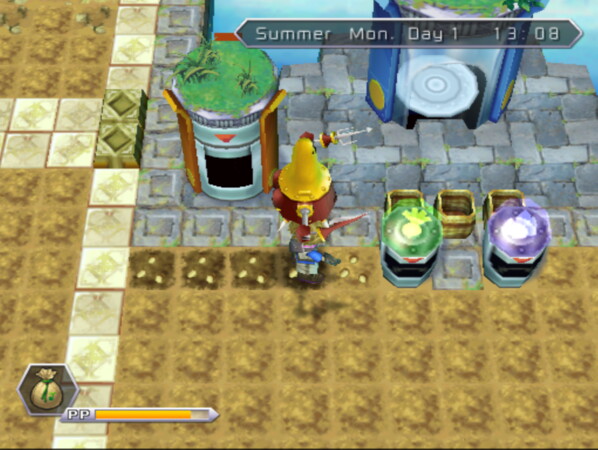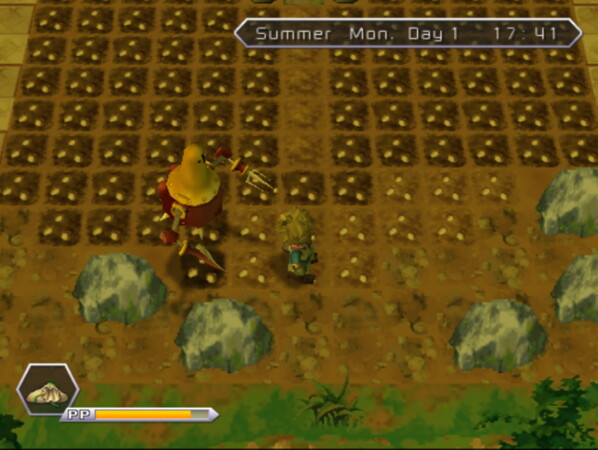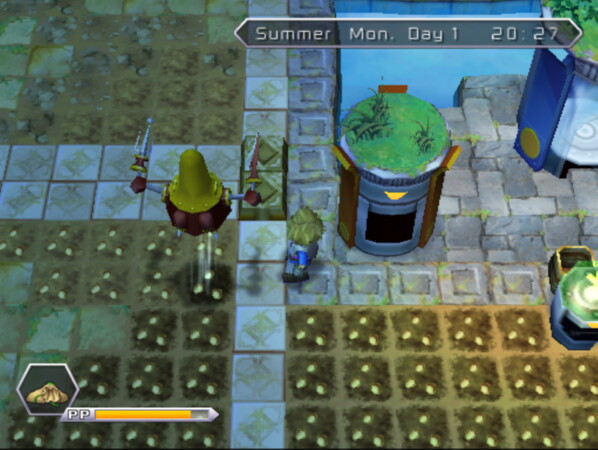 It took all day to get all the seeds planted, but it was cool that Naoki followed right along and watered th seeds with me :D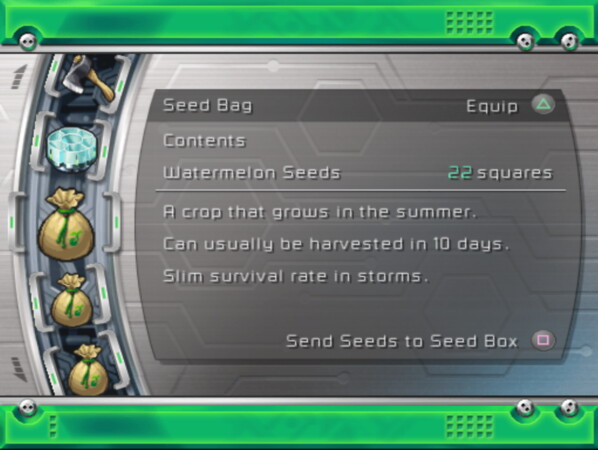 "Slim survival rate in storms..." I forgot about the storms... T_T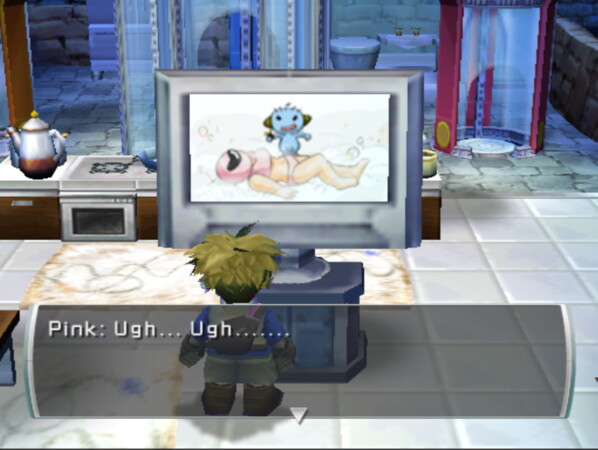 Z Rangers got weird...
The bridge is fixed! I actually ran all the way around to the bridge instead of taking the raft even though it's slower. But it's cool! BRIDGE!!!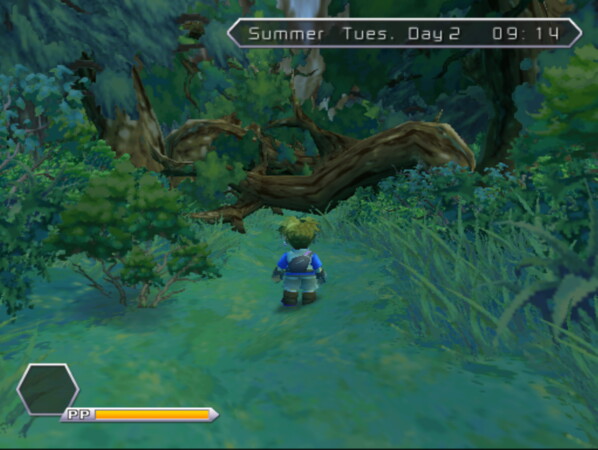 Found another blocked off place. I don't remember past this part in the game too well so this is all feeling pretty new to me O_o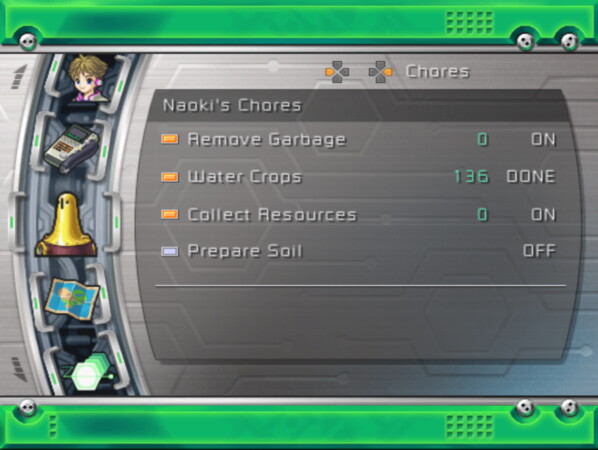 I can check up on Naoki's chores from afar using the submenu :D He watered all the spaces he was supposed to, because that's the right number. Yay :D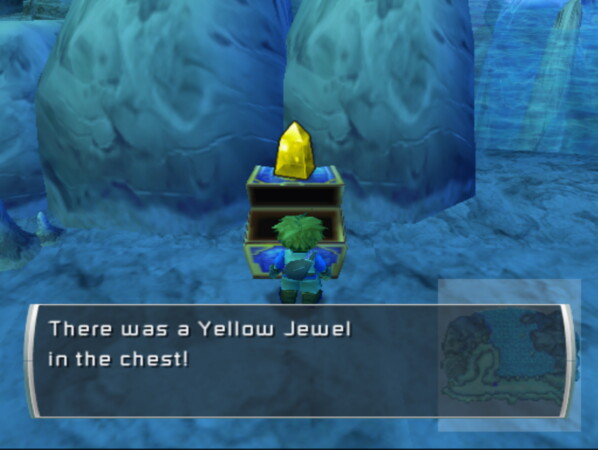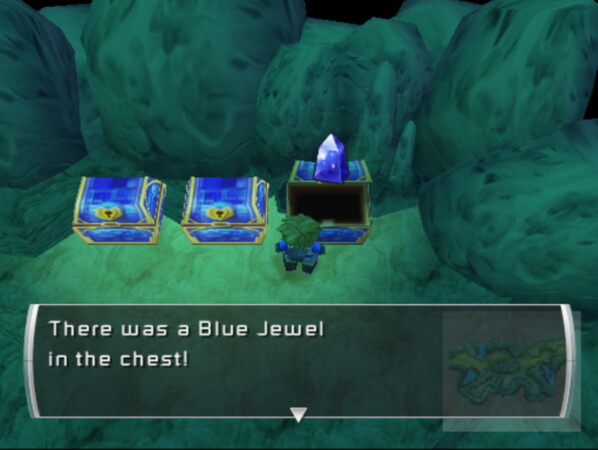 Across the bridge, there was a cave where I found many treasures :D These chests had more blue and yellow jewels, so I finished a collection of 4 yellows! And have 3 blues too :D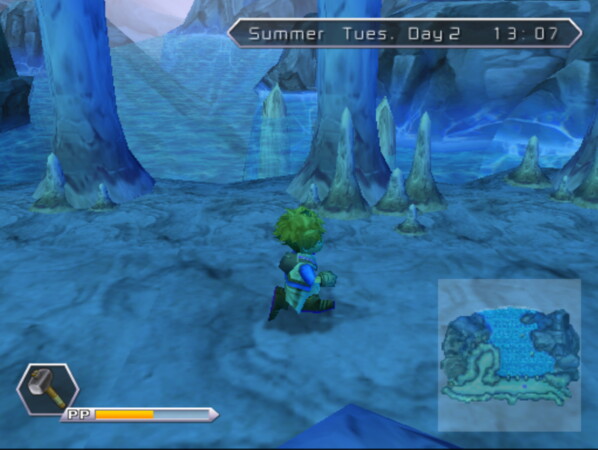 It's a pretty cool-looking cave :)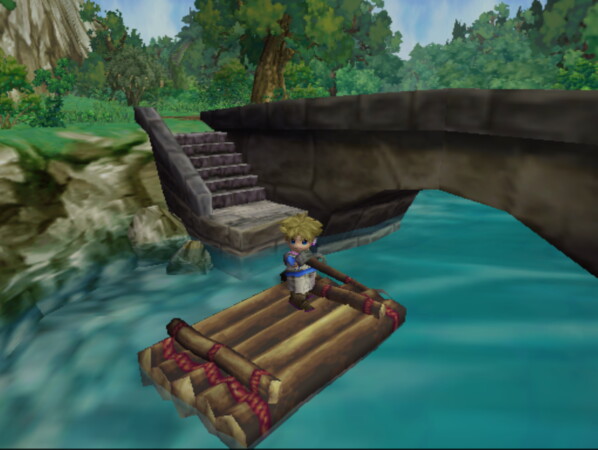 Much like the first cave, a lot was blocked off by the sealed door things :( But I had plenty of time to get back home riding the raft~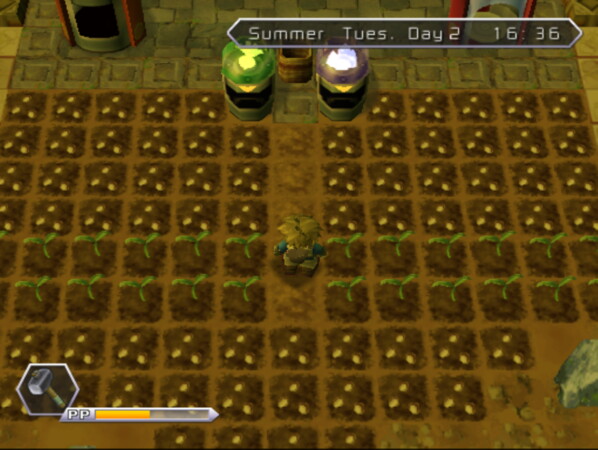 Look at the good job Naoki did XD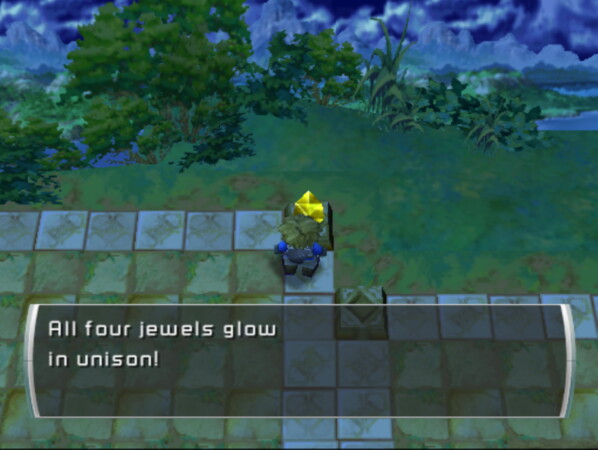 4 yellow jewels!!
I've set them :D Now they're glowing XD Nothing happens til the next day though.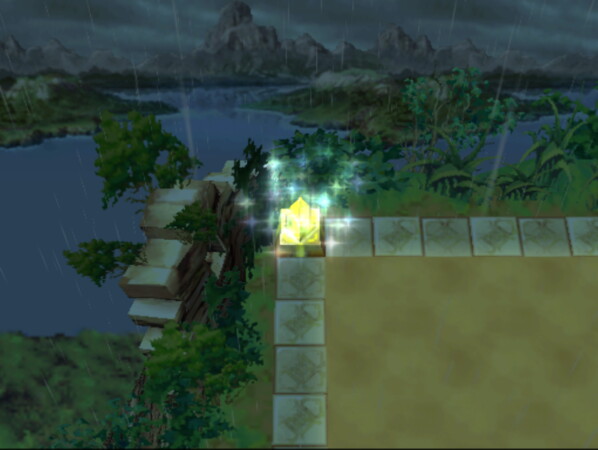 The next morning, the jewels glow and the field unlocks!! All the weird tiles inside are gone and we have a BUNCH more farming space now :D!!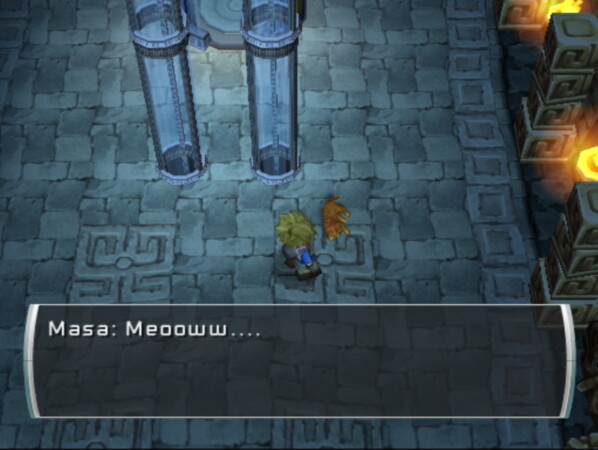 It's so early in the morning Masa doesn't even want to get up XD
Now that the a yellow seal has been broken on the farm, all the doors with yellow diamonds on them will open for me :D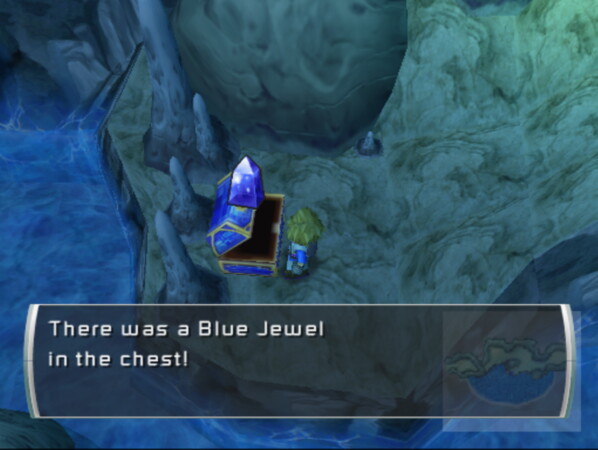 Another blue jewel... now we have that whole set!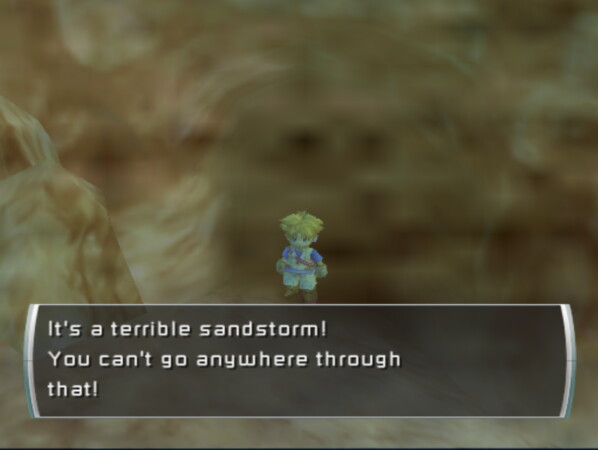 Can't explore further because of a sandstorm, though...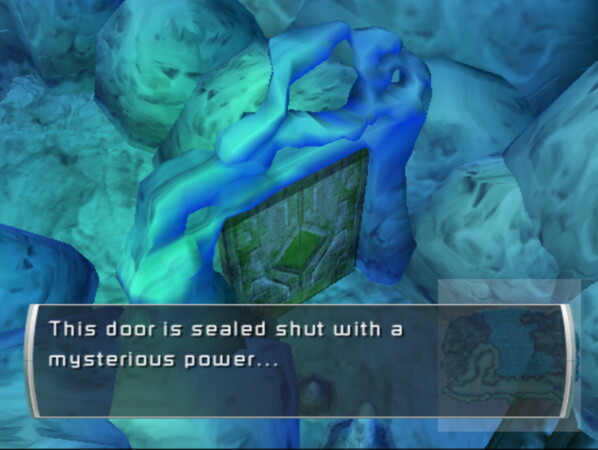 This apparently is not yellow. Maybe it's green?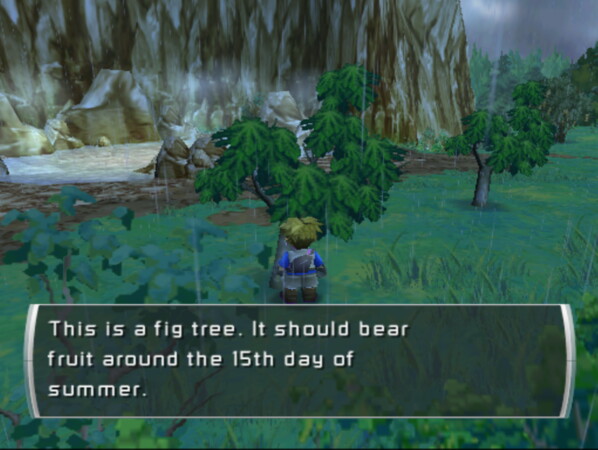 Found a tree that grows some time other than Fall :D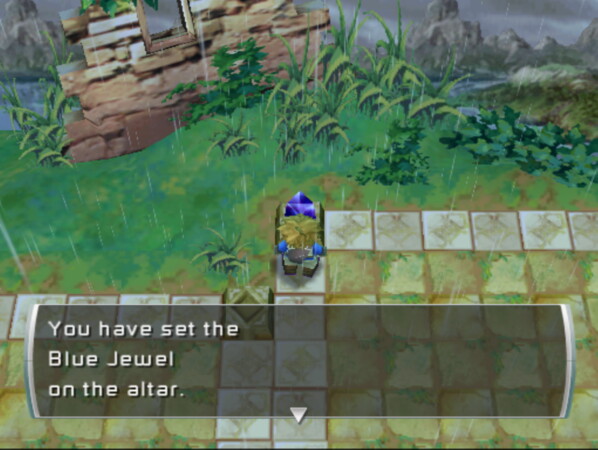 And set the blue jewels :)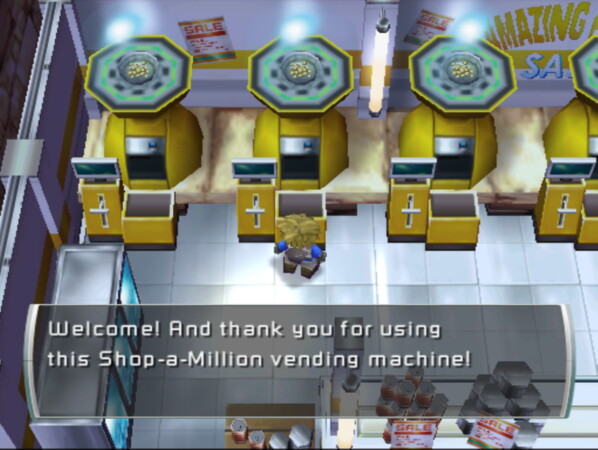 Near Franco's room, there's a room sealed by the blue seal. Now that it's broken, we can go in. It's... a vending machine room :D They sell a lot of seeds in here so you don't have to run all the way to town to buy them. But they don't sell the same seeds as in town O_o Only tomato is the same, the rest are unique. So I had to buy a bunch of those, too...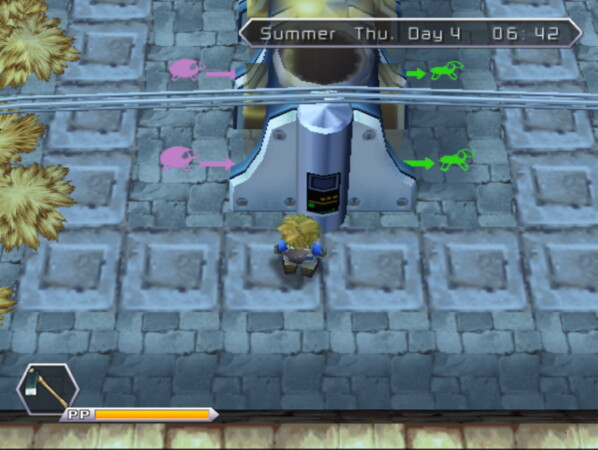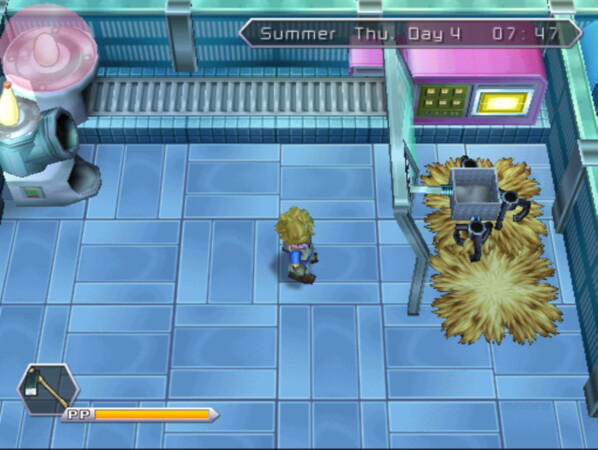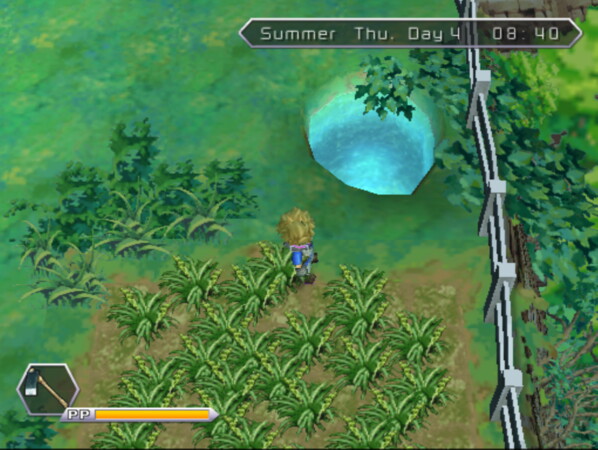 The blue doors in the ruins storage area lead to these animal care facilities! There's even little pastures (over cliffs... seems dangerous) outside of them. To get animals, though, you need a robot animal of each time. They basically keep the normal, biological animals in line and make sure they're eating and stuff, I guess. This way you don't have to take care of them yourself. The only thing you really need to do is pet them every day to increase their happiness. So it's a bit watered down from previous games in the series where you had to do much more to care for your animals... Because this is THE FUTUREEE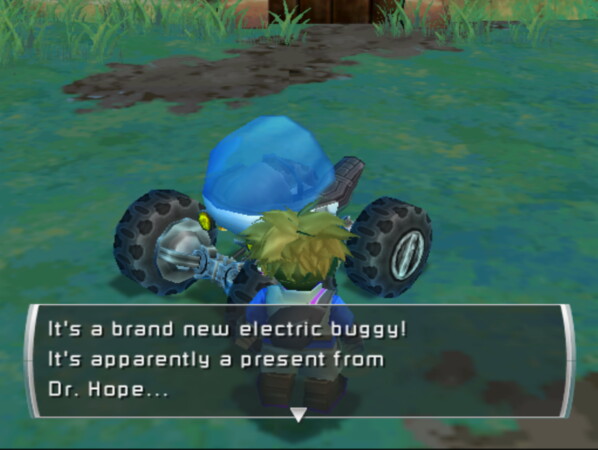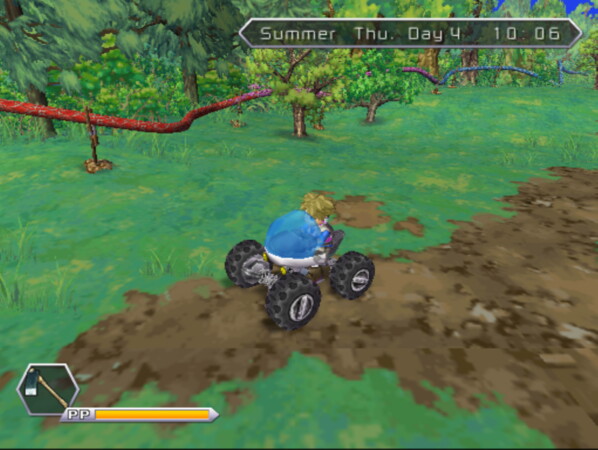 Finally, I get the buggy! It's a present from Dr Hope for breaking the blue seal. This lets you go SO FAST. You can get to town in like an hour or less now!!! He left a note to explain the present, but also tell us to seek out the hermit that lives in a shack "by Mermaid Lake" which is apparently "past the desert" and "past the plains."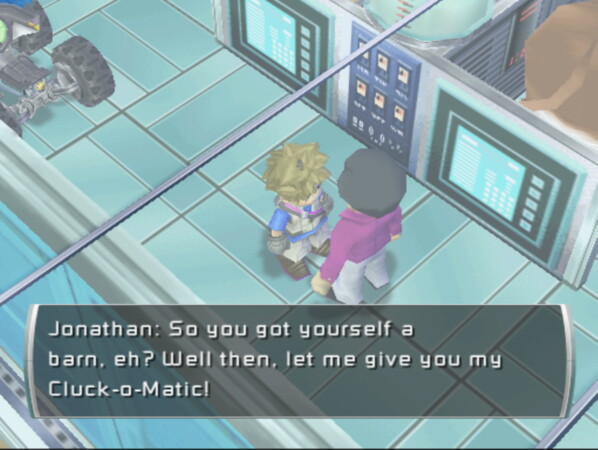 Talking to Jonathan he'll just give you the robot chicken for free.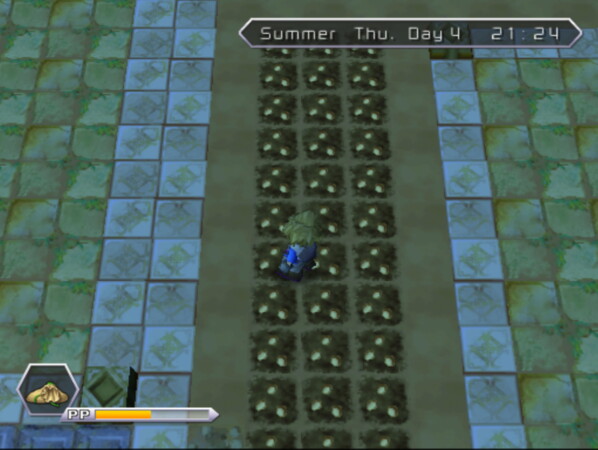 I planted all my vending machine seeds after getting my robot chicken :P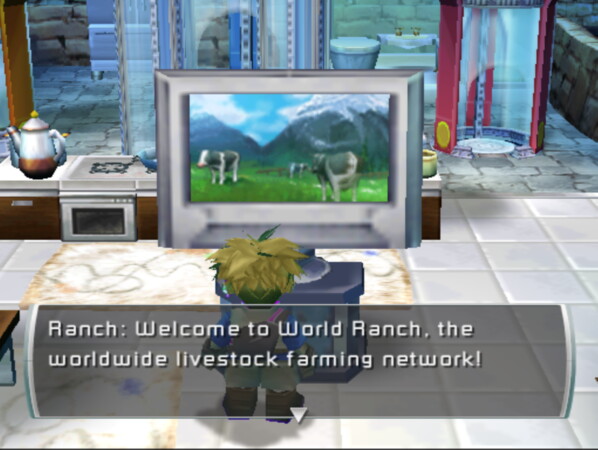 You buy animals through a TV shopping thing lol...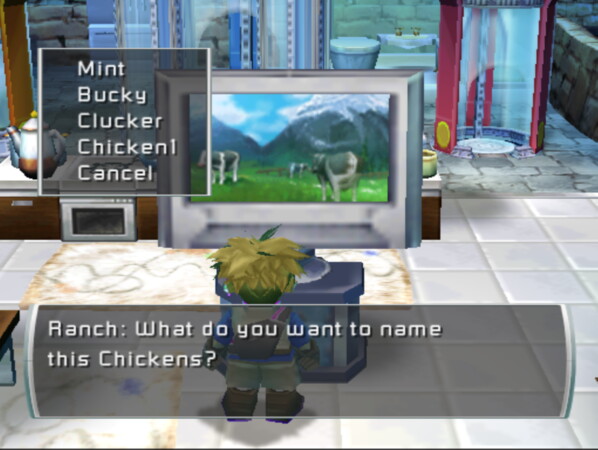 The most annoying thing is that you don't get to name them yourself... you have to choose from a list of names...??? IDK why???? No other Harvey makes you do this. And you can name your pets and robot and stuff, so... why??? If you pick a name and then say you don't like it when it asks you if you're sure, you can choose again from a new list. But it pretty much just cycles through a set of like 10 or so lists.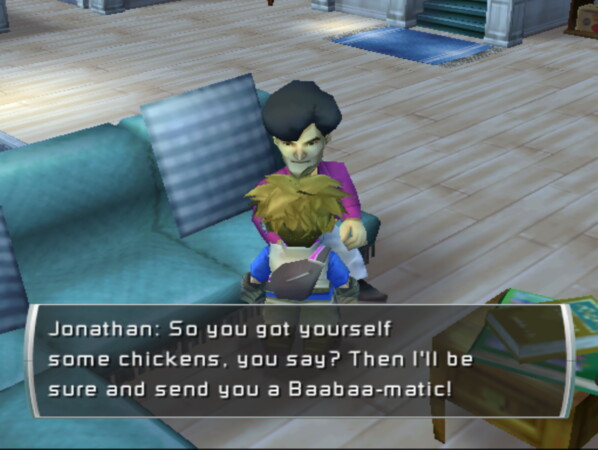 When you talk to Jonathan about the robot chicken, he'll take a day to send it to you. Then you can order chickens that day. Once you've ordered chickens, you can get the robot sheep from Jonathan... your chickens won't come til the next day, though. Then you also have to wait for the next day for your robot sheep to come... then you can order sheep, which let you get the robot cow from Jonathan... basically this whole thing stretches out over the course of many days XD You also have to make sure you have enough money to buy the animals or it takes even longer.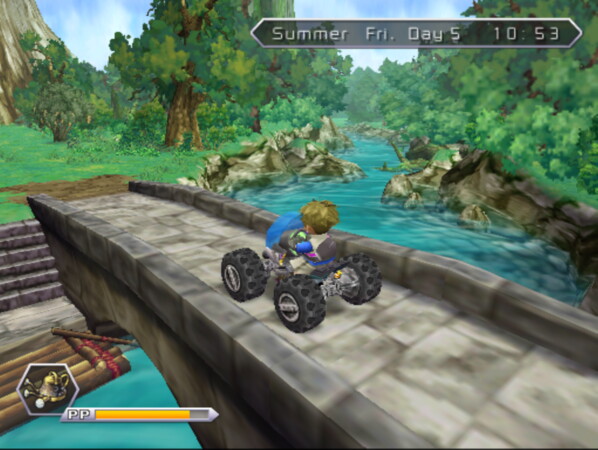 Now that I have the buggy, I have to take the bridge, since I can't take the buggy on the raft. It was fun using the raft for like... two days :D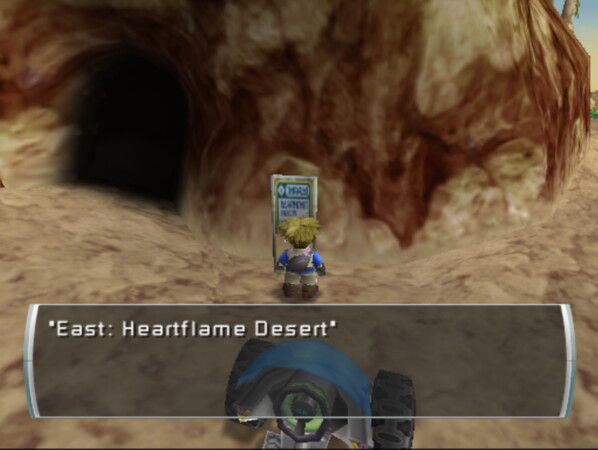 Trying to follow Hope's instructions to find the hermit of Mermaid Lake is... not very good. I pretty much just ran around everywhere I could go until I found her.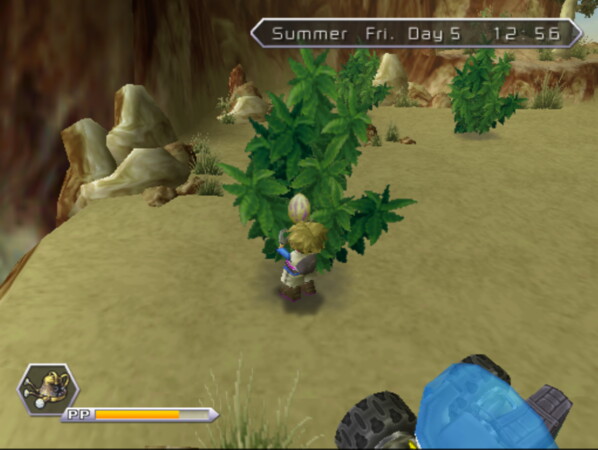 I found these things called Pepino.
Apparently this is a real thing!
They sell a lot better than the stupid mushrooms at least, at a ratio of 1 gold per 2 grams.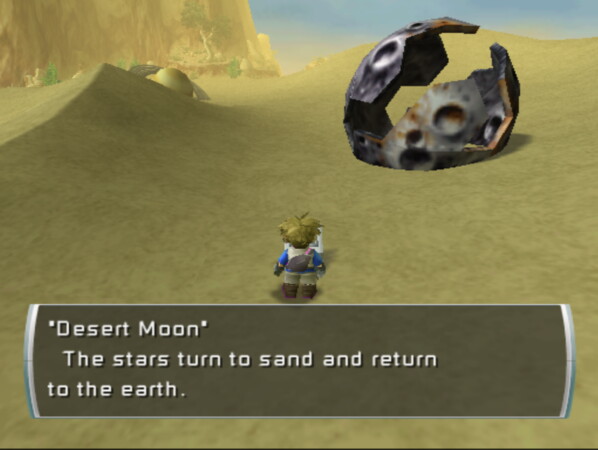 There are like weird sculptures of planets and moons and stuff half-buried in the desert. I guess this is Moonlight's doing :)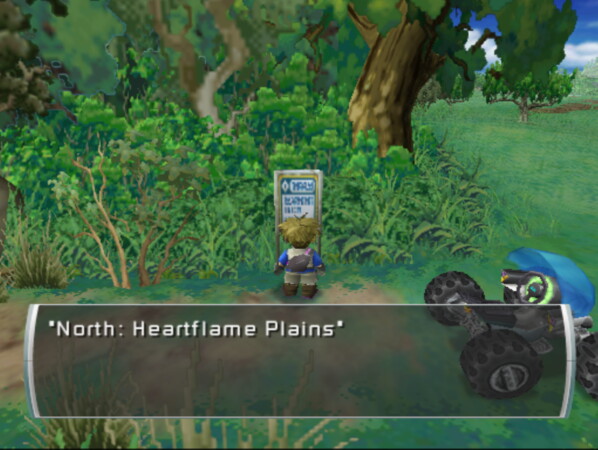 If you think you're supposed to come through here to go 'past the plains,' think again. Coming this way is the complete wrong direction. Hope's note is messed up :\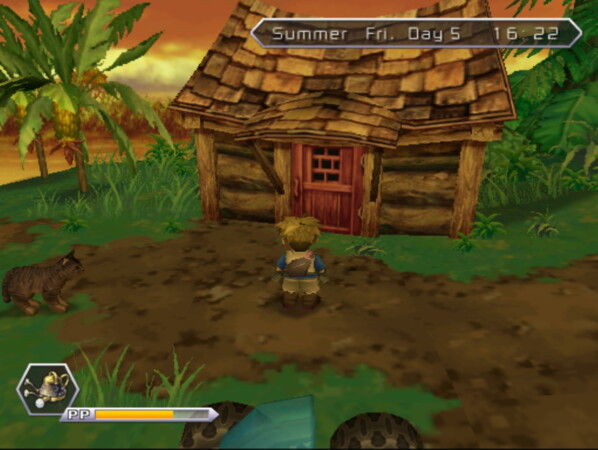 Finally I find the old shack though. I could have harvested the stuff on the trees around here but my Scale Pack was full of Pepinos XD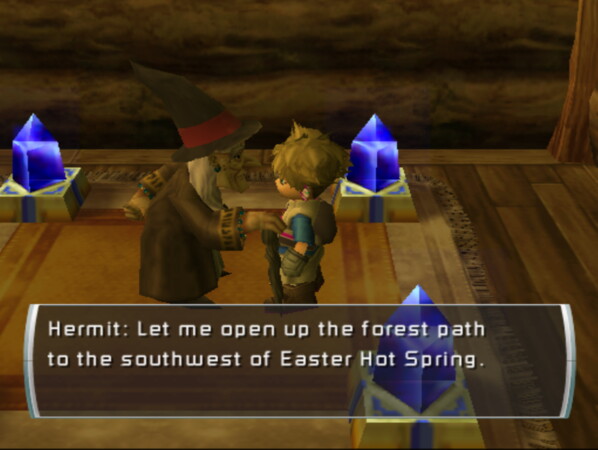 She doesn't really tell you anything about the Blue Spirit? But she does stay in the middle of these blue jewels... and she says she's over 150 years old. Maybe the blue jewels' magic is helping her stay alive for a long time...? She only has to water herself every 7 days XD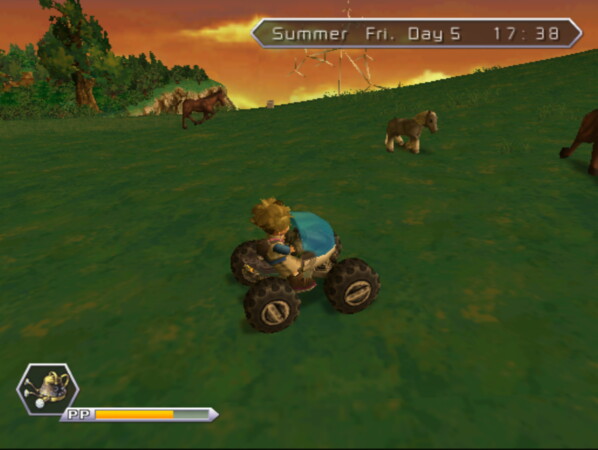 Before heading home, I go play around in the plains and look at the horsies :) Wild horses are cool~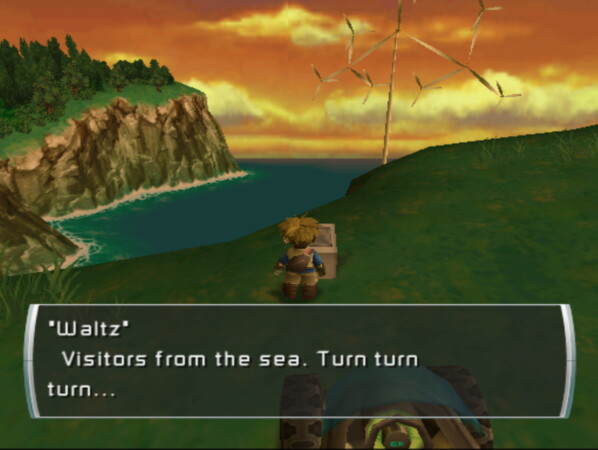 Moonlight has touched this area as well... with some weird windmill thing...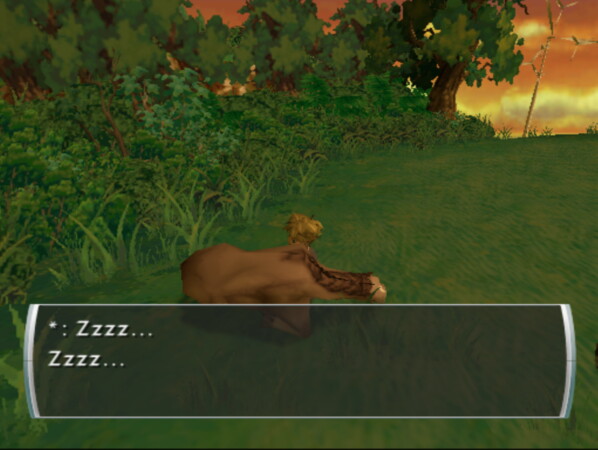 I thought this was a dead or injured horse at first??!?! Then I went and talked to it and it's just sleepy... this is such a sleepy game XD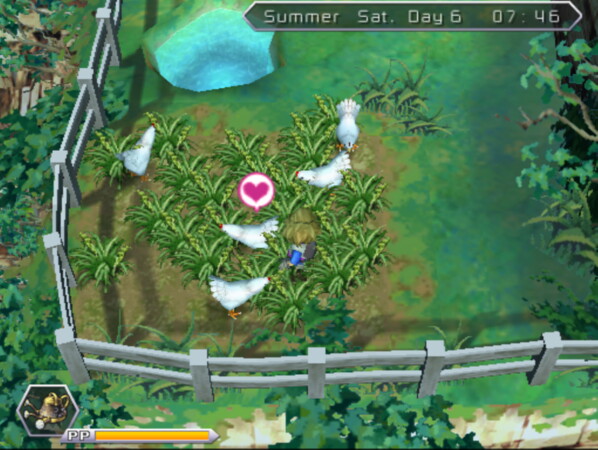 I finally have animals :D Pet the chickies :)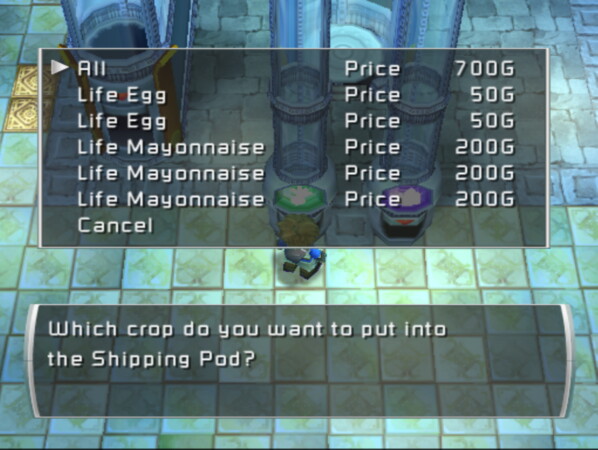 Why is it called "Life Egg" and "Life Mayonnaise" ?? XD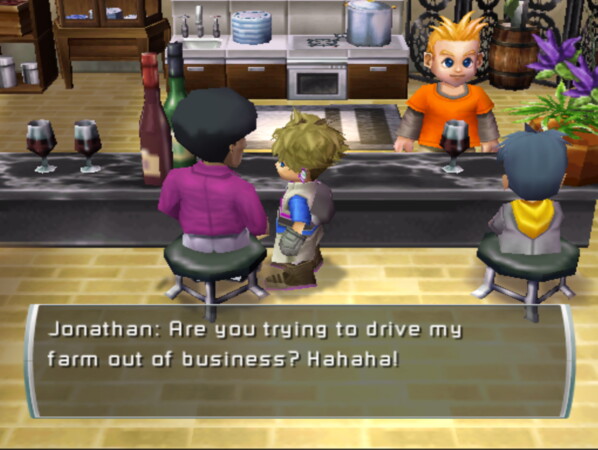 Finally able to get the robot cow on Saturday... And yeah, Jonathan, I am trying to run you out of business. If you keep up your blasphemous AutoFarming, the spirits are going to kill us all... so yeah.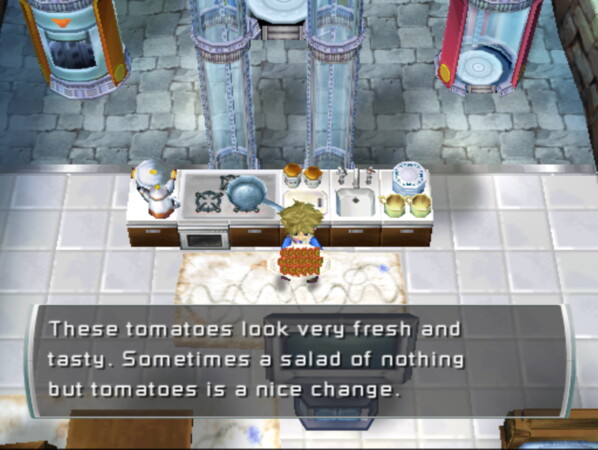 Apparently I put a bunch of tomatoes on a plate and called it a "salad." As silly as that is, I actually wouldn't mind just eating a plate of tomatoes right now.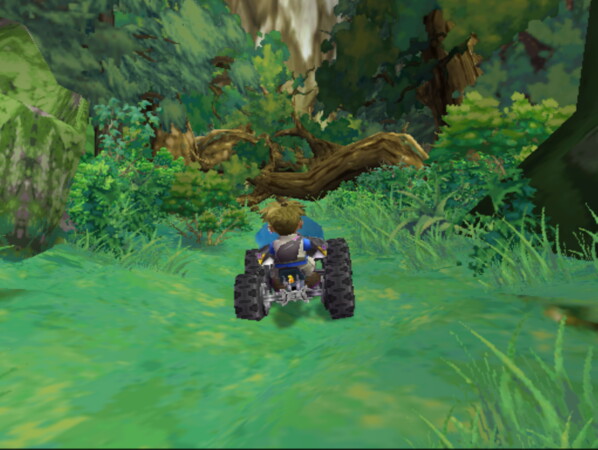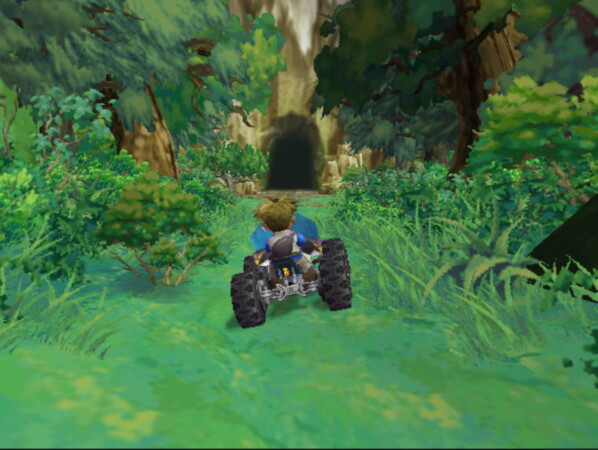 After talking with the hermit, approaching this area makes the big root things here move slowly away on their own, revealing another cave to explore :D I have a feeling you're supposed to figure this all out a lot more slowly and focus on your farming and stuff? But I already knew how to get the robot animals from Jonathan and Naoki is taking good care of the farm right now (actually, tomatoes and onions are already ready for harvest at this point and I haven't been checking... oops XD)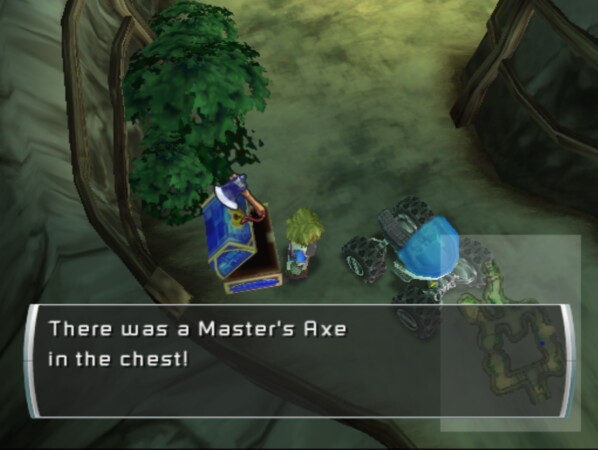 There were a lot of treasures in this cave! I got a new Axe and Hoe !!! So excite!!! Also THREE red jewels :D Just need one more... I didn't get to explore the whole cave, but I bet there's one more in there somewhere. But it was getting late, and I didn't want to miss my examination the next day, so I went back to the ruins before finishing exploring.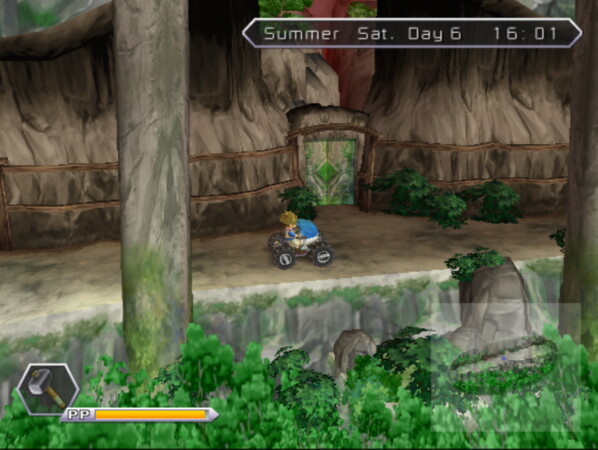 There was also a green door. I haven't even seen a green jewel yet...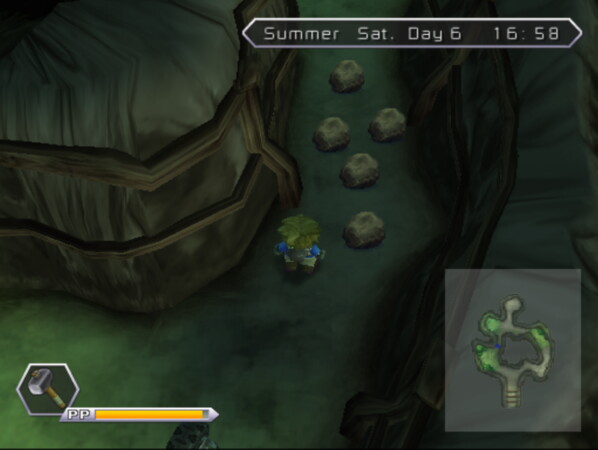 This one area in the cave, you had to get off the buggy and bust through rocks with your hammer to proceed...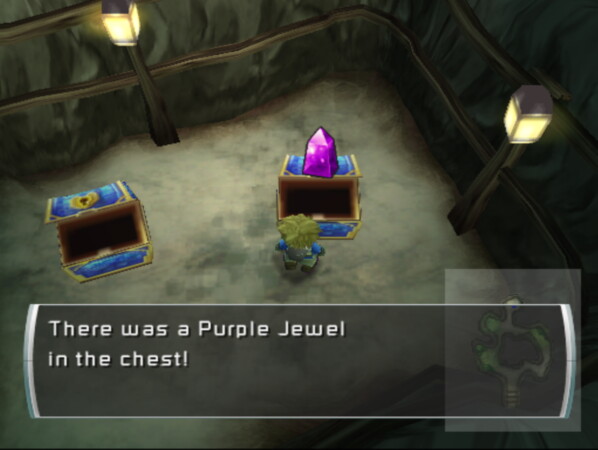 Got a purple jewel out of it though :)
This "Earth Power Sand" stuff is great!!! It turns that rubble crap into fertile soil!!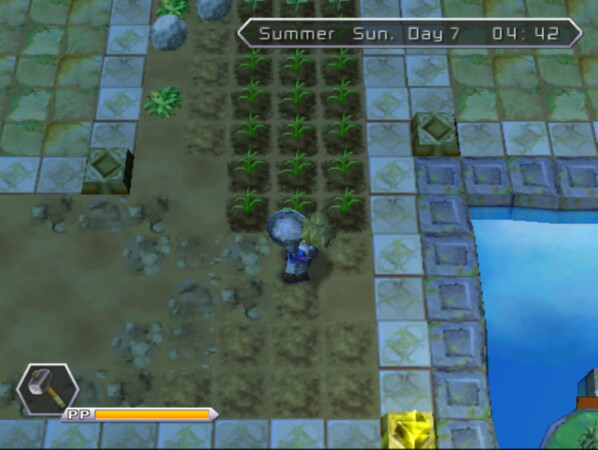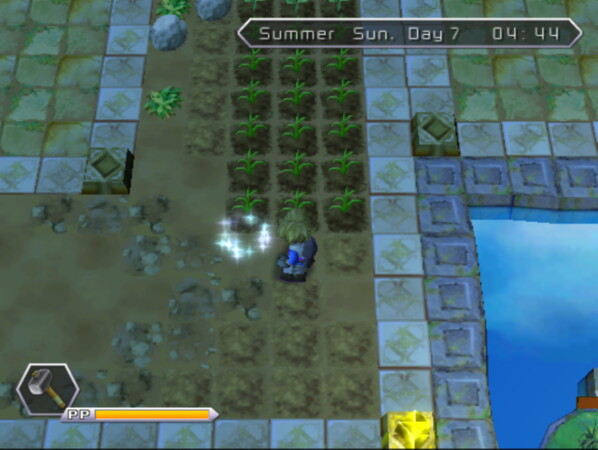 Just drop it on the rubble and it's MAGIC SAND :D :D :D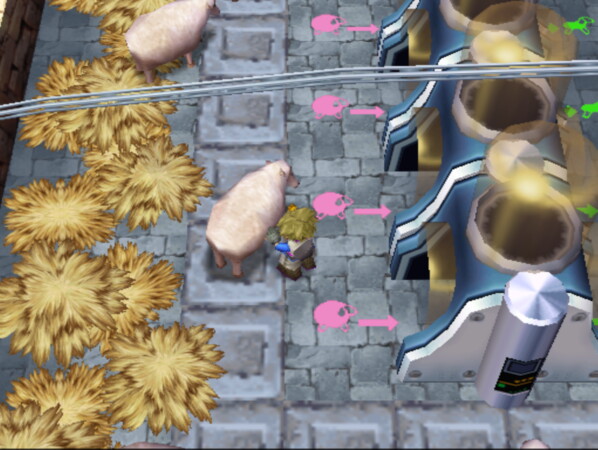 Brushin my sheepies :) I didn't have enough money to buy all 5 cows to fill up the barn. Could only afford 3. :( They are expensive (3500G per cow) and I already bought all those seeds... I bought 18 of everything from the vending machines, plus 5 chickens and 5 sheep... and the 100+ seeds I bought at the beginning of the week... I spent all my money T_T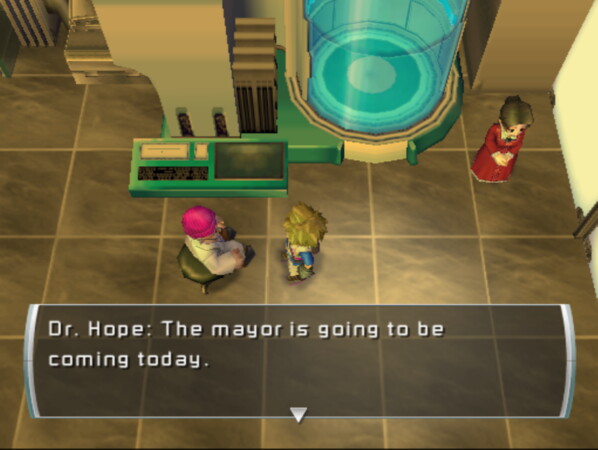 This weeks' Sunday Surprise is... CHUCK :D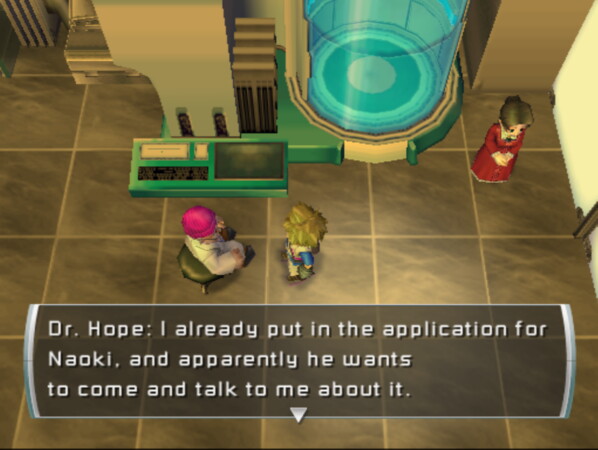 Oh, he doesn't need to talk to me... He just wants to talk to Hope about Naoki... :\ What kind of surprise is this? I was hoping I could go on a date with Chuck or something...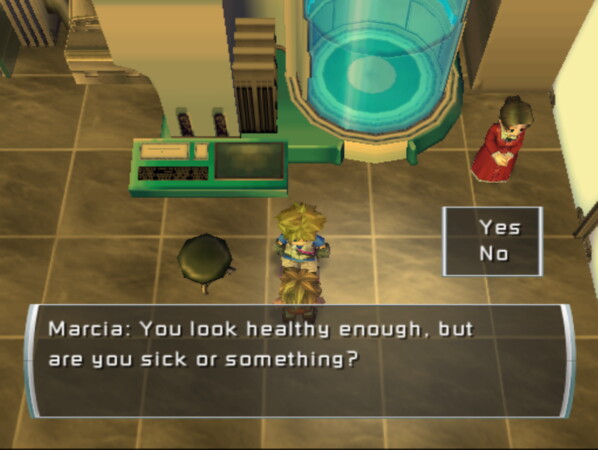 Marcia, knowing Life will be around on Sunday, stops by to visit. She comments that it must be hard to have checkups every week, and asks if you're sick. No matter what you answer, Vita (Hope's maid) rushes over and tells Marcia there are sweets and tea in the dining room and encourages her to go there with you.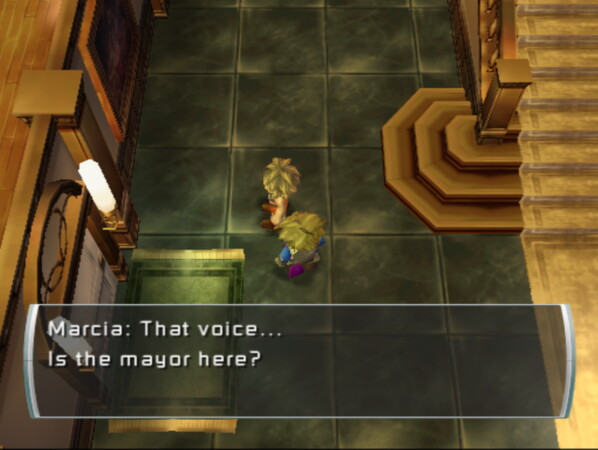 But just outside the dining hall, Marcia overhears Chuck and Dr Hope arguing... Chuck is mad because Dr. Hope went and rebuilt Naoki and sent him to live with Life without first getting approval from the City to build a new robot. Chuck only learned about it because Hope registered Naoki as a new citizen.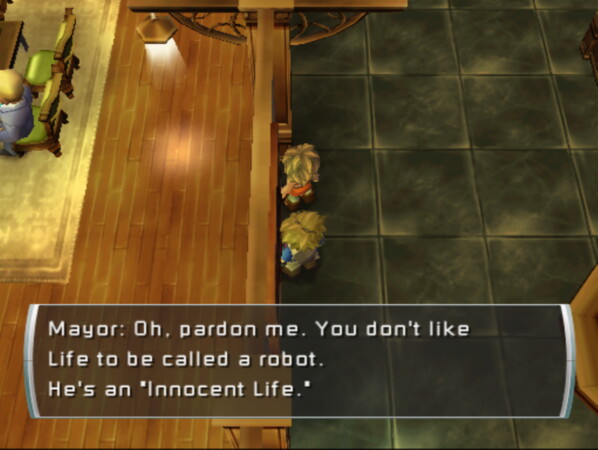 He complains that Hope did the same thing with registering Life, and scoffs at the idea of a "robot helping a robot." Then he apologizes for using the wrong term, perhaps sarcastically, and refers to him, instead, as an "Innocent Life."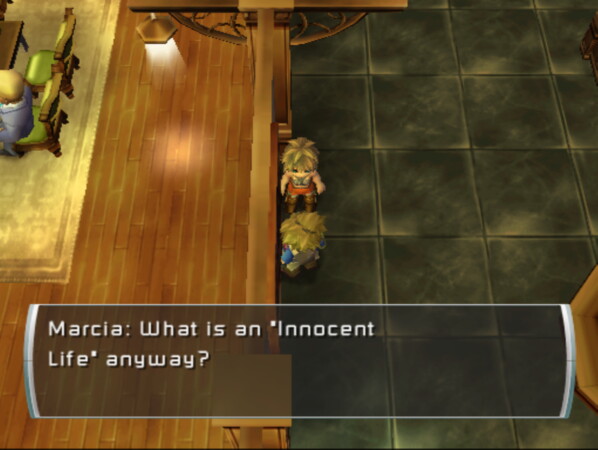 And so Marcia learns that her best friend is not a human being...
Vita explains that an "Innocent Life" is the culmination of Dr Hope's dreams; he wanted to create a robot that could learn to love people, not hate them.
Honestly this plot point could have been expanded a little bit... like maybe make Marcia take some time to think about it.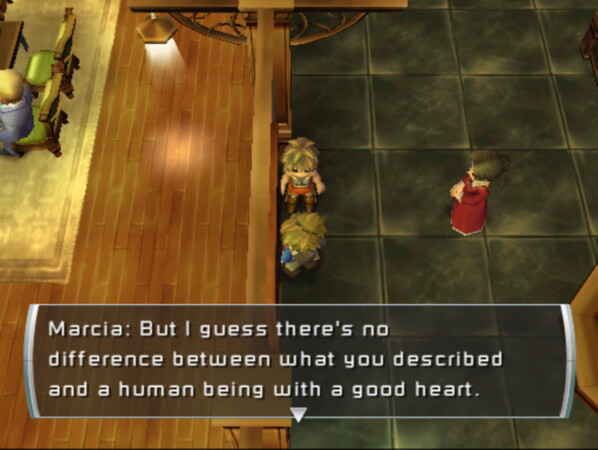 But instead she just accepts it right away after a simple explanation for Vita. Though honestly that makes more sense -- Marcia is a bright, caring, and open-minded little girl. There's no reason she'd harbor prejudice just because Life is an "Innocent Life."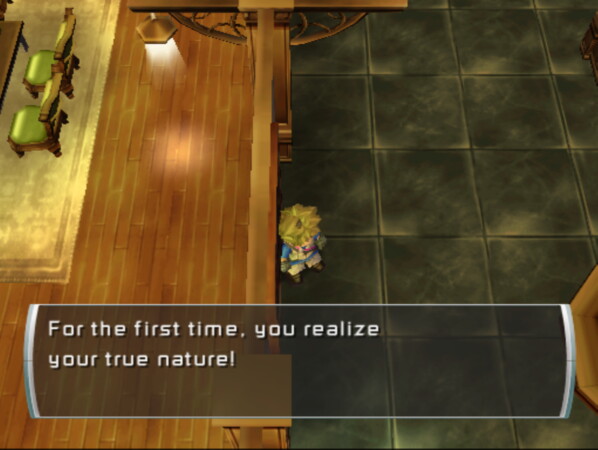 Eventually everyone leaves except Life. You get a ton of stat boosts for seeing this scene, because Life grew from this event, too. I think listening to Vita's explanation and hearing Marcia's reaction made Life understand and accept himself as a person.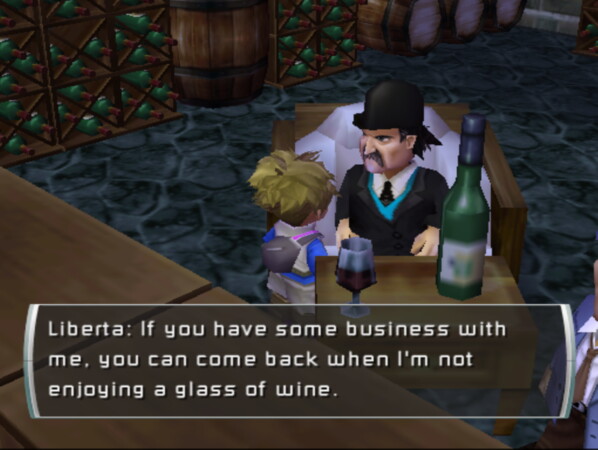 It was late, and I knew I wouldn't make it back before the night bell, so I went to see what Liberta was doing. He was in the chair again with Jean next to him, but he said the "Don't bug me; I'm drinking alone" thing, even though Jean is right there???? Does Jean just like... watch over him?? (which... actually fits a headcanon I have that Liberta gets plastered around Jean a lot and then Jean has to help him to bed, where Liberta is knocked out cold, snoring away XD)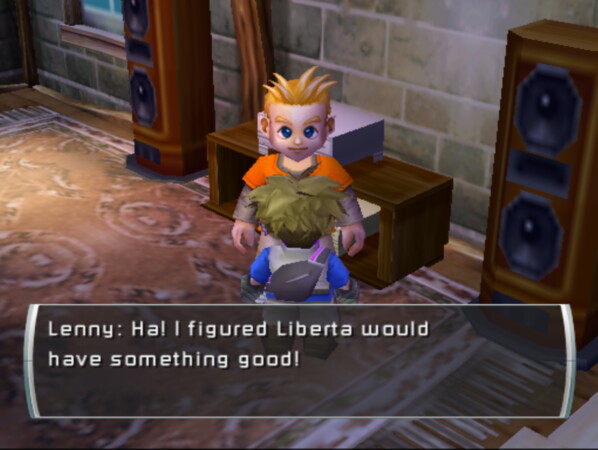 Also, I noticed Lenny wandering around in Liberta's room???????????????????????????????????????? So I went and talked to him and he said this and only that he knew Liberta would "have something good"?????????????????? WTF are you doing Lenny? Looking through Liberta's porn collection???? My guess is it's his music, but... I can't imagine Lenny and Liberta being interested in the same kind of music. But he's standing by the stereo system thing, so IDK lol. (Porn music?)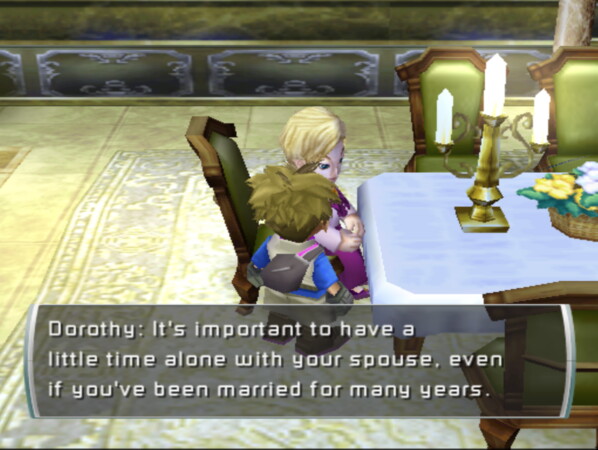 Also since it was late at night, I decided to go see what Chuck was doing. Still hoping to find some nice candid moments with Chuck that show what he's like behind the mask of mayor.
He was having dinner with Dorothy. He said the same "it's nice to have a meal with your family" line that he said on Saturday morning a while back -_-;
And, well, that's the end for this week :) Now I have to try to go to sleep IRL lol... it's so hot in here and I don't think I can really try to sleep in my room (it's like RIDIC hot in there, plus I can't turn the light on because I unplugged it because I brought my extension cord out here in to the kitchen.... and my bed is all messed up and I need to fix it before trying to sleep in it again. So I might try to sleep in the weird chair thing of my dad's in the front room :\ But who knows when he'll want to use it and kick me out. It's already 6AM though XD I guess I should go before it gets light outside. But I doubt I'll be able to sleep. I have tried to sleep in that chair before like when my roof was leaking another time and I just couldn't, no matter how tired I got... I can sleep on the couch even though it's painful and I don't sleep well, but at least I can get myself to fall asleep... but my brother is sleeping on the couch right now because his room is unusable too lol. So I guess I have no choice but to try the chair...
EDIT: This entry was written when our apartment's roof had broken and it was leaking everywhere, and we had to have these giant fan machine things hooked up all over the apartment to help prevet damage... they were REALLY loud and hot, haha. I did get used to the noise after a while (I thought I was going to die in the beginning because I'm very sensitive to noise, but sudden noise is the worst and these were at least constant..) but it was still very difficult to sleep...
---