Seven Wonders #4
Two Moons Temple
So, remember how the world had two moons? Well, there's a temple. Related to that. Somehow. I don't really know, honestly. I don't know much about this place as far as lore/story goes. But we're gonna go explore it!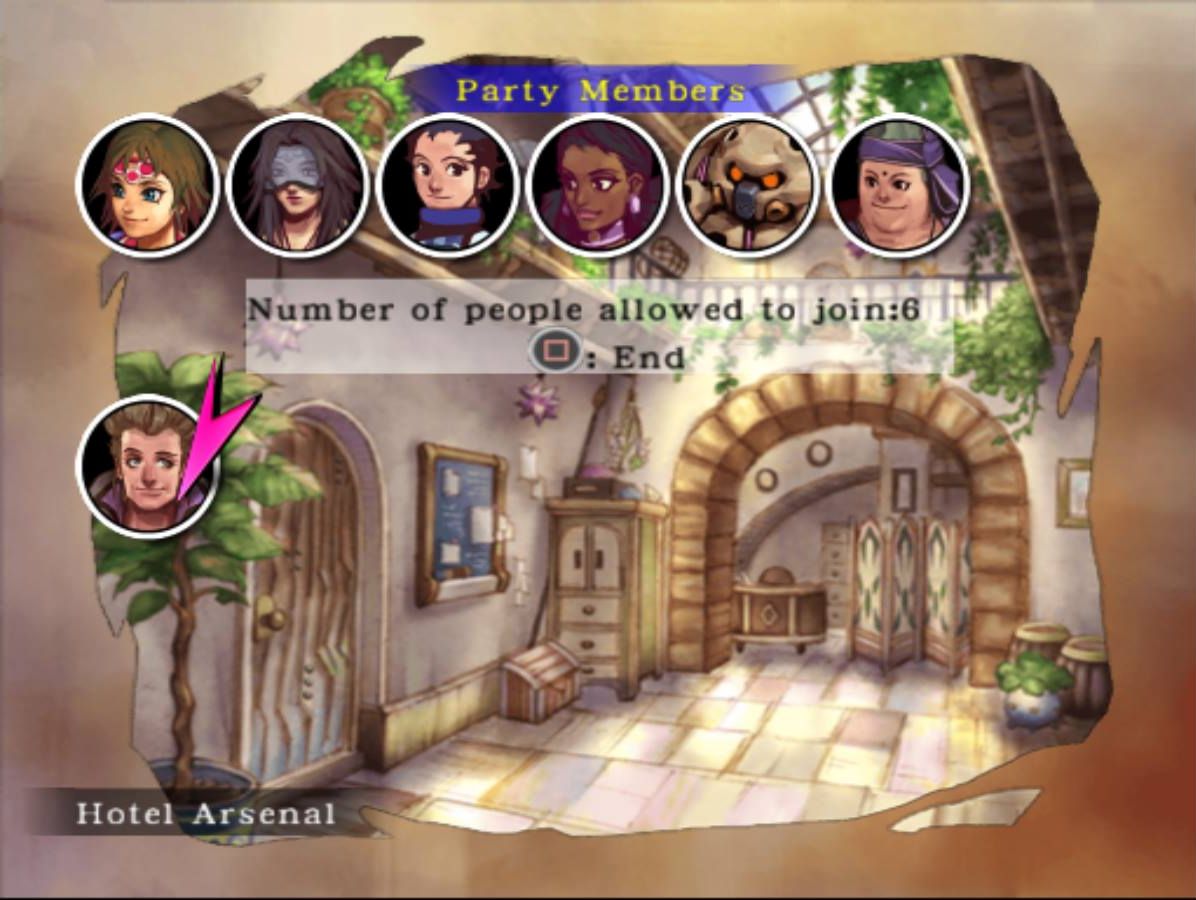 So, at the beginning of this adventure, we're asked to choose a party of 6, because this adventure has a party limit of 6 characters. All the Wonders have been like this so far, but this is the first time we have had more than 6 with us before starting one. The reason for this is because we're going to get another character, so we need room for them. Generally adventures have a party limit of 7, though.
Anzan, Ruby, and Sapphire are all studying tablets, so I'd like to get them into more battles. Roy is new and his HP is still pretty low, so I'd like him to battle, too. Grace is our only real healer. That pretty much leaves just Iskandar and Hiro who I'm willing to part with for a bit. Iskandar is the stronger of the two, so I'll take Hiro along in hopes of powering him up a bit more. That means Isky has to stay behind.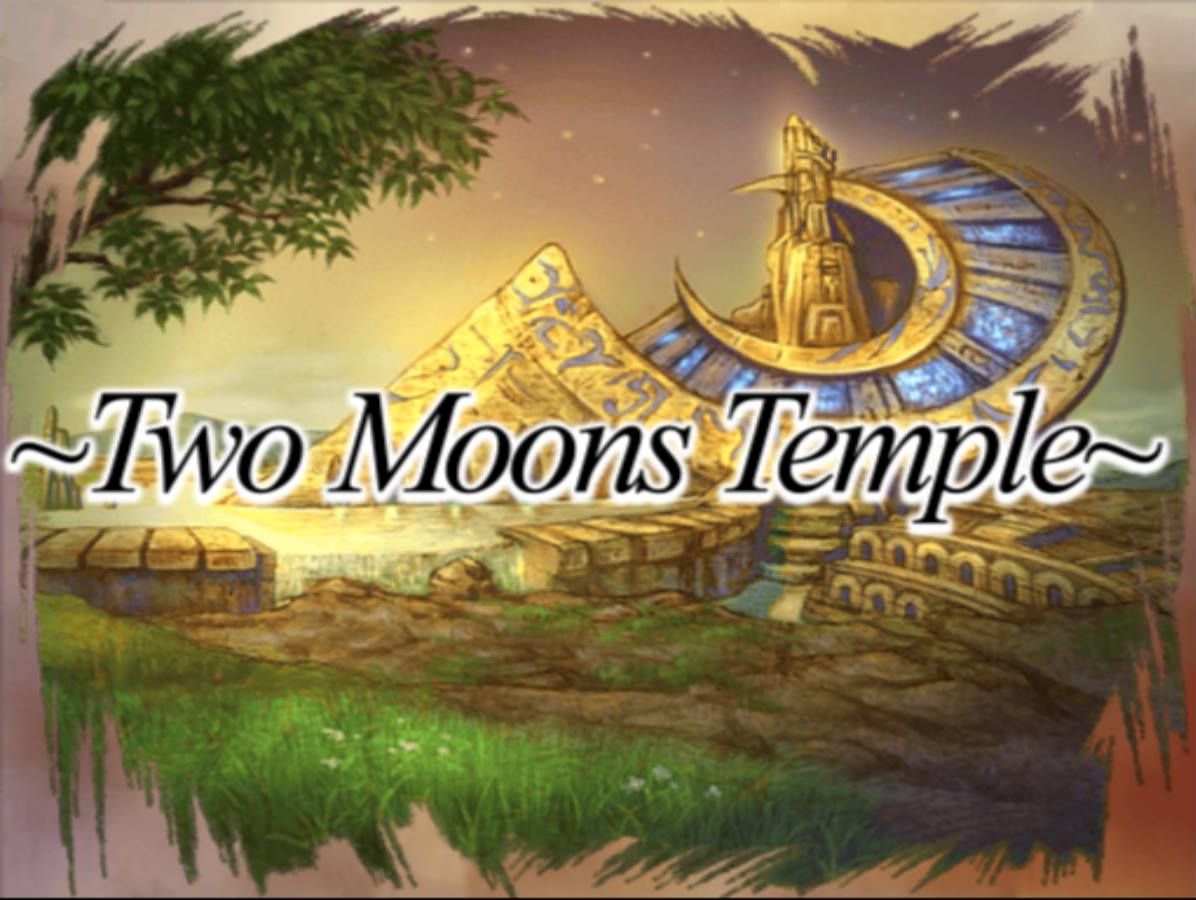 Two Moons Temple is a temple for the moons. That's all I know! It's quite different from the Twinmoon Temple from Romacning SaGa, as well.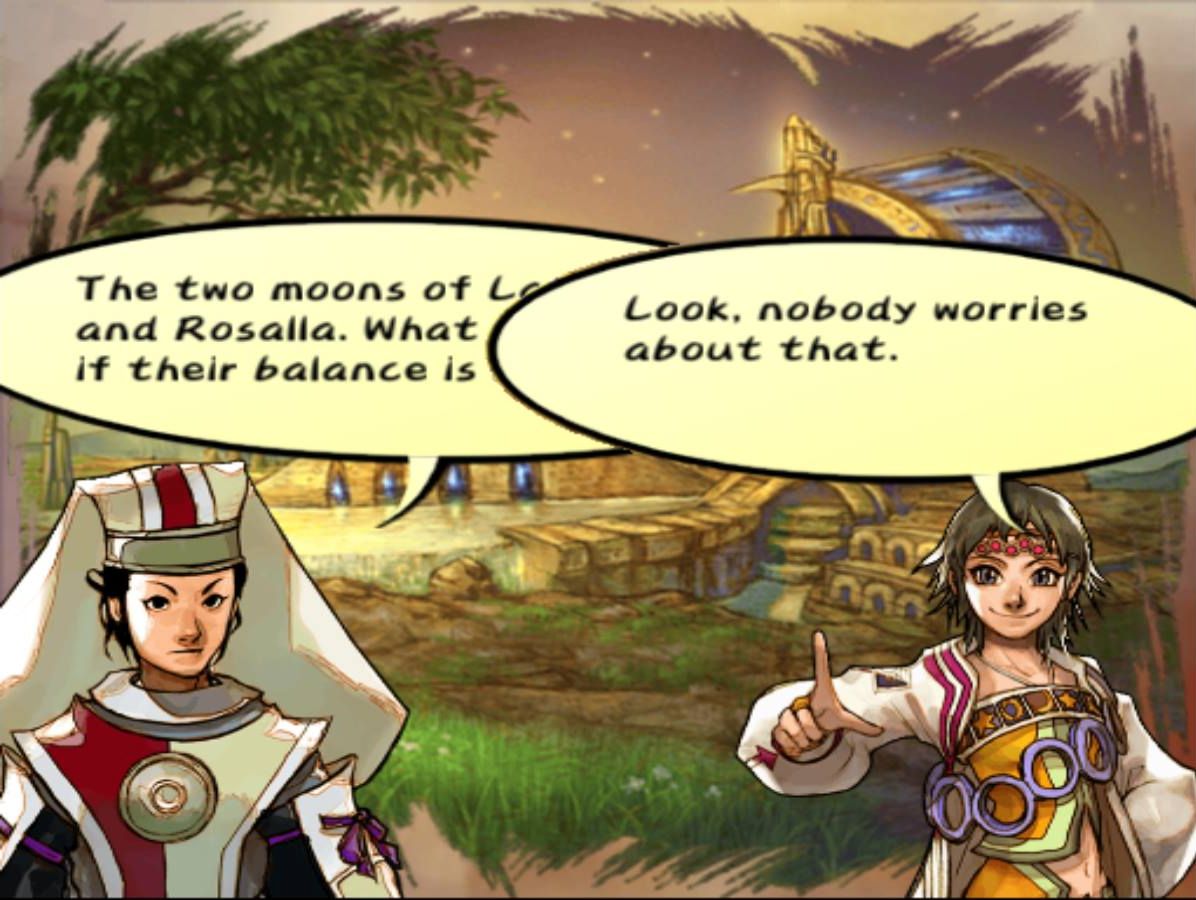 So, this guy just... appears and out of nowhere asks what would happen if the two moons' balance was lost. Ruby doesn't care.
But apparently this guy cares so much that he feels the need to follow us around now to show us... his strategy...? IDK, honestly this is so stupid. And he called Ruby "insolent female" so I hate him now. Not just for being rude to Ruby but honestly any guy who refers to women as "females" is trash.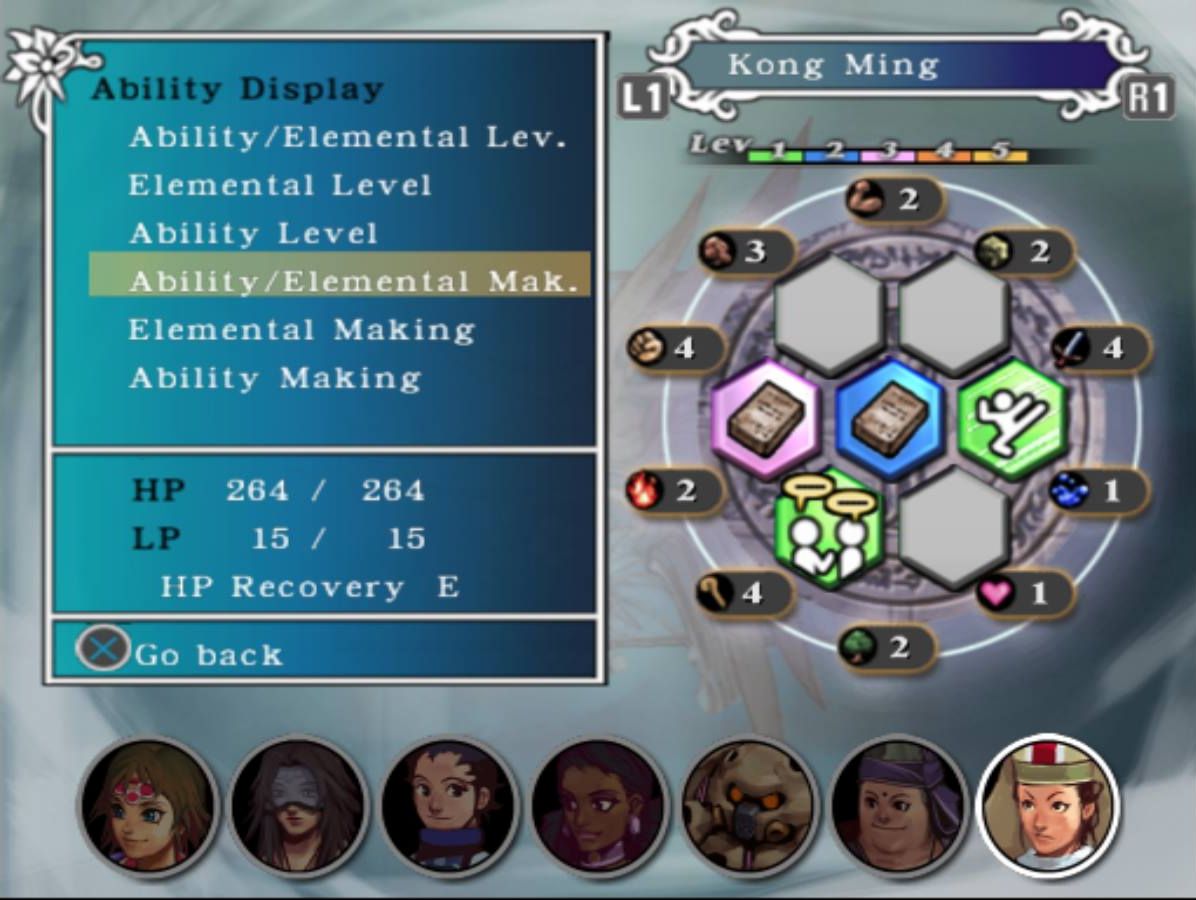 Kong Ming has some okay stats, though. His magic making is 4 which is pretty high. Skill making is also 4, which is pretty nice, too. But I've already started developing Roy as a skill-focused character, and Sapphire kind of is like a backup skill-focus. And I already have four people skilled at magic, with good elemental makings to boot, and that Earth Making of 3 is not looking all that great when I have a character like Anzan already. So Kong Ming is already having difficulty finding a role in the party.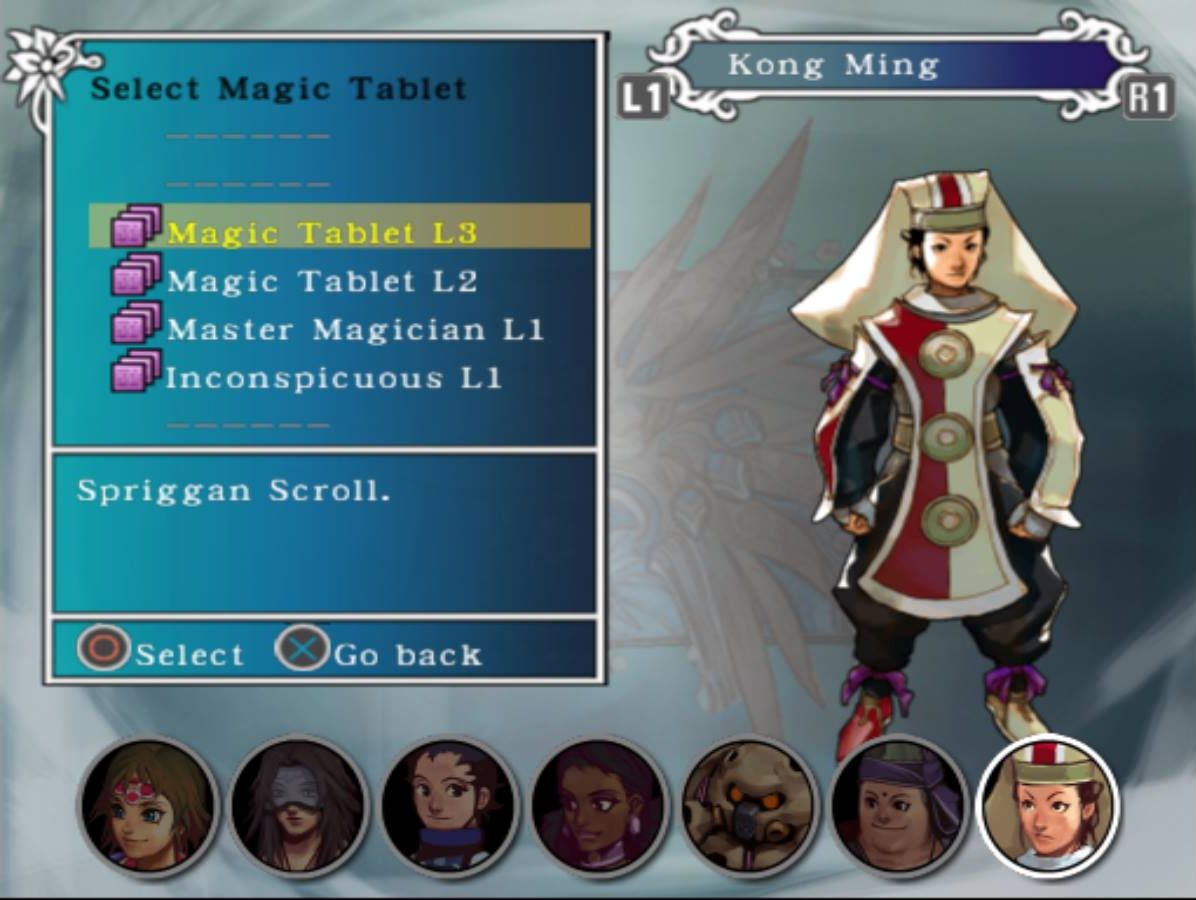 He does come with two magic tablets, though, which is pretty cool! Spriggan Scroll is nice as it has a lot of good defensive spells on it. BTW, you can't see what spells are on a tablet in the game, other than the 3 you're currently studying. You have to memorize the tablets, or look them up. I look them up because honestly I'm not dropping a L4 tablet on someone who ends up not being able to make use of it simply because I was curious to see what was on it. Because I probably won't see another of the same tablet for like 100 hours and 3 playthroughs.
His other tablet is a wood tablet, which is pretty much worthless to me right now.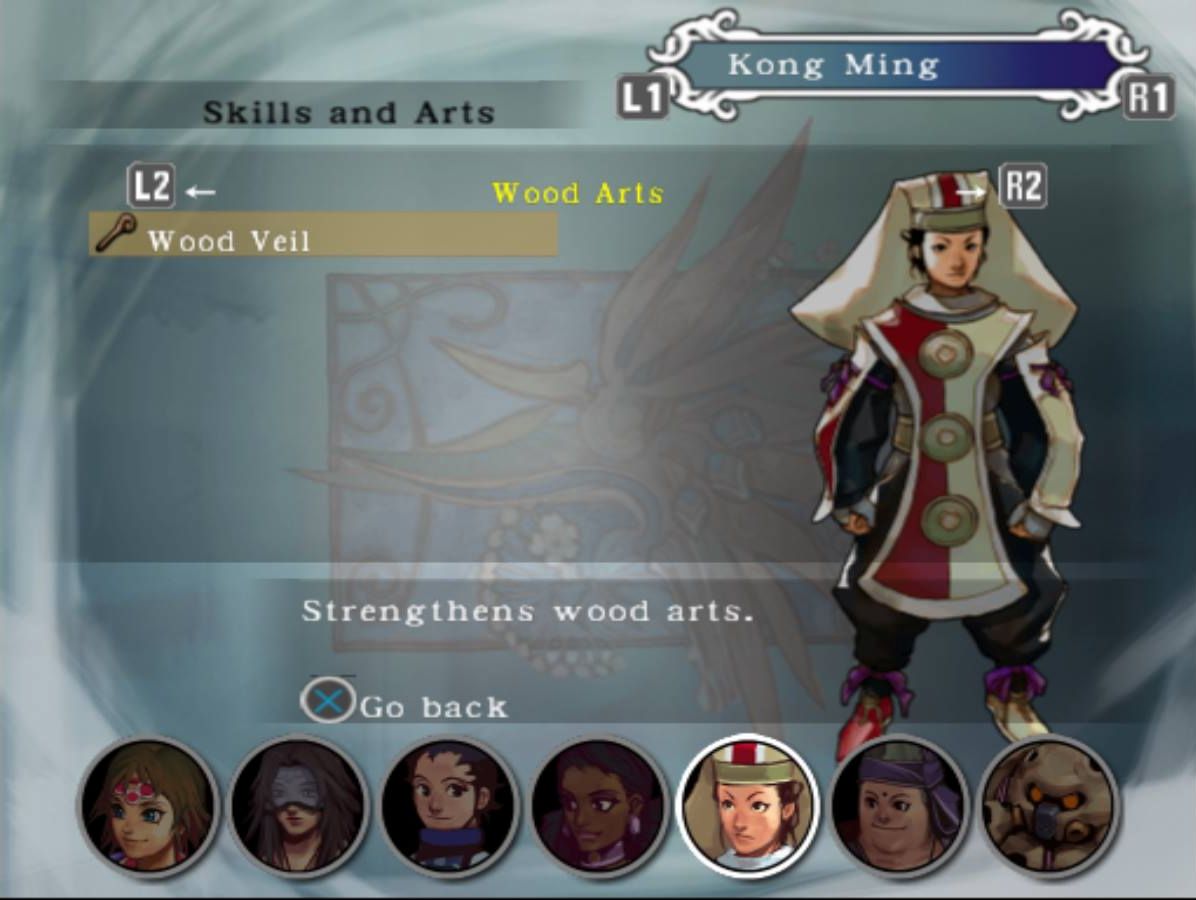 He comes with a couple little dumb magic arts.
And pretty much that's Kong Ming. After the "insolent female" thing I decided I'll probably not use him this game. Developing a party of 7 is already enough trouble... I don't need to try to develop some rando, too. Maybe if I get everyone to where I want them and still have opportunity for growth left, I'll pull him back out, but... for now he's just a benchwarmer, I think.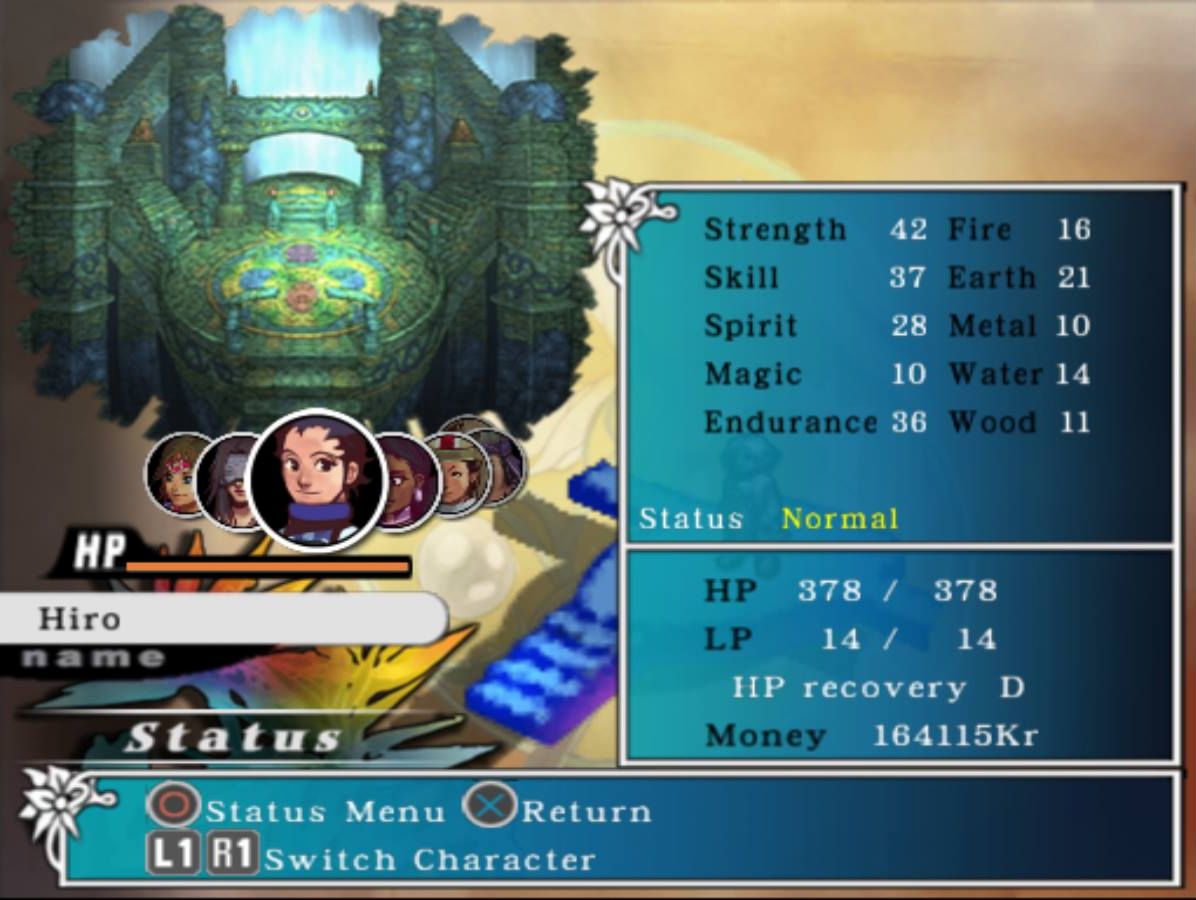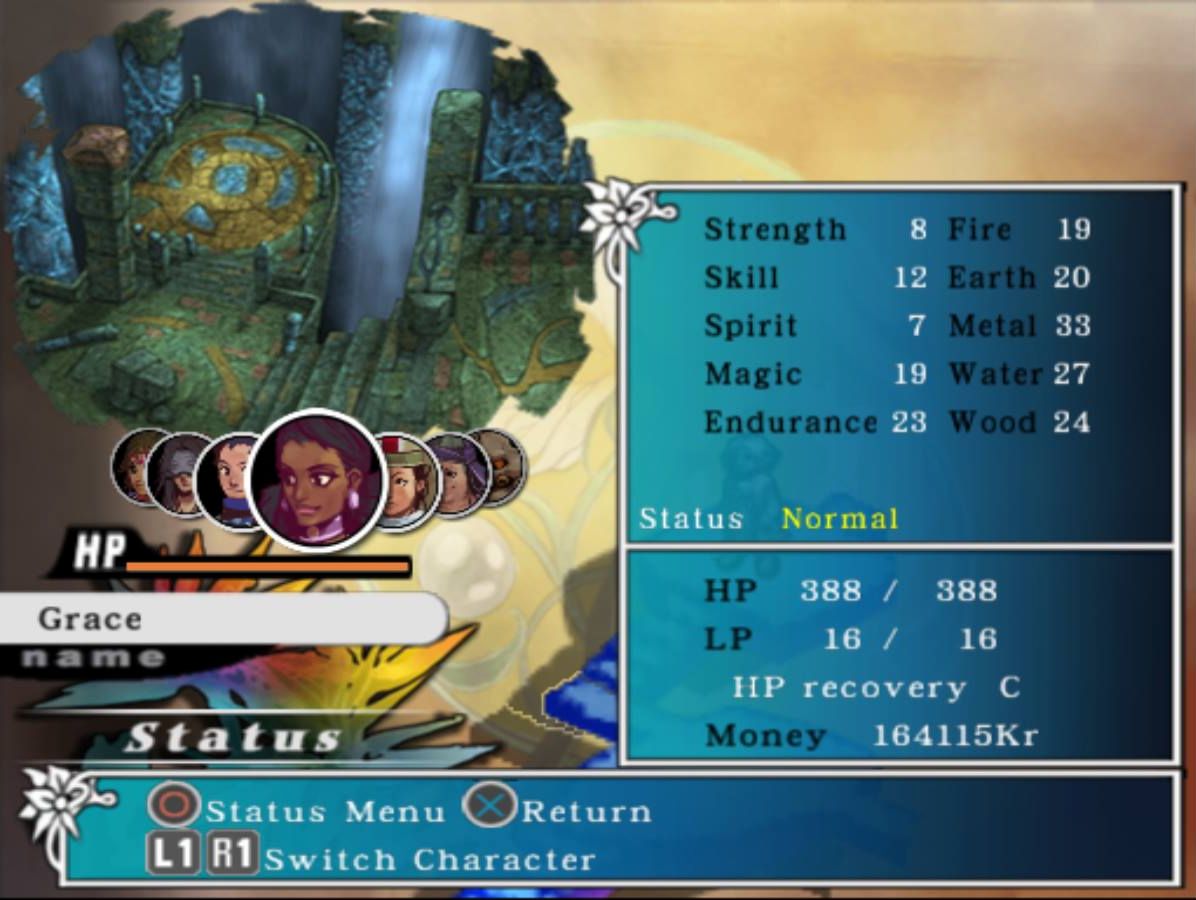 I'm not gonna spam pictures of the area like I did with Flying Island, but this place is pretty neat. Pretty much everywhere is neat-looking though.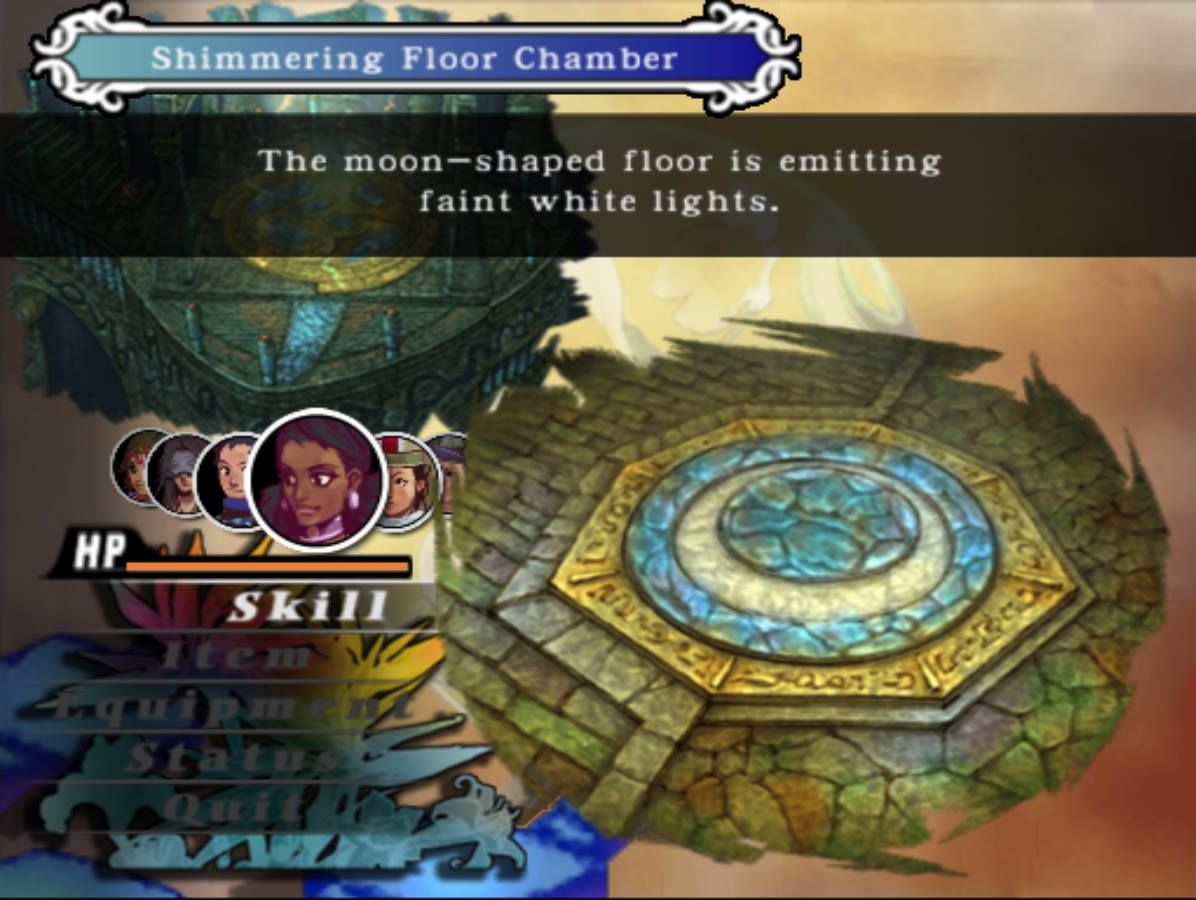 As you travel around in Two Moons Temple, you'll encounter these teleporter things on the ground. Step on one and you'll warp to another place in the temple. They don't work two-ways, though, so wherever you get teleported to is not going to have a return teleport readily available.
You can get everywhere without the teleporters as far as I know. The temple is pretty huge. I didn't even finish exploring it (though I thought I did, until I ran into a place I hadn't been on my way out and couldn't be bothered...) but there's a lot to look around at, and a lot of branching paths. The teleporters can help you move around if you know where they all go. I don't. I hardly use them. Though I do use them as landmarks, since they come in different colors.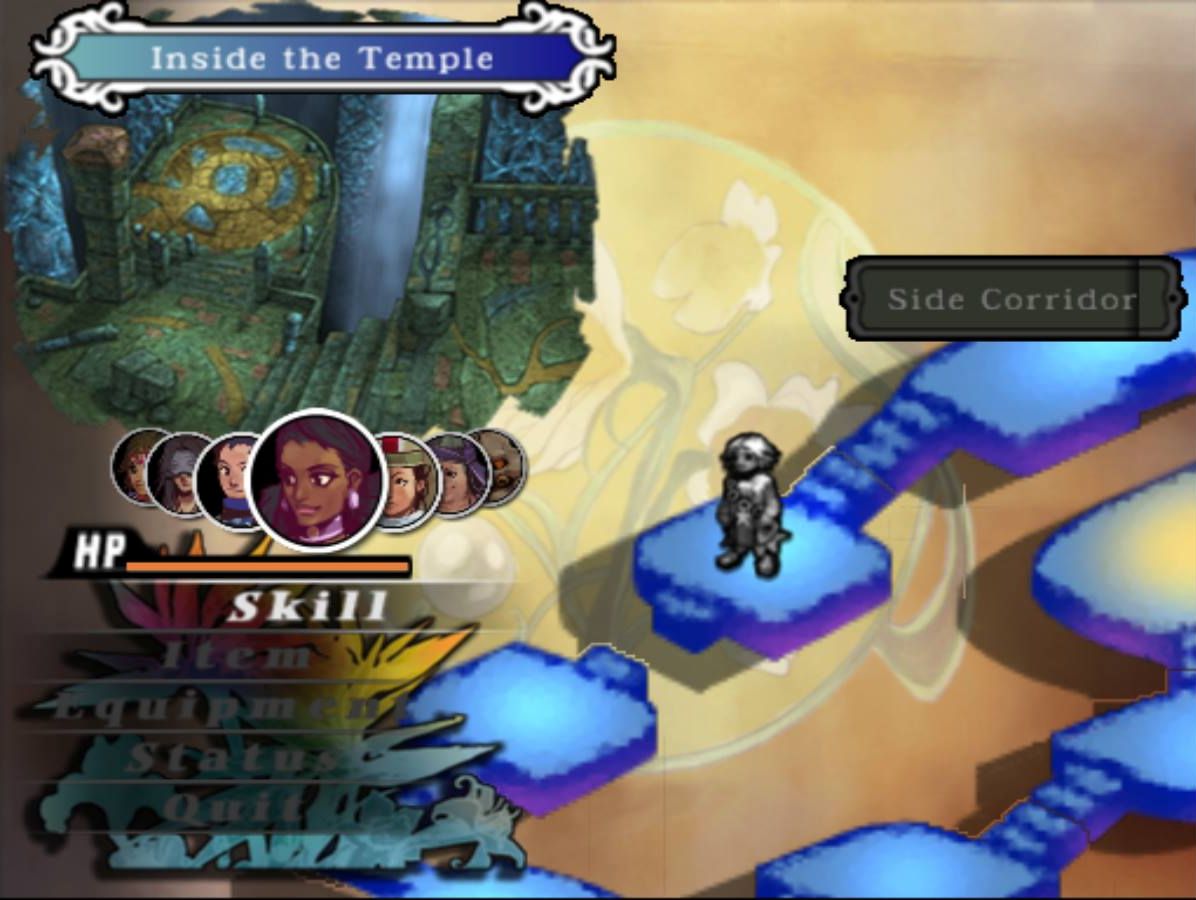 The map itself is shaped like little platforms with staircases going between them. It's pretty neat-looking for a map.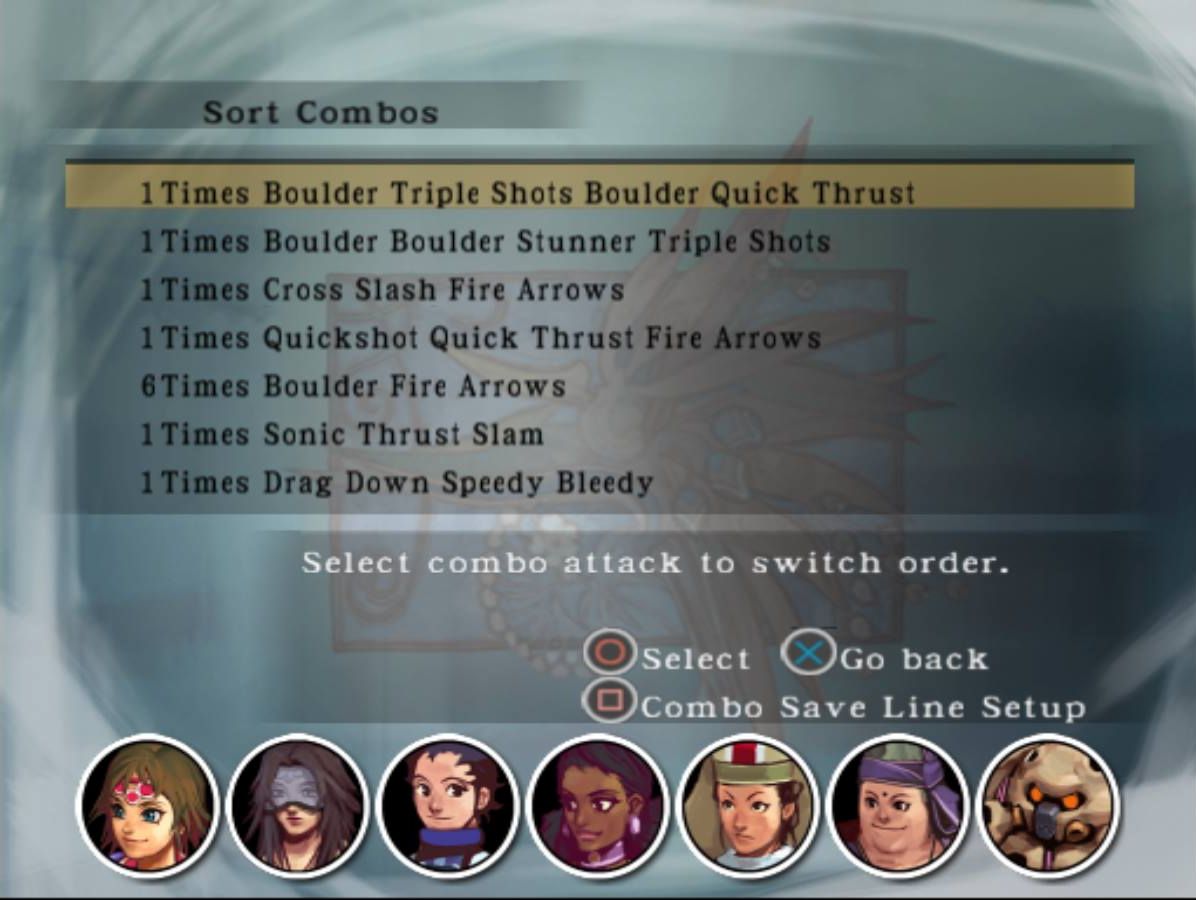 I noticed I was using Boulder -> Fire Arrows combo a lot, so I guess it's time to explain another game system that the game refuses to explain to you whatsoever.
In the status menu, there's an option called "sort combos." This will take you to this screen. Shown here, at least at first, are the most recent 7 combos performed in battle. This includes ones performed by/with the enemy.
When a combo happens in battle, it's put at the top of the list, and the combo on the bottom is bumped off the list; however, if the combo is already on the list, it moves back to the top, and the number of times it was used while being on the list increases. You can see here that everything says "1 Times," except for Boulder Fire Arrows, which says "6 Times." This is because I've been using it frequently enough that the last 5 times I used it, it was already on the list.
The more "times" a combo has in this list, it gets a small modifier to its power. Combos have a thing called "combo rate," which is a percentage between 101% and 200%. Basically, it's a damage multiplier. So if I do Boulder Fire Arrows and it has a combo rate of 126%, that means the combo will do 1.26x more damage. Combo rates are decided at random when you use the combo, and the range which your combo rate will be is decided by the number of actions in the combo. More actions will give you a higher combo rate. And then having the combo in this list can give it a tiny boost modifier. The highest you can get a combo rate without being in the combo list is 170% I think. The highest you can get with the list is 200%.
However, just getting 6 Times is not really going to boost your combo rate. To really see a difference, you need to get like... hundreds and hundreds of Times. Maybe thousands. Honestly it's such an insignificant thing you will never notice a difference. But there's nothing wrong with doing what we can to squeeze out every ounce of damage we can, right?
Anyway, I guess my next screenshot didn't save, but if you press the "Combo Save Line Setup" button, you can put a line somewhere in this list. Every combo above the line will never be knocked off the list. You can also re-arrange the combos in the list. So move Boulder Fire Arrows to the top, and put the line just under it. Now Boulder Fire Arrows is permanent, and no matter how many other combos we use, it will always be in the list. Instead of getting added to the top, new combos used in battle will be added below Boulder Fire Arrows, and still knock the bottom off the list.
This list is meant to be used over the course of many playthroughs, and it can take forever before it really has any kind of real effect. Even then, it's pretty minor. But it's there, so why not use it, right? But if you don't want to mess with it, feel free to ignore it.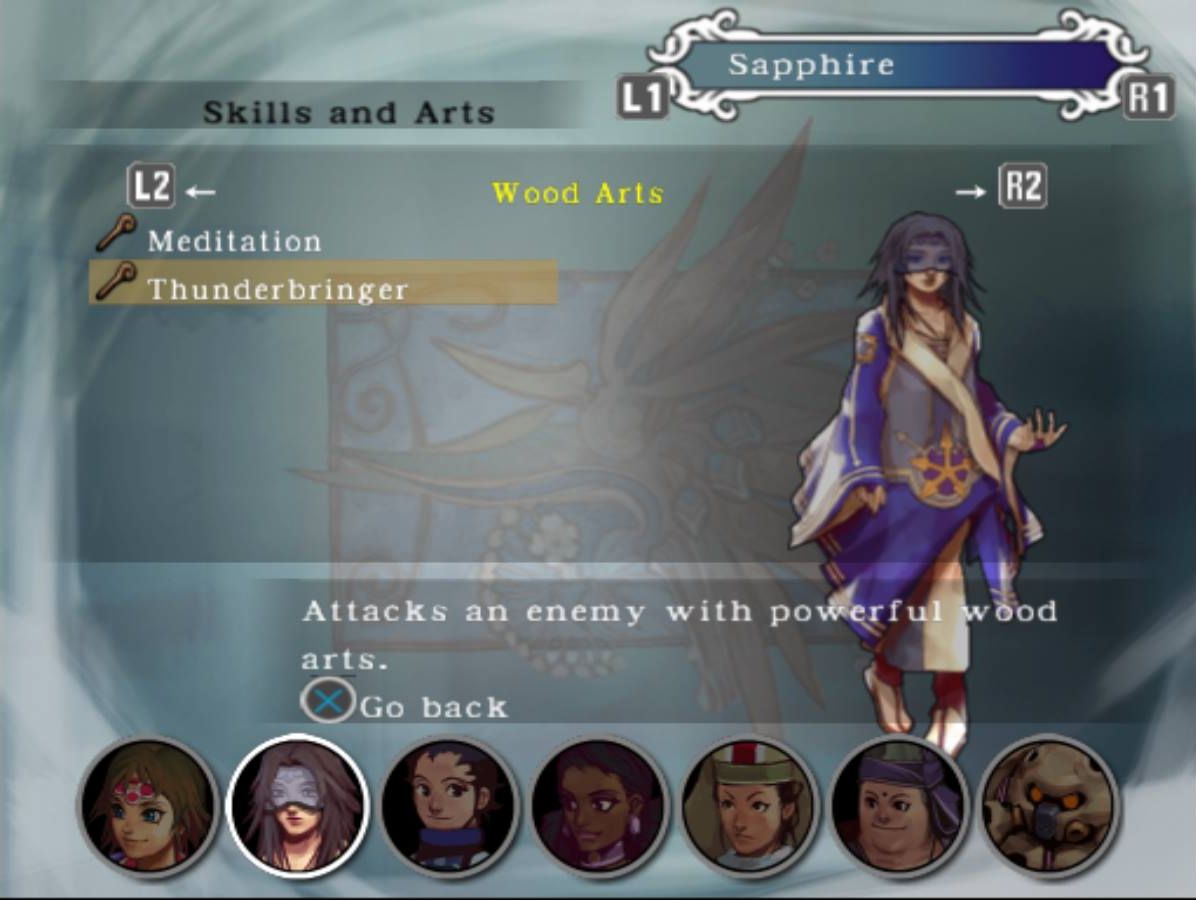 Sapphire finally learned Thunderbringer! This is more powerful than stuff like boulder and fire arrows, and it has the 'shocking' elemental property, so it will do extra damage to anything weak to that, such as every aquan in the game.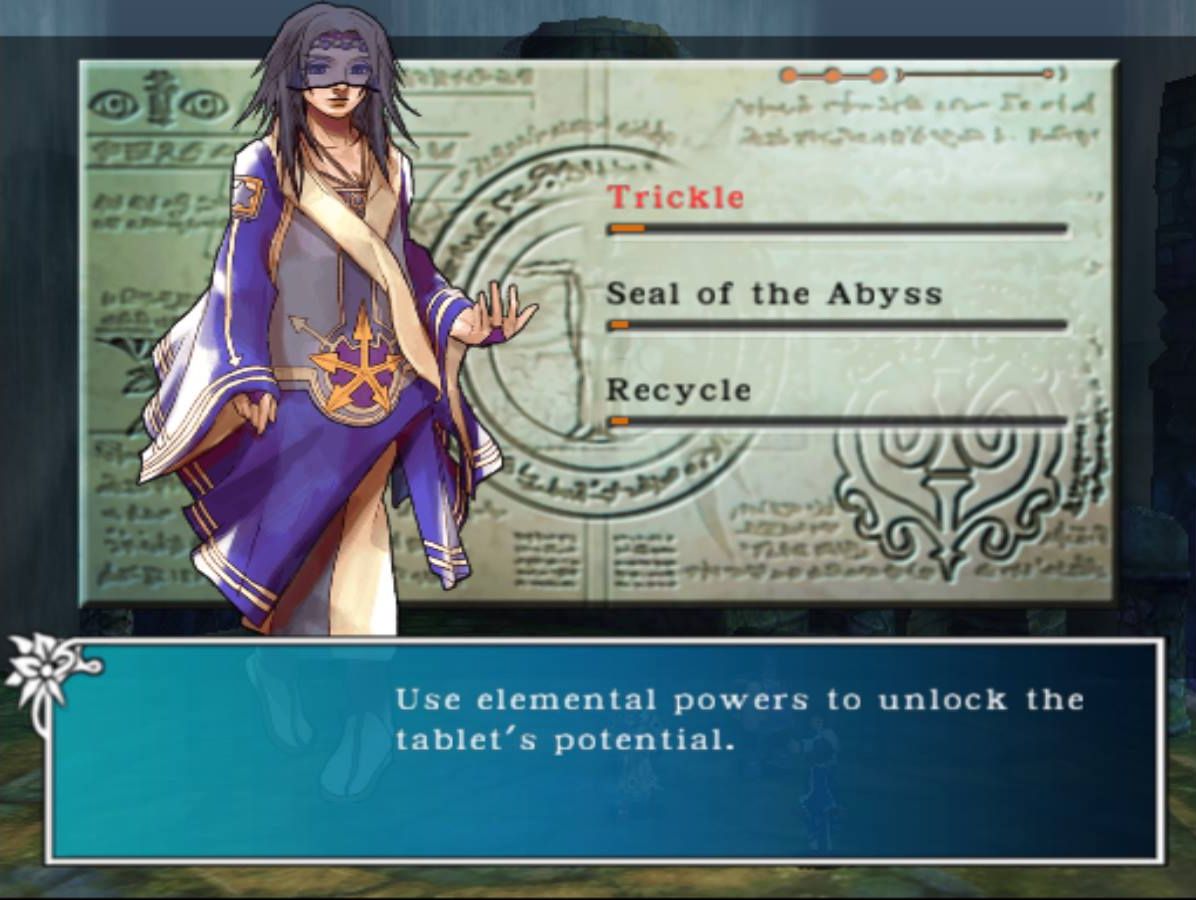 Sapphire's working on Trickle now. I don't even remember what it does. Seal of the Abyss is forbidden magic, and the chance of getting an item with Forbidden Arts on it is pretty low in this challenge run, so I'm not even gonna bother with that. And then Recycle is one of the banned moves for this challenge run, so I can't use that anyway... so... Trickle!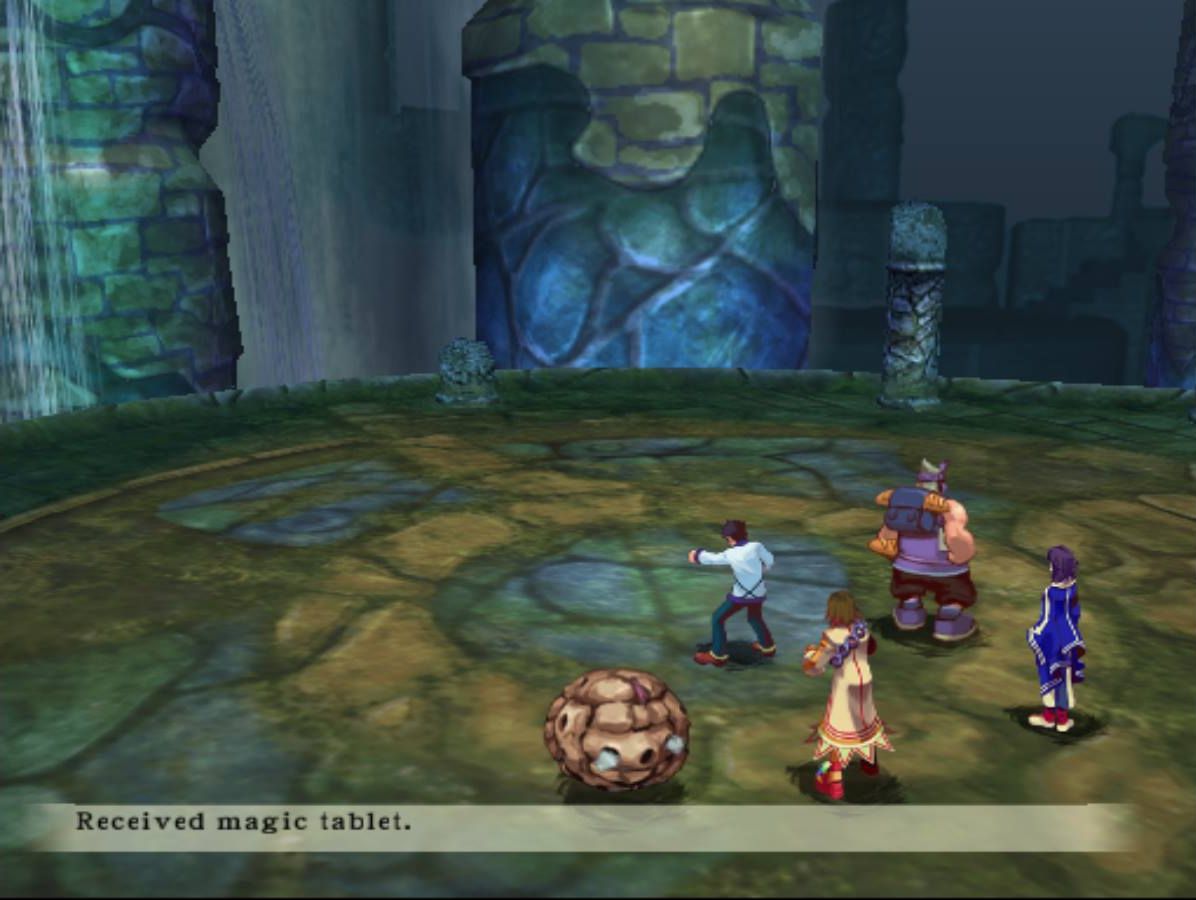 A treasure slime dropped a tablet :D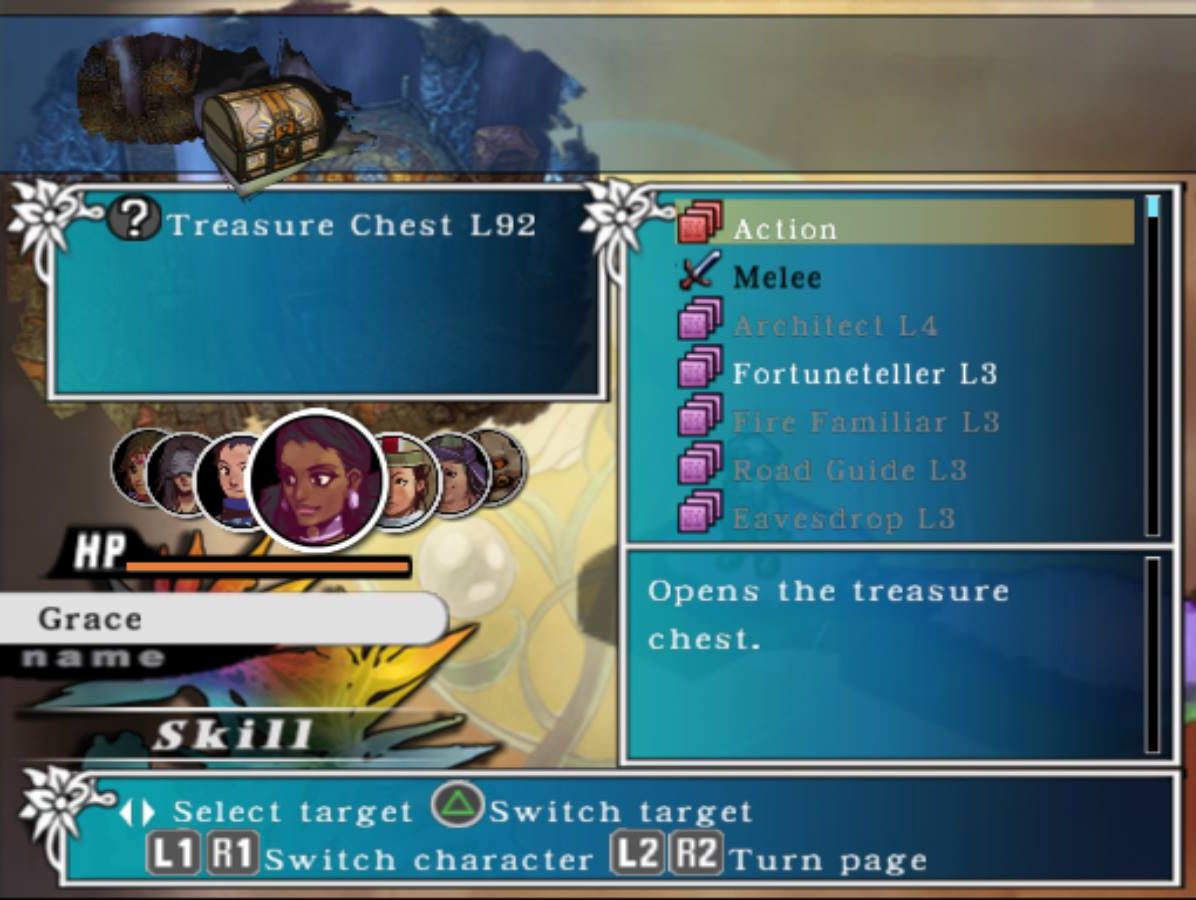 Two Moons Temple is loaded with treasure. I mean, there's generally a lot of treasures in Wonders adventures anyway, but there are a bunch of chests just lying out in the open in this one (meaning, they'll appear when you step on the space, you don't need to 'discover' them with a hidden check or using a guide skill).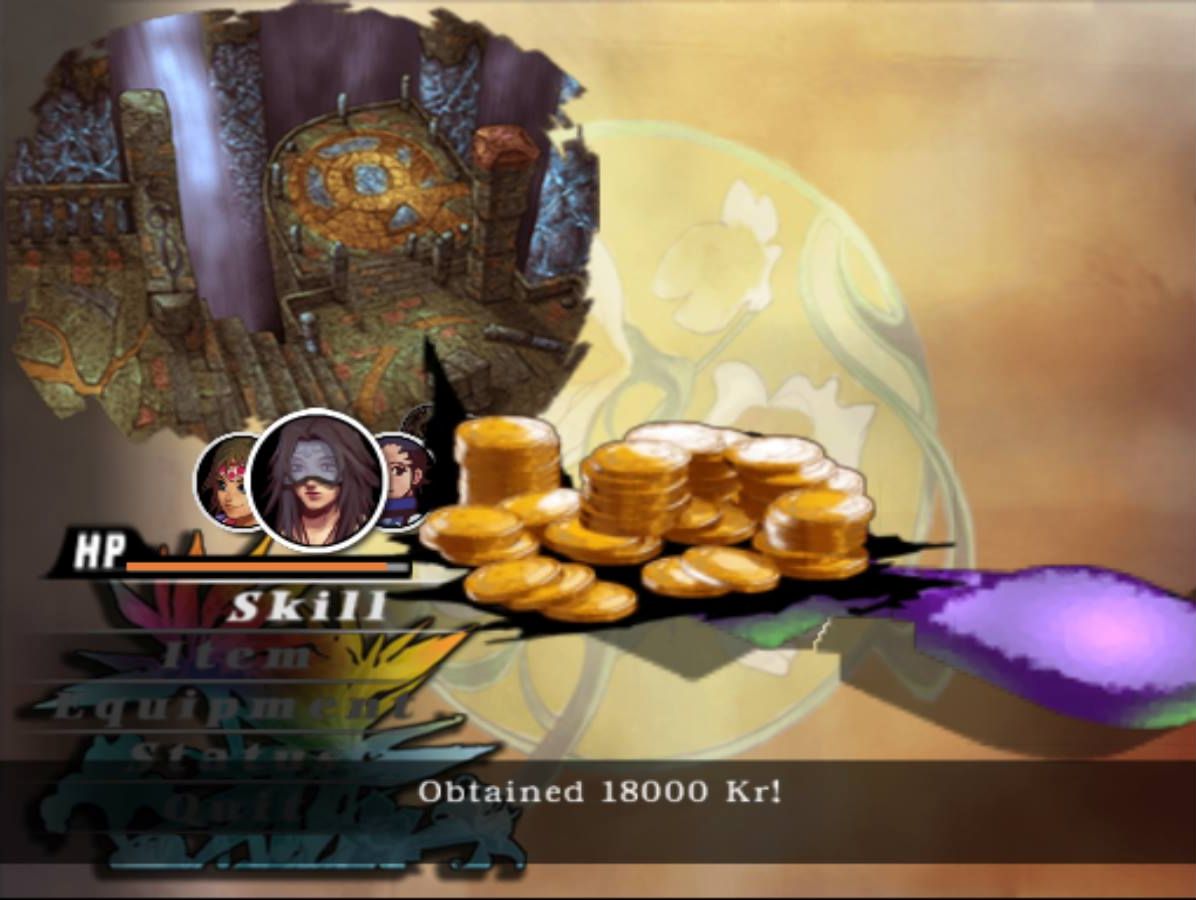 A lot of them have fixed amounts of money. It's actually a lot lower than the amount you would have gotten from a chest of that level that was carrying money. But I'm not gonna complain because they're still pretty decent sums.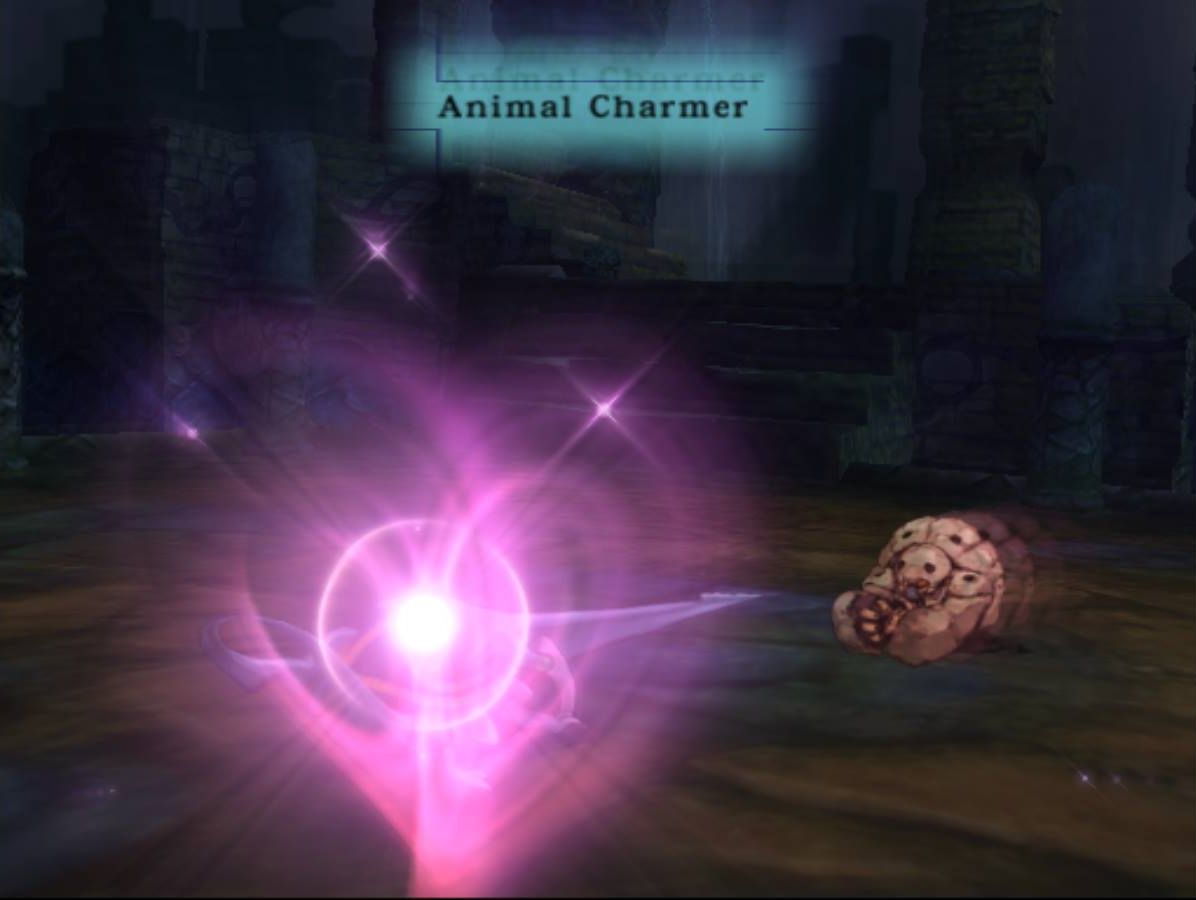 I don't really know what animal charmer does, but it makes a cute pink heart in battle!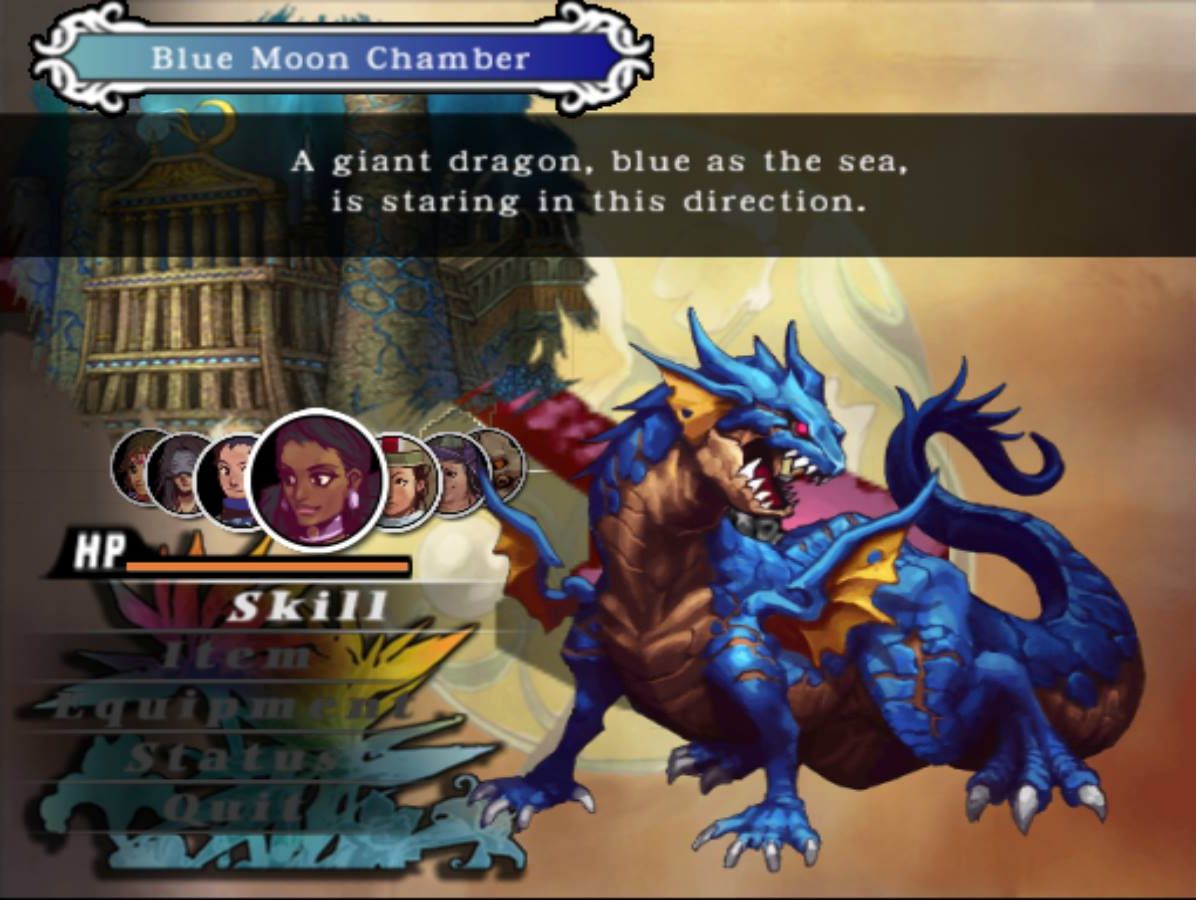 Eventually, we find the Blue Moon Chamber, where a dragon is staring at us!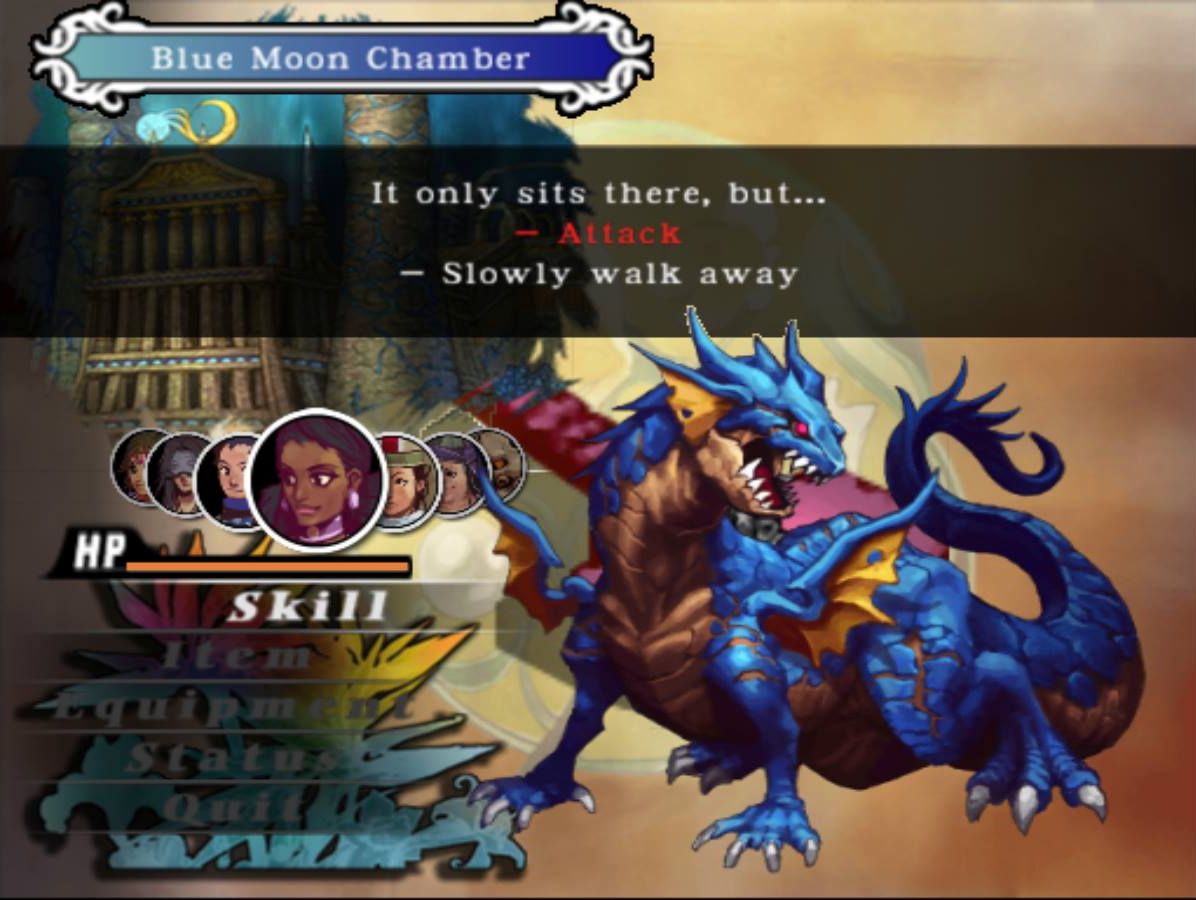 It's not really doing anything wrong, so there's no reason to fight it.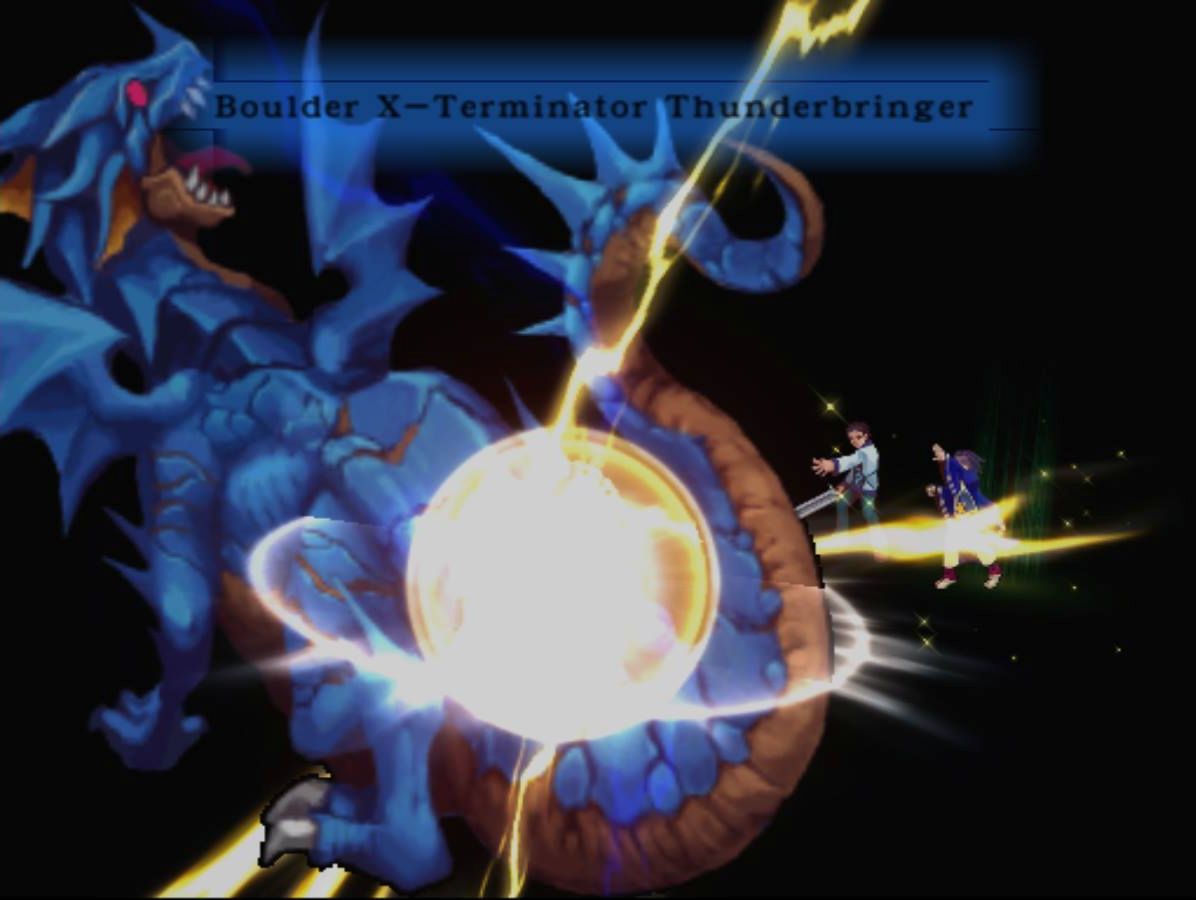 But I mean, you know we're gonna fight it, right? This is one of the two optional bosses of Two Moons Temple. It's... that same elder dragon from Flying Island.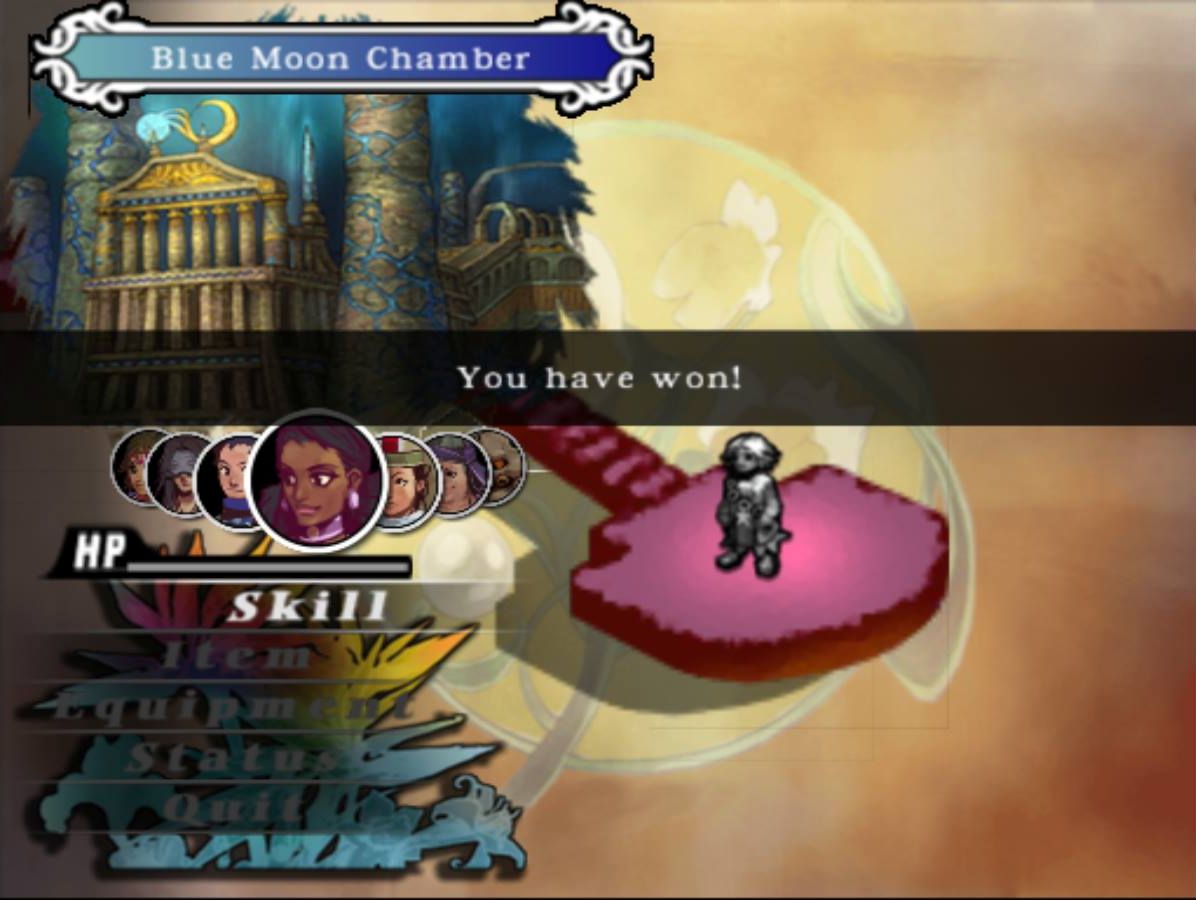 It wasn't all that difficult -- pretty much the same as before, but the party's even stronger now. Still, I lost quite a bit of LP anyway. I mean, it's still an elder dragon! But I'm mostly in good shape.
Behind the dragon was a treasure chest.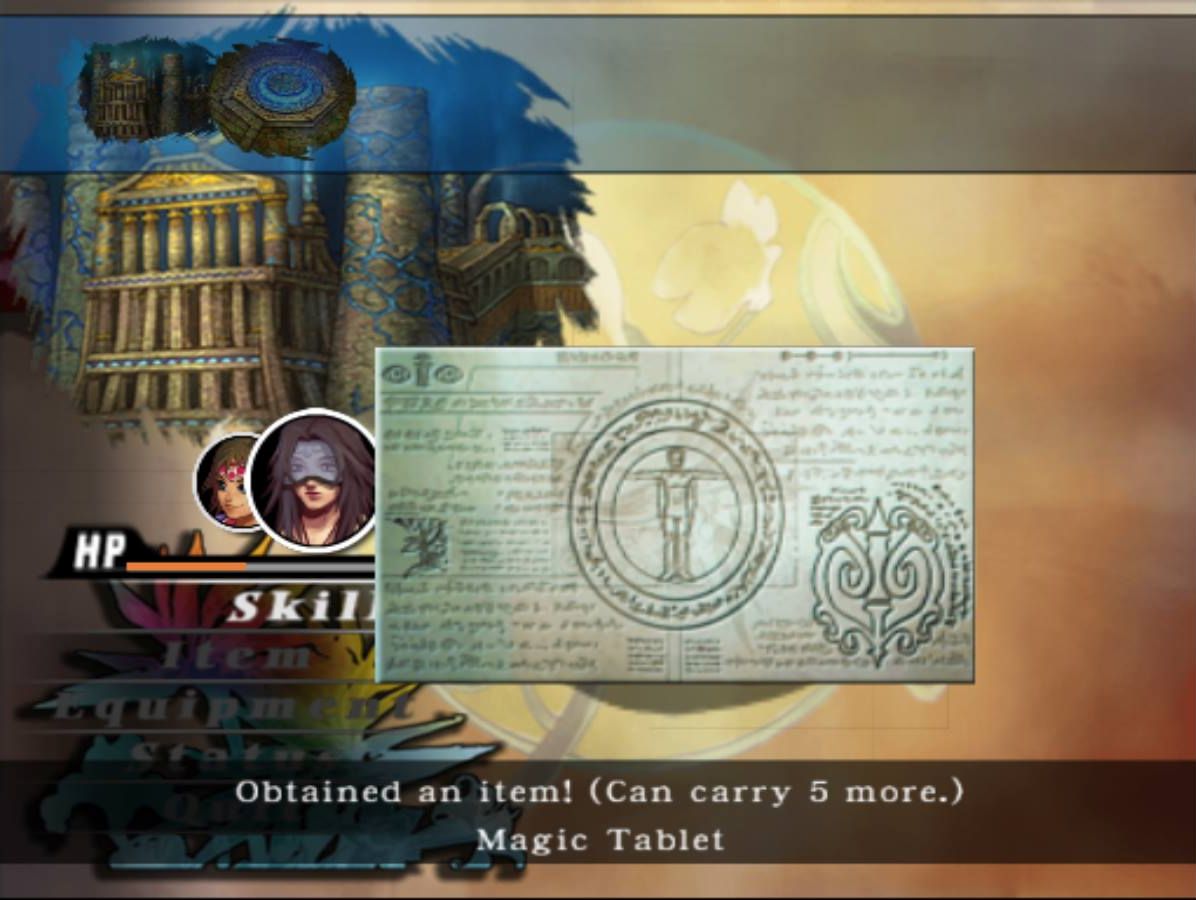 Which inside was contained a Magic Tablet! This chest always has a magic tablet in it :)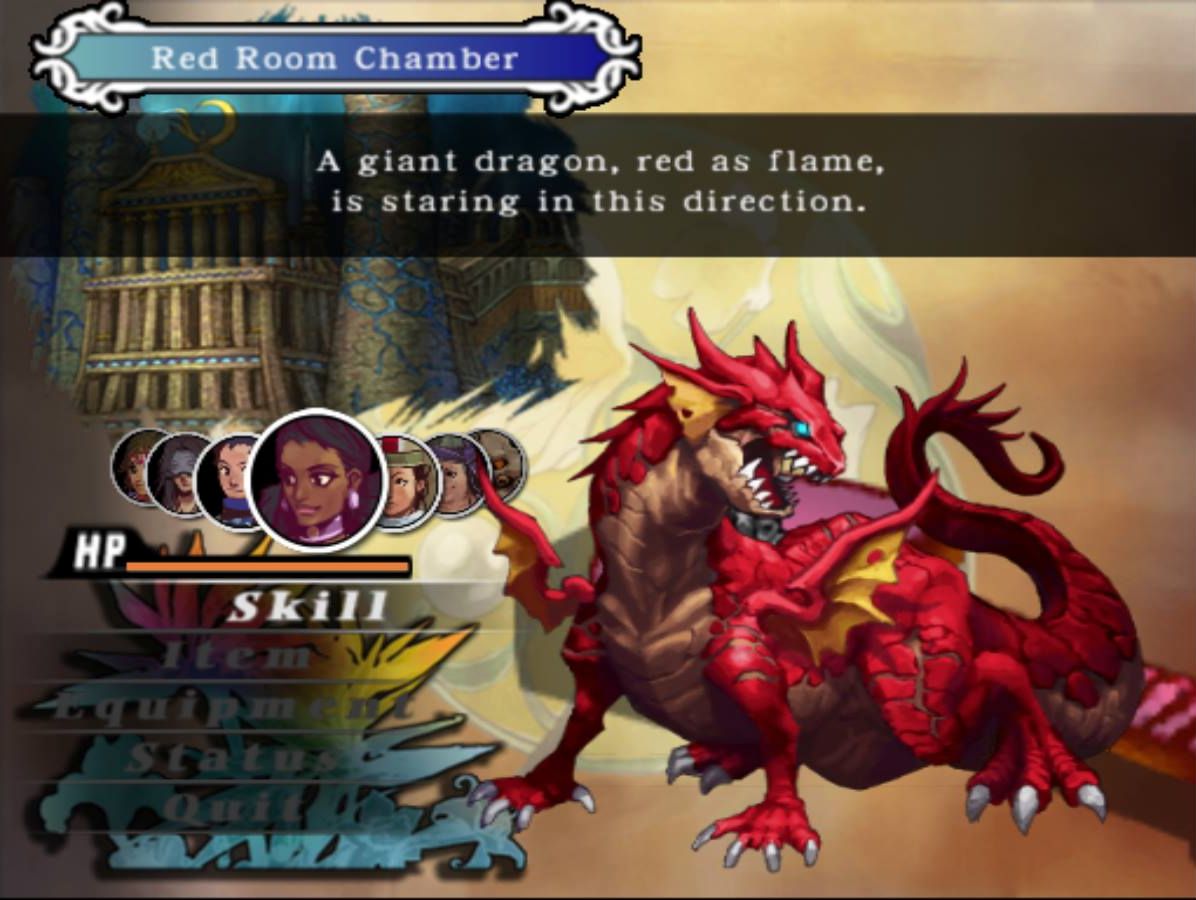 And after a while more of exploring, we find the Red Room Chamber. I wonder if it was meant to say Red Moon? Either way, there's a red elder dragon here.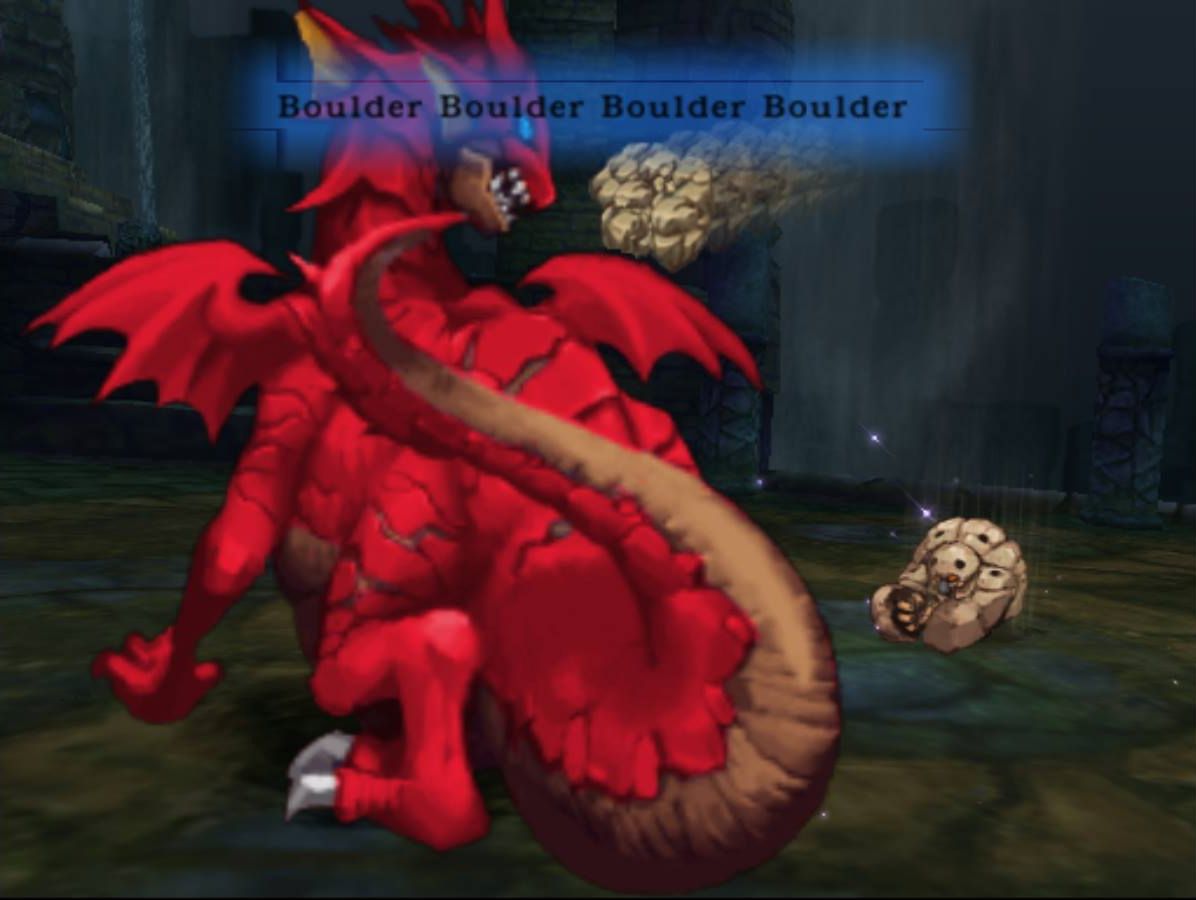 The red is a lot tougher than the blue.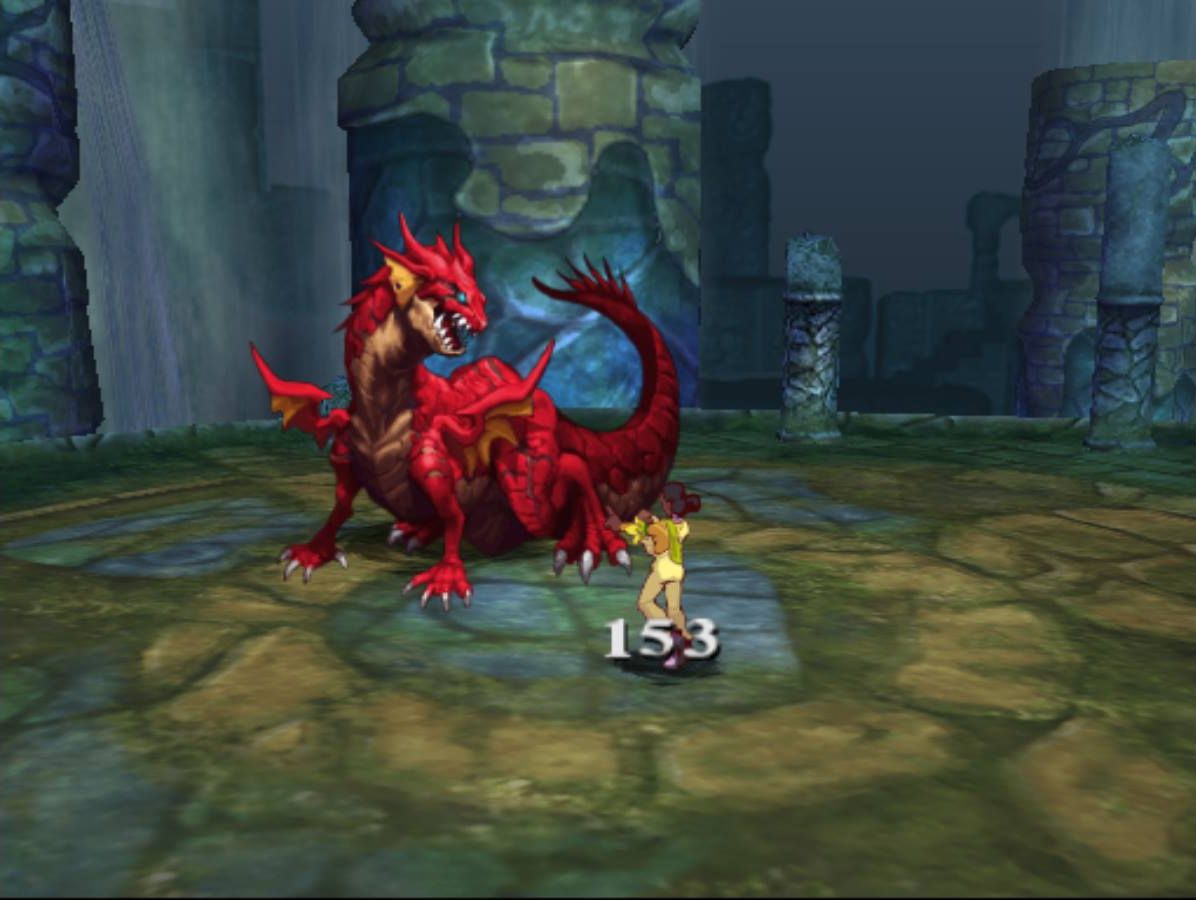 It seemed to pretty much always do hit-everyone attacks, which would do lots of damage and often LP damage to everybody in the battle. So I figured it would be better to fight with one character at a time. Everyone could rest between, and since no matter how many people were out there and what kind of formation they were in, everyone was going to get hit by the attacks anyway, it's better to have only one person suffer that damage instead of four or five or whatever.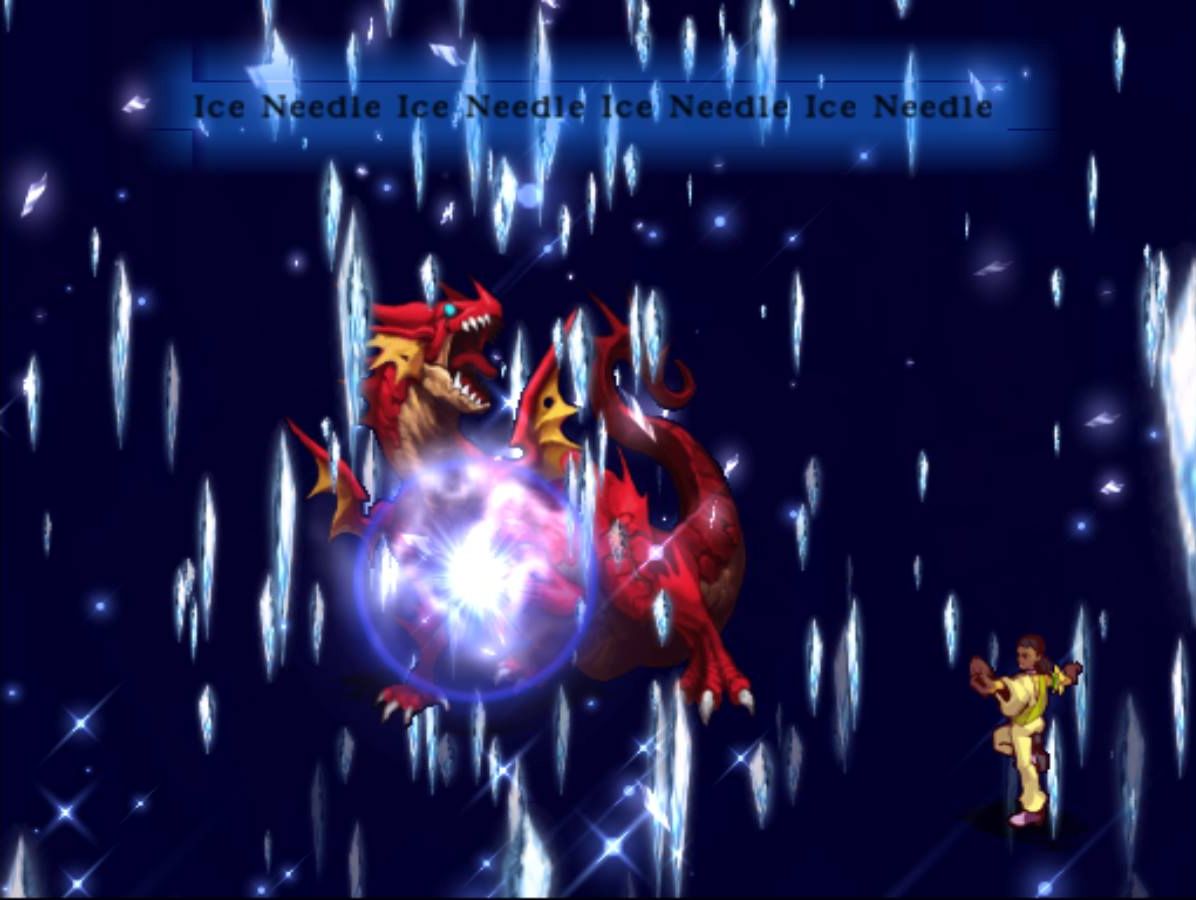 Besides, it's fun to watch Grace terrorize a dragon :) I don't know if this guy had an immunity to heat (would make sense), but Grace's water arts (which have the cold damage type) were doing even more damage than Sapphire's fire arts!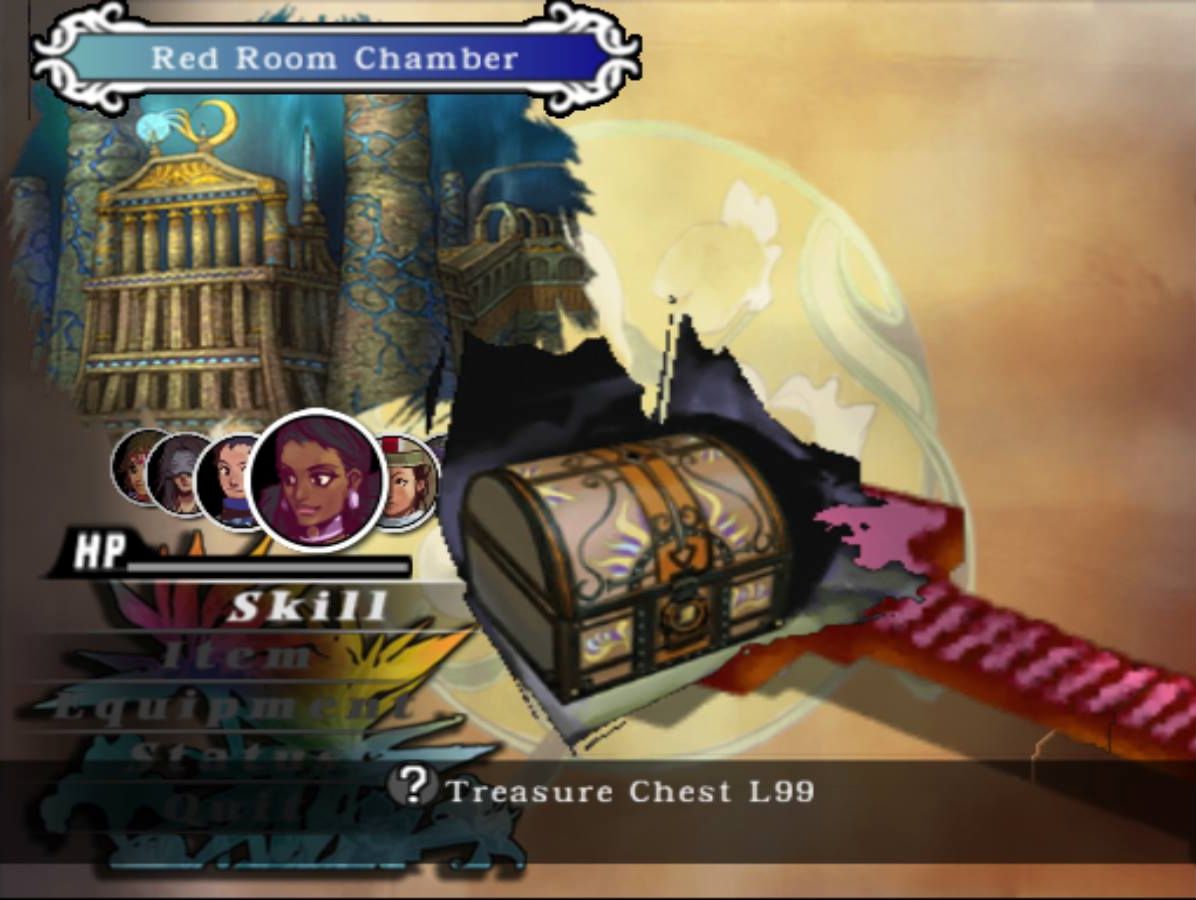 The much tougher dragon was guarding a level 99 chest! Honestly, the magic tablet is a better prize. This one just has a random item like normal chests. The level of the chest increases the chance of good items, but... there's still a ton of worthless junk you can get.
I got croc skin :\ It's a bit valuable, I guess, but that wouldn't have even been good for crafting.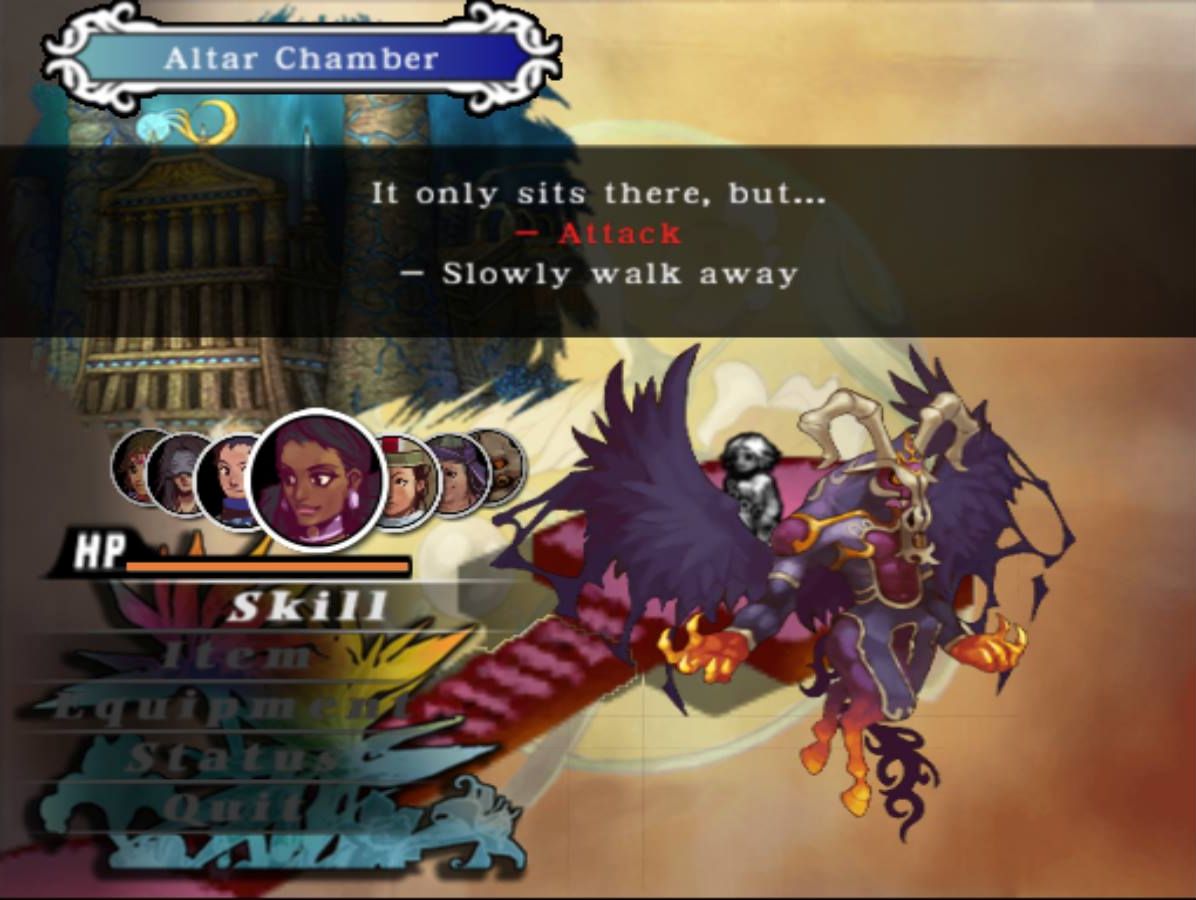 After more exploring, we finally come across the boss. This is actually probably easier than the red dragon. It's just a Satanachia (Satan's chia pet). It has three little friend demons but they're no real threat.
BTW, I never encountered the Tetra Force this time around. I don't know where it was supposed to be? I didn't explore the entire place, but... it wasn't anywhere near the boss, so that's weird. Maybe there's a teleporter that takes you closer to the boss, and the Tetra Force was near that? Ruby was carrying it in the cutscene afterward like always, though, so... it had to have been there somewhere. But yeah, I was a little worried going into this fight without that opportunity to recover since the red elder dragon really did some damage to me, and some characters were running dangerously low on LP (like Sapphire, as always).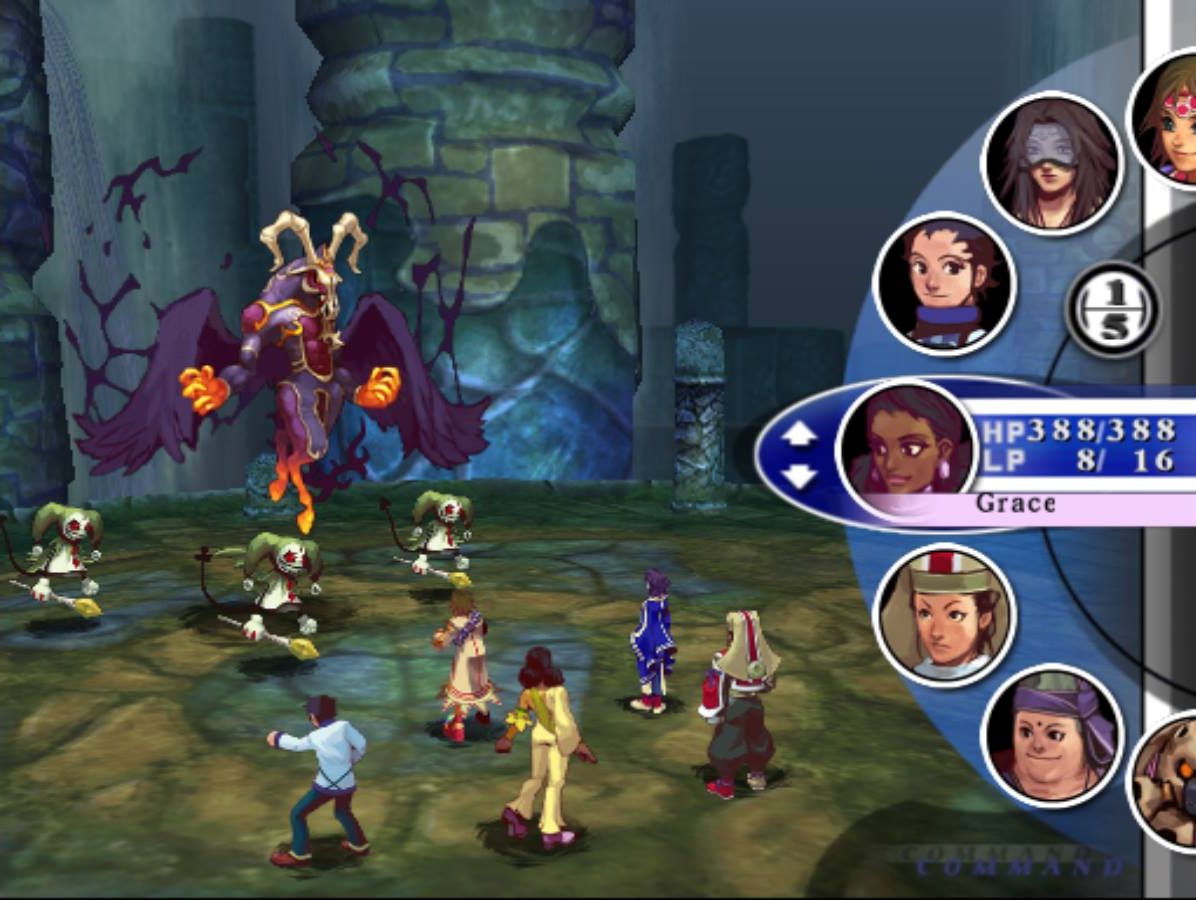 Notably, Grace said a voiced line at the beginning of this battle--?! She said something about how the demon wielded powerful techniques, so we needed to be careful. I don't think that's a 'normal' thing for her to say, and it sounds like she actually knows something about it...? It's probably just a random thing and will never be explained, but...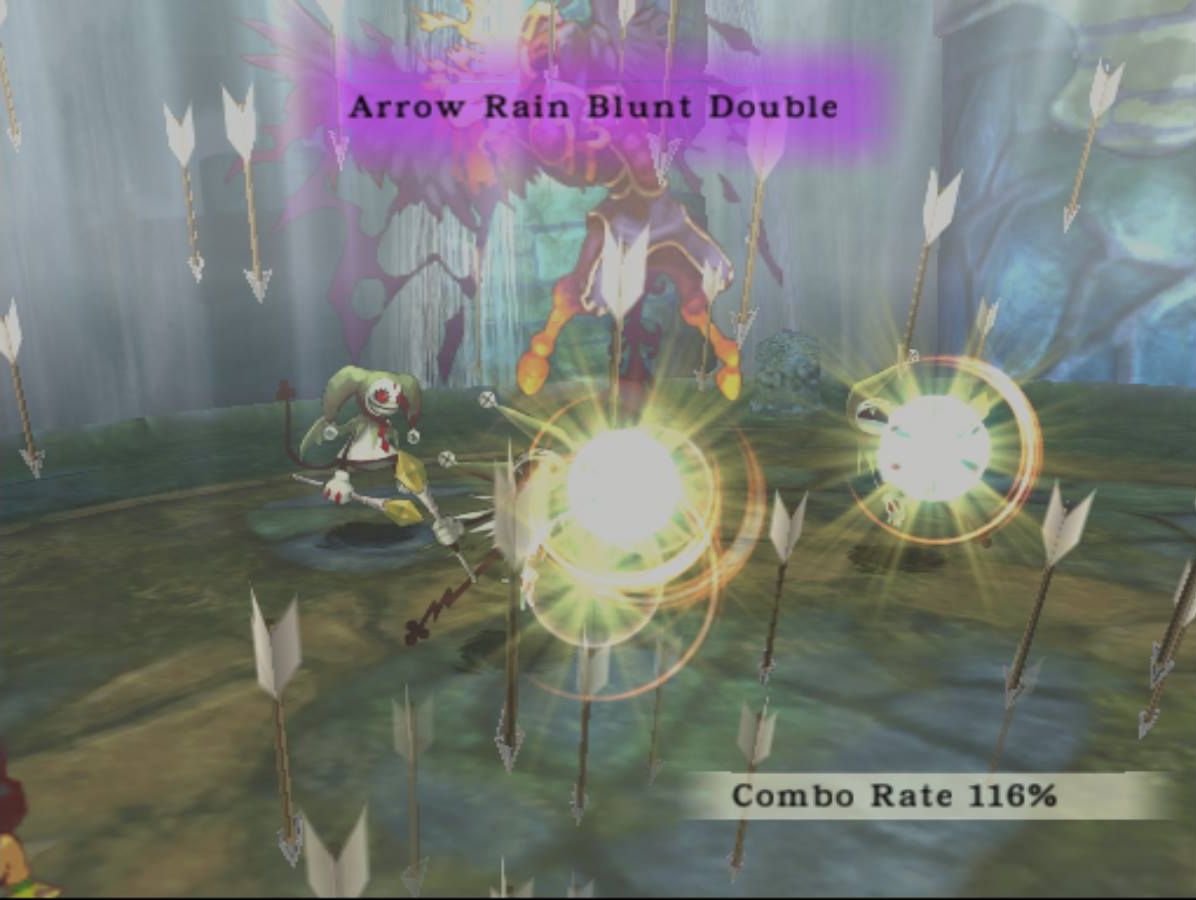 Roy glimmered Arrow Rain :D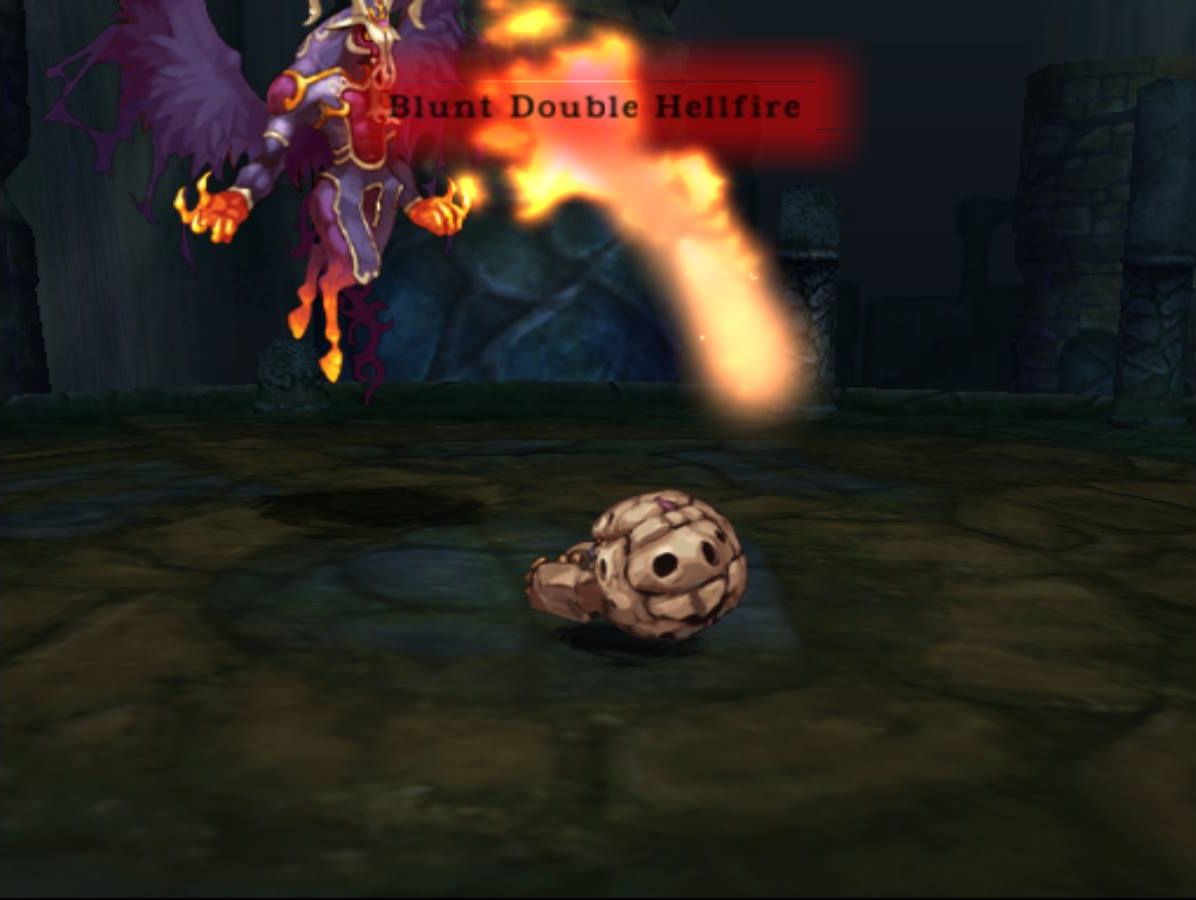 I took out the minions first, which means now I have to face more of Satanachia's attacks, but less attacks overall. The way enemy actions work is basically the enemy is assigned a random number of actions each round of combat. The number they're assigned is based on the total number of enemies and the types of enemies. Enemies like Lich, Tagut, etc. get many actions, while most enemies only get a 'normal' amount of actions like 1-3.
But it's not that each enemy is getting a set of actions -- the enemy party is assigned a total number of actions, and then those actions are assigned randomly about the enemy party. So if you were in a battle with Super Powerful Demon and Wimpy Goblin, the enemy could get like 9 actions because having two enemies, one being very powerful, they'd get a big number. But then the RNG could decide that Wimpy Goblin is going to use all 9 of those actions.
Fun fact: by abusing savestates in battle you'll realize that the number and order of enemy turns is determined at the start of the round, but which action the enemy uses is decided at the moment of the action. So, using the above example, if the game gave the enemy party 9 actions for a round, then it would determine the turn order of all 9 actions (mixed with your actions) but they would just be generic enemy actions with no definition. It's not until the enemy actually does the action in battle that it suddenly defines which enemy and which attack it will be, even if the enemy held their action for a combo.
So let's say the enemy had a 'turn' and decided to hold their action, but your party was the next turn in order. Then you save your state before you do your action (let's say you're just going to do Kick). You could choose your kick, and you'd end up with the combo Wimpy Goblin Punch -> Kick. But then you could load the state and choose your kick again, and maybe get Super Demon Attack -> Kick. Because it's not until the action actually appears in battle that it decides what it is.
Not that this is ever important to know for actual gameplay purposes. But it's interesting, at least.
Anyway, my main point was that taking out the minions reduces the total number of actions the enemy gets per turn since there are less enemies, but it also means that Satanachia is the one getting every action. Before, there was a good chance most of the actions would be distributed to the minions, since there were three of them and only one Satanachia, so 3/4 actions on average would be dumped to one of them.
But reducing the number of attacks is overall better because each enemy can add quite a bit to the number of attacks. Plus it's much more likely to get combos in if the enemy has less actions per turn, so it also boosts my offensive power a bit by allowing for more combos.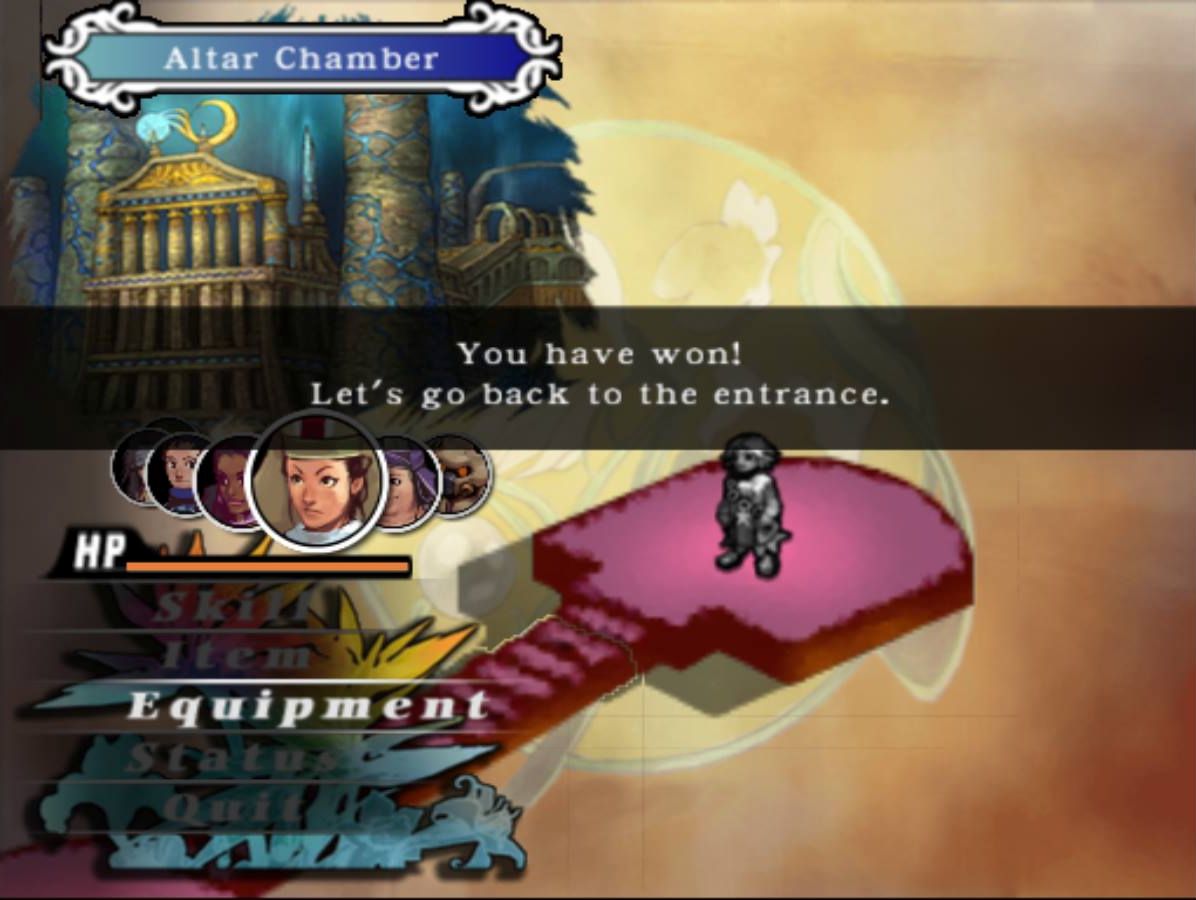 Satanachia is much easier to defeat than the elder dragons. This is a pretty weak enemy to be the boss. Once you beat him, you need to go back to the entrance. Why? I don't know. Why did we even need to fight this thing in the first place? There was no objective or explanation or anything...
Behind Satanachia was... yet another tablet! Now we've gotten three tablets on this adventure already. We can't carry any more at this point.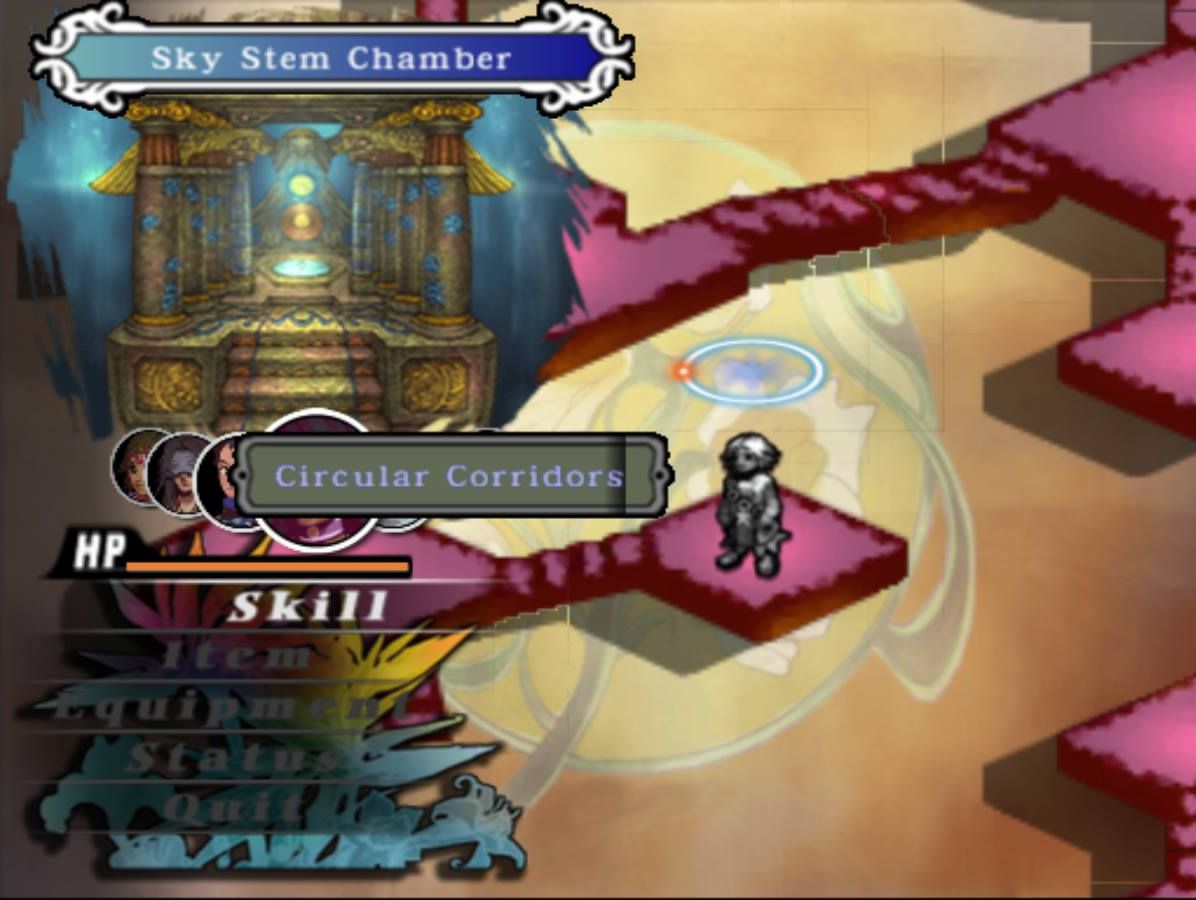 The teleporter that the blue dragon was standing on takes you pretty close to the entrance. But I stepped on the one behind Satanachia instead, thinking maybe it would, too, because I don't remember where it goes. It took me somewhere I hadn't even explored. But then it eventually led back to a place I had been, but then I had also ignored a branch before to continue on a different one and didn't feel like going back to find it. It's REALLY easy to get lost in here. I was pretty close to where the Blue Moon Chamber was, so I went there and stepped on the teleporter and headed for the exit.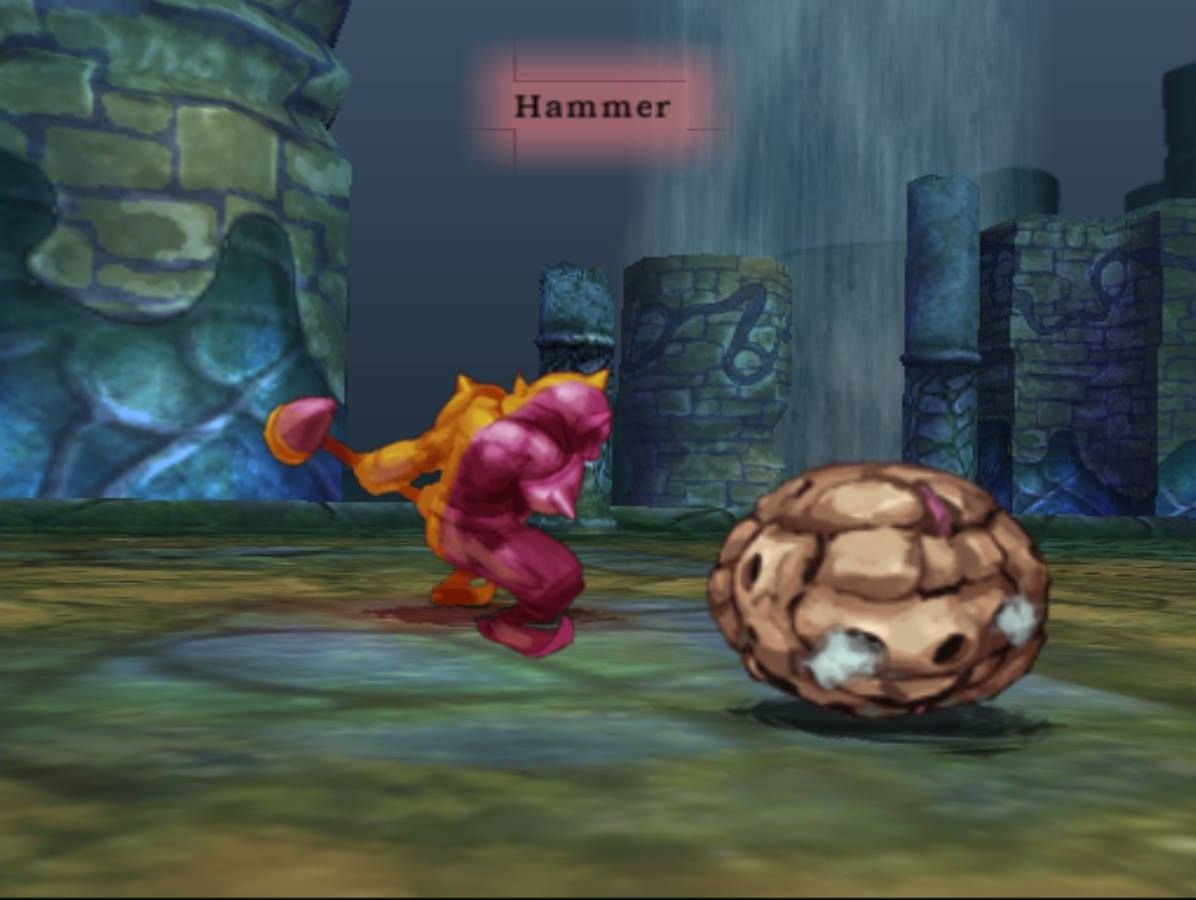 I snapped a screenshot of the slimes shapeshifting into a goblin :)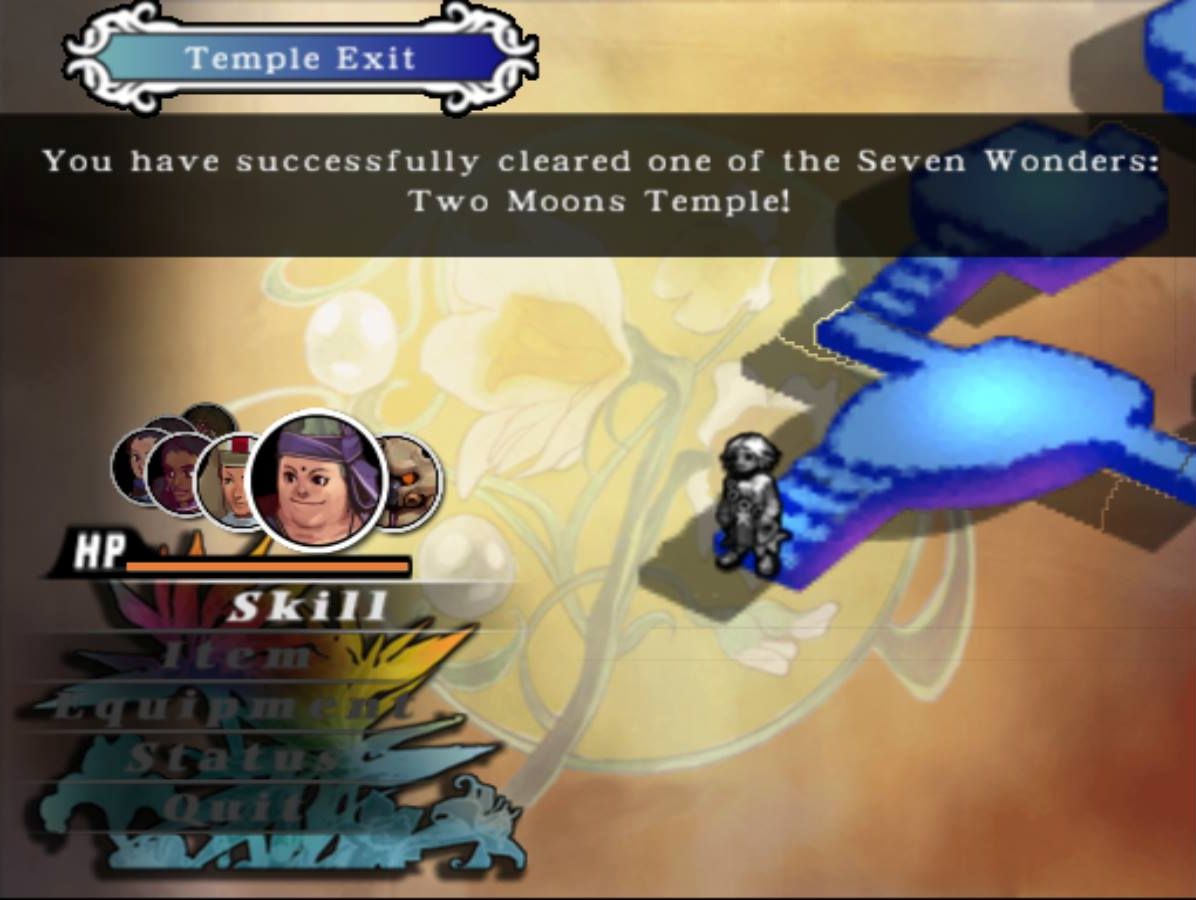 When you reach the entrance, it asks you if you want to leave. Say yes and you get the ever-exciting victory message that sends you to the panel development screen.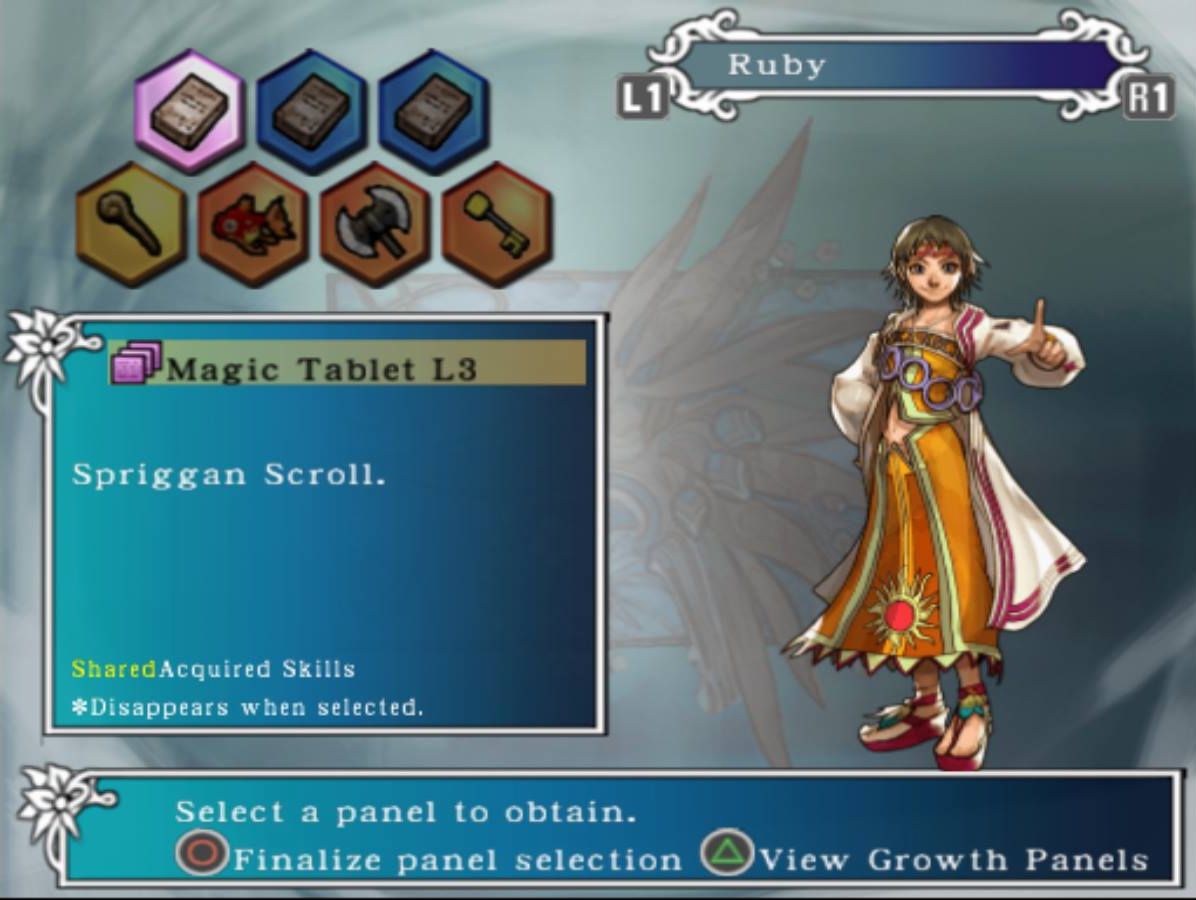 Checking out the magic tablets, I got a Spriggan Scroll! I can give this to Anzan and make Kong Ming even more pointless!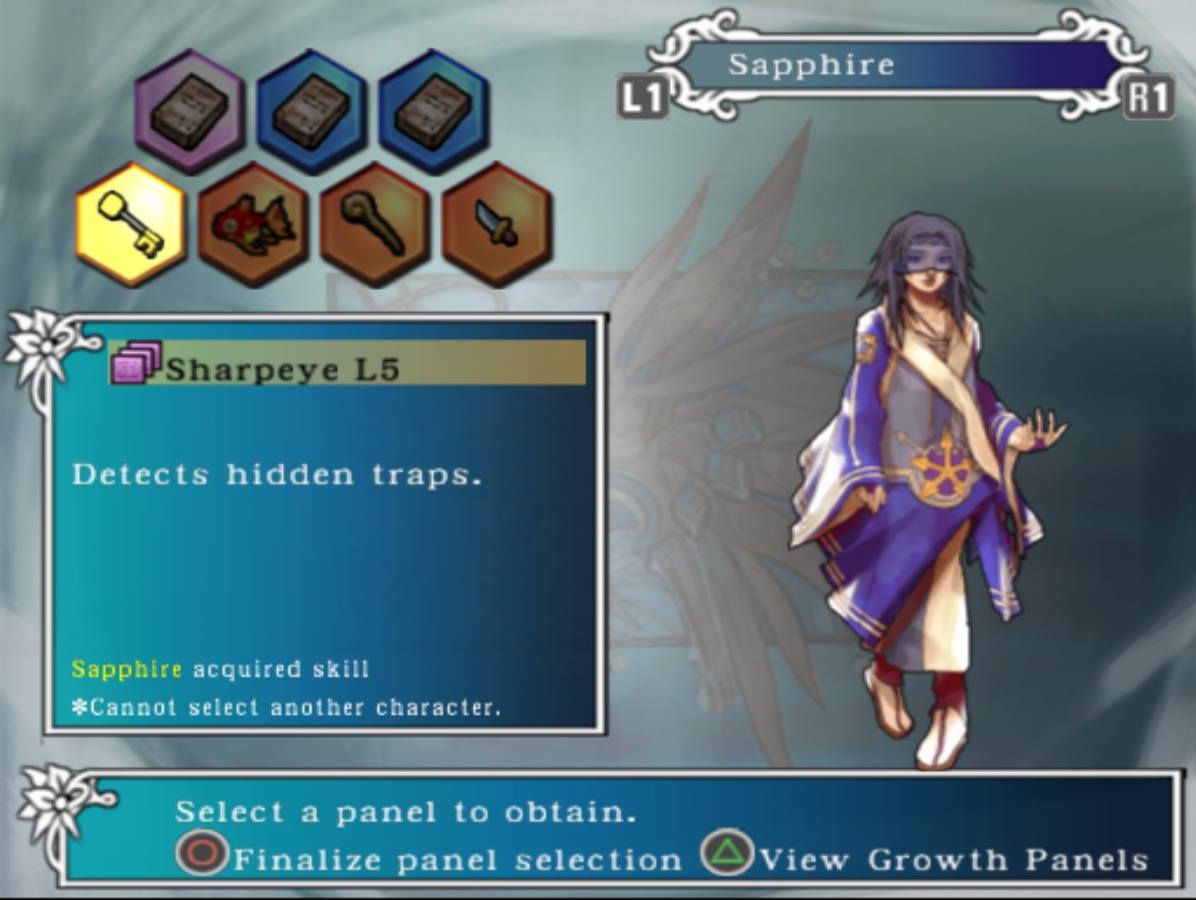 One reason beating the dragons is nice is because it increases the chance for higher-level panels. The level of the panels you get are based on a variety of factors, but importantly is the number of enemies you fight as well as the strength of those enemies. So fighting powerful enemies like the red elder dragon really bumps up the rarity in your panels.
Sapphire not only got Sharpeye which I was really hoping she would get (I had to cover up Grace's Sharpeye with another panel I wanted, so I haven't been able to inspect chests for a while and have been blindly fumbling with them!) AND it is level 5! The level doesn't matter for the ability since sharpeye doesn't roll a check or anything, but the higher a panel's level, the more it boosts your stats in the place you set it!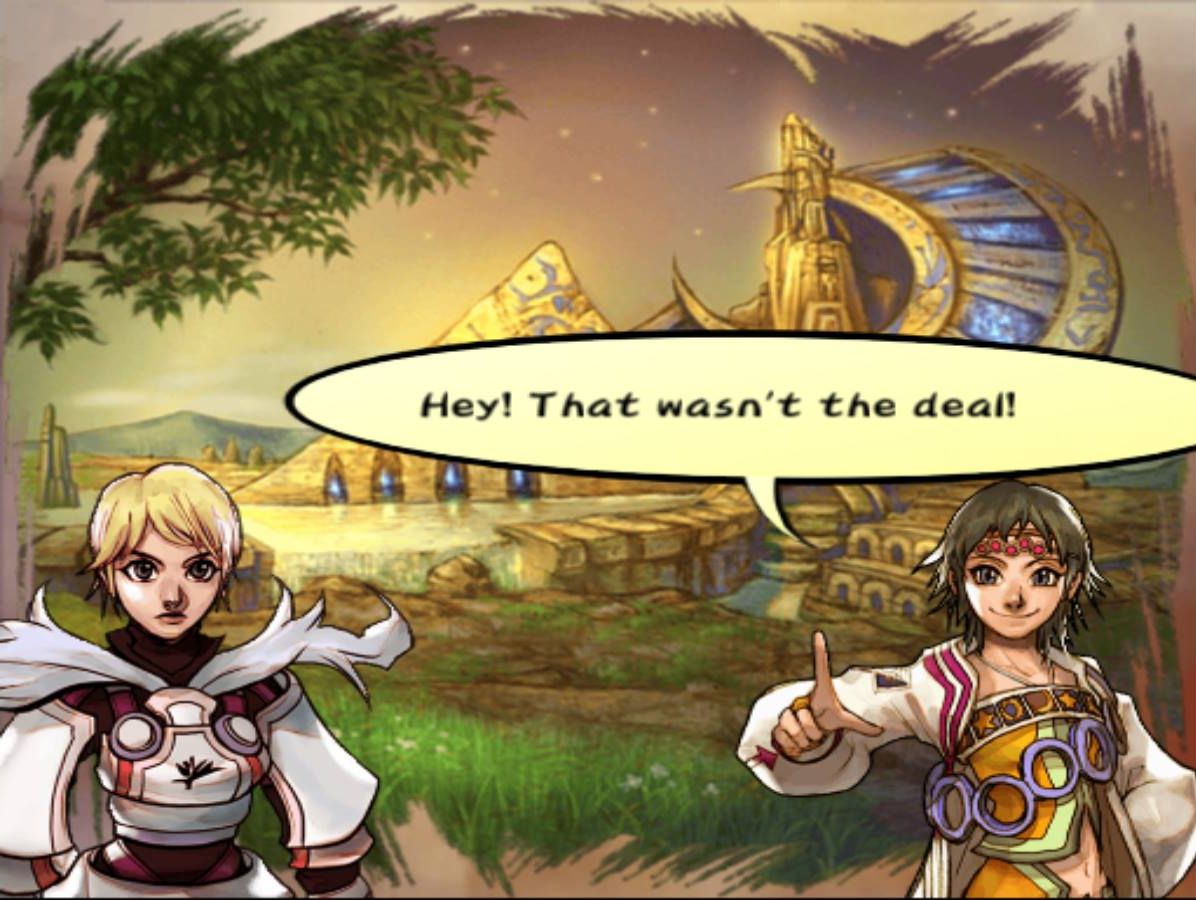 Upon exiting the temple, Jeanne shows up and swipes the Tetra Force from Ruby. I don't know if we're supposed to infer that Ruby had the Tetra Force and Jeanne stole it, or that Ruby was going to pick it up and Jeanne ran in and grabbed it first.
Either way, Ruby was upset by this and said this wasn't part of their deal (since last time, she gave Jeanne the Tetra Force and said 'the next one's mine'). Jeanne, though, responded a bit rudely, "Would you rather see the fiends or the Anubito taking the ancient powers?" (The Anubito are regarded as dangerous, as it was an Anubito leader who destroyed Escata. You can gather this from talking to people in the inns.)
After Jeanne runs off after her little outburst, Ruby notes that there's something different about Jeanne now -- she's changed somehow. Indeed, before Jeanne was pretty nice to Ruby, but now she seems desperate to get the Tetra Forces.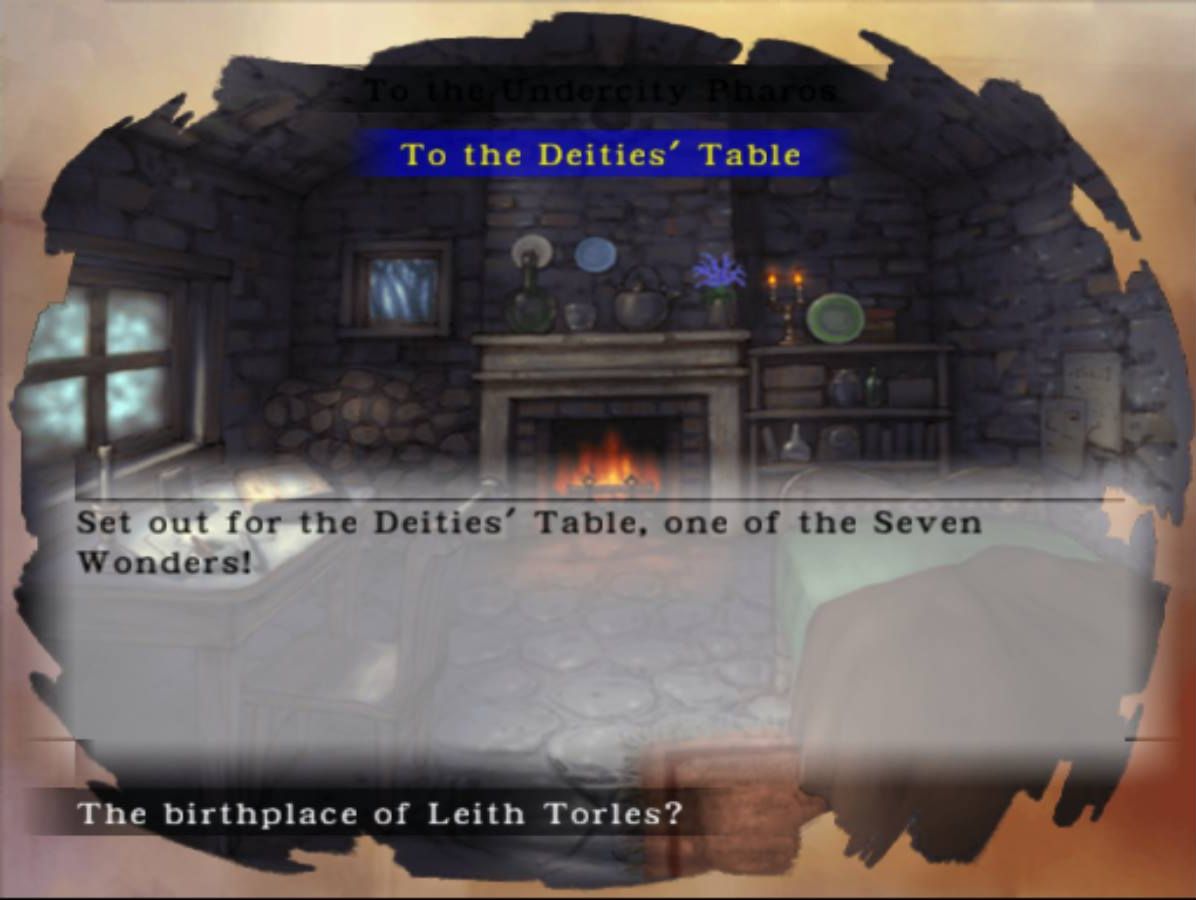 With that, I went back to Leith Torles's maybe-house to see if anything would happen there. No new scenes here, just picking another Wonder. I went ahead and picked Deities' Table so I wouldn't save the worst for last, but that means we won't be getting the final character in the party (it's Mythe) until the final selectable Wonder. I don't plan on using Mythe anyway, since there's an entire scenario devoted to him, so it looks like I already have my final party set in stone, since I'm ignoring Kong Ming. He'll be back in... Armic's scenario, I think? So maybe I'll use him there if he seems useful. Everyone appears in two scenarios, so I don't feel like I need to utilize all nine characters every time, since I'll be able to use them again in another scenario. Since you build characters how you want anyway, though, they're mostly just aesthetic with some base stats...
But yeah, at this point I might start doing some subadventures before going on. I'm not going to detail them all too much unless they're particularly noteworthy ones. I might just take a couple caps and describe them, I guess. But subadventures are really the meat of the game, so I encourage playing the game yourself and discovering them all. Basically each scenario has its own little handful of story events like this, and the entire rest of the game is doing subadventures to develop your panels, find and learn tablets, make money and increase market rank, etc. So these posts may become a little less frequent for a bit? I don't know.
---