Seven Wonders #3
Flying Island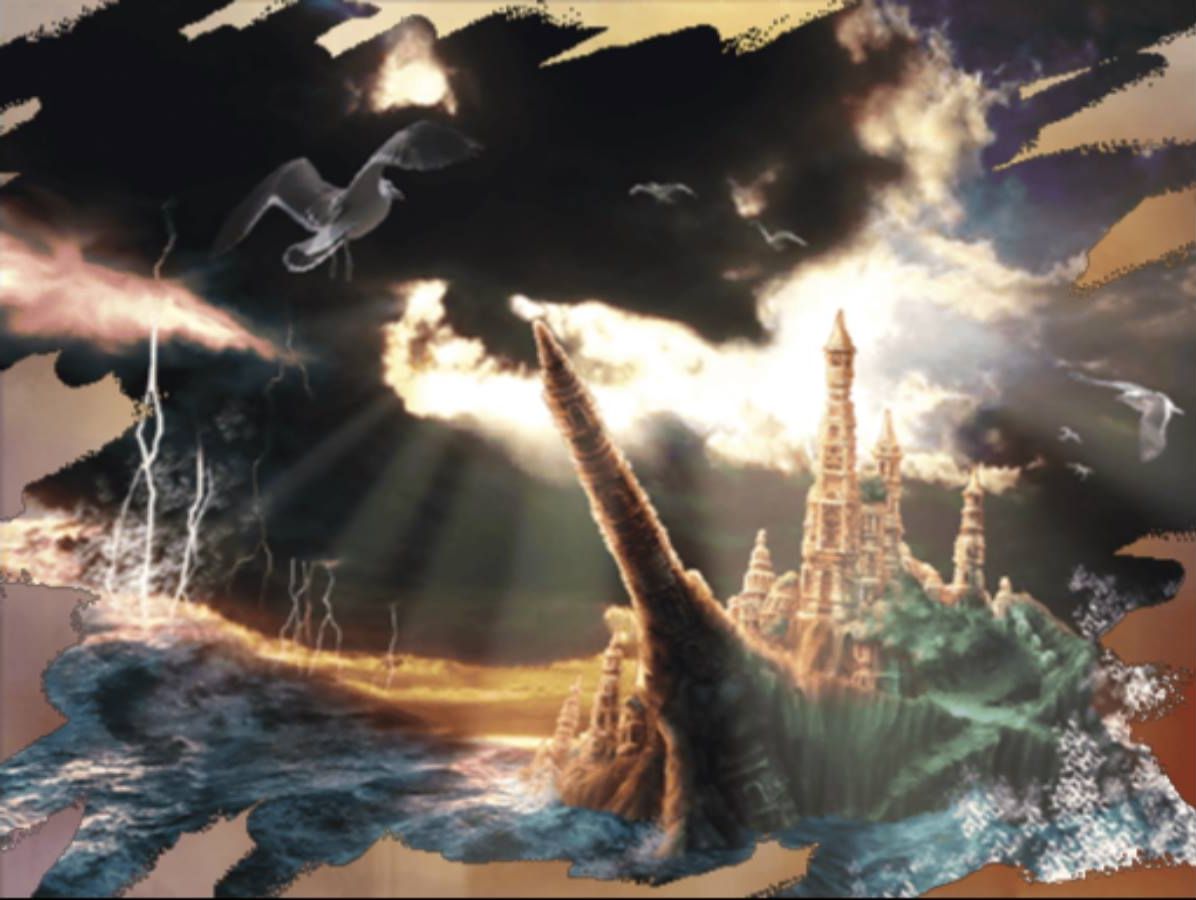 Anyway, now that the festival is over, we're off to Flying Island! I don't know why it's called Flying Island. I forget. Or maybe I never knew. But it's in the water. It's surrounded by storms but the island itself has calm weather. It's also sometimes called "Avalon" in the game. I guess they couldn't decide on the final name, and just decided to throw both in at random.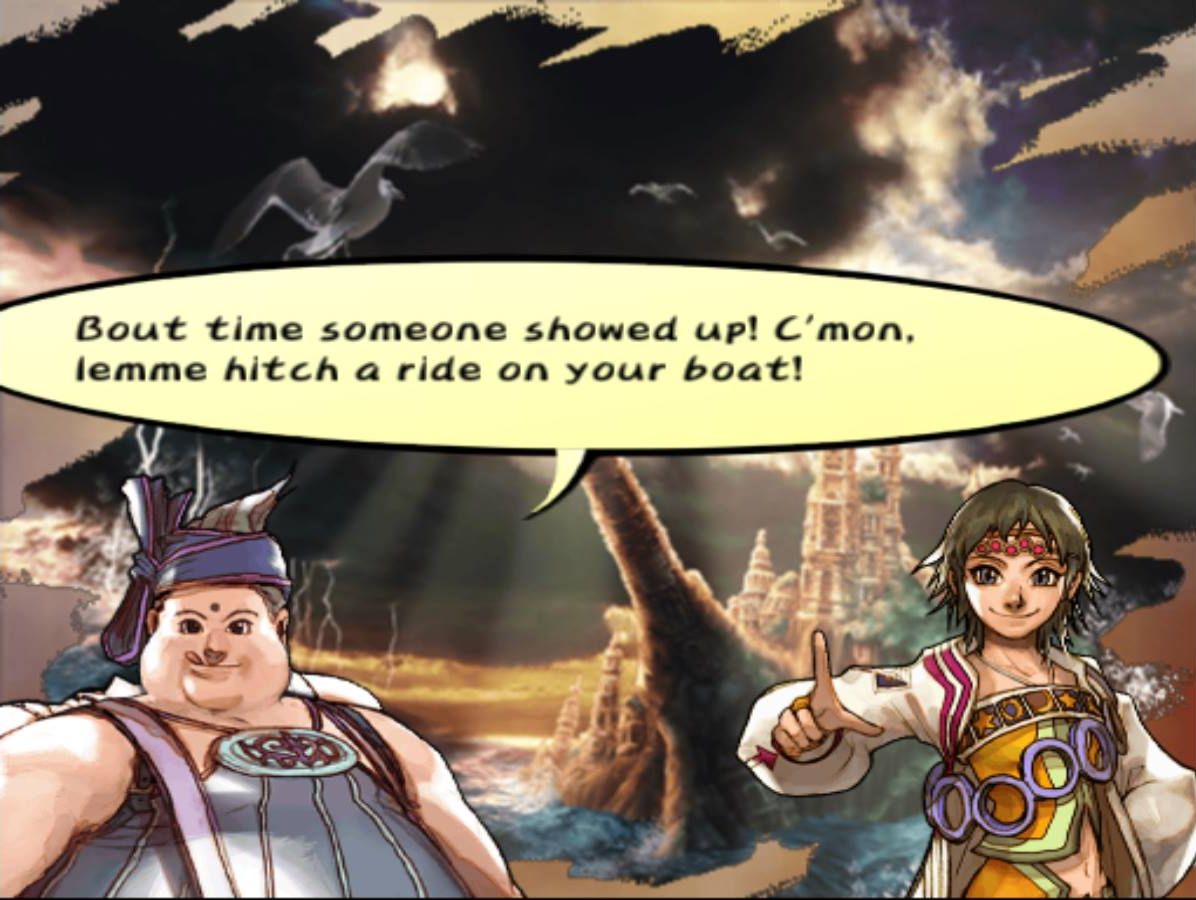 Instead of a crowd of strange people, this time we're met by this big boy. This is Roy, Judy's brother. He loves food almost as much as Quina Quen, and sadly most characters treat him pretty poorly because he's fat.
But Roy is actually pretty badass. The game has a hidden "weight" system, though it's never actually referred to as 'weight' in the game. Roy's 'weight' is the lowest of all characters. There are other "strange" things about the weight system, like the fact that weapons you craft yourself have a weight of 0. So my theory is that rather than "weight," it's better to look at this as an 'encumbrance' stat. Weapons you make yourself are custom-tailed to you, so they do not encumber you. And there are plenty of other characters with strange 'weight' classes, too (like Sapphire seems very 'heavy.') And so I think that this stat is rather the restriction that your own body places on you, and Roy's is low because he is extremely nimble and athletic despite being fat. And it's proven throughout the game that he is very athletic. He runs very fast, all of his attack animations are pretty wild (he does flips and stuff and can master martial arts really well), and gets out of situations other people would never be able to, because he's not only athletic but very stealthy. His body is no encumbrance to him at all.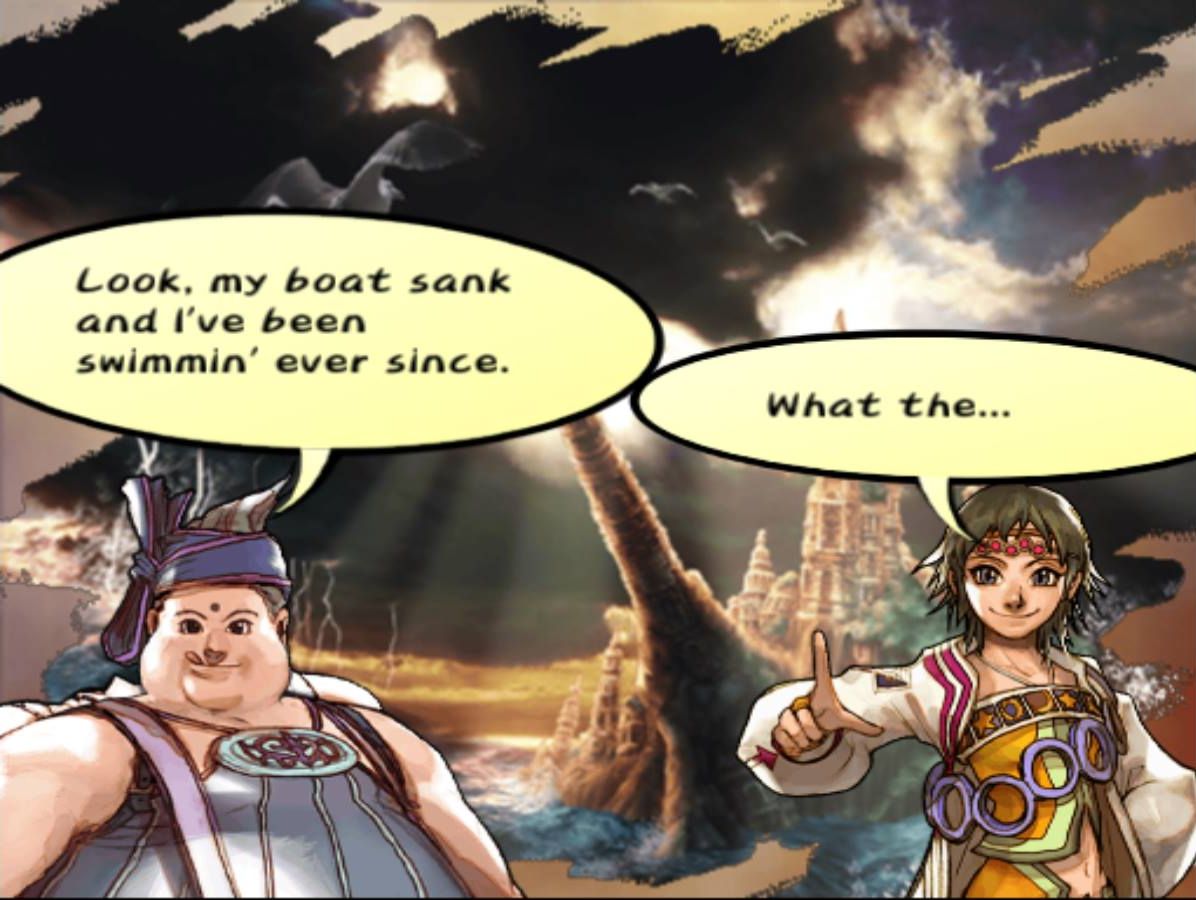 Ruby, surprised by his arrival (I'm assuming he's soaking wet at this point), learns that he swam all the way here. As in through the storms. Do you see what I mean? Roy is pretty amazing.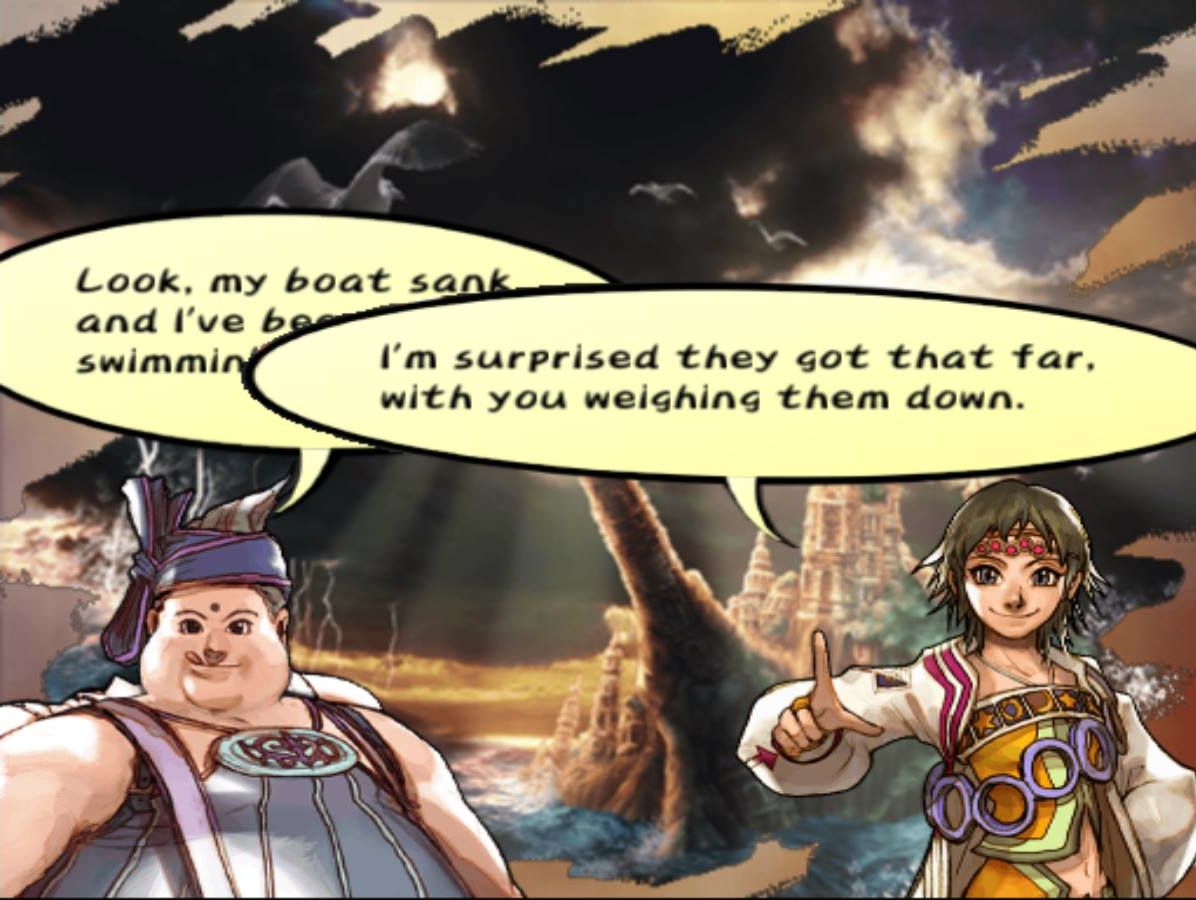 And of course, Ruby has to make a shot at his weight. A lot of characters do this lol. Judy even calls him an embarrassment -_-;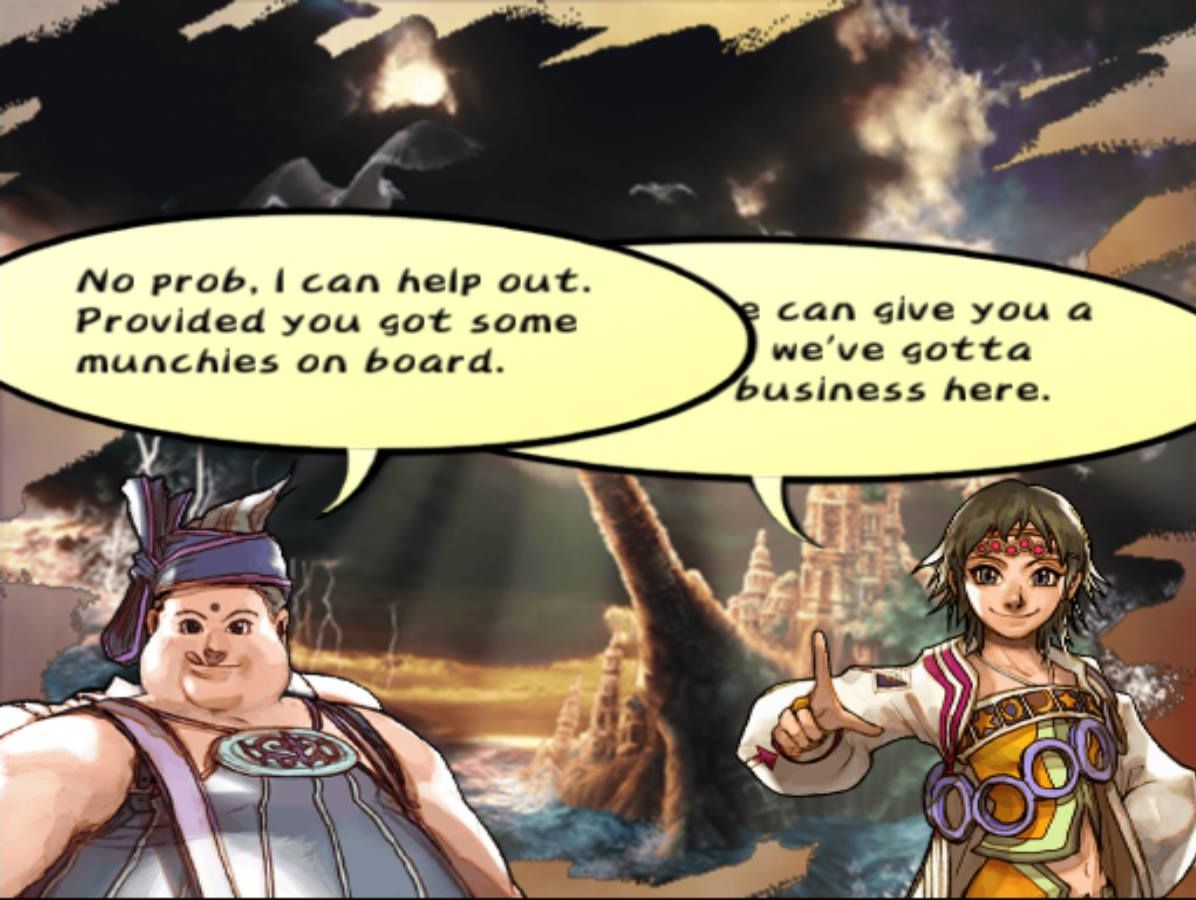 Ruby tells him she'll let him ride back to shore with her after they conquer the Wonder, and Roy agrees to help her out as long as she feeds him. Yeah. It's kind of annoying that they make a fat character who is strong, athletic, nimble, and stealthy... but then treat them as a fat joke most of the time anyway :\
Roy constantly talks about food. In a way, this is kind of annoying because they made the fat kid obsessed with food. But then again, every character in this game is obsessed with one thing and just talks about that, like Anzan with Defense, Musol with beauty, Kong Ming with tactics, Thomas with being a daddy (<3), etc. So rather I think they just picked a bunch of things for people to be obsessed with and designed characters around that, and decided that the food-obsessed character should be fat if all he does is eat all the time, but he's still strong and powerful and capable and the most athletic character in the game, and a main character, so that's good? I realize I'm trying a bit hard to excuse the fat jokes, but it's not so much because I agree with the writing decision, but because I just really like Roy and want to believe that he was designed positively...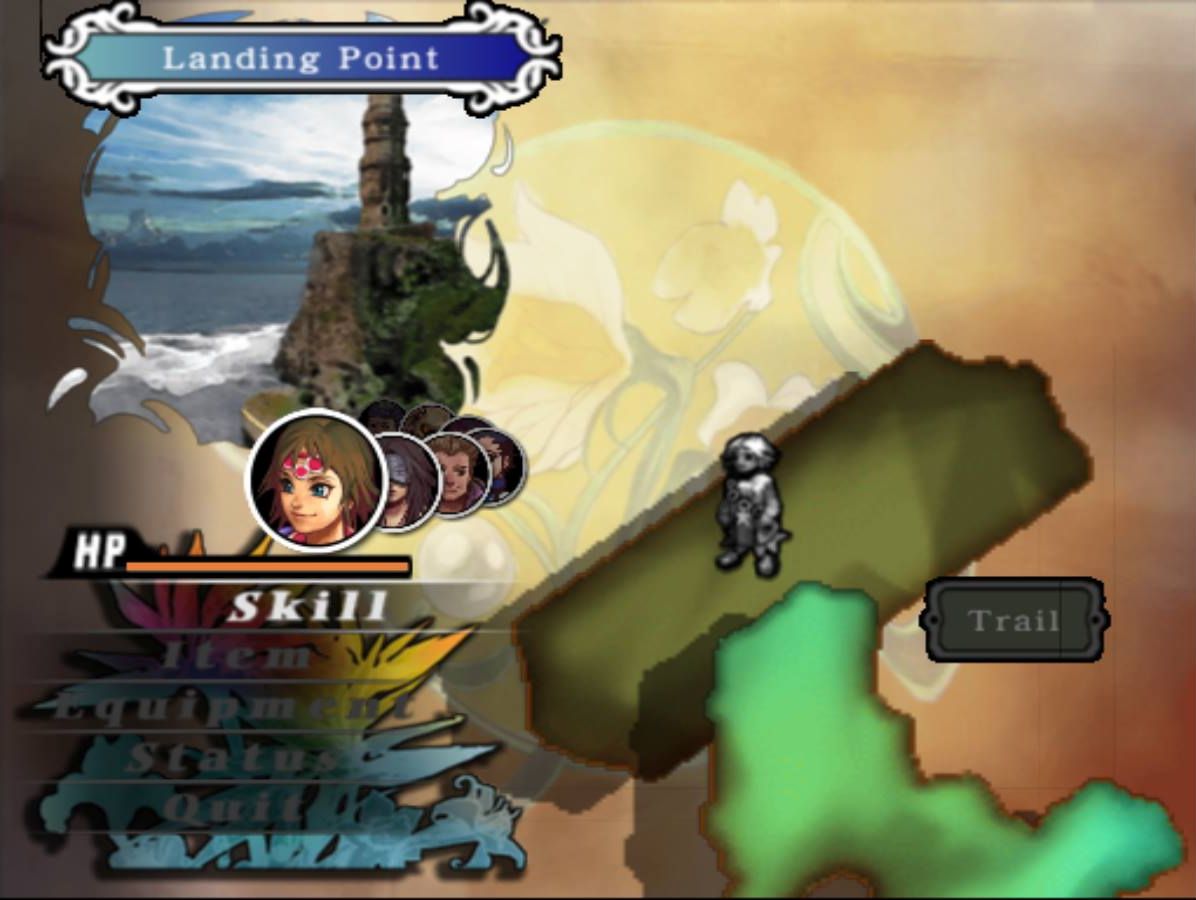 So we head out to the island. Flying Island has some of the best area paintings in the game. They almost look like photographs sometimes.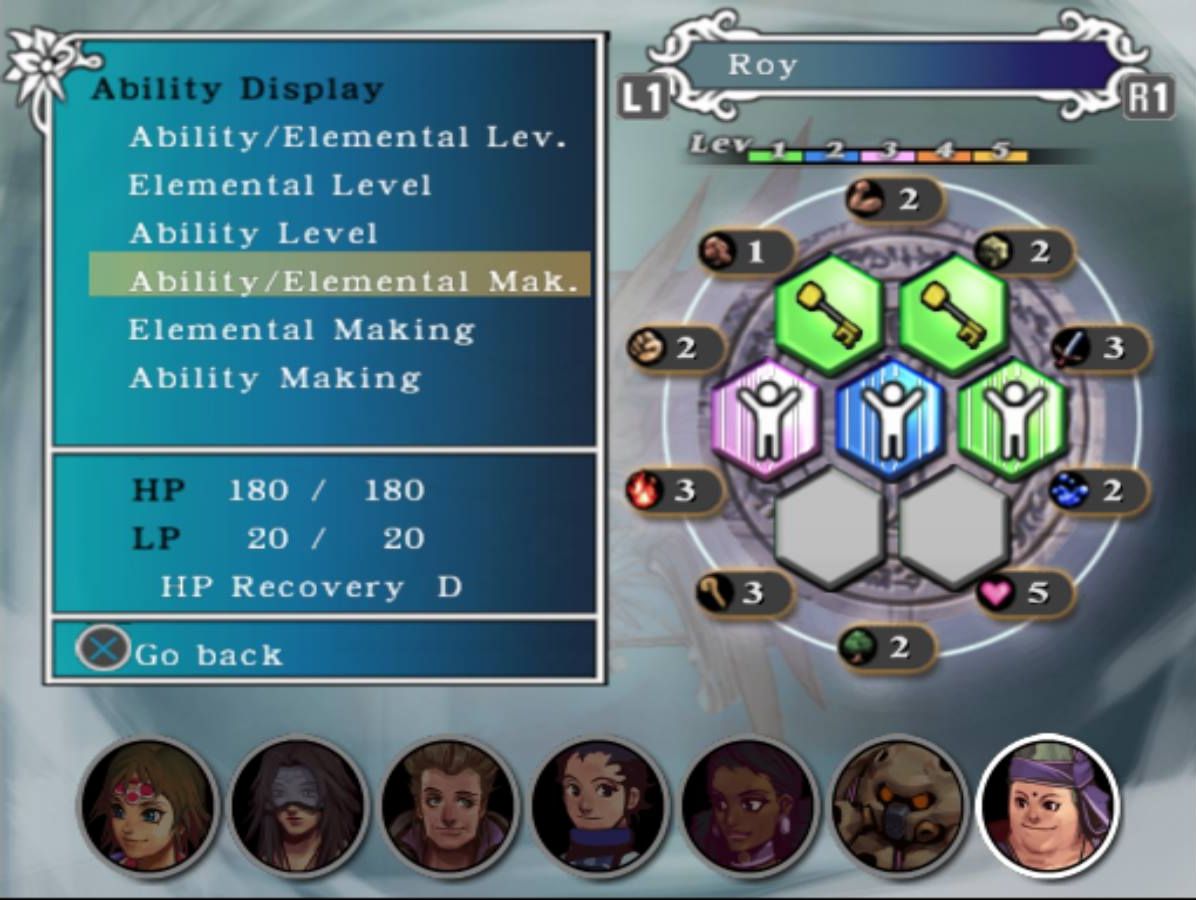 Now that we're on an adventure, we can check out Roy's stats. Skill 3, Magic 3, Spirit 5, and other than Earth all elements are 2 with Fire even being 3! Roy is a really good all-around character with a ton of potential. Other than maybe a big HP-damage dealer or someone who just casts Boulder over and over, you can build him into whatever you want and he'll do pretty well. He also has 20LP so he can hold up very well in a fight.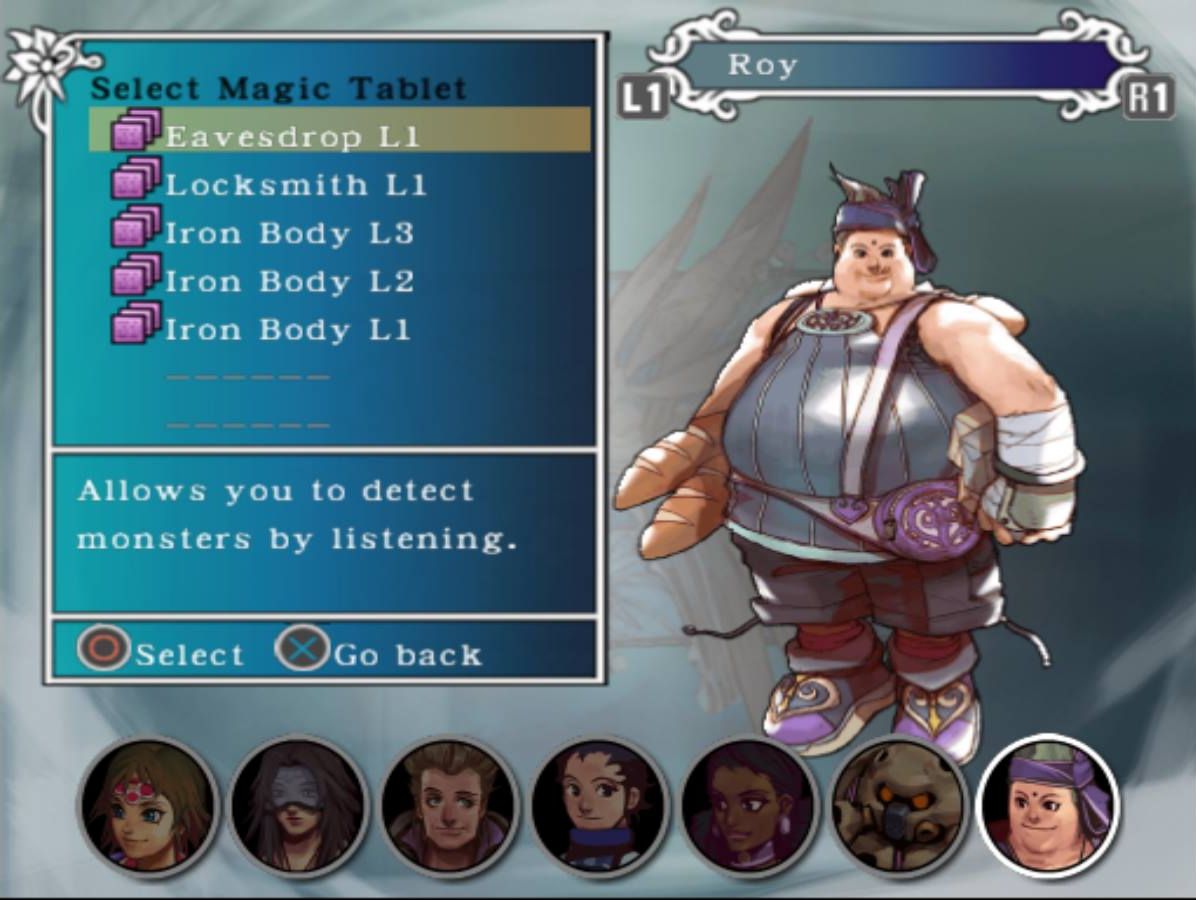 Yeah, even his art he is carrying bread. He actually has bread on him in battle, too, I think lol. Anyway, he starts with three Iron Body panels which which boost his defenses a lot, and IMO are a symbol that his body is an asset, not a hindrance. He also has Eavesdrop and Locksmith since he is quite stealthy canonically. Though it's implied he learned these skills by becoming very good at sneaking midnight snacks. Sighhhh.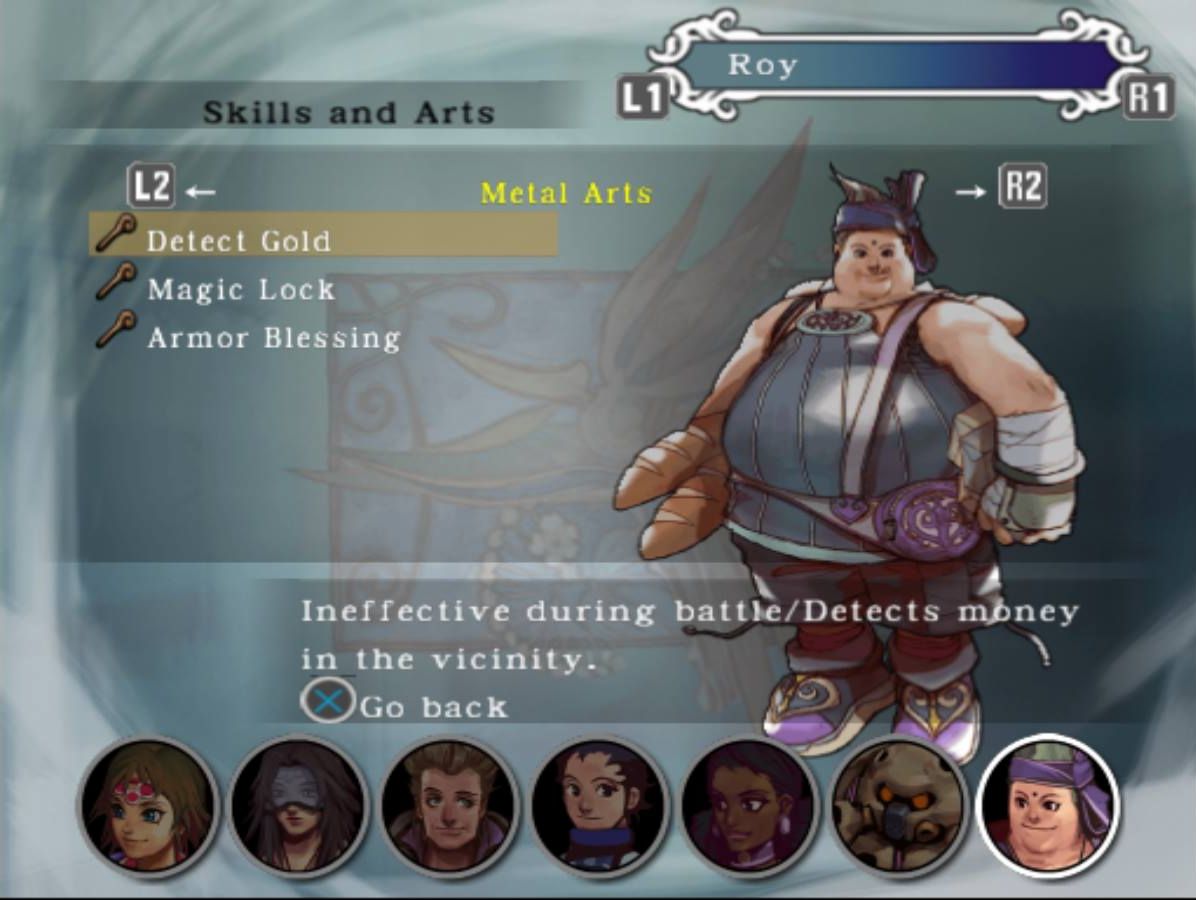 Roy, coming from pretty much the most powerful magical family alive, comes with some magic already learned. I know I said it's super rare for characters to come with magic and now everyone is coming with magic, so I guess I was either wrong about that or all the characters with magic happen to be the ones you get in Ruby's scenario lol.
The important one here is Armor Blessing, which is a must-have. It can effectively double a character's defenses. Though Magic Lock is nice, too, as we've seen before.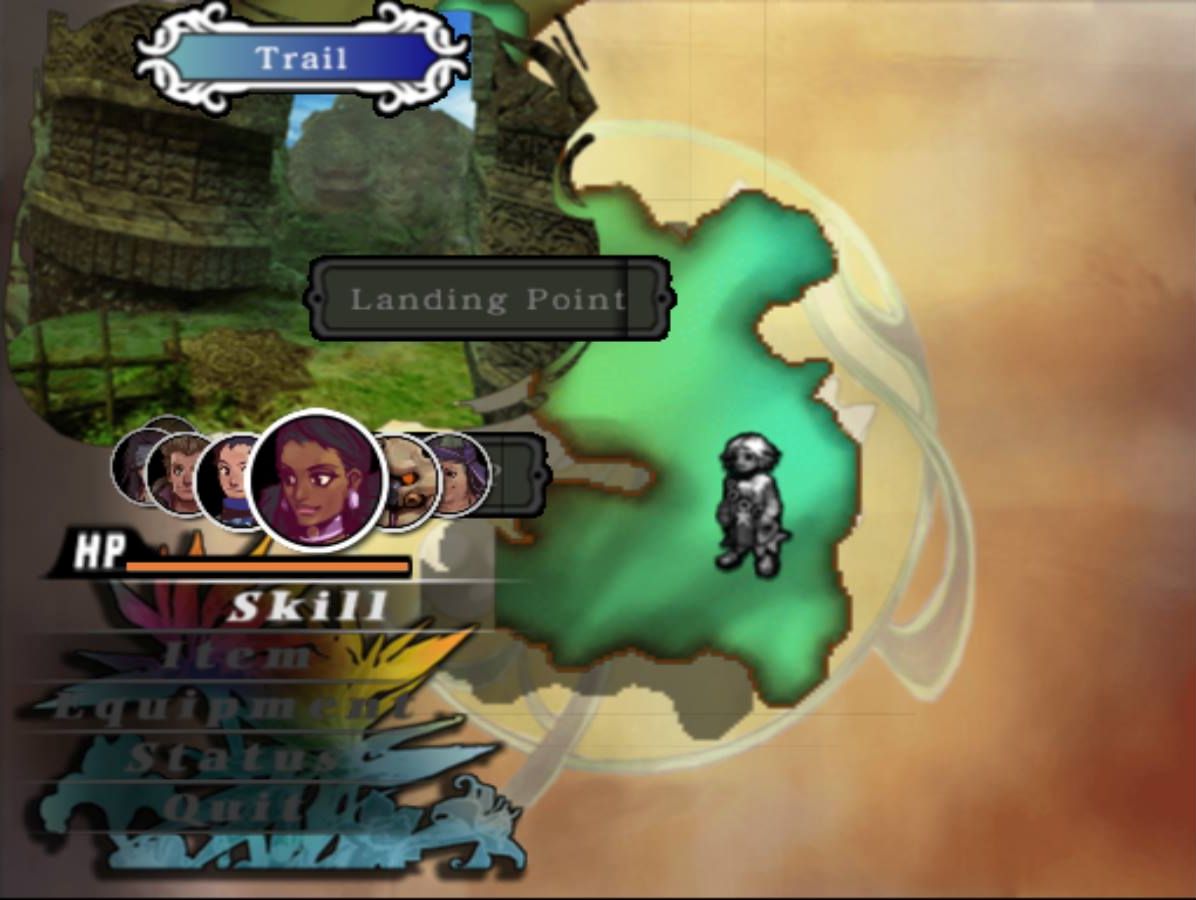 Here's another cool painting. I took a lot of caps just for this reason lol.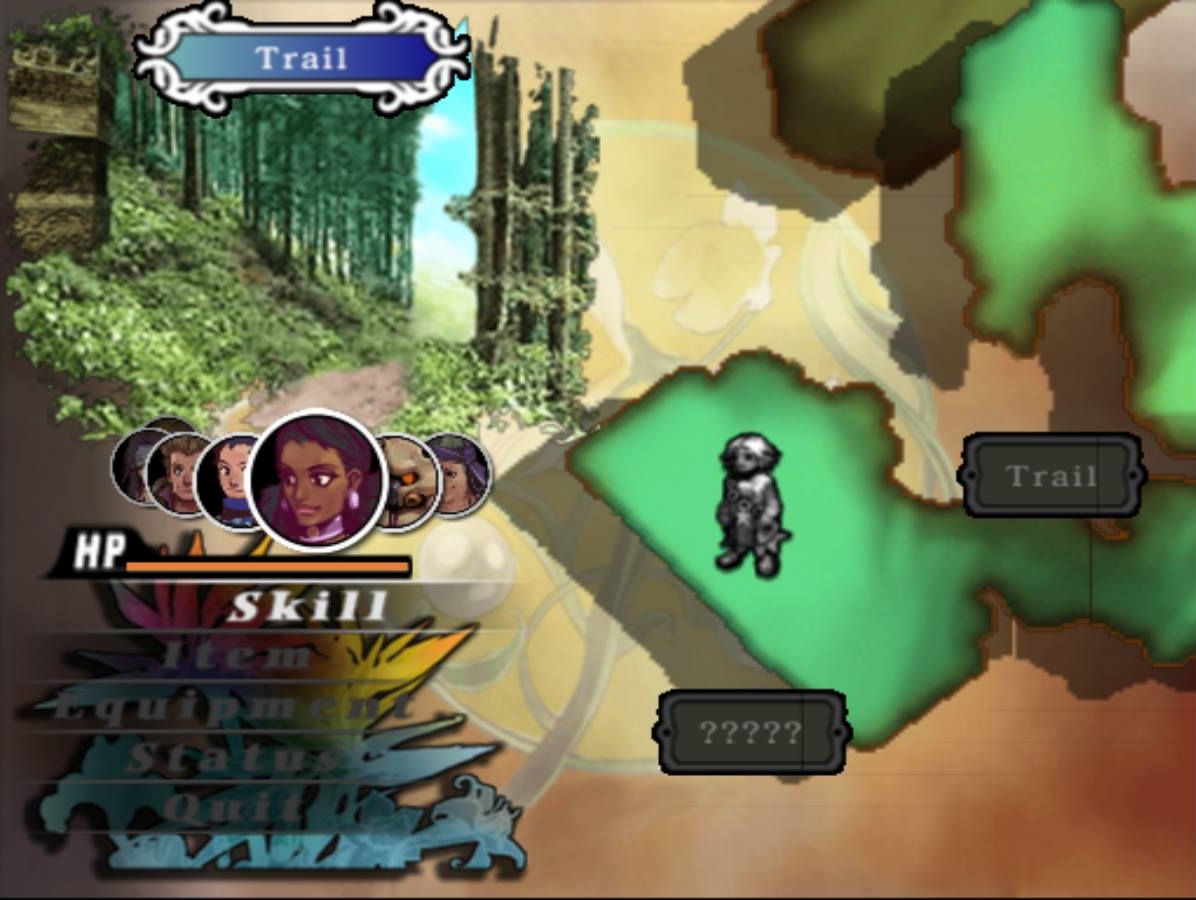 Another. doesn't that look almost photographic?!
The battle environment is really cool, too. I love the buildings in the background.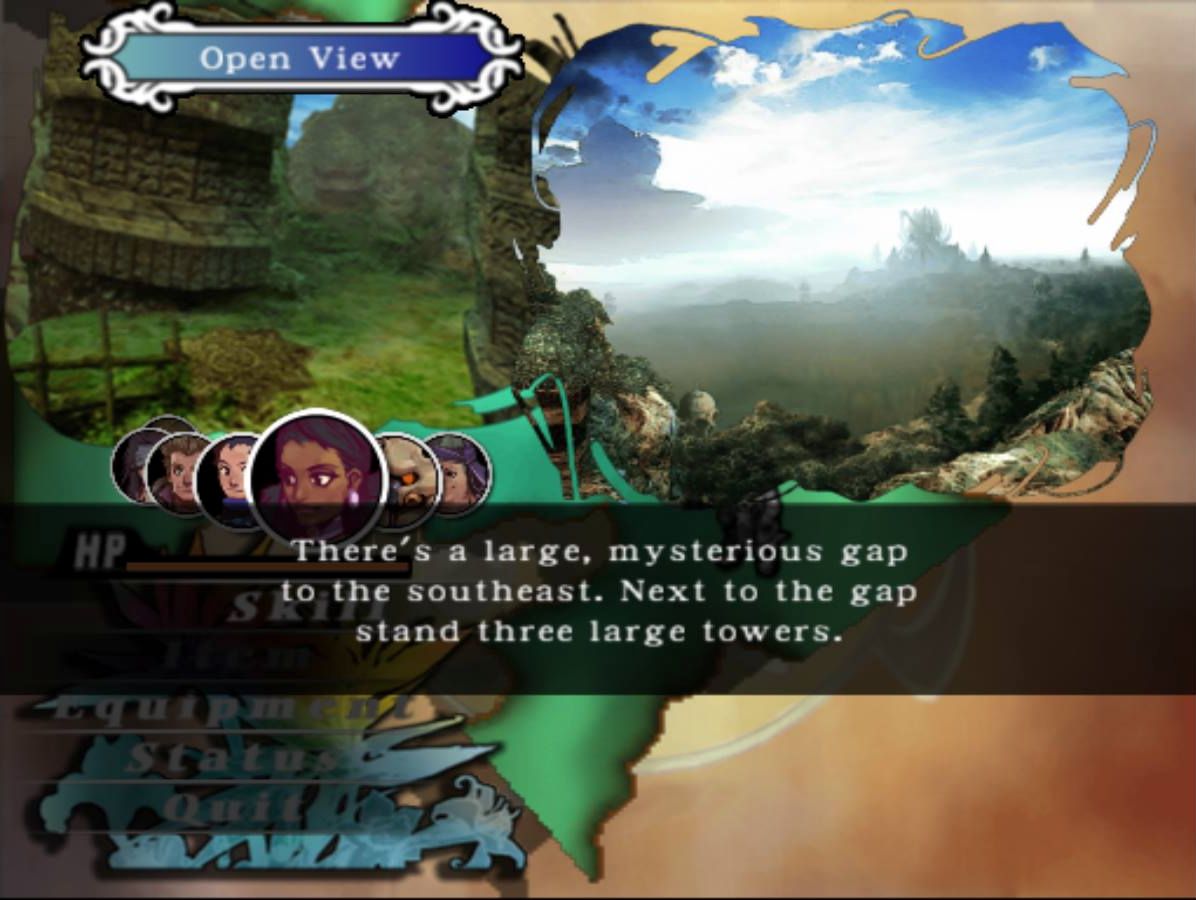 Anyway, about the Wonder adventure itself. After taking a few steps, you'll notice there's a big hole to the southeast. Basically, the island is a kind of donut shape with this giant gap in the middle. There are also three large towers on the southwest, southeast, and northeast sides of the gap. We're currently on the northwest side (obviously, since the gap is to the southeast).
The map itself comprises four areas, one for each of the four corners. They're roughly a big loop, but there's a lot of little twisty passages to explore. It's pretty easy to get through, though, and you shouldn't have any trouble with getting lost. The monsters here are pretty docile, some birds and bugs and stuff. The solution is also very simple. Overall, this is a very easy Wonder. Actually, I'd say it's by far the easiest.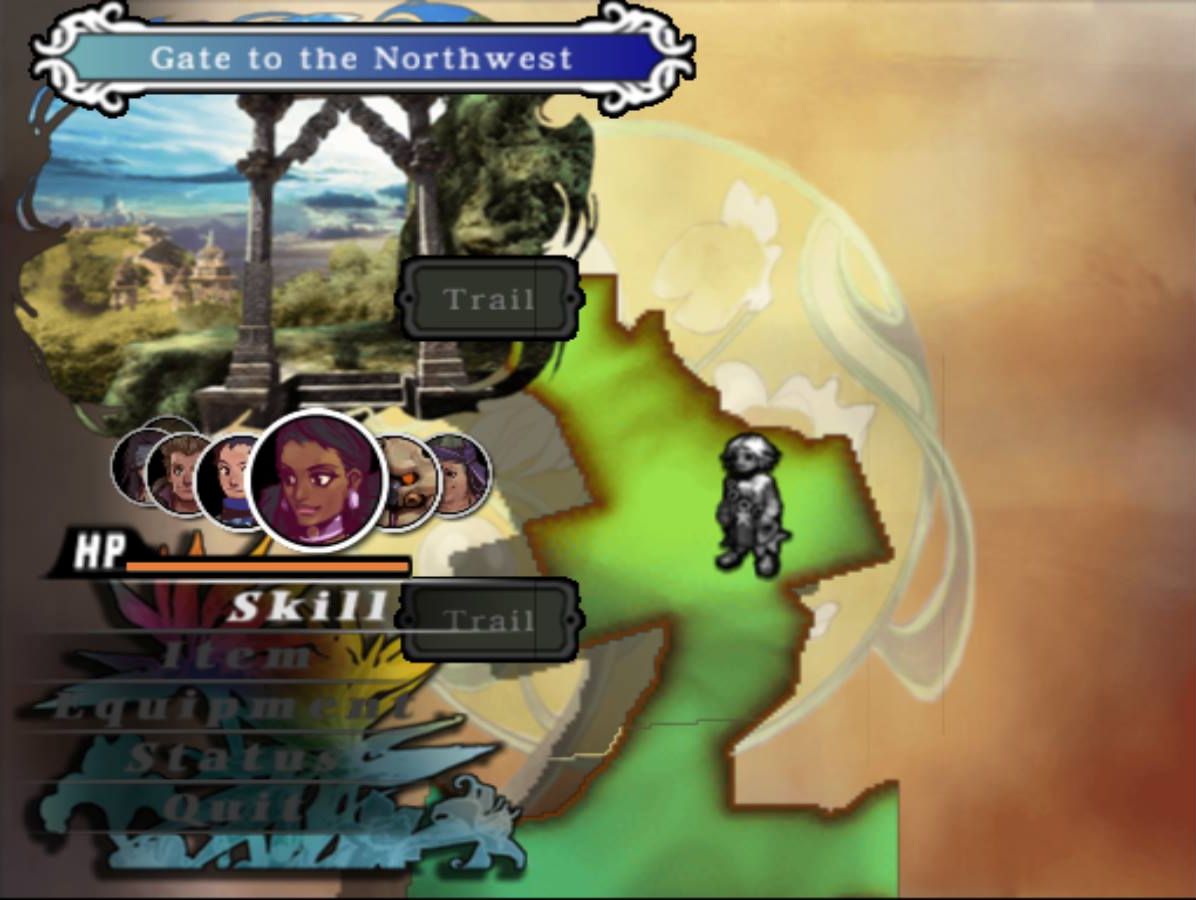 Since I already know what to do, I'm not going to go toward the hole, but rather continue around west and then south to get to the southwest map. Here's one of the 'gate' paintings that are on the spaces that connect the different map areas.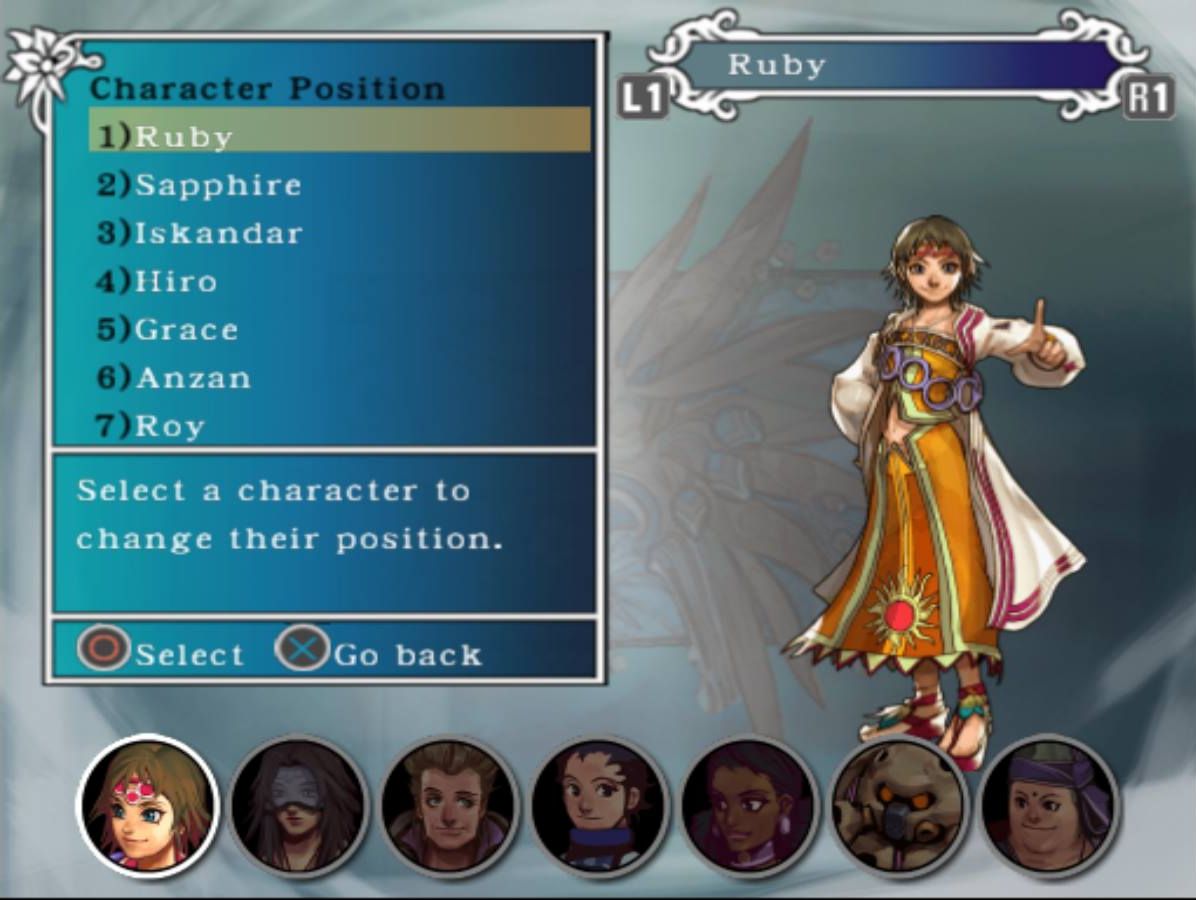 Now that we're here, let's take a moment to talk about character position, since we finally have a full party. Character position just affects two things: the order all the little circles are on the menu, I guess so you could keep characters who work together to open chests near each other for convenience?; and which characters appear on the battlefield at the beginning of a battle. There are no back-attacks or anything like that, so no action will occur with the characters that appear when battle begins. But what is more important is what happens with the characters who don't appear. When battle starts, the characters who aren't on the field will count as having rested outside of battle for one turn. Basically, you get a free heal to the two characters at the end of the list. This recovers a bit of HP (based on their recovery rate) and a chance to shed negative ailments if they have any.
In story adventures where you have unlimited turns and can rest outside of battle as much as you want, this isn't too big of a deal. But when you're in a subadventure and are worrying about a turn limit, this can be very helpful. If you keep your characters who take the most damage in the end of the order, you don't have to spend as many turns resting (or no turns resting) to make sure they're ready for the next battle. Characters like Anzan, who are good for tanking up-front and have great HP recovery, are great ideas to put in the back of the character order.
It's overall a pretty minor thing, but if you're wanting to maximize your strategy and especially on adventures with a tight turn limit, this can really be a relief to know about. I don't think the game ever tells you this and it might not even be in the manual lol.
There's also no running from battles in this game, so if you're getting in back-to-back battles, you'll have no time to rest, either. Resting is also your primary method of recovering HP over the course of an adventure. So sneaking in free rests where you need them most is a helpful mechanic to know about.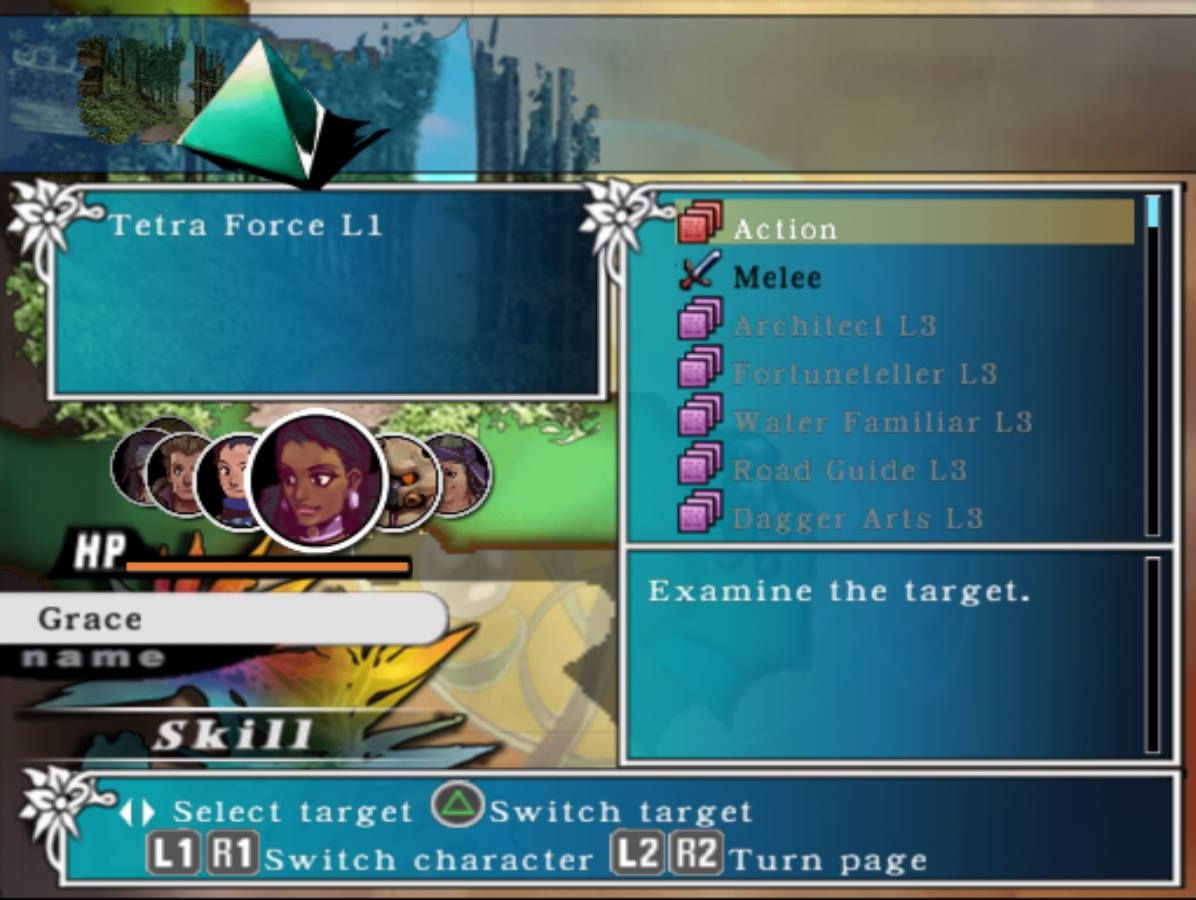 Anyway, almost immediately into the adventure, I've already found the Tetra Force. I guess the game assumes you'll be curious about the gap and head toward it first, and then upon learning you can't do anything there yet, continue heading east and end up at this part of the loop last. Oops.
I decided to save and develop the panel here. Bad idea. Because I had hardly done anything, I got a bunch of low-level, random panels. I had to downgrade half the party's stats because the new panels were worse than all the ones I already had.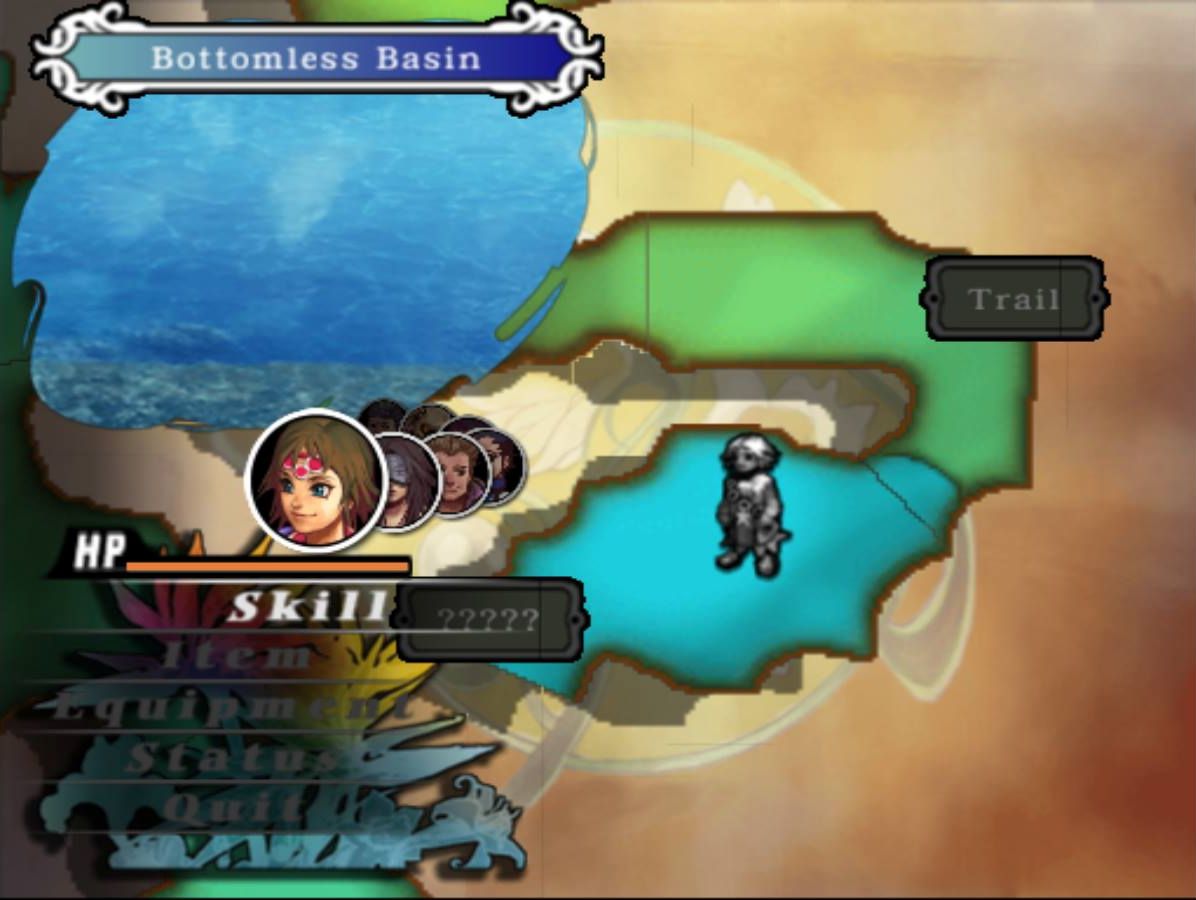 There are also these random "bottomless" basins about the island (which, from the painting, appear to have a bottom). You're just... able to walk through them?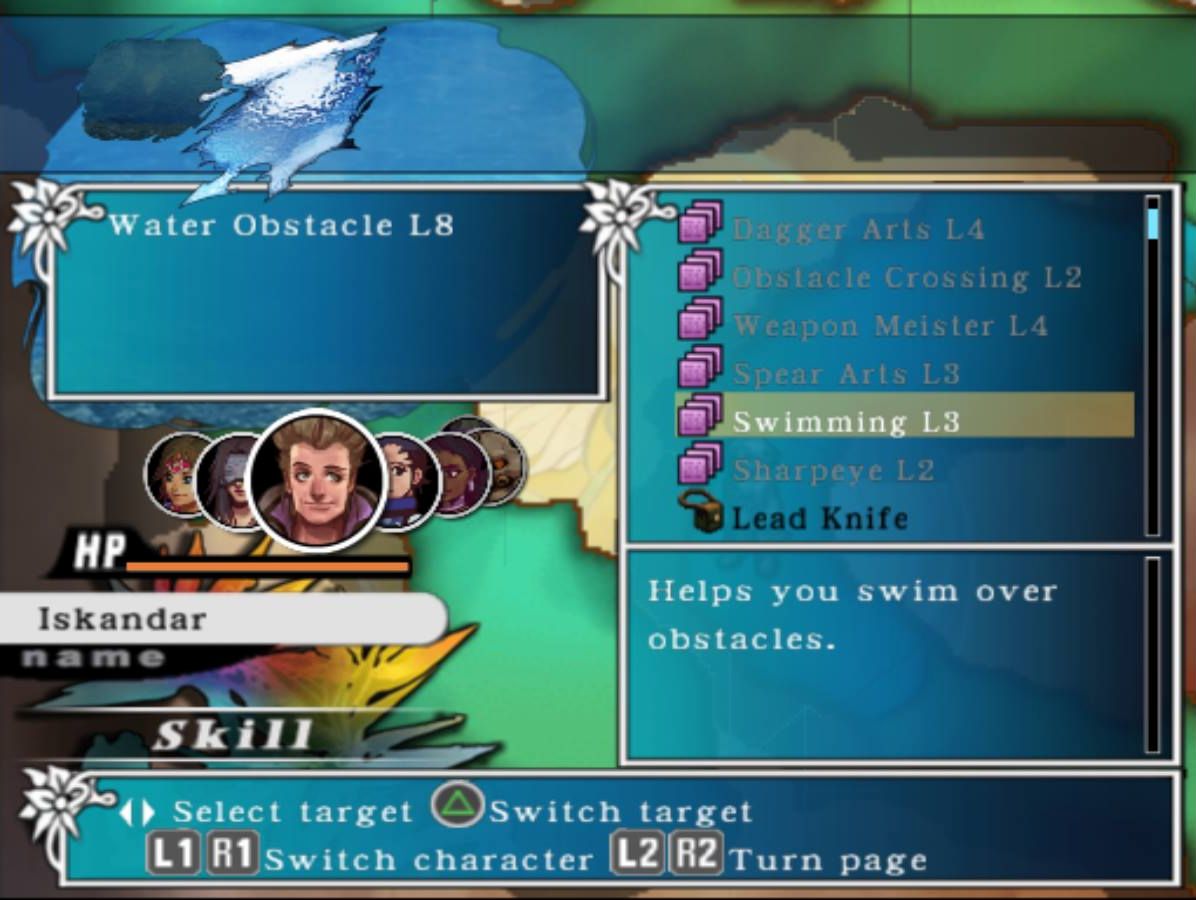 There are some places where you can swim, though. Basically, throughout the game you'll run into water or obstacles that block your path. As long as this 'object' exists, you can't move to the space that it is blocking. If you use the Swimming or Obstacle Crossing abilities, you can 'pass' the obstacle, which just removes it from the game/map. Then you can just move freely to the space it was blocking as if it was never there. It's kind of weird when you think of it mechanically like that, but basically you're just rolling a check to see if your characters are able to traverse that difficult terrain, and then once you prove you are, you don't have to roll anymore.
The only weird thing about it is that since they function as objects placed on spaces, they're always in pairs. So if there's two spots to the left and right of each other, and the space between them is "blocked" by water, there will be a "water" object on both spaces. So if you're on the right, and use Swimming on the water that's on that space, you'll then be able to freely move from the right space to the left space as many times as you want. But the left space will still have a water hazard object on it, so to go from the left space to the right space, you'll get the message that your path is blocked by water, and you'll have to clear the water object in order to go left to right, even though you can still go right to left.
This is a theme throughout this adventure, as pretty much there's a bunch of random dead ends blocked by water or boulders, so you'll be overcoming the hazards, traversing to the dead ends, then walking right back and having to overcome them again. Since you only go each direction once, it just seems like you have to overcome the obstacle every time you reach it... but that's not actually the case. There are maps where overcoming hazards give you shortcuts, so you could theoretically walk all the way back around and continue to pass through freely from one direction to the other, but not in reverse.
Anyway, silly as it sounds, it's not particularly noticeable because you'll usually only go through one way (shortcut), or go in and come back out the same way (blocked dead end), so it never feels like something strange is going on, because you're only performing a check once per direction anyway without really noticing that you can go back over without a check.
Anyway, I spent too much time explaining that and it probably didn't make too much sense anyway.
The dead ends behind the hazards here tend to have high-level treasures, so it's good to check them out. Generally hazards will either block treasure like that, or block turn-saving shortcuts. As far as I know, only one adventure actually requires you to overcome a hazard to clear it, and it is possible that I just didn't find the intended path to that adventure, or there's an alternate solution. But since it's possible to just not have these skills at any time, you're rather rewarded for having and using them rather than punished for not having them.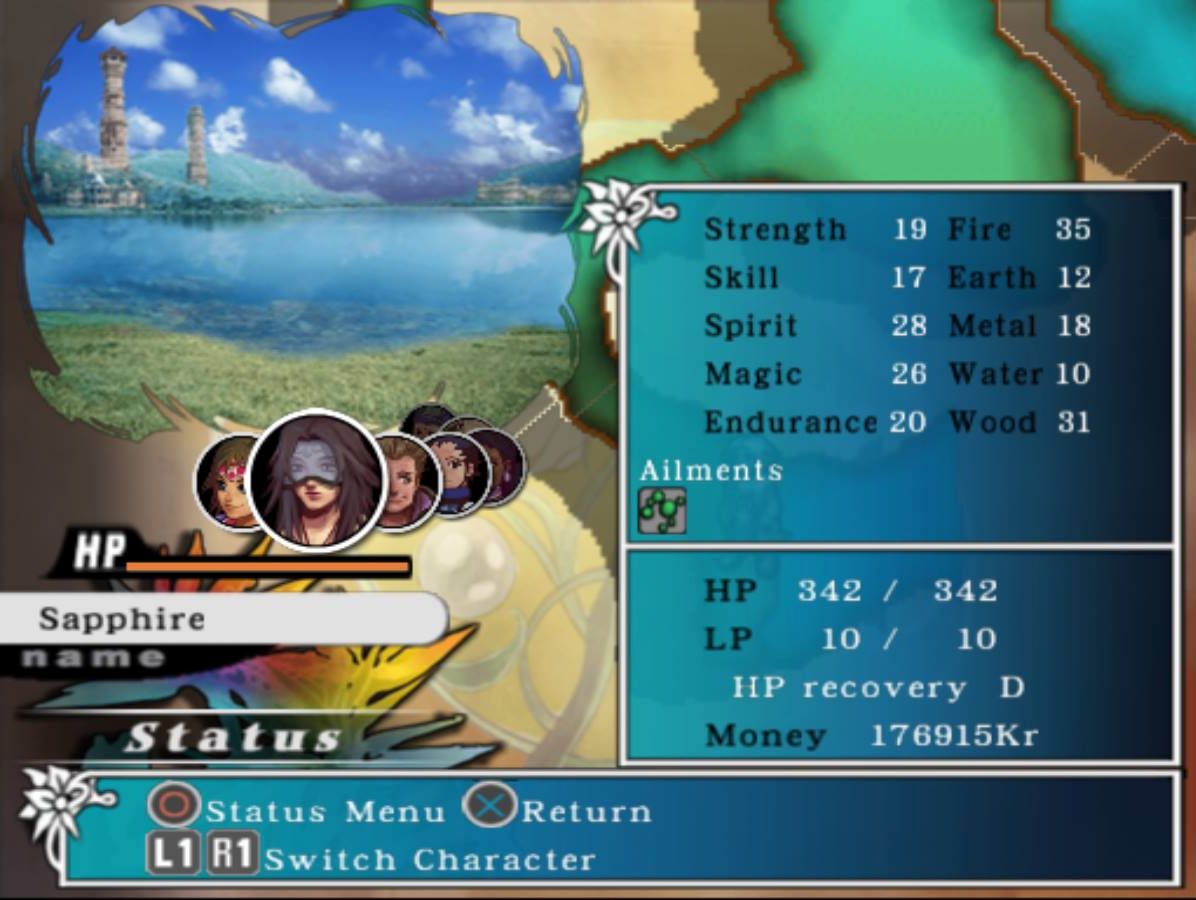 I learned that you can get a better view of the area paintings by bringing up the status screen. It gets rid of the little title thing the blocks part of the top of the painting. Not much, but hey.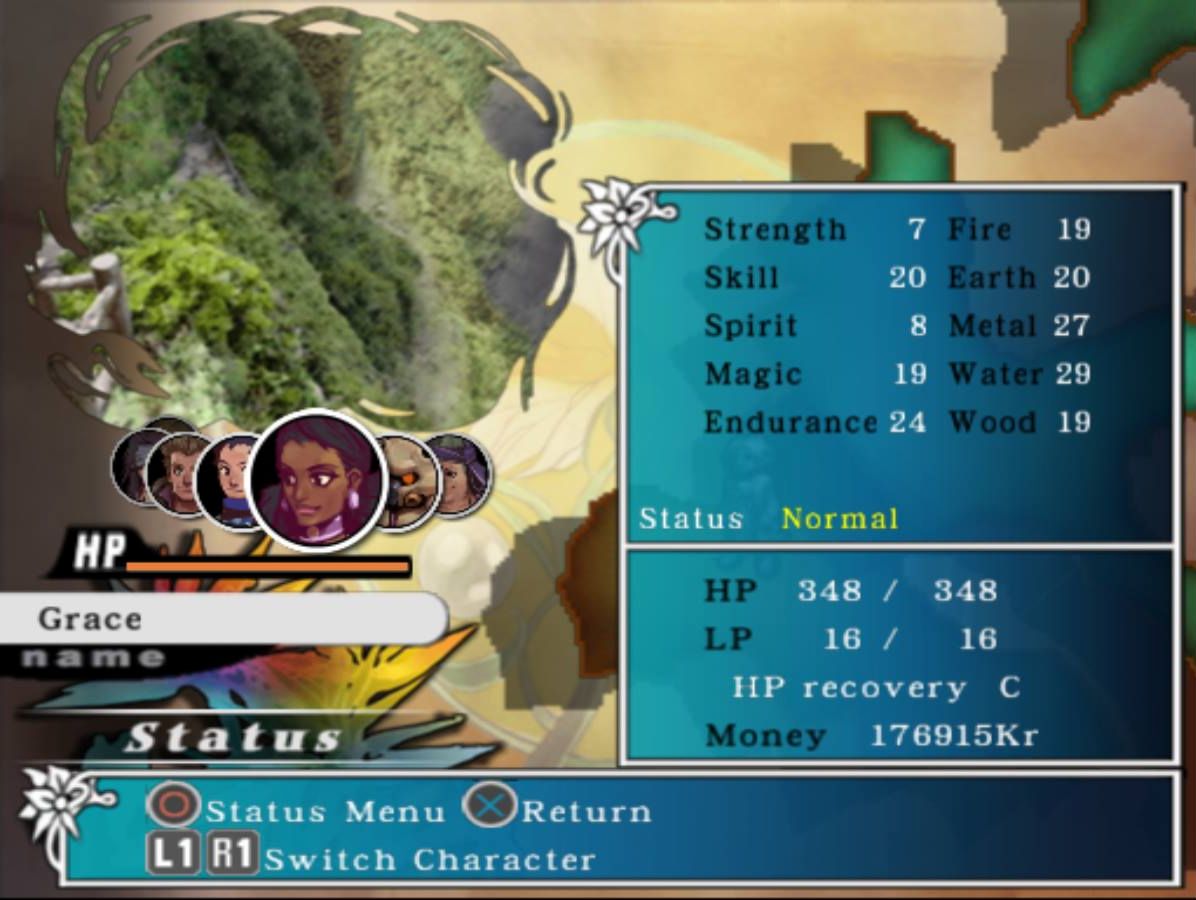 Another painting that looks almost real. Sorry that I'm mostly just talking paintings and mechanics -- not much happens in this adventure. It's really simple and easy. Plus, uh, I just really love the paintings and the mechanics.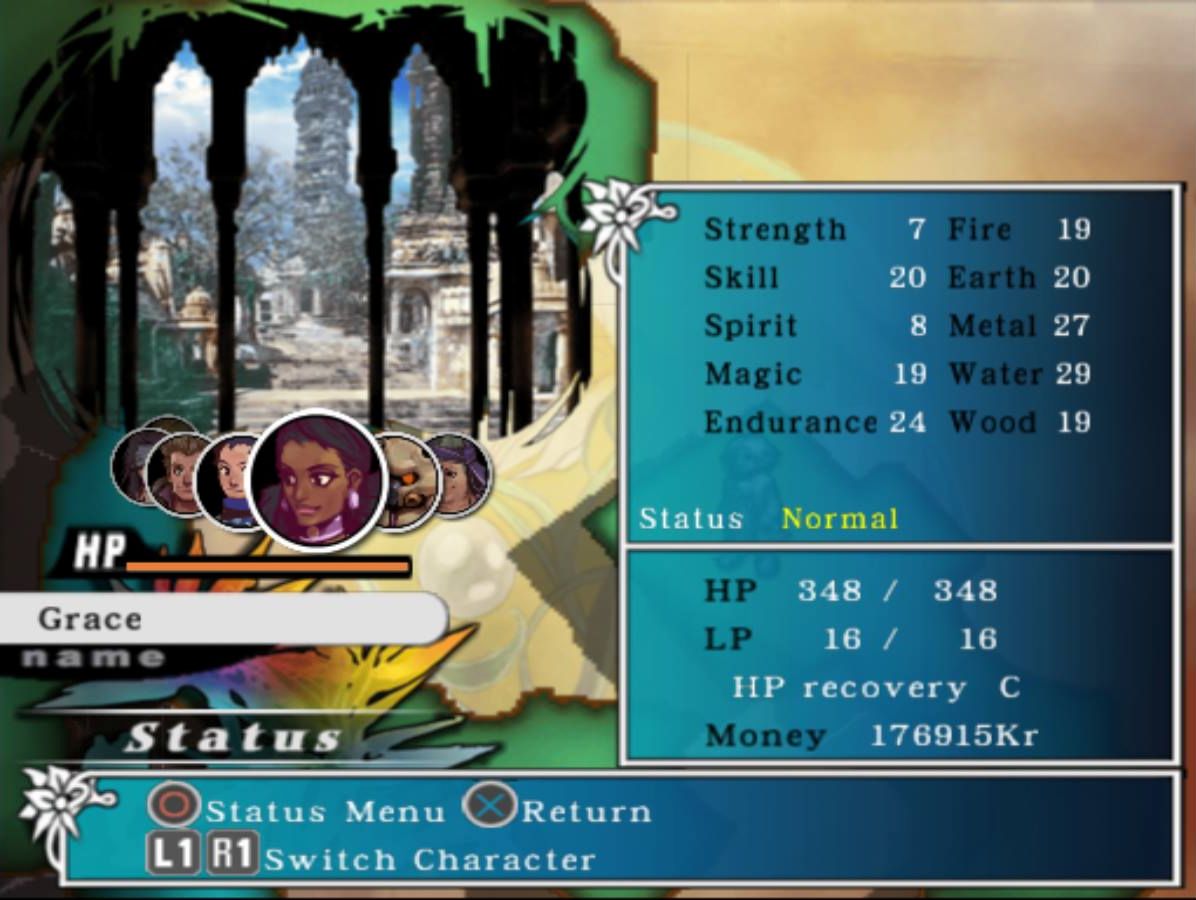 Paintinggggssss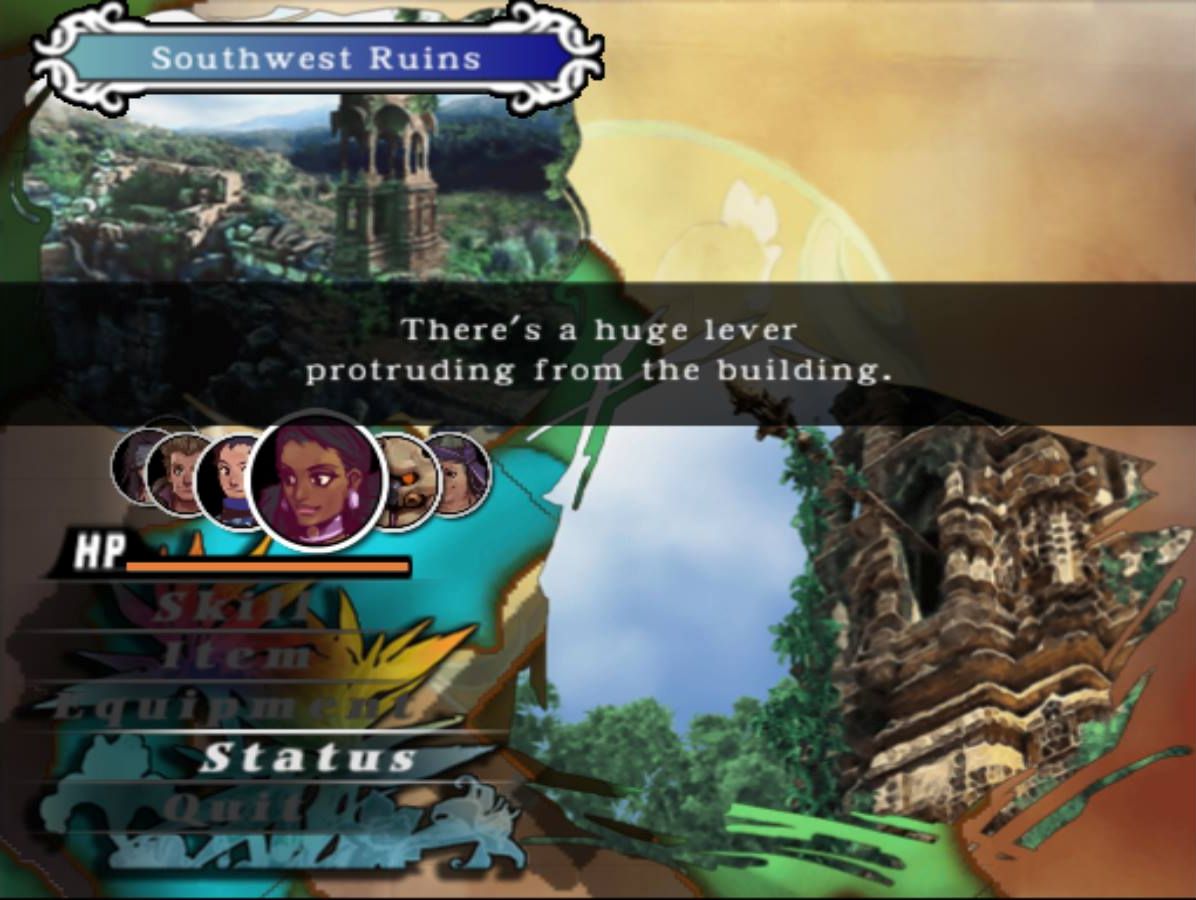 Eventually you will come to these huge levers that are part of the three towers you noticed before. There are vines hanging down from the levers, and you can use them to pull the levers down.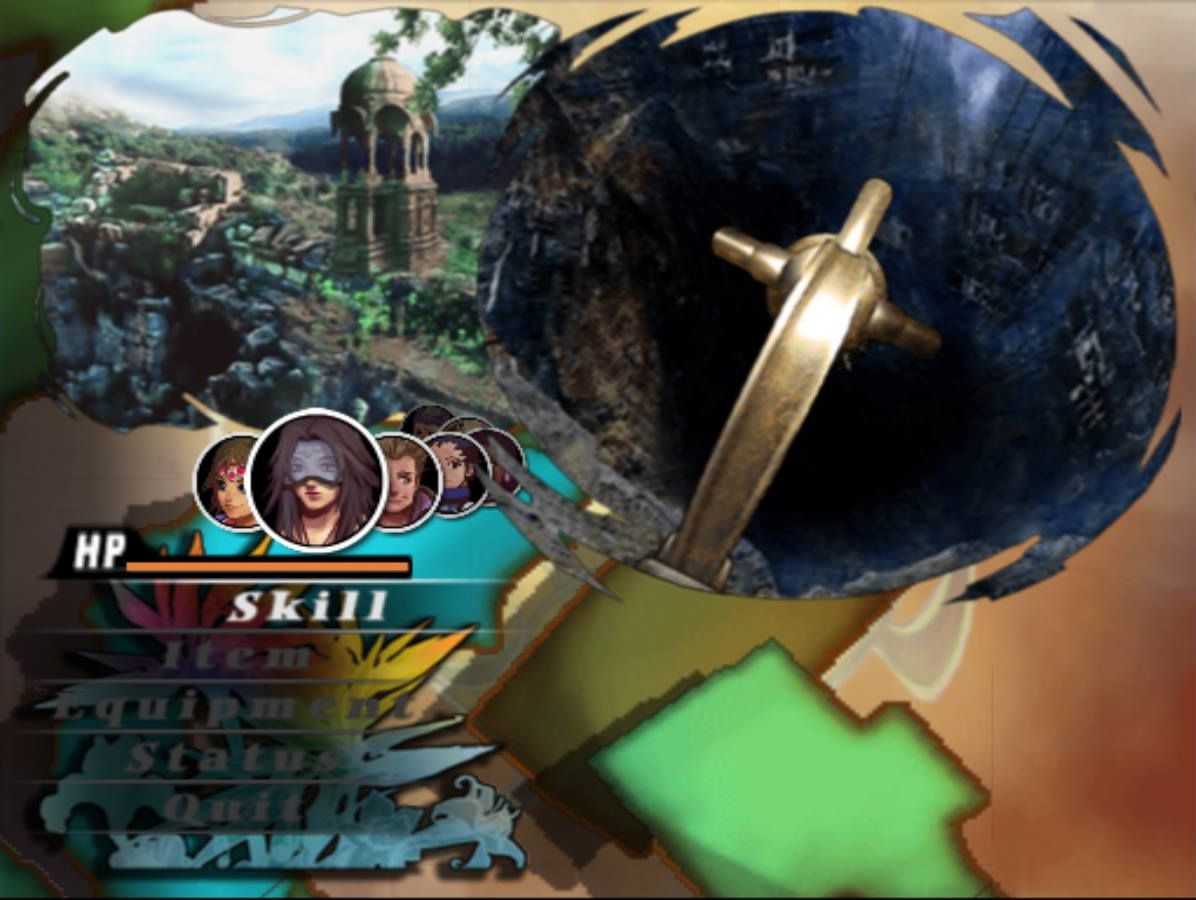 Upon pulling a lever down, a giant pulley thing hanging into the gap in the center of the island will pull something closer to the top. The first time, you can't really see it, but it just says 'it appears to be something enormous.'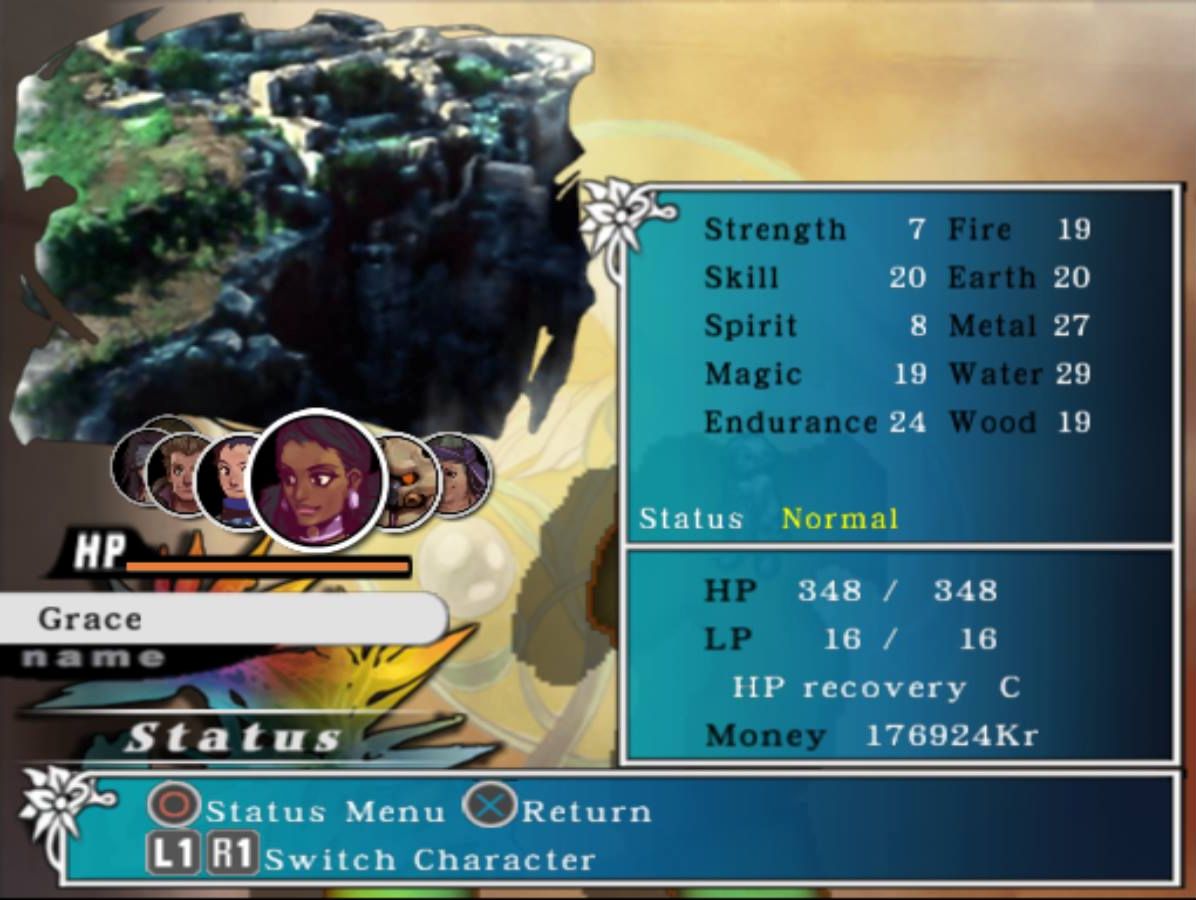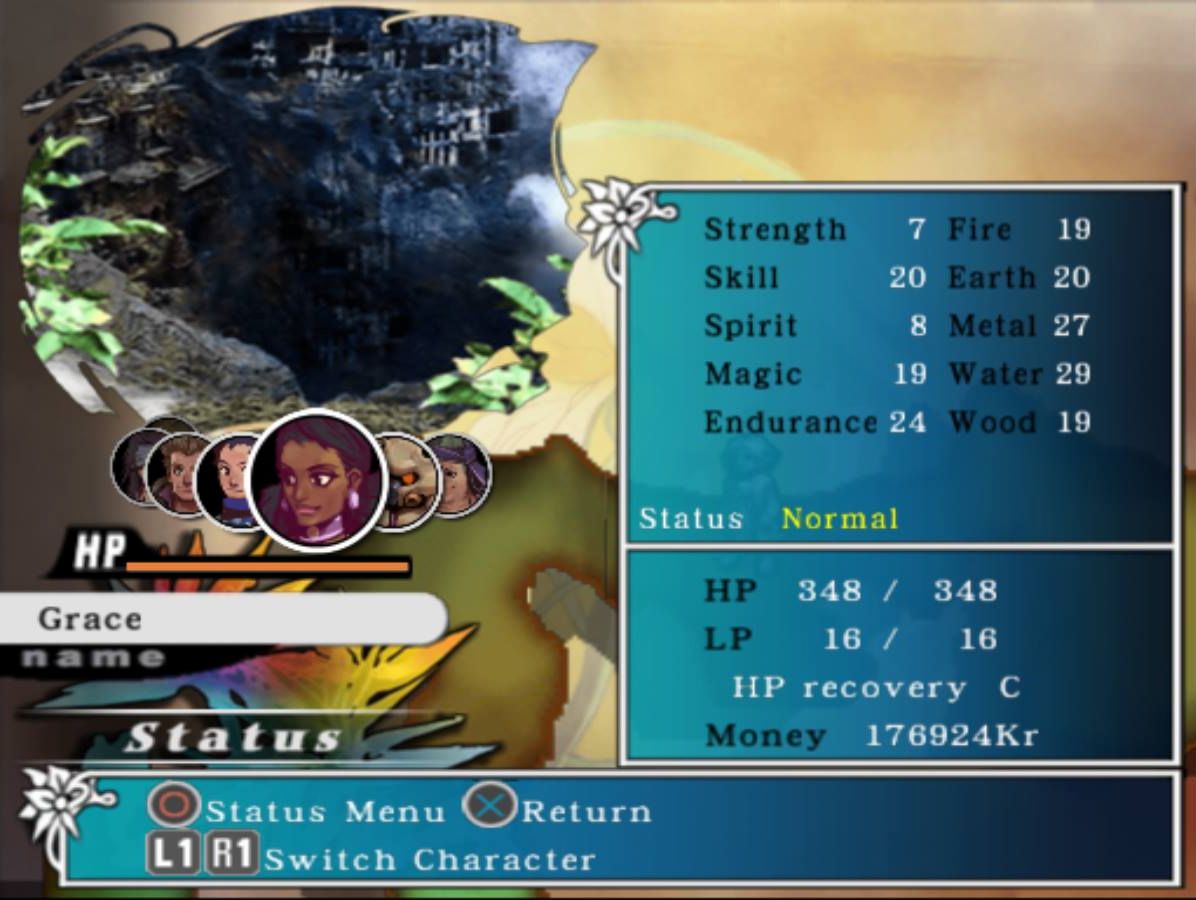 Paintings :)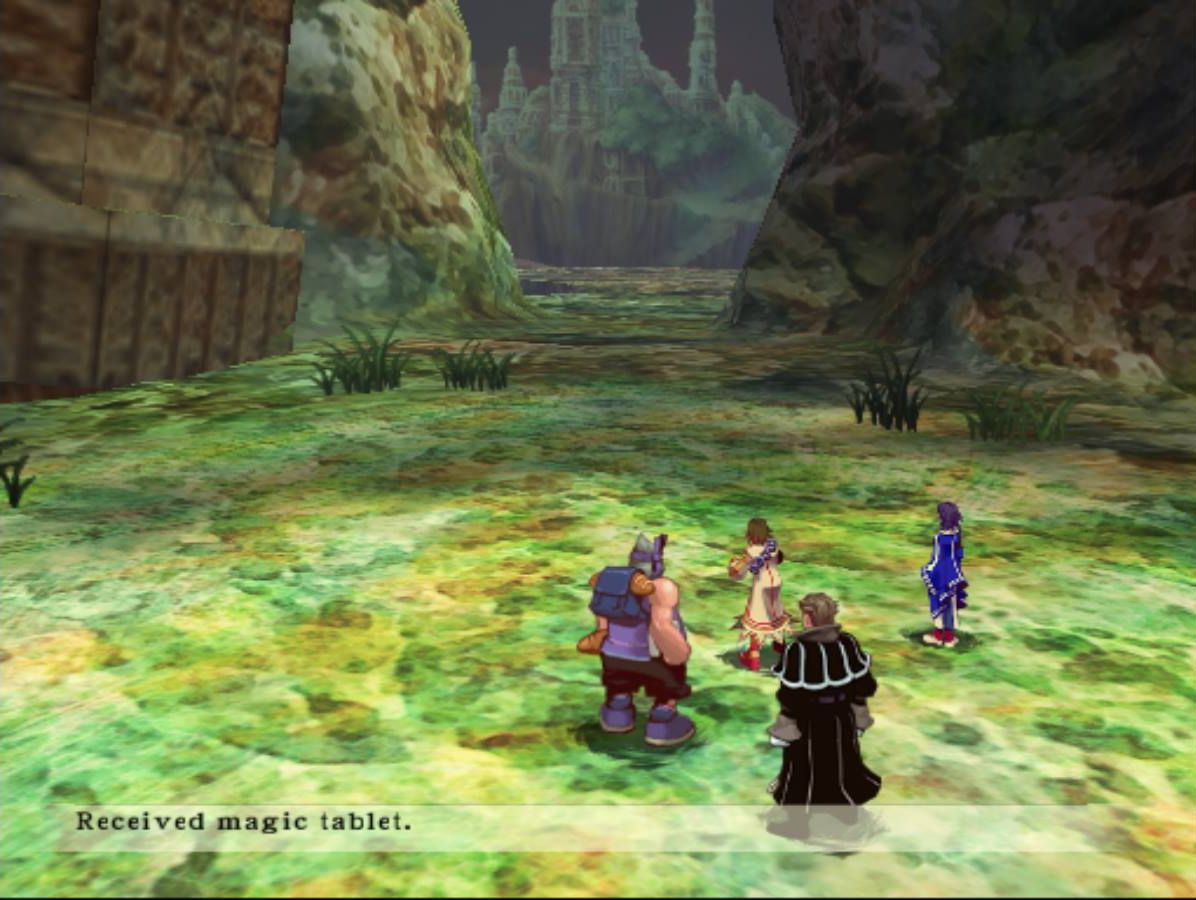 I got a magic tablet from a treasure slime :D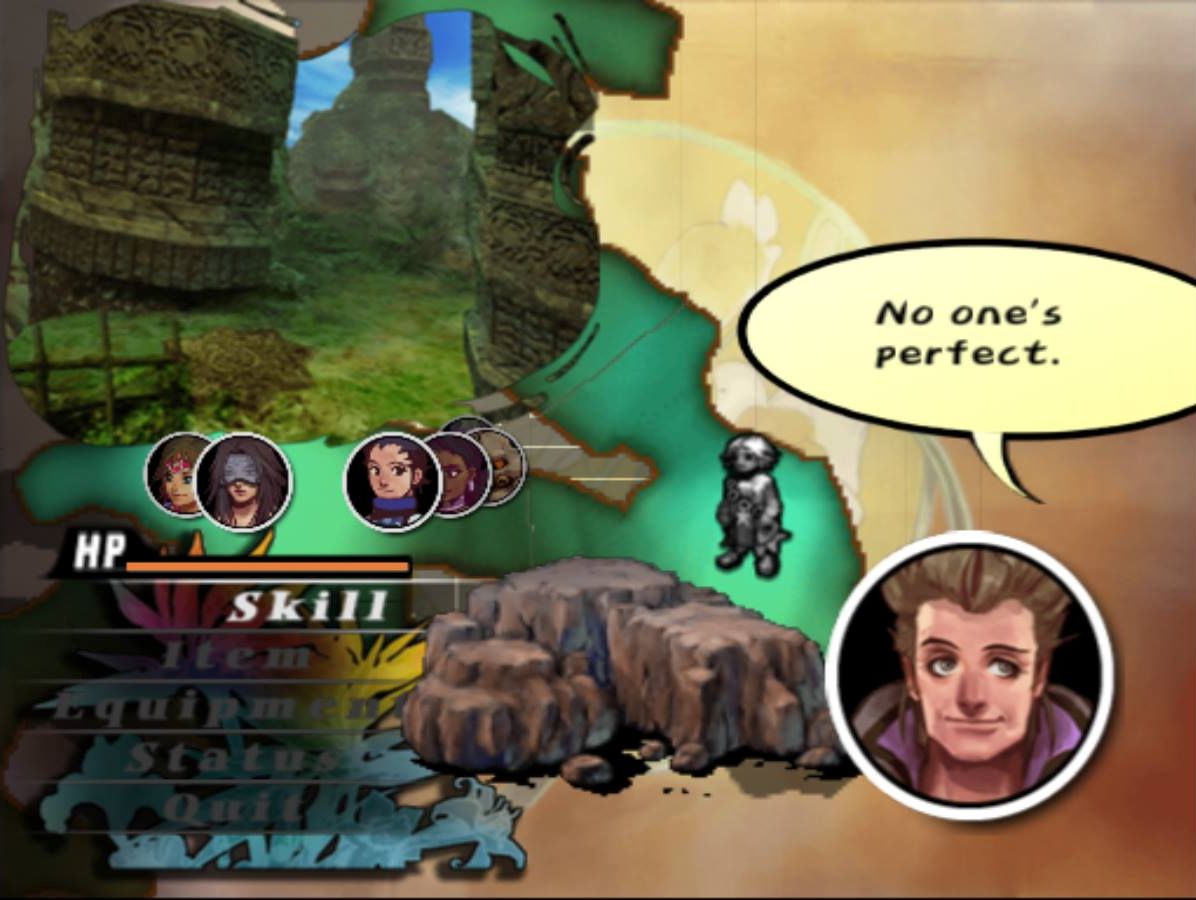 When Iskandar fails a skill reel (he's my swimmer/obstacle climber). He says "No one's perfect." Whenever he says it, I can't help but think of this song lolololol. And now I'm imagining Isky performing it, and it's amazing.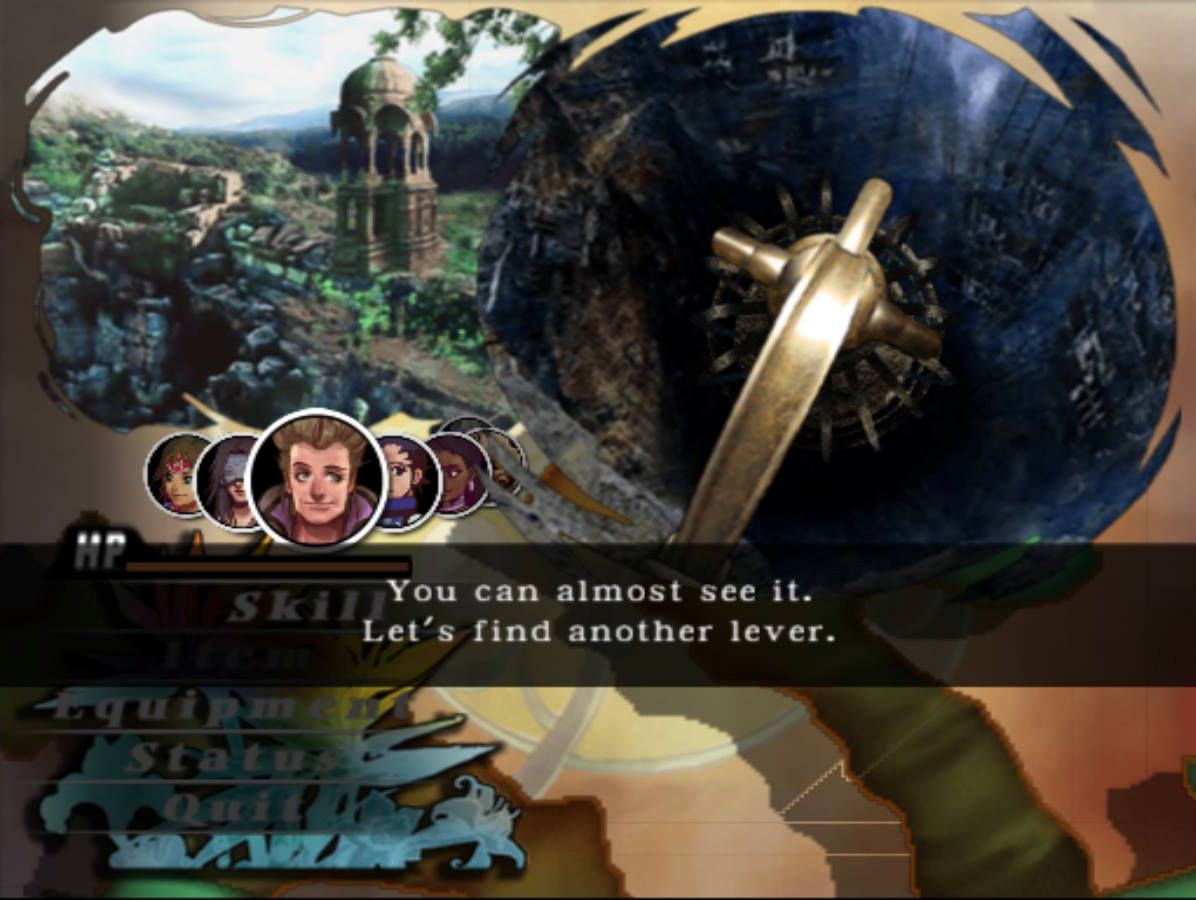 Basically, you just continue around the island loop, hunting treasures and looking for the towers. If you're thorough, you shouldn't have any trouble finding the towers. For some reason, though, I used to always miss the southwest one somehow and end back around at the beginning with only two of the levers pulled. I don't know how because the maps are pretty simple.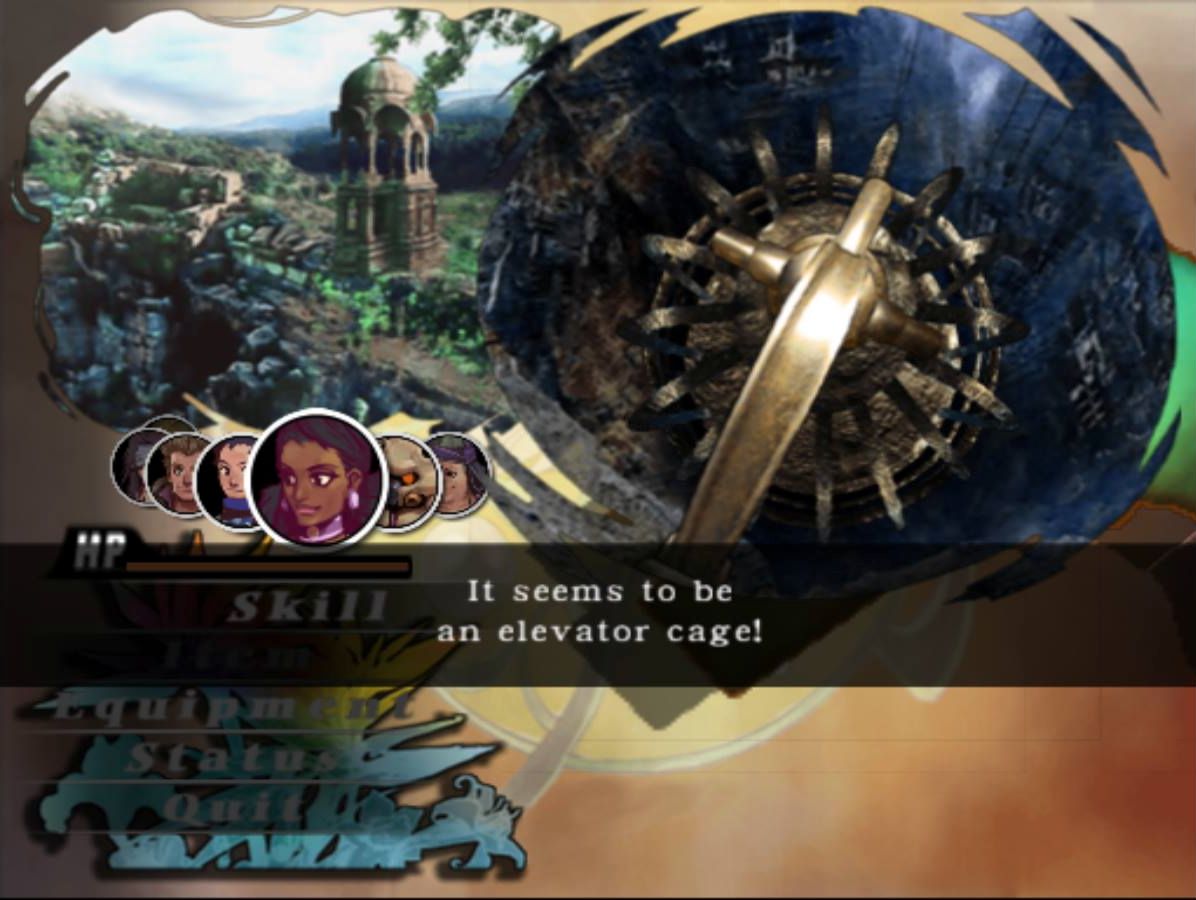 The third lever reveals that what you've actually been doing is operating an elevator.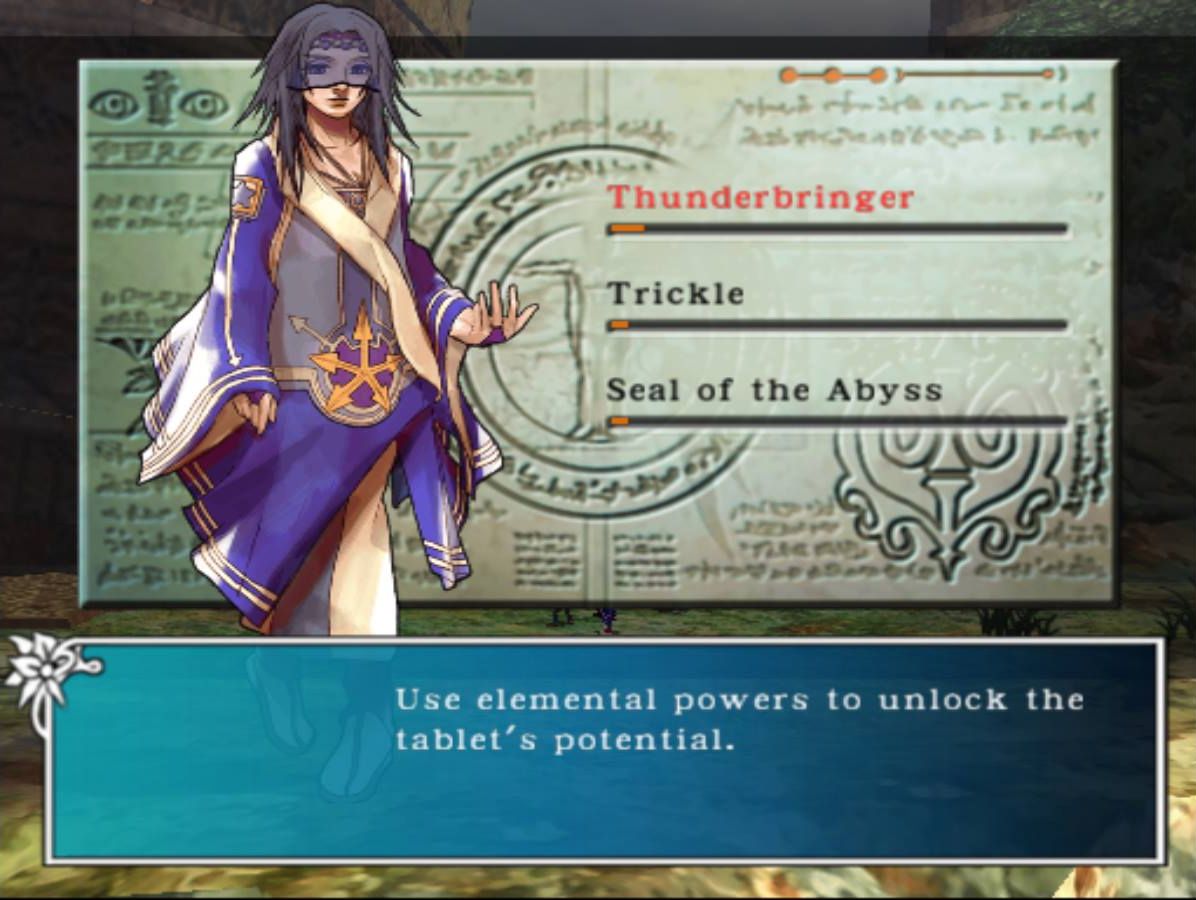 Before getting to the end, Sapphire finished learning Meditate and has moved on to Thunderbringer. This is a pretty powerful wood art, though maybe not as great as Holy Seal. But since it has the shocking attribute, it's good against Aquans and monsters that are weak to that, and probably will work much better than Holy Seal against those types. Speaking of attributes, in most SaGa games, including this one, damage can have six different attributes (including combinations of these): cutting, bludgeoning, piercing, hot, cold, and shocking. Characters and enemies have individual defense values against each of these.
Also notice that this tablet has access to Seal of the Abyss, the forbidden art that the lich boss from Starship Anchor was using.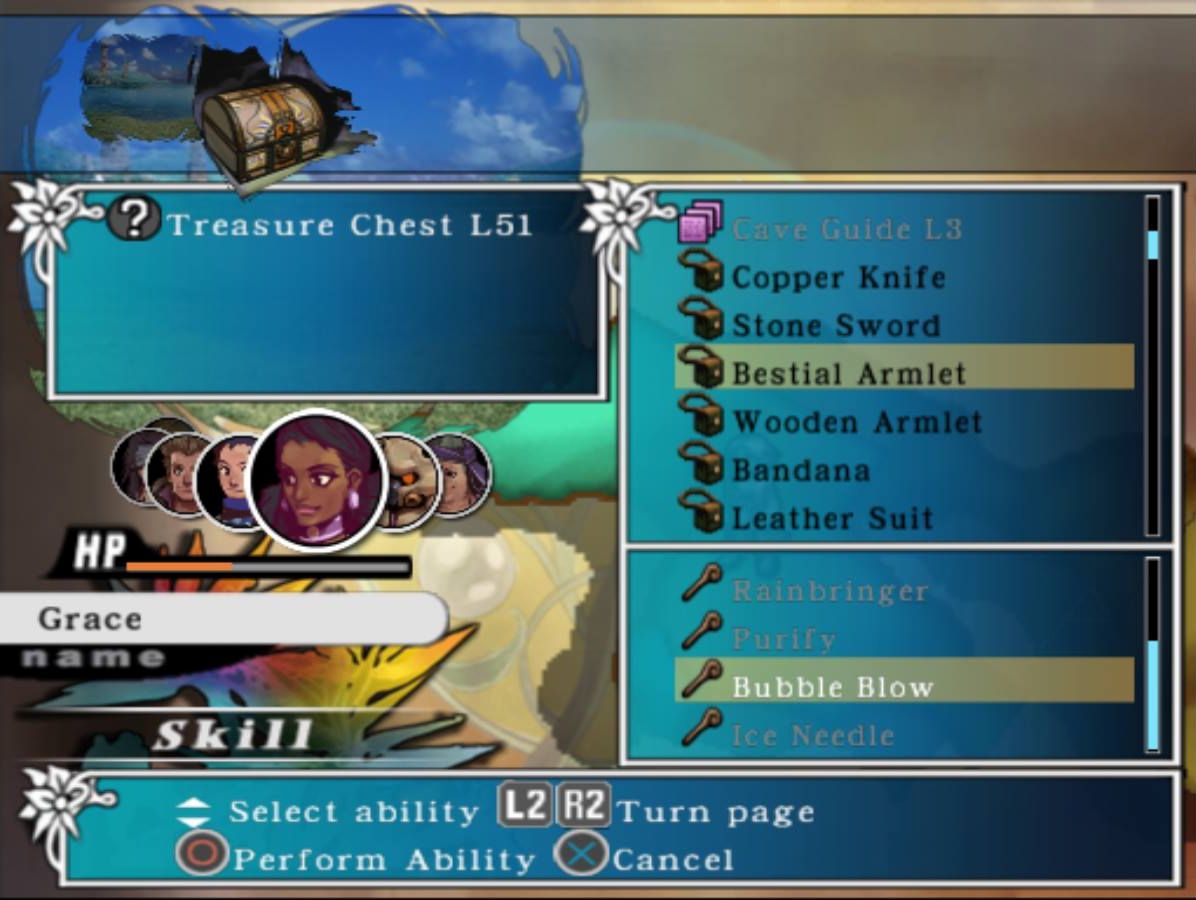 I can actually open magic locks now. They're somewhat rare, but when a chest is locked with magic, you need to use a single-target damaging magic art. And you have to actually know the spell -- you can't just use a familiar. And just like in battle, you have to be equipped with an item with the elemental arts on it to use it. You select the item (which will be in black like this) and then it will bring up the abilities you can use from it... you have to find one of the compatible arts, and choose it. Then you'll have to roll a reel to see if you unlock it. It even uses one durability of the item for each roll you do...
I did it this once because it had some good money or something, but generally if there's a magic lock in this playthrough, I'm just ignoring it unless it's big money and there are no traps. It's not worth the item durability since I can't repair my items.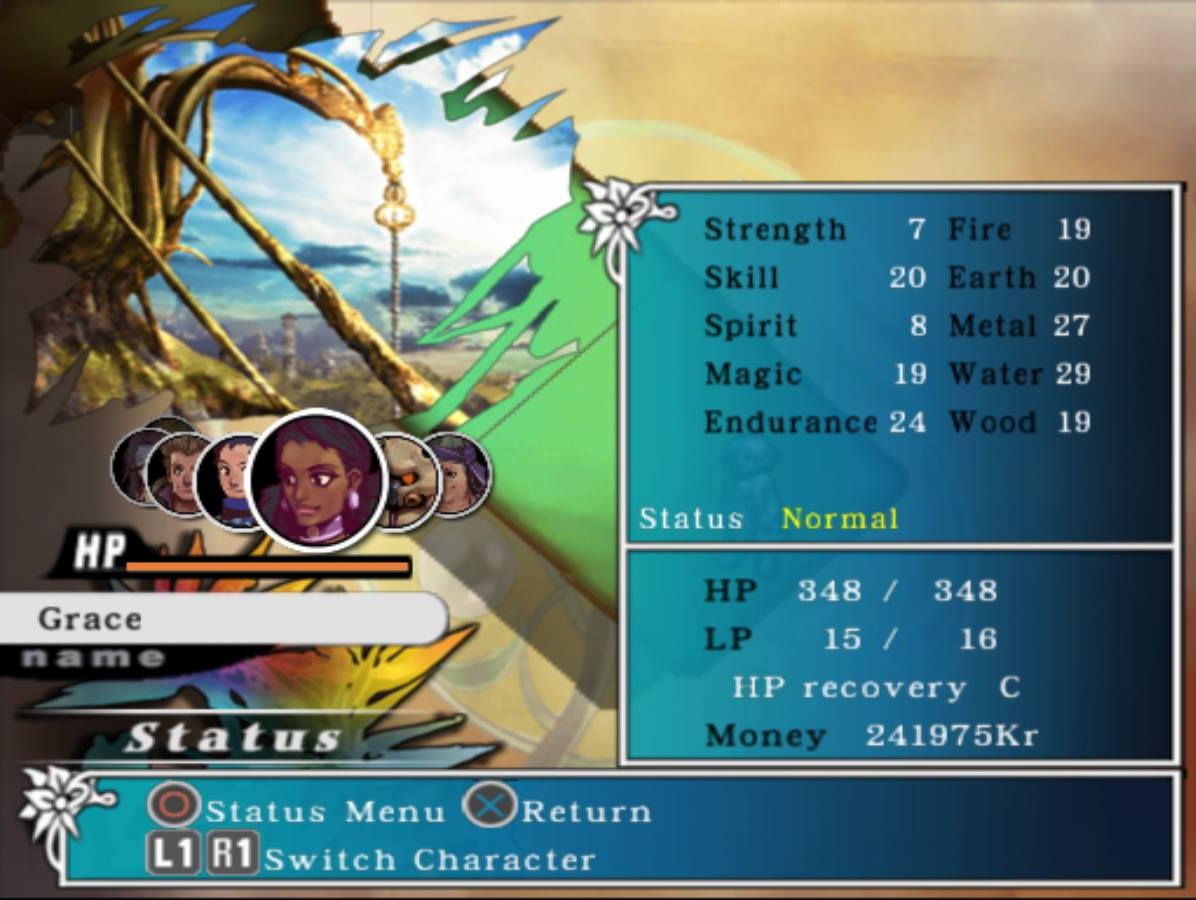 Unique painting for the final space next to the gap, where you can see the pulley. You can only reach the elevator cage from the northwest area where you first saw the gap, as there's a little landing thing leading out to it. I think it's amazing that someone went through the work of painting so many detailed landscapes and stuff like this, for them to be used while you're standing on one space in the game for like... a couple seconds.
I really wonder if there is an artbook with all of these? I've seen one with all the town and inn paintings that also has some characters and stuff but I didn't see any of the environments in it like this. I don't actually know what all contents the books have and there are several artbooks and guides and stuff for this game (Japanese only. There's also a manga and a novel!)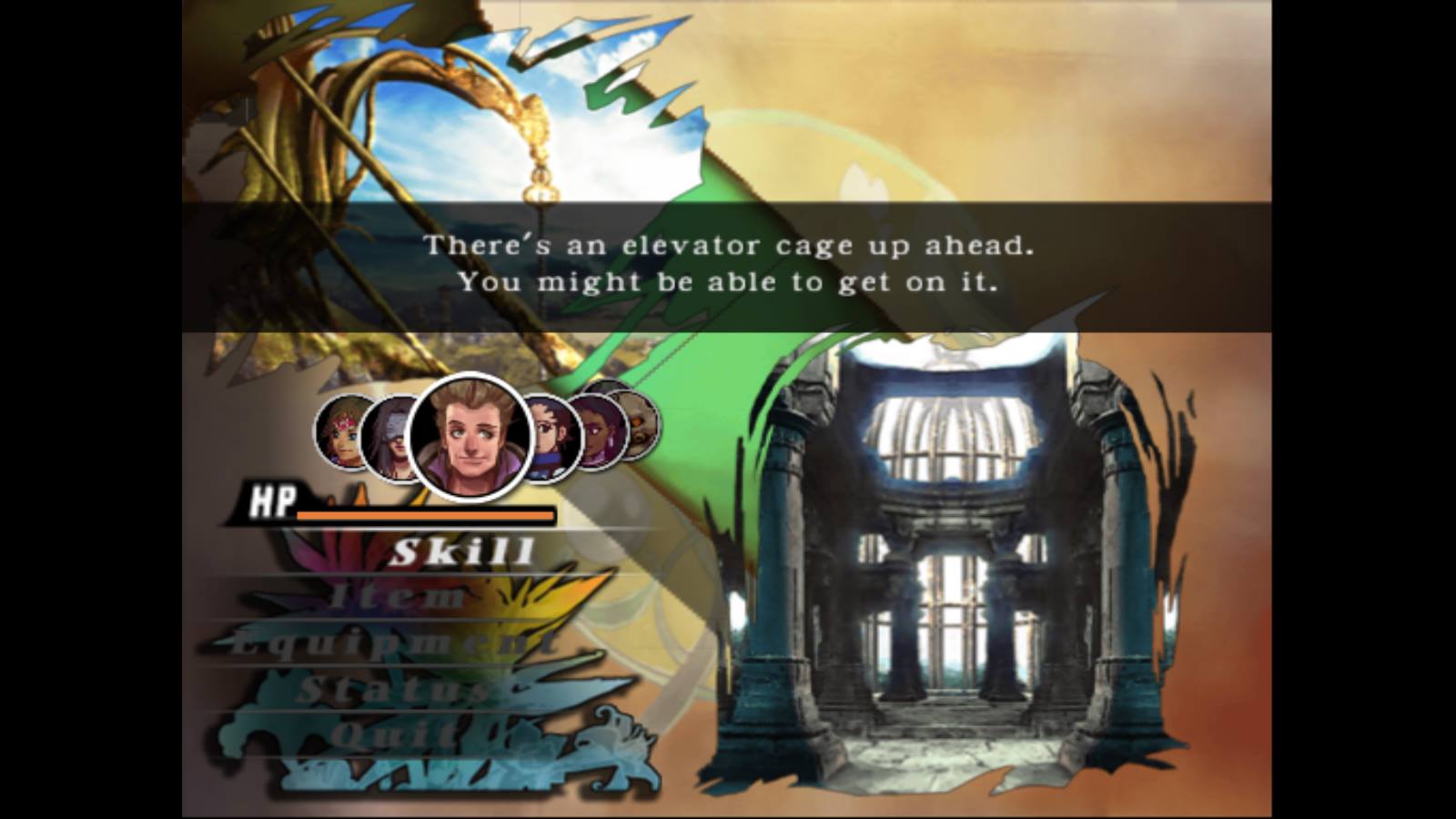 Here's the cage. Of course we're getting in. It's gotta be safe, right?
When I first read this the first time I played this adventure, I thought the thing was like plummeting by gravity into the pit. But after it says this, it actually shows the animation and it moves downward like a normal elevator. So I guess by "fall" they just mean "descend."
There's no map or anything for the bottom of the pit. You just... are in a watery area and fight one of the elder dragons suddenly.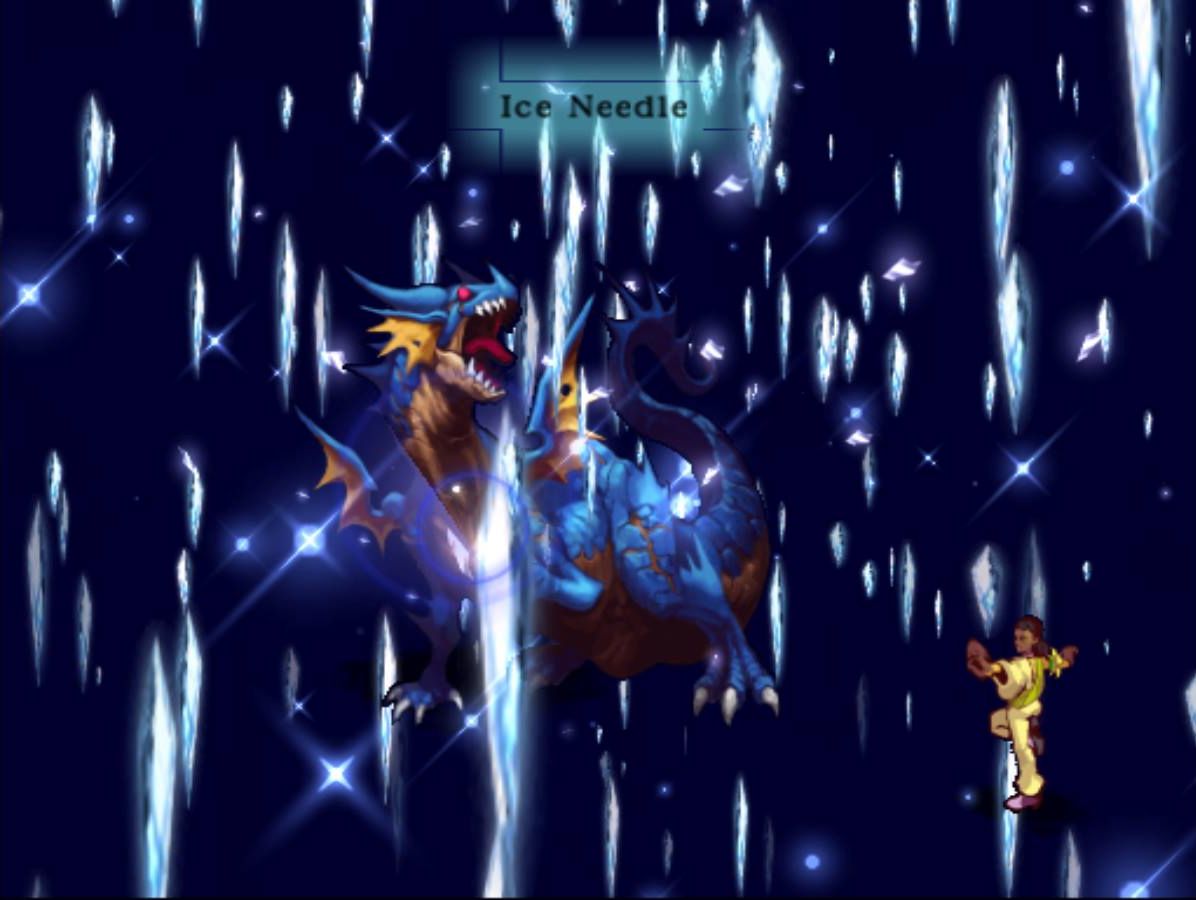 There's not much to say about this fight because it's really easy. It has many abilities that can hit everyone in your party, including one that can also stun anyone it hits at the same time. Most of the time it just bites you. It's not very threatening. It doesn't have a lot of HP so you'll start damaging its LP right away, and then it's LP isn't too scary (like 12 or something, but you'll be dealing damage early and fast).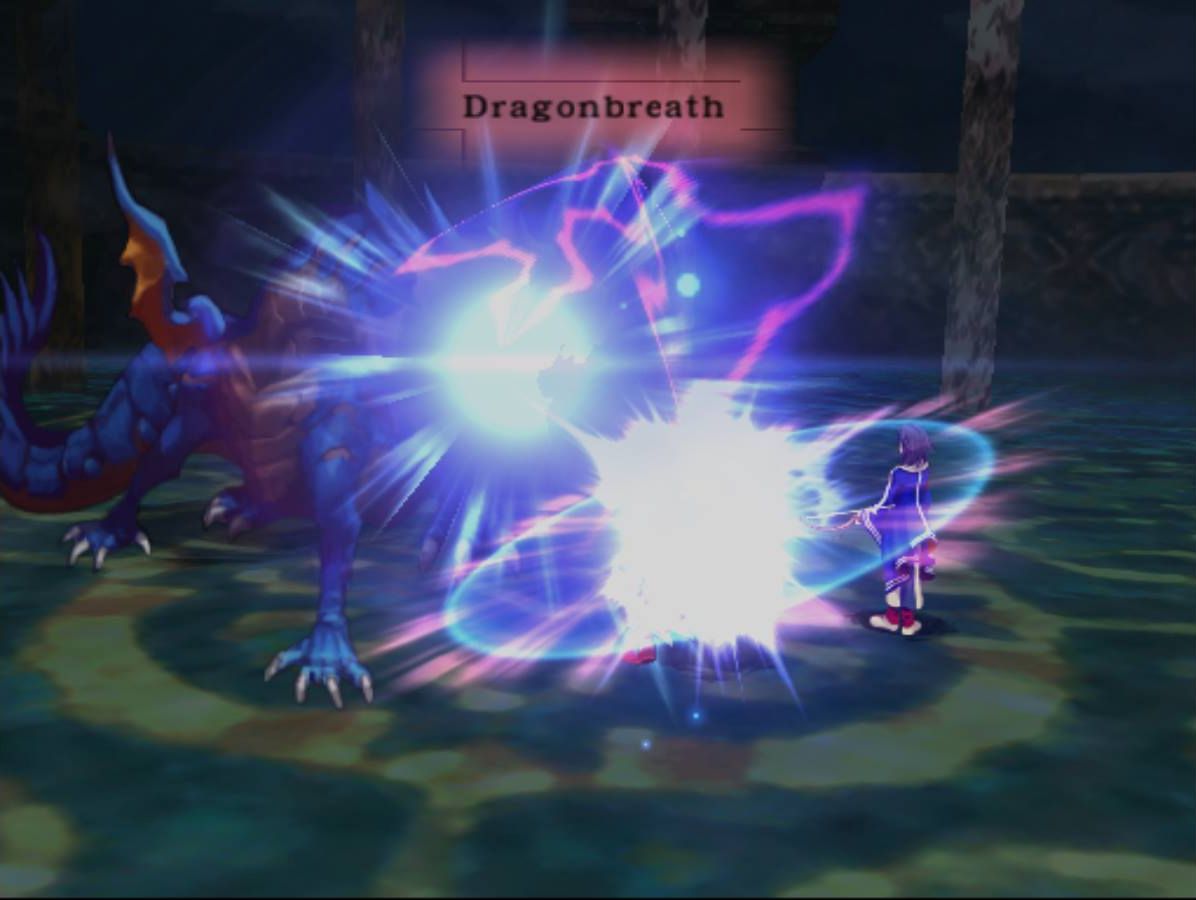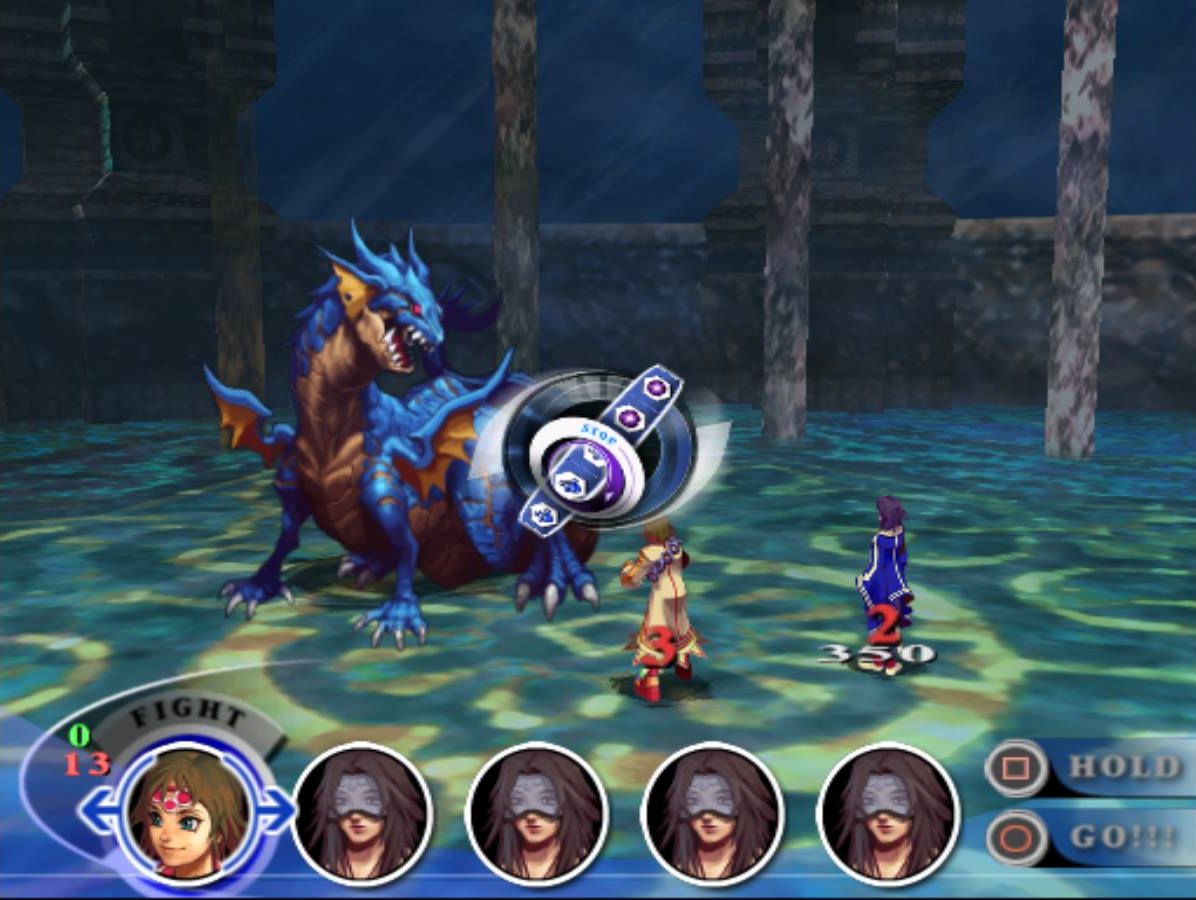 Its attacks can be powerful (here it's doing 3 and 2 LP damage to Ruby and Sapphire respectively), but honestly you can defeat it so quickly it doesn't really matter. Sapphire got kinda close to dying but it's because she was on the field almost every turn and her LP is so low to start with.
Tail Lash is an obnoxious attack that will hit everyone with a chance to stun. At first you would think, since he can hit everyone who is on the field, it would seem better to send out less characters per round so he doesn't hit as many, but if you have two characters out and both get stunned, you just wasted a whole turn doing nothing and taking damage. And he's not strong enough to really be considered a threat, unless you're not very good at dealing LP damage yet. Sapphire and Iskandar are really my only LP-damagers at this point, but they're still more than enough.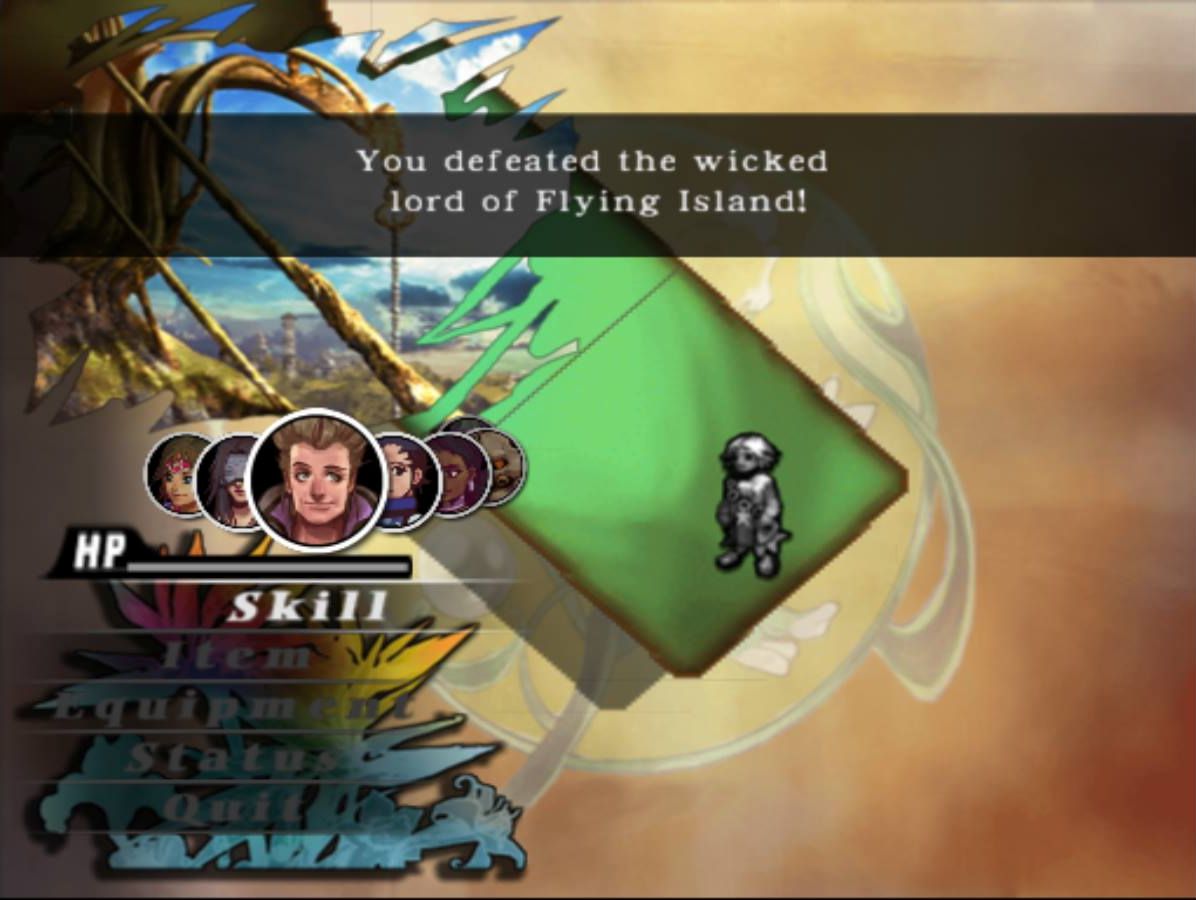 Once you defeat him, you get this little message, and like always, immediately on the panel select screen. (When I say immediately, I just mean there's no fanfare or anything. The screen does fade out at least lol). And we're still at the top of the elevator. It doesn't even show you coming back up. From a mechanical standpoint, you never actually left this space anyway.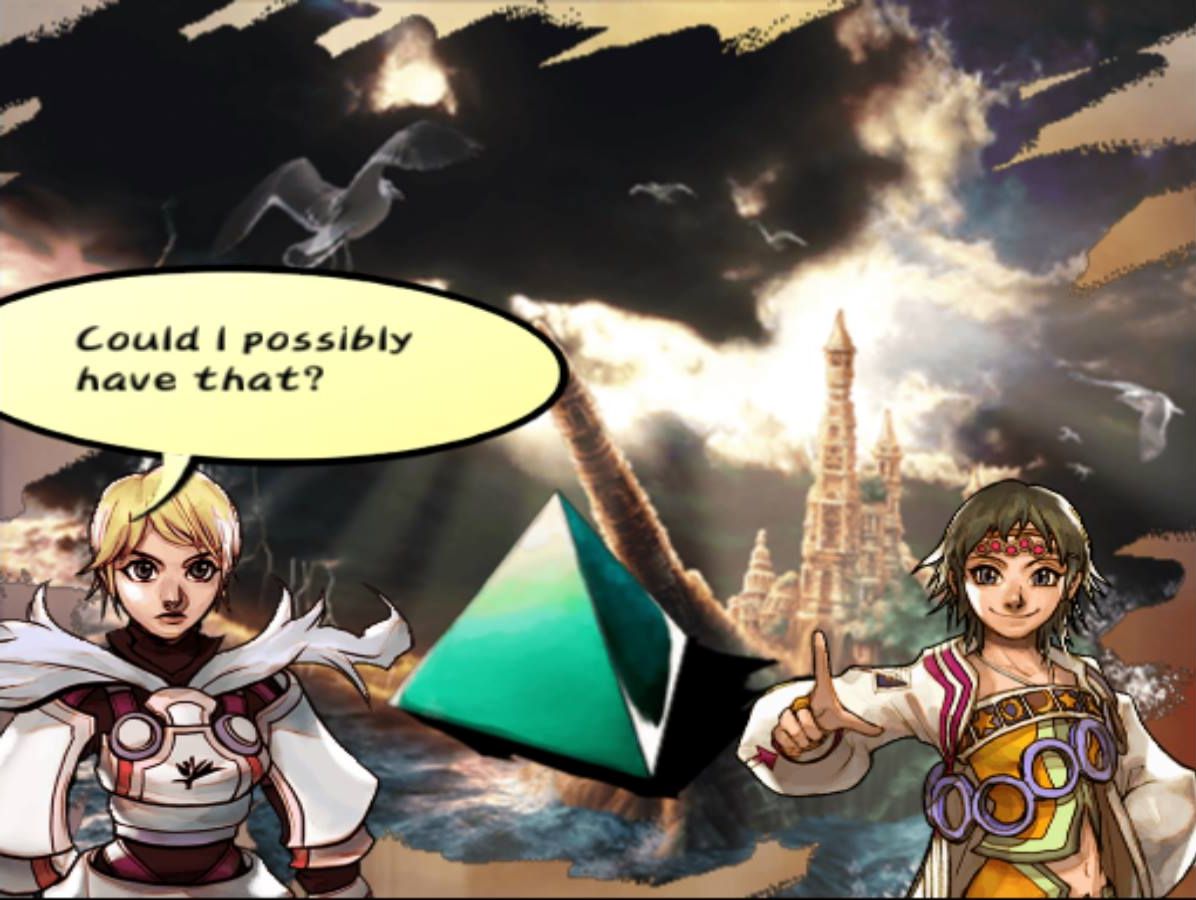 After finishing this Wonder, Jeanne Maure shows up and sees Ruby with the Tetra Force, and asks if she could have it.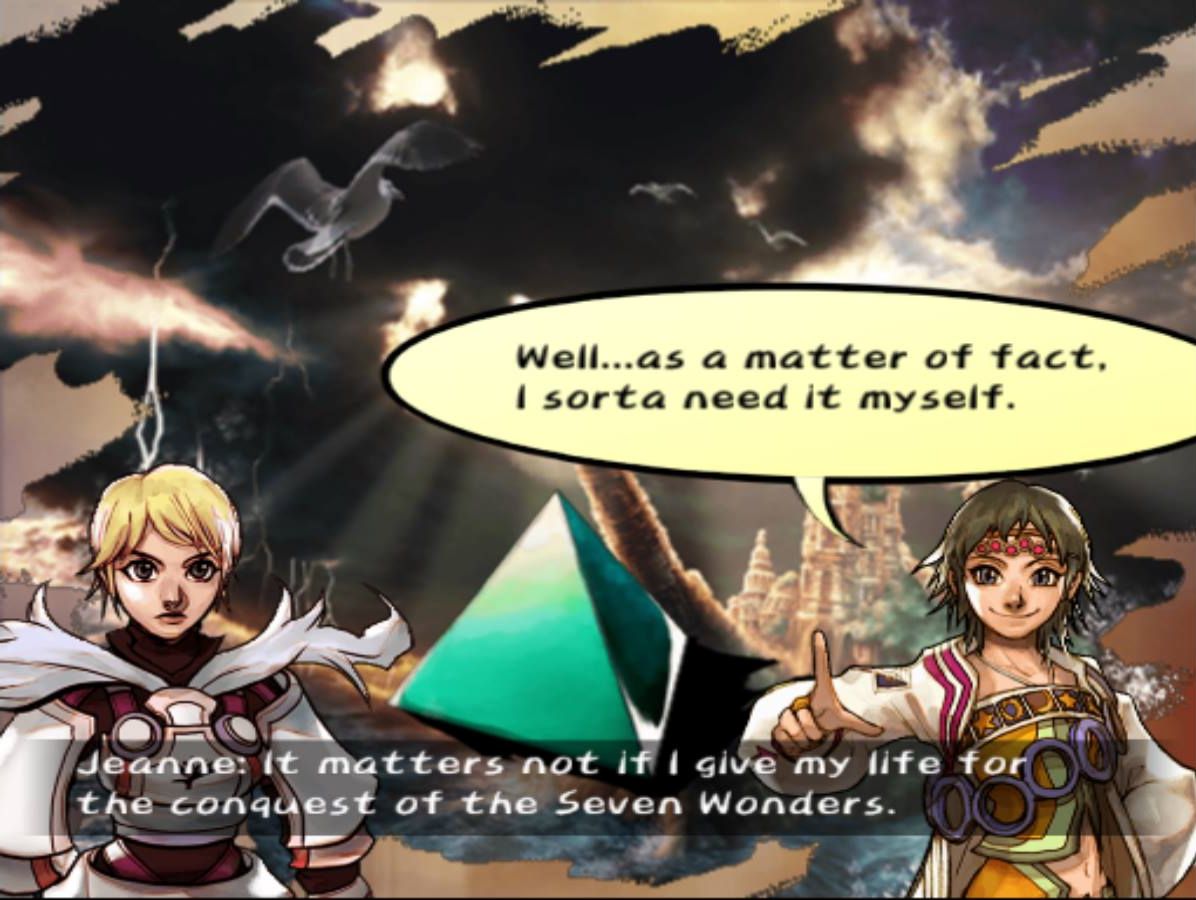 Ruby says she needs it, but Jeanne (with a voiced line!) says she's willing to die for the Tetra Forces. Drastic, much?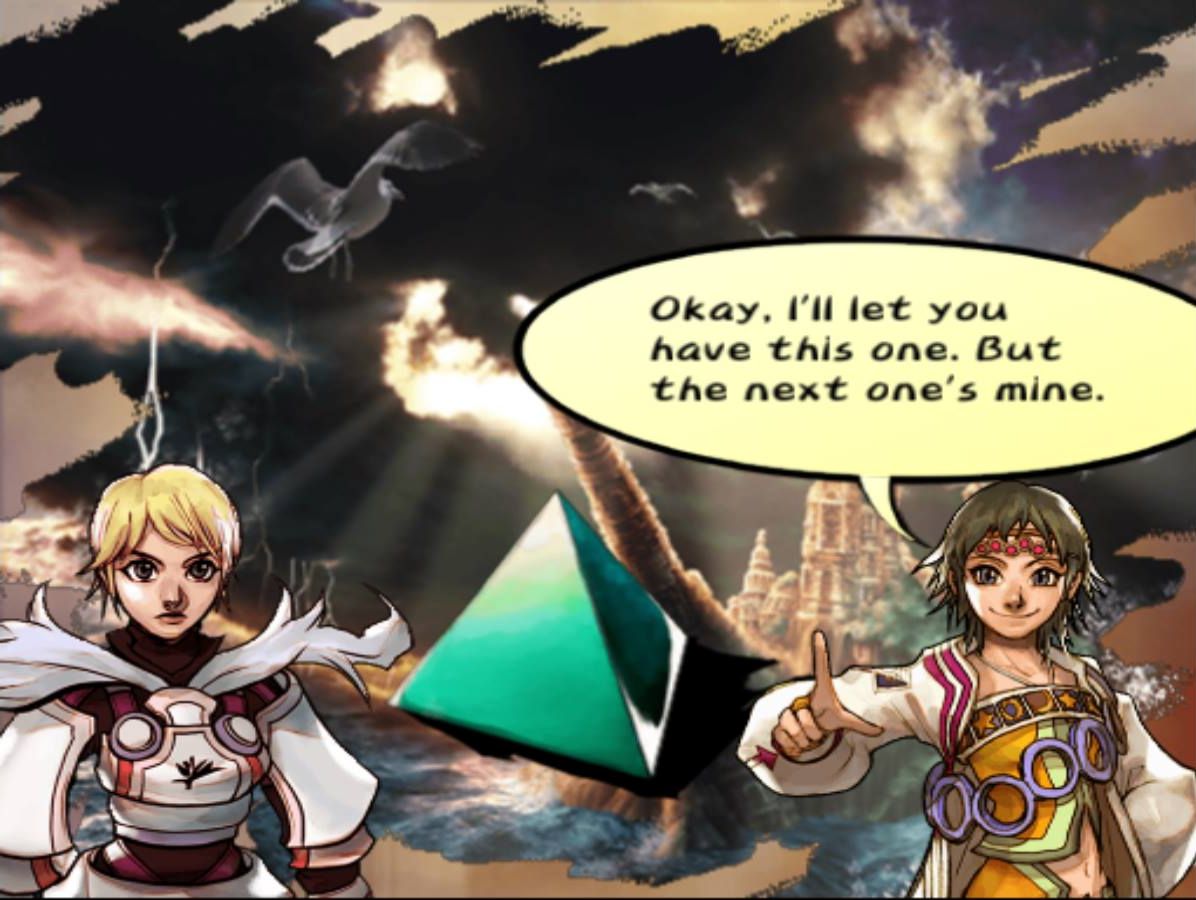 Ruby says "You want it that bad?" and then decides to give it to her. Even though Iskandar told her she needed them before... So now Jeanne has two and Ruby has one.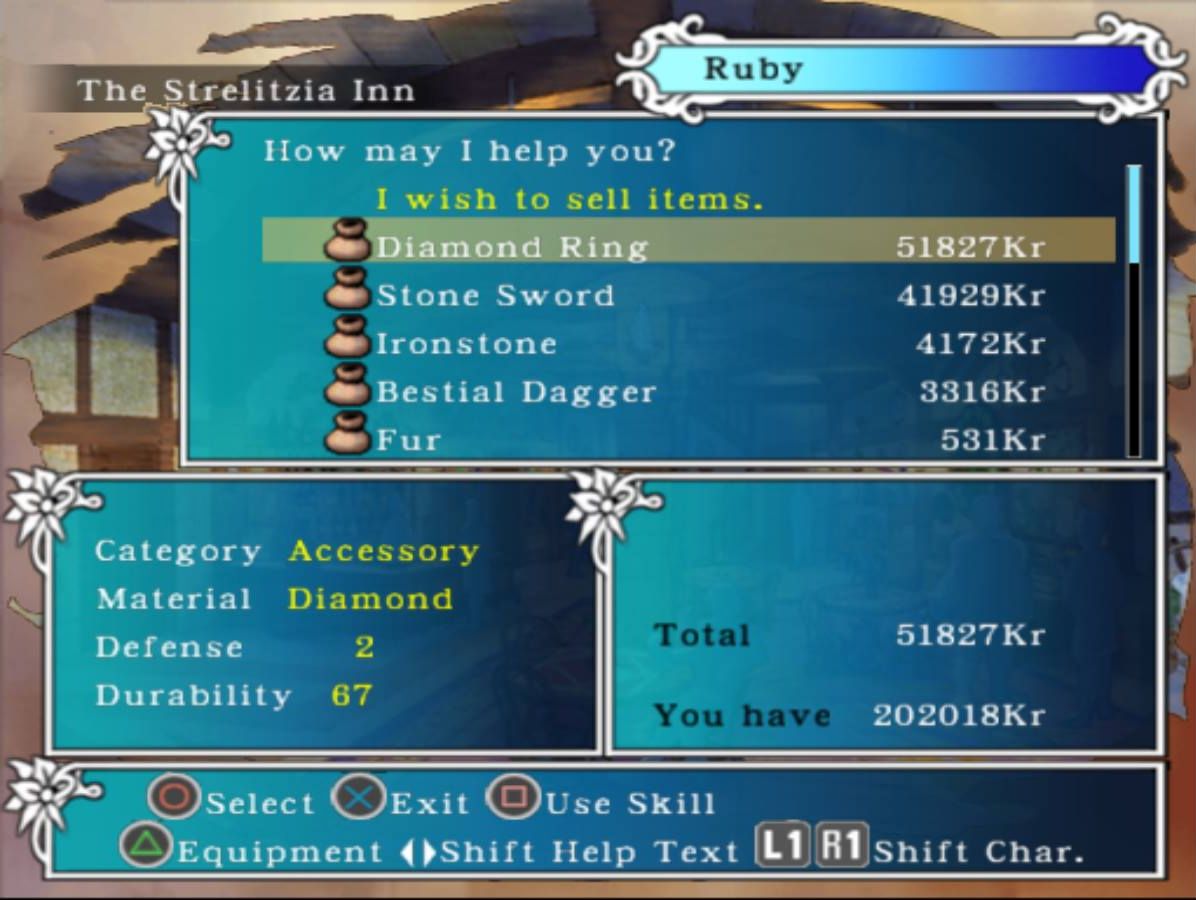 After the adventure I went shopping and found a Diamond Ring in the shops! I really wasn't comfortable spending the money on it, though. My market rank is getting pretty good now, though! I figure since most of my characters will be filled up with magic stuff, this just isn't worth the price. Most accessories have a defense of 1, but Diamond Ring has defense of 2. More importantly, it unleashes the NullParalysis ability, which makes the character wearing it immune to paralysis. So next time I'm able to visit Nakle Lines as a subquest (and have access to the blacksmith), I'm making seven Diamond Rings for my party :P
I got a couple good weapons while shopping, but I didn't get a large quantity of weapons since there weren't many in the shops in general. It's good to have strong ones but for this challenge I need an abundance of weapons, too...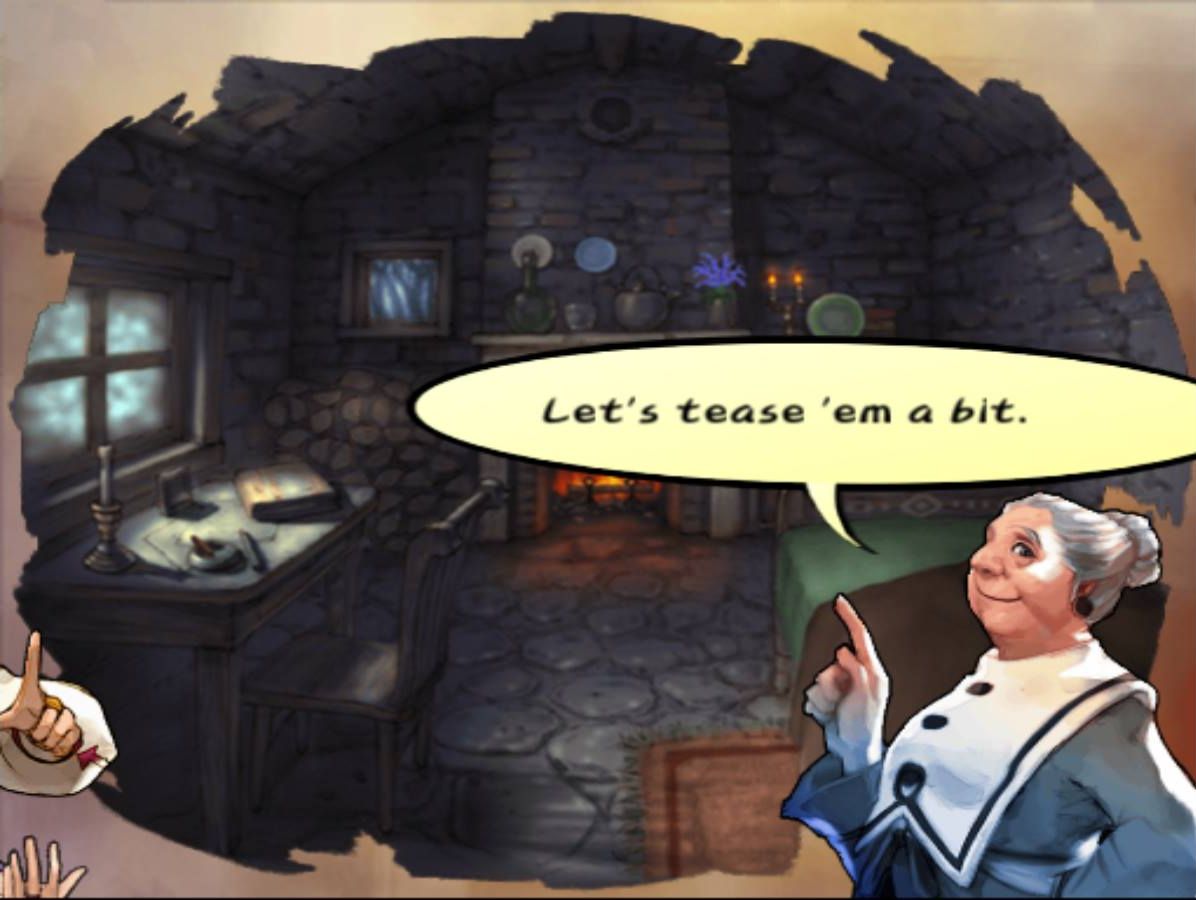 So, upon returning to the house to select another Wonder, the old lady decides to "tease" Ruby and Sapphire.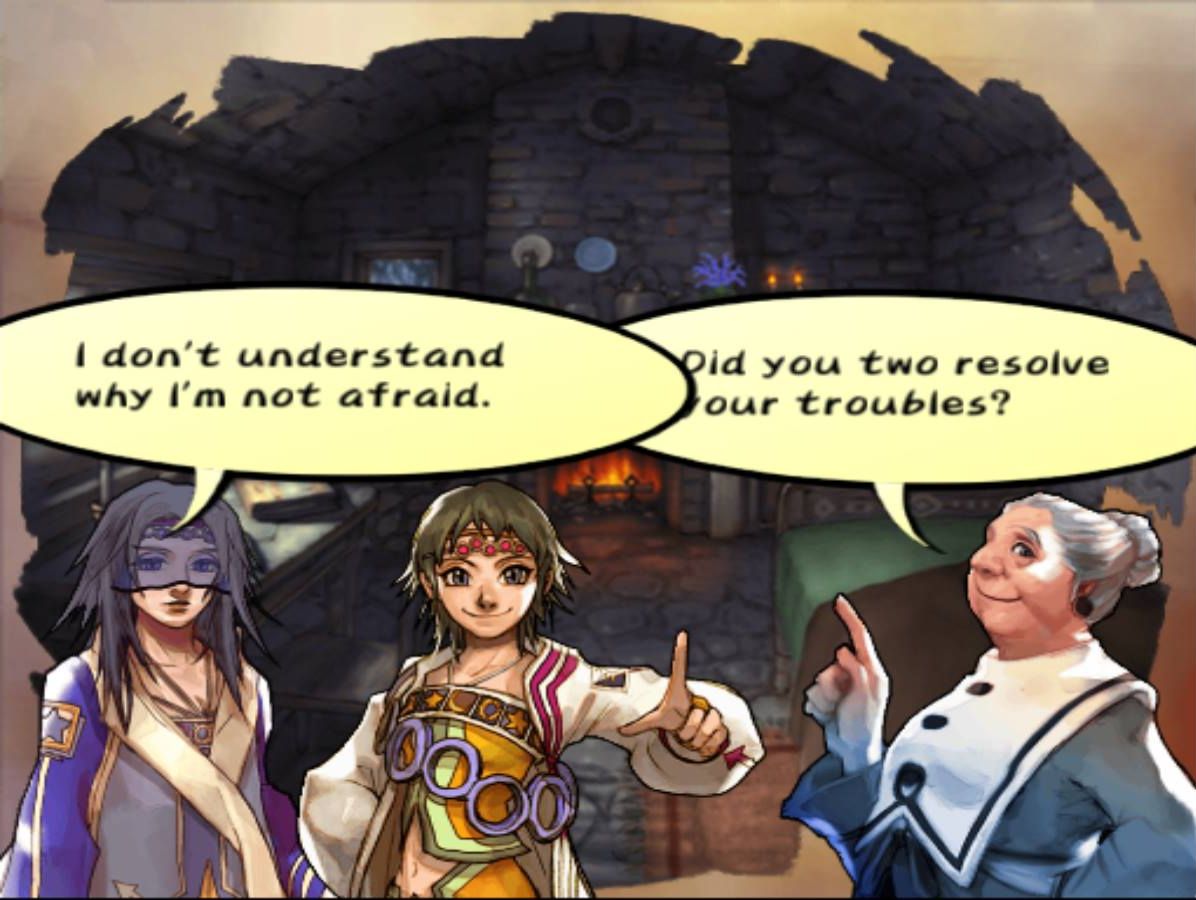 She asks them if they've resolved their problems yet. Sapphire says she still can't figure out why she is afraid of seeing her own death. The old lady suggests, rather, that her problem is that she's happy she was able to see it. She says, "When you die as you have foreseen, I can hear your shouts of victory." Essentially, she's saying that Sapphire has become so conceited about her own abilities that she will rejoice in her own death just because it proves how great of a fortuneteller she is. She may act humble on the outside, but secretly her sin is her pride, and that pride has now clouded her ability to read, since it requires a clear mind.
Then she changes the focus to Ruby.
Ruby claims she's not afraid of anything, and is confident she'll conquer the wonders. The old woman tells her that she still won't live up to her sister, though. Ruby says she may not now, but she'll continue to practice and learn --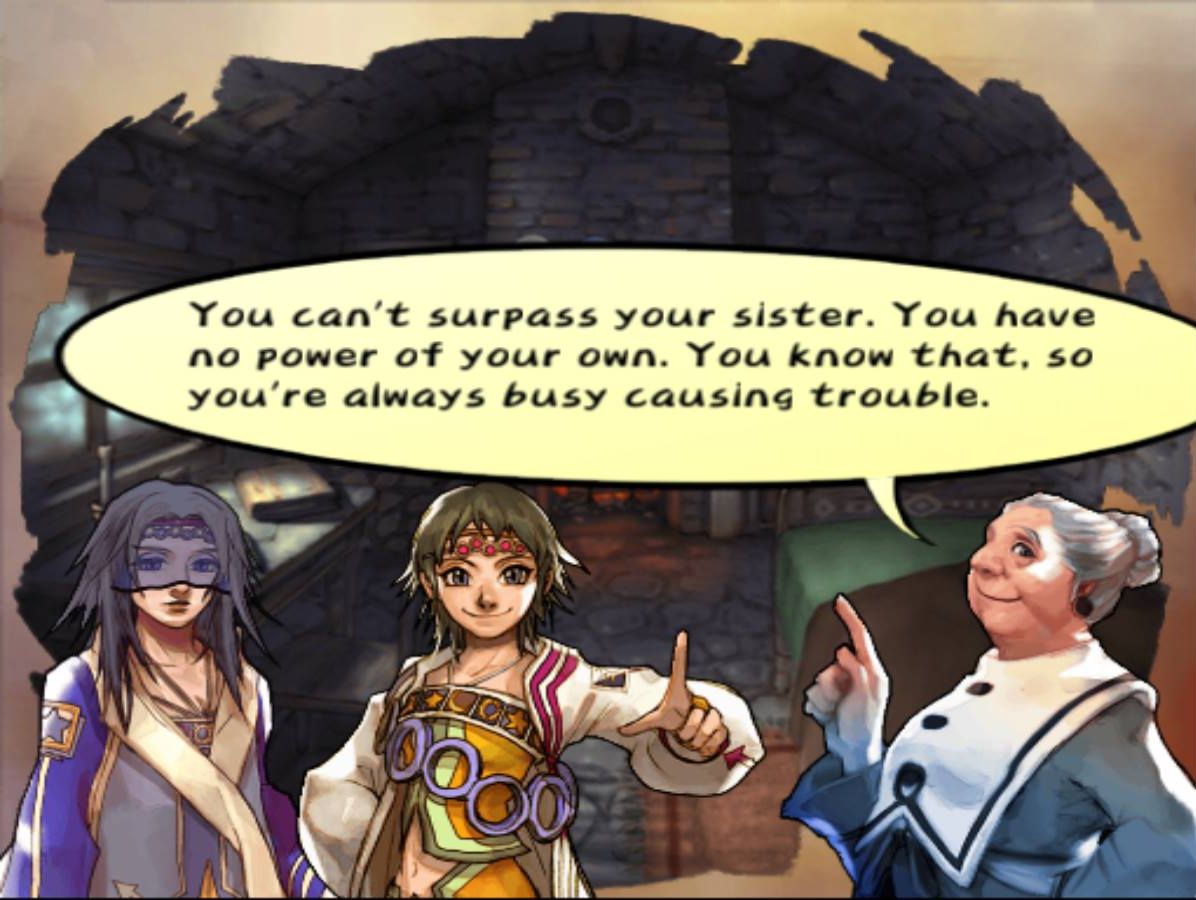 The old lady cuts her off and delivers her a harsh dose of Ruby's actual thought. After a pause, Ruby becomes very upset, saying she knows she'll never be as good as Sapphire and there's nothing she can do about it.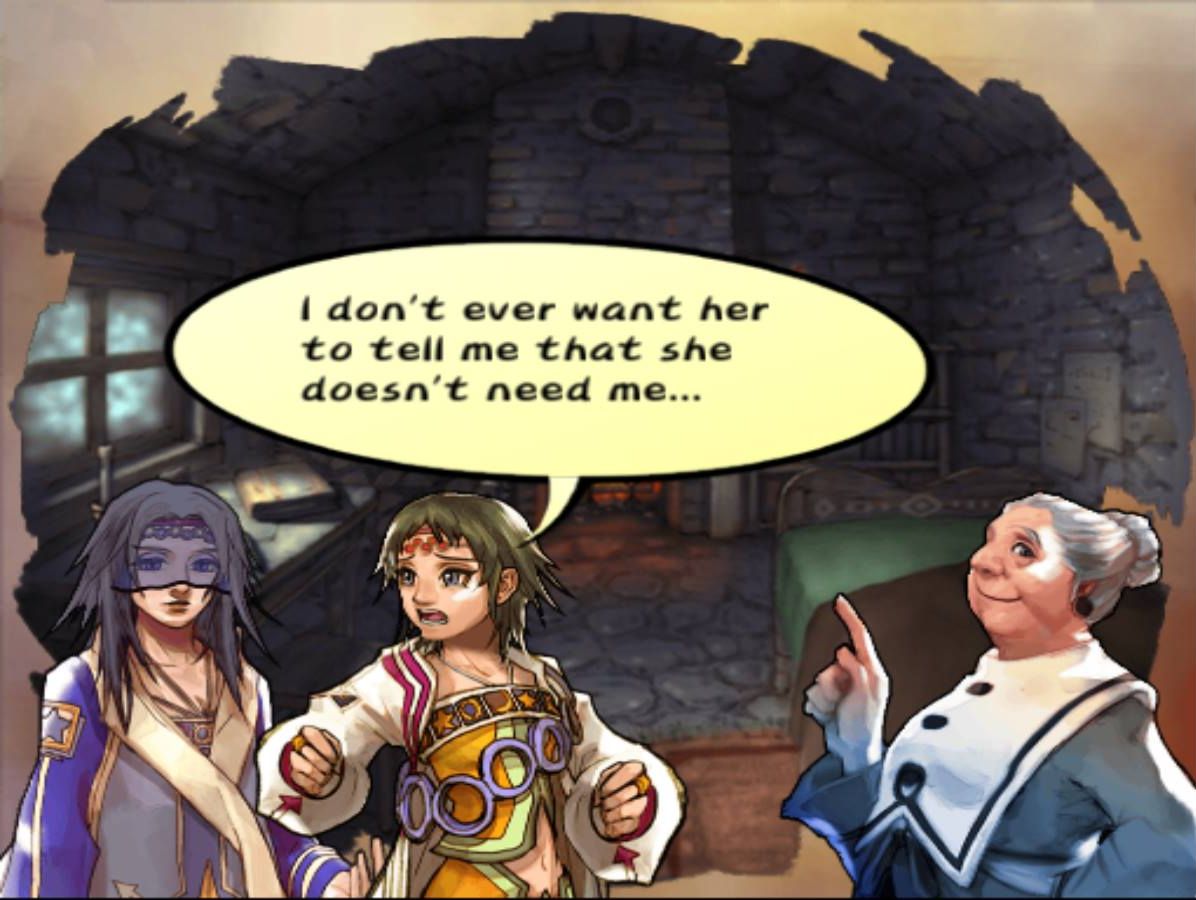 It seems like Ruby is actually afraid after all. But what she's really afraid of is losing her closeness with her sister. After that, Ruby runs off and Sapphire walks after her, leaving Iskandar and the old woman alone in the house.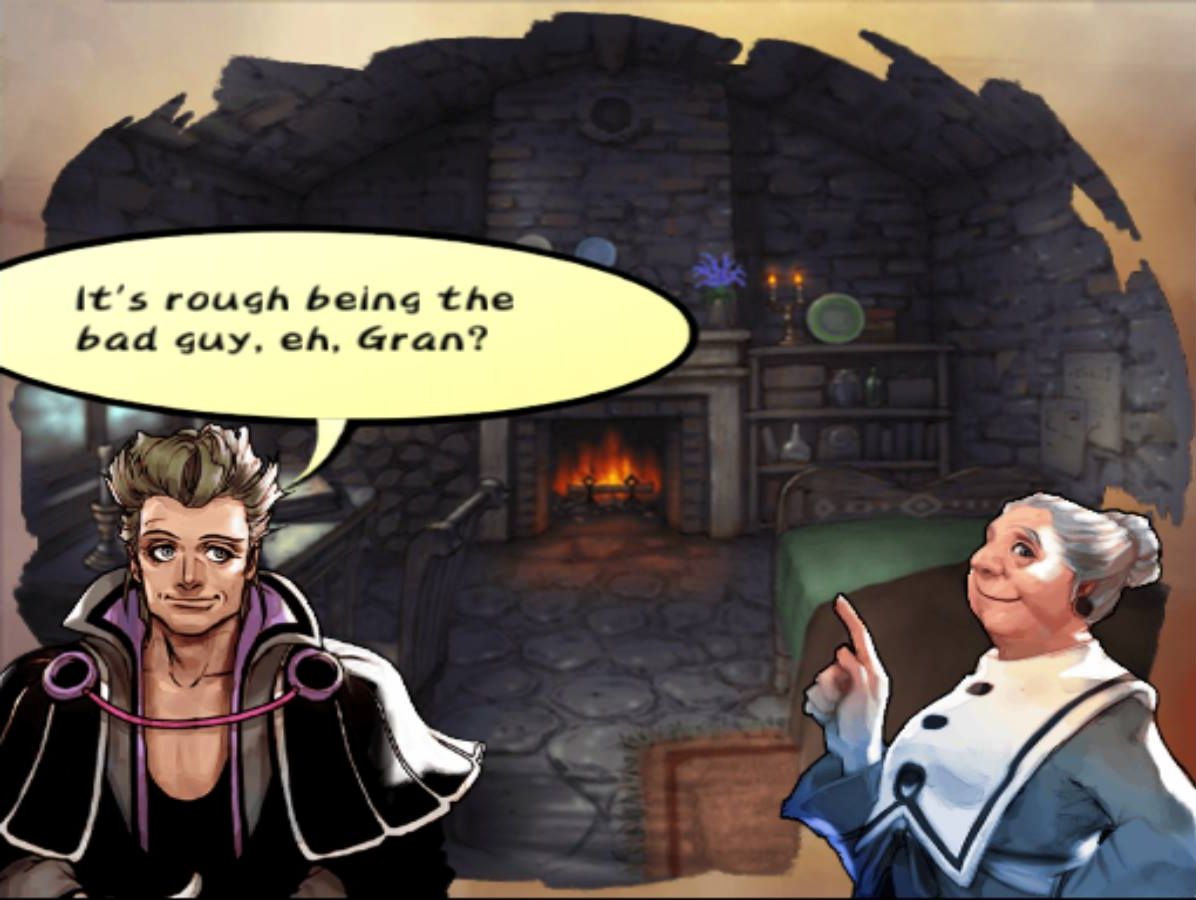 Iskandar asked if it was rough being the bad guy, and the woman said that they needed to hear the truth. I'd hardly say she was 'teasing' them if she honestly believed what she said to be true.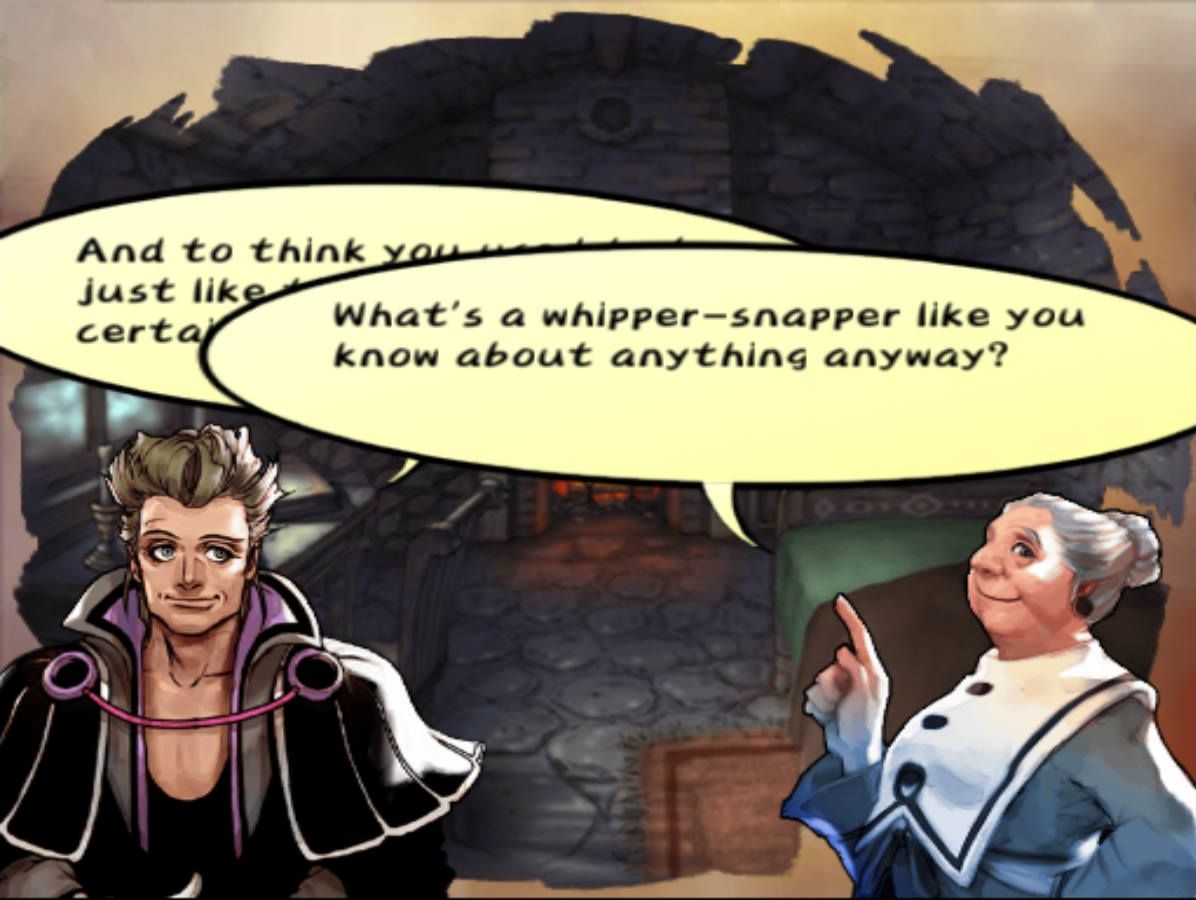 Iskandar makes a comment about the way the old lady used to be when she was young, and the old lady essentially rolls her eyes at the comment, since he couldn't have possibly known her when she was young. But apparently, he did, and he even saved her life. Which either means Iskandar ages ridiculously well, or he is the Iskandar of legend who supposedly became a god.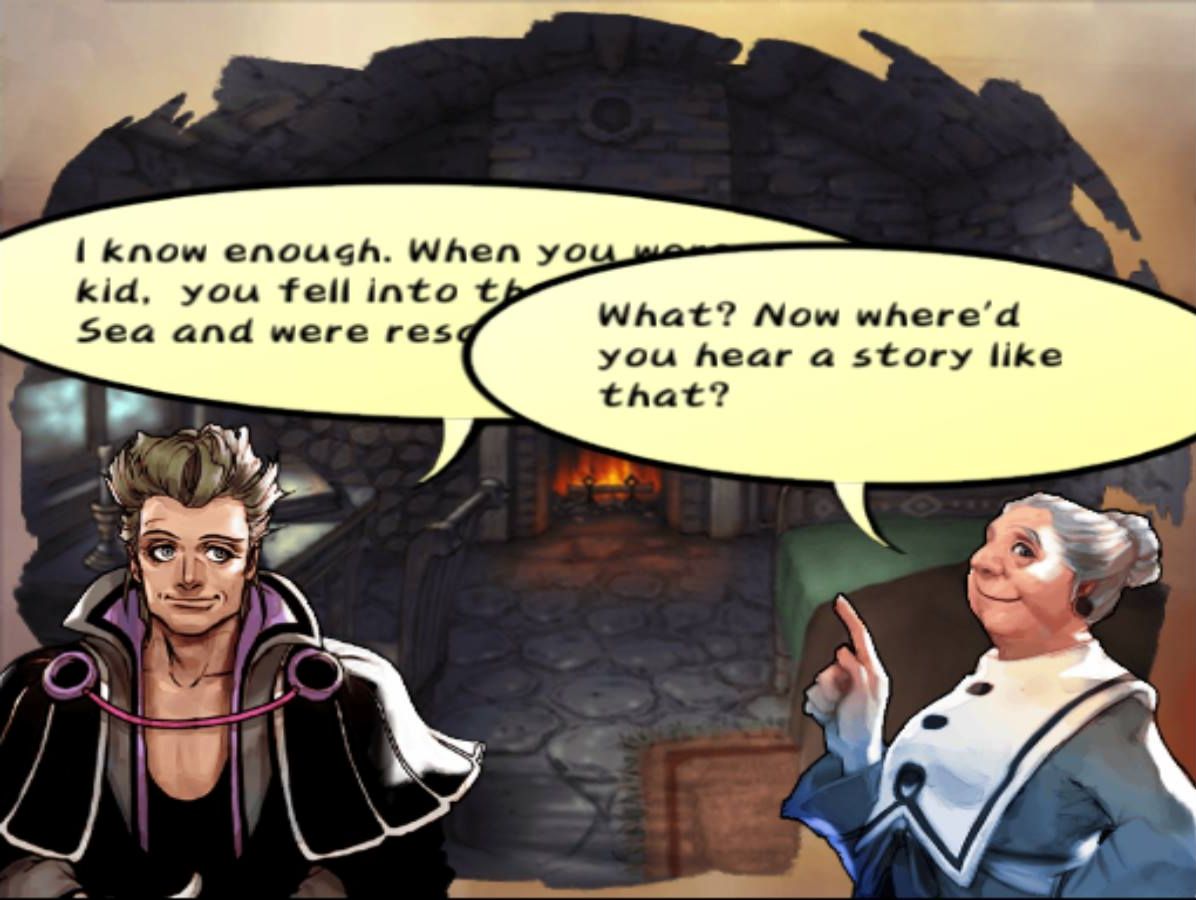 The old lady just dismisses him as a weirdo and the scene ends, bringing us to the ever-familiar Wonders menu. I'll be taking on Two Moons temple next, which can be easy, but has some optional bosses which can really ramp up its overall difficulty. Deities' Table is my least favorite BY FAR, and then Undercity Pharos is just a confusing mess that I'm still very unfamiliar with, so I'm saving those two for last (I'll probably do Deities' Table after Two Moons, because that would be so anticlimactic to do as the final of the six Wonders...)
---