Seven Wonders #2
Nakle Lines
Still early in the game, it's time to do one of the hardest adventures in all of UNLIMITED:Saga. The boss of this adventure is one of the most terrifying things -- I'd say it's the hardest boss in the game beside the final boss. And my stupid brain is like 'yeah go do that one when you don't even have a full party and are severely underpowered and aren't allowed to forge good weapons.'
So here I am, at Nakle Lines...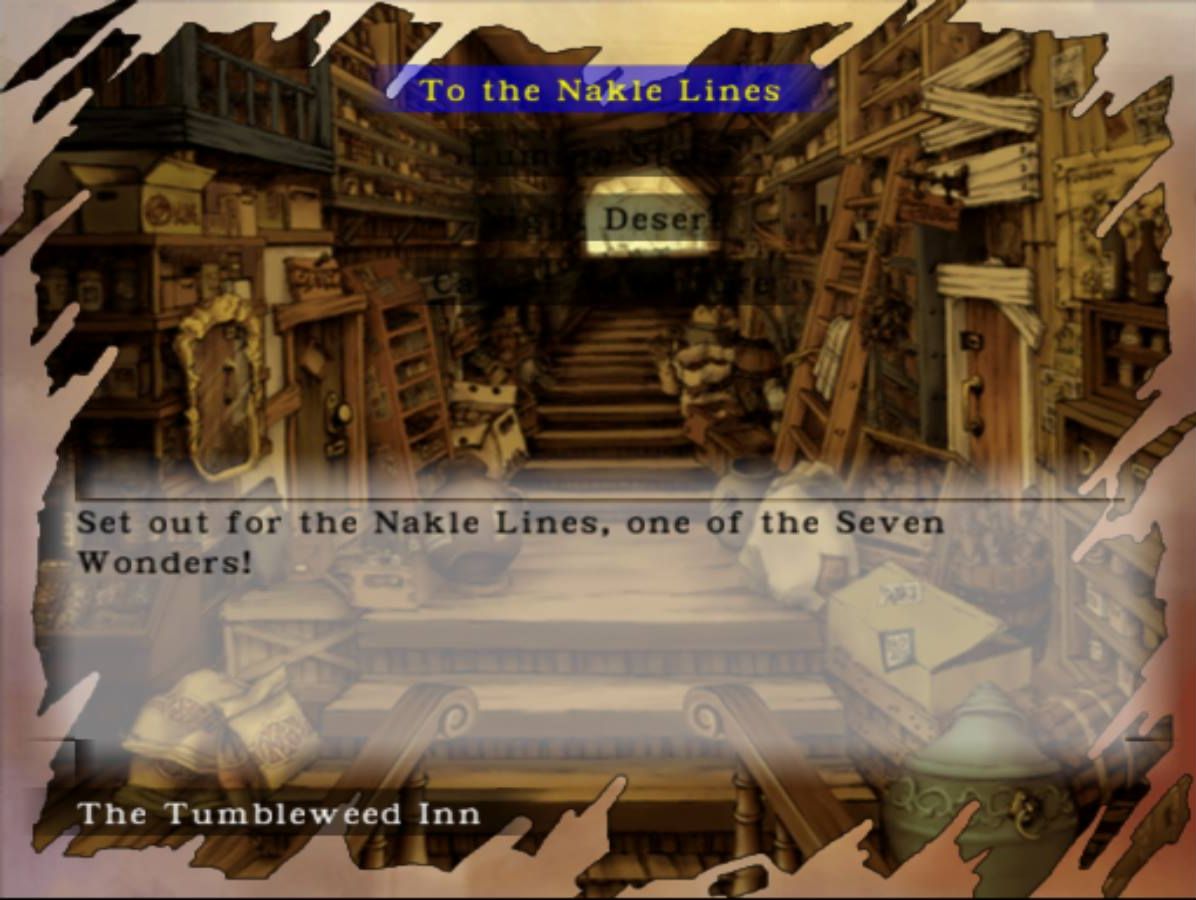 So, whenever you want to advance Ruby's story at this point by taking on a new Wonder, you can go back to the supposed birthplace of Leith Torles (IDK why you have to go back there, but after you finish a wonder, it puts you back in Torle automatically) and choose one from the list. It will fast-travel you to the city where you can embark to that Wonder and open that adventure for you, so you can find it in the adventures list in the inn.
Once you select it with Iskandar in Torle, you don't have to embark right away. You're free to still use the world map and do all your shopping and stuff, and even clear subadventures and stuff. Picking it with Iskandar just unlocks it. But once you choose one, you can't choose another until you have conquered that Wonder.
So, I picked Nakle Lines after doing Starship Anchor. I was tired and I knew I wanted to get the character you get there in my party. Then I saved the game. So now I'm stuck doing Nakle Lines.
I could go do a bunch of subadventures to try to power up my party, but I really don't like doing that until I have at least 7 characters since you have a limited number of adventures and subadventures in the game, and once you finish those, there's no way to get more panels. So I feel like it's a waste of potential to do subadventures without a full party. So I always focus on recruiting characters first.
Ruby's story you just recruit characters you meet at the Wonders. There aren't really any hidden or unique characters for her story. A bit unexciting, but you get to conquer Wonders as you recruit them, and that means at least two Wonders you'll have to finish without a full party at all. This is another reason I feel like this is probably meant to be your final scenario, or at least best saved for later in the game. You need to be familiar with all the Wonders or you could end up doing a really hard one first or second.
... Like doing Nakle Lines second.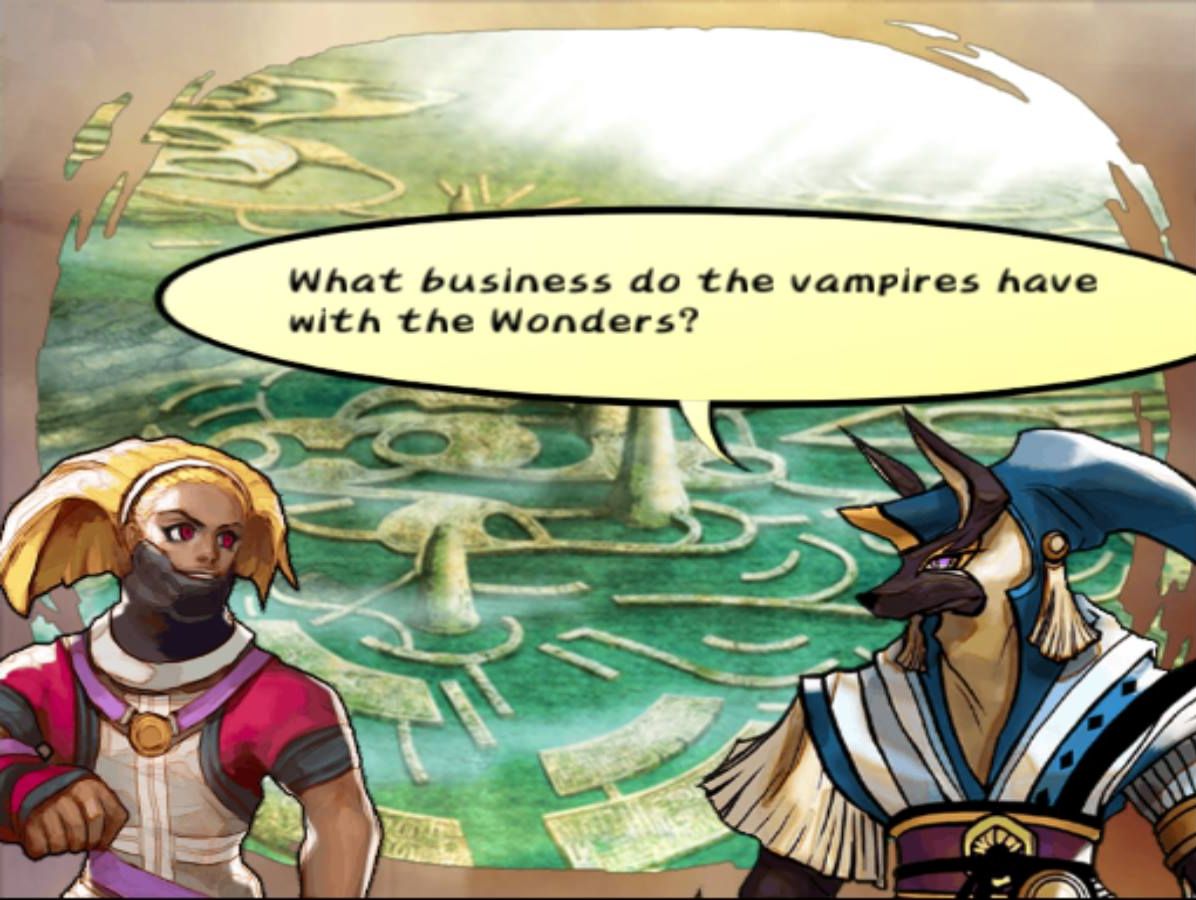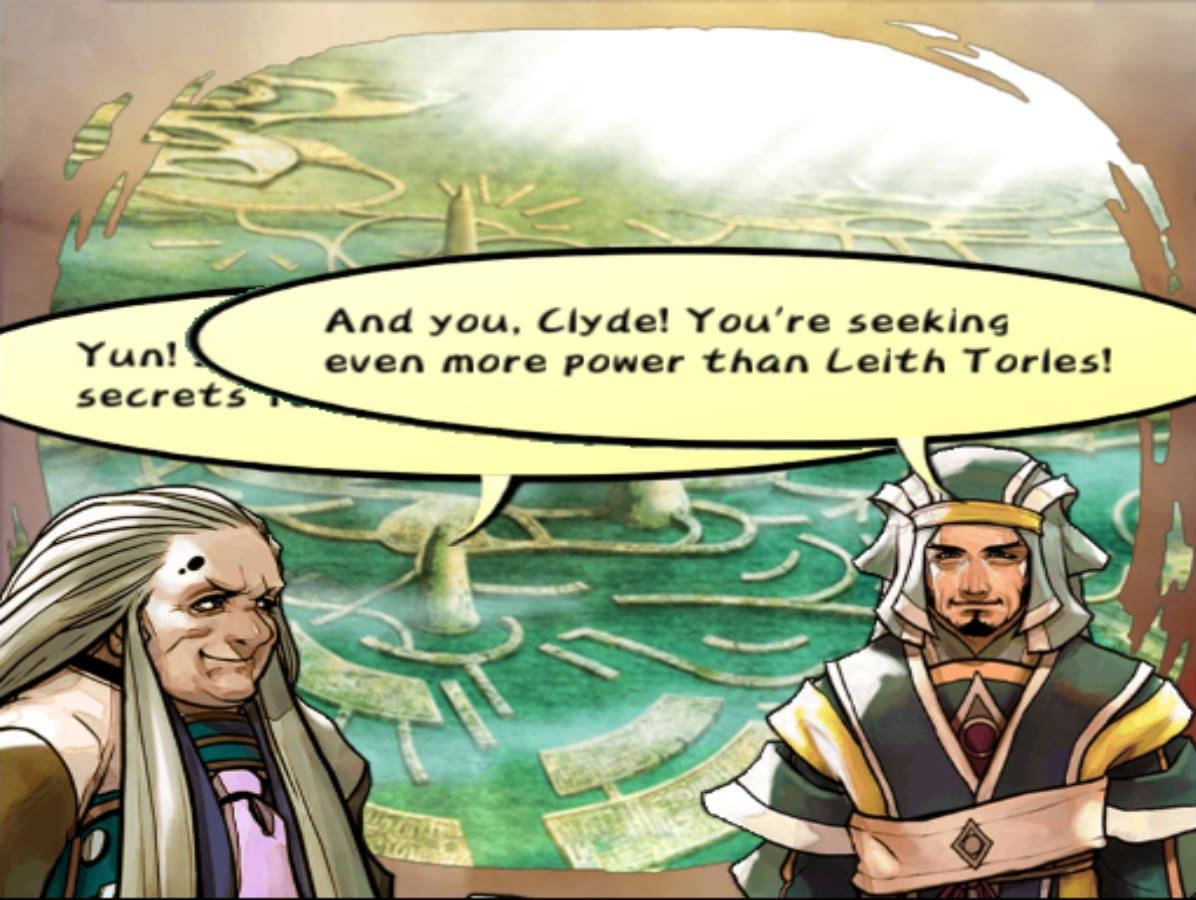 A bunch of random people are exploring the Wonders. They all have their reasons, and these are all characters you'll meet in other stories. I don't think it's really important to know who they are now, but just to realize that there are lots of people seeking the power of the Seven Wonders, I guess.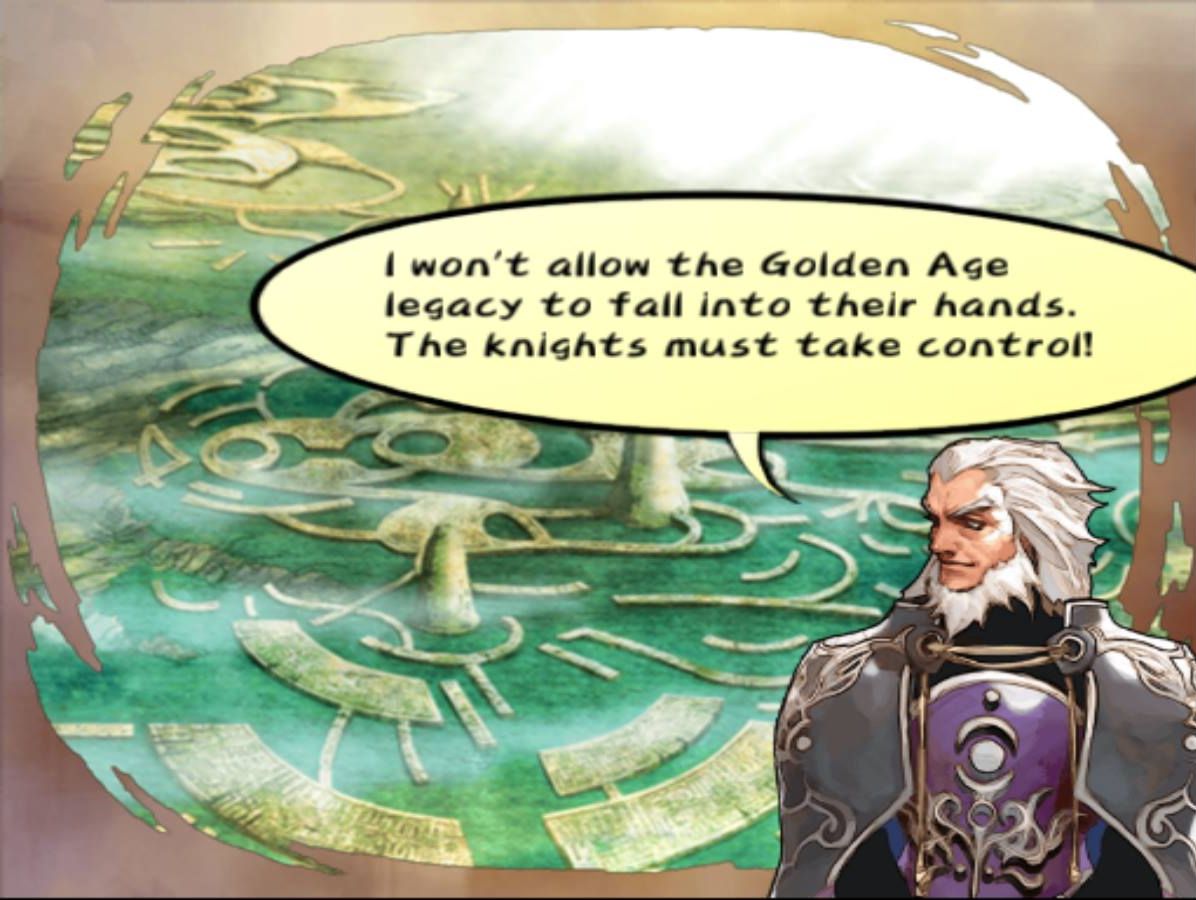 Even Maximilian Burgundy is here. Looks like the Knights are here to intervene or something. It's quite a party. I used to have a big crush on Max. He's handsome but anymore I'm not so into his chin curtain. I may have said this already, though, back when he came in to get the reading that caused Sapphire to foretell her own death.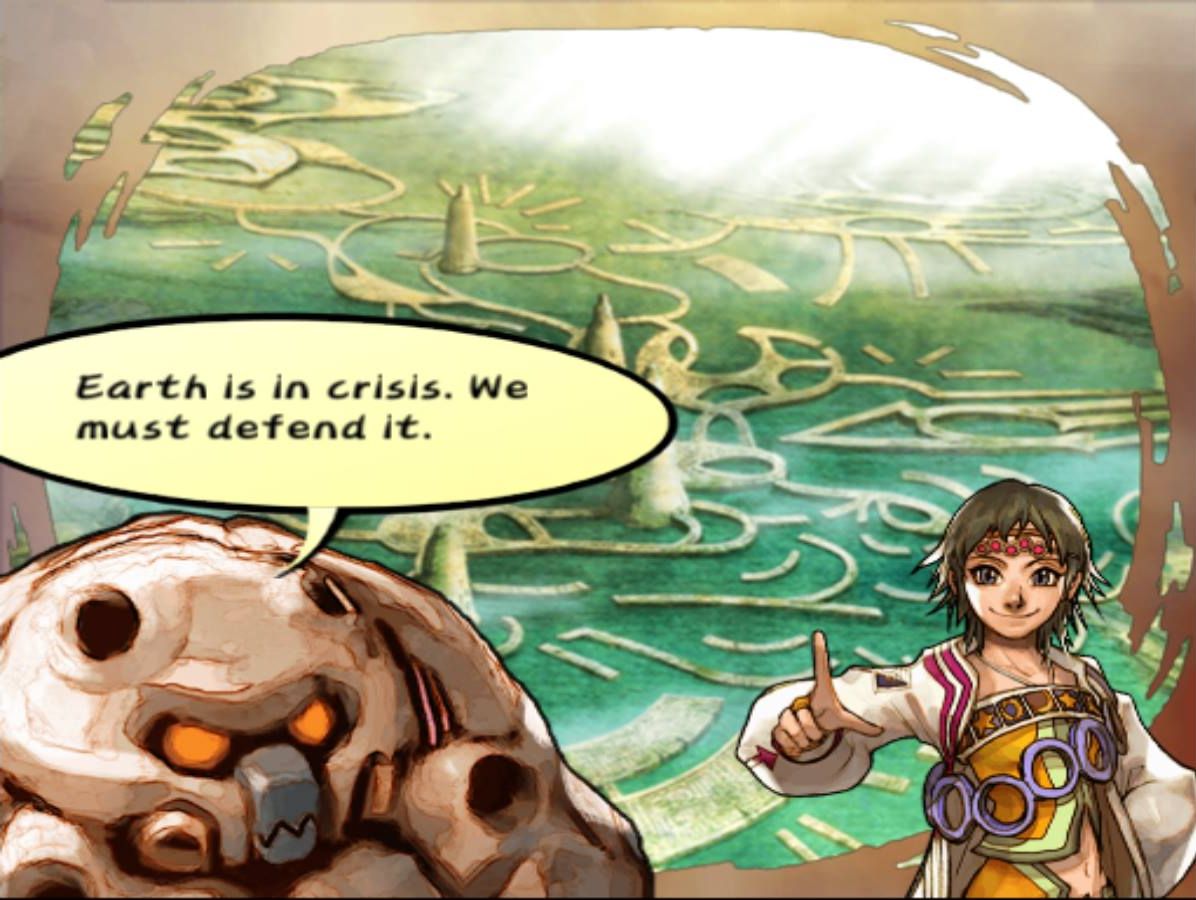 Apparently this is some sort of crisis? Overhearing Ruby's complaining, a member of the Petran Tribe approaches and tells her it's important to defend the Earth.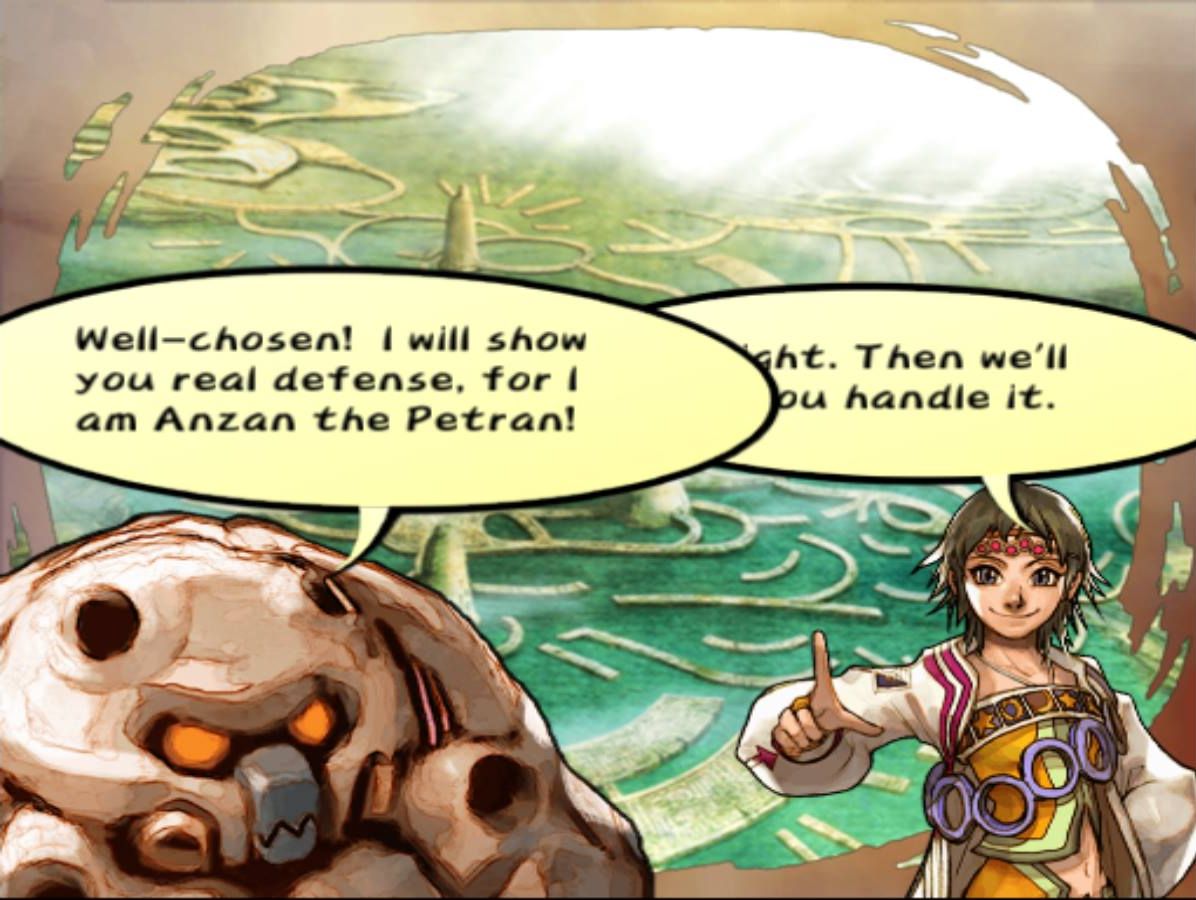 After a little discussion that barely makes any sense, Ruby says she'll let this guy handle the defense, and that means he joins the party, I guess?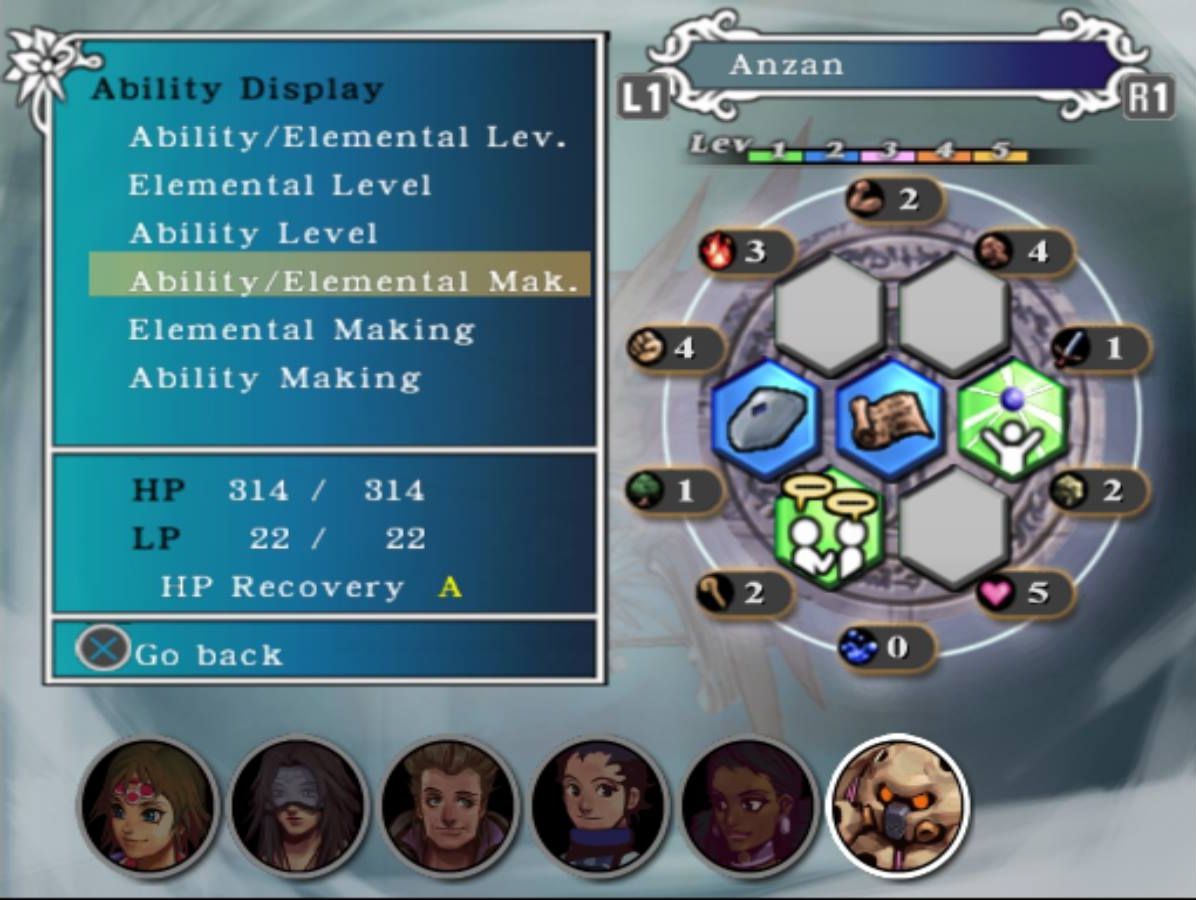 Anzan is a Petran, which is a race of rock-like creatures that live mostly secluded from the rest of the world, or at least secluded from the part of the world we explore in the game. Not much is really said about them; you just learn about them through Anzan, which is... not much.
Anzan himself is super obsessed with DEFENSE, and is one of my favorite playable characters in the game. All he talks about is "defense" and sometimes just shouts out "defense" and stuff??? It's really cute, and he's just like a big ball of rock.
He has 4 in Earth Making, 4 being the highest elemental makings go. His physical offenses are bad (he even goes as far as to say he loathes attacking and fighting...) but his Spirit and Endurance are great, too. He also has 22LP!! His recovery is A-rank, which means he gets a LOT of HP back when you rest on the field or let him sit out in battle. Especially nice compared to everyone else in Ruby's party which has like D and E rank -_-;;
He comes with only one piece of equipment -- an armlet. However, it has 50 durability and access to Earth Arts!
So we start strapping random weapons all over his body. For a guy who is offended by offense, this is probably quite tortuous. Poor Anzan.
Anyway, Anzan is an ideal paladin-ish tank, or even a great healer-buffer. He can take a lot of damage even if you let his LP fall because he has so much. He's very resistant to all kinds of status effects, and he heals easily. Healing is based on your current HP, so if you have him in front tanking attacks, his HP will not be high often, though. So keep him in the front if you're wanting him to protect your other characters, or keep him in the back if you're wanting a reliable healer who will often have high HP. But he can sit in front and deliver buffs all day long if you're not concerned about healing with him. And with his high elemental making in fire and earth, you can even turn him into a pretty powerful offensive mage who can hold up for a long time in the back due to his great recovery and LP. He's super versatile as long as you're not wanting to do lots of damage with weapons.
He's also insanely heavy, which means he gets huge penalties to his speed -- which means he's good for manipulating turn order, too. That's a bit advanced strategy, though. For even beginning players, he's at least good for soaking up attacks from enemies.
Anzan's starting panels aren't anything amazing or interesting. Inconspicuous reduces the rate of monster aggression. Arcane Tongue allows him to learn the 'higher' magic arts on a tablet first.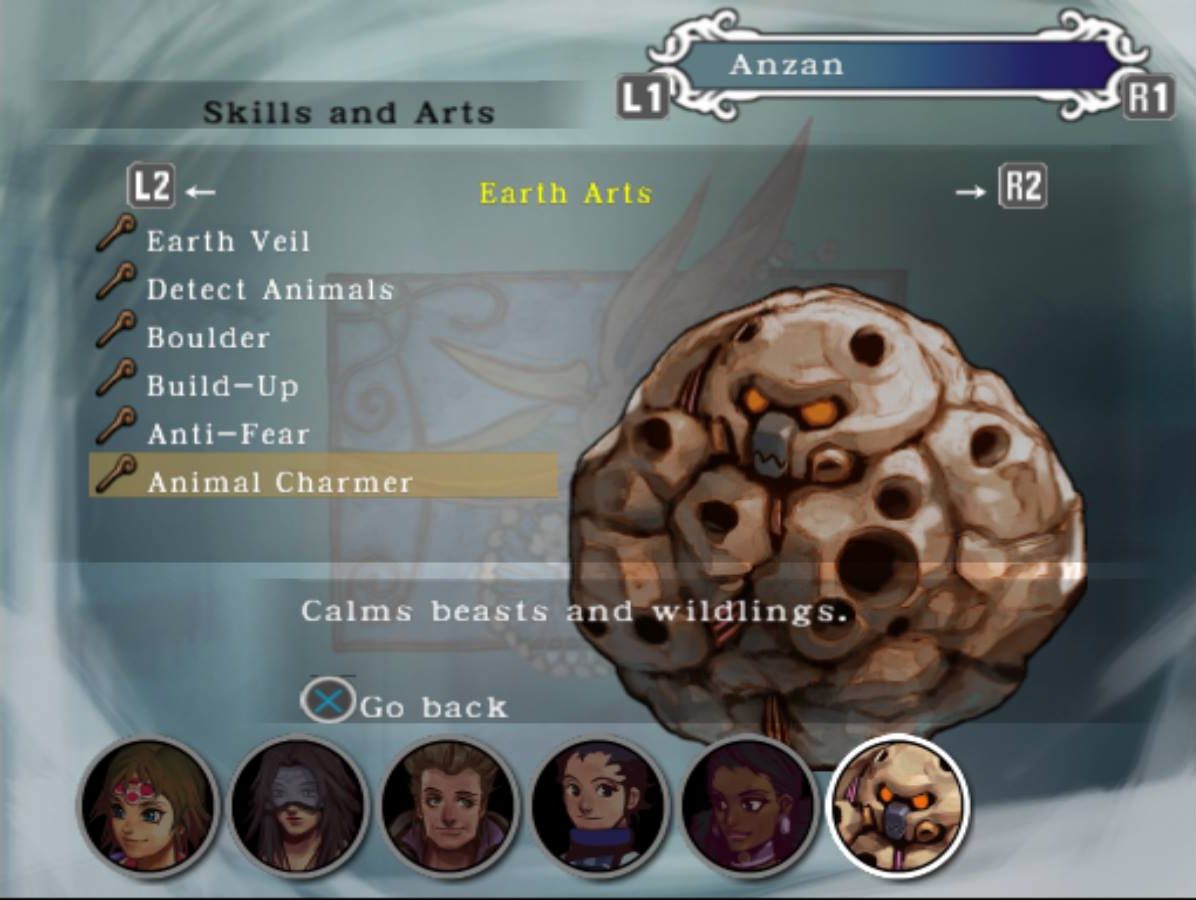 Anzan also comes with a whole slew of Earth arts! I mean, he is literally made of earth, so... Anti-Fear removes confusion from the whole party, and Build-Up raises the strength and endurance of a character. Very nice! I've never used Animal Charmer before, lol. I don't really understand what it does.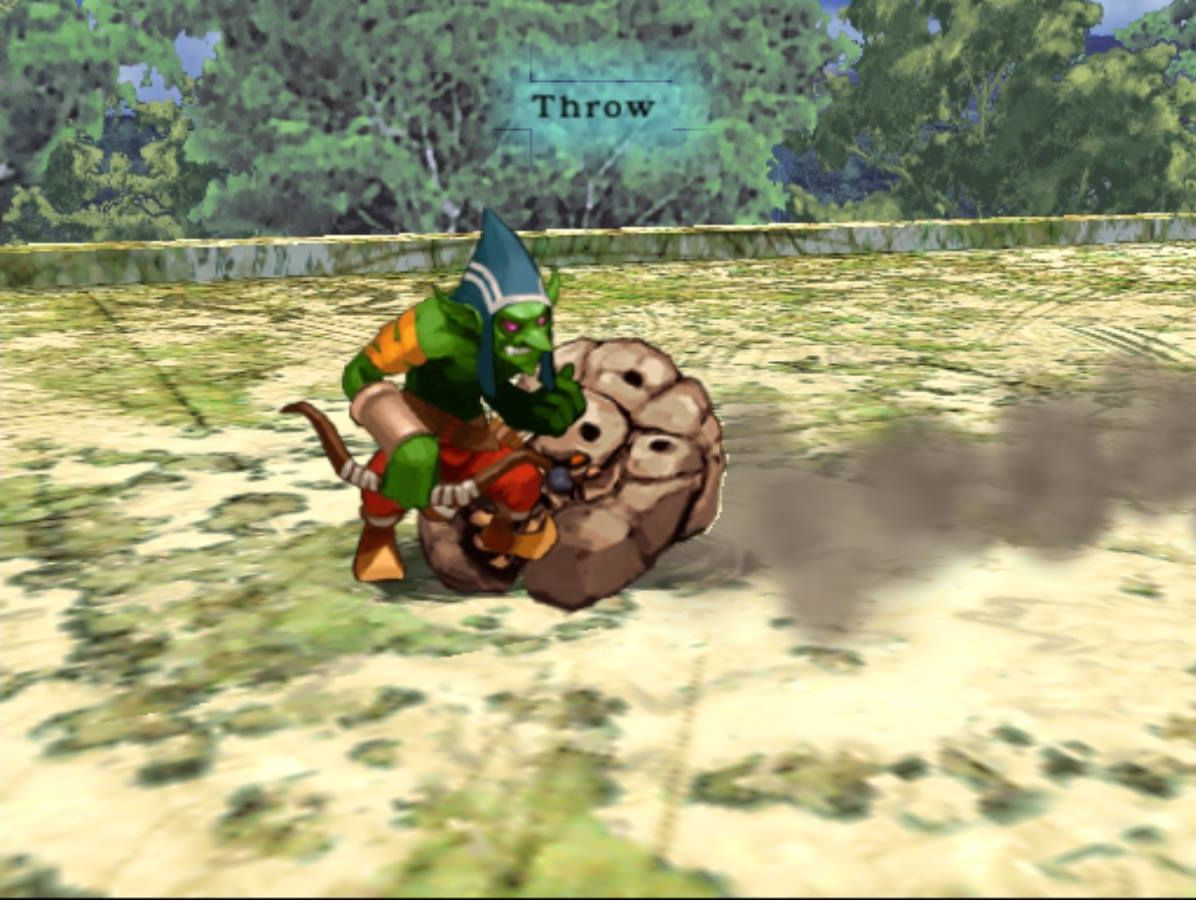 It was hard to get a cap of it, but here's Anzan using throw. Unlike other characters who always jump to where they need to be in battle, Anzan rolls across the ground! His body also can sort of come apart, revealing two giant limbs.
He's never shown to make many shapes besides ball and ball-with-arms, though when he is paralyzed, his arms stay out, which I guess implies that he is constantly maintaining their tucked-in state. When he gets knocked out, he actually crumbles apart, though, so it could be that his body is much more fluid than we realize, and his just prefers keeping himself in a ball.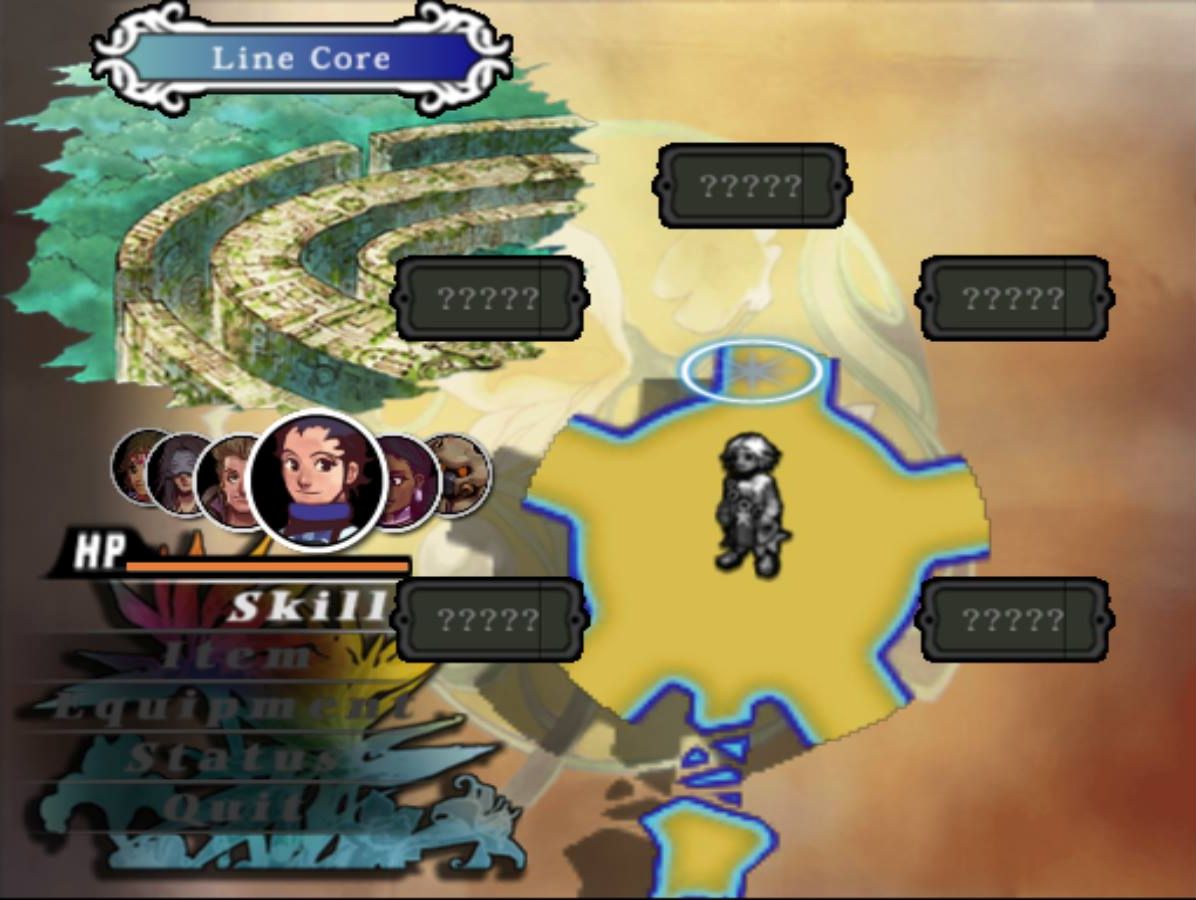 Anyway, on to the adventure! This is Nakle Lines. It's kind of a complicated place at first but it's pretty easy to traverse. There are some little puzzles to solve in this adventure that kind of play with the game mechanics.
When you start, you're in this central area called the Line Core. The Lines are basically these big walls that form giant magical glyphs/runes, and you walk between the labyrinthine walls to try to trace those glyphs with your steps.
This place seems to be based on the real-world Nazca Lines in Peru.
You can take any of the five paths from the Line Core, and you'll be taken to one of the Lines proper.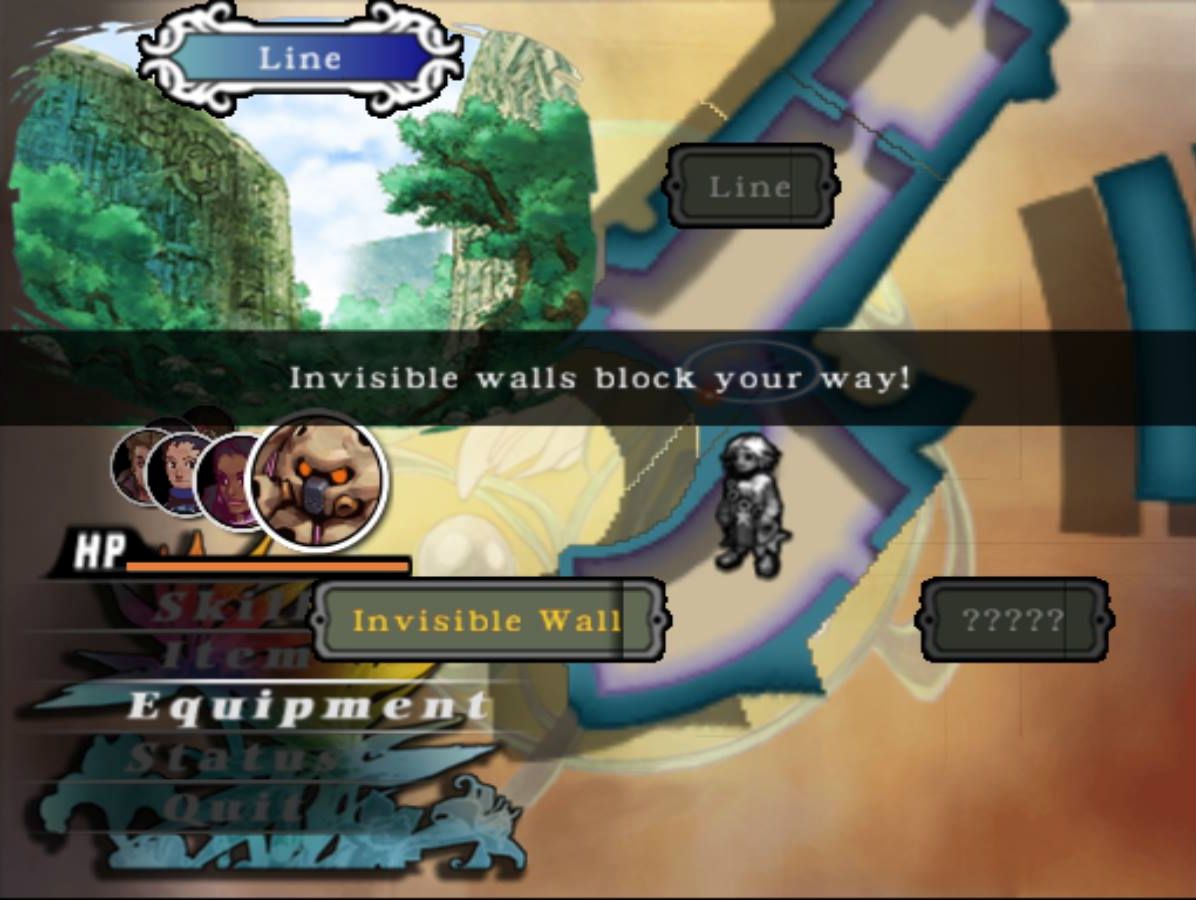 The Lines themselves are giant patterns that you must walk on top of. Your goal is to traverse the entire Line, which will reveal an orb. But you'll run into stuff like switches and invisible walls. The "puzzle" here is not really hard to figure out. You press buttons to manipulate the invisible walls, and it's not hard.
BTW there are treasures ALL OVER THE PLACE, so make sure you have the Road Guide skill to help you find them. Many had money and I fortunetold them up to have LOTS of money ;)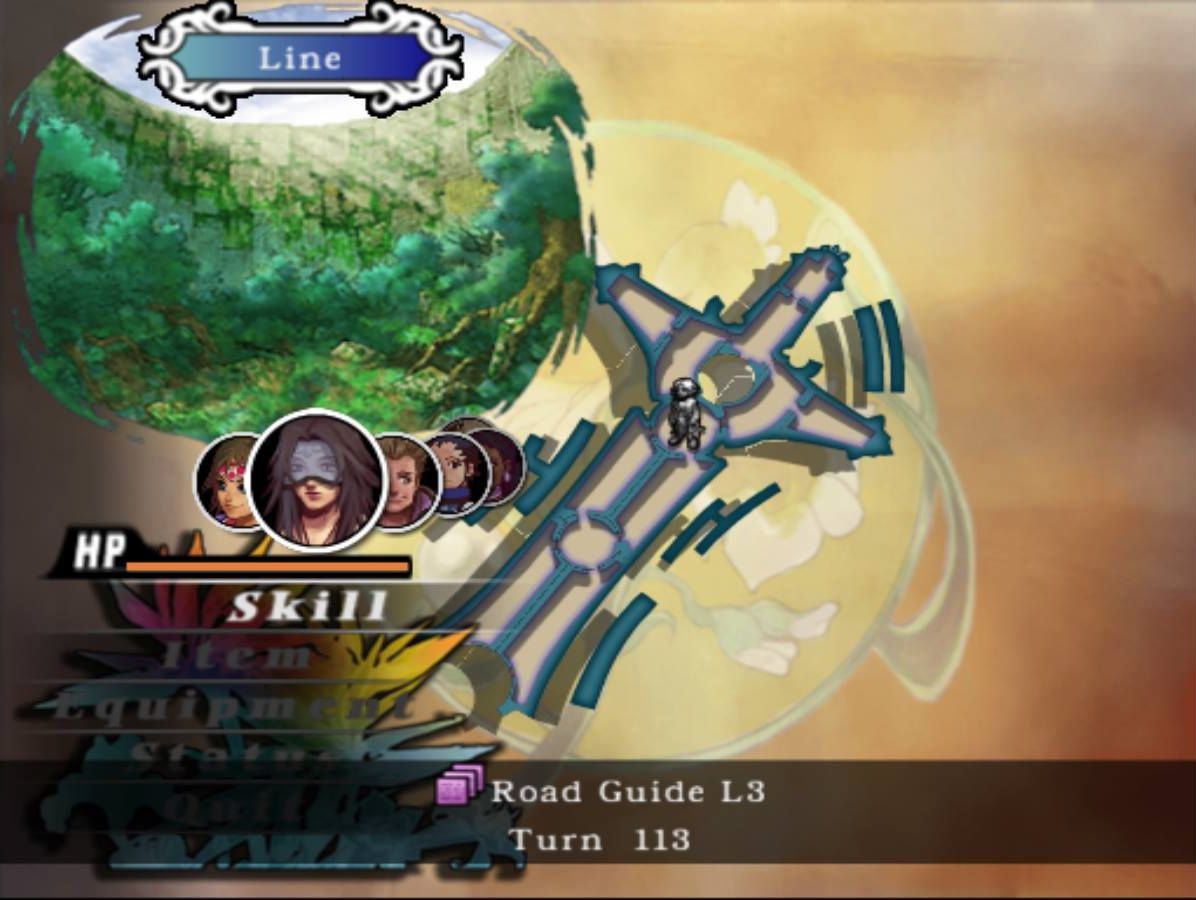 As you walk across the Lines and uncover each space, they'll start to form shapes.
Also, here's an example of a trap doing LP damage. Poison traps and explosion traps both do random HP damage, and can do more than half your HP in a single blow... so if you set off the traps on a chest with BOTH, you could end up losing an LP, even starting from max HP.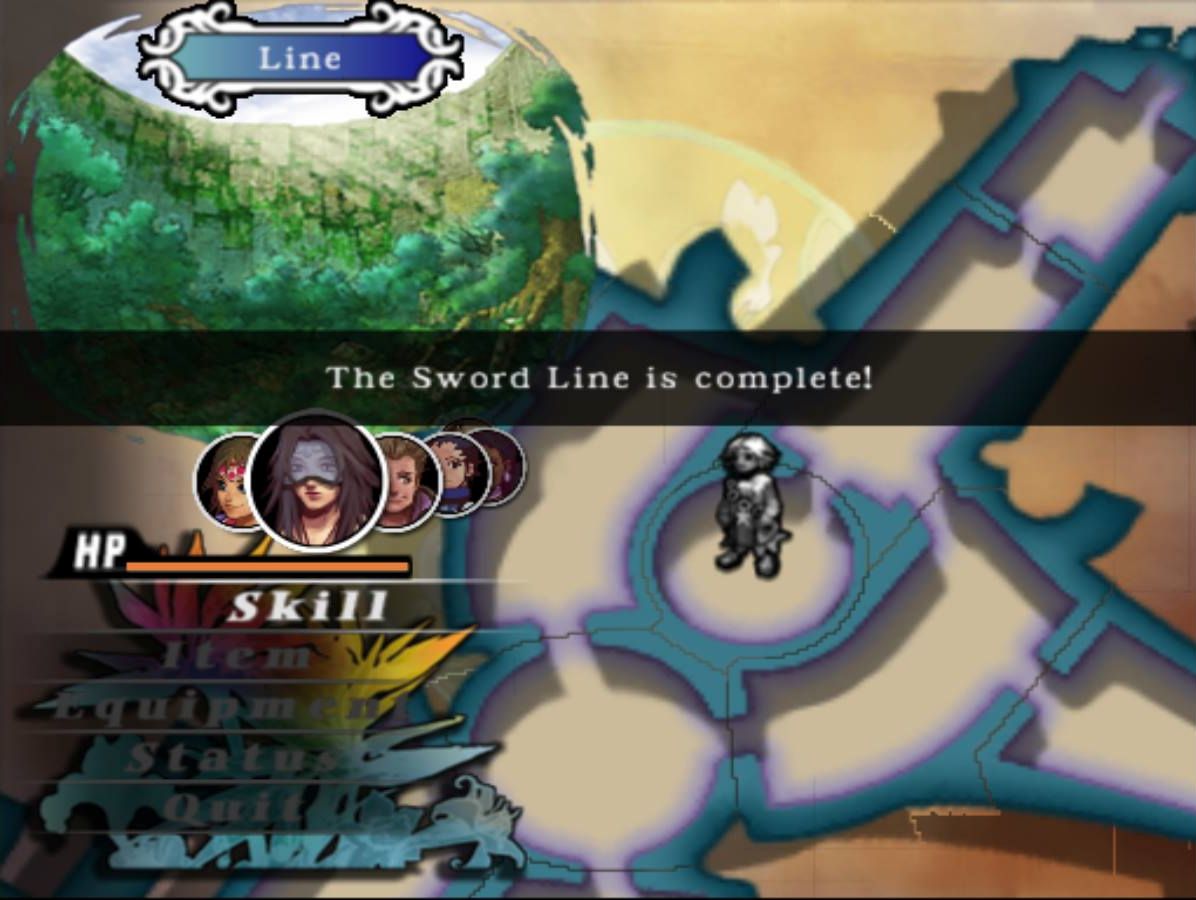 This Line is the shape of a sword, and there is a button at the tip (and a button on each 'wing' of the hilt). Once you've stepped everywhere else, press the button on the tip to open a secret door...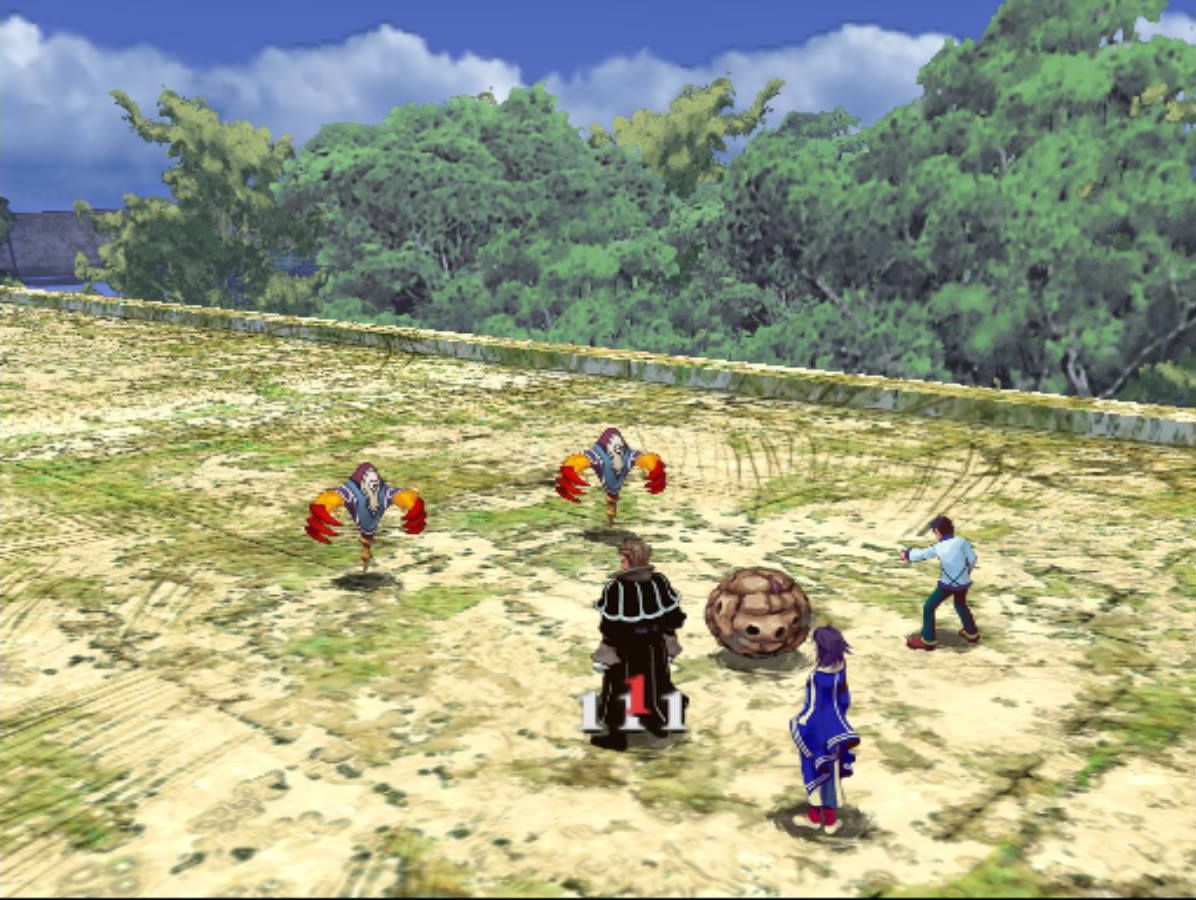 When you complete a Line, these two demons pop out. These guys are Maane and Malig, powered-up versions of a normal demon you can fight, and they are pretty scary. They don't have much in the way of attacks, but they do have an attack called Ripper which they will definitely spam every turn. In fact, they hardly ever do their other attacks...
Ripper is pretty much just a move with a huge LP-damage rate. It can even damage your LP at high HP levels. The goal of this fight is to defeat them as quickly as possible. Focus on one of them to finish it off so you're dealing with only half the Rippers.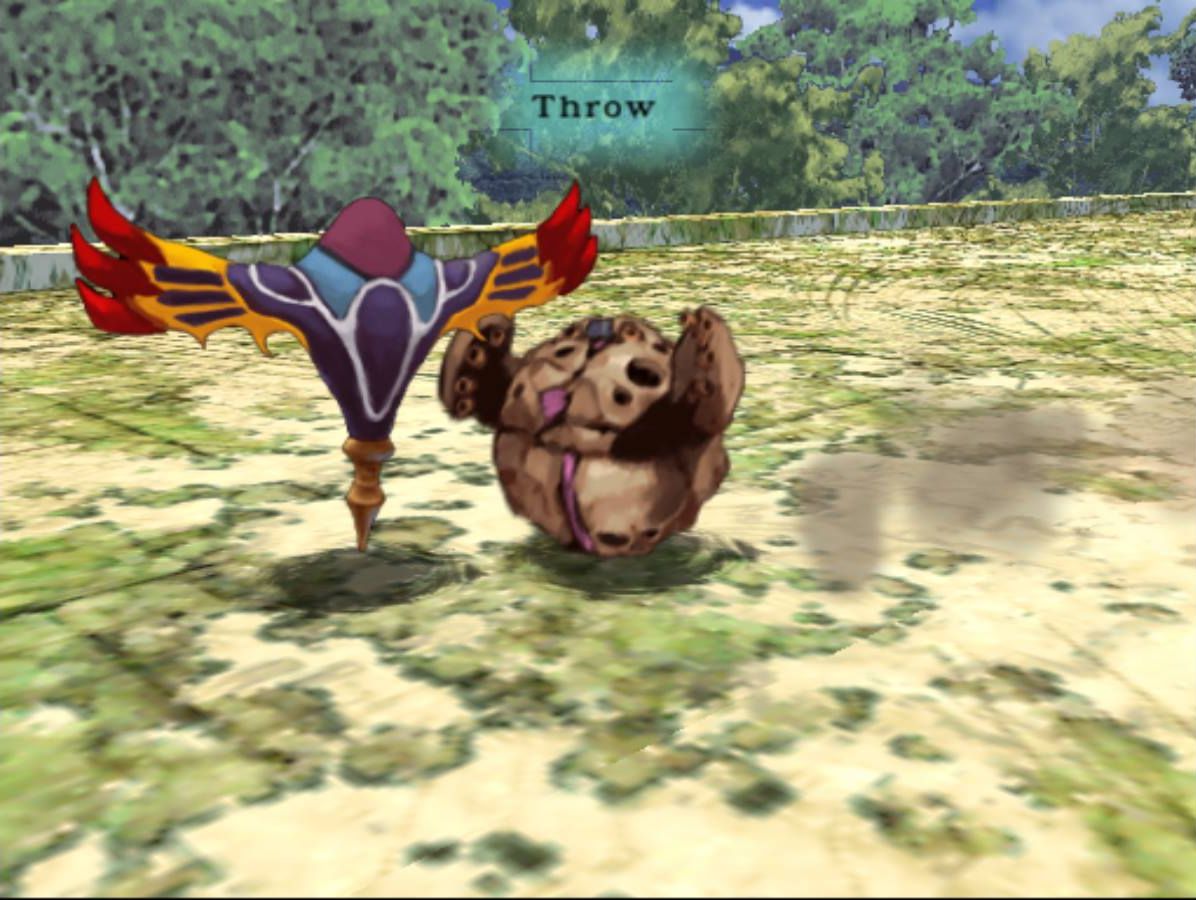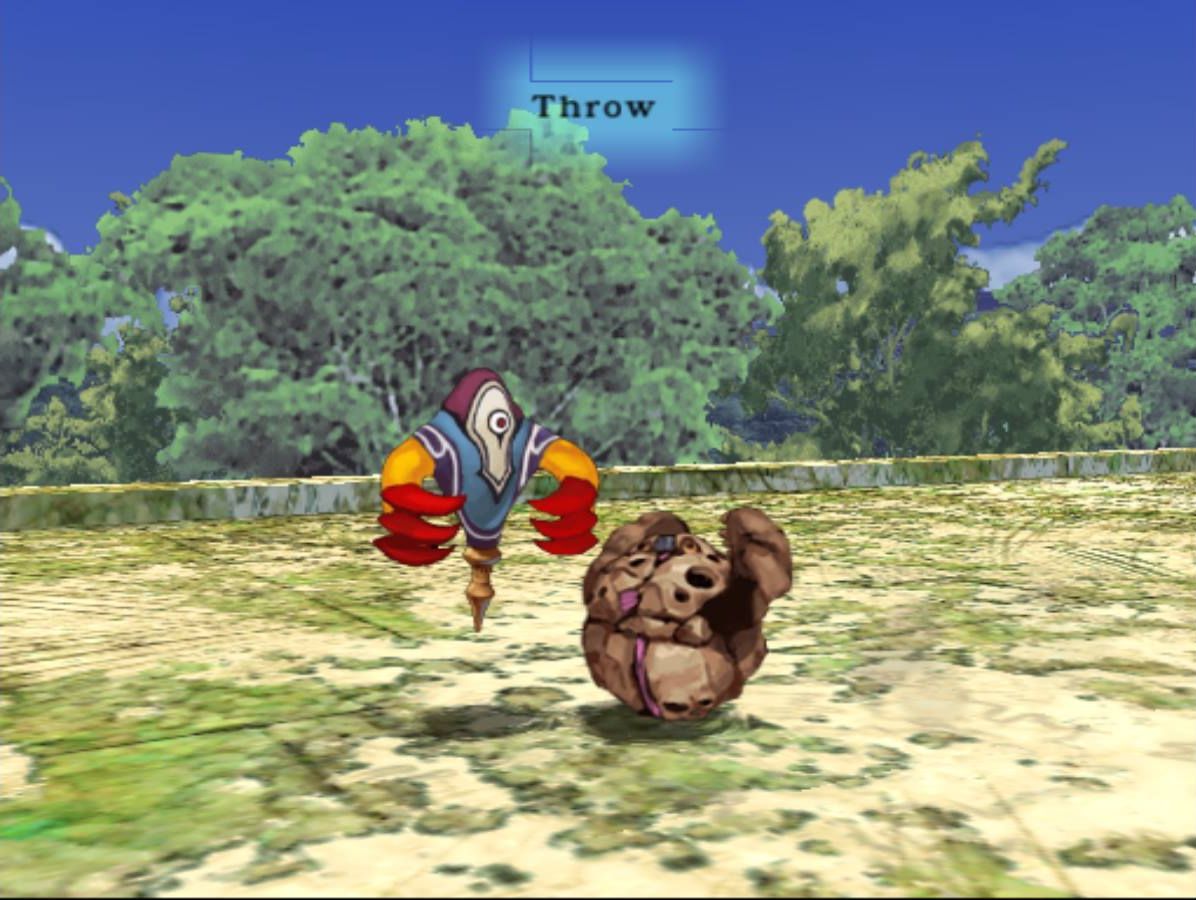 More views of Anzan's arms. He even has little weird fingers.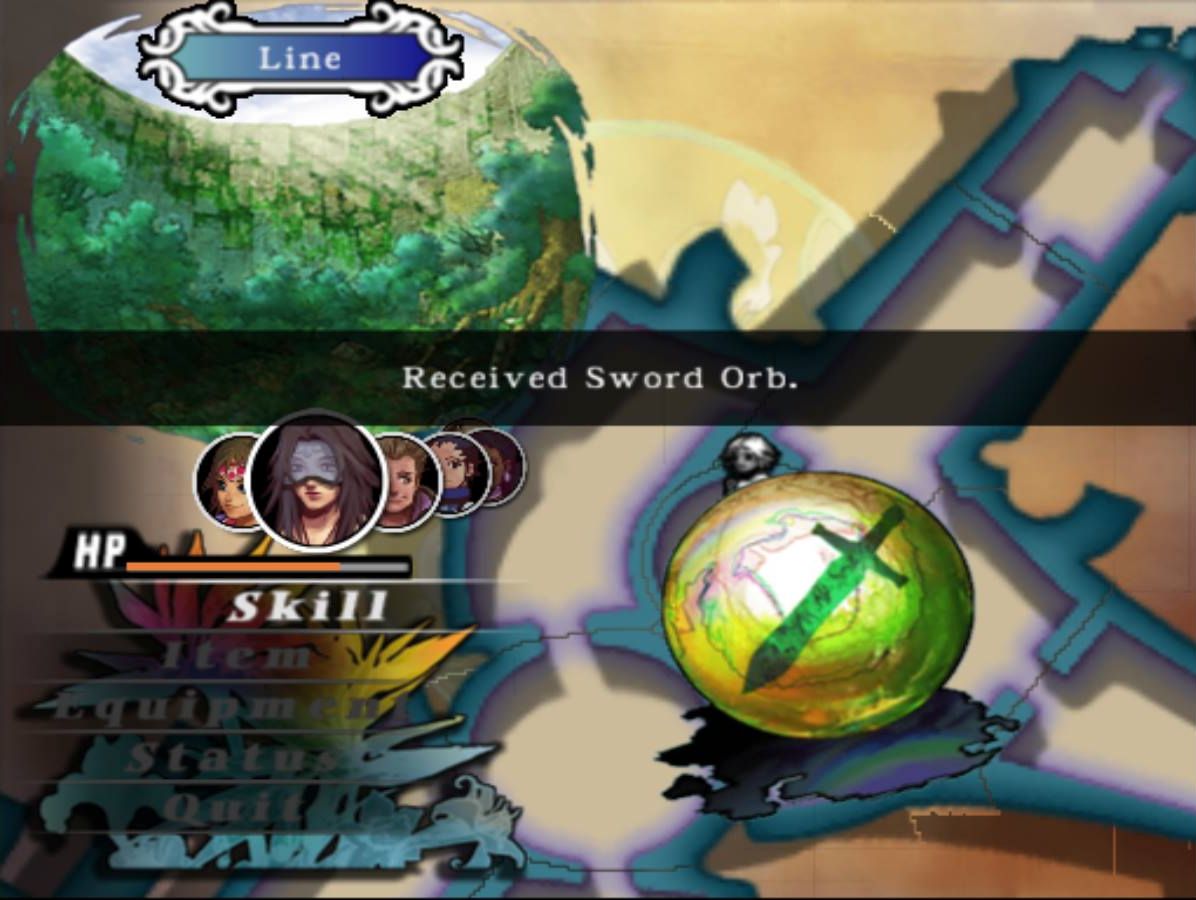 After defeating Maane and Malig, you get the orb of the Line, and are teleported to a strange laboratory.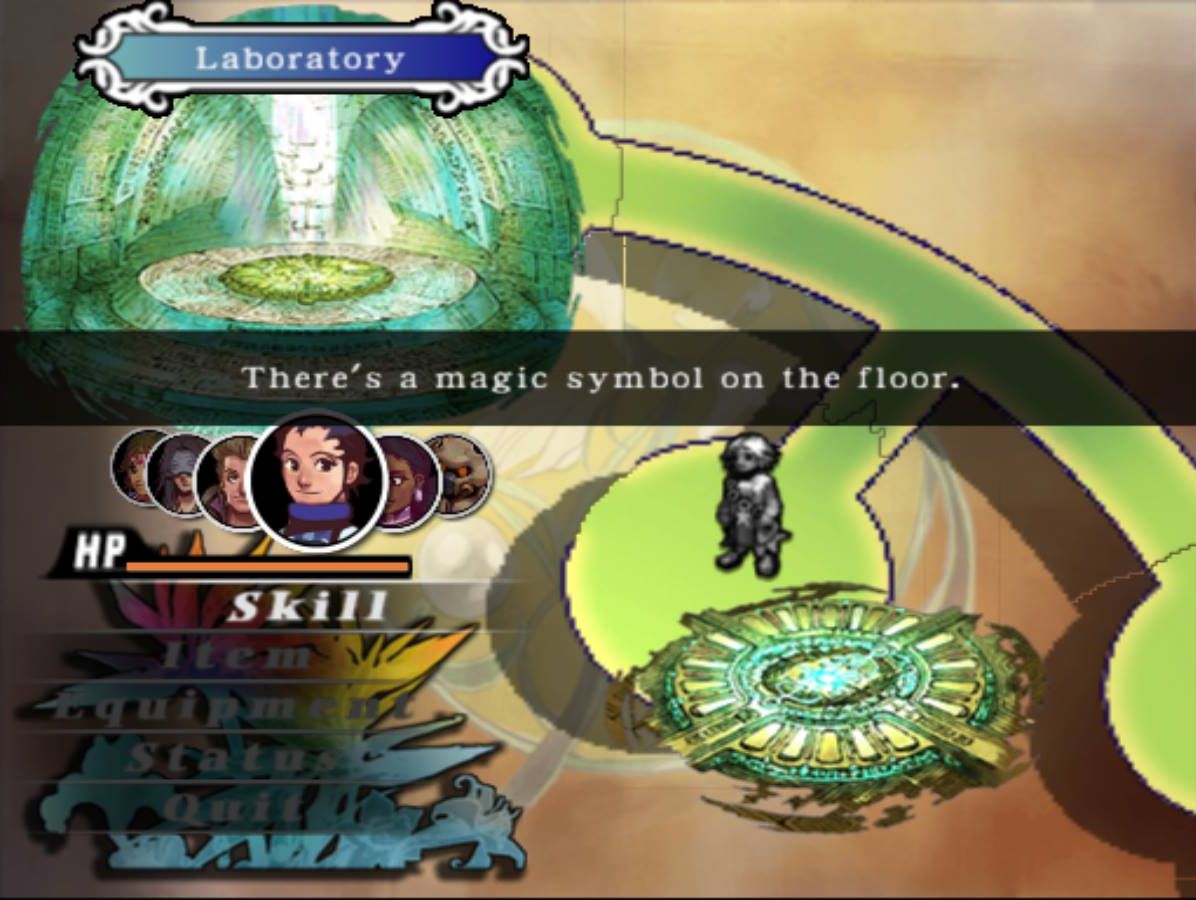 The laboratory is a circular hallway, with barriers around the edges leading to circular rooms in the middle. Eventually, as you walk around, your orb will start shining, and you can use the orb there to break the barrier.
Inside, you'll find a magic symbol on the floor. Stepping on it takes you back to the Line Core.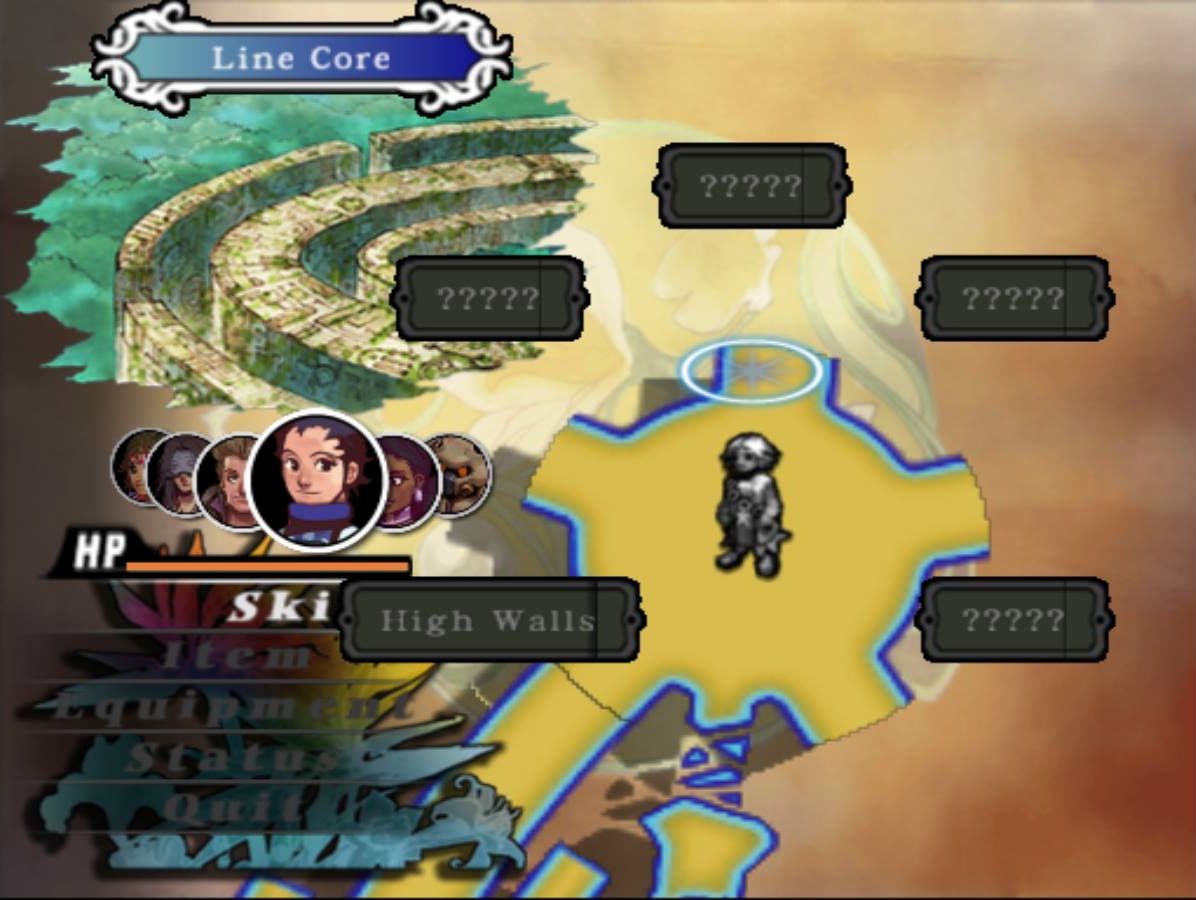 As you've probably guessed, your goal is to traverse all the Lines, obtain all the orbs, and break all the barriers.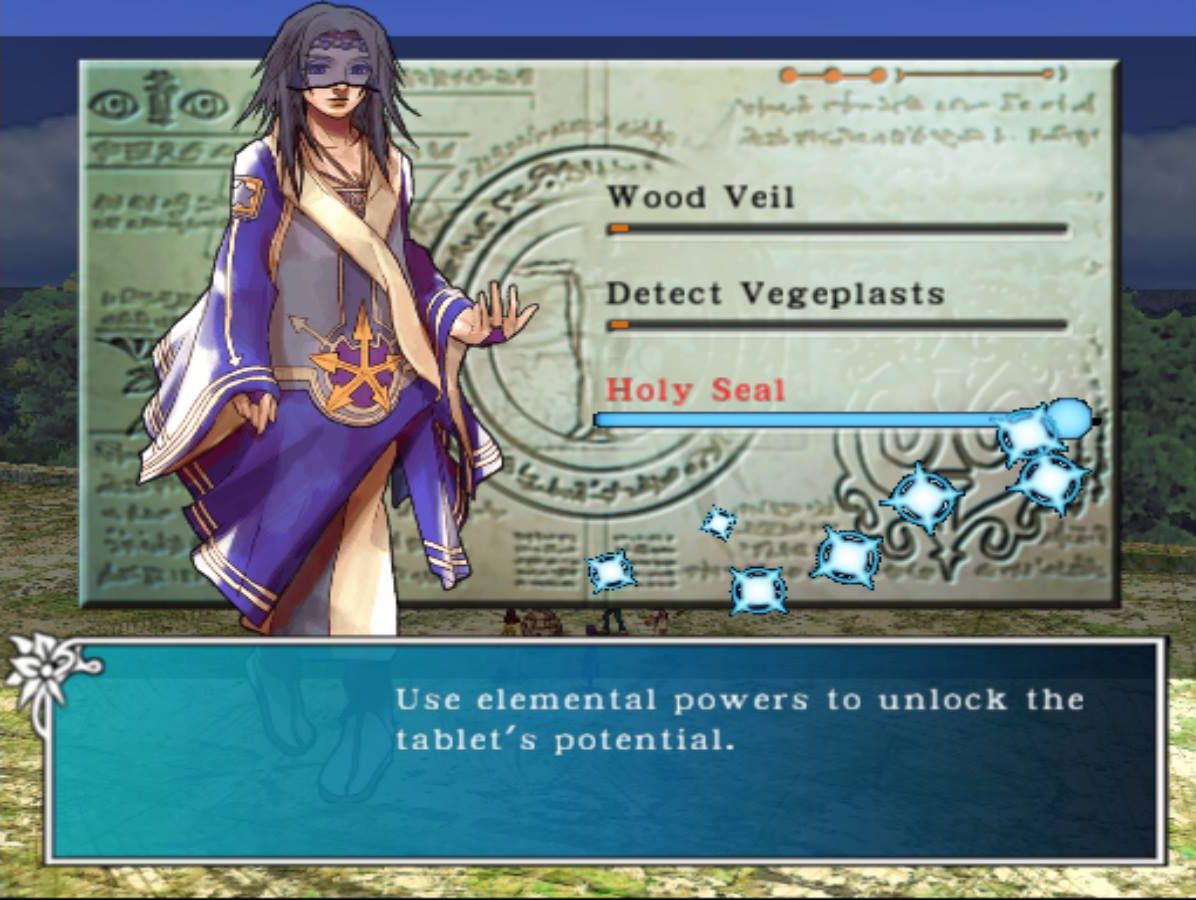 Sapphire finally learned Holy Seal. If it wasn't for this, I would not have been able to clear this adventure.
Holy Seal is a very powerful damaging magic art that also 'banishes' undead and demons. Basically this means it will instakill them. Sadly, it doesn't work on Maane and Malig...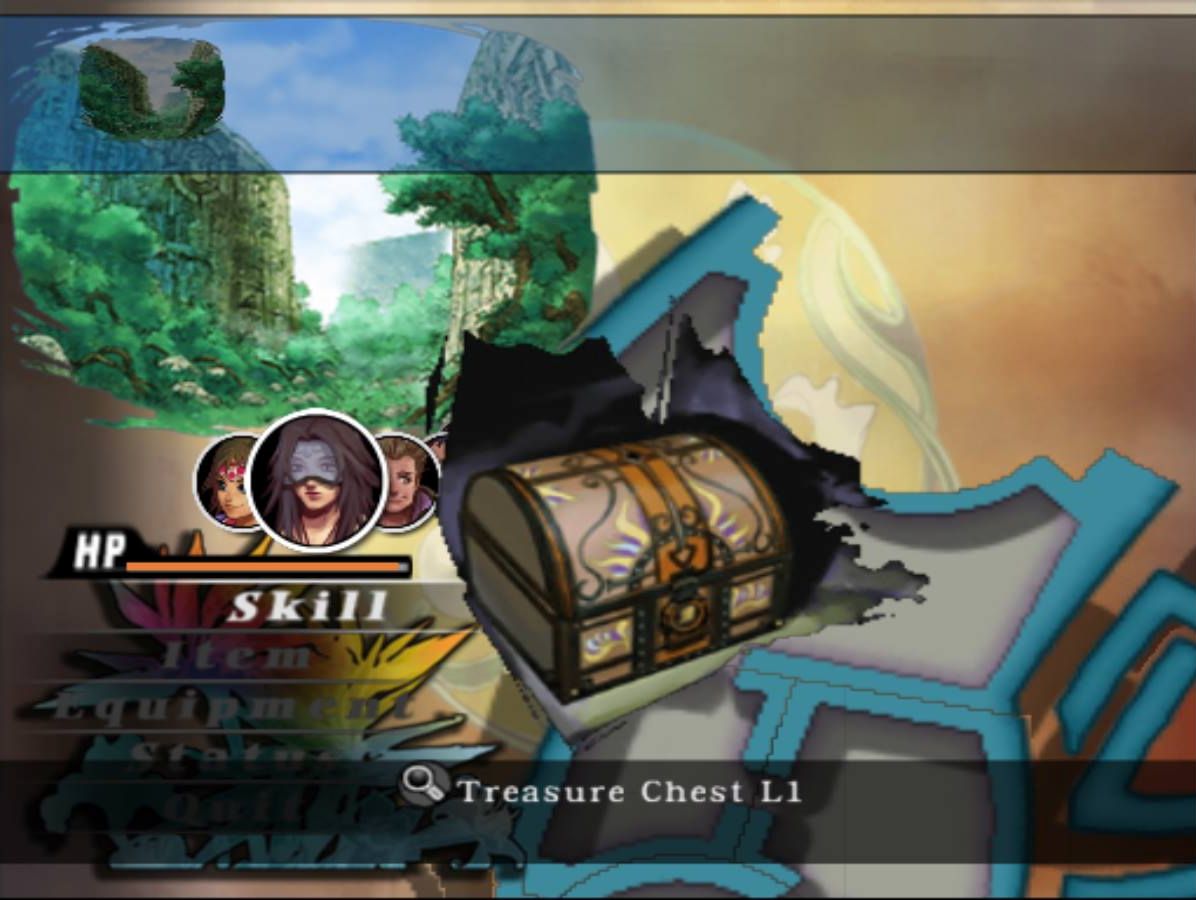 I wanted to mention a fun little thing you can do with needle traps on chests. Needle traps can be stacked on a chest. Each time you trigger the traps, only one needle trap will come off. They do tiny damage, but if your HP is already 0, that means 1LP is gone.
But, because they're stacked like this, you can abuse them to safeguard your failures with Fortuneteller.
If you get a critical failure with Fortuneteller, the chest will become level one, all the locks will be unlocked, and the chest will open, forcing you to get the contents of the level 1 chest, which is usually pretty bad.
However, the way this works is the game essentially just unlocks the locks and then triggers the "Action" command on the chest. That means any traps on the chest will be set off. But if there are any traps left on the chest, the chest will not open. Since only one needle trap hits you at a time, the remaining stacked needles will cause the chest not to open even with a failed Fortunetelling. So if you find a chest that has ONLY needle traps on it, you might want to risk fortunetelling it a little higher than normal.
Needle traps always are on chests in a random stack of 1 to 5. This means there could only be one, but usually there's at least more than one (80% chance, since it just chooses randomly between 1 and 5), so you're pretty safe in allowing the fortunetelling to fail once. This is also useful if you're just trying to use Fortuneteller as much as possible during the adventure to try to get a better panel, because you can get more uses out of it by just continuing to do it without any intent of actually trying to get a good treasure from the chest.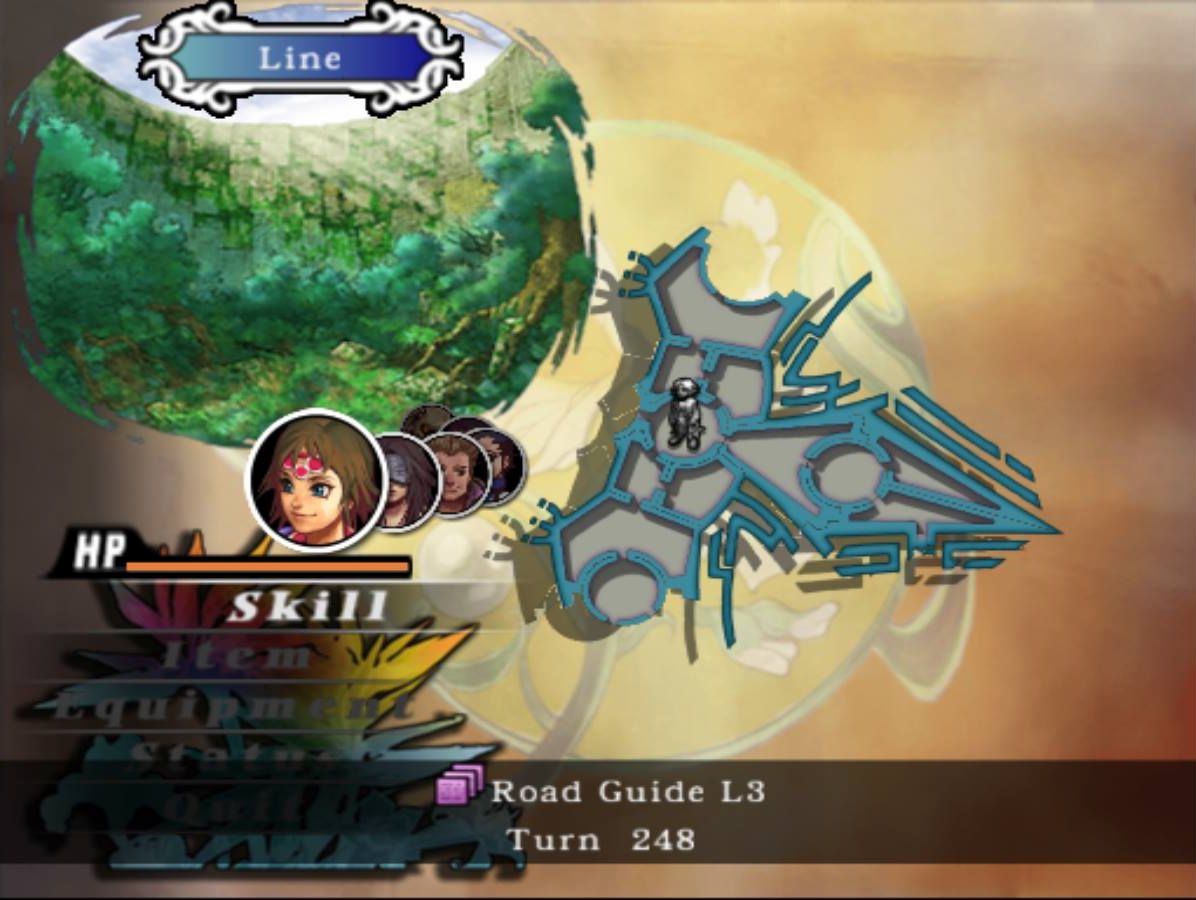 The second Line is a bird shape. It has a similar solution to the first one with buttons and invisible walls.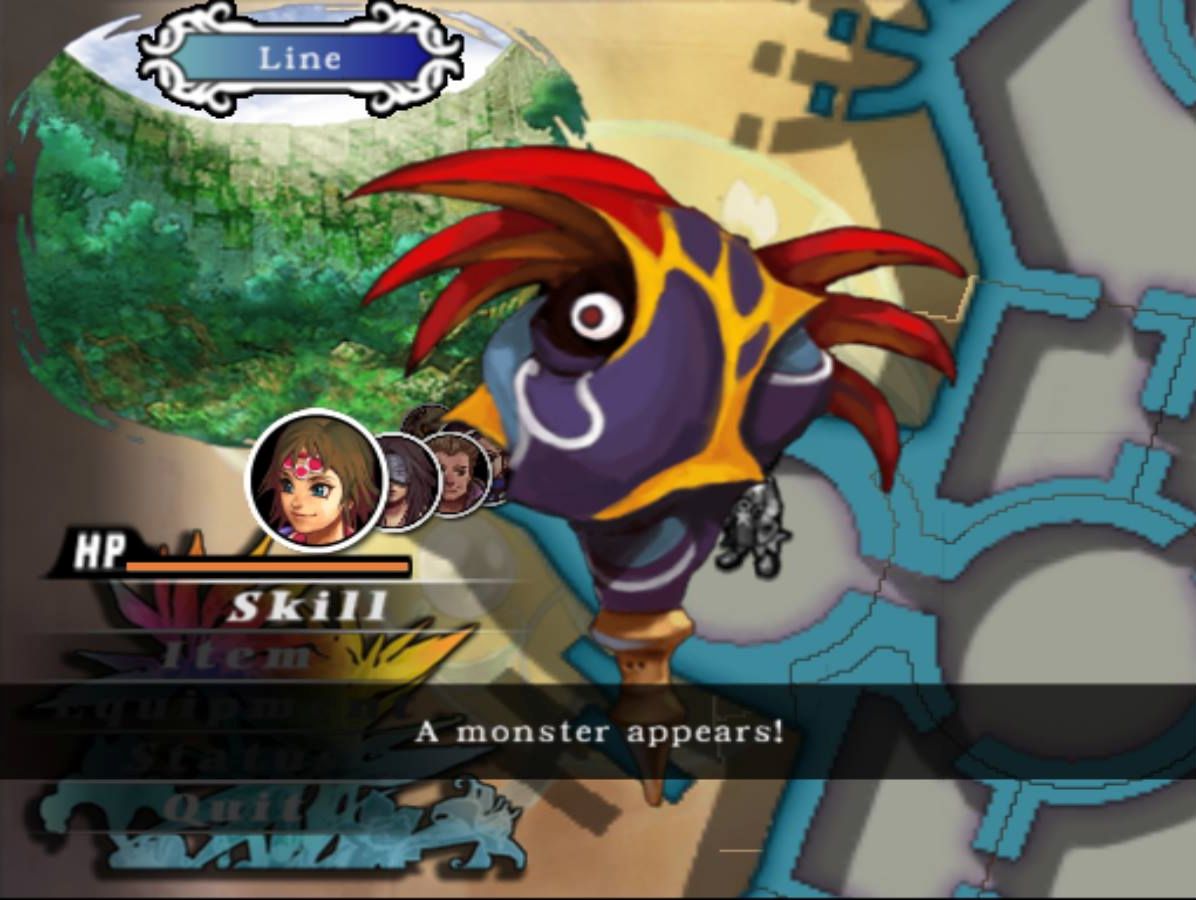 Maane and Malig are back for a rematch. Yeah, they're at the end of every Line.
Sapphire's learning Meditation now. This is a buff that boosts the caster's magic. Buffs and debuffs can be VERY powerful in this game, but they only last a few turns.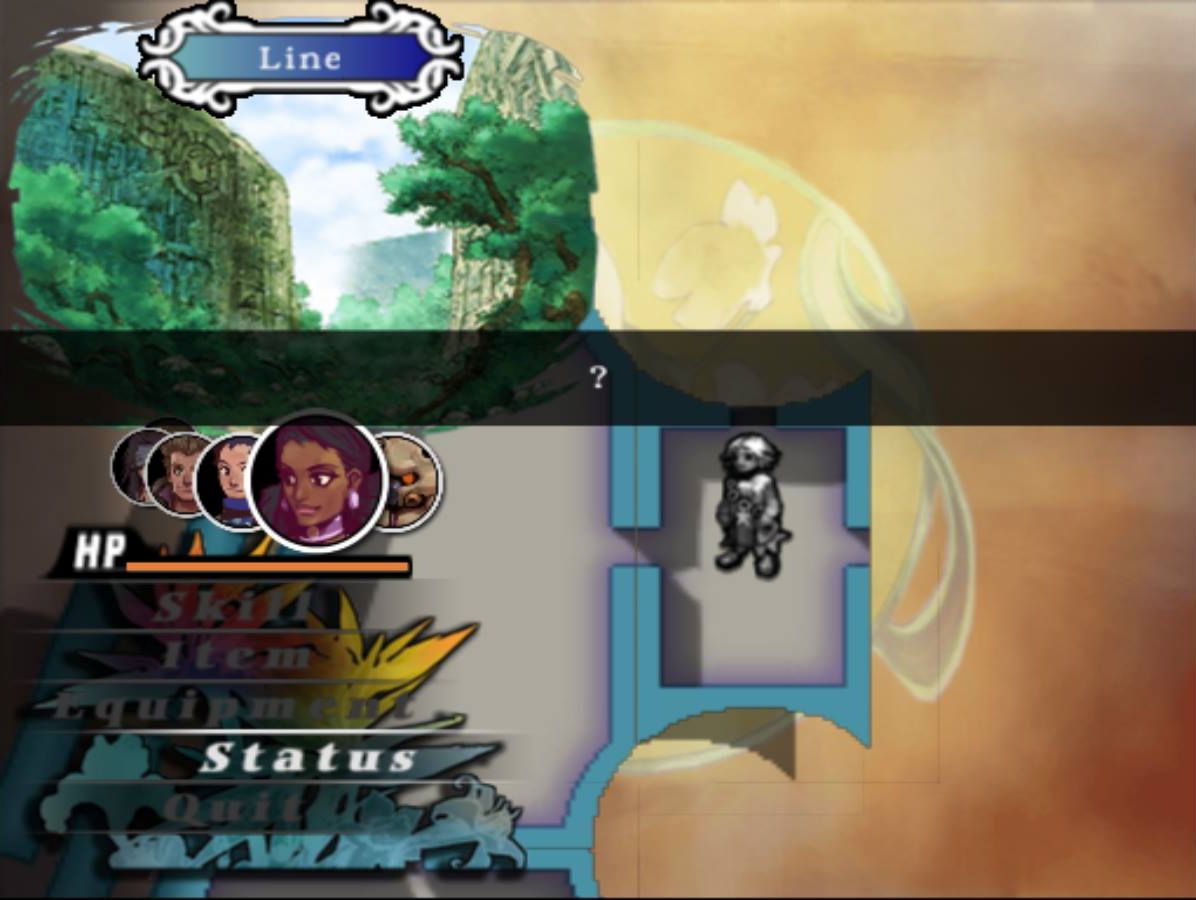 The next line is very interesting. I personally thought this was very clever. If you don't want to spoil the solution, maybe skip this part...
Basically, you'll notice after exploring some more that there is no entrance to the room just south of the room that says "?"
What you need to do is, from that room, just try to move south, as if there was a room there. There's no placeholder for the name of the room, and other than this part of the game, you always point your ring cursor thing at the name of the room you want to go to, so this is a bit... unintuitive at first.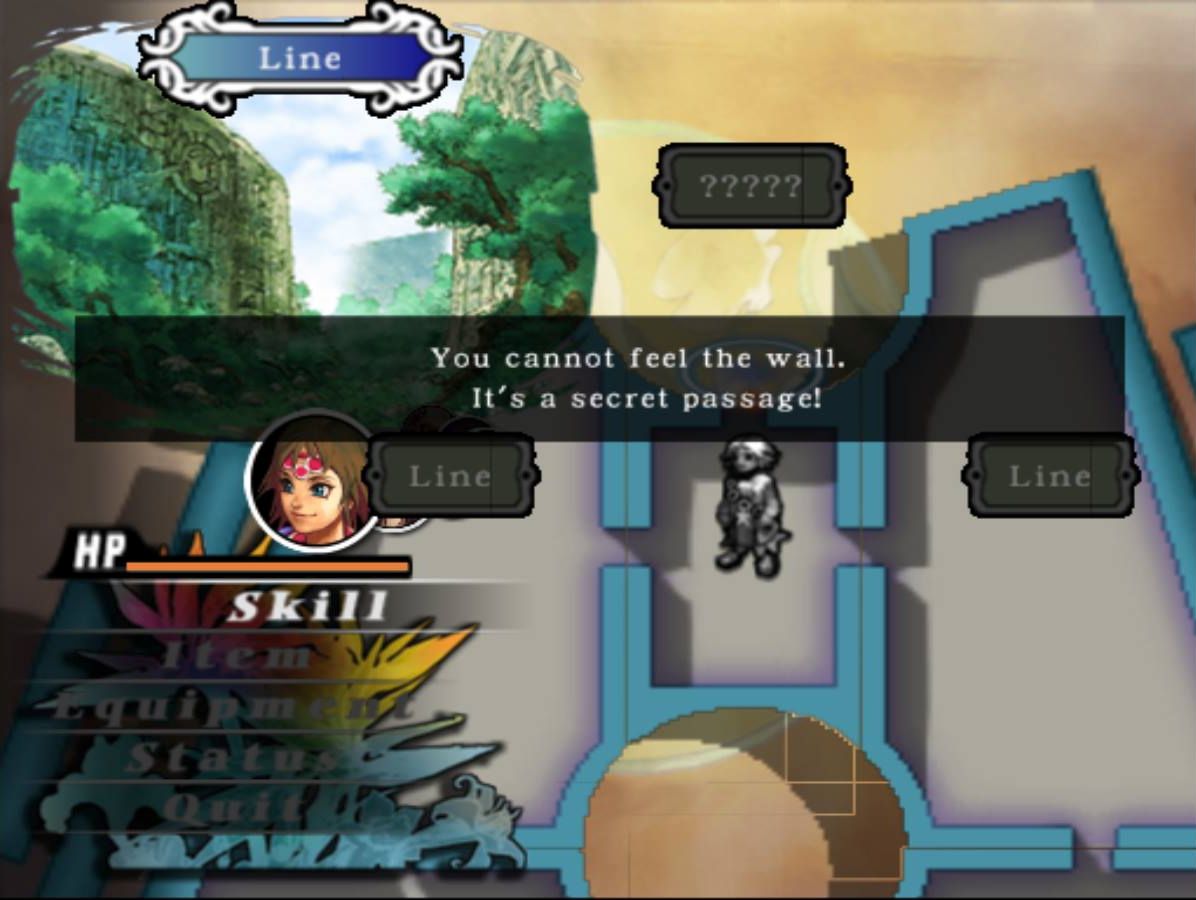 You'll notice that the wall is not real, and you can walk right through!
Personally I thought this was a pretty fun puzzle to figure out on my own. You know there HAS to be something with the "?" room, and you can pretty much explore everywhere but that south room. You can also see there are no doors or entrances to it anywhere. It took me a lot of running around and worrying I was 'stuck' before I figured it out, hahaha.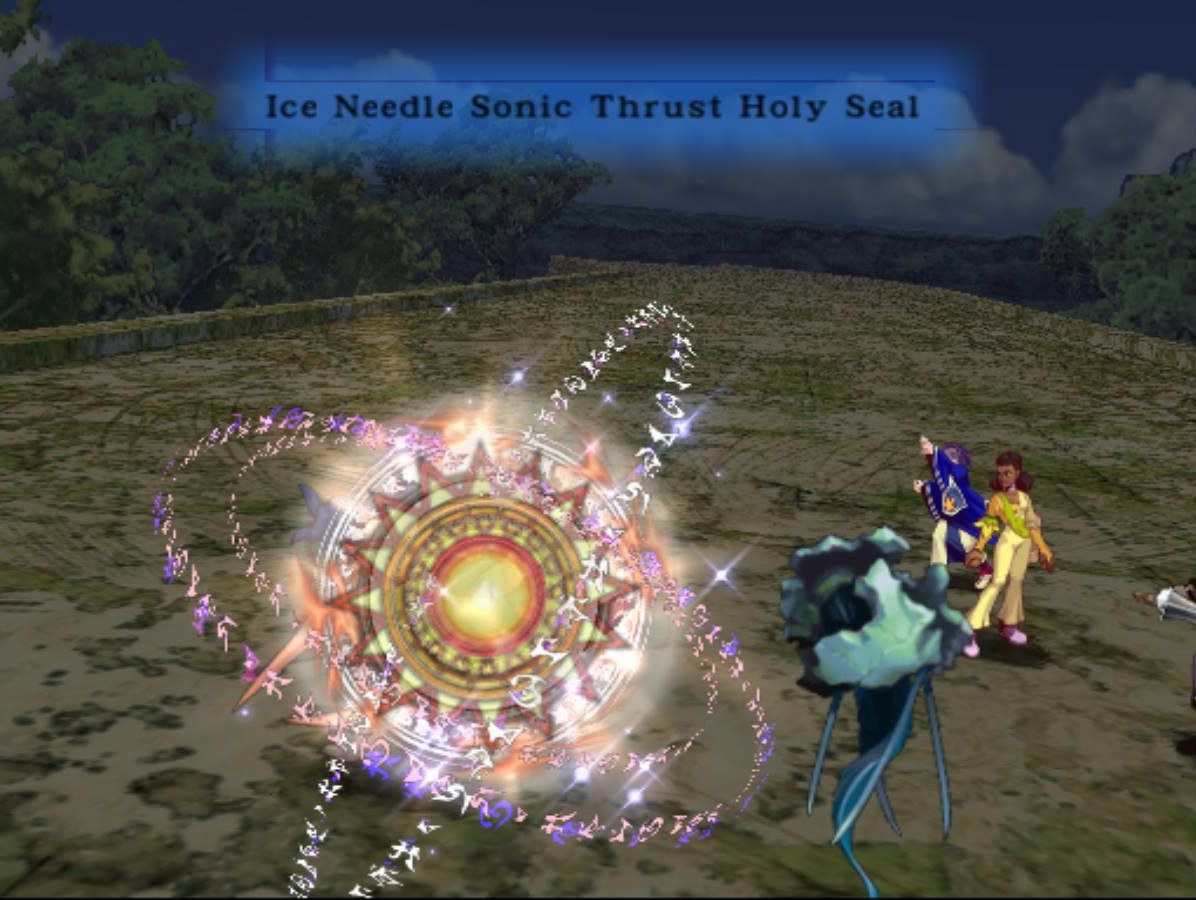 Here's what Holy Seal looks like.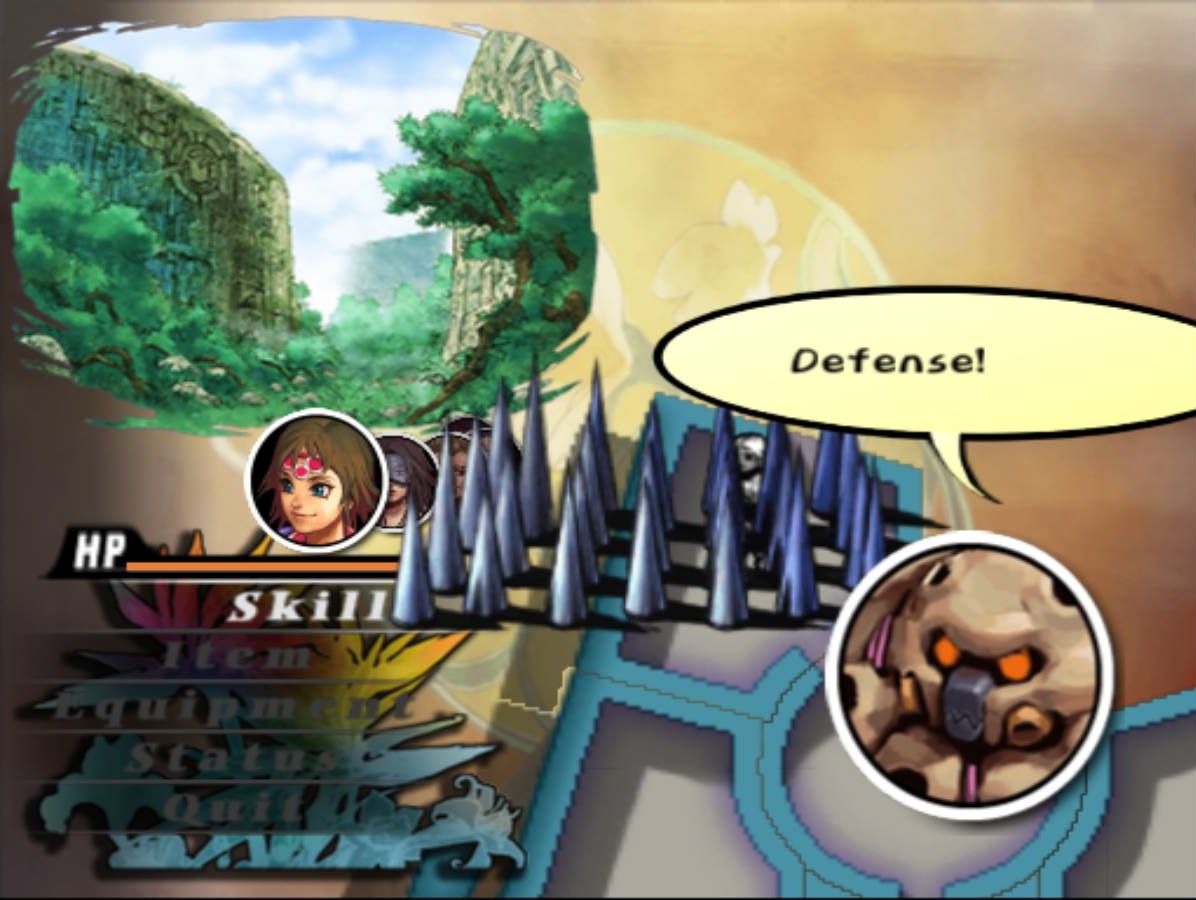 When Anzan falls into a trap, he just yells "Defense!"
I love him.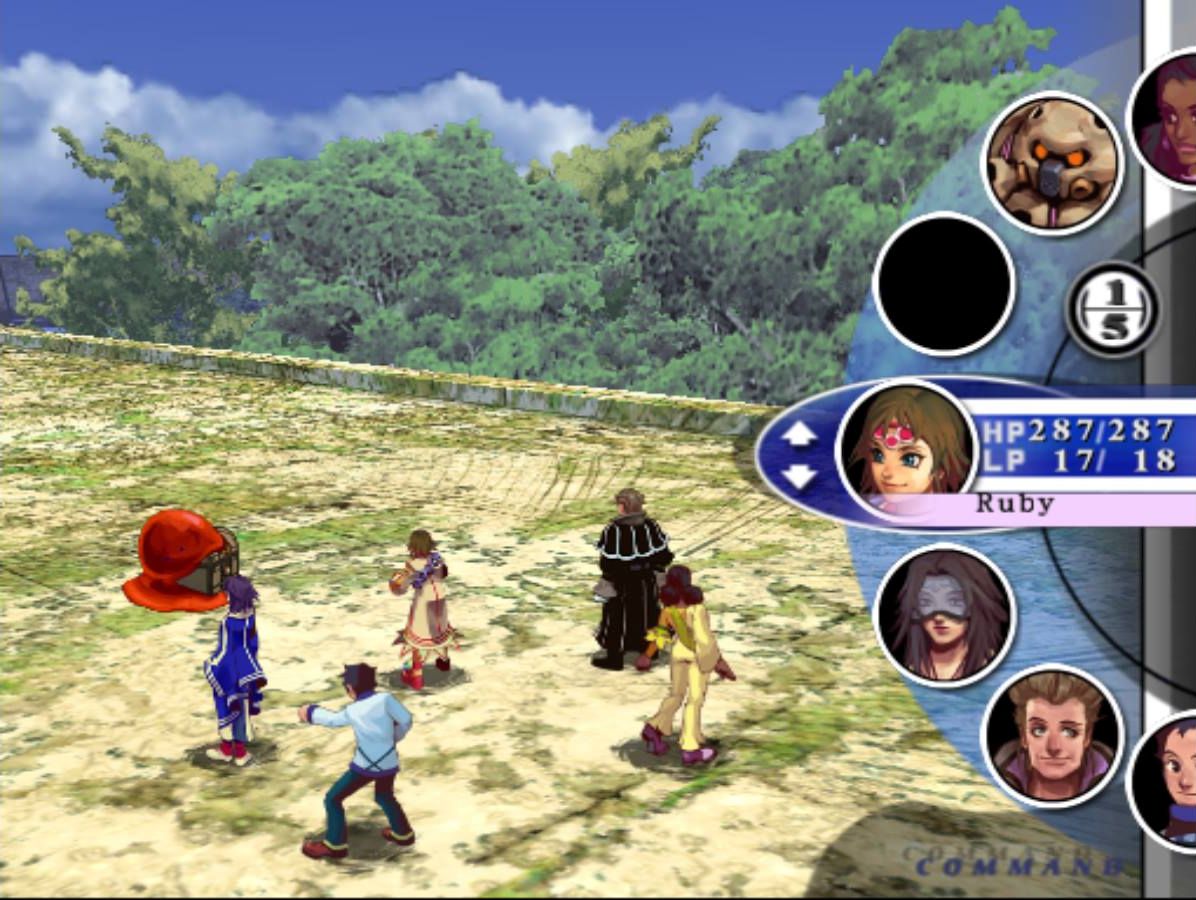 I've had only green treasure slimes up til now, but I finally ran into a red. Their colors are random, and red is the strongest. Green is easiest, and yellow is in-between. They're not all that different from each other, though. And you don't have a better chance of getting magic tablets or anything...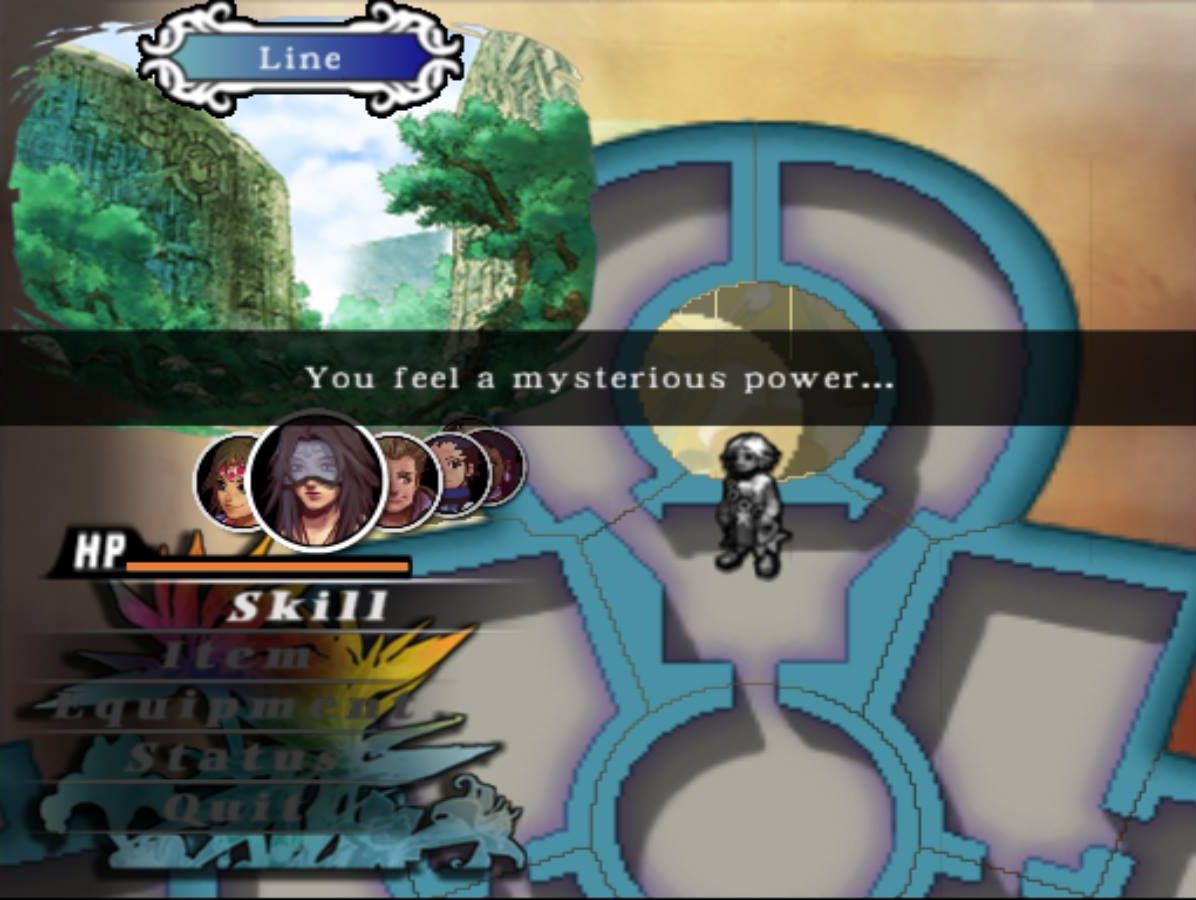 When you finally finish everything here, you make a sort of person shape. This is called the Giant Line.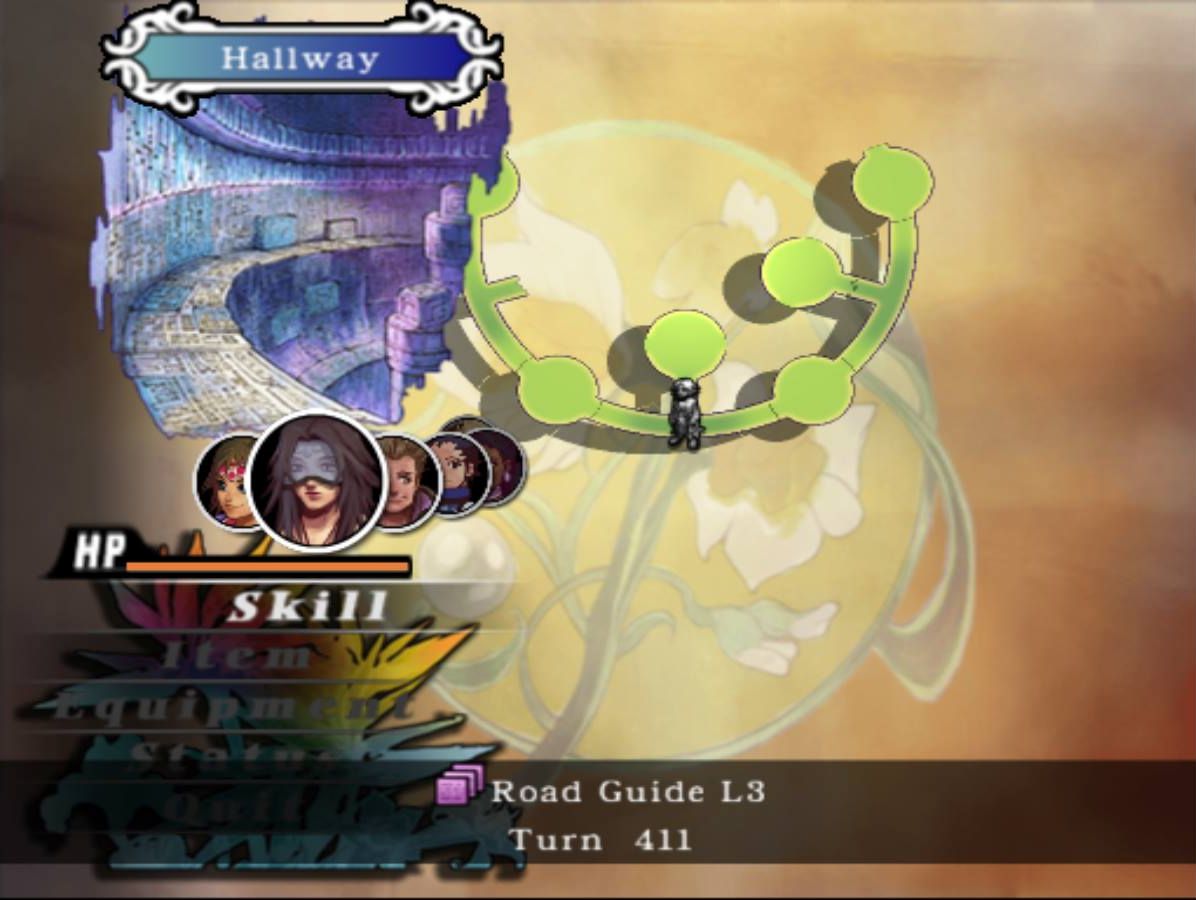 And so we're back to the laboratory again, after yet another fight with Maane and Malig. It's starting to fill out as we break the seals and enter the central rooms.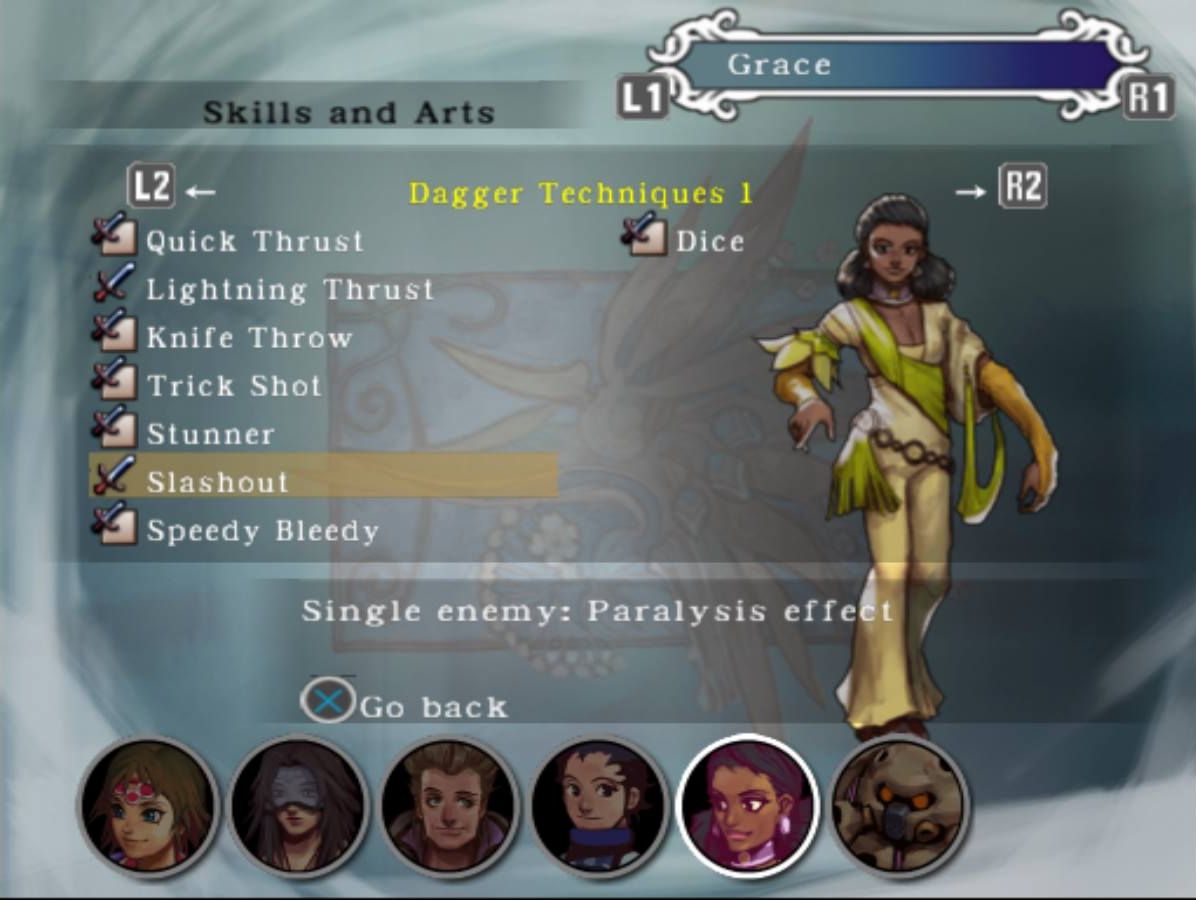 Grace glimmered Slashout, which is very useful. It has decent damage, but it can also inflict paralysis (so can Lightning Thrust, but this is a little stronger). Unlike most JRPG where inflicting status effects on enemies is almost always useless, in UNLIMITED:Saga, status effects are very useful, have great infliction rate on weaker enemies, and even work on most bosses and the strongest enemies in the game. Not the final boss, though.
Paralysis makes the enemy stop doing any actions at all, so this is extremely useful. It can last many turns, too, depending on the enemy's Endurance. You can even use this on Maane and Malig to make them completely stop acting! I got it to work early in one of their fights and pretty much took them out without much damage. But still, fighting them 5 times really took a lot out of the party, even with that lucky break.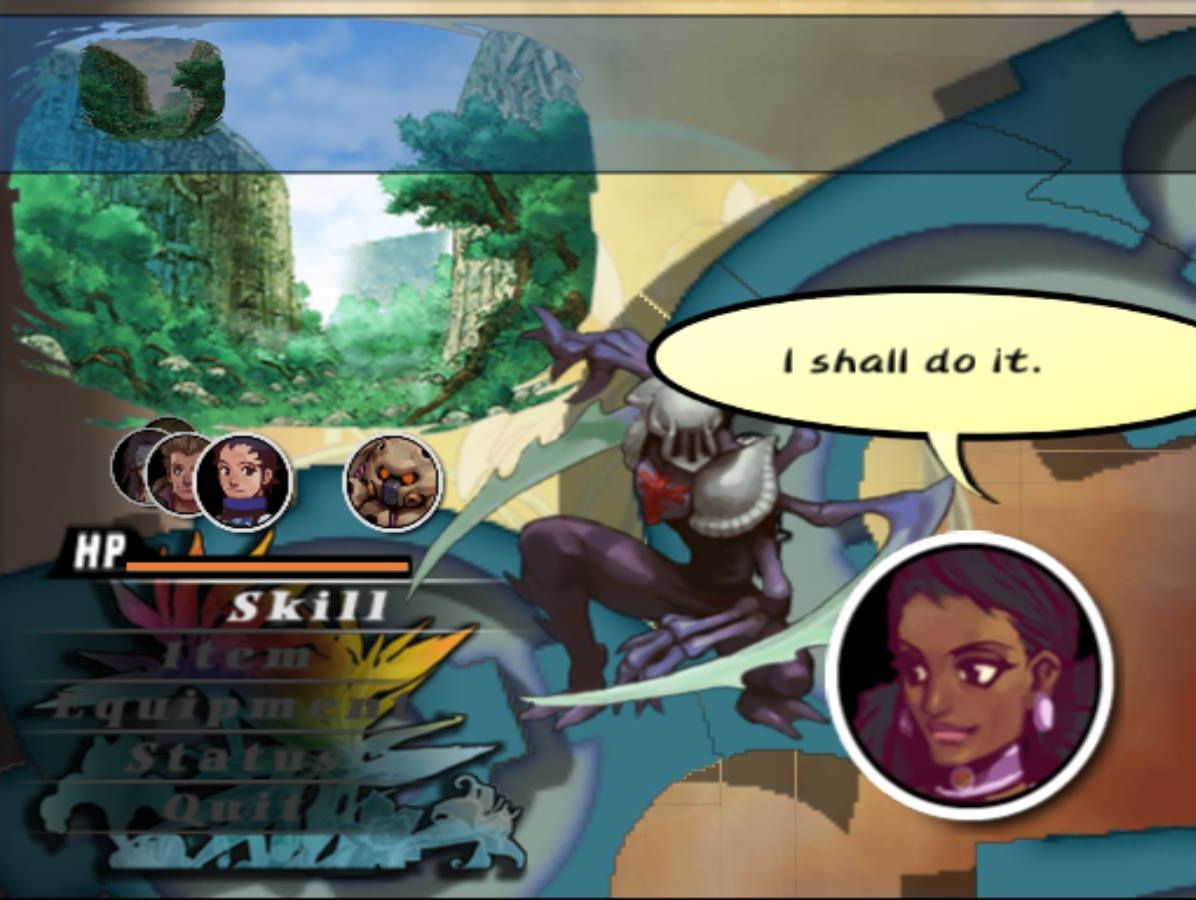 Diplomacy has been invaluable this game. After all those fights with Maane and Malig, my party was really weak and I needed to conserve every last bit of LP I had. You risk maybe losing 1 LP here or there in random battles, which is usually no big deal. But now, every LP lost was a big hit to my remaining resources.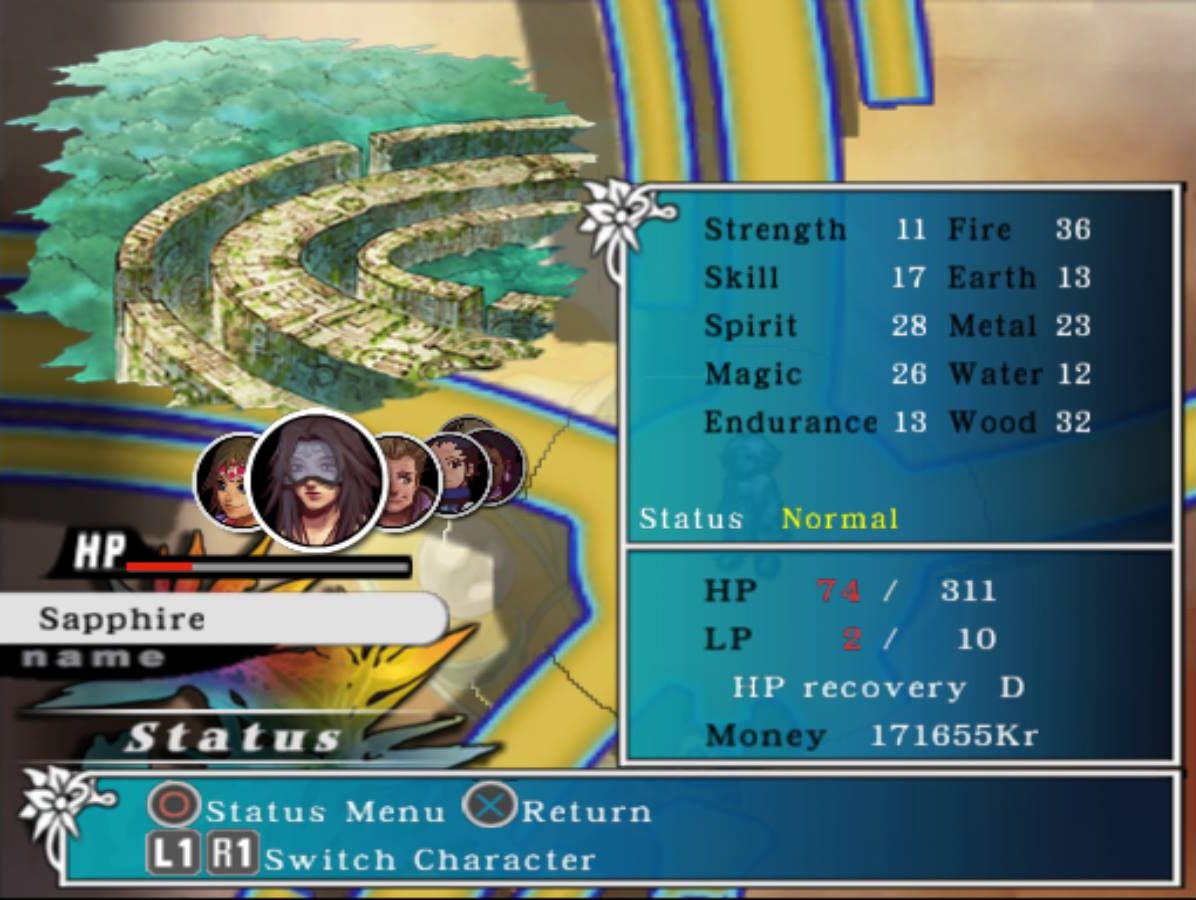 Here's what Sapphire looked like after completing the fourth Line (which was a butterfly shape).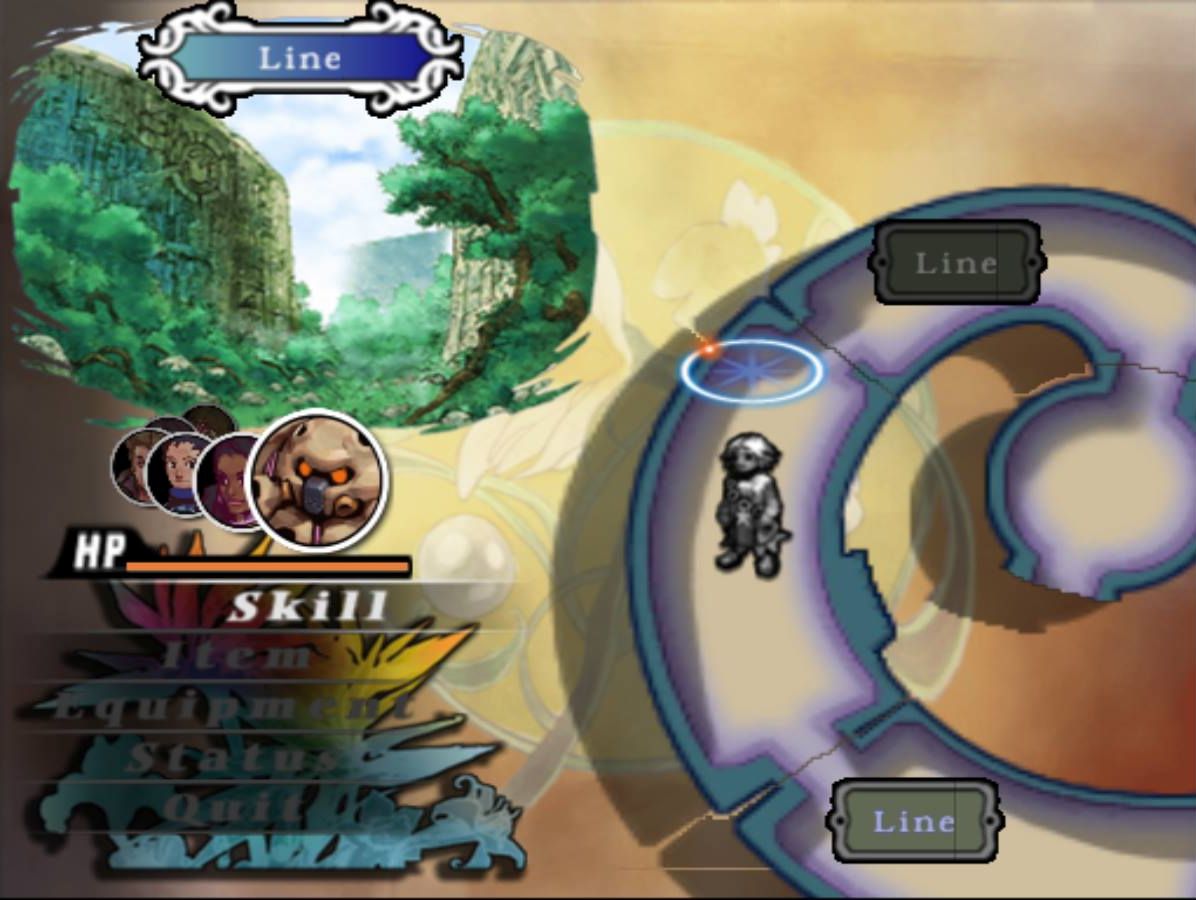 The final Line is my least favorite and is mostly just annoying.
Basically, "magic" makes it so you have to push the stick in the opposite direction you want to move. You can see I'm pushing kinda up and left to target the space down and right...
That's about it. It's a pretty simple area and you just walk around like this. The problem is after a battle or looking at a chest or something you'll probably forget you're supposed to do this and then go the wrong way on accident. That doesn't really hurt you or anything -- you just have to move back to where you were and keep going (I guess when you're doing this as a subadventure, you could waste a lot of turns like this though).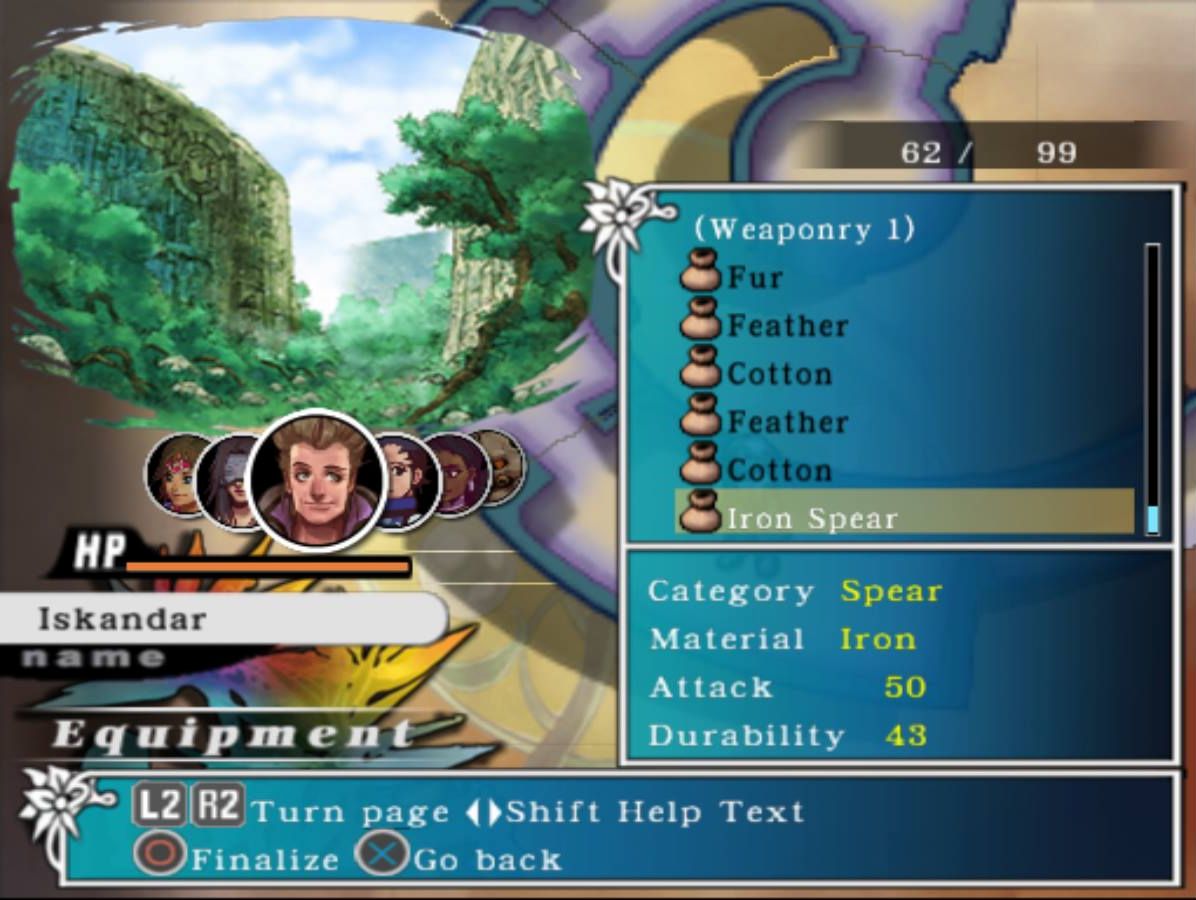 Found an Iron Spear in a treasure chest! Iron stuff is way above my Market Rank right now, so this was a really lucky break.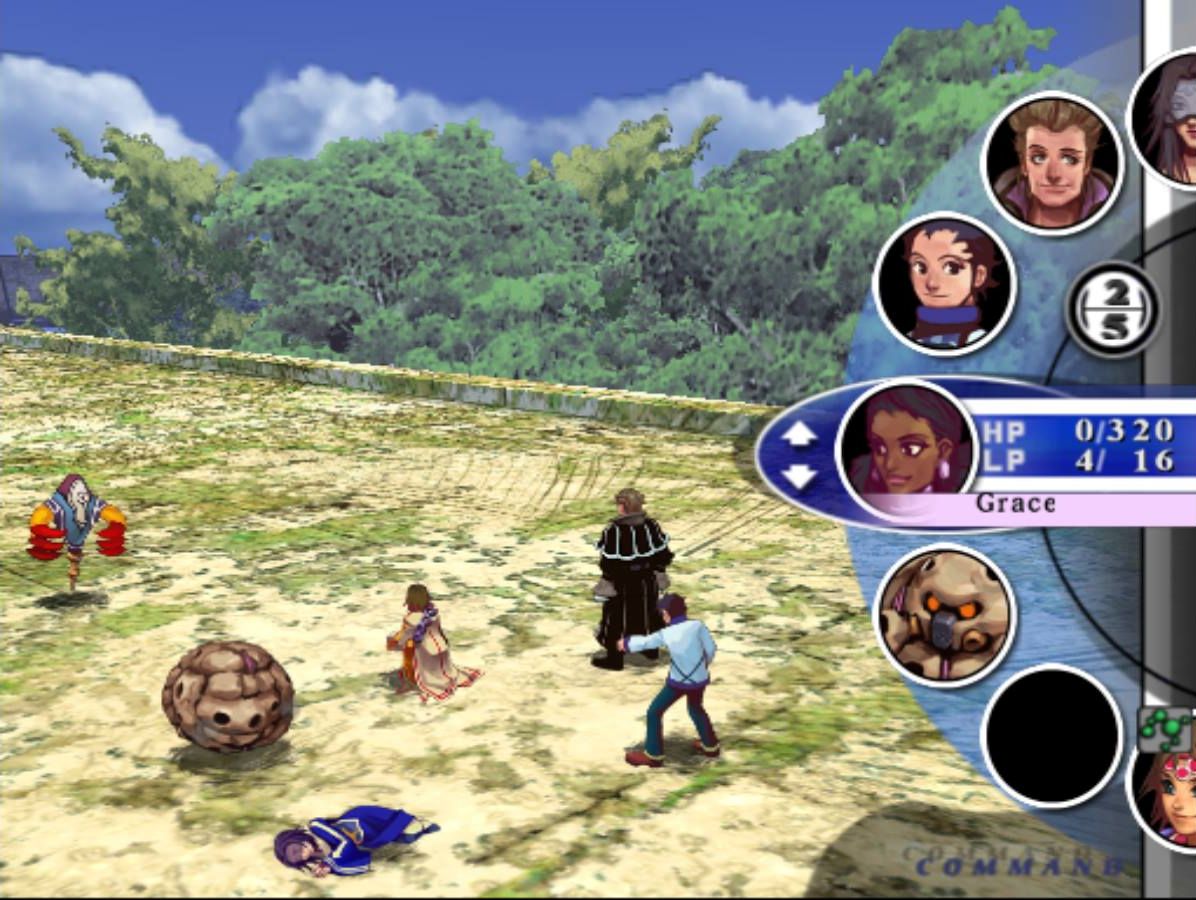 Maane and Malig killed Sapphire. Despite being one of the strongest characters, she's also incredibly fragile. 10LP is not a lot of LP, and facing stuff like Ripper, even from the back, she can die quickly.
The party was getting pretty weak by the end of this fight. I was starting to get pretty worried.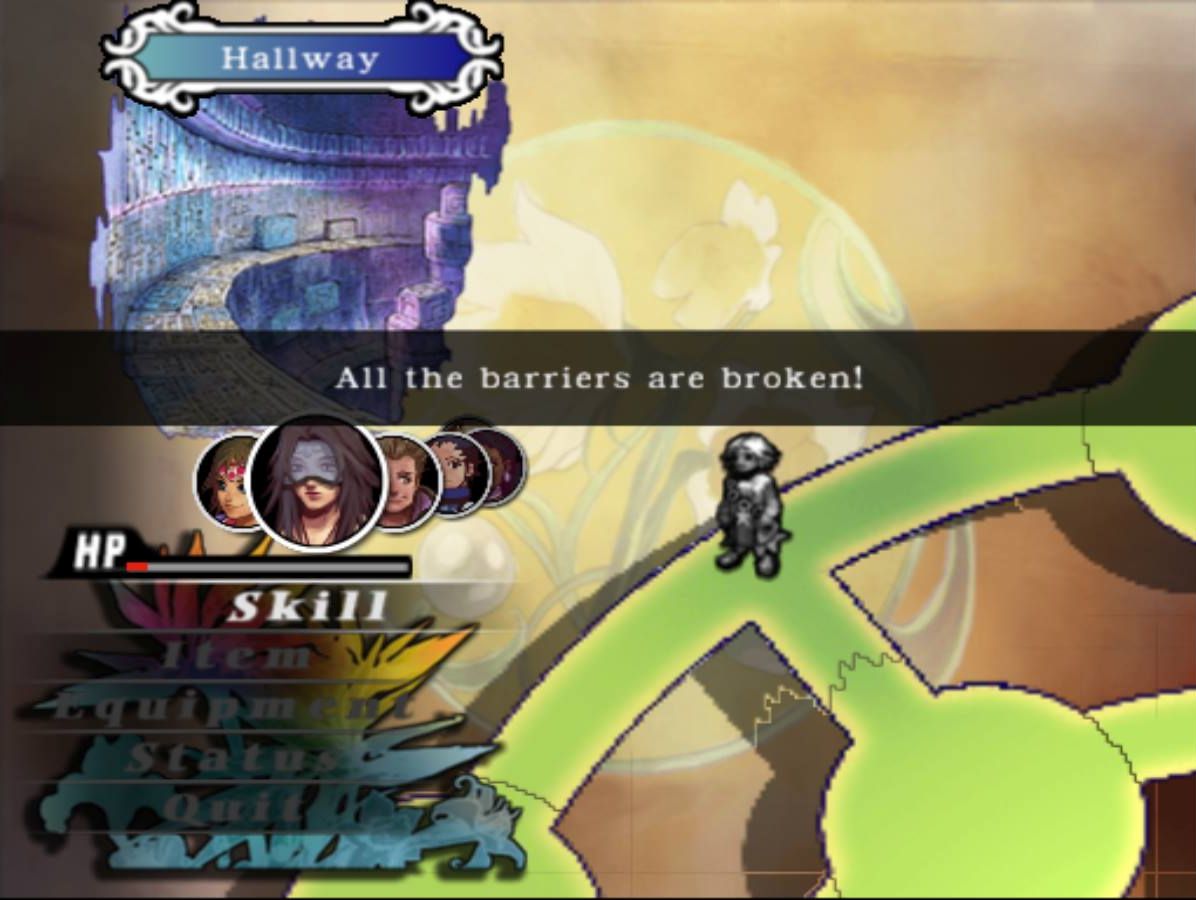 But I did successfully defeat them! Now we can go to the center of the laboratory, a place with glyphs carved all over the walls. Definitely a place where some really crazy magic work was going on, to be sealed off by all this.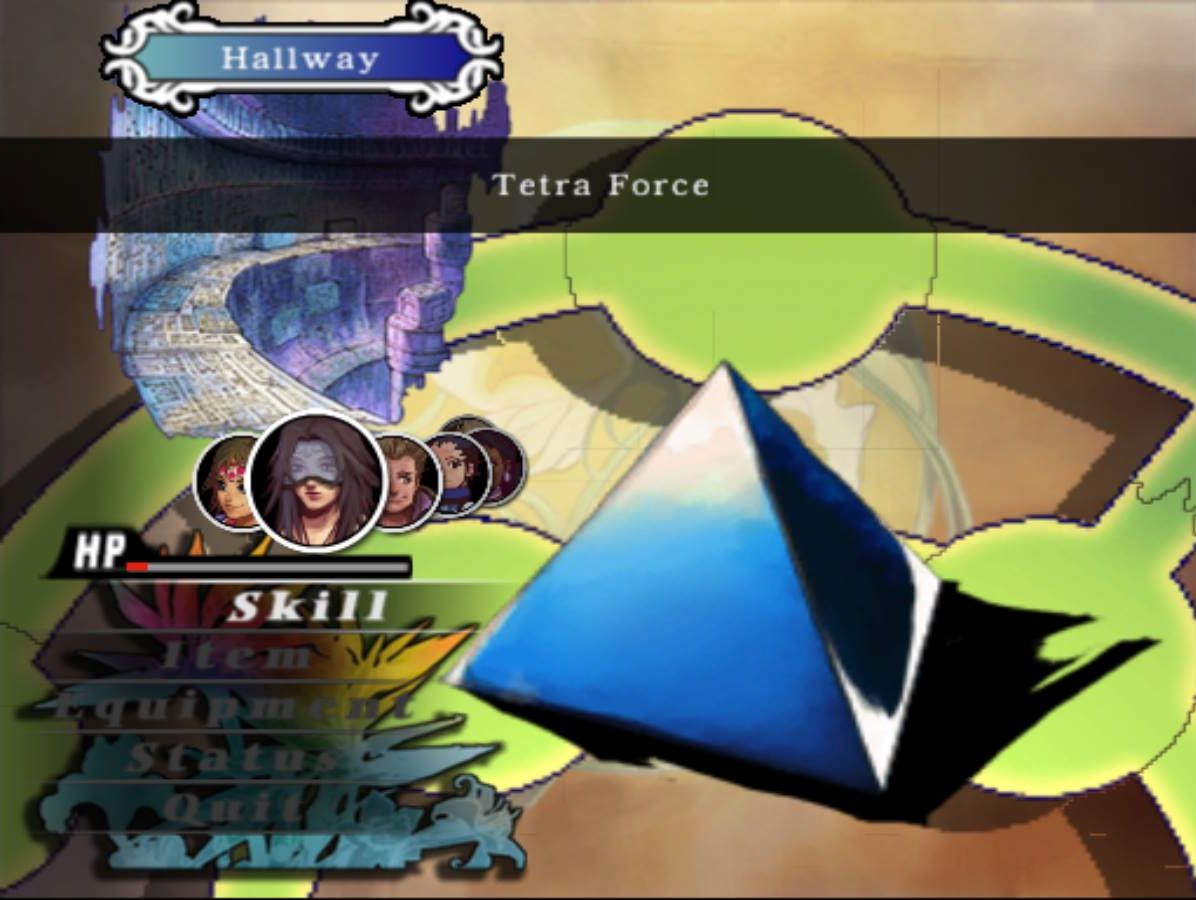 Just before we get to the center, though, we come to a Tetra Force. Finally, we can heal everyone and get some panels while we're at it.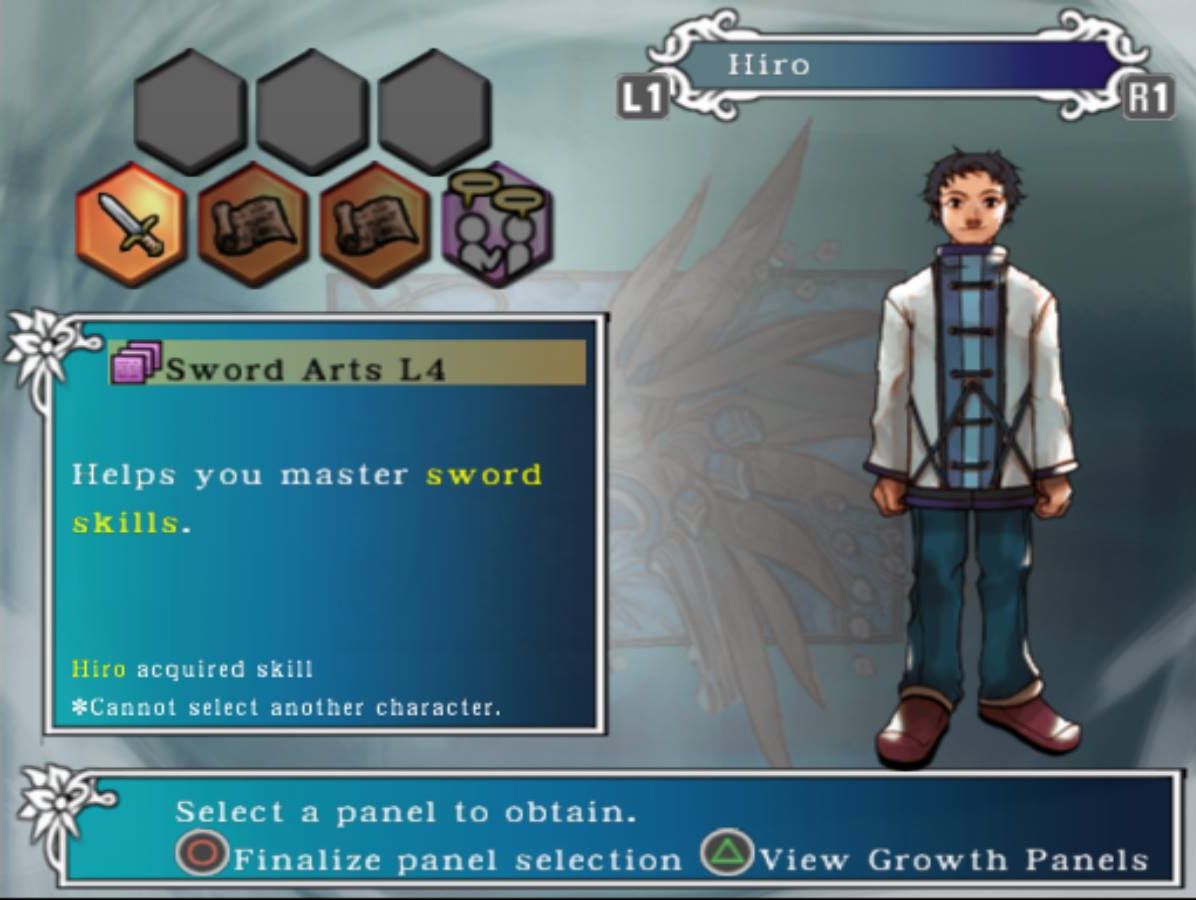 Hiro got a L4 Sword Arts Panel!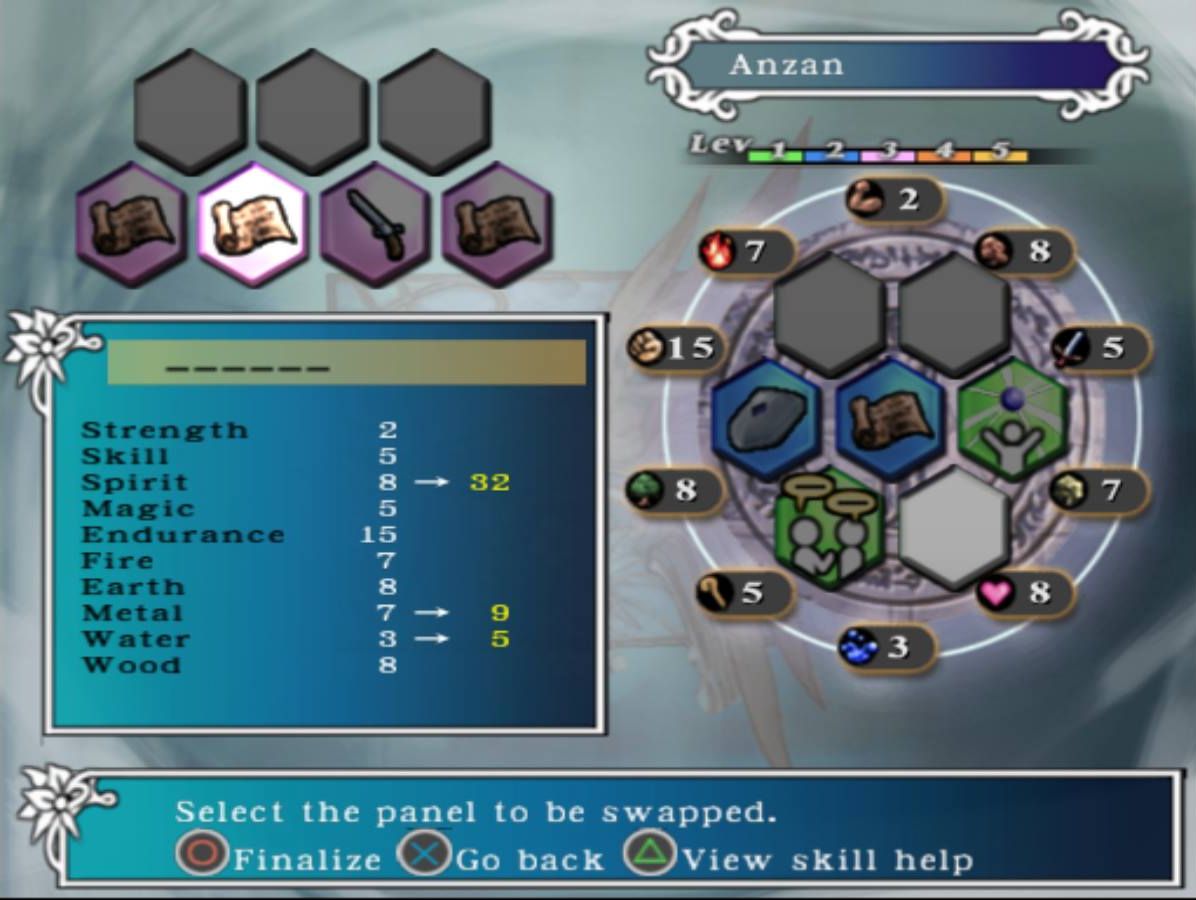 Here's an example of what having a huge Making stat can do. Anzan's Spirit Making of 5 lets his Spirit go up to 32 just from placing this Swimming panel! (Also it's funny because Anzan canonically cannot swim, his body just sinks instantly... but in gameplay we can make him swim anyway with just a panel!). I feel like 40-50 is a pretty good level for a stat, so 32 just from this is pretty amazing.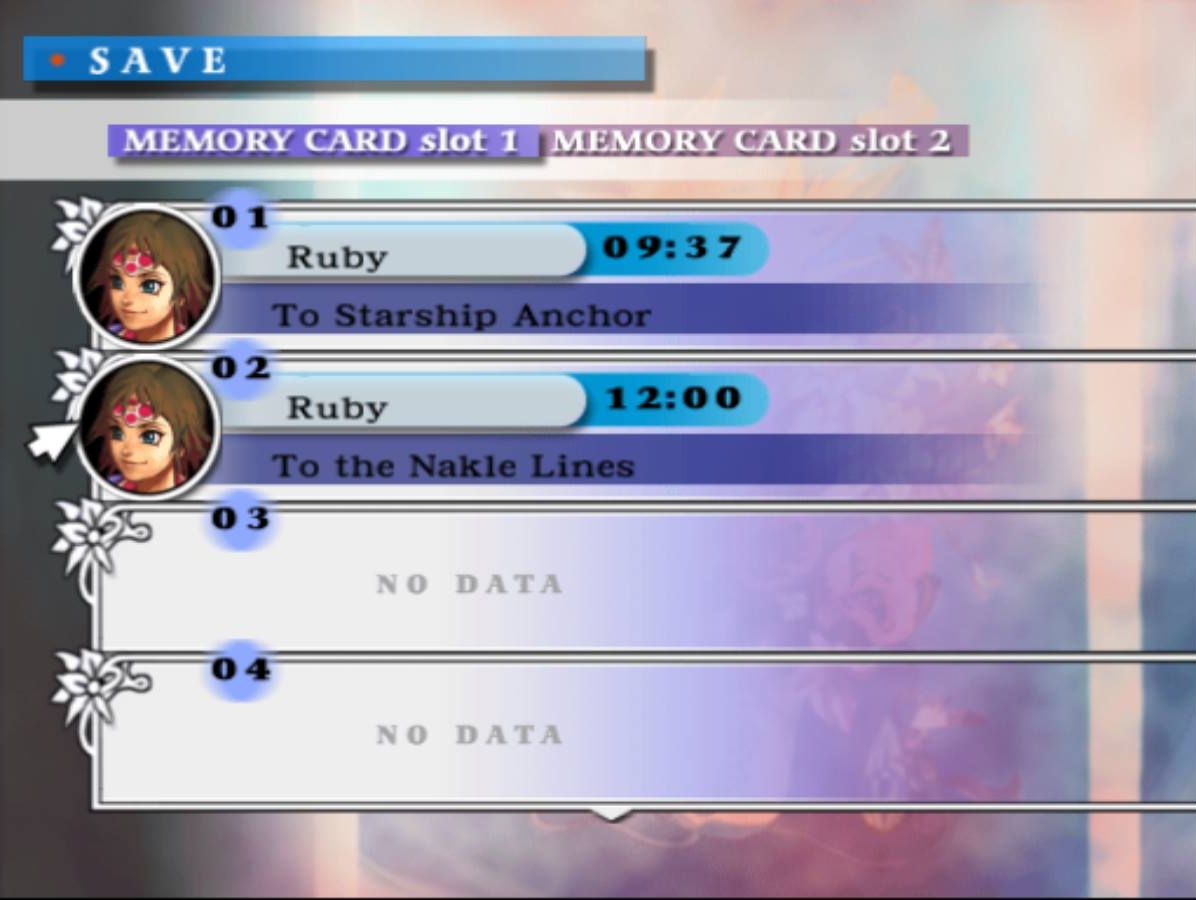 I saved in another slot because I honestly was not sure if I'd be able to survive this fight or not. This is probably the hardest boss in the entire game besides the final boss.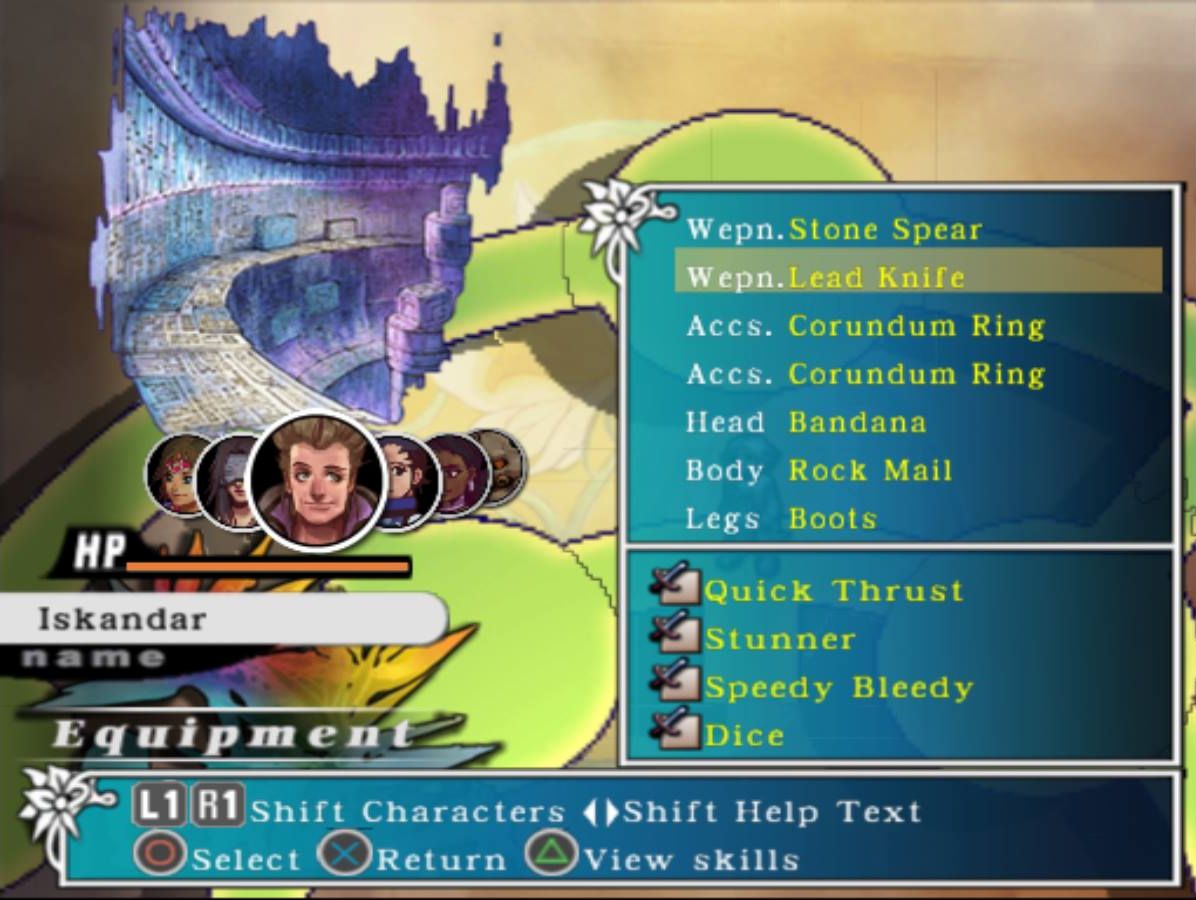 It's also time to get out ol' choppy. Iskandar has the better Skill Level between him and Hiro, and Sapphire is going to be focusing on using Holy Seal, so I gave it to Iskandar. This also means he won't have access to any parrying techniques, though, because I also want him to have his spear.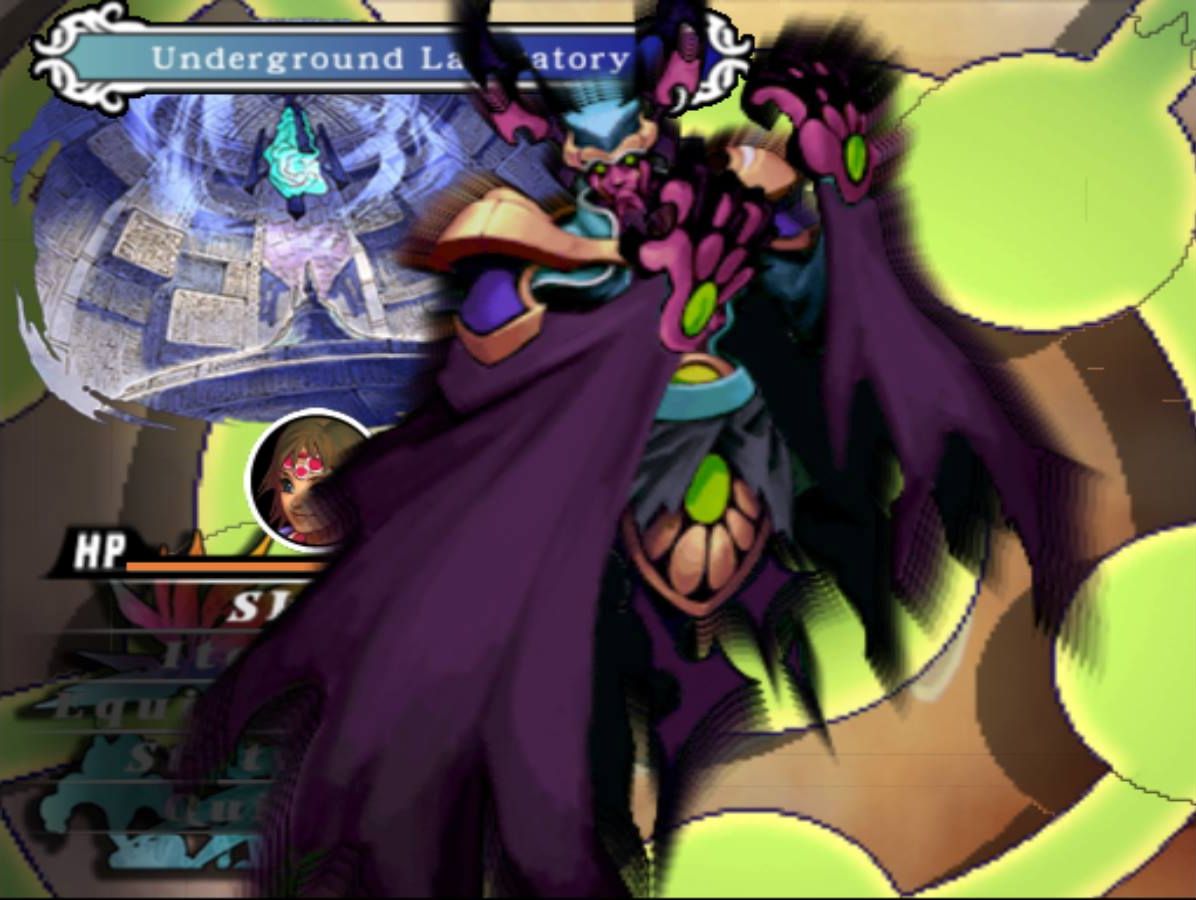 When you step into the central room of the laboratory, beyond the final seal and the Tetra Force, this big guy appears. Here we go--!!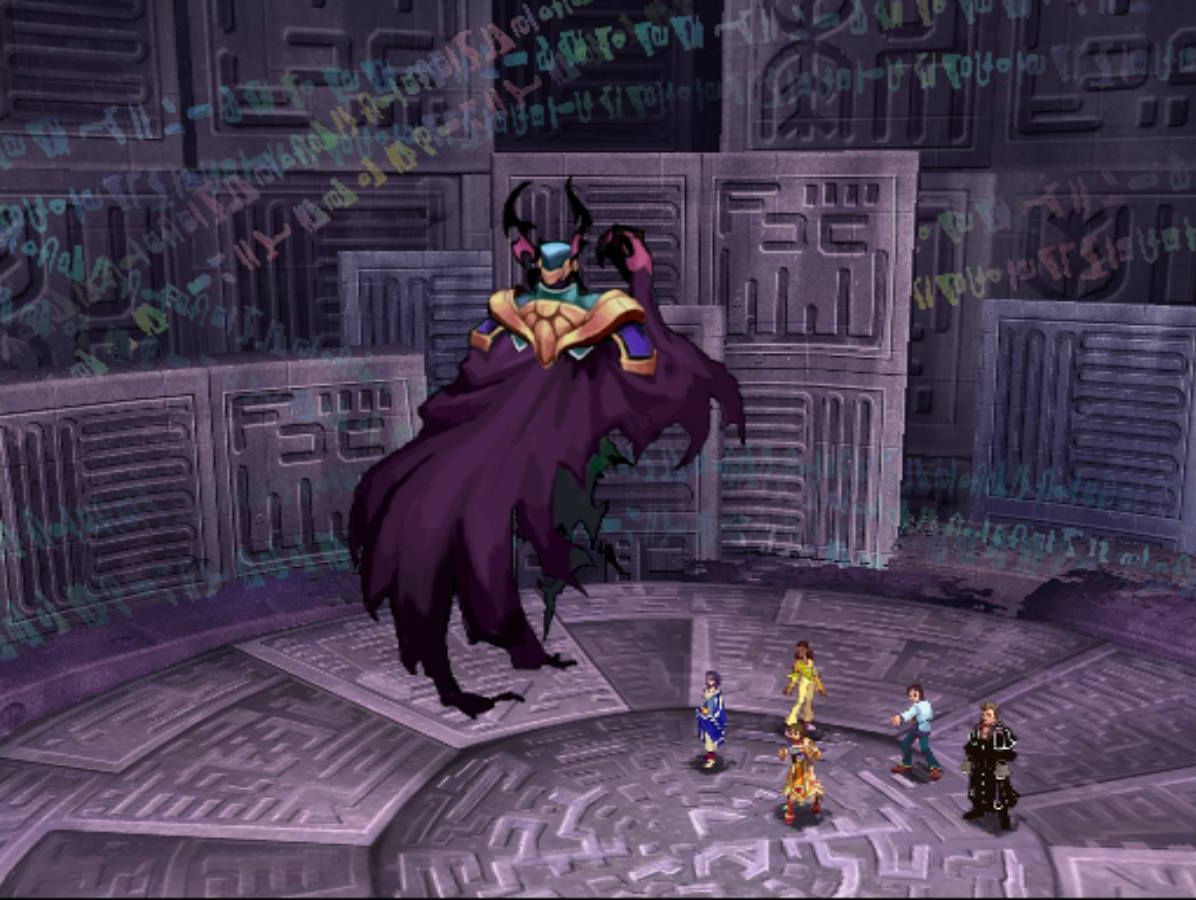 This is Tagut, the strongest demon in the game. He floats down looking all huge and stuff... also, the laboratory is a unique battle environment. It's kinda cool looking, rune things floating in the air, glyphs all over the floors and weird pillar wall things. Maybe whatever was going on here created the most powerful of demons, and he was trapped here until you set him free.
Tagut gets tons of actions per turn (like 4 to 8 or something), and all of them are pretty scary, but he tends to heavily favor the person standing in front of the formation. I mean, he'll hit others a bit but he tends to hit the front person way more than most enemies. In addition to this, the shape of the laboratory gives you a sort of unique formation.
In most battles, the party forms a 'star' shape, with one person in front, two flanks, and two people in the back. In the laboratory, however, there is one person in front, one person on the right flank, and everyone else stands in the back. Tagut doesn't attack the back row too much, so this can be your saving grace. (And speaking of saving grace, wait til you hear how this battle ends!)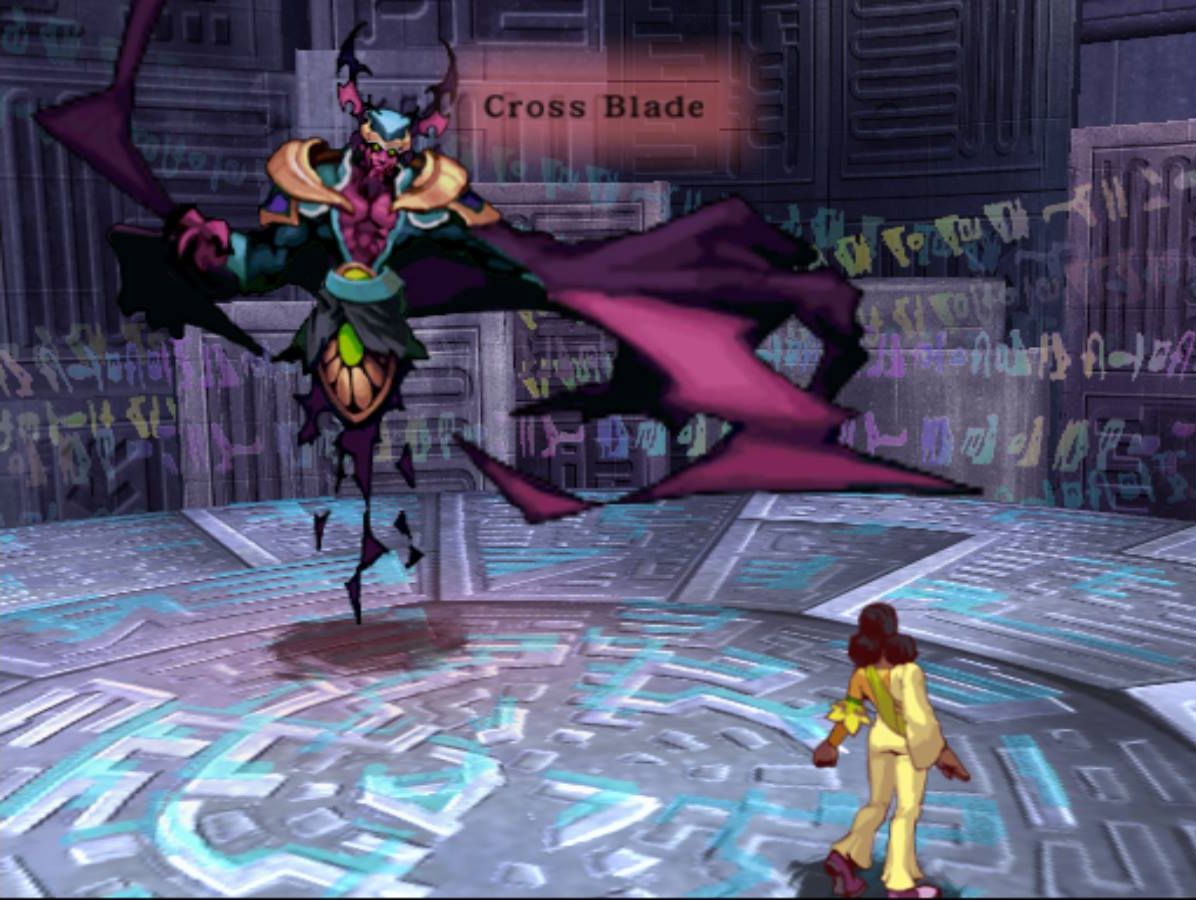 Tagut's "main" attack is Cross Blade. This is just a physical attack where he slashes at you with his cape, which he can morph into blades. It has a pretty good HP and LP damaging rate. If you have big HP, you can tank these and avoid LP damage sometimes. My party is still weak so their max HP is less than the amount of damage they take from Cross Blade anyway. At 0 HP, this will often do 1 or 2 LP damage, though if you don't have Life Protection, it can even do 3. And that's just in one hit -- if he combos you, be prepared to lose huge chunks of LP. If you get really unlucky, he could take out even half of Anzan's LP in the first turn. Yeah.
Because it's a physical attack, it can actually be blocked with parry or a shield. Ruby seems to parry better than anyone in the party; I don't know why. But I hardly ever was able to successfully parry this.
When it comes to parrying, each attack has its own deflection rate that is compared to your ability to deflect in general, so I'm sure Cross Blade has a terrible deflection rate.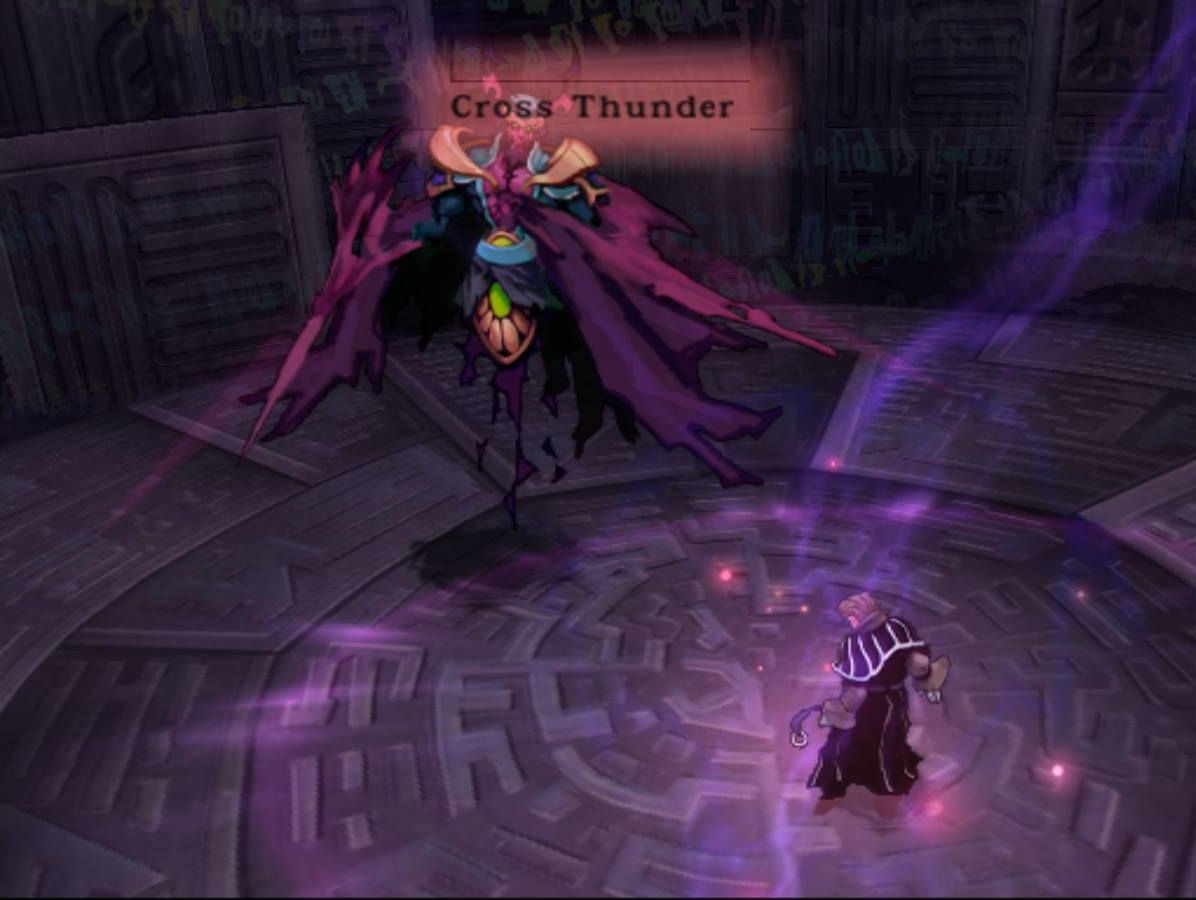 Tagut's second favorite move (as far as I know, he only has three attacks -- but a lot of enemies have super rare attacks that you can easily just never see) is Cross Thunder. Basically you just get pounded on the head with a big lightning bolt. This has a pretty low LP damage rate compared to Cross Blade. In fact, you could get hit with it at 0HP and not take LP damage (though that's rare).
The main terror with this move, though, is that it can paralyze you. If you don't remember, paralysis treats you like you're dead. You waste space on the field, can't act, and make the party get one less action per turn as long as you're on the field. And you half your HP recovery when you're resting and trying to wait out the paralysis after getting rescued.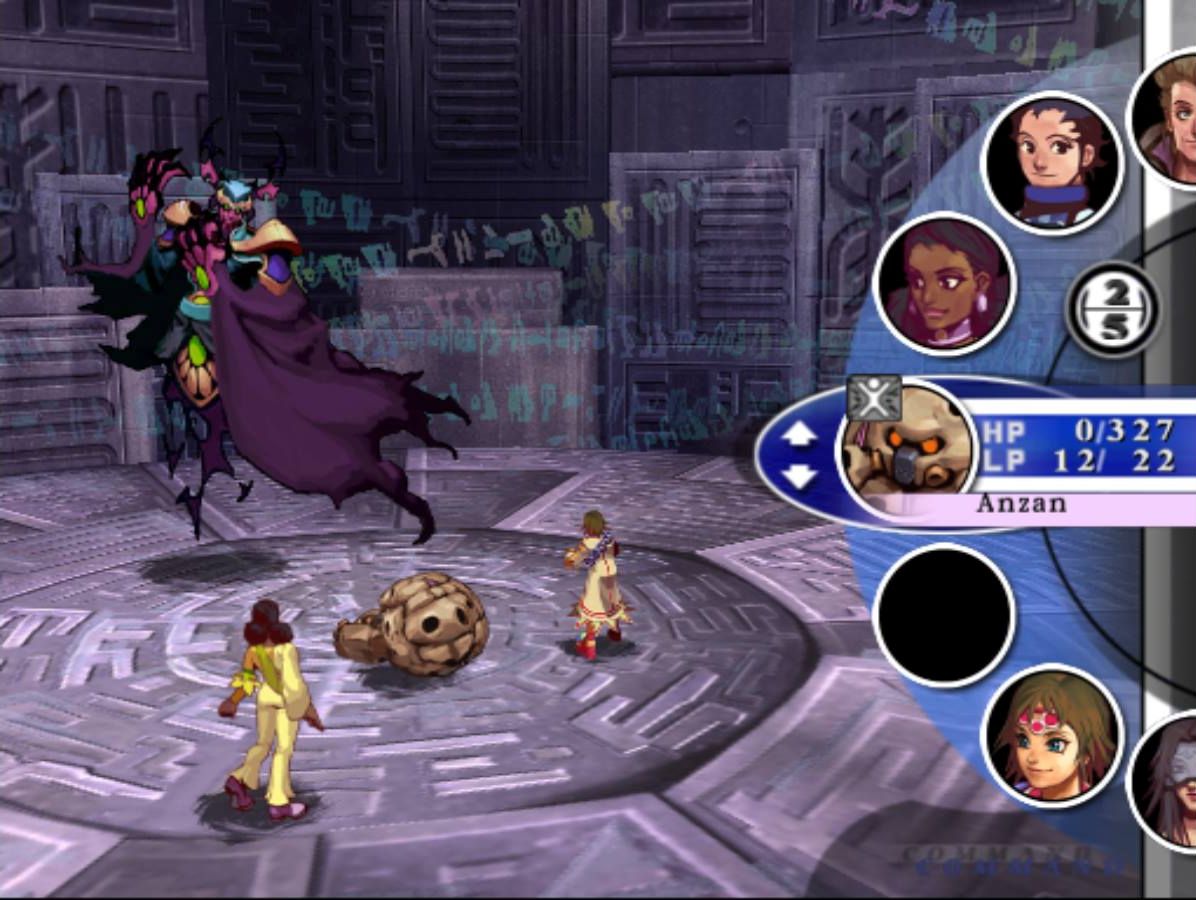 Here's Anzan paralyzed on the ground after getting a pretty bad wave of attacks his way. Yeah, this guy is scary.
Tagut has another attack that I forgot to cap -- basically it's like Cross Thunder but it hits the whole party and doesn't paralyze... it seems like the LP damage rate is similar, but it has bigger range of LP damage, because sometimes I'd lose 3LP to it on some characters. But sometimes still none (this means it's probably hitting everyone more than once, which is a game mechanic you never need to actually understand to play the game lol).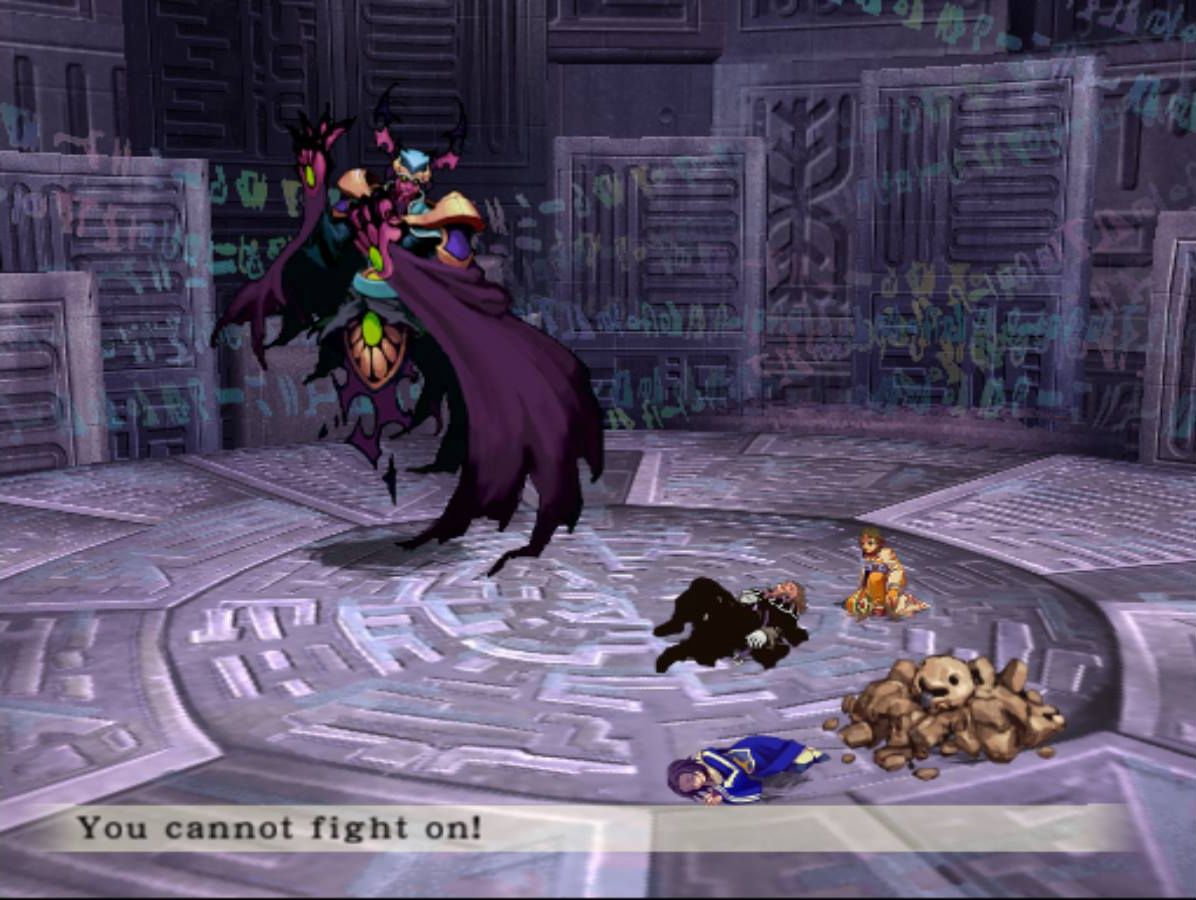 This is pretty much what a standard fight with Tagut looks like. Also, here's crumbled Anzan. Why is Iskandar's fresh corpse so sexy????
Ruby is actually alive, but everyone else was dead and she got paralyzed, which resulted in Game Over.
On my first battle, I was able to do 5LP damage total to Tagut in my first fight. He only has 7LP total (just getting LP damage in this battle is pretty hard, though, because he has massive HP and can take you out really fast, plus you're dealing with paralysis and rescuing and stuff so there's less opportunity to attack as the battle draws on). By the way, there's no way to see enemy HP or LP in this game -- you just have to guess, or try to count them if you know the amount.
Generally the more you play you'll get a feel for most enemy's HP/LP. I have the LP count for almost every monster in the game memorized. Some of them I'm a little iffy, like "I know it's 4 or 5." But most of them I know. You can figure it out just by playing. With HP, it's harder to really know, but general you just continue to focus on their HP until you notice you do an LP damage (or try an LP-focused attack) and then try to switch over to more LP damaging strategies.
I also have the KaiTaiShinSho so I can just look them up :P There's a monster guide on GameFAQs, too. But basically I've never had a problem with not being able to see the HP and LP, and I actually kinda prefer it that way. I really like how this game encourages you to rely on instinct and making educated risks, rather than just following a formula for victory.
The second battle I didn't even get a single LP damage in, and that's where I quit for the night. But since I got that 5LP damage, I was confident I could do it if I refined my strategy while fighting him and got a little lucky. But I really had to pull out every last ounce of knowledge about the game mechanics I had to formulate a good strategy. I'd say unless you really had mastered this game and knew how it worked inside and out, this would be an impossible battle with this party. I'm not bragging as much as I'm saying "I've played this way too much."
That's another thing I like about this game (and in general, this series), though. Because of the 'open scenario' system (basically you can do most things in the game in any order you want) every time you play, you'll have a completely different party with really different panels, weapons, arts, etc. even going on the same adventures. Even though I know the puzzle solutions to Nakle Lines, the adventure through Nakle Lines is different every time I play it, because the party structure, available abilities, monster rank, etc. are all different. And the strategy I'd have to use against Tagut would be incredibly different, too. You can't just memorize one strategy and abuse that. (Well... you kind of can, but most people who've gotten to that point in this game will just restrict themselves from using a certain "strategy" that is broken OP if you know how to do it...)
I had a really easy time with the regular monsters this time because my monster rank is still very low, and Grace's diplomacy helped out a lot, too. But I remember being in here for my Henri SCC and actually dying to regular monsters because the monster rank was so high (and the ecology so messed up) that I ran into hoardes of liches all at once over and over during the Giant Line.
Anyway, I want to talk about the time I actually defeated Tagut now. I played an attempt this morning and it didn't go over so well. I was starting to think "Maybe I was just really lucky that first time... I don't want this to just be an RNG manip fight that I play over and over... maybe I should load that previous save..."
But after lunch and stuff I decided to try again. I managed to get a few LP damage in but died, and I was starting to realize flaws in my strategy. Here's the basic things I needed to realize:
Hiro, Iskandar, and Sapphire were my 'important' characters I needed to keep alive. Even if Iskandar and Hiro have good LP and better armor than the others, I needed to keep them in the back at all times. Hiro's L4 sword + a sword with Stardust tech line on it could help a lot with HP damage in the beginning of the fight. Iskandar had the knife with Dice, which combo'd with Holy Seal could usually guarantee an LP damage once Tagut's HP was low. And then Holy Seal was important for creating combos and overall was just the most powerful attack I had. Basically, I needed to be using either Hiro+Sapphire or Iskandar+Sapphire to attack every turn, and if one of them got paralyzed, I can't do that. So back row ONLY.
Grace should stay out of battle as much as possible except when she needed to heal others. She was the only one with access to Purify, which cured paralysis. So if she got paralyzed, that was bad. I could rescue her and let her wait it out since she's pretty light and easy to rescue, but I waste turns on that, plus I'm wasting turns when other people get paralyzed and she can't Purify them.
It's okay to leave someone paralyzed if they're in front and still have plenty of LP. Here's looking at you, Anzan... Sorry, buddy, but you're just gonna sit there helpless while this guy rails on you. I mean, you loathe attacking right? This is the epitome of defense. Be a proud Petran. This way I can focus my four remaining actions on damage, and not use an action on Purify or Rescue or both. The goal is to get Tagut's HP to LP damage range as quickly as possible, so cramming in every last bit of damage I could was important.
Ruby has a staff so USE IT. Staff is my favorite weapon in the game (well, maybe -- I love bow, too) because it has so many useful and interesting attacks. You'll hardly ever do LP damage with it, and not even that much HP damage, but it has a variety of debuff moves. Using Skullcracker (or whatever it's called) and Drag Down lowers Tagut's Magic and Strength respectively! But for some reason I wasn't using them in some battles because the damage is bad + it's scary to have Ruby a target. But since I wanted Grace to only pop out in the second/flank position, and Hiro, Isky, and Sapphire to only be in the back... that means I needed to put Anzan or Ruby in front and Anzan couldn't just be out there all the time.
Of course I really had to think once someone died or their LP got way too low. Sapphire was out every single turn until she died, but I really had to juggle everyone around.
On my 6th attempt (total, third of the afternoon), Things were going pretty well. Tagut never really targeted Sapphire so she still had 10LP well into the battle. In theory he should let her live pretty long in the back, but some fights I got unlucky and he'd chop her a few times in a row a couple of turns and... that's pretty much dead Sapphire already.
I was doing really good with managing everyone with my rules above -- it wasn't until the fight that I won that I never put Iskandar, Hiro, or Sapphire in the front or the flank. Pretty much the formation was always Anzan or Ruby in front, the other of the two (or Grace when I needed to Purify) in the flank. Once I got to LP damage range, I started putting Hiro in front/flank, so he could still get a nice sword attack in, but HP damage was not nearly as critical at that point. Then the back was always Iskandar or Hiro in the "third" slot (the front of the back... idk) and then Sapphire in the next spot of the back. I never used 5 characters in a turn; always four. Sapphire did Holy Seal twice per turn NO MATTER WHAT. I'd even sacrifice healing to make sure I got two Holy Seals in. This was a battle of urgency.
Anyway, I finally got Tagut's LP dropping regularly. I did 1 LP damage, then it took a few more rounds before a did another... but then the next turn I did 2 damage in one turn! (Holy Seal - Puree - Holy Seal combo). Everyone starting dying right then. I focused on rescuing just to clean up the field, and trying to still get in two Holy Seals, though it was getting to where I'd only have two or three actions per turn. Holy Seal was doing 1 LP damage every time I used it at this point.
I got 5LP damage in, but everyone was pretty dead. On the next turn, I sent out Grace, Hiro, and Sapphire. Ruby only had like 3LP left, so I couldn't send her in, because that would probably mean Game Over. Grace tried to heal Sapphire, but since the front spot in the formation was gone (it was a dead Anzan), Tagut was attacking all over the place. He didn't even seem to favor Grace in the flank. When it was my turn, I just had Sapphire do Holy Seal. I was hoping it would do 2LP damage somehow, because I was pretty sure I was going to lose this turn. Without Sapphire, no one was able to really deal LP damage, except for Grace if she was really lucky.
Holy Seal did 1LP damage. Tagut wiped out Hiro and Sapphire immediately. Only Grace was left.
That was it. One turn left. Whether it was Grace or Ruby, Tagut would definitely kill them and that's Game Over. But he only had 1LP. There had to be SOMETHING I could do! I looked through all my options with the two of them.
I decided to send Grace out. She only had 2LP left, which means pretty much any attack from Tagut would probably kill her. This is why I didn't send Ruby out -- all of her available actions were pretty slow.
But Grace was carrying a knife with Speedy Bleedy. Standing at the flank, this would probably get a decent priority. I just picked that.
And then... Tagut went first. It was all over now. No matter what he did, it would definitely deal 2LP damage to her. She had 0LP and always took 2LP damage from everything so far. He did Cross Thunder.
Grace didn't get paralyzed. And she didn't lose any LP. Somehow, I was saved!!
Grace's reel popped up. There she was, standing among the bodies of her friends, face-to-face with the most powerful demon on the planet. She held in her hand a cheap knife she bought from the store. She hadn't even learned how to use it yet (she hadn't glimmered anything -- all green panels were spinning around).
All I could do was press the button and hope it worked. Grace lunged forward. She only did a couple dozen HP damage. I started to take my hand off the controller to press F3 (I put a savestate before the fight so I didn't have to go through the title screen and load screen and stuff).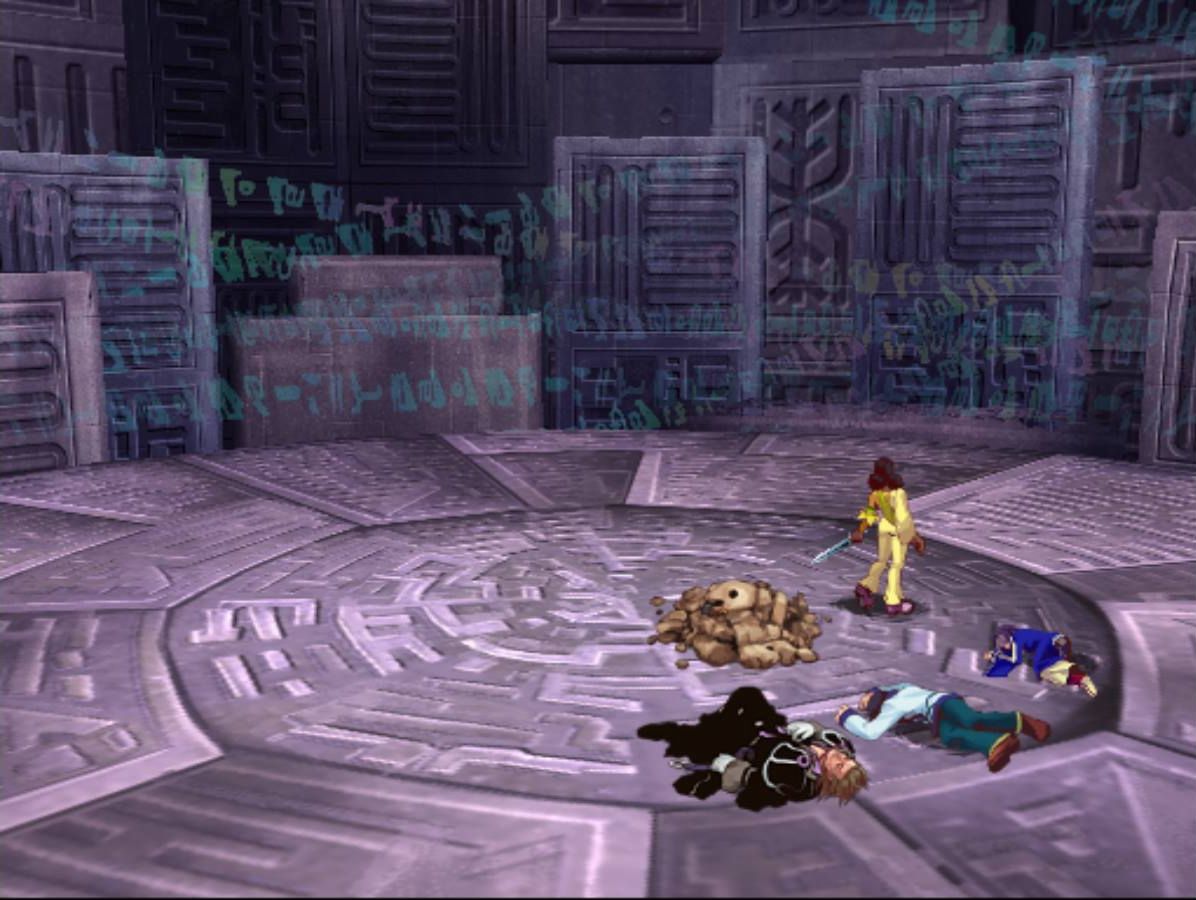 And the little red "1" popped up. Somehow, she did it. My heart skipped a beat. I couldn't even believe it. Of all the times for the RNG gods to smile upon me, they allowed Grace, who just joined my party one adventure ago and didn't even glimmer any abilities in this line... stab this giant demon and kill it. I wish I could have screencapped the "1" and Tagut disappearing. But I was too dumbfounded.
Of course, I did have it weakened, but still... I was not expecting to win. I was expecting to go on to another retry knowing I definitely could do it since I got that far the last time.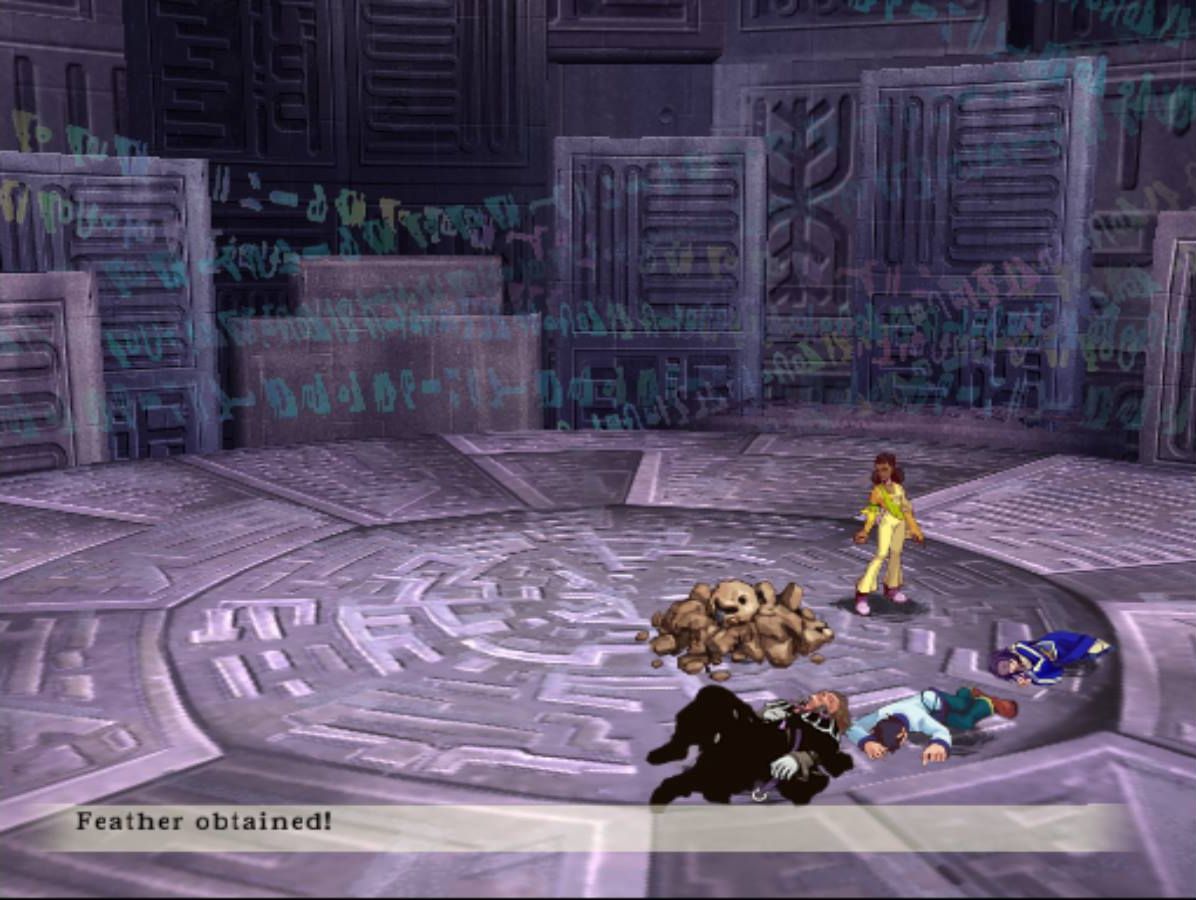 Then Tagut dropped a feather (wtf) and Grace turned to face all the dead bodies she was going to have to haul all the way back to Torle with only Ruby to help lol.
And that's my amazing miracle Tagut story. To be honest this is probably my biggest accomplishment in this game so far. Tagut has always been my most feared boss in the game. Now that I've done this, defeating him with such a weak party, I feel like there's not much left to overcome. I feel like I can do anything XD
Anyway, after the battle, we're awarded with this amazing victory scene: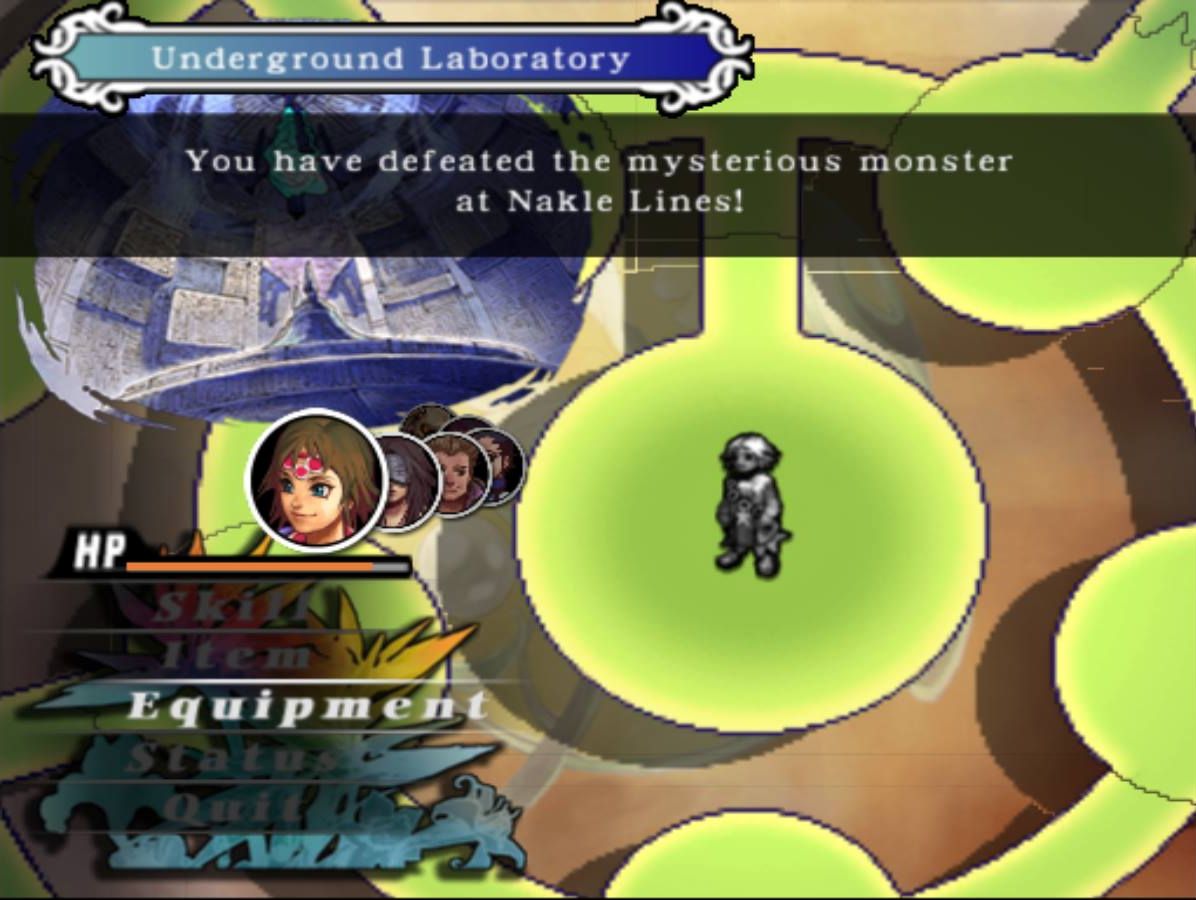 And then it just cuts immediately to the panel select screen.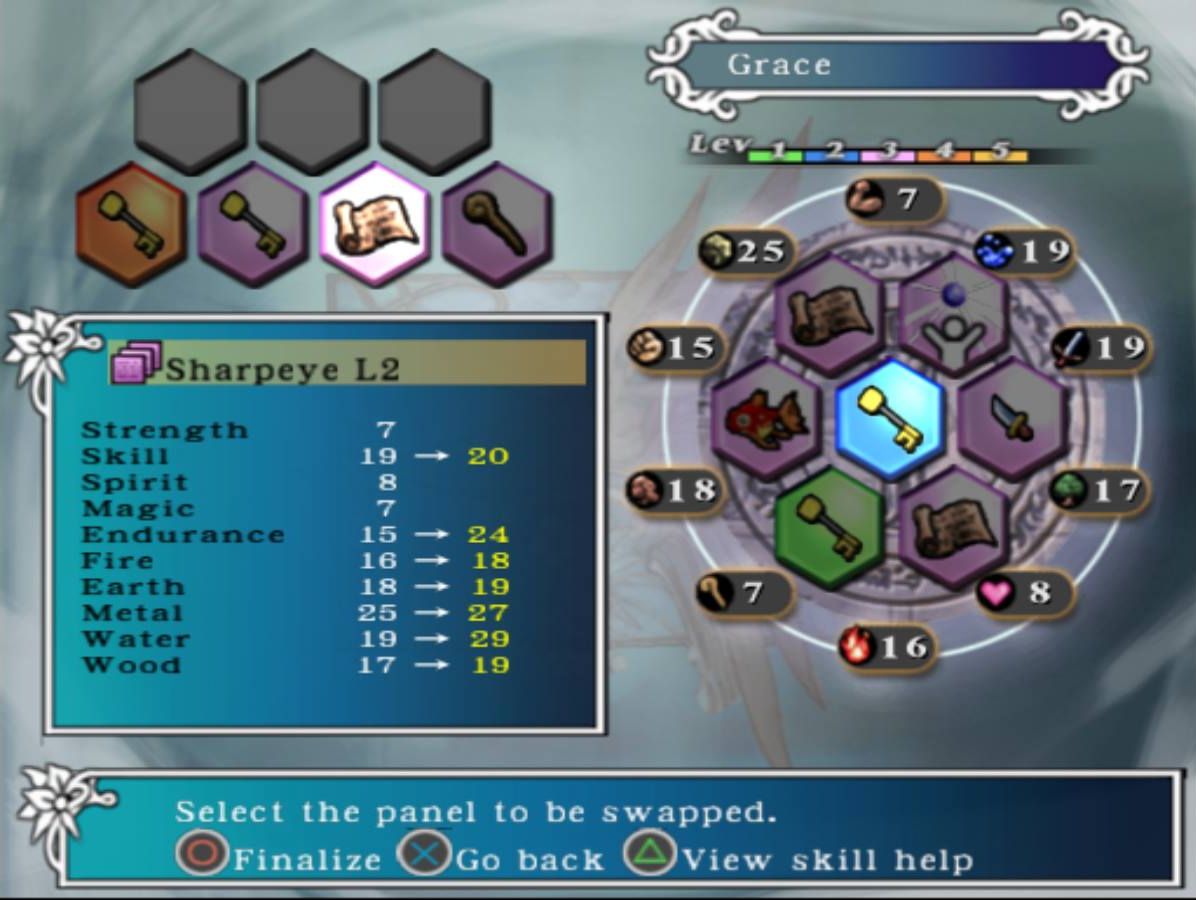 Bumping up Grace's water level to 29. I should definitely be able to push it up close to 40 just with L4 panels instead of these L3s... maybe even past it if I get rid of her Dagger panel and replace it with a L4 magic tablet or something.
After we got out, Ruby took the Tetra Force with her. After she left, Jeanne showed up and kind of stared for a bit and then left. I didn't catch a cap of it though. And suddenly, it's over.
---