Healer's Hills ~ Lumina Stone
Now that I've chosen Two Moons Temple as my next Wonder, we set off to Kimbali. But before heading off, we're going to do a little adventuring to grab some items I want.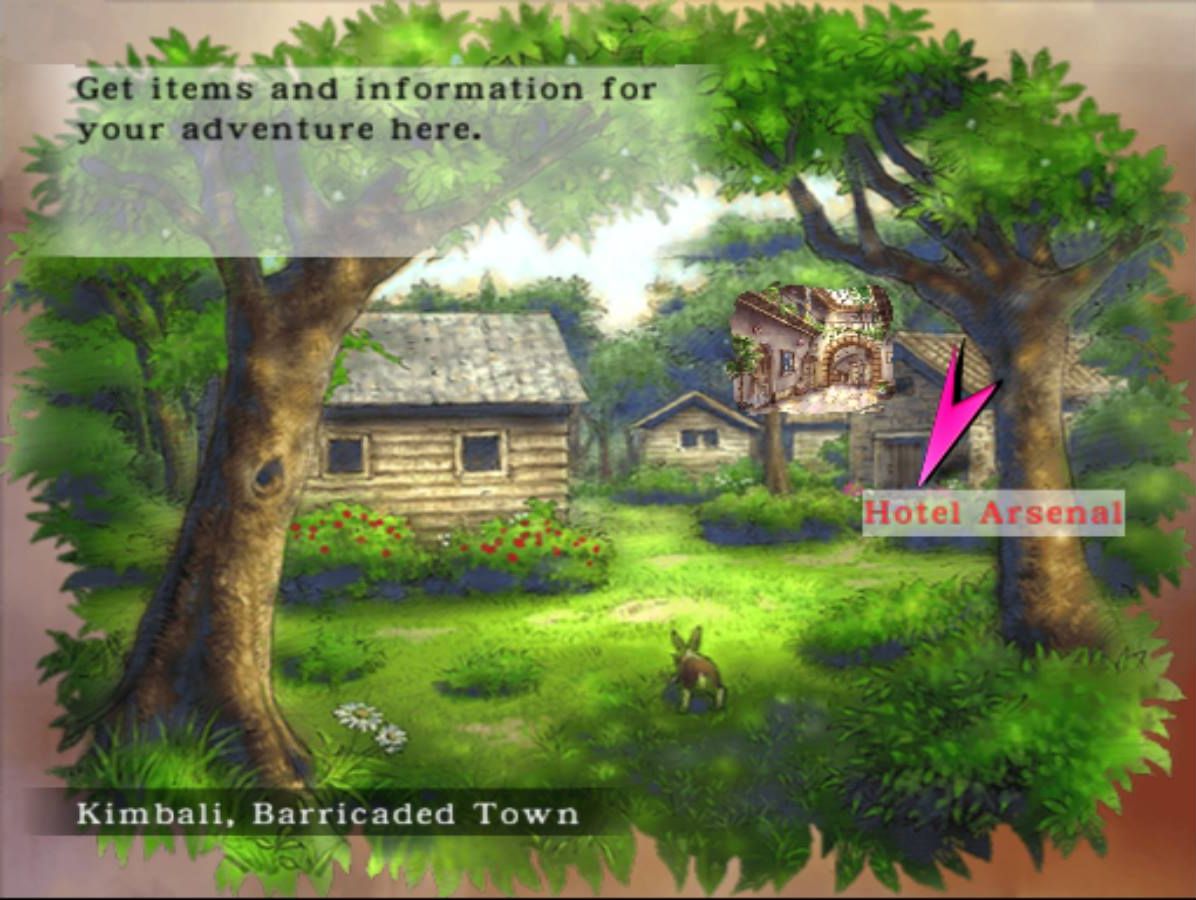 This is Kimbali. It's another of the generic small villages. The Japanese name is Kimberly, so I wonder if it was a mistranslation or they decided to give it a more village-sounding name.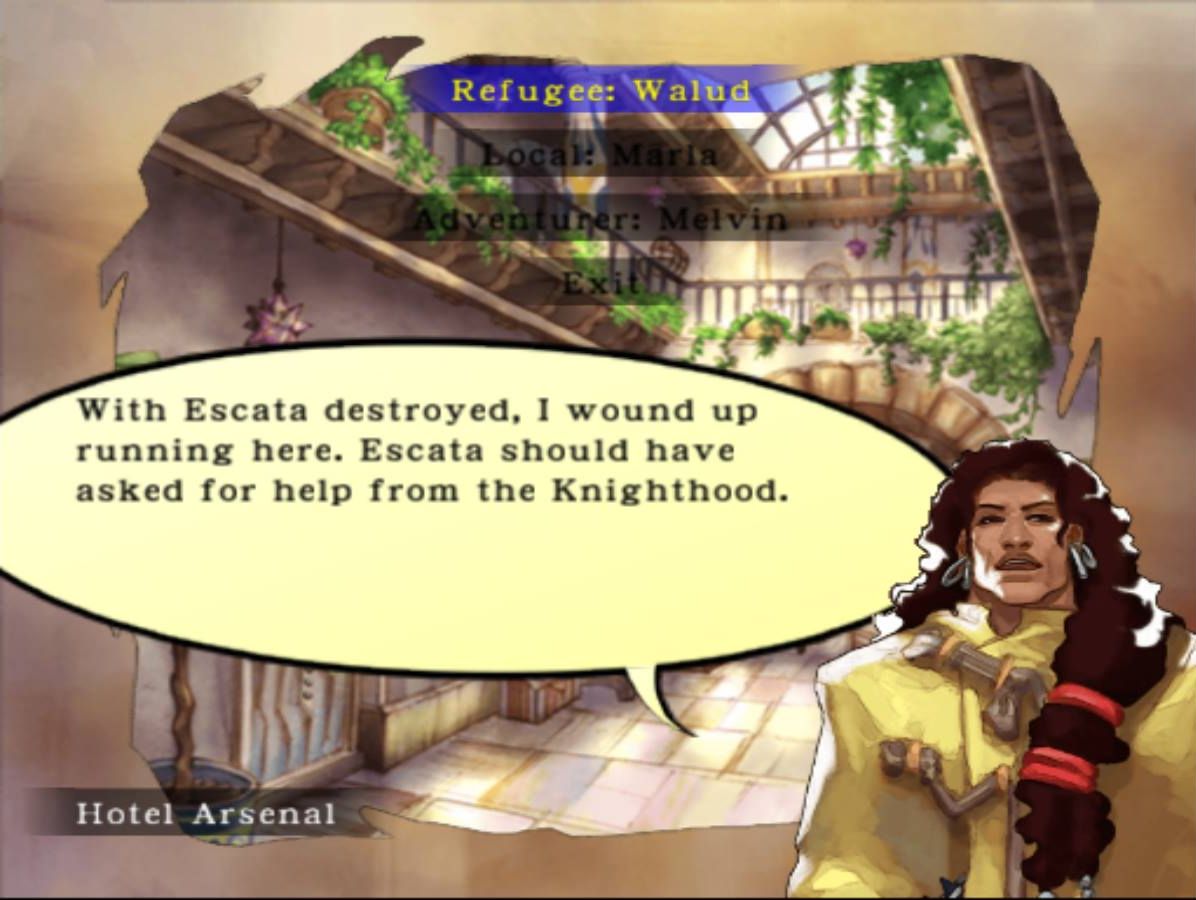 This guy reminds me of the big guy from Twilight Princess. Maybe. It's been a while since I've played Twilight Princess so I'm probably misremembering. He also reminds me of that one dude from Street Fighter that I also forget his name.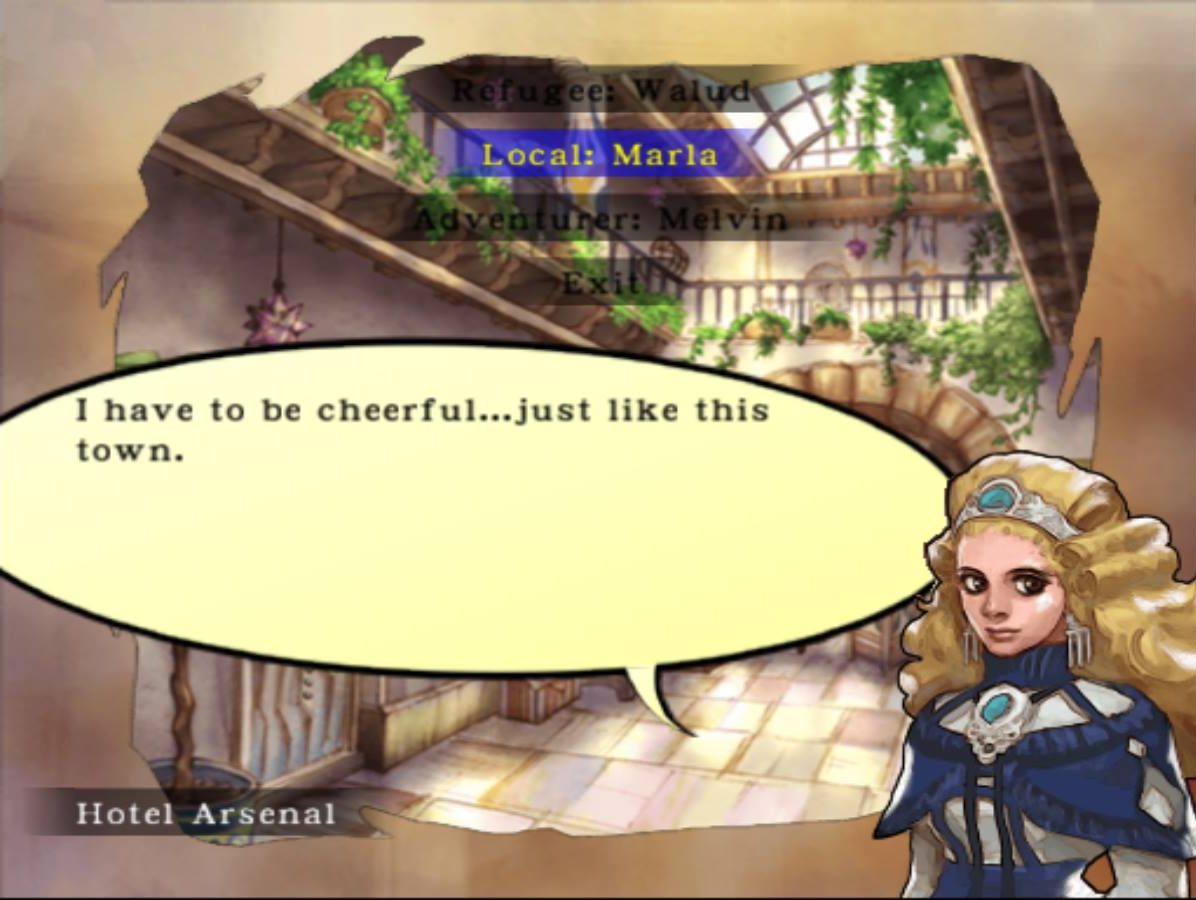 This girl looks a bit... fancy to be a local of Kimbali?! Also why does she say she 'has to be cheerful' ??? Especially with a sort of somber face??? This feels so cryptic and kind of sad LOL Maybe she's one of the many displaced Escata refugees. Kimbali isn't too far from Escata I don't think? IDK, I get these small towns mixed up in their location so honestly I forget. The map of this game is really ... not detailed at all. It's pretty much just a list of locations with some weird graphic behidn it. I'll have to show it next time. It feels super unfinished.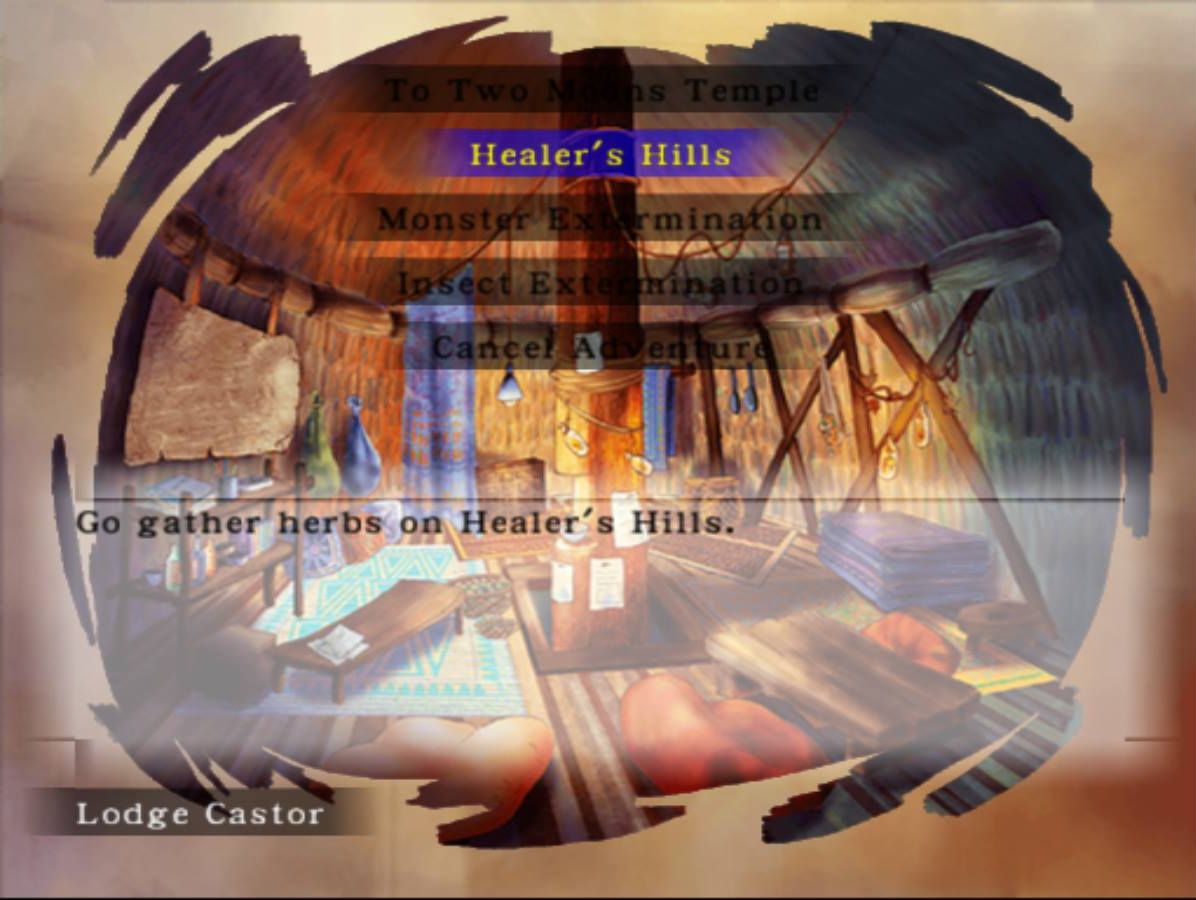 Anyway, not much happened in Kimabli. Intead of heading out to Two Moons Temple, though, I'm gonna go on some sub-adventures. I head back to the Chapa village to go to Healer's Hills. Note that Two Moons Temple is in the adventure list from Lodge Castor -- this is just because story adventures will be available at ALL inns once you trigger their appearance, so you don't have to go 'find' them when you want to continue the story. Normally, Two Moons Temple is only available from Kimbali.
Also, as far as selecting quests go -- the game kind of 'judges' how strong your party is and will not give you certain subadventures until your party is stronger. I'm not entire sure how it decides this, though. In Romancing SaGa 3 it went completely on your max HP growth lol. But I think it's based on your monster rank or something in unsaga. Anyway, every quest has a hidden difficulty rank, and you have to meet the requirement for it to appear in the inn. Also, each inn can only hold so many adventures at a time, and it will have the three or four easiest ones available. So something like Two Moons Temple might not be available right away when you first reach Kimbali in another character's story, for example.
Healer's Hills and the other things available here in Chapa are probably the lowest-ranked subadventures in the game. They are ridiculously easy. Healer's Hills is an important one, though!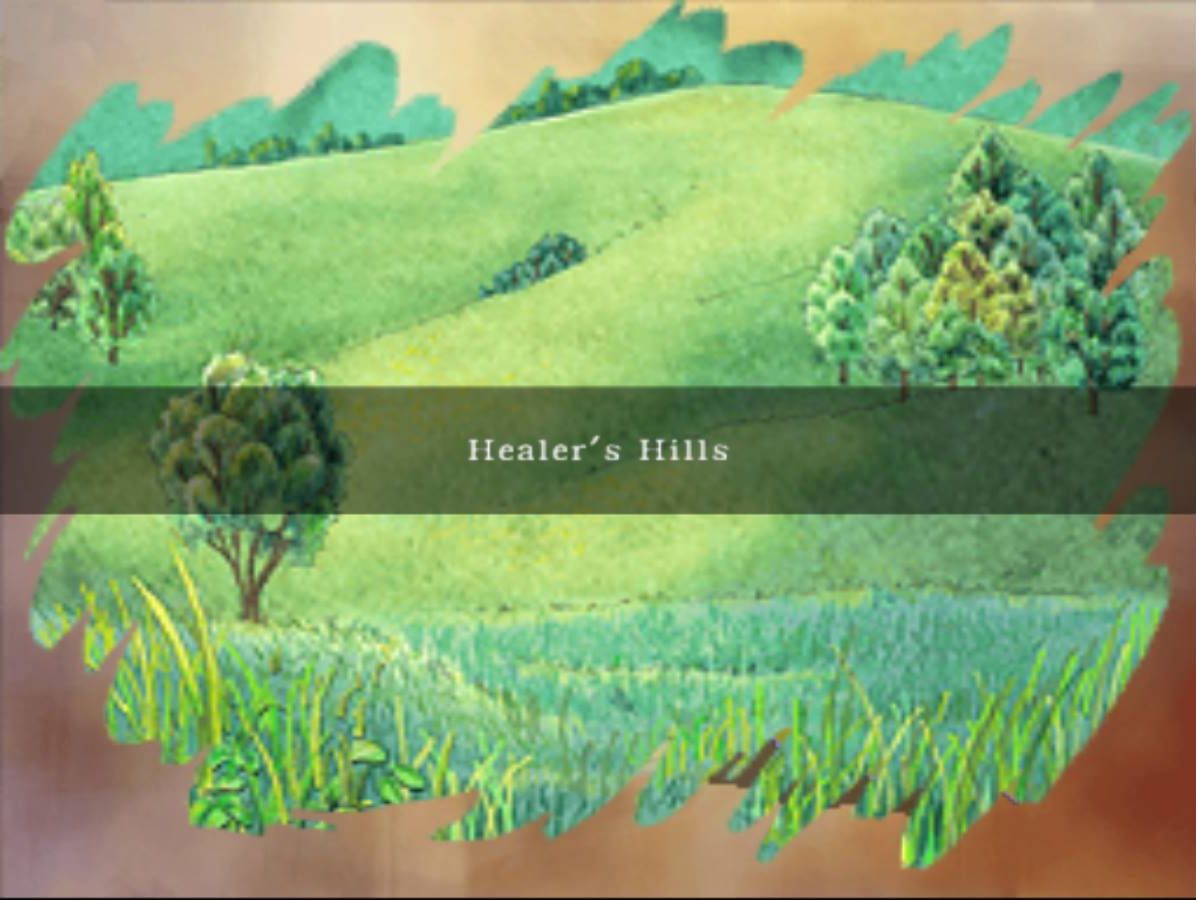 After embarking on the adventure, we're taken to the hills outside of Chapa. There's a little description at the beginning:
Spring has come, so now is the best time to pick up herbs. We decided to go pick up herbs as the Chapas requested. Shouldn't be a problem at all!
Generally, subadventures start with a little explanation like this. I really like the feeling of being an adventurer who is traveling around and going on adventures solely for the sake of it. I think it's why I like SaGa series, because the games are generally lacking in overall story, and you just spend time exploring and figuring things out. I have given a lot of consideration to getting some camping gear and backpacking around the USA, helping people out maybe for some cash or food when I reached cities. Essentially being a real-life adventurer, I guess. Though not because I wanted to emulate a game or something, but rather it was a sociopolitical thing. Not something I'm going to get into here, though, lol. But still the idea of just going exploring with no real primary goal outside of the individual adventures is really fun.
Anyway, Healer's Hills is just herb-gathering. But the herbs are quite important! I think it should say the Chapas suggested it rather than requested it, as you don't give the herbs to the Chapas in the end. You just keep them. You don't even report to the Chapas.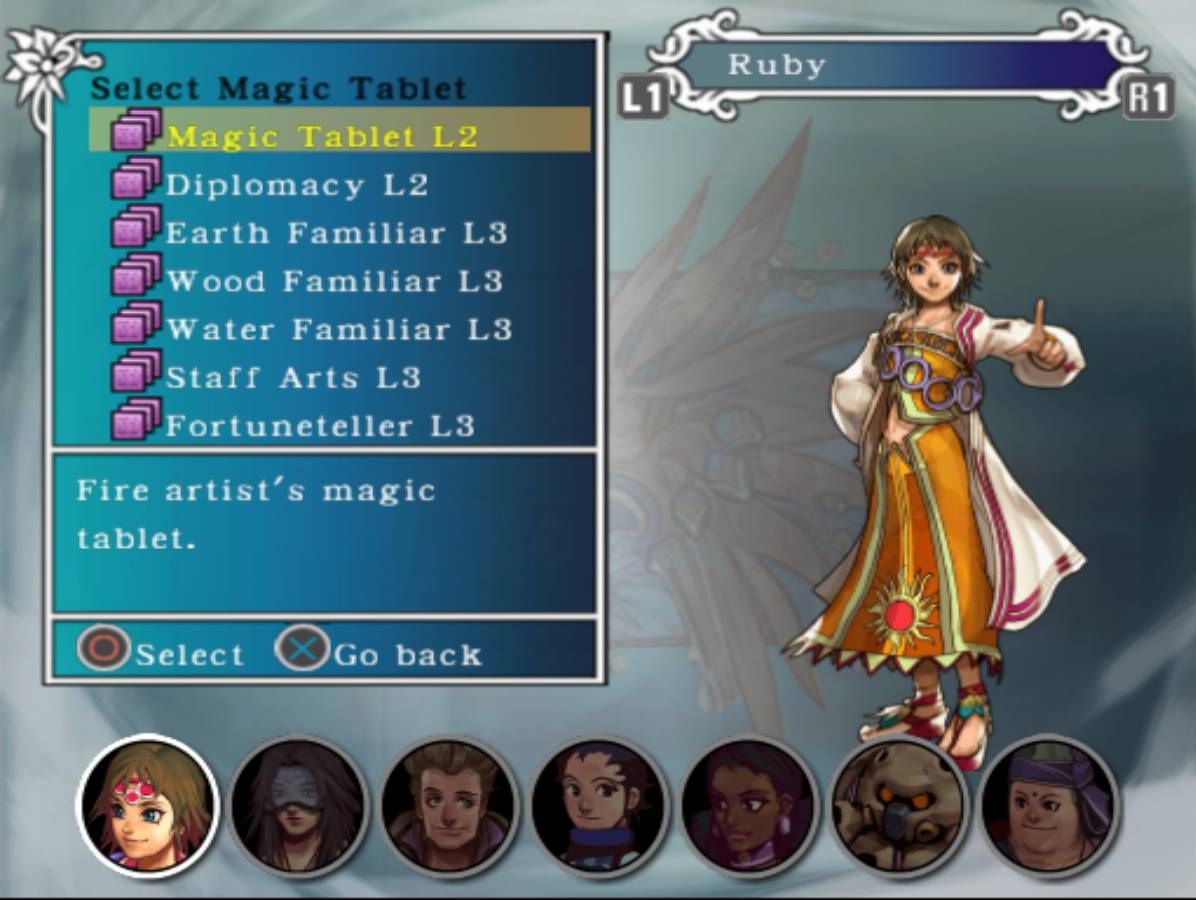 The magic tablet we got while exploring Flying Island was a L2 fire tablet that I gave to Ruby. Ruby is pretty good with fire magic. I thought about giving it to Anzan, but I felt like Ruby really doesn't have much in the way of skills right now, so I gave it to her instead.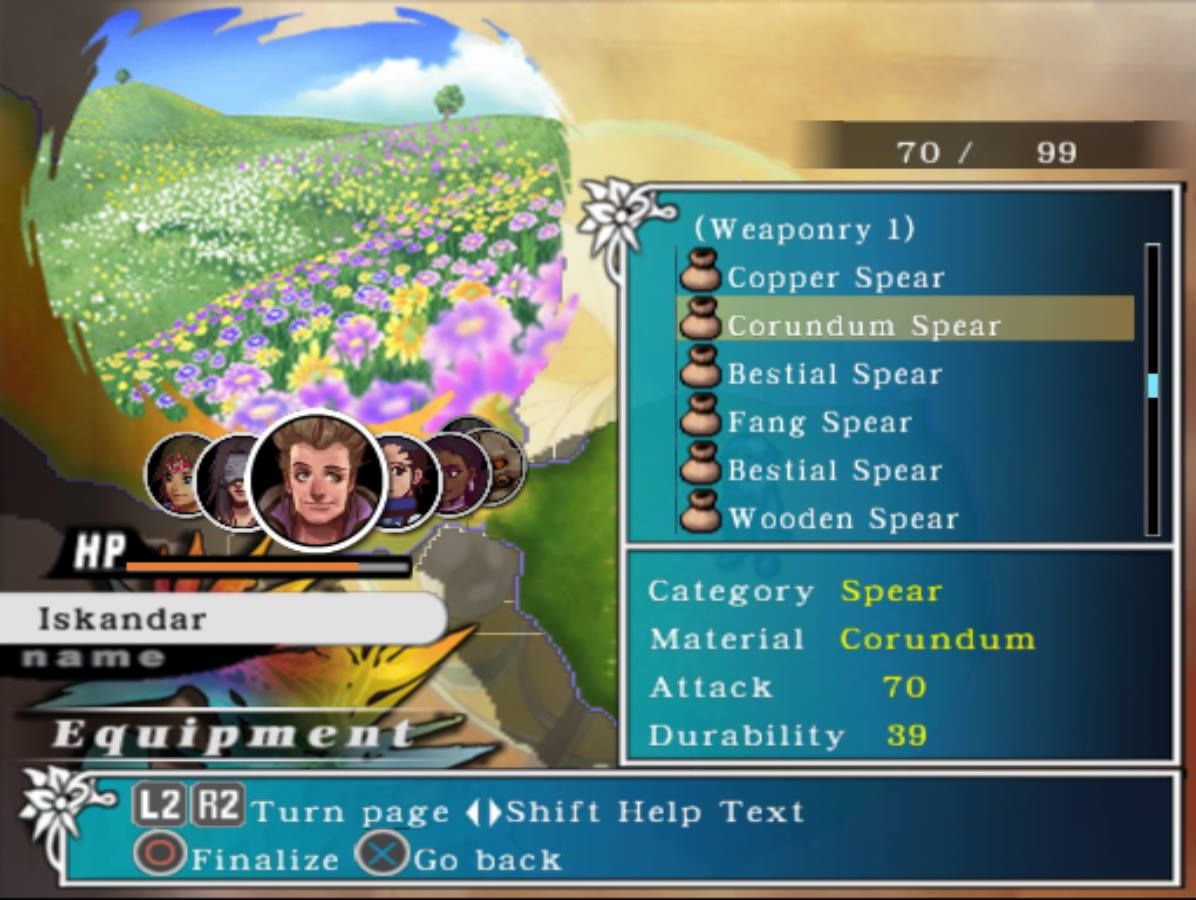 I should also note that while shopping, I didn't buy the diamond ring, but I did find a corundum spear! Corundum is one of the best materials in the game, and probably of all the super-powerful materials, is the one you're most likely to find in the stores. Even then, it's not all that common. I couldn't believe I ran across this and Diamond at the same time!
Basically, the way the game stocks shelves, at least I theorize, is that each time you finish an adventure, it populates each store with a number of items per each store (each store always has the same number). I think what it does is choose a material from the material list, randomized based on its rarity and your market rank. Then it decides which type of item it should be (raw material, sword, shield, helmet, etc.). This is why guns are so rare in the shop -- they can ONLY be made from Iron (which has a somewhat low appearance rate), so the game would have to choose an Iron item, then decide for it to be a gun -- but Iron can be pretty much ANY type of item, so the chance of a shop 'rolling' a gun is pretty low. I think treasure contents work somewhat similarly. But for some reason in the Japanese version, you can find guns in chests pretty easily. In the English versions, guns are ridiculously rare. They never appear in chests or shops, so your only method of obtaining one is recruiting a character who comes carrying one, which is not very many.
Items are not unique designs in this game like in a lot of JRPG. Basically you just have materials + item types. The material decides the attack power (so any spear made of corundum will always have a power of 70 -- btw that is a huge number!! The best spears I have outside of this one don't even break 40 in power), but the endurance and what four abilities the item has can be different. You can get an even bigger variety in abilities using the blacksmith (and control which ones you get, and add certain abilities to items) if you know what you're doing (again, nothing is explained in the game at all), but I can't do that this game, so... I'm pretty much at the mercy of the shop/treasure RNG. Blacksmith stuff is kinda complicated under the hood. I was actually programming a weapon ability calculator that could be used while playing so you didn't have to cross reference like 5 tables of data to get the weapons you wanted. But I never finished it. I should start that up again.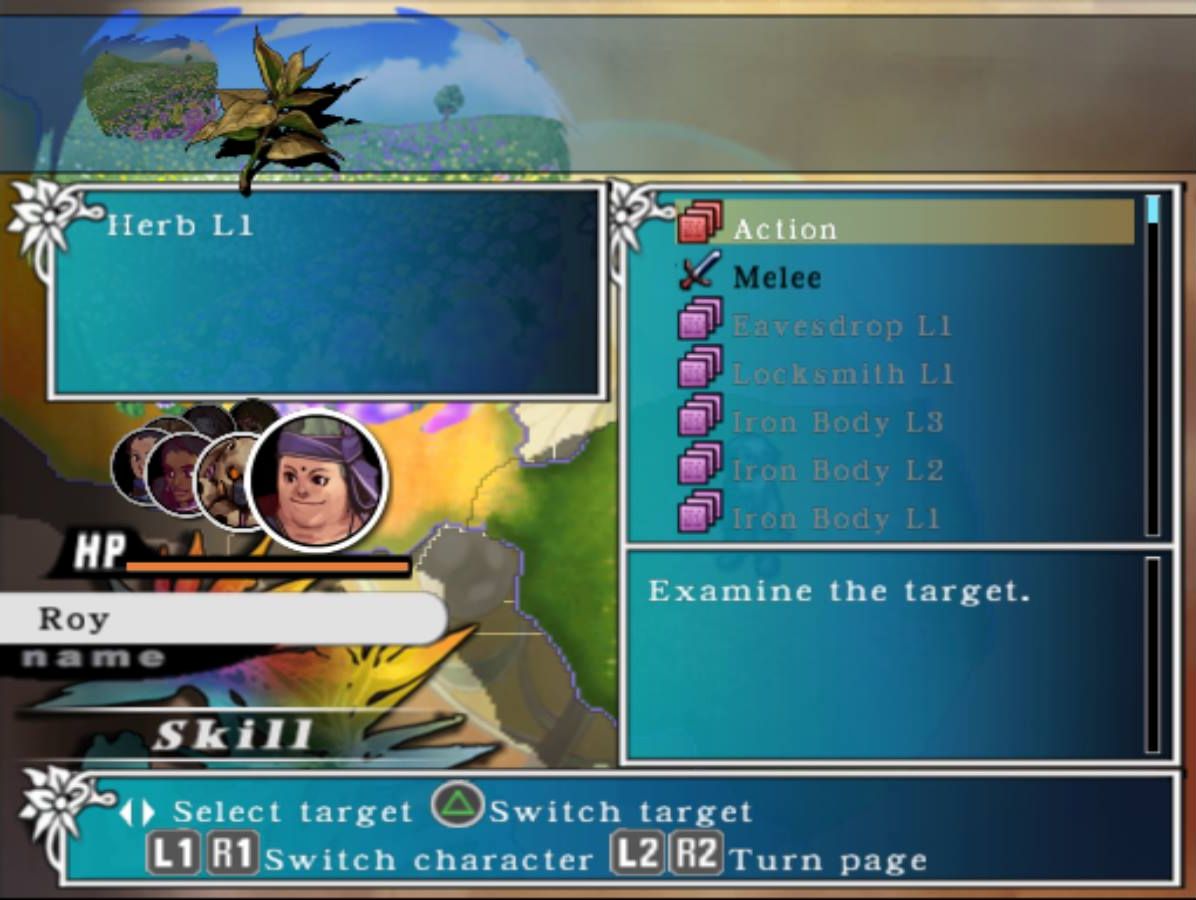 Anyway, this is Healer's Hills. Basically some paths and some hills. Climb the hills and you'll find some herbs. You can clear the adventure three ways: return to Chapa through the road you came in on, use up 100 turns, or pick enough herbs. You can't fail the adventure afaik (you can get a game over, though, I guess) so you can possibly finish this adventure without getting all the herbs.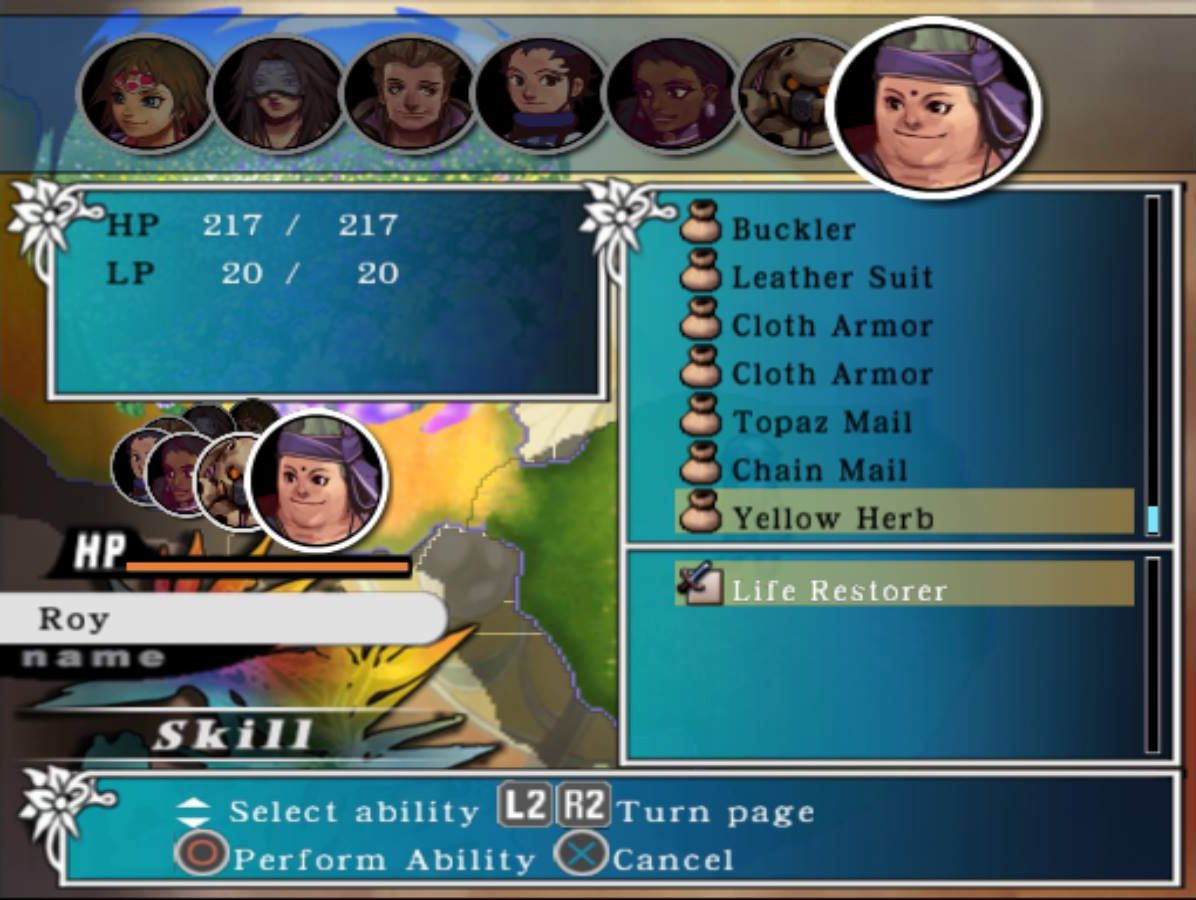 The herbs from Chapa are important because they restore LP! This is the only way to recover LP while on an adventure in the entire game (other than Tetra Force, which besides Ruby's story, there's only one Tetra Force in the game just before each final boss).
Using them, like everything in this game, is a bit convoluted. If you have an understanding of how to perform actions on targets from the Skill menu, it's no big deal. But normally the only targets you can pick are the space you're on and things on the space like monsters, traps, and treasures. So how do you target your own characters? Press triangle button (or whatever button you have assigned -- I remap my buttons so this might be different by default) to 'change targets.' This will change your available targets from the objects on the space to the members of your party. Select a member as a target (at the top! not the character performing the action where the character portraits normally are) and then, similarly to using a key or whatever, scroll down the skills list until you find the herb, which will be in black. Select it, and the herb's list of abilities will come up. The only one it has is "Life Restorer," which will restore LP to the character you're targeting.
It sounds more complicated than it is. Basically you just have to know to swap targets to your party. Using abilities and stuff from the Skills submenu should become second-nature by the time you finish an adventure or two. The problem is a lot of people go into the Items submenu to try to use it, like you would in... pretty much any other RPG. But the Items submenu in this game is solely for viewing and sorting your inventory (and fixing items...). The Skills submenu is for ALL actions, including using items.
There are several colors of herbs with different levels of effectiveness you can find, but they're all pretty good.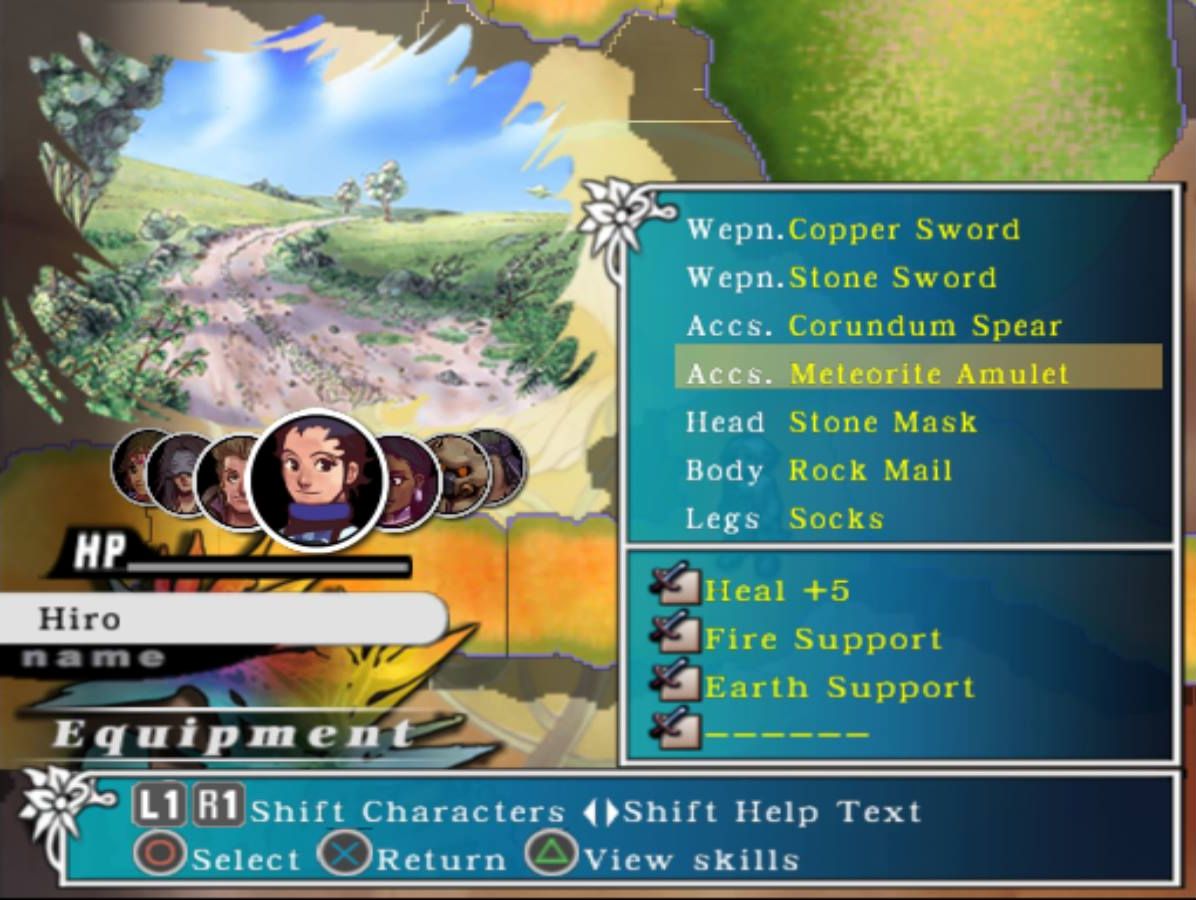 Hiro has released Fire Support and Earth Support from that Meteorite Amulet I picked up in Starship Anchor. That's actually pretty useful! It also has Heal+5 and its defense might even be 2? (I think it's 1 though) so it would be great to put on Anzan if he ends up getting some fire magic, too, for example (spoiler: he does soon)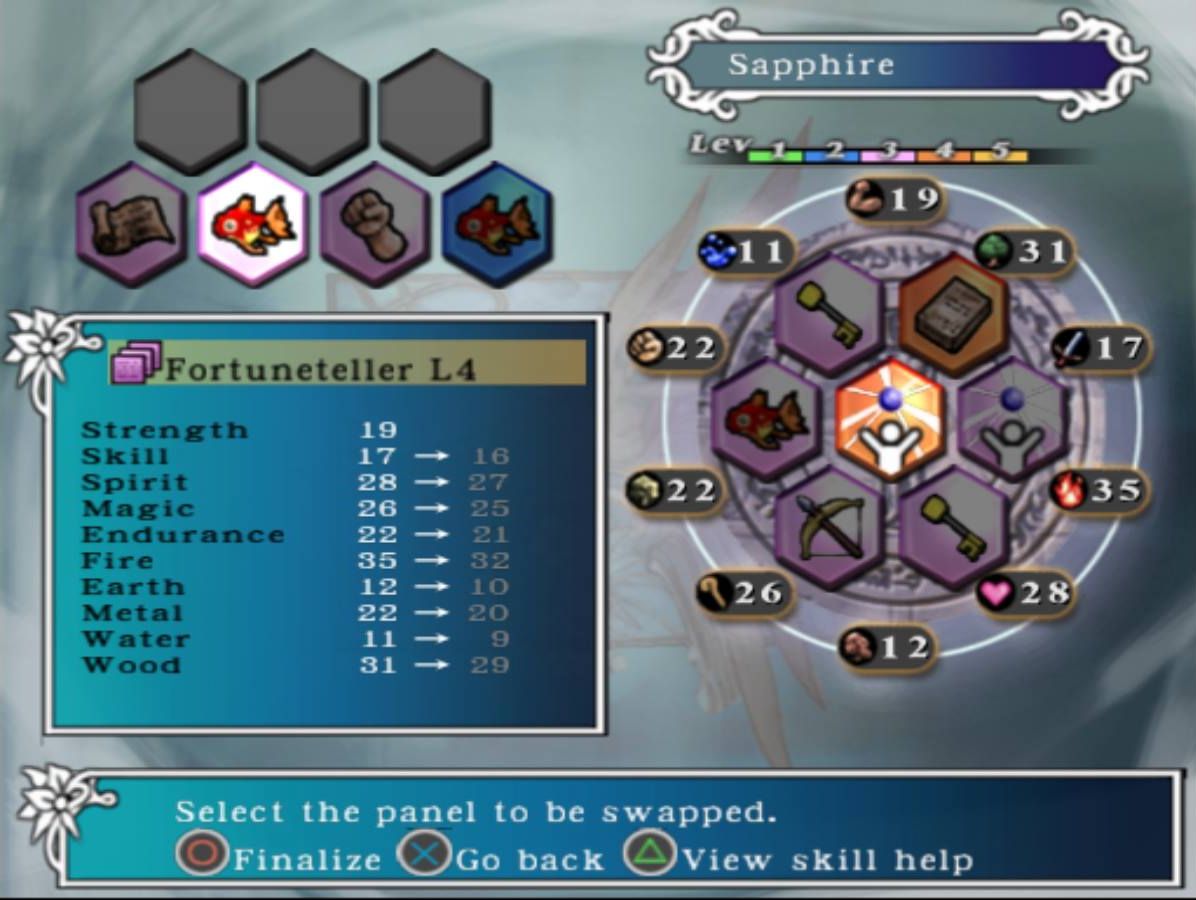 At the end of the adventure, I got kinda meh panels for Sapphire. I'm not ready to get rid of her Earth familiar so much yet, and I already have two Fortuneteller panels... plus, she can't get another Level 4 Fortuneteller if she already has one on her board. And I want the level 4 to be on the right side (where the level 3 is). So I have to cover it up with this rando familiar. It drops all her stats a bit, sadly, because Fortuneteller is a pretty good panel, and it was level 4 going to a level 3. But now Fortuneteller LV4 will be available to me again, and I can put it on the right where it will give a big boost to her Fire level. Plus I eventually will put Sharpeye in that center position to make a line of keys to get a bonus to her Skill and up her usefulness with her bow. So it's sad to get the drop in levels for now and lose Fortuneteller L4, but it's for the greater good...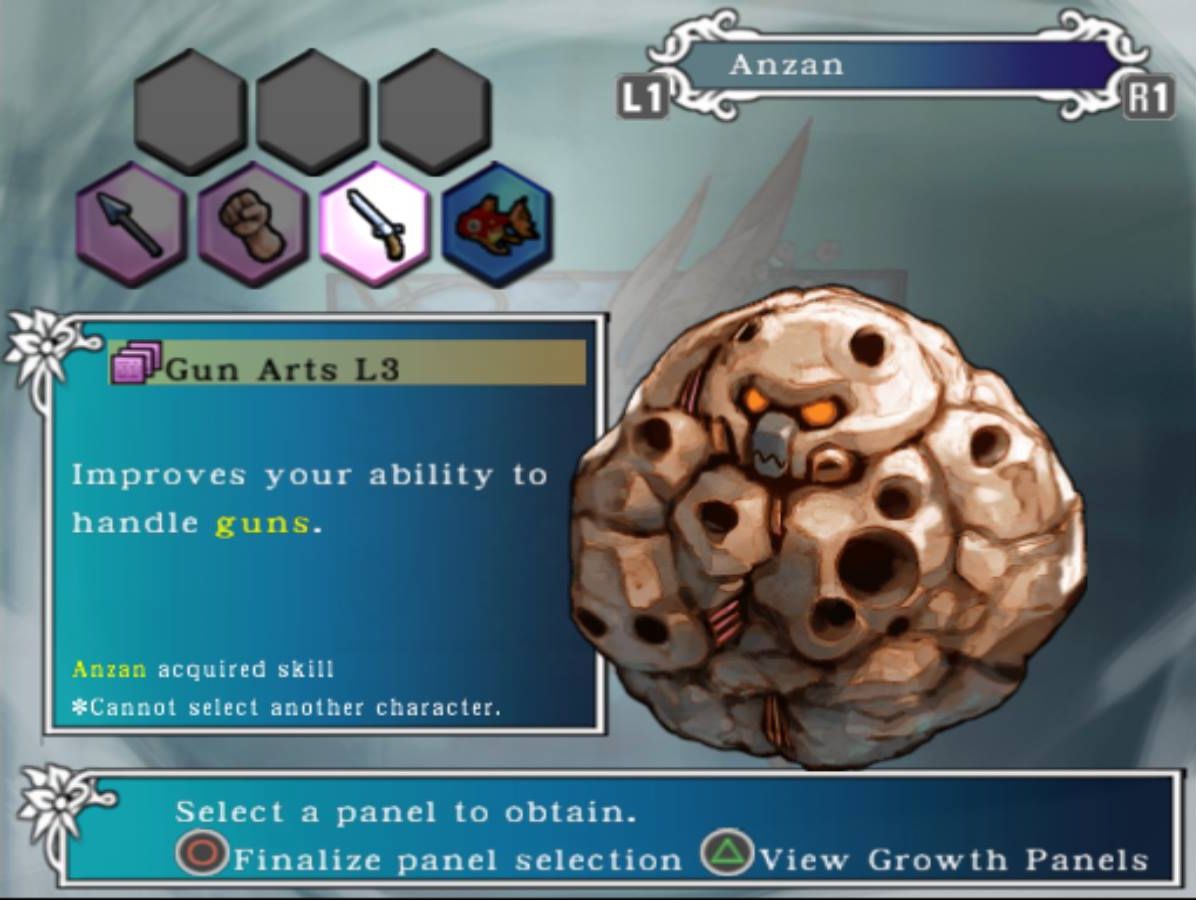 When you don't do a lot of actions during adventures, meaning you didn't really influence many panels to show up, you tend to get weird panels since it's super random. Generally you'll get weapons, familiars, and conversational skills (monger, diplomacy, etc) pretty easily. Anzan got a gun. The idea of pacifist Anzan chanting about DEFENSE while firing a gun is pretty hilarious to me. I probably love Anzan WAY too much.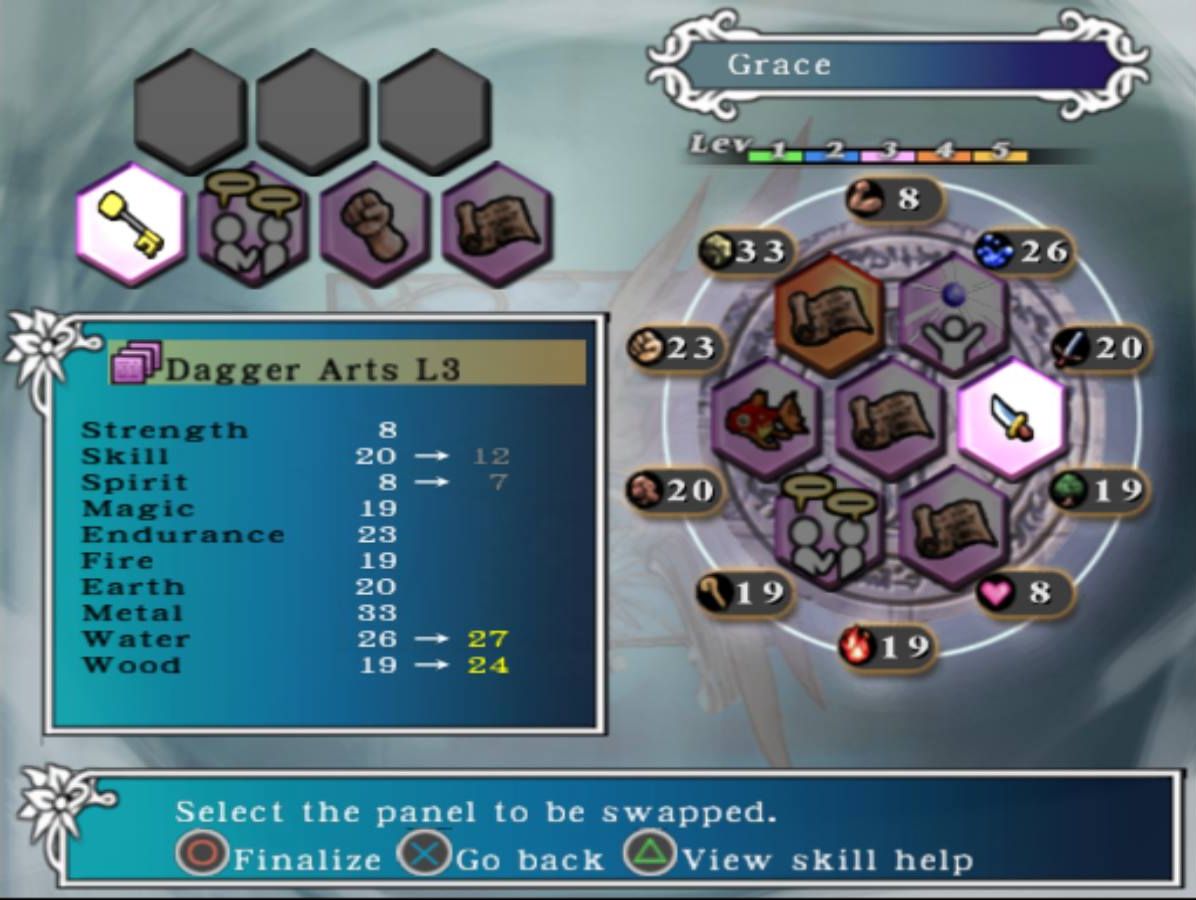 Grace's build is getting about where I want it, just with lower level panels than I'd like to have by the end. So I have to get rid of her dagger. Her iconic weapon from the Tagut fight has been weakened a bit, but I pushed her water level up just a tiny bit. I lost my 'same level' bonus for having a line of three L3 map skills... but eventually those should all be L4, so I'll have an even bigger bonus later.
Since there are only 7 panel slots to place Skill Panels on your Growth Panel (yes, the game uses 'panel' as the term to refer to the individual slots/spaces to place them, the things you place on them, and the whole board that you place them on), once you fill up all seven, placing panels becomes a game of give-and-take like this. There's a lot of thought you can put into where you place your panels and what panels you choose. Personally, I think it's REALLY fun to sit and think about panel placement strategy. A lot of people would rather just put points in stats or have the characters level up like normal... but I think this is probably my favorite way to build characters out of any game I've ever played, hahaha.
I really like how you have to balance what skills you're getting from the panels with what abilities that panel will give you. You can place something like an axe to get a huge boost to a physical attribute like strength, skill, or magic (yeah, magic is a physical attribute; think of it more like "non-elemental"), but then one of your seven abilities will be axe arts, even if you don't plan to have that character use an axe. Stuff like that. (Hint: sword is pretty nice for this usage since ANYONE can use a sword in their second hand to deflect attacks, and the higher your sword arts panel, the more likely you are to deflect) You can put familiar panels to get a familiar, which can be really useful, but they'll give you pretty mediocre stat growth.
Placing panels doesn't just give you more stats on top of what you already have, but rather recalculates them based on the interaction between that panel and the stats it 'touches' along the outside (the center panel affects all stats a small amount). So it's a really interesting exercise in strategy and character building.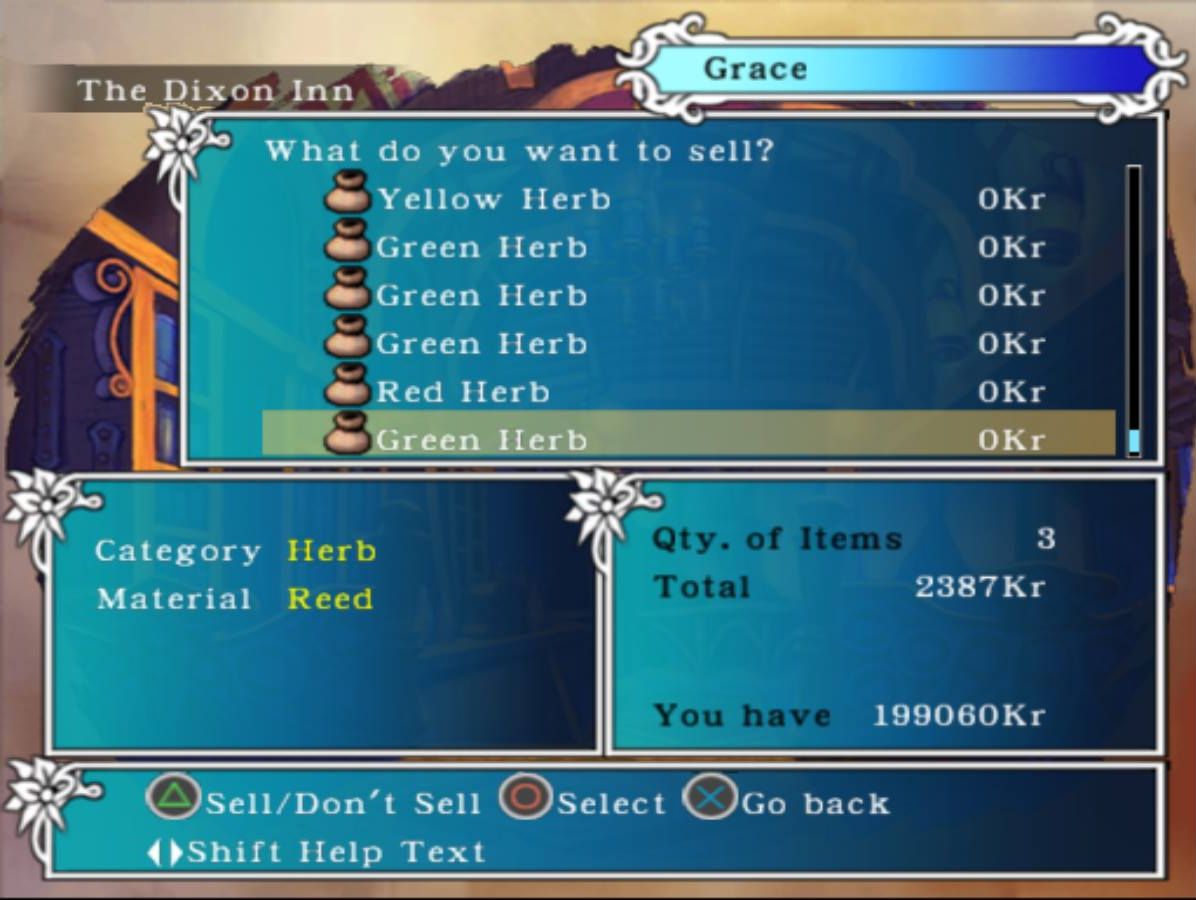 Anyway, with a bag full of herbs, I'm now going to head over to Wanda to adventure in the desert.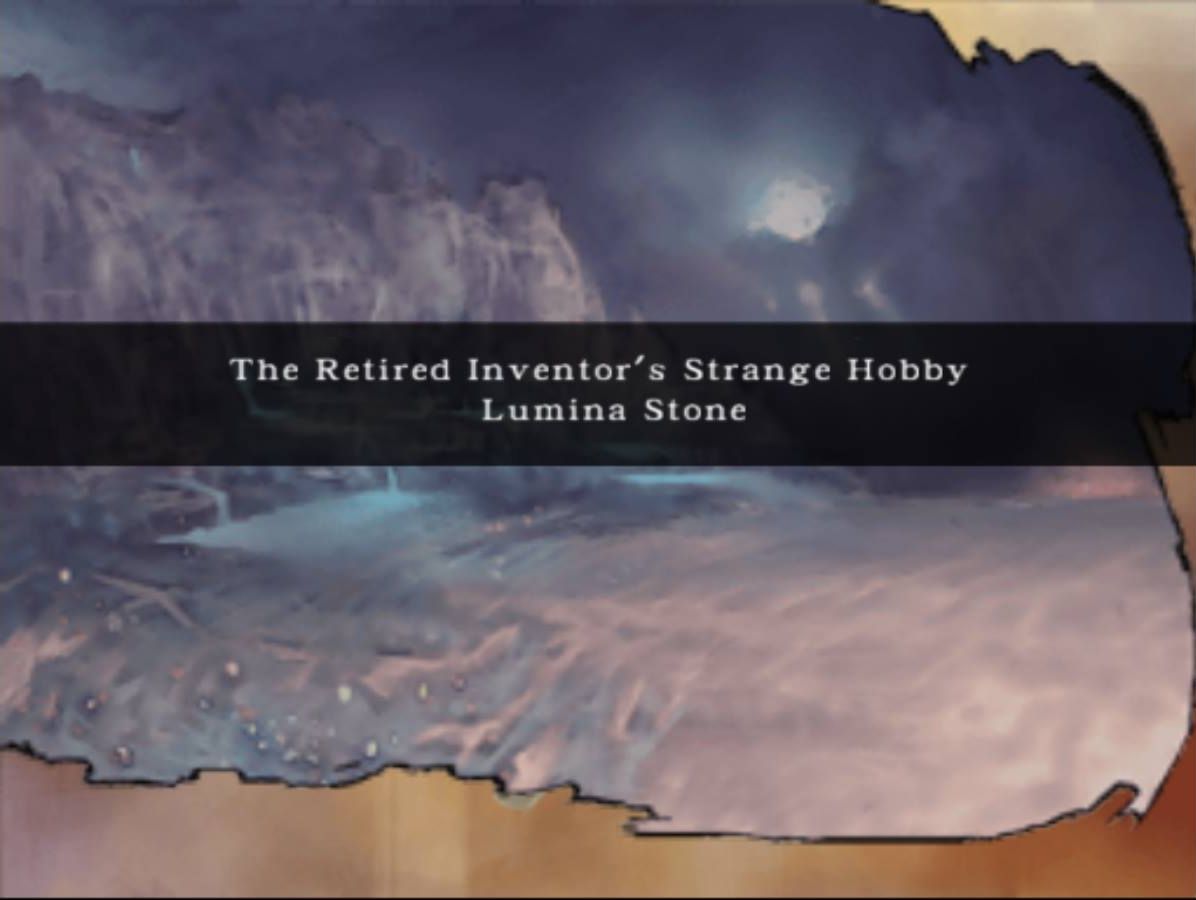 The desert is a pretty boring map but there are actually some neat adventures here. Lumina Stone is very memorable to me because it's usually one of the first adventures I always do. It's fun, simple, and there's something very important laying around in the desert that you can access by going on an adventure there.
The description we get at the beginning:
A retired inventor gathered adventurers, and organized a race to gather as many Lumina Stones as possible. The goal of the retiree is to collect the Lumina Stones. He will exchange the Lumina Stones gathered by the adventurers for his latest inventions. Lumina Stones can be found around the oasis.
The item rank will change depending on the number of Lumina Stones gathered. It is necessary to collect more than nine stones to get a high-quality item.
During the race, the whistle will be blown twice, to signify that the gate for the finish line has been opened. Near the end of the tournament, the whistle will be blown three times. If you don't get back to the exit by then, you will be disqualified!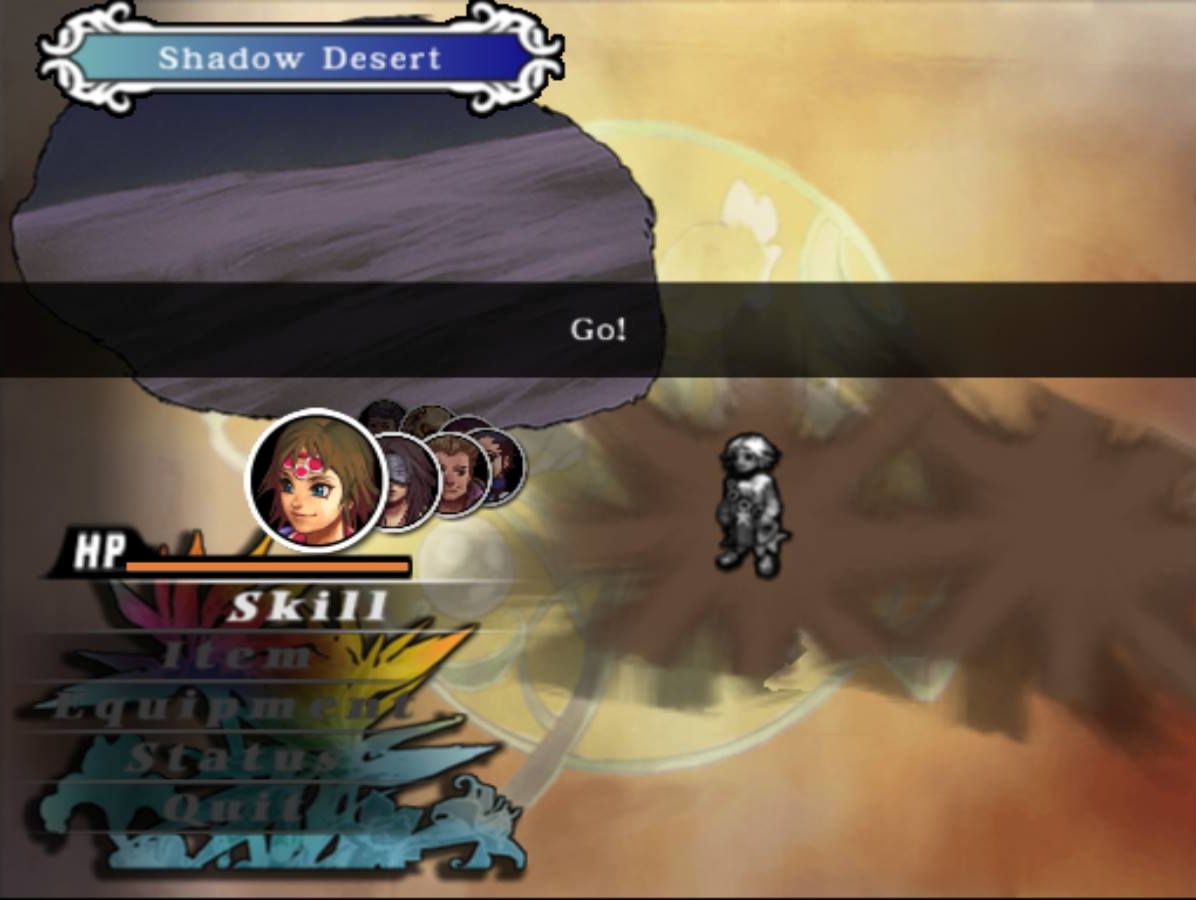 Sounds really exciting, right? This is a really cruel joke by the developers honestly. I won't reveal why just yet, though.
The desert actually has more maps than just the oasis area, but this is the only one we're going to be able to go to for the adventure.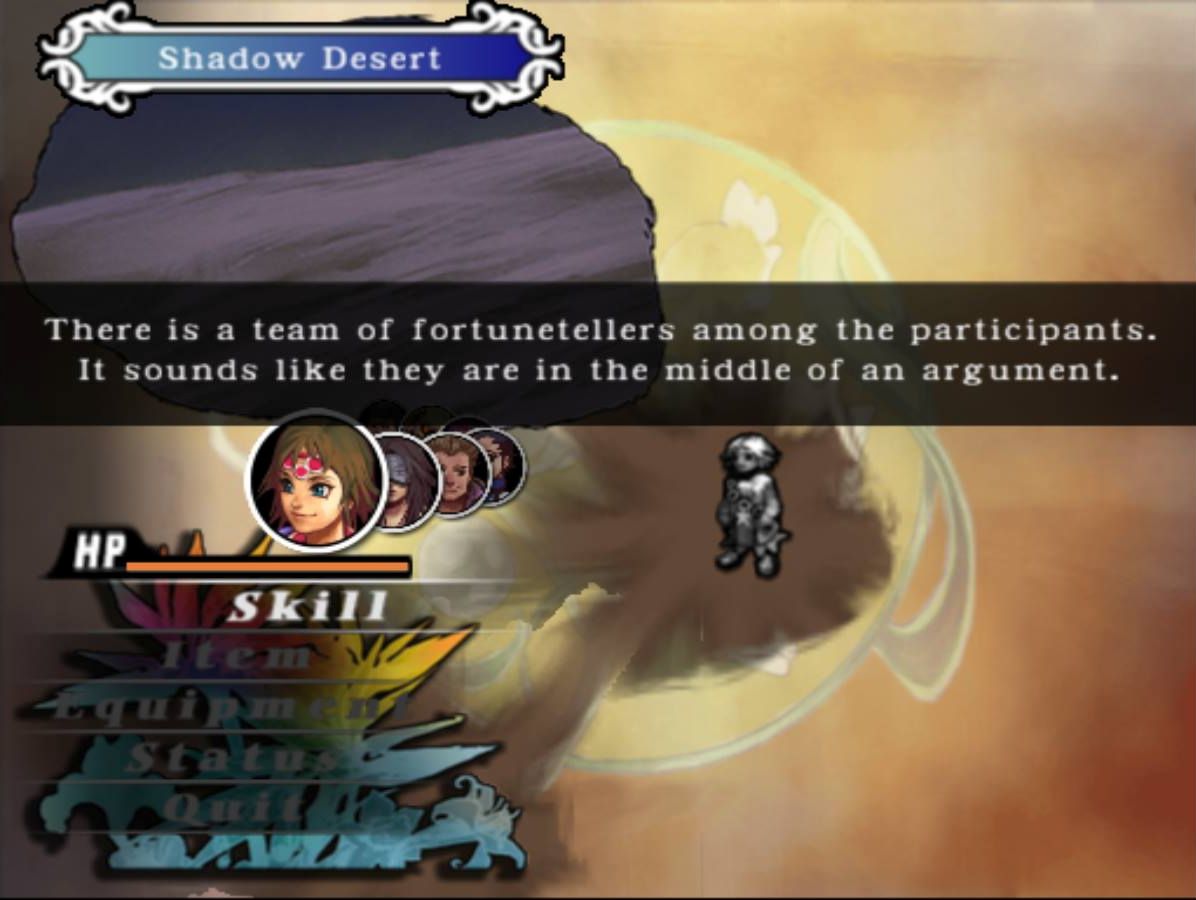 There are a lot of little 'events' you can run into during this adventure, which I think is part of why I like it so much. In this event, a group of fortunetellers are arguing about the location of lumina stones. One girl says they are to the north, while the others all say their readings say they're south. They bully the different girl and leave for the south and tell her to go away on her own. She seems a bit hurt that they don't believe that she got a reading for stones in the north.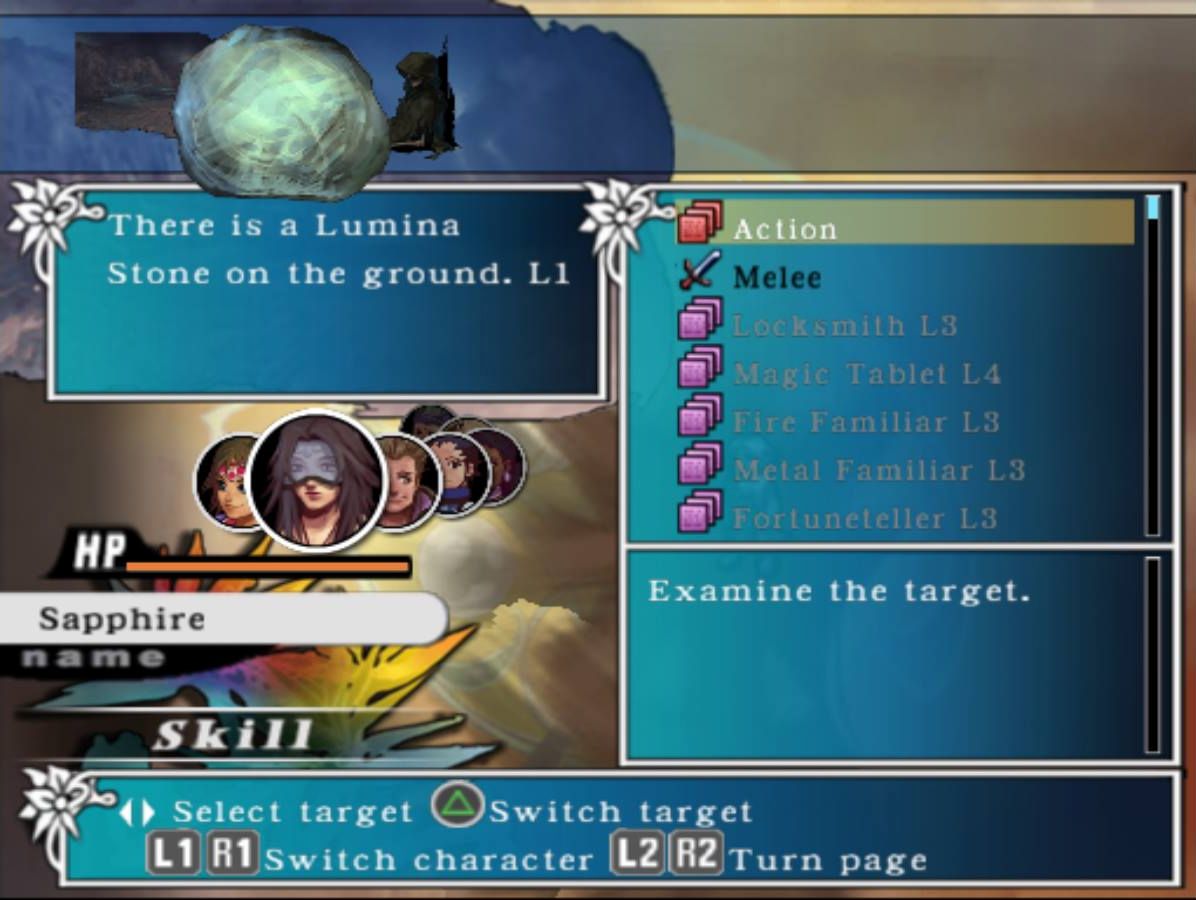 As you walk around, you'll run into lumina stones. You can pick them up to collect them. That's about all you do! They're kinda everywhere, so it's easy to collect a lot. This area also has those dead body treasures so I was able to grab some easy money from them. I fortunetold one and ruined it so I just opened the rest without interacting with them in any other way :P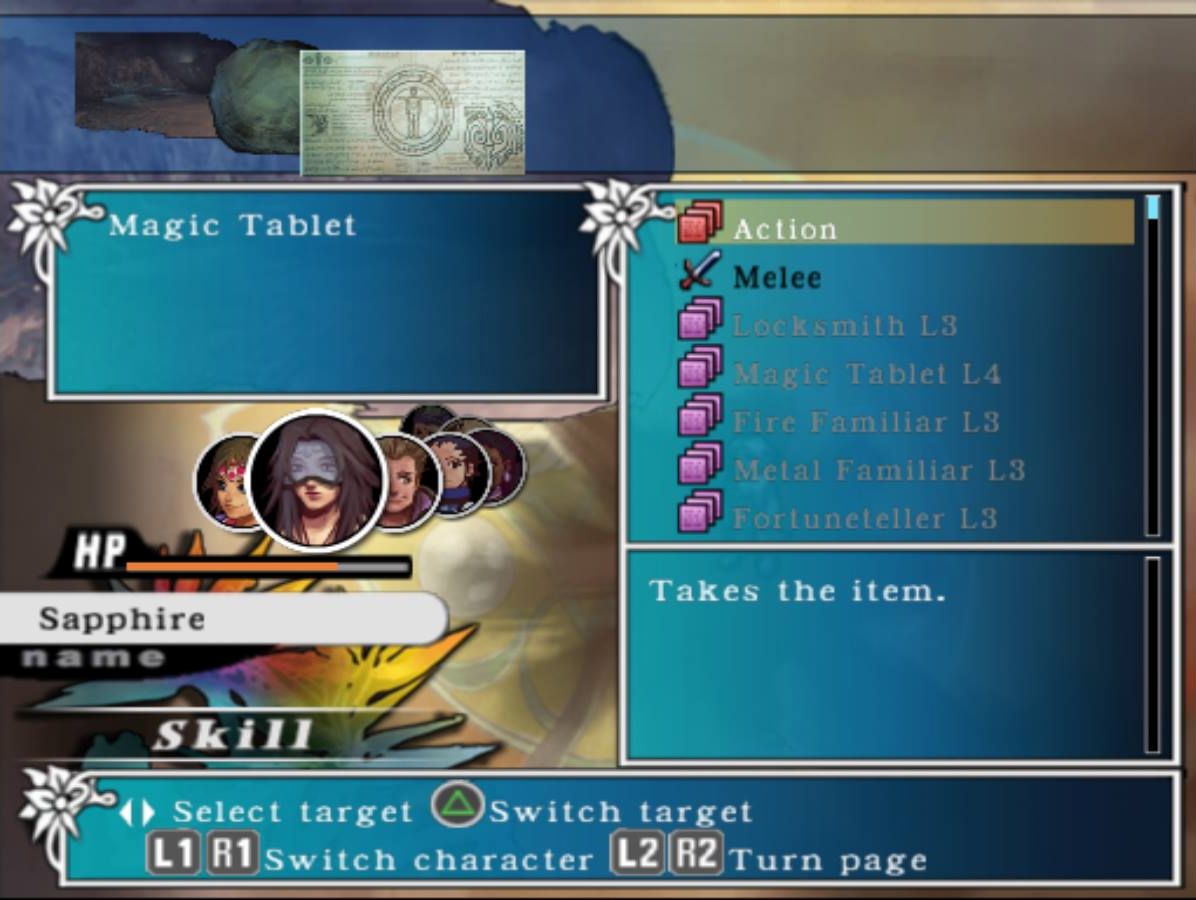 Though the main reason I wanted to come to the desert was for this -- there's a magic tablet just lying around out here! This is a fixed item and is always in the same place every game (though which tablet you actually get when you clear the adventure is still randomized. Quick note: tablet identities are set when you receive the tablets, so if you're wanting to savescum for tablets, you need to save before picking up the tablet, not before going to the panel development screen. Another of my 'rules' for challenge runs like this is no save-scumming, though.)
Anyway, this tablet isn't unique to Lumina Stone subadventure, but rather it's just an item in the desert. You can take any subadventure that takes you to the desert and still find it in the same spot. That also means once you pick it up, you can't take other adventures to the desert and find the tablet again.
One thing I wish they would have let you do is go on a 'free adventure' to certain areas. Like... just go to the desert without having to go on a subadventure. There's one place you can actually do this, from Iskandaria you can go to this ruined city thing, and just go in and out freely to find treasures and fight monsters and stuff. It doesn't count as an adventure or anything. Good for studying magic tablets without having to go on adventures, and looking for treasures to get money and possibly magic tablets. But I'd like if they had done that with other areas, too, like the desert, ice slab sea, cavern of murals, sevenfold path, etc. It could also give you a chance to explore them thoroughly and map them out so when you do go on subadventures there, you already know your way around a bit. I think they really missed a good opportunity to add something fun like that, since it would not have been hard to implement at all.
Instead, the only way to go to most areas in the game is to go on a subadventure there, and once you've done all the subadventures that go to that area, you can never go back. I mean, you really wouldn't want to visit most places again since they're pretty much built for the adventures anyway, but... it just would be nice to be able to explore some places on their own and have more places to fight and treasure hunt freely besides the ruins in Iskandaria.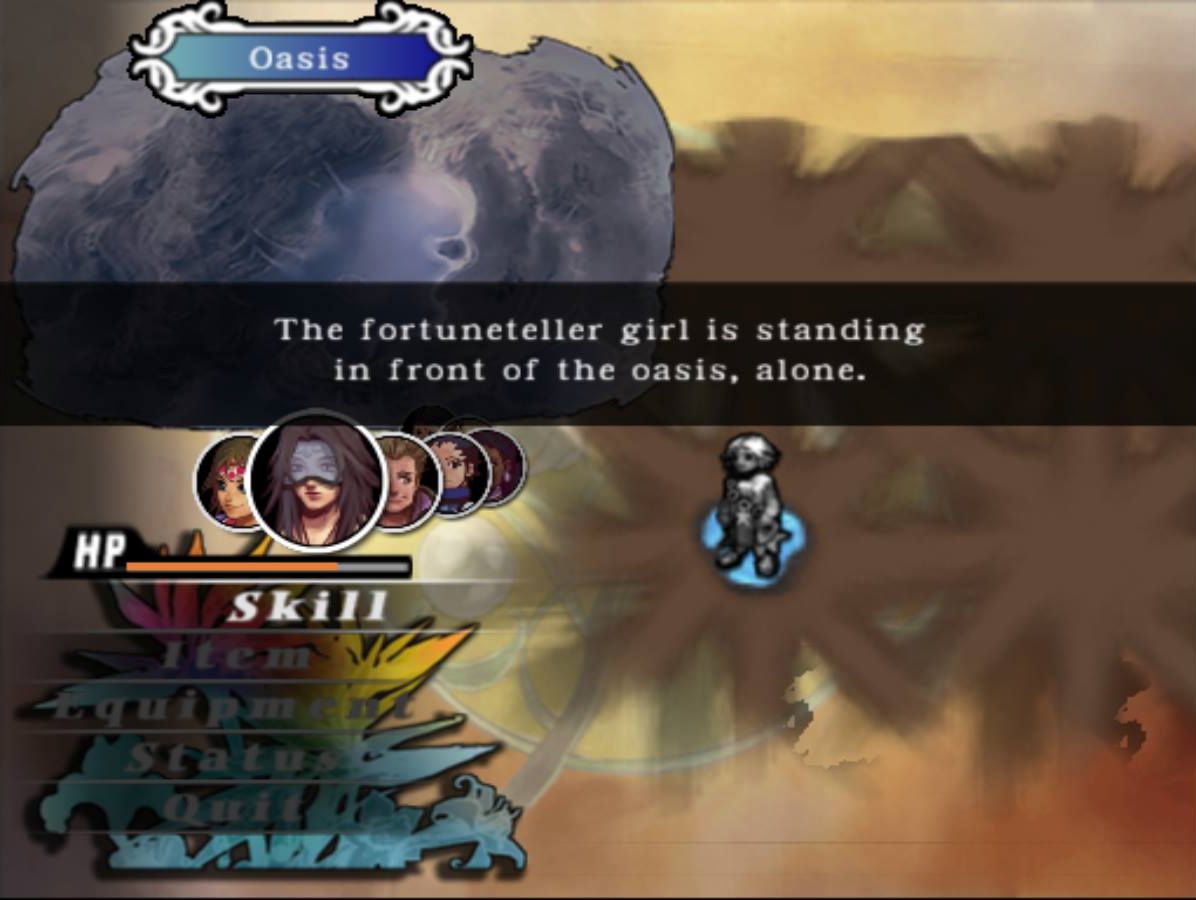 If you go to the actual oasis space, you'll find the lone fortuneteller girl, who has apparently gathered many stones and is excited that she got them right. She'll tell you the location of a nearby lumina stone, and even give you a free item! She gave me some cedar. She actually just... sets the item on the ground, I guess, so you have to pick it up (just as misleading as the key from the kitty quest...) I just left it, because I was like "Oh, I don't need that since I can't use the blacksmith." But then I realized while shopping later I could have at least sold it. And Cedar has decent value for wood.
There are more little events to discover like this one throughout the adventure, but I'll leave those to you to discover. Actually I didn't really see any others this time but you can see a few other things, and get some little goodies from some of them, too.
Normally when you step on a space, items that you can see will appear in front of you like this. Traps will not, though, so you'll need to go into the skills menu to peek those. But stuff like chests in the open or items you can pick up like lumina stones or keys or whatever will appear in front of you and it will tell you what they are or give you a description. Enemies also appear like this, which causes a problem. Normally, I'd just walk around and only check the space if it shows me there's a lumina stone there or a treasure, then pick it up. So if it doesn't tell me anything, I'd just walk to the next space.
But if an enemy is there and it happens to aggress, the attack will occur when it shows you the enemy is there. And it shows enemies first before showing you things like the lumina stones. The battle scene will start as soon as it shows you the enemy, and then after the battle, it will have ended the 'showing you things' phase of the turn without ever showing you the lumina stone. So if you get attacked after walking onto the space, make sure you open the Skills menu to see all the objects on the space to make sure there's not a lumina stone or something there!
Eventually you'll hear the whistle and be warned the race is almost over. You can actually explore a bit more after this, but at least try to get closer to the exit. It will warn you when you're almost out of time, so then you can rush to the exit.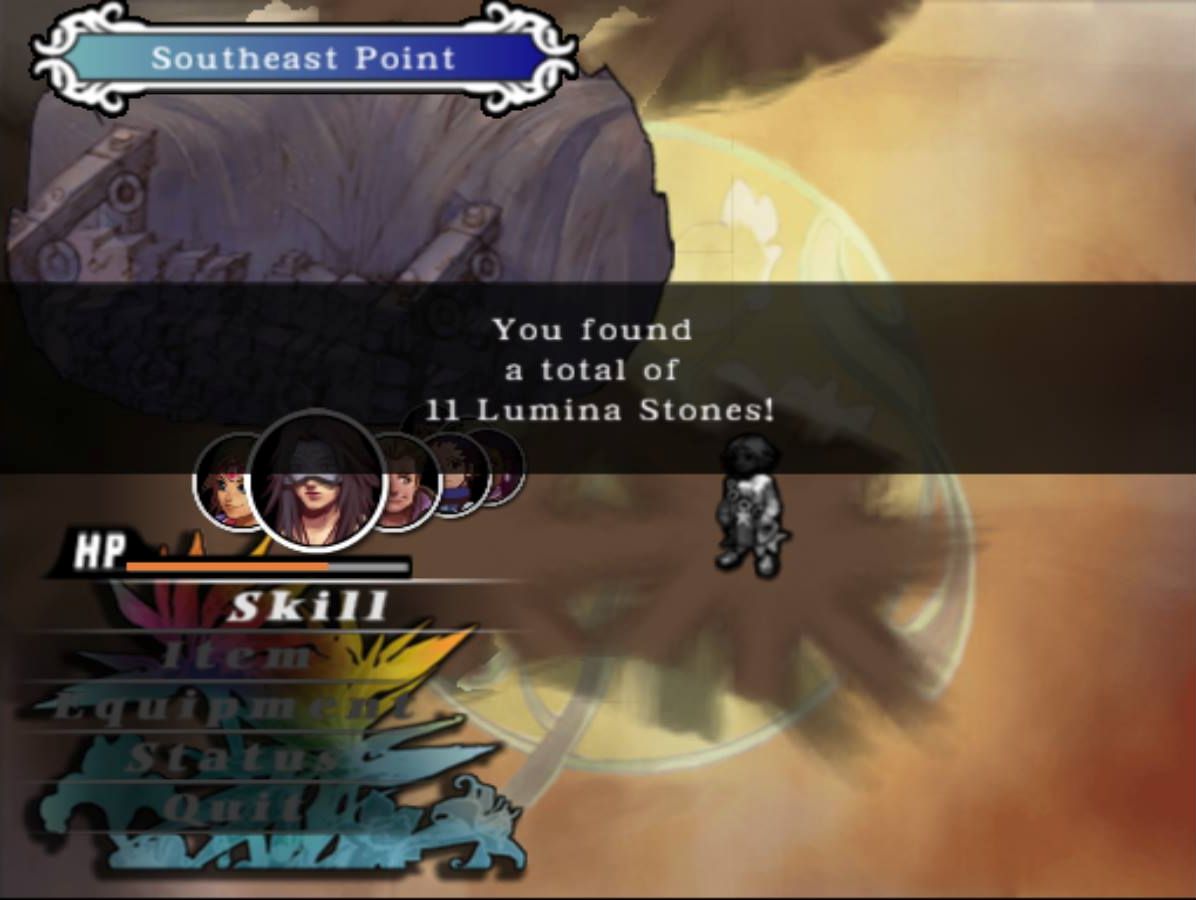 It's fun to try to gather as many lumina stones as you can... but no matter how many you get, the inventor will give you something that breaks immediately as he gives it to you. That's how it always ends. You get nothing. It's really stupid -- at least give me some money or a gun or something? Then, like always, you develop your panel.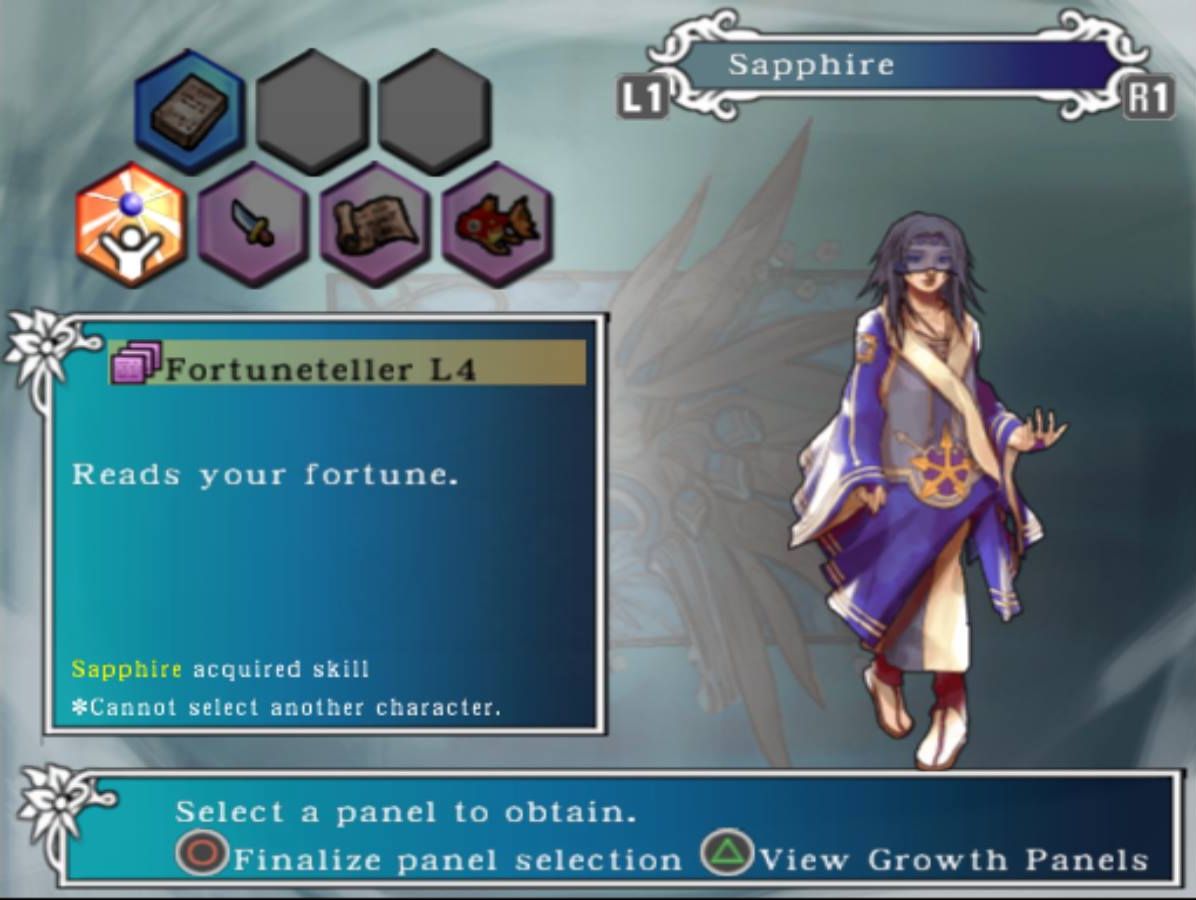 A huge stroke of luck, Sapphire got L4 fortuneteller again right away. The magic tablet we picked up was another L2 fire tablet, so I gave it to Anzan this time. He'll become much more diverse with this; now I can use him as a front-line damage sponge, or as a back-row mage! I've been having him use a spear, which works better from the back, but mostly for Grasshopper (which is primarily for trying to stun enemies).
And that's about it for my little bout of subadventuring for now! Now it's on to Two Moons Temple, to pick up yet another party member and hopefully score some good loot, and maybe unfold more of Ruby's story. I know that I've gotten farther than this, because there's a particular thing I remember seeing that I haven't seen yet in the story :P So I must have really gotten pretty much to the end of Ruby's story, because once you finish the six wonders, the only thing that is left is the seventh, which is her final adventure.
Once I get all nine available party members (which will be after the 6th Wonder), I'll do a lot more subadventuring. Ruby has less access to fewer subadventures than most characters, as she doesn't get access to a lot of cities in the game. So you have a bit less opportunity to develop your characters. Actually, you could reach the secret adventure with Ruby (which can be done unlimitedly, and is full of difficult monsters, so you can get your panels just how you want them from that).
I probably will not detail all the subadventures too much, as I plan on doing a lot of them, and subadventures are not unique to any character, so playing through all seven characters, I'll see a lot of these same things over and over. I'll probably just do a few little notes if something interesting happens. So once I get to that point, there will probably be a big break in updates if you're looking for a chance to catch up on these.
---