To Hanging Garden
Well, the time has come. Ruby has visited all but one of the Seven Wonders, and has collected... some... Tetra Forces. It's time for her for final travel with Iskandar, to Hanging Garden.
Hanging Garden exists in the sky, and according to Iskandar, we needed the power of Tetra Forces in order to reach it. But Jeanne has like half of the Tetra forces because Ruby was giving them away at first and then she stole some. I think in the end, Ruby only collected two? Maybe even only one? So I'm assuming we're going to run into Jeanne here and she'll hand over the remaining ones, or make us fight for them, or perhaps realize Ruby is not a villain and lend her the power of the Tetra Force while keeping them with her.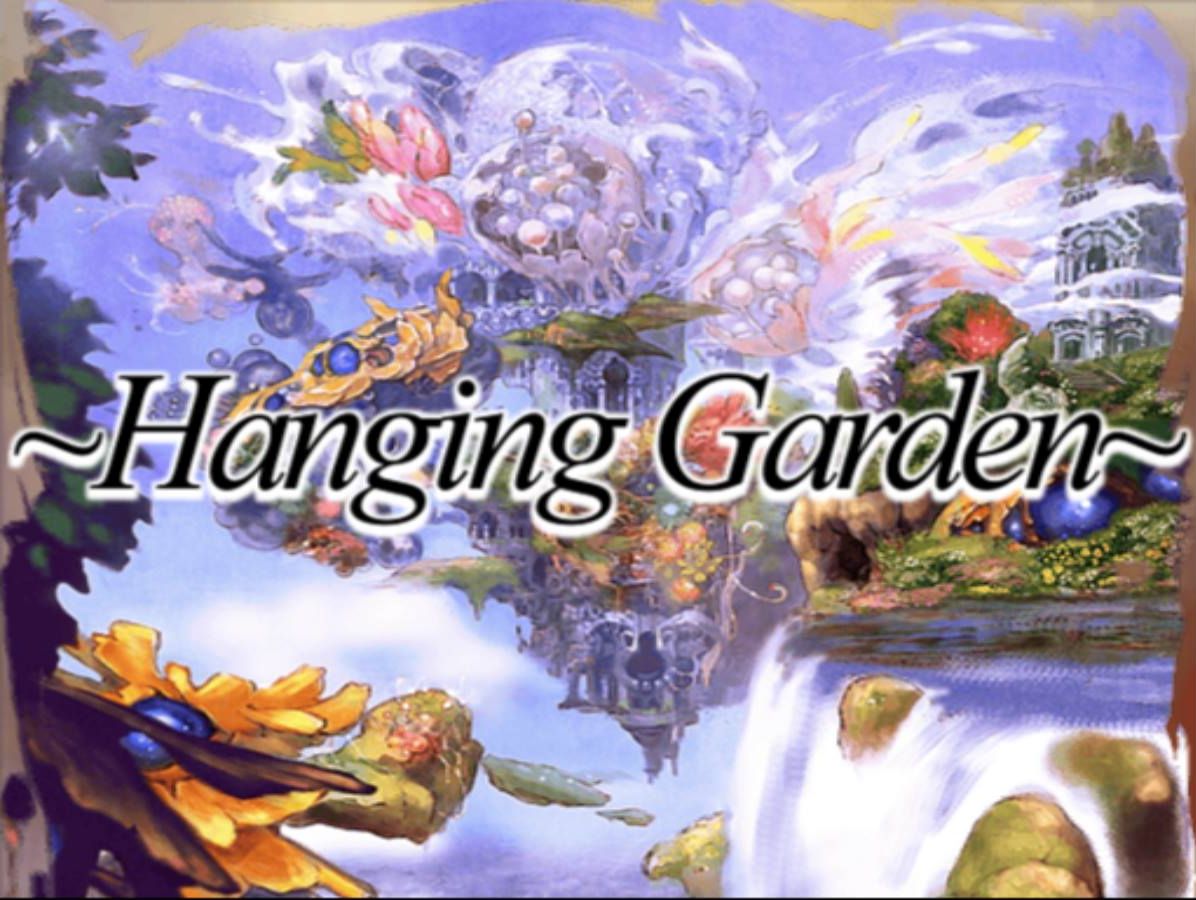 So, off we go! Look how colorful this place is!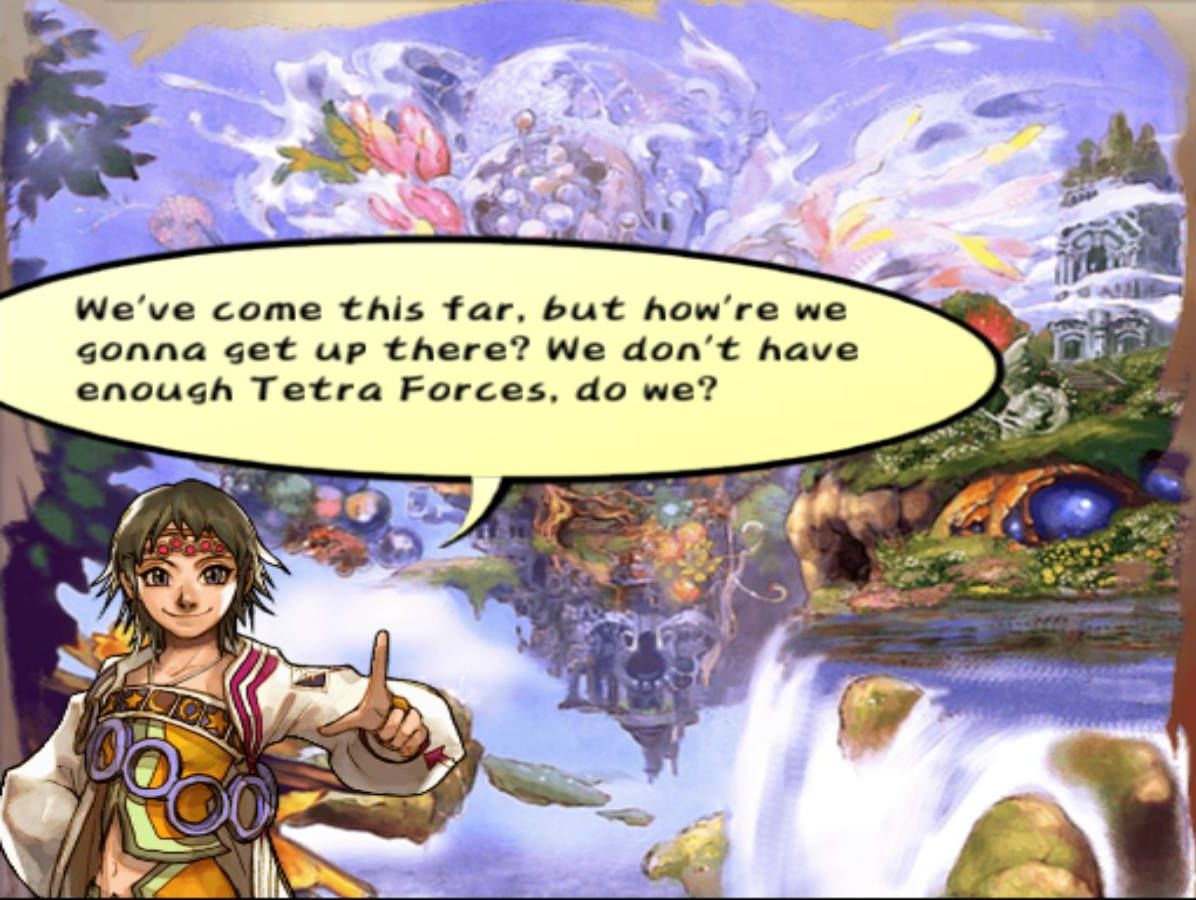 Exactly, Ruby. I was just talking about that--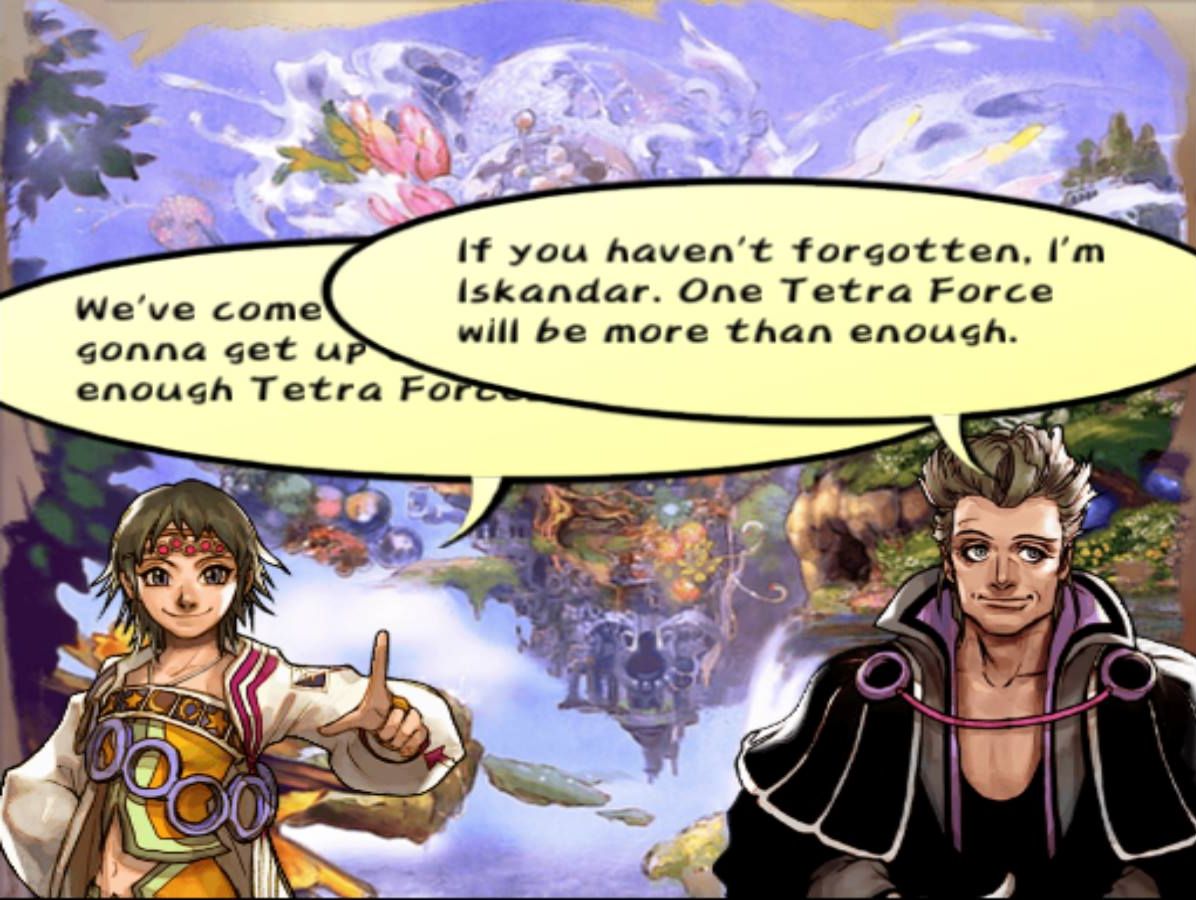 --Wait, what...??? Then... why didn't we just...??????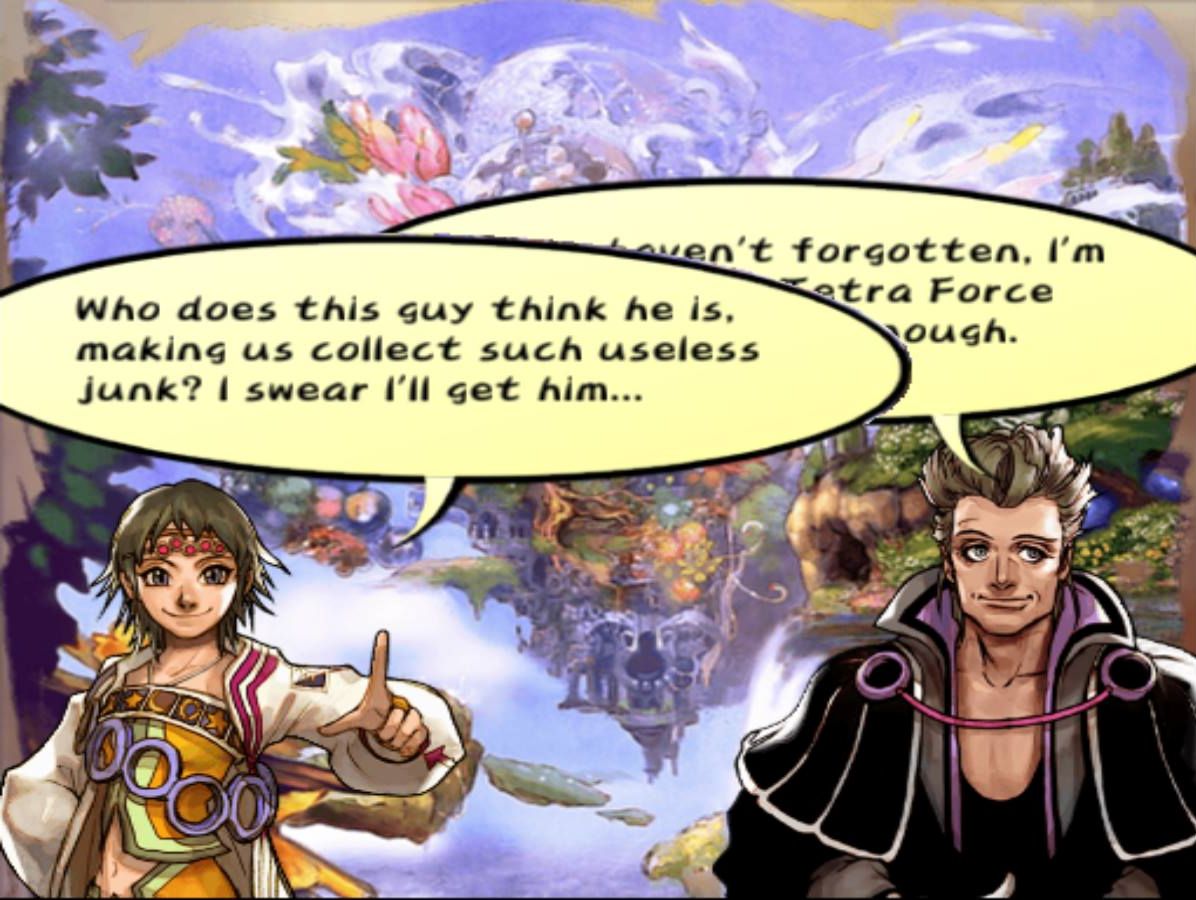 PUNCH HIM IN THE FACE, RUBY.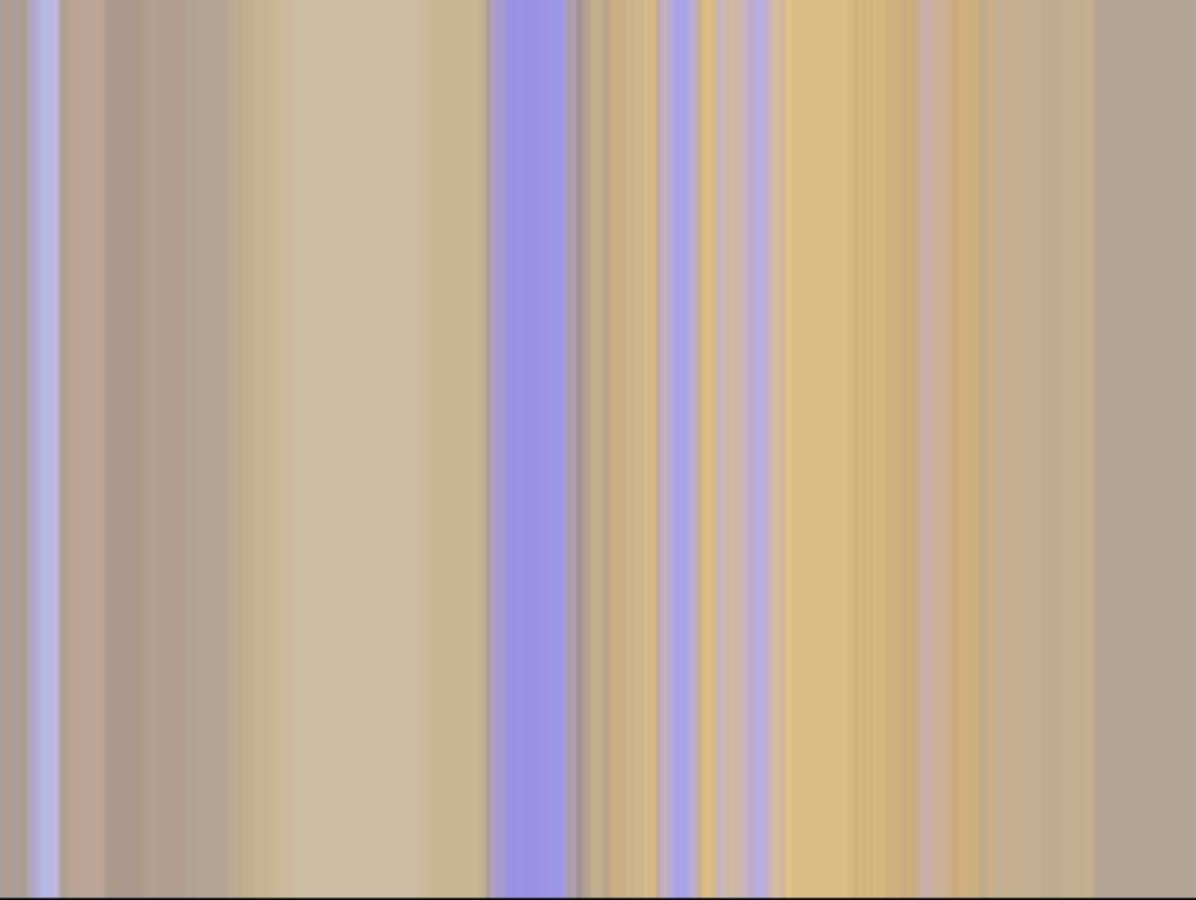 Then Iskandar says "Okay, let's go." And we get... this... cool... teleportation... scene? It's literally JUST THIS for many seconds LOL. It's not even animated.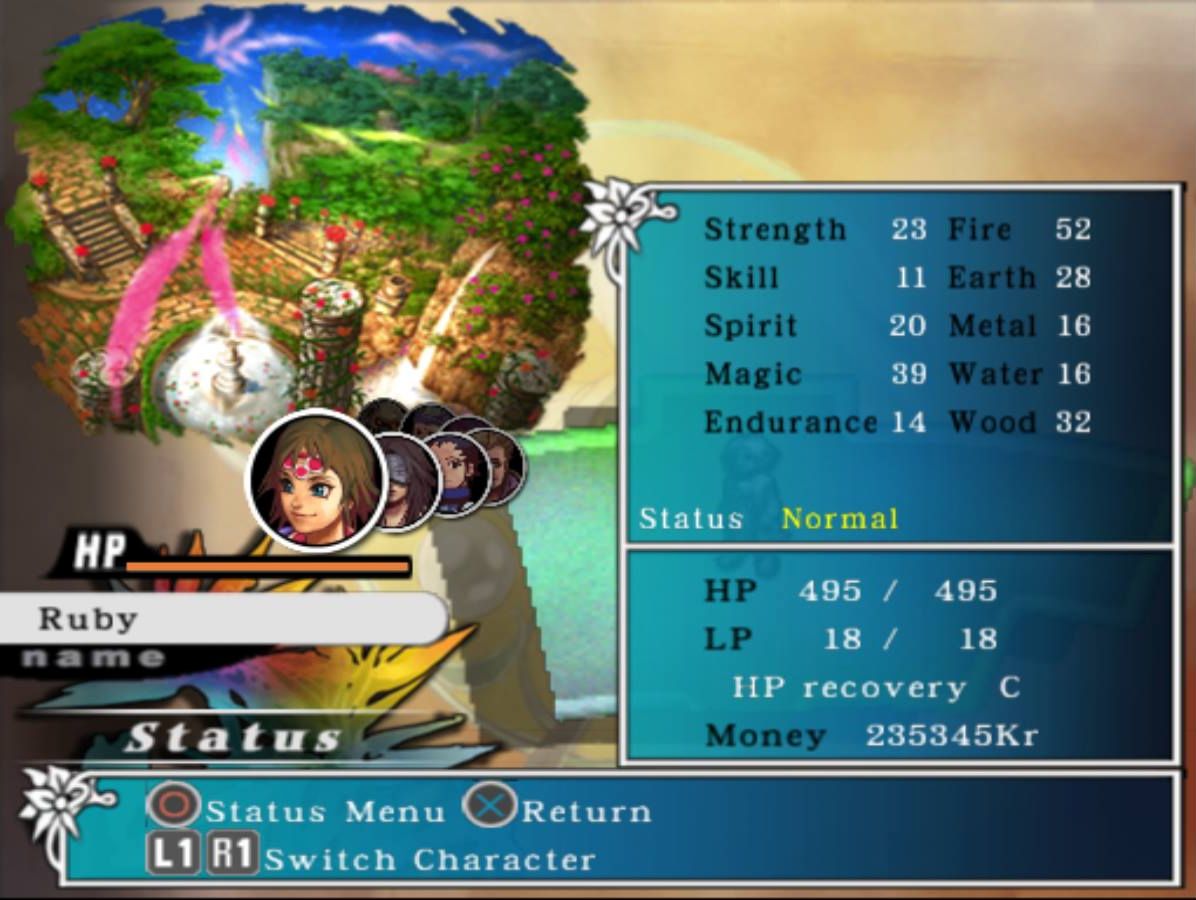 Hanging Garden is one of my favorite Wonders (okay I realize I've said that about like... pretty much all of them but Deities' Table, and despite hating it, I think it's cool in theory, so... I guess I just love all of them)...
It's a colorful garden full of all kinds of plant life, and the seasons can change at the drop of a hat, so you can experience all four seasons here in a matter of minutes. As you walk around, thorny vines will reach out and attack you, similarly to the mirror shards in Deities' Table. And then there are certain gates in which guardians will not let you in unless it's the correct season, and you can offer them feathers to change the seasons, or let them change by running into vines on purpose and stuff... It's overall pretty interesting and pretty fun, and there's tons of beautiful paintings to look at, including ones for all four seasons.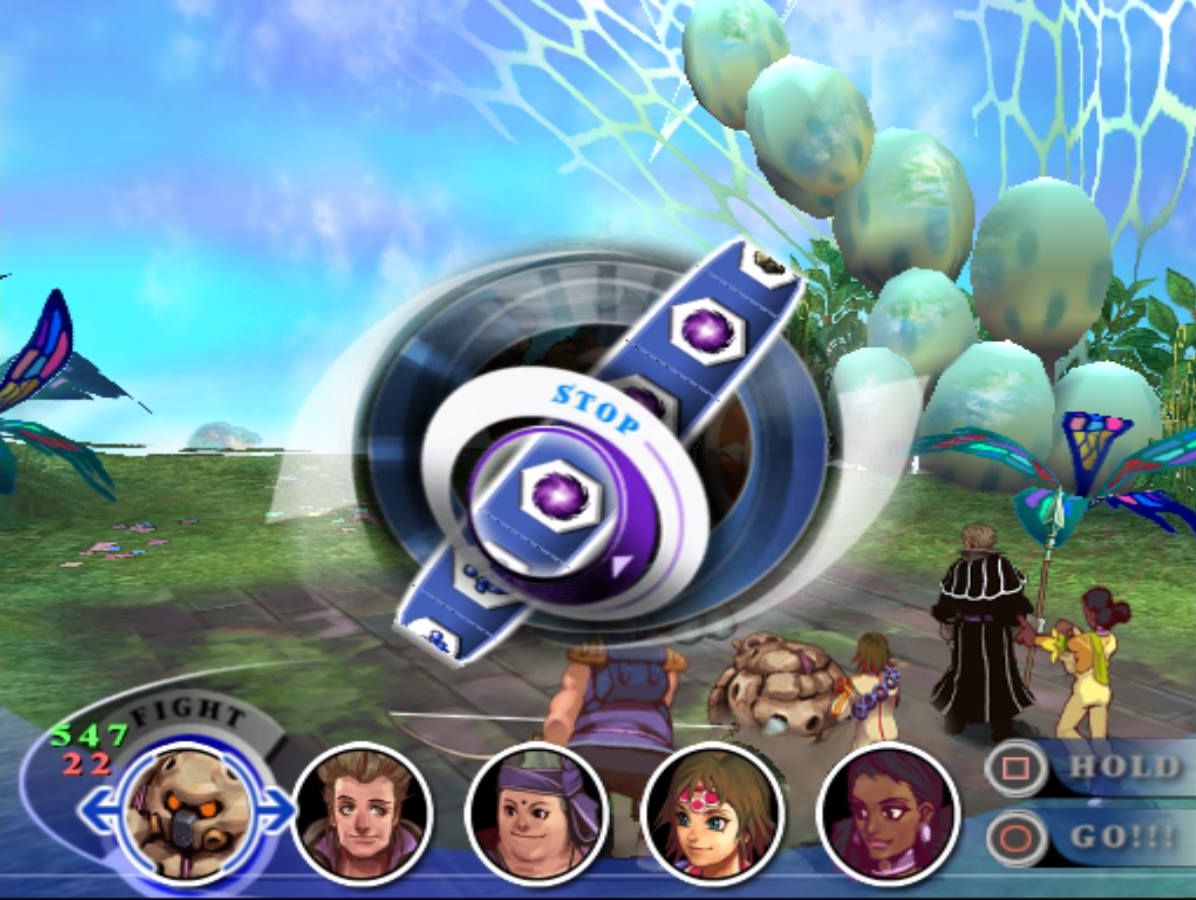 The battle environment is pretty cool here, too. There are big spiderweb things? And like giant insect eggs? And there's some flowers and stuff off-camera that... almost never comes into view but they're pretty cool. And there's a rainbow sometimes I think.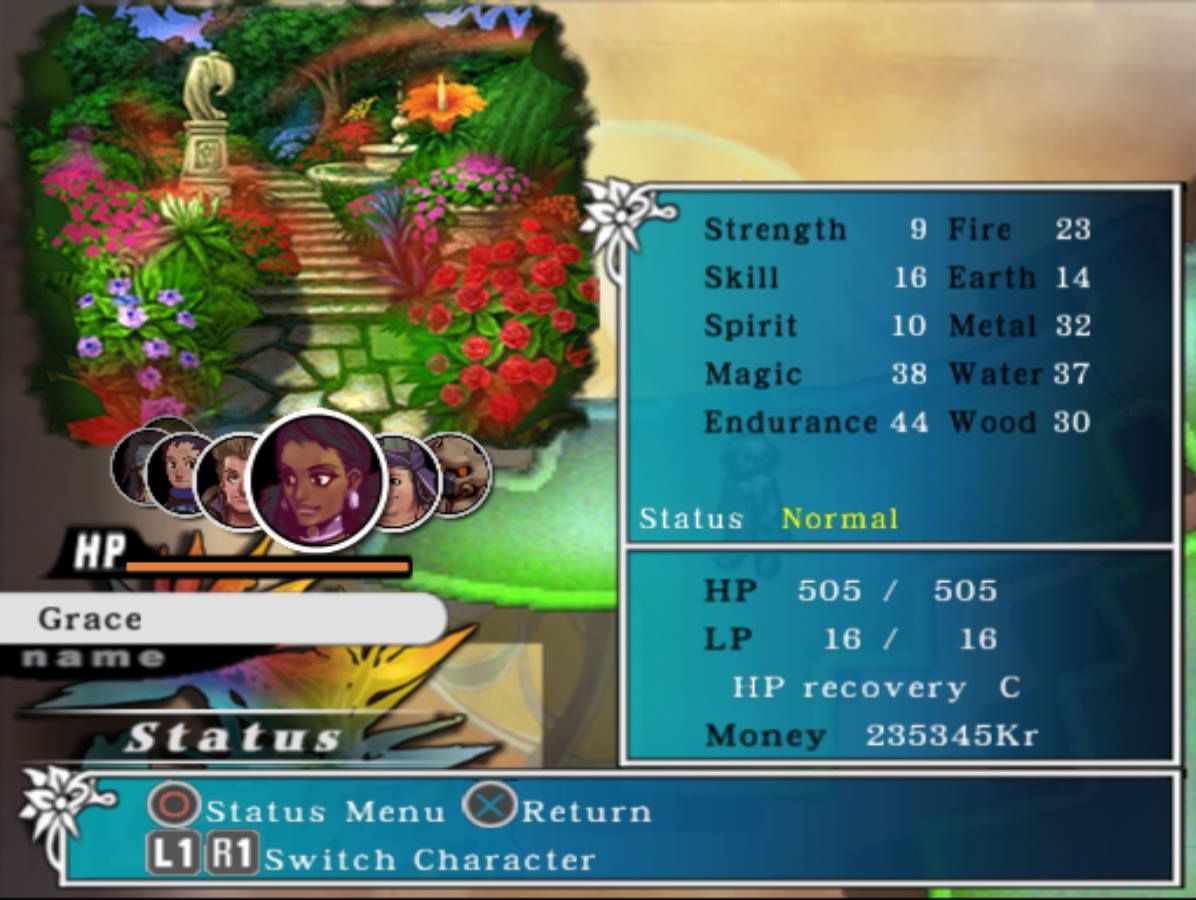 This is overall just a very pretty area. There are swimming and rock climbing hazards, and lots of little hidden goodies, dips into rivers where you might want to hop up onto bits of land to rest instead of trying to rest fruitlessly in the water. Fun and pretty.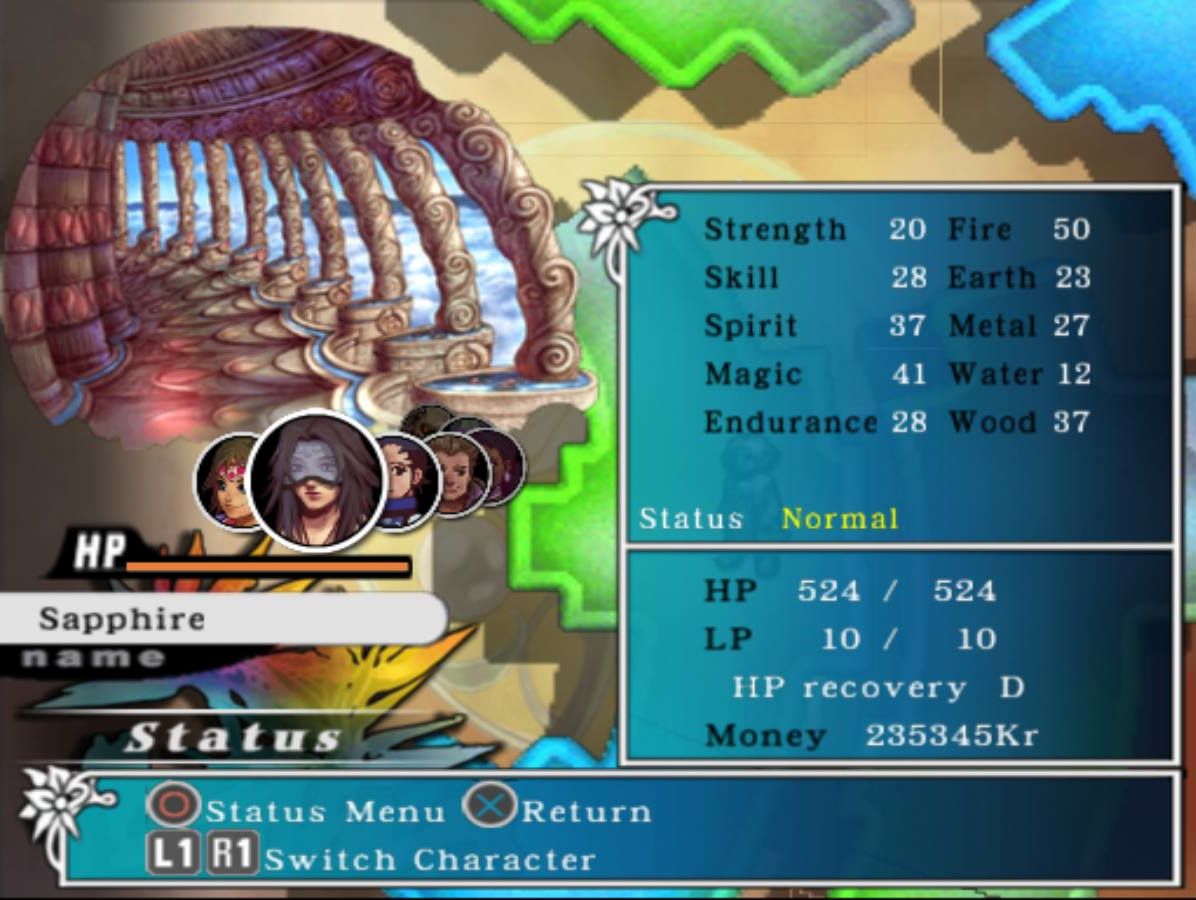 So, I've been walking around for a while, and still no vines. Always Spring... kinda weird. There should be a gate thing coming up, so probably something special will happen there since it's Ruby's story, like something neat we never see playing this as a subadventure...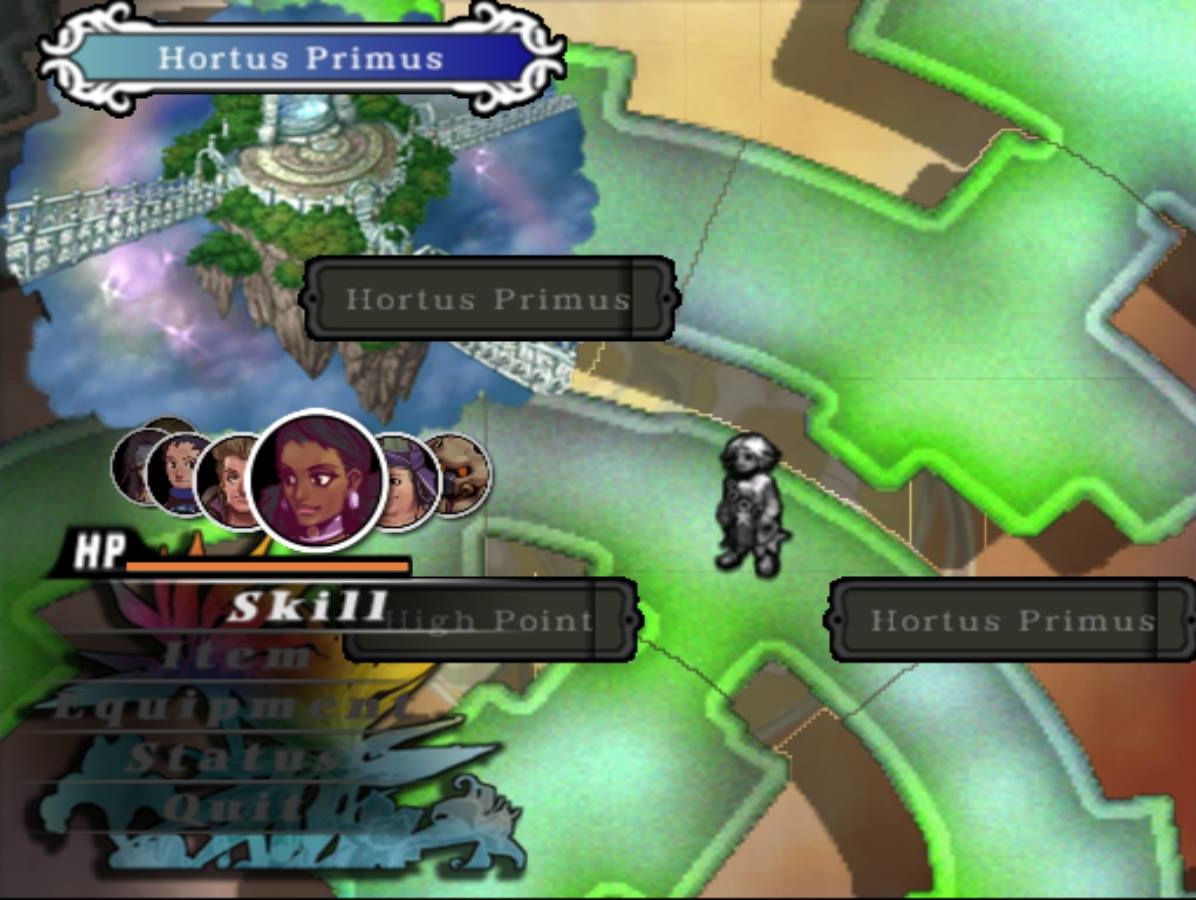 Except...
Nothing ever happened. The map was pretty much completely empty. There were even very few enemies... And since I don't need money or anything anymore, there's not even much reason to pick up treasures. What the hell???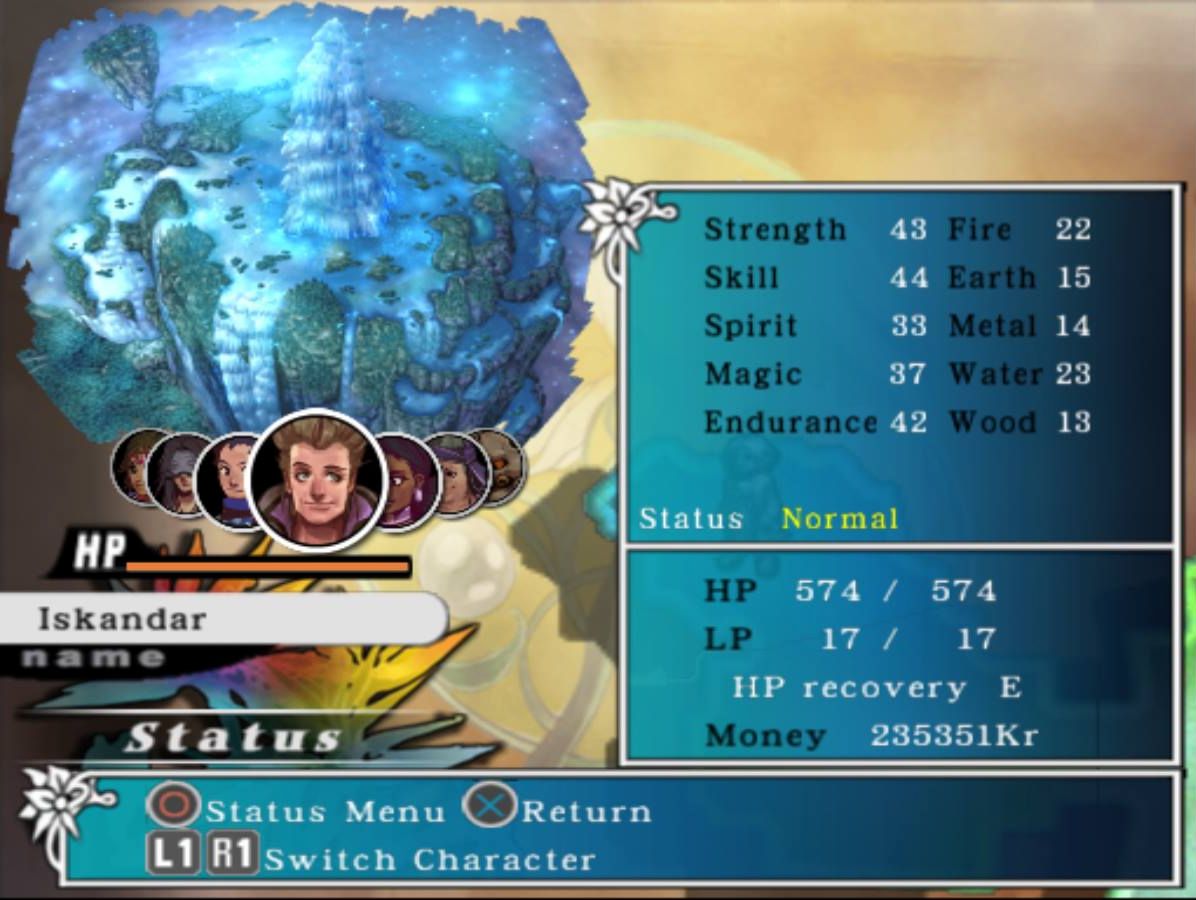 A few places you could see scenery of different seasons, but... there was just nothing to this adventure at all. Just walking to the end. That's it. I couldn't believe it... I explored every space hoping something unique would pop out, but... It's just this.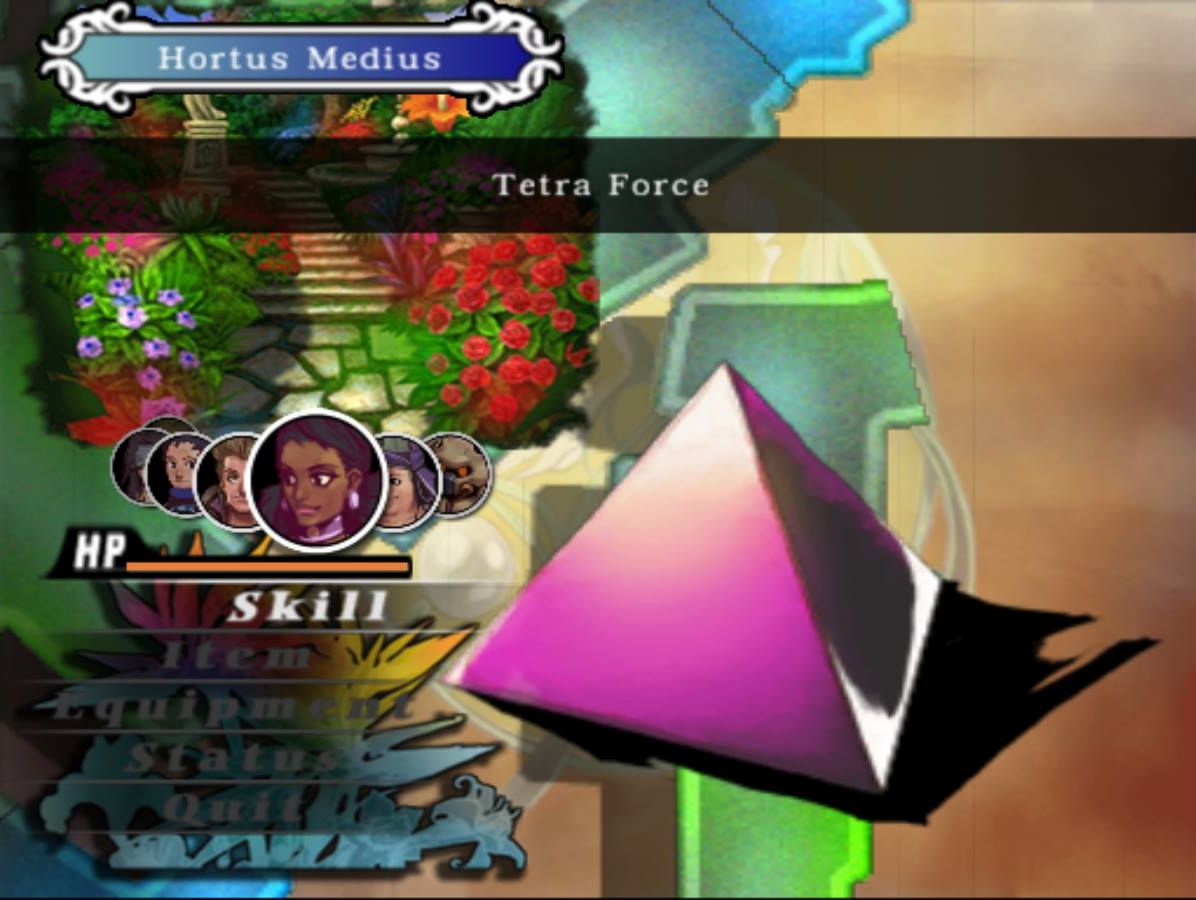 ... And eventually I run into the Tetra Force. It's fuchsia, though! Also, I just realized I've been spelling fuchsia wrong my entire life. Thanks, squiggly red line!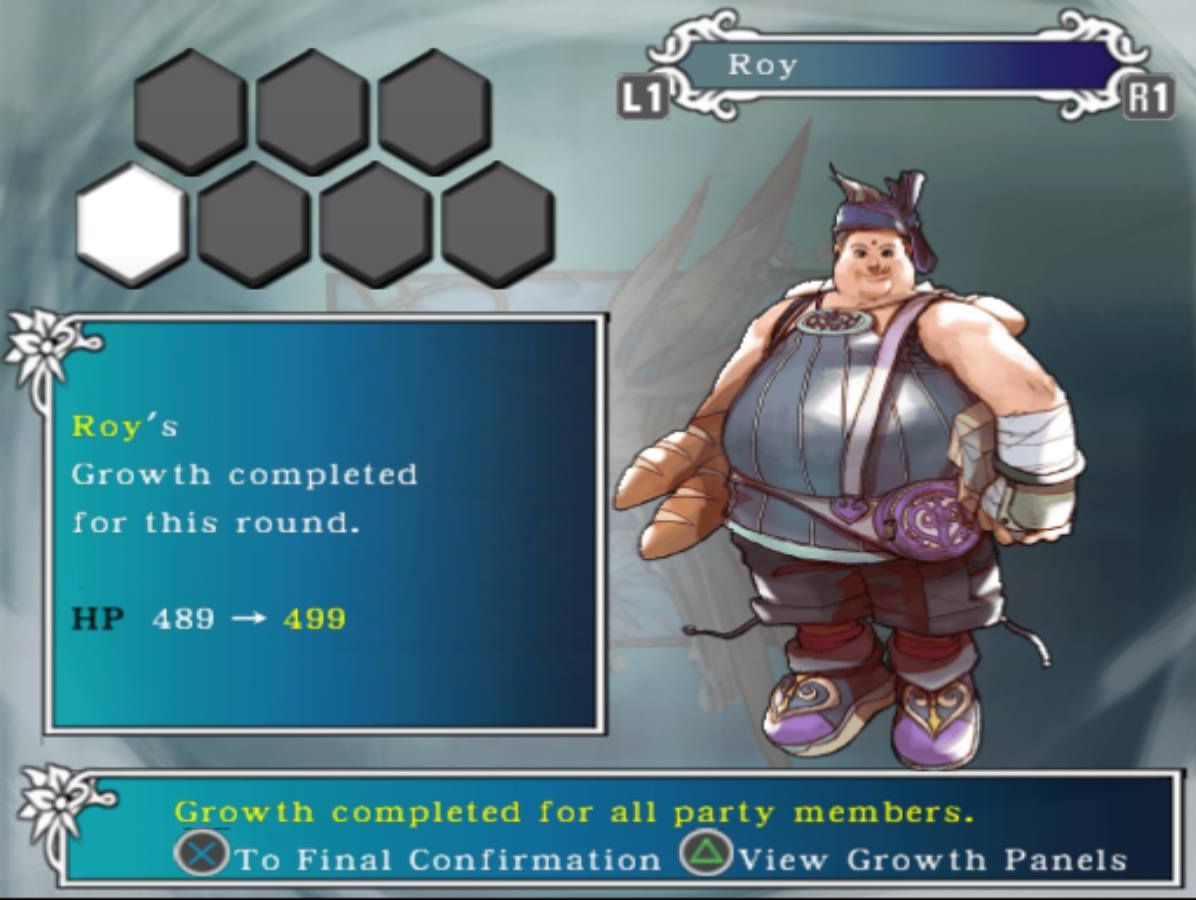 Since the adventure was pretty much void of anything at all, I didn't even get good panels. Like super random L3 ones. Roy's HP just barely missed hitting 500... he ended up being the only character in the party with under 500 HP by the end. (Well, Mythe still has 90 lmfao but I'm not counting him and Insolent Ming)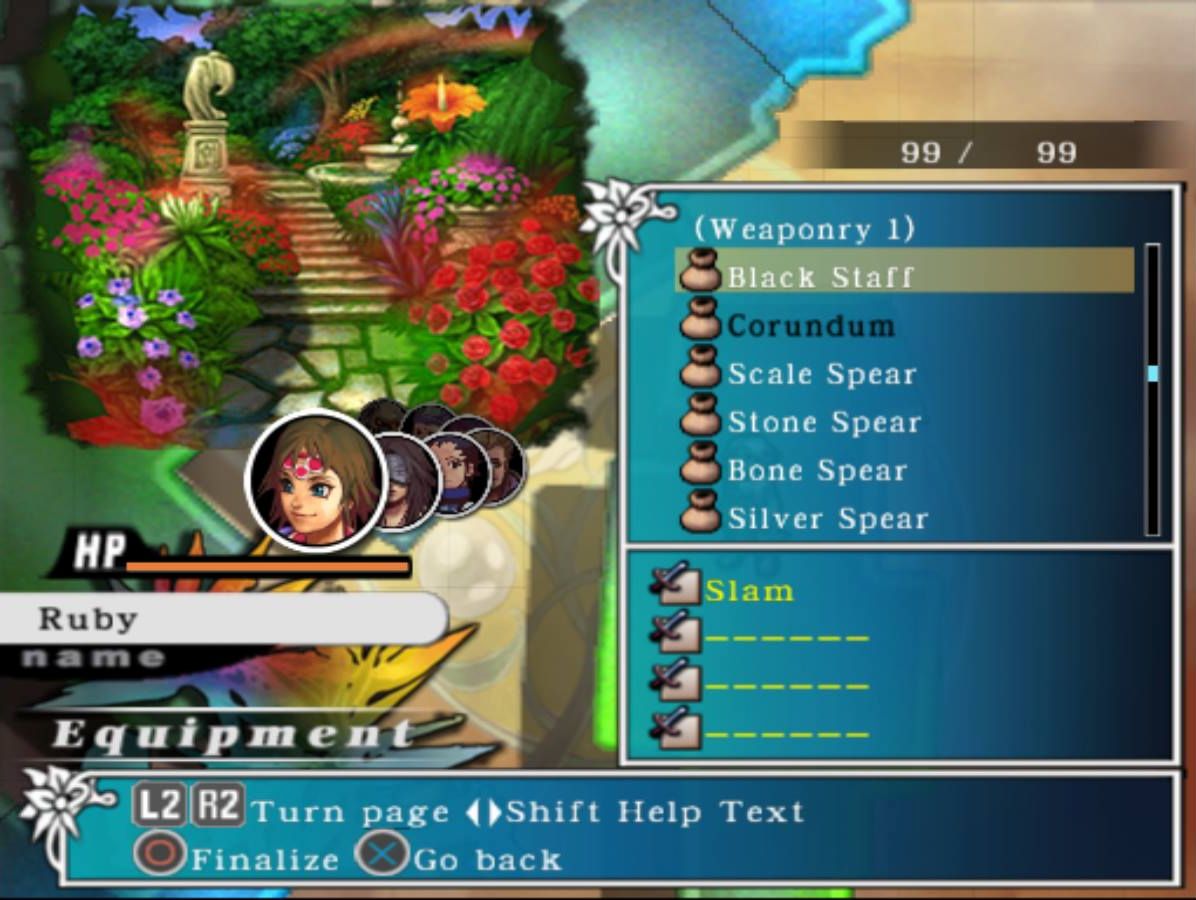 When I went to re-equip everyone with their 'final' equipment, I realized I hadn't had anyone carrying the Black Staff, so it didn't release any abilities... So I decided to just keep my Lead Staff which had like... half the power of this one. Though I only ended up using Slam line anyway, so I could have used this... I actually thought about it, but thought in a pinch, it would be more helpful to have Multihit, like if I got down to Ruby as the only character left and needed to only do like 1 LP damage or something XD Though I guess I could have queued a staff attack to hope for priority and then done Fire Arrows, since Ruby's fire level is SUPER strong at this point... yeah, I didn't really think of that.
The following screenies are just everyone's final equipment, panels, and stats, so feel free to skip them unless you're really curious. There's going to be 21 in all, so... it's a lot.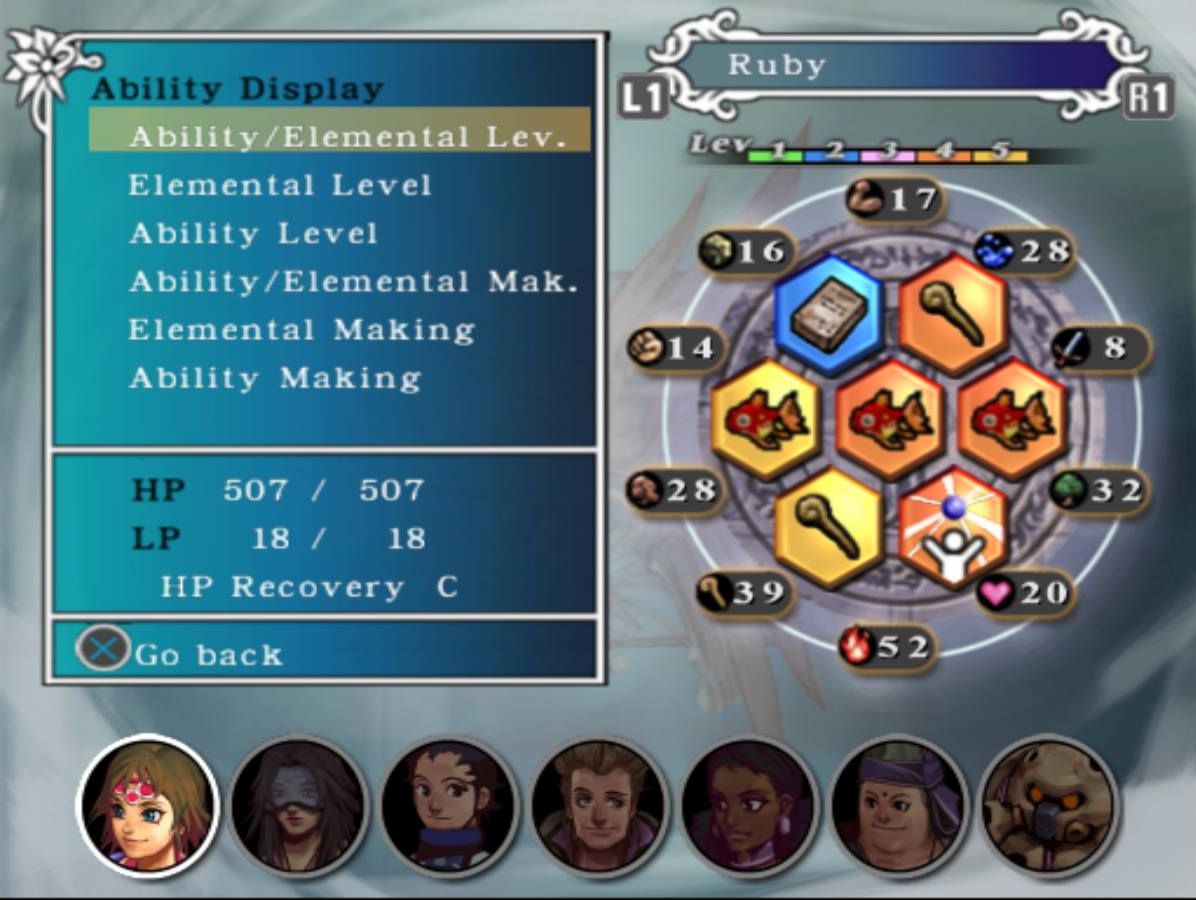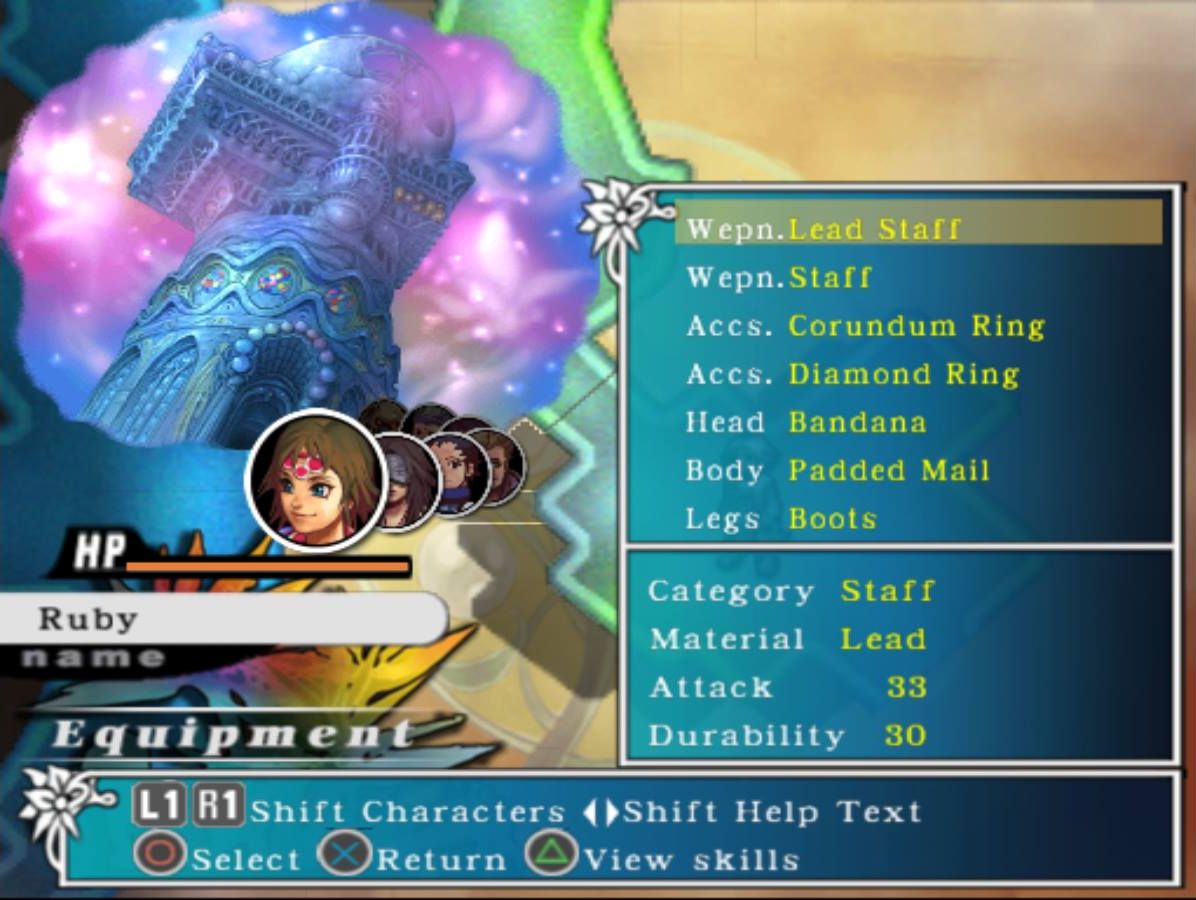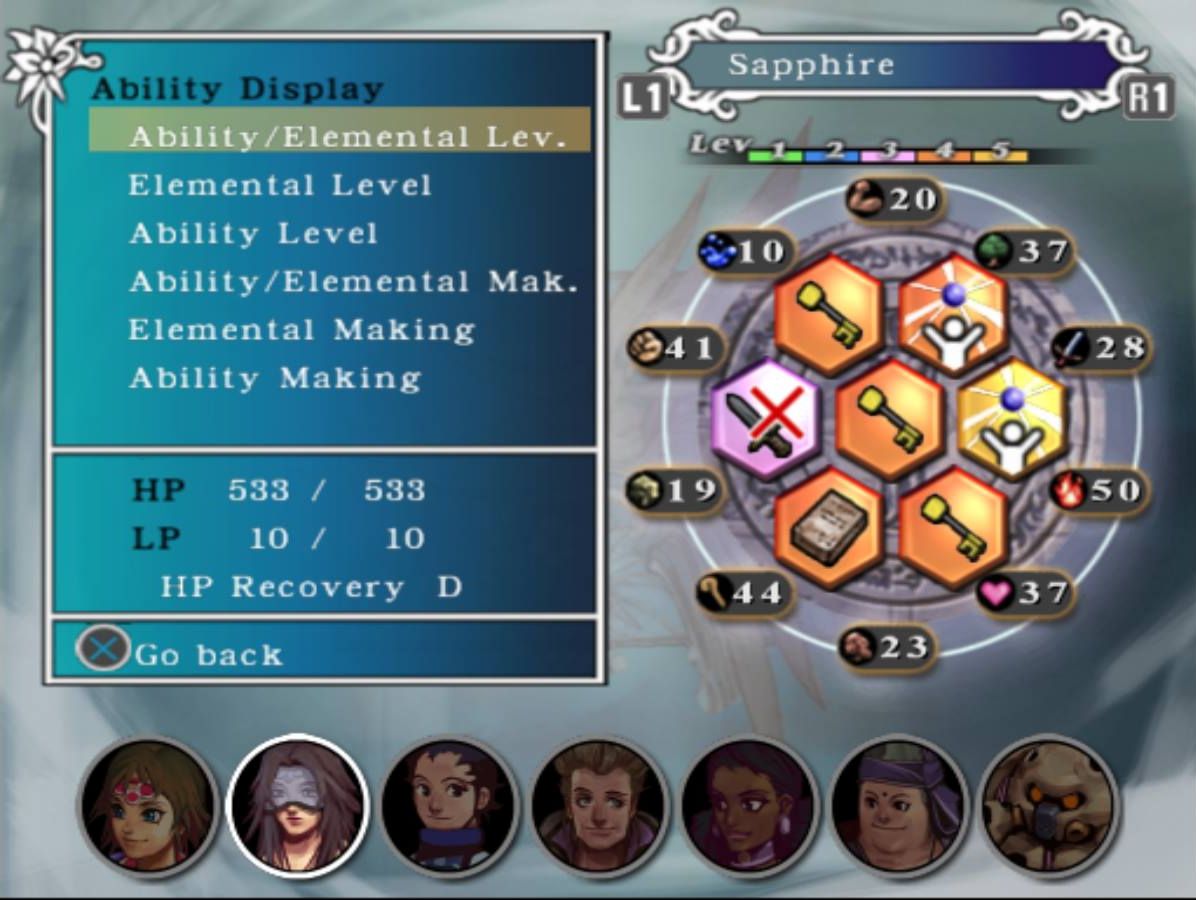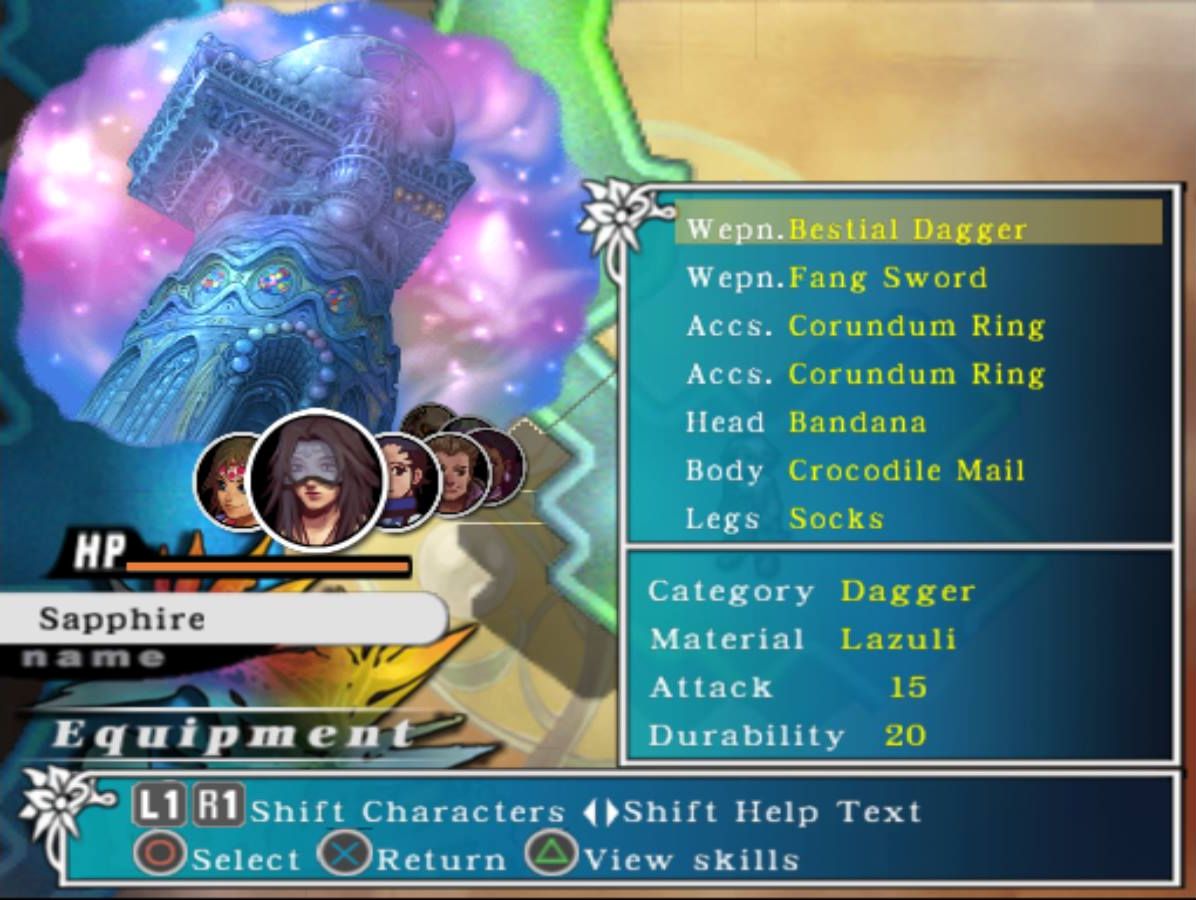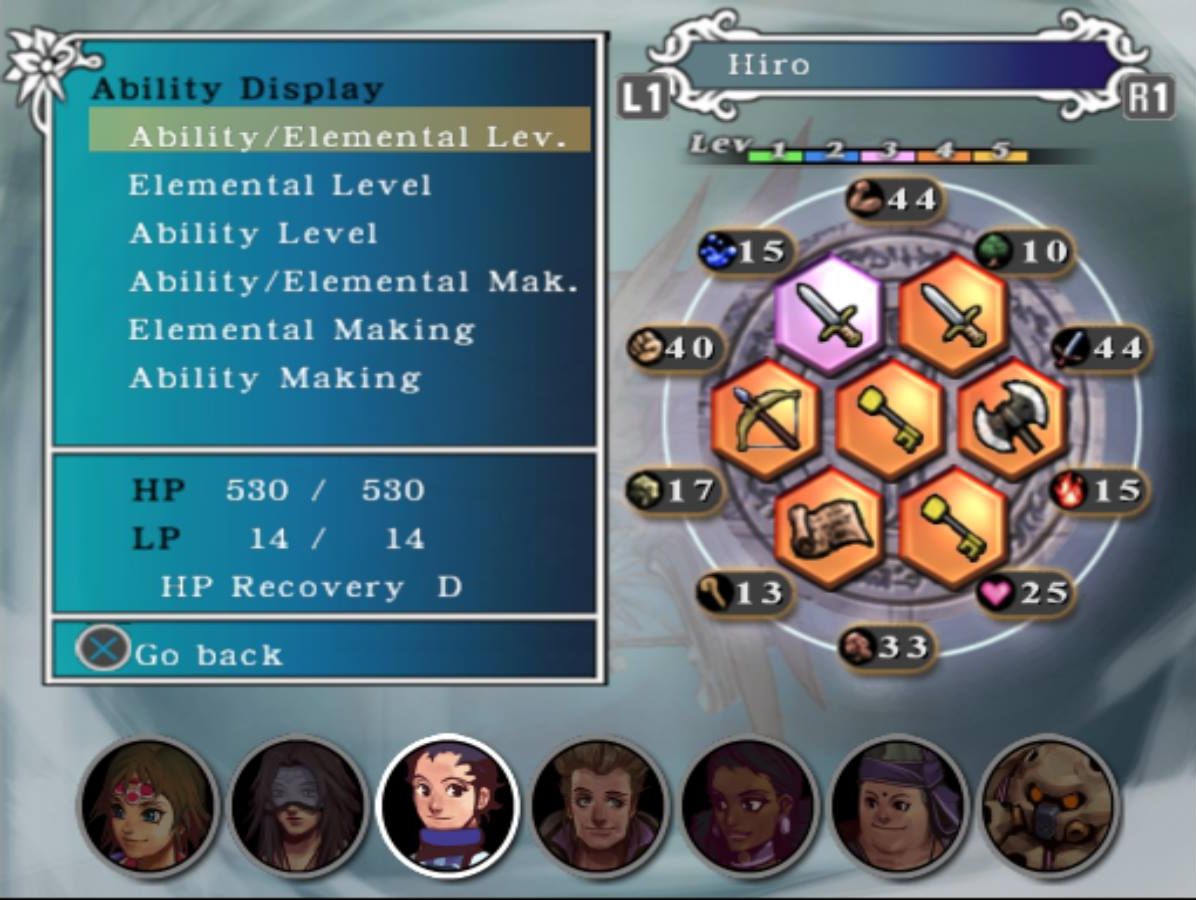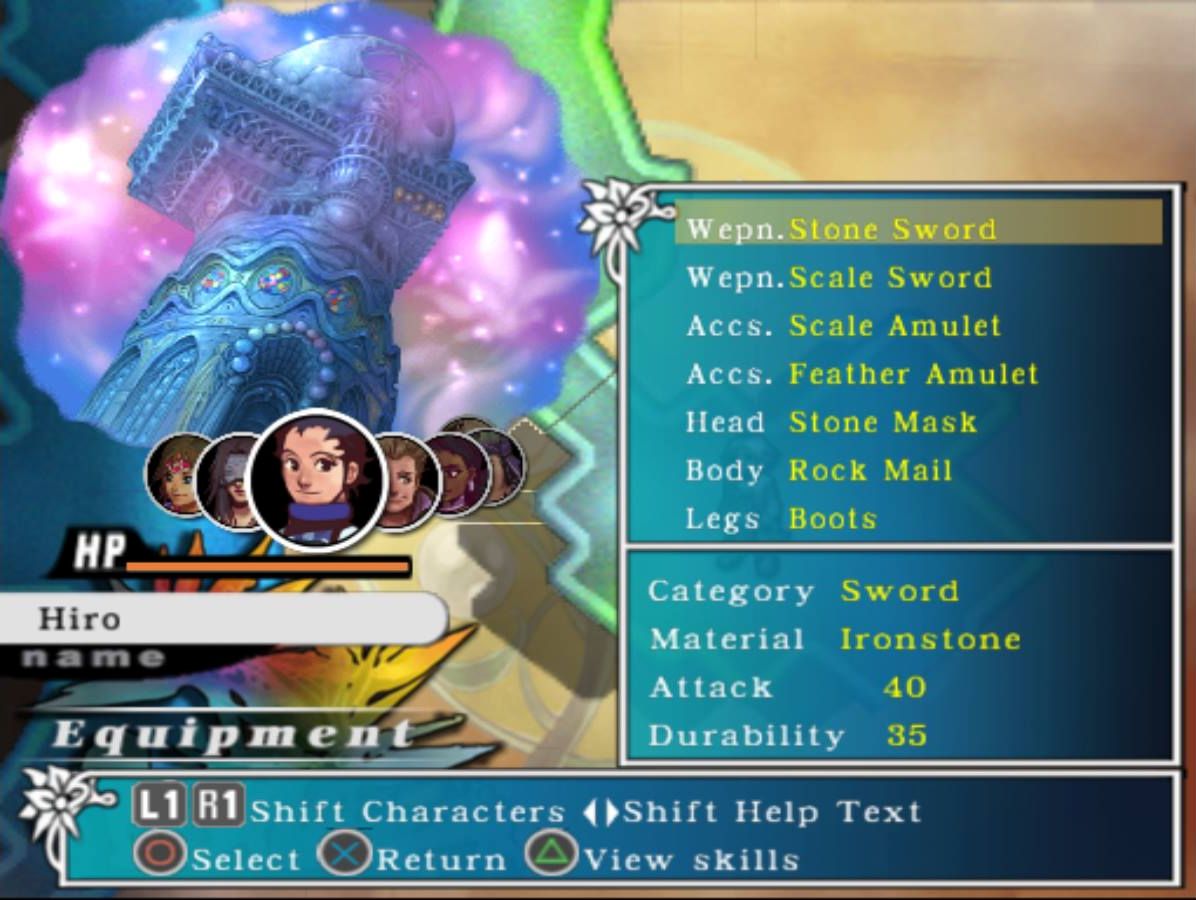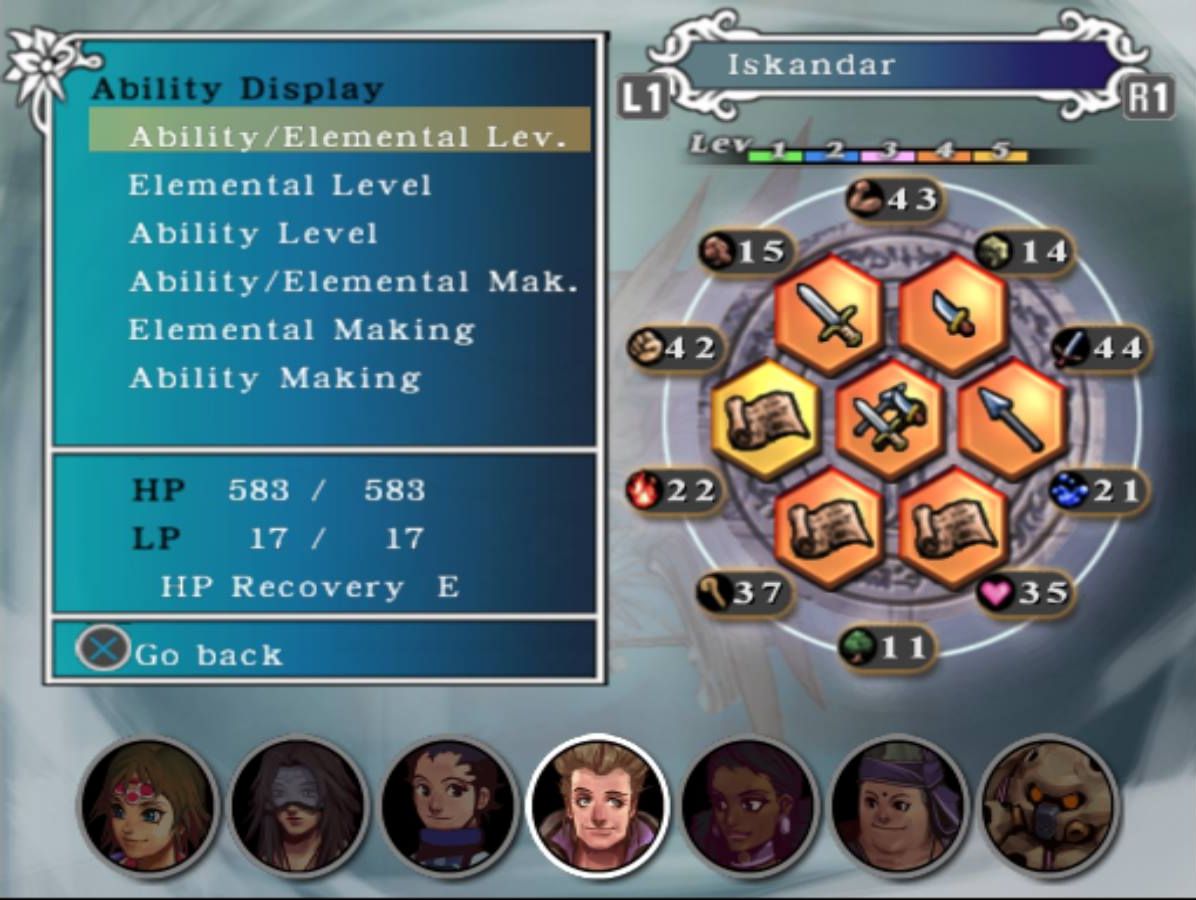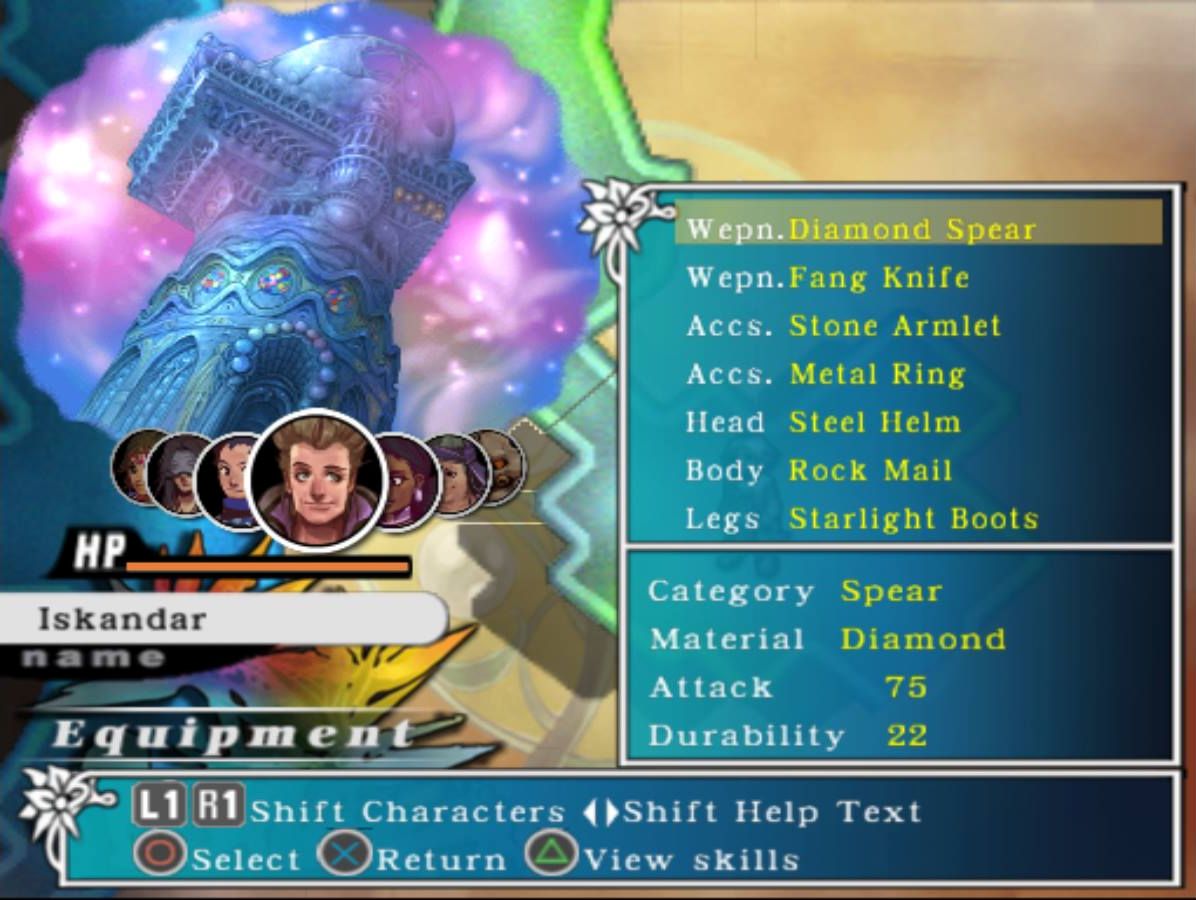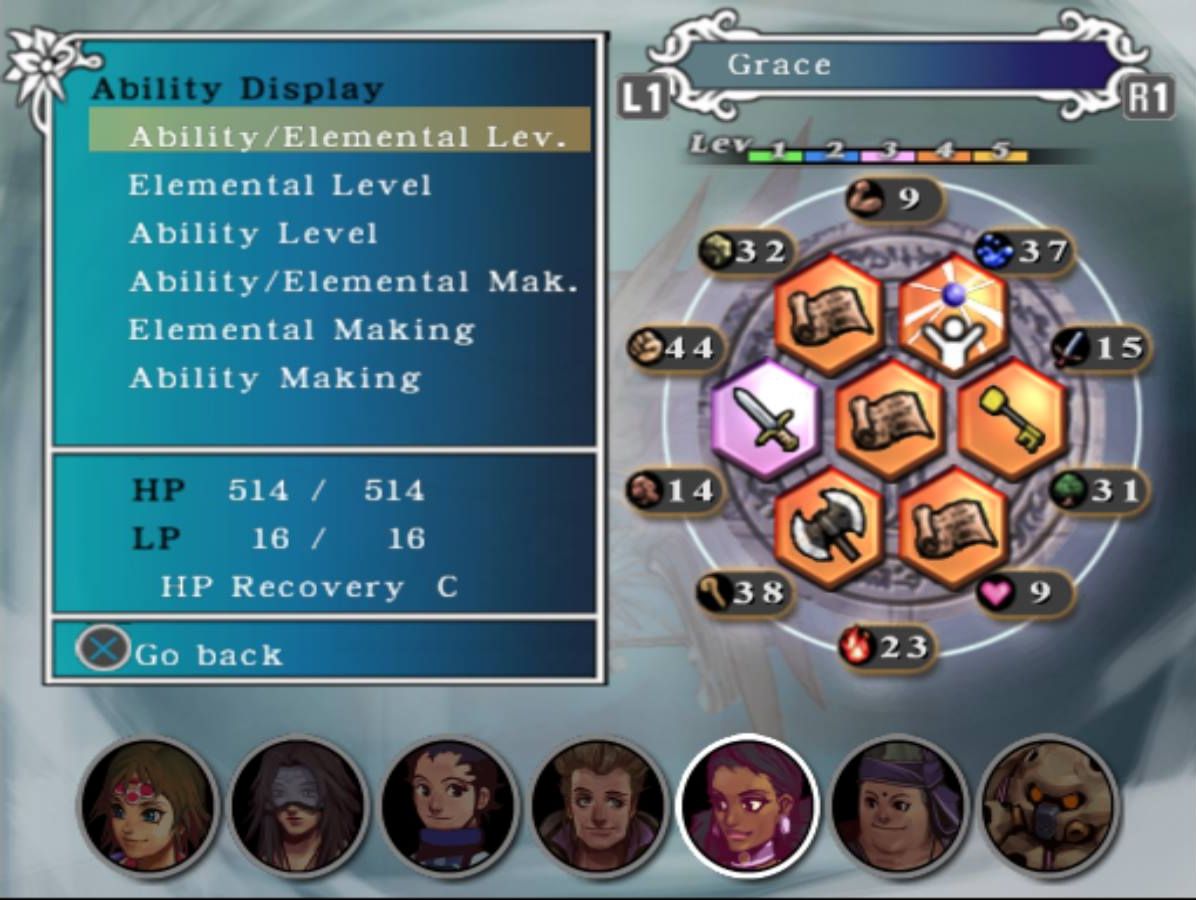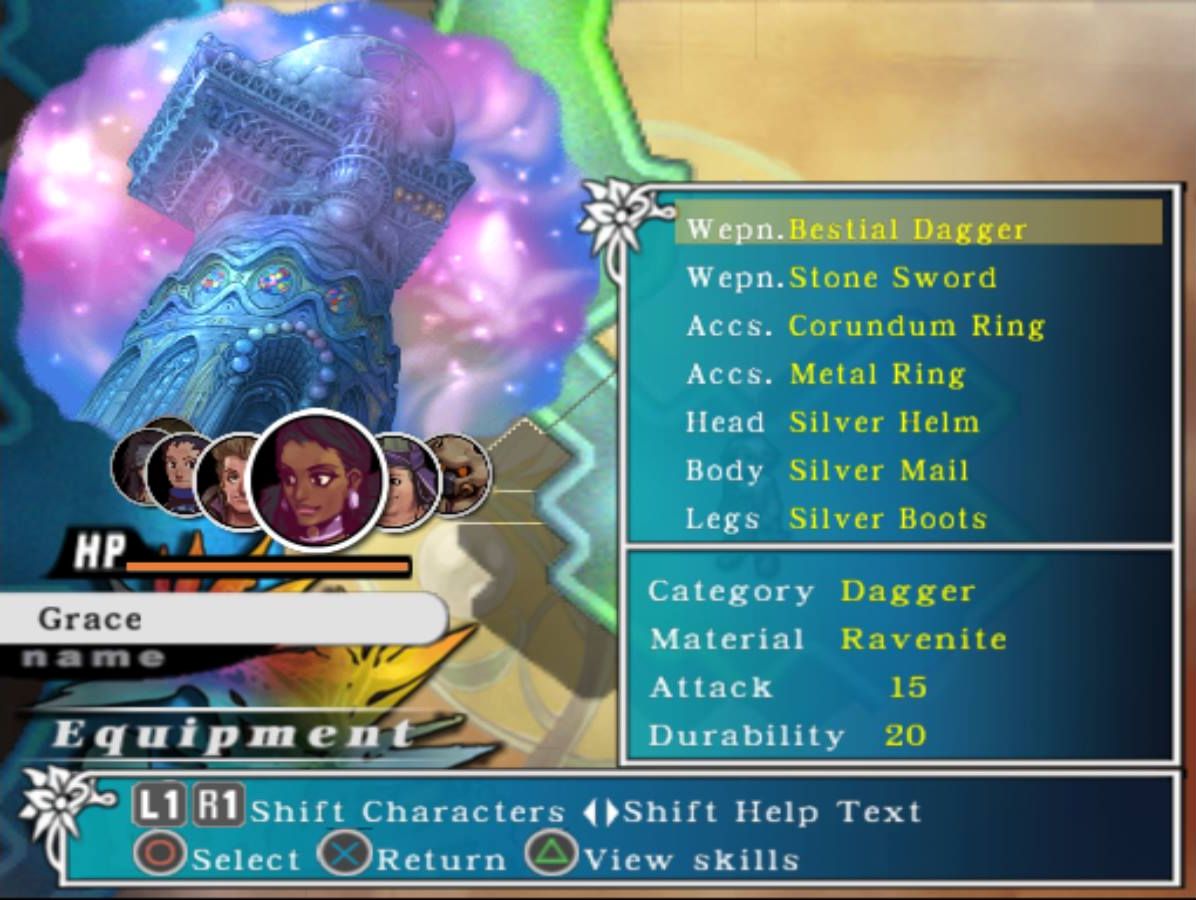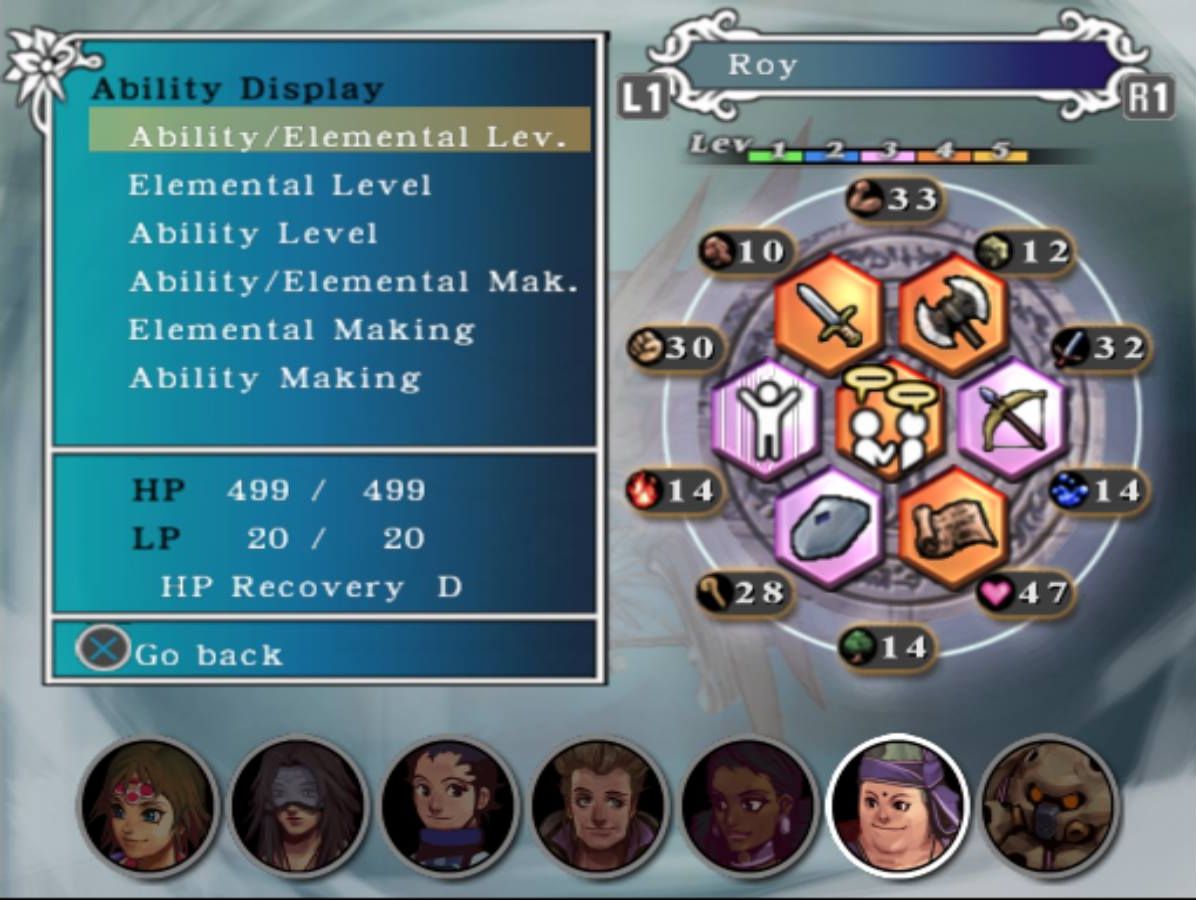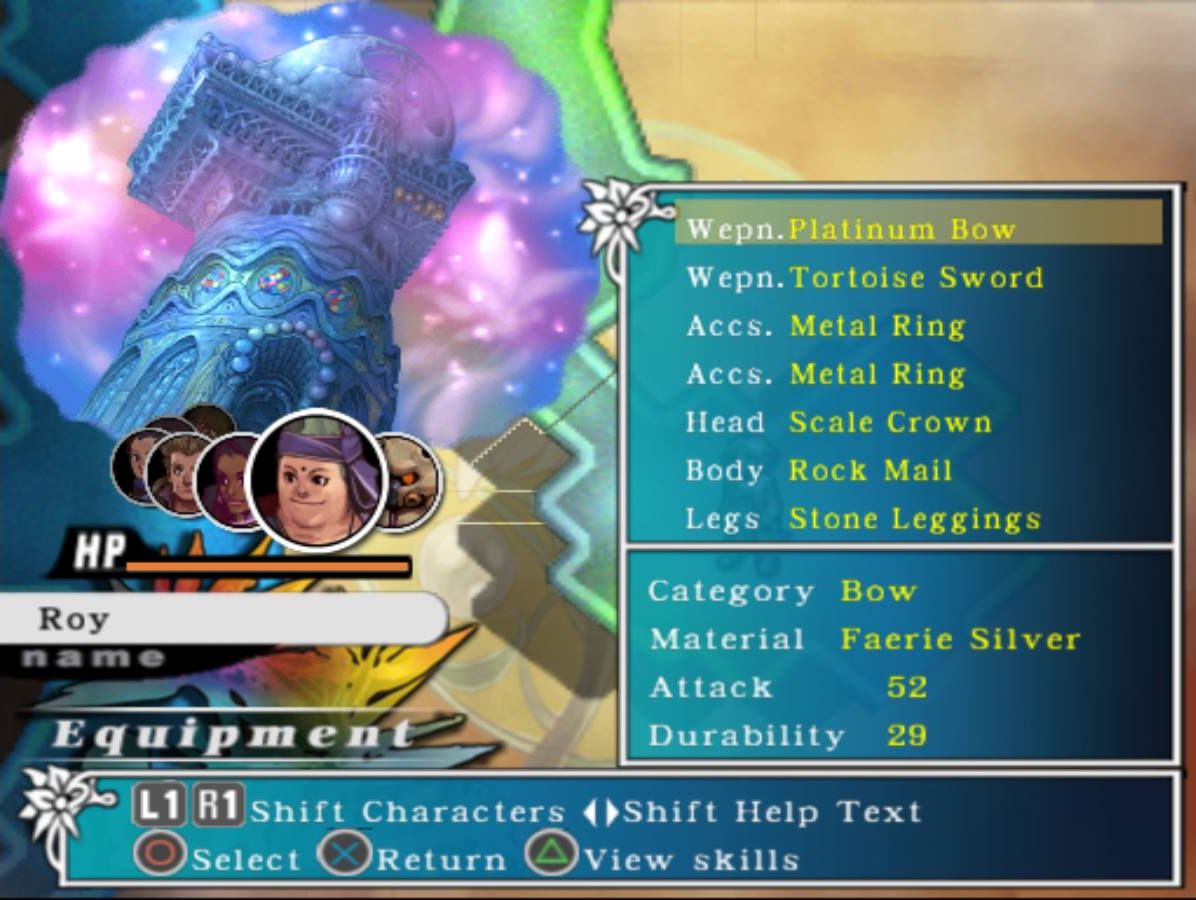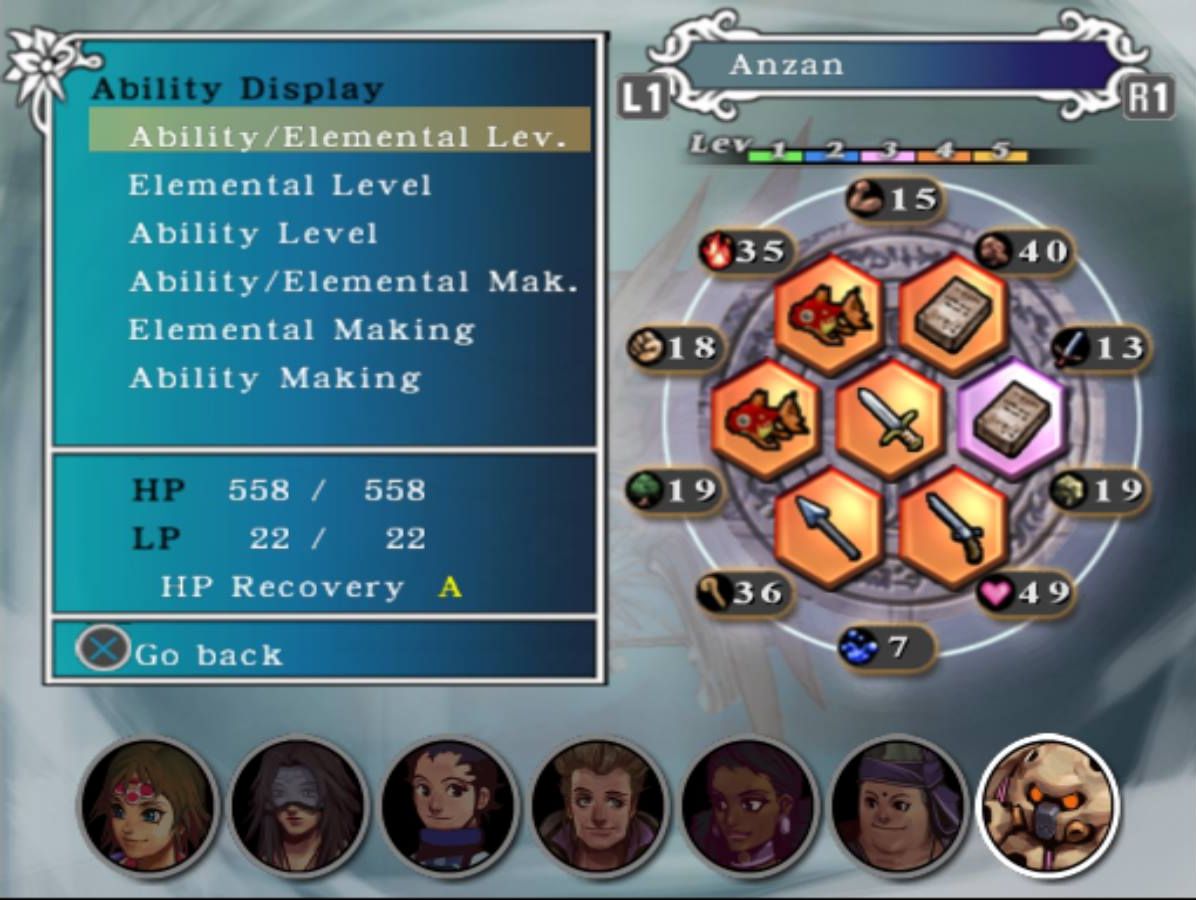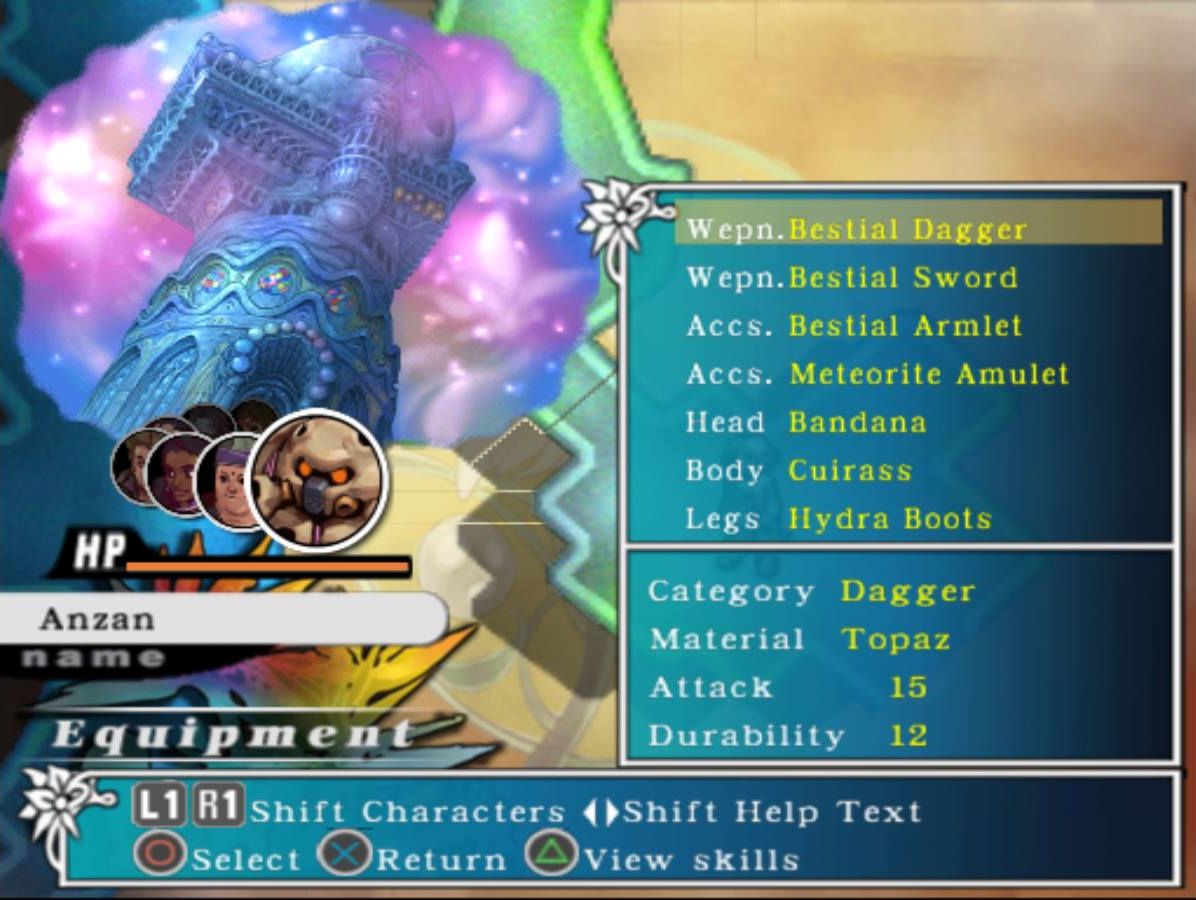 Hopefully I got those all in the right order >_>
Anyway, I know some of this doesn't mean much since some equipment you need to see their abilities for them to mean anything and stuff. But importantly -- I moved Sapphire over to having Water Arts on one of her accessories (instead of Metal Arts) since I wasn't going to need stuff like Shock or Magic Lock, but decided I'd use Trickle (it makes the enemy get 1 less action)... but I forgot to ever use it oops. I was able to bump Grace's water level up by 1 point lol. Everyone else got inconsequential things that just lowered their stats (usually a stat they weren't using, though sometimes endurance or spirit, which is sad to see go, but... not too huge of a hit)
Basically, everyone is built around using a few signature moves:
Ruby - Debuff with staff, and consistent damage with Fire Arrows. I can't use her too much because she's an instant Game Over if she dies...
Sapphire - HOLY LIGHTNING. This ended up being the biggest damage-dealer, but Sapphire is fragile so I couldn't use it too much. I rearranged her stuff to give her a little Wood Support. I could have gotten a little more by foregoing the Water Arts, probably.
Iskandar - DHS, another massive damager, second only to Holy Lightning.
Hiro - Dragontail. A massive help to do big HP damage.
Grace - Ice Needle and Purify. Superb damage and healing Sapphire. So much healing Sapphire.
Roy - 1000 Needles and Random Arrowshot. Good for comboing into others to add some LP damage.
Anzan - Aegis Shield, Armor Blessing, Build-Up, Boulder... He got a lot of signature moves, honestly. Aegis Shield was the star of the show, though.
Anyway, after the Tetra Force, we go to the tower at the end of the garden, where normally a giant bug has a massive nest and attacks us for intruding. But there, instead...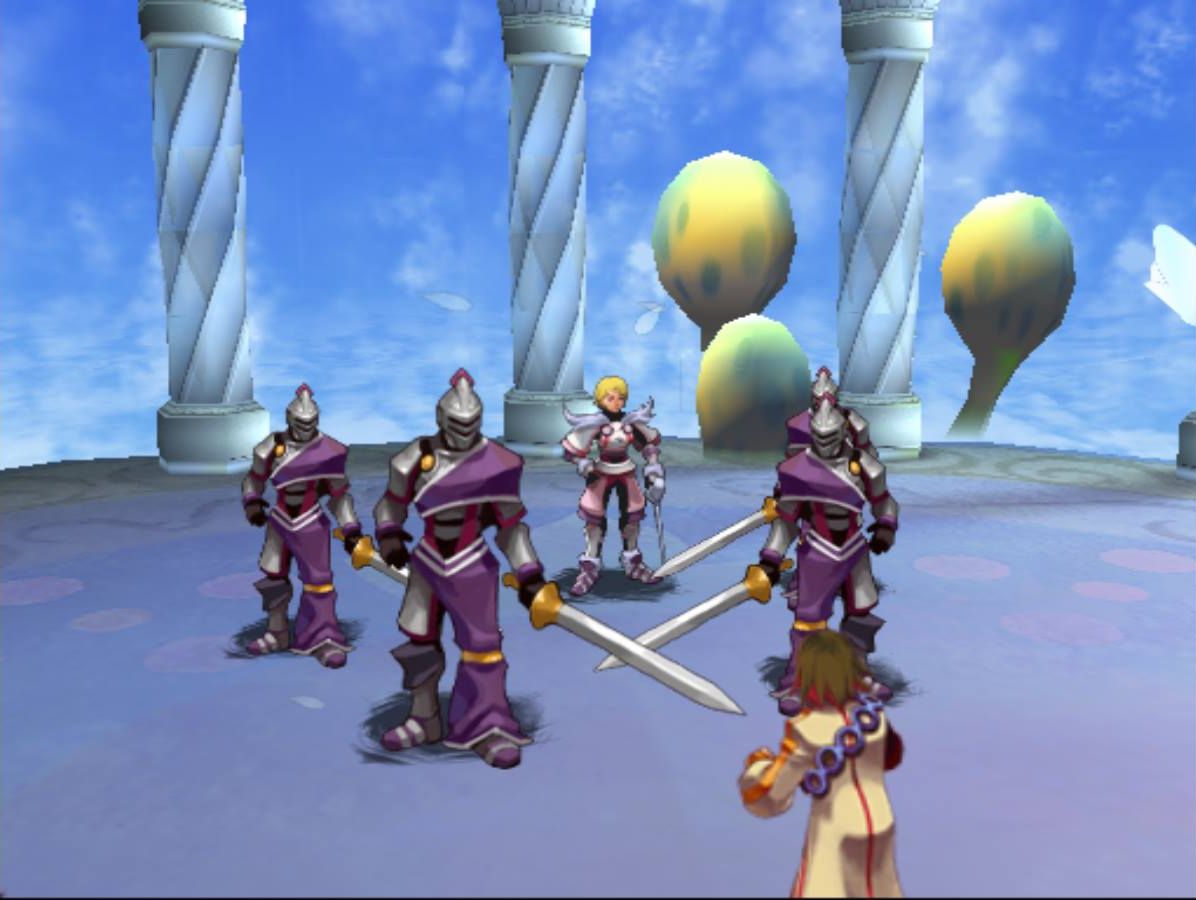 We find Jeanne. At this point I had kinda figured she was going to be the final boss since... there weren't really any other characters. And I knew Jeanne was a final boss... somewhere. But she's important in a few stories so I wasn't sure if it was going to be here.
Jeanne is not mad with power or anything -- she still believes she's saving the world, and she's brought the help of some of her best knights, too. She shouts "For the future of the Knighthood! For the dreams of Iskandar!"
So now we have to fight Jeanne. Honestly it's a bit sad. I really love Jeanne. She makes an interesting final boss because she never really becomes corrupt or anything. Jeanne is a good person who wants to help everyone -- she just honestly believes that you are evil and after the power of the Wonders in order to hurt people. Her paranoia and strong loyalty to her duty to protect others is what led her here. Not greed, corruption, manipulation by an outside evil force... Jeanne is here because she's a hero. A frightened, and misled hero. Honestly wouldn't it be cool if she was a playable character?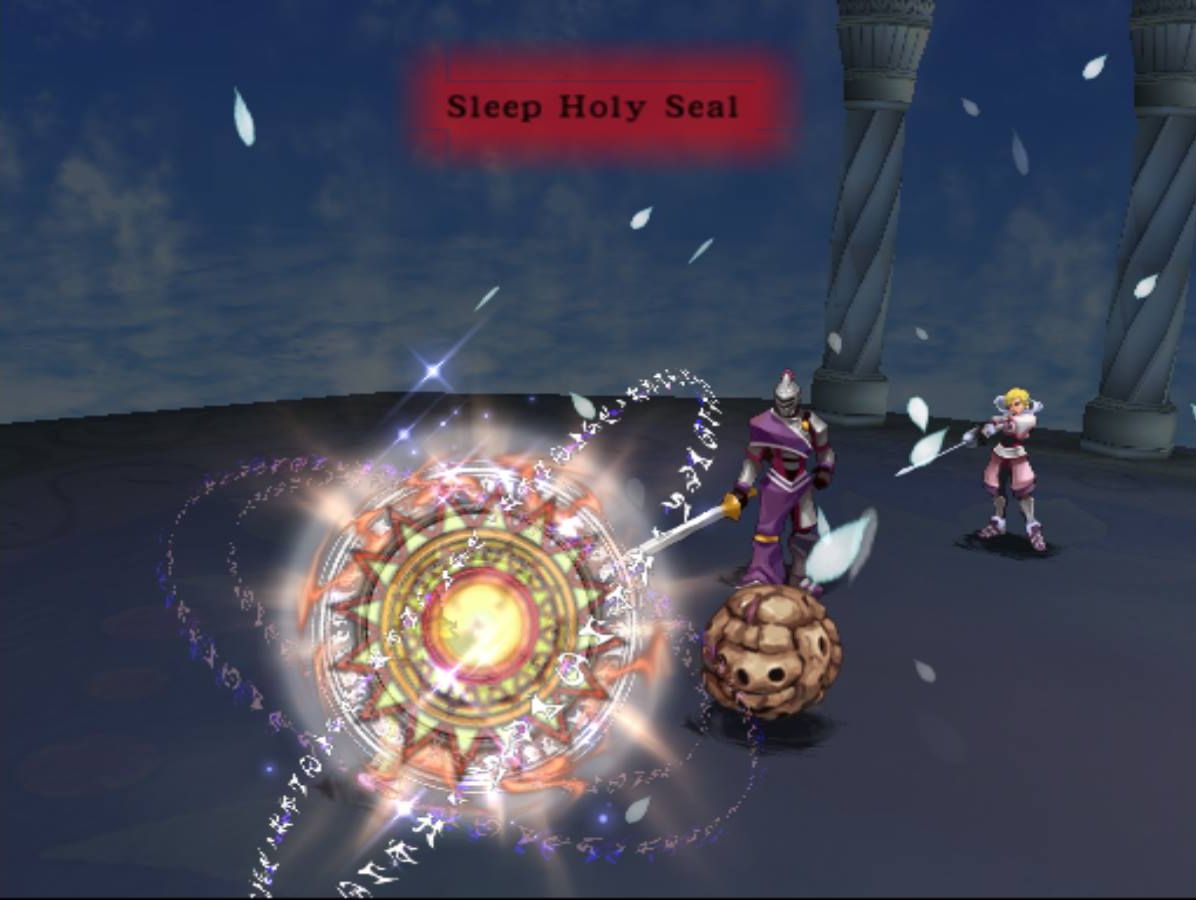 Jeanne's knights have access to Sleep, which is a bit terrifying. They used it a few times, but no one fell asleep, thankfully. I don't think everyone had a great Endurance stat, but I managed to get by.
Jeanne also has access to some strong magic, like Holy Seal. That was Sapphire's signature for a while, but she's moved up in the world. Eat your heart out, Jeanne, because we're bringing the thunder.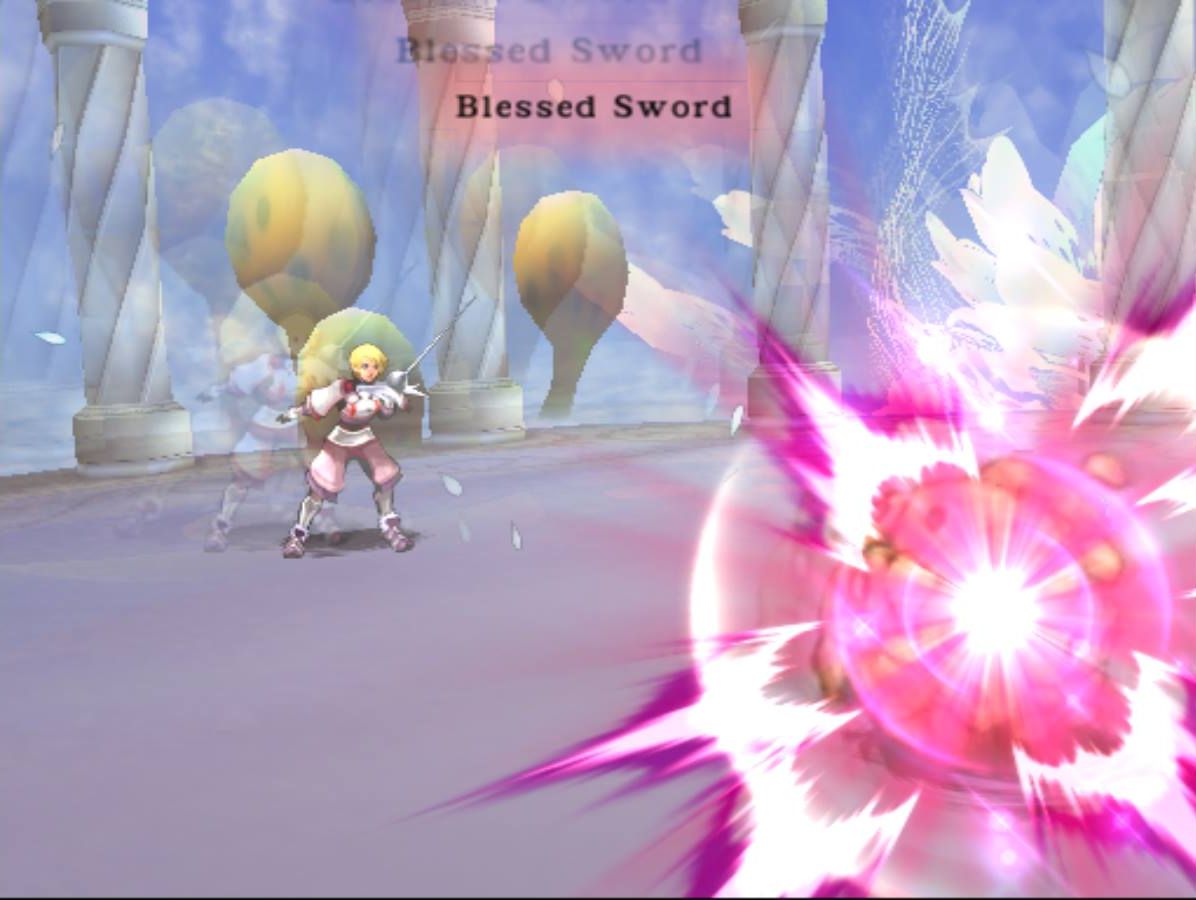 Jeanne has some nifty sword arts which look neat and can dish out a lot of damage, but all of them can be parried. Anzan had Aegis Shield, a magical shield that can sometimes block any attack with a physical property, and he had a L4 sword panel with a sword in his off-hand to parry with, so he had two "chances" to block every attack aimed at him. Combine this with Grace's ability to restore his HP to max with a single Purify, and Anzan had the ability to stand in the front of the formation for the entire fight without ever needing to rest.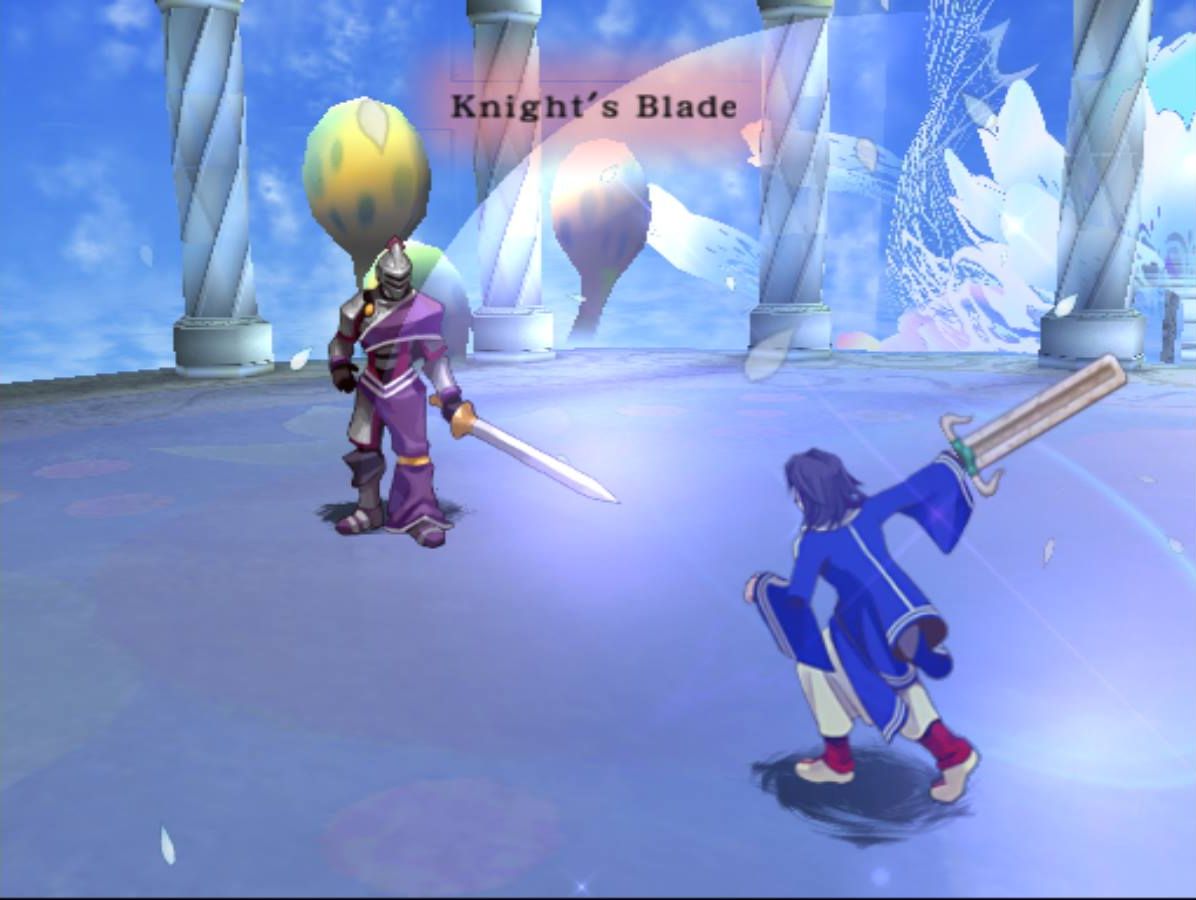 Everyone was equipped with the item that would most likely allow them to parry attacks, and thankfully so! I didn't realize it was going to come in so useful. Here's Sapphire's pretty cool parrying animation. I love her loose clothing, honestly. And there's something awesome about seeing Sapphire whack away an incoming blade. (Parries are like the most exciting thing ever. I want to cheer every single time. And they happen a lot. But I still love them. It is the BEST feeling ever seriously. If I could choose between watching a combo of 7 enemy attacks get parried back to back by the whole party versus an orgasm, I'd choose the parry combo. It just feels sooooo goooood)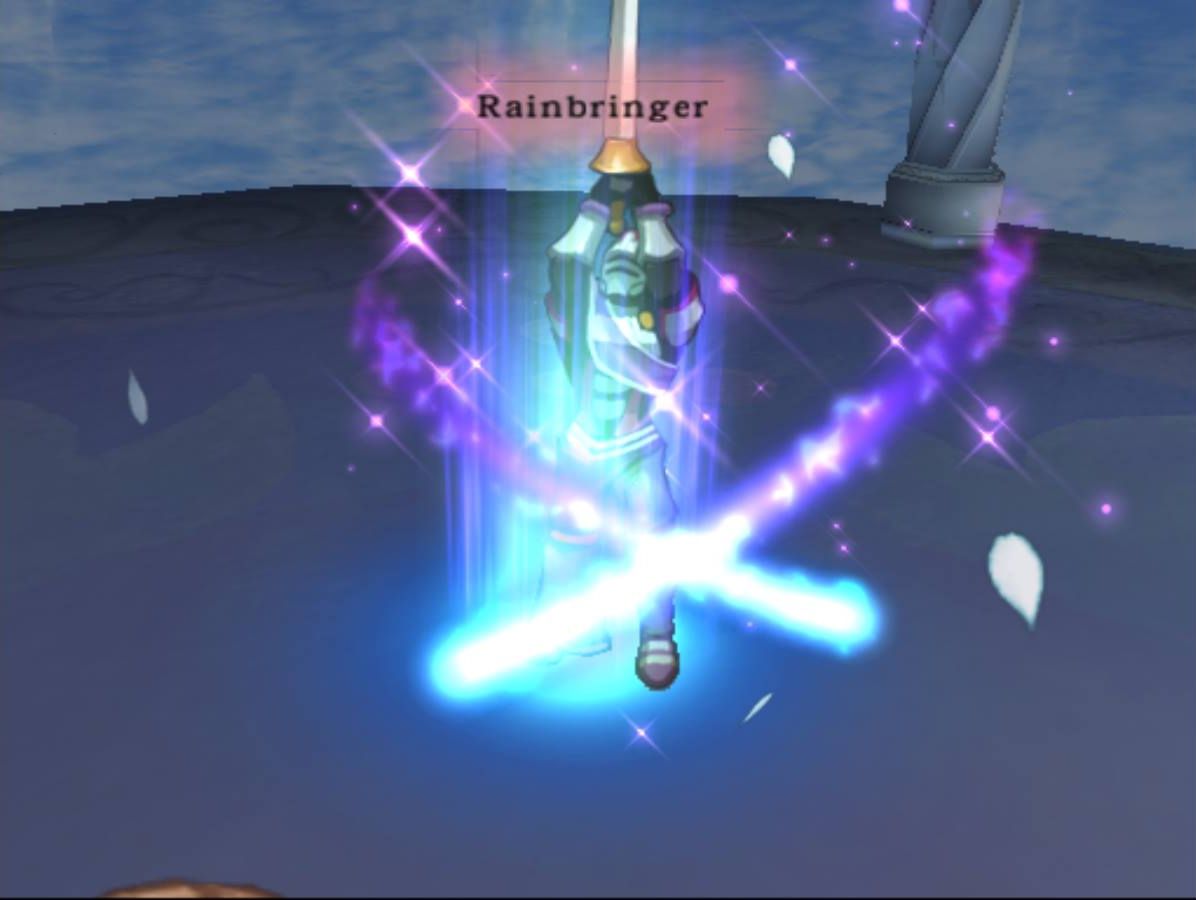 Jeanne specializes in water magic arts, it seems, as she also had access to Ice Needle (eep!). And her knights try to buff her by repeatedly casting Rainbringer. Rainbringer greatly pushes the elemental field toward water, which affects everyone, and increases the amount of water panels on the reel when you roll for magic. So they were trying to help Jeanne, but what they were really doing was turning Grace into even more of a powerful BAMF goddess.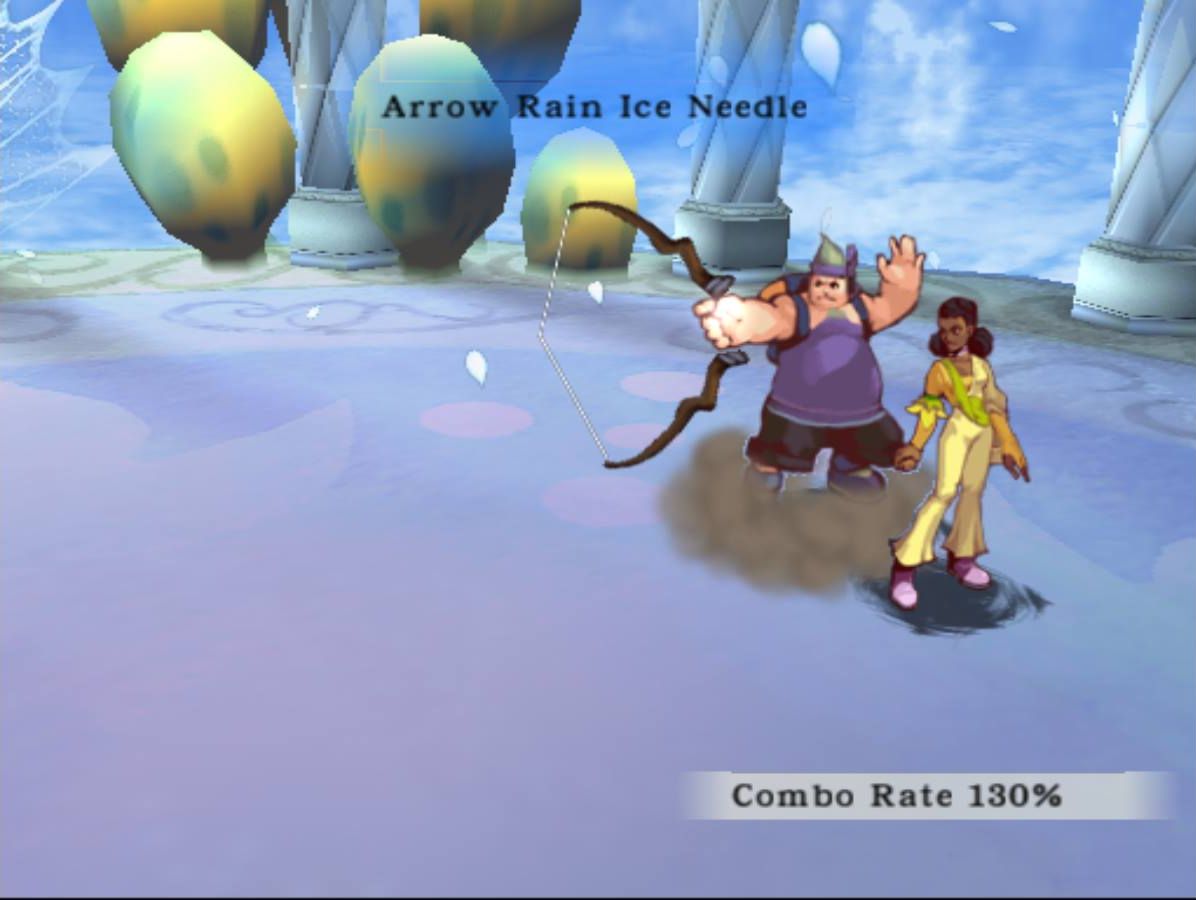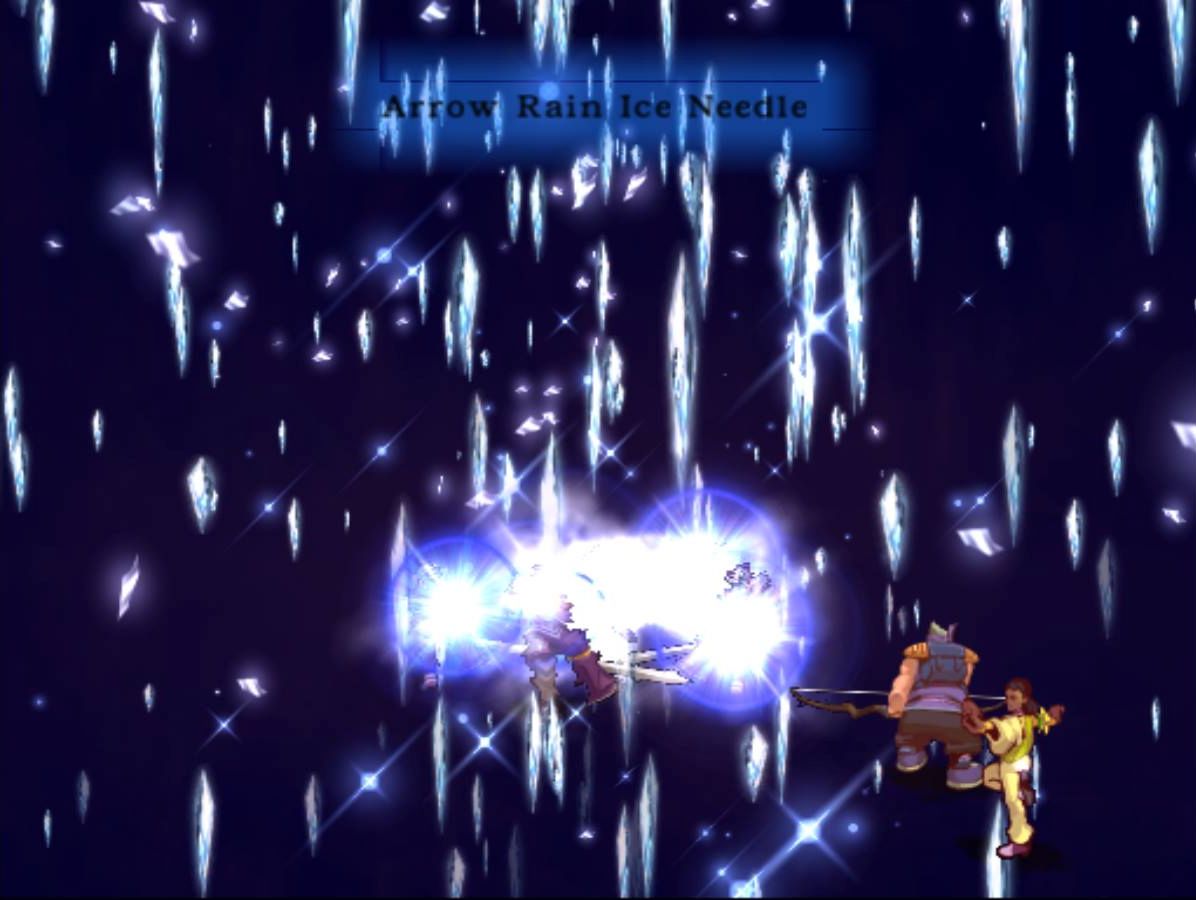 Seriously, just a little combo with Roy and...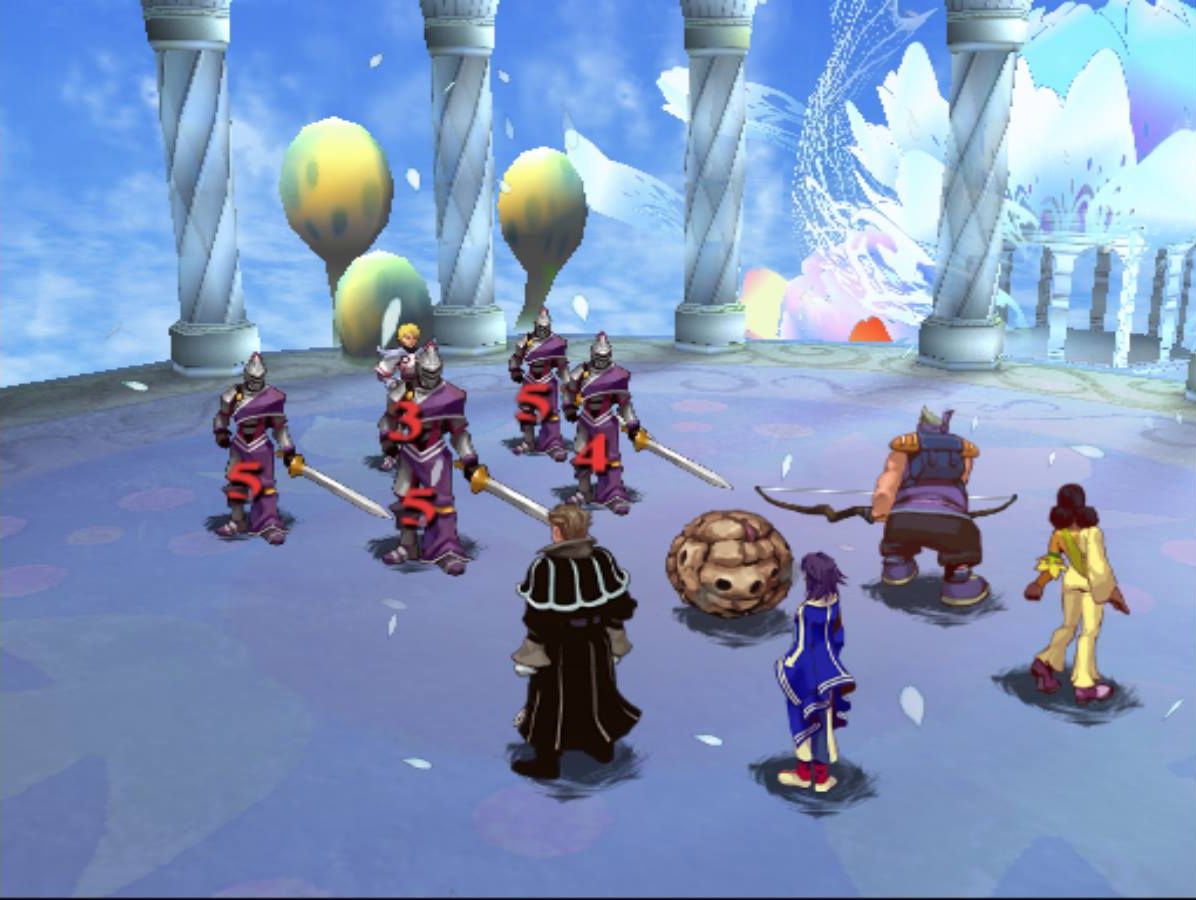 Totally wrecked. There was something very satisfying about watching all four of her knights die at once, hahaha.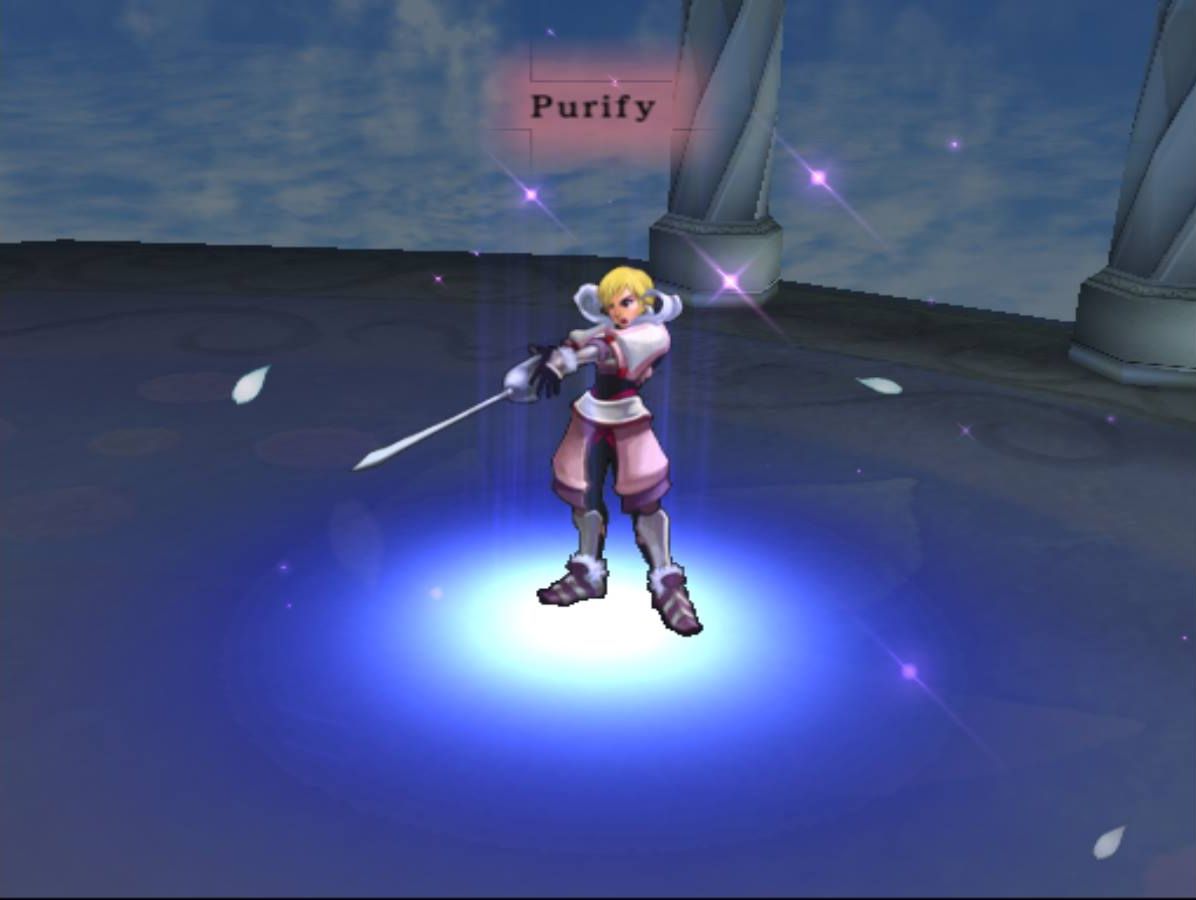 I guess I should have seen this coming, since Jeanne specializes in water arts, but she can heal herself...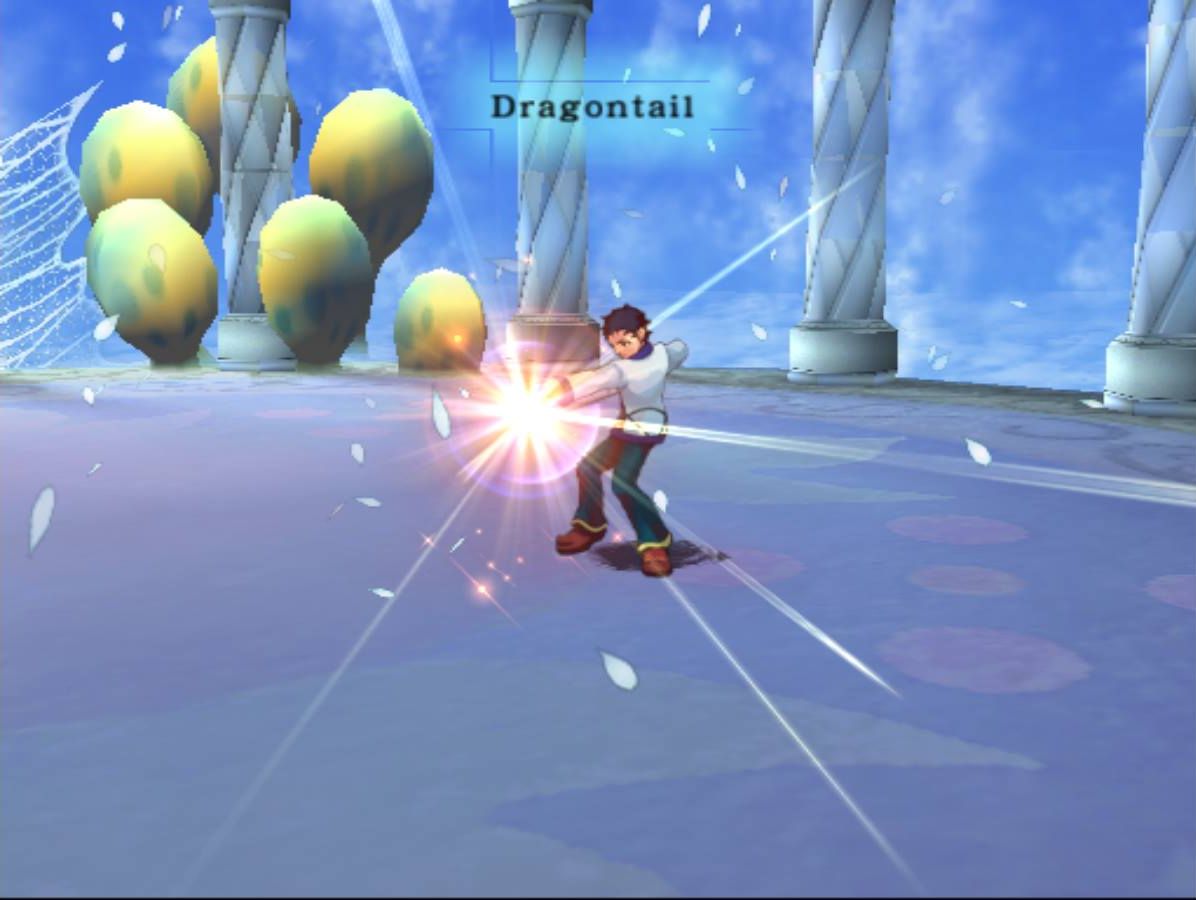 But Hiro can negate that heal with a single swing of his sword :P
With Jeanne near defeat by Ruby and friends, she uses the last bit of her strength and determination and the power of all the Tetra Forces collected in one place (Iskandar, you dolt. You probably didn't even need the one Ruby had to get up here...) to call upon the power of the gods that was lost at the end of the Golden Age.
But, what no one knows (actually Iskandar probably does)... Is that the Seven Wonders do not hold the power of the gods like legends tell. They're holding back the power that the gods sealed away...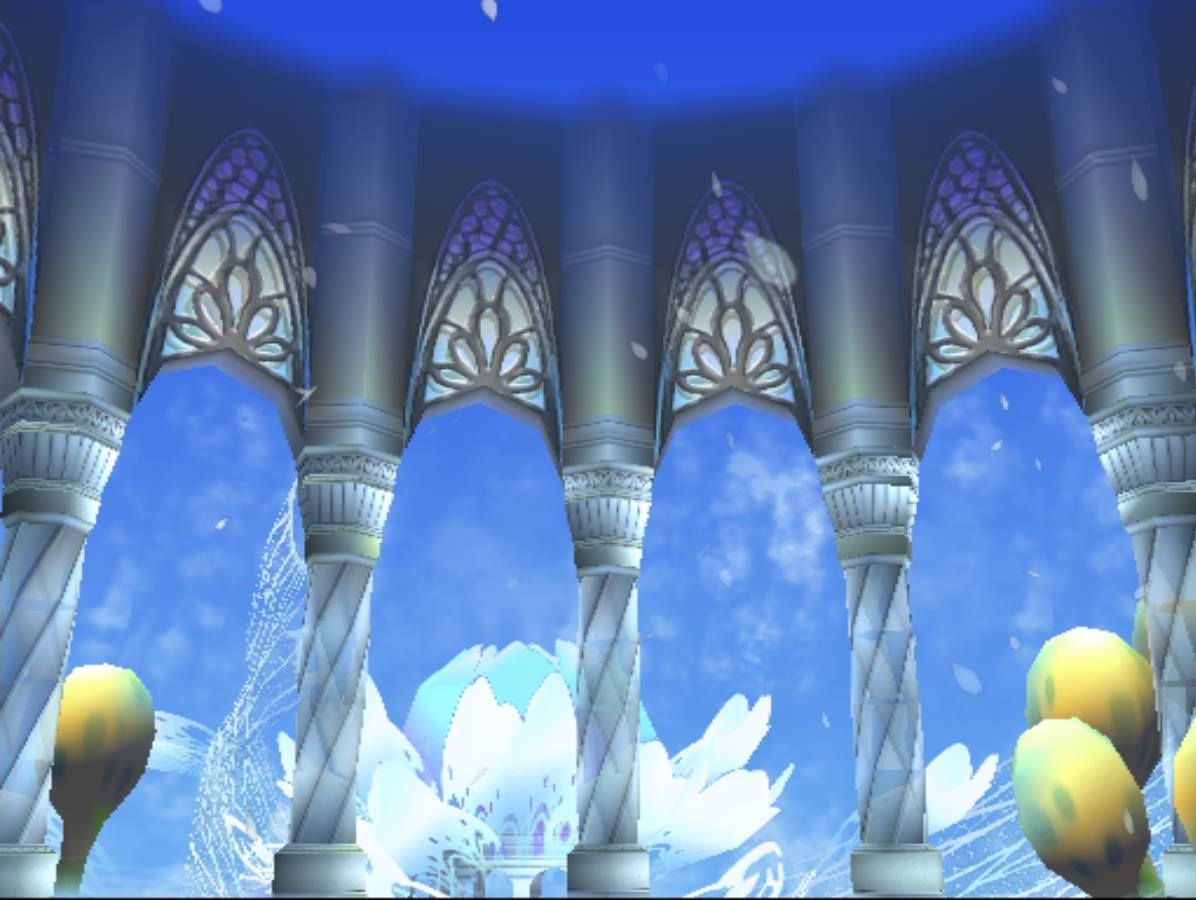 And so everyone jumps to the moon. I'm not even kidding, like... they just JUMP STRAIGHT UP and then land on the moon. I've never understood this part. This happens with every character... you jump to the moon.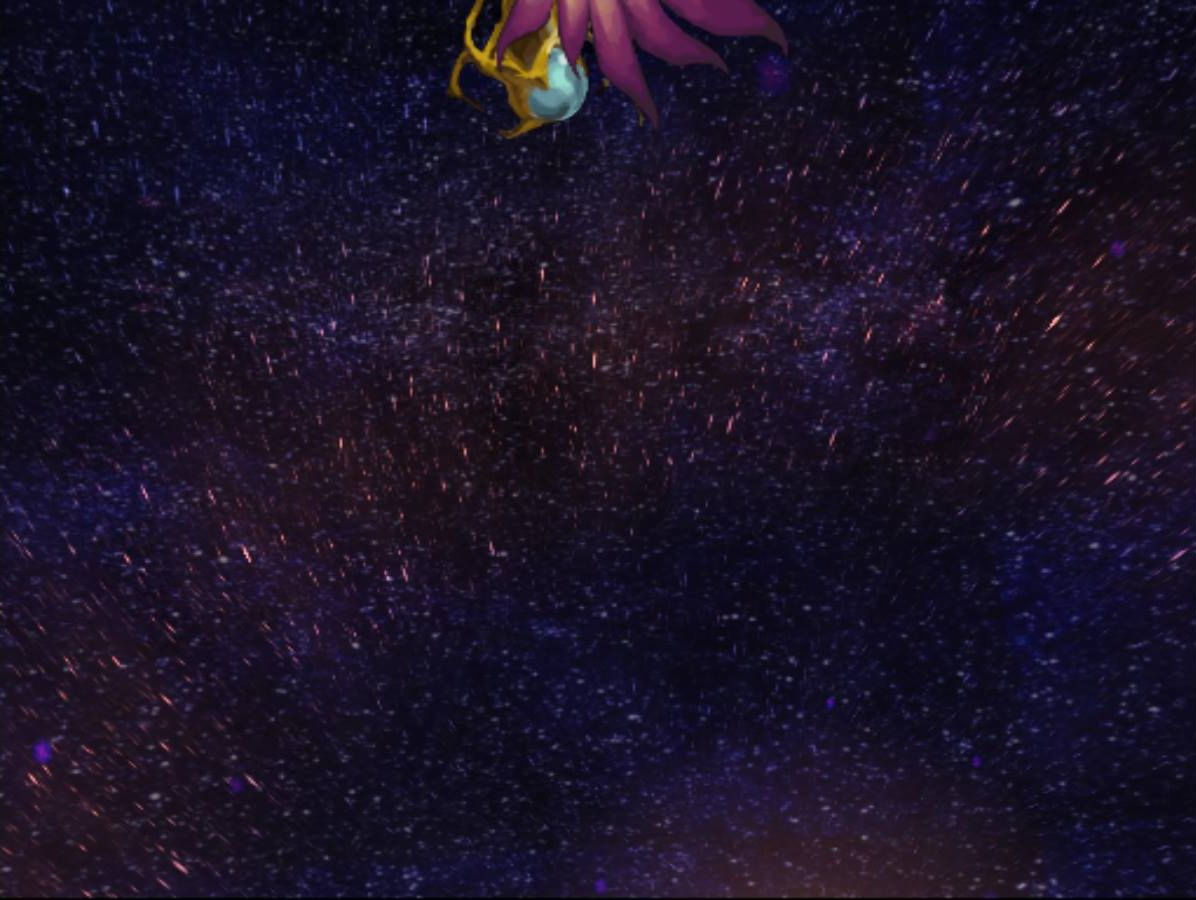 Here it comes...!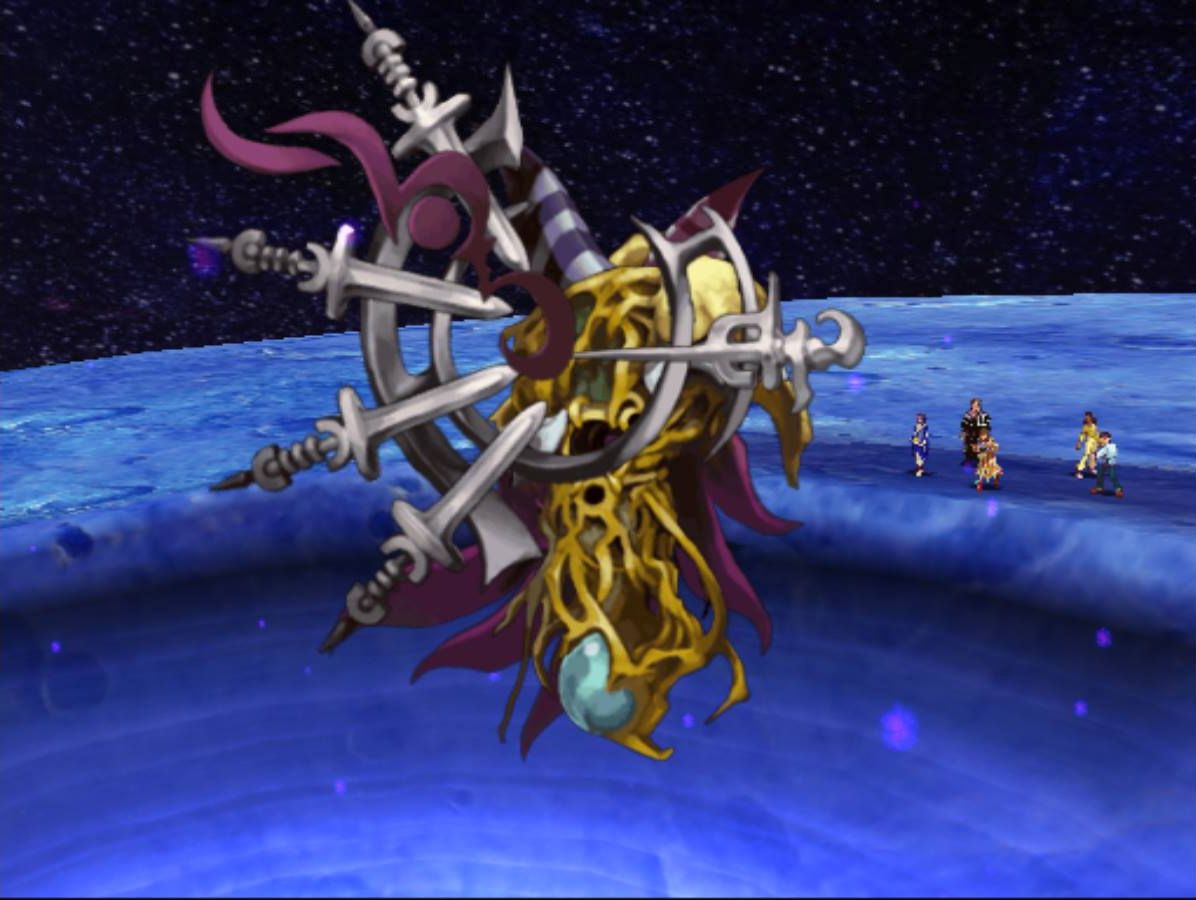 That is one huge baddie... haven't seen anything this large yet. Of course it makes sense the final boss is the biggest, right?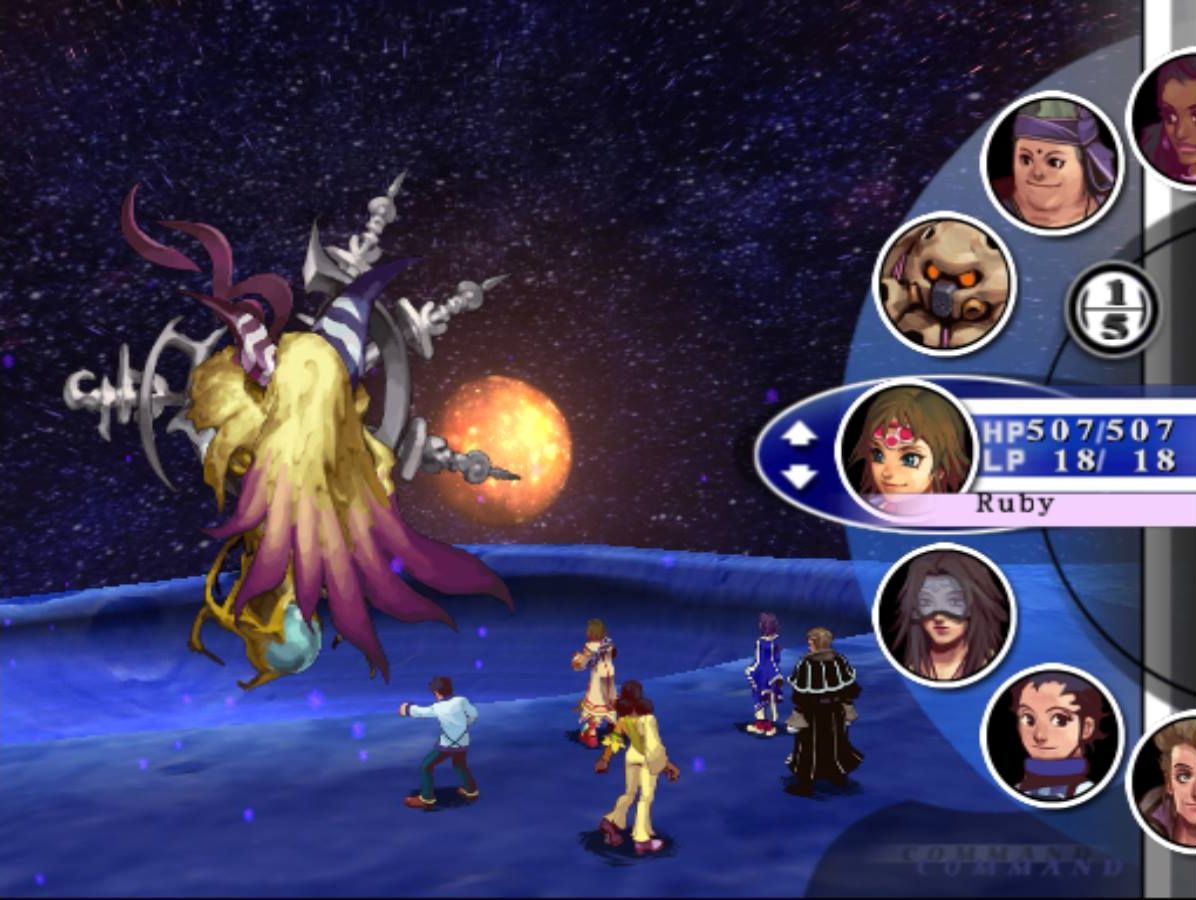 Here it is, Chaos. The true power of the Seven Wonders has now been set free, and it has Jeanne's soul trapped inside of it. Because of this, Chaos not only has its own set of abilities, but Jeanne's as well, meaning it has access to some powerful sword techniques (let's parry 'em!) and advanced water arts like Ice Needle.
One thing that is really fun about the final battle in everyone's story is that each character gets a special voiced line. You'll hear one at the beginning of the first seven rounds of combat. Ruby, of course, starts, with, "I don't need YOUR kind of power! Take a hike, will ya?!" Yeah, spunky kid. She tells the most powerful force existing in the universe to "take a hike."
Hiro says, "I knew I shouldn't have come with Ruby!" in a whiny voice, hahaha. Anzan says, "I will stand my ground," and it sounds cool. I cried because I love Anzan so much and I get so overemotional about everything ever. Like I mean I just got misty-eyed lol.
Sapphire asks, "Is this the end of everything, or... the beginning?" referring to the fortunes she and Ruby told before coming. I guess she's still not confident about Ruby's reading.
Grace says, "The order of the universe will be disrupted! Will Chaos triumph?!" Which um... WHY DOES SHE KNOW WHAT IT IS???? Grace is a huge mystery and I'm going to be so disappointed when Mythe's story explains absolutely nothing about her and why just just KNOWS stuff like this. She also knew about Tagut, too. (BTW it's not the same actor, but Grace's voice sounds a bit like Pearl from Steven Universe sometimes)
Iskandar says, "Only humans have the power to change the world."
Roy just says, "Ugh, how'd I get caught up in this mess..."
ANYWAY, chatty characters aside, here's how the battle went: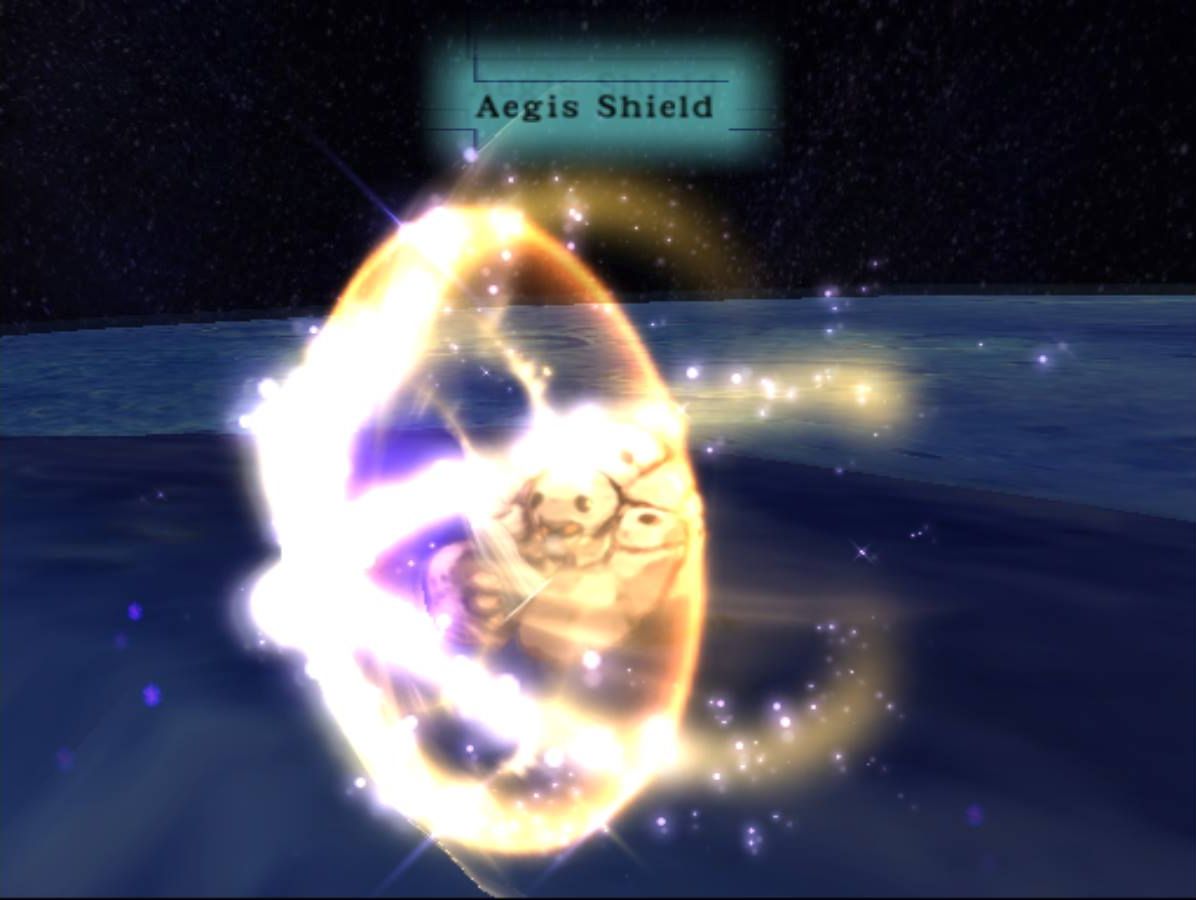 Aegis Shield was still nice here, getting me out of many sticky situations. But Chaos's attacks, while most of them actually can be parried, have a pretty low deflect rate, so even though Anzan gets two deflection chances, he often just got smacked with attacks anyway. And unlike Jeanne's blades, these things do massive damage that can drain any character to 0HP in a single round of combat. Though Ruby's Drag Down with her staff helped a bit (yes, debuffs even work on the final boss!)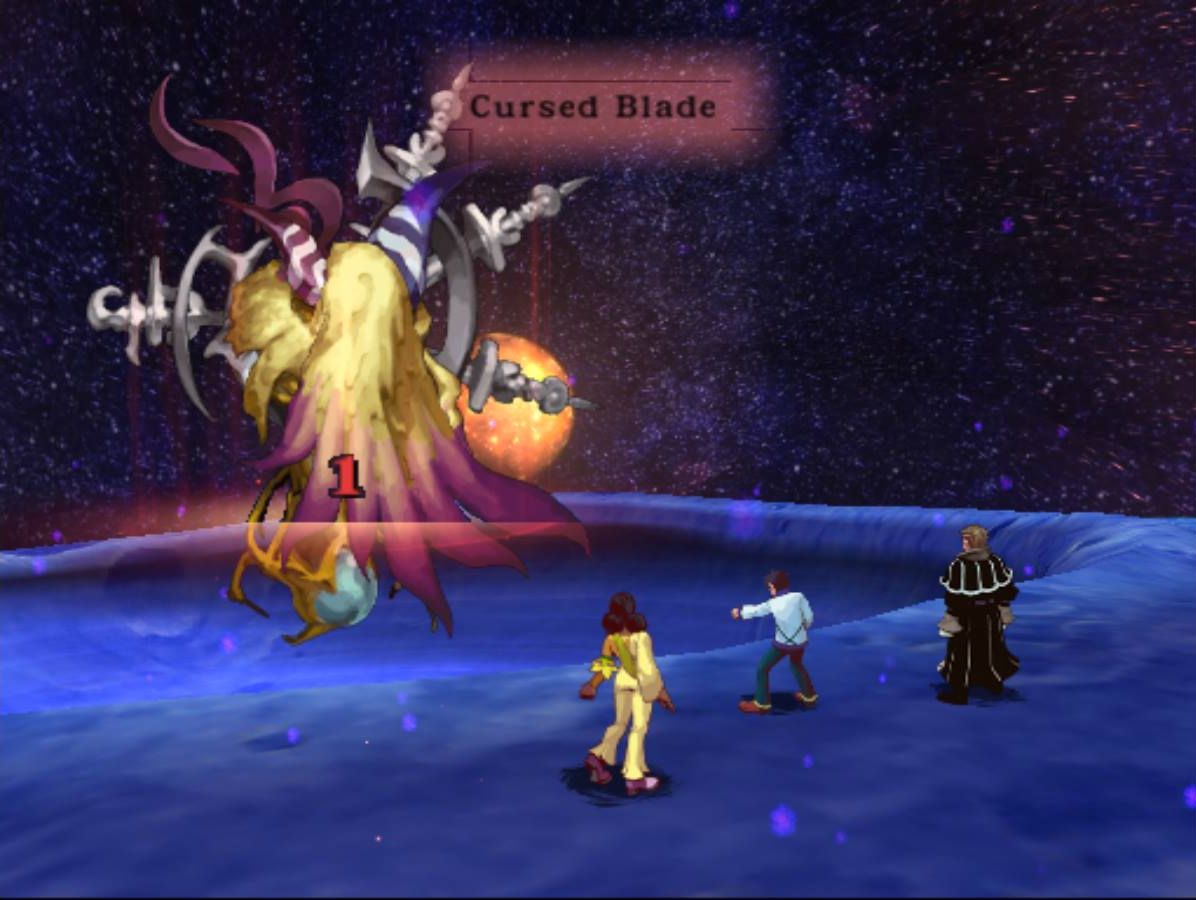 Grace was the first to deal LP damage. It took a while to get to this point, but once you get here, you can do LP damage consistently as long as you continue to damage Chaos every turn. His HP is still massive and he can recover a lot between turns, so you need to keep hitting him.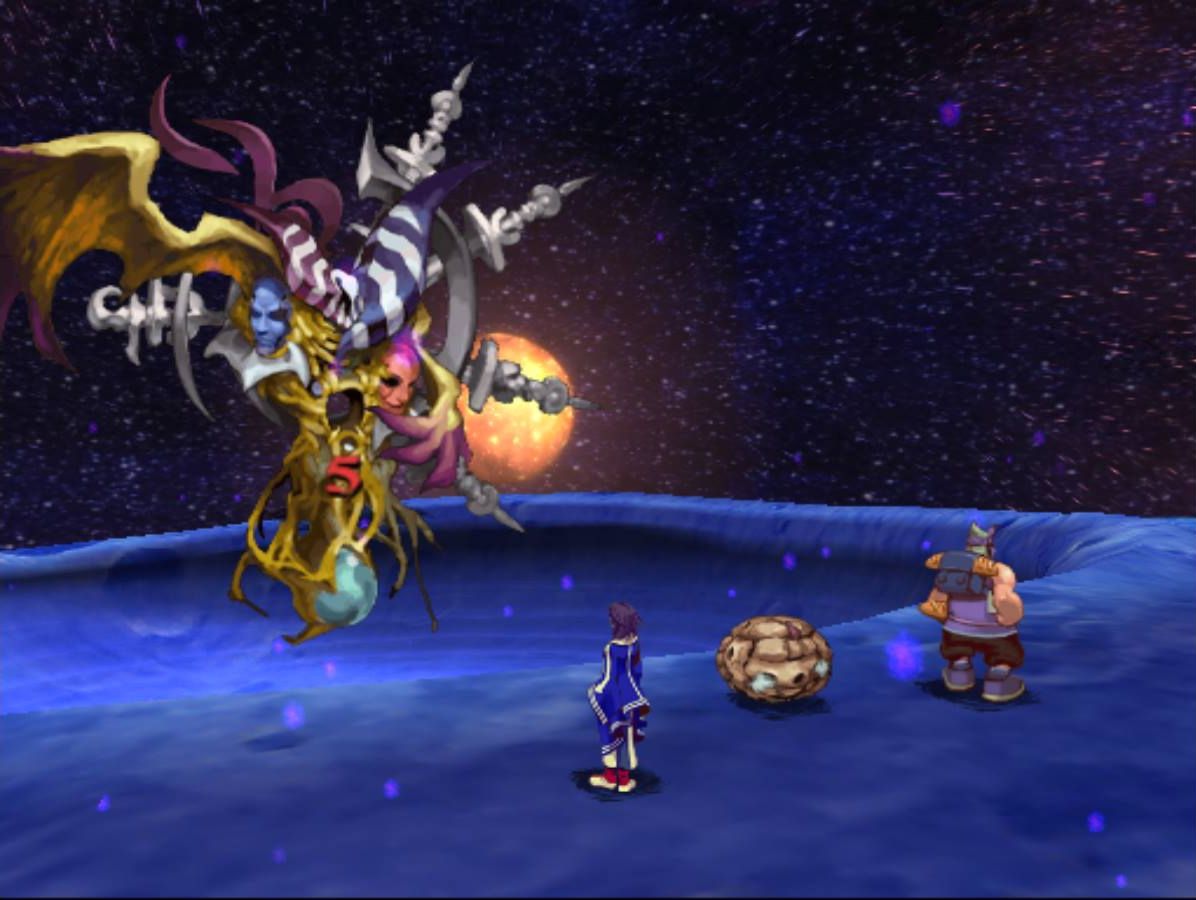 Eventually, Chaos will shift to other forms. Each form has about 20 LP each. This 5 LP damage was the only time I did that much, and it was only because I managed to combo Thousand Needles into Holy Lightning.
Also, when Chaos moves to a new form, he gets more and stronger attacks, more actions per turn, stronger stats, and a new set of LP. However, he doesn't get a new set of HP! So you can continue to move through his LP pretty quickly as long as you can maintain damage.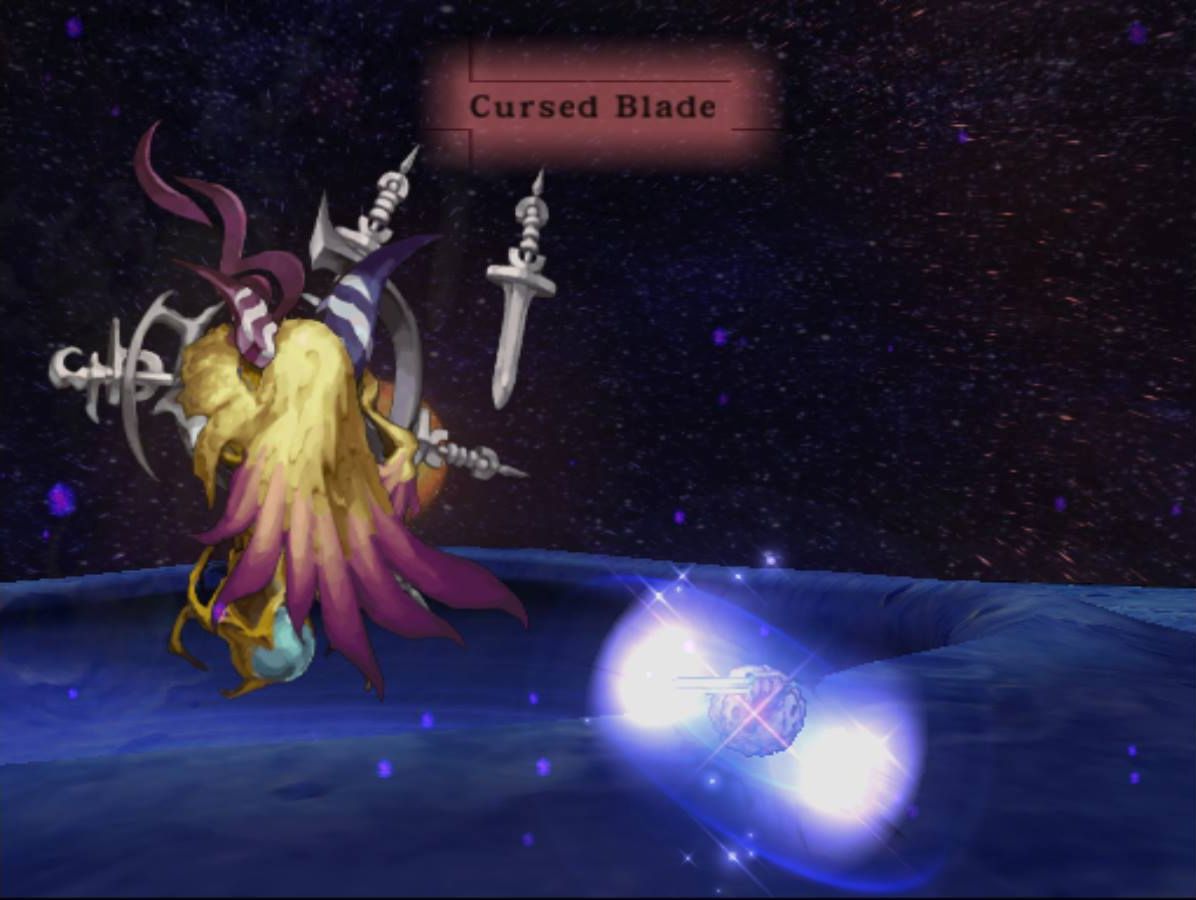 Chaos's attacks are mild enough in the beginning. Basically there's Cursed Blade, where he uses one of the big swords on his back to slash at someone. This is deflected more often than Chaos's other moves, and it doesn't even have a big LP damage rate (though it will easily knock off over half of your HP). Cycling characters is important in this battle because your HP will pretty much go to 0 or near 0 every turn. Even sometimes with Anzan with armor blessing + aegis shield + sword parry + drag down in effect! So using lots of characters in a single round of combat is very dangerous. I never used more than three at a time.
Sword Dance is the stronger "beginning" move -- it hits a character with lots of flying swords. It is only slightly more powerful than Cursed Blade, but it is near impossible to deflect (Anzan did once, though!)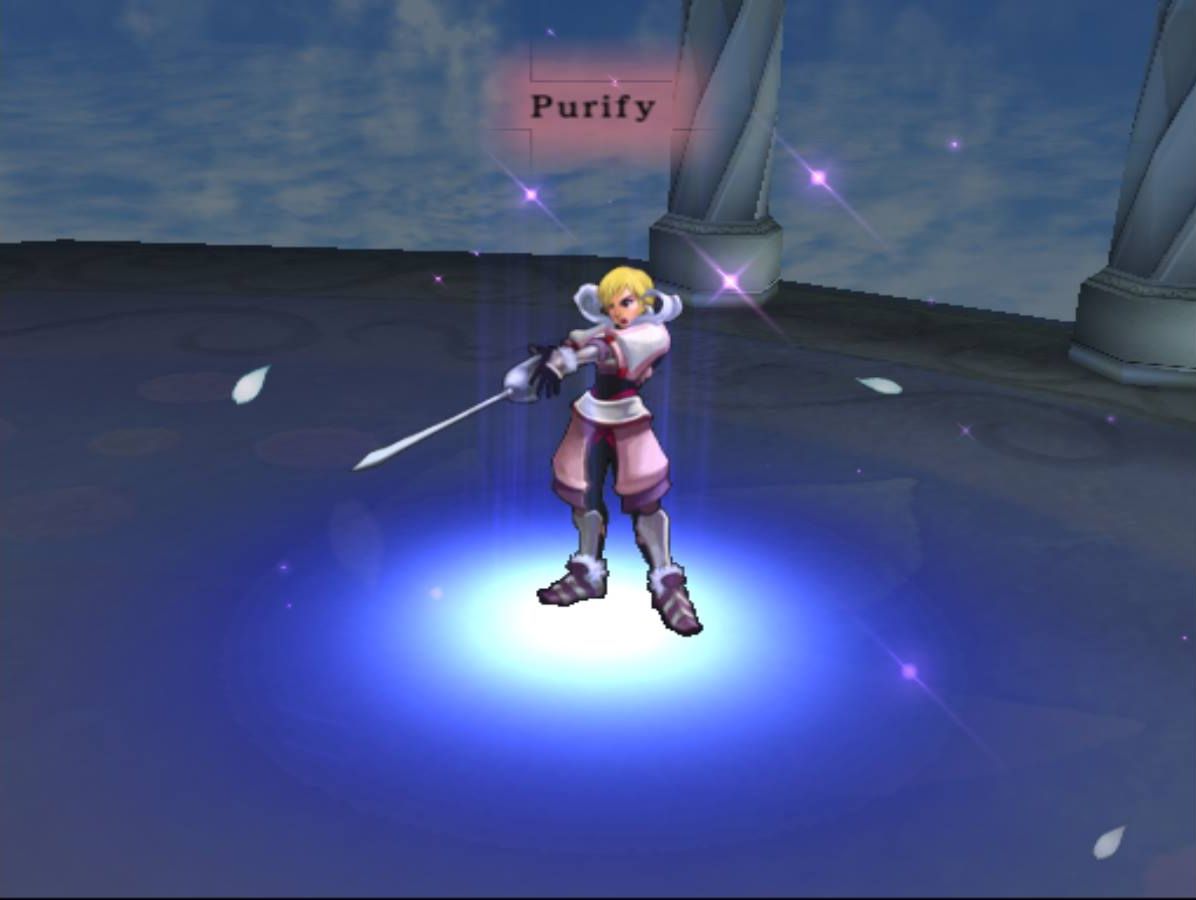 Revenge time ;)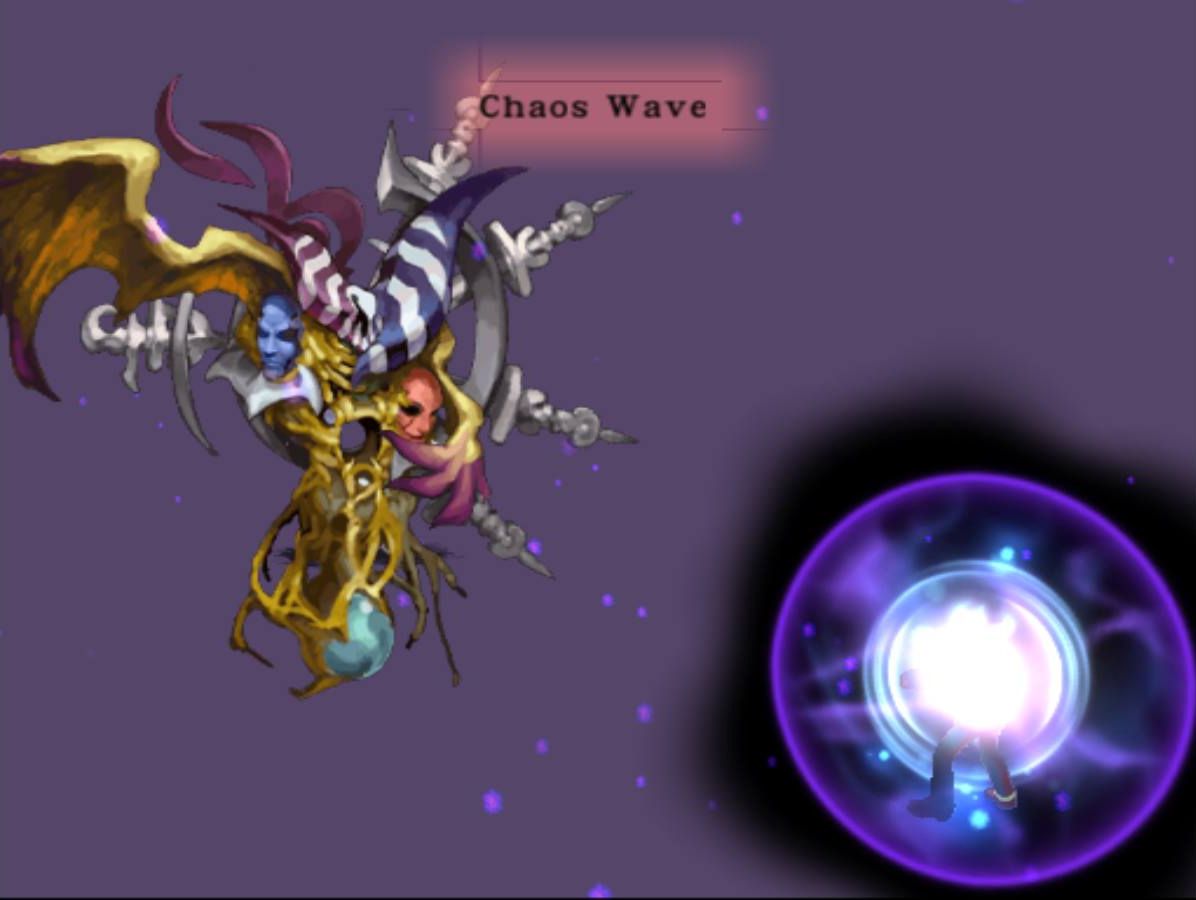 Later, Chaos will get more powerful moves including a bunch of status-inflicting moves, the much stronger Raven Blade, this wing attack thing that hits everyone on the field... It gets really, well, chaotic.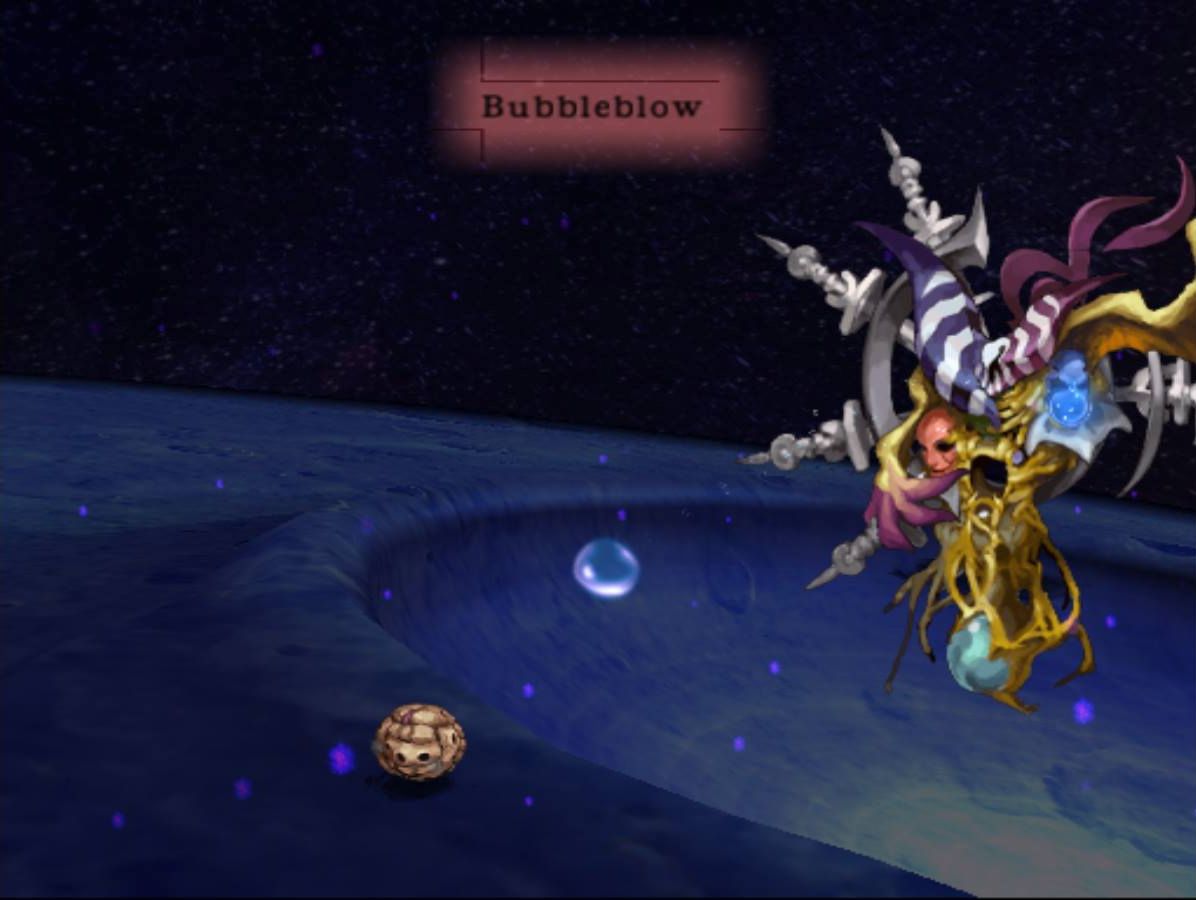 Chaos also has access to a lot of the basic offensive magic arts like Fire Arrows, Boulder, etc., but for some reason, every time I fight him, he ends up doing just Bubble Blow by itself now and then. It's so funny.
Hiro got confused (or whatever the heck this status effect is) which means any actions he has have a 60% chance of failing. Like you don't even get to spin the reel, they just disappear from the action queue immediately at the start of the round (or as soon as he gets inflicted during a round). It's awful. This means Hiro suddenly became near useless because he was too unreliable to use.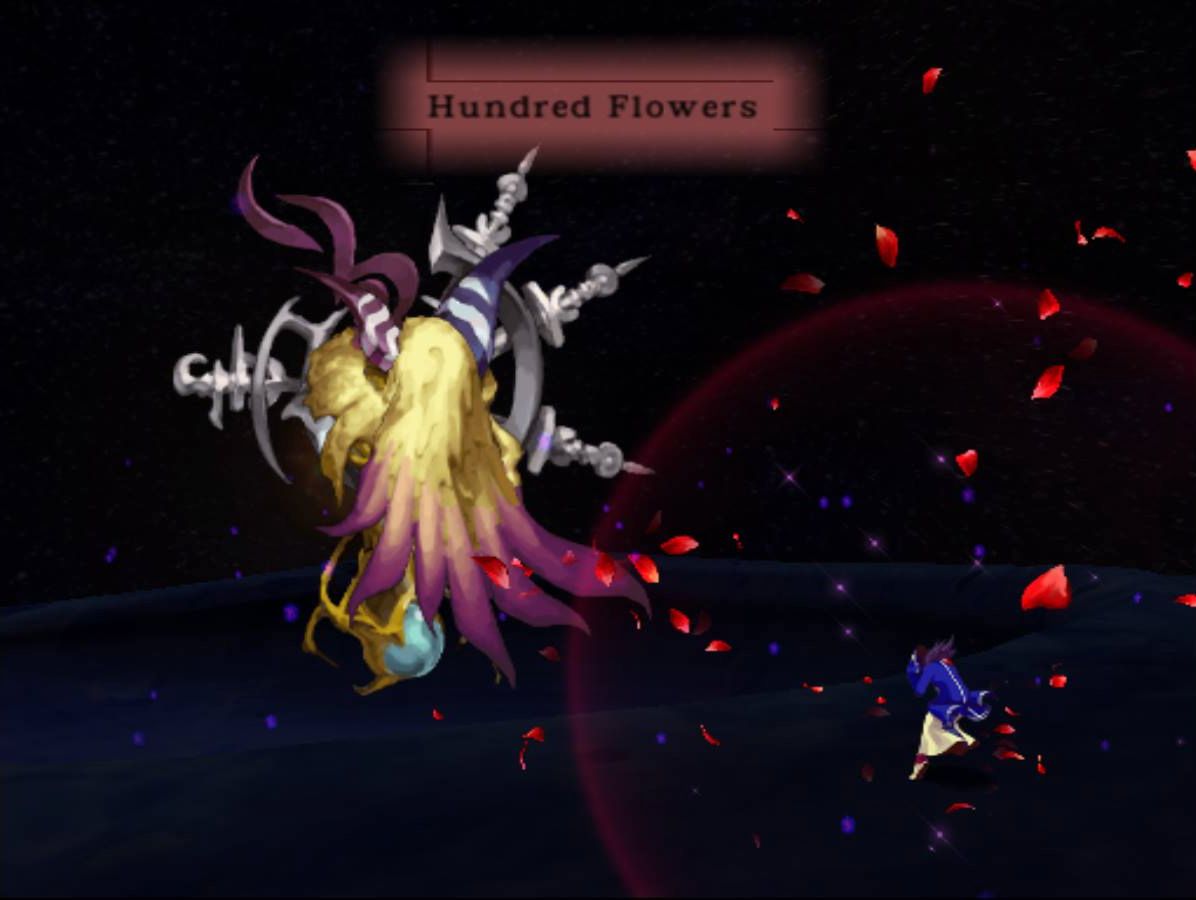 I think "Hundred Flowers" is one of Jeanne's moves that I never got to see Jeanne use. Shame, because it looked pretty cool, and probably would have made more sense with an actual sword animation used by Jeanne's sprite. Instead it just looked like flowers exploded out of Sapphire for no reason XD
Chaos gets tons of actions per turn, and with Sapphire's frailty, pretty much that's 2LP every single time she gets hit. Sometimes only 1. She only has 10 max, so this was very unnerving. I flinched every time I saw a red number pop up on her, especially since Holy Thunder was my strongest art available...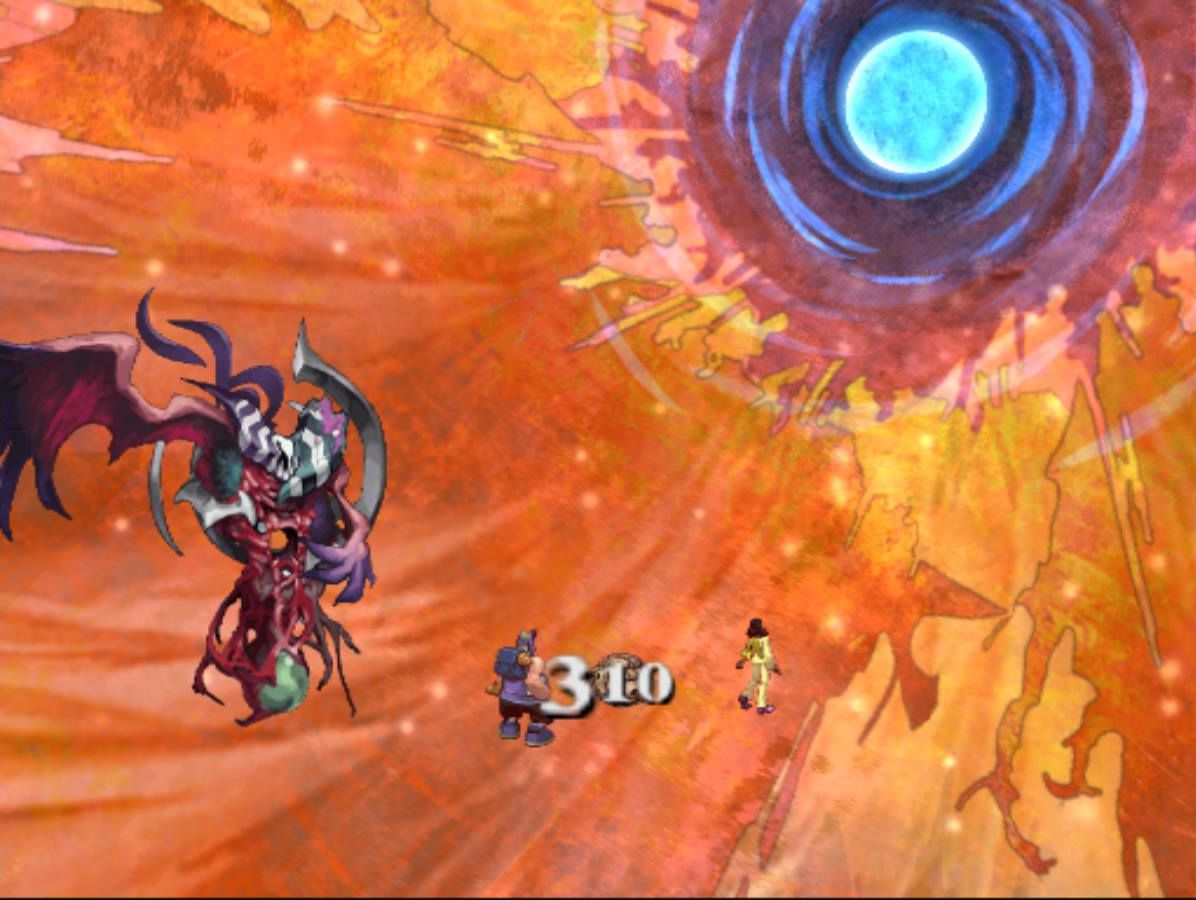 Eventually, once you knock off all the masks and feathers of this bizarre chicken wing, you'll jump to the OTHER moon. Except this time I think Chaos teleports you, you don't literally jump. At least I think. I don't remember. You might jump, because this game makes no sense.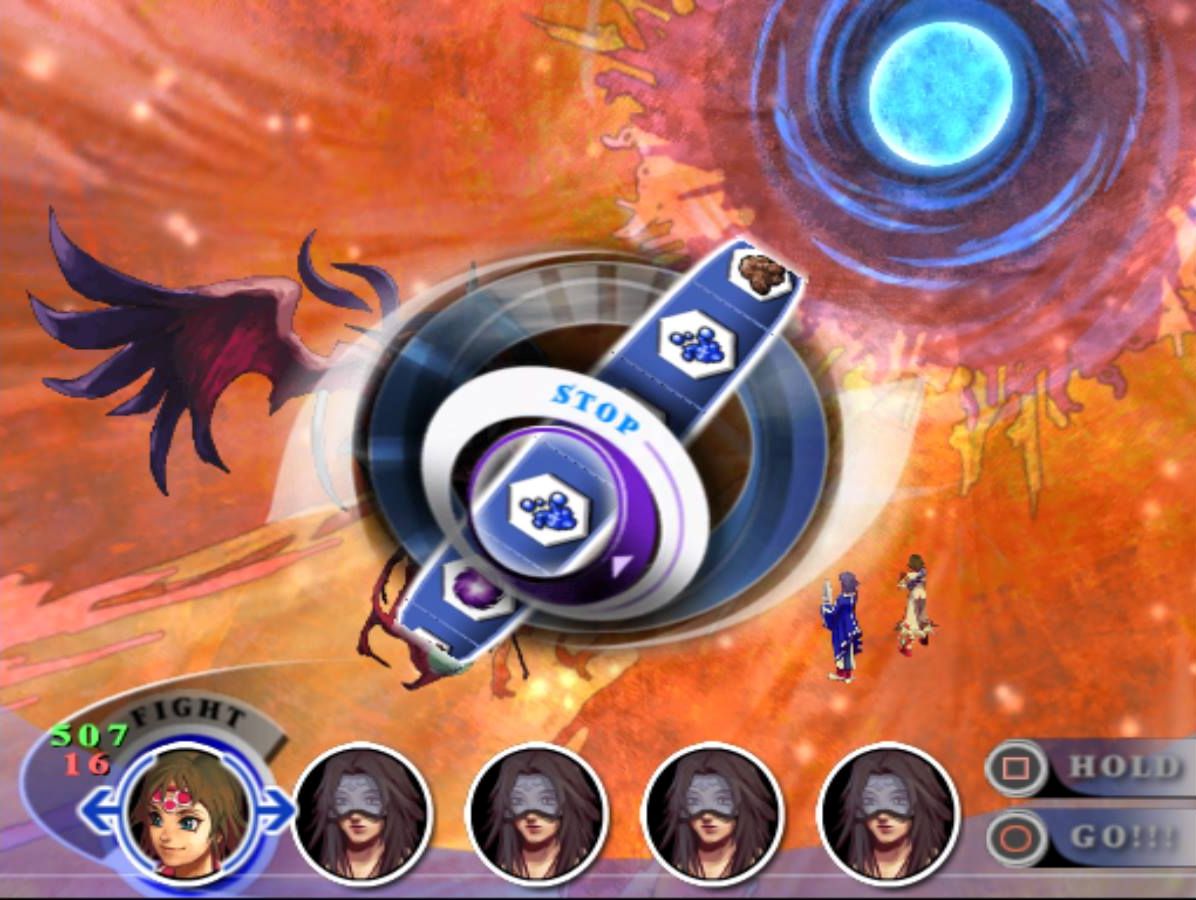 Two sisters working together :) I hadn't used Ruby too much except to throw in a debuff now and then, or an extra Fire Arrows for some damage at the beginning of a turn, to let Iskandar or Roy chip away at LP afterward. So she has near-full LP and full HP, ready to... be a meat shield for her sister. Well, she's still quite useful because even just her basic Fire Arrows from her familiar is super powerful, even more than Hiro's best sword arts. Plus her LV5 staff panel means she's the MASTER of deflecting on the team, so she's not too bad to put in front. I just can't take too many risks with her like this...
Once Chaos changes to this final form and moves to the other moon, he does get a new set of HP. And your characters are pretty weak at this point. Also, Chaos pretty much spams the most powerful attacks during this phase... It's really a race against your constantly-depleting LP. Expect your characters to have an average of 3-5 LP lost every turn, often more if they're the front character in the formation...
Also, there was this moment where Chaos combo'd two Raven Blades together at Roy... but he deflected the second one. And it just negated both of them. Something that would normally do like 4LP damage just did no damage of any kind I wanted to hug Roy XDDD
Sapphire finally got in 1LP damage. Once you see your first LP damage drop at this point, it's showtime, girls. At this point almost every character is in danger of dying simply from being on the field (and if this is your first time playing, you probably have dead bodies lying around already). You don't have time to be trying to buff or debuff or heal or whatever. You can't even try to go for combos (you can still do them if you think you can get one off, but don't choose your actions based on the intent of doing combos). You need to squeeze out every last bit of LP damage you can at every opportunity you can. You could send a character out just to have them die before they can act...
So at this point I just send out the two characters with the highest HP and have them do their heaviest attacks and nothing more.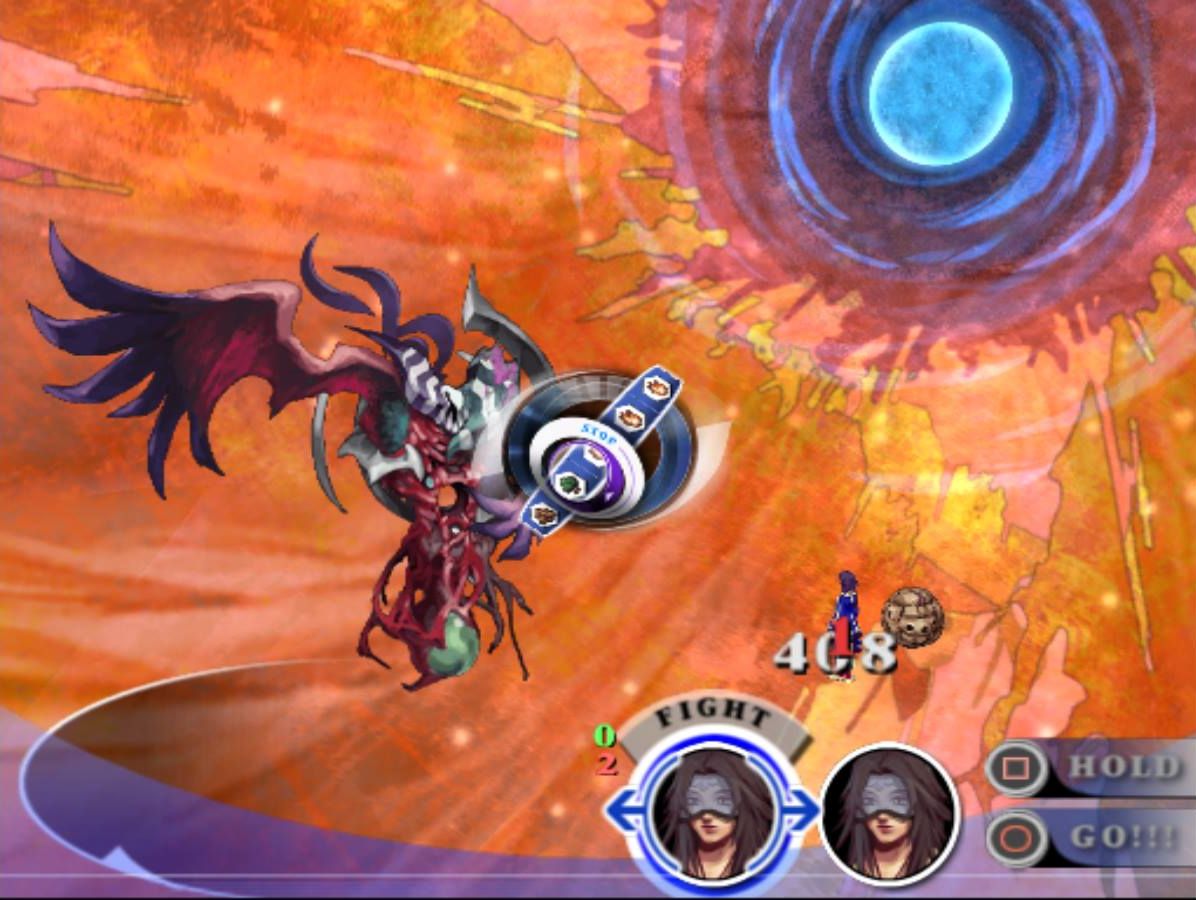 Sapphire has 2LP and 0HP T_T This is the same turn she got that one damage it. She was at 7LP at the beginning of the turn. It's really just a race to see who can deal LP damage the fastest. Chaos has around 20 or 22 or something, and you have... however much is left among your characters. And Chaos is going to be doing LP damage consistently, so that's all you can focus on.
Roy got in a Thousand Needles that dealt the final LP damage, and Chaos explodes.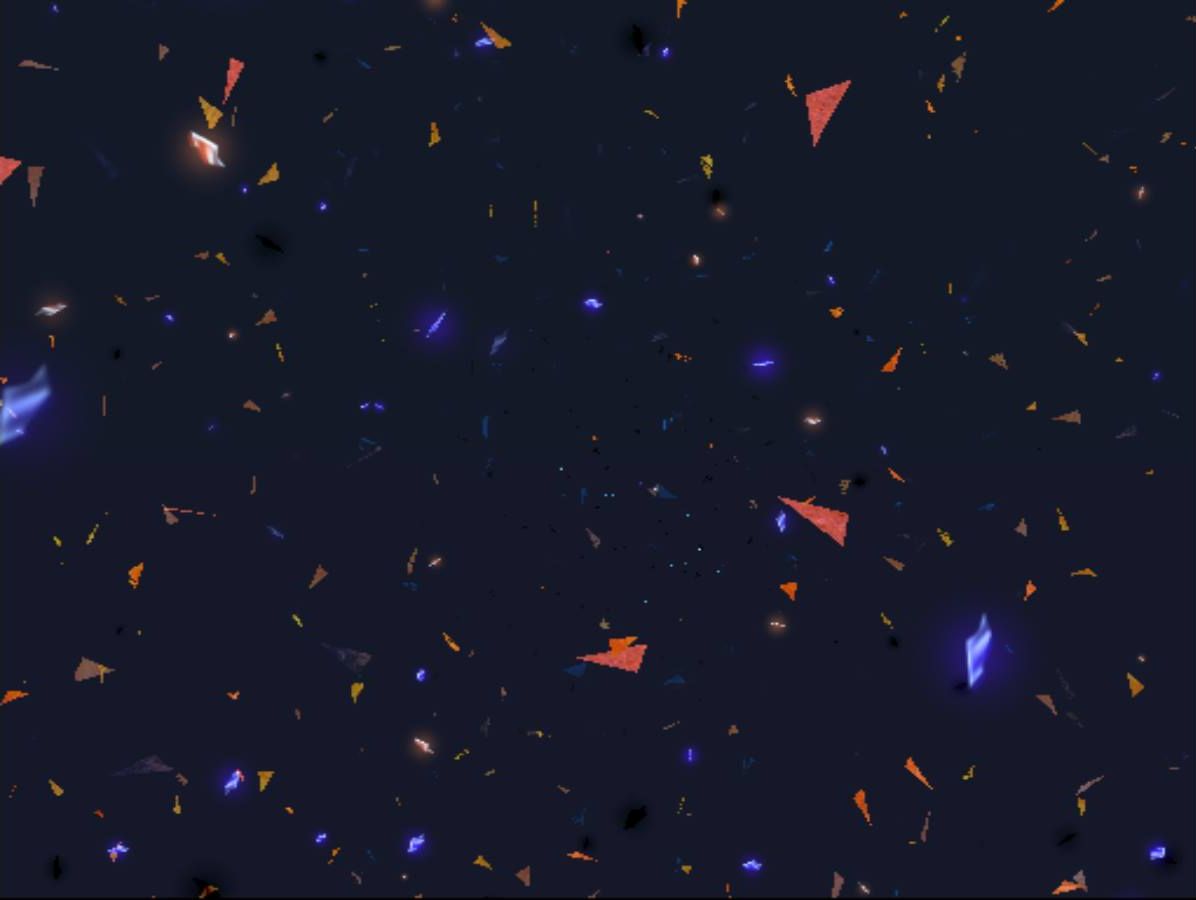 The entire screen explodes with him. Did we just blow up the moon or something...?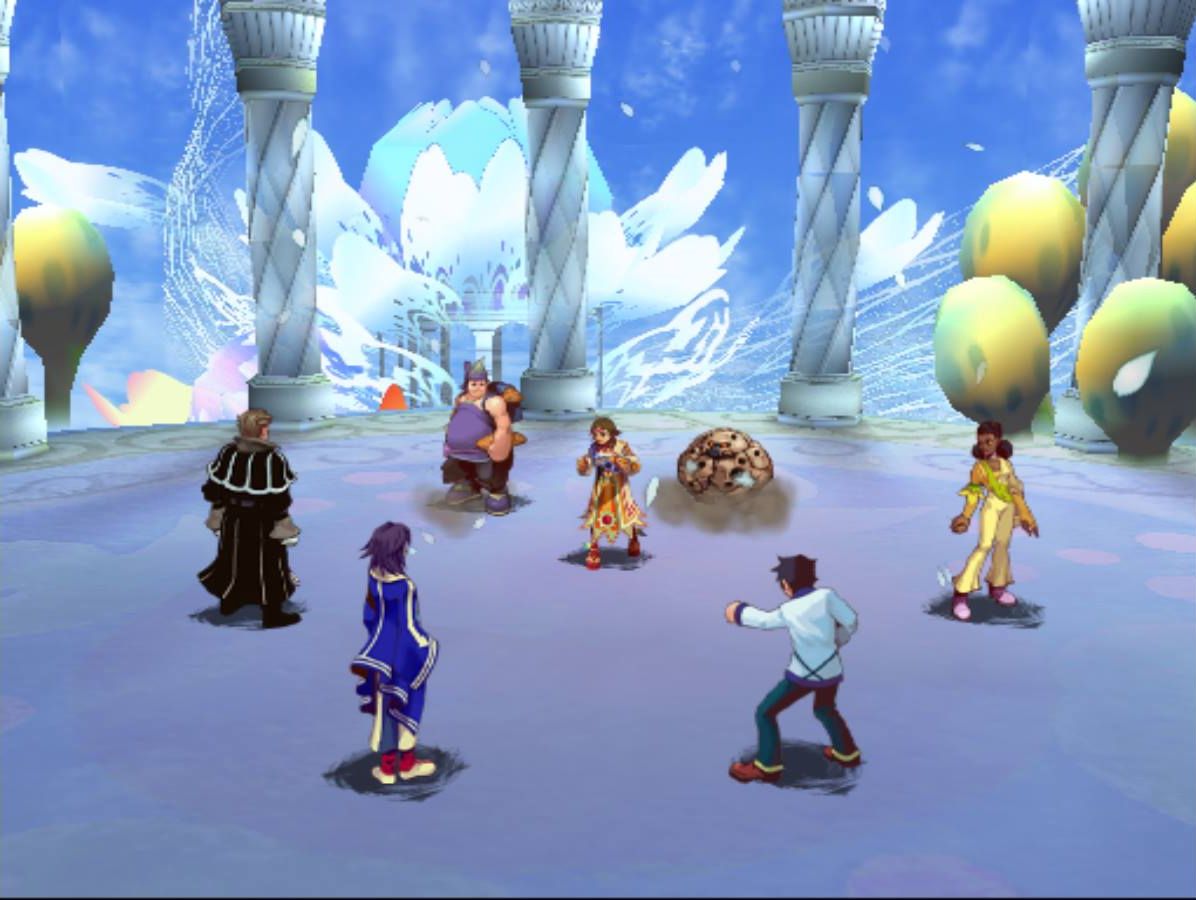 And then I guess everyone just... jumps back down to Hanging Garden. Considering we can jump between celestial bodies, why couldn't we jump up to Hanging Garden in the first place? Why did we even need a Tetra Force? Did Iskandar have us do that for the sake of keeping them from bad guys or people like Jeanne...? In the end, we pretty much just brought her the last one anyway...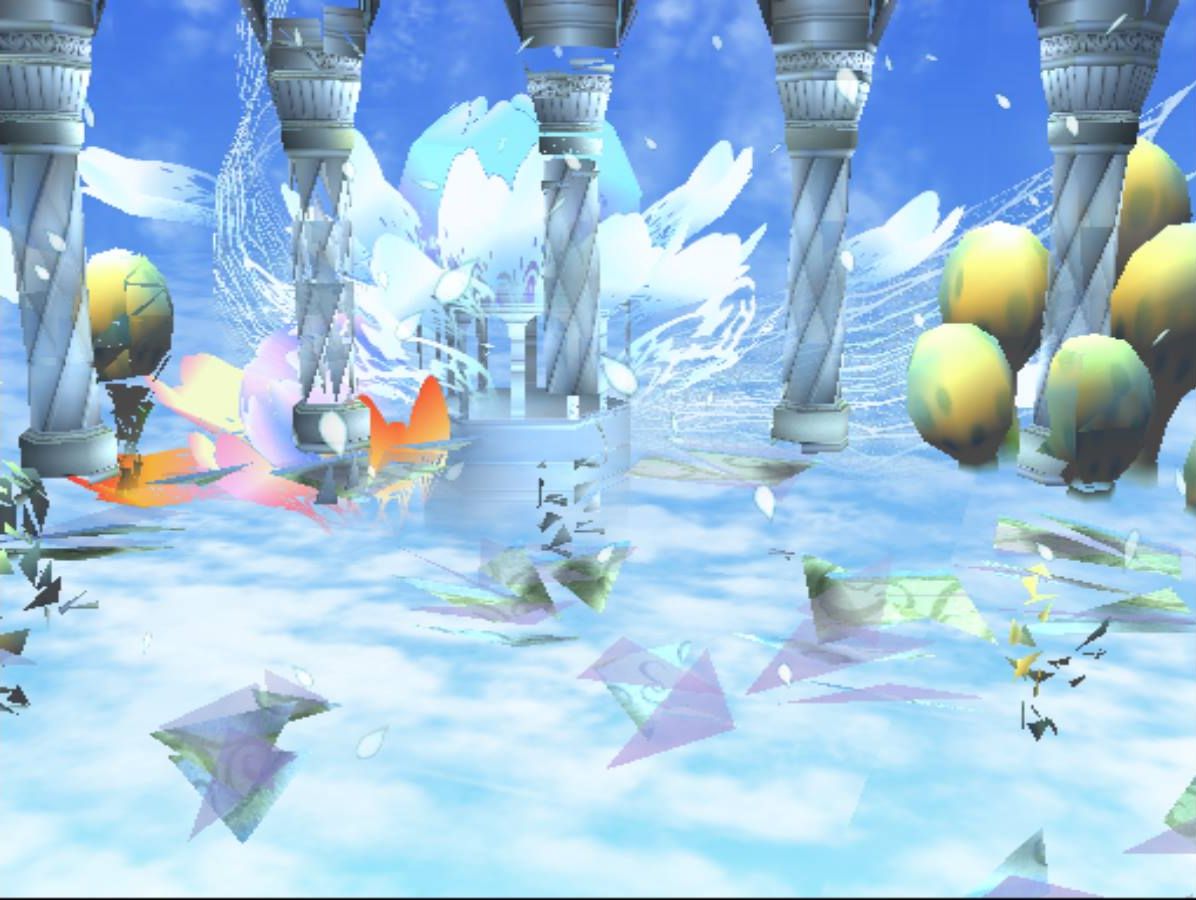 Then Hanging Garden is destroyed. I don't remember the other Wonders getting destroyed at the end of the other characters' stories, but maybe that happens and I forgot. But there's a lot of explosion sounds and stuff.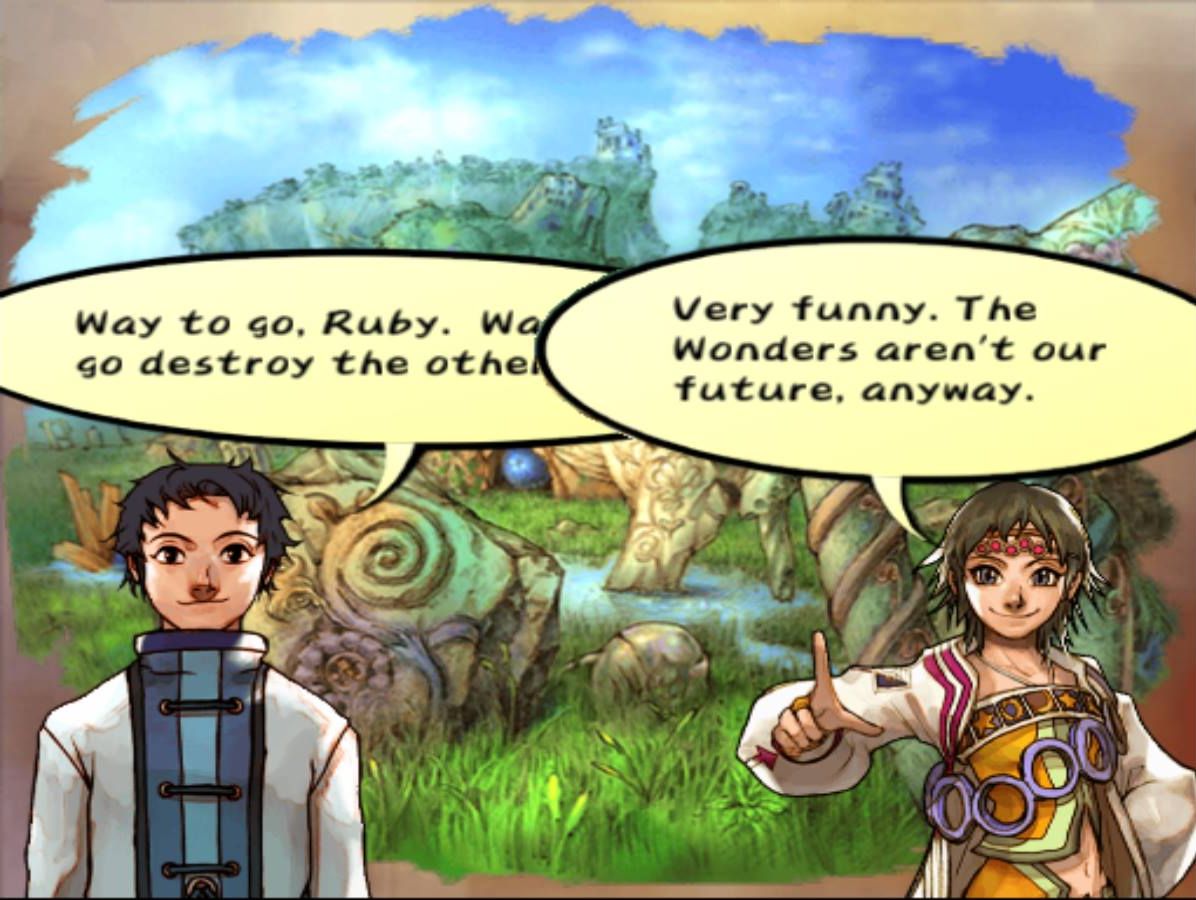 Hiro's reaction to all of this is to tease Ruby. "Wanna go destroy the other six?" Wow.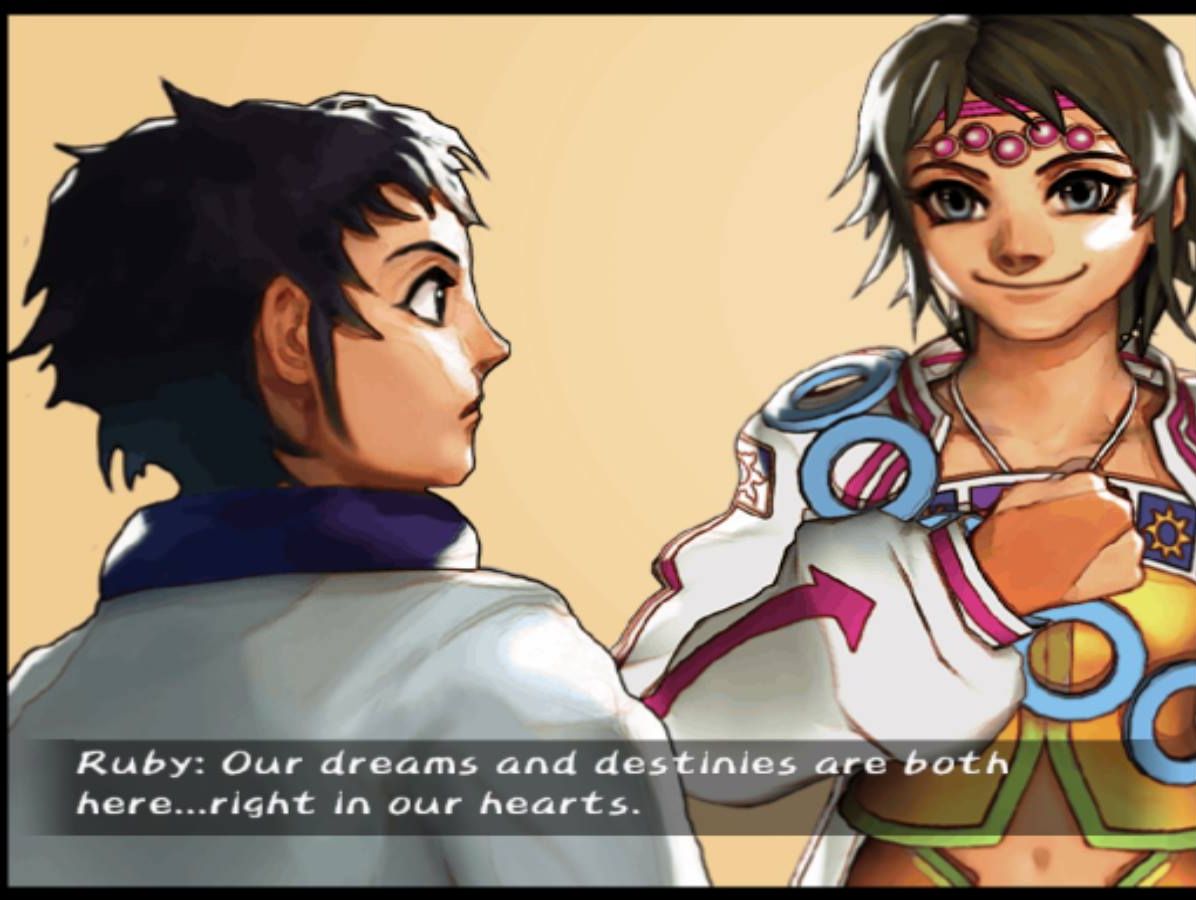 Then Ruby responds in the absolute most cheesy way possible. Like cheesier than Kraft Dinner.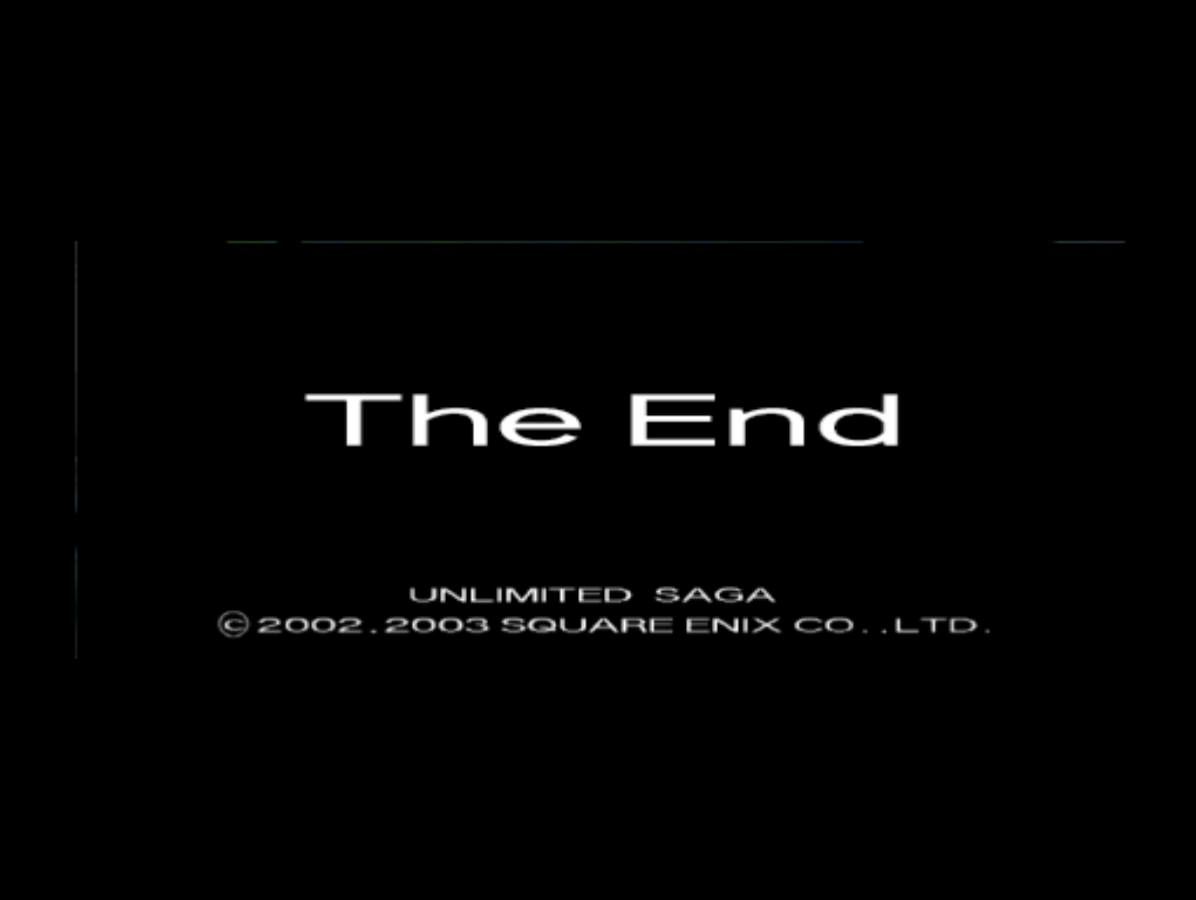 AND THAT IS IT. THE END.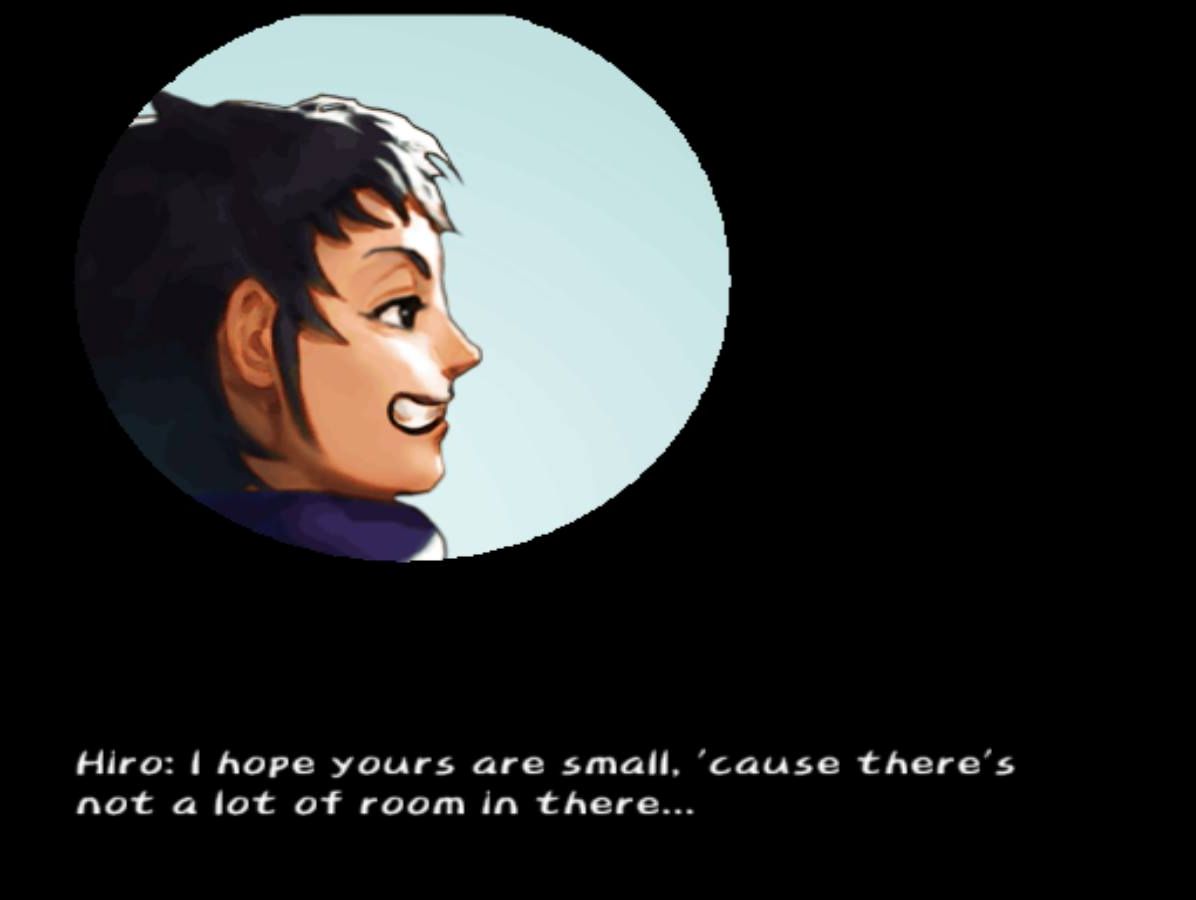 ... Just kidding, we gotta tease Ruby some more, I guess.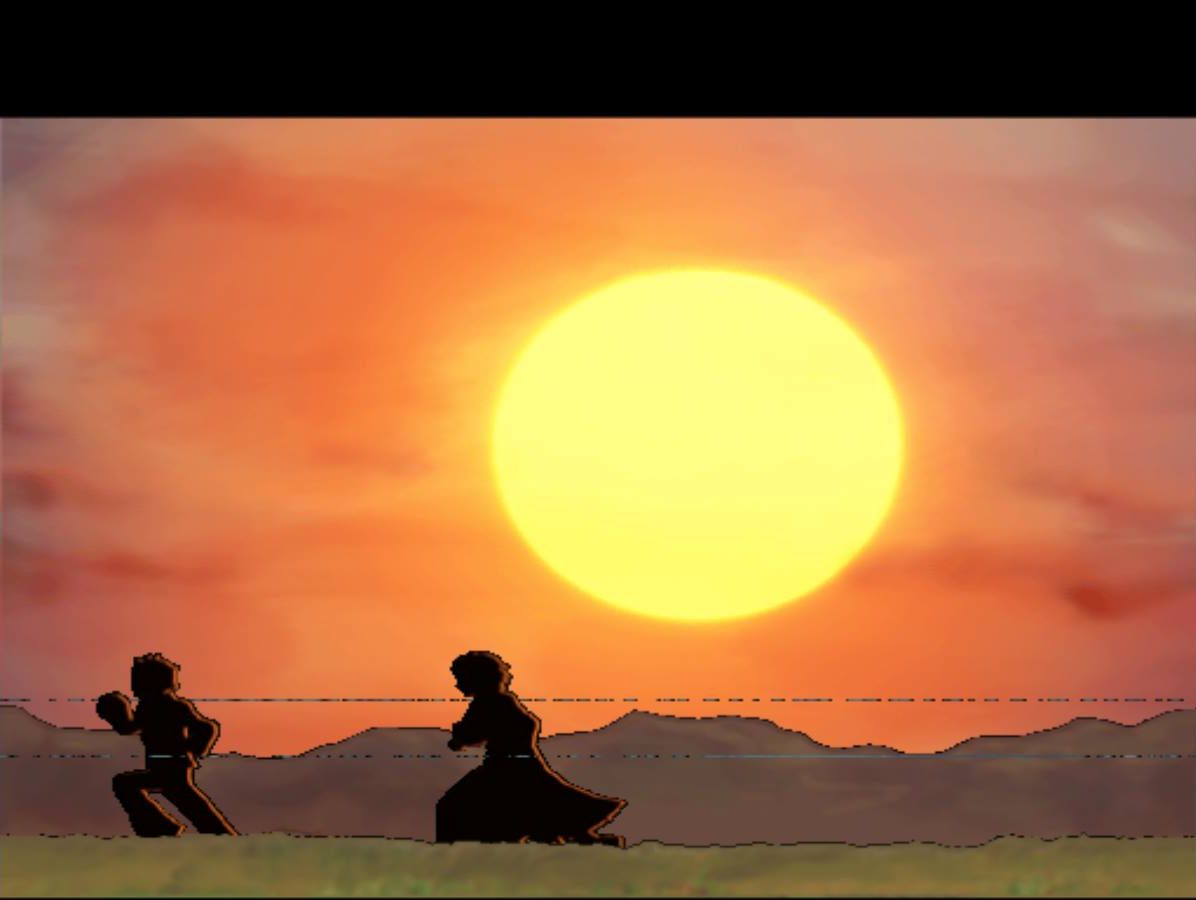 then we get this really awkward animation of Ruby chasing after Hiro into the sunset...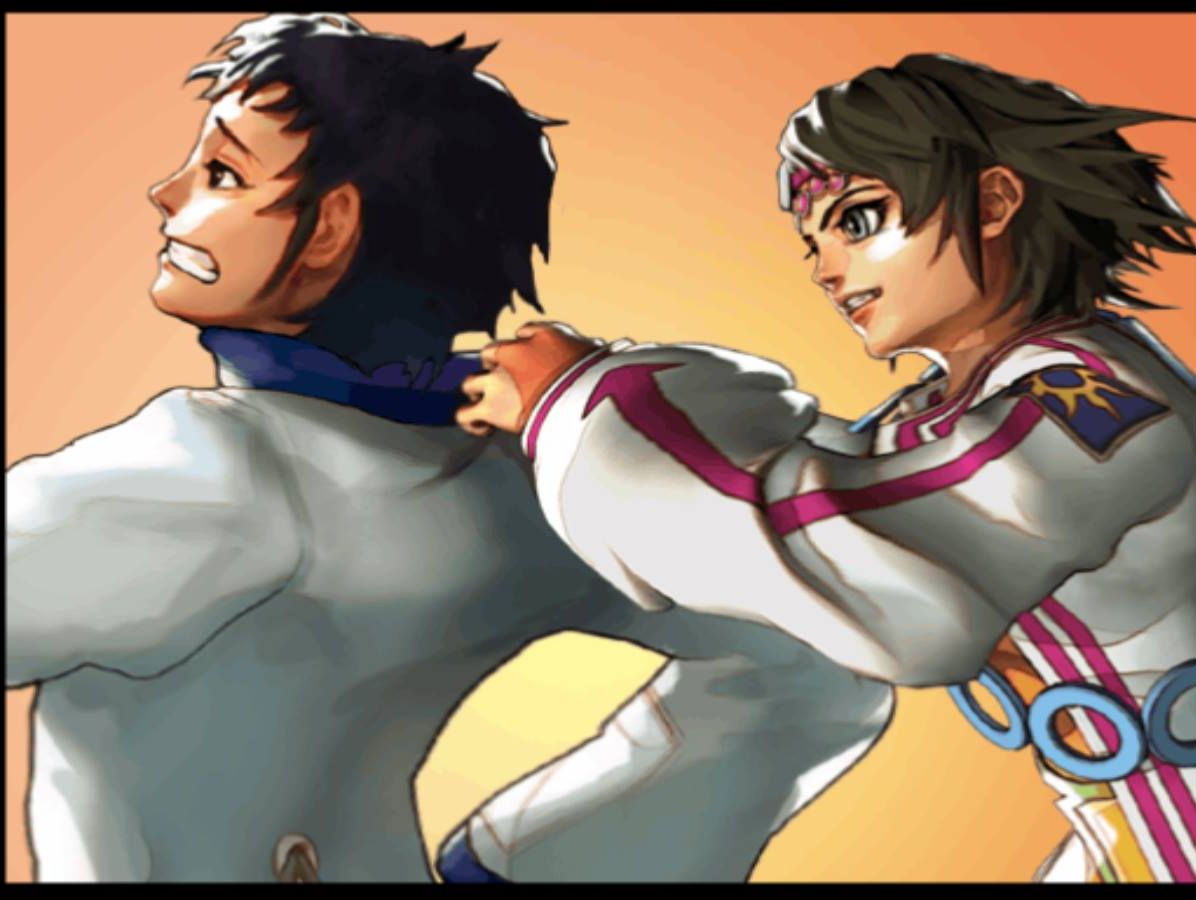 She finally catches him, and...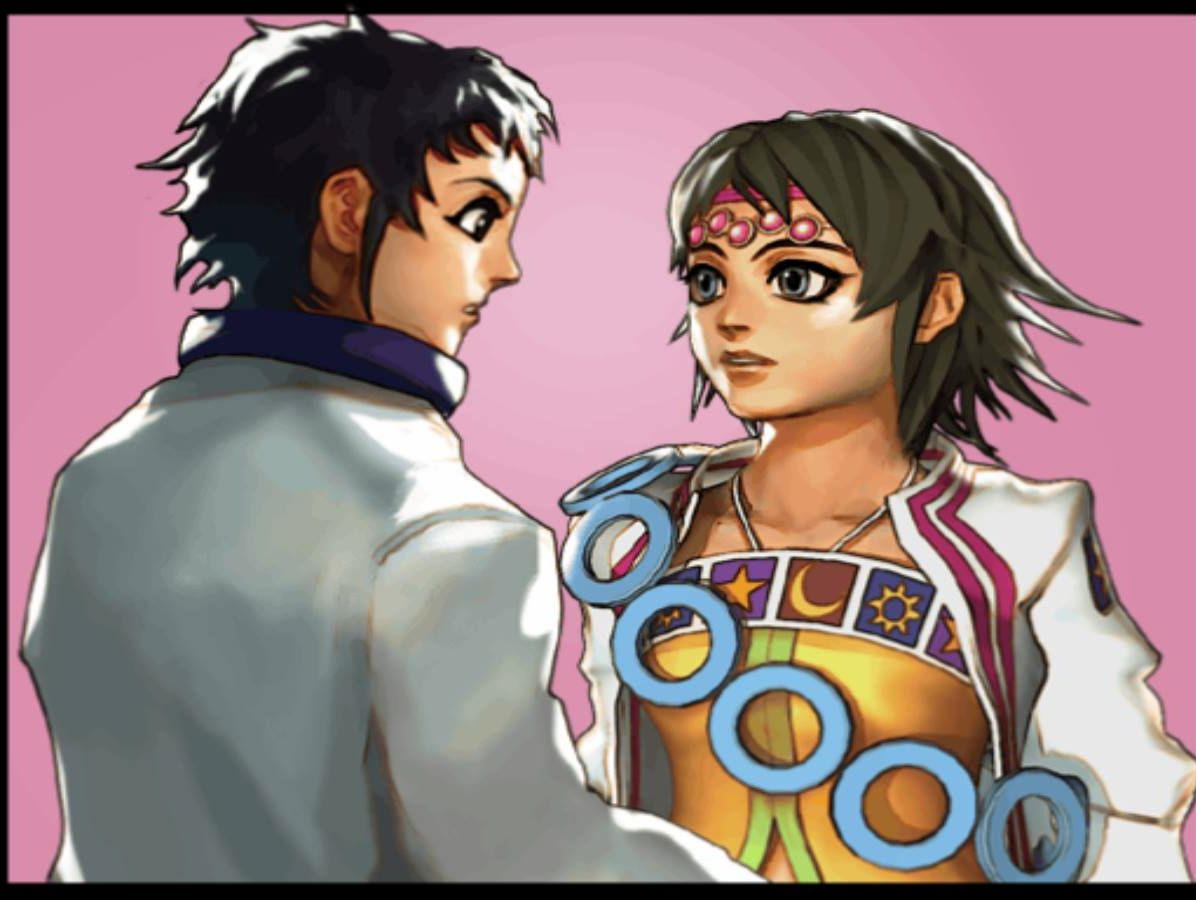 It just shows... this. No lines or anything.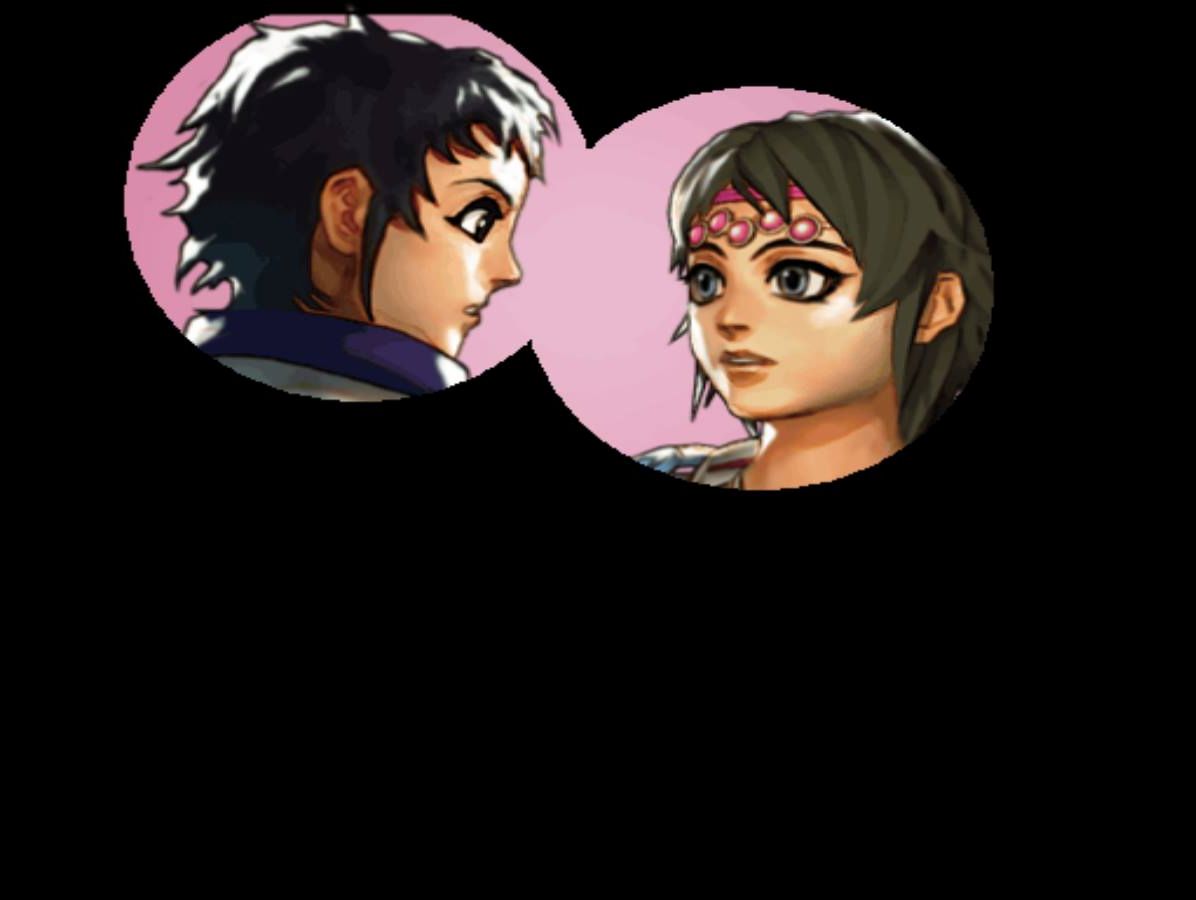 ... Yeah. Are you kidding me? It ends with a hint at romance between Hiro and Ruby? How awful!! After all of this building up Ruby to love the pretty ladies and never paying one inch of attention to Hiro (and even being glad to be rid of him at one point lol) suddenly she just loves him for no reason lol. I mean I guess they saved the world together but uhhh... Grace was there too? Also, what about Jeanne??? (WE DON'T EVEN LEARN WHAT HAPPENS TO HER!)
Though we can assume Jeanne is okay -- Chaos doesn't seem to consume the people who summon it. It's not shown here but it is in some other scenarios.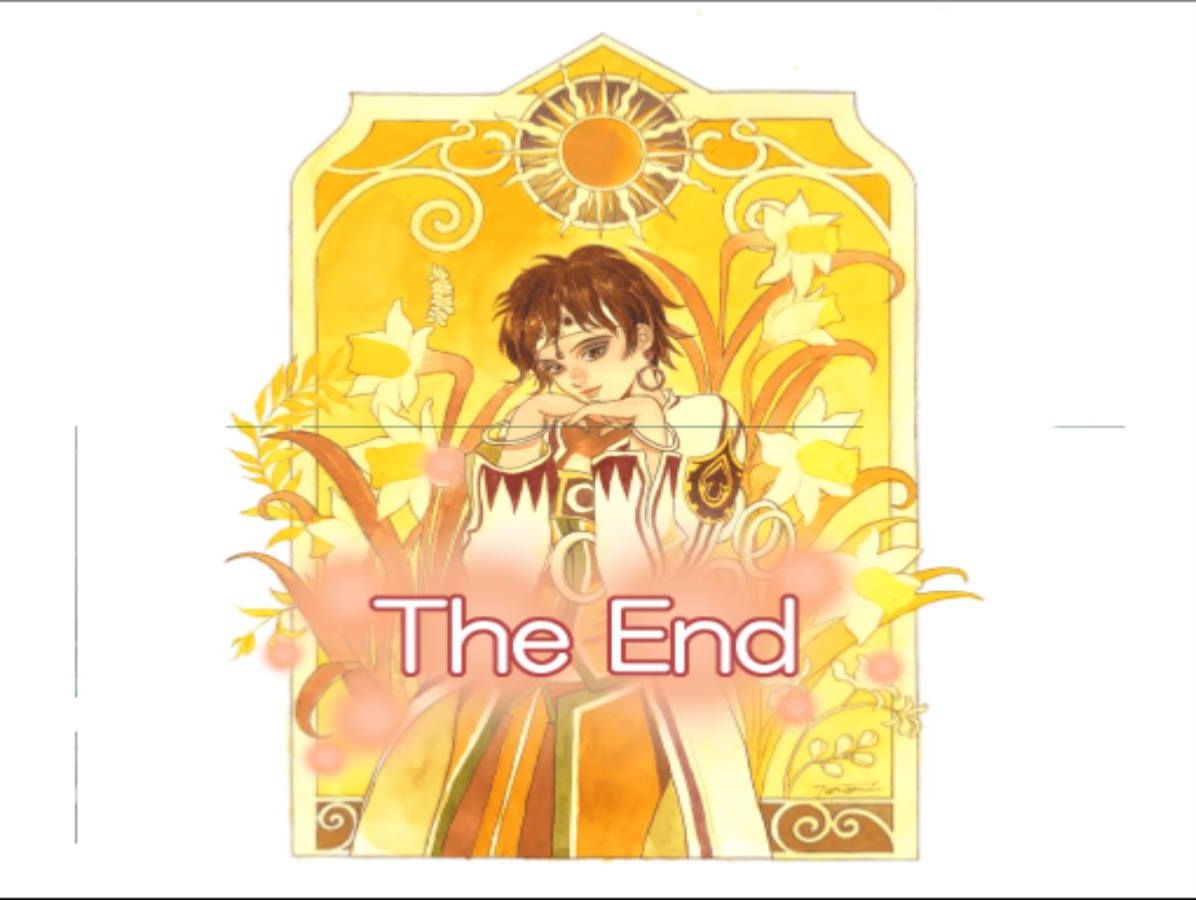 Sorry about the stupid emulator sprite tearing thing... It bothers me, too.
Anyway, that's the full ending. UN:Saga's endings are generally very short and anticlimactic like this. They're often very cute, but there's usually no actual story resolution or development to them. Nothing about Jeanne or Iskandar or even Sapphire, or the girl that Ruby saw in her dream, or even what becomes of the Wonders or what the whole "new beginning" thing meant in Ruby's reading. Nothing. Just a little comedy/flirt scene with Hiro.
Though thinking about it, the endings are usually a single little scene like this letting you know what the character does next after saving the world. It doesn't really tie up the story you've been following all this time (which is honestly very Japanese) but rather lets you know how the character fares. So I guess we know that Ruby and Hiro probably get together. And yeah, you usually don't learn much about what happens with the other characters...
It's not that I was expecting or hoping for more, but I was at least hoping for something... different? Ruby and Sapphire running the shop together? Ruby telling Jeanne maybe she'll become a knight, even just jokingly? Ruby punching Iskandar upside his head? Honestly anything but "maybe Ruby and Hiro like each other" and I would have been happy hahaha. Well, maybe.
Not that I don't think Ruby and Hiro wouldn't be cute together, but... every story ends with the stupid het romance thing and if that's ALL you're going to give me after all of this... when you didn't even give me an interesting final adventure... I'm gonna be mad XD
This game is weird though. Pretty much my entire description of it is "So, this part is disappointing. This part is underwhelming. This part makes no sense. This part seems underdeveloped. This part is really frustrating. This part is convoluted. And these parts are all so disappointing. I LOVE THIS GAME."
I think it's more that the game has a really great design and system underneath it that's very interesting and fun, and makes every playthrough exciting and interesting at least from a game mechanic standpoint. But there's just so much more it could have been, and when you're enjoying it so much but always having those lacking things lingering in front of you, I think you're going to end up talking about what could have been.
But I always have fun with this game and I never seem to get bored of it. I even want to go start Mythe's story right now. Though I'm getting pretty tired so probably not. But if it wasn't for that, I'd probably be playing. I always end up starting a new character immediately after clearing one because I'm just that excited to do it all again hahaha.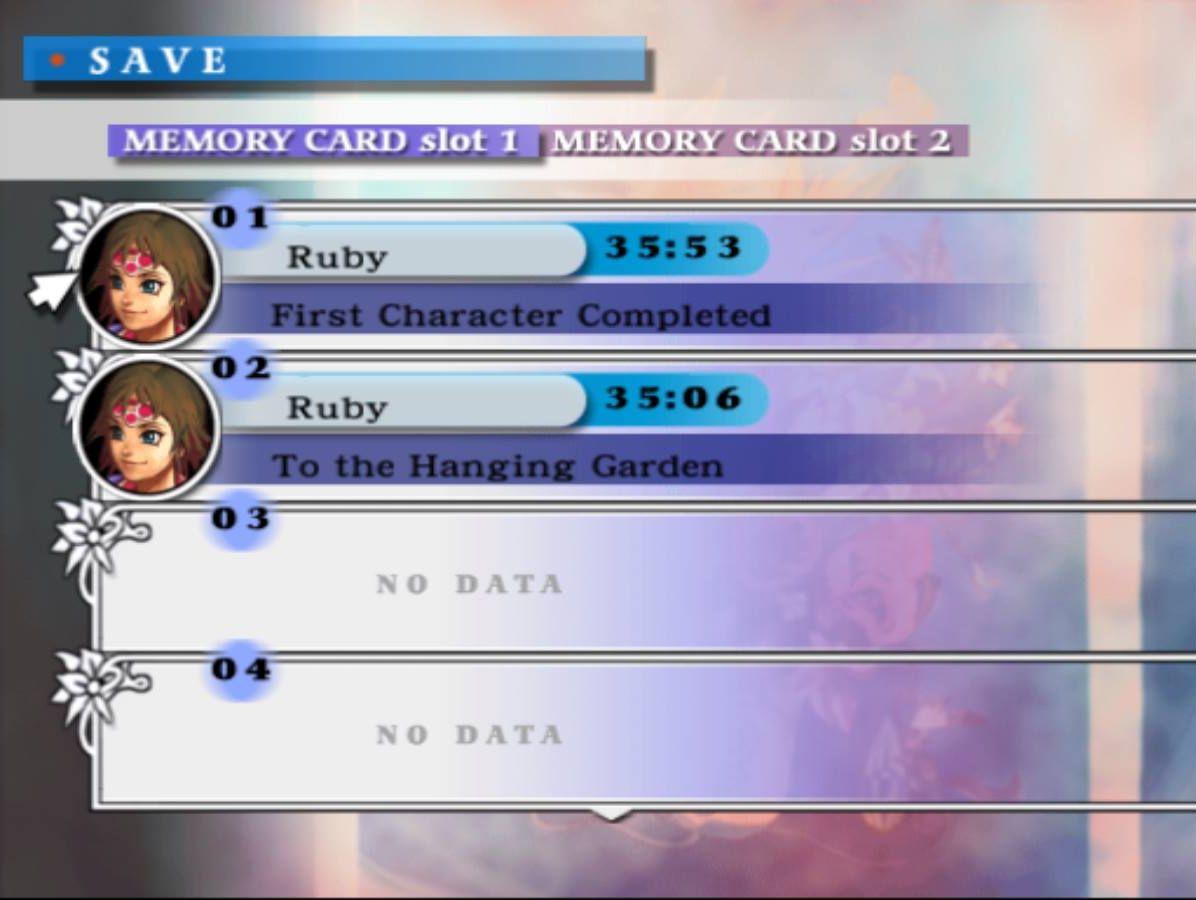 Anyway, we saved the clear data, huzzah! I've decided I am indeed going to do Mythe next!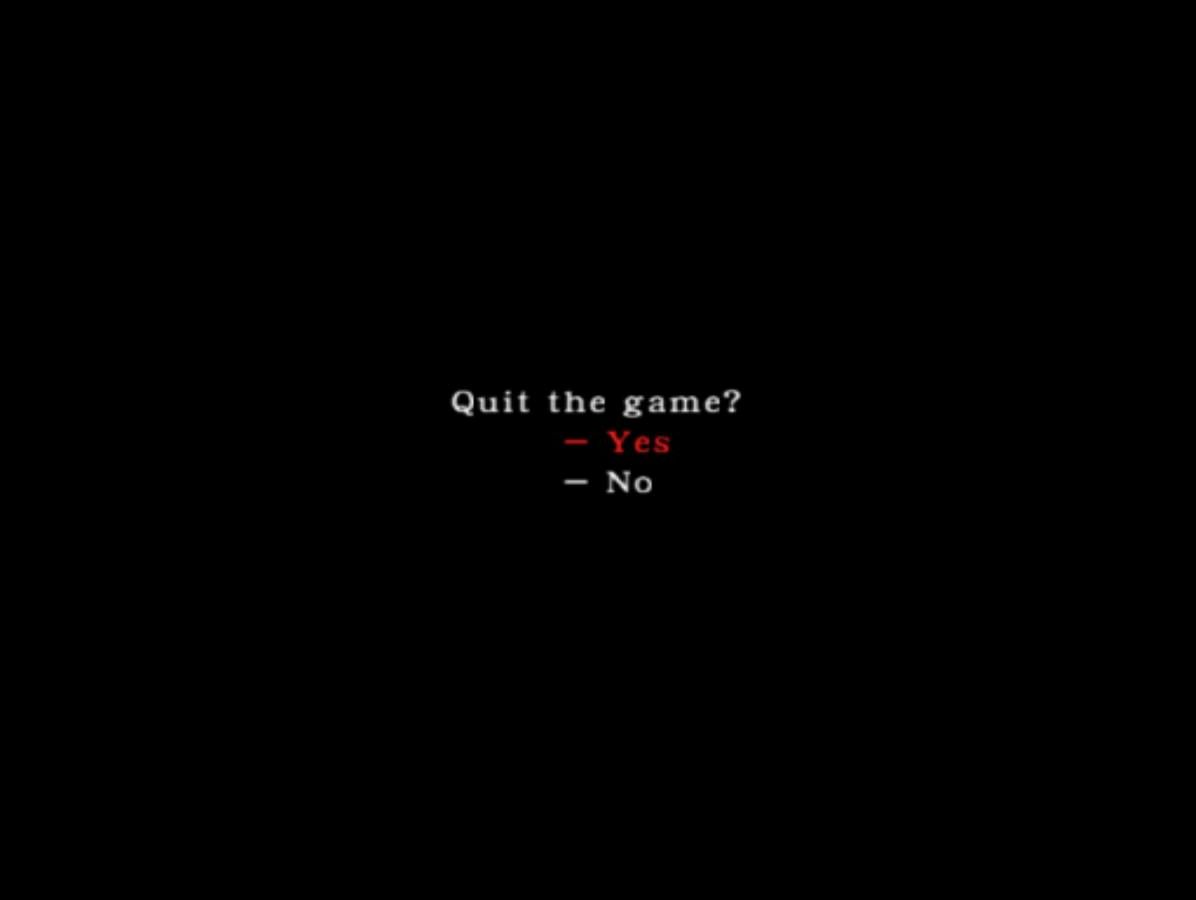 We have the option to quit the game. If we don't, we can just go save the clear data again and again, what fun. But we quit and we're taken back to the title screen and get to watch the opening thingy again. I watch it a lot. It's really cool.
THAT'S UNLIMITED:SAGA, EVERYBODY! Thanks for reading this far, and hopefully you'll stick around to the next one. All... one of you... who are reading this. XD
---