Vale of Swords
So, on the last episode of WTF is Even Going On SaGa, Mythe was moping around his shop when he couldn't find his stalking victim's seek-target thing, when a girl came in with a cursed gauntlet, which he determined was related to magic tablets... somehow. Marie emerged from the congregation of women that hovers around Mythe for no reason, and said her grandfather studies magic tablets, and now everyone decides to head off to Sadovos to help this girl.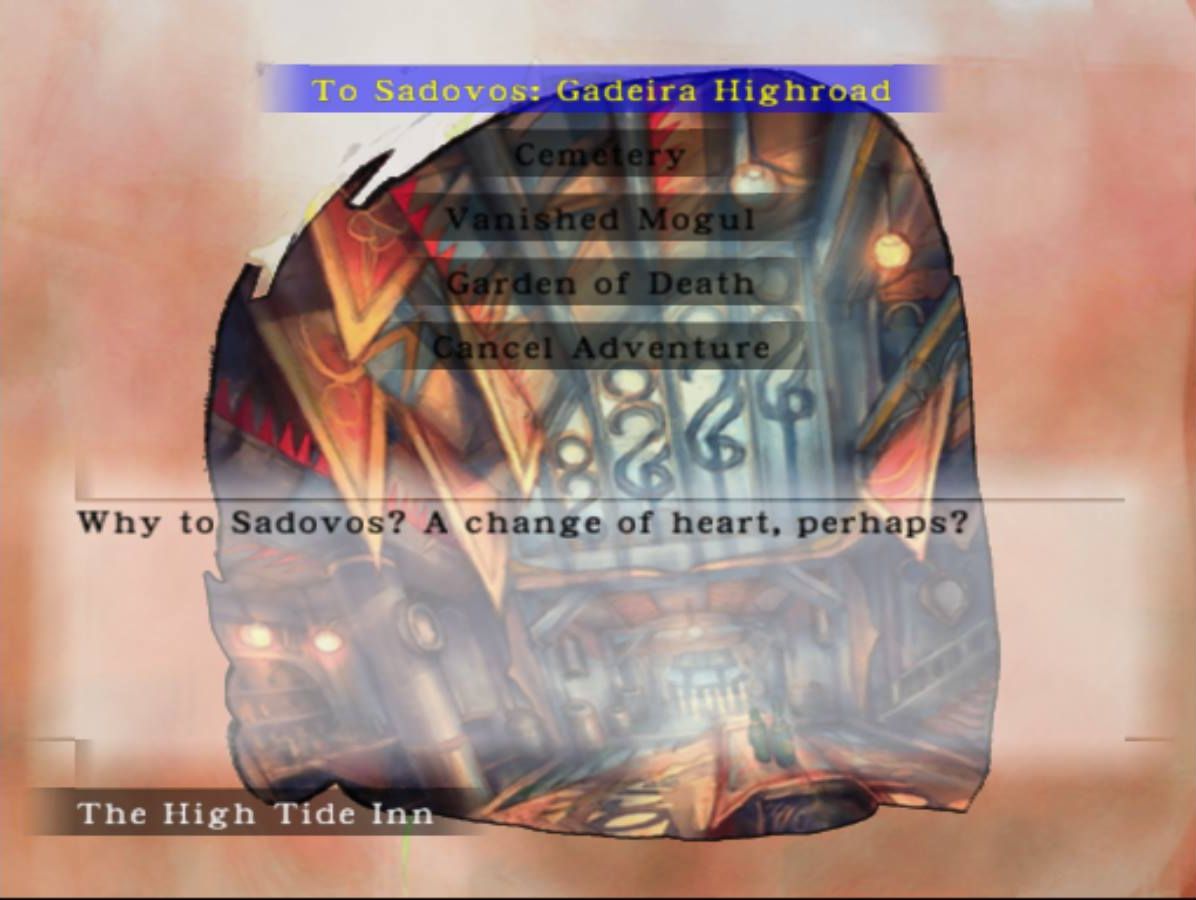 The description for this adventure says "Why to Sadovos? A change of heart, perhaps?" and so I really think the decision to help this girl out is supposed to show that Mythe has changed since he started his initial journey to find the girl in the photo. Or maybe he's over the silver-haired girl now that he realized she thinks he's a huge idiot and he can't find Iskandar for her, so he's just gonna go after this other kid.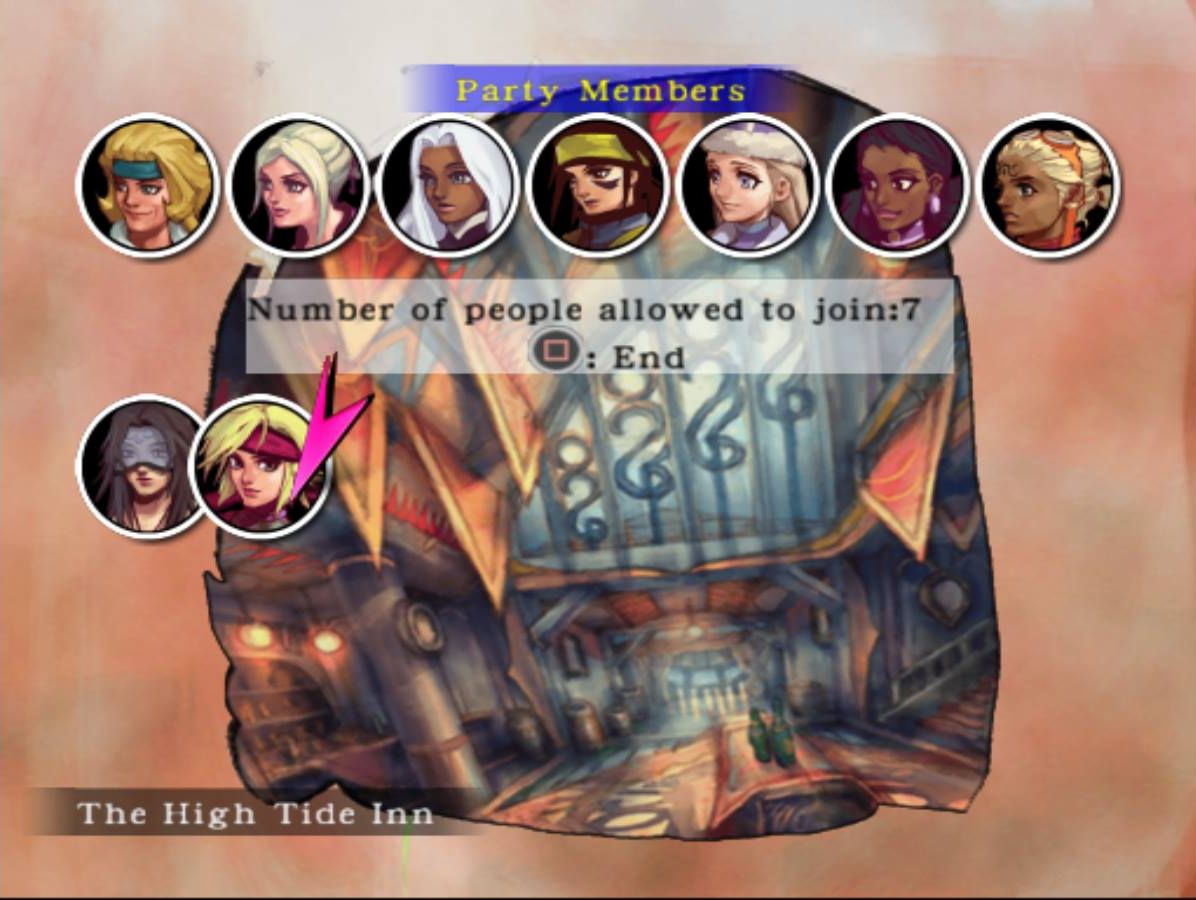 The party has ... suddenly become very full after adding 4 characters total before and after the last adventure.
As I determined before, Sapphire and Laura are going to be sitting out this game, since we just used Sapphire, and Laura will be getting her own story.
This means, though, that we suddenly lost our access to Fortuneteller! Not gonna be making as much money now...
But! We do have two new characters to play with, so that's good, right? Let's learn about them!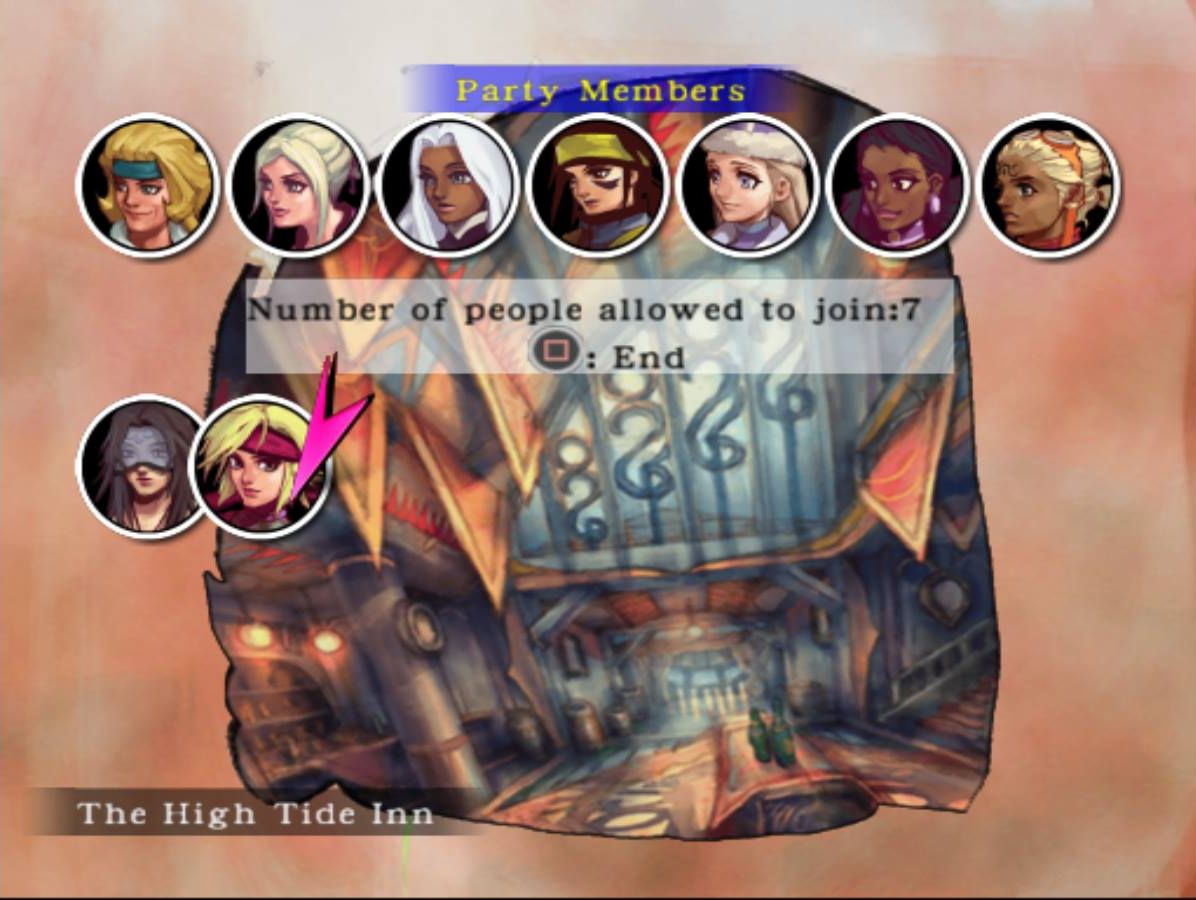 First up, we have "Silver Girl." That is her name. Well, she doesn't seem interested in telling us her name or anything, so that's what we're going to call her. If you're wondering if she's named like that because they didn't have room to fit "Silver-haired Girl" then worry not -- her Japanese name is just "Silver Girl" too, and it's only the difference between 4 and 5 characters in her name for that. And characters have way longer than 5-character names in the game, so... she's indeed intended to be just called "Silver Girl"
But right now we're more interested in stats.
Her Magic Making is 5, which is really great! But none of her Elemental Makings really stand out. 2's almost all the way across the board is still not too bad, though. Her Strength Making is 3, which is pretty good among our party, actually tied for the highest with Pharr so far...
I'm going to try a very experimental build for Silver Girl. Basically, she's going to have only two types of panels: martial arts and familiars. One thing that's nice about Silver Girl is her weight is one of the lowest in the game, so we can get martial arts on her pretty easily. And using lightweight armor like feather circlets and stuff, we'll be able to raise her elemental support without raising her weight too much.
The biggest downside to this will be her low defense. She has 15LP, making her the second highest LP in the party. In fact, exclusding Mythe, she and Grace are the only ones with more than 10LP...
Yeah, Mythe has a very fragile party.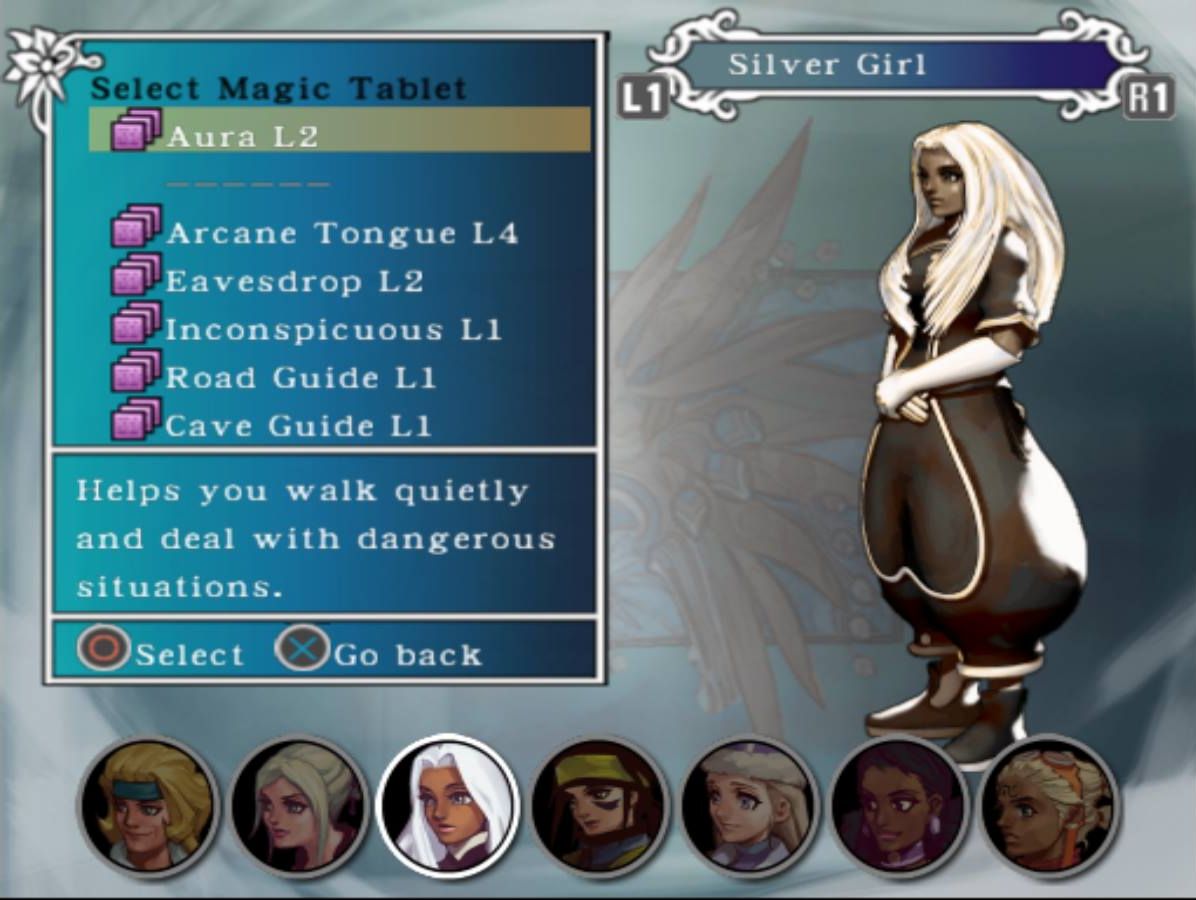 Before I even talk about Silver Girl's starting panels, I just want to say -- wtf at those pants? I think the designers took "hourglass figure" a bit too literally... And I really hope those aren't supposed to be her actual legs...
But uh, yeah. If you thought in the previous screencap you saw Fortuneteller L4, too bad, it's just Arcane Tongue. Which isn't that bad -- basically this means you learn magic tablets "backwards," getting options of the 3 rarest/best magic arts first, instead of having to learn the weak stuff to get to the goodies.
Silver Girl's starting panels are overall a bit underwhelming. It's a bunch of weird little map skills and stuff that aren't terribly useful. Though, I don't have access to Cave Guide in any other way right now, so I guess that's nice...
She also is pretty much naked when we get her. She has nothing on but some silk shirt. At least it already has Life Protection released. I gave her some socks to try to make her more defensive, lol...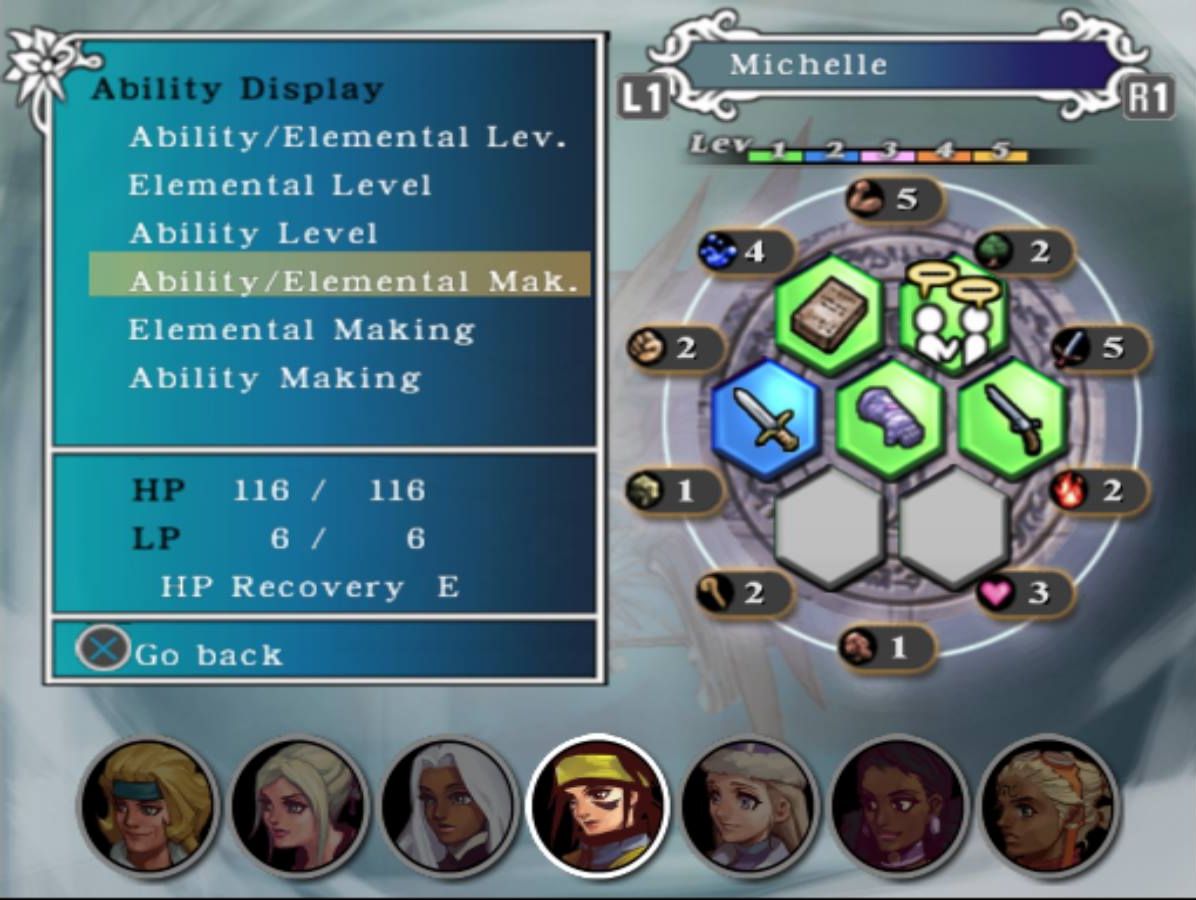 Let's move on to Michelle. Michelle is... cursed gauntlet girl. If you remember, she actually came into Sapphire's shop when Ruby was giving her fake readings, earlier in the day before the cat lady came, I think. You could see a bit of her defeatist attitude there. It seems like when the slightest thing goes wrong, Michelle's mind goes straight to "I may as well die," which ... means I identify a lot with her hahaha.
Michelle is also voiced by Tiffany Grant, and she sounds kind of like a valley girl version of Asuka. She says things like "totally" and "oopseydaisy" and overuses "like" as a hesitation noise. She's also pretty cute. Michelle is one of my all-time favorite subcharacters.
Michelle is particularly amazing for one thing: STRENGTH AND SKILL MAKING OF 5. This makes Michelle the objectively strongest physical character in the entire game. She even has a water making of 4, so that's three max stats, and lets you build her as a nice water mage if for some reason you don't want to utilize her amazing physical might.
But with all this awesomeness comes two major downsides to Michelle: one is her cursed gauntlet in the center of her growth panel, which is L1 and never levels up, so it really cuts into her stats.
The other is that she only has six LP. Six. Not only is she theoretically the strongest physical character in the game, she's also the most fragile. Truly a glass cannon! I guess jumping between extremes is kind of part of her character both in personality and stats...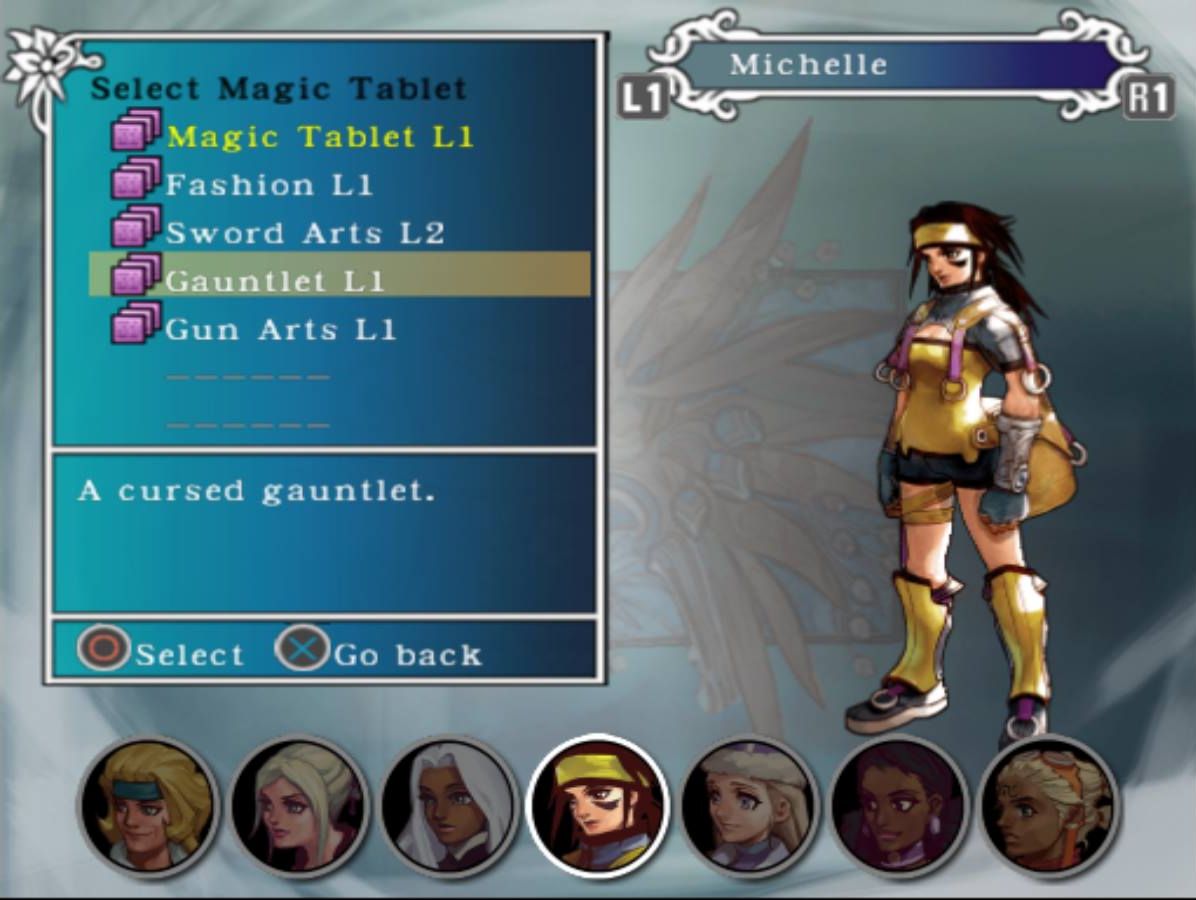 Michelle's starting panels are pretty nice. They're well-rounded and give you opportunity to branch out on whatever part of her you feel like developing. She starts with an Earth magic tablet, and she even comes equipped with an enchanted accessory that lets her use Boulder, so you can start learning from her tablet right away. She already has proficiency with swords and guns, and she comes equipped with both, too! This also makes her one of the few characters that can give you access to a gun.
Fashion is pointless on its own, but it boosts the power of Maharaja, Monger, and Diplomacy so if we were to get a Monger panel for her, she could give us an even better discount... good for players who decide they don't want to deal with her 6LP for too long. Grab Monger and bench her for the rest of the game. I'm not that type though.
Michelle's starting HP is also pretty terrible -- it's barely over 100. Mythe's was 90 at the start of the game, and most characters in the party are nearing 300 now. Grace has more than 300, I think.
But she does come with good equipment. Like I said before, she has the Boulder armlet, a gun, a copper sword, as well as some copper chain mail, and some boots. Way more than most characters...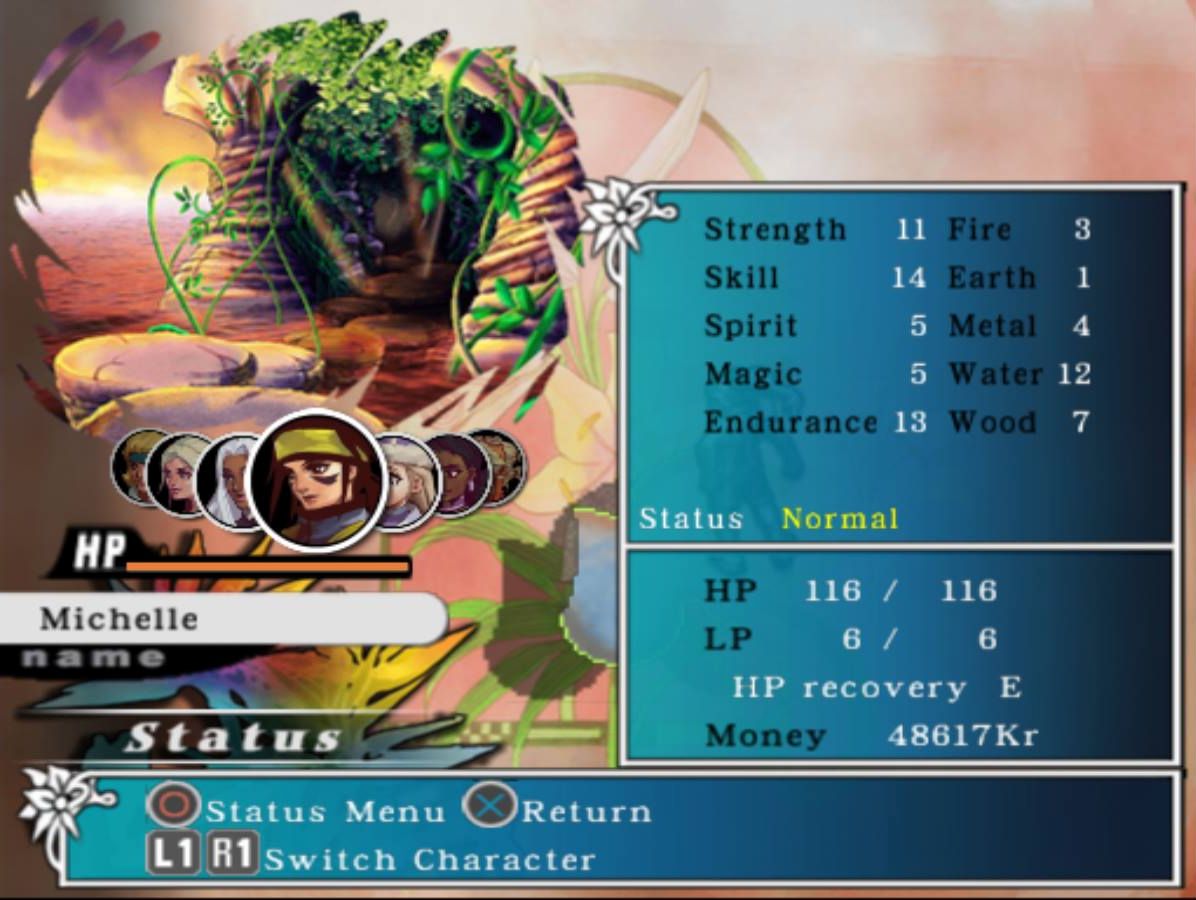 Anyway, with our two new friends (... or are they clients, since Mythe is pretty much just helping them solve their problems?), we head out toward Sadovos, where Marie's grandfather lives.
This first adventure is just another basic "travels" adventure. Three roads. But the first road we walk on is pretty interesting in appearance. There's a lot of neat paintings here, including going through some little caves... it's a lot of fun just to look at.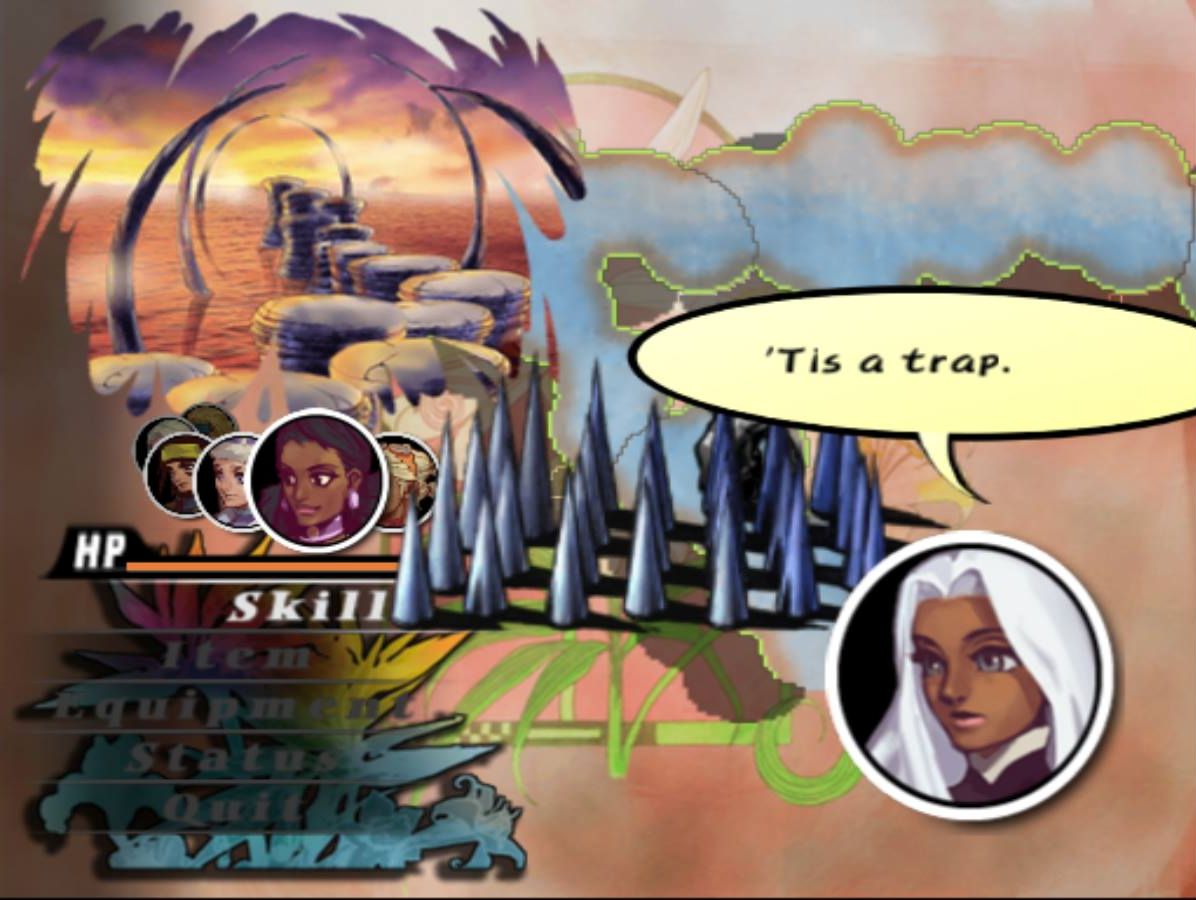 When Silver Girl triggers a trap, she says "'Tis a trap" lolol. When she actually gets hurt by it, she just says "Unsuccessful." Mythe, you have weird taste...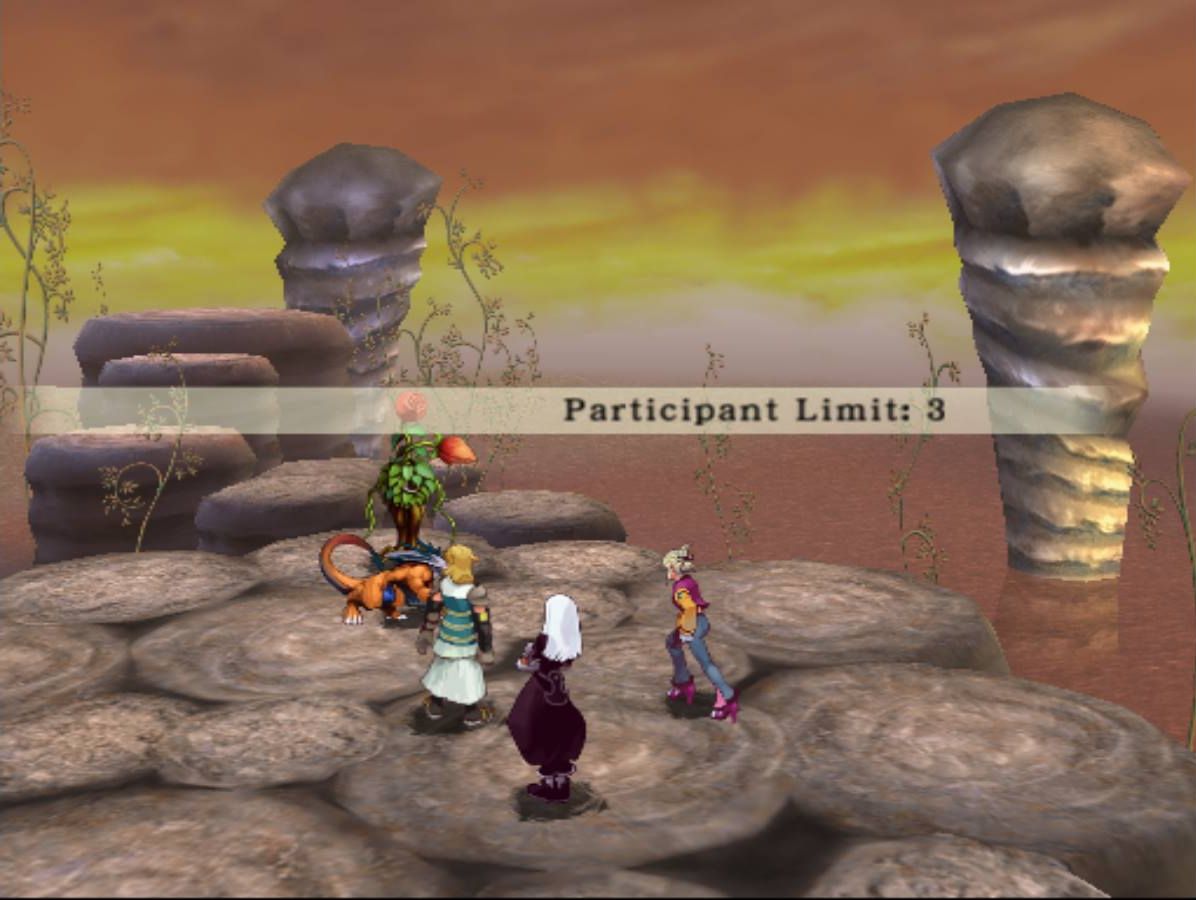 This road is also interesting for its narrowness; you can only have 3 characters in battle at a time.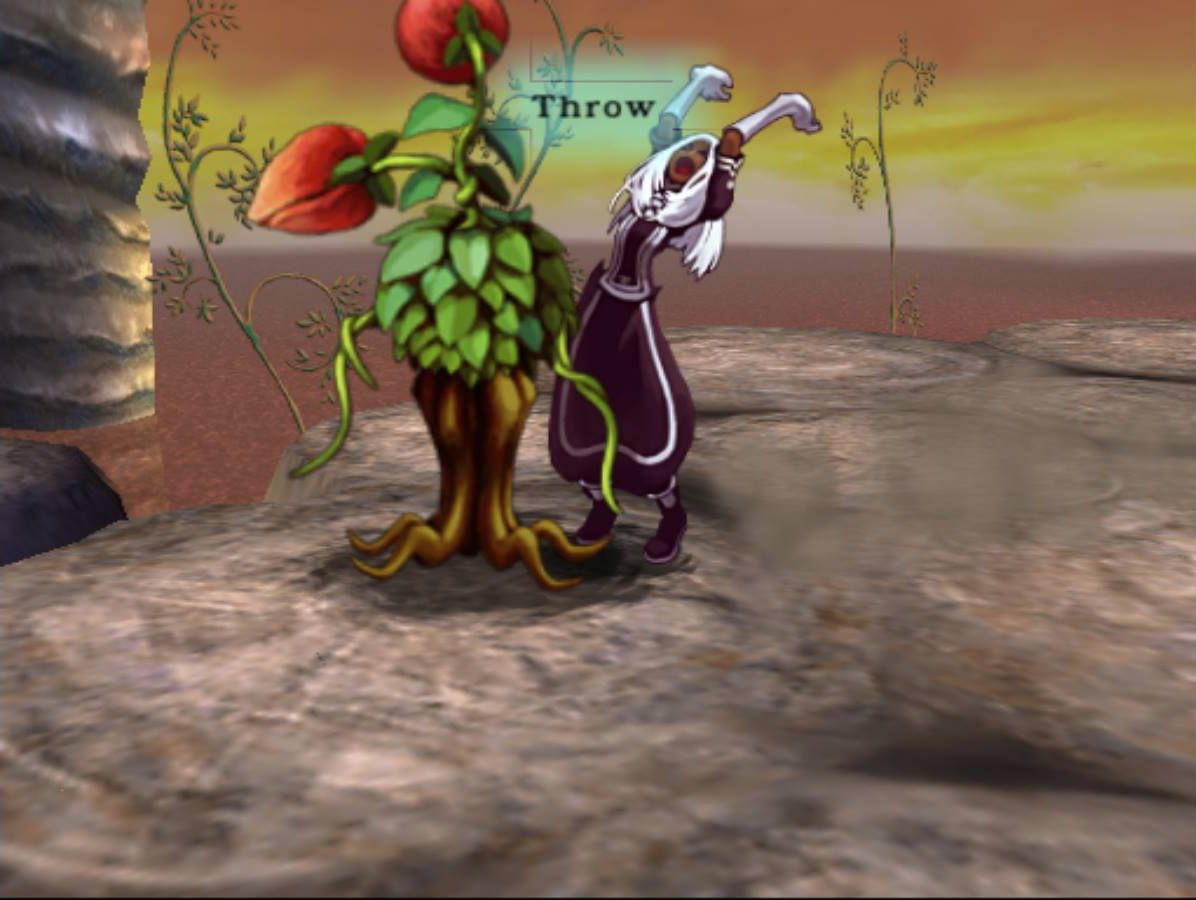 Silver Girl has really weird animations. She looks completely stoic, but when she does something like throw or get hit she just turns completely wild.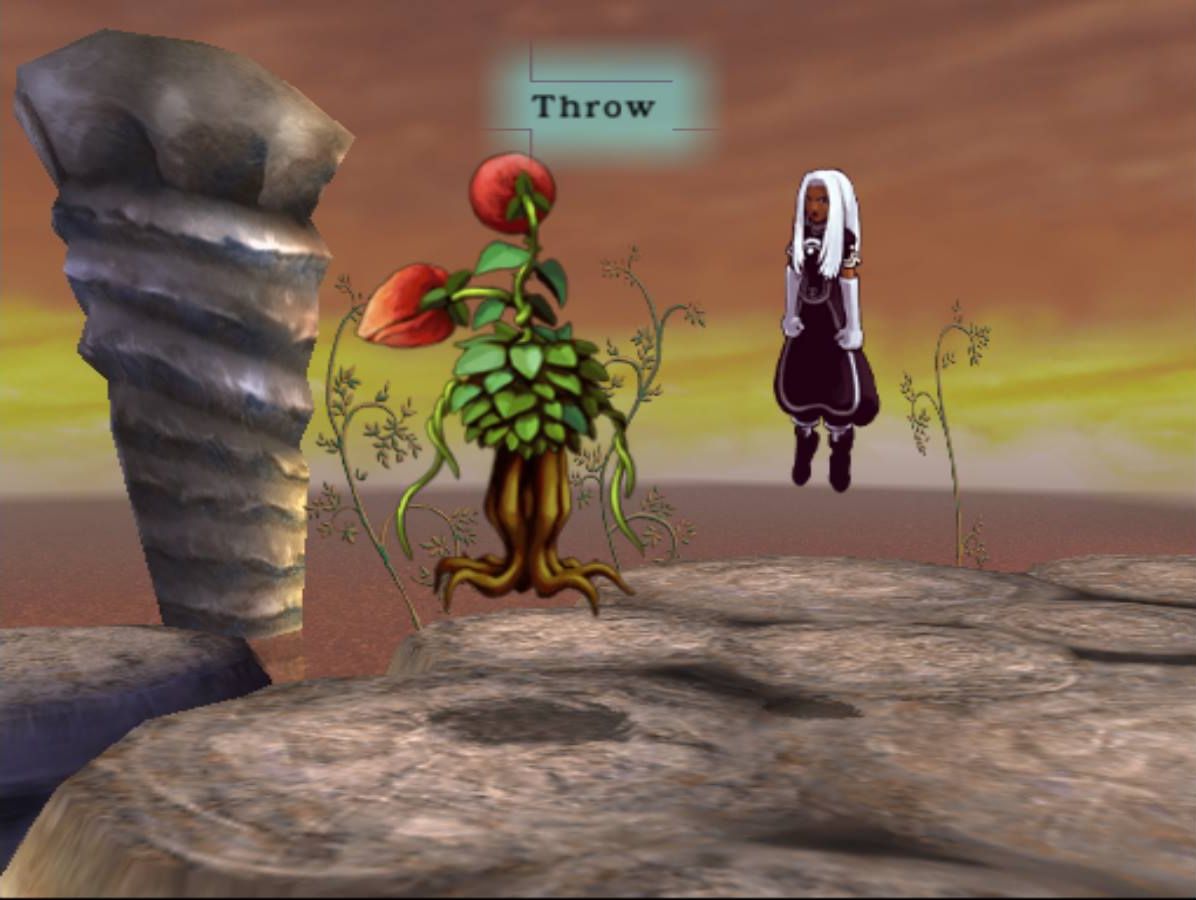 Her jump...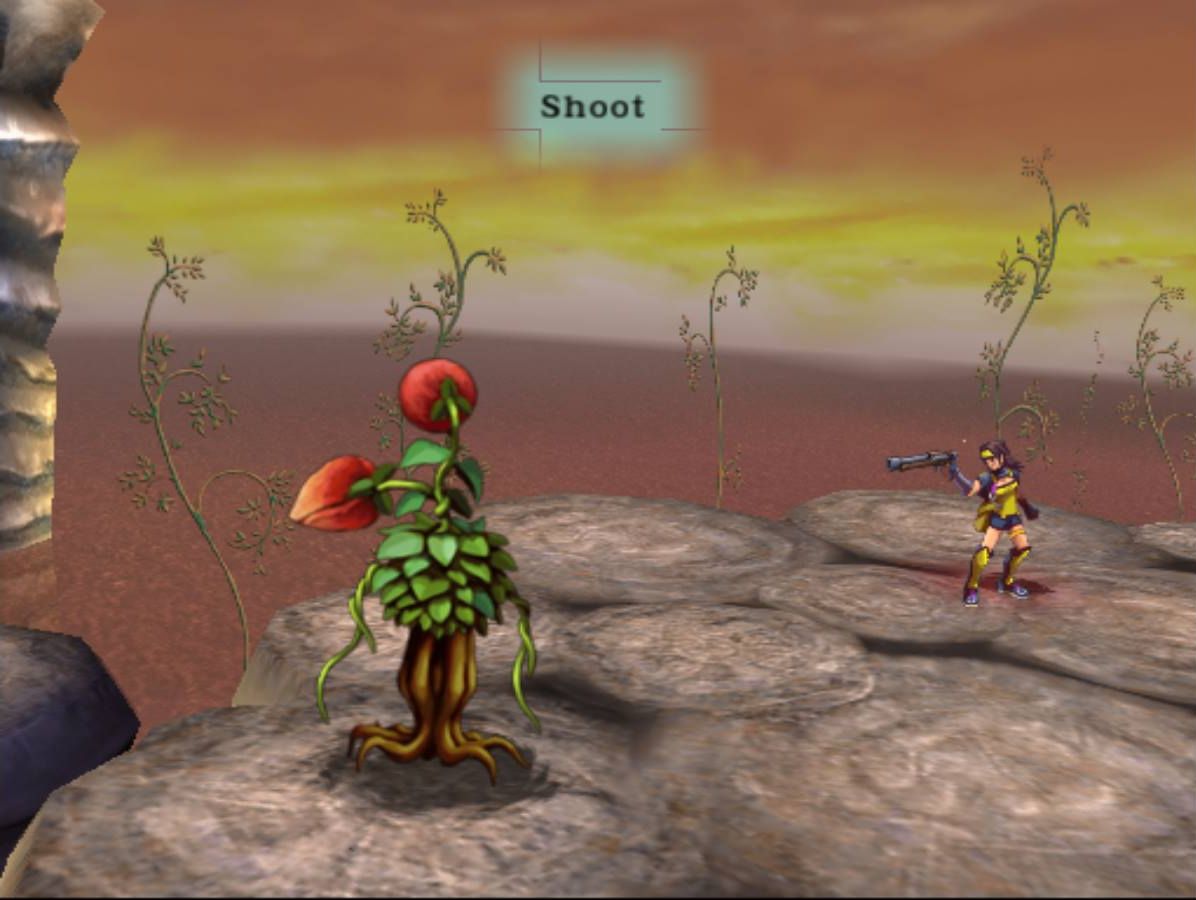 Michelle looks pretty awesome with the gun.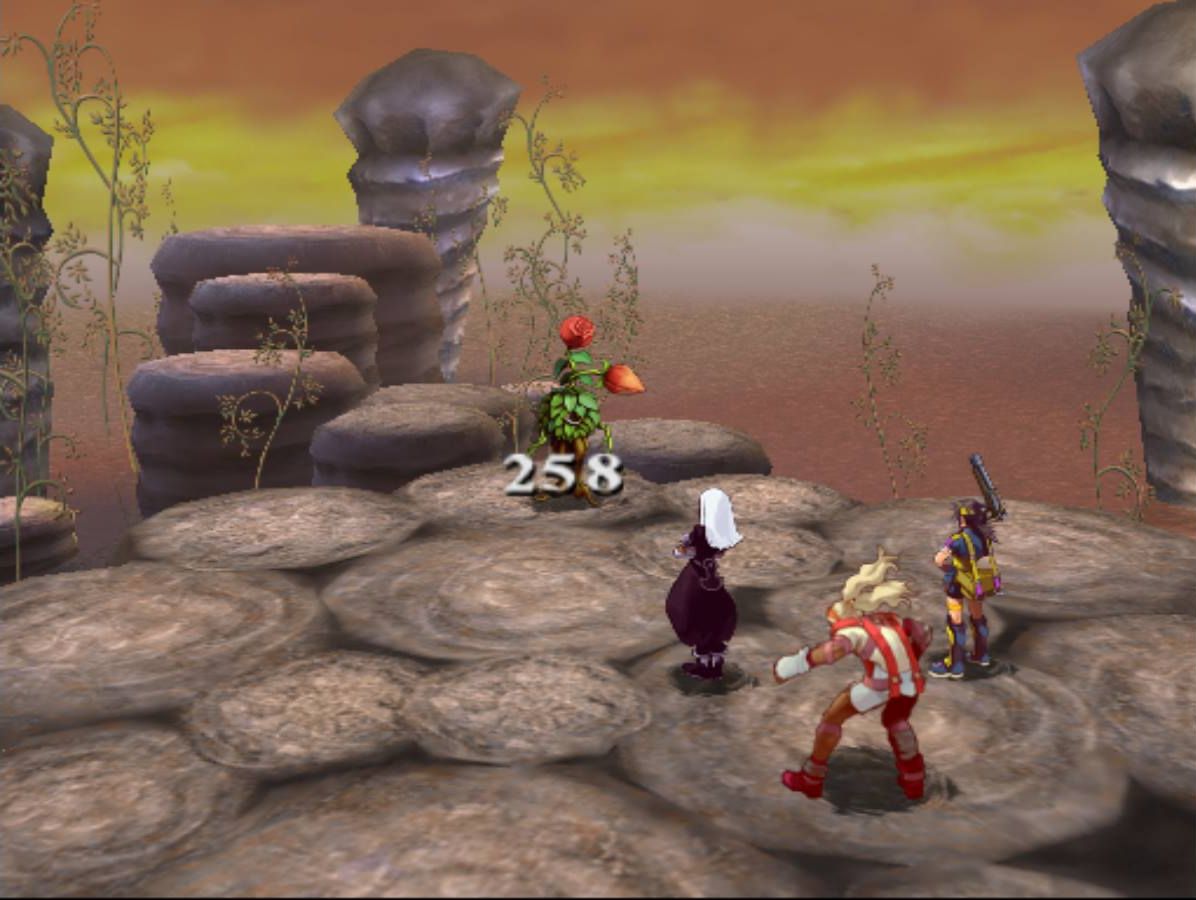 Check her little gun pose out after she's shot. Also Silver Girl stands cross-armed looking bored whenever she's not participating.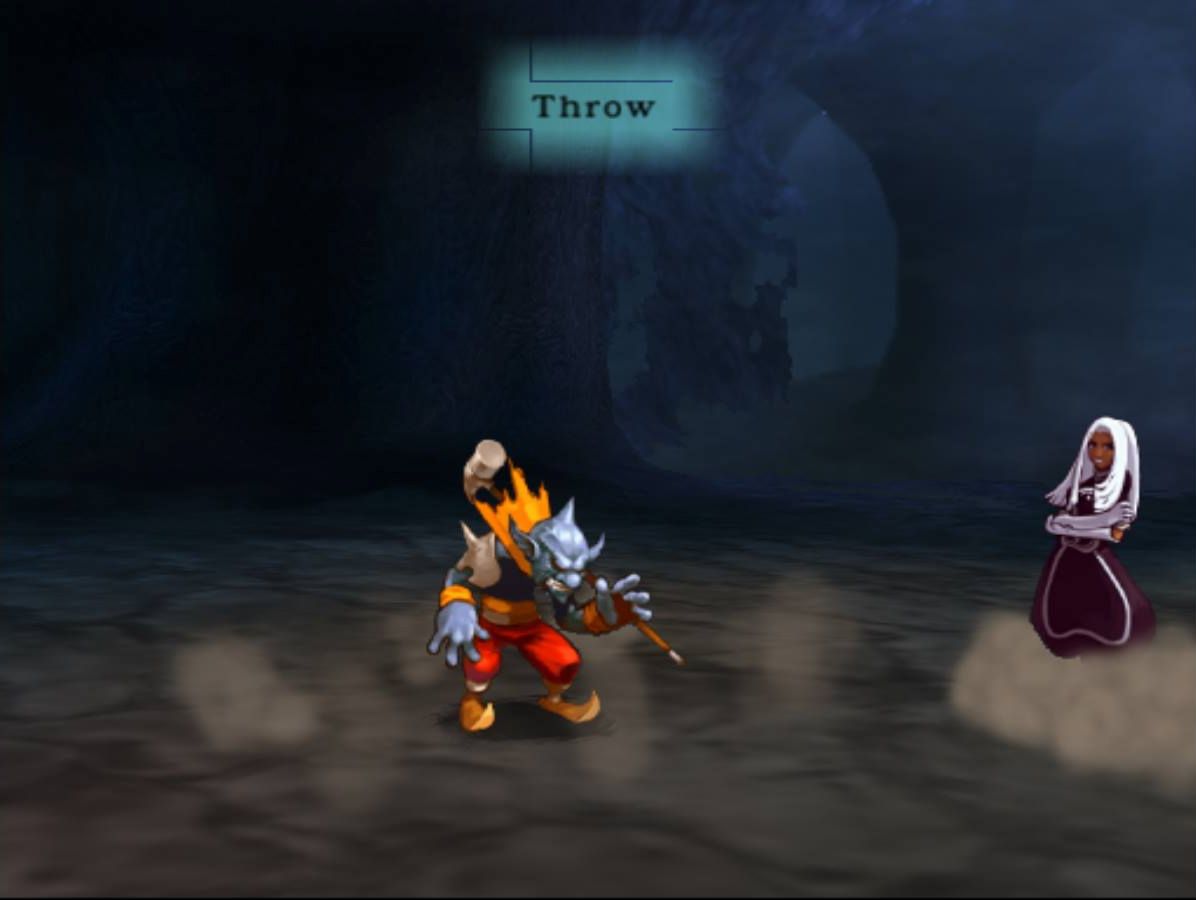 Here it is from the front lol. She also has white lips in battle?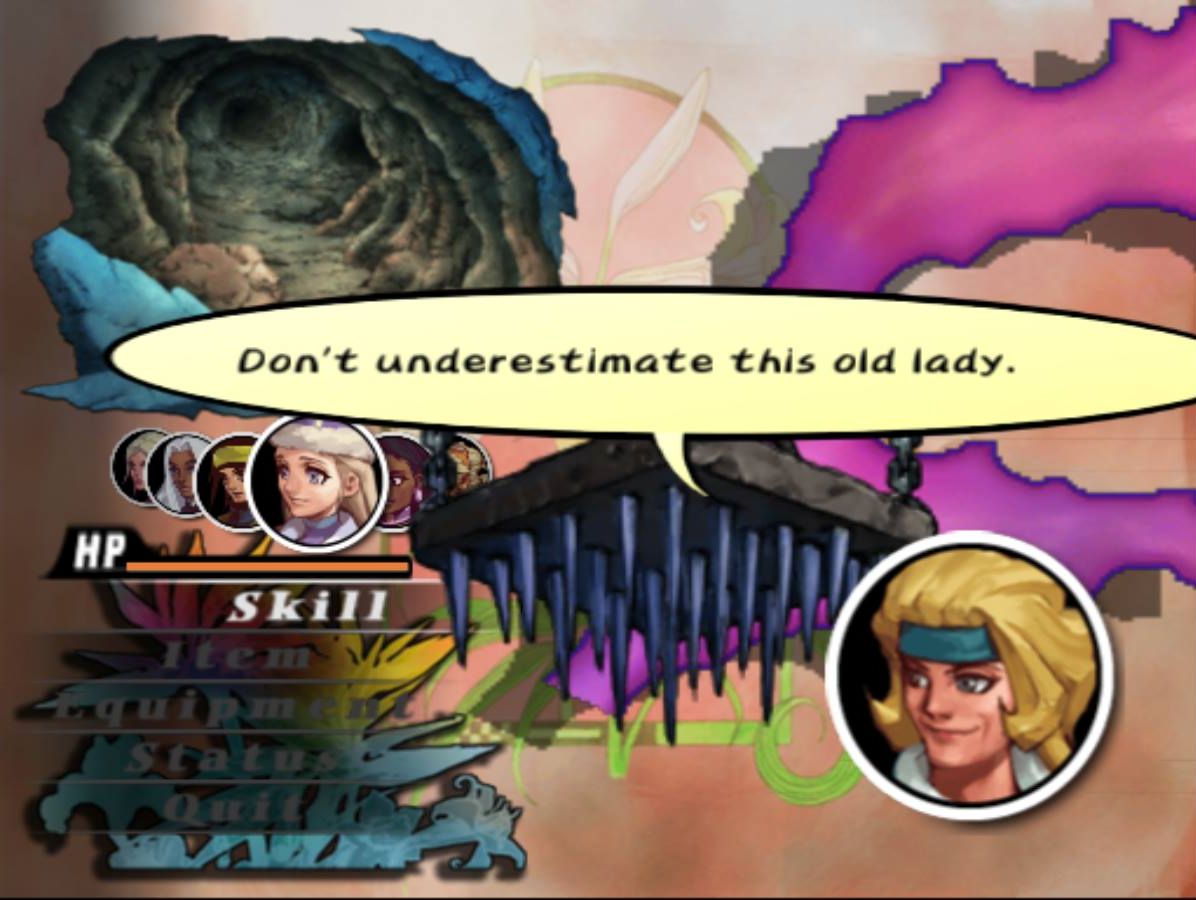 Pharr evading a trap :D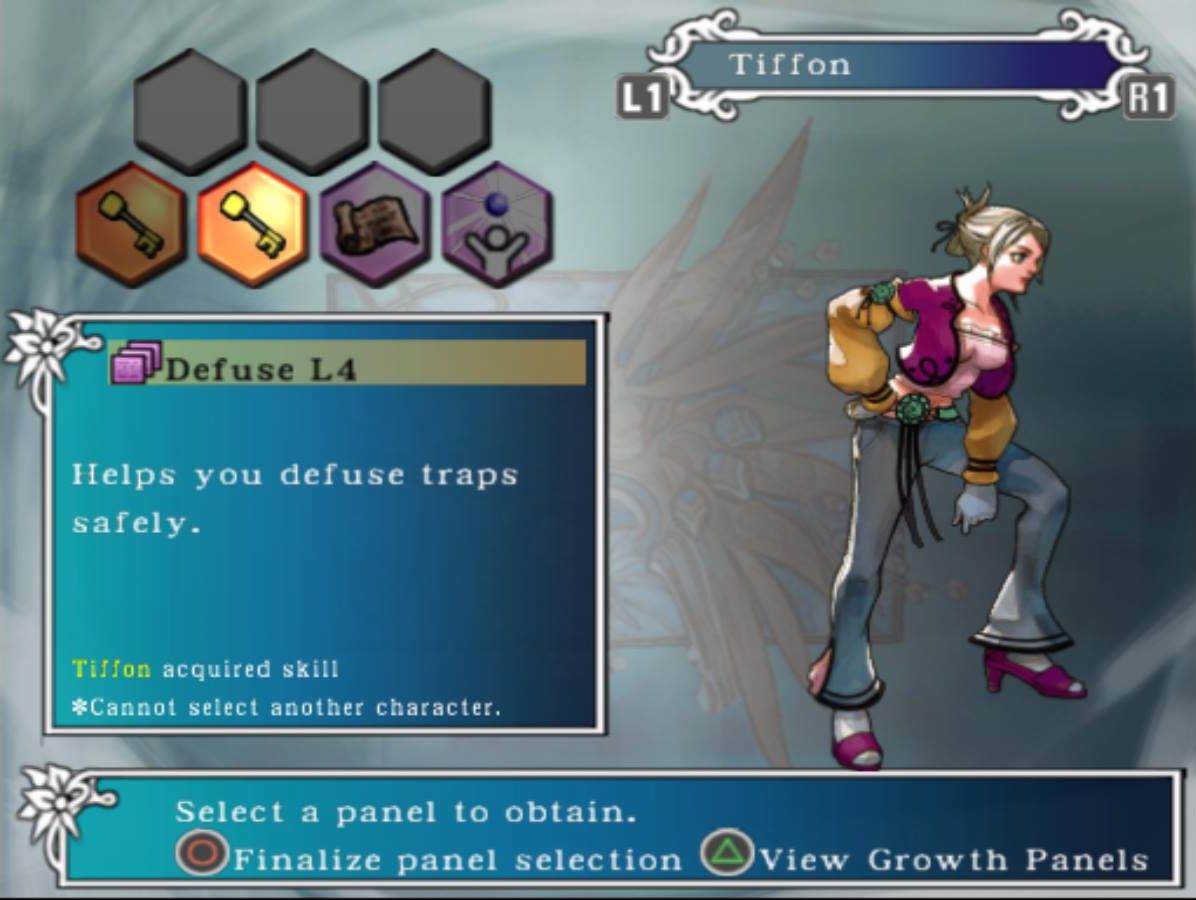 We only had to be without Defuse for a single adventure, because as soon as we got to Solophero, Tiffon got Defuse L4!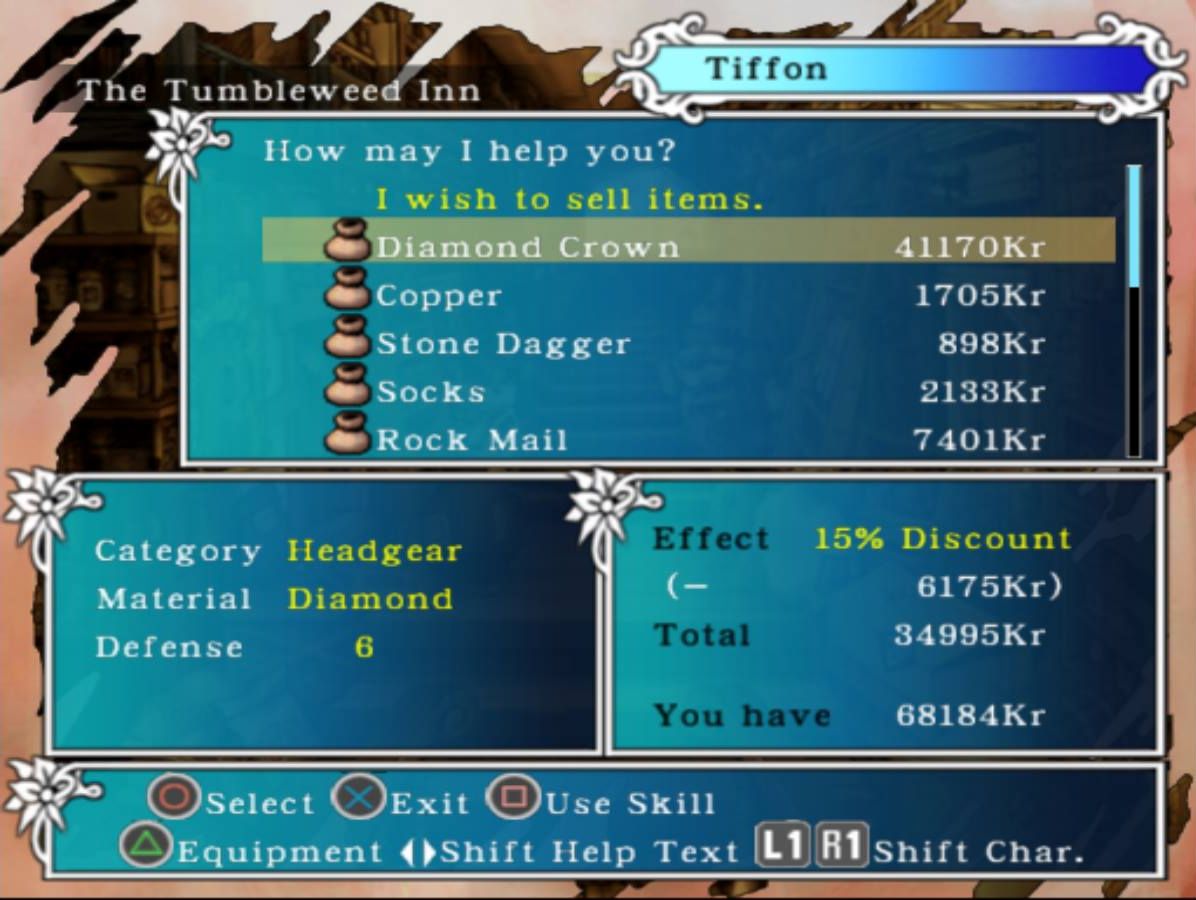 And since we were in town, it was time to... travel the entire world to go to every shop again. This Diamond Crown was really expensive but... Grace really deserves a Diamond Crown, don't you think? I had to buy it for her. Not only is it befitting of the queen of our party, but she has the highest LP so we need to buff her defenses up, because she's going to be standing in the front a lot, most likely... and most headgear has a defense of 1 or 2, with an occasional 3 or 4... So a 6 was pretty exciting.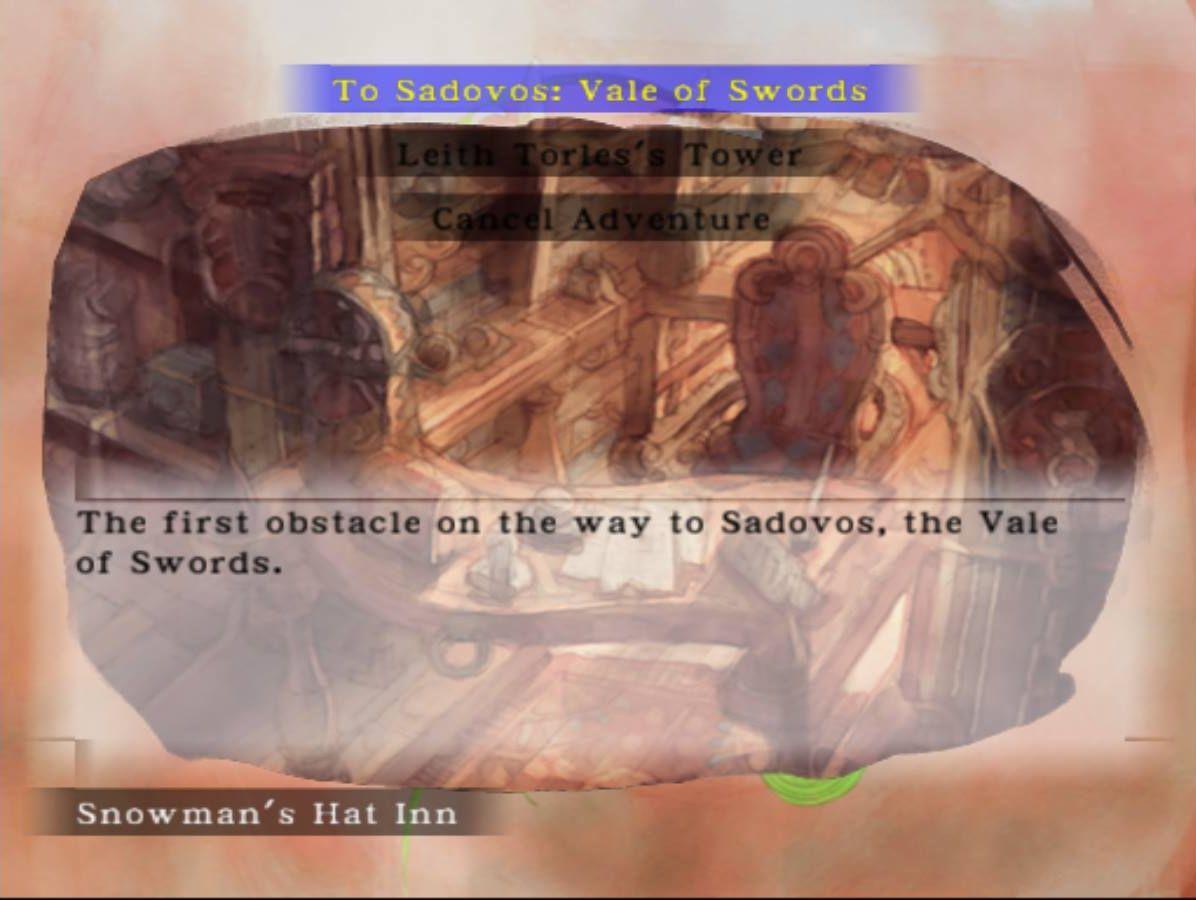 Once we're done shopping, it's time for everyone's favorite travel destination, the Vale of Swords!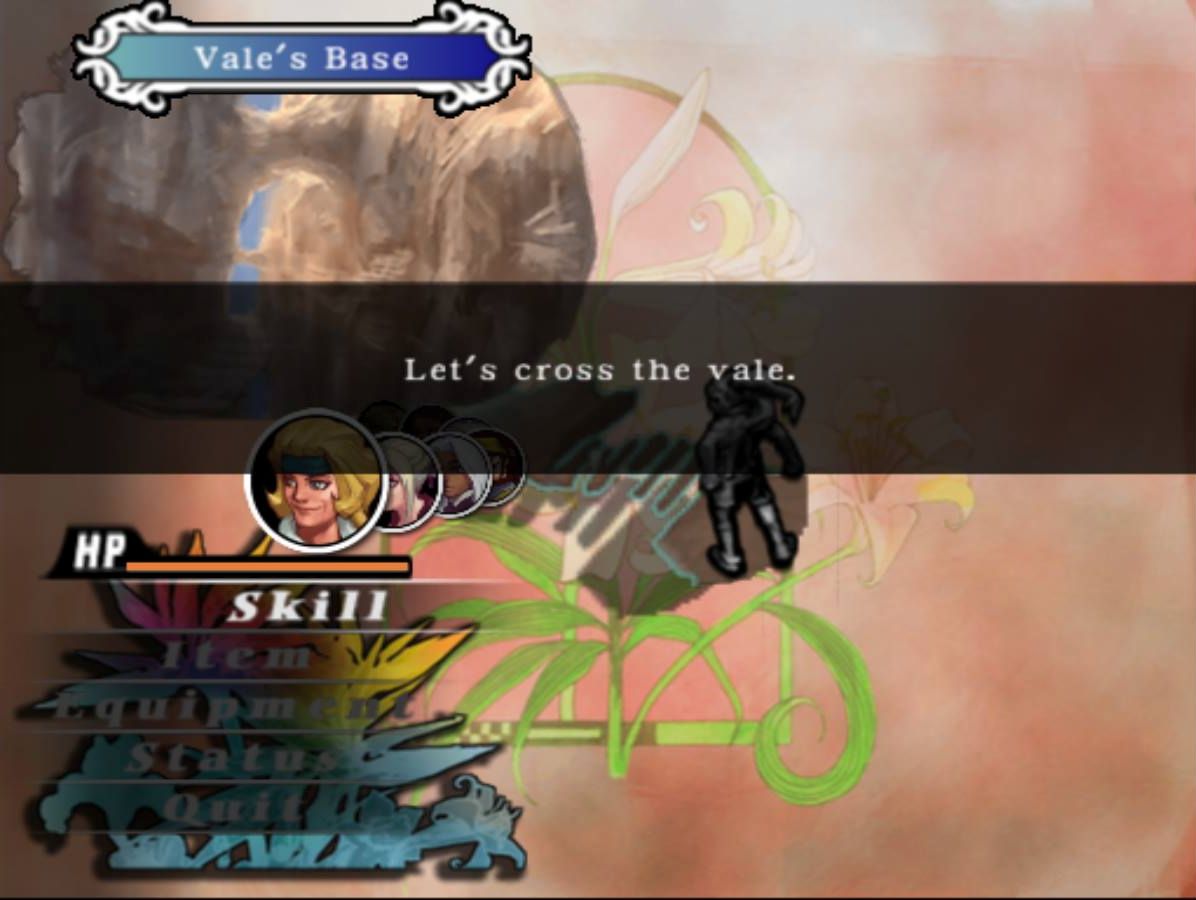 Unlike the normal roads we travel on, this one says, "Let's cross the vale." when we start. There's a huge vale between Solophero and Serin, and it seems the only way to really travel between them is to cross. Sadovos is south of Serin, past the Jade Forest, so this is the only way to get there.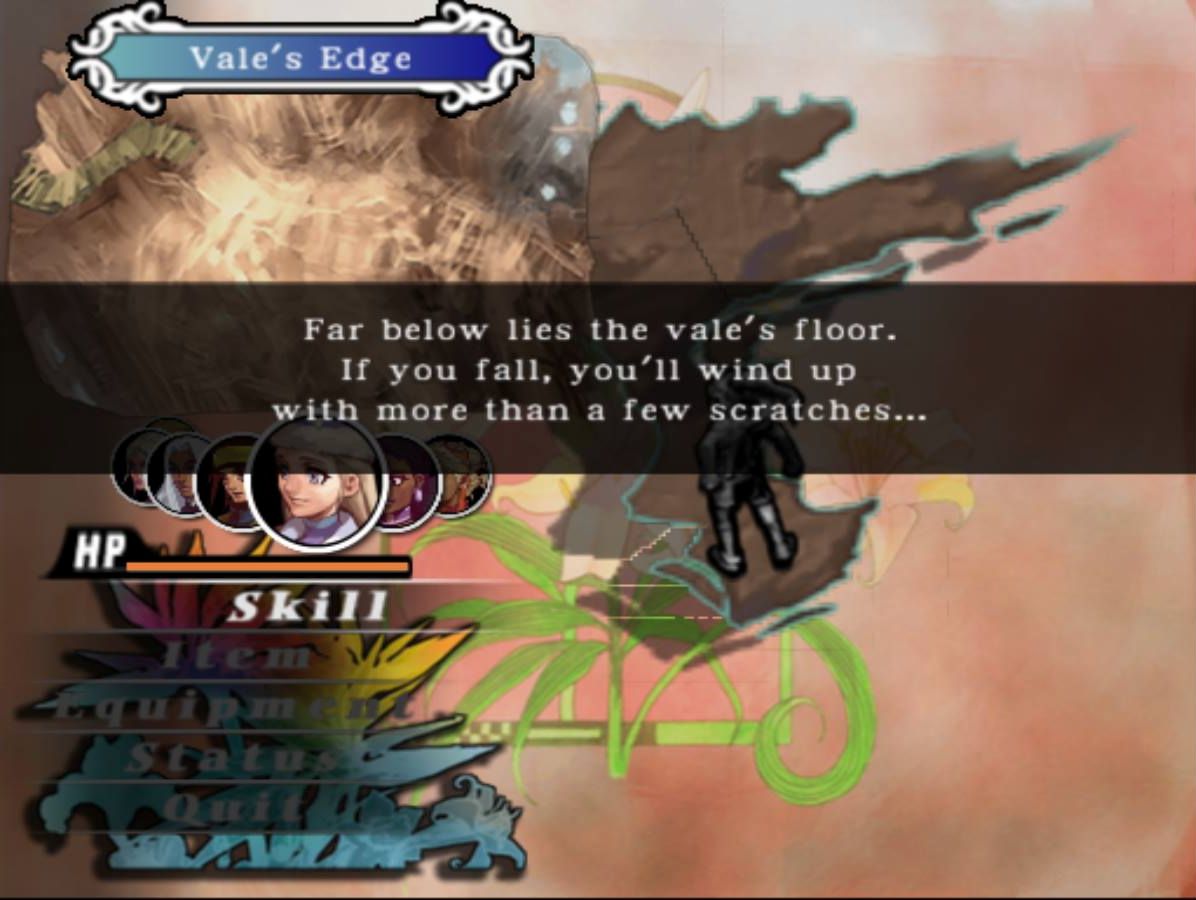 As you walk around the area leading to the cliffs, you'll get a lot of little warning messages like this. Doesn't sound threatening or foreboding at all...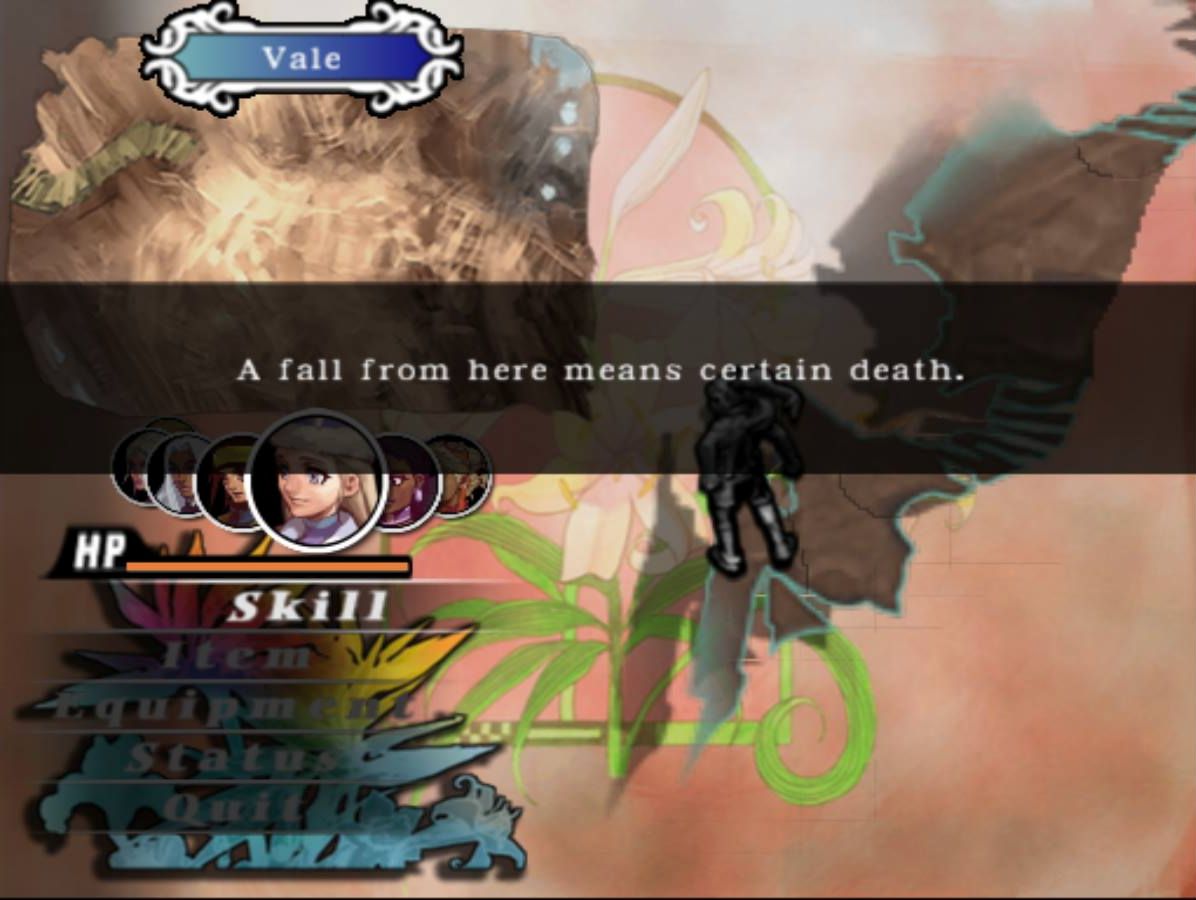 Well, I doubt the game is going to kill us and end the story here, but... do you have a guess as what might happen when we try to cross?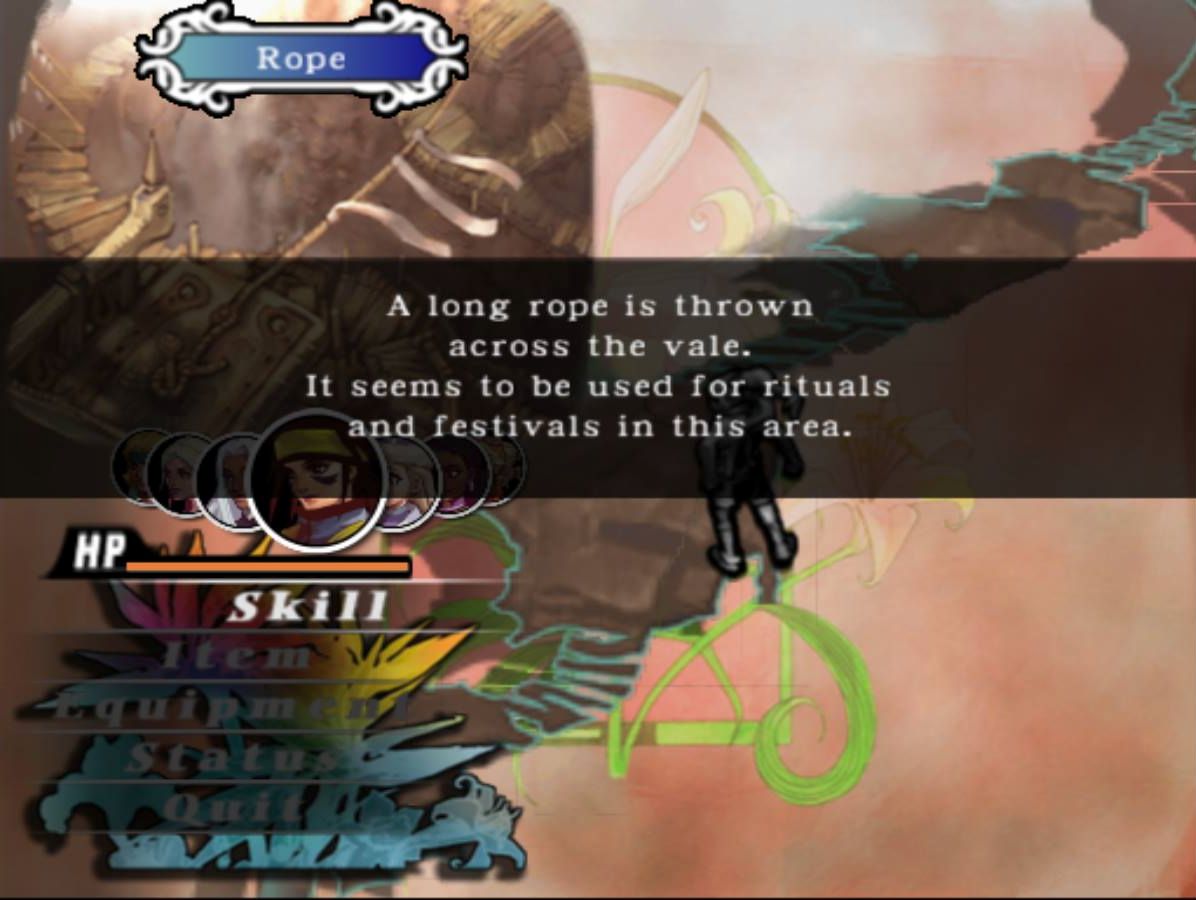 Wait, are they gonna make us cross a little rope?? How do other people travel through here???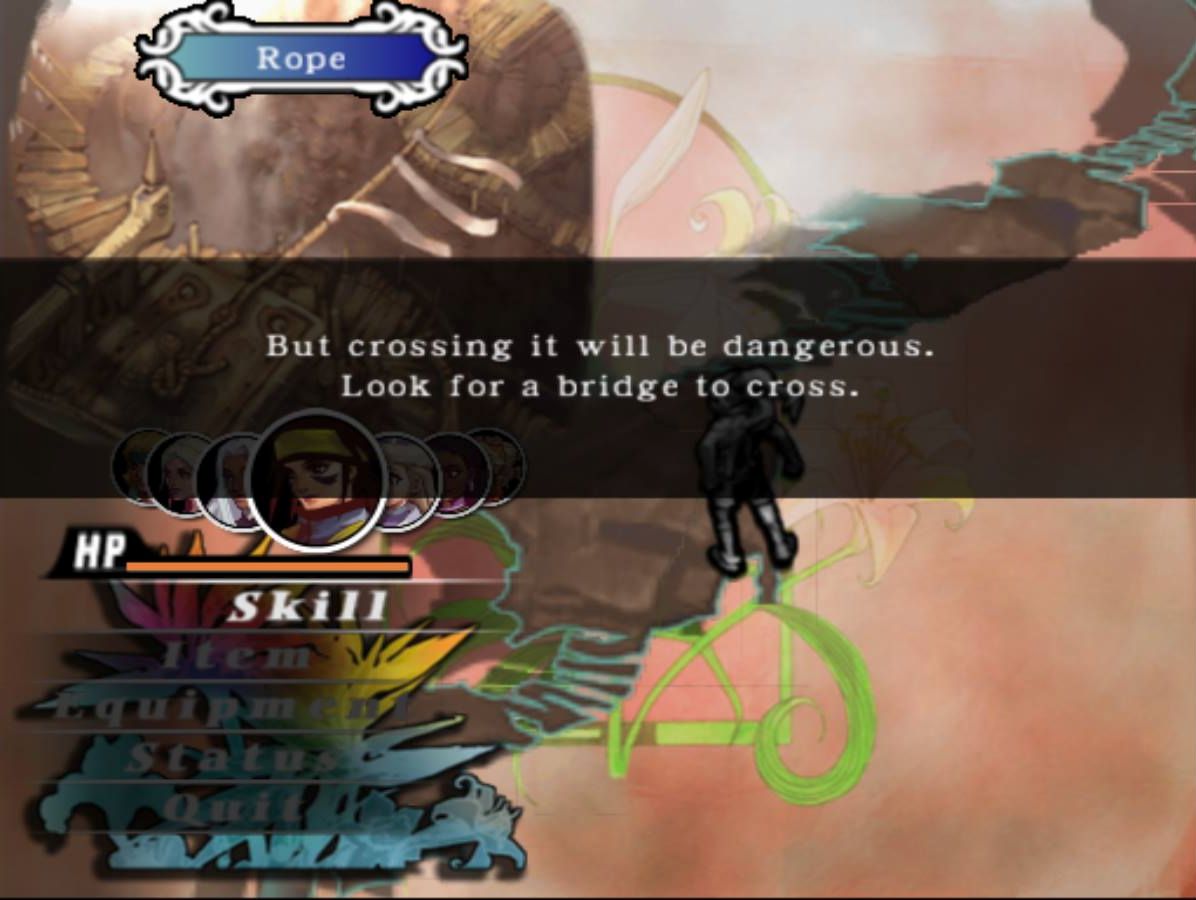 Oh, okay, there's a bridge. Phew.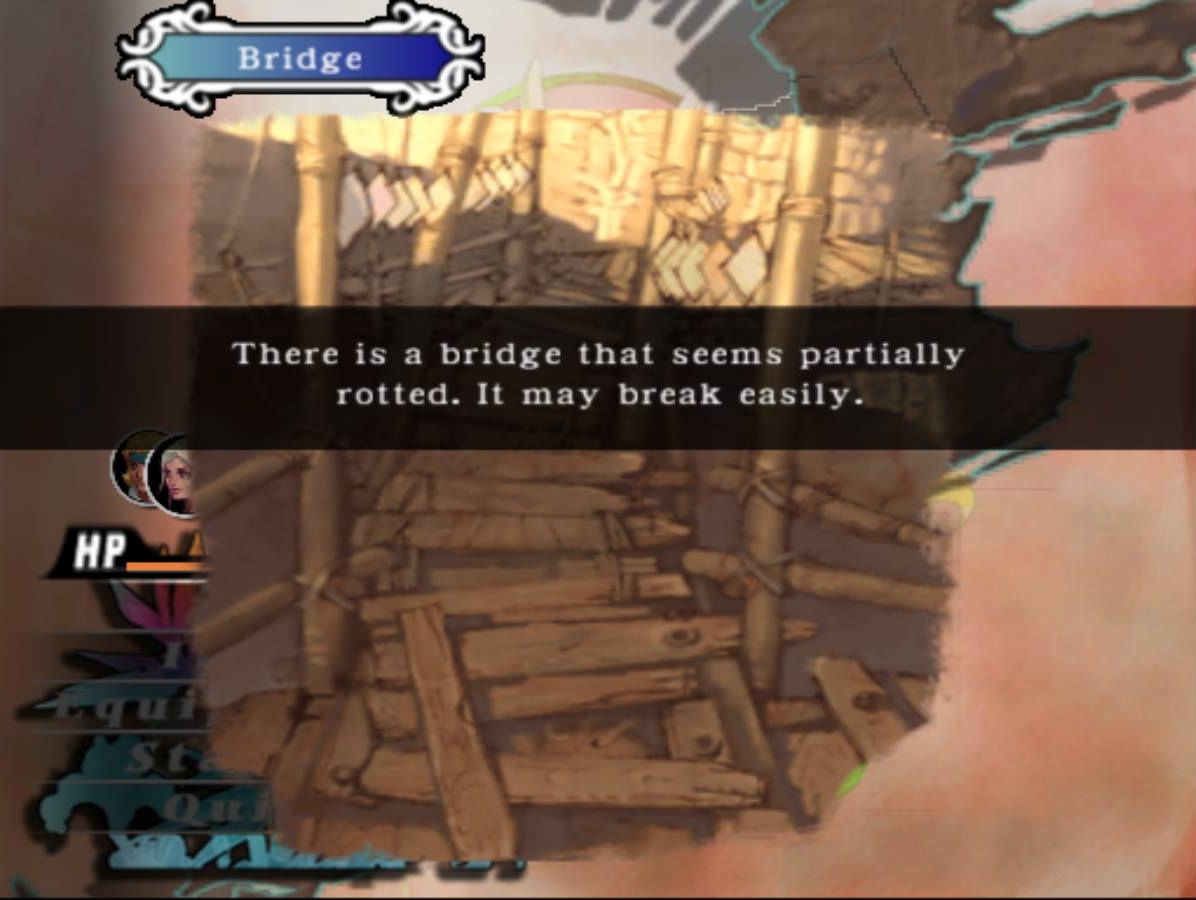 HMMM, I WONDER WHAT WILL HAPPEN IF WE TRY TO CROSS THIS BRIDGE...!!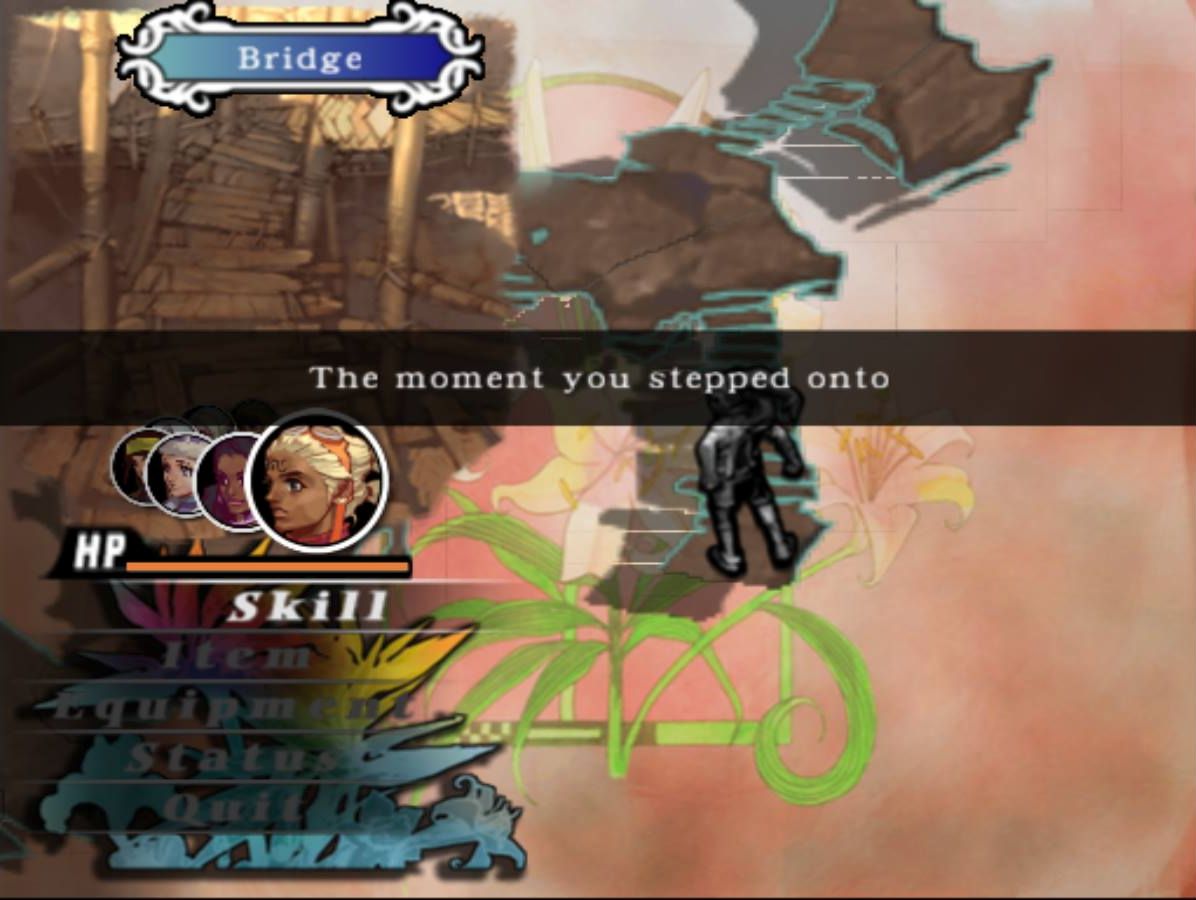 WHADDYA KNOW, IT'S GONNA BREAK!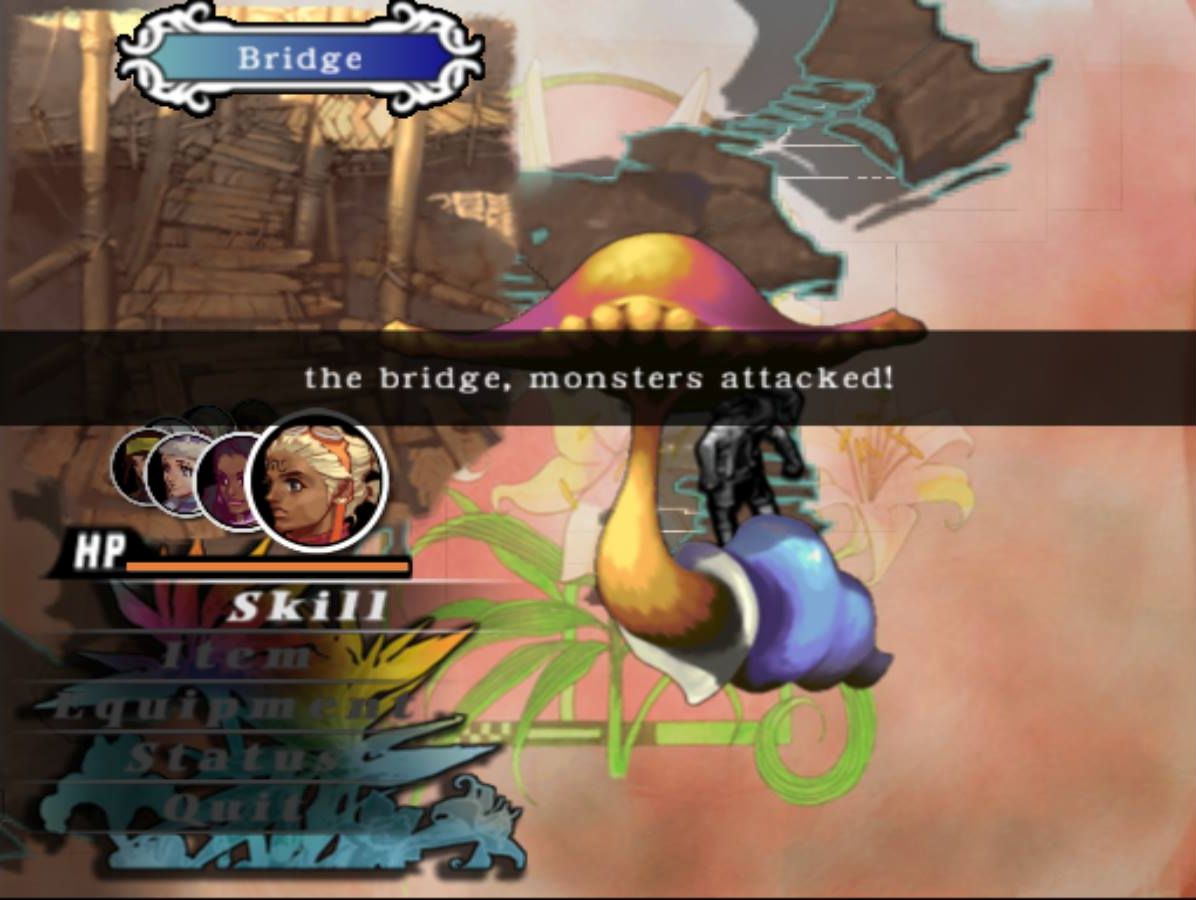 O-oh. It's just monsters?
There was a hoard of vegeplasts on the bridge, but Grace took out all five of them with a single Arrow Rain from her bow.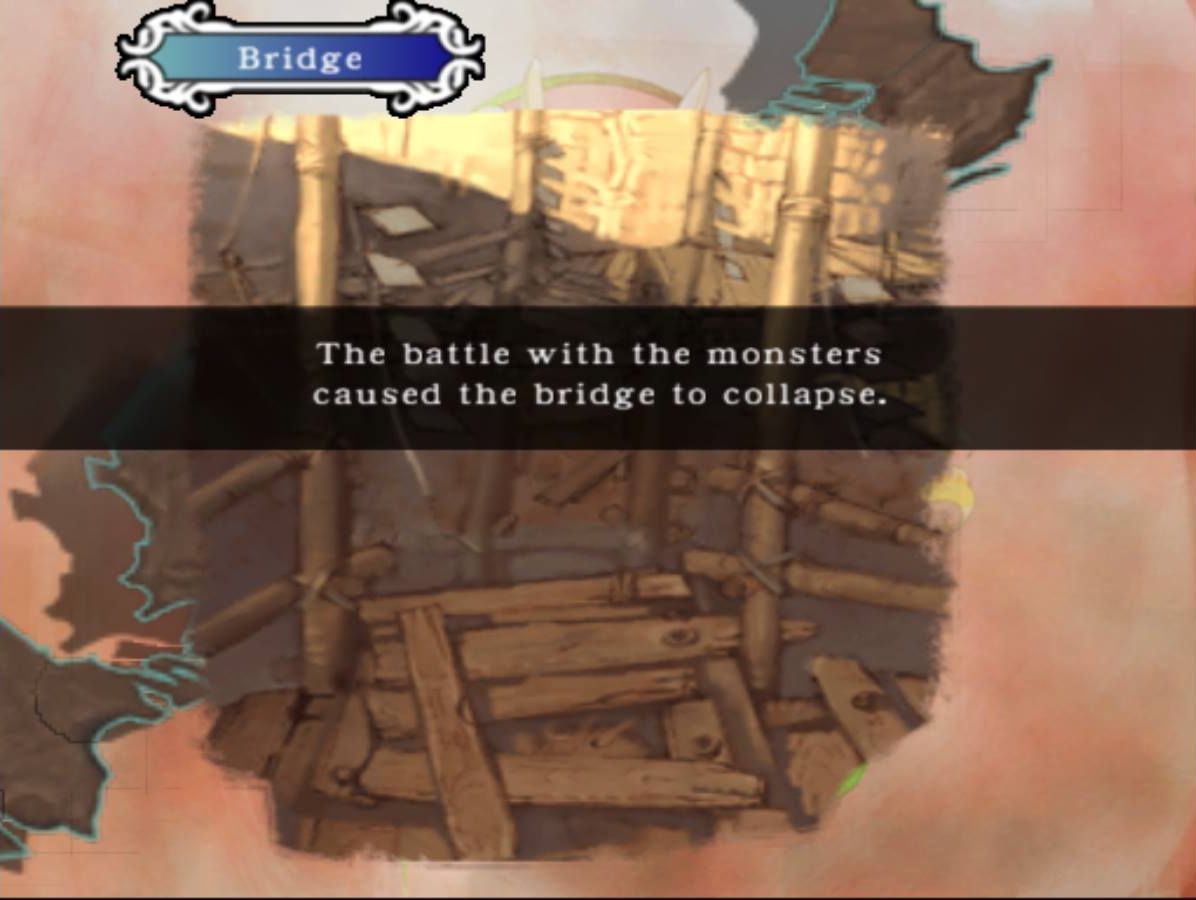 Ah, okay. NOW it broke.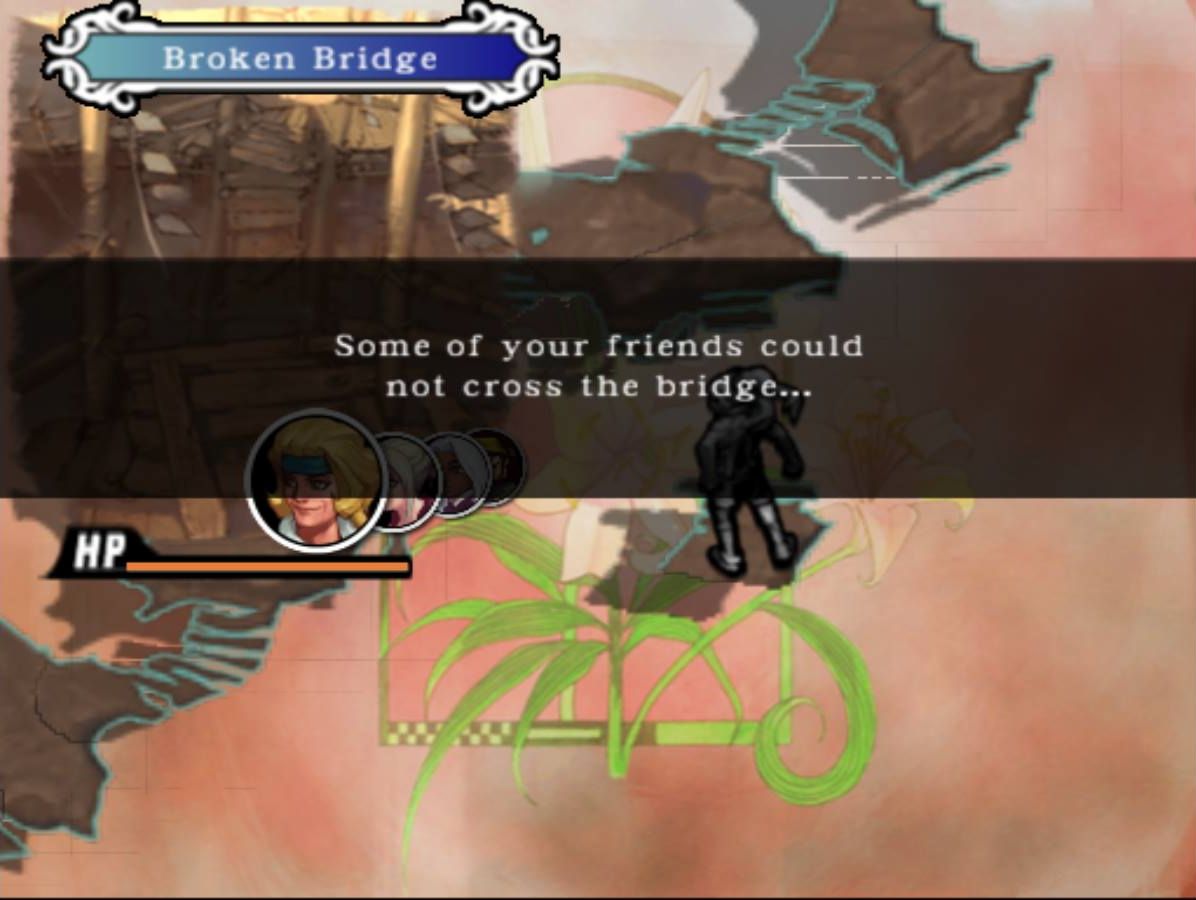 But! It's not what you expected. Pharr, Tiffon, Silver Girl, and Michelle apparently made it across the bridge safely. So now we get to control this smaller party for a while. If you try to leave to head toward Serin, you'll get a message telling you you can't leave without your friends.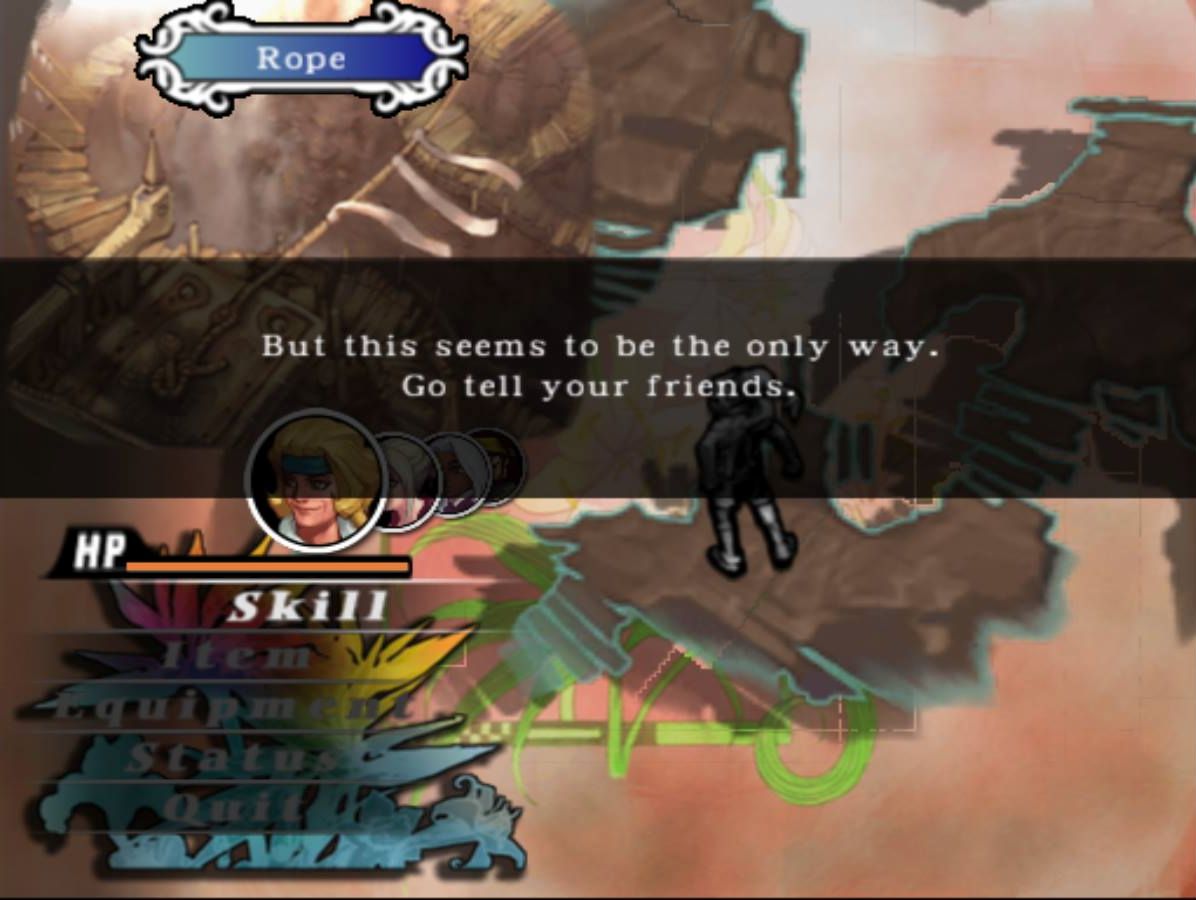 Instead, you can walk back along the edge of the vale to where you found that rope, just now you're on the other side. You can yell to your friends and tell them about the rope. They're on the other side of the vale -- no one actually fell in!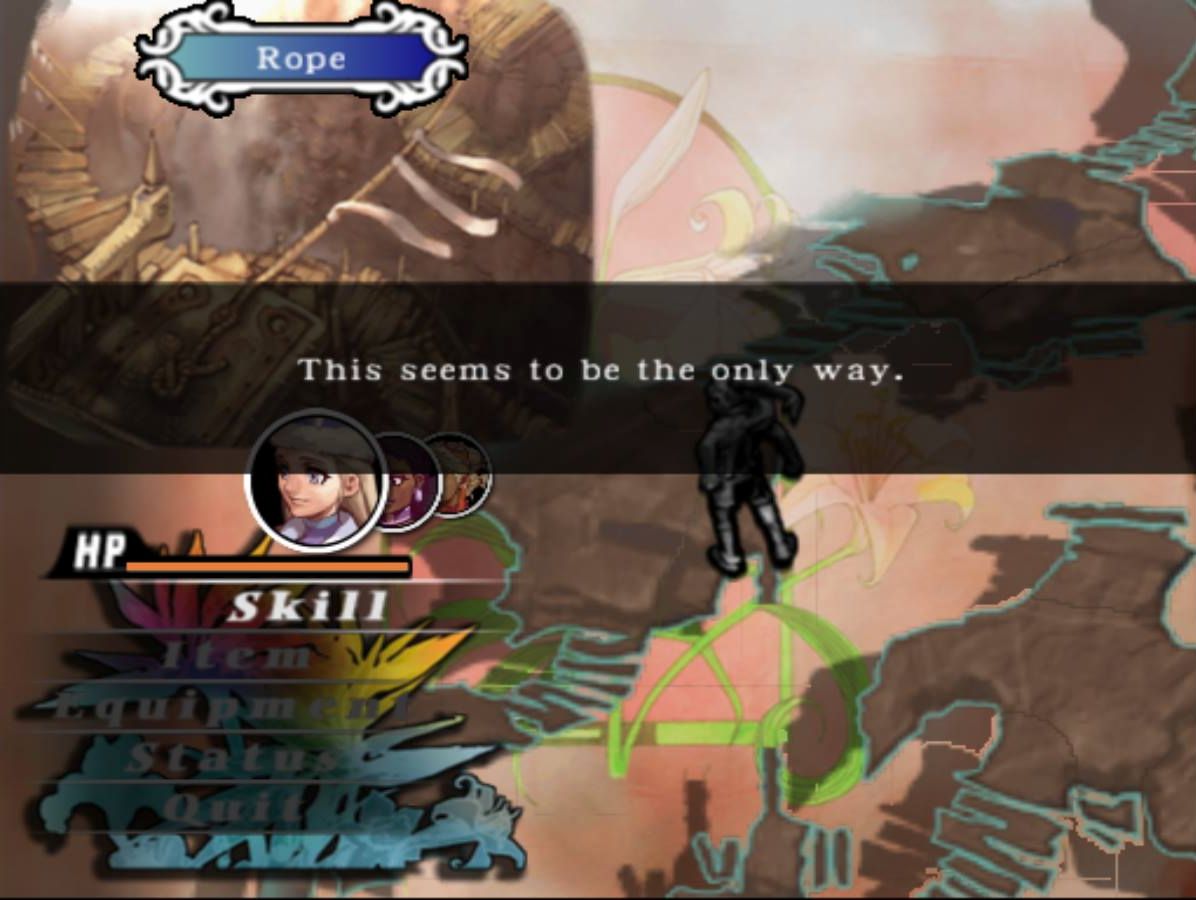 Then you take control of the other part of your party, which in this case was Marie, Grace, and Mythe. Despite having fewer characters, this was the stronger party... Anyway, now you gotta go find the rope from this side again. Which isn't hard because I already found it before finding the bridge, so I just go back to where it was.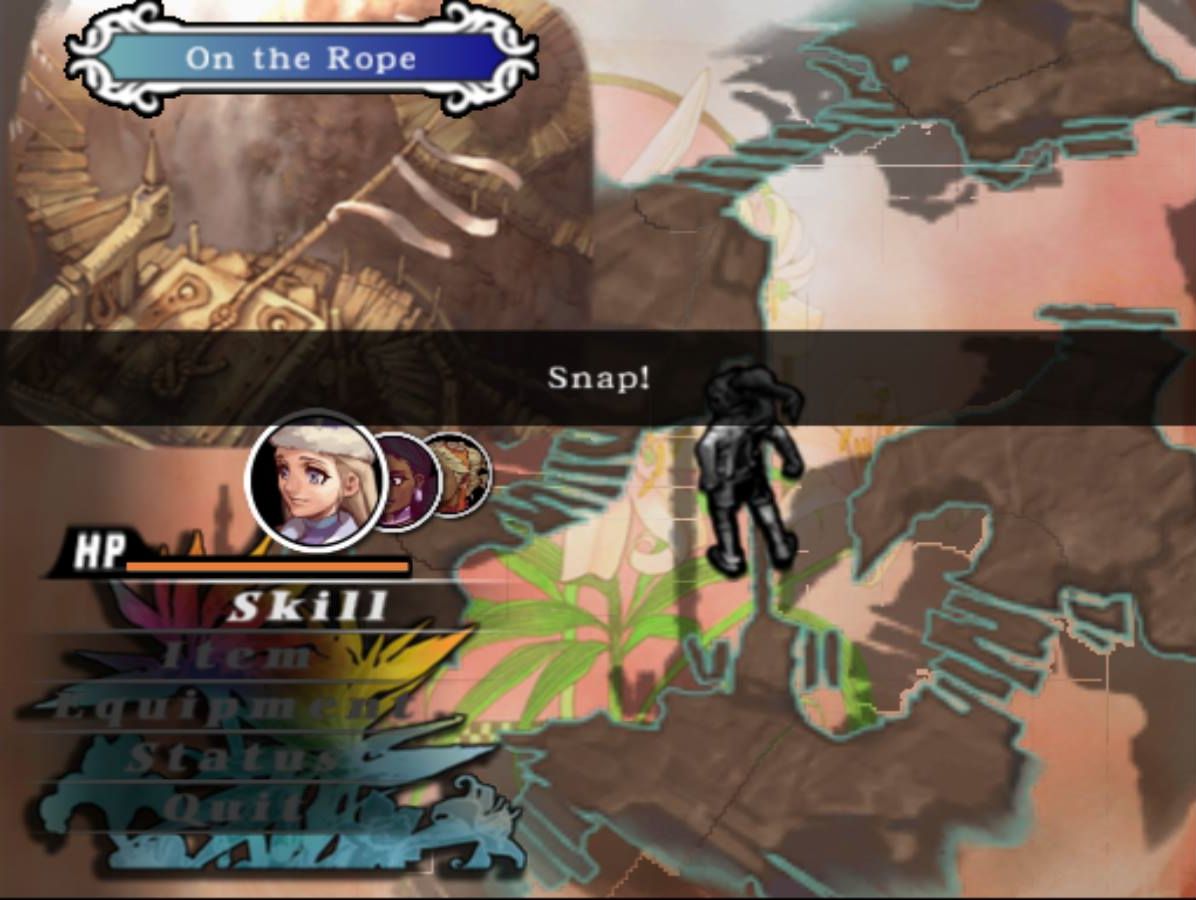 ... Of course.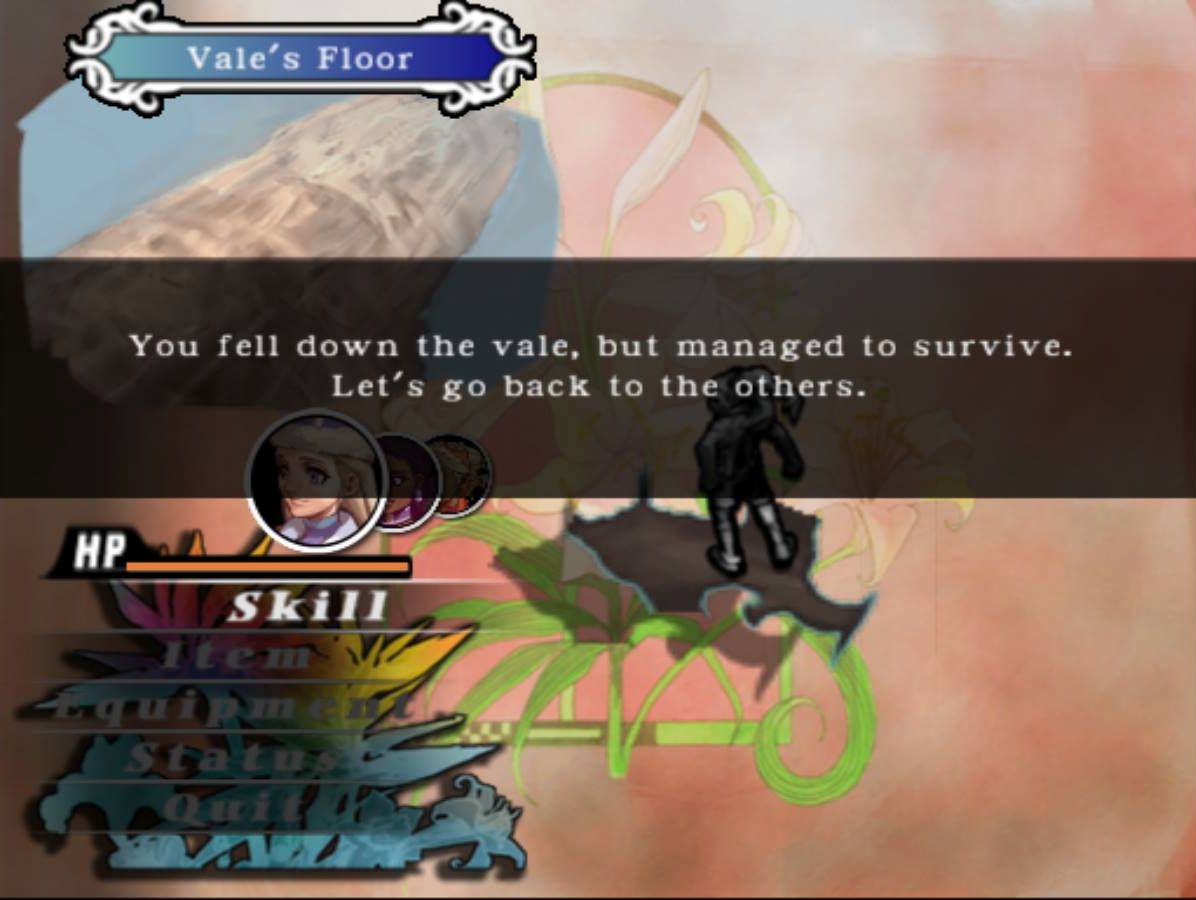 Now you're at the bottom of the vale, but you managed to survive. You didn't even lose 1HP! Down here is teeming with mosnters, but also filled with those corpse treasure chests. I guess probably a lot of people fall own and die here... Let's loot them all! Every so many turns (it seems to be a random number between 3 and 10 turns), you'll get this "Meanwhile..." message and go to control the other party.
While playing as the fallen party, you have to look for places you can climb up, and while playing as the safe party, you have to try to find a way to assist your friends.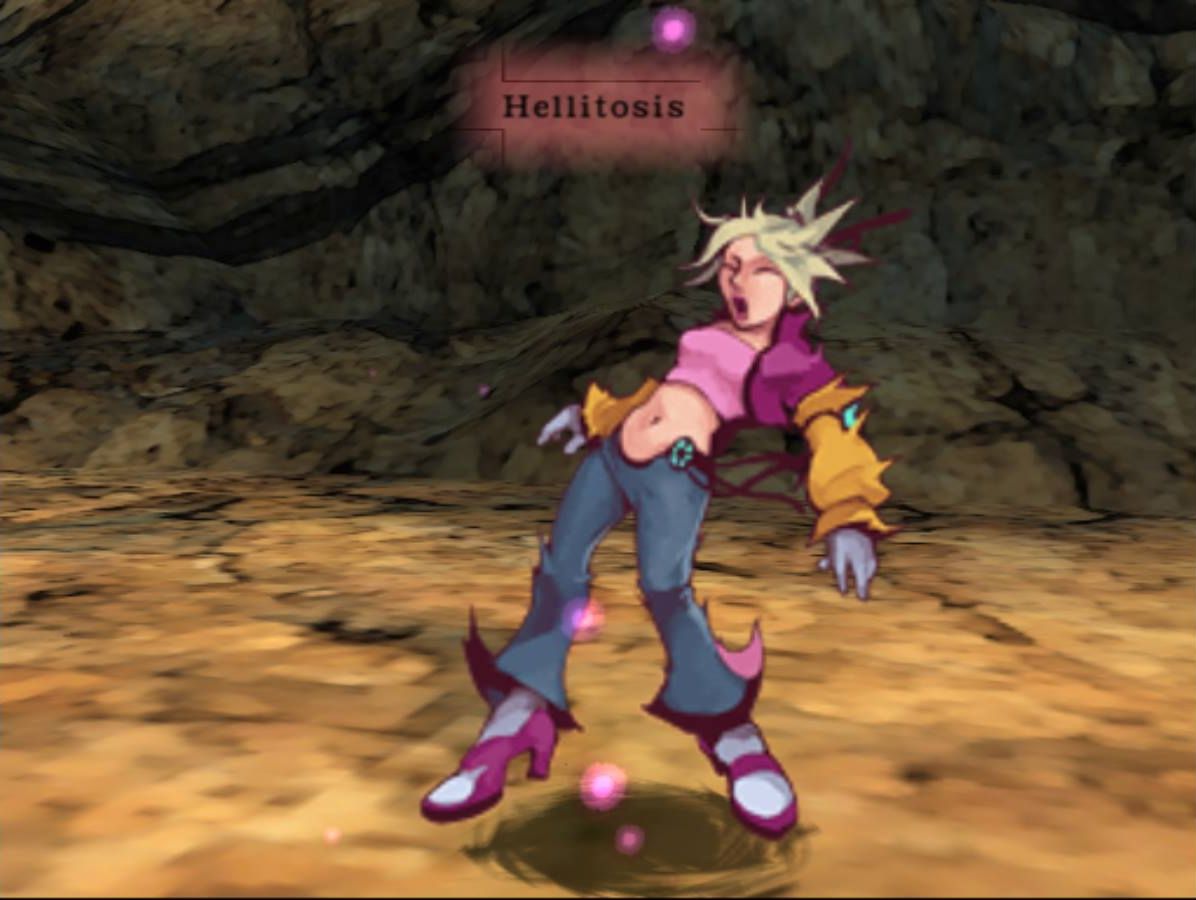 I got a really nice cap of Tiffon's 'getting hurt' sprite, AND I got the 'front' version of it. Probably will never get a better cap of a battle sprite again XD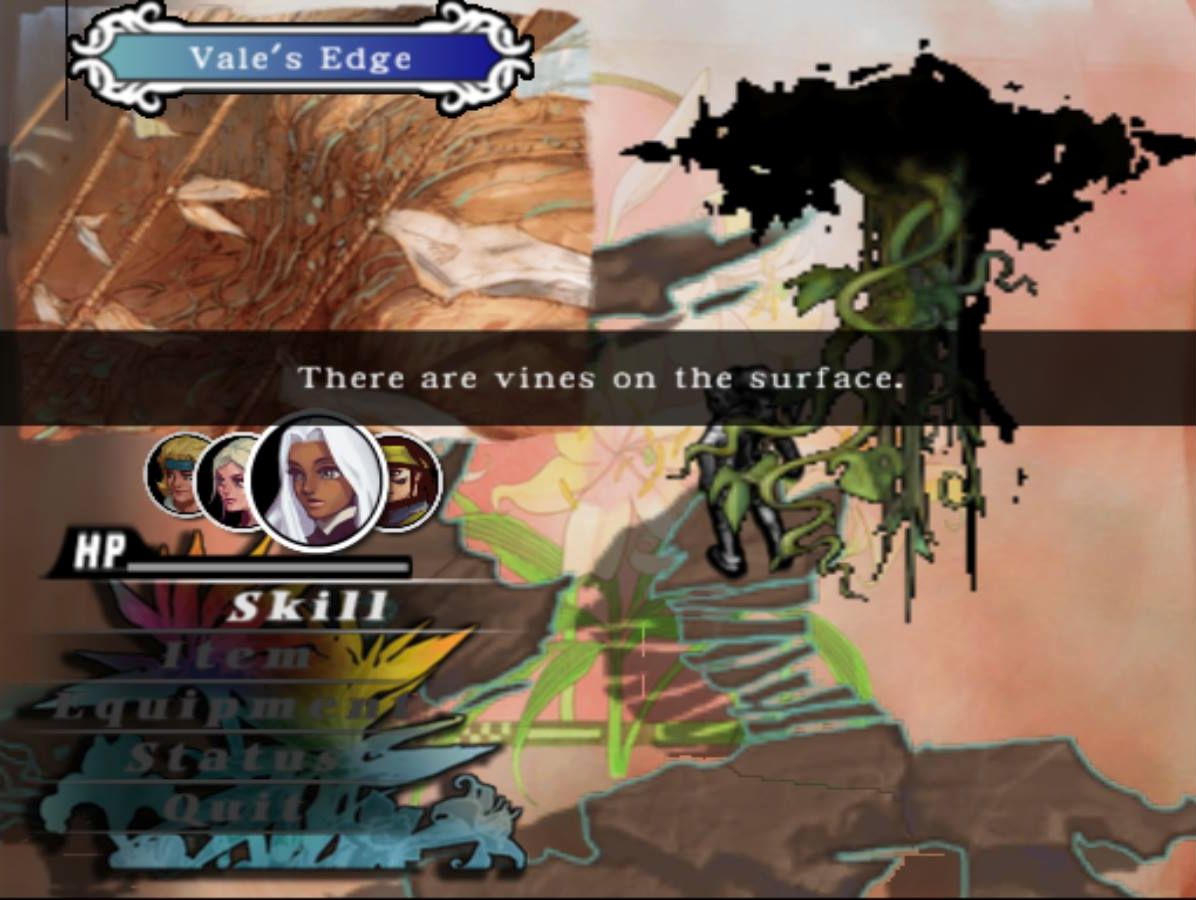 Eventually as the above team, you'll find these vines growing on a cliff. Though that cliff is really out of the way and dangerous, so it's not a good idea to try to get your friends to climb up there. Instead, you have to go find a safe place to build a vine-rope-ladder thing for them.
Eventually once you find the best spot, you'll won't get any more "meanwhile" transitions, and you'll just keep playing as the fallen team. If you find the good place to climb up first, I think you just get a message like "but it's too high" or something and then can keep exploring as the bottom team, so you have to go back and find the right area again once you hang the vines down. But I don't really know, since this is a lot easier to do, so I've never done that first.
Once the bottom team finds the vines, they can climb back up, and everyone will be together again. Then you can venture on to Serin by finding the exit... which I already found earlier, so it's just a matter of walking back up there.
Every time you transition between parties, it reloads the map... which means it gives it a new population of monsters... So you can't really try to explore too much because you'll be faced with unlimited monsters.
In Ventus's story, it's possible to come here VERY early in the game, when your party is only Tiffon and Ventus. And Tiffon will fall into the vale, which is loaded up with undeads. Which she can't damage at all. Yeah.
(An interesting note, the phobia only causes her to not be able to deal HP damage -- she can still do LP damage, but since the undeads will always have full HP, that's a bit difficult. But she CAN eventually kill them by trying over and over again since they'll be low rank and she does start out with a knife and decent enough skill. I watched my brother almost get out of the vale as just Tiffon lol)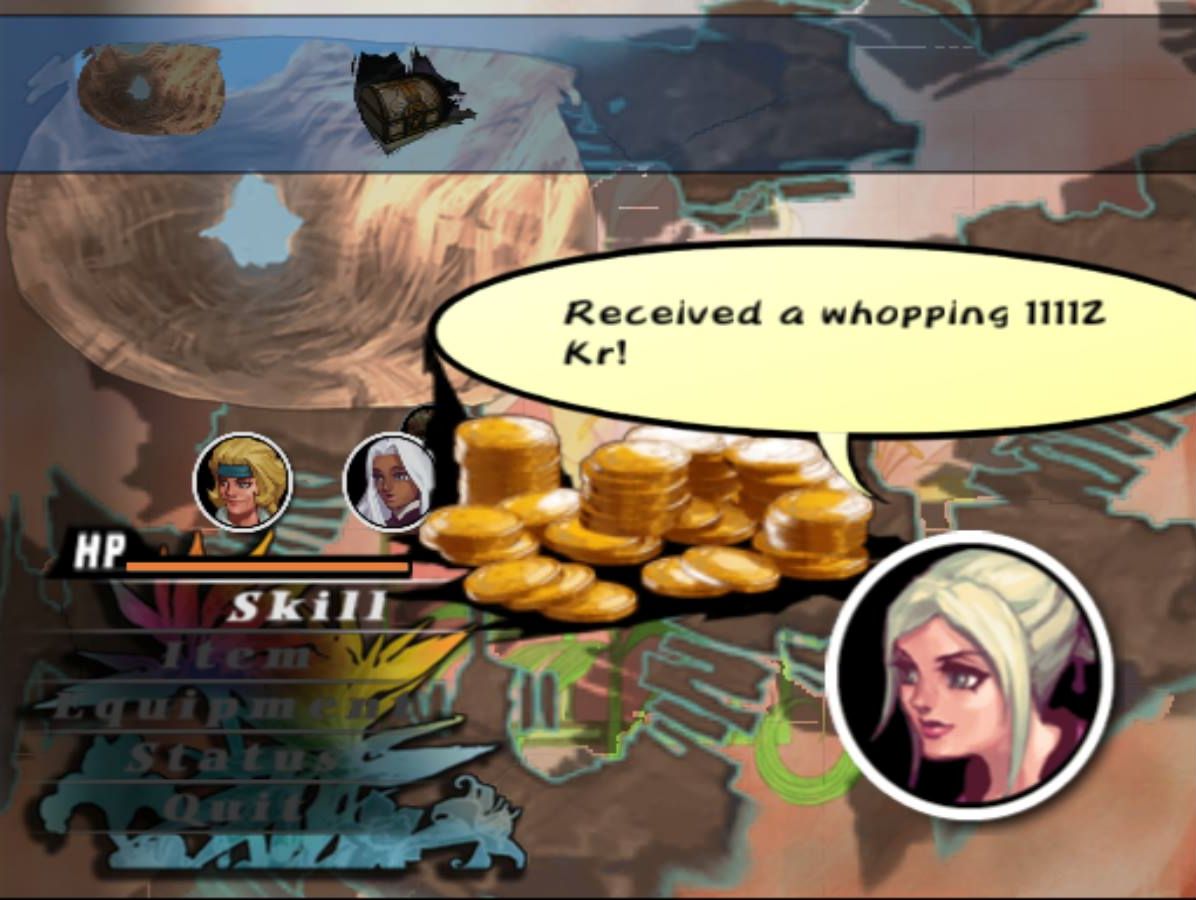 Before we left, we searched thoroughly for treasures. Marie's familiar has Road Guide which has been coming in quite handy.
I tried to get a cap of Silver Gilr's hurt animation. She flings both of her arms out. It's so wild.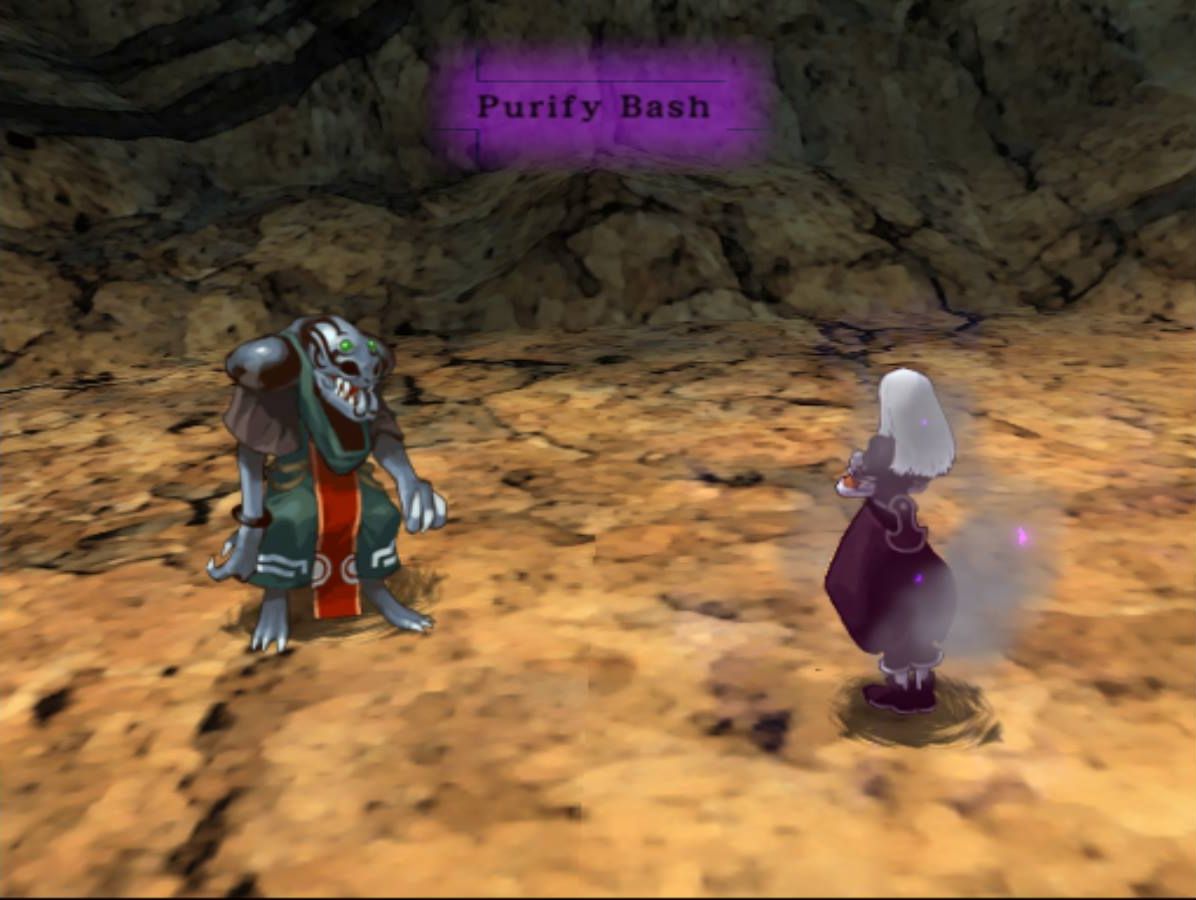 Then she just goes RIGHT BACK TO SEEMING UNIMPRESSED.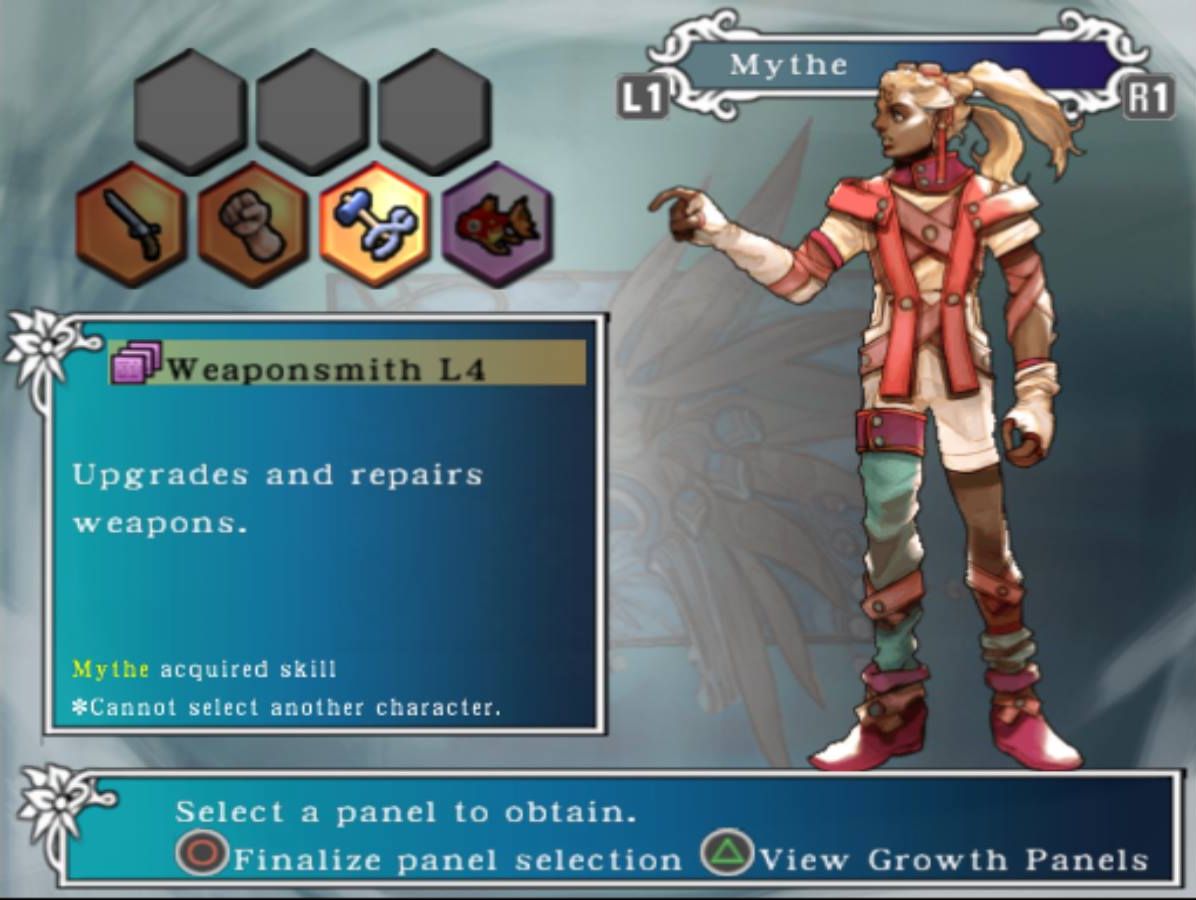 Mythe got Weaponsmith L4, which means Mythe Works now handles all types of weapons except guns. Which is super convenient.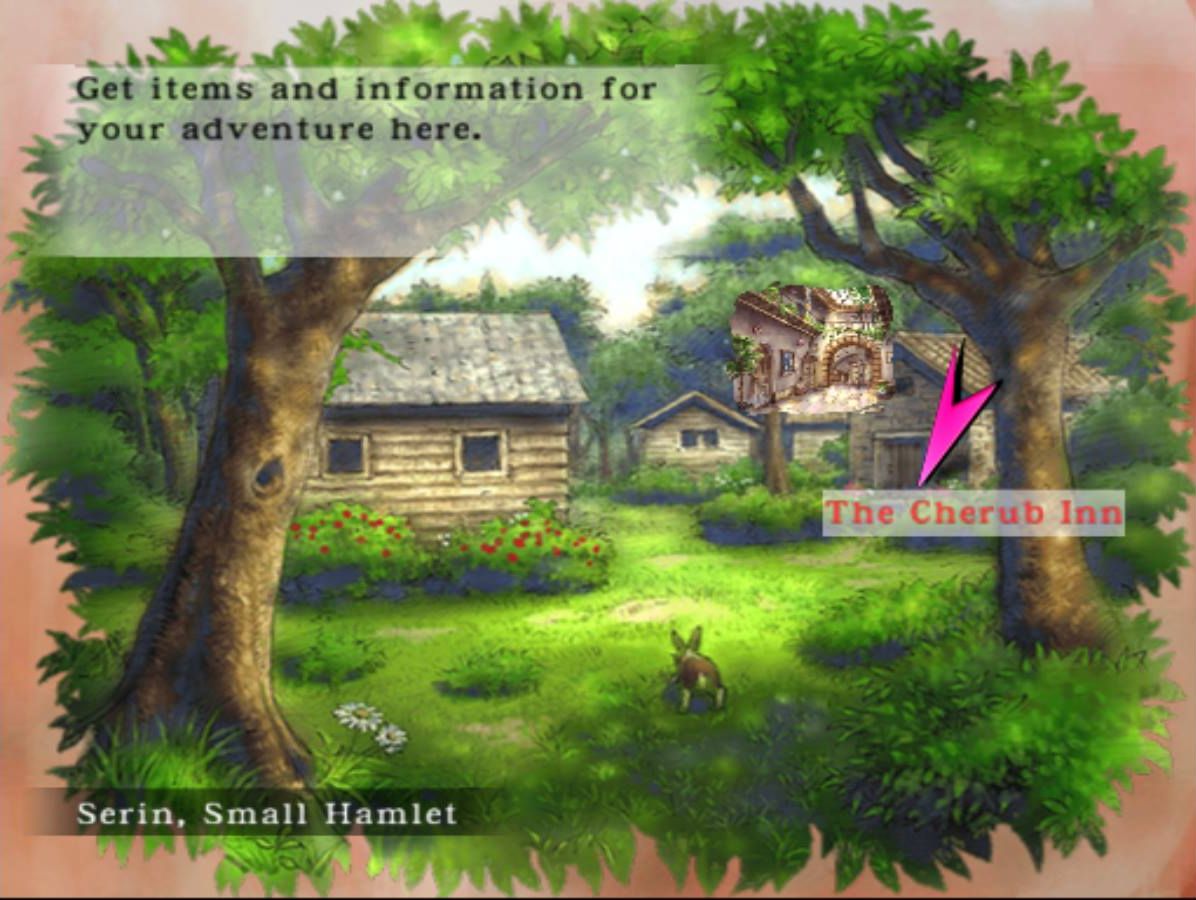 And then we arrived in Serin. Serin and Solophero are both just little generic towns. Sadovos will be a unique place that we haven't been able to go yet, though!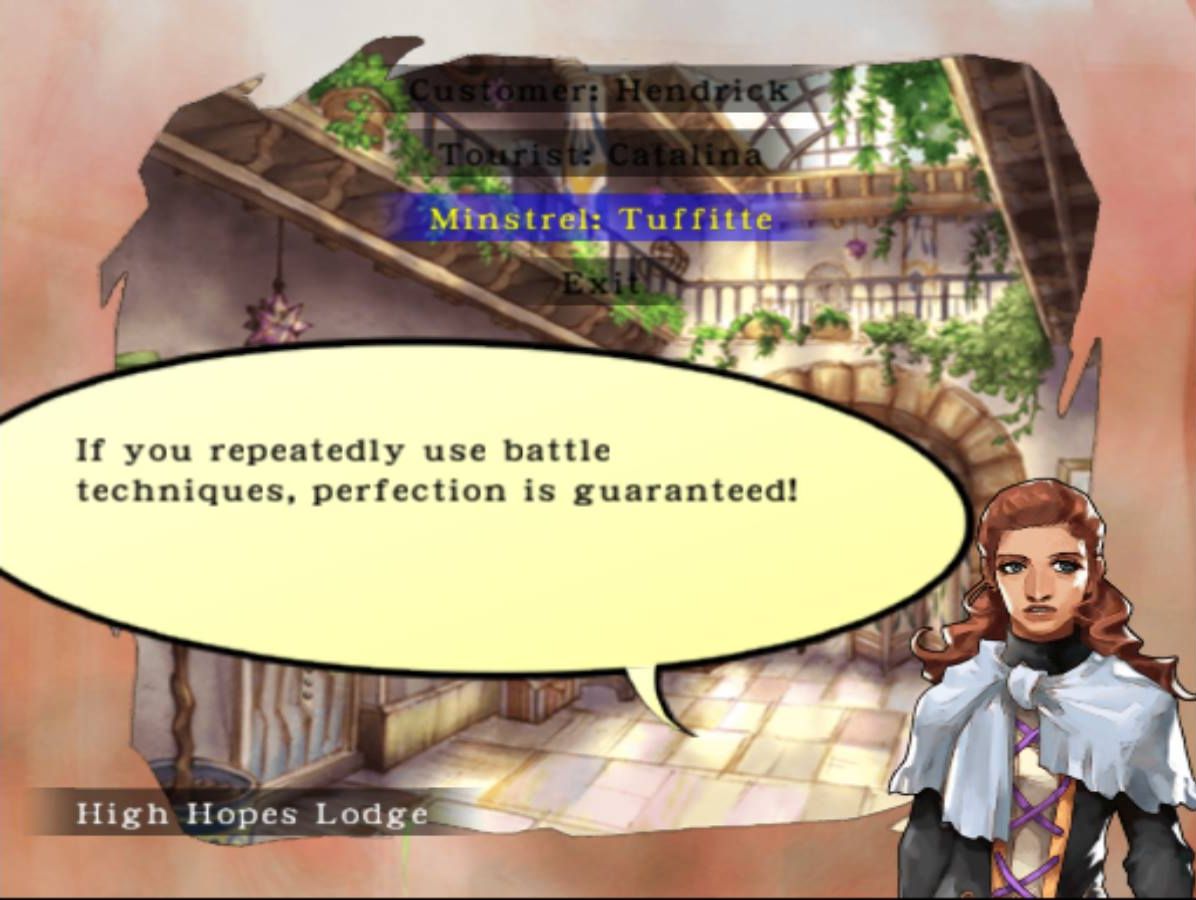 Tuffitte <3
Anyway, all we have left to do is go through the Jade Forest, which isn't particularly difficult. It's Judy's very first adventure. Unless our trip is going to go differently, I can't imagine we will have a hard time. And then we should be in Sadovos, and get to meet Josef! And, uh, get that Gauntlet looked at. And Josef seems to know a lot about magic and stuff, so maybe he can give us a clue as to finding Iskandar or whatever? Stay tuned!
---