To The Fortuneteller
Well, after finishing Ruby's scenario, I was pretty hyped to start a new game, so I went ahead and jumped right into Mythe. His introduction was actually pretty interesting! I've actually started it before but I quit before even finishing the first little scene in Fugar's Mansion LOL. So honestly I didn't remember much of anything.
Mythe's scenario seems like it might be more story-heavy than Ruby's (well, I feel like every character has more story than Ruby did, honestly, except maybe Armic who I have yet to play...) so I'm pretty excited about that. And while I originally did not have much interest in Mythe, I already am growing pretty attached to him. He's definitely unique at the very least. And he has a nice voice.
But yeah, let's go ahead and set the rules for this scenario. I'm not going to be doing a challenge run because my last three times playing this game have been challenges, two of them particularly obnoxious (Ruby's was fun though), and I've never played Mythe's scenario before, so I'd like to just play it casually/regularly.
My only rule is going to be no save scumming of any kind. Yup, I'm even going to play with axes. Since I want these play diaries to be pretty thorough, I figure it'd be weird to just completely ignore axes.
But yeah, enough of that rambling, let's get on with the show. And it's actually quite a show!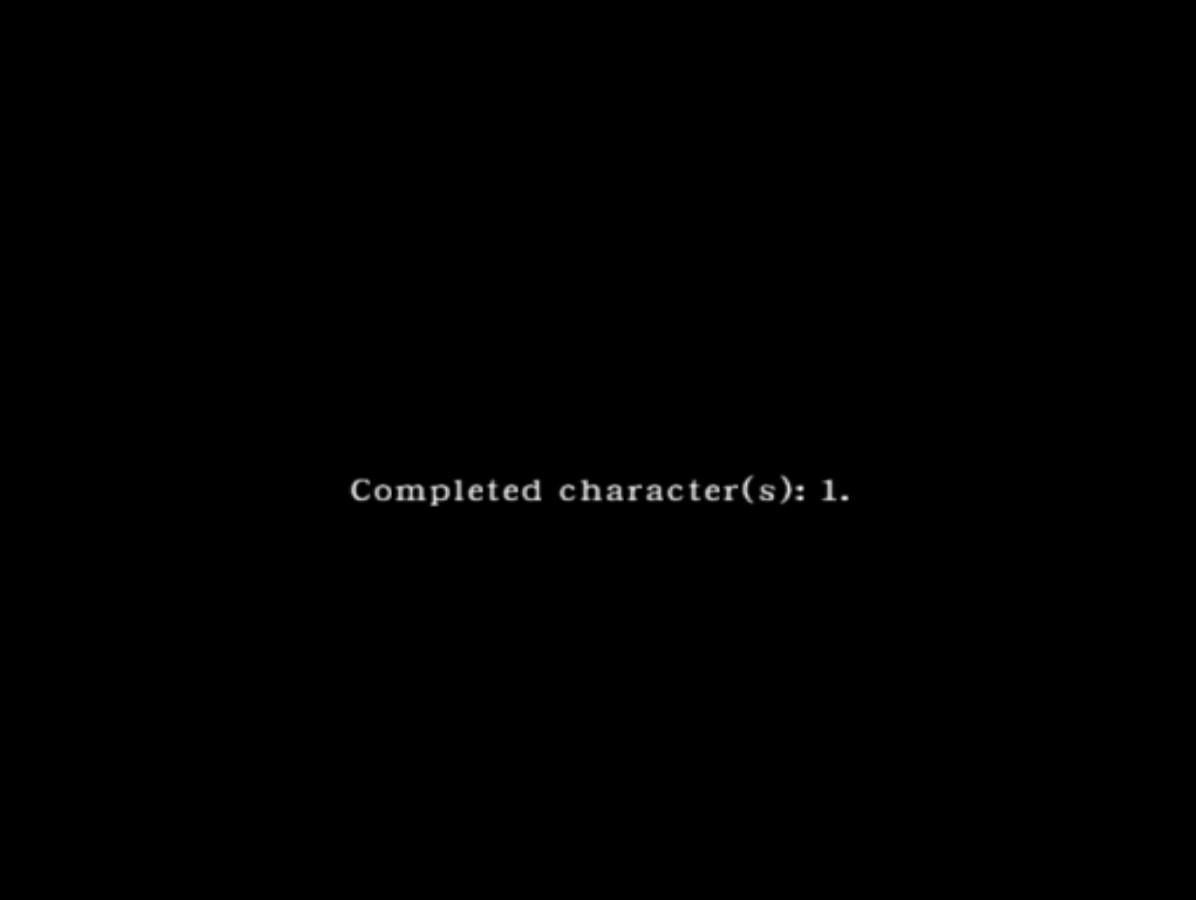 So, first things first. We need to load our clear data from before! Once we load the clear data, it just says "Character(s) completed: 1." and then boots us back to the title screen. That means the clear data is loaded into the game, and if you pick "New Game" now, it will account for the clear data. Yeah, it's confusing, like... everything else in this game.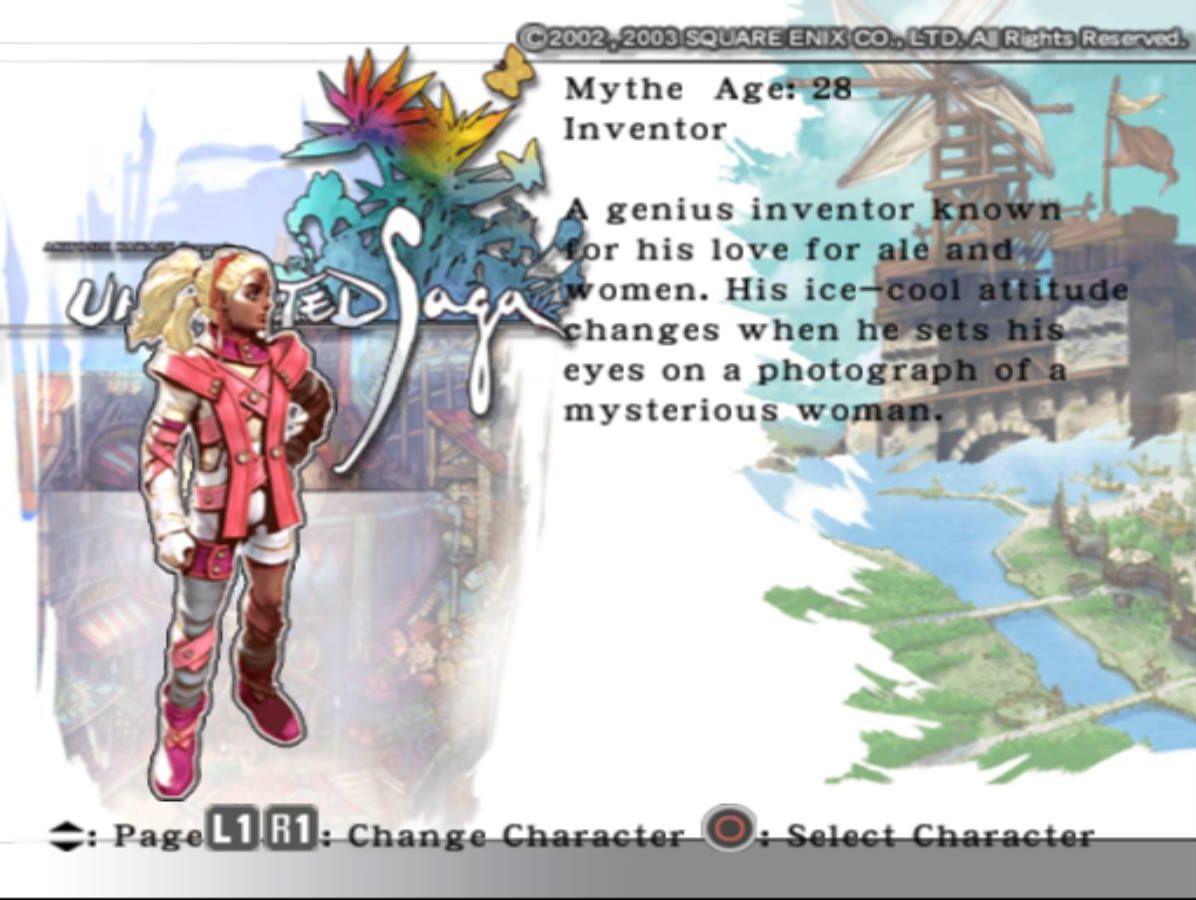 So, Mythe is a 28-year-old man. Not a 15-year-old girl like you may have inferred from his appearance. I thought Mythe was a girl on the box art hahaha. But he's actually a pretty neat guy. When you go to his profile, his little voice clip says something like "Look, I just woke up... leave me alone..." like as if he's had to deal with this 100 times and is so exhausted.
In other words, he sounds annoyed and defeated from having to interact with people, which reminds me of me so YAY unsocial angry guy.
His profile also says he's constantly drunk and horny.
The "ice-cool" attitude is a more literal translation -- it doesn't mean he's super trendy or whatever, but rather in Japanese "cool" refers to like... a sort of passive attitude. Calm, collected... ice-cool would be pretty much be like... a sedated person. Mythe just really doesn't give a shit and can't be bothered with anything.
Me, too, Mythe. Me, too.
This is the designer's note:
Please forgive his rude manners! But if you can put up with his attitude, your adventure will go without a hitch. A good character to start, but just wait until the final boss battle!
Honestly this is like... another cruel developer joke? Mythe's scenario is widely considered to be one of the hardest in the entire game, and I can tell you from the beginning that it definitely is the rockiest start I've encountered in all the scenarios... and I've started them all but Armic's, so...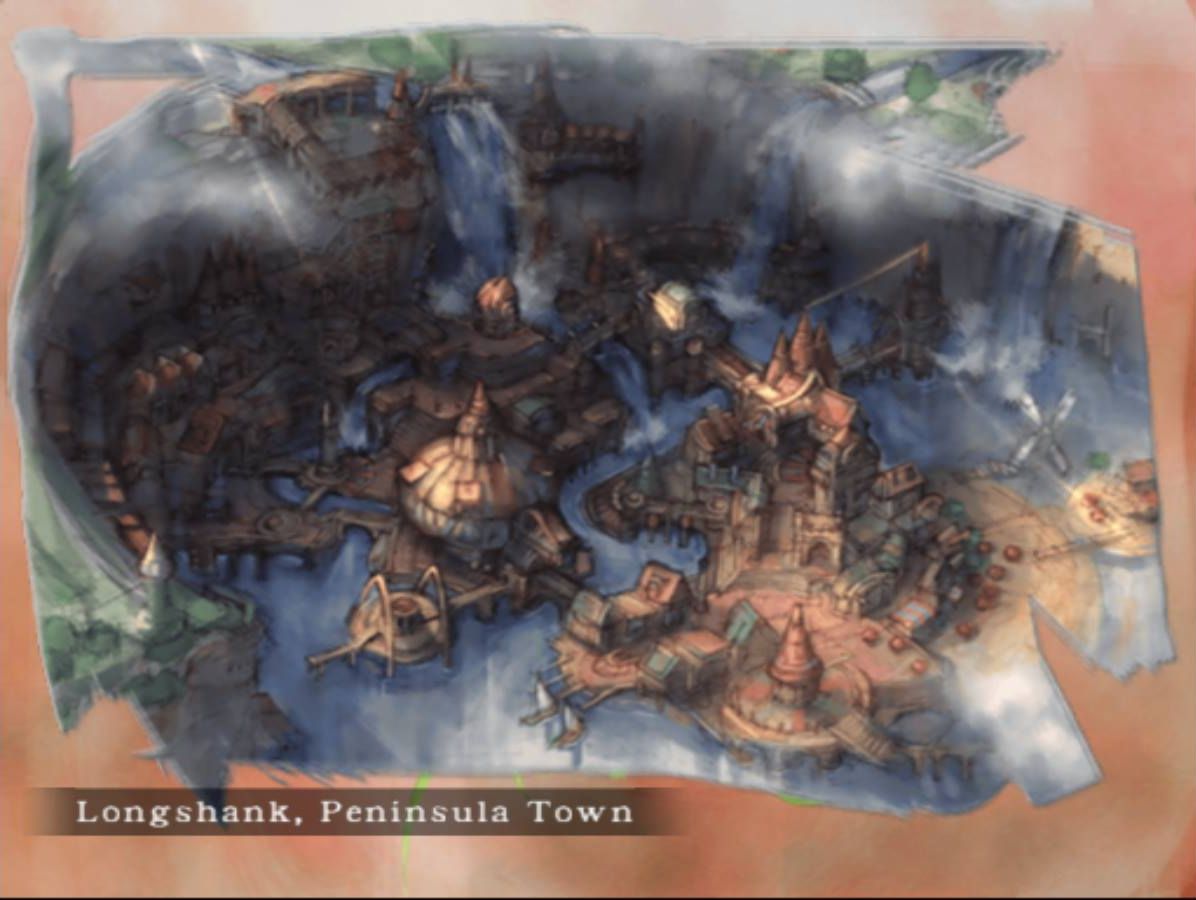 Once we select Mythe as our hero, we're taken to Longshank, where Mythe lives and works.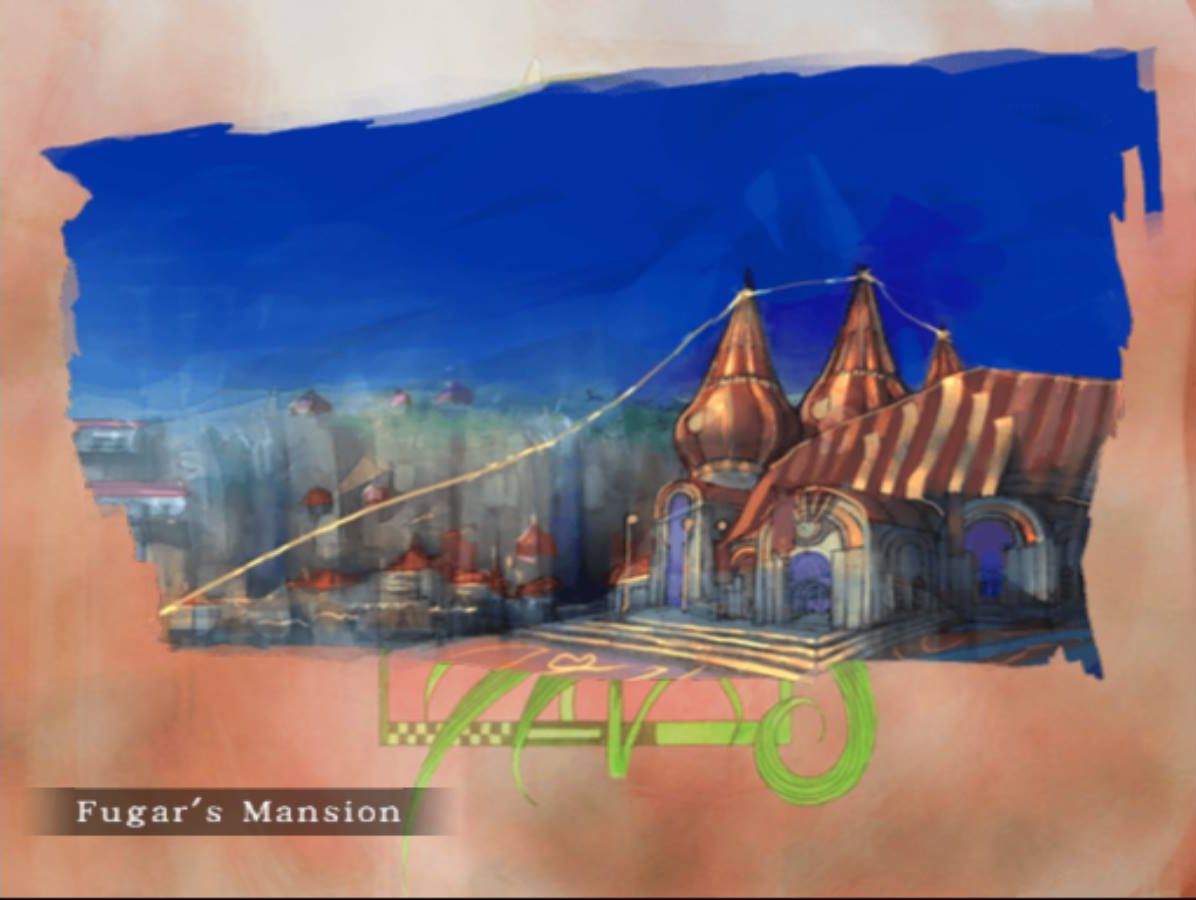 Our story starts at Fugar's Mansion. If you've played other characters (not Ruby, though who never visits Longshank... so it's kinda cool we're starting in a place we haven't seen before), you may know Fugar and his mansion.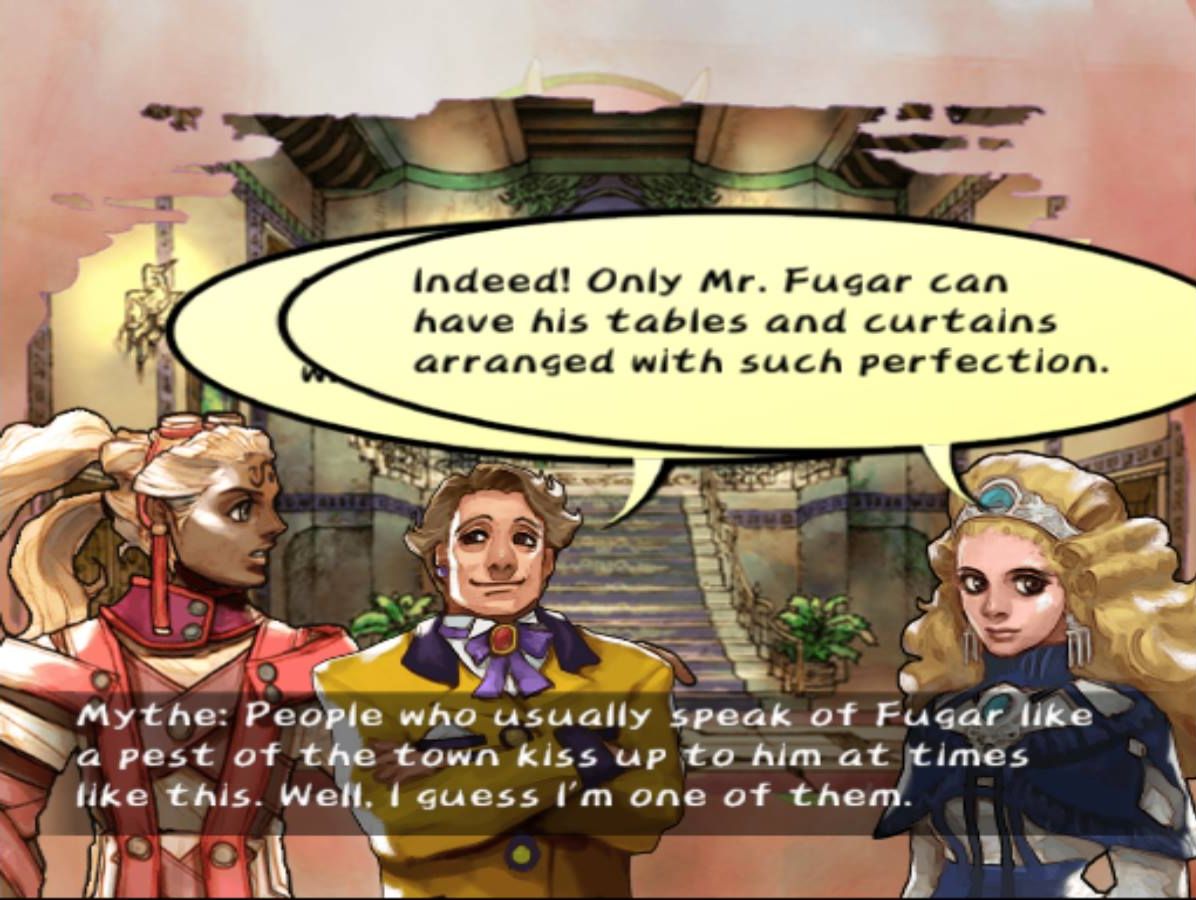 Mythe arrives at what seems to be some kind of party, where the posh people are sucking up to Fugar, despite apparently considering him a pest. I think it's cool that Mythe admits that even he's guilty of it.
Also this is that girl who was in that tiny town before and said like "I have to be happy... like this town..." or whatever. I forget exactly where it was, like Solophero or something? But yeah, here she is!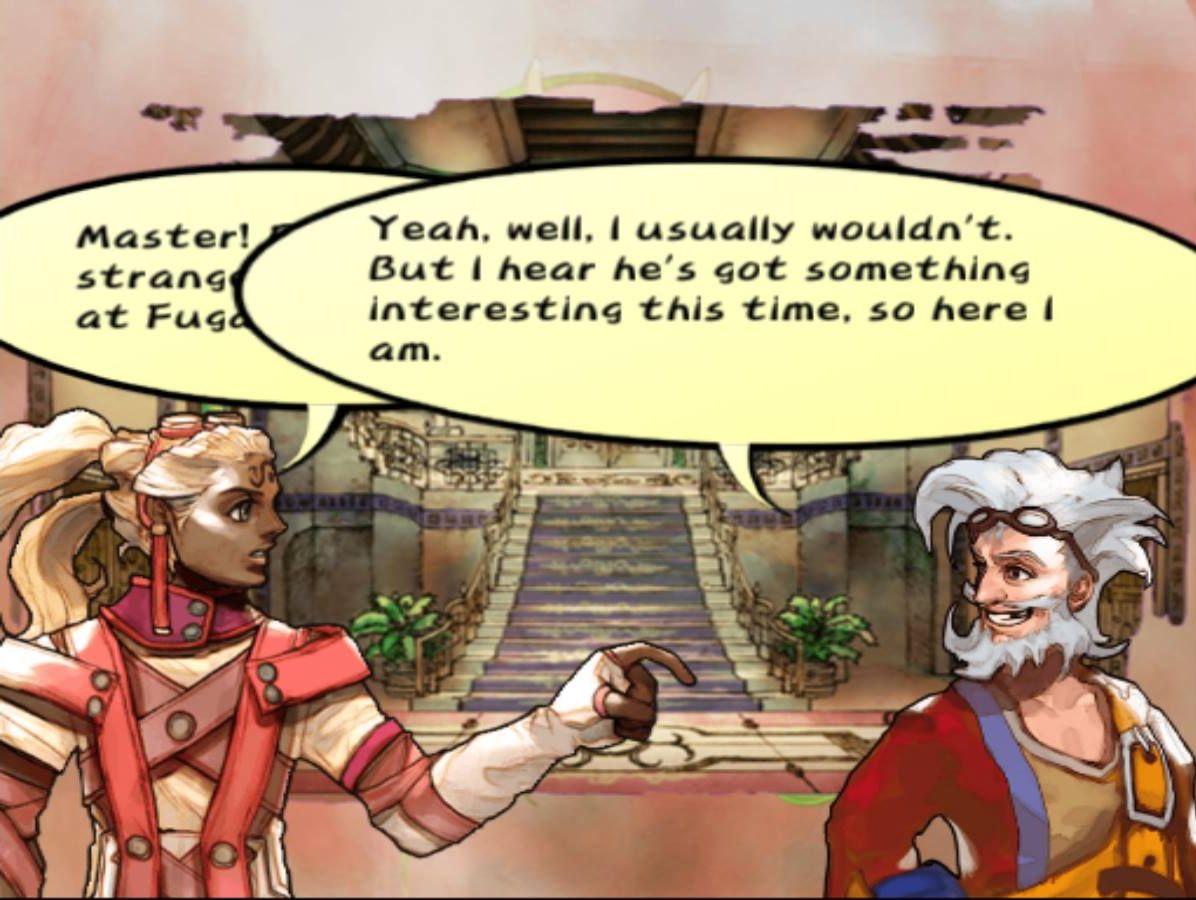 Mythe then runs into his master. His name isn't said but I think it's like Neville or something? I don't know why I even know that. Anyway Mythe's master is hot stuff with his wild beard and hair and he's old and has goggle things and yeah I love him. And they are like master/apprentice so I already ship them on that grounds alone, despite the fact that Mythe is supposed to be like uberhetero or whatever.
But Fugar is apparently going to unveil some kind of nice treasure or something since he likes showing off his new collections, and Master came to see it. Mythe suggests it must be another "exquisite selection," (he said it with the quotation marks himself) and Master responded "Now, now. That's why he's our best customer. Treat him well." And I didn't understand what this exchange really meant, but then I realized later that Mythe was being sarcastic because he probably thinks Fugar's collectibles are shit.
OTP. It's practically canon.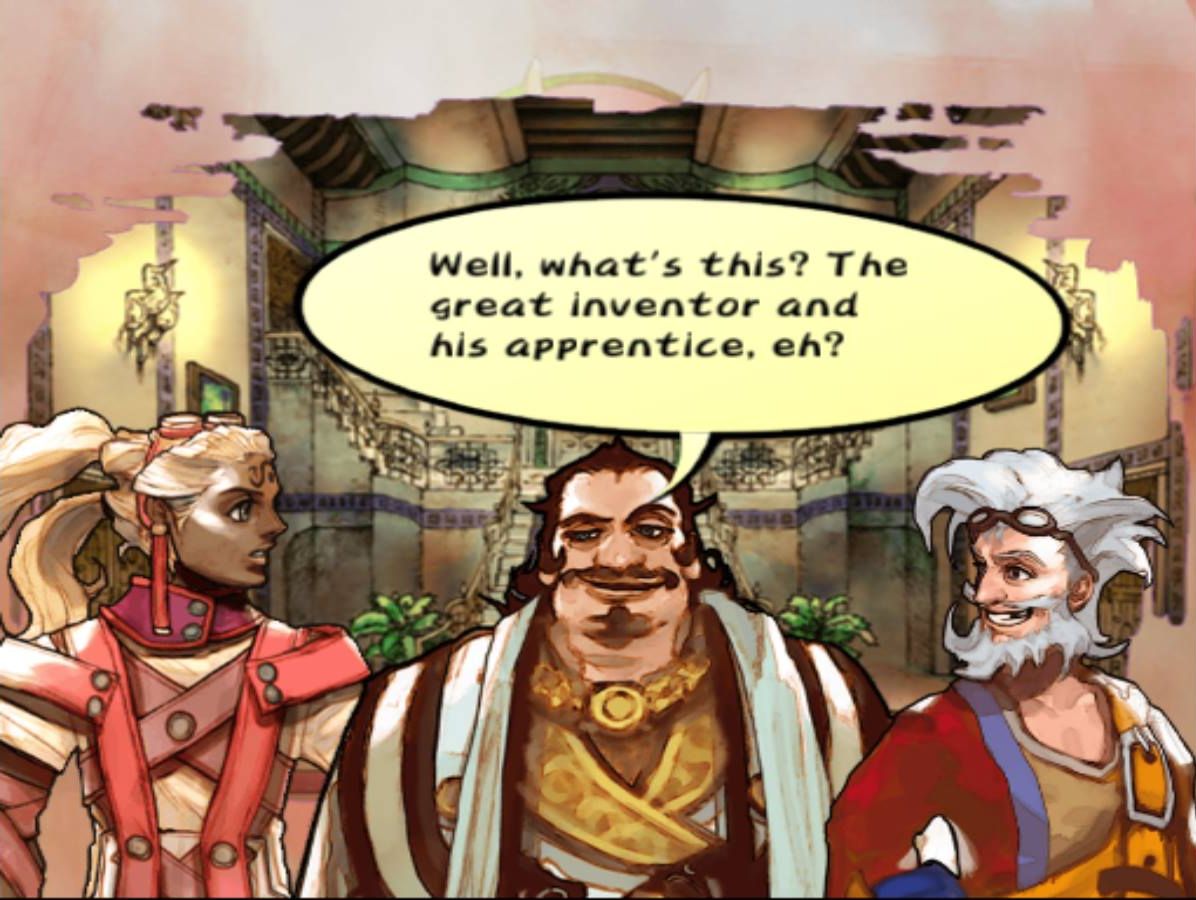 AND THEN FUGAR JUST POPS UP. Like he literally POPS UP from the bottom of the screen (I guess if you're just reading this without playing, you might not realize, but these are just character portraits and they do not animate in any way, other than sliding around the screen). Like was he crawling???? Why did he just pop up like that?? It was so funny; I was definitely taken aback.
Despite promising Master he'd treat Fugar well, the first thing Mythe says to him is "We hope this won't be disappointing as usual, Fugar." Wow. Do you talk to your Master that way??? Does he give you a special punishment for it?
But Fugar laughs and says his reveal will surprise even these two. That's... kinda interesting, because what I know of Fugar from other stories is that he's a foul-tempered snob who can't stand being insulted in the slightest. So he must be pretty buddy-buddy with these guys. OT3??
I guess I should mention that I actually find Fugar pretty hot, too. I was just so overwhelmed by his POPPING UP that I forgot to mention it. But I mean, he has a mustache and a belly, so, I mean, did you really need me to tell you?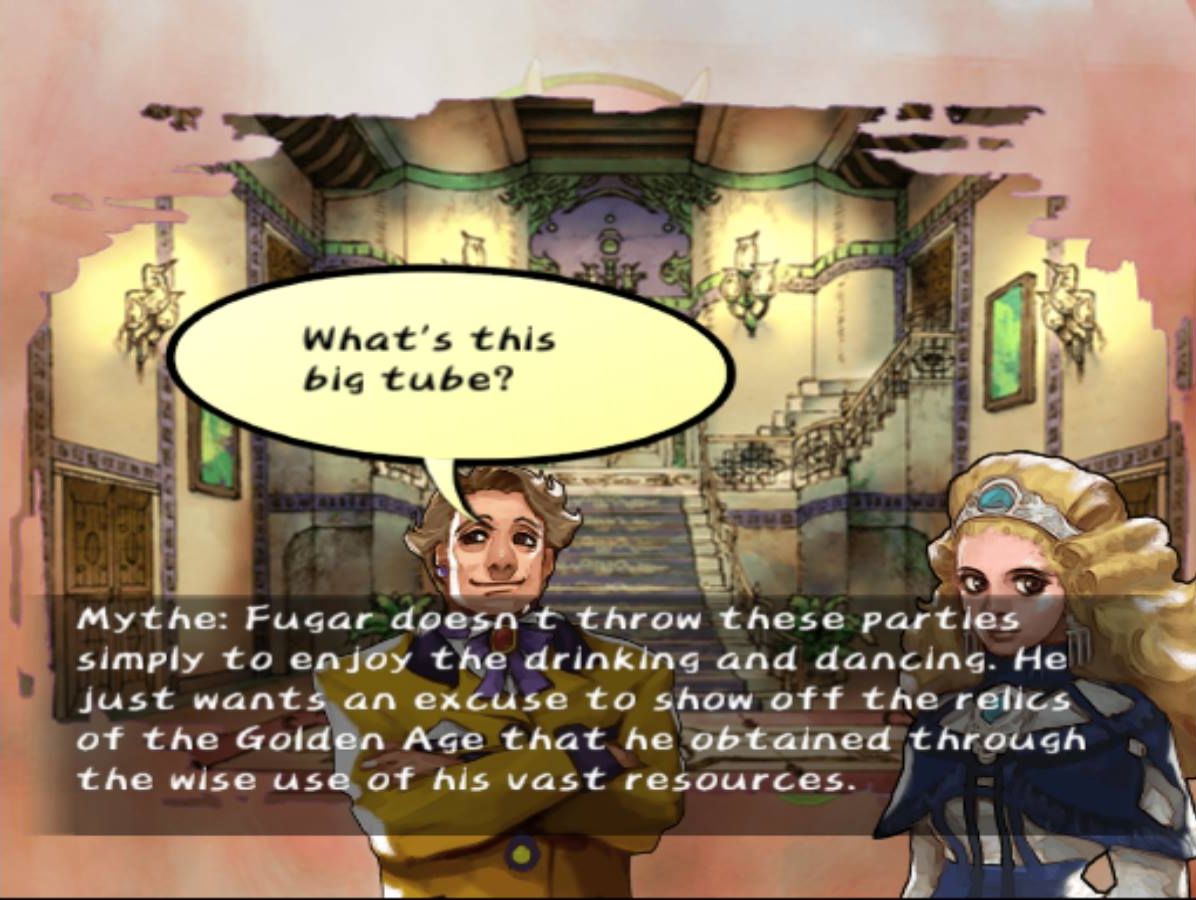 "What's this big tube?" wtf. Anyway, apparently Fugar specifically collects relics from the Golden Age, which is pretty cool, I guess.
The other party guests try their best to pretend to be impressed by Fugar's knickknacks, but Master and Mythe just complain about how it's all junk, and the big reveal must be hidden beneath the cloth.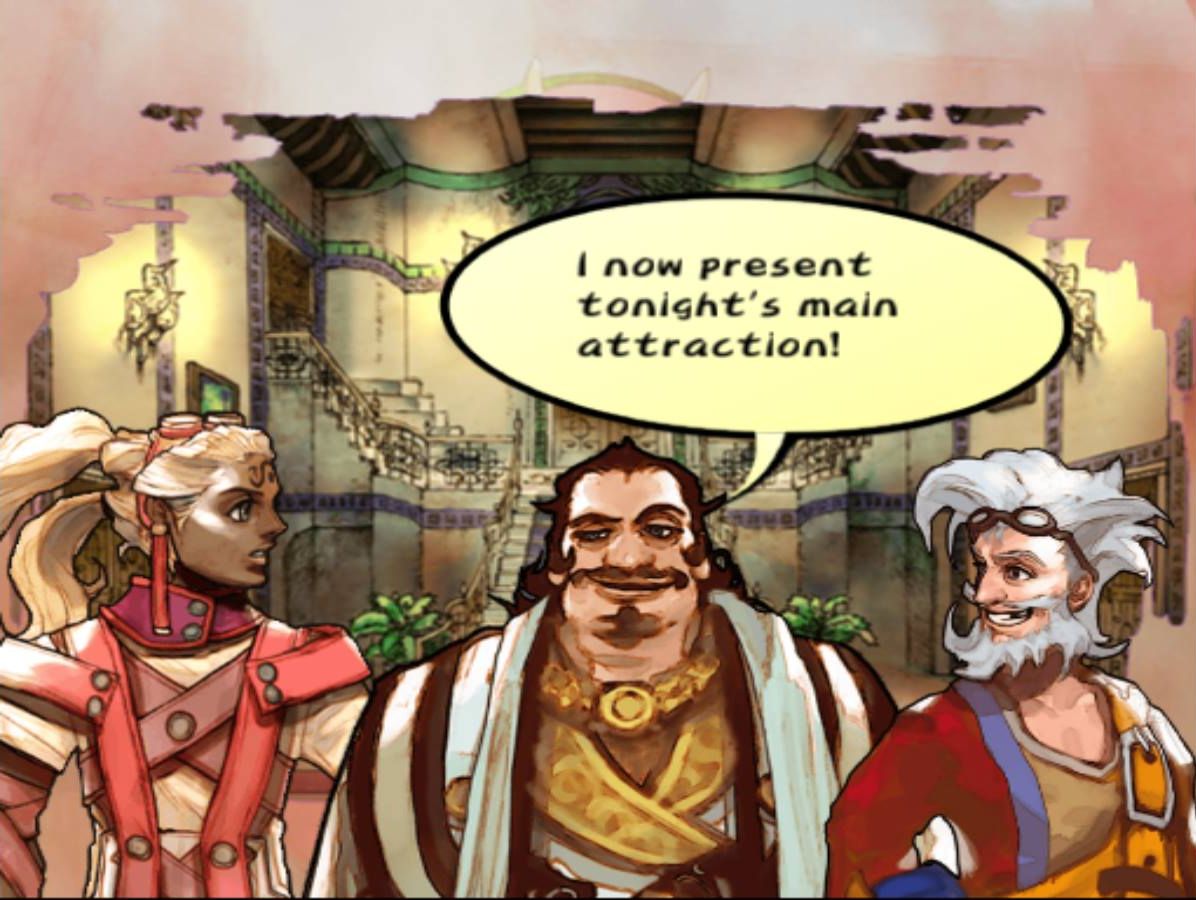 THEN FUGAR POPS UP AGAIN. HE DOES IT AGAIN. Like, it is such a minor thing, it's just a portrait like... sliding onto the screen from the bottom but it for some reason is SO FUNNY to me. Like I had to pause to laugh each time XD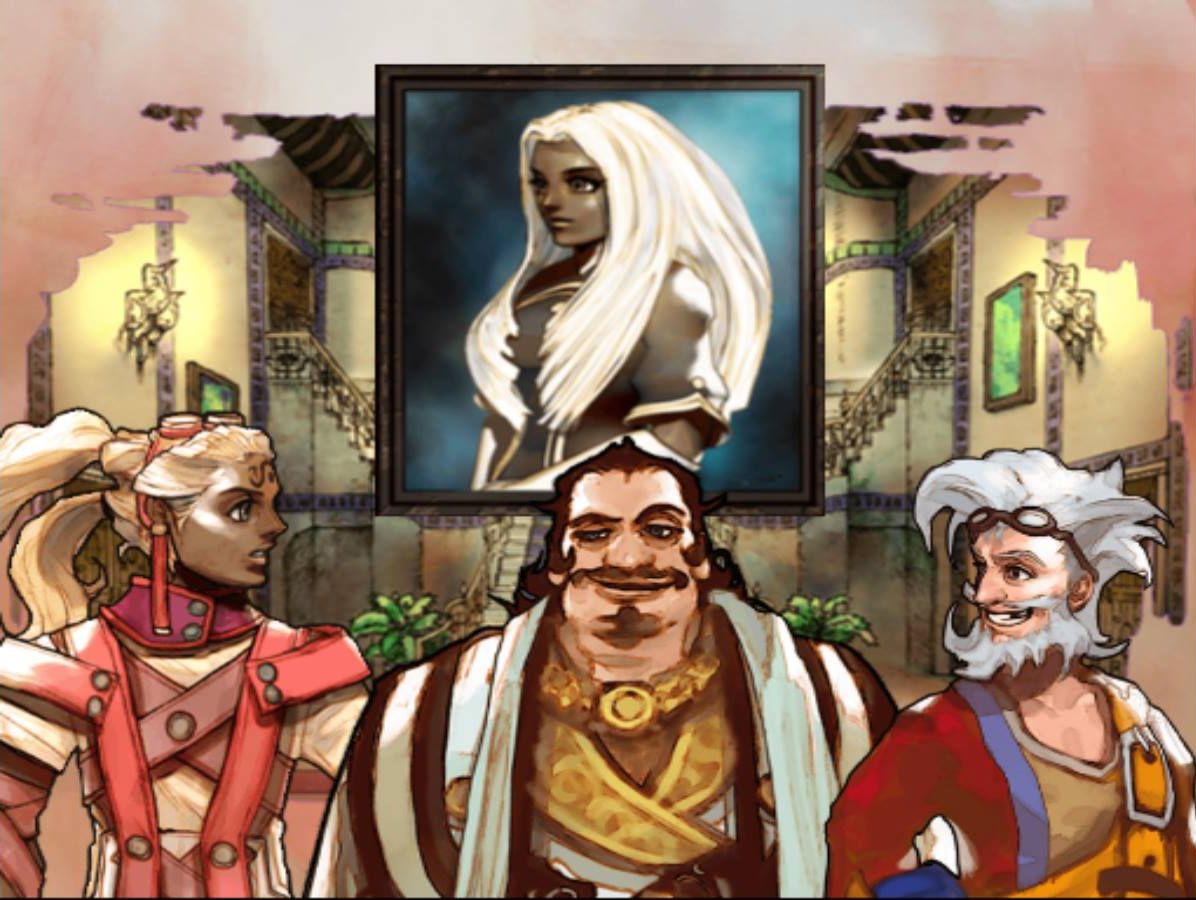 Then Fugar reveals his big secret. He has a photograph! Which seems to be quite surprising to Master and Mythe both. From the things they say, we learn that photographs seem to be an Arcanian technology from the Golden Age (I don't know how well I explained the Golden Age before, but that's when the super-advanced Arcanians lived and had all their super fancy tech, before they mysteriously disappeared and their knowledge was lost), and people today can replicate photographs, but they don't understand the technology well enough to take new photographs (so, they're probably painting replicas or something?) Master says that the photo looks too new to be from the Golden Age, so there must be someone out there who was able to take it recently.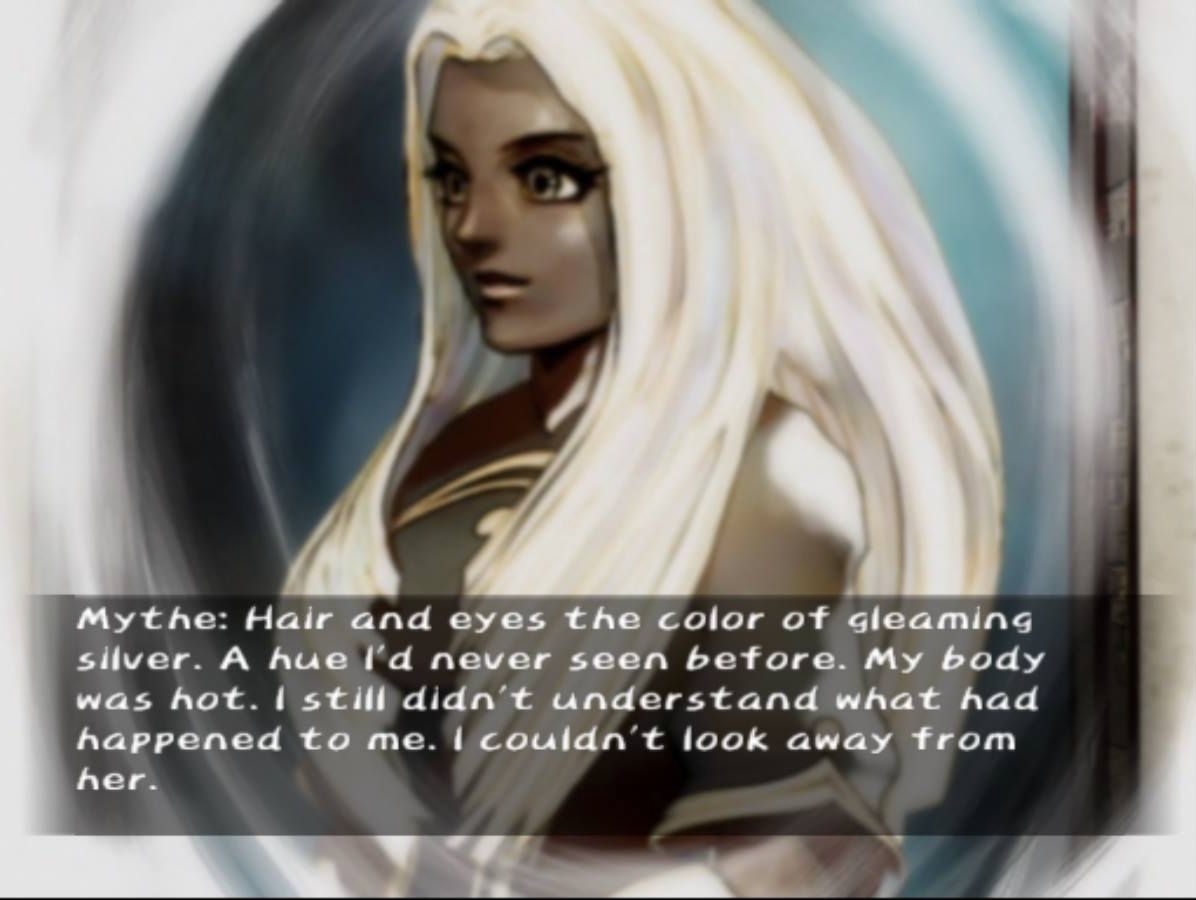 Mythe, however, becomes so entranced with the girl in the photograph that he becomes literally hot for her and loses track of what's going on around him.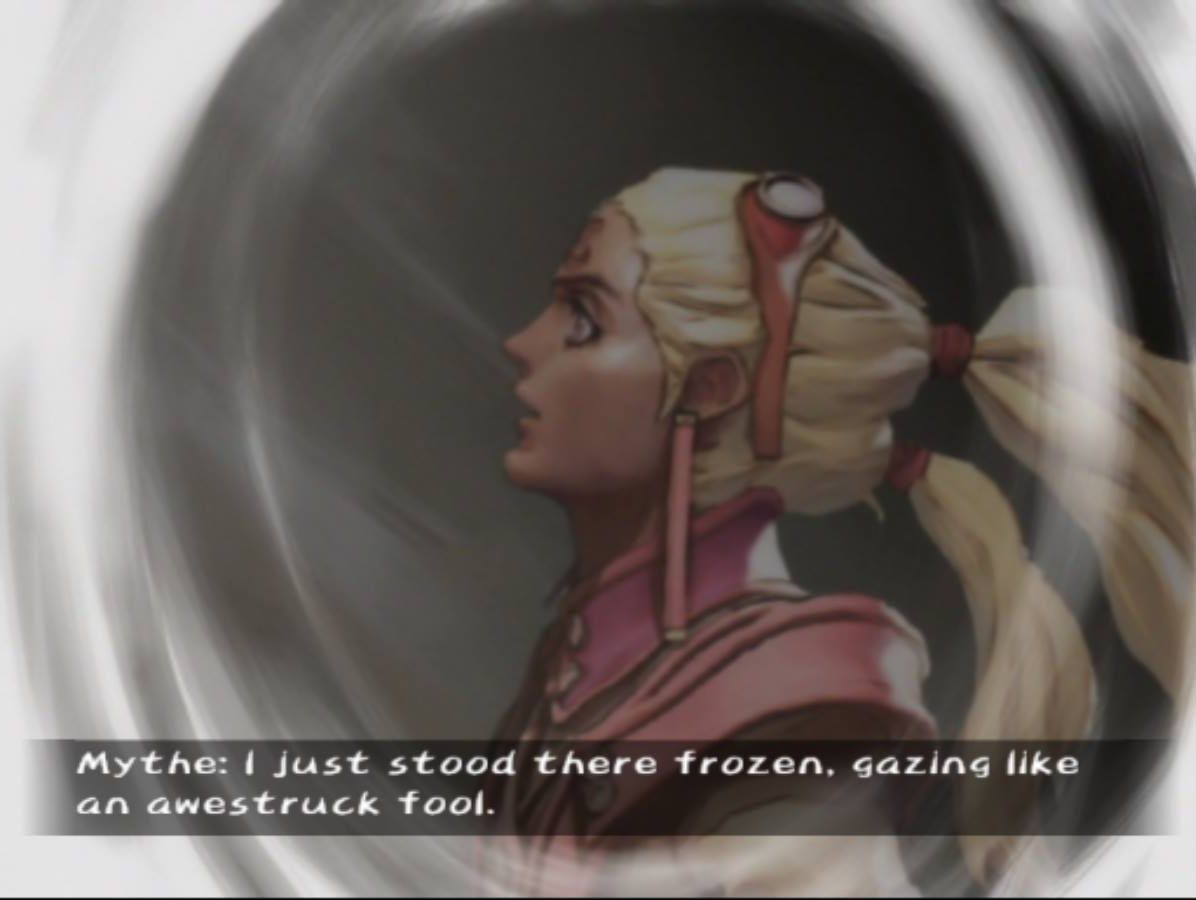 I didn't realize Mythe's chin was so... prominent before?
Mythe asks who the girl in the photo is, but gets no answer. Master asks how he obtained the photo, and Fugar says it's from a girl named Tiffon who brings him interesting things now and then. From what I know of Tiffon, I find it hard to imagine her dealing with Fugar too pleasantly, though, and sadly, I know her motives are not to get closer to this big mustache daddy.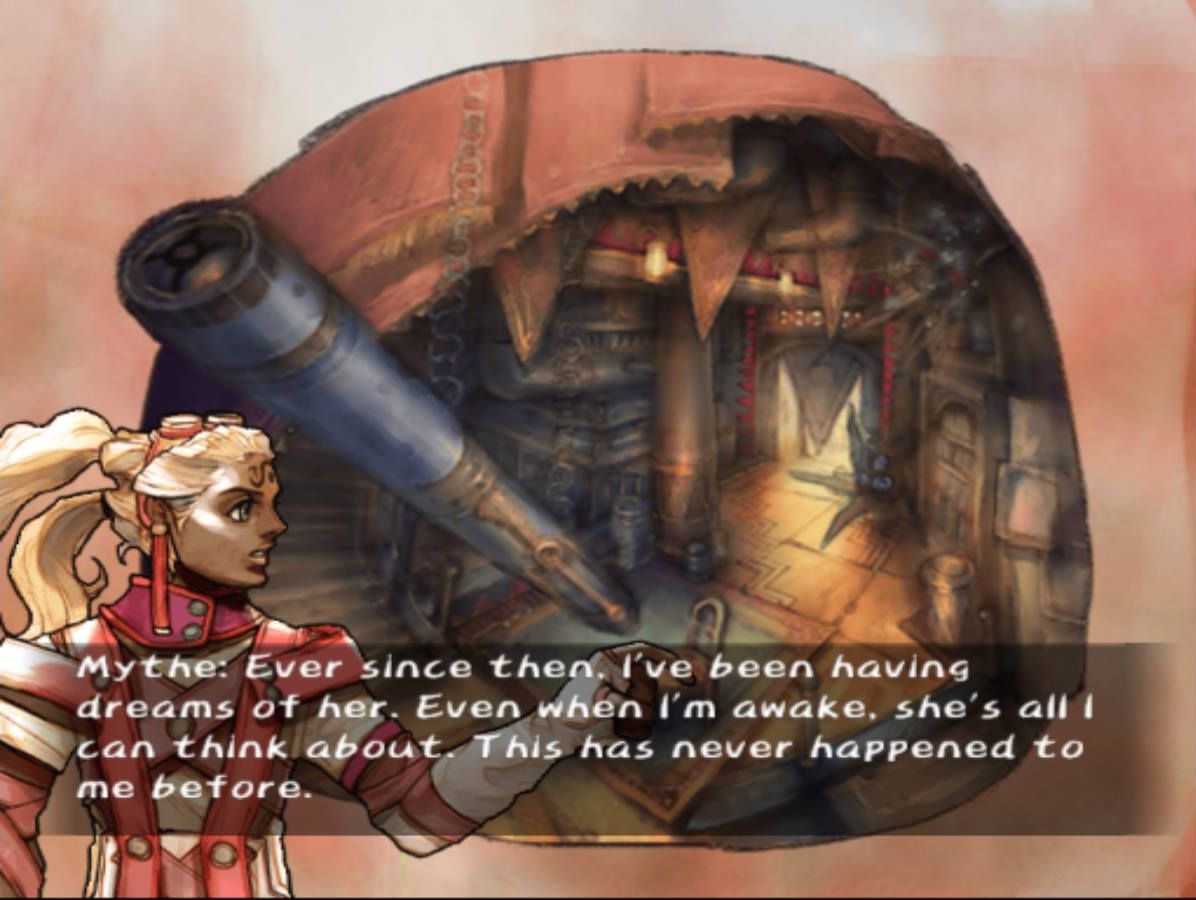 The girl starts haunting Mythe's dreams and...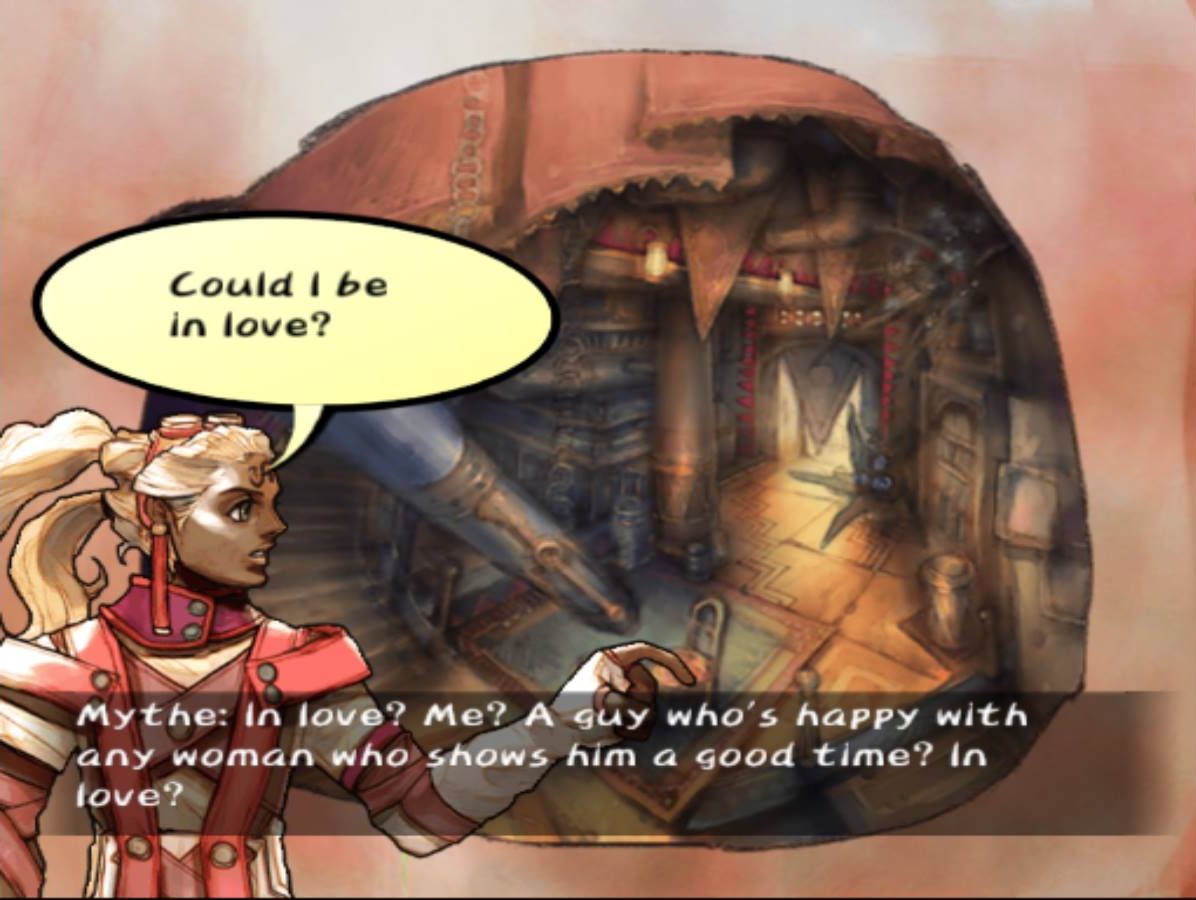 He figures he must be in love. With a photograph. Of like, a 14-year-old. OK, I'm down, I guess. Let's go on an entire adventure for this.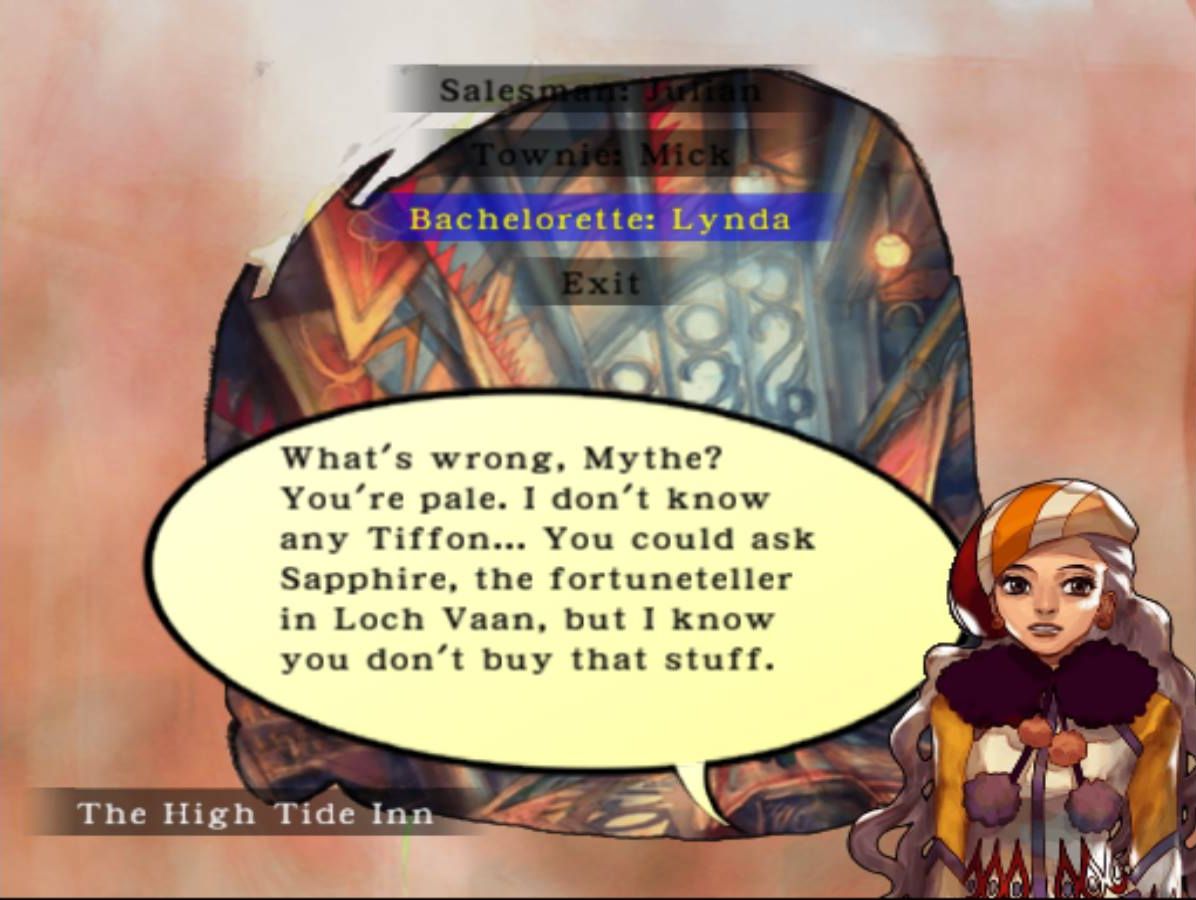 So, the first place we go is the inn. The NPCs here actually say unique things! The first guy just says he doesn't know Tiffon and girls are supposed to be Mythe's 'specialty' anyway. Mick expresses concern for Mythe, saying he doesn't look well. This last person suggests he ask the famous fortuneteller Sapphire for help, even though she knows Mythe doesn't believe in fortunetelling. (Mythe is an inventor and a blacksmith, and, at least in this world's context, is definitely more of a skeptic/scientist, it seems).
But before leaving town, let's explore Longshank a little bit more. Not that there's much to do in towns, since they're pretty much just a menu where you can change equipment and stuff...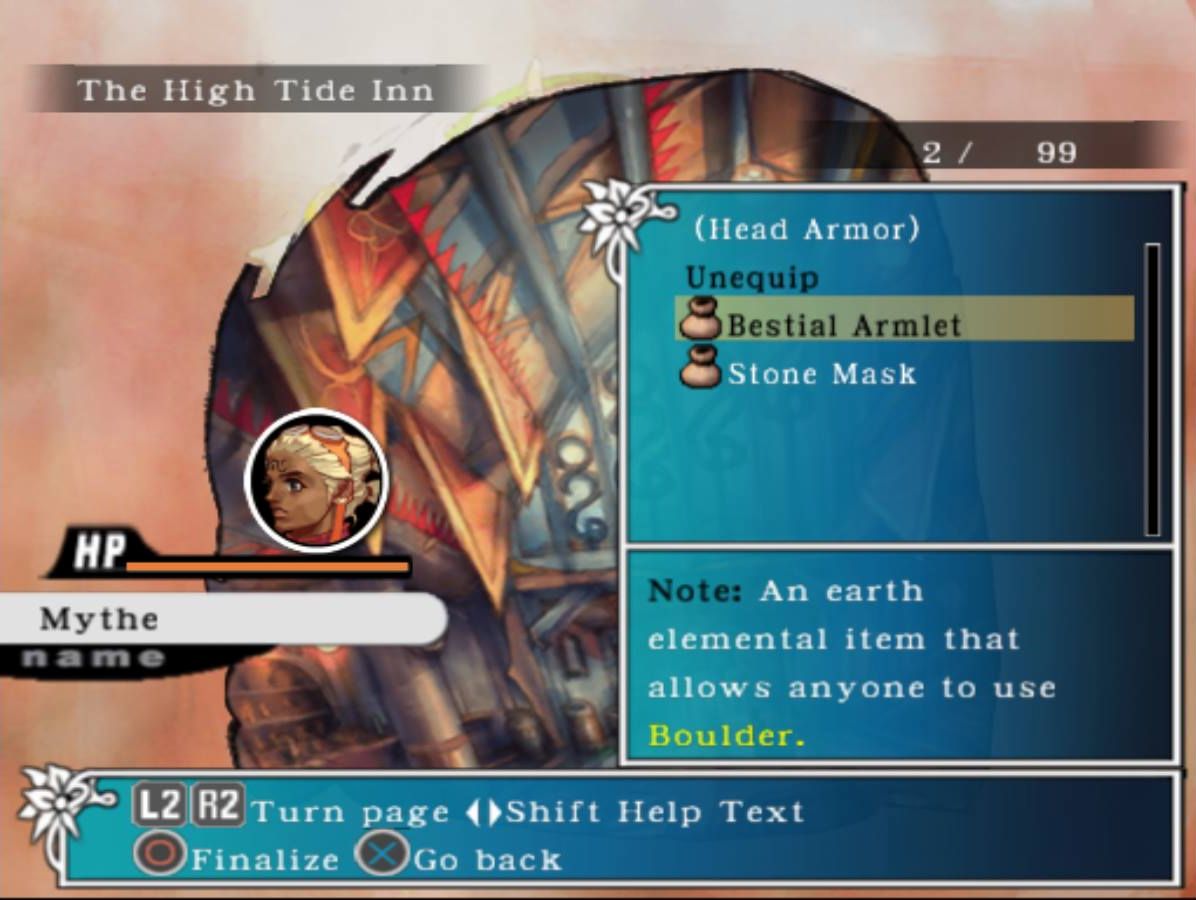 Speaking of, Mythe has two items in his inventory at the start. One is this Bestial Armlet that allows anyone who wears it to use the earth art Boulder! Very nice. I've noticed that most characters seem to start with a magical item like this. He also has a stone mask. He's also not equipped with any headgear. Maybe he doesn't want to mess up his hair or something. Too bad, Mythe, that hair is a mess anyway. You're wearing the mask.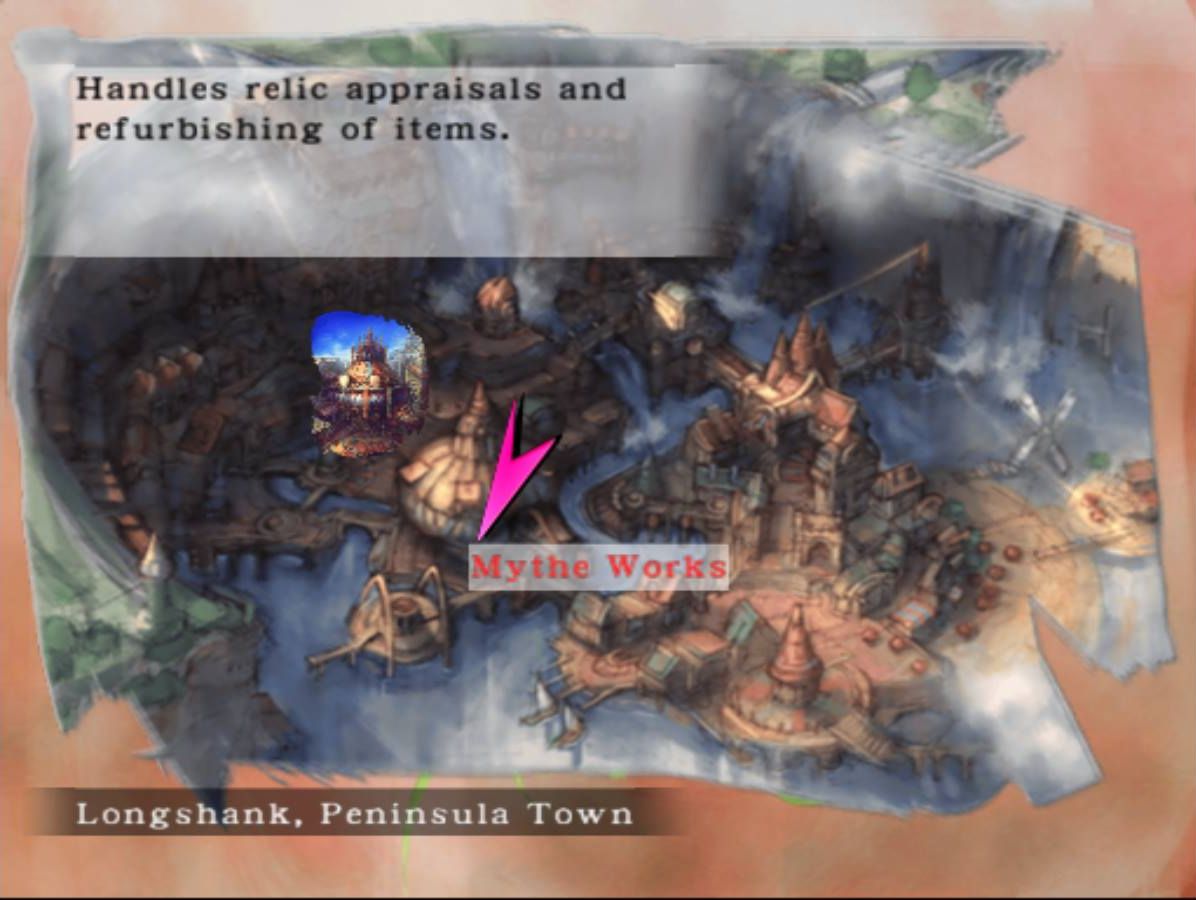 Leaving the inn, our next place of interest is Mythe Works! This is Mythe's main business, specializing in relic appraisals and refurbishing. For gameplay purposes, this is the town's blacksmith. Though it's never explicitly stated who is running the place when Mythe is away, we can probably assume he has some hired help, his master does it, or he has some rando friend like Ruby had Hiro that just hangs around all the time ready and willing to help run the business.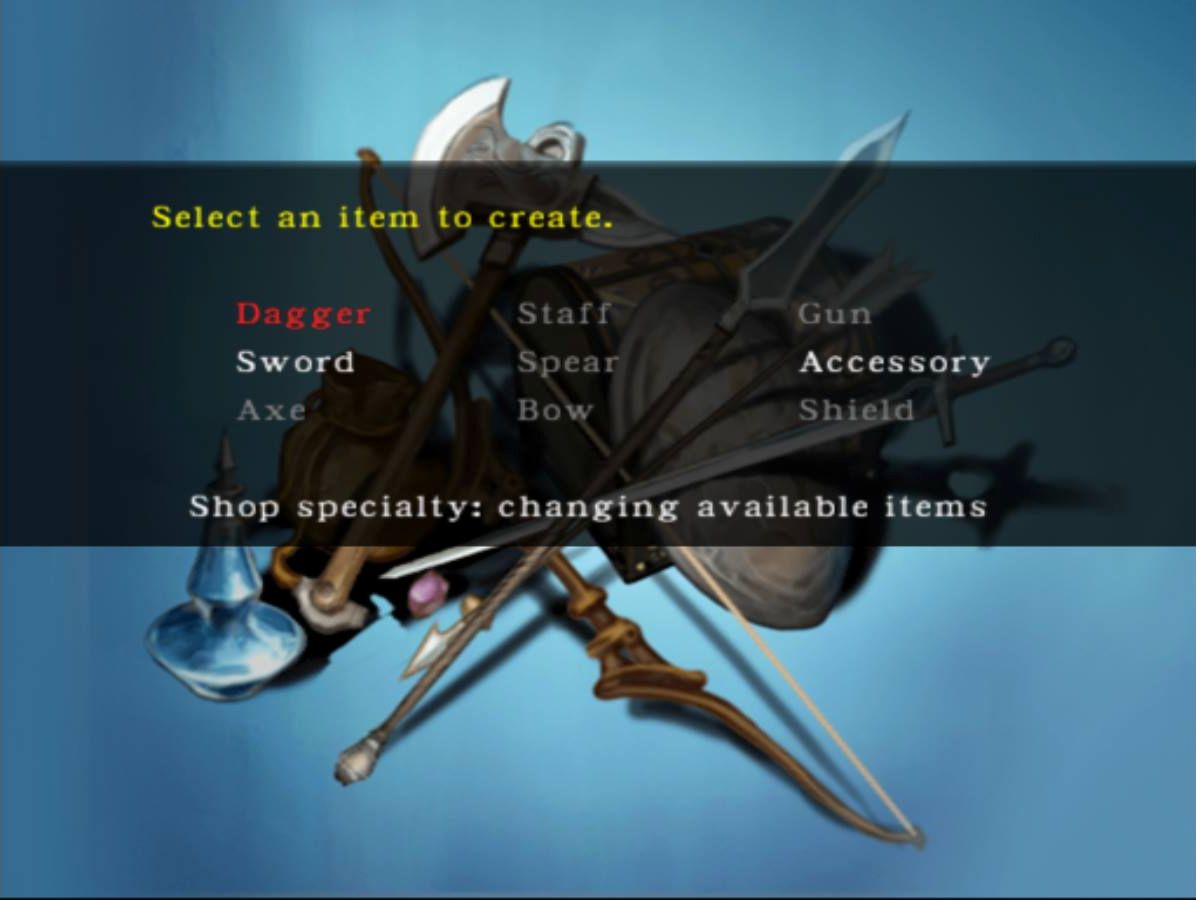 The inside of the blacksmith looks like this. Yeah, unlike the other buildings, there is no interior painting for blacksmiths. Each blacksmith has a unique exterior painting, though, but you can only see them for a bit during the transition between town map and smithing menu.
We'll actually get to use blacksmiths now since we're not doing any weird challenge runs this time. Now we have a place to create new equipment ourselves without waiting for them to pop up in the shops, and we can repair the durability of our goods here! Note that there are no options for armors -- we'll have to buy all our armors in the store like normal (or find them in treasures).
The only things we can work with here right now are daggers, swords, and accessories. Each blacksmith in the game has a certain set of item types they can work with, and each blacksmith also has a "specialty," which is something the shop does better than others, such as releasing abilities or improving durability. Mythe Works's specialty is "Changing available items," which only actually works in Mythe's scenario. I'll explain that a bit later, though.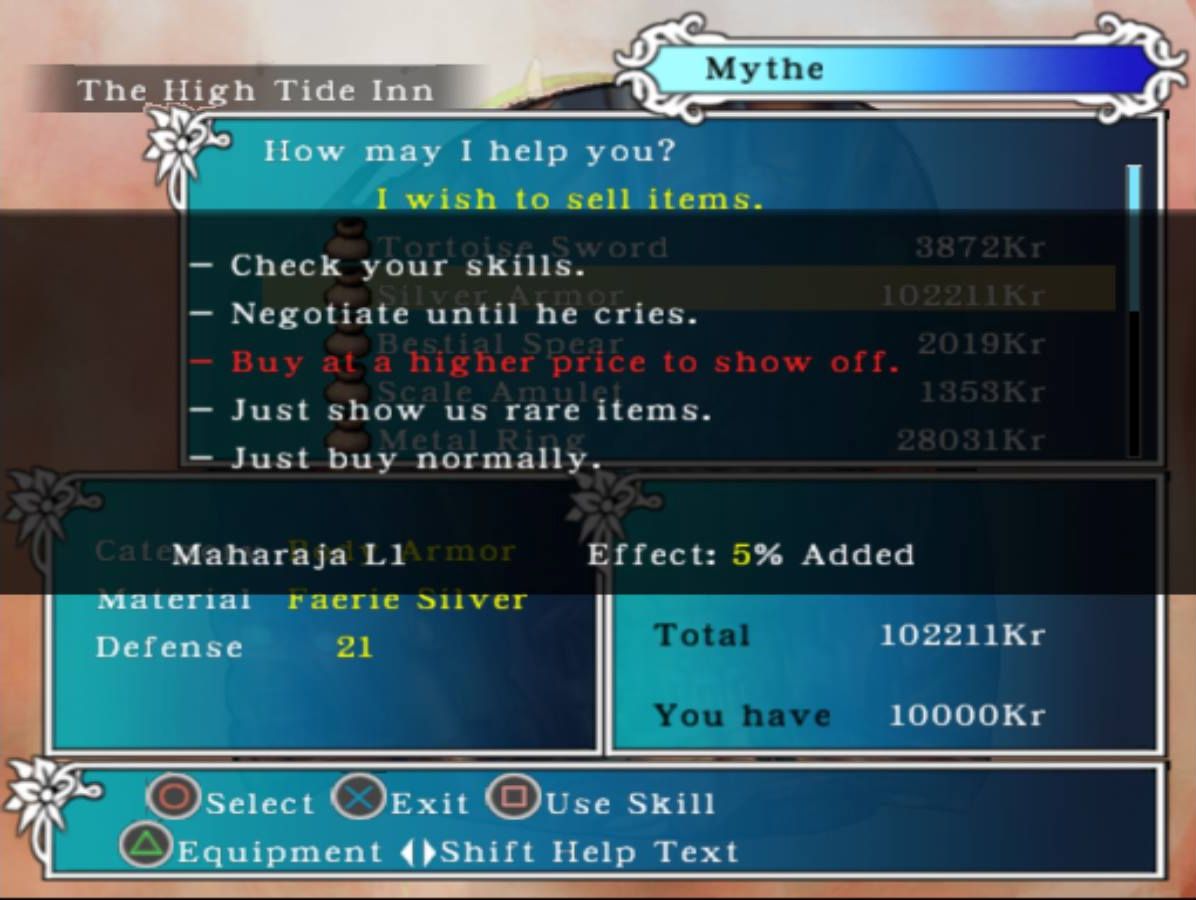 Excited to try the blacksmith out right away? Well, we loaded our clear data, so our high market rank carried over to this game. So we get really nice items like this Faerie Silver armor right from the start. But we can't afford it at all, even with our generous lump of starting kr. Mythe's only ability to influence the price actually makes it more expensive... good for increasing your market rank more quickly, but since we already maxed it, it's a waste.
So, no smithing for us for now. Nothing in the shop was really worth buying and trying out. Besides, we're pretty limited on what we can make.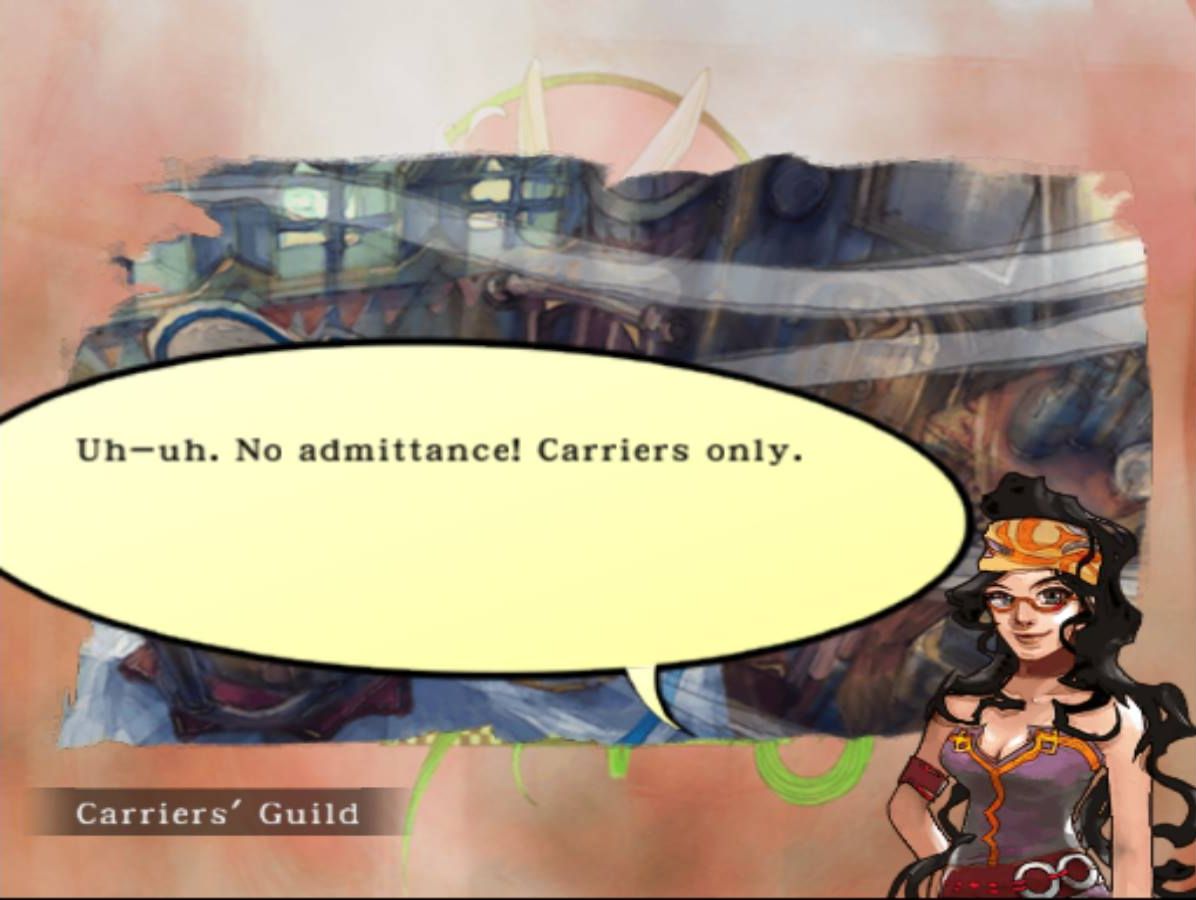 Another little thing I'll note, because I don't think I ever mentioned it in the Ruby game, is that another place of interest in Longshank is the Carrier's Guild.
But when we go in, we're rejected because we're not a carrier. These places are in every town, but you can only go in them if you're playing Ventus's scenario.
Since we talked to the people in the inn, an adventure called "To The Fortuneteller: Part 1" was added to the adventures list.
The very first step I took, Mythe fell into a trap. What a way to start our quest...
... but I actually managed to avoid it, so that's actually pretty cool!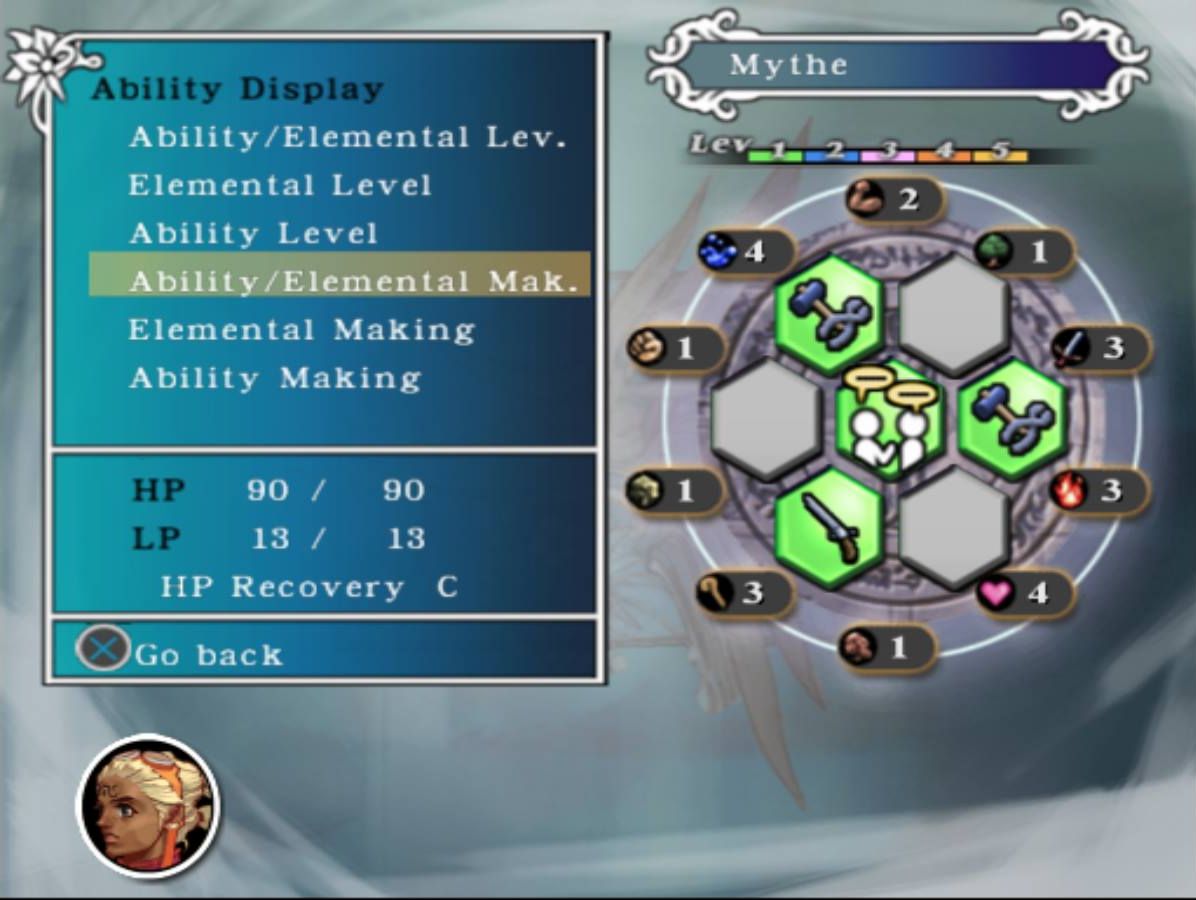 Now that we're in an adventure, we can look at the status menu and check out Mythe's stats.
They're... really nice, actually! Skill Making of 3, Magic Making of 3... Fire Making of 3, and a Water Making of FOUR. 4 is the highest that elemental makings go... This is pretty powerful, honestly! Spirit making is also a 4, too. Looks like Mythe would make a great mage-type character. But really it seems like you could build him however you wanted and he'd be pretty decent.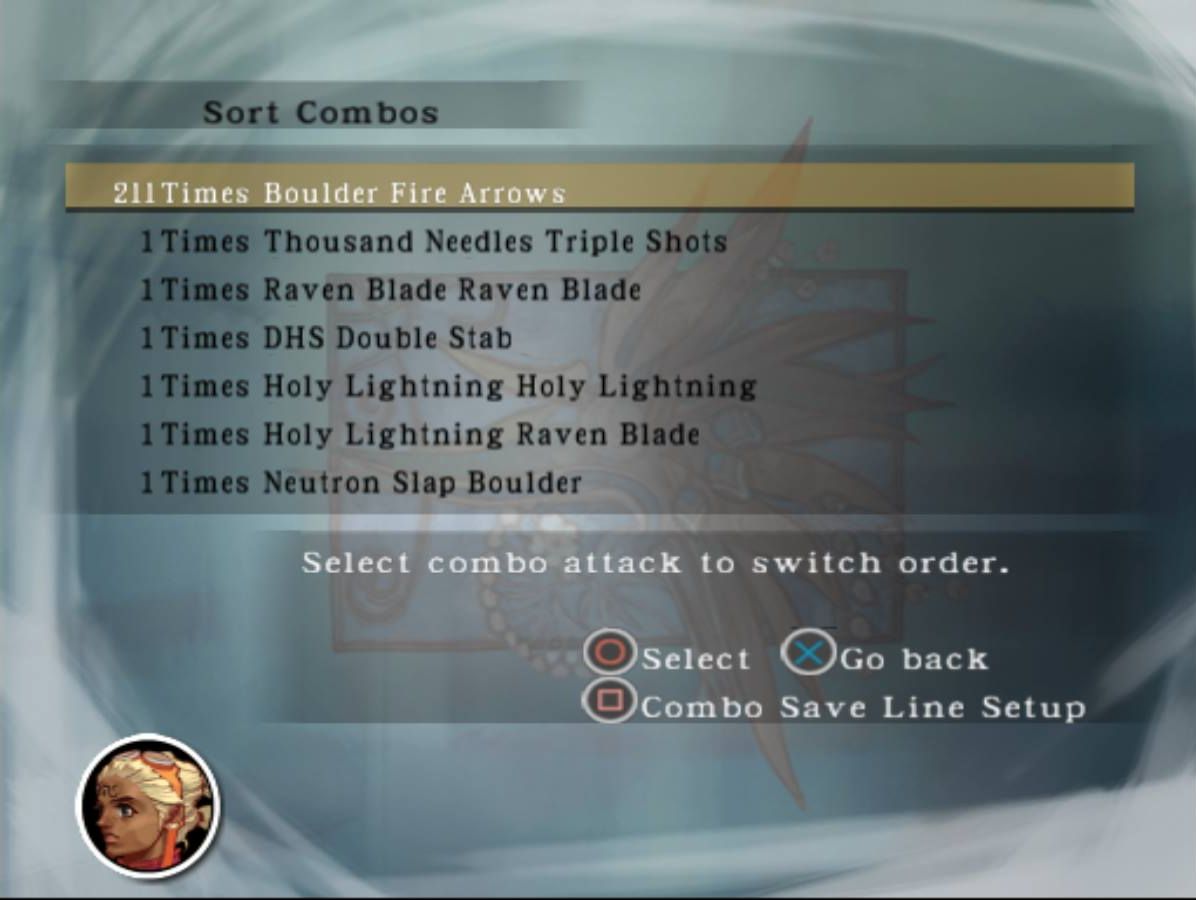 While we're here, I'll point out that our combo list has carried over from Ruby's game, too. Once we get access to Fire Arrows (we already have that armlet with Boulder on it) we could have a slightly boosted combo here...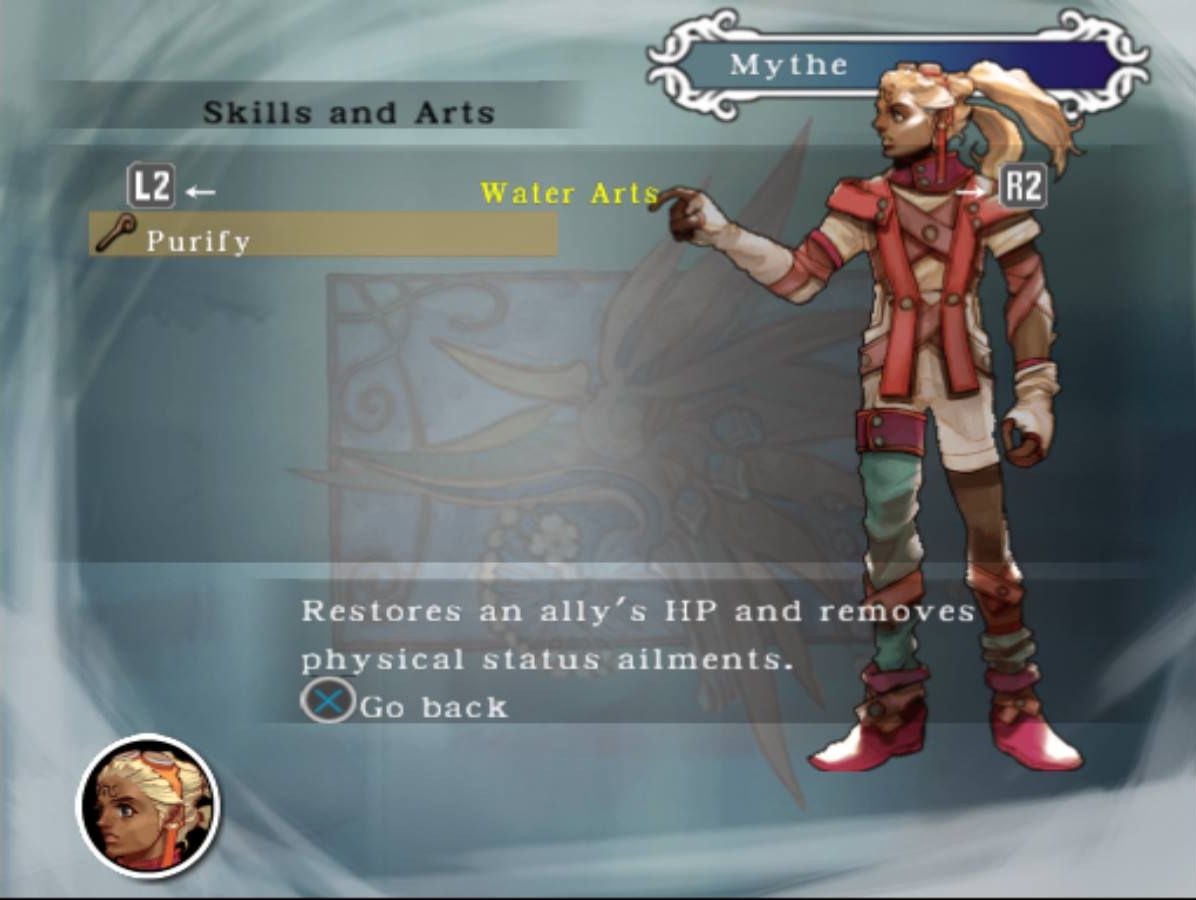 Anyway, looking at Mythe's arts, he comes with one learned art: Purify. That's pretty nice -- you can always use more healing. But we don't have any items with Water Arts ability, so we can't use it yet...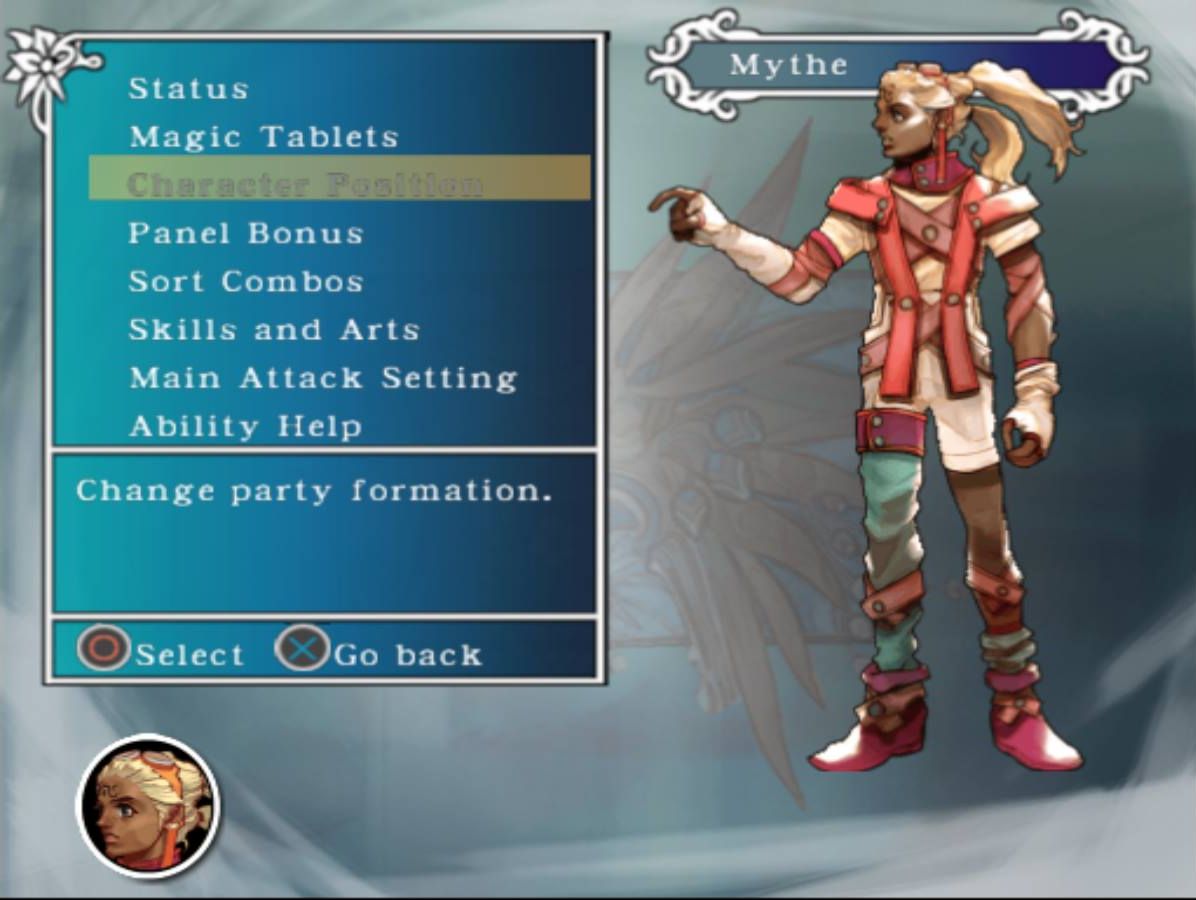 I've never seen the Character Position menu greyed out. That's because I've never seen a scenario where you begin with just one character... In Kurt, Judy, Laura, Ruby, and Ventus's scenarios, you get a second companion right away, and your first adventure starts with two party members. I think in a couple of those, you might need to take one step first before someone joins you, but... Mythe starts out completely alone. That makes his party twice as weak as the normal starting party, and with his measly 13 LP, that's pretty scary.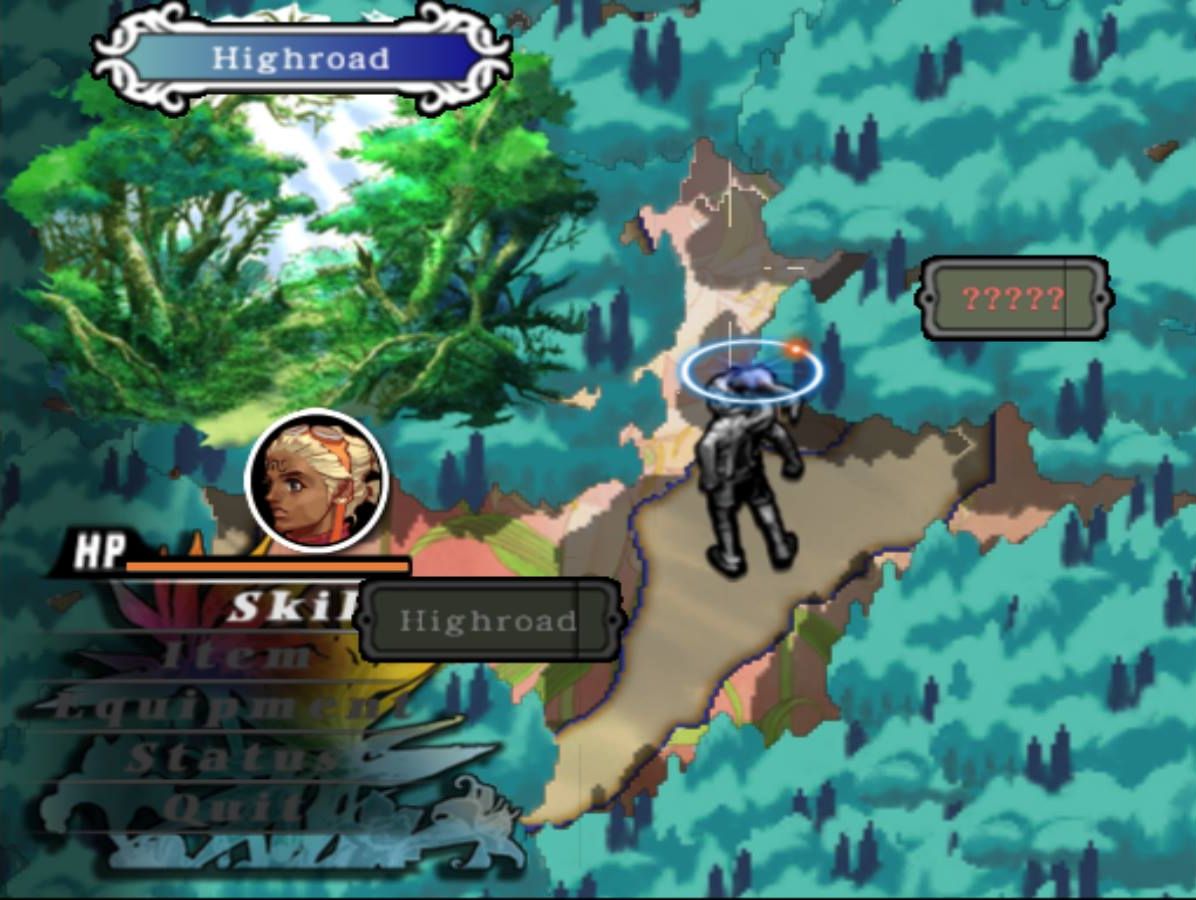 Because spaces are red if the number of monsters is equal to or greater than your number of party members, all spaces where even one monster is are now red. It's kind of scary because usually that is a warning sign for danger! But I guess really everything is dangerous now, traveling alone...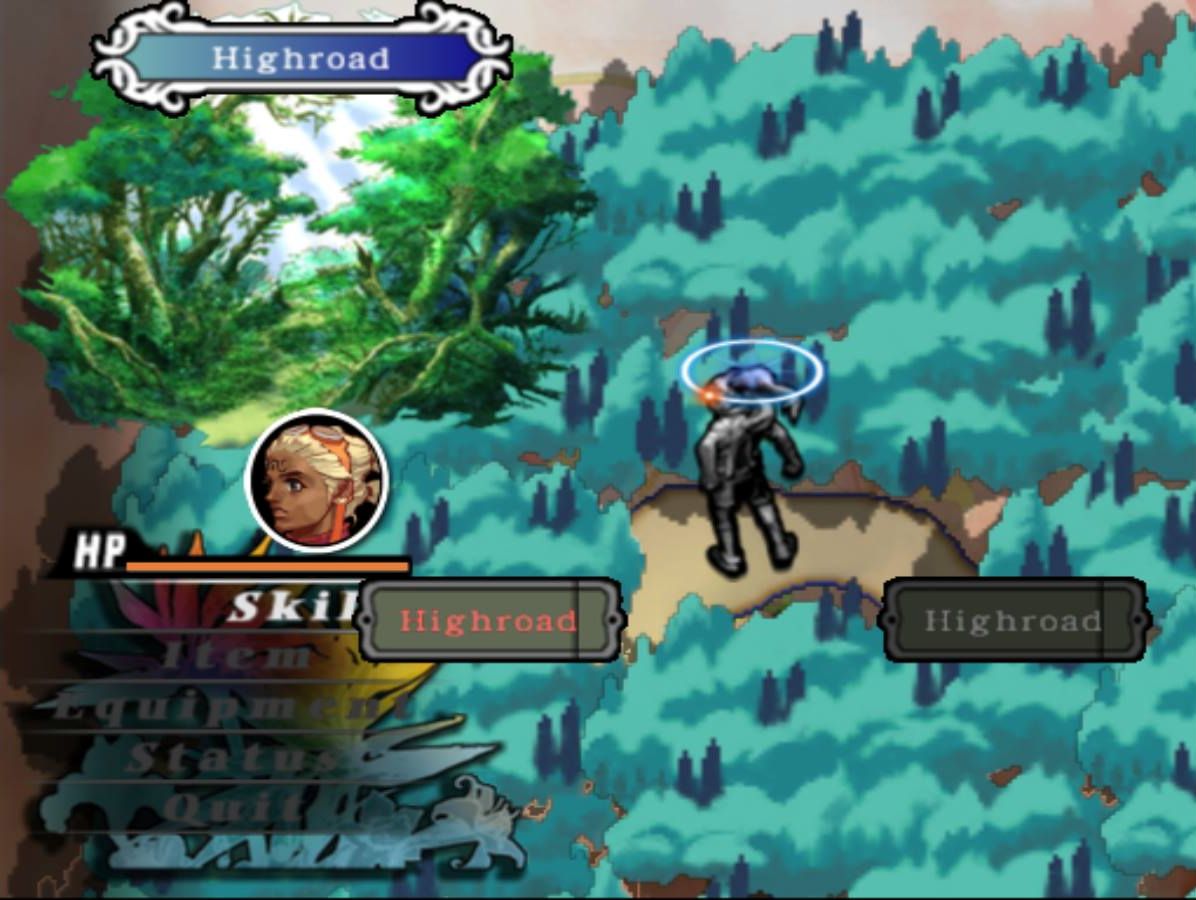 While traveling around in this beginning forest road area, I found a space that was supposed to contain monsters...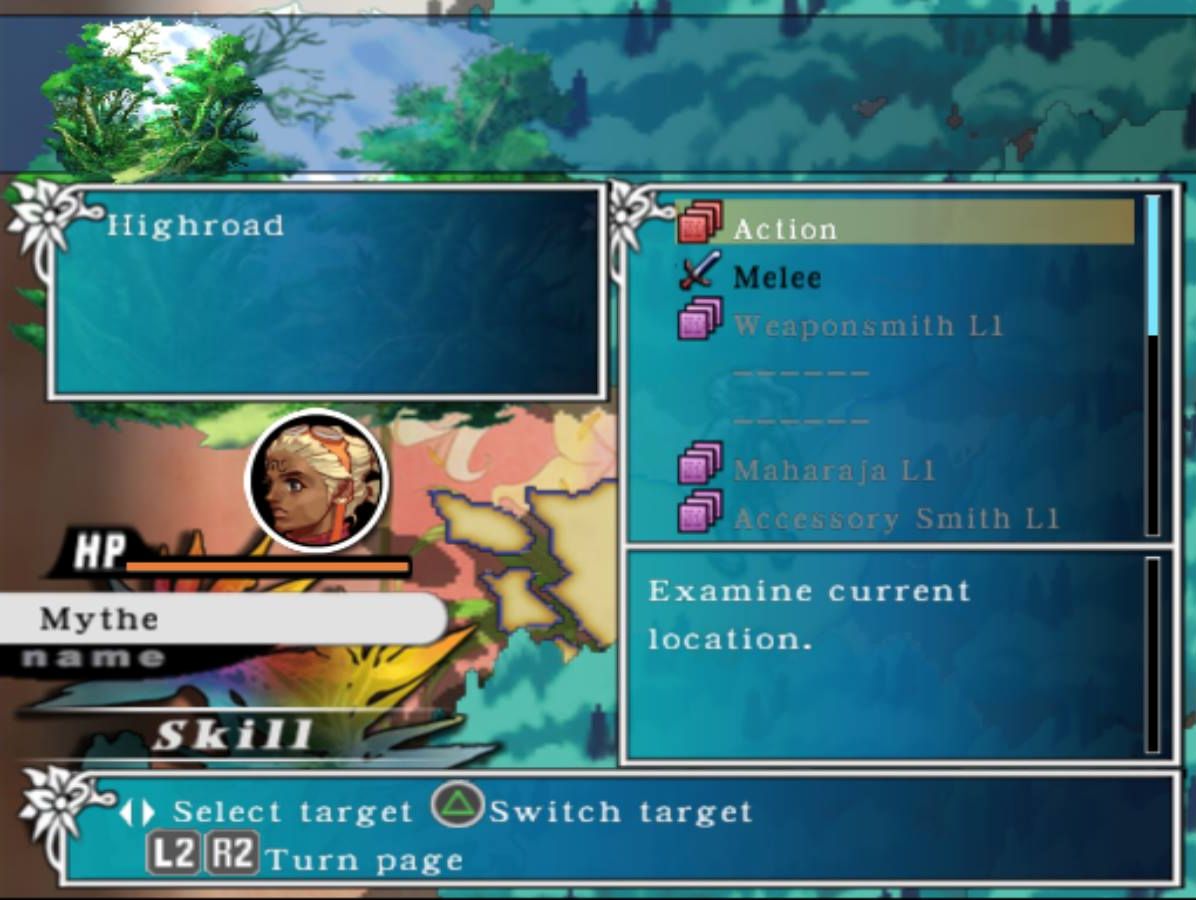 But when I moved to that space, there were no monsters there at all. With the way monster movement works, essentially, monsters will decide their action after your action, and that completes the 'turn.' Monsters will always move toward you if you're in their "range," or if you are on the same space as them, they will ALWAYS stay on the same, and either choose to aggress, or choose to do nothing.
Since our 'step' onto the space would come before the monster's phase of the turn, this means the monster moved away from the space we were on. And if we go to move back to the space we were on before, the space shows red again... and we can kinda hop back and forth like this endlessly and never encounter the monster, because it will keep running away.
There is only one monster in the entire game that will move away from you constantly like this. And it's a special, secret enemy that only appears when you're using clear data (so you can't encounter it on your first playthrough). It's arguably more difficult to fight than the final boss. But we're certainly not going to try to fight it now.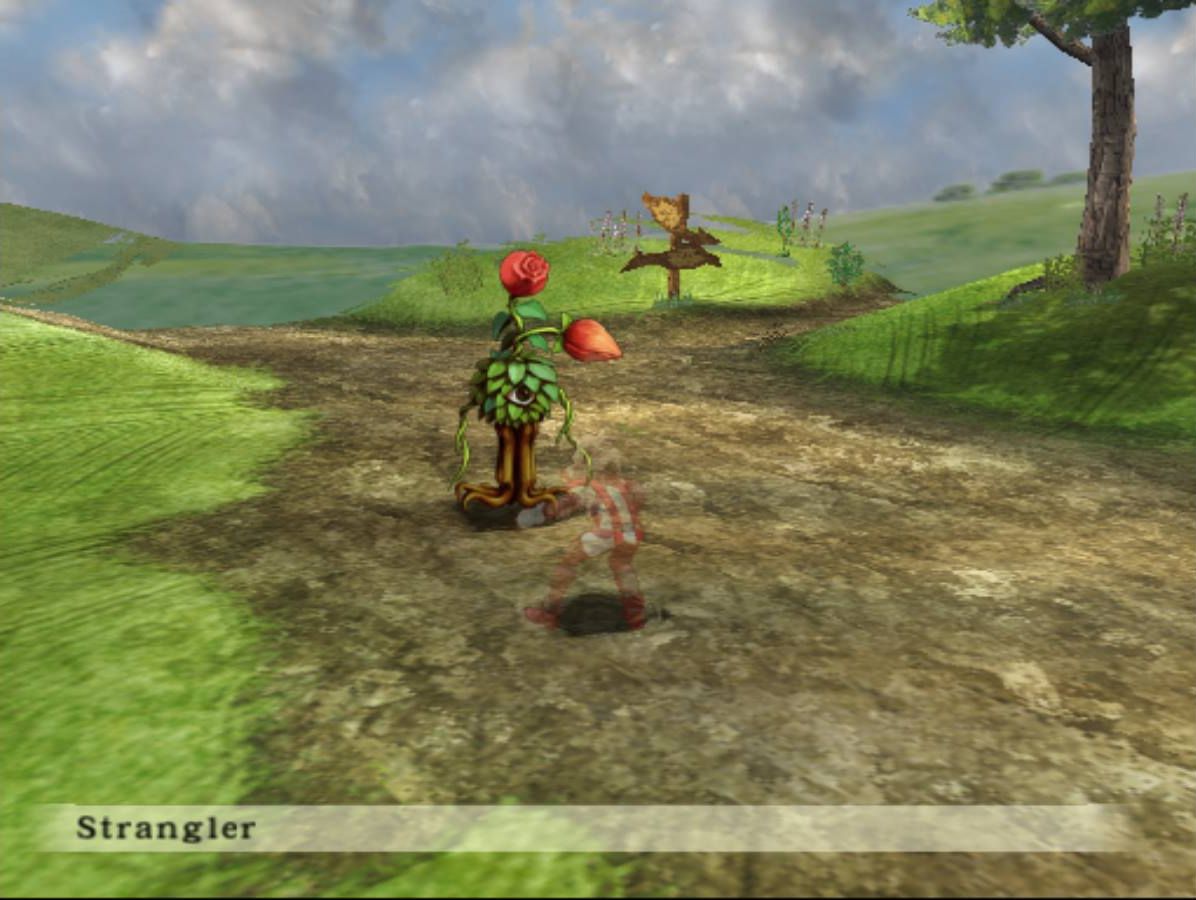 One last thing to note is that since we're using clear data, the game "remembers" all the monsters we've fought before. Normally your first time fighting a monster, you will not know its name. Instead, it would just show its monster class (like insect, vegeplast, beast, bird, etc.), but the clear data saves the database of monster names, so even though this is the first fight with a Strangler, we can see the name Strangler. It's ... not really helpful in any way, since the monsters have unique appearances anyway, but... along with the market rank and combo list, these are the only noticeable things that carry over between playthroughs. The one other thing is the ecology state, which is a hidden mechanic that is never important to actually think about and pretty much just fluctuates as you play. Basically, it's a way to "mix up" what monsters appear on which maps.
Also I want to talk about how weird Mythe's animations are. His standing still animation is this weird hunched-over thing, where his hair is constantly flapping in the wind like a carp streamer. So it's always like this, even indoors? And then his kick is like... this weird like leg sweep thing.
He's just super weird to look at...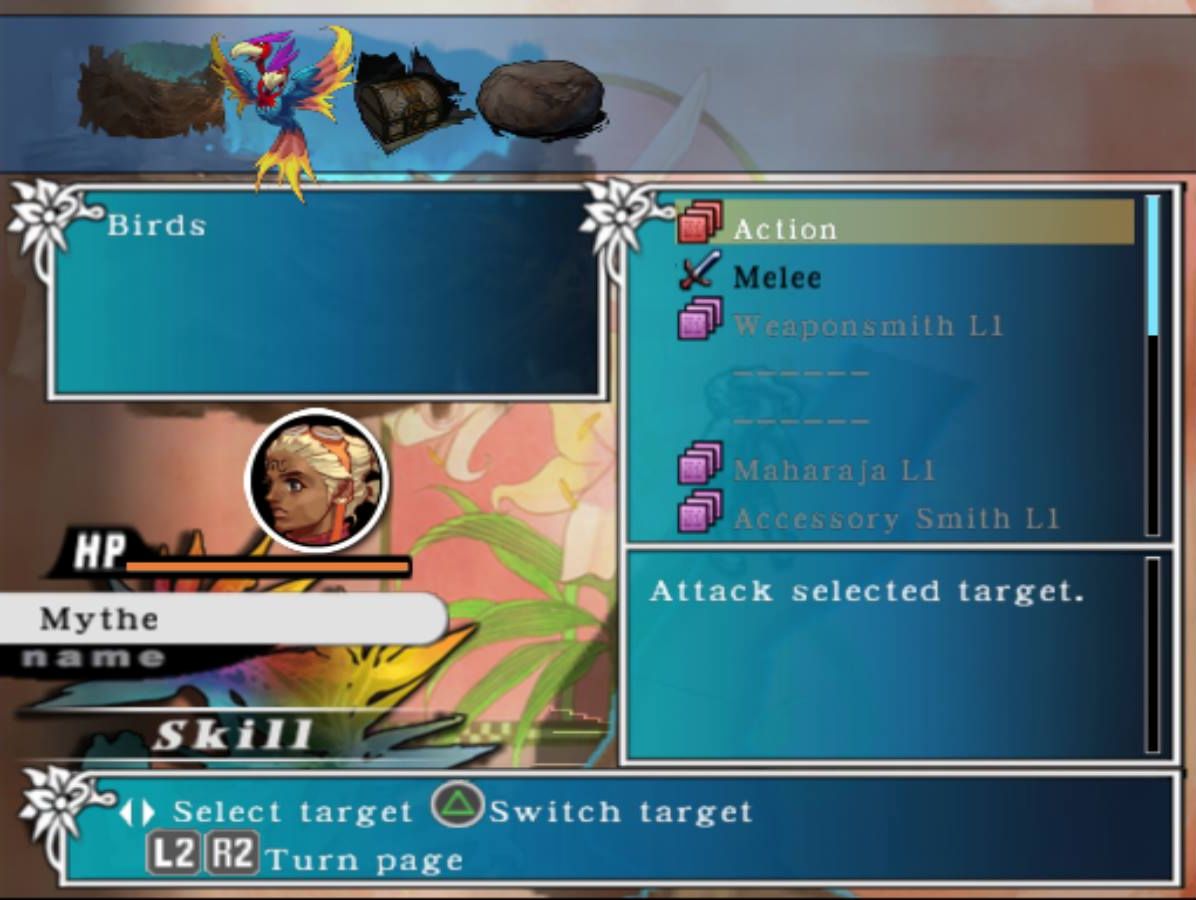 A monster dropped a treasure and then a new monster moved onto the space. This space is so busy!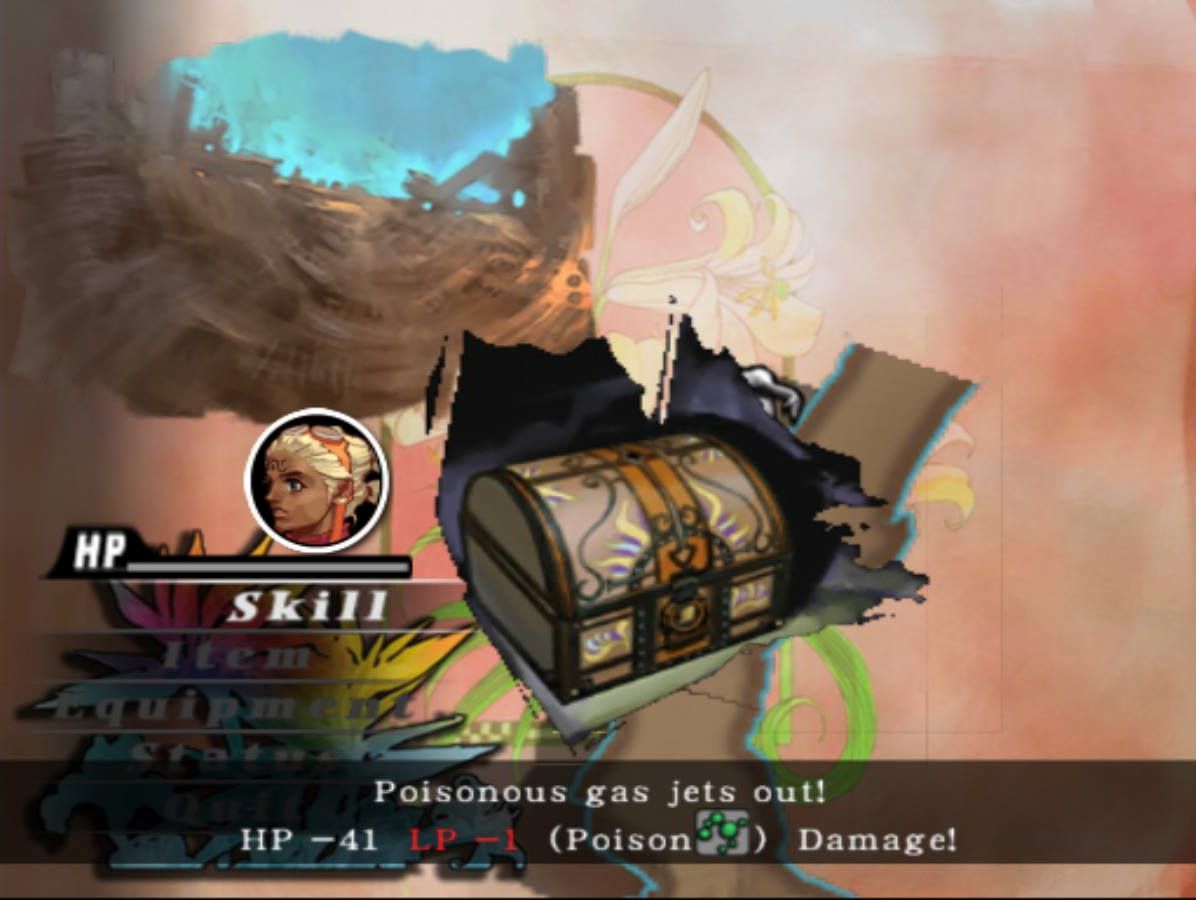 Pro tip: Treasures that monsters drop will only ever have needle and poison traps (and not necessarily both or even either), so you don't have to worry about mimic and explosion traps. I don't have any kind of treasure skills, so I just had to try to open it. It had both traps and I lost an LP...
But it had money in it! Which is nice to get even 2,000kr at this point. Also, it's funny to see Mythe calling this a "whopping" amount when Sapphire was recently disappointed to receive "only" 20,000kr -- ten times this much, haha.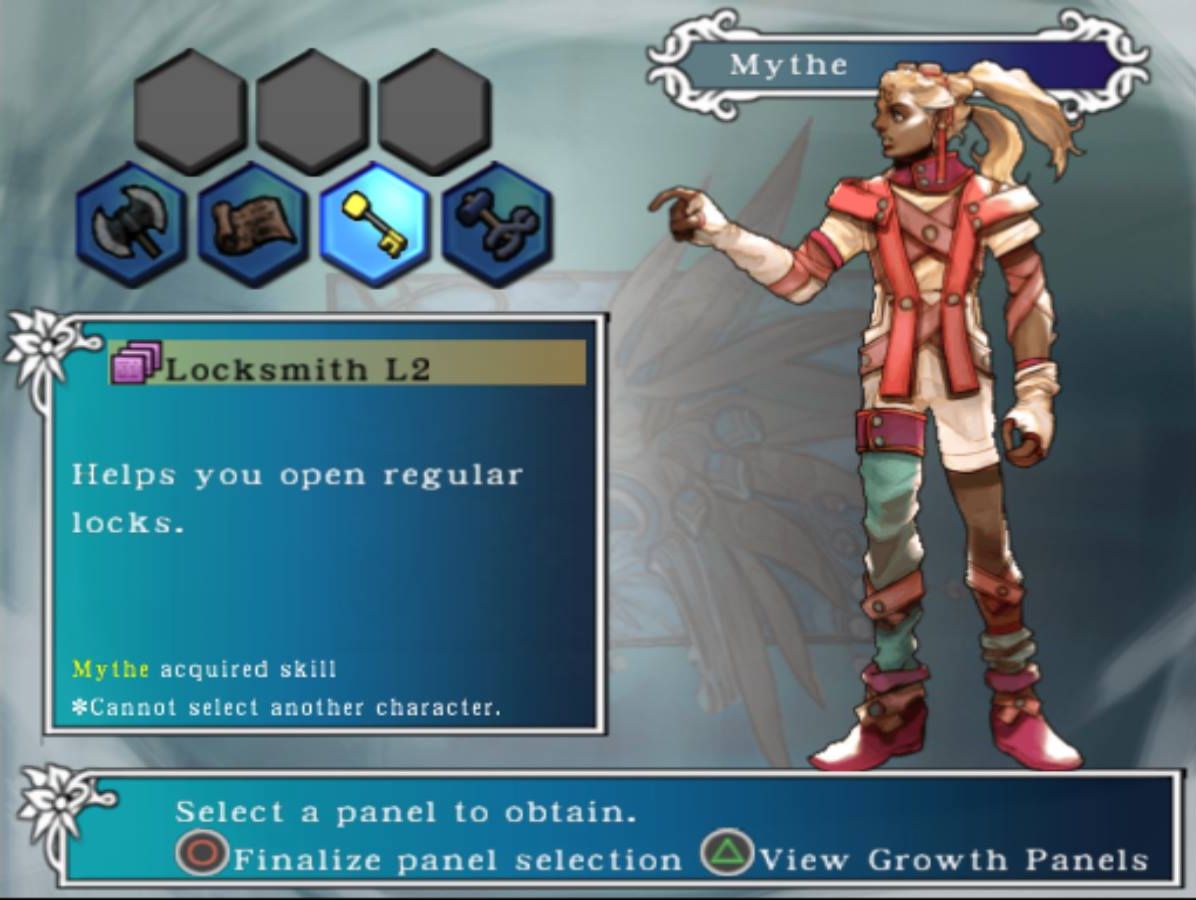 Mythe got pretty good panels at the end of this adventure, which was three maps of walking north from Longshank. Longshank is kind of on a peninsula near the south of the map, a bit north of Elve Isle (where Vaftom is).
I ended up going with Locksmith because it seems the most useful skill to have, even though it didn't help with levels right now. I put it in the middle since that's the least likely place I'll want to overwrite with something else, and the only thing I had to cover up was Maharaja, which I don't need.
After the adventure ends, we arrive in Zomar. If you remember, this is the first town we visited during our Travels with Iskandar, too. It's just east of Loch Vaan, so we're almost there already.
In the shop, I found a bestial armlet with Water Arts on it for only a little over 2,000kr. Pretty much paid for by that one treasure we found.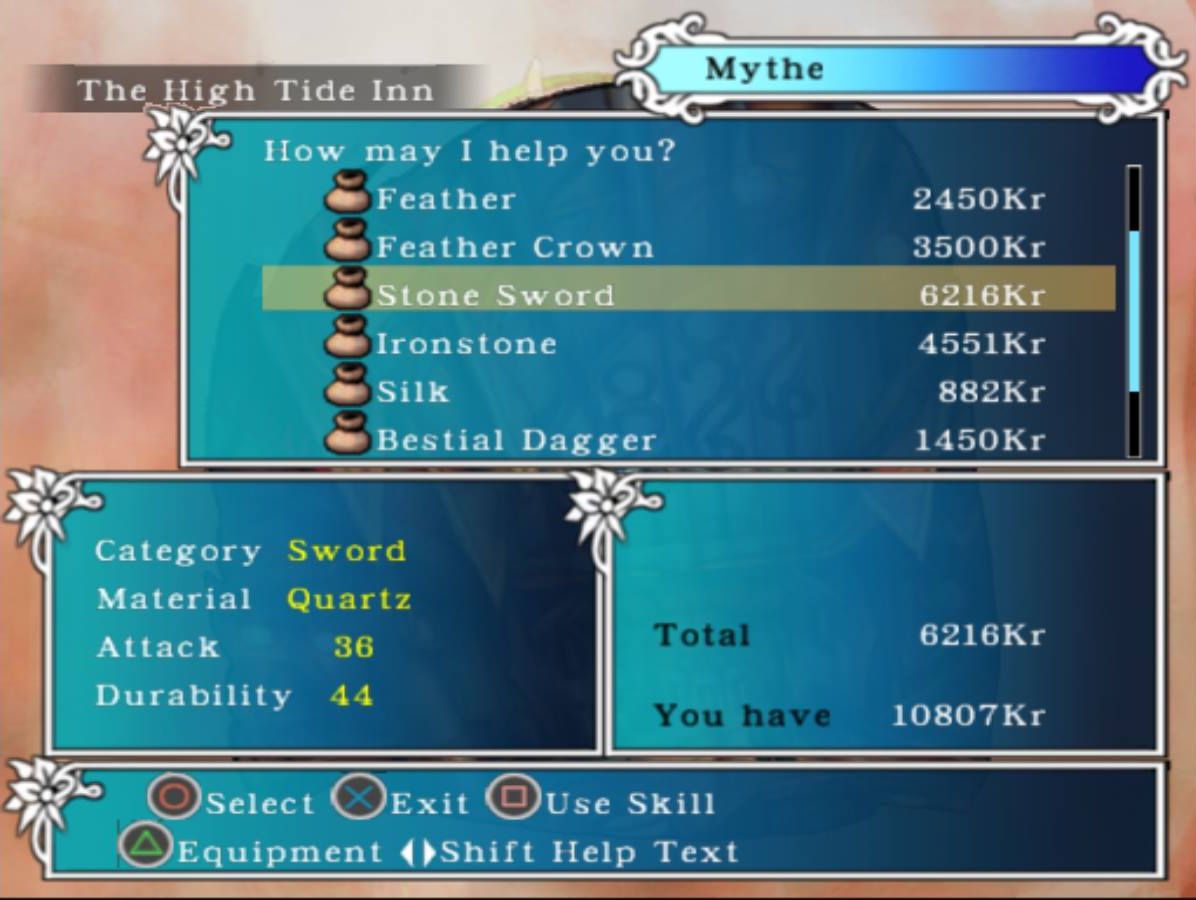 But it's still a struggle to find good weapons... look at this Stone Sword. It's made of Quartz, so it's pretty powerful for where we are now. It also has unleashed as an ability already! So it would be very useful... but it would also eat up a lot of money. Since finding and opening treasures is still very hard right now, and we'll likely have to outfit many party members as we acquire them soon, this isn't really affordable.
And pretty much all the available weapons in the shop are like this...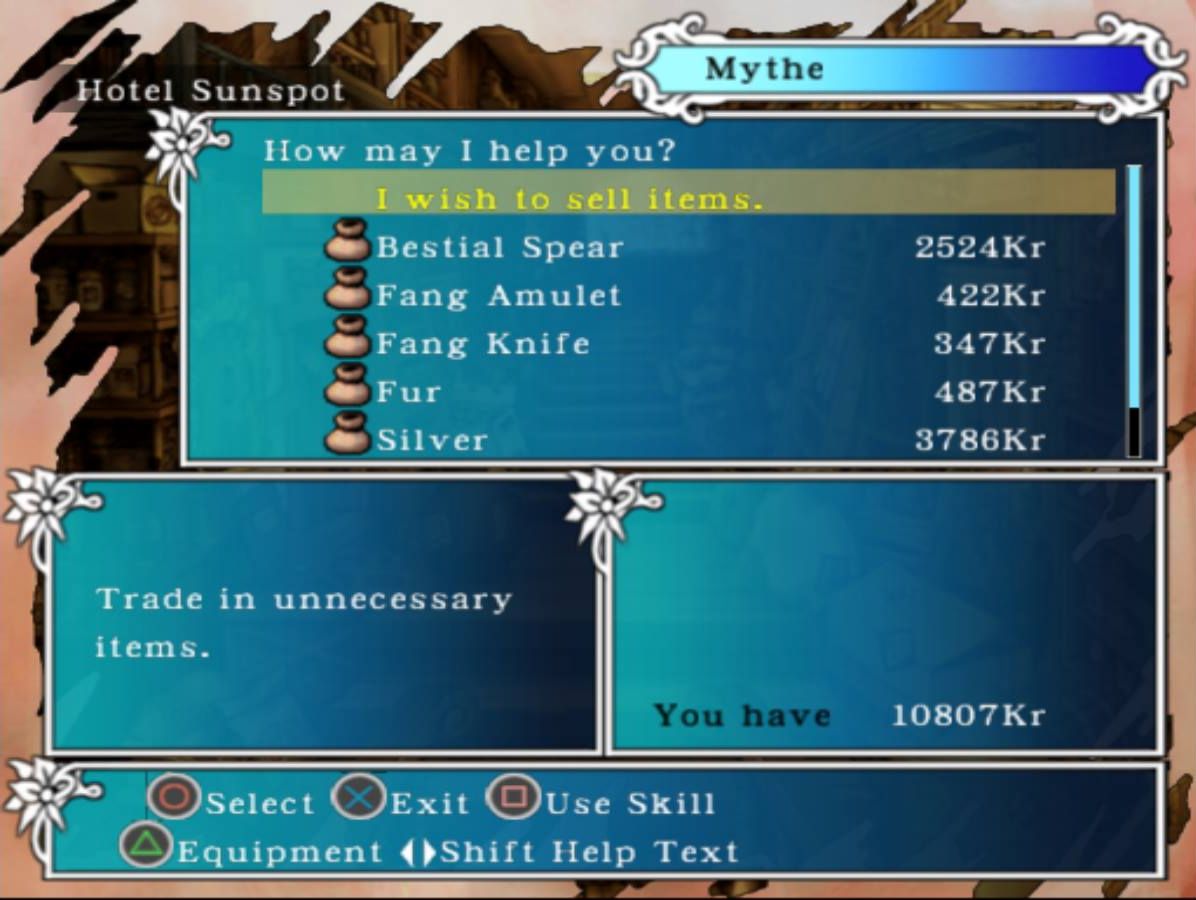 But! In Zomar, there are a few cheap items for sale! There's a fang amulet and a fang knife. But I really like the idea of having a sword. But guess what? We have the blacksmith!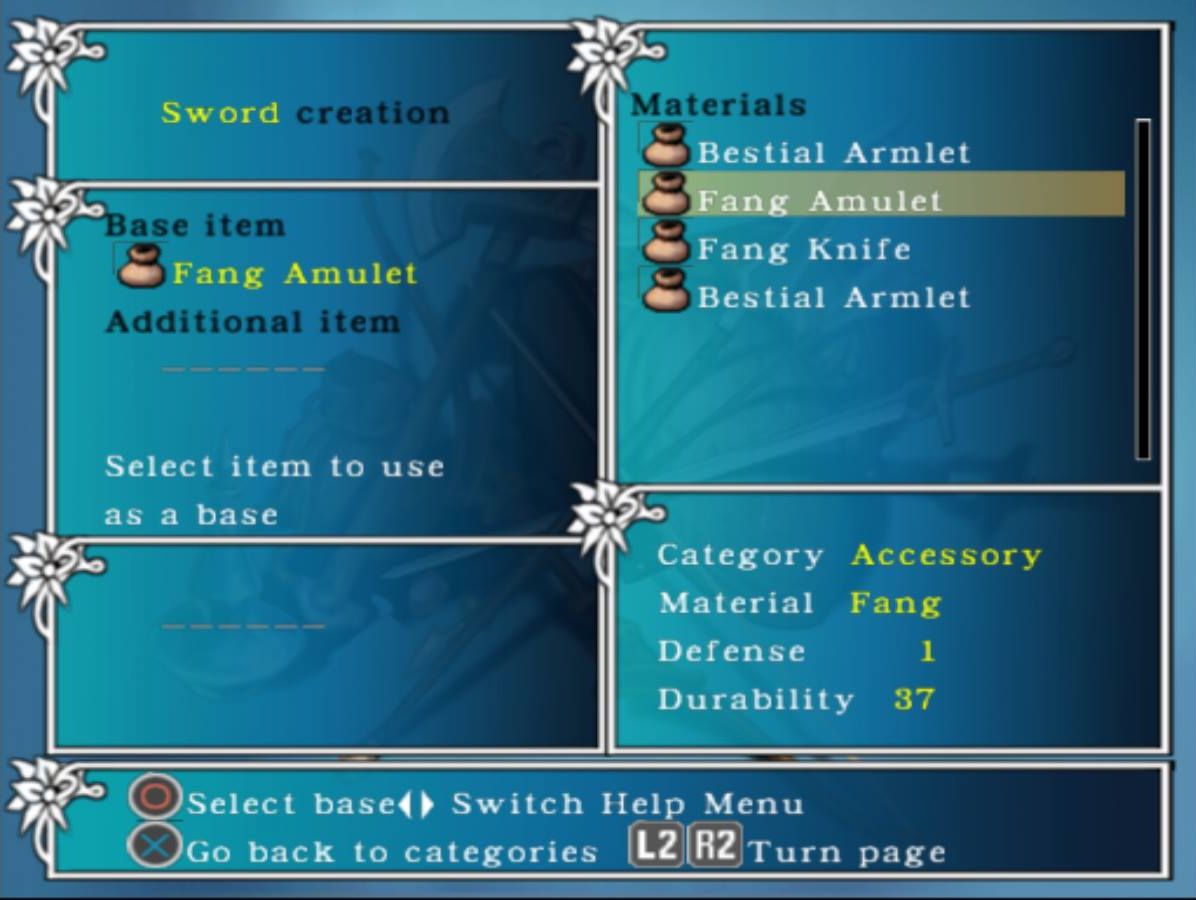 Going back to Mythe Works, we select "Sword" from the list of items to create. This brings up the Sword Creation menu. All the creation menus look like this...
We then choose an item to use as the base. We can use raw materials, or other weapons and accessories! I use the Fang Amulet as the base since it has the higher durability, and that will carry over.
Choosing the base item determines the material that the final product will be made out of. Since I chose a fang item as the base, the resulting item will also be a fang item. Pretty simple.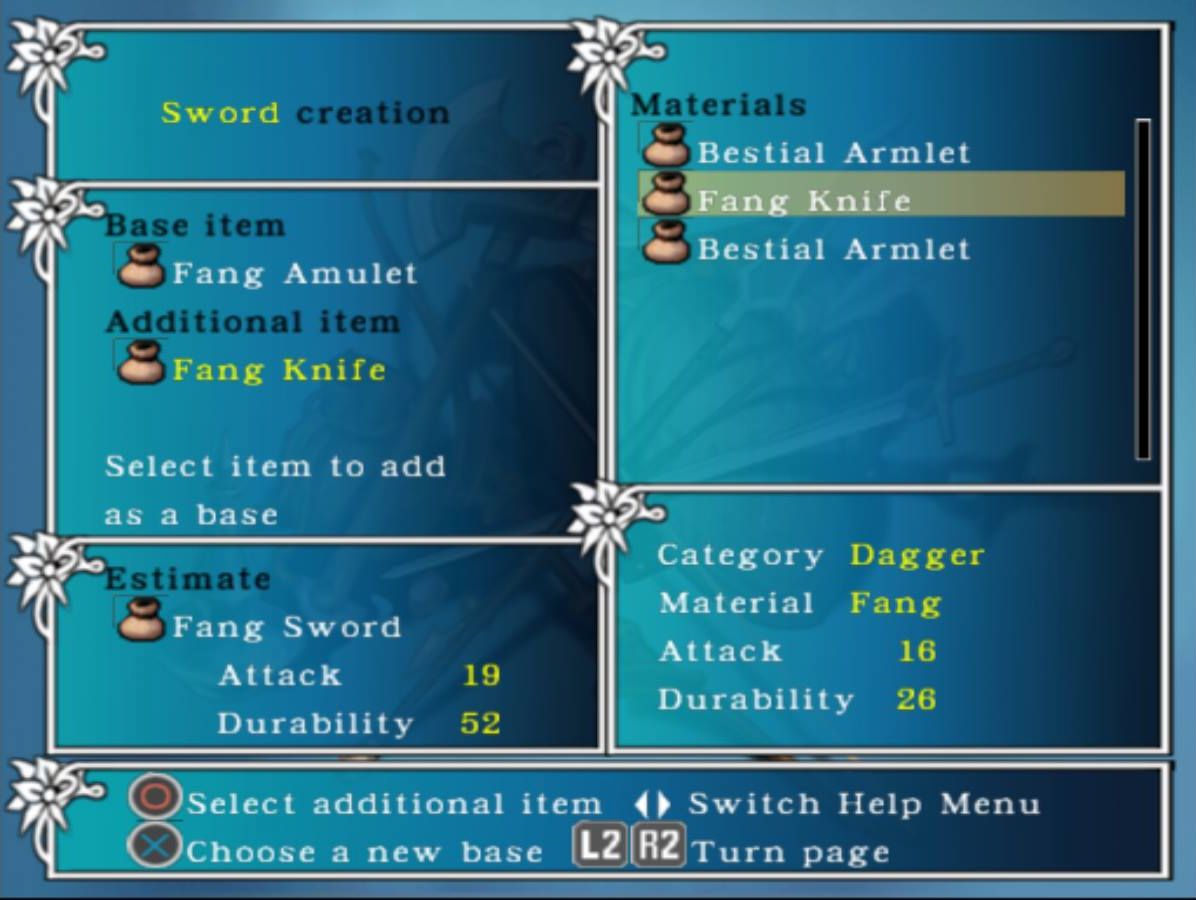 After choosing the base, you must choose a secondary item. You have to choose one; you can't just create an item with a base alone. I choose the Fang Knife that I bought -- this boosts the durability of my Sword I will create to 52. If I had chosen one of the Bestial Armlets instead, though, it would have only been at 47. Each material type adds a different amount of durability to items when used as the secondary material. It's also based on the base material, too -- certain secondaries add more to certain bases. You don't need to memorize it -- just look through what you have and see what is best.
However, the reason I bought the other fang item was not for the extra bit of durability, but because it's harmonious. When using materials of the same type (for example, metals with metals, or wood with wood -- in this case, organic matter with organic matter; so we could have used something like bone or scale, too), they will be 'harmonious' and will have a better chance of releasing abilities on the weapon. There's also less of a chance of losing released abilities on the weapon. You can't lose the first ability (in swords' cases, Multi Blade), but if we had released other abilities like Cross Slash or <Deflect>, we would have a chance of losing them while repairing the item at the blacksmith. Also, if you use an item as a base that has abilities released (let's say we had used a Fang Knife that had all four abilities unleashed), then the resulting new item would also have that many unleashed (provided you didn't lose any).
Sadly, we didn't release any abilities, but now we have a brand new sword for only around 600kr, with great durability, when we would have had to have paid ten times that for a sword buying one directly in the shop...
Hopefully Mythe will release <Deflect> on it soon... (spoiler: he doesn't unleash it during the next adventure...)
With all of that out of the way, though, we can embark on our trip to Loch Vaan, with the adventure To The Fortuneteller: Part 2.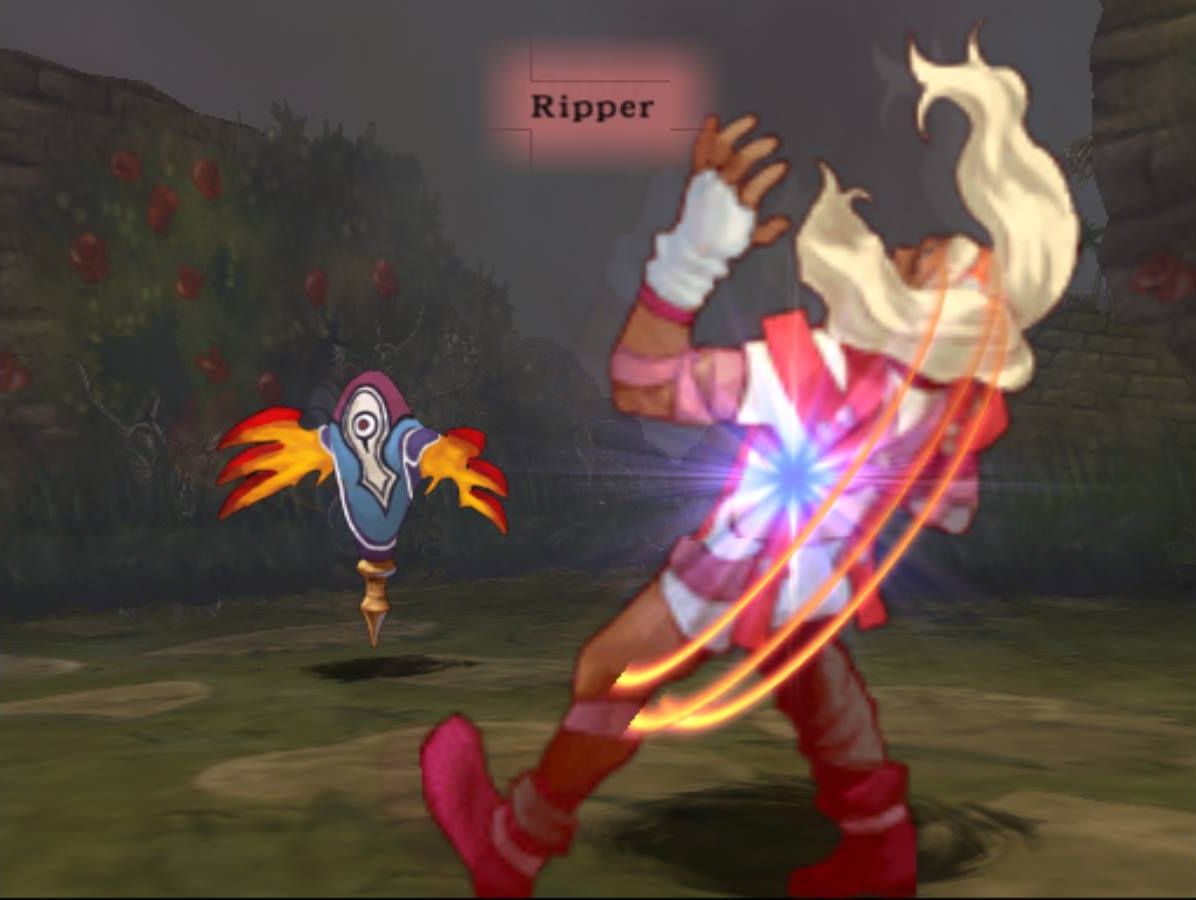 One of these demons appeared, and it was very scary. It's not nearly as powerful as the special versions Maane and Malig from Nakle Lines, but it still has the Ripper ability...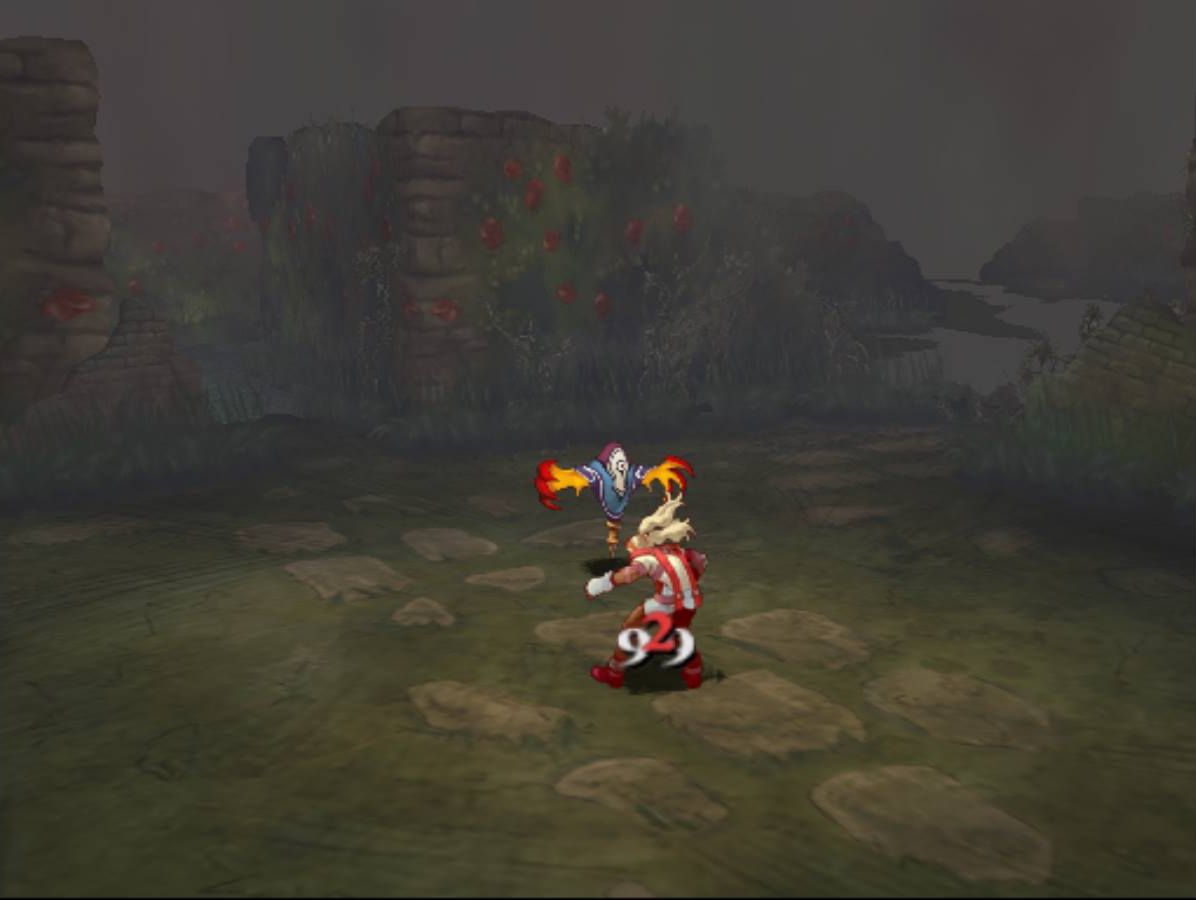 Which is still pretty devastating... And since this little rat bastard can get up to 3 actions per round of combat, that's a potential 6LP damage to Mythe from just one round at this rate. Spoiler: Mythe lost 6LP this battle. That's almost half his total LP! Luckily there were only one of these things wandering around... but this happened at the very beginning of the adventure, so I was quite nervous the entire rest of the way...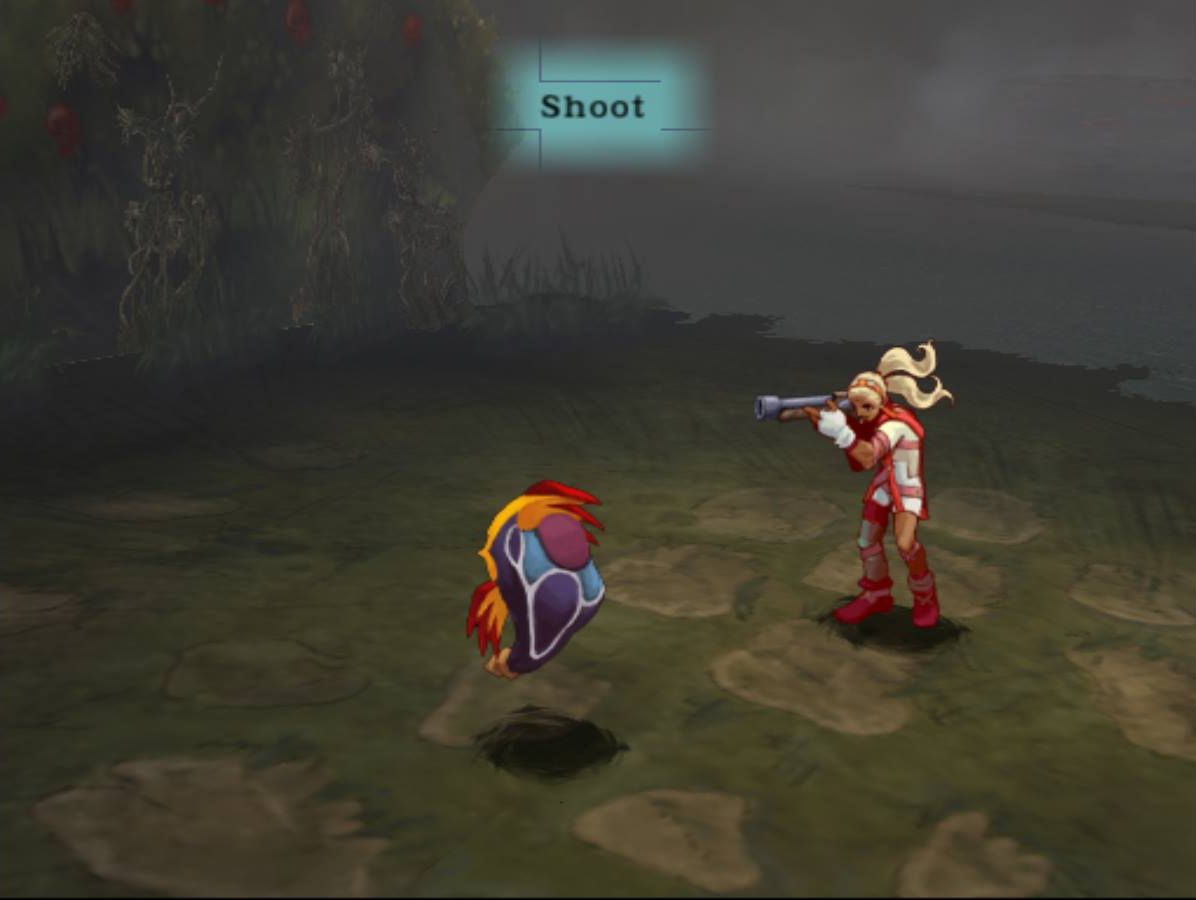 Here's Mythe's gun pose.
Mythe comes equipped with two guns, which are super useful in the beginning of the game. Unlike other weapons, you don't have to glimmer arts for guns. They have all of their arts already available from the start. The only arts available are "Shoot" though, but there are multiple strengths. The higher your Gun Arts skill panel you have, the more of the better "Shoot" nodes you'll have on the reel, making it easier to hit the high-leveled shots. But if you know the reels, you can just hit them anyway even at this point. Mythe was able to do over 200HP damage an an LP damage with a single shot against the demon. By comparison, even with Mythe's new sword, he can only do around 30 damage and hardly ever does LP damage without a combo. So having the gun is a lifesaver at this point. But the guns only have 20EN and we don't have a way to repair them yet... so having the sword was also pretty critical.
Honestly, why would the devs say this is a good starting character? This is very difficult and I've really had to pay close attention to what I was doing just to walk along roads like this... I can easily see a newbie Game Overing before even making it to Zomar... having only one character when the game is generally balanced for starting with two characters, and having a pretty weak character with only guns that can break easily...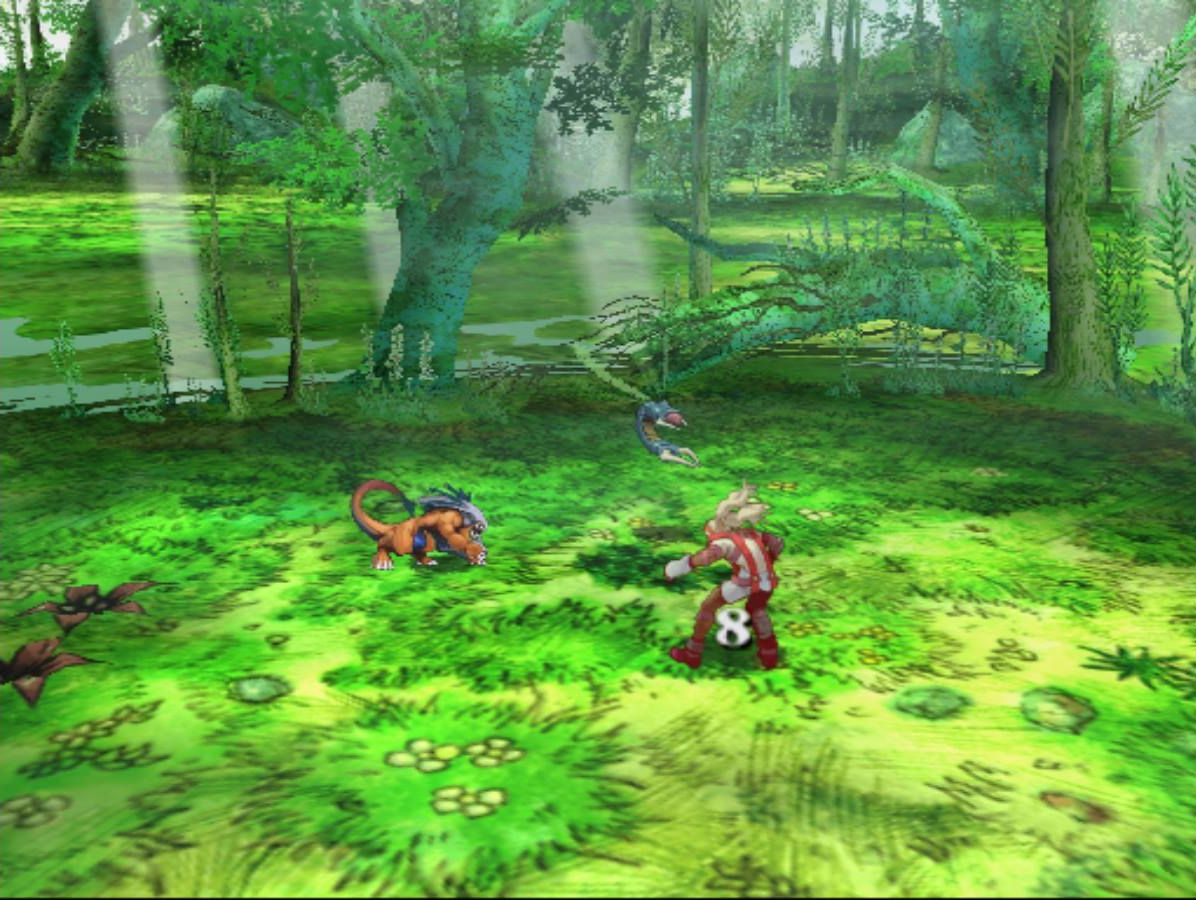 Shortly after moving onto the forest road, I got into a fight with two monsters at once... and this was right after coming out of another fight, so I didn't even have time to rest!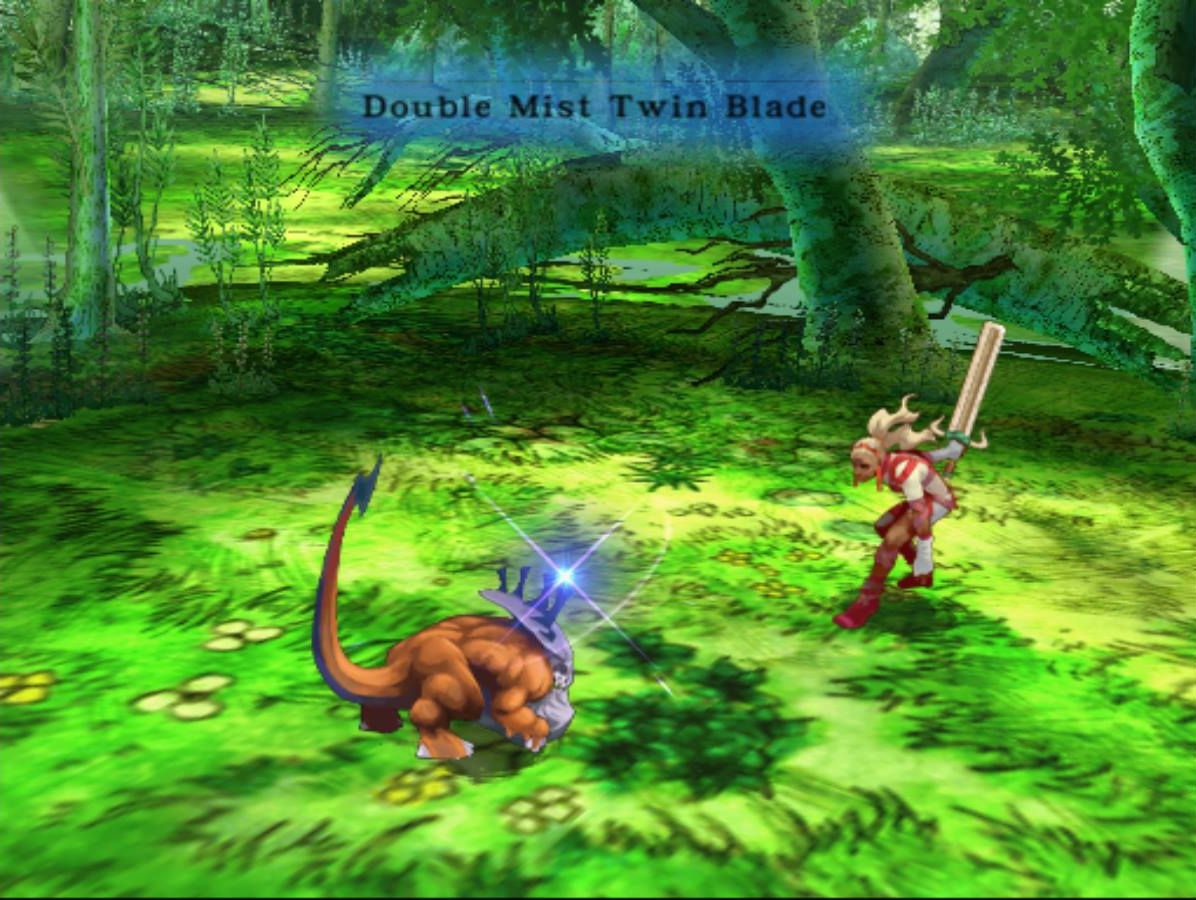 The fang sword we created really saved the day, though. Mythe glimmered Double Mist pretty early, which was a BIG help. Also look at his ridiculous hunched-over pose with flying hair. It's so dramatic. He's like a Sailor Moon character or something.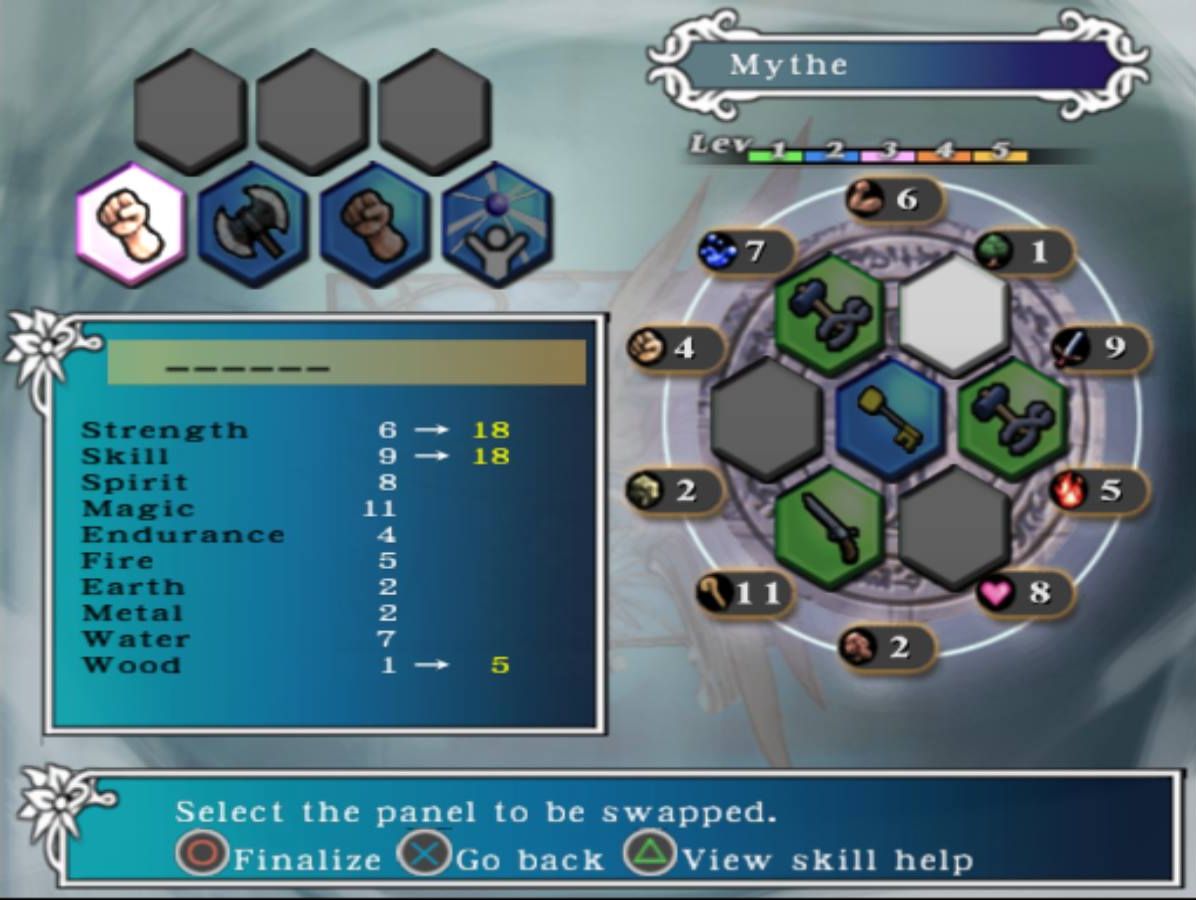 At the end of this adventure, we got a L3 punch panel! In the previous Ruby game, I had banned melee arts panels. This was mostly to make martial arts not very viable, but also because the panels are all pretty good at raising ability levels, appear very commonly, and since there's three (punch, kick, throw), they can easily be placed in combo formations for big boosts to Strength.
In fact, very few panels in the entire game boost ability levels more than Punch and Kick. By placing just this one Punch panel, we're already doubling our Skill level, and tripling our Strength level...
In Loch Vaan, someone actually says a unique Tiffon thing. Though it's not really interesting. But at least it's unique!
I did a little shopping and bought another cheap item to raise the durability of the sword again, even though it wasn't too bad. Then I headed to Sapphire's shop.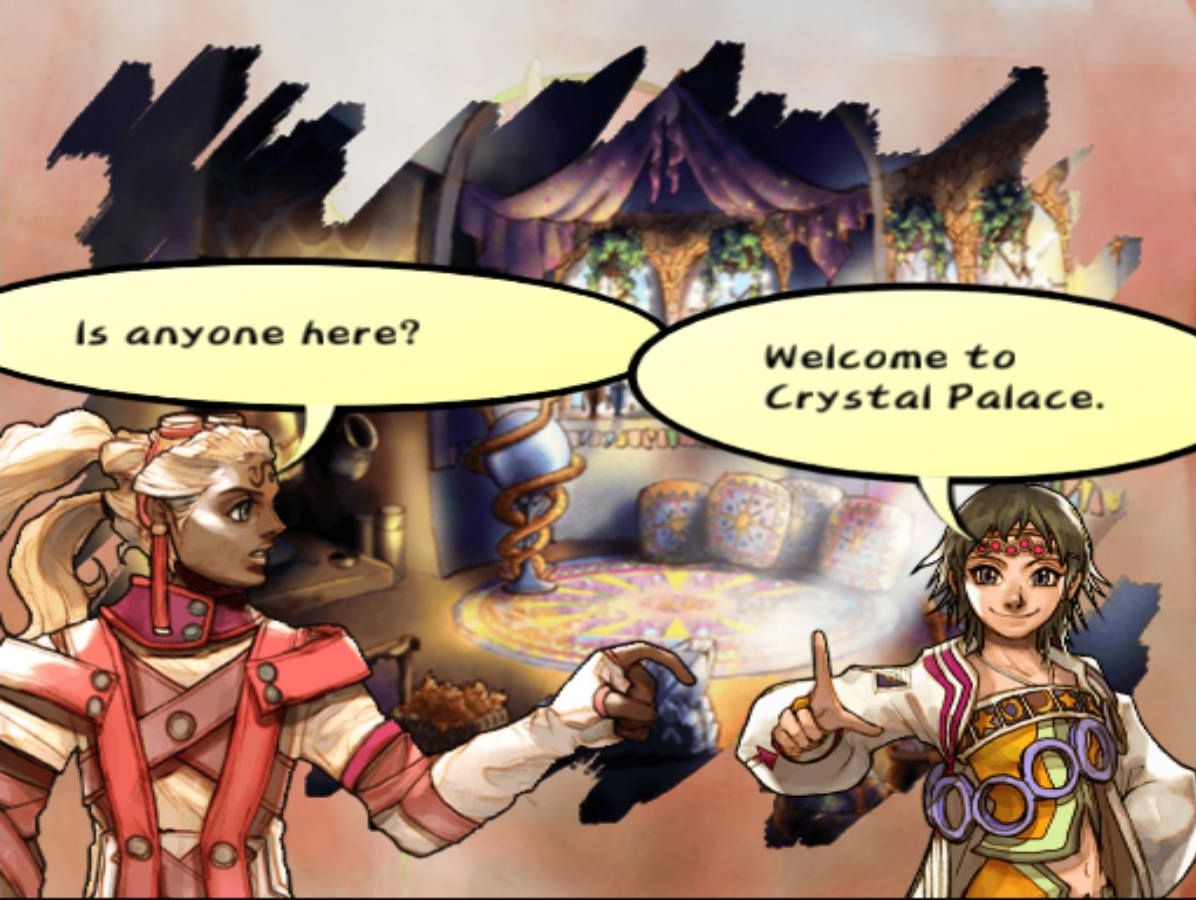 Mythe knocks and enters, and is greeted by... "Sapphire."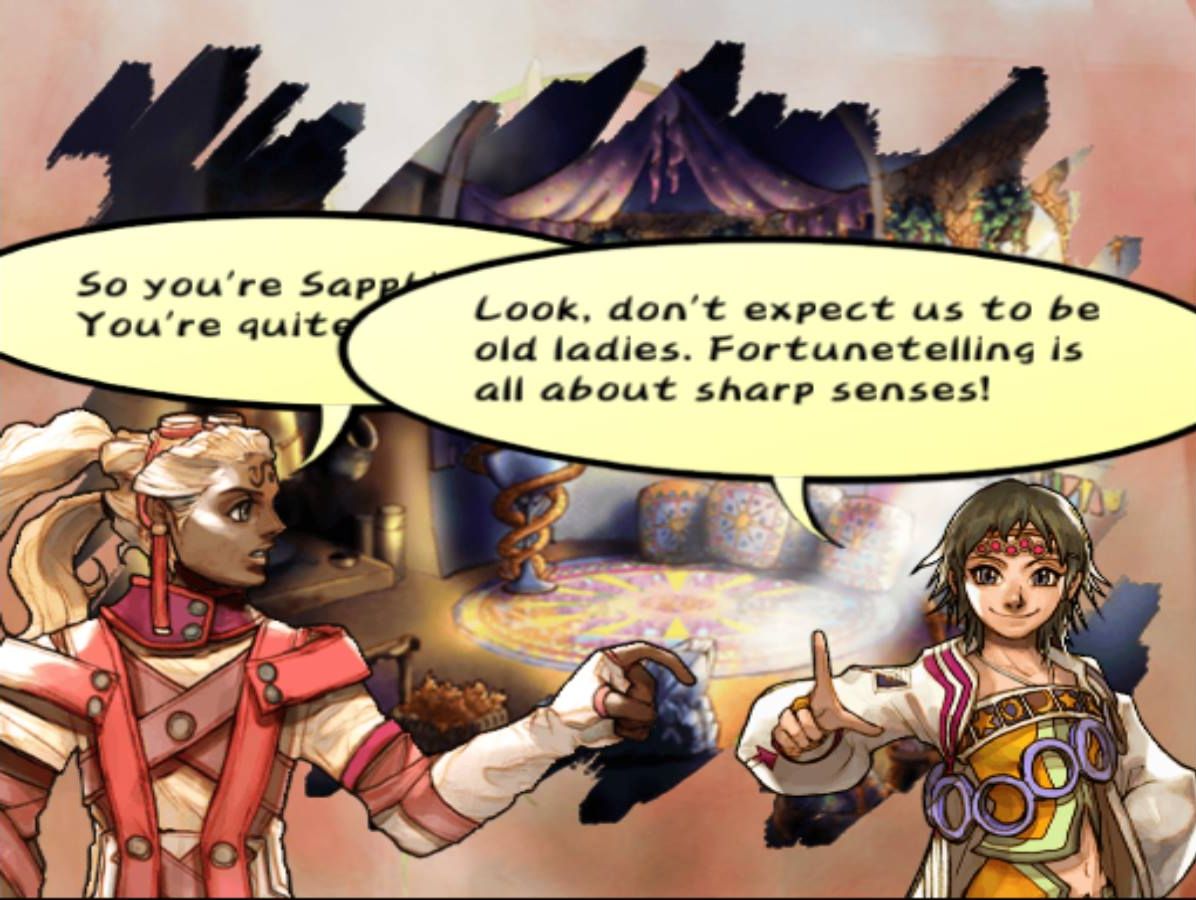 When Mythe assumes she is Sapphire, Ruby doesn't correct him. She's even a fake in other characters' scenarios, hahaha.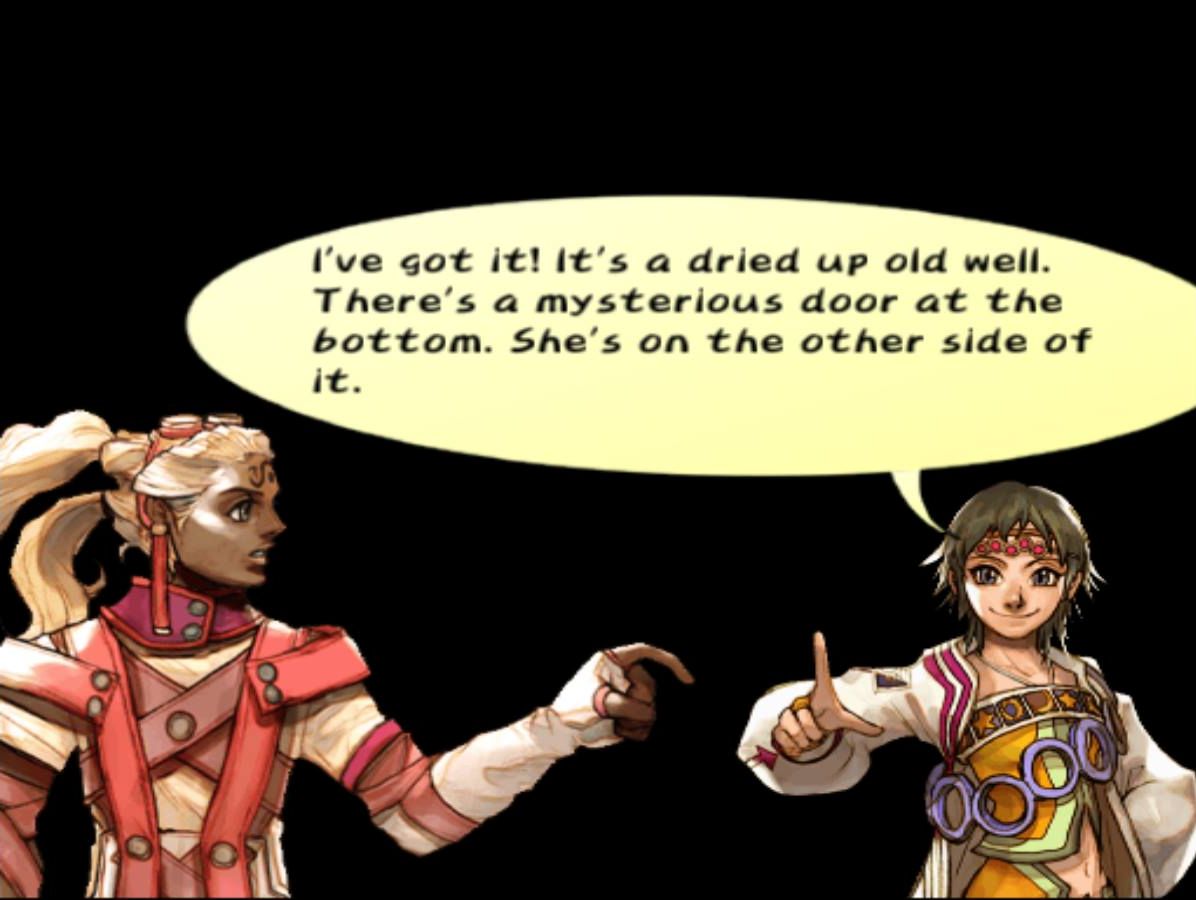 Ruby gives the same weak readings she gave to people at the beginning of her story. Actually, her reading is pretty similar to the one for finding the kitty. Actually, it's the exact same one. She tells Mythe that Tiffon is under the well behind that locked door -- the one we need the key for. Well, she might be there. Or maybe just a clue on how to find her.
At least this time, I doubt that she's going to go find Tiffon on her own and stuff her into the well, so we might find a real clue in there. Or maybe Tiffon really is in there for some reason.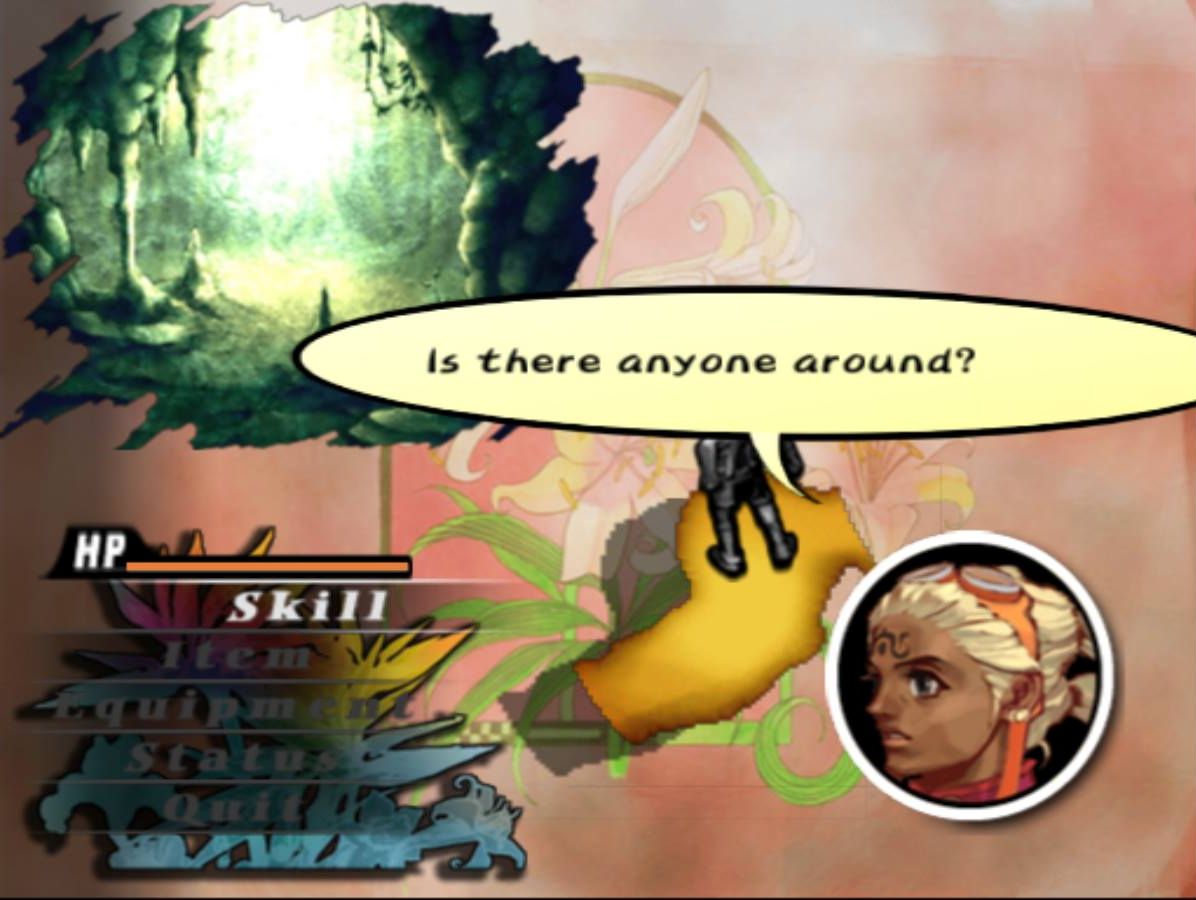 Unexpectedly, the game just throws us into the next adventure without having to select it from the inn. Fortunately, there's a ladder here that you can use to leave the adventure (which is the same as failing it, without having to run out the turns -- though there's no punishment for failing/leaving adventures, you just don't get panels like you would if you had cleared the adventure).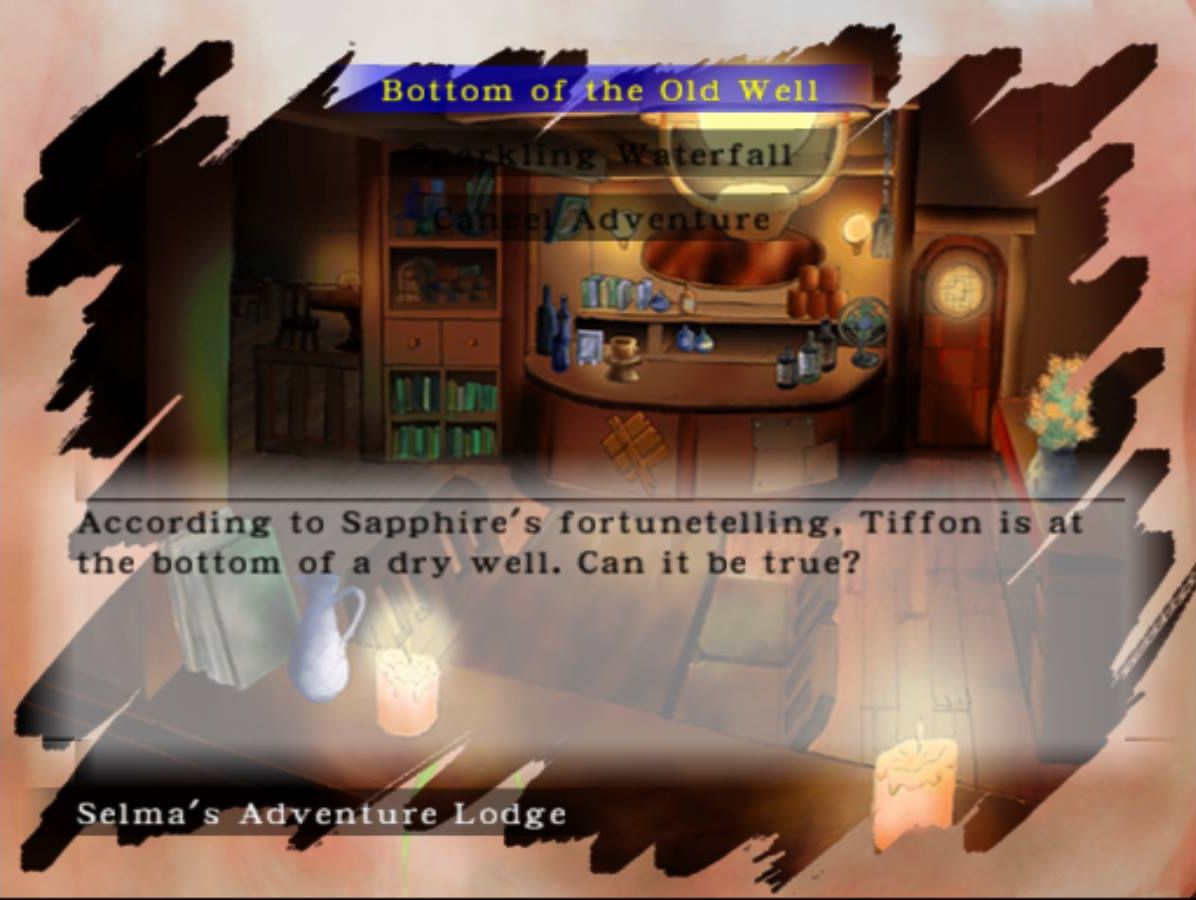 To go back, you have to go accept the adventure from the inn, even though you didn't do this the first time.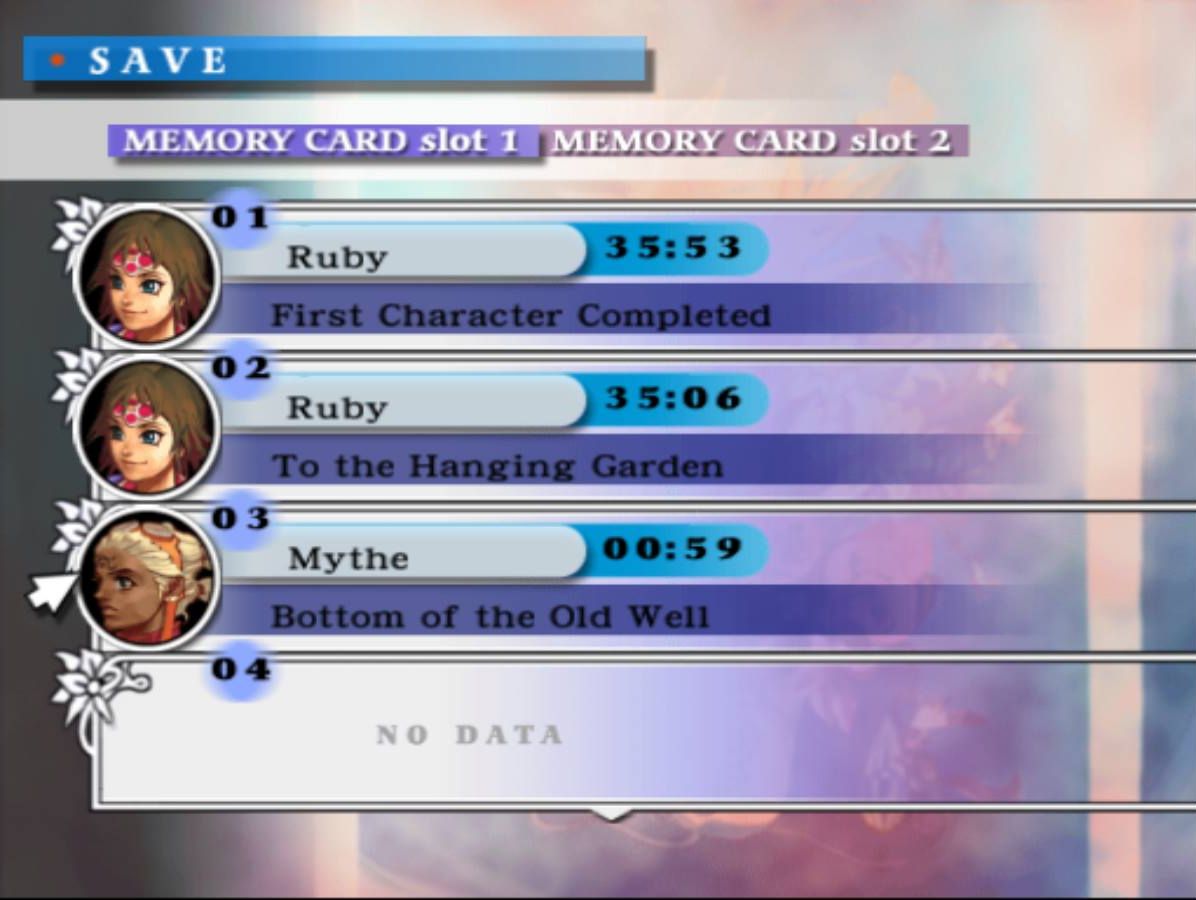 But I don't want to do that now because I'm super tired. So instead, I'll save the game here and continue some other time. Almost an hour play time, and that includes slowly taking all the screencaps and stuff, so not bad for two adventures and the cutscenes. We're moving right along already! But it seems like we have to go through yet another adventure alone... hopefully Tiffon is indeed in the well and will join our party...
I'm playing this story blind, though, so I have no idea when we're actually going to get any party members nor do I know who it will be. I do know who all you get, though. But not when or where. And we will get Tiffon at some point... And I think Sapphire, too. So they should be coming up, at least?
But yeah, sorry it's a bit long! And hope you enjoyed the beginning of Mythe's story. I feel like it's going to be a bit more interesting of a narrative than Ruby's story, but we'll see.
---