Jade Forest
Finally past the Vale of Swords, Mythe continues to escort Michelle to Marie's home to see her grandfather, who should be able to tell them more about the cursed gauntlet. The last obstacle in the way is Jade Forest, which is both a figurative and literal walk in the park, especially after coming out of something as tricky and scary as the vale.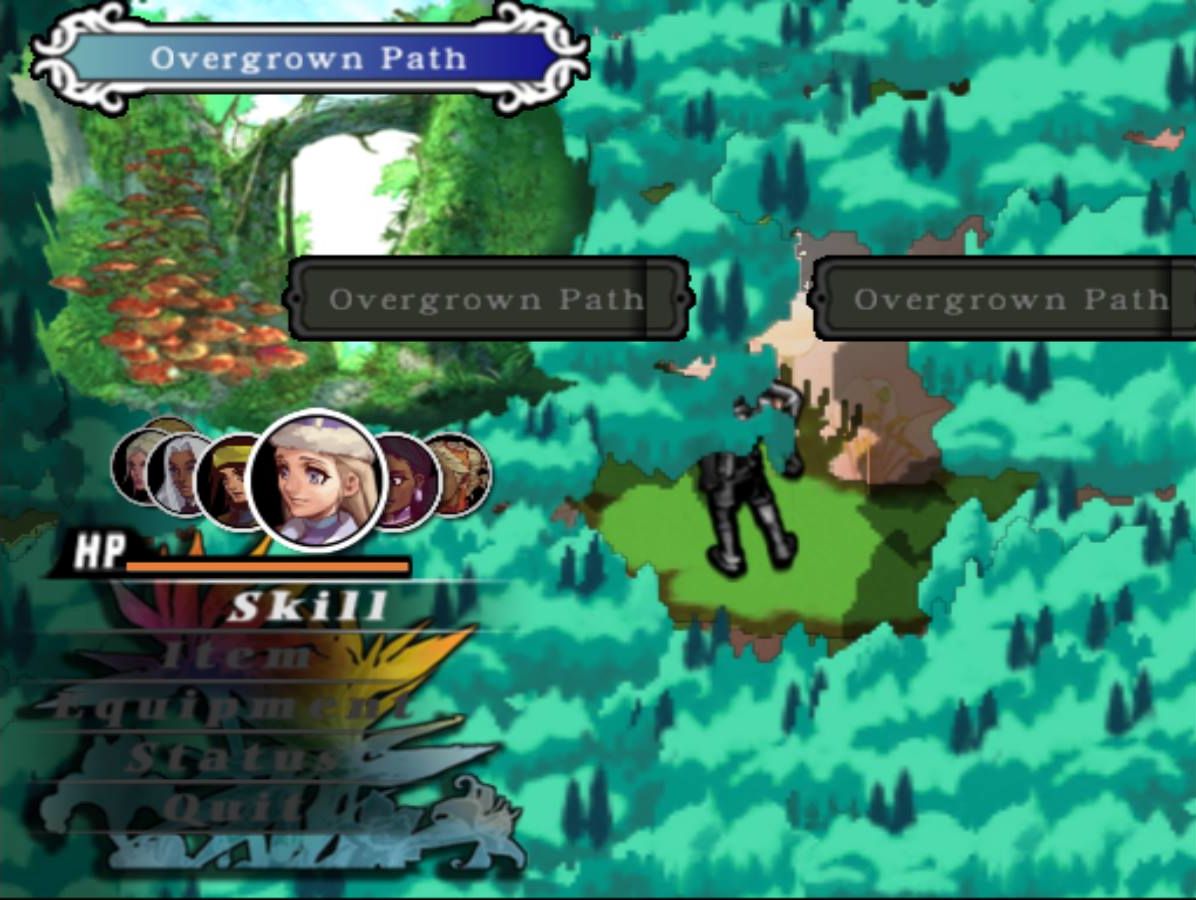 Jade Forest is a pretty simple place. This is Judy's first adventure, but you enter from the opposite side. There are three "parts" to the forest -- the north side, the south side, and the "eye" in the middle. The south side has many twisting paths and some holes you can crawl through. Trees fall down here a lot and block paths, so it's bit more difficult of a terrain to cross. The northern part is a winding but direct path out of the eye to get back on the main road which eventually must cross the vale.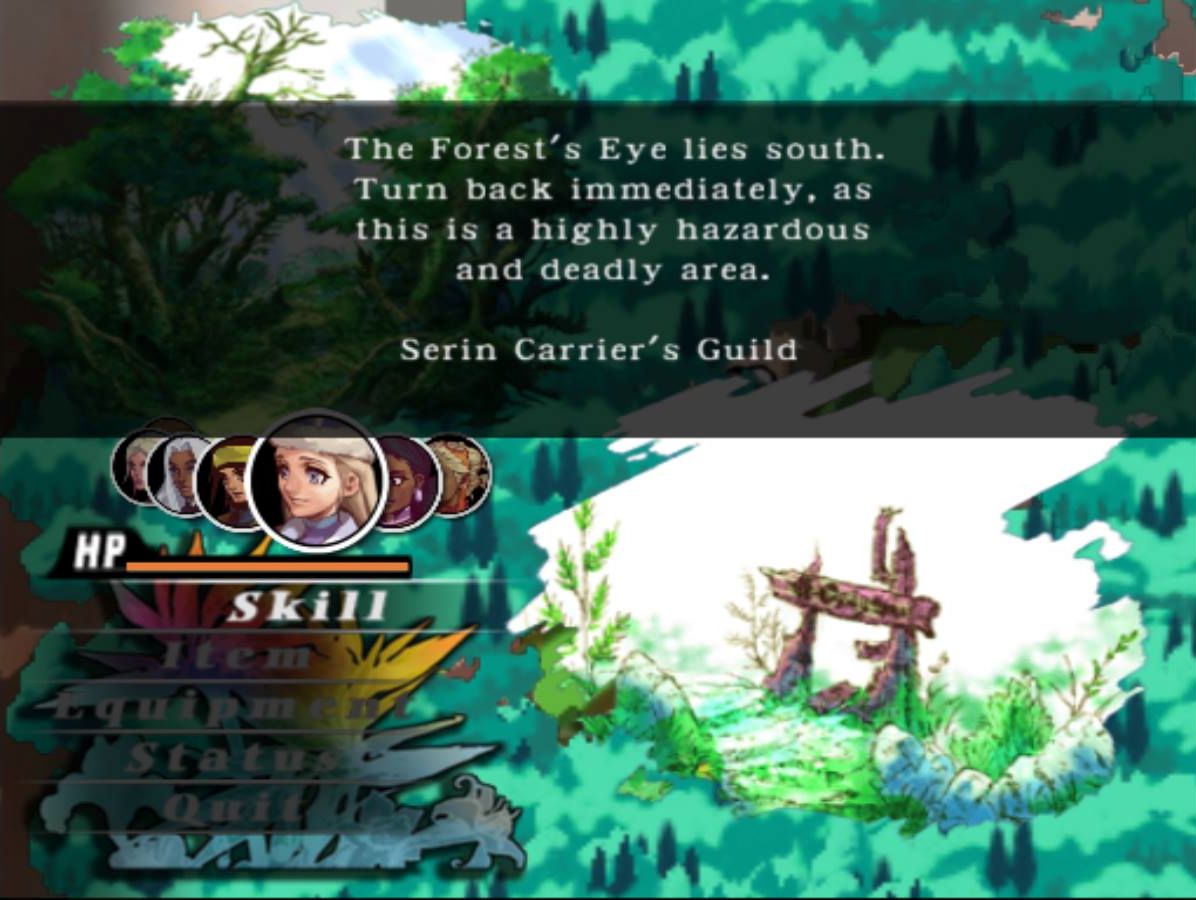 The Forest's Eye is probably the most interesting part of Jade Forest. It's one of those traditional "forest maze" areas you see in games that defies all logic. But unlike most of these types of mazes, the solution is pretty simple -- just keep going in the direction you want to go, and you'll eventually come out the other end. But each you seem to land on a randomized space, so the colored name preview isn't a true indication of what mosnters you'll run into. You also can't see a birds-eye view of the map or rely on abilities like Eavesdrop here.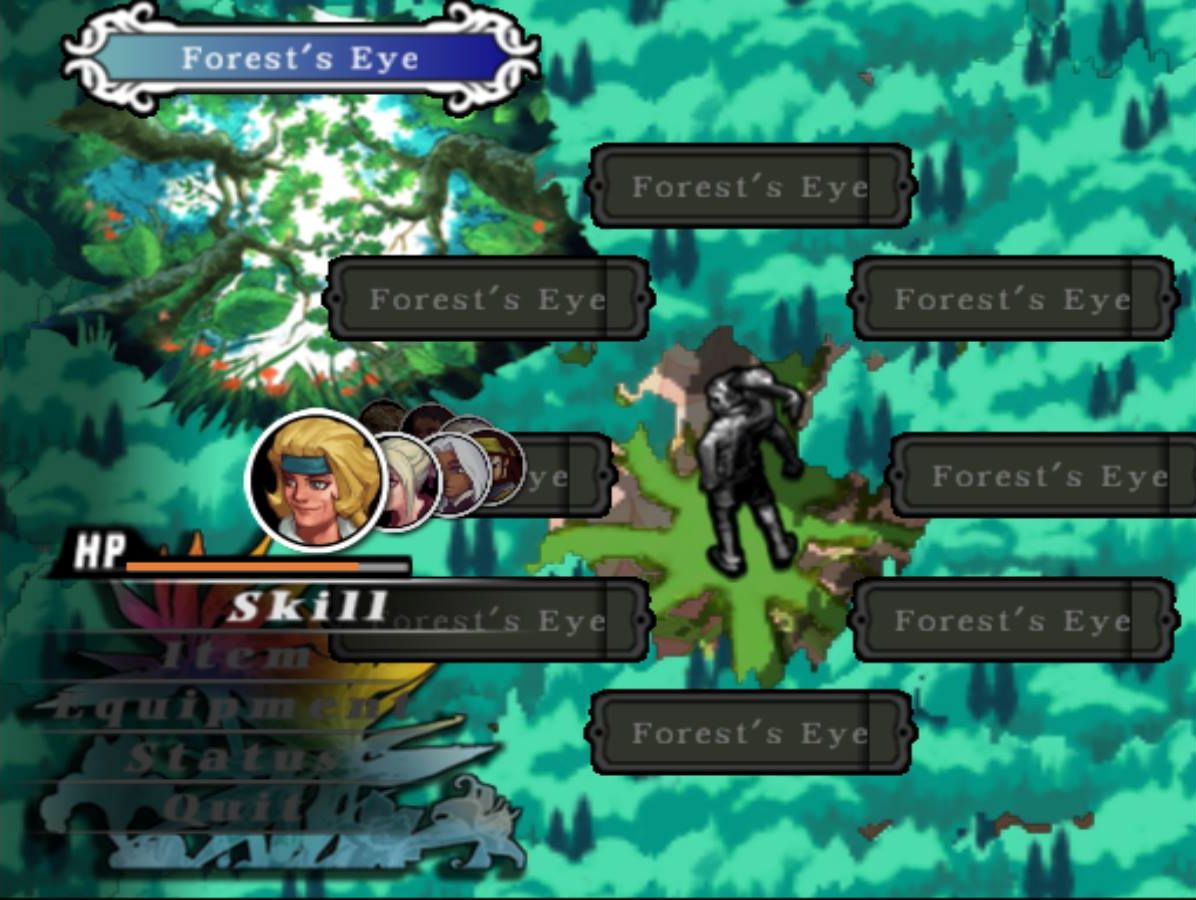 But that's no big deal when all you gotta do is keep walking north or south... I don't think there's any particular secrets or anything to discover here.
Jade Forest is also home to the Lilean Tribe, another fairly secluded tribe like the Petran Tribe. They live somewhere in here, but humans almost never see them. My guess is that it is the Lileans' magic that make the Forest's Eye what it is, and instead of working to make travelers lost, it just keeps them going either north or south so they do not discover the Lileans' home and stay on their human roads.
There's no music here; we just get some ambient sounds like birds chirping. It's kinda peaceful. But then monsters attack and that peace is disturbed!
I don't have a lot to say about the forest. It's a really simple path -- other than the Eye, which is still very easy to traverse, this isn't any different than one of the "travels" maps we walk along.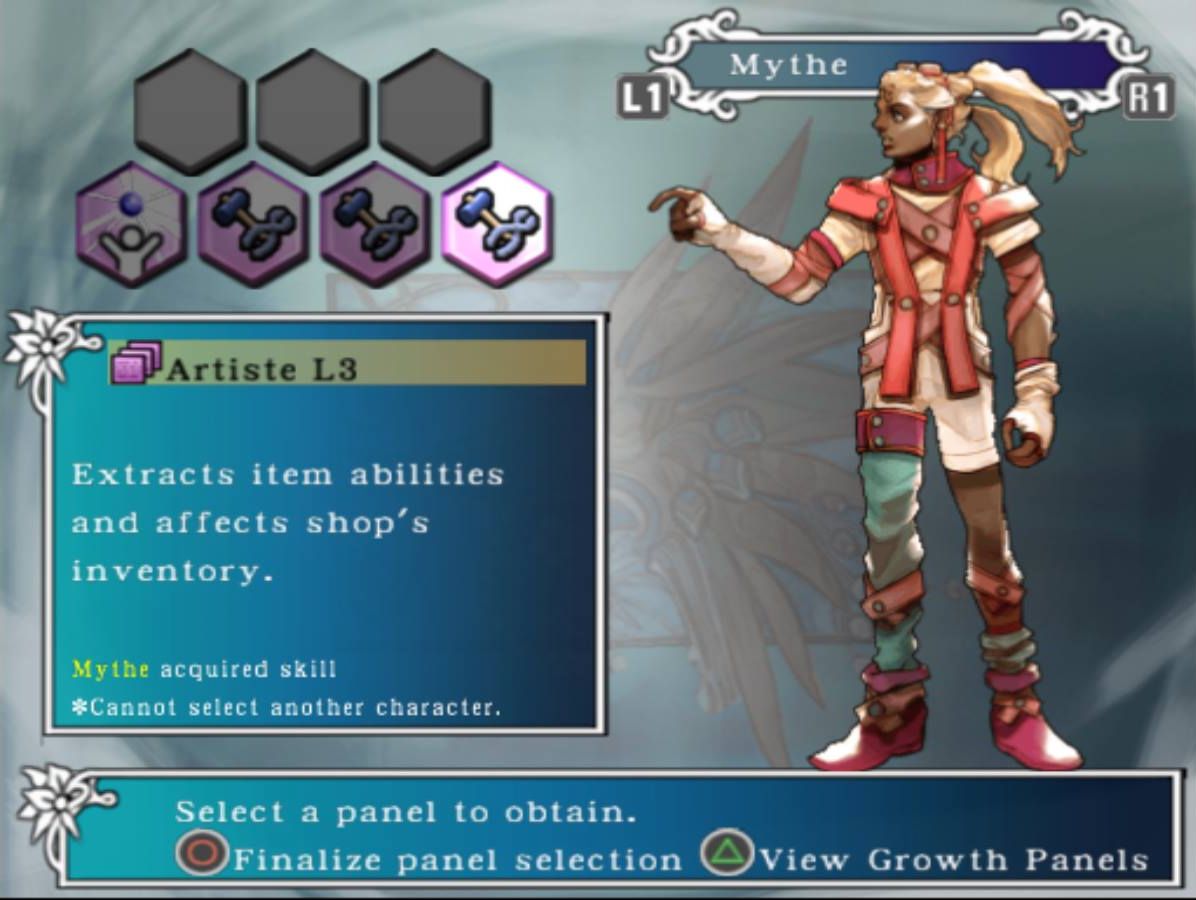 At the end of our little adventure, Mythe got three of those 'workshop' picture panels. Along with Artiste, he got both Weaponsmith and Accessorysmith. I went with Fortuneteller, though, because no one has it yet, and it will help with Mythe's water level a lot.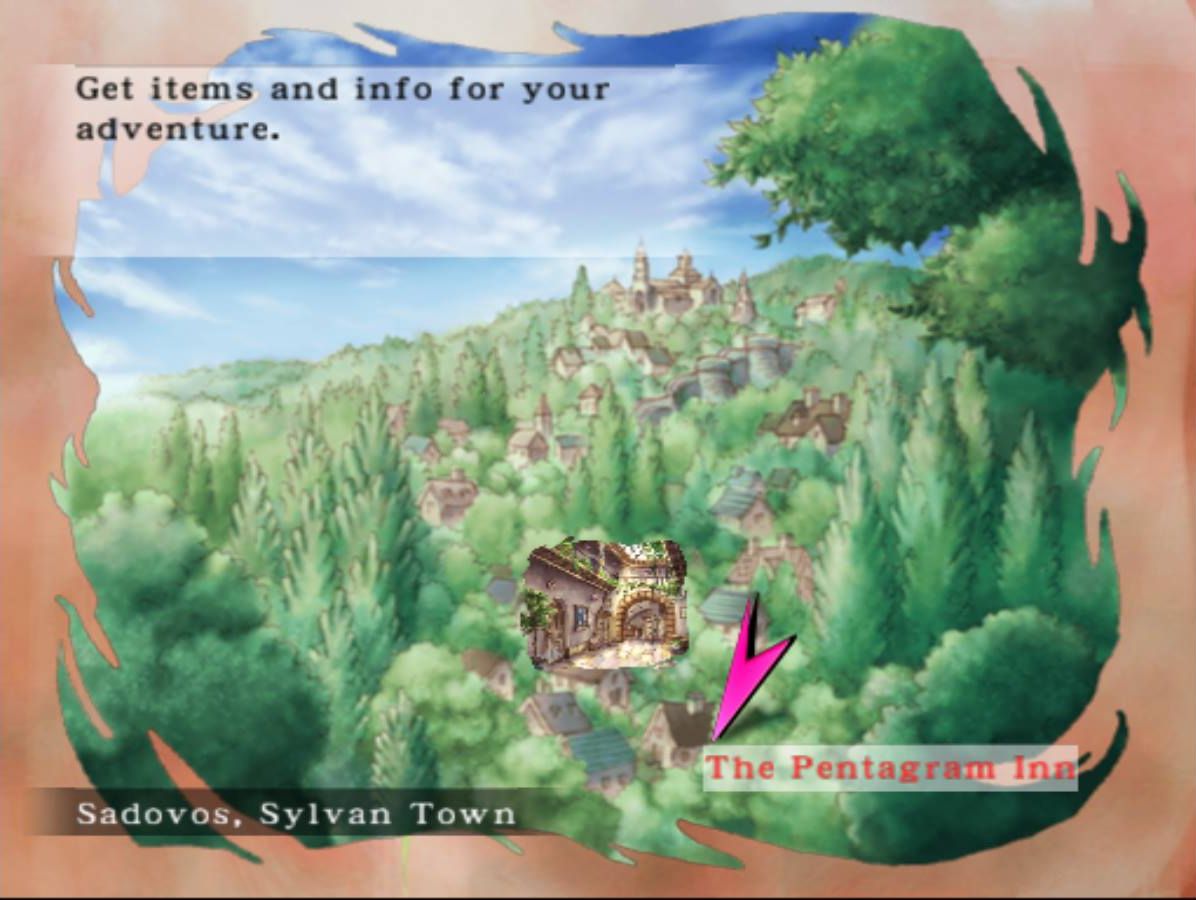 Eventually we reach Sadovos. This is a very peaceful forest town in the far southwest corner of the world. Marie and her family, which includes Judy and Roy, live here.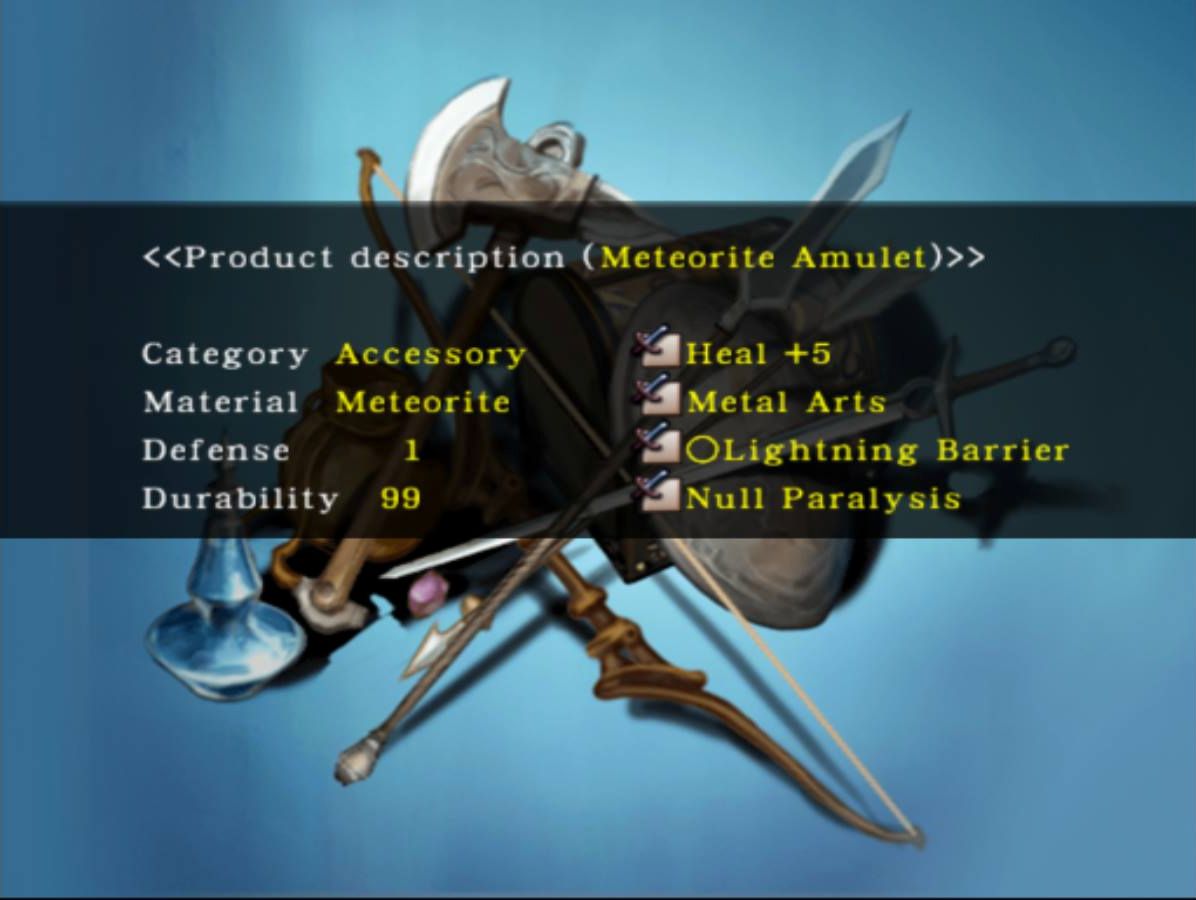 Before going to see Marie's grandfather, I went to get my shopping done. I didn't end up with too much interesting stuff, but I found tons of Opal, and finally got Metal Arts on that Meteorite Amulet of Mythe's. I decided to go with Metal Arts instead of Earth Arts since I already have the staff with Earth Arts now, and I also needed Metal Arts to use the new arts Weapon Blessing and Magic Lock which are both quite important.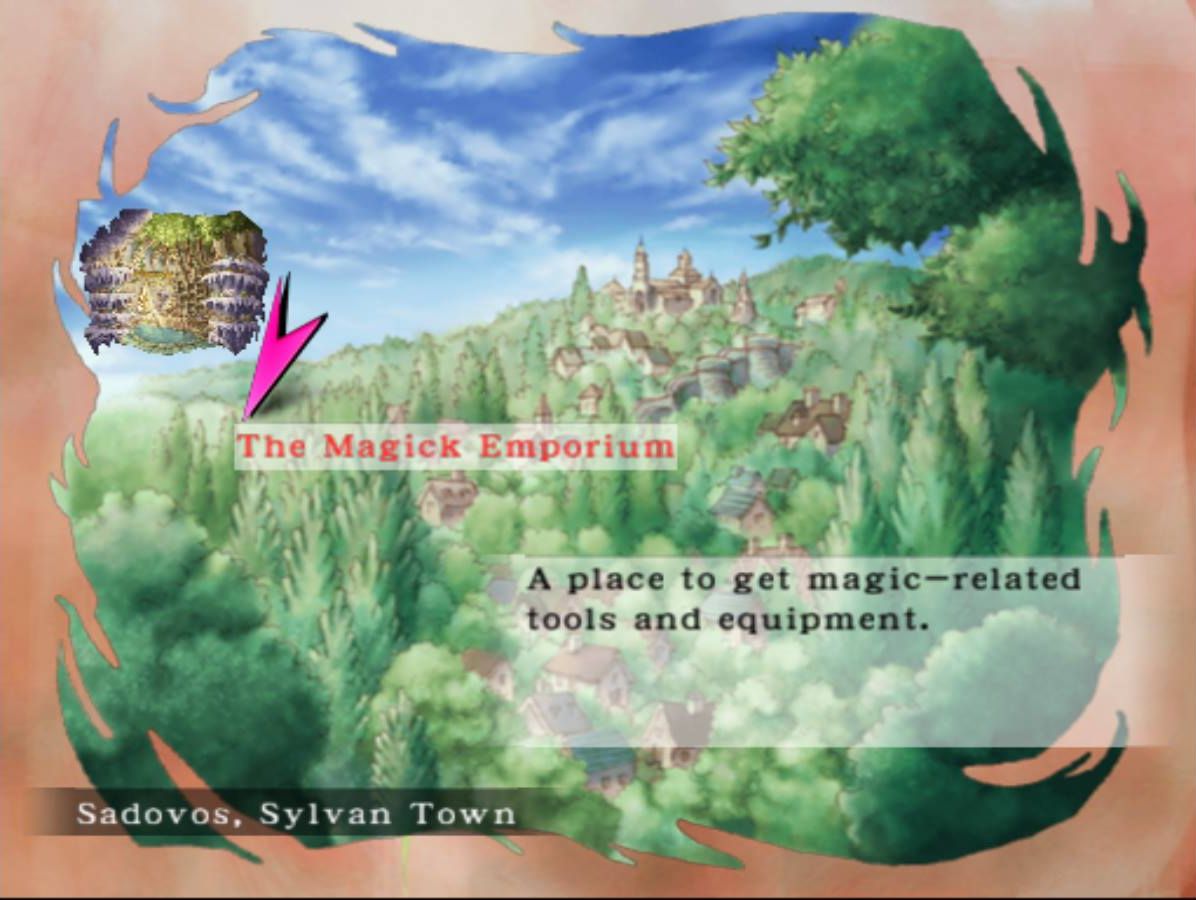 The magic shop in Sadovos is run by Marie's family, and it's here where we can find her grandfather Josef. When not seeing an event here like this, this also functions as a regular magic shop.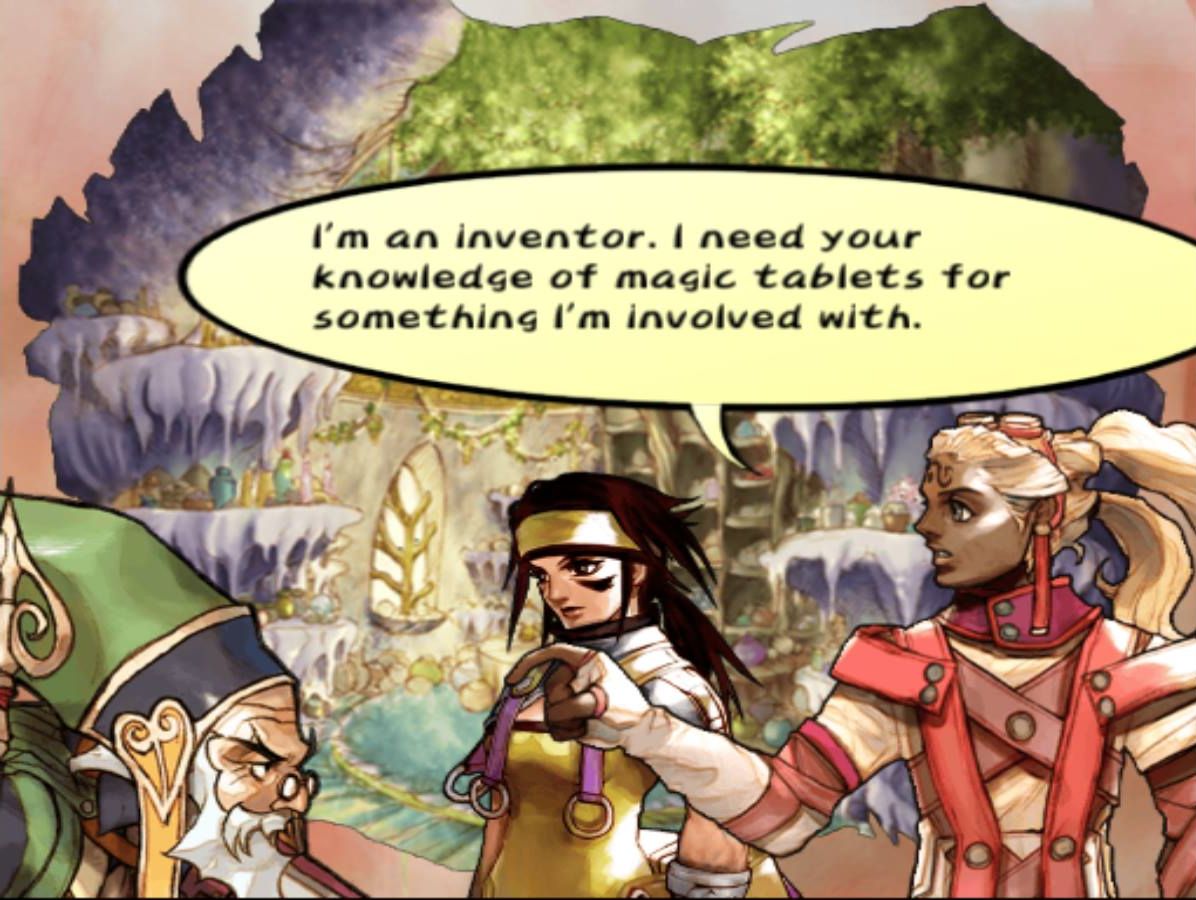 Marie introduces Mythe to Josef, and Mythe introduces Michelle and her gauntlet.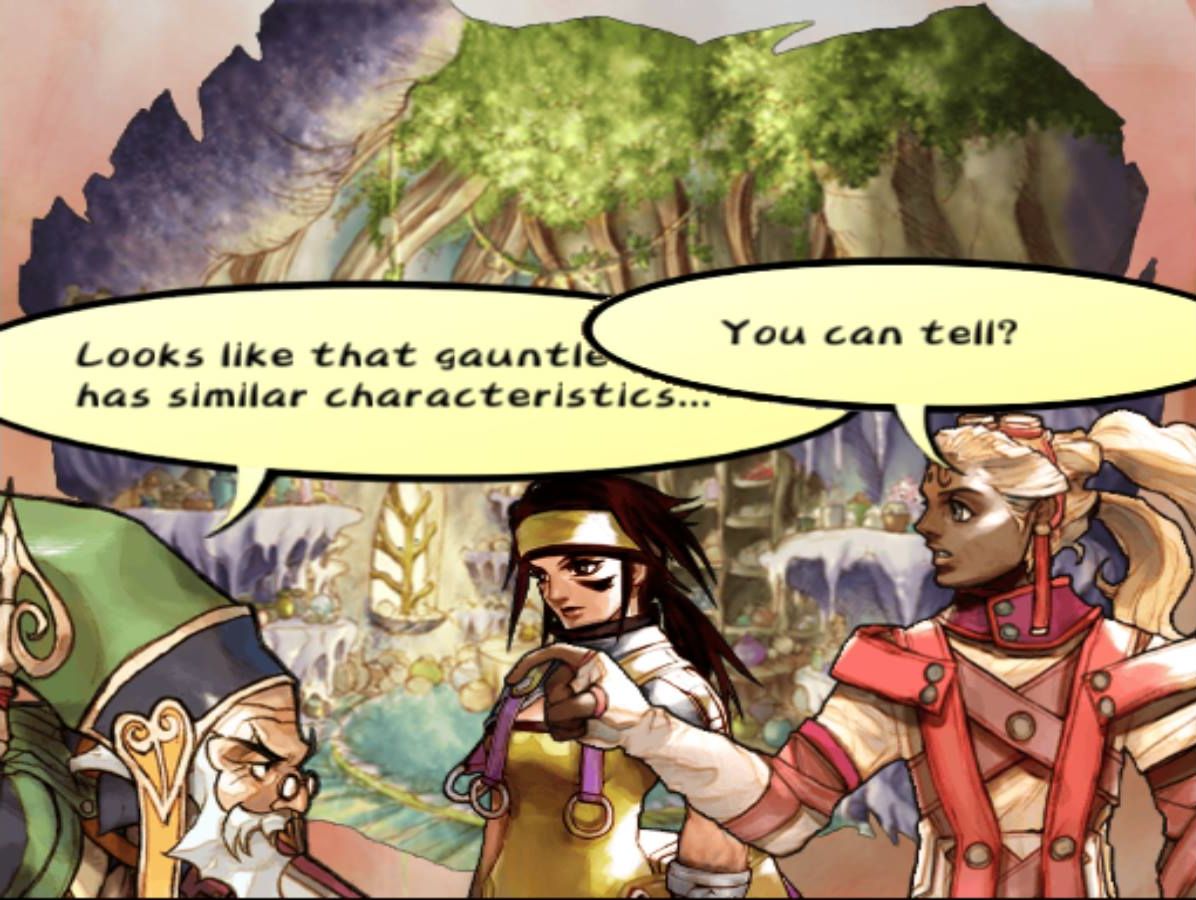 Josef is able to recognize that the gauntlet is related to magic tablets right away, which surprises Mythe. Josef brags about being old. From just a look, he can tell that the "light and dark sides are mixing," and Mythe asks him if he can "interrupt that flow." I guess we're supposed to just accept that this makes sense.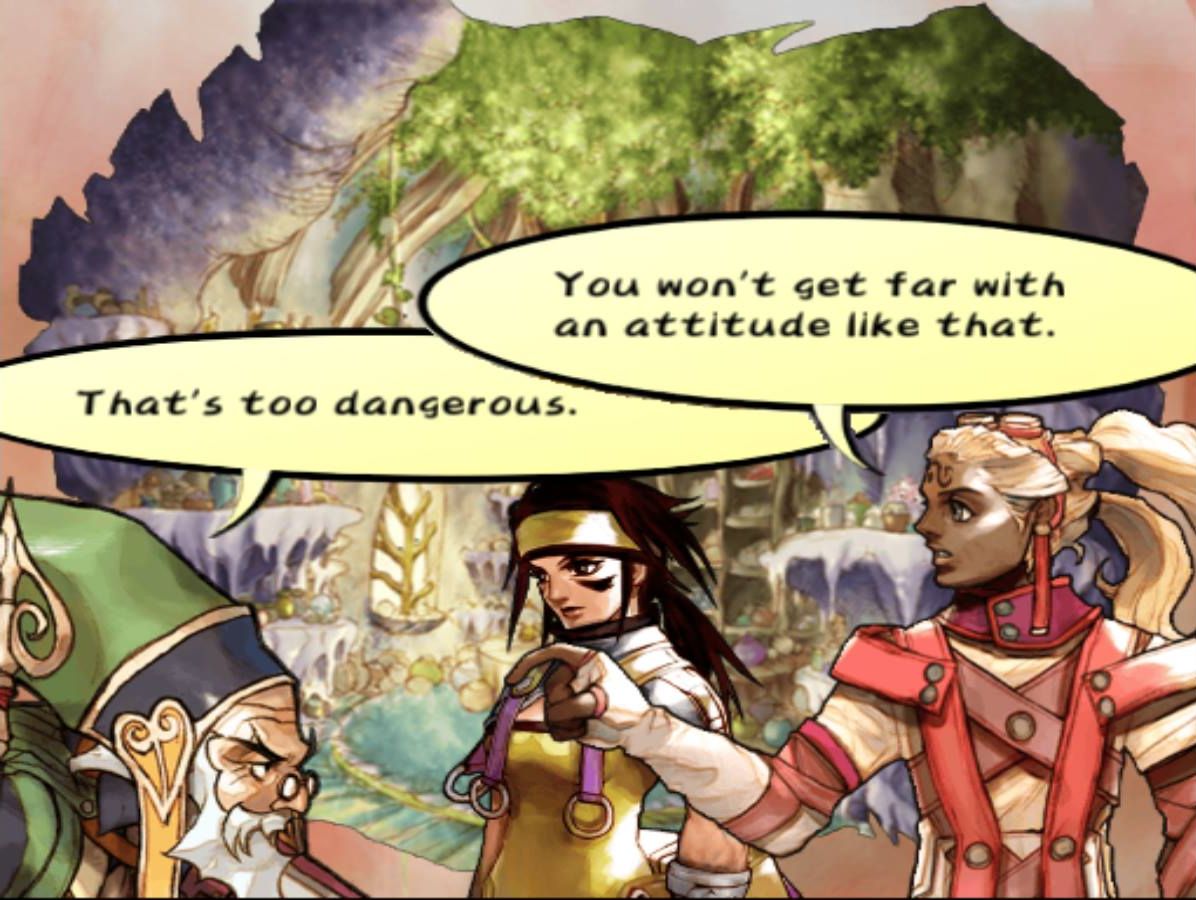 Josef says it is too dangerous, but Mythe decides to try it himself anyway. Apparently it works (it doesn't really explain what happens, he's just like "Let me try! Yay I did it!" lol) and Mythe tells Michelle she won't be having those visions of battle anymore.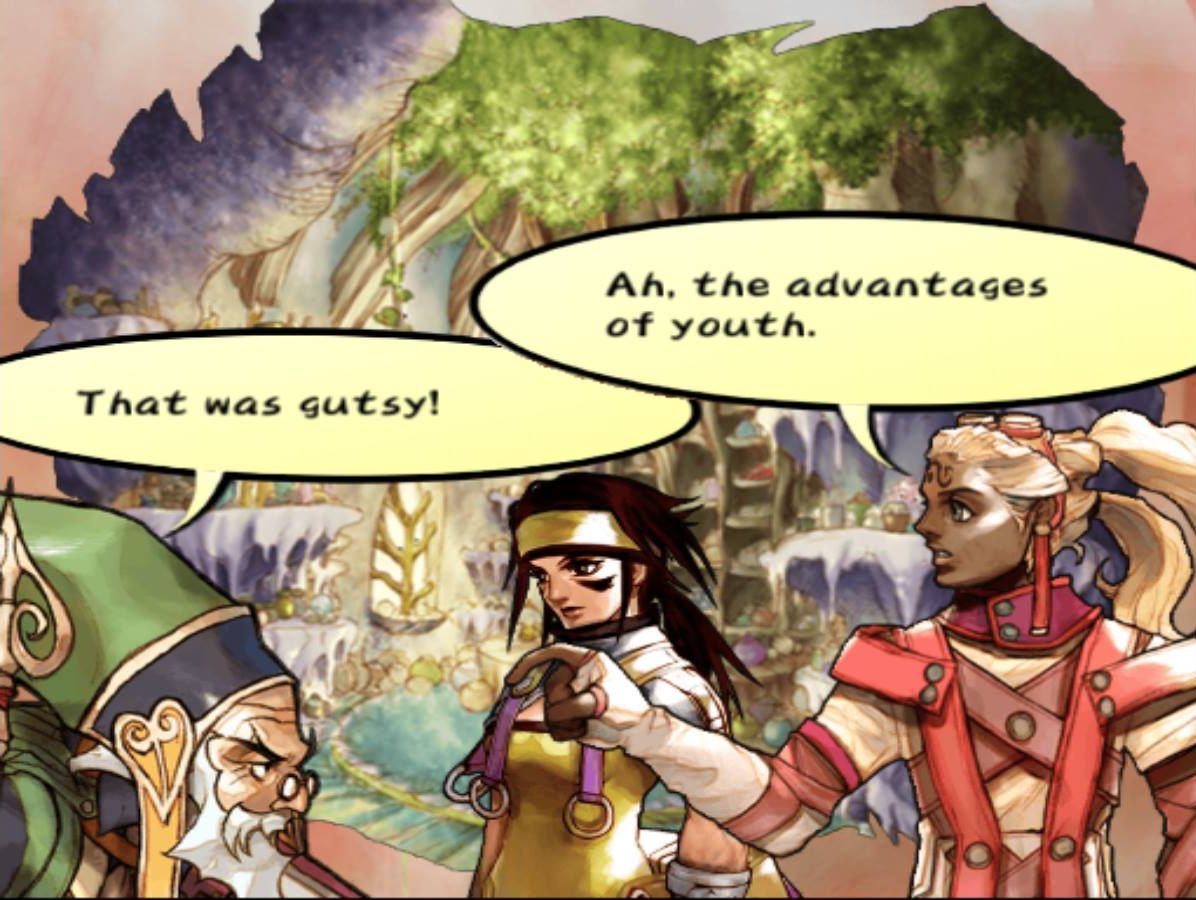 Josef is shocked and Mythe brags about being young. Teehee they both bragged about their ages.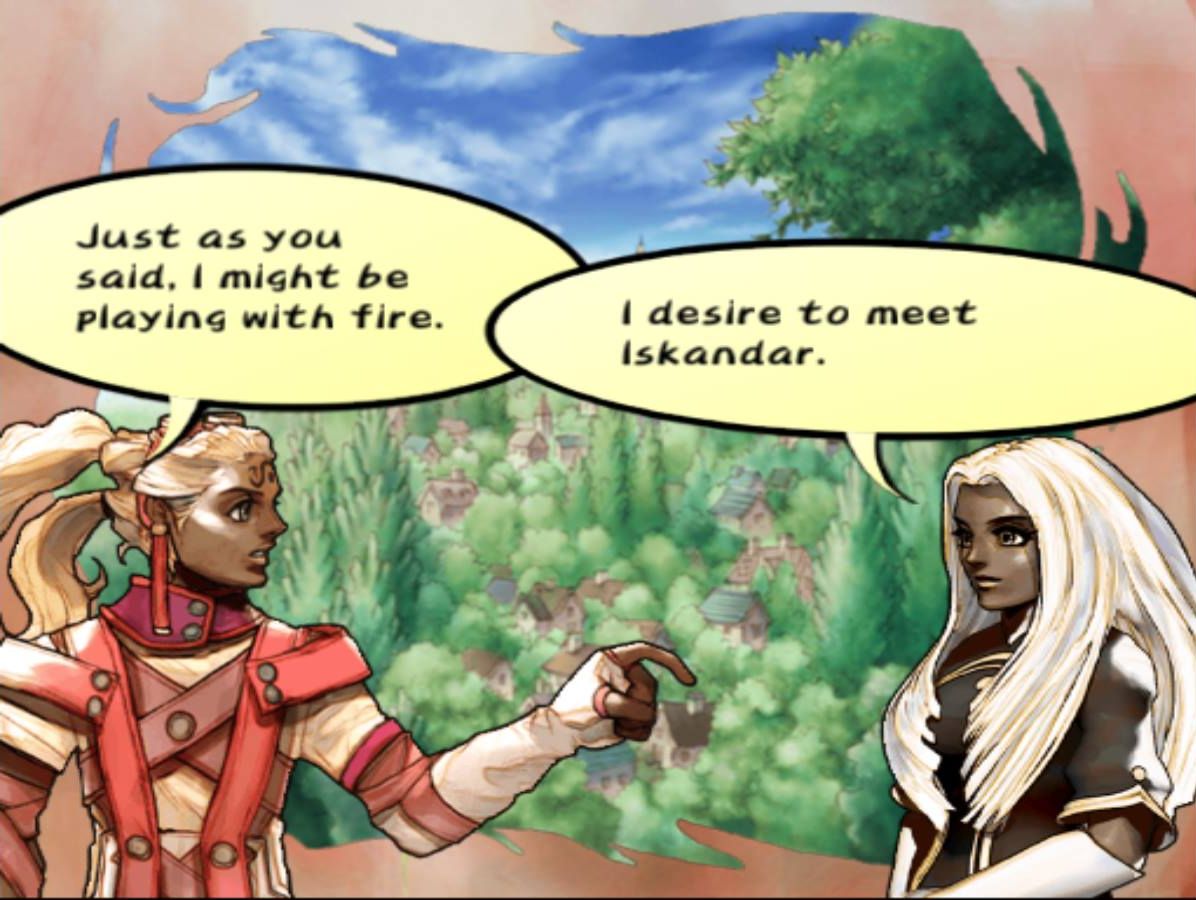 Now that that's over with, I guess Mythe is ready to go back to what he was doing before, pestering Silver Girl. When he tells her that she might be right about him being a child playing with the seeds of destruction, she just keeps saying she has to meet Iskandar. She doesn't really seem to care at all about Mythe and his stuff, but yet she followed him all the way here when she is so obsessed with finding Iskandar. IDK.
Silver Girl says her mother told her Iskandar was "final" at the mausoleum. So maybe she realizes she's looking for a dead body? Mythe just says that she would know best, so we'll do exactly as she says.
And with that it looks like we're off to Iskandar's Mausoleum again.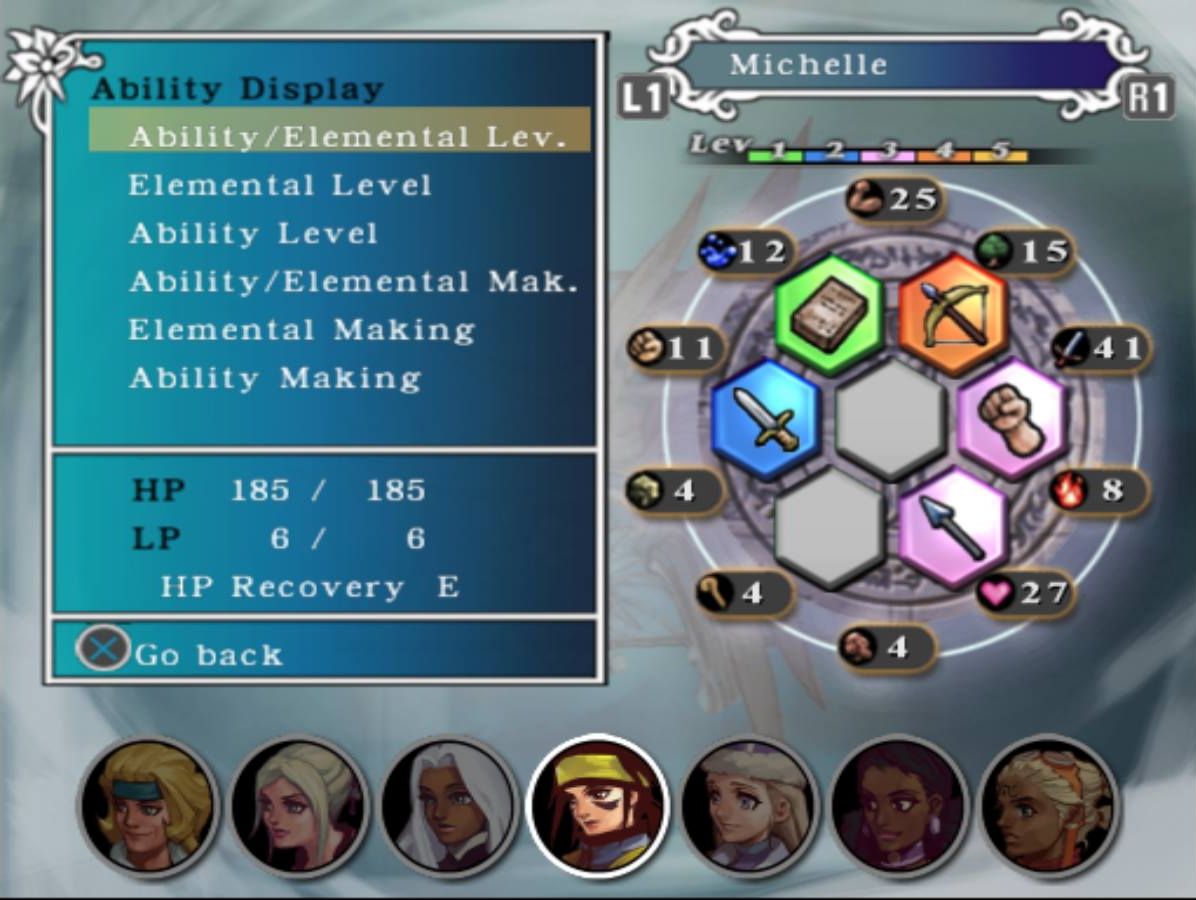 Importantly, though, Michelle no longer has her Gauntlet panel!
Yeah, it was a really short adventure. At this point, I think I'm going to do some subadventures before going on. I don't know how many I'll do -- it might be a lot. I will probably do a bunch of easy ones just to work on the tablets I have and increase everyone's HP, especially Michelle who really needs it, and try to fill in some gaps in the panels. Most of the characters still have completely empty spaces on their growth panels... Also wanna get in plenty of rerolls in the shops to try to find some good stuff.
---