For the Love of the Girl
After... many, many subadventures, the time has finally come to get on with the story. In case you've forgotten, when we last left off, Silver Girl finally found Iskandar by yelling at his grave, and he just... popped up. We learned that her real name is Faedaljen, she's an Arcanian, and Mythe had actually found a picture of her mother Rivelvalla. Iskandar tasks Fae with going to defeat the Knights of the Round Table, though we're never really told why (but that's typical Iskandar/typical UNLIMITED:Saga, honestly). Mythe is pretty much just serving as an escort/helper for Fae to carry out her mission.
Faedaljen asks Mythe to take her to a place called "Tal'fa Palacaleo." I'm guessing that's the Arcanian/original name of the place known to us as Undercity Pharos, because that's where we're going. And if you don't remember that, it's the place that Pharr escorted us and showed us parts of the map, with all the weird Arcandian technology, where Mythe realized that the photo was of someone who lived during the Golden Age.
That place. We're going there.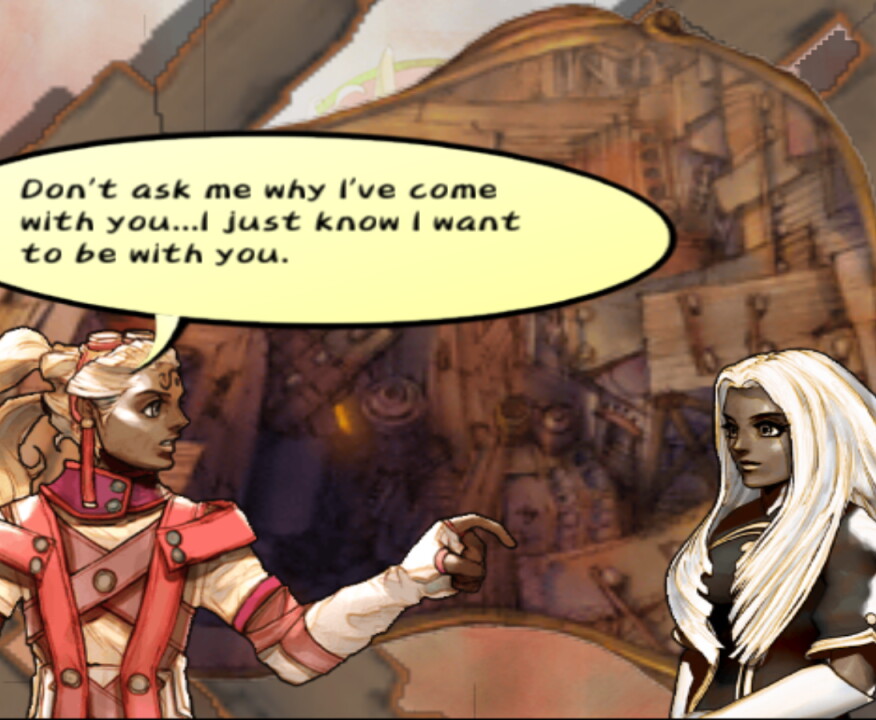 When we arrive, Mythe tells Fae not to ask why he's come along. Mythe, we gave up on explaining your motives long ago. Also, Iskandar directly told you to come, so... why are you even saying this?
He says she'll probably take him for a fool, but his mind is made up.
But she actually responds!
She's actually acknowledging his existence!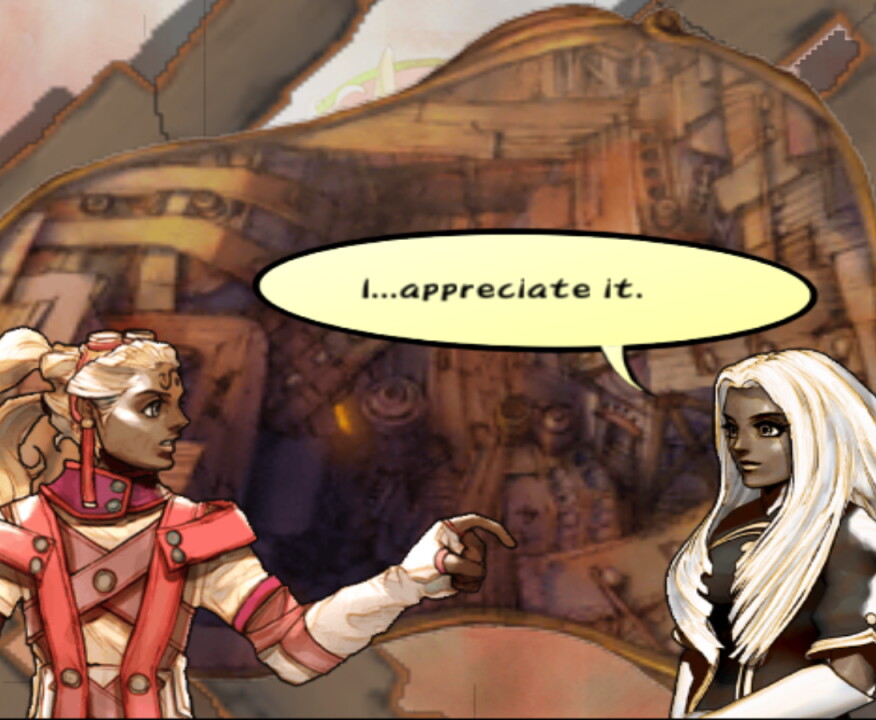 I was really worried that this was going to turn into a miracle romance or something, but she just... appreciates it.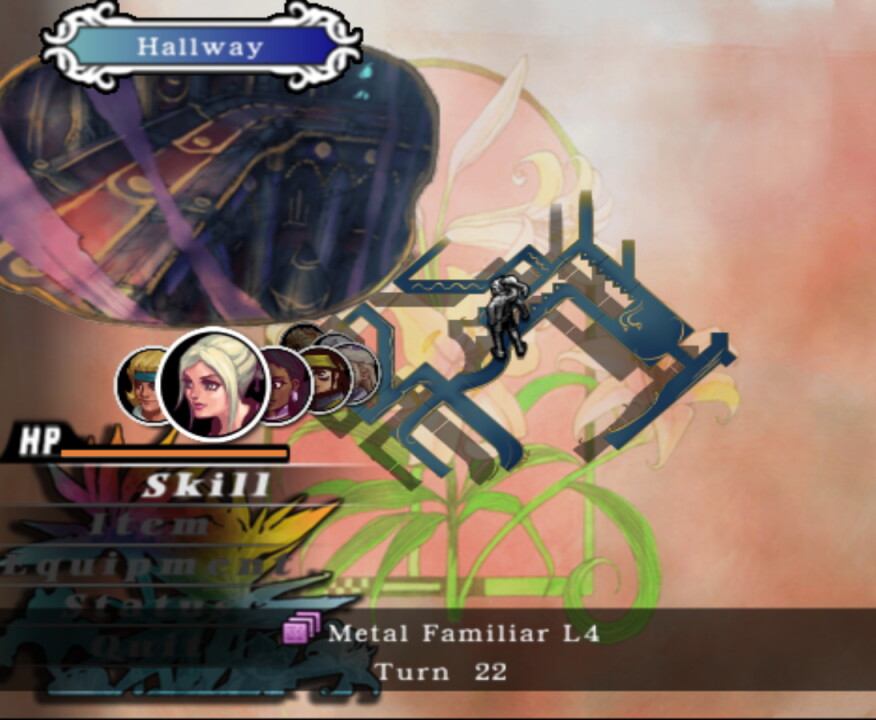 Anyway, if you don't remember this place from before or from Ruby's scenario, this is that place with all the buttons and the barriers and stuff, where there's an upside down area, and you have to distribute the power and make the elevator rise...
Since we already explored here with Pharr earlier, a lot of the map is already filled in.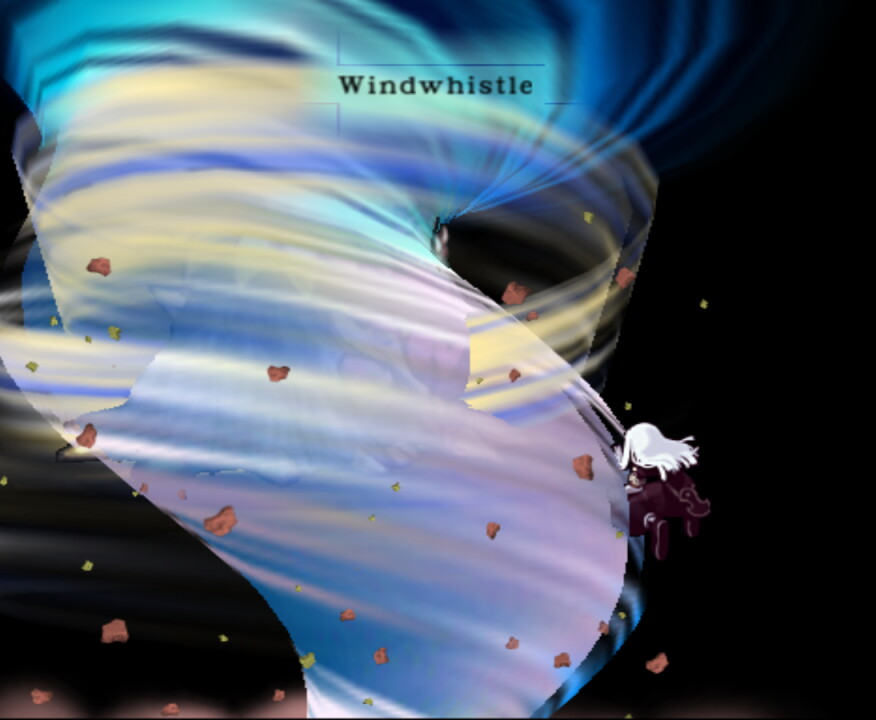 Also, almost immediately after entering, Fae glimmered Windwhistle! This is the strongest throw martial art, and it's pretty cool. It looks like a more dramatic version of Cyclone, with the added bonus of her dashing and ramming into the enemy as they crash back into the ground. It's quick and can stun, so it's great for starting battles.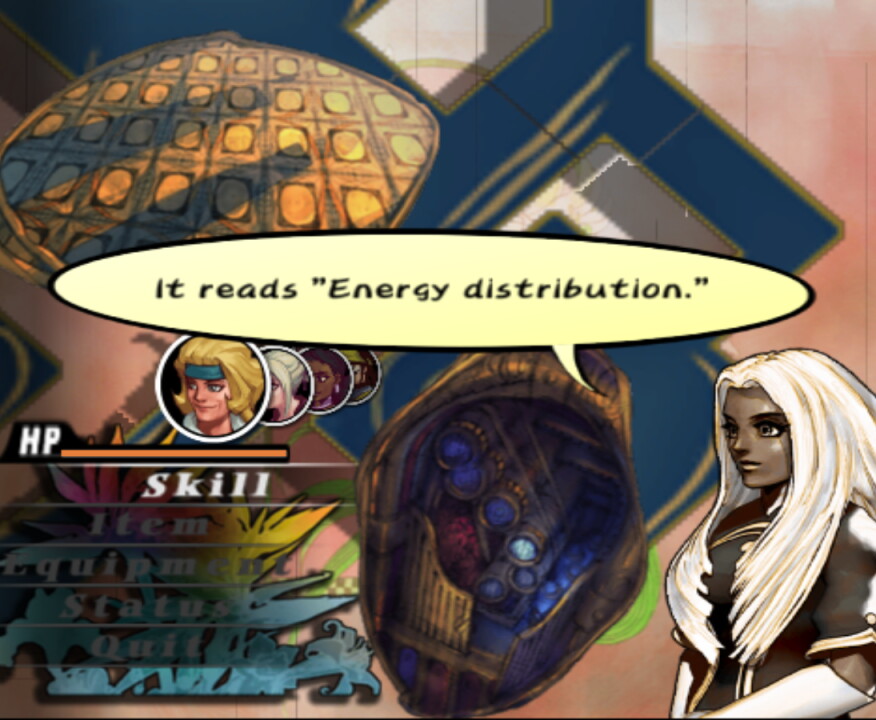 She proved even more useful because she could read the Arcanian writing on the devices all over the place. So it's a lot easier to navigate compared to when Ruby came here and had to guess about everything. Sadly, she still didn't explain some parts, or how certain machines worked... I guess all she can do is read the writing, and everything else is a mystery to her, too.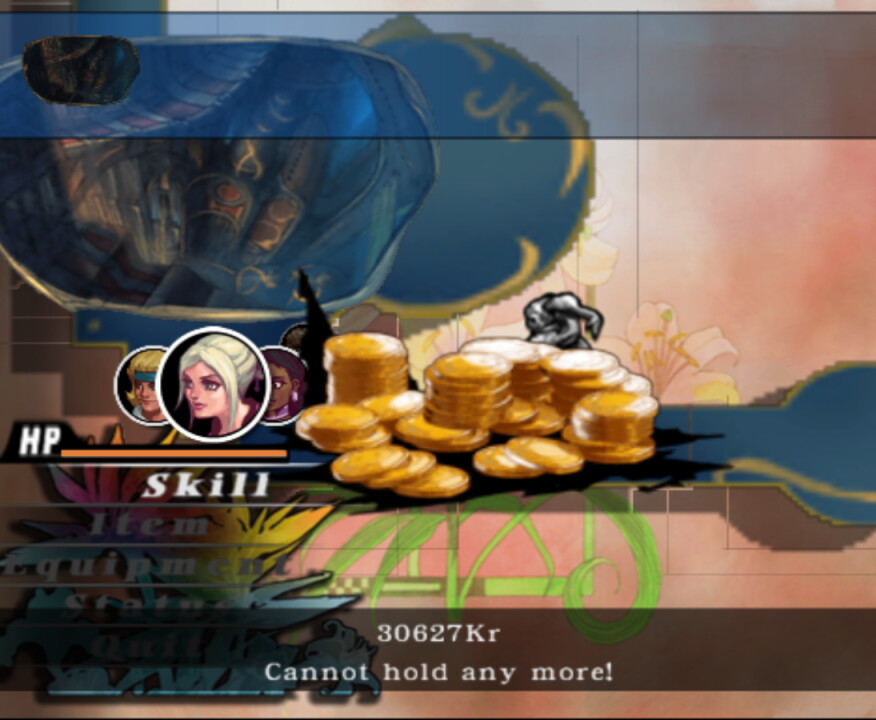 I maxed out the amount of money you can carry (999,999kr) so treasures won't give me any more money. I also have no real need for items -- in fact, I tossed all my inventory away to make navigating it for Quick-Fix much easier. The only thing I kept was the Angelite Ring with Forbidden Arts on it, that I had kinda forgotten all about already.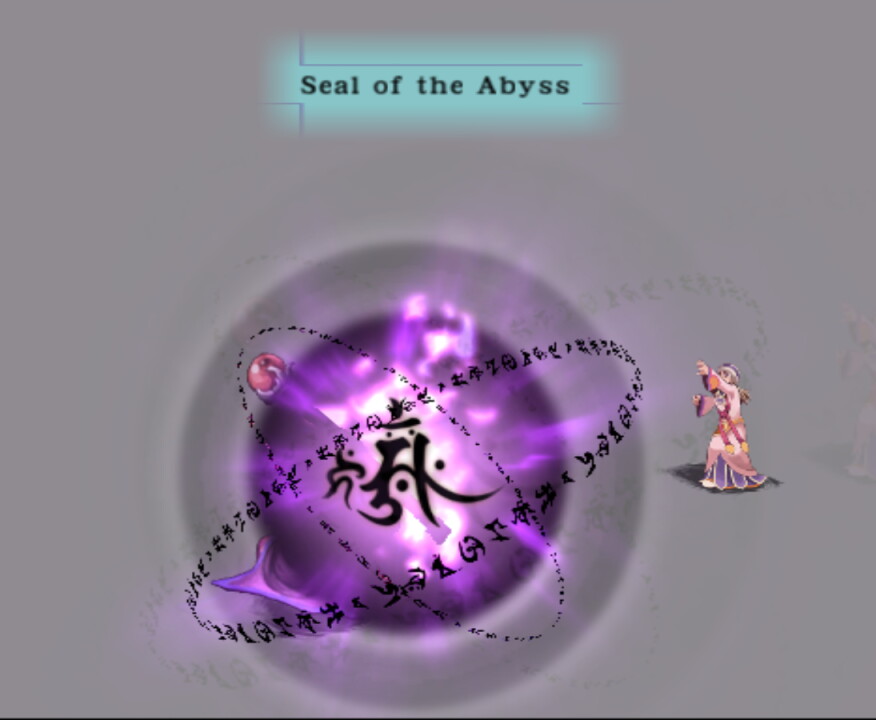 So I decided to equip it and try it out! At this point, Marie had access to two Forbidden Arts, and was learning a third.
Seal of the Abyss you may remember as being a powerful magic art used by enemies like Lich and even the final boss. It can completely immobilize a character sometimes. When used against enemies, it can take away all their actions for the entire turn, and the chance of it happening seems pretty high. Maybe around 50%. Even if you don't completely stun the enemy, it still does great damage, and can do LP damage, too. It also has a chance of instantly killing undeads and demons, so it's like a more powerful and more useful version of Holy Seal. Maybe they are related somehow :)
So I was pretty much starting every battle with this from this point onward. I wish I had tried these out earlier...!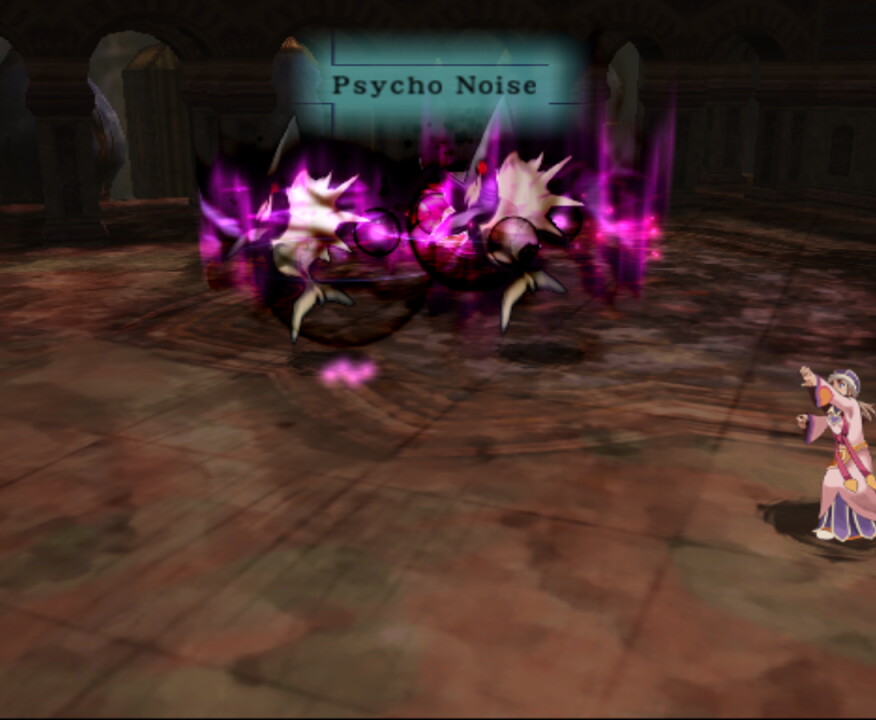 The other forbidden art she had learned was Psycho Noise. The main reason I kept her other accessory equipped was because the metal art Supersonic was able to hit all enemies. Not only did she learn Corona (a fire art that can hit everything, and is much more powerful than Supersonic), but Psycho Noise hits all enemies, too! It also lowers their magic, spirit, and all elemental levels! The strength seems a bit more powerful than Corona, too.
Using lots of Forbidden Arts, it wasn't long before Marie completely deciphered her tablet, boosting her Fire level. Though that's not as important now, as Forbidden Arts are based on your Magic level only.
Detect Blood is another Forbidden Art that simply weakens all enemies that have blood.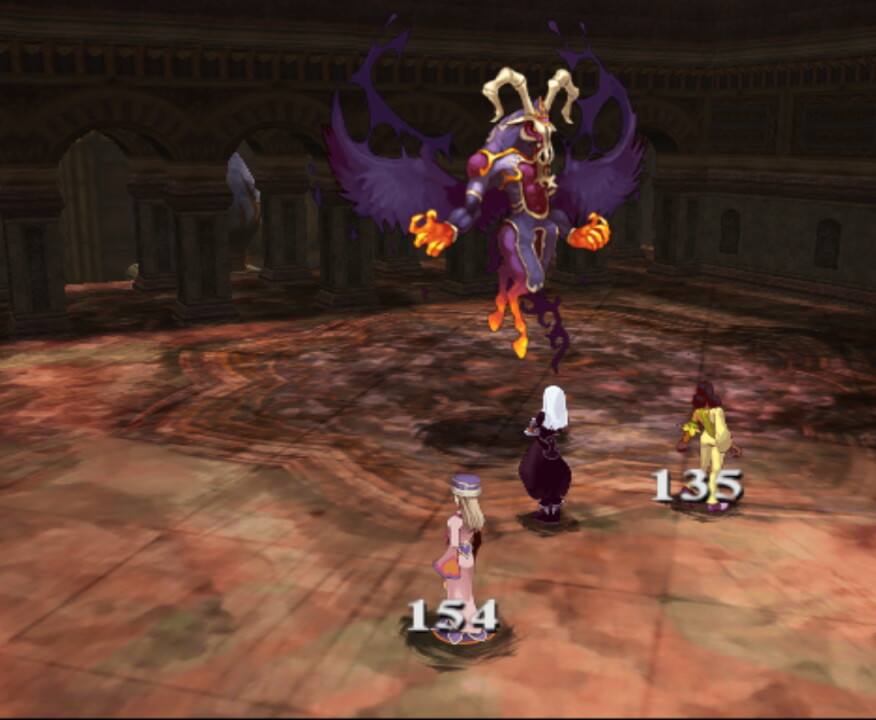 After flipping all the switches and everything, we rode the elevator to the central area. Mythe went and pressed the button in the back room just like Ruby did, and again it asked for a password. I was expecting Fae to know the password or something, but she didn't say a word. And a sentry came out to fight us...
This time, instead of a unique enemy, we got a Satanachia. Defeating it turned the power back on to the entire city, and the title ~Undercity Pharos~ appeared again, just like when Ruby was here. But this time, the adventure didn't end, and we could actually use the control panel we activated. Turning on the power made bridges from the central area to the two staircases outside of it, so we could easily go back to anywhere in the ruins we wanted. Kind of... useless, honestly. The control panel itself controlled the elevator, so it was just like the elevator controls, but now you could move it while not riding it. I guess this would be convenient if you were going to leave the area and wanted the elevator to be available somewhere else?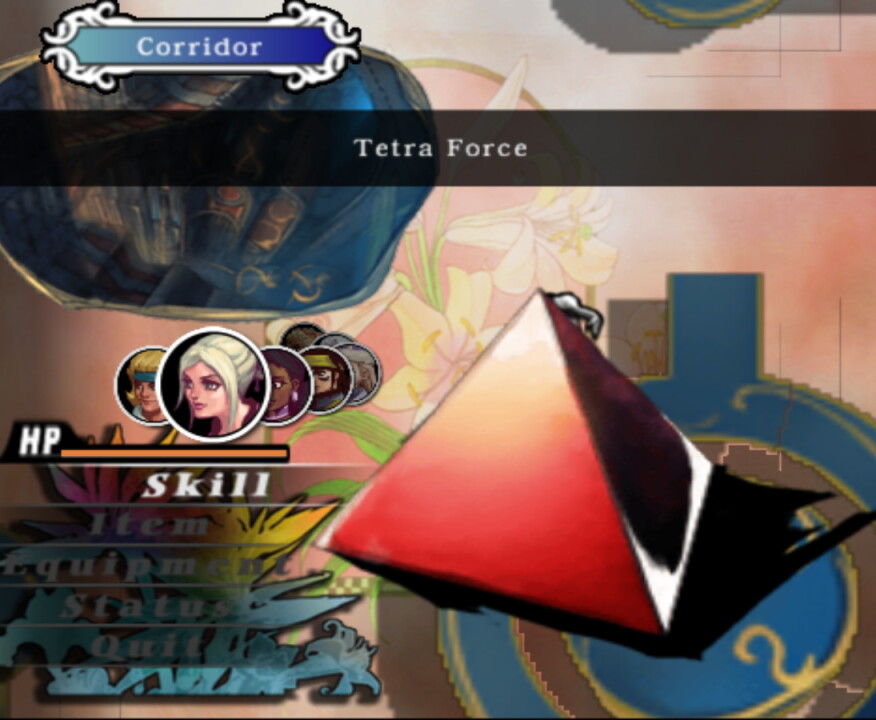 After all of that, we found our good friend Tetra Force waiting for us outside the control room. Sadly, we only got L4 panels. I think this game hates me, honestly. Mythe did get an Iron Body panel, and his dump panel is the top right, so it greatly increased his Strength and Skill. Would be nice if he had... even a single offensive move... but instead he's pure support. I also got a L5 Gun Arts panel as a choice for him, which would have been pretty nice if I still had a gun. It would have given him SOMETHING at least, haha.
Anyway, let's review the endgame setups: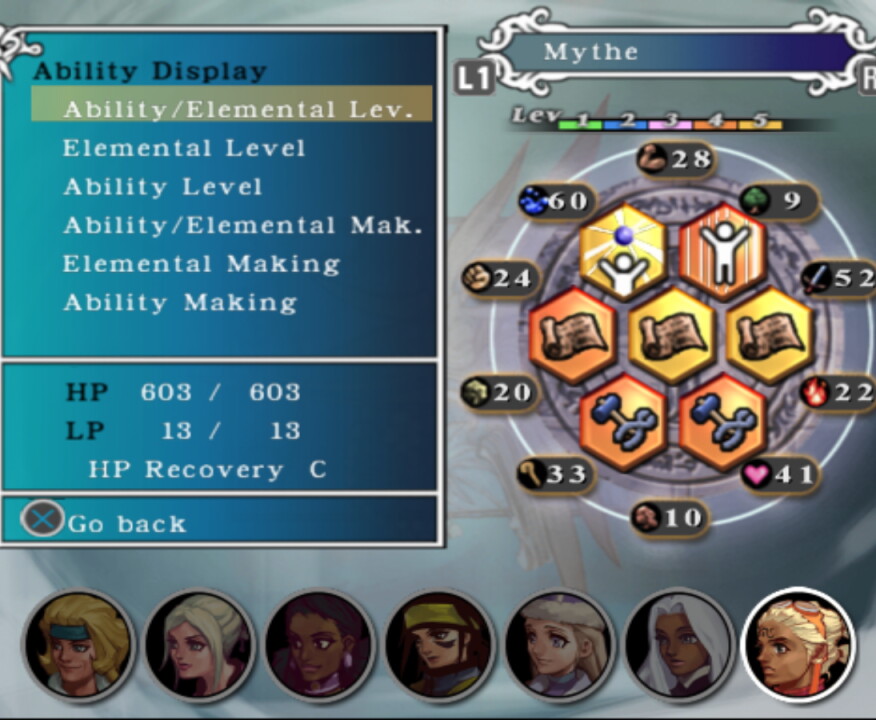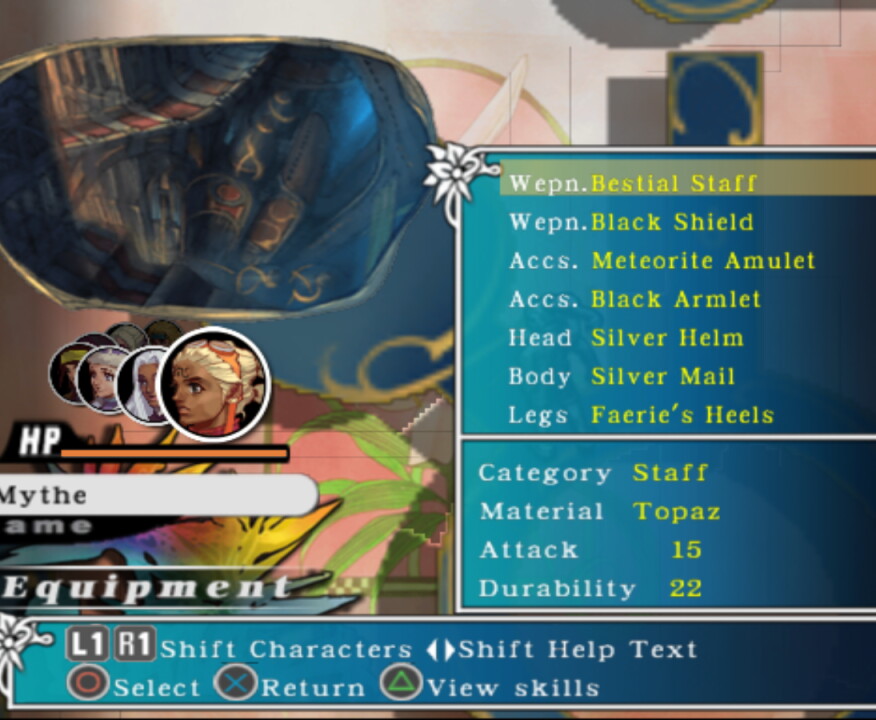 Mythe is the most tragic setup. He ended up with a 60 in Water, and if he had gotten that one last L5 map panel, it may very well have been pushing 70. But it wouldn't even matter, because he never ended up getting a magic tablet with the Ice Needle magic art. Bubble Blow only goes so far...
With his equips, he had stacked up four Water Support, too. I also had a Silver Circos giving him a 5th, but since it wasn't helping due to his lack of offensive arts, I swapped it out for a Black Shield at the end to give him better protection (which did come in handy). His Meteorite Amulet at least prevented him from being paralyzed, which was extremely helpful since it was his job to cure everyone else when they got paralyzed.
It was sad he couldn't be more offensive and never really was able to realize what could have been massive magical power, but he was an extremely important support character and kept everyone else very healthy, so he still had an important and useful role in the party.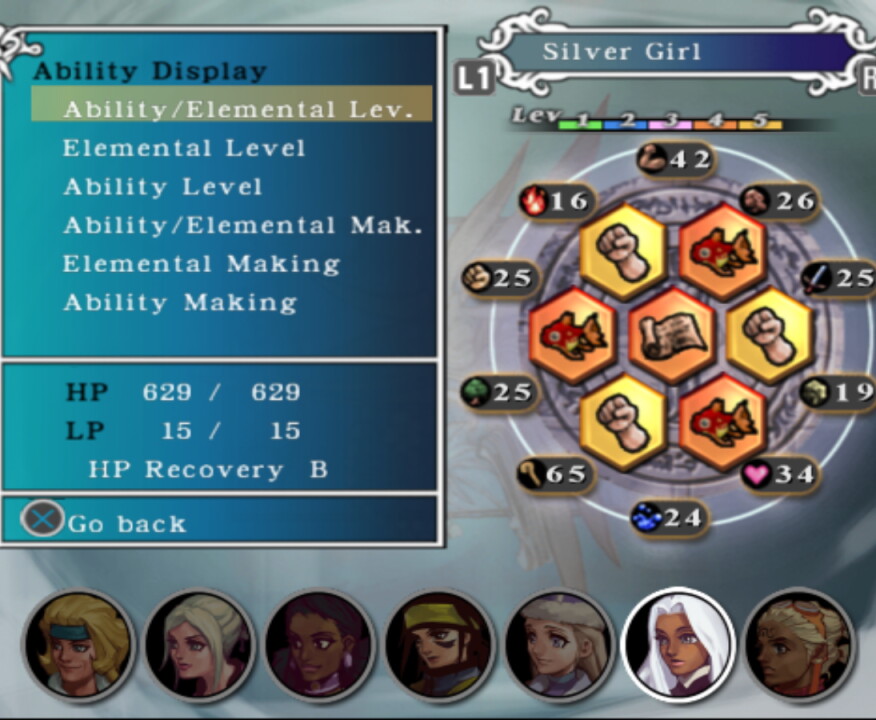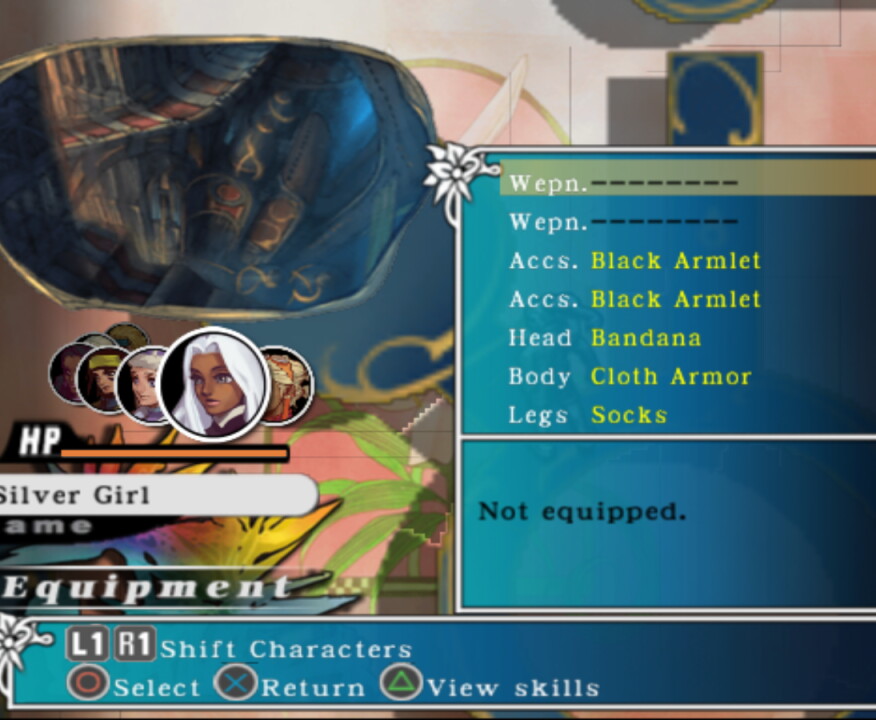 I tried a more "experimental" setup with our heroine Faedaljen. Instead of focusing on one strength, I made two triangles to balance physical and magical capabilities. Her magic was insanely high, but that would have been utilized better with Forbidden Arts, which all ended up on Marie. But it did make her familiars quite potent despite her mediocre elemental levels.
Her martial arts ended up proving very useful, too. her light equipment allowed for light martial arts, giving her some of the most powerful arts among the party without ever having to worry about weapon durability. Her high speed, ability to stun with Throw arts, and relatively high LP meant she was a staple at the front of the formation, tossing enemies around and tanking hits with support from Mythe (seems appropriate, right?)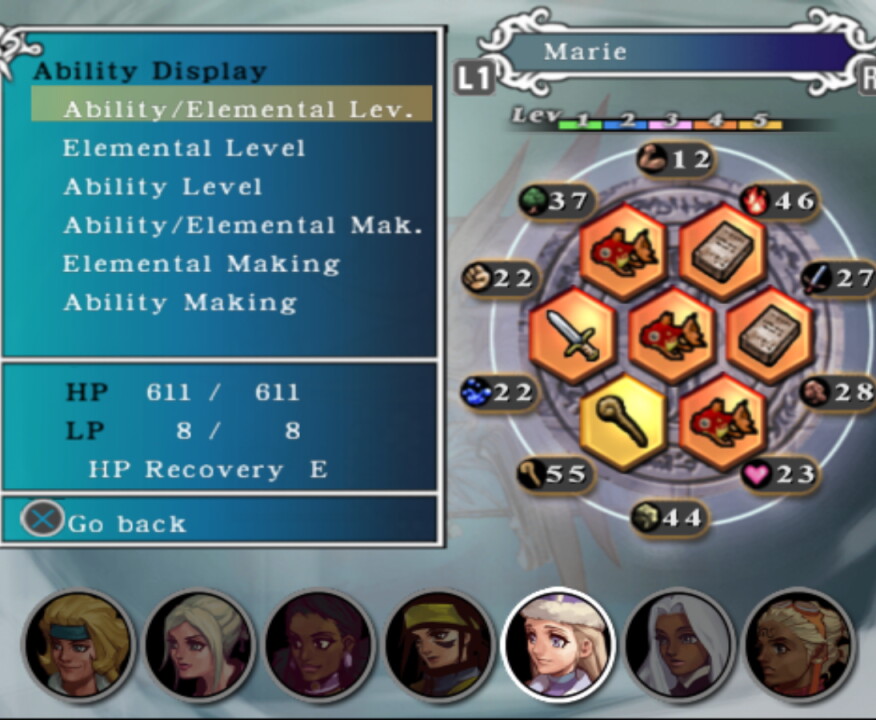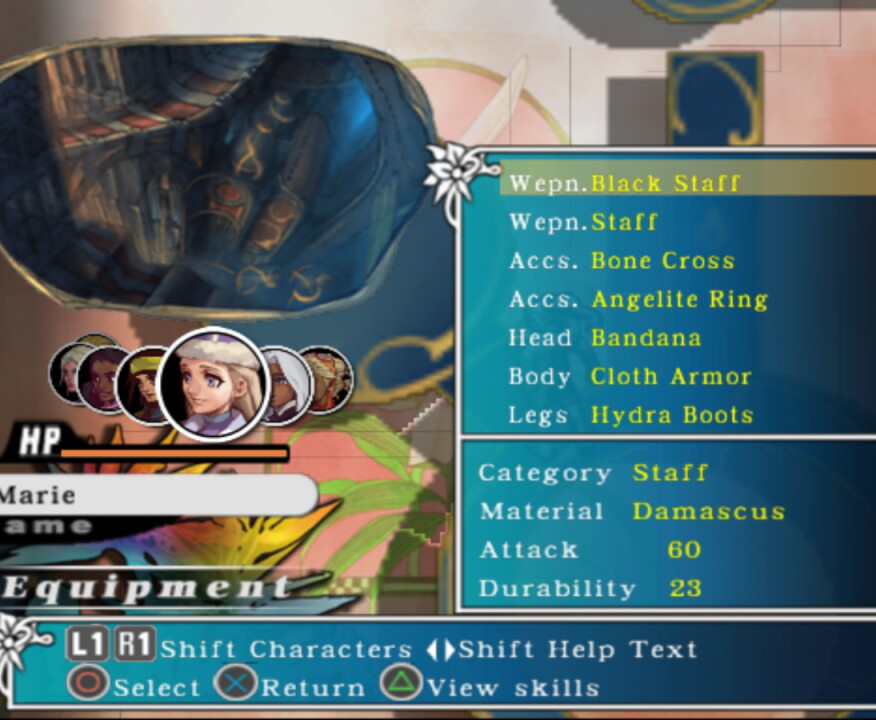 Marie was definitely a late-bloomer in battle, but she was very powerful by the end. I wish I had started using her Forbidden Arts sooner! But even then, her magic was very powerful. She had high Magic level and Fire level, and her Wood and Metal levels were not terrible, either. Armed with lots of magic arts like Holy Seal, Corona, Supersonic, and Thunderbringer from each of those schools, she was very versatile and always seemed to have something powerful to use against any foe.
I never ended up utilizing her Staff arts too much except for earlier in the game when she had the easiest access to debuff arts. I probably could have utilized Earth Dragon more if I would have remembered it. Once Michelle got Acupuncture, the debuff focus was on lowering Skill (since enemies can only have three debuffs on them at a time, and the magnitude of the effect of each is divided among the three), so Staff arts became much less useful later in the game.
Even though she didn't have a lot of power in battle until later, magic arts are still good for manipulating action speed in battle, and her familiars were the primary method of mapping and finding treasures on adventures.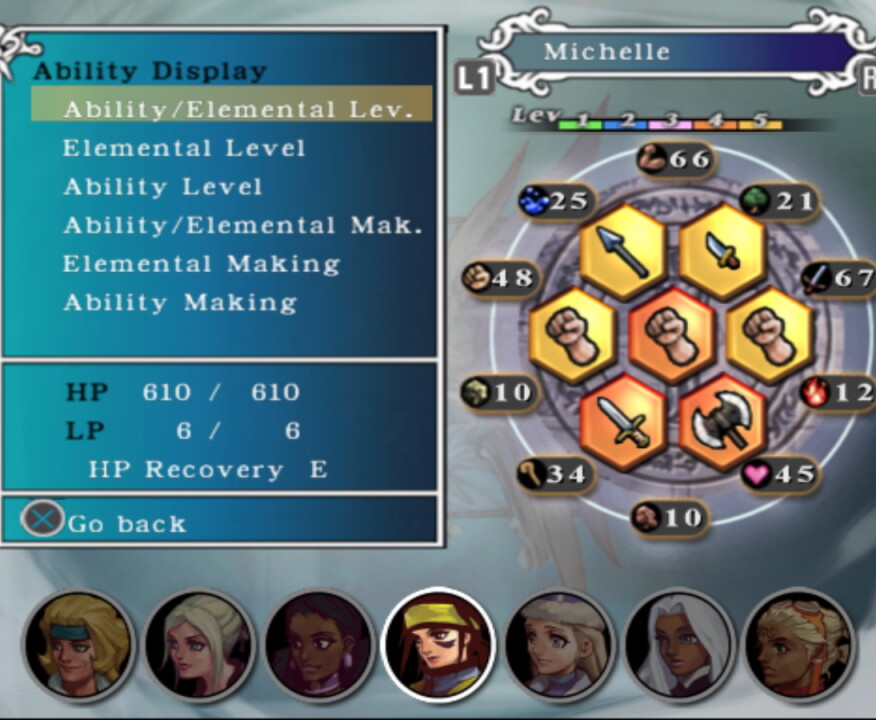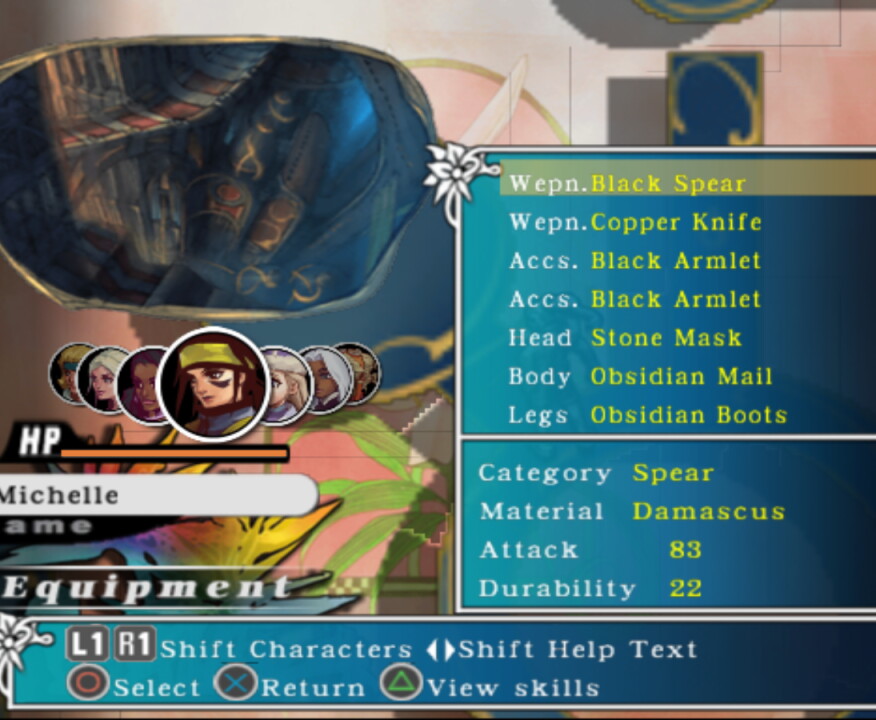 Michelle is always a very fun character to play with. Her extremely low LP means she can't be utilized constantly, as it's way too easy for her to die. But her massive Strength and Skill Making means she can become extremely powerful. As you can see, she has 66 Strength and 67 Skill -- far superior physical capabilities to the rest of the team. Her spear arts tore through enemies easily, and Acupuncture lowered Skill, which made enemies more susceptible to LP damage, as well as making it more difficult for them to inflict LP damage on the party.
Generally Michelle would stay in the back row and land carefully-timed hits on enemies to lower their skill early in a fight, and try to clean up by quickly dealing LP damage at the end before she could get hurt. At the last moment, I got the L5 Dagger panel, which replaced the L4 Sword in the top right. She wasn't using Sword arts, but I had to find a random Copper Knife in my inventory and hope it released its <Parry> ability. It did, and Michelle was able to block a lot of incoming attacks.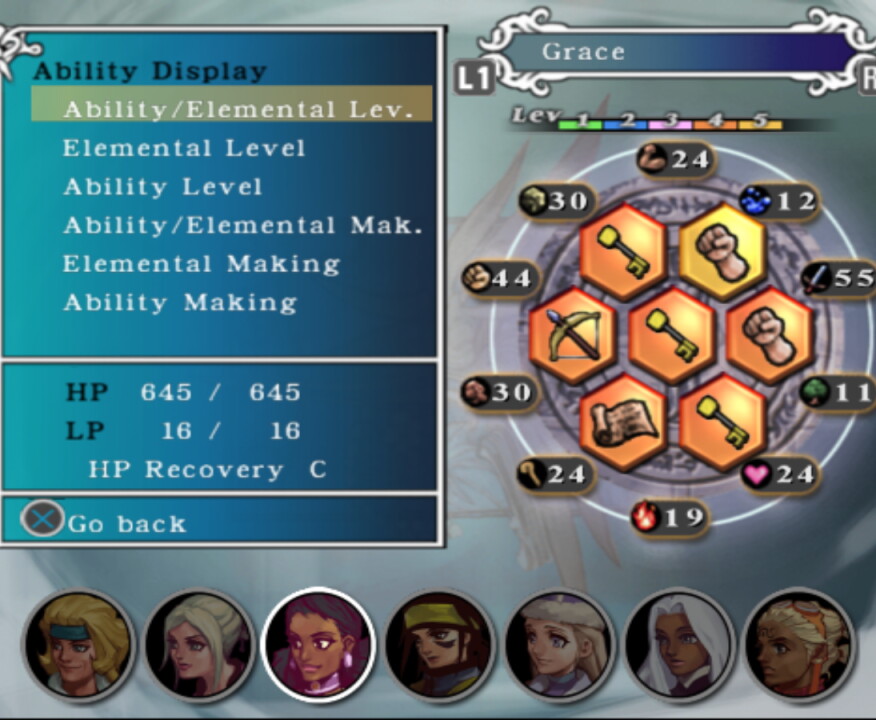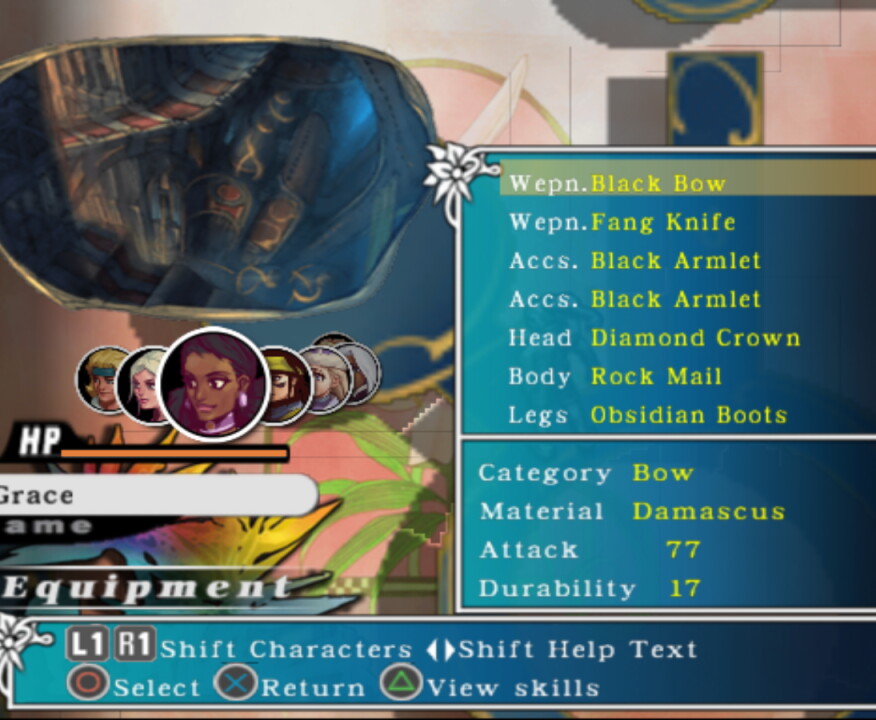 Amazing Grace :) Grace really got unlucky with panels, and her stats suffered a bit accordingly. Add to that the fact that she never glimmered a L4 Bow art, she was mechanically the most underpowered member of the party.
That's not to say she wasn't useful; her naturally high Skill combined with the usefulness of Bow Arts made her a critical member of the party. Arrow Rain was the primary method of crowd control, dishing out lots of damage to all enemies on the field. There were many fights where this was absolutely crucial -- she was even able to take out many Birds of Heaven before they could tear up the party when I ran into the big hoards. Shadow Arrow's consistency and ability to instakill made it the focus of many combos. And lastly, Grace had the highest HP and LP in the entire party, so she absorbed a lot of attacks for the more fragile members.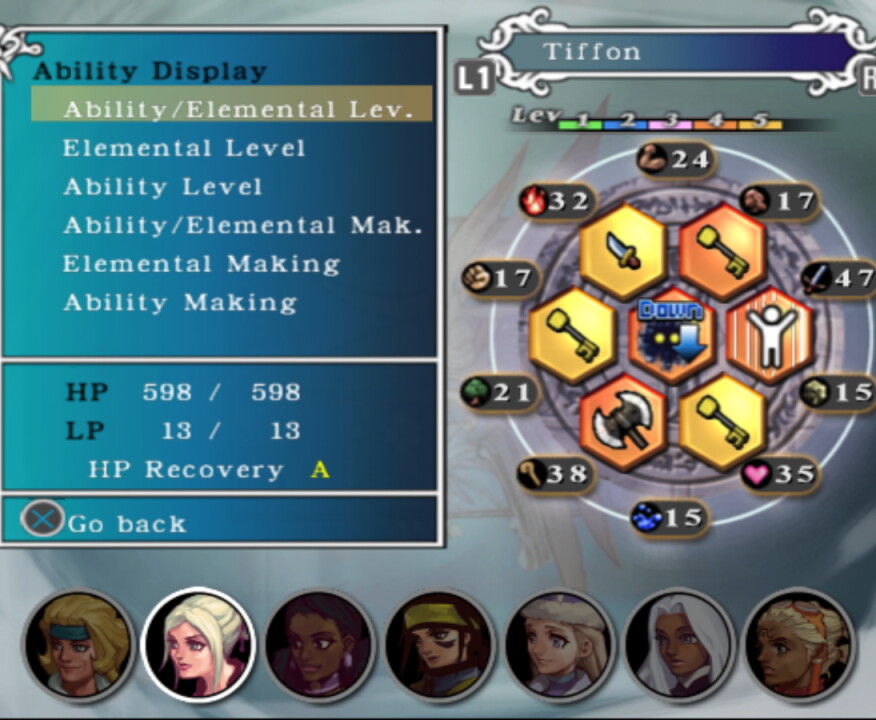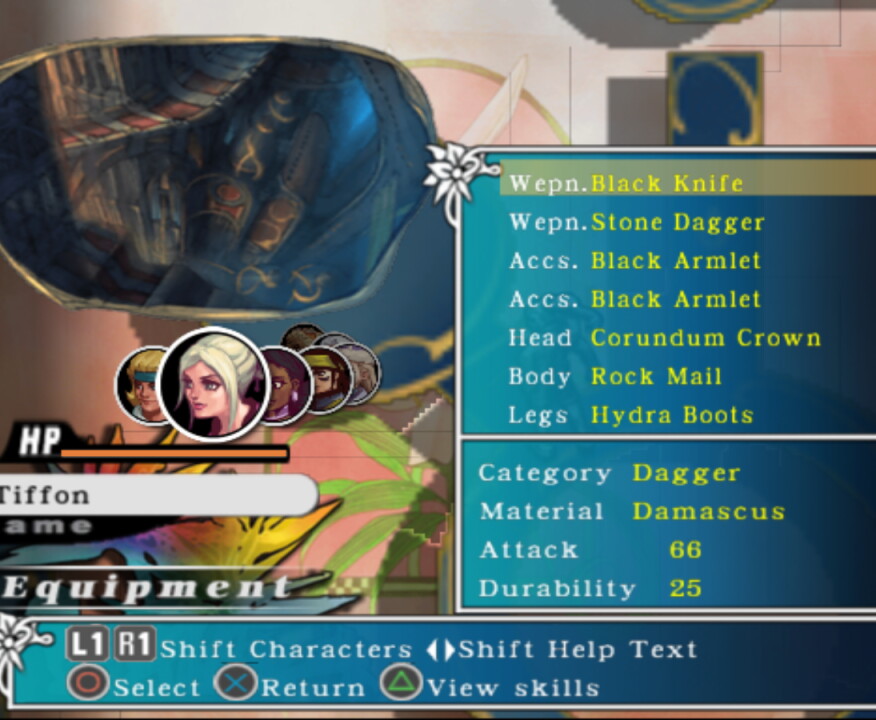 Tiffon, our poor little thief, in a world full of undeads that terrify her. Because she never glimmered Puree, her battle usefulness was always fairly situational. Once she got Bloody Mary, she was able to one-shot most weaker enemies that the party came across, which was especially helpful when there would be one accompanying a stronger monster in battle. Before that, her Stunner dagger arts were useful for attempting to paralyze or stun enemies, and that with her higher LP meant she could substitute for Fae at the front of the party.
But Tiffon's real power came on the adventure field -- she was the Treasure Girl, true to her thief character, plundering every box, defusing every trap, and picking every lock we came across. With her lack of powerful weapon arts and complete uselessness when an undead was in the enemy's party, she was also able to absorb damage from traps if things went wrong, since she didn't need her HP and LP for battles. There were times Tiffon's LP got dangerously low, even when she wasn't participating in fights. Considering the low LP of the party in general, this was actually quite helpful.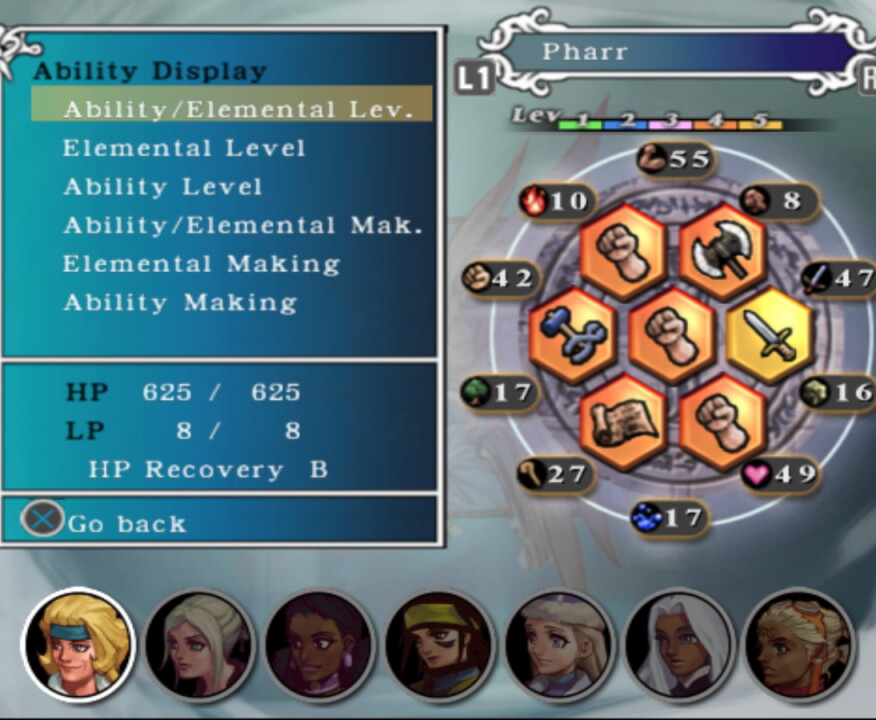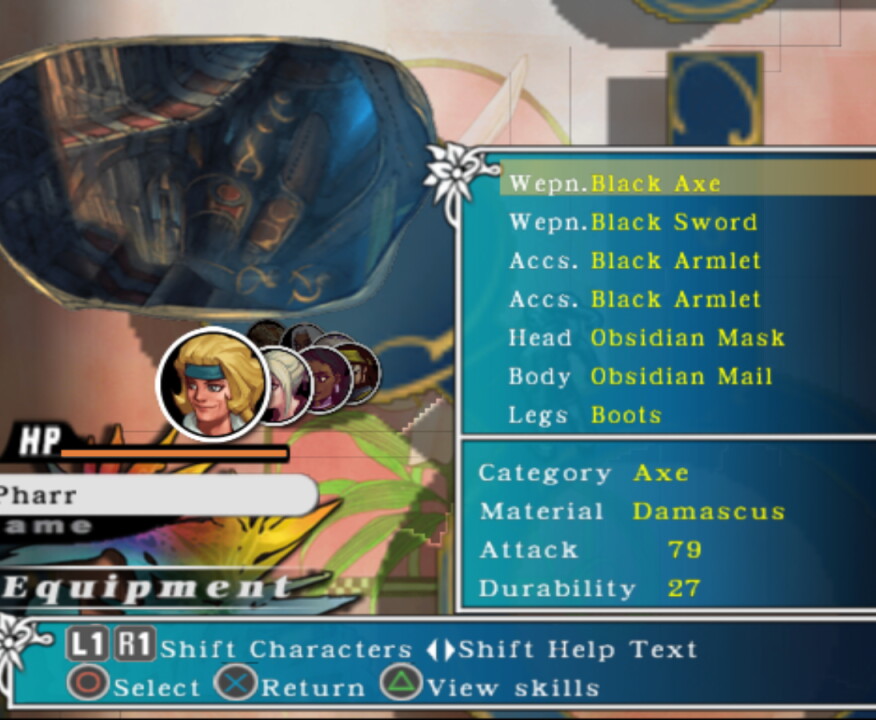 And lastly, Pharr. This was my first time getting to use Pharr, and I really enjoyed her as a character. She had bad luck with panels in the beginning and it took her a while to become useful, but once she had her Martial Arts combo to boost her strength, her Axe Arts were unparalleled for dishing out big HP damage.
Because of her extra two LP, bulky armor, and much higher HP recovery rate, she could see many more turns in battle than Michelle, and spend a lot of time on the battlefield near the middle of the formation, wearing down enemies early in fights, and assisting combos later. There's not a lot to say about her since she was a stereotypical "heavy hitter," but she was a regular on the battlefield and a very fun and useful member to have along in the party.
With that out of the way, let's get back to the adventure...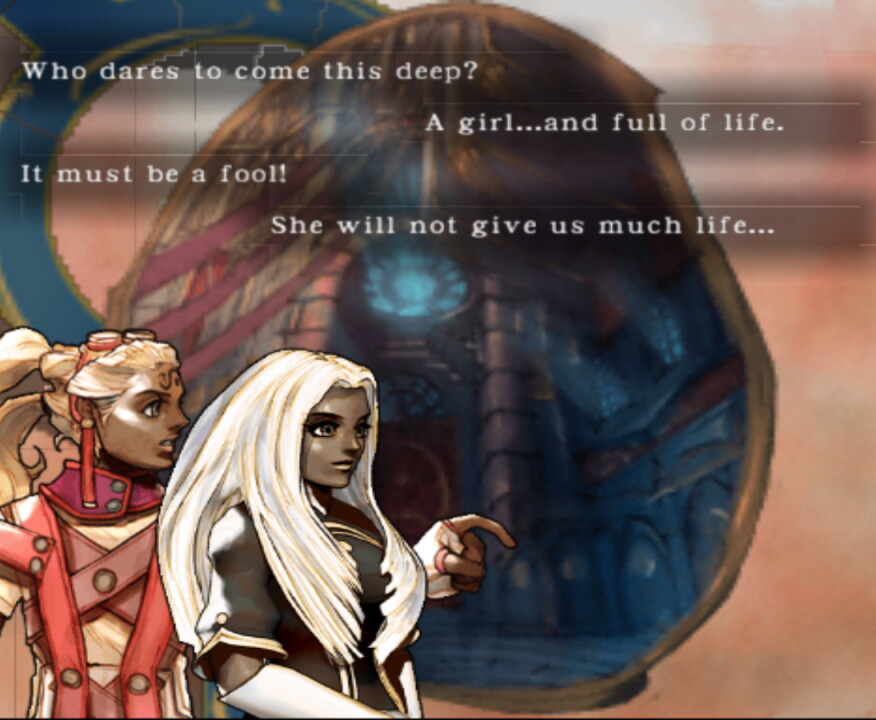 Going to the opposite side of the central area, we step onto a bridge to approach the Knights. They talk amongst themselves about Fae. They refer to her with the pronoun "it."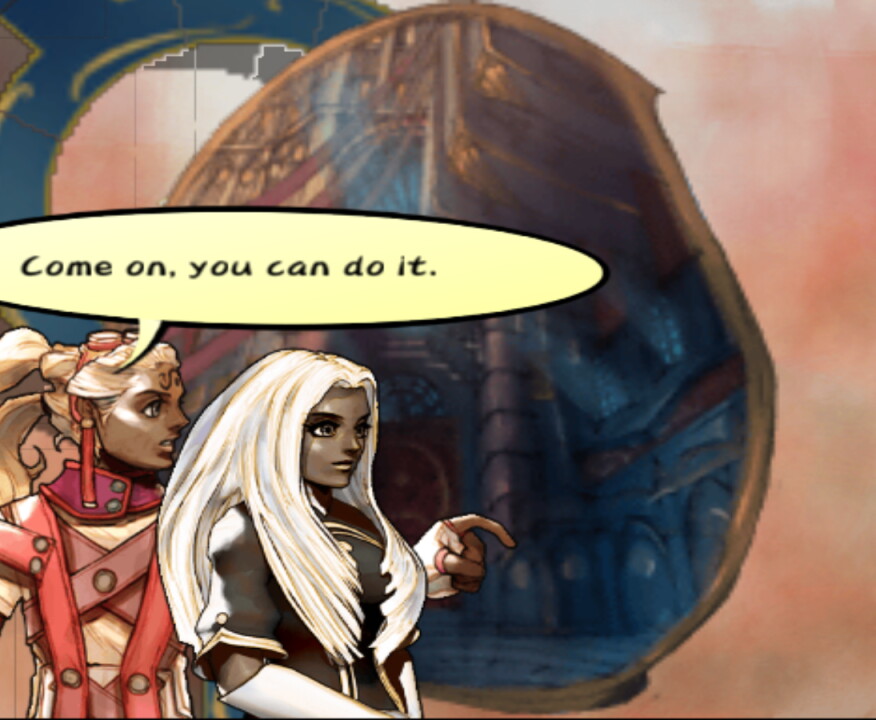 Honestly, I don't think Fae needs Mythe's support.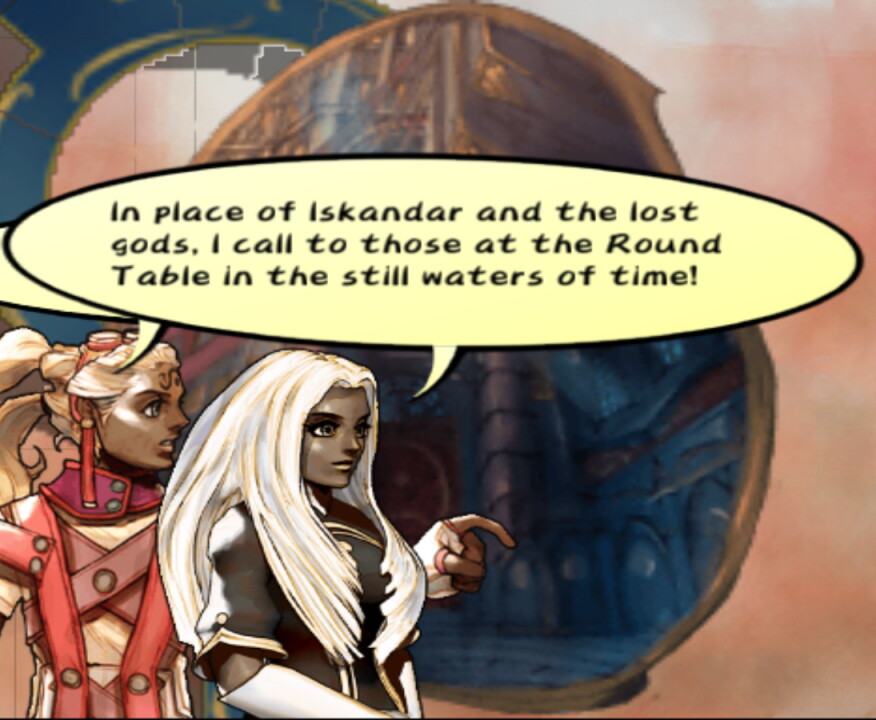 From the stuff she yells at them, it seems like the Knights are harnessing the power of the Wonders to keep themselves immortal and act as gods. I'm not sure why Iskandar tasked Fae specifically with the duty of defeating them, though. Perhaps it's because their primary source of energy was the Undercity where she was from. And he did say something about the only people who can save this world are the people born in it. Or something. I don't know.
Once one of the Knights says she looks familiar, a battle ensues.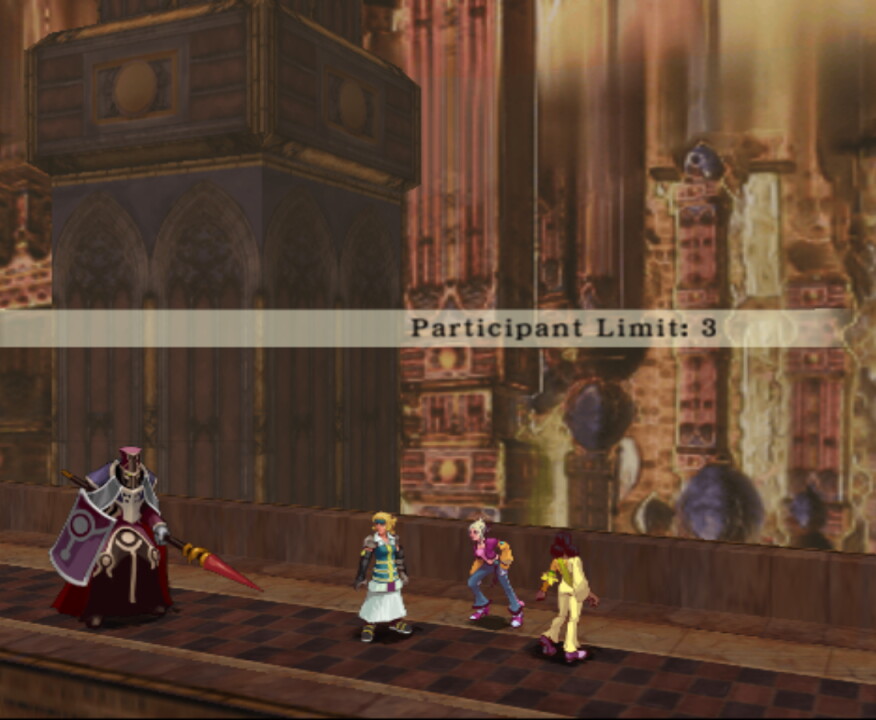 Welcome to Mythe's final boss! We have a participant limit, so only three people can fit on the bridge at once. And we have to take out all of the Knights of the Round Table one by one. There are ten total in this fight. I should also note that they seem to be considered undead, because Tiffon was hardly able to damage them at all. So I had to do this with essentially one less party member than normal.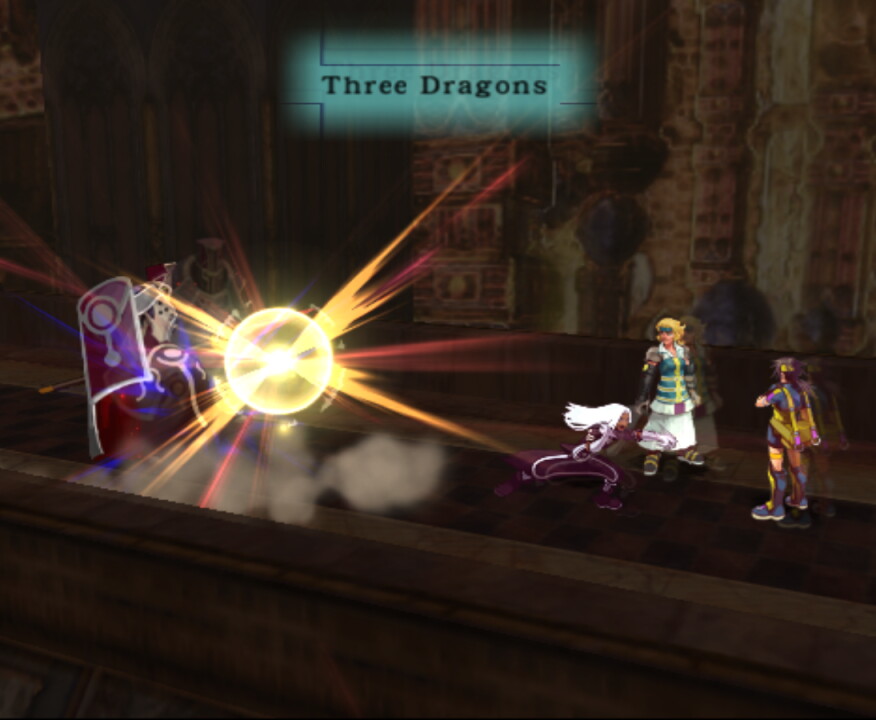 Because you have to fight ten enemies in a marathon, they don't have huge HP or life protection. This means even from the start, we were doing a bit of LP damage. But they all had pretty high LP (like 10+ each).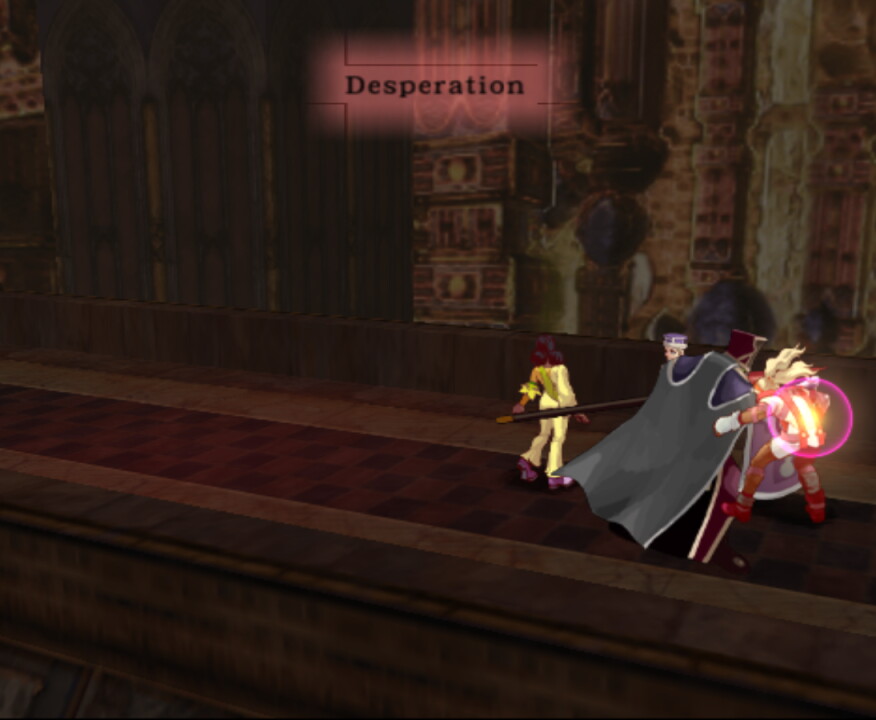 There were five different "flavors" of Knight that we had to fight, two of each. The first one was this shield and spear guy (who was also the last one). He would ram into you with his shield and stuff. Not very tough.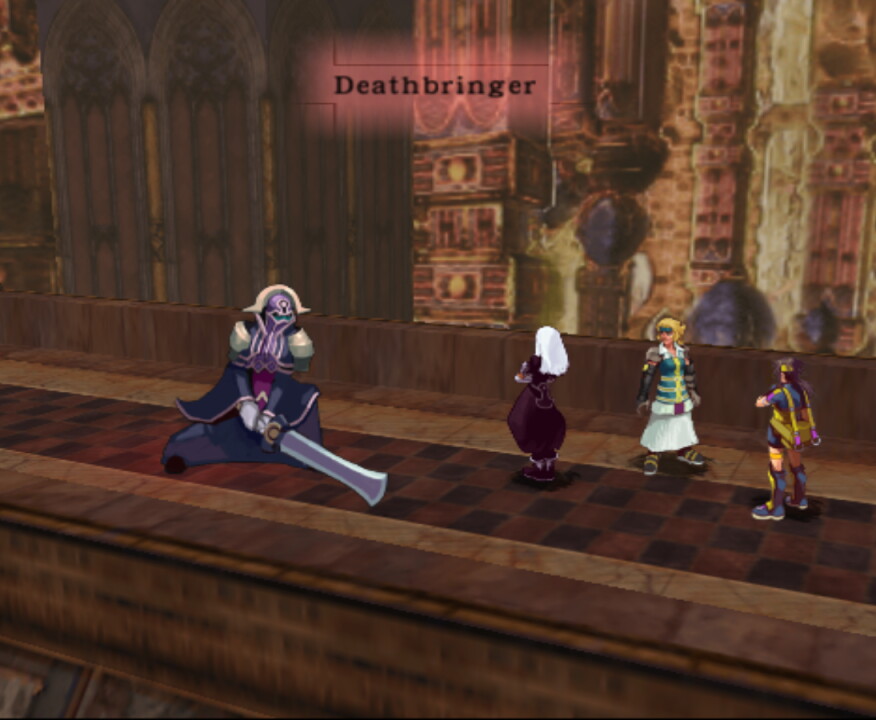 Second was the big sword guy, who was also second to last (and they continued this palindromic pattern). He did a bit more damage than the shield guy. But mostly was non-threatening.
Then there was a mage guy. Actually there was a club guy before this, but he dies so fast and hardly did anything that I didn't even screencap him. Mage guy I thought was going to be scary, but he did Bubble Blow... But the second mage guy was quite a bit tougher, and knew a lot stronger magic arts.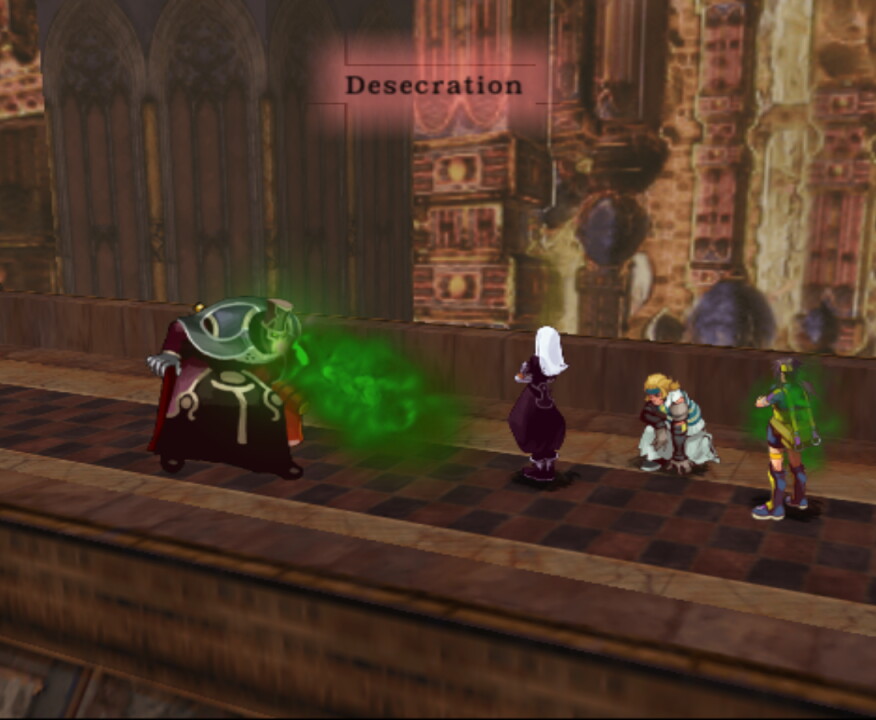 The other type was an axe guy, who also like... puked on you, and it would poison you. He was bulky and took a lot of damage before falling. The poison was no big deal since Mythe, Fae, and Marie were all able to heal it, and the battle was designed to cycle characters anyway.
After defeating all ten of them...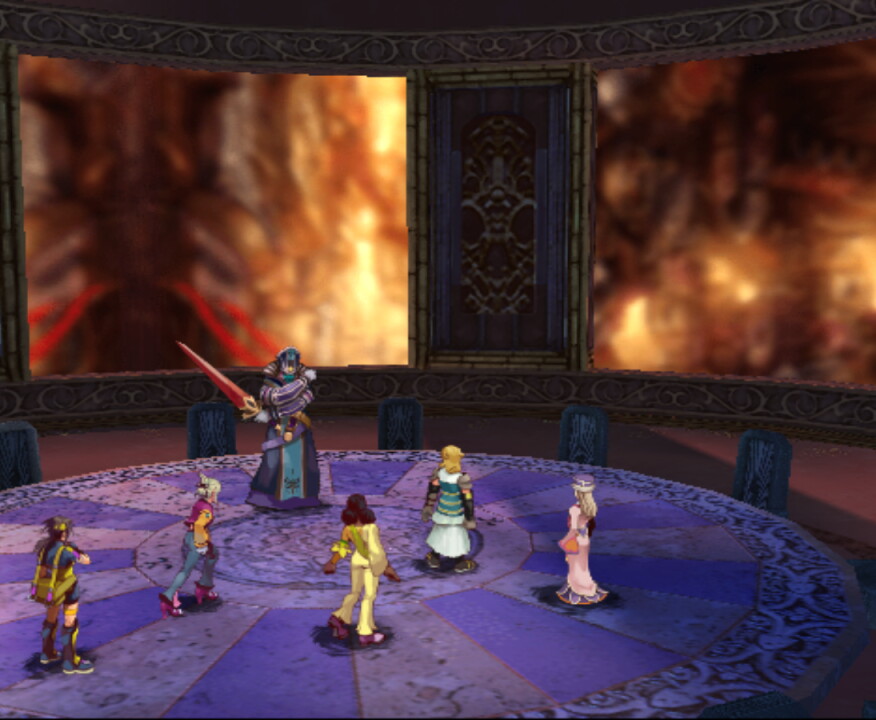 We approached the eleventh one in his big circular ... area. This guy's name is Phantom and I guess he's the leader. He seemed desperate, just chanting stuff like "We are immortal!" and "We will live forever!" a lot.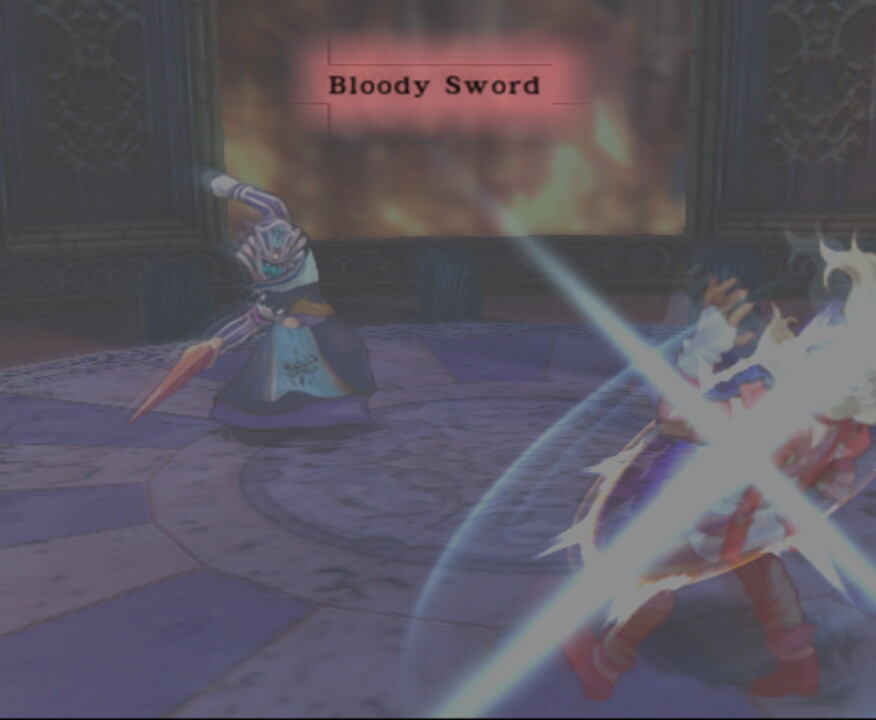 He mostly just did a lot of different unique sword arts. He was able to drain HP (and LP) very quickly. I only lost 1 or 2 LP total across the party in the first fight against the 10 Knights, but everyone's LP was dropping quickly here. Grace lost half her LP in a single round of combat. It was very scary!
Fortunately, he only really targeted the two people standing in front, and especially the person in the first position. So assigning someone to heal that spot and putting a bulkier character there was very helpful.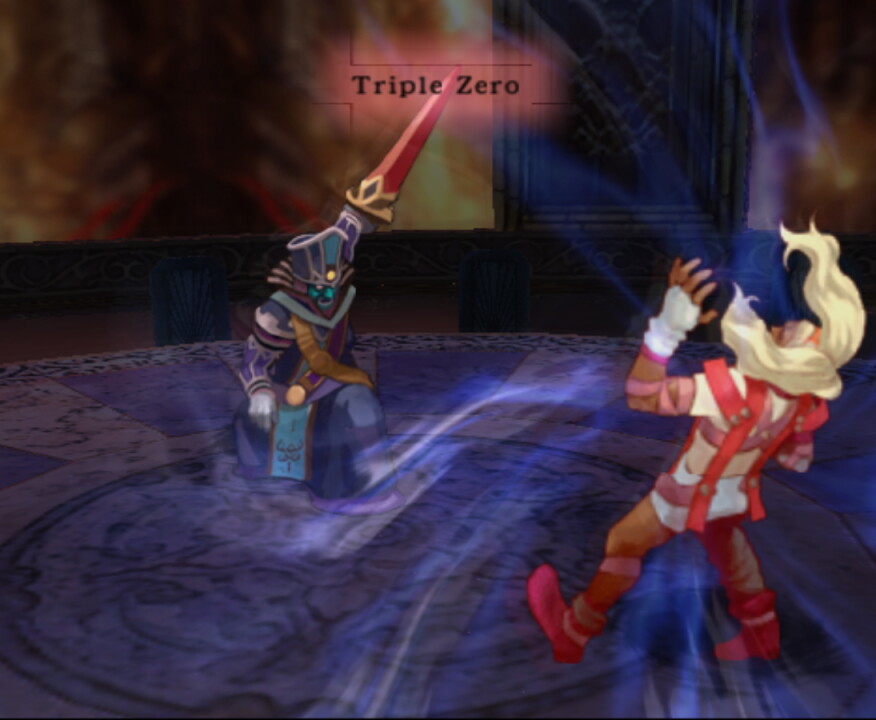 Triple Zero was his most threatening attack. He used it a lot -- at least once per round. I guess it's called "triple" because it consistently seemed to deal 3 LP damage (he also slashed three times in his animation, in a sort of "Z" pattern. A Zorro-esuqe sword art like this exists in some other SaGa games, called "Final Letter" because it makes a "Z" shape, so maybe this was a reference to that...).
But yeah, 3LP damage. That's like... a two-hit kill to Michelle. I was very scared. I mostly kept Michelle out of the battle, except to jump in and throw an Acupuncture from the very back of the formation.
Once I did enough damage (and I'm very glad he died when he died, because much longer and many of the party would have died), he panicked and beckoned the power of the Seven Wonders, summoning Chaos.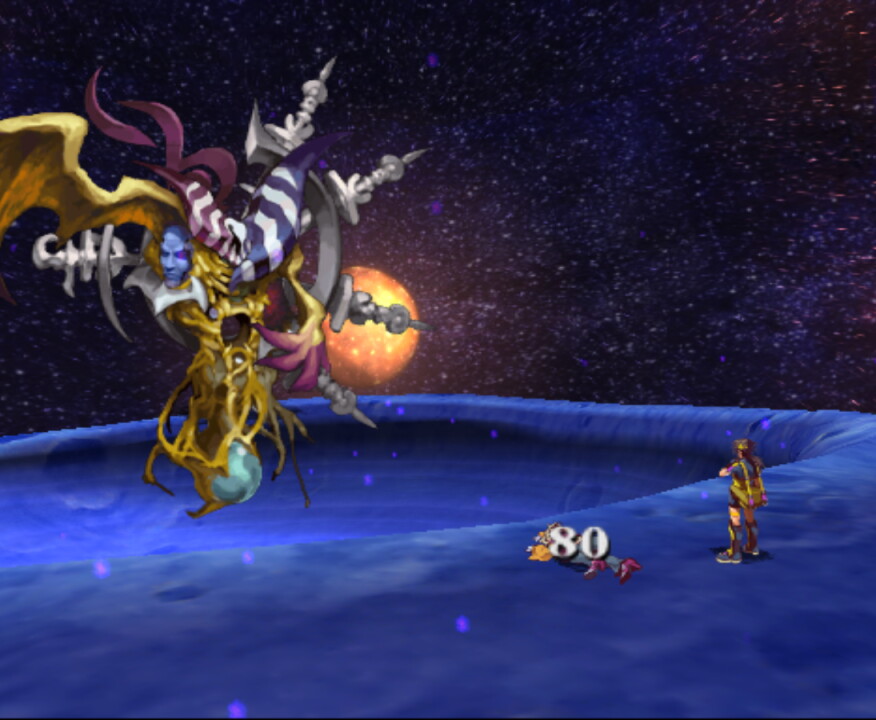 Chaos went pretty much like it did in Ruby's fight, but since I spent a bit more time powering up the characters this time, it actually was a little easier in the beginning. All the stacked life protection meant the earlier attacks it used didn't deal much LP damage, if it dealt any at all. As the fight went on, it gained the ability to knock out characters with status effects that rendered them helpless for a while. But Mythe could cure most of these, and was pretty good at the "Rescue" command, too!
Rotating characters, it was pretty quick to get to the final form without taking too much damage.
The voiced lines each character shouted at the beginning of each round of combat weren't as epic this time around, sadly. Tiffon said something like "A common thief, here? A funny thing, fate." or something like that lol. It was a bit poetic for her, I feel LOL
Grace gave a good pep talk, having the longest of the voiced lines. Mythe just said something like "Are you telling me you're the source of this world's power?" or something like that. They were almost all generic. Pharr just said something like "I never seen nothin' like that before." Strangely I can't even remember what Faedaljen said when this entire story has been about her...?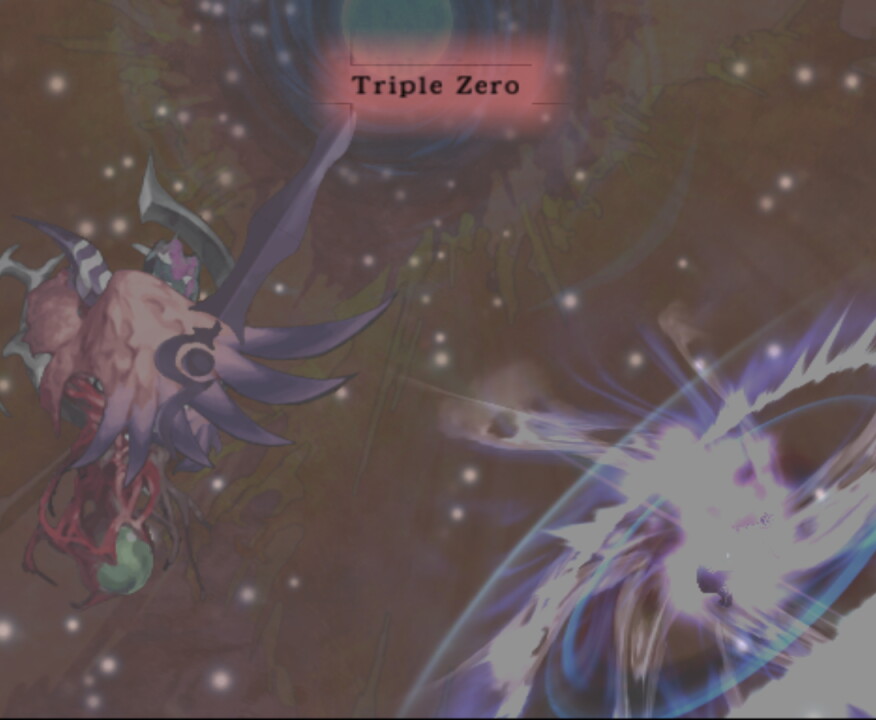 The final form was terrifying, though. It had absorbed Phantom's Triple Zero art, and could use it to wipe LP off of characters easily.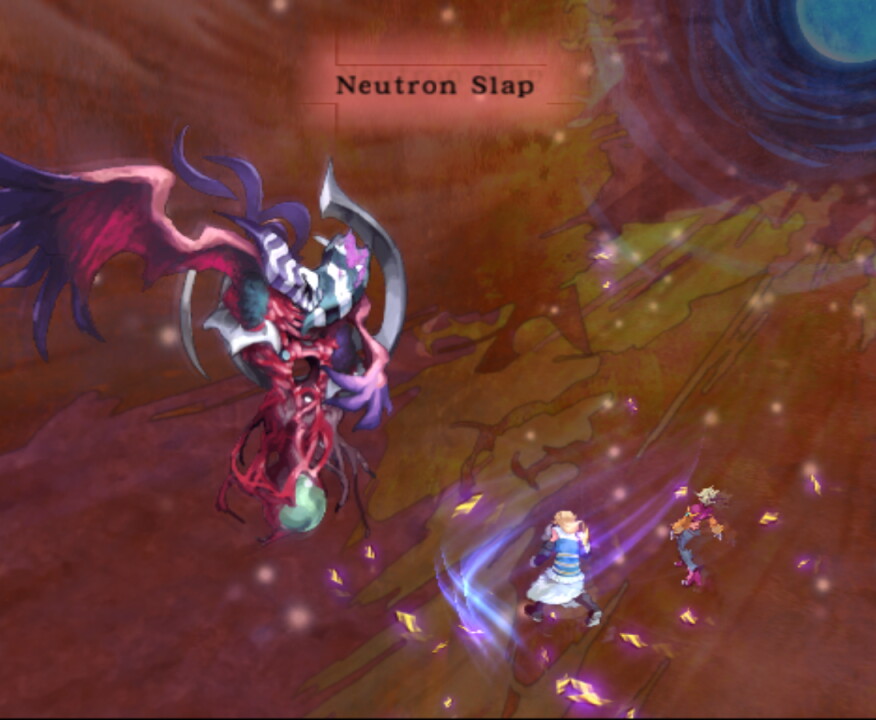 And that's in addition to its regular devastating attacks...
Like always, the goal here was to dish out as much HP damage as possible, and as soon as the first LP damage appears, rush to try to finish the job before getting finished...
Pharr was a star here with her powerful Axe Arts. Fuji View could do 700-800 HP damage with a single hit, and it was easy to queue four of them with Fae standing in front to hopefully absorb most of the Raven Blades and Final Zeroes.
Once the first LP damage popped, I used a similar strategy, having Fae do a Three Dragons in the front, and Michelle hop in for an Acupuncture to lower its Skill (making it more susceptible to LP damage) followed by three DHS.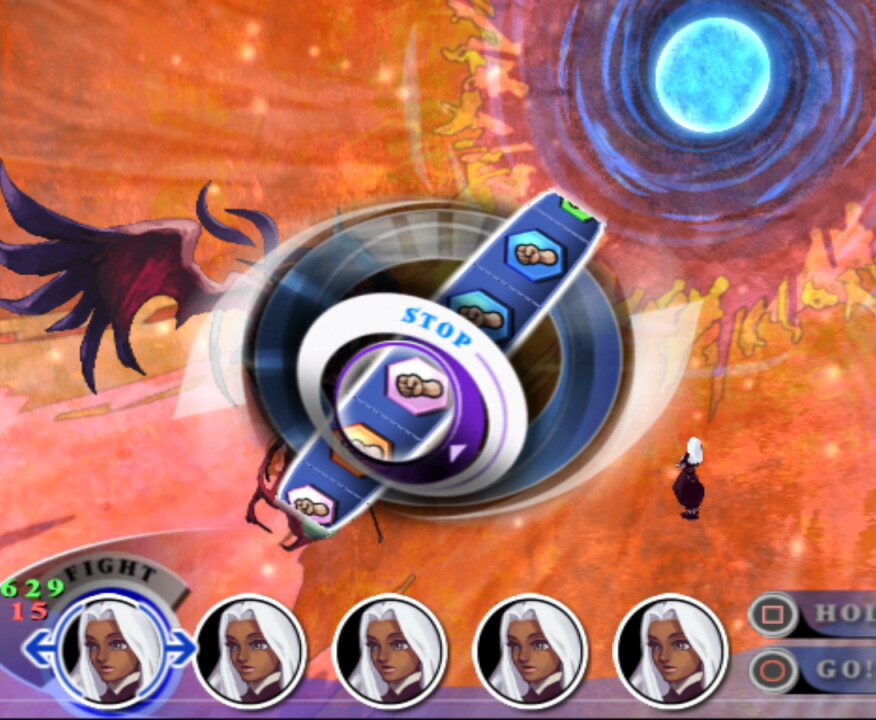 After that, I went with one character at a time in battle, spamming the highest-LP-damaging art they knew. Mythe and Marie were pretty much sitting out the battle at this point, as Marie's magic arts were strong, but not very good at LP damage, and there just wasn't time to heal or buff with Mythe.
In the end, it was another DHS from Michelle that landed the final blow, and Chaos was defeated. Unlike in Ruby's story, we don't get to see what happened immediately afterward, but instead, the screen fades out and the ending seems to take place in the near future after the battle with Chaos.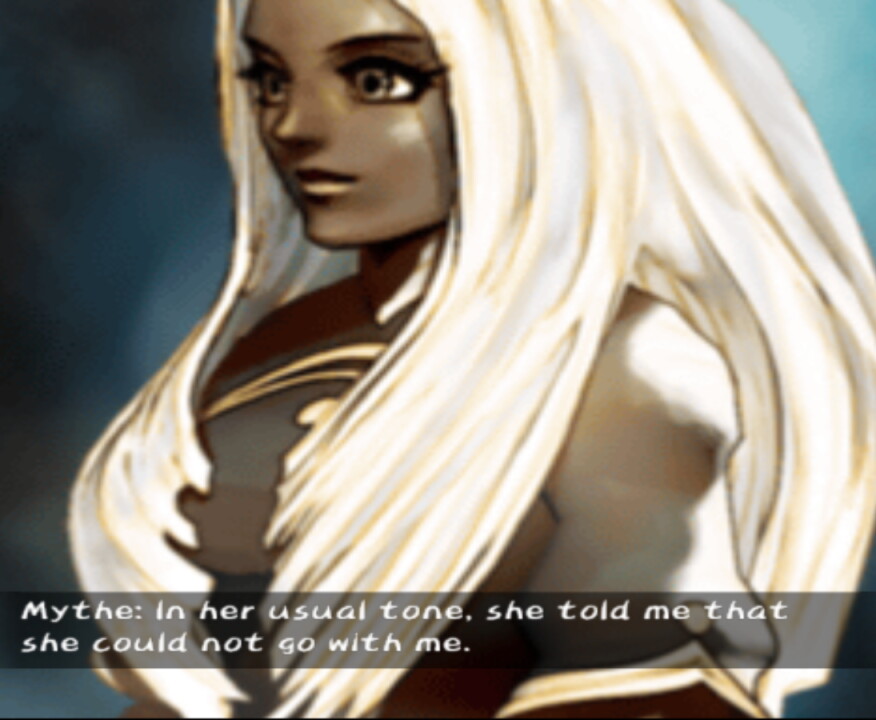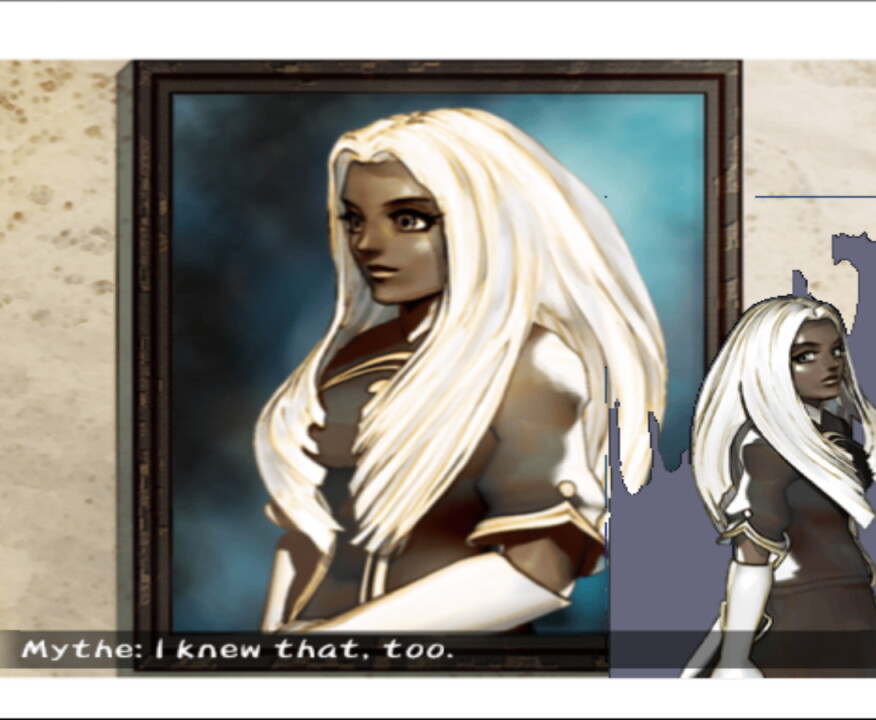 Basically, now that she was done with him, Fae left Mythe. I don't really know where she went, but this was a pretty anticlimactic parting.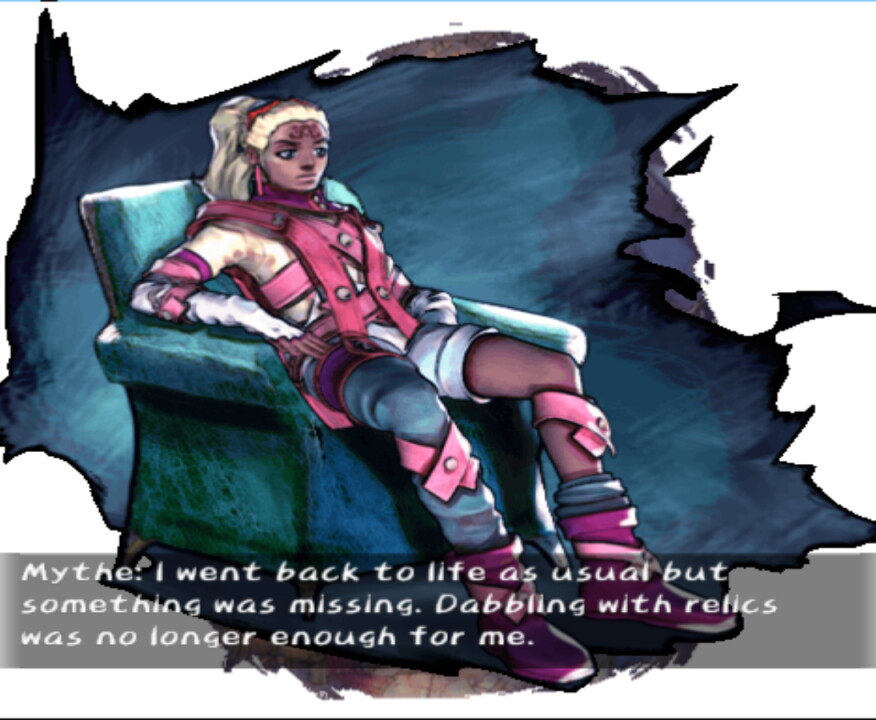 Afterwards, Mythe seemed to be discontent with his life as a tinkerer and appraiser.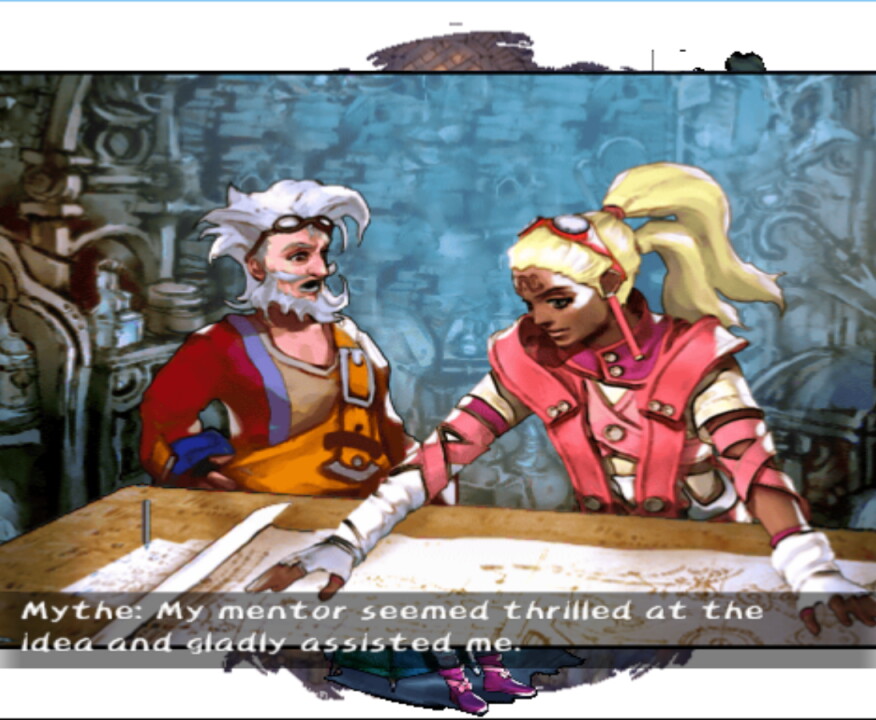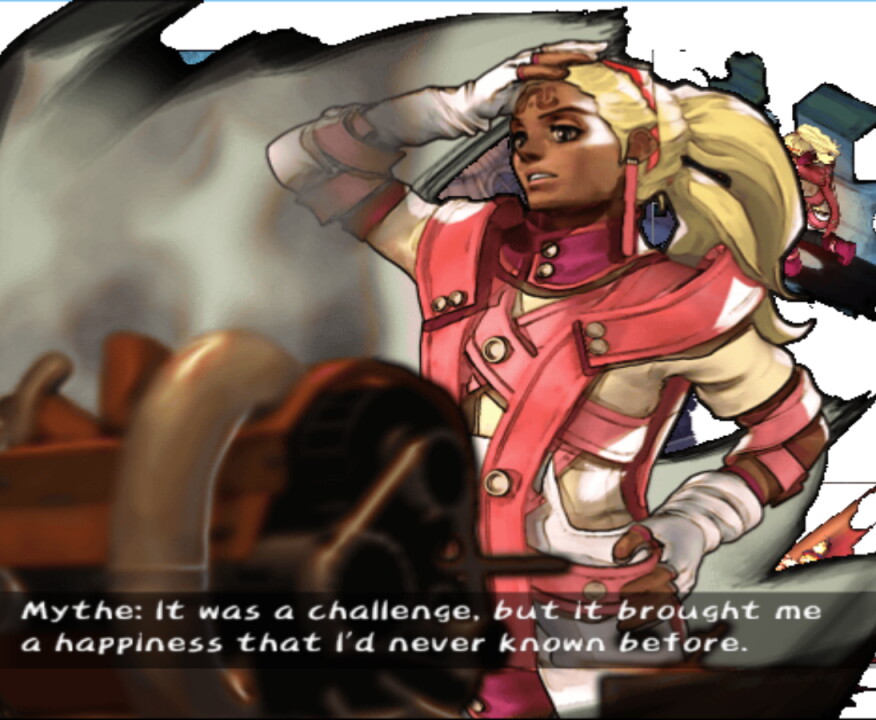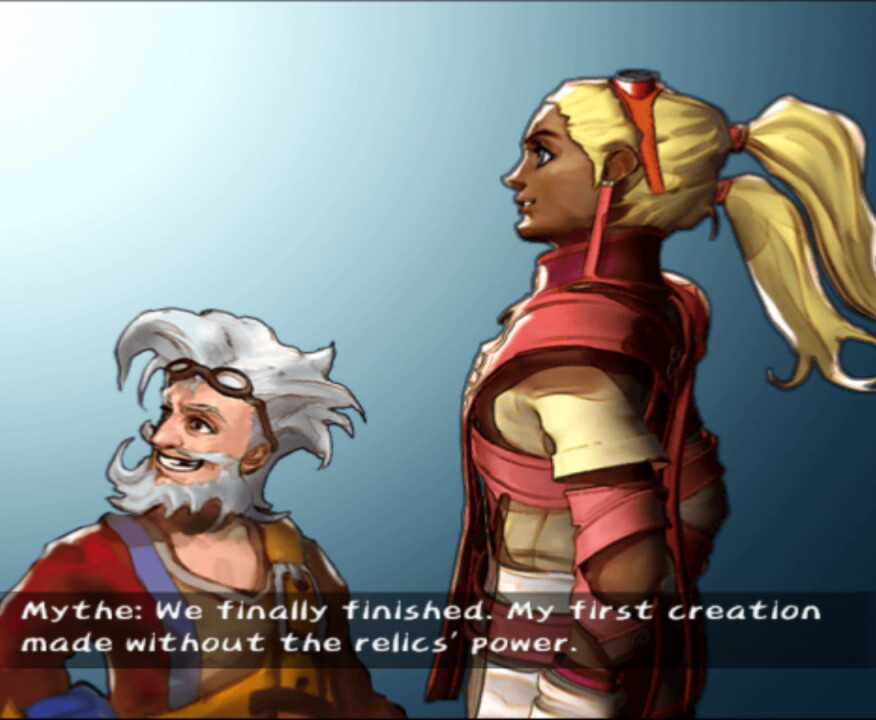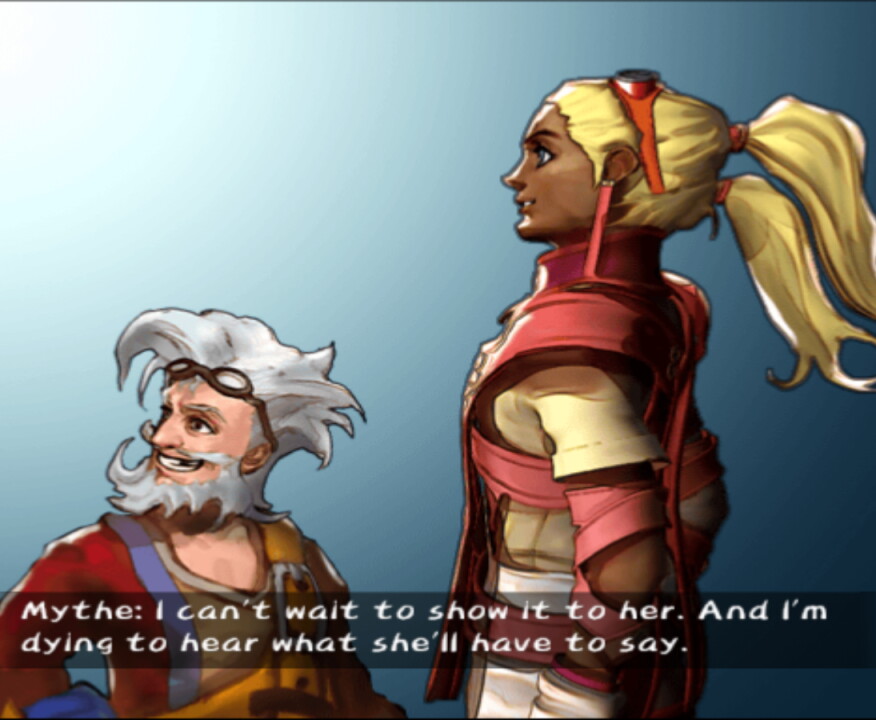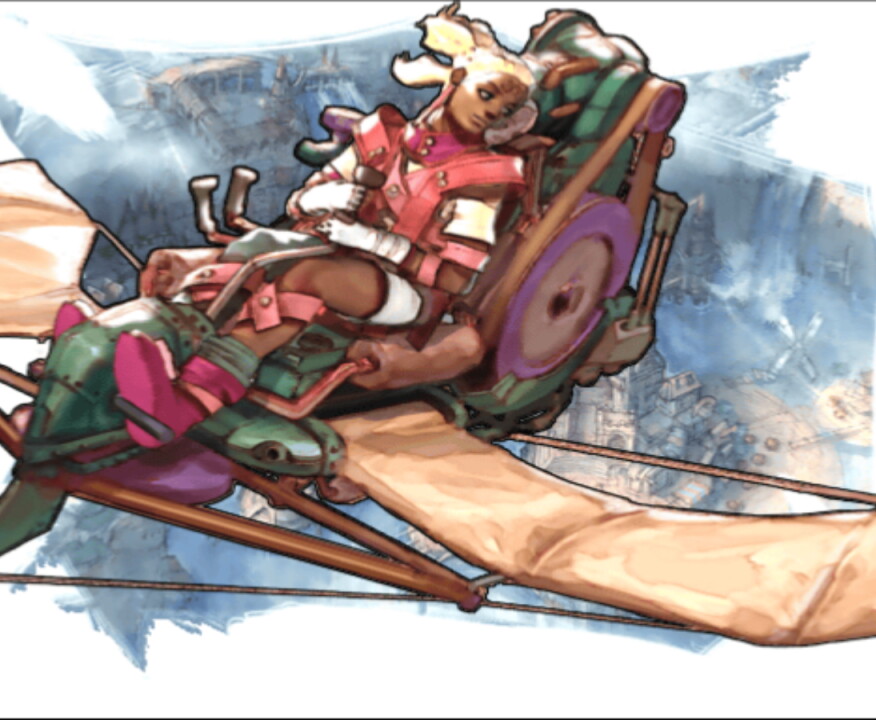 ... So he invented the airplane.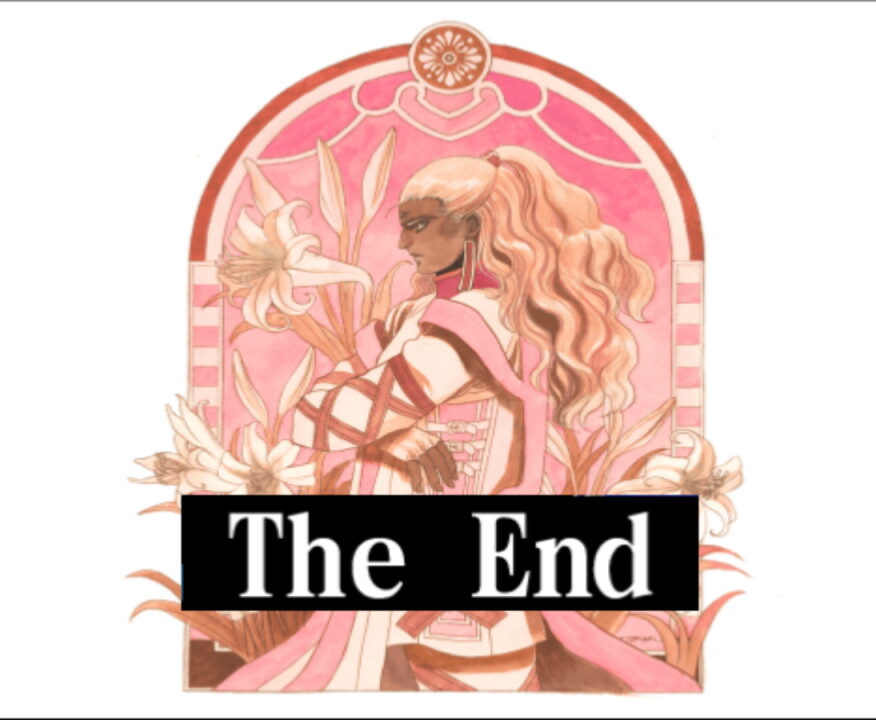 THE END!!
Honestly, Mythe was still obsessed with Fae even after all that, even after she left. But... why? He literally just saw a photo of her mom and from that second forward dedicated his entire life to this girl. Even after meeting her, defeating pseudo-gods, and parting with her, he's still... doing that. In a way he did find his own motivation and passion but... it's still all because he's just thinking about her?
Though it's nice that Fae left and didn't like become his little wifey or something stupid like that XD Also, I would like to know what happened to everyone else. I assume they all just... went back to their own lives.
Well, I think this was a bit more interesting than Ruby's ending at least.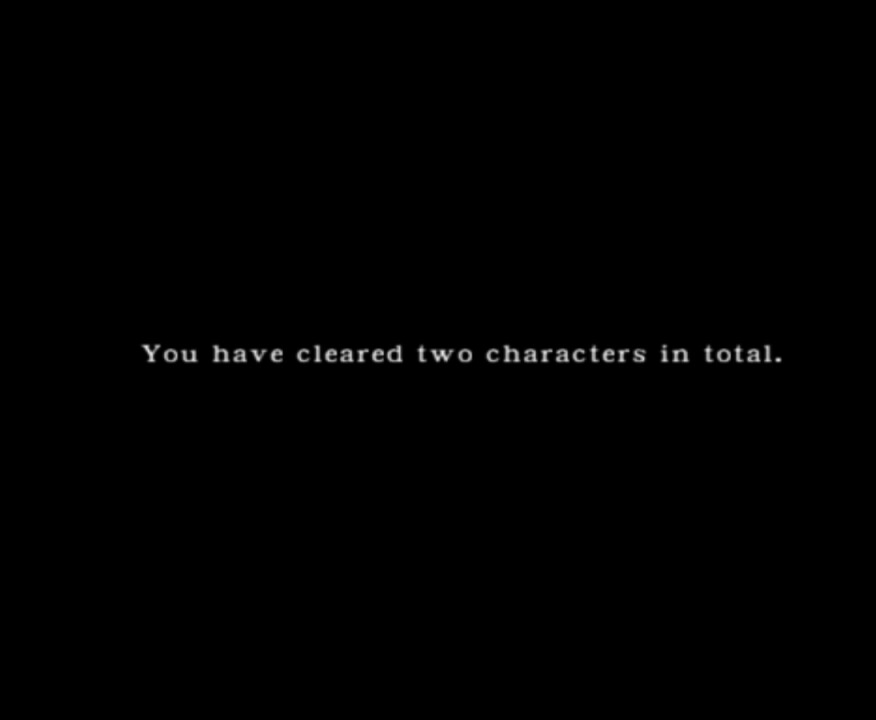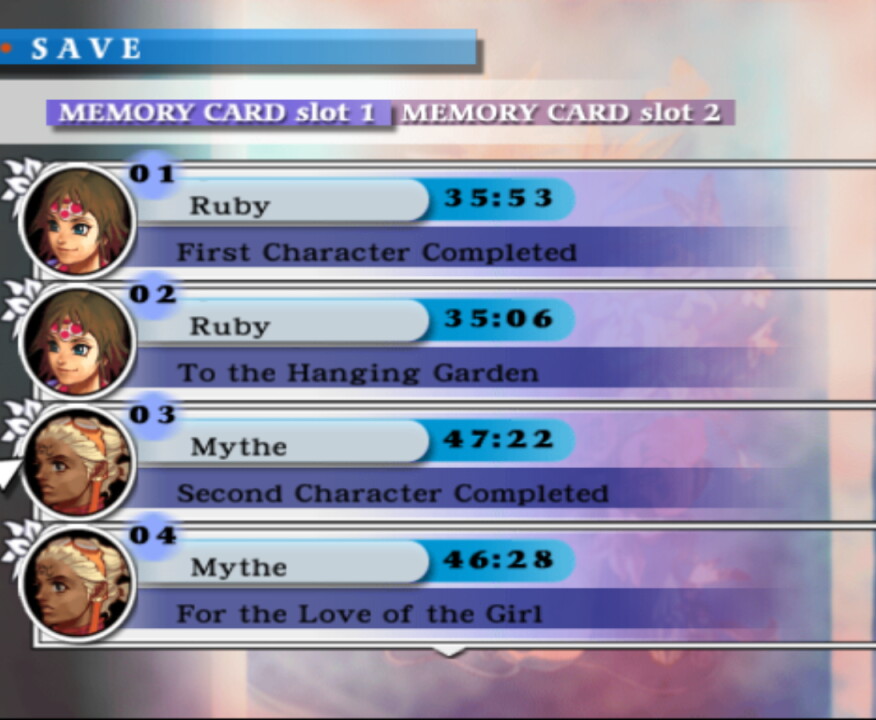 In total I've logged a bit over 83 hours so far.
Overall, I really enjoyed Mythe's scenario. It was certainly a lot more interesting and dynamic than Ruby's. Even though the story was a little wonky, it was still exciting, and I loved meeting all the characters and all of the suspense surrounding the photograph in the beginning. I feel like the way everything ended was a bit of a loss of steam after all that excitement, but I'm glad to see that Mythe turned from kind of an apathetic dick to a motivated and passionate inventor. It was pretty simple, but it was at least some character development, which is... not really something you see in this game, honestly.
Mythe's party is probably now my favorite party in the game. I really love all of the characters available to play, and the overall lack of LP made the game particularly challenging and exciting. Characters had their own handicaps, too, like Michelle's gauntlet and Tiffon's phobia. But at the same time, each character was able to greatly excel at something.
Every time I finish this game, I'm super eager to start up another playthrough right away... Unless there's a specific request, I think I'll do Kurt next. I want to start right now, but I'm also very tired and have to do things tomorrow. So I think I'll just go to bed.
Thanks for reading this far! And stay tuned for Kurt soon. The next couple days will be kind of busy, and then IDK what. I don't really know when I will start exactly, but maybe some time next week. But I'll also be getting SaGa SCARLET GRACE soon, so I don't know how absorbed I'll get with that >_>!
---