Undercity Pharos ~
Salvage the Photo! ~
The Festival of Regina Leone
So, when we last left off, Pharr offered to escort us to the Undercity Pharos to show us where she found the photograph...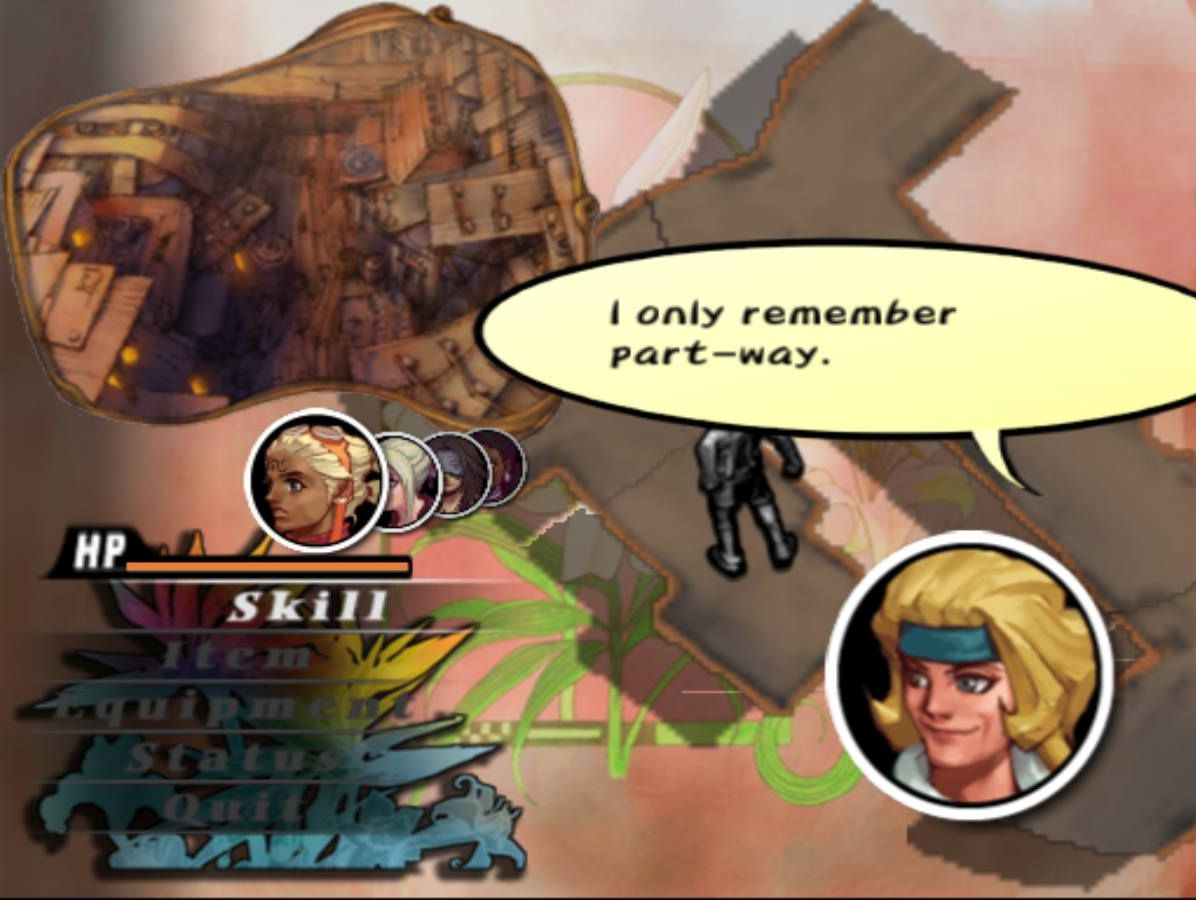 Inside, Pharr says she "only remembers part-way." Basically, random segments of the map are already uncovered for you, which is pretty cool, like as if you're using Pharr's knowledge of the area to explore. I thought that was a nice little touch.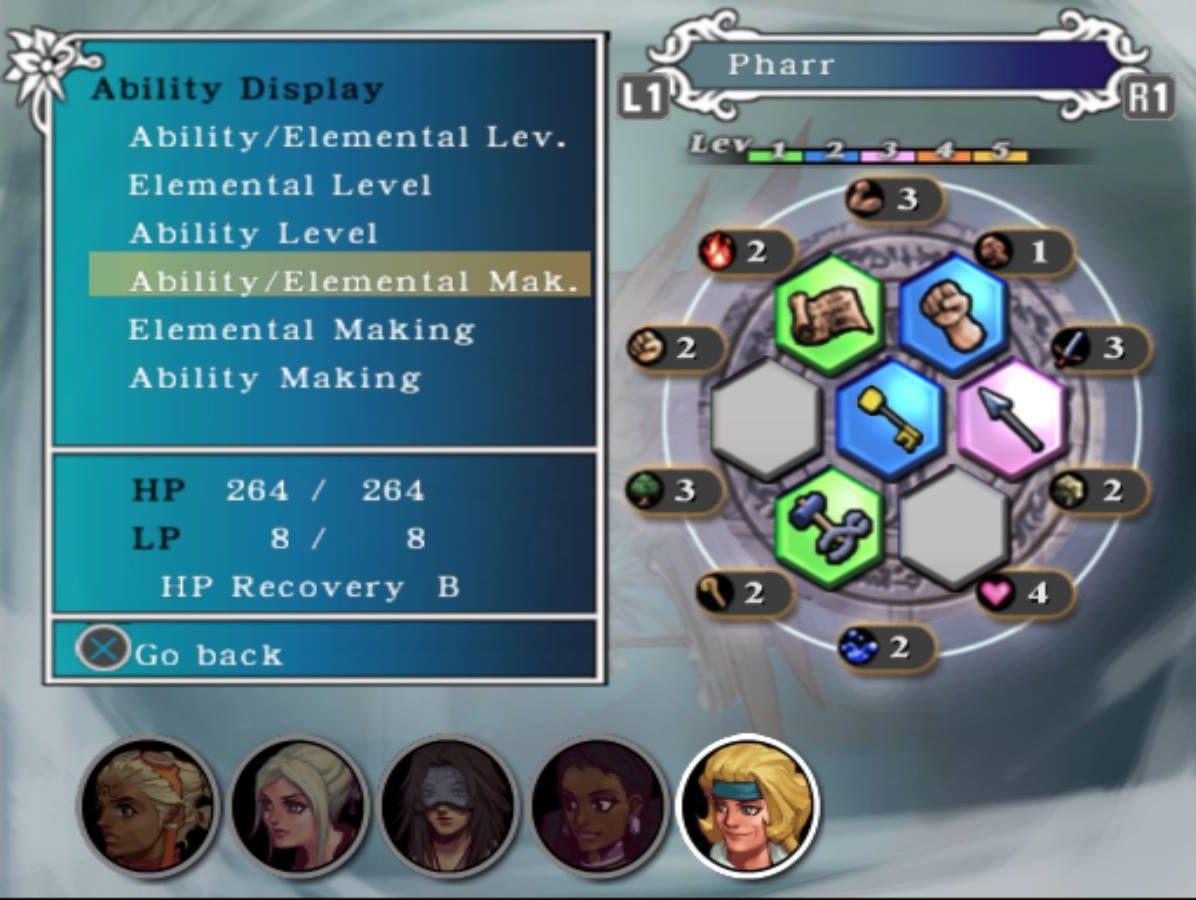 Anyway, new character means new stats yay! Pharr's Makings are pretty nice. Strength and Skill making are both 3, which is not bad at all. Other than Earth, her elementals are all 2, or 3 in Wood, which would be good if you cold get Holy Lightning for her, hahaha. Spirit Making is a 4, too, which is nice. With pretty balanced stats, and starting with nice HP, she seems like she's meant to be a bit tanky... but she only has 8 LP. EIGHT. Why?????? She's a battle-hardened famous heroine...? Maybe the low LP is to reflect how she is getting on in age (55 years old now).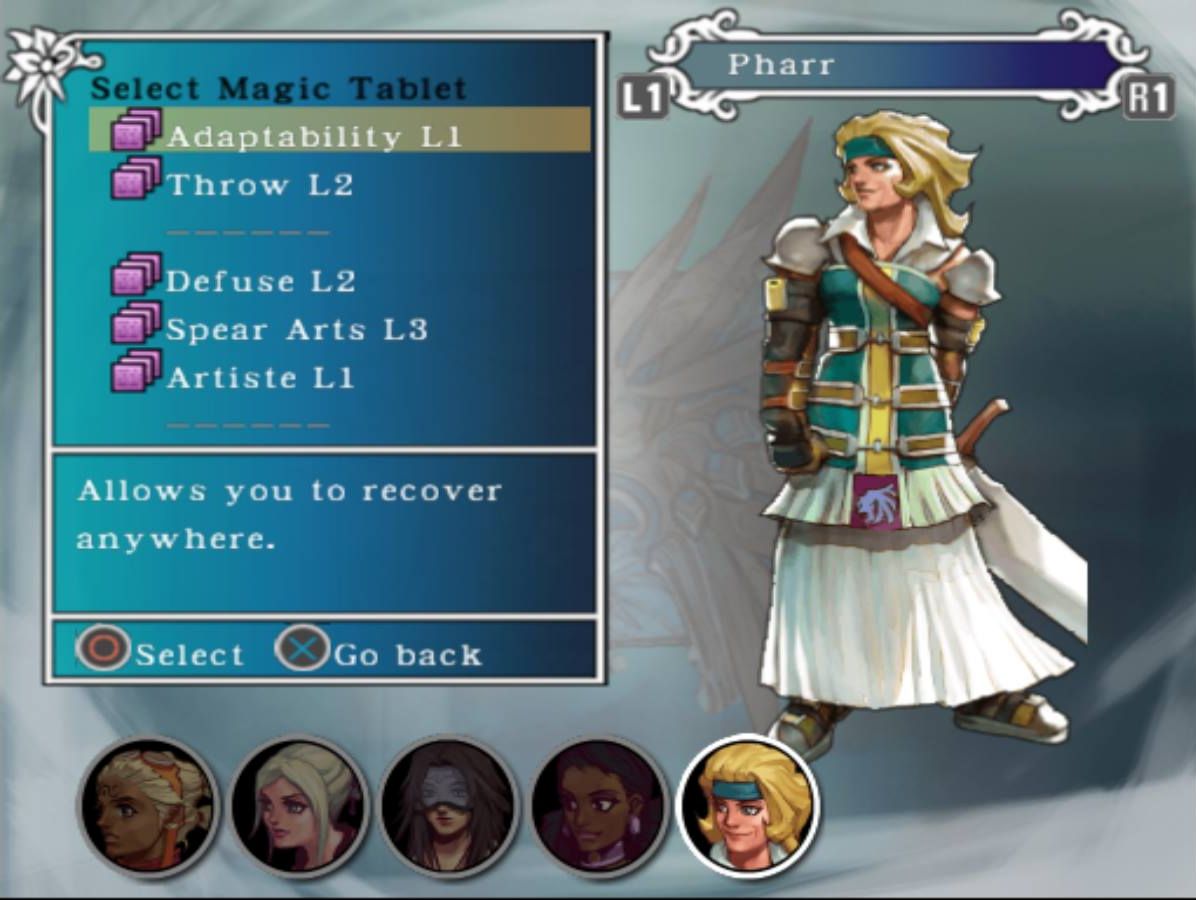 Pharr starts with a Spear Arts panel, and it even is on the right side of her Growth Panel, giving her a nice starting Skill level, and her Throw panel near that boosts both her Skill and Strength levels. Basically, she's a bit of a powerhouse for a just-starting-out character. HP Recovery of B + Adaptability means you're not going to have to rest much to heal her, too.
Also, look at her portrait! She's super powerful looking for someone old enough to have grandchildren. I like that they at least tried to draw wrinkles on her, and they gave her a huge-ass sword in her art (even though she starts with a copper spear equipped), and she has like a sorta raspy and gruff angry old lady voice. She has fairly normal-looking clothing compared to most characters in the game, as well as dressing very practical for a warrior/adventurer. I also love her hair.
Pharr is a total BAMF and can pretty much fulfill any role you want her to in the party as long as you take care of her low LP. And she's a bit bulky so, uh, you know what that means.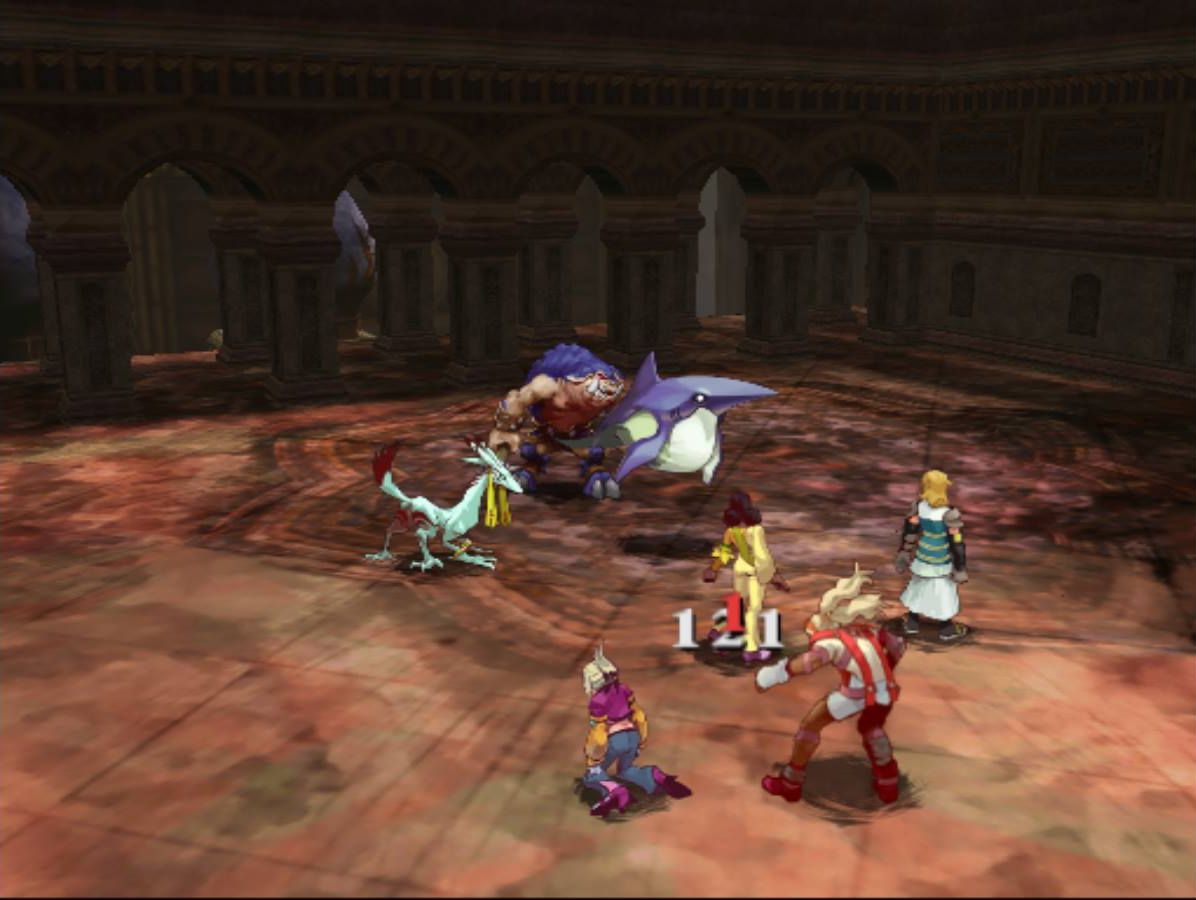 One step into the undercity and three monsters ambush us X_X
I can't really show you how awesome it is, but Pharr's battle standing pose is super cool. She looks very... confident and intimidating. The way her hair and skirt gently blow in the wind looks really nice (everyone's clothes/hair do that, though Mythe's hair looks like he's in a freaking tornado...)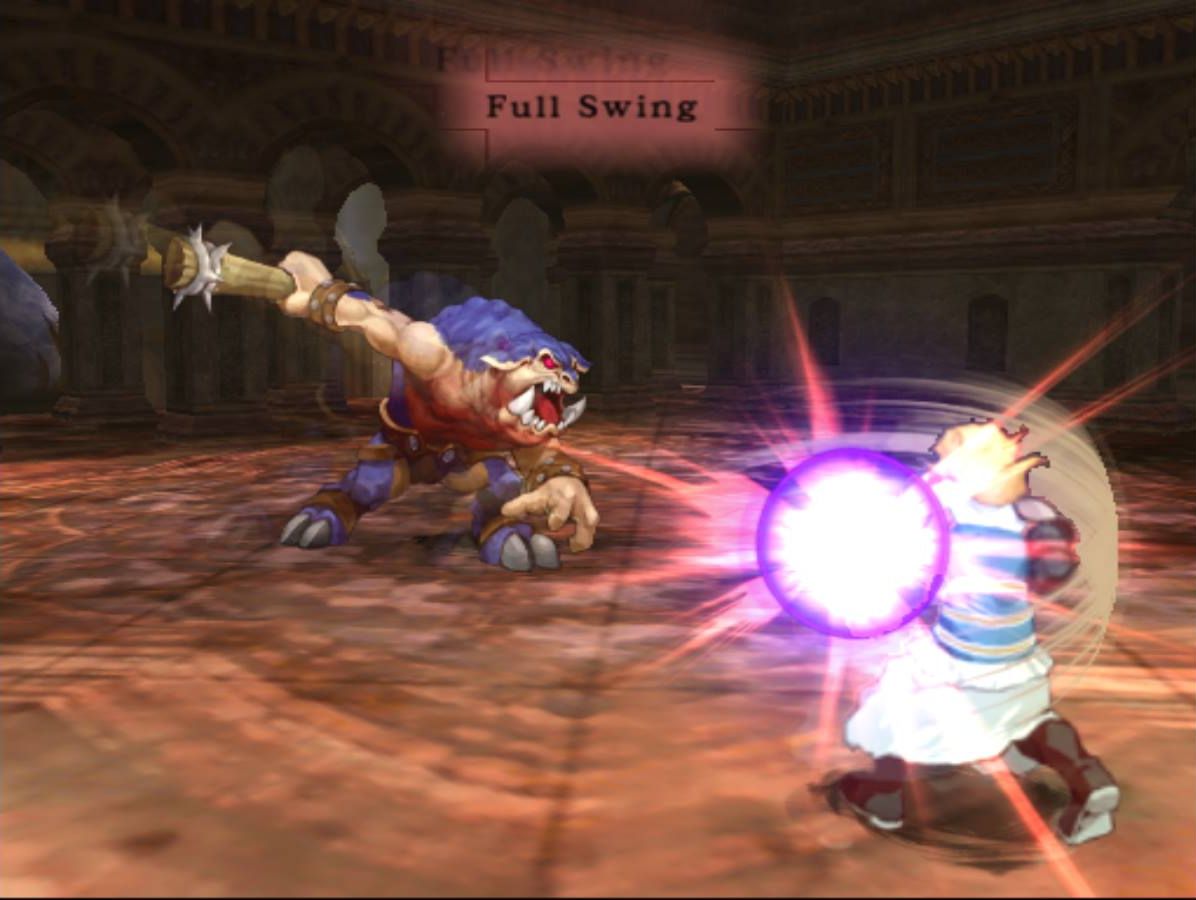 Pharr's "getting hit" animation is super badass, too. Like, she actually braces for the impact and supports her weight and stuff, like... idk, I just think it's so cool they made her look really tough AND feminine at the same time, since usually you only get one or the other. All of her animations are so cool though. I love her a lot!!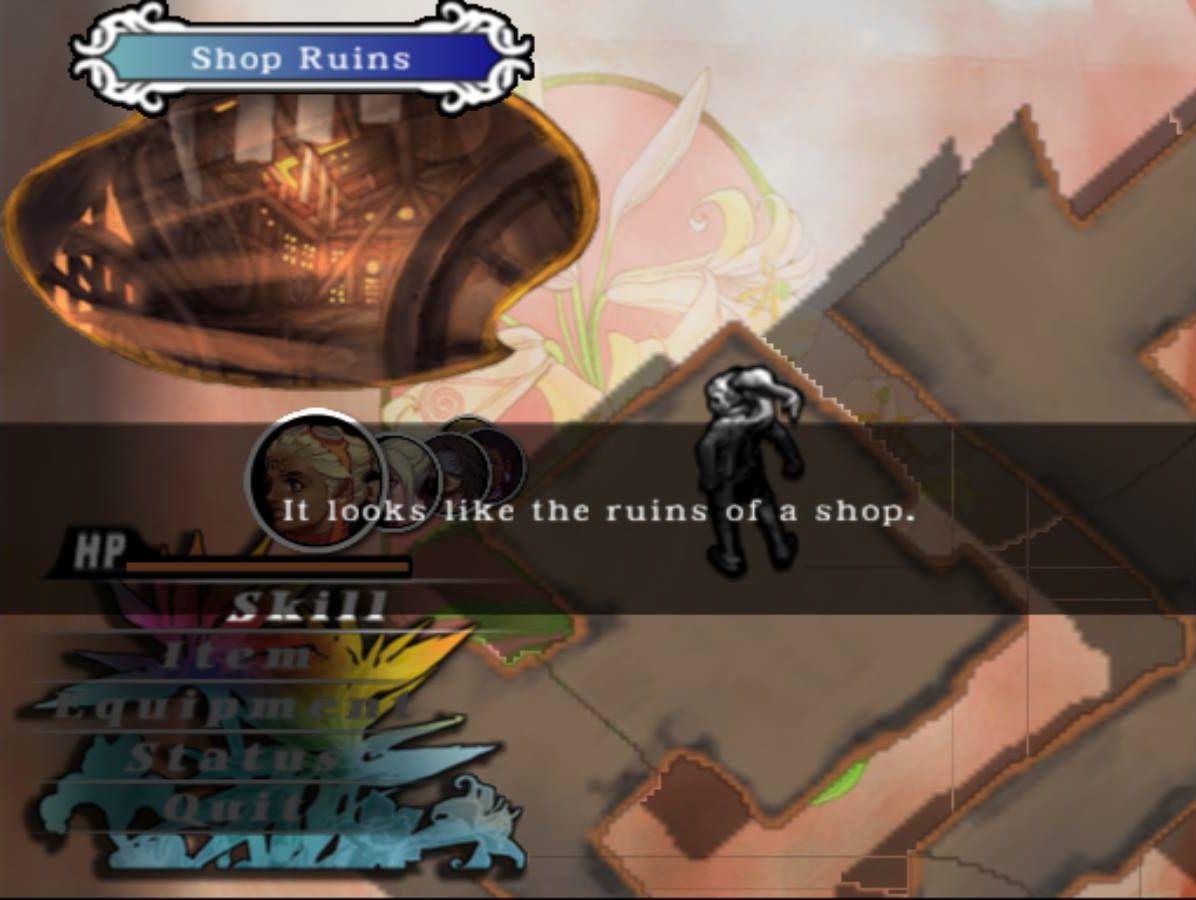 As we explore the undercity ruins (this is the ruins outside of Pharos -- we haven't made it in yet) we're able to go a lot further than we could with Ruby. Most of the area was blocked by debris or something and we were forced straight into the entrance in her scenario. So we get to explore the ruins and see all these cool little buildings and stuff. It's not much but I enjoy it.
Annoyingly, every turn you're in something like the shop ruins, it gives you the message "It looks like the ruins of a shop." or whatever. Like, if there's a treasure in there... it will do this... after every single action... and there's a bit of a pause, too. So it's like... Step in. "Looks like ruins." Use architect. "Looks like ruins." Sharpeye the chest. "Looks like ruins." It's so annoying...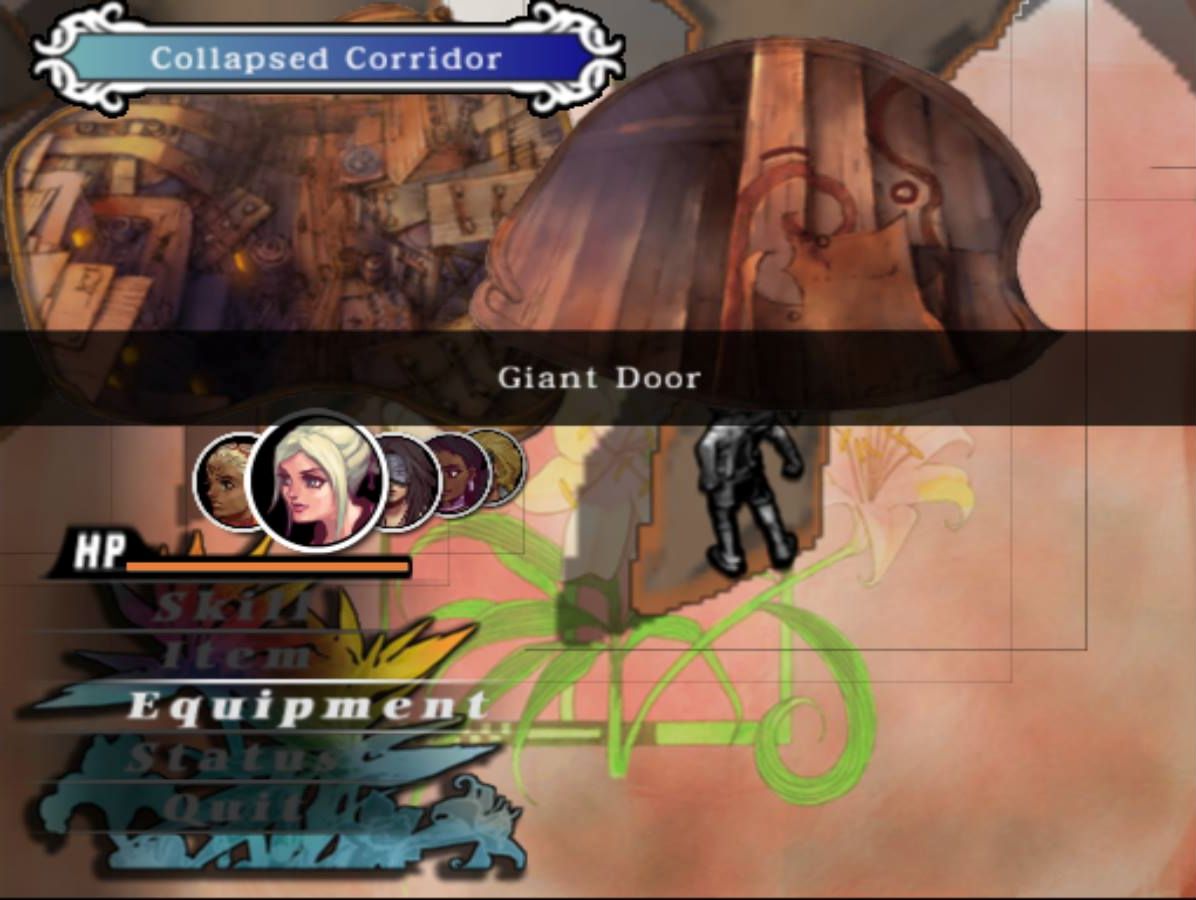 After exploring thoroughly, I finally went to the 'giant door.' There are three of these that lead into Pharos proper. I figured there'd be some kind of event here since I figured we wouldn't be getting in, so I wanted to explore around everywhere else incase it ended the adventure or something.
It just gave a message, "Nothing seems to open it. Dead end. Turn back." I went to the next door just to make sure it said the same thing. Maybe I'm supposed leave like I was with the well? I figured I'd check the last door, just to make sure.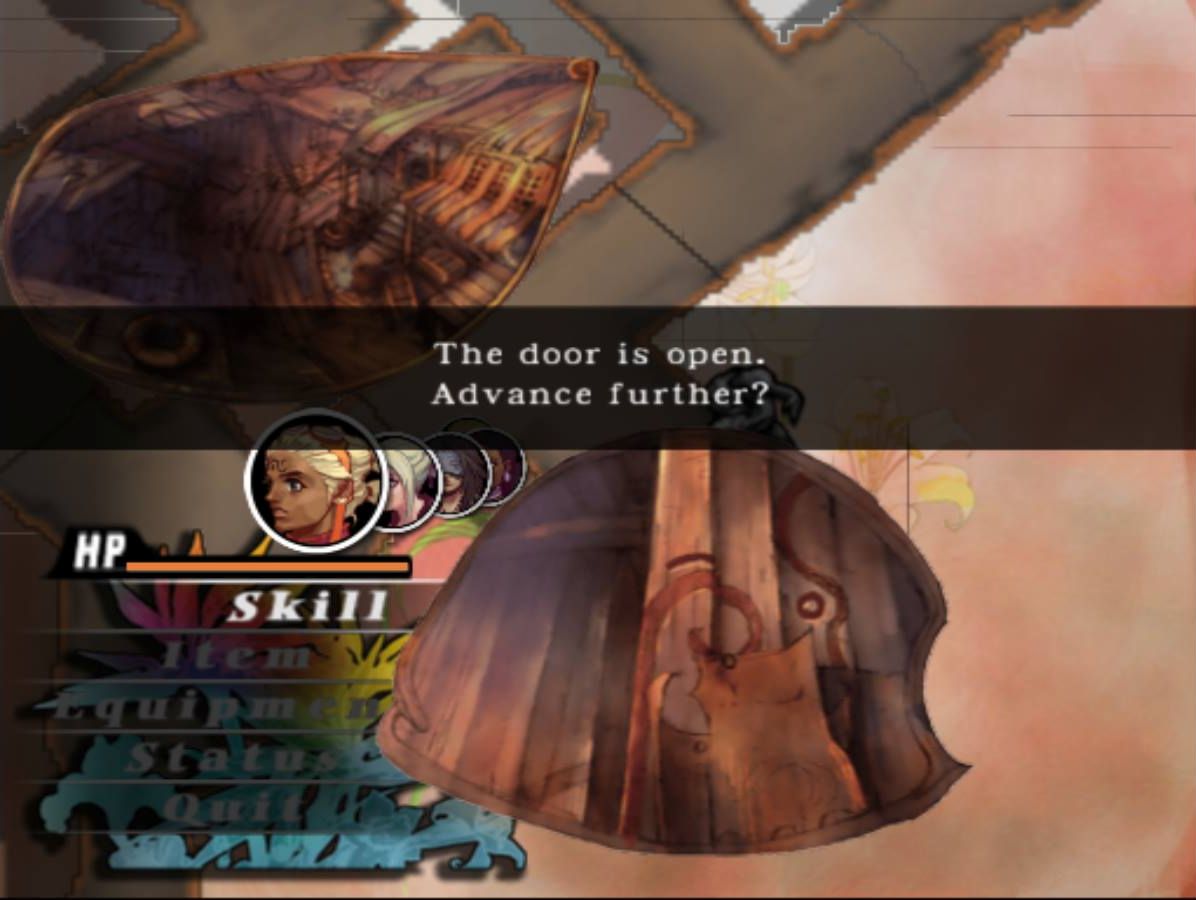 ...Oh? WTF, we can just get in???
Maybe like, someone came and opened this just before us, and now we're able to follow them inside or something...?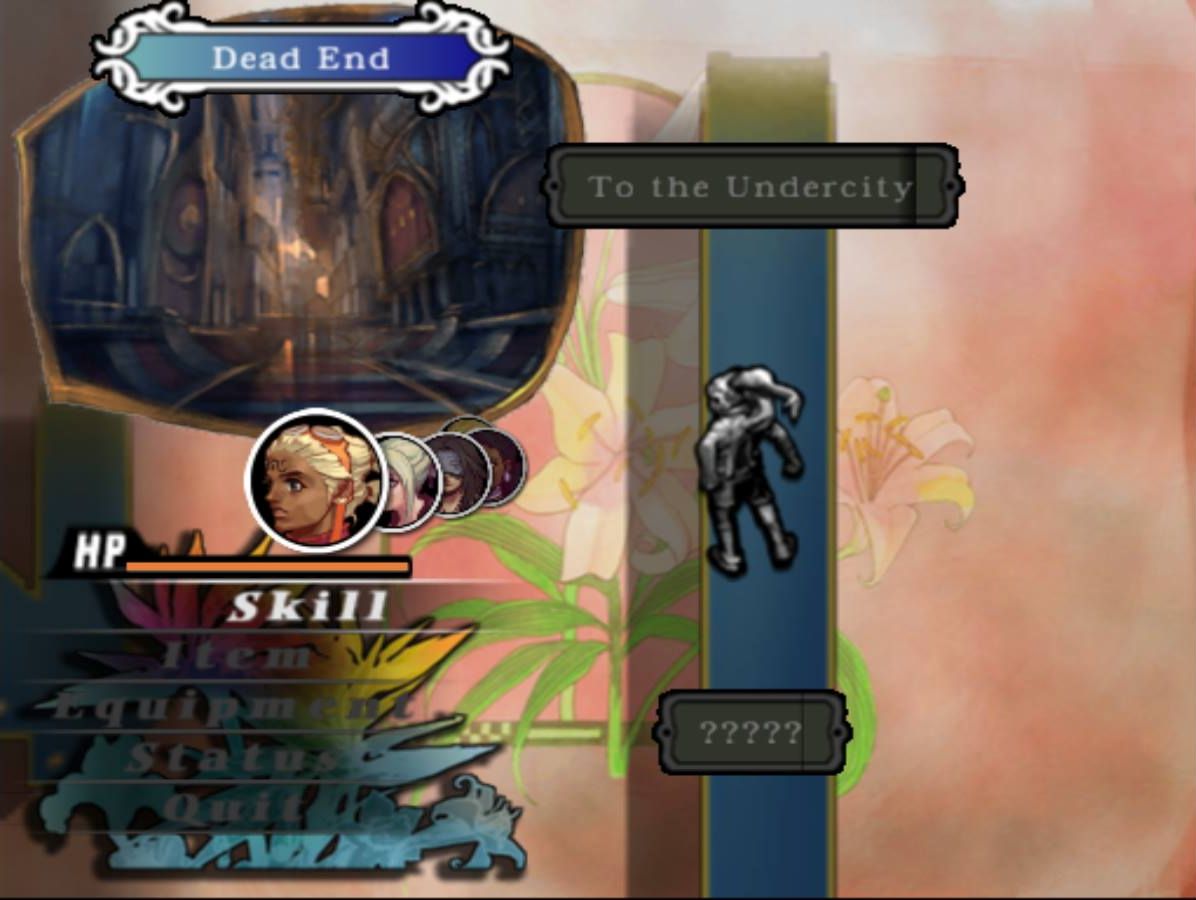 You can see some of the map revealed off to the left. Yay, Pharr~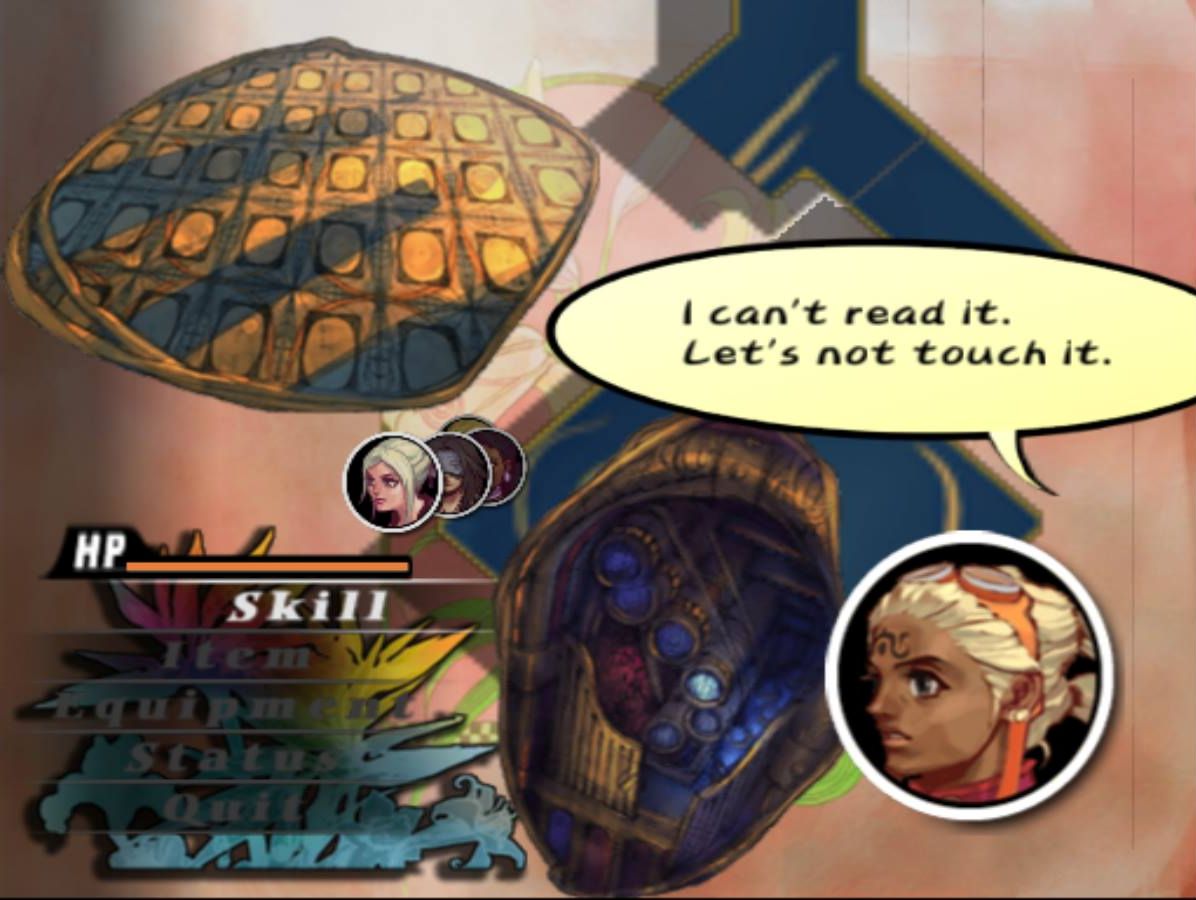 Mythe decides not to mess with the buttons and stuff since he can't read the inscriptions. Pretty different from Ruby who just ran around and mashed whatever she saw, setting off alarms and stuff.
But since the game won't let us press the buttons, that means there's gotta be a different solution to this place? Or maybe we'll find someone inside who can translate for us, and then we'll start solving the area like normal. Maybe it will be whoever opened the door.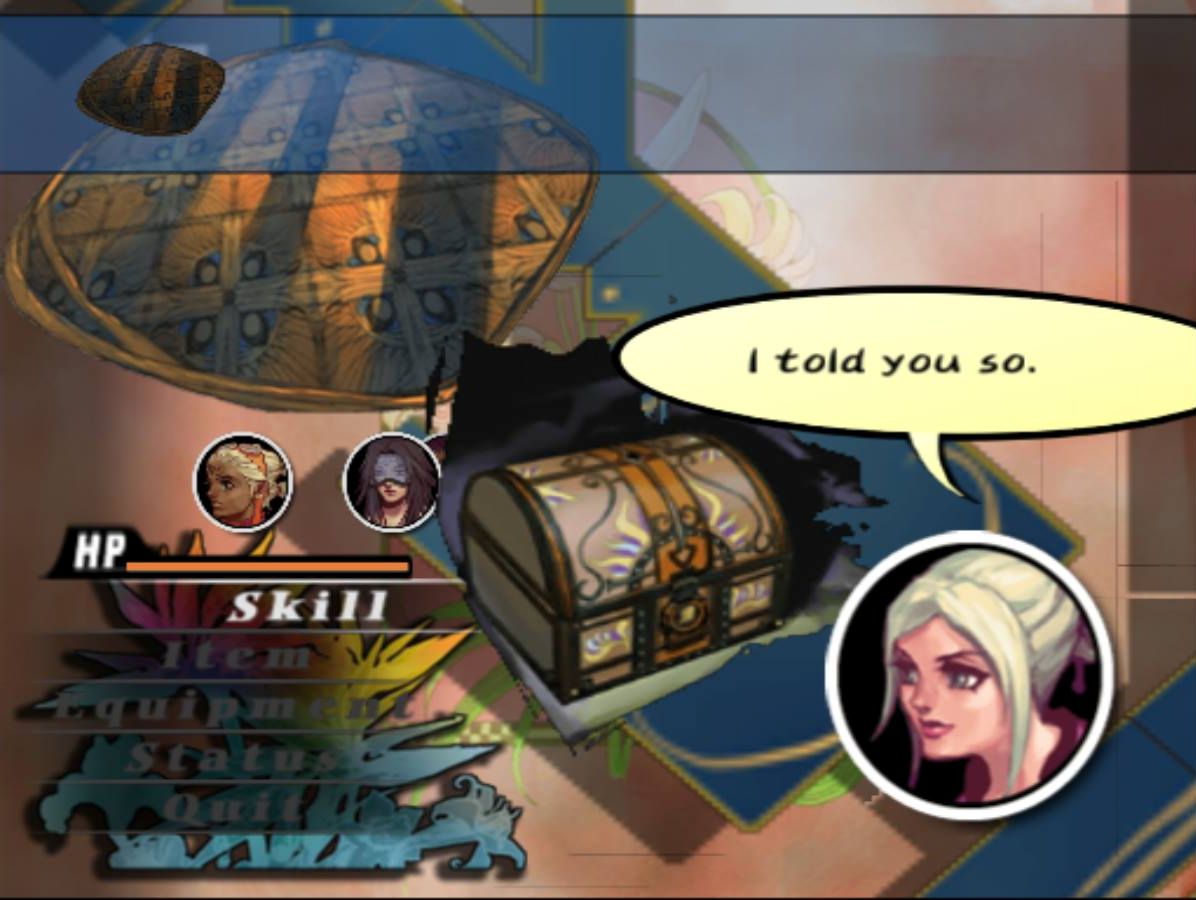 Tiffon has such a haughty attitude about dodging traps and picking locks and stuff. It's a lot of fun. Also, there were like level 65-75 chests scattered all over this place...! Normal chests I find are like Lv23 lol. None of them had money, though :(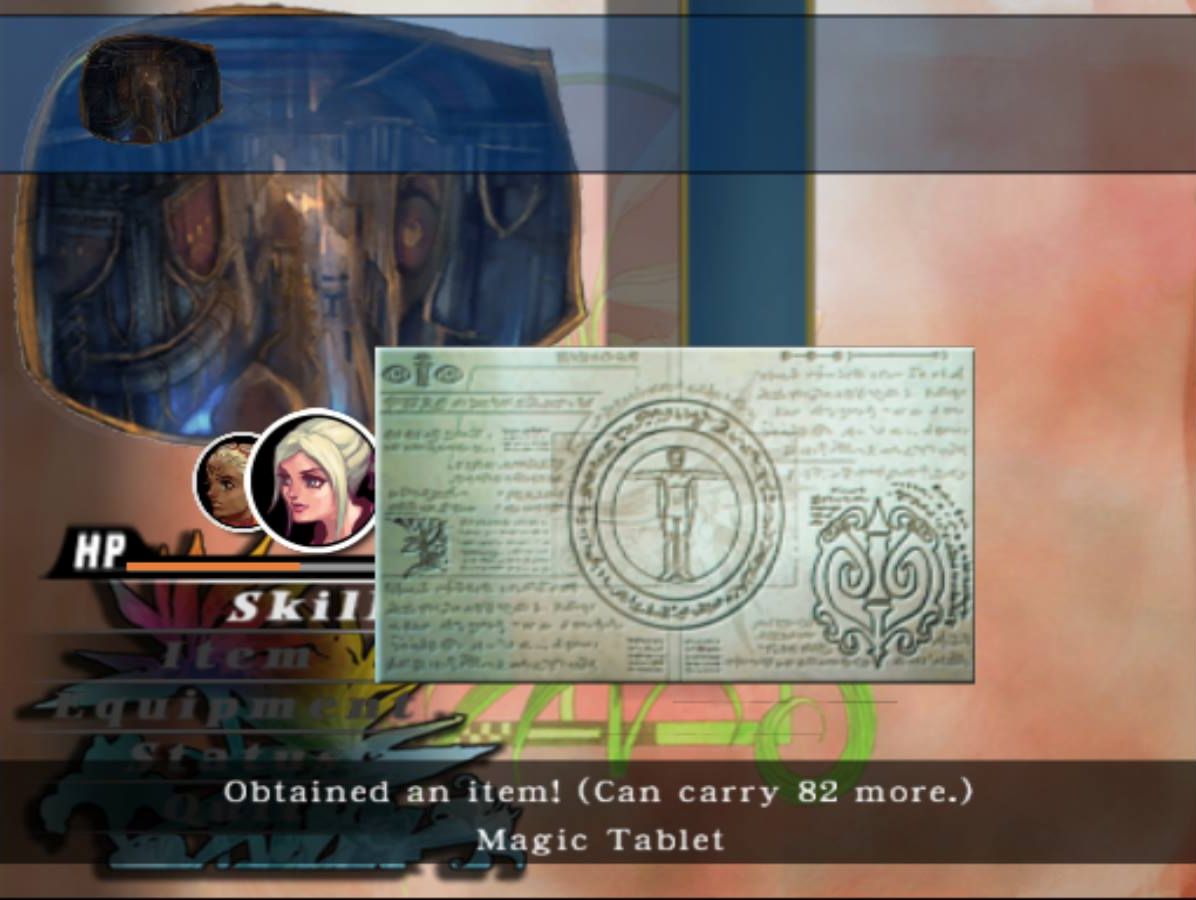 But one did have a magic tablet! Magic tablets aren't like, rare chest items or anything -- if you find a magic tablet in a chest, it's a fixed item and it will be there every game. I don't remember finding this one with Ruby, though? Maybe the chest had a bomb trap or something -_-;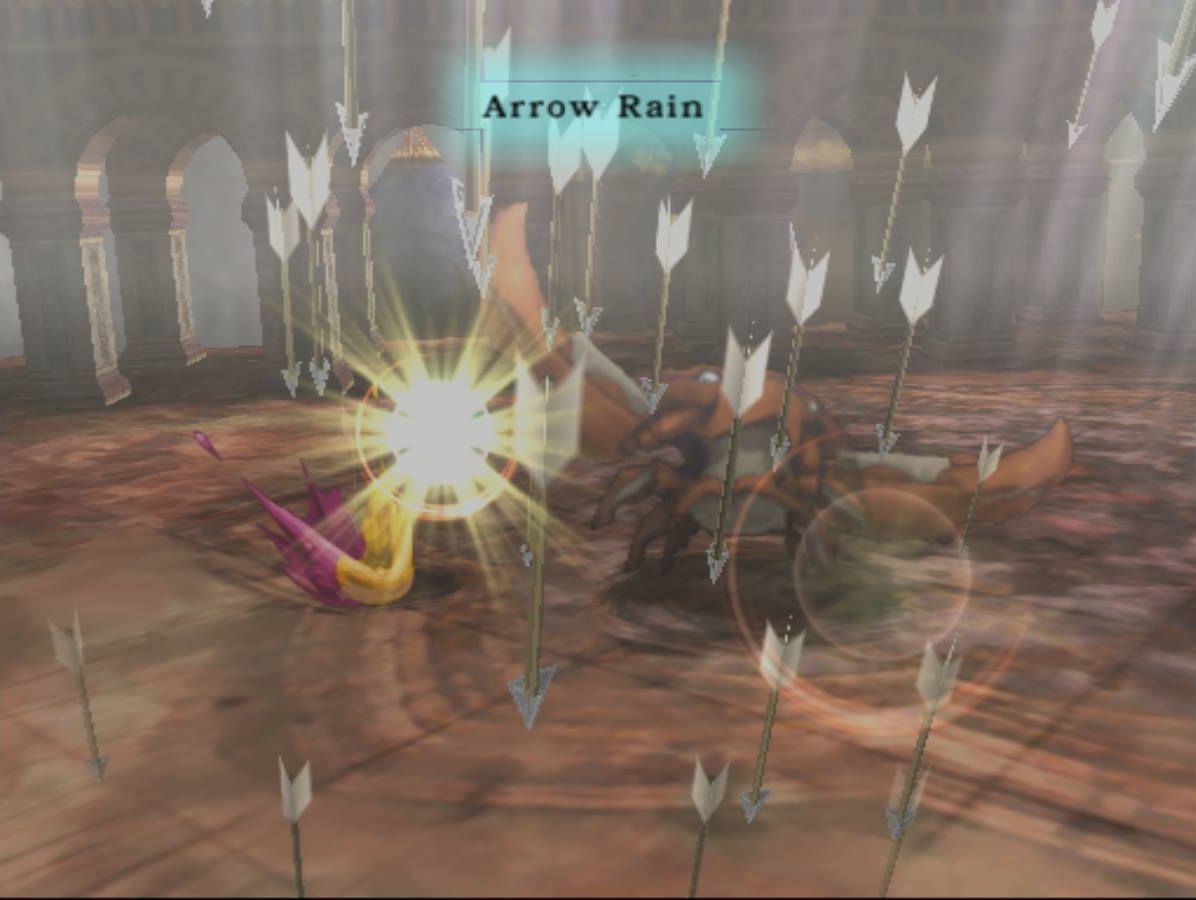 Grace glimmered Arrow Rain! She doesn't even have a bow panel yet, so getting a L3 art this early... wow!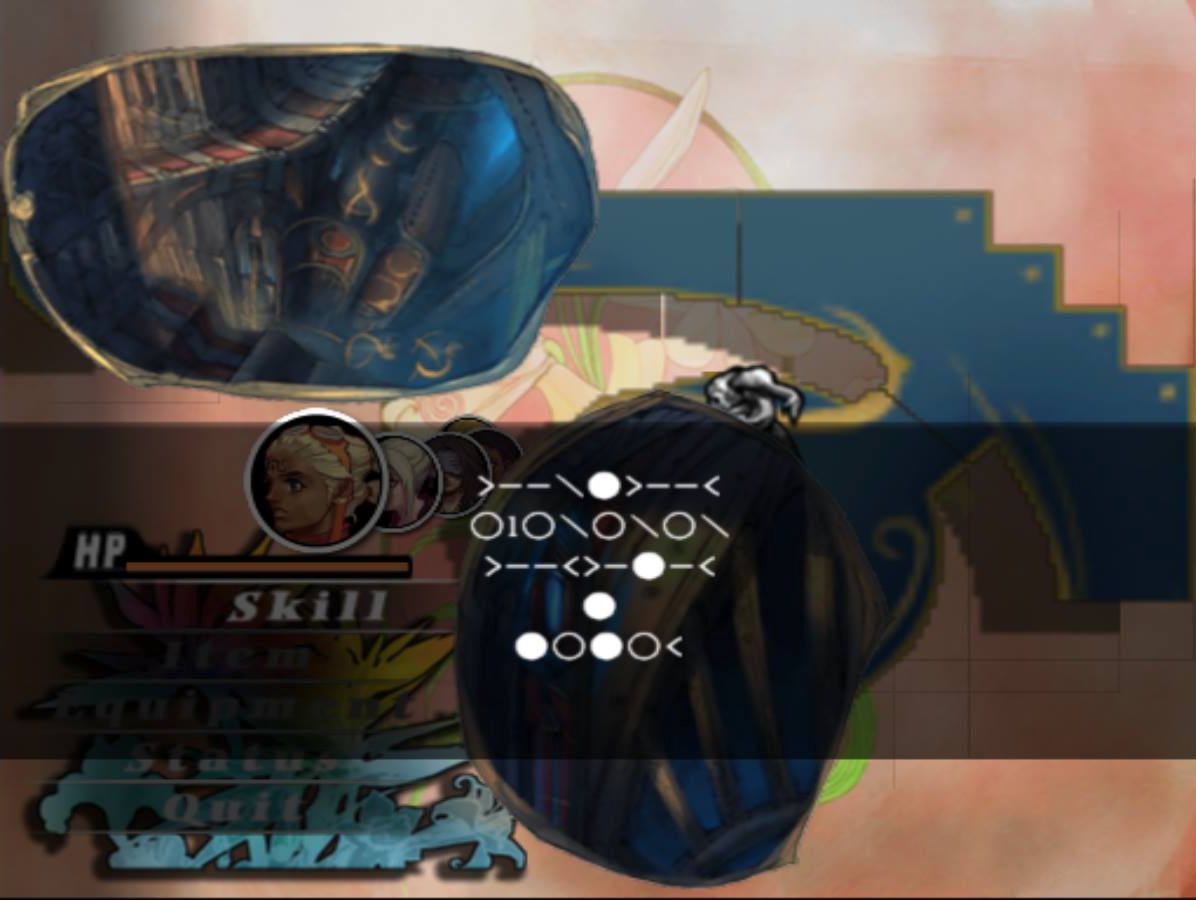 All of the inscriptions were weird stuff like this. Arcanians had a stupid-looking language. It's just punctuation and circles! Also, filled circles as a character? Wouldn't that be annoying to write? Like you have to color them in every time... and they seem to be a prominent character in the "language" too LOL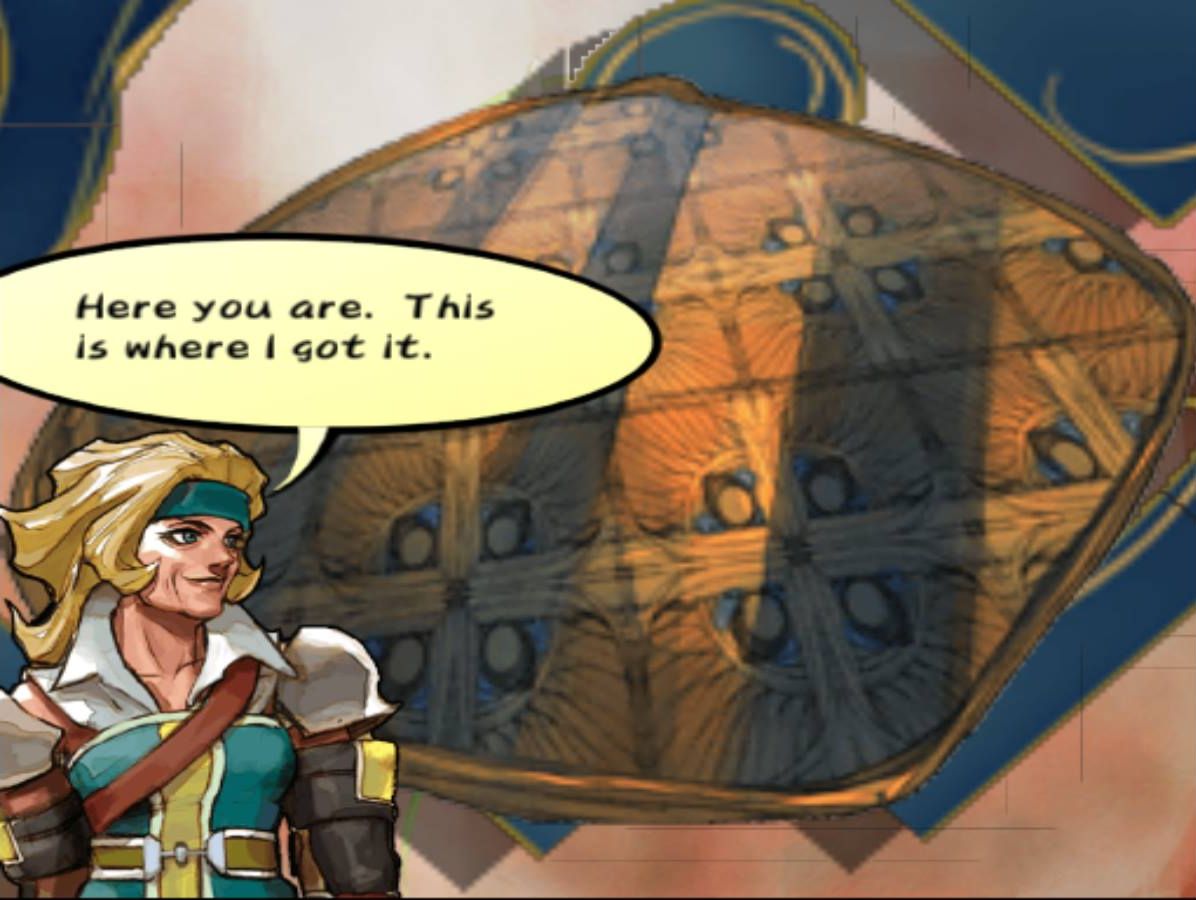 After a lot of exploring I was getting worried I was missing something. But then this happened in one of the last places I had left to explore.
Pharr says that all the valuables here have already been looted, so there's not really anything left. She referred to Arcanians as "Golden Age people" and said they lived in places like this.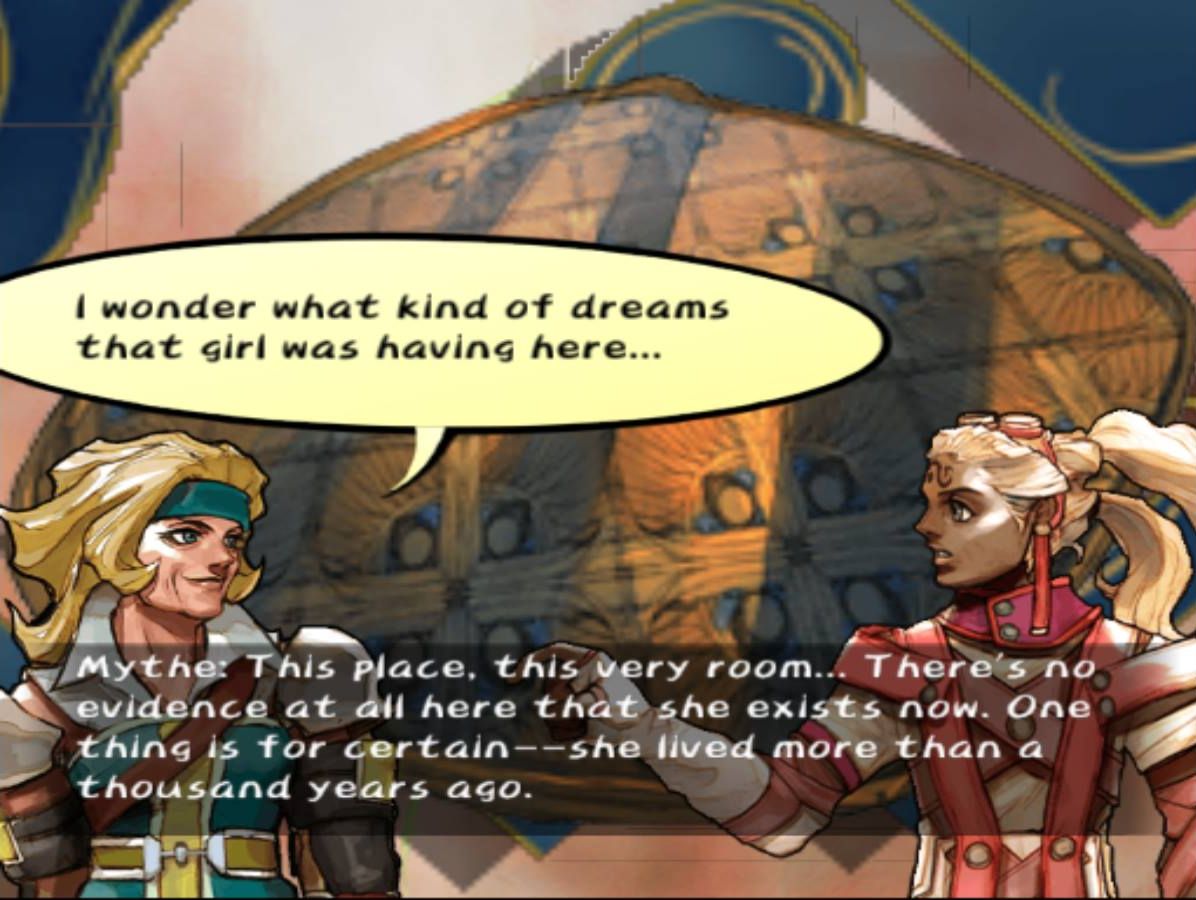 Mythe realizes that since this photo came from Arcanian ruins, it was a photograph of someone who lived during the Golden Age, over 1000 years ago.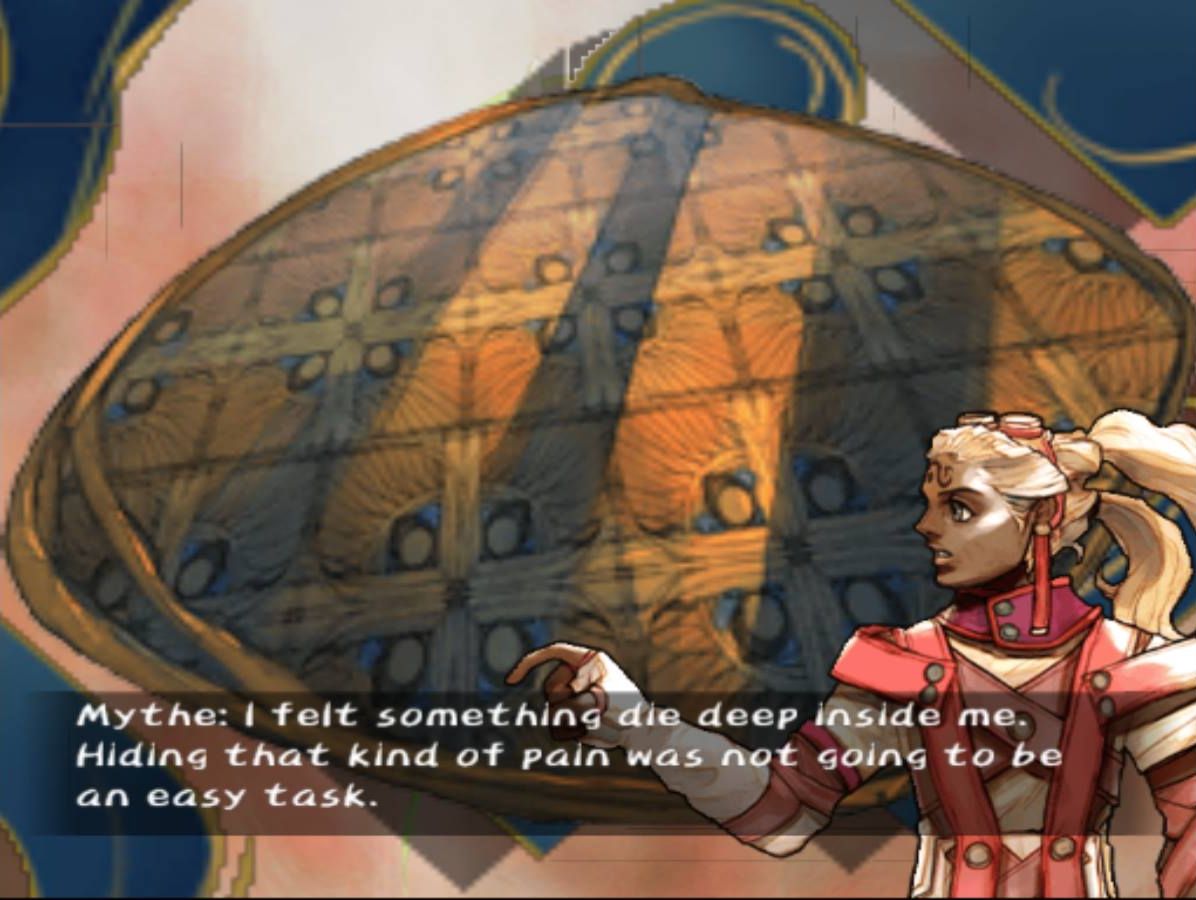 He is ... REALLY REALLY dramatic about this photograph...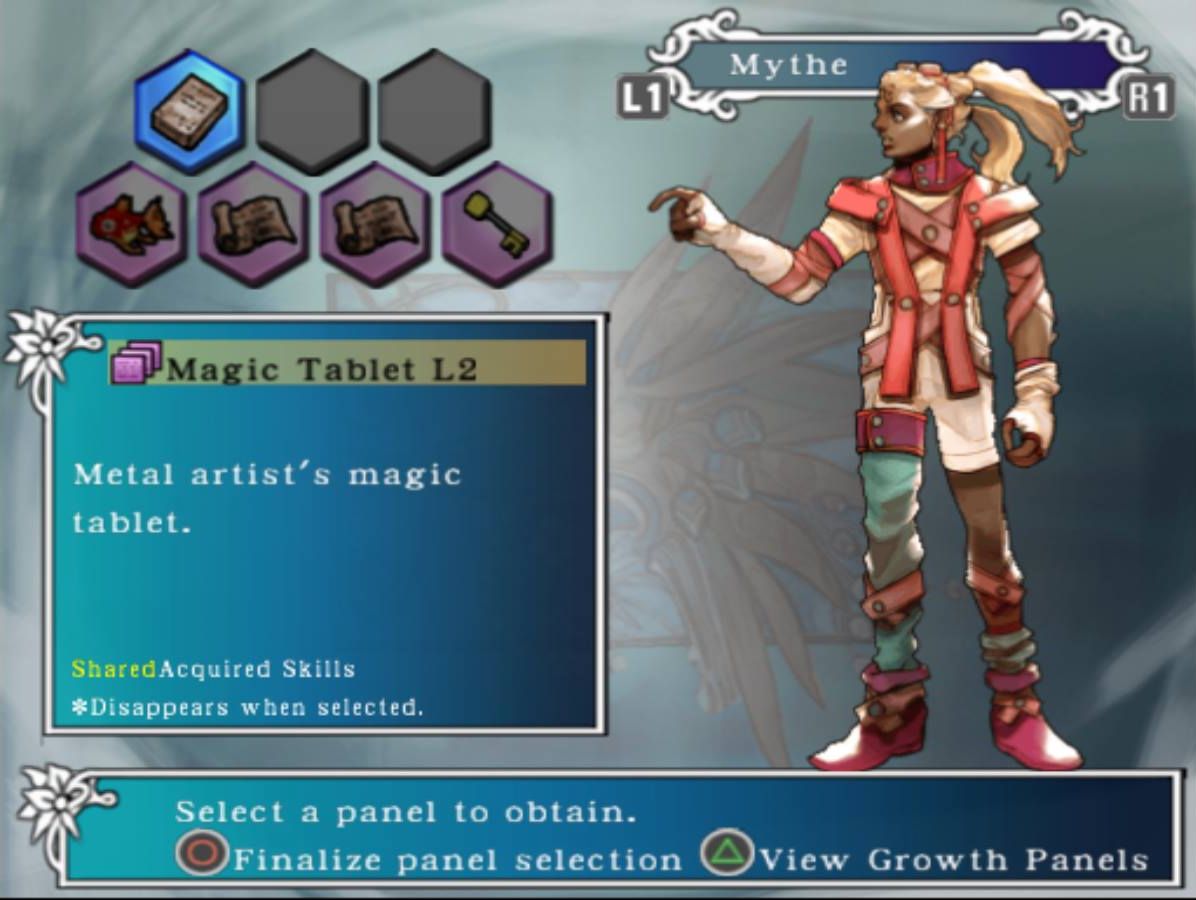 The adventure ends there (I still want to know how we got in, though!!) and we find that the magic tablet we found was a Metal Artist's L2 Tablet. This is pretty nice because most of the arts on here are useful no matter your elemental level -- stuff like Weapon Blessing, Sleep, and Magic Lock. So we can have Mythe start learning some magic already!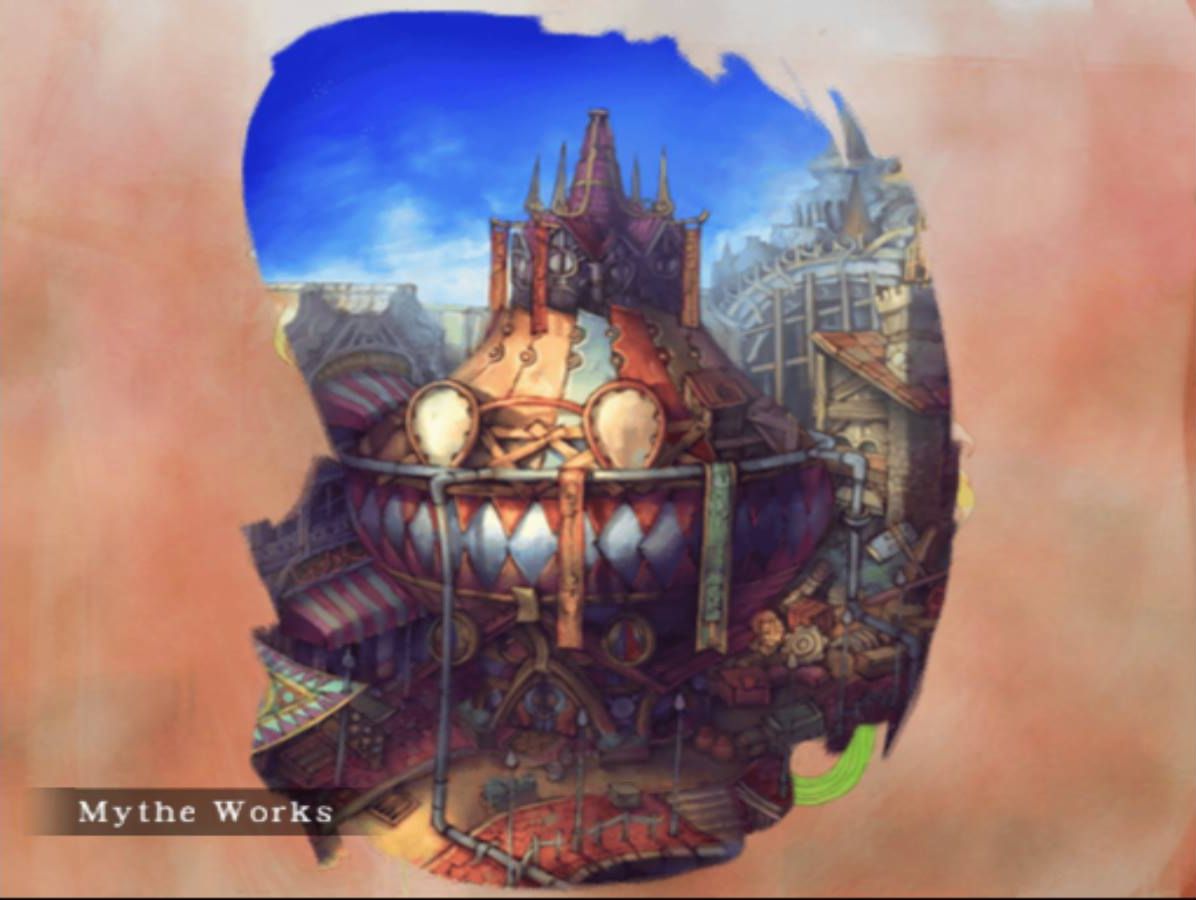 After the adventure, we're apparently back in Longshank.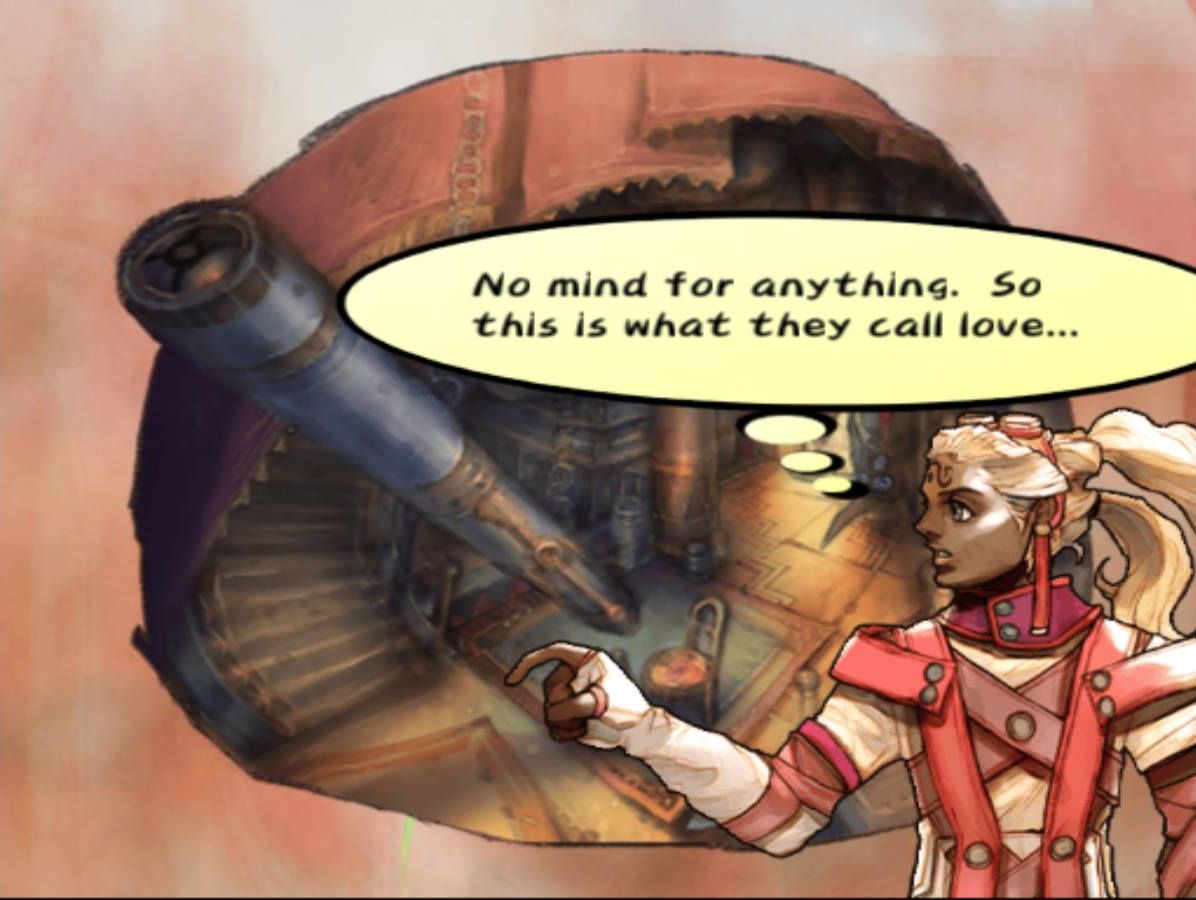 Mythe seems super bummed out and melodramatic as always.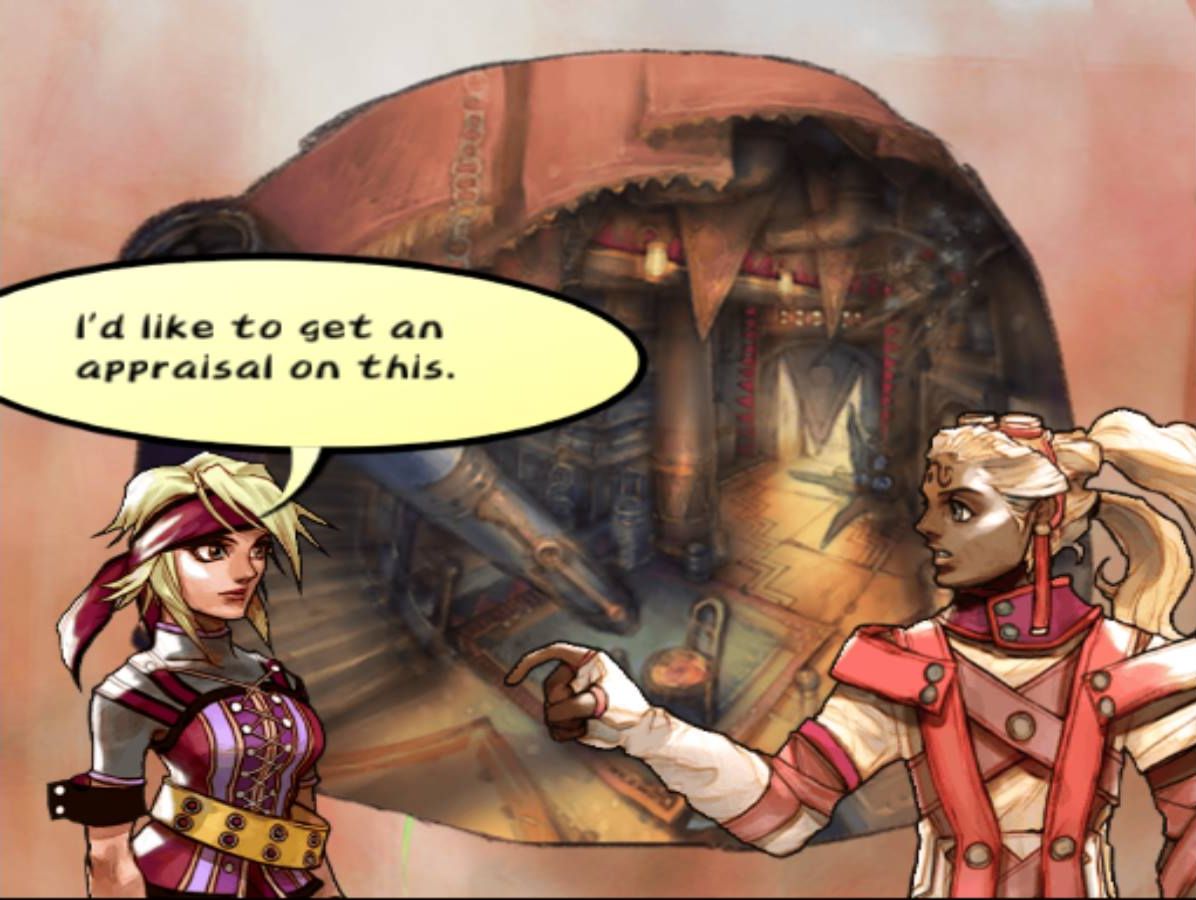 Then a woman shows up and asks for an appraisal. Mythe doesn't even notice her, and she yells, "Are you listening?!" lol.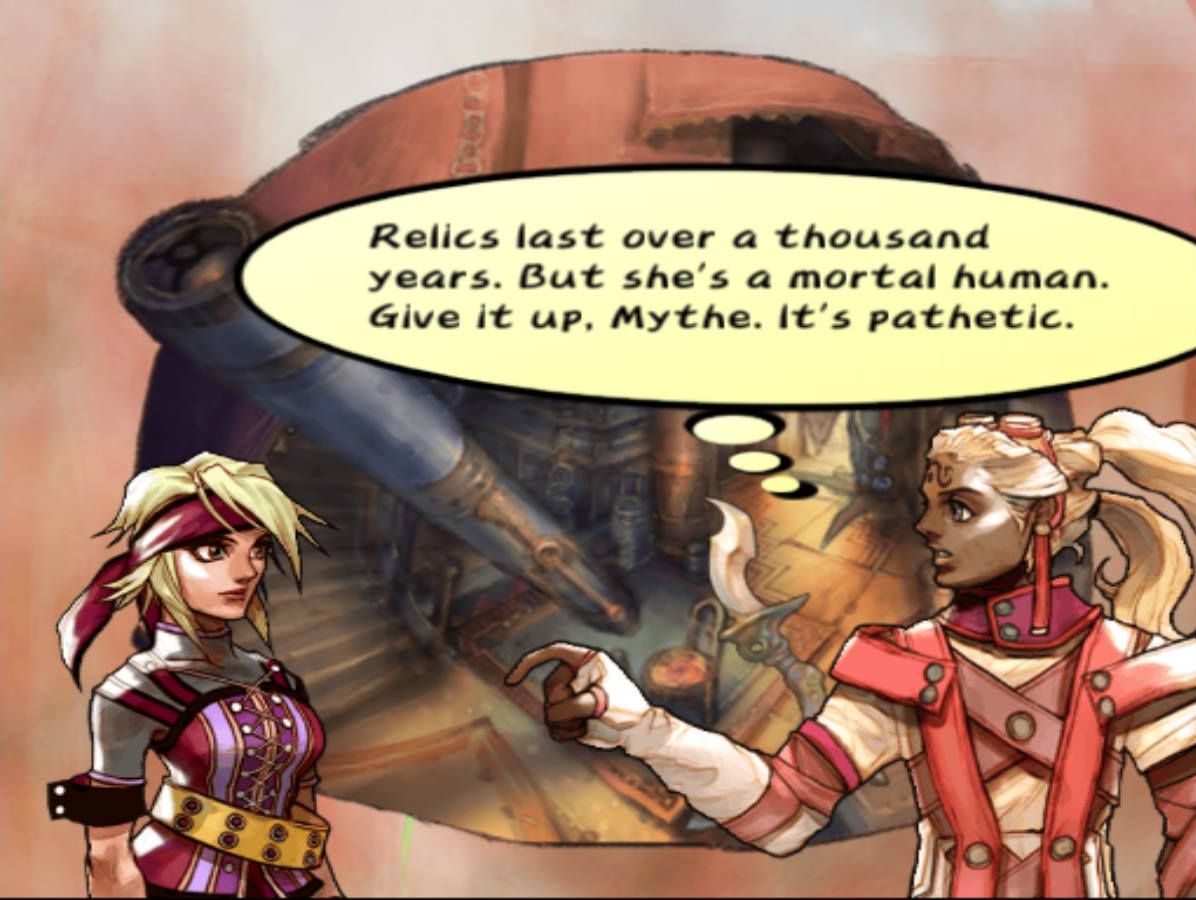 Lololol. I hope this doesn't continue for long.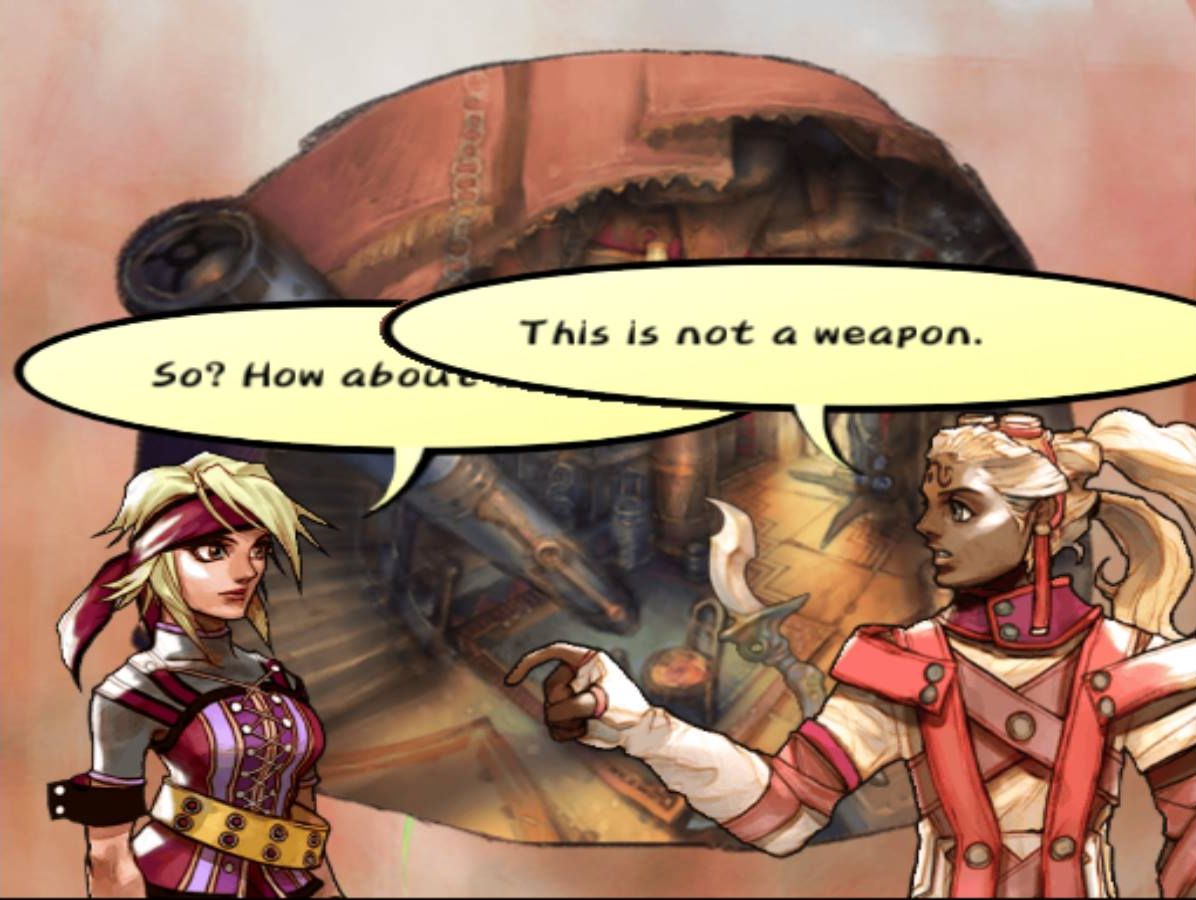 Mythe looks at the thing the woman gives him and says "This is not a weapon." But then suddenly someone screams out that Fugar's mansion is on fire.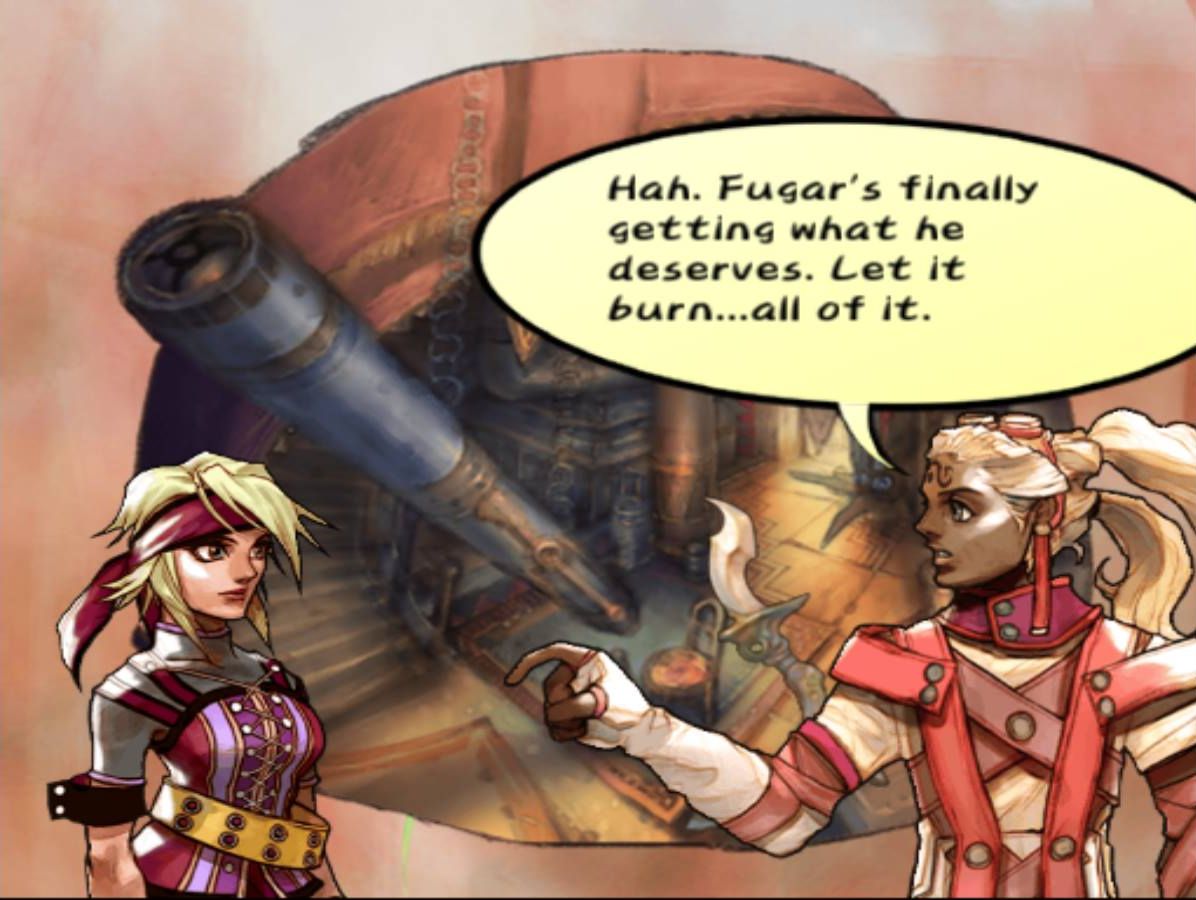 Uhhhh... wow.
The woman says that despite not knowing Fugar, she doesn't think he should rejoice at the misfortune of others. Mythe has some kind of sudden realization and runs out of the shop, taking the woman's relic with him. She follows after him.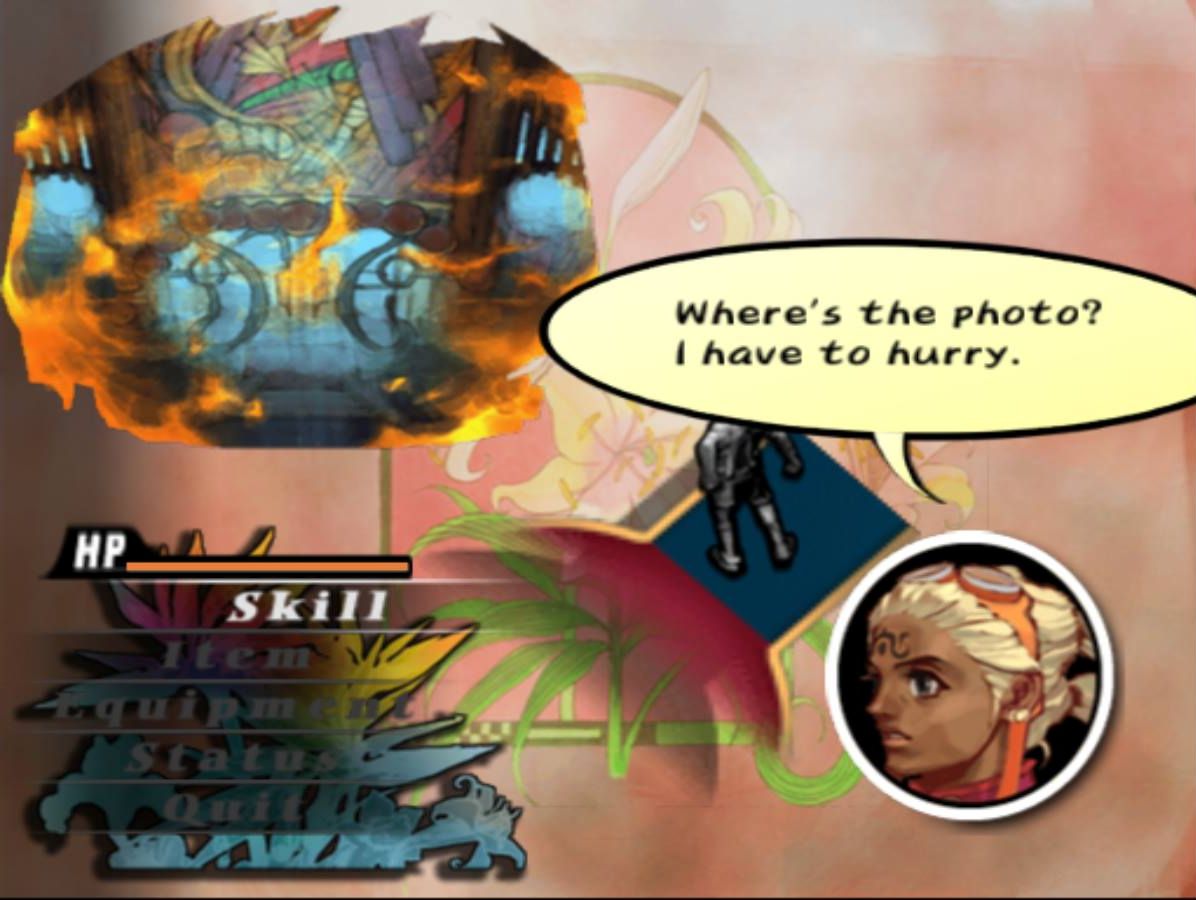 Ahh, so this is what he realized. If Fugar's mansion is burning down, that means his precious photograph is going to get burned up, too.
Well, no rest for the wicked.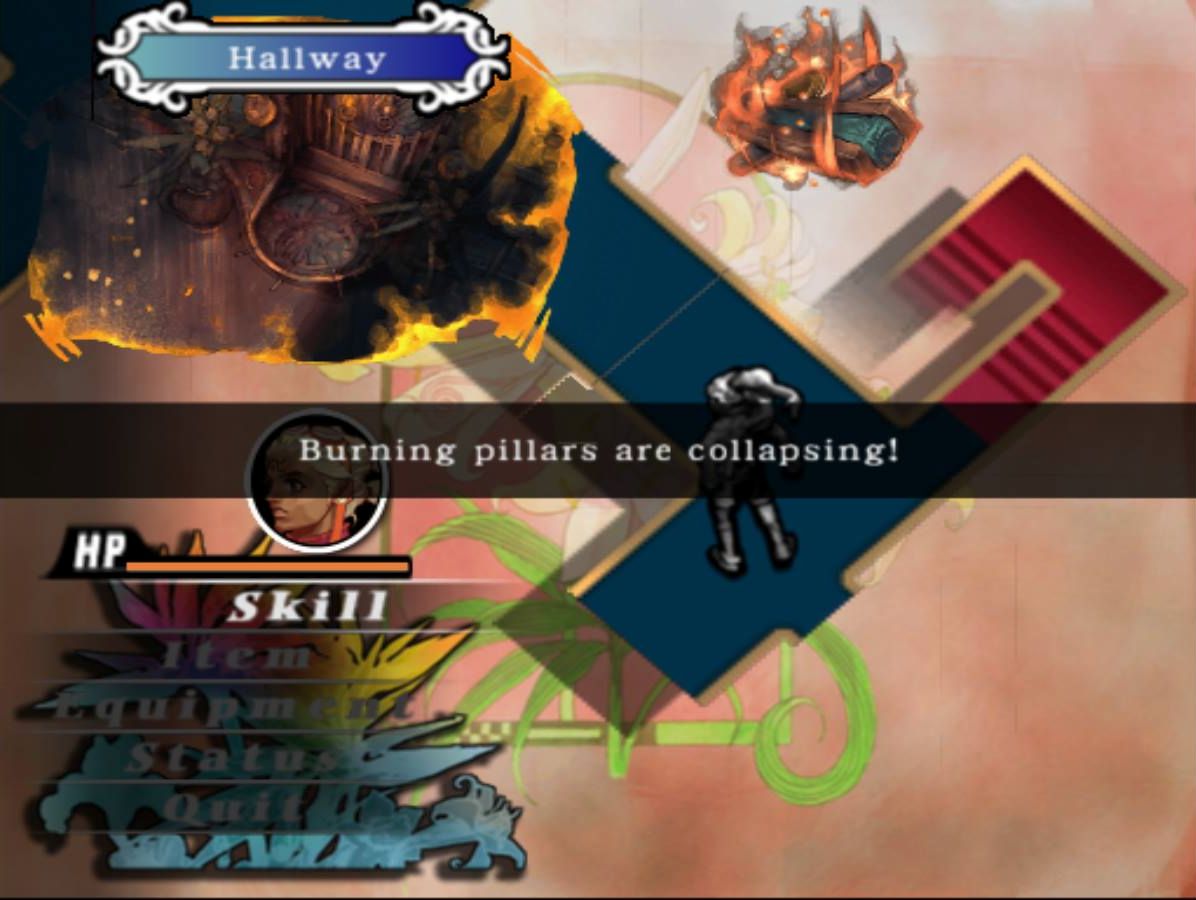 This adventure seems to be Mythe-only. There are no monsters, but lots of random hazards. Burning pillars will sometimes fall down, and you have to hit a reel to dodge them.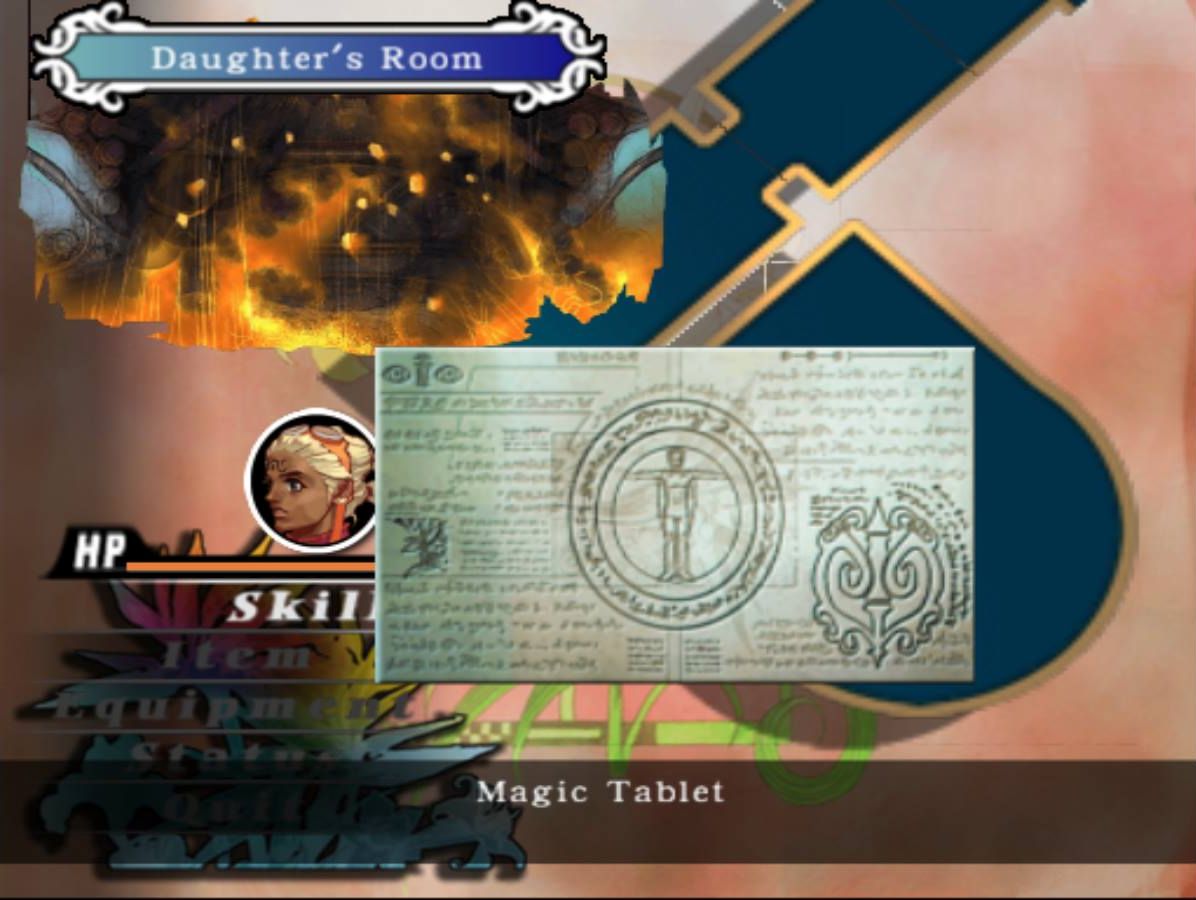 The first thing I do is run straight to Fugar's daughter's room and steal her magic tablet. I knew this would be in here lol.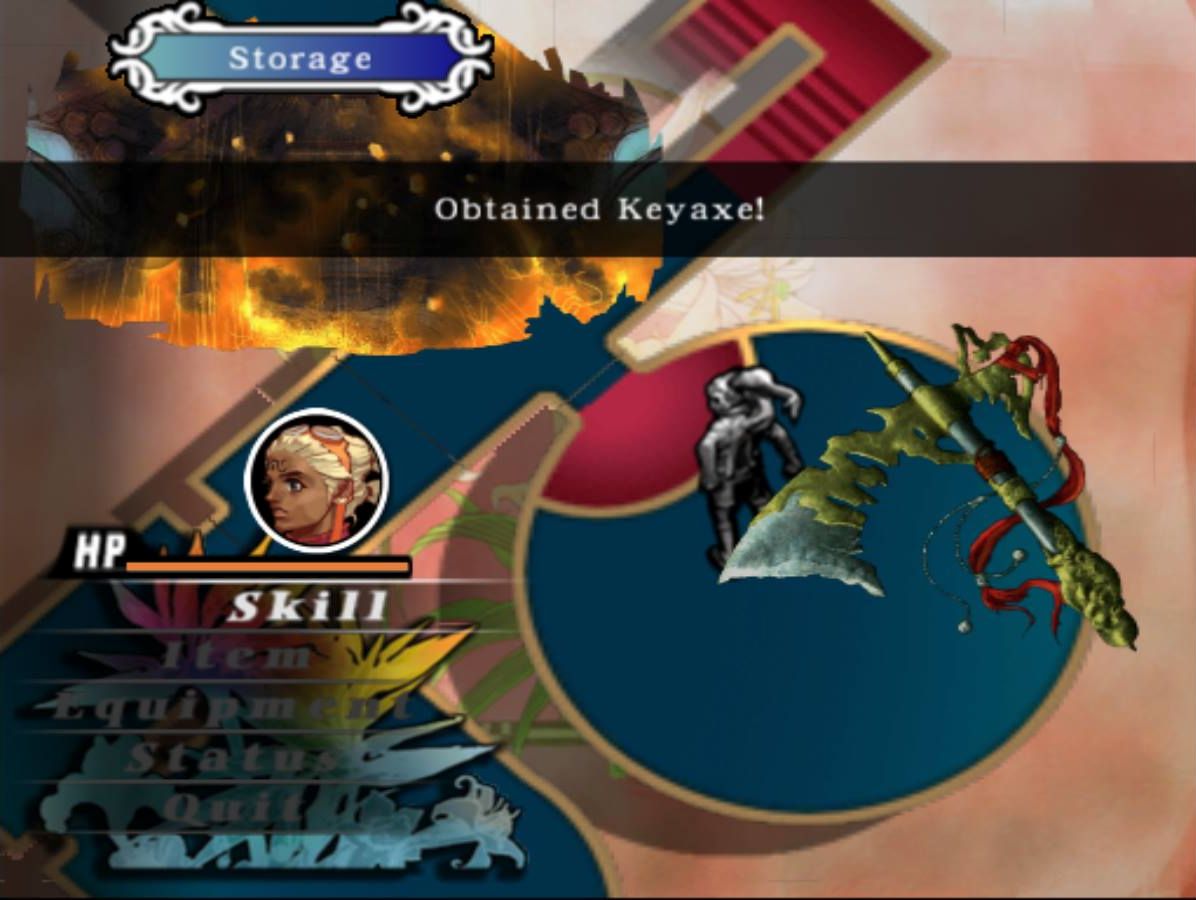 Eventually we find a keyaxe, which is an item you can use to bust down doors and stuff. After finding this, whenever we successfully dodge the falling pillars, we knock them away with the keyaxe instead of simply avoiding them, haha.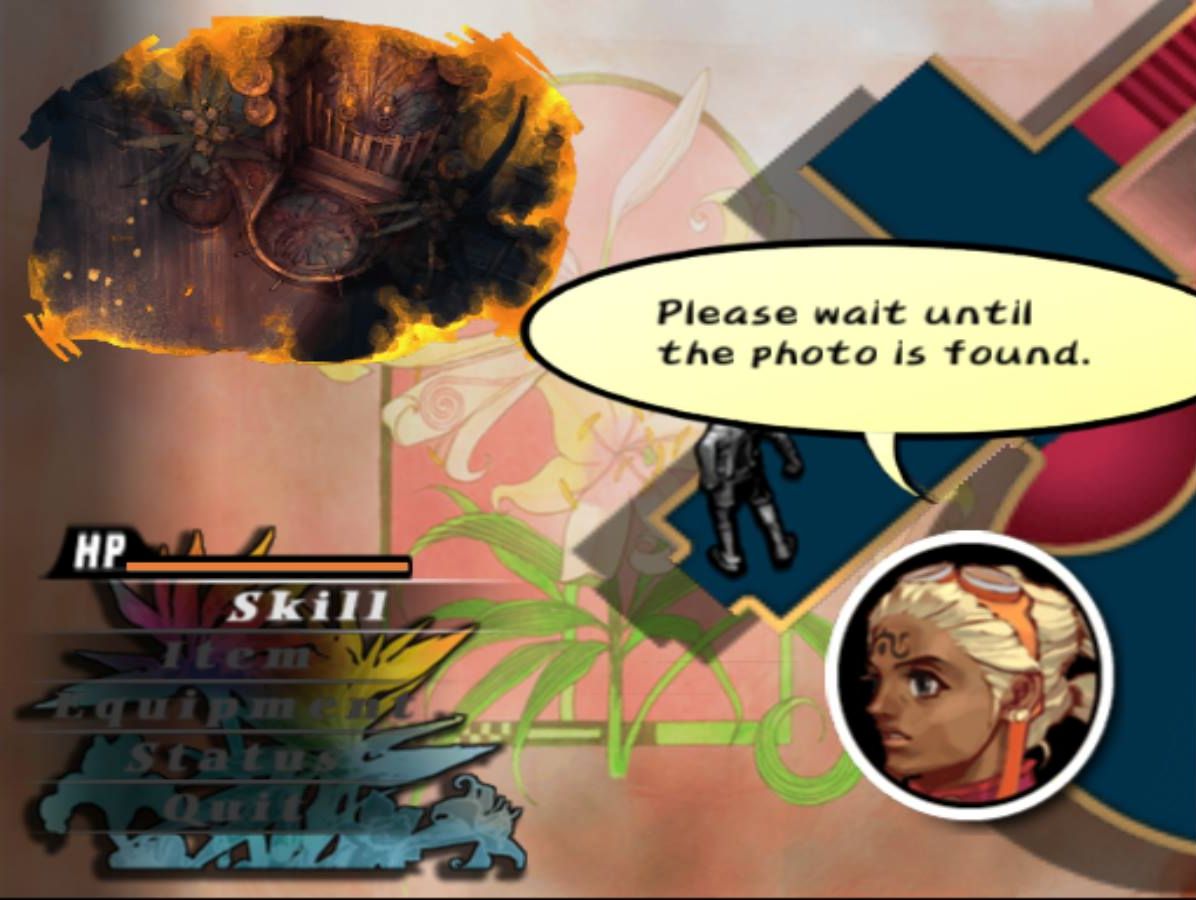 At one point in the second story, a bunch of pillars started falling, so Mythe asked them politely to fall later. Also around this time I noticed that there was a turn limit of 66 turns and I was getting really close to it...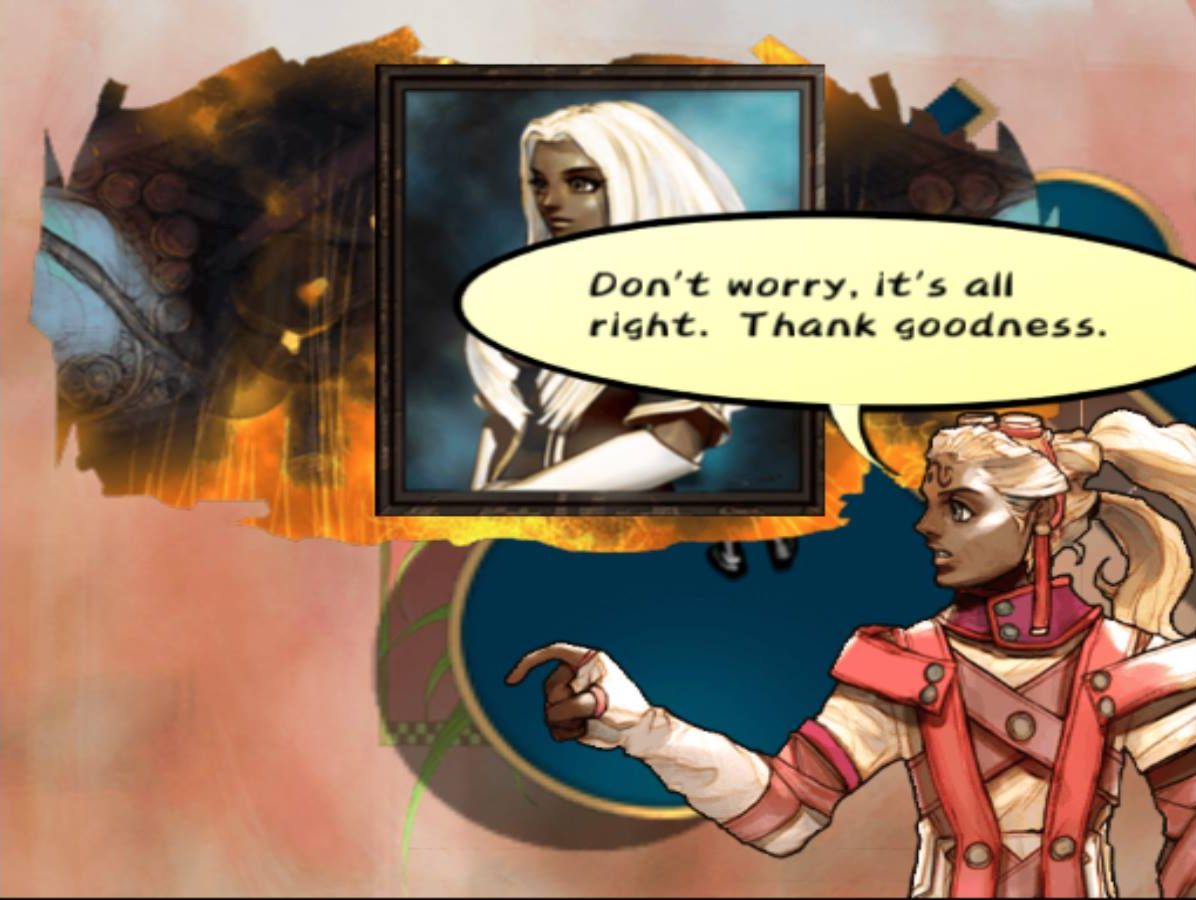 Is this a poor translation, or is he talking to the photograph? It really could be either way... But hey, I found the photo. I really hope I don't have to get back to the entrance, because I only have like 5 turns left...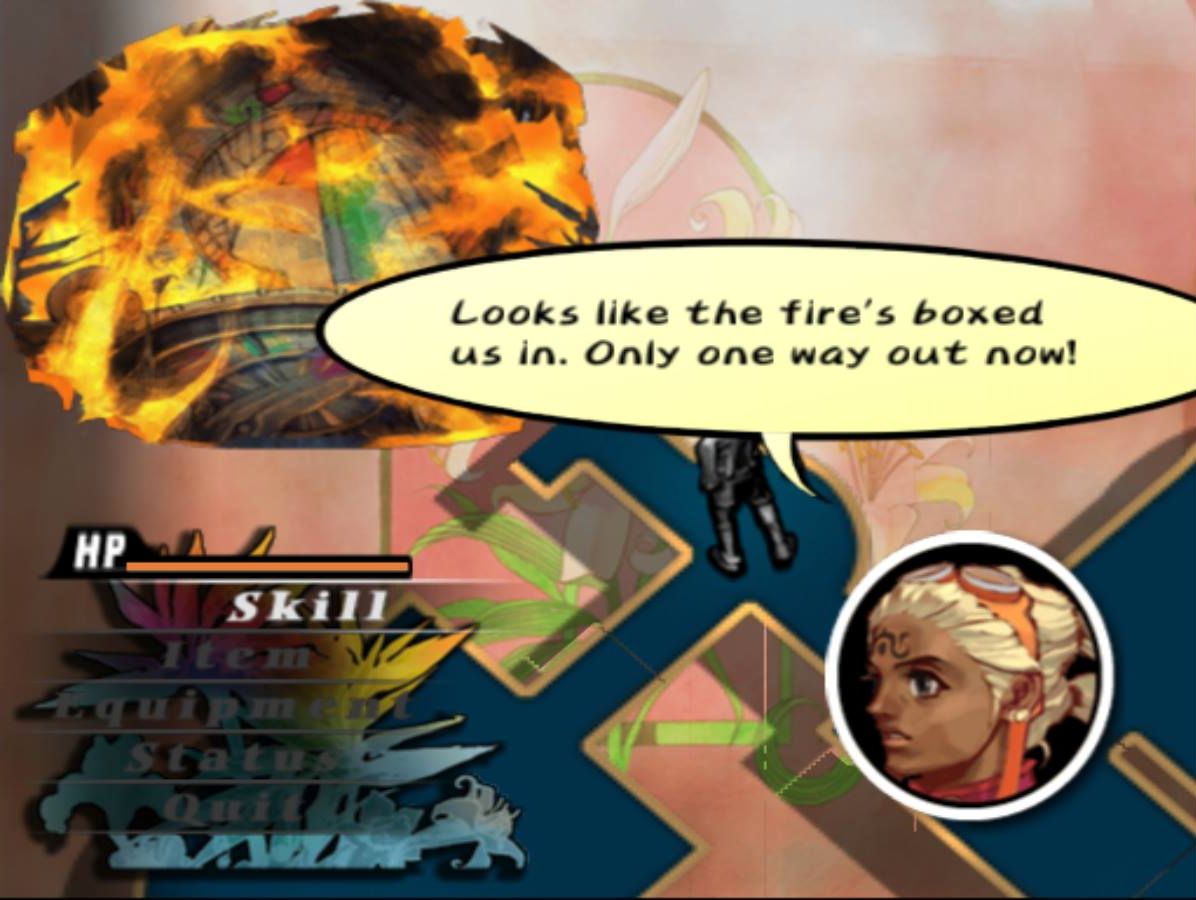 But when we step out into the hallway and apparently we're boxed in. The screen goes blank and there's a glassbreak noise, so I'm assuming we busted through a window. We were on the second story, too...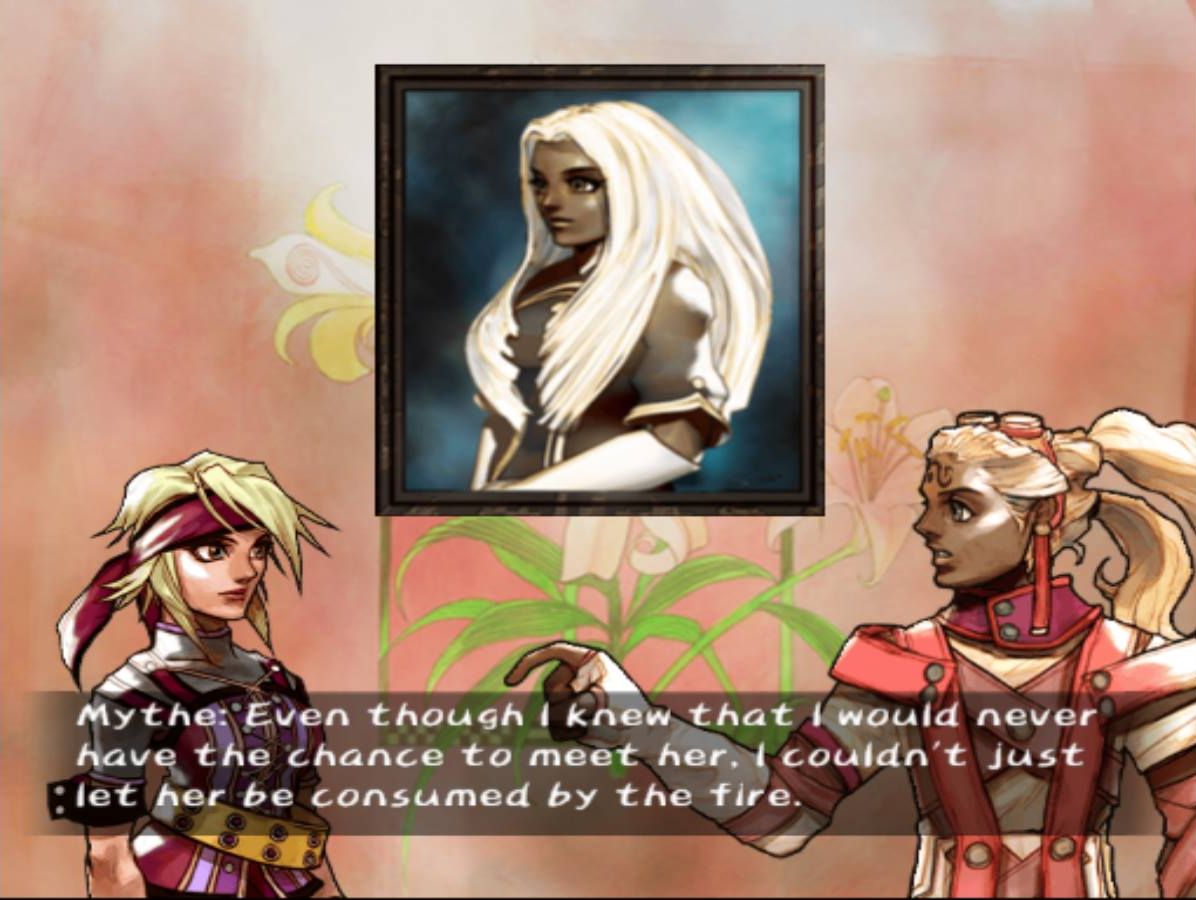 Mythe is starting to treat the photo as if it's a living being.
The woman from before tells Mythe he's a fool for risking his life over the photo...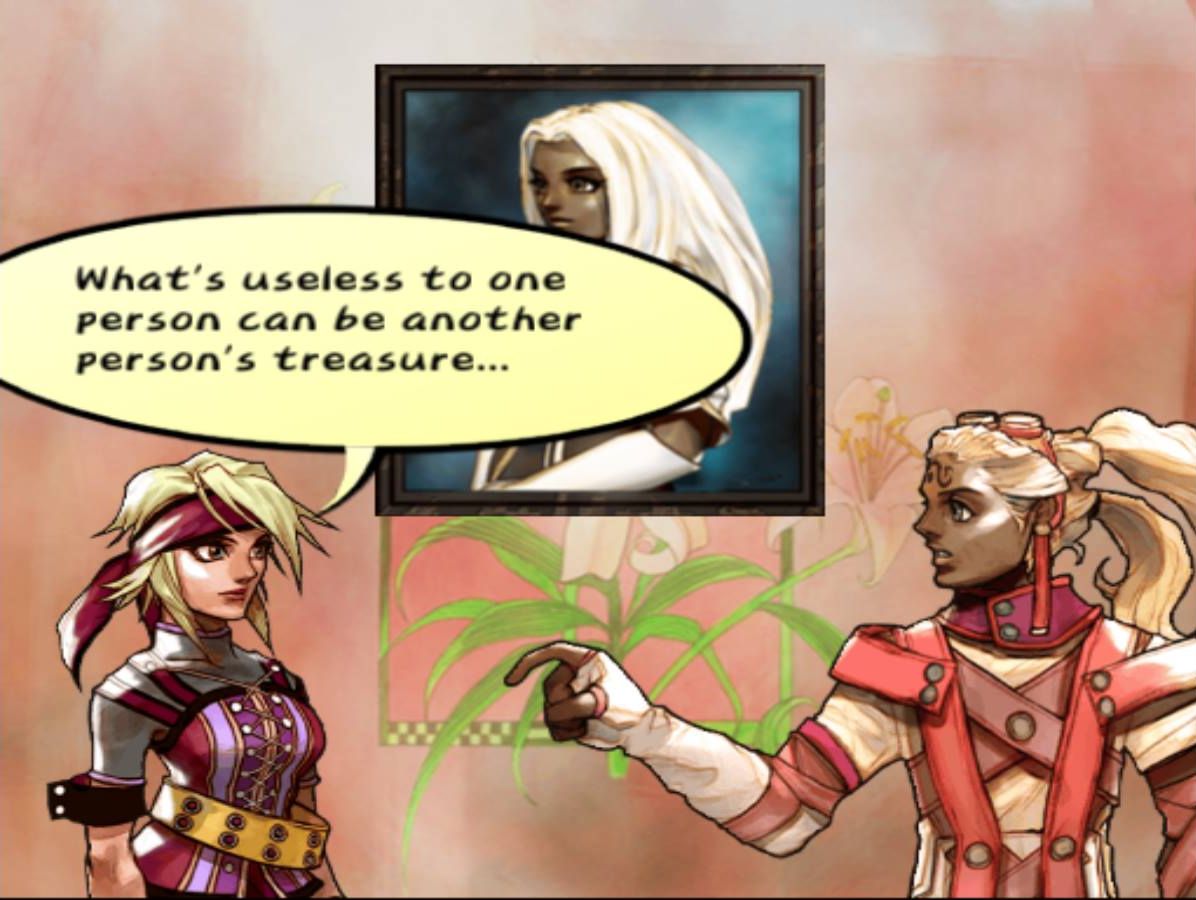 But then says something completely contradictory.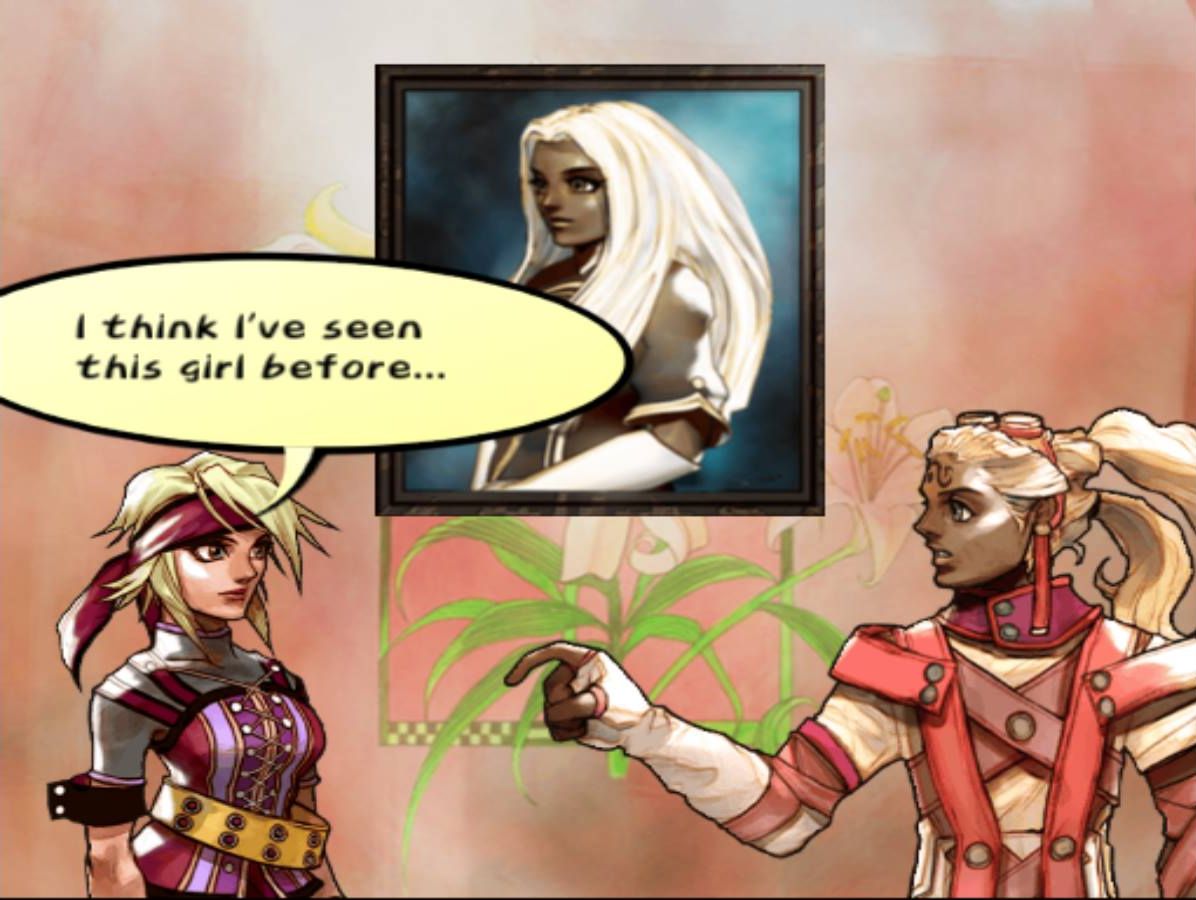 But... she says she's seen the girl before?!
Mythe gets pretty impatient with her, and the woman says she saw the girl catch a ship to Vaftom. (Vaftom means FESTIVAL!)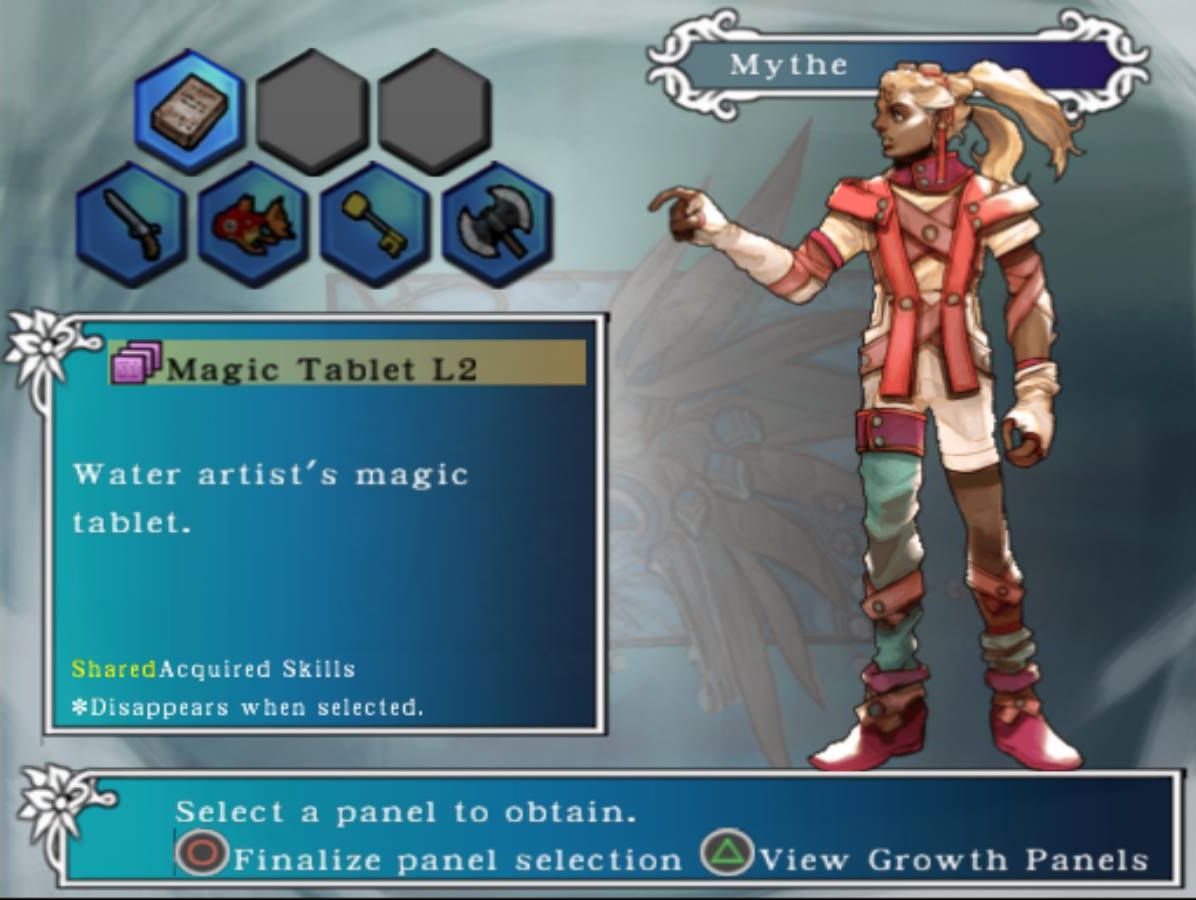 ... And that ended yet another adventure. The tablet we got this time was L2 Water Artist tablet... also perfect for Mythe! And thankfully so, because he was the only character in the adventure. IDK what all the other party members are doing. Did they all head back to Longshank with Mythe? Because they're all with him when he goes to Vaftom...
Anyway, this tablet contains Water Veil (boosts water elemental level) and Bubble Blow (so we can have an offensive spell for Mythe!) and a few other nifty things. It also has Purify, but we don't need that. The metal tablet also had Purify, actually.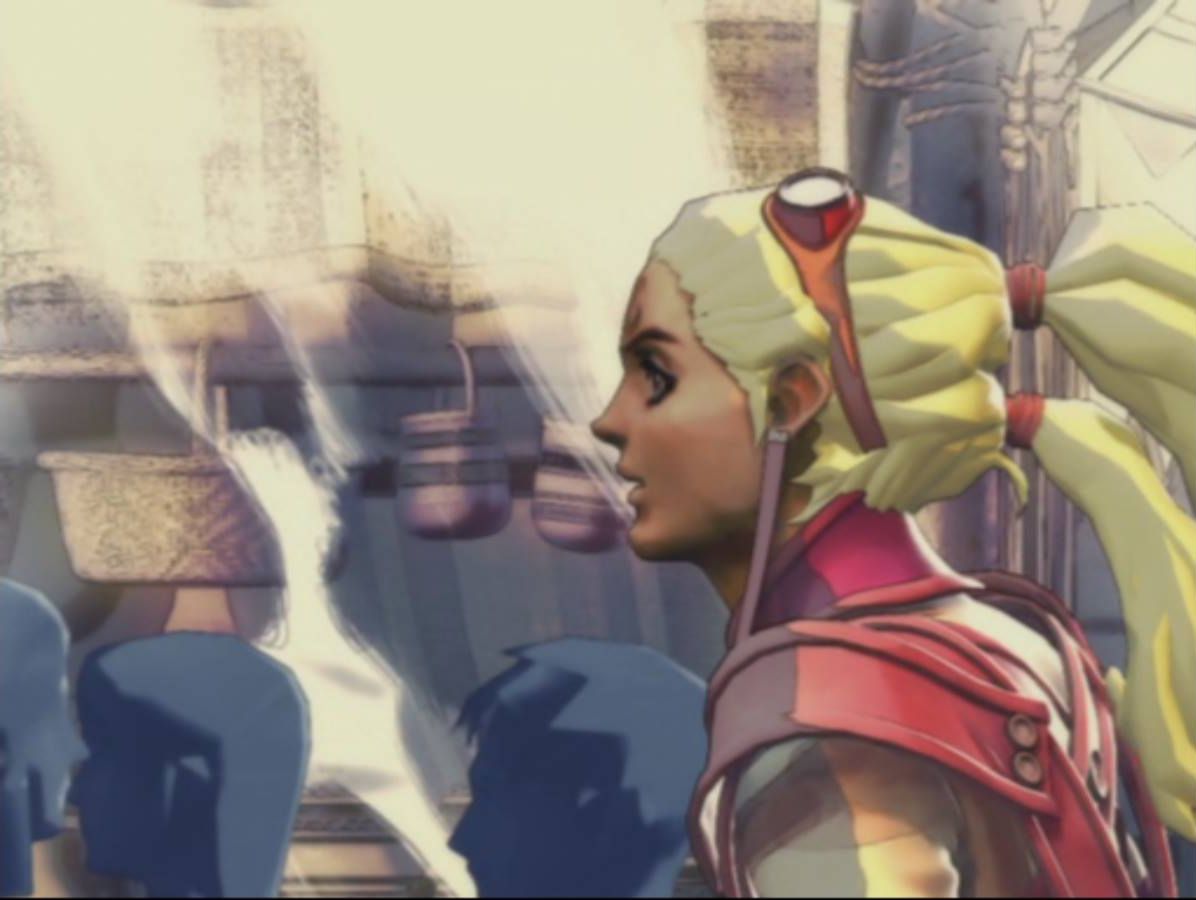 Anyway, after the panel development is over, we're just... already in Vaftom! We don't need to take a boat or anything, we're just THERE. Mythe is so impatient he must have went to Vaftom while we were developing the panels... All I did was put the tablet down, so he's very fast!! I went to the plaza to see if the festival was going on, and indeed it was!
Mythe is just kinda wandering around and looking all around. I assume he's looking for the girl from the photograph.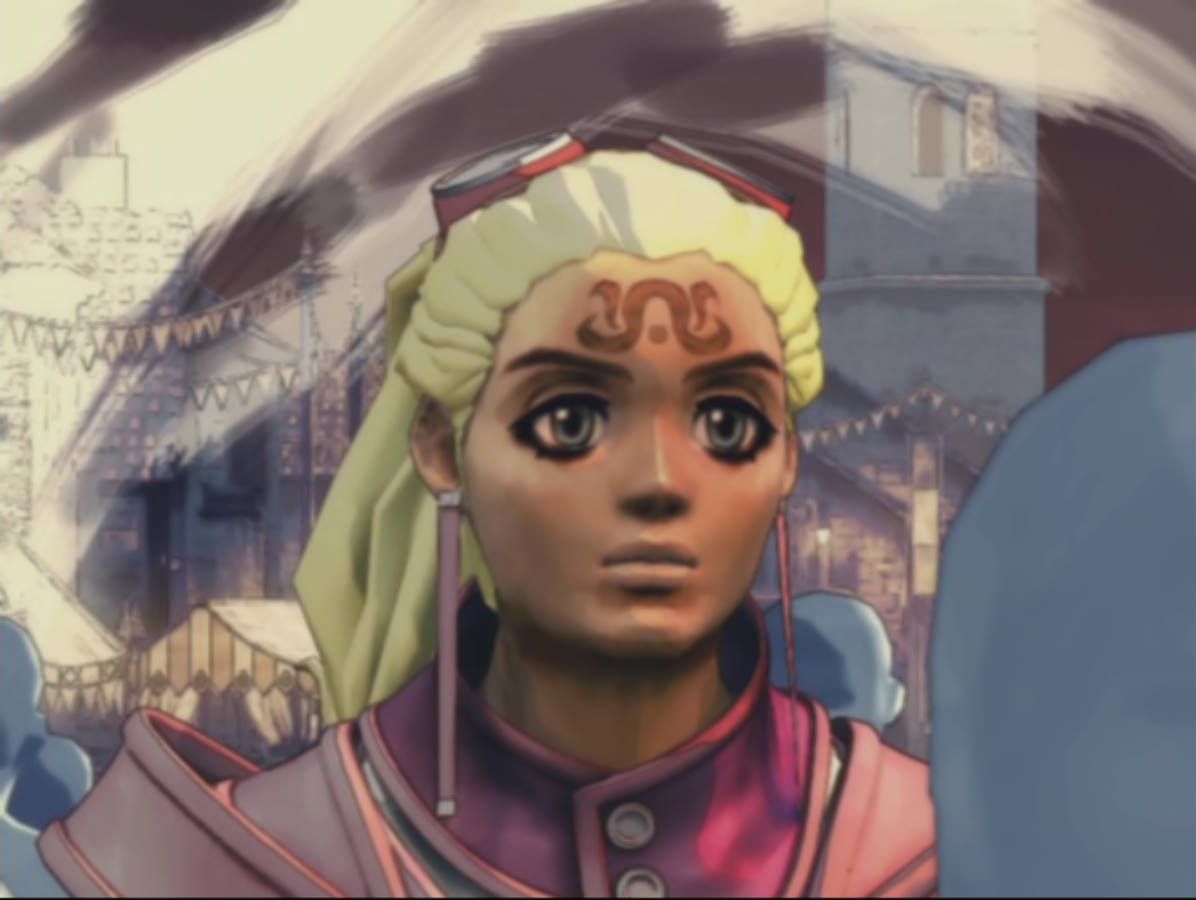 And then--!!!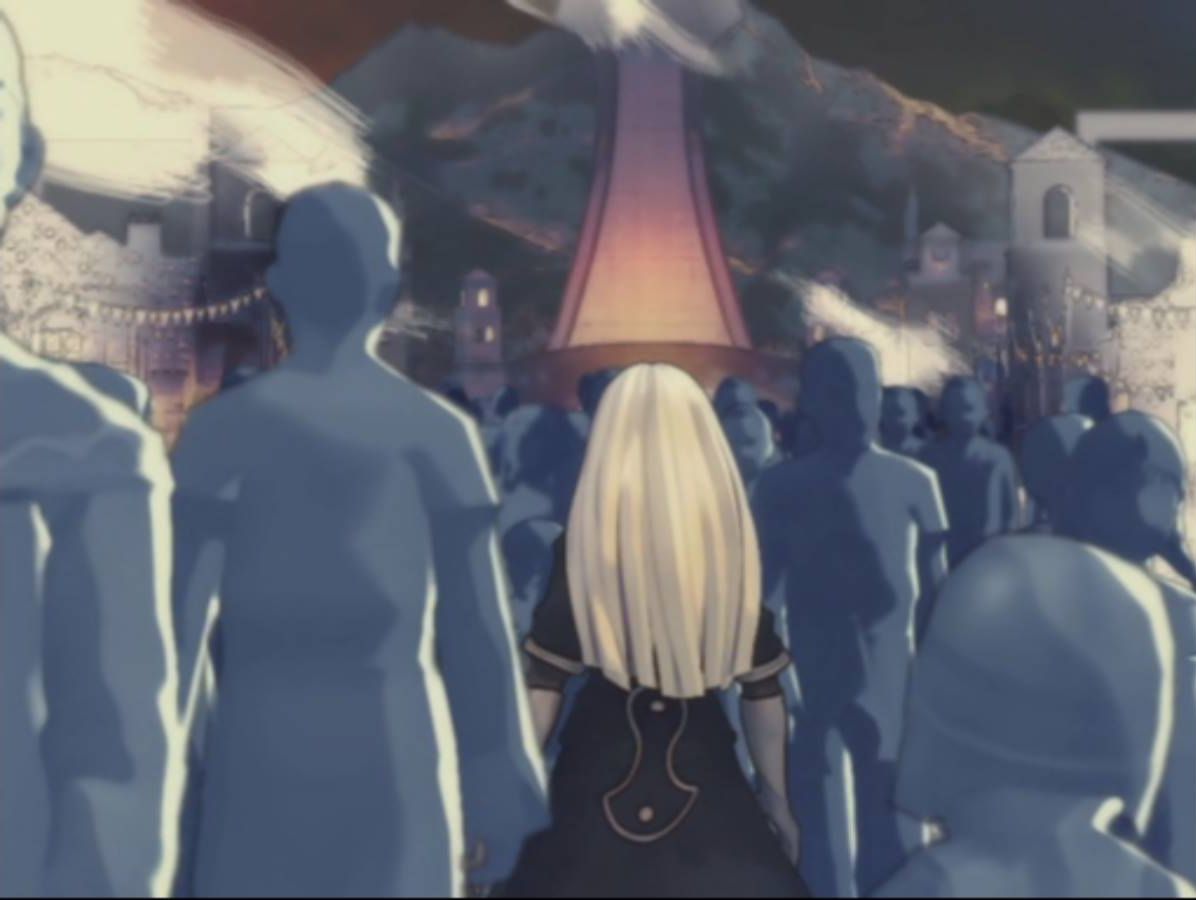 Mythe spots her from behind! But then some fireworks go off and he gets scared by them or something. When he looks back, the girl is already wandering off.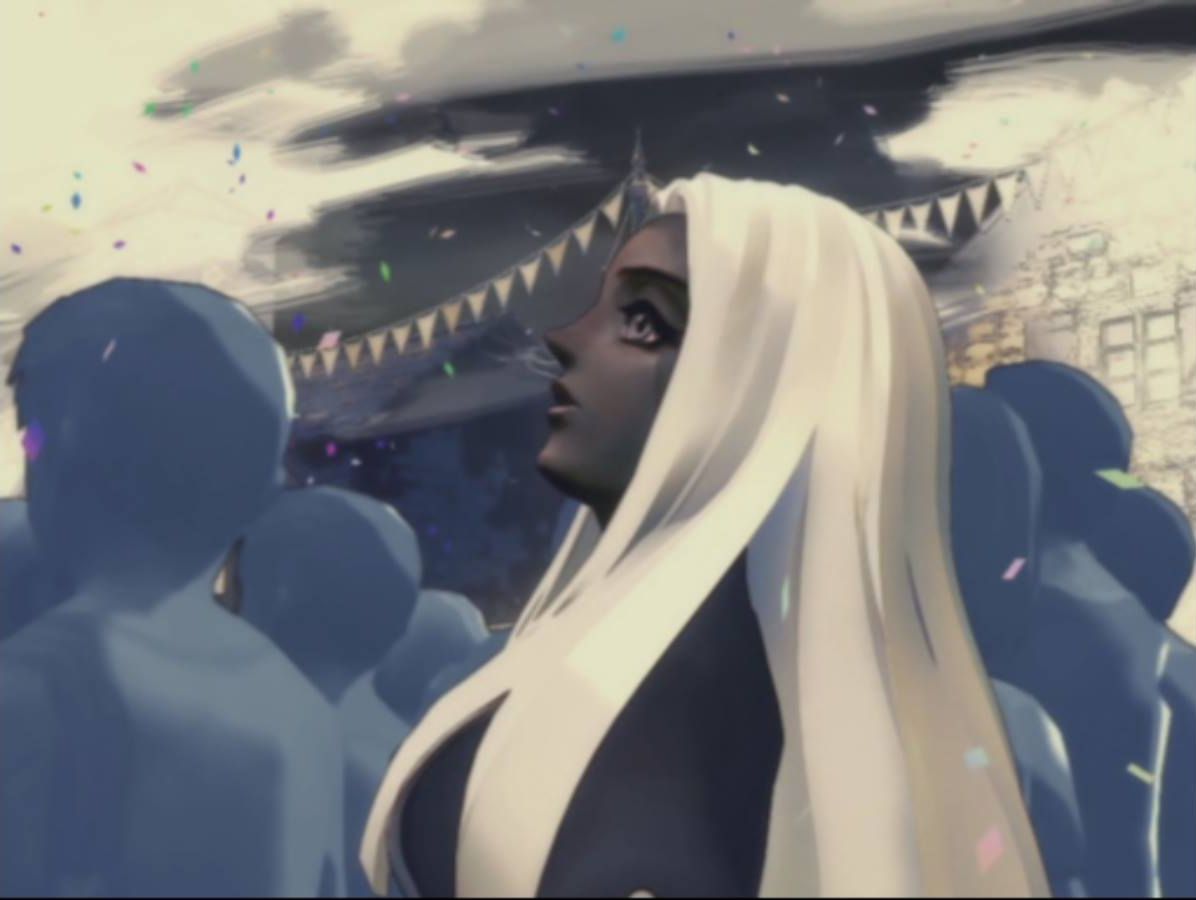 He finally finds her again, and she's watching the firewroks as the music plays. But music playing means there are bored fortunetellers who will dance with random strangers...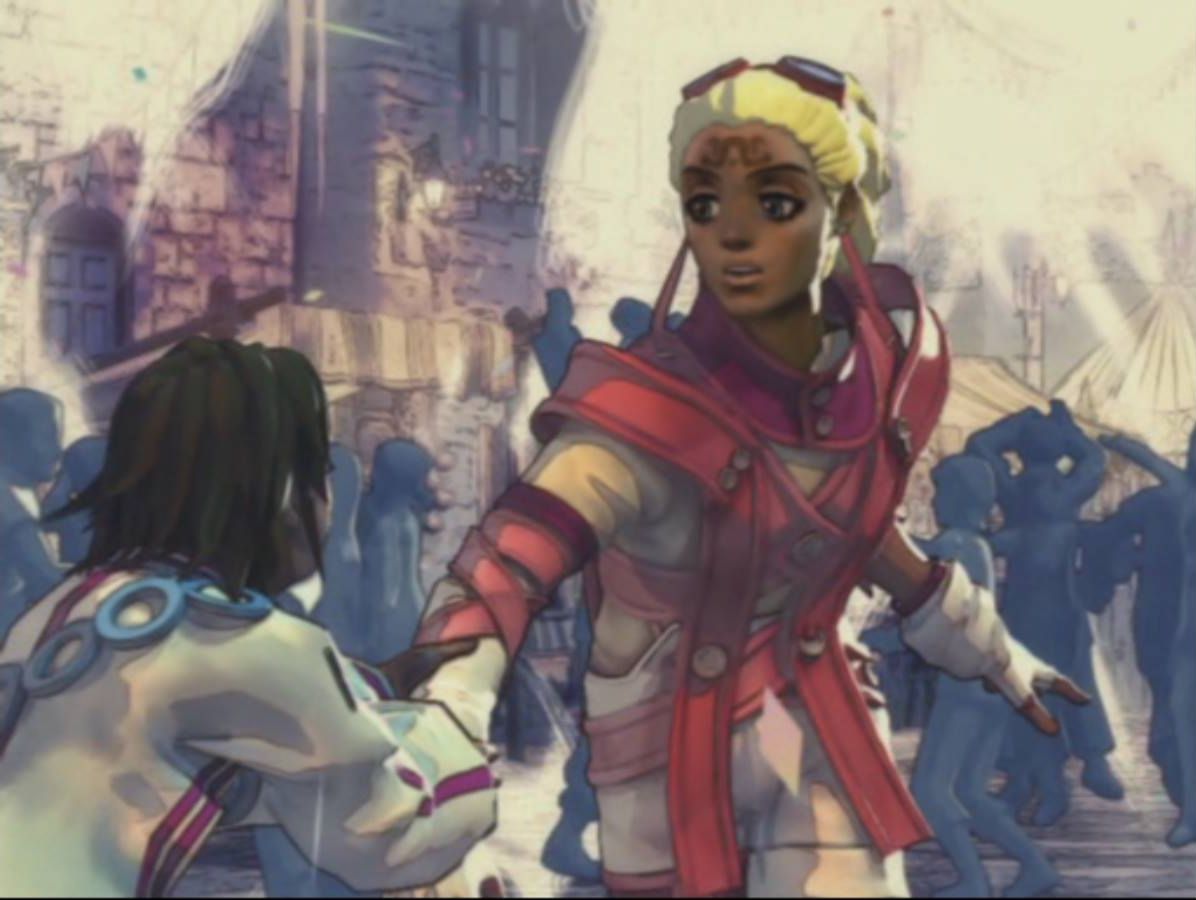 Yup, Ruby appears and dances with Mythe again. It's the same animation from her story. And this time, we understand why Mythe is distracted and runs off.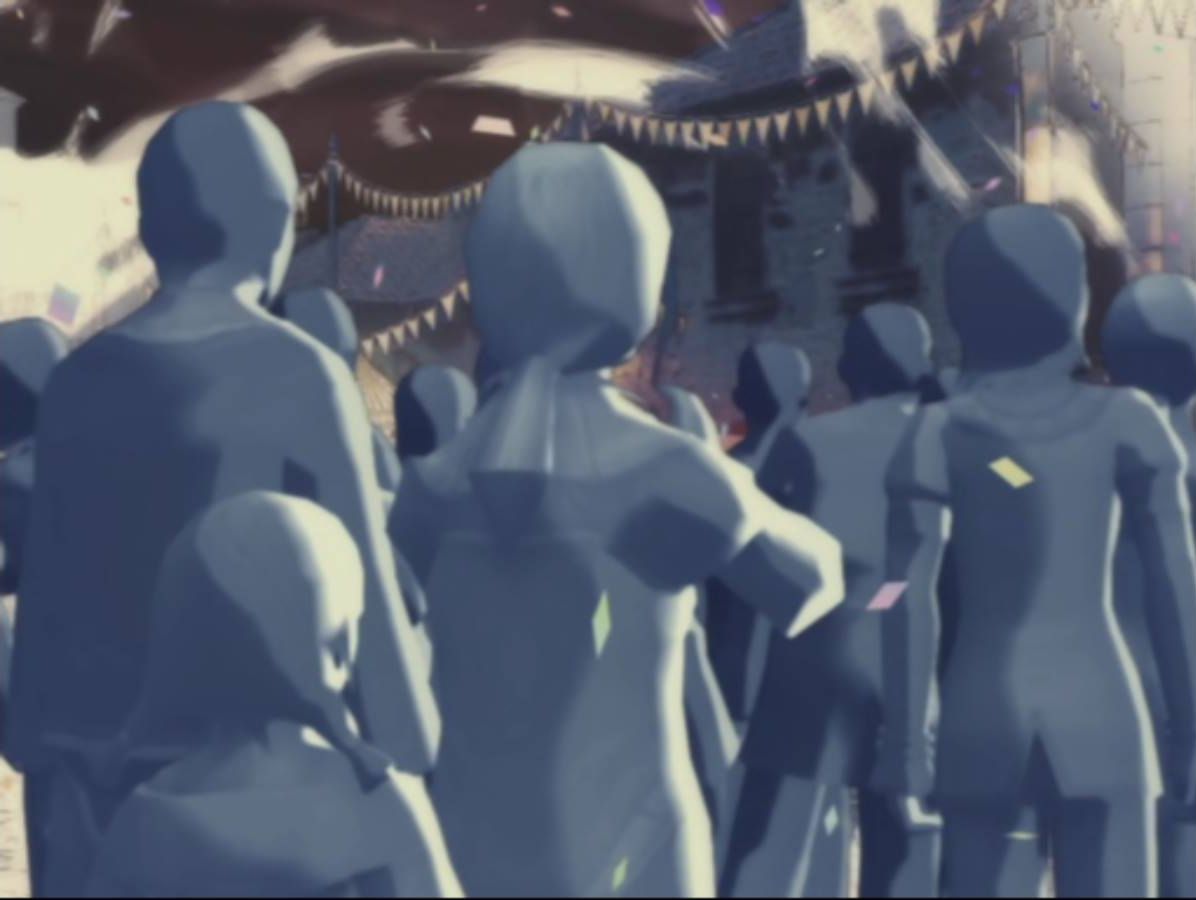 But the distraction made him lose sight of his "love" and now he can't find her at all.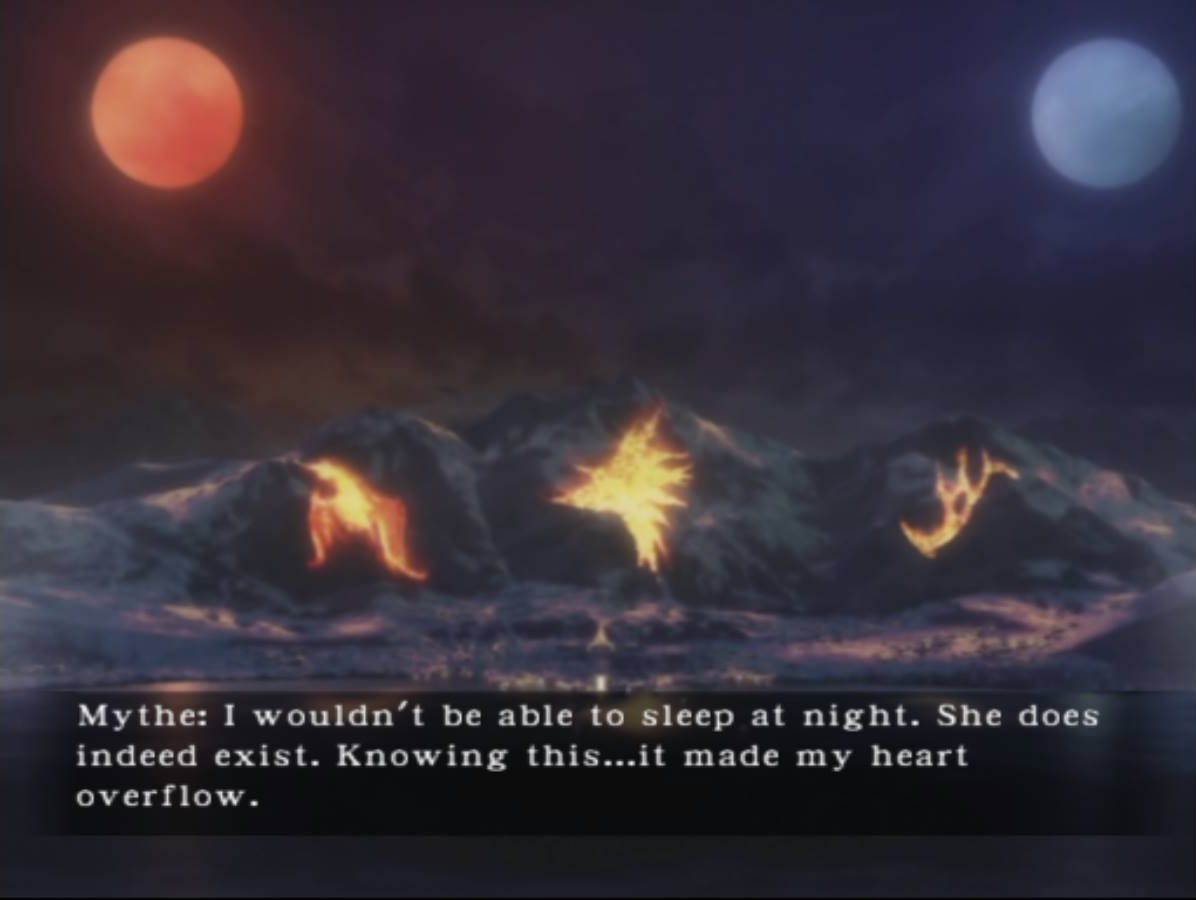 Mythe gets poetic while watching the ceremonial fires at the end of the festival. He's happy just to know the girl exists for now.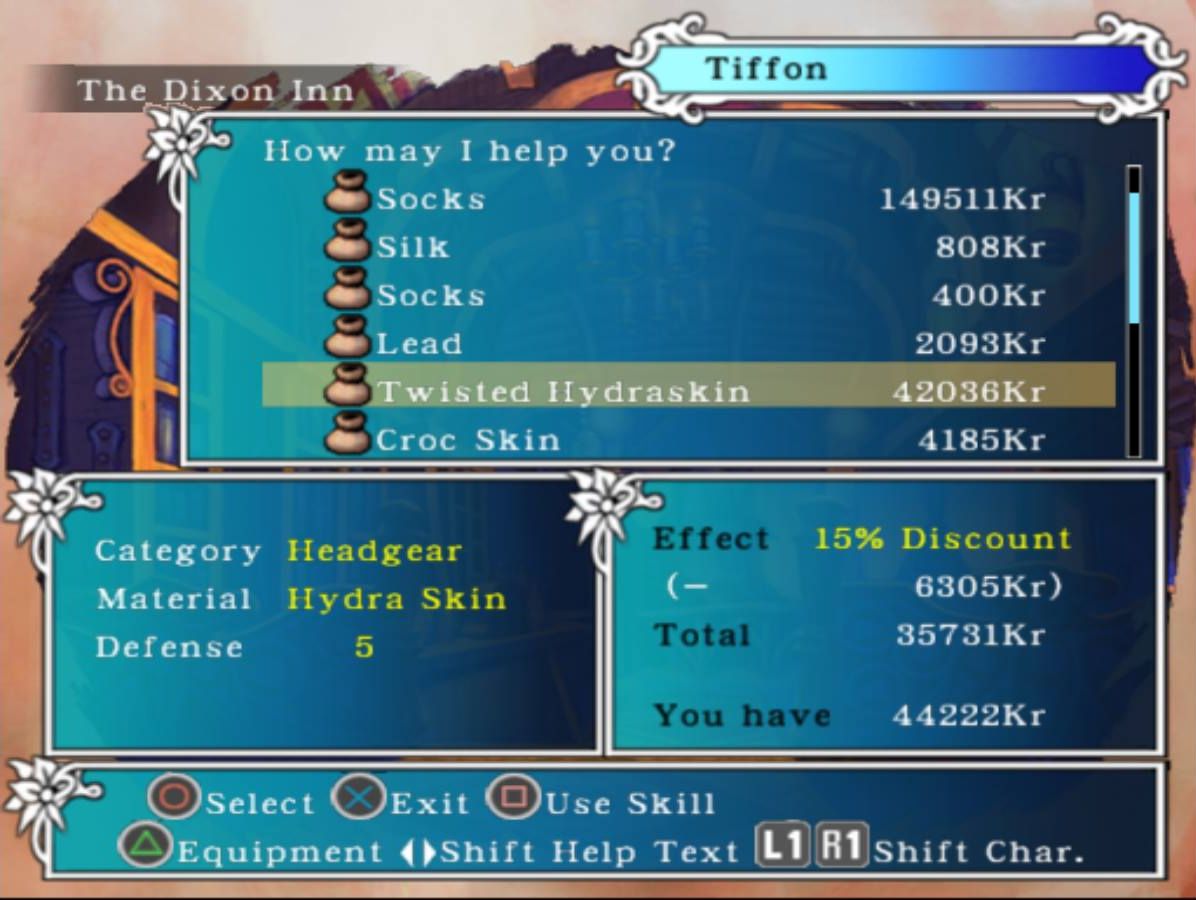 After this, I wasn't sure what I was supposed to do, so I took the opportunity to go shopping. I was kinda tempted to buy this Twisted Hydraskin, but it would eat up all the money I've managed to find so far pretty much. Also look at that ridiculously expensive pair of socks up there.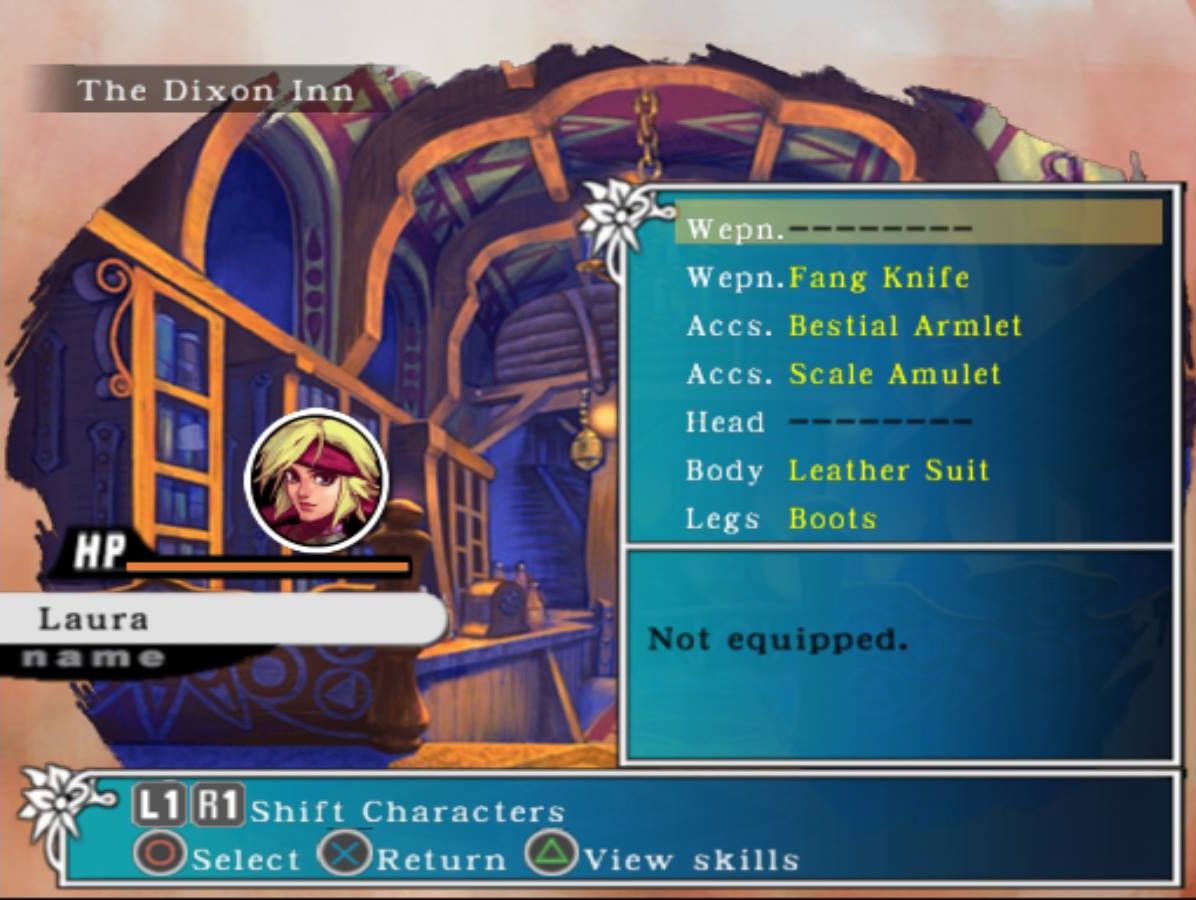 Also for some reason, Laura, the woman from before, is in the party now. I'm guessing she followed after Mythe because he pretty much stole her relic from her and he hasn't given it back yet, it seems. But then I guess maybe she just... decided to continue to tag along. Maybe she got curious about the girl or something.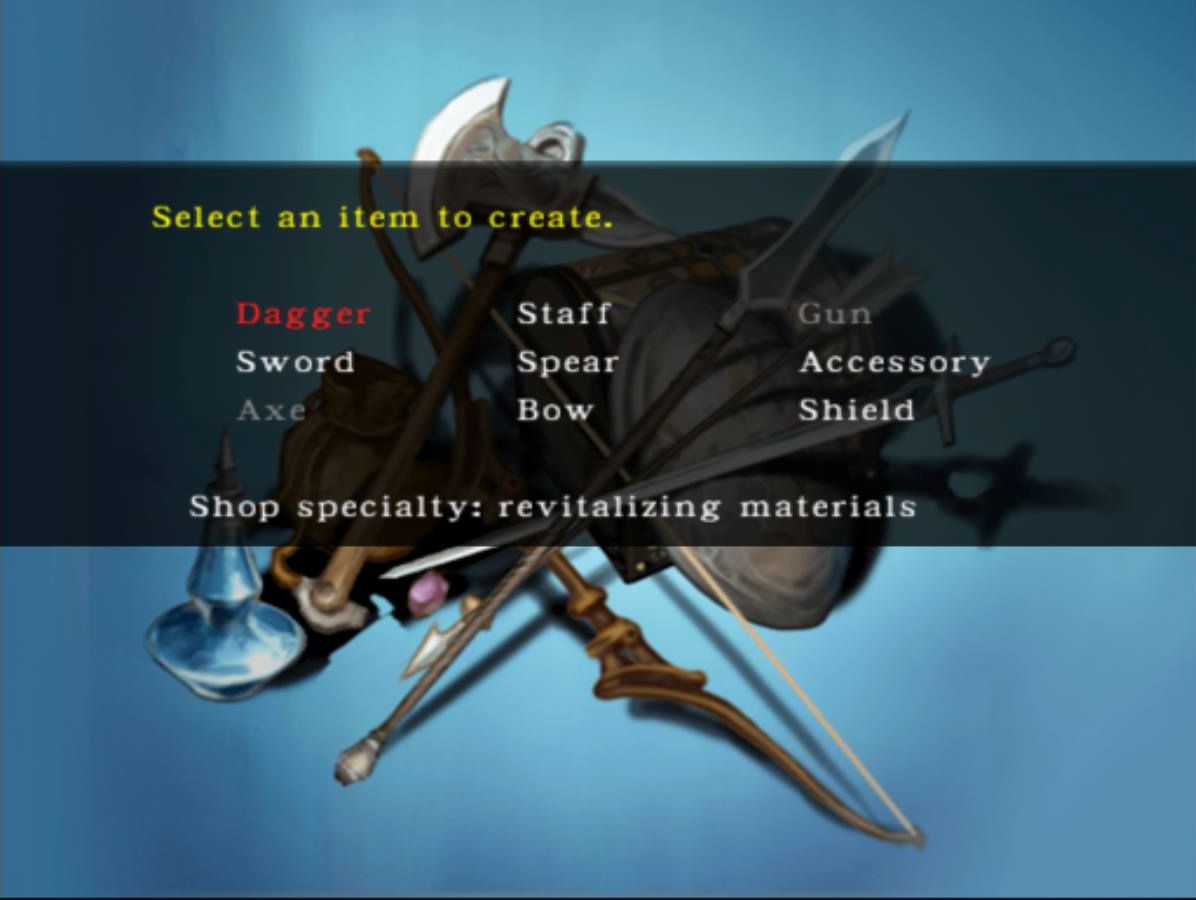 In addition to shopping and festivals, there's also crafting to be done in Vaftom! This shop's specialty is "revitalizing materials." I don't know why it says it like that -- but basically you have a better chance of releasing abilities here while crafting and repairing.
I did end up doing a little bit of forging -- I made a Metal Ring for Pharr out of some copper, since it has 2 defense and Heal +5. I made a Silver Circos for Mythe. I had forgotten that adding a bestial material to silver has a chance of turning it into Faerie Silver. It would have made my shield even nicer. I think Silver and Faerie shields eventually release Water Support, though, which is the reason I made it.
But yeah, certain recipes do not have a 100% success rate -- in this case, Silver + bestial material has a chance of making a Faerie item. Now and then, the "expected result" preview thing will change to reflect this. Basically if you put the cursor over the bestial material while choosing the secondary material, it will have a chance of showing the other result -- so as you're going through your inventory looking at all your materials, you'll probably pass a few bestial materials while making a silver item, and notice the change for a moment as you pass over one.
But the 'expected result' is just an estimate -- having it on the screen doesn't mean you'll get the Faerie item or whatever. You still have the same chance whether the expected result says Silver Circos or Faerie Shield. Anyway, I just ended up with a Silver Circos. I think in this case it's like a 15% or 20% success rate.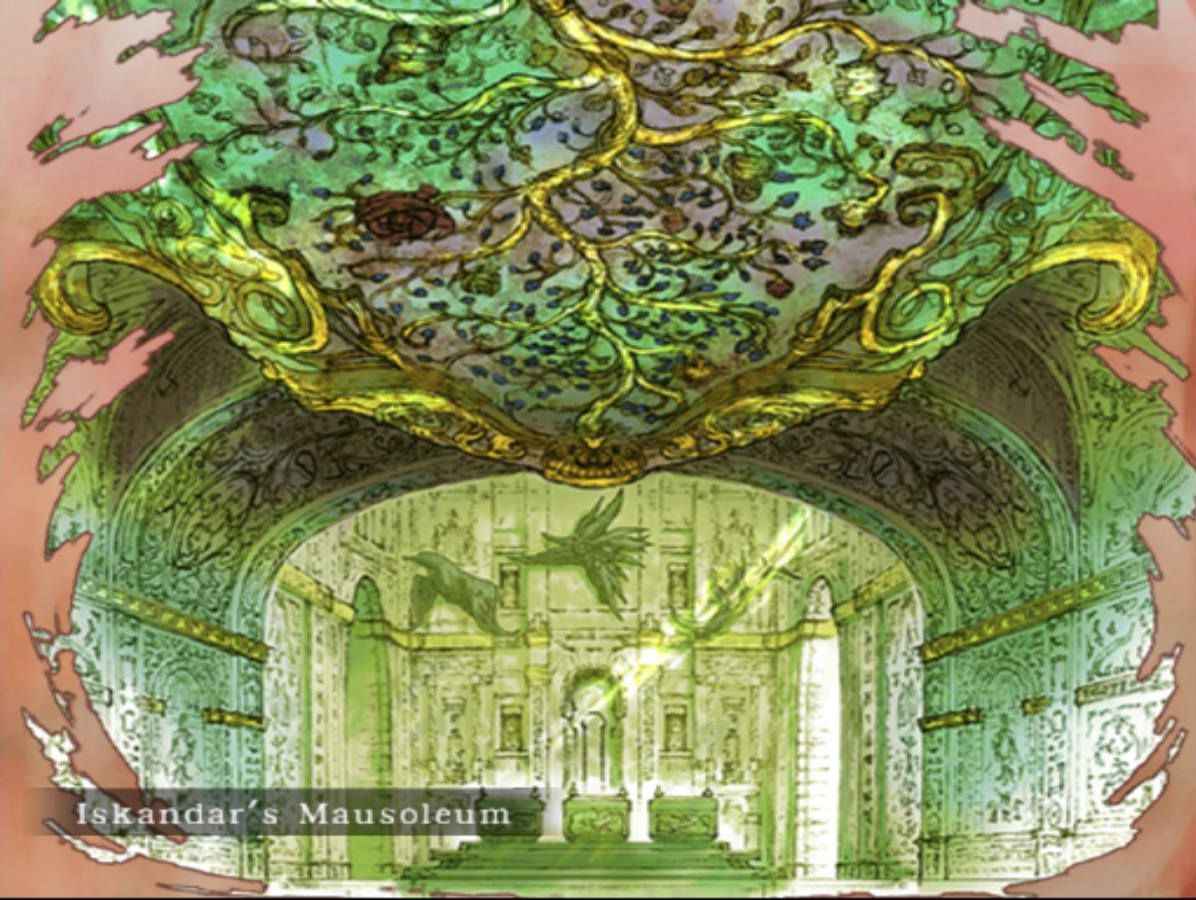 After going to all the shops and checking for information in the inn, I still wasn't sure what to do, so I just decided to check out the plaza again. Apparently, that was the correct thing to do, because we went to the mausoleum and an event occurred.
Mythe talks to himself about the mausoleum for some reason for a bit...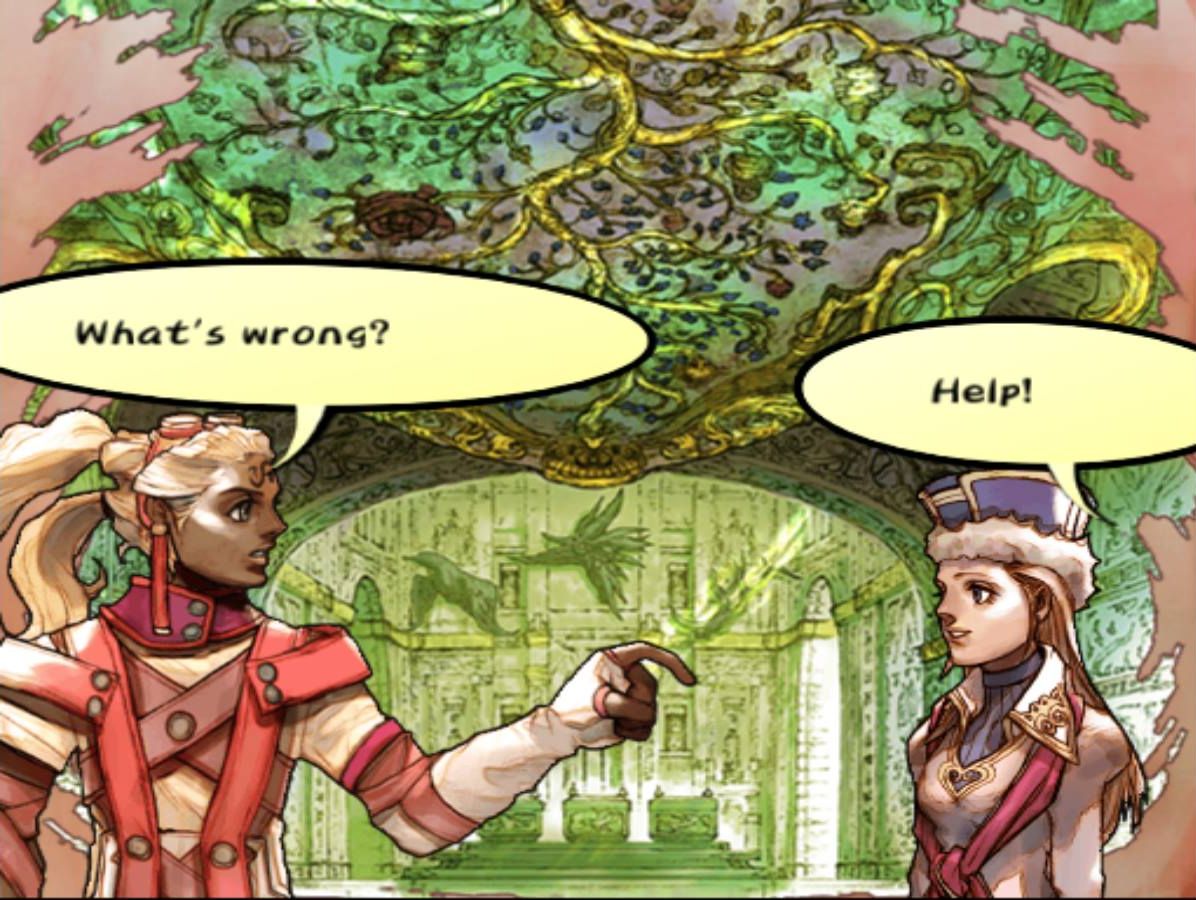 ... and then a girl comes running up to him calling out for help!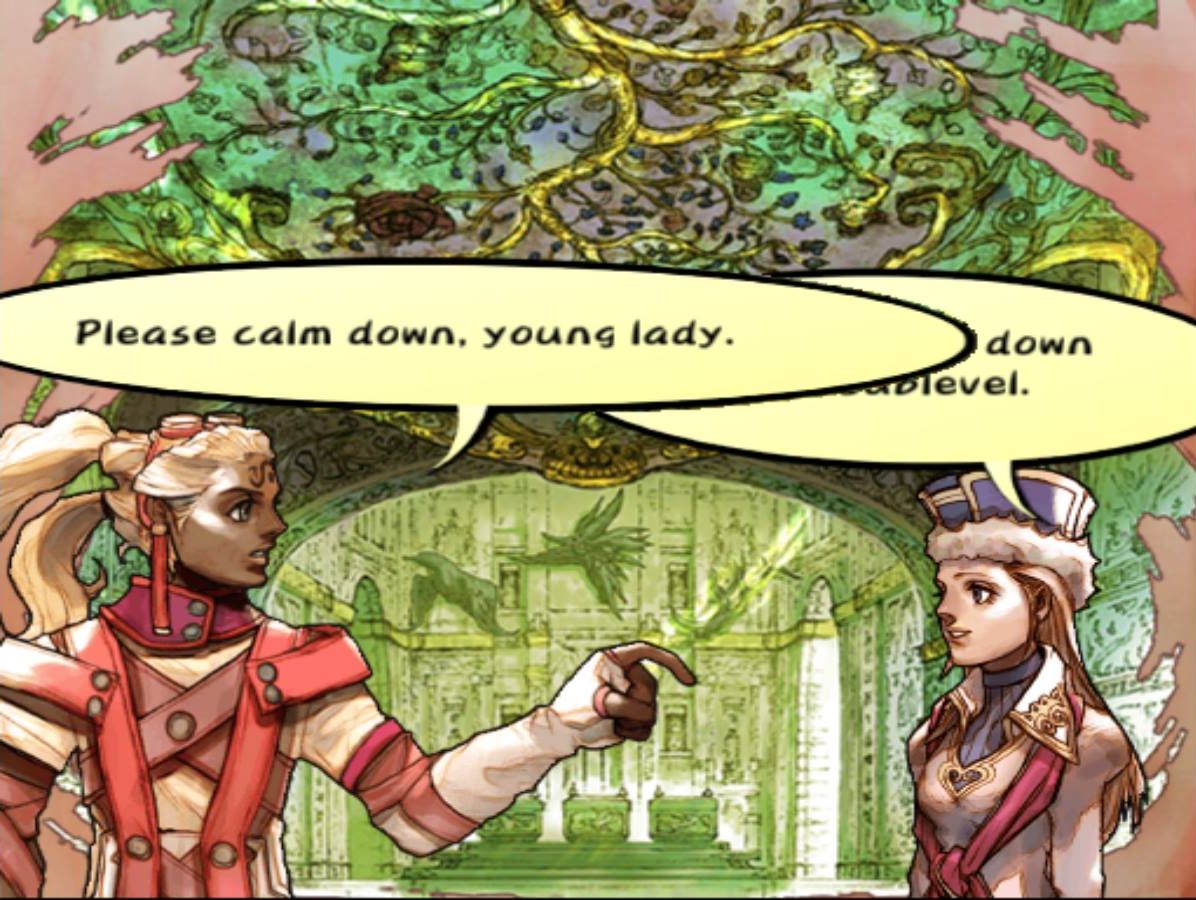 The girl says she saw another girl going down into the sublevel (for some reason 'basement' is always referred to as 'sublevel' in this game.) Mythe tells her to calm down, and the girl responds that she is calm. Believe me, she was probably very calm. This girl could probably witness a murder and stay calm.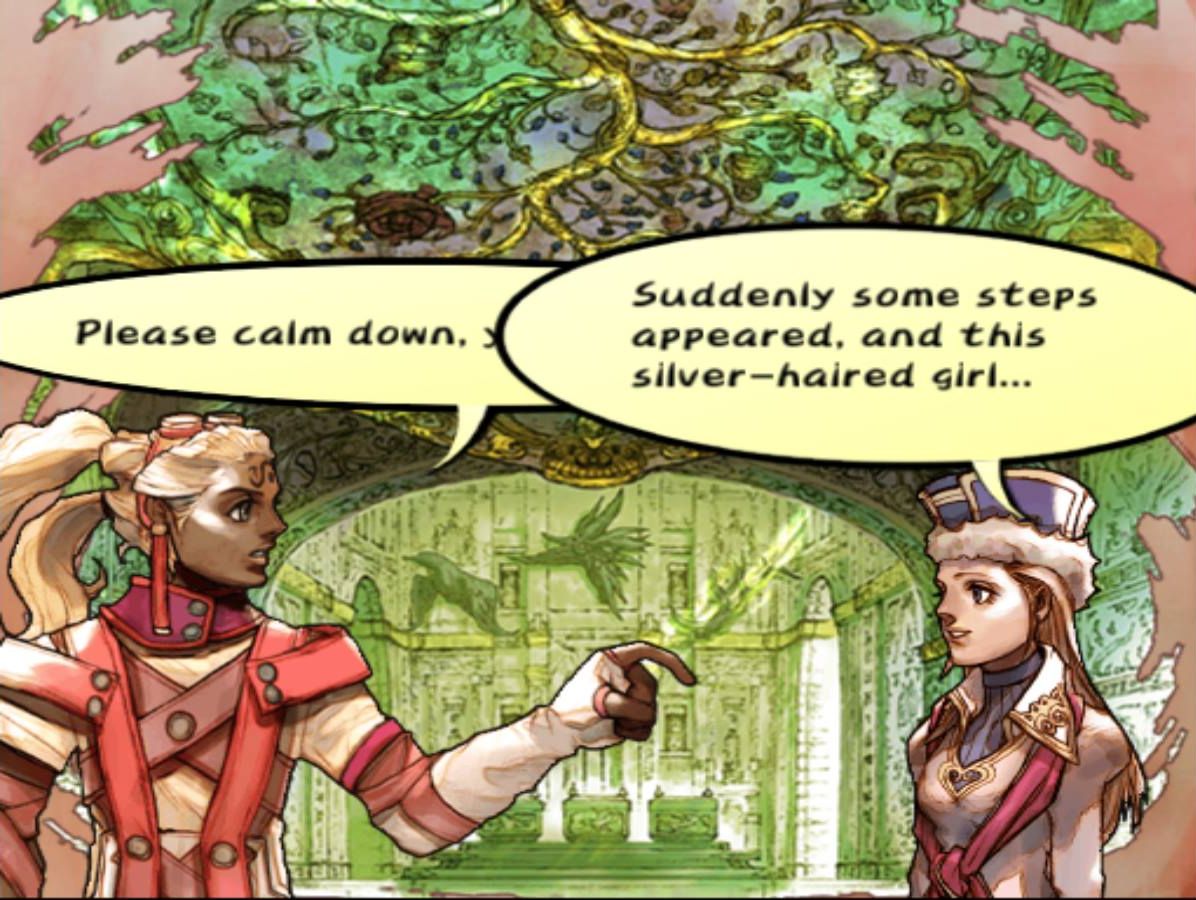 The girl starts to explain some more, but as soon as she mentions silver hair...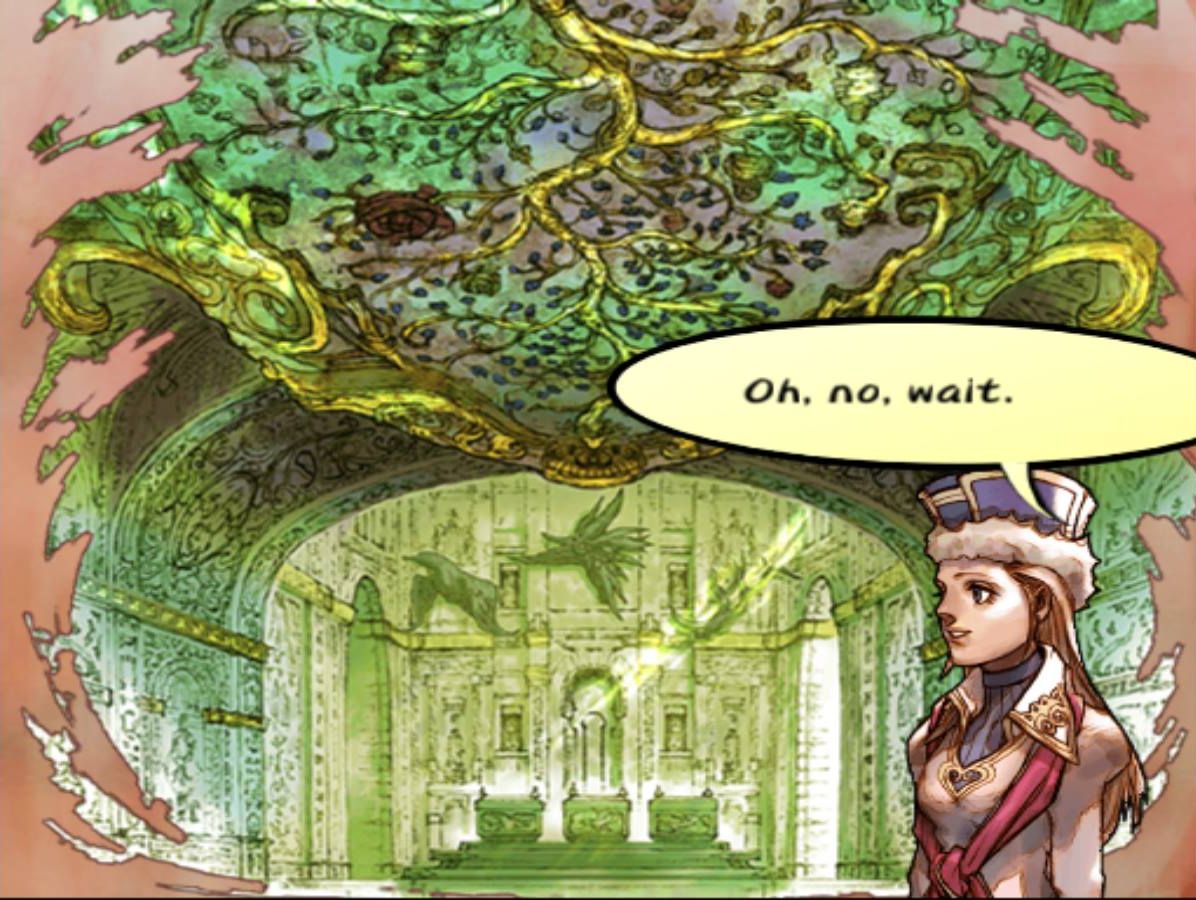 Mythe's portrait FLIES ACROSS THE SCREEN QUICKLY as he says "WHAT" and I didn't even get a chance to screencap it because it happened so fast. It was really funny, though.
After that, a new adventure starts up (we're constantly being flung into unexpected adventures in this story...) and we're in the "sublevel" of the mausoleum. The girl was right to call for help -- the mausoleum has anymore turned into a haven for many powerful monsters...
But I had already done so much and wanted to post about it, so I quicksaved and quit. So much happened! Now that we've stopped chasing rumors and are chasing the actual girl, I wonder how long until we "catch" her? I mean, that can't be how the story ends (I can't imagine she's going to just run into a Wonder and summon Chaos lmfao), so I'm really curious as to what is going to happen when we finally get to meet her. I mean, what is Mythe going to do? Confess his undying love to this little girl he's never met...?
For as minimal as the storytelling is in this game, I have to say I'm pretty hooked on this story. I mean, it's a pretty generic mystery "We gotta find the thing!" and then it's always just another step away after we follow up on each clue. But... I still feel like I really wanna know what's gonna happen. I also feel like there has to be more to Mythe's obsession than just "being in love."
---