Bottom of the Old Well ~
Tiffon's Secret
Last time, Mythe went to Loch Vaan to talk to the fortuneteller Sapphire in hopes of learning the whereabouts of a girl named Tiffon, who had apparently sold the photograph to Fugar that caused Mythe to go into an obsessive craze.
However, instead of Sapphire, her younger sister Ruby appeared and gave a bad reading, telling Mythe to go to the bottom of a well and look for Tiffon there. And that's where we'll start today.
But first, I want to mention that each character has theme music specific to their scenario, which plays when you're in the 'town' segment of the game (when you're not on adventures), just like in the Romancing SaGa games. Mythe's is particularly cool. You can listen to it here. Ruby's has a really different feel to it, though I never mentioned it when I was playing her story. You can listen to that one here if you want. They're both really cool, though. All the music in this game is cool.
But anyway, let's go well-diving.
Another thing I forgot to mention last time (I think sometimes I wasn't properly screencapping and I use the screencaps as a 'guide' when I'm writing these things lol) was Mythe's starting panels. Mythe comes with two unique panels, Weaponsmith and Accessorysmith. These panels are only available for Mythe and he will continue to receive them as you play through the game with him, so you can get higher levels. As you get higher levels of these, you increase Mythe's ability as a blacksmith, opening new options in Mythe Works.
Anyway, we go to venture around the well where Ruby found Kitty at the beginning of her story. When Mythe gets into his first battle here, he says something like "I can't believe I fell for that fortunetelling crap" lol.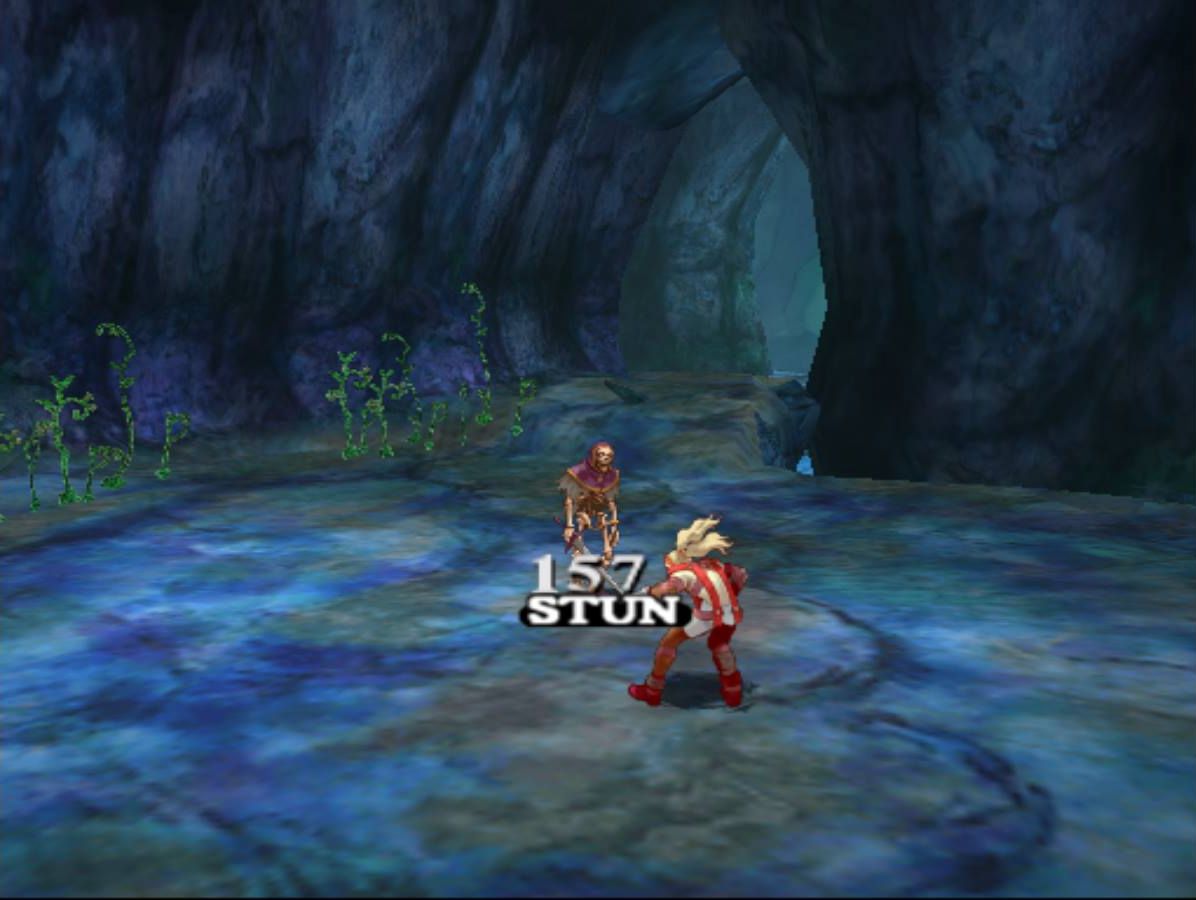 Pro tip: At the beginning of the game, you'll have very limited selection of arts. Every art in the "Throw" line of melee arts has the ability to Stun enemies, even the basic one! This removes one action from the enemy's queue when it lands, and these early enemies only get 1-3 actions per turn, so you can use this to help you get an advantage by taking less damage and increasing your chance to combo.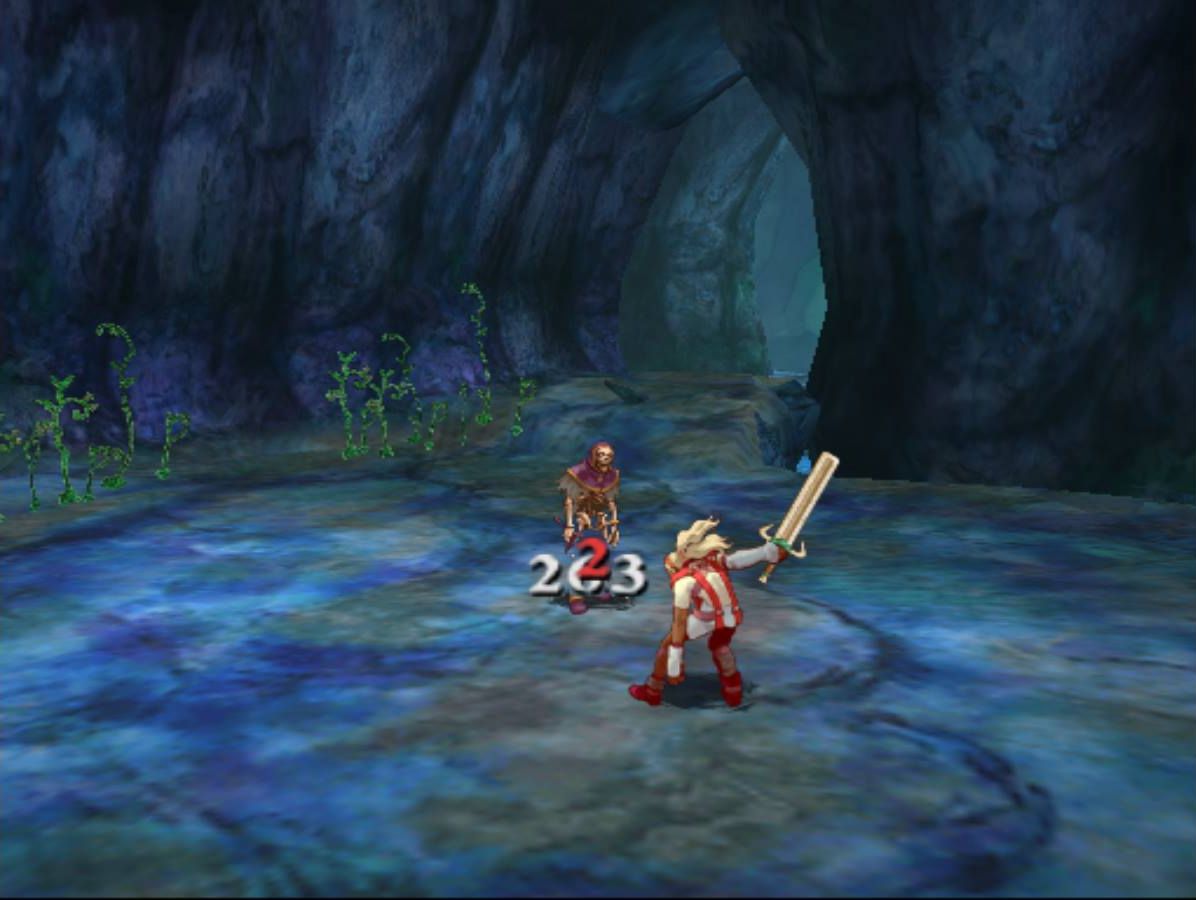 Also, look at Mythe's sword-wielding pose. It's just his regular hunched-over pose with like... an arm sticking out and the sword all raised up dramatically. Do arms even work this way?? It's so weird-looking!! All of his poses are so weird!!
There are a lot of hazards in this area. I wonder what's behind them all? You get to them too early to have swimming or obstacle crossing (well, I guess we could have gotten the panel in our first adventure with Mythe, but yeah, that's the only chance we had to get it?) in the games I've played. I can't remember if other characters have subadventures that go to the well?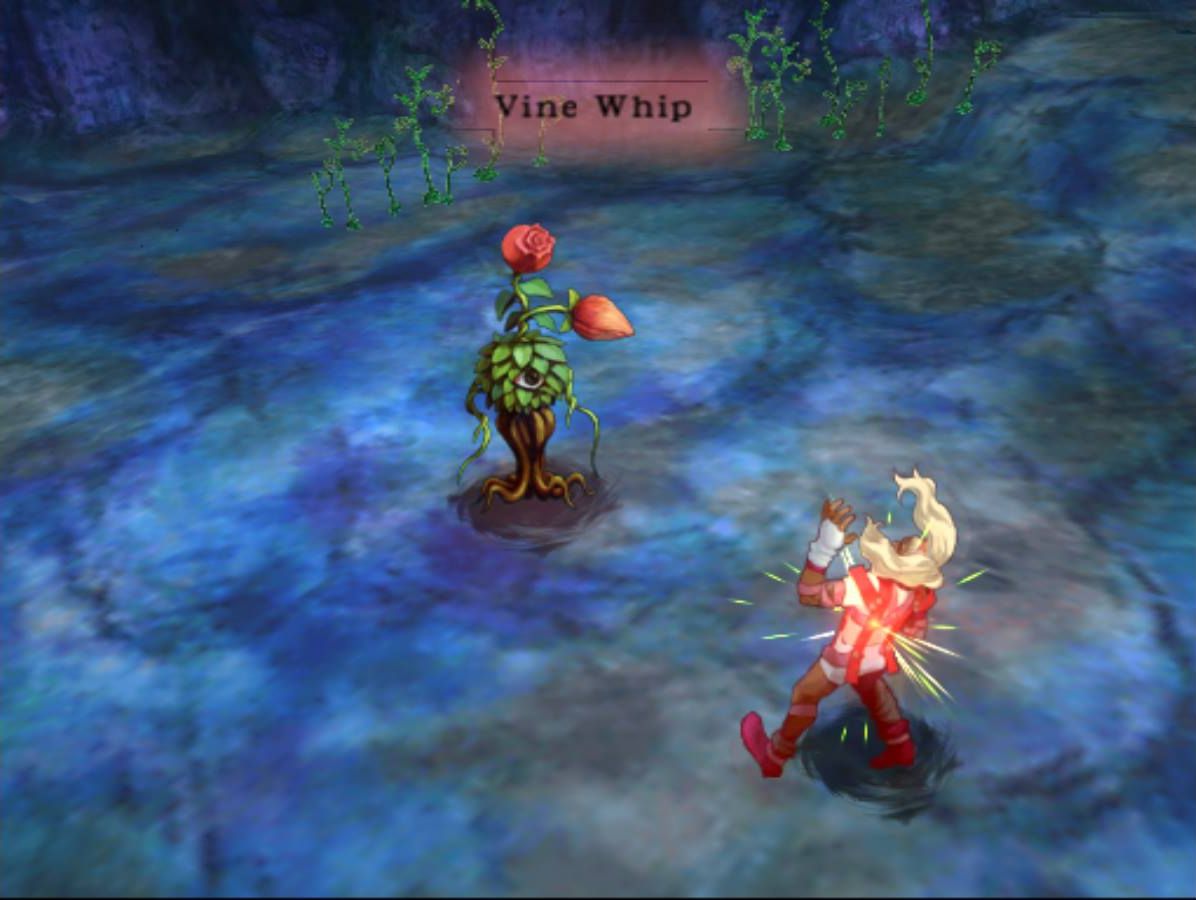 Mythe's "getting hit" pose is wild, too.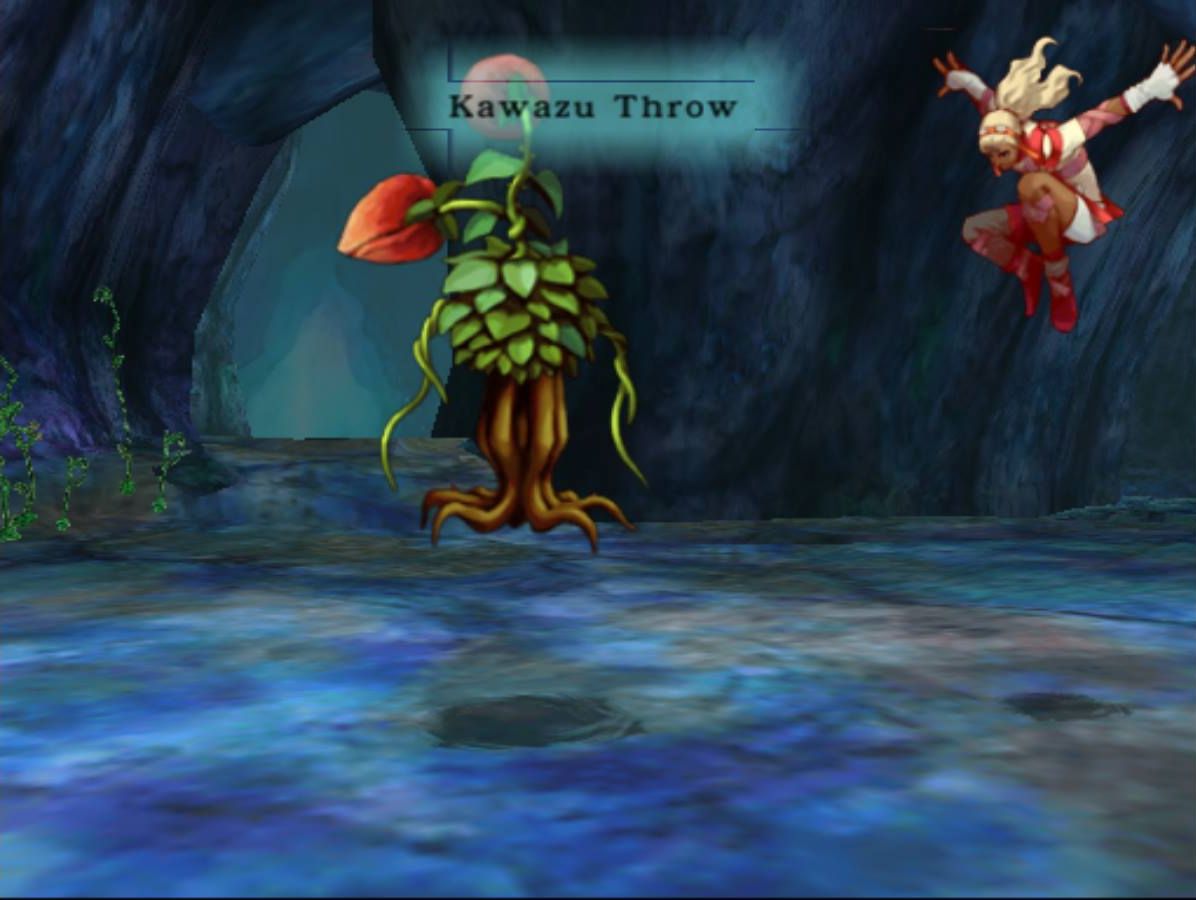 Look at his jumping pose!!!! And that's jumping backward! What kind of acrobatics...?!?!?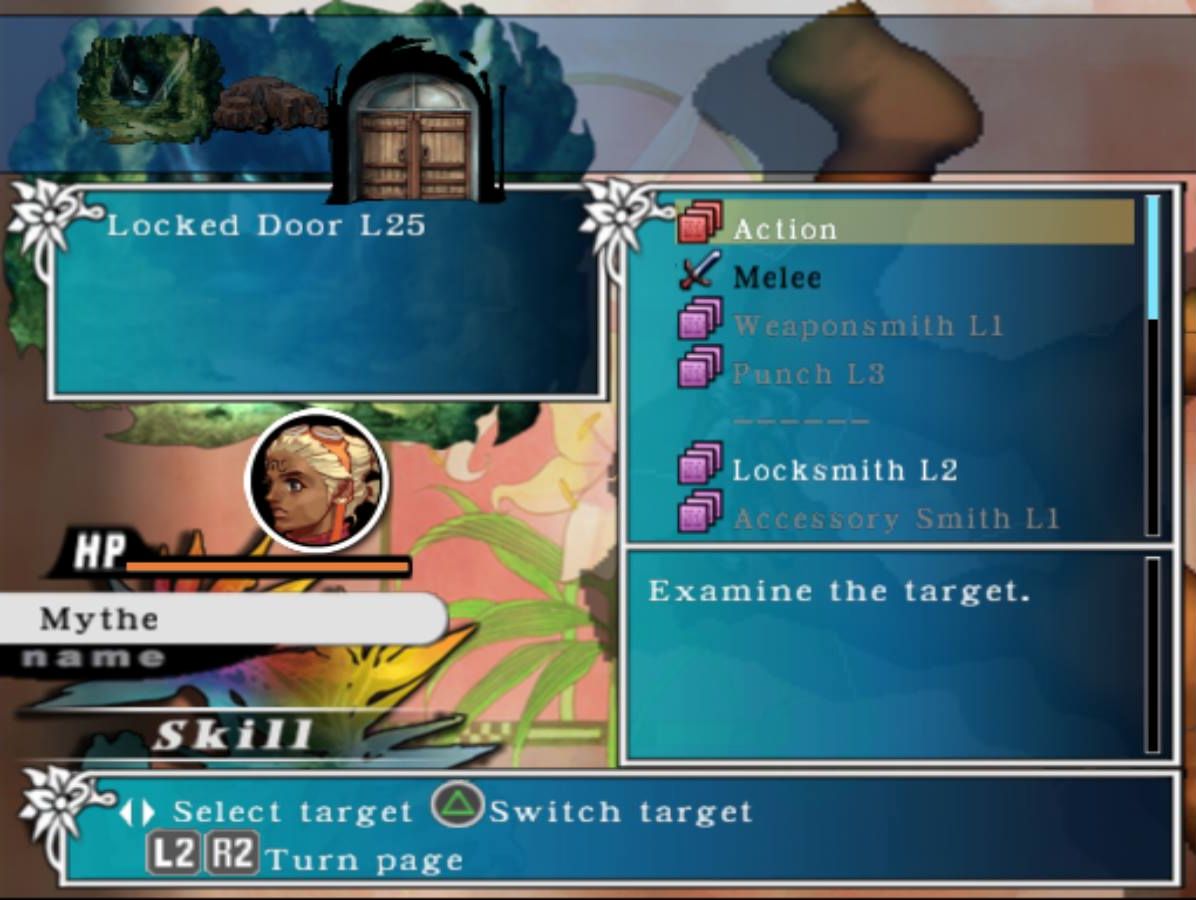 I got to the door in the back where Kitty was, the same door that Ruby said Tiffon must be behind. I have locksmith, so I could open it, but... where was the key?
I walked all around trying to find it, but indeed there was no key to be found on the ground like in Ruby's adventure. I guess I will just have to use locksmith on the door...?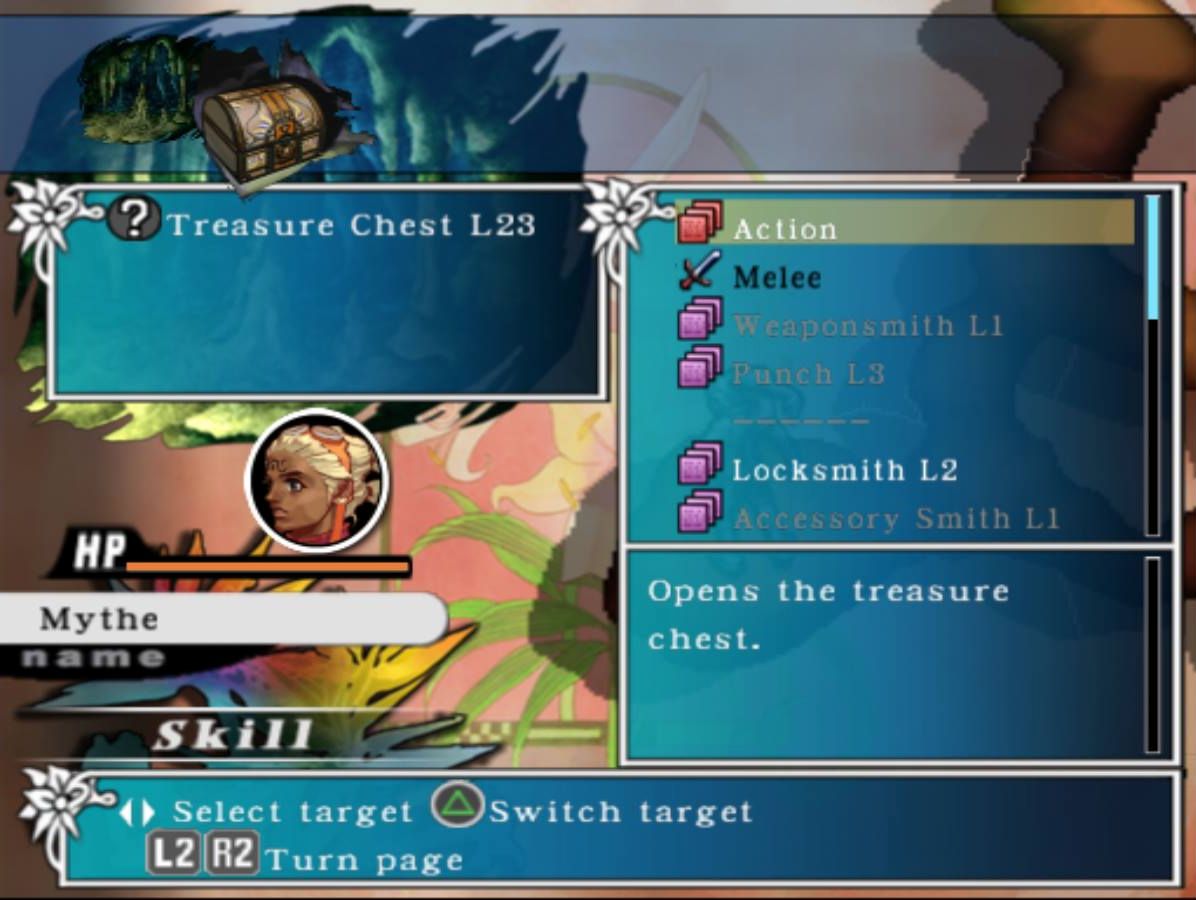 But behind the door was... nothing! The undead that was in there in Ruby's story (or was it insect?) was not there. But there was this treasure, but it was just a generic treasure. It was locked with magic, so I couldn't even open it. What is going on??
After running around and checking every space again, I found absolutely nothing. I decided to leave the well and go look for information in town again. Maybe I missed something?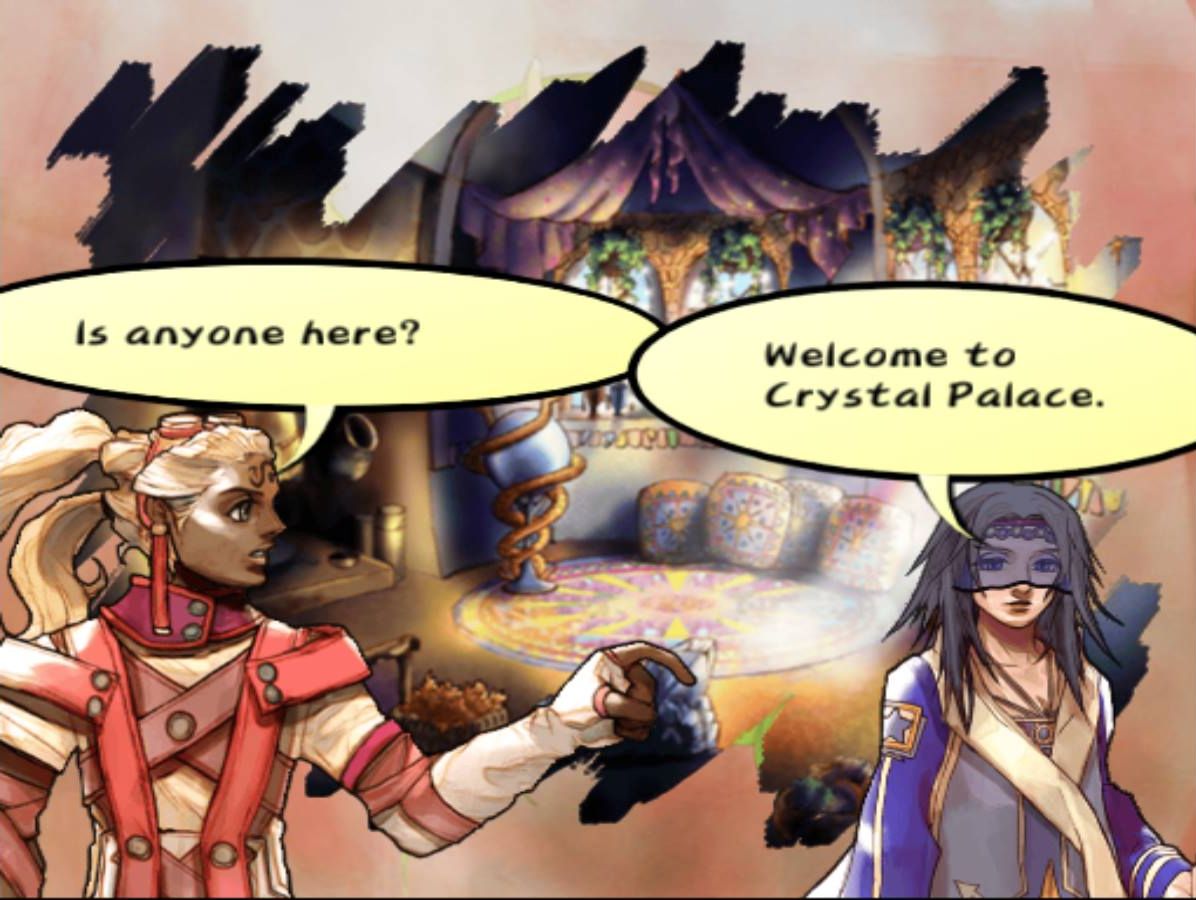 When I returned to Sapphire's shop, Sapphire was actually there (also is she really small or is Mythe really big or something?). Mythe asked why Sapphire was gone, but Sapphire responded that she was, well, Sapphire.
Sapphire went off to pull the culprit out of hiding. Ruby said she was just trying to help with the shop since Sapphire wasn't feeling well. Sapphire scolded her for treating fortunetelling lightly, since there could be serious consequences. Mythe knew that no one would really go to a well like that.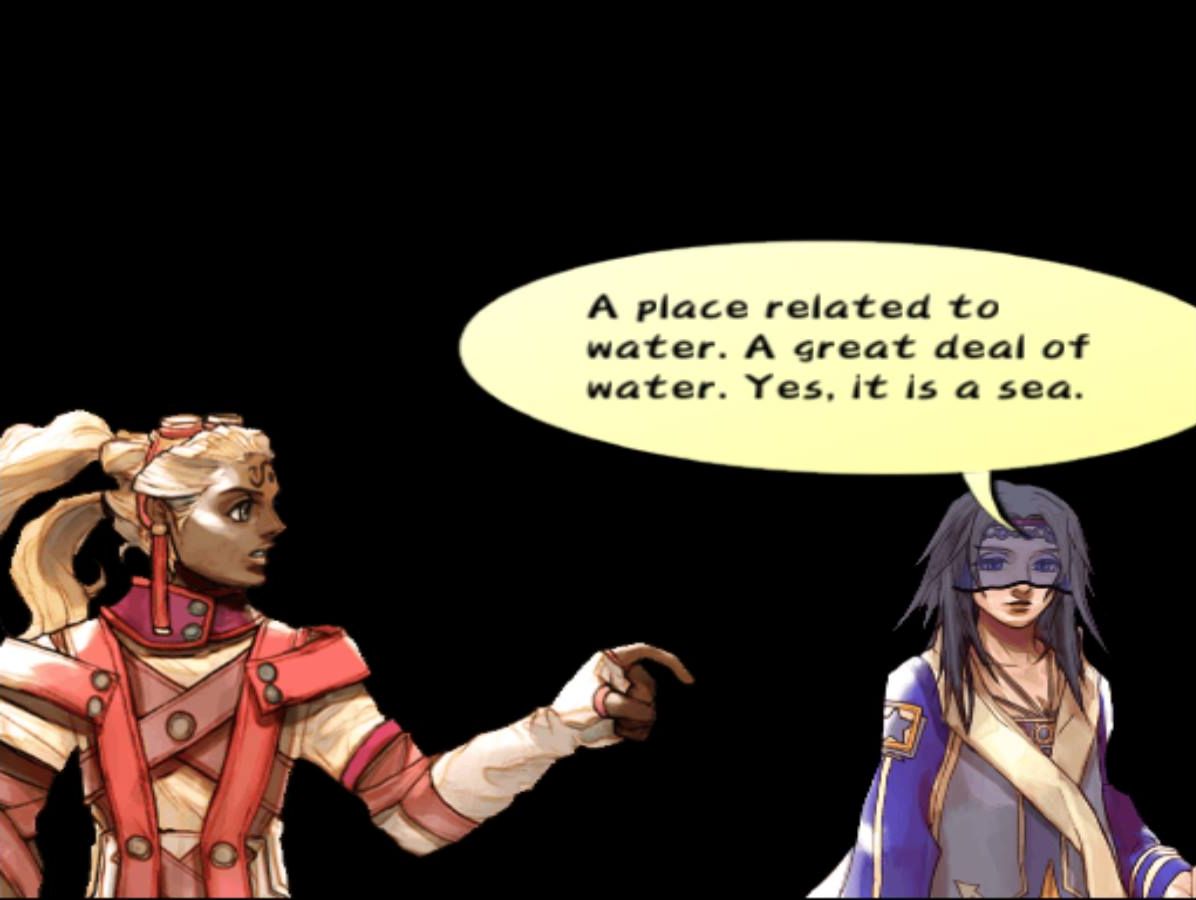 In apology, Sapphire offered to give Mythe a new reading. She ended up... saying the same little things as Ruby, lol. Water, Door, Underground...
However, Sapphire seems to see much more in her reading. There's a lot of water, an entire sea -- Tiffon is near a coast. And the door is large and ornate, and Tiffon's objective is behind that door. And the 'underground' part has something to do with something behind that door. That's all Sapphire can come up with.
Mythe is a bit lost since "the coast" could be pretty big. But it has to be near Gadeira or Vaftom, the coastal cities. The ornate door could refer to Iskandar's mausoleum, or perhaps some place near Gadeira has doors like that, too. The only thing to really do is to go to Gadeira and ask around, since it's closer. Vaftom can be reached by boat from Gadeira.
Mythe asks if Sapphire has any way to prove her reading is accurate, but she responds that fortunetelling is not prophecy, and there are no guarantees. Since she cannot guarantee the accuracy of her reading, she offers to travel with him to help him further when he reaches Gadeira, and probably because she still feels bad about Ruby's mistake.
Mythe seems to feel ashamed of himself for relying on fortunetelling, lamenting "What have I come to?"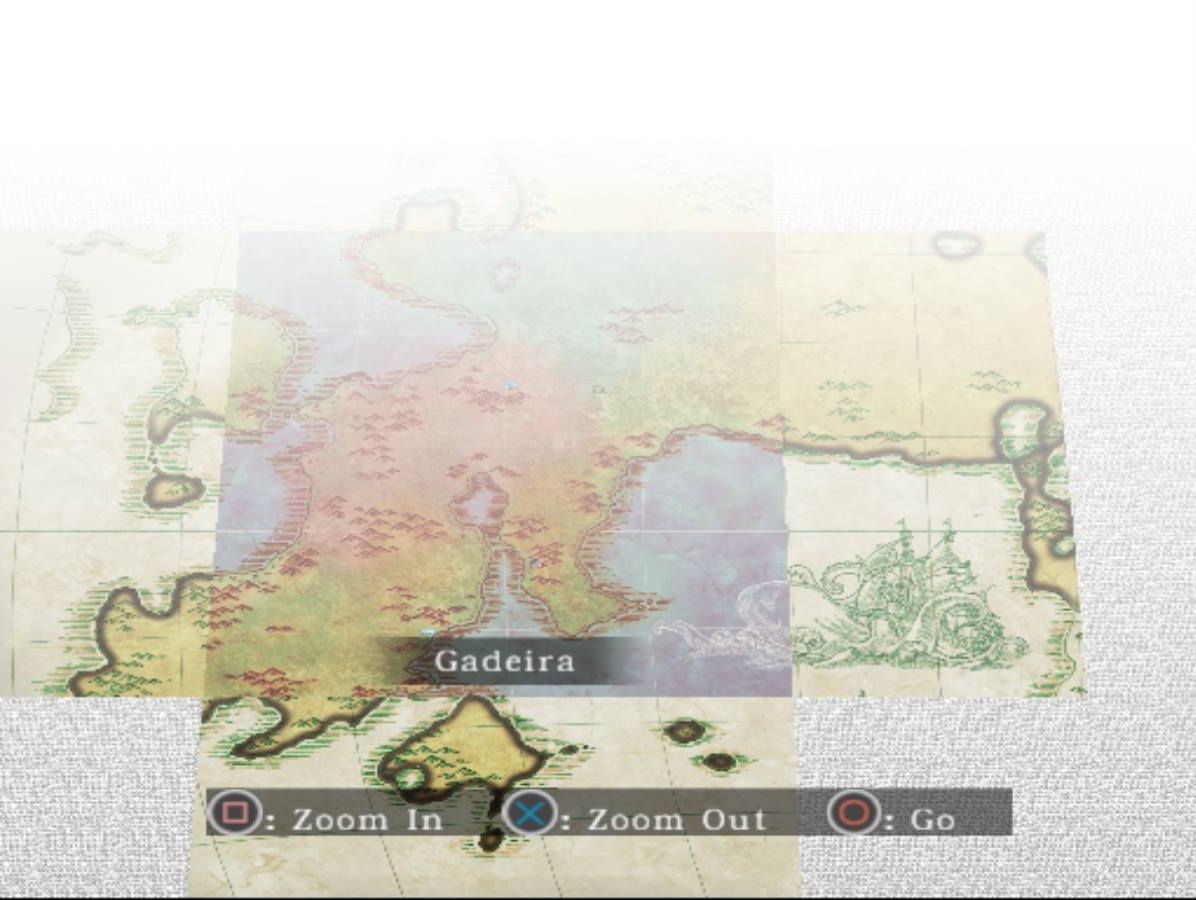 I looked in the inn expecting some kind of "Travels to Gadeira" adventure, but there was nothing. Asking around proved fruitless, so I decided to leave to go to other towns. And Gadeira was just... already on the world map! Nice!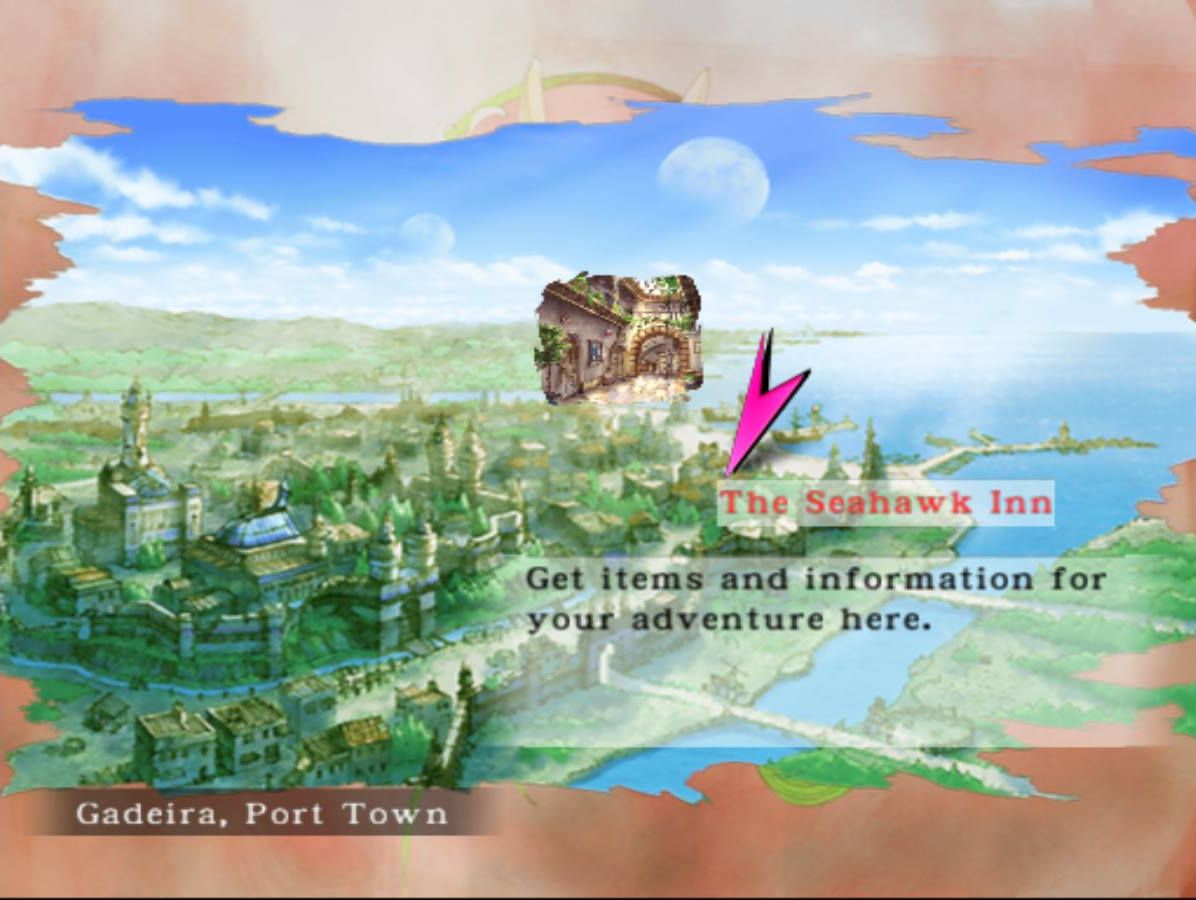 Gadeira is yet another town we didn't get to visit in Ruby's scenario. This is a port town with a healthy economy, thanks to the leadership of Maximilian Burgundy, leader of the Guardian Knighthood stationed here, who also imposes a tax on carriers who pass through -- and being a port city and the only real outlet to Vaftom, a lot of carriers must pass through here.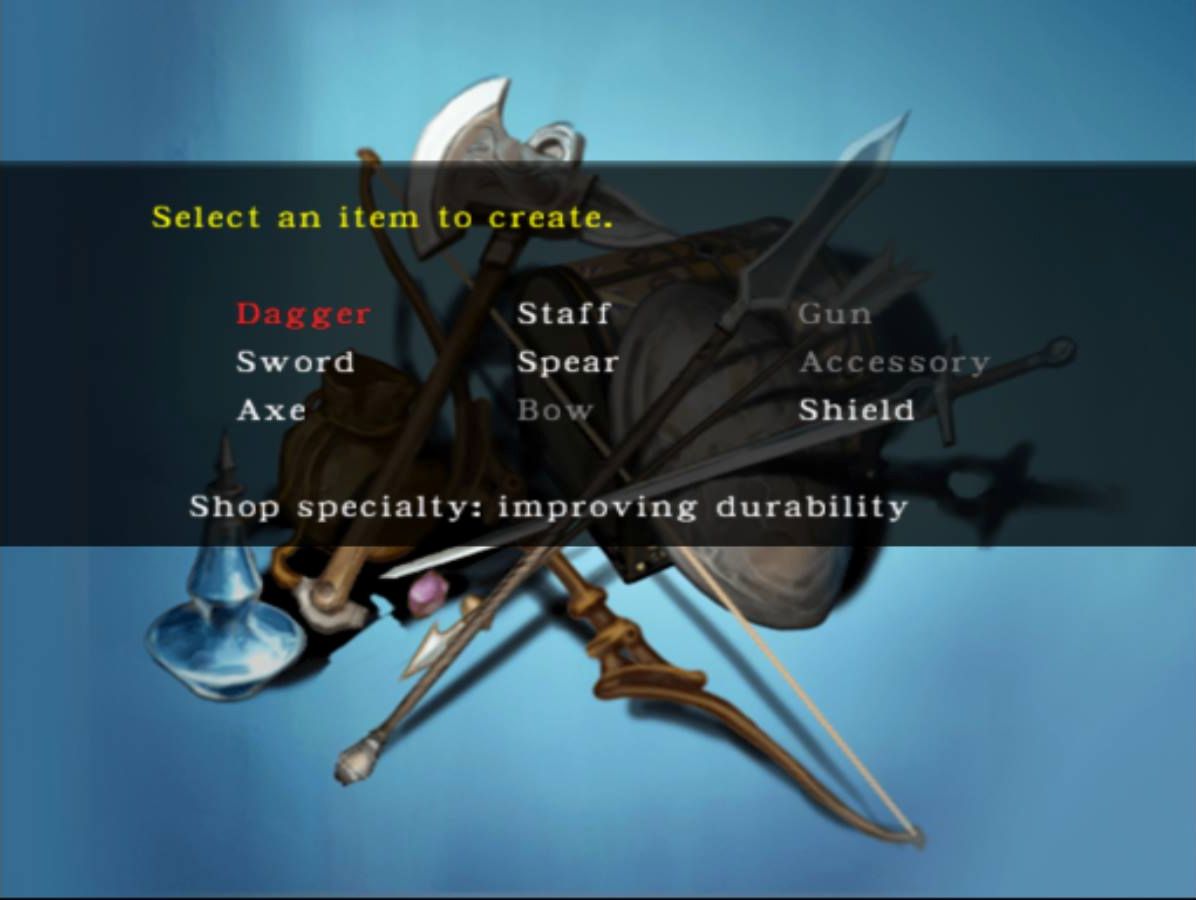 Before heading to the inn to ask around about Tiffon, I hopped over to the blacksmith. There are only four blacksmiths in the entire game -- Mythe Works in Longshank, and then the more generic blacksmiths in Gadeira, Vaftom, and Wanda.
This shop has a much bigger variety of item types we can work with, and its specialty is improving durability. Basically, if you use an item of the same type as the one you're "creating" as the base, instead of creating a new item, you just improve the durability of the item you're working with. So with our fang sword, when I go into Sword Creation and use it as the base, the secondary item just functions as a repair item that restores durability. The boost you get is bigger at the Gadeira blacksmith than other shops.
Anyway, we don't have any actual business here for now. Let's go back to The Seahawk and ask around.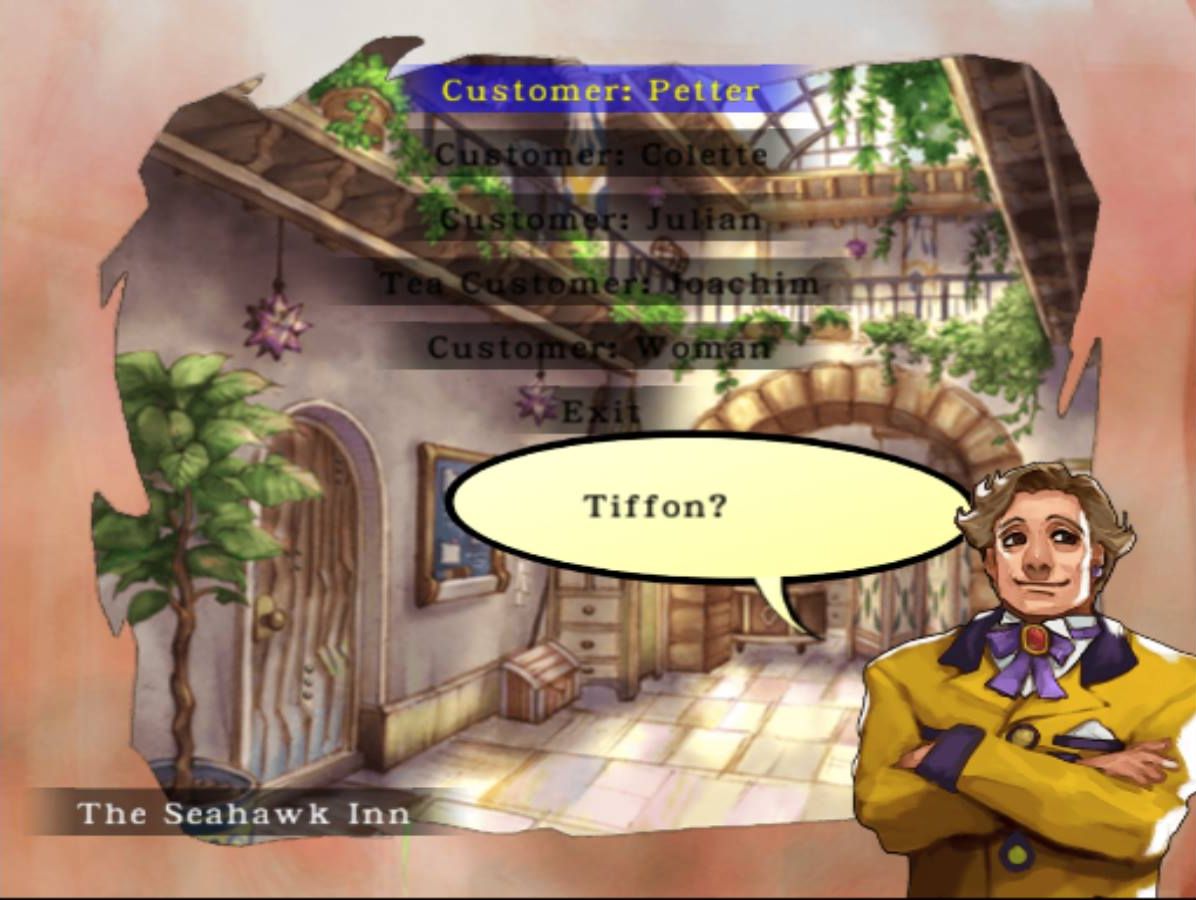 ... Real helpful, there, Petter. Also why is your name Petter?? Why not Peter?
Okay, Colette, are you Petter's wife or something? Nah, you don't seem his type. He's one of those aristocratic snob types who goes to Fugar's shows. You look a lot more down to Earth.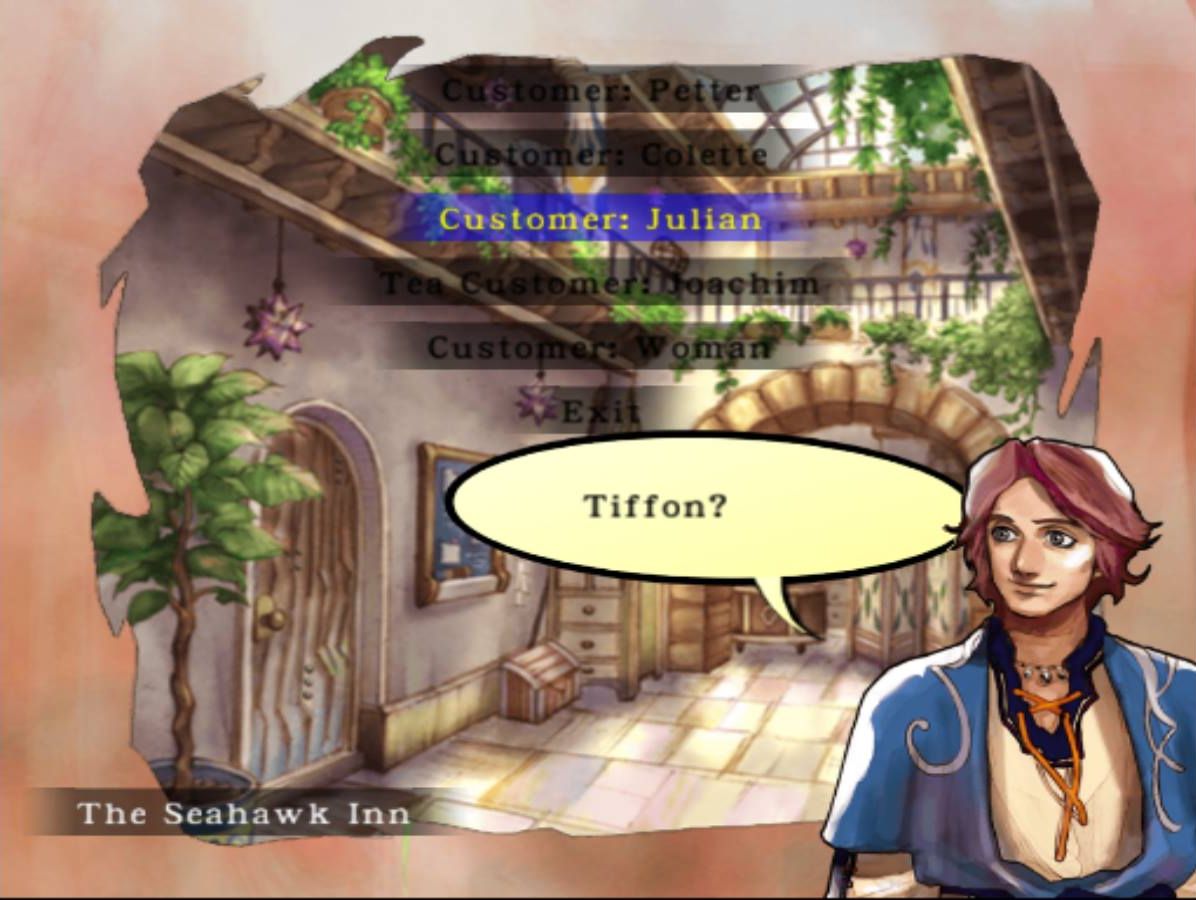 ... OK, seriously??
... Well, at least you said more words... BTW I have the hugest crush on Joachim. He doesn't even have a mustache! But the glasses, the hair, the long face, that big nose... aaah, dreamy~~ He's a butler, too. I love that he's listed as "Tea customer" here.
Well, there's only one person left... hopefully they will be more useful...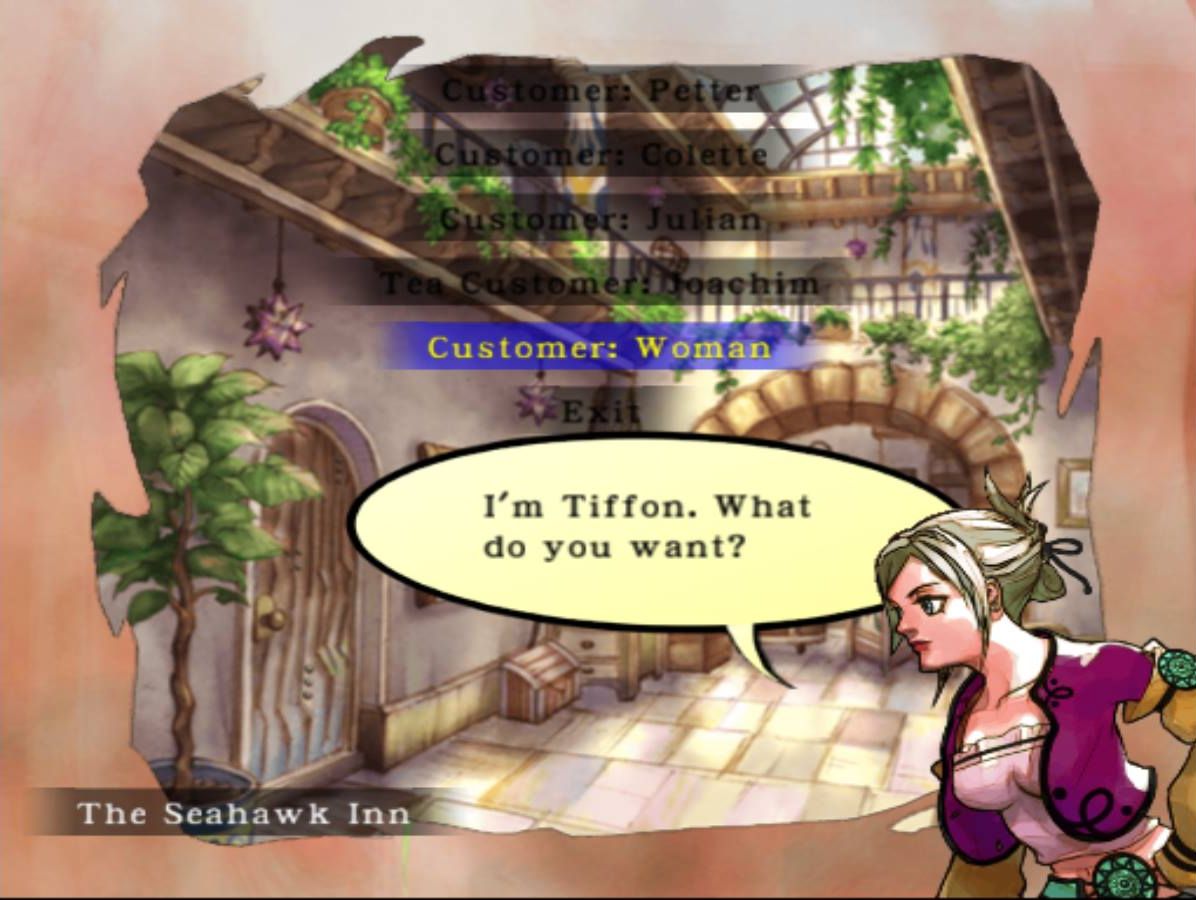 Oh, it just was Tiffon. Well, that was easy, I guess? Gimme the deets, girl. We have a 14-year-old girl to abduct.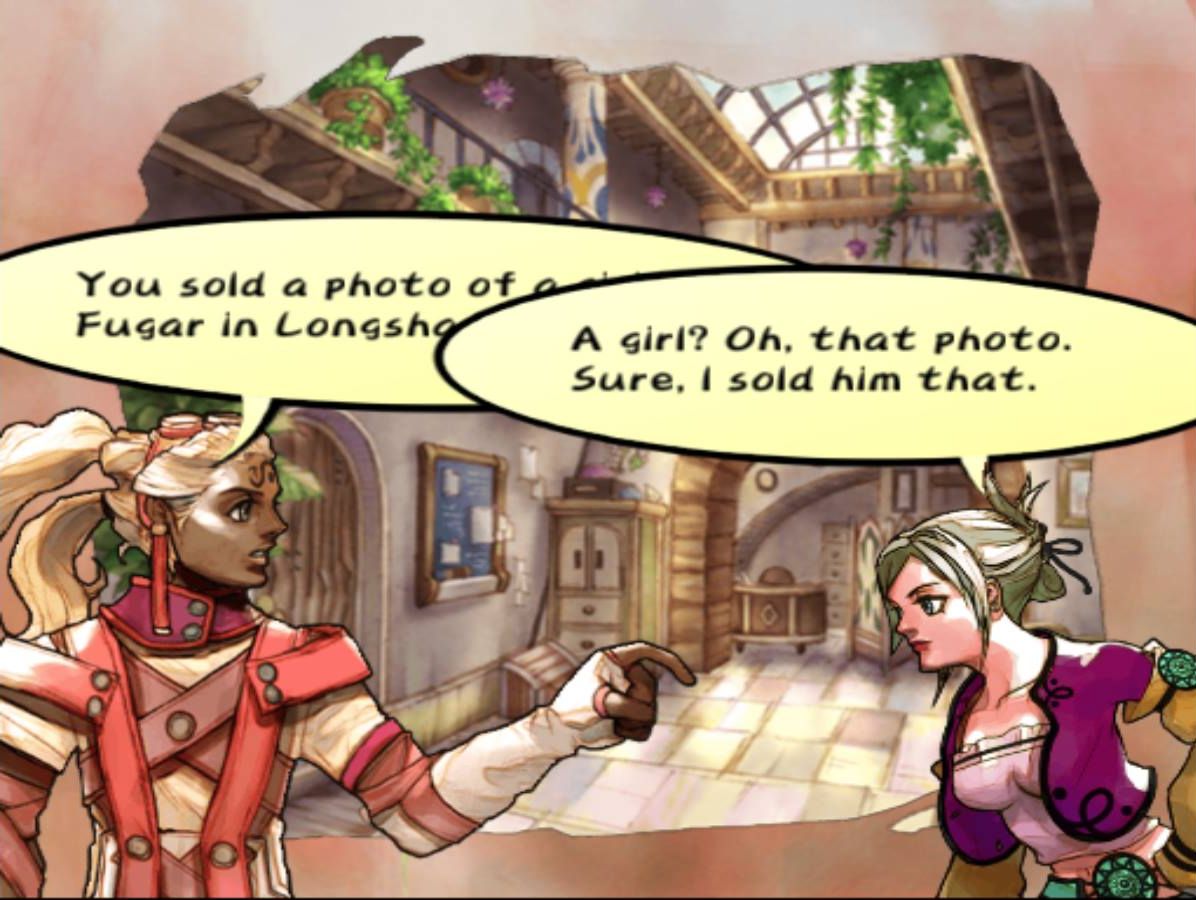 Mythe asks Tiffon if she sold a photograph of a girl to Fugar, and she admits she did. But when Mythe (politely!) asks her where she got it, she refuses to give up her information, and hurries out of the inn.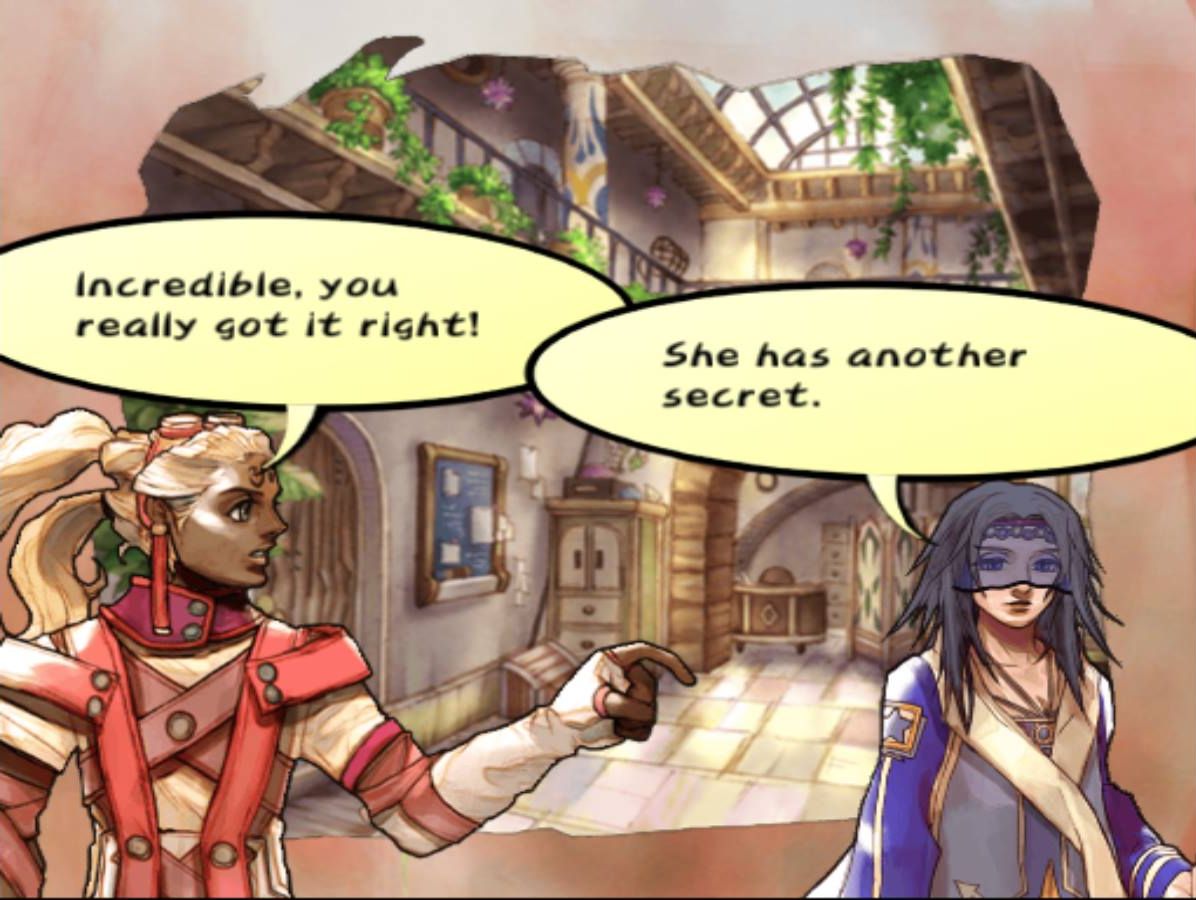 Though I expected him to be defeated, Mythe seems to be mostly impressed that Sapphire knew what she was talking about. Sapphire watches Tiffon run out, though, and says she must be hiding a secret. Mythe asks if she's using her fortunetelling again, but Sapphire says it's "women's intuition." I think when someone says "I'm not telling!!!" and runs away, they obviously have a secret. You can just call that "common sense," guys...
I have no idea where the heck Tiffon went, but while we're here, let's look at what the merchants have got for us. Since we still have our huge Market Rank, everything is still ridiculously expensive... I mean, it's nice that we have access to some of this amazing stuff this soon, but I'd rather buy stuff near my level that I can afford and would be useful right now.
I went to all the shops I could access -- four, since we can now go to Gadeira, Longshank, Zomar, and Loch Vaan -- and even with Sapphire's artiste ability that unlocks more items in each shop, I couldn't find a single thing worth buying that I could afford.
I also asked around at all the inns while I was there, and no one said anything new. Then I went to the adventures list and it looks like we have an adventure to chase after Tiffon ourselves.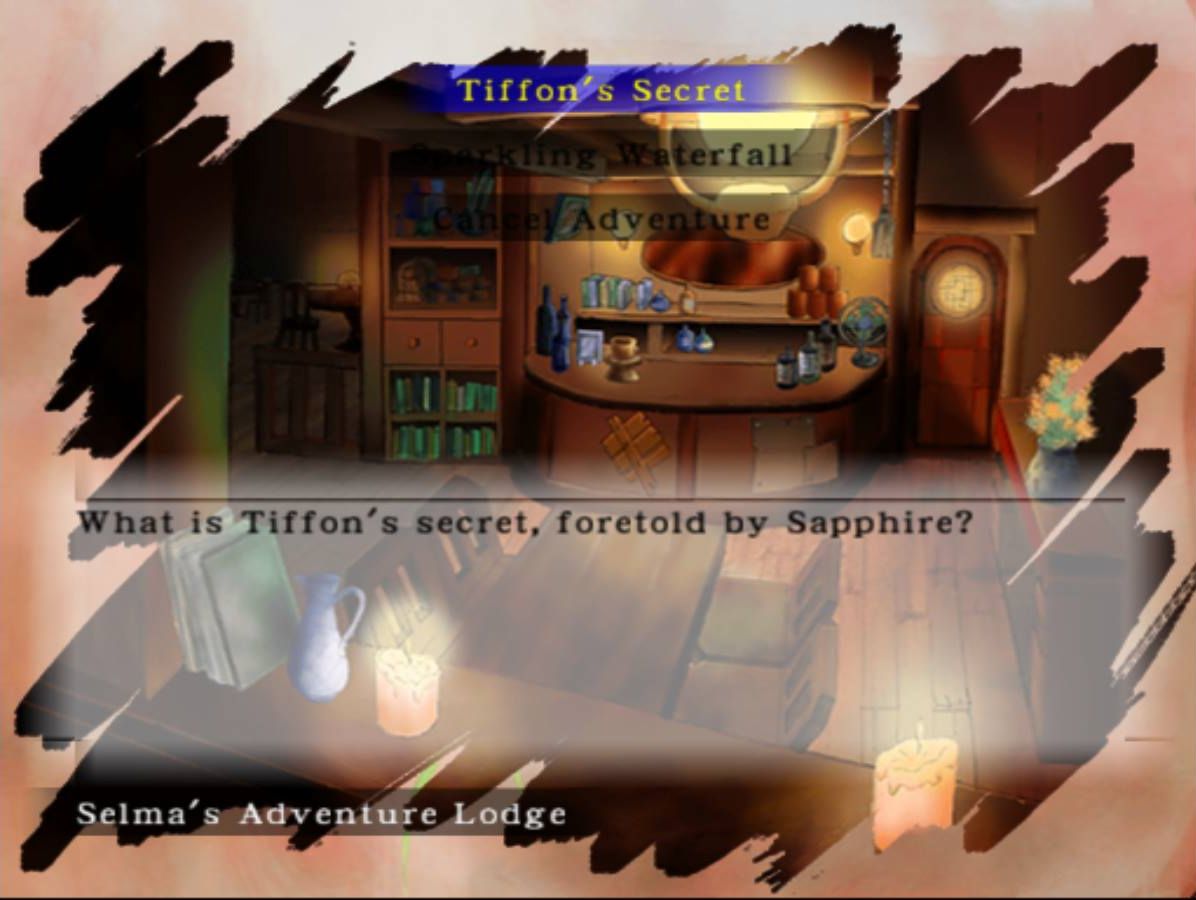 Also "foretold by Sapphire" ... no, you guys, really, this isn't a mystical thing.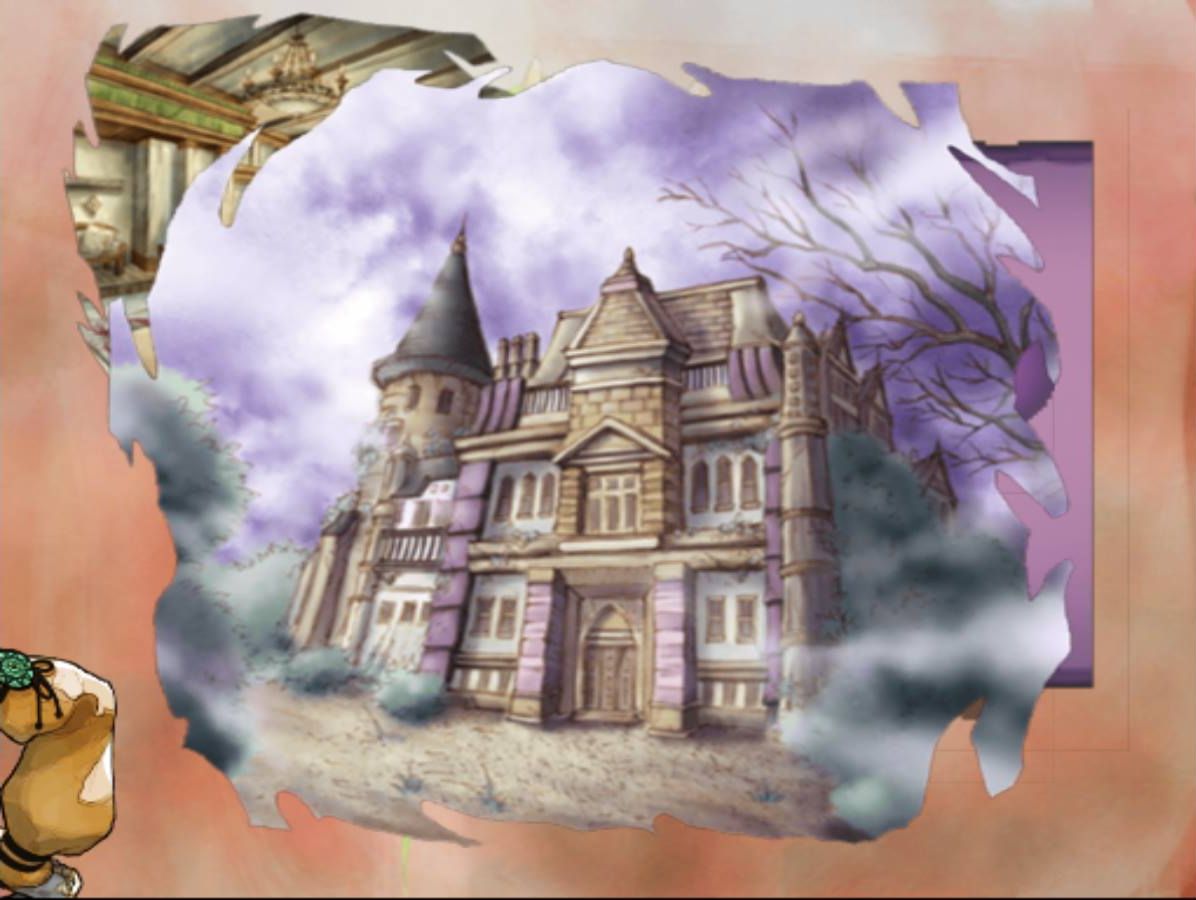 When we start the adventure, we see Tiffon running into this creepy house. So... did we literally just follow her here?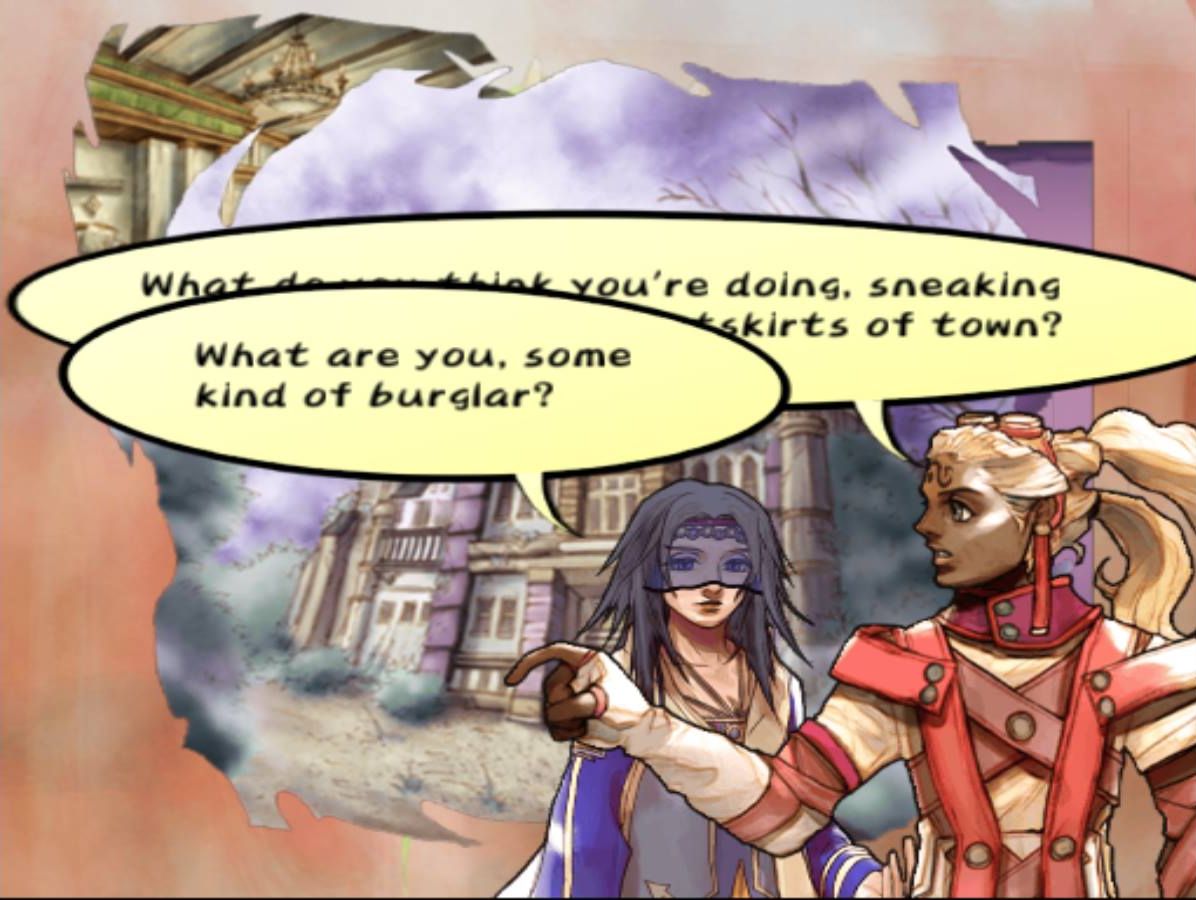 Yeah, we're stalkers now, I guess... It's kinda funny to imagine Mythe and Sapphire just following Tiffon around in the shadows, casting their ethical judgments at her when she can't even hear them.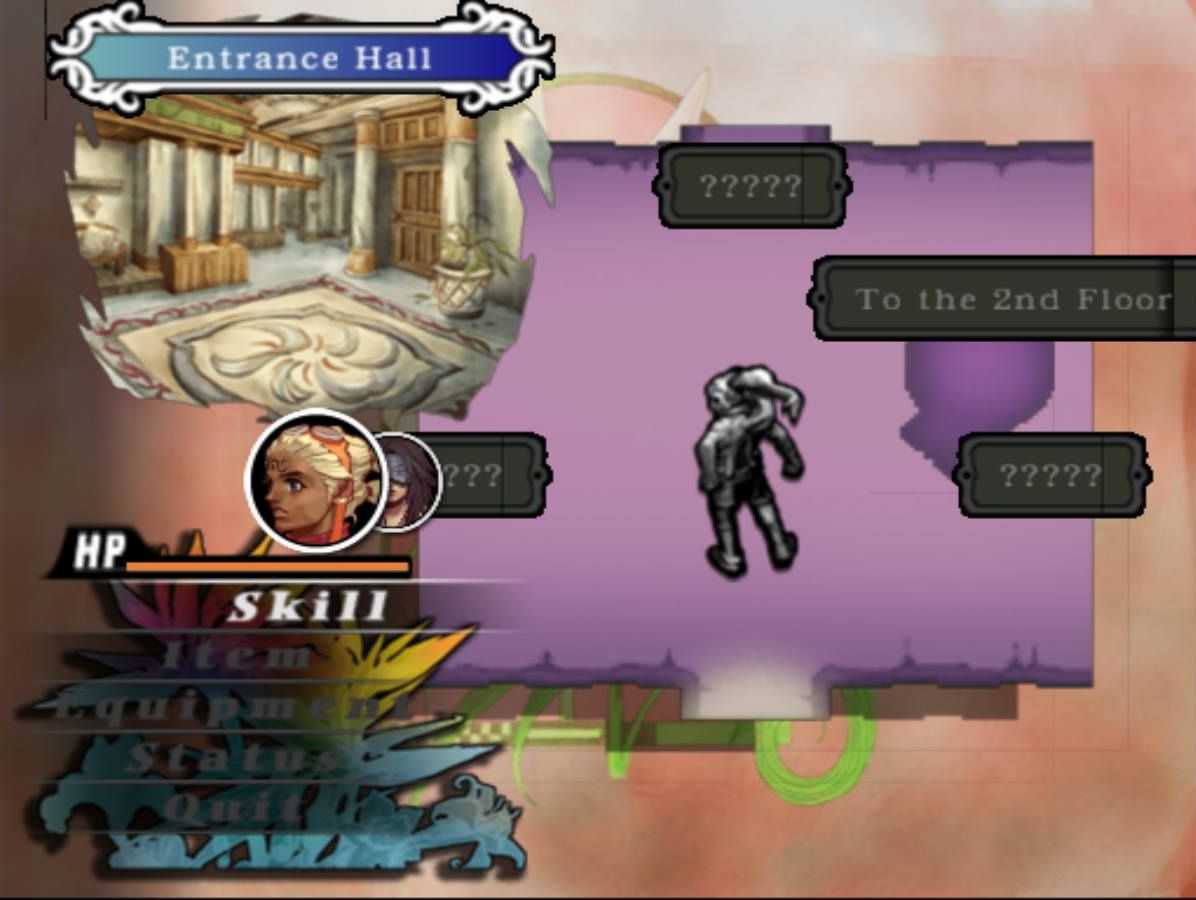 We head inside after her (aren't we, now, breaking and entering, too?) and find that we're in an abandoned mansion filled with monsters. Joy!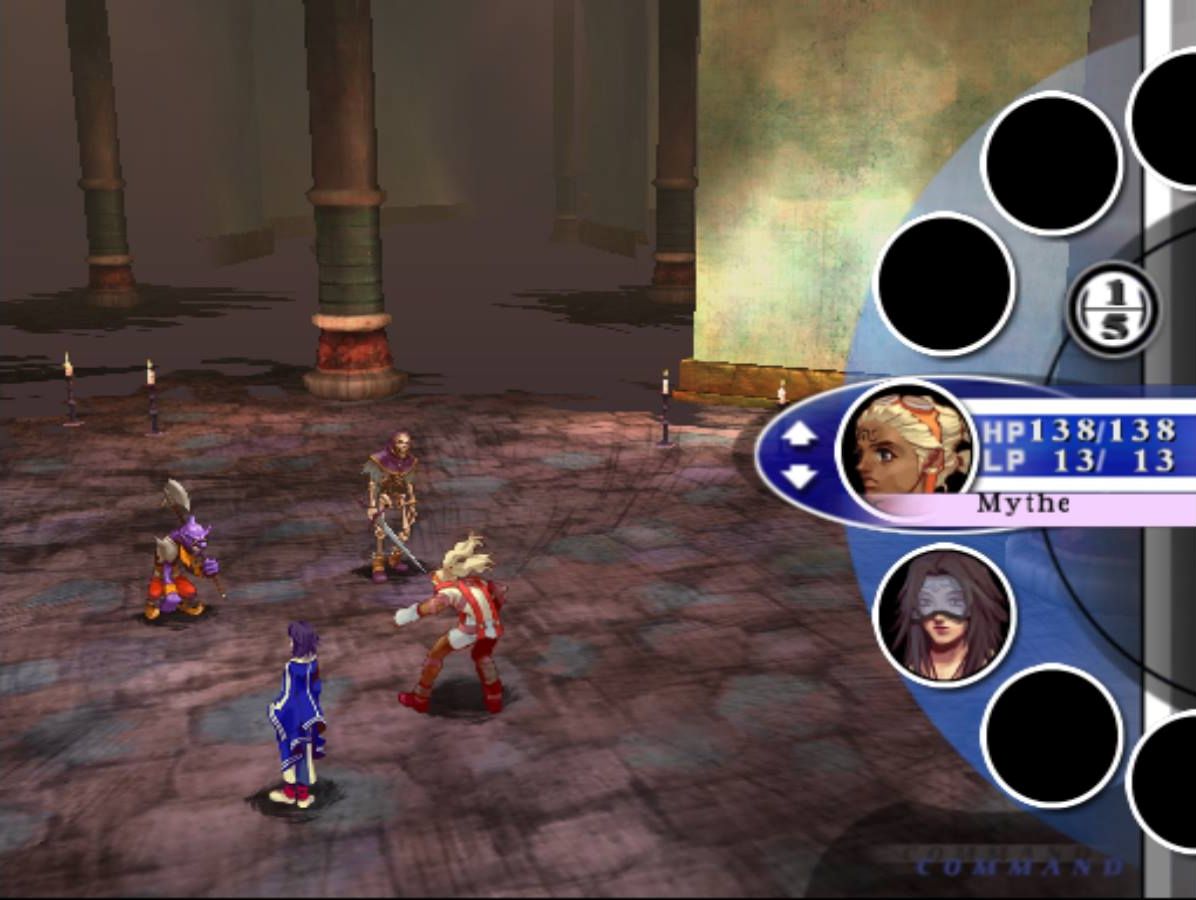 The battle scene here is pretty cool-looking. I like how the floor just kinda disappears into the distance -- this kind of "unfinished painting" look is a motif in the aesthetics of this game, and sometimes I really like the way it looks.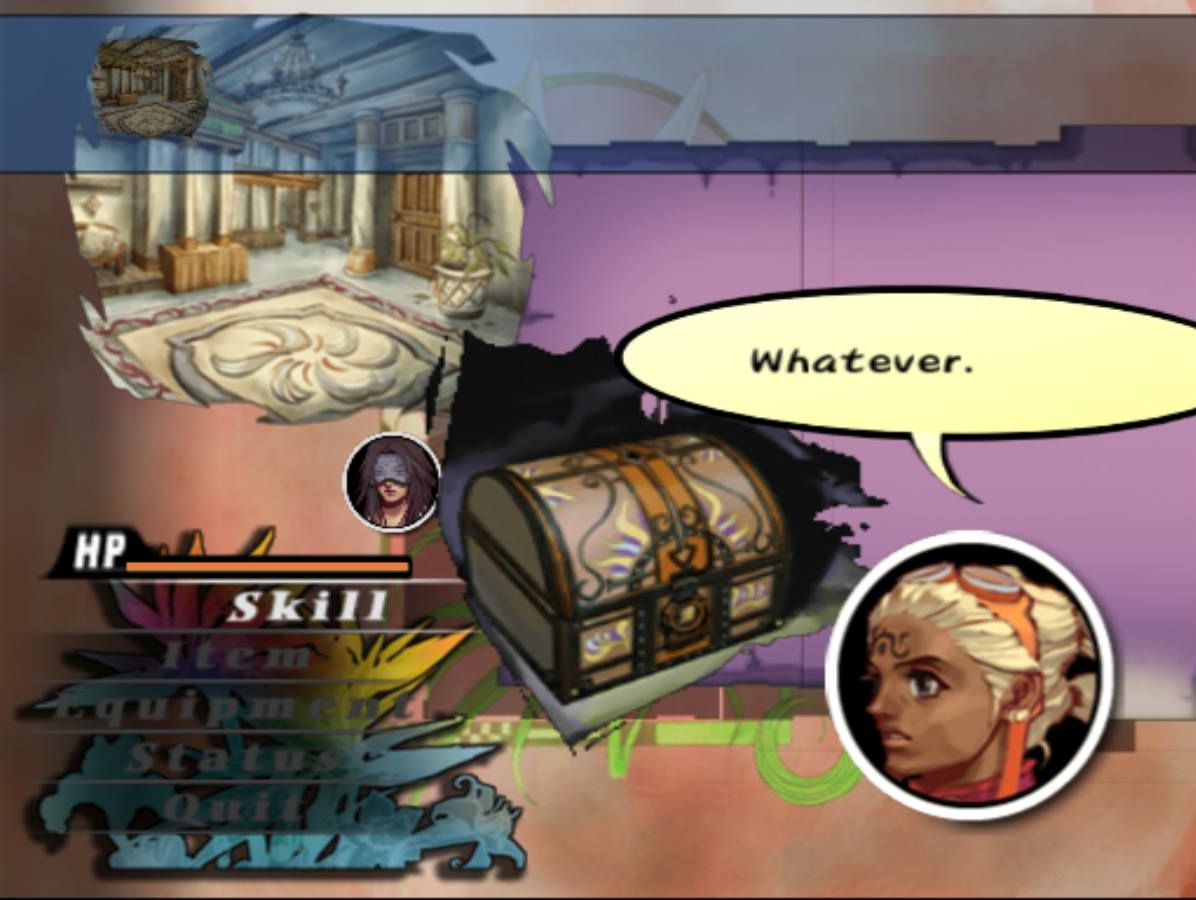 BTW, this is what Mythe says when we ask him to unlock a treasure. I think normally I'm annoyed by characters like this, but for some reason I find Mythe adorable, wonky battle sprites aside.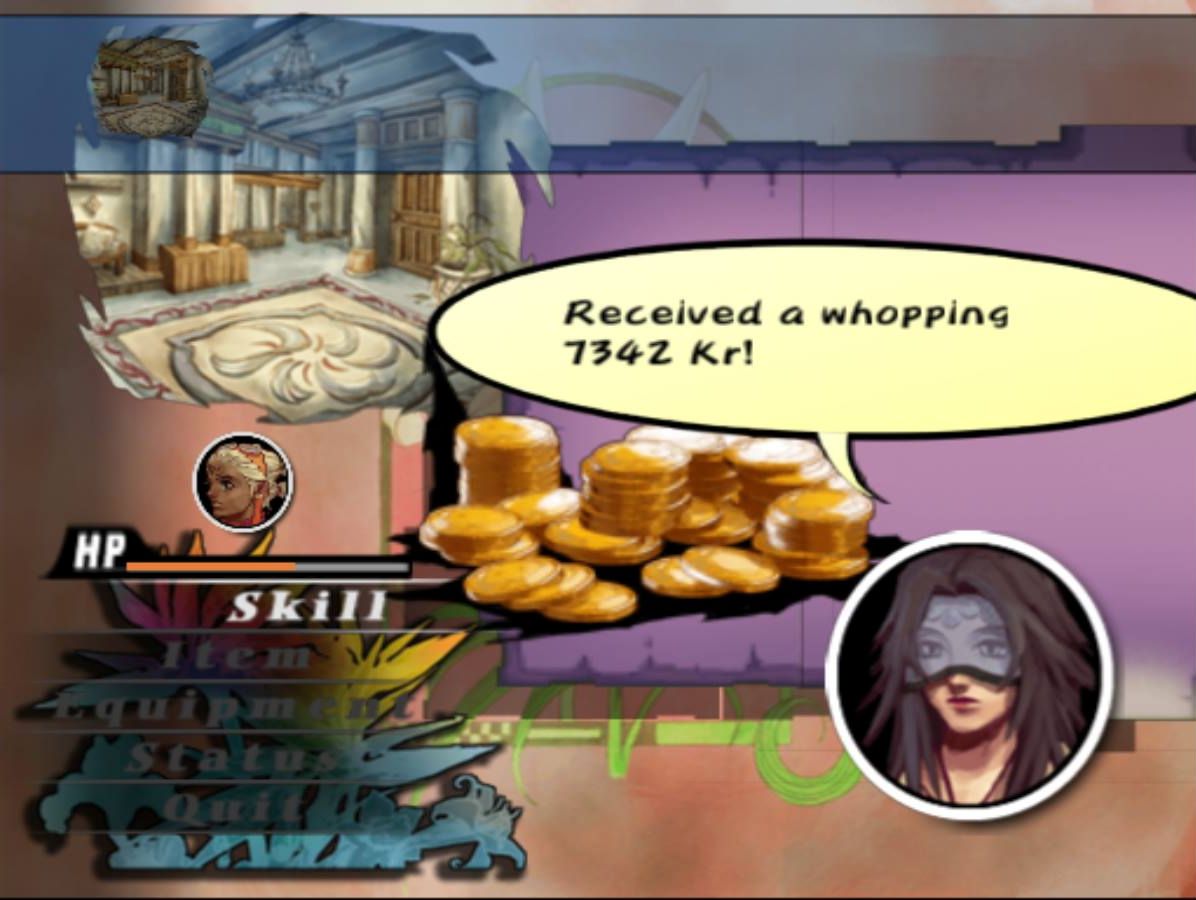 Sapphire is such an asset! When we're dealing with the pain of high market rank, she already has a L4 fortuneteller, so we can really rack up the kr when we find treasures! Of course, we have to bite the bullet on the traps, since we don't have Defuse at all. And with lucking out on Mythe getting Locksmith right from the start, we don't have to worry about losing the contents of chests by trying to open the locks with punching or whatever.
So yeah, big money~~~ I could have tried to go for even higher (we could probably get near 20,000kr from a single treasure?) but I didn't want to gamble too much since we desperately need the money.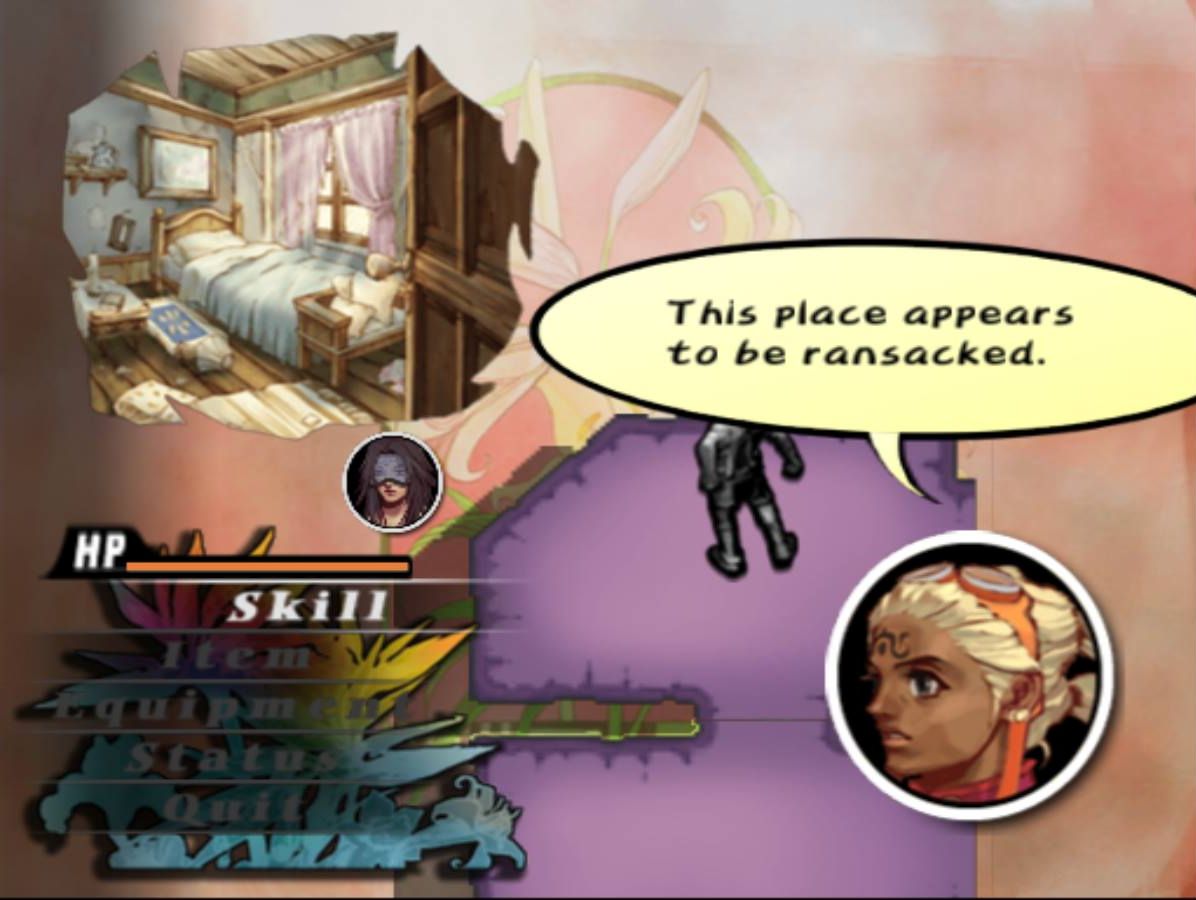 Wandering around the mansion, fighting monsters... eventually we come across this room that has been ransacked, but nothing special seems to be happening here.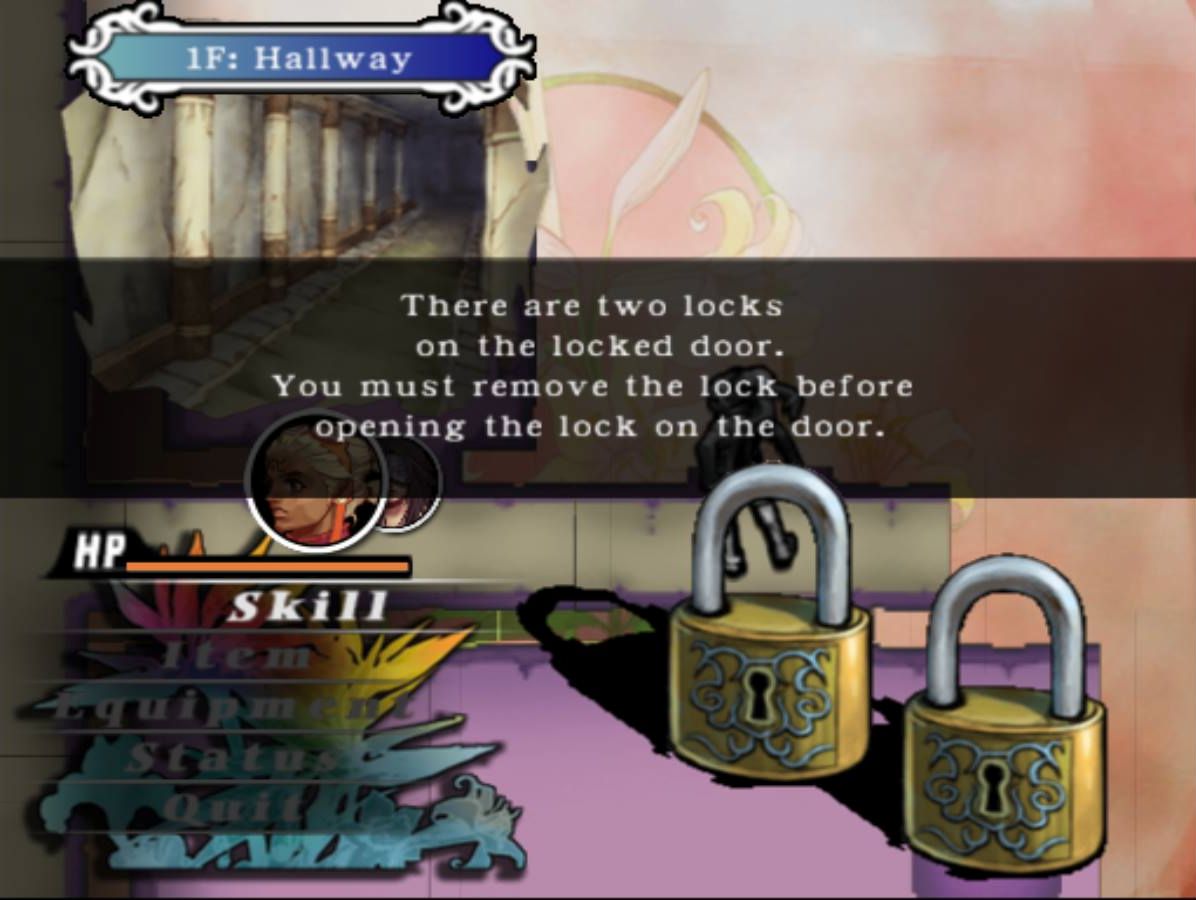 Eventually we come to a door that has two padlocks on it. Wow! The description is a bit... awkward. "You must remove the lock before opening the lock" ... er... gotcha. I'm assuming what it means is that one of the locks is preventing you from even attempting to unlock the other lock, so you need to open two locks to get through.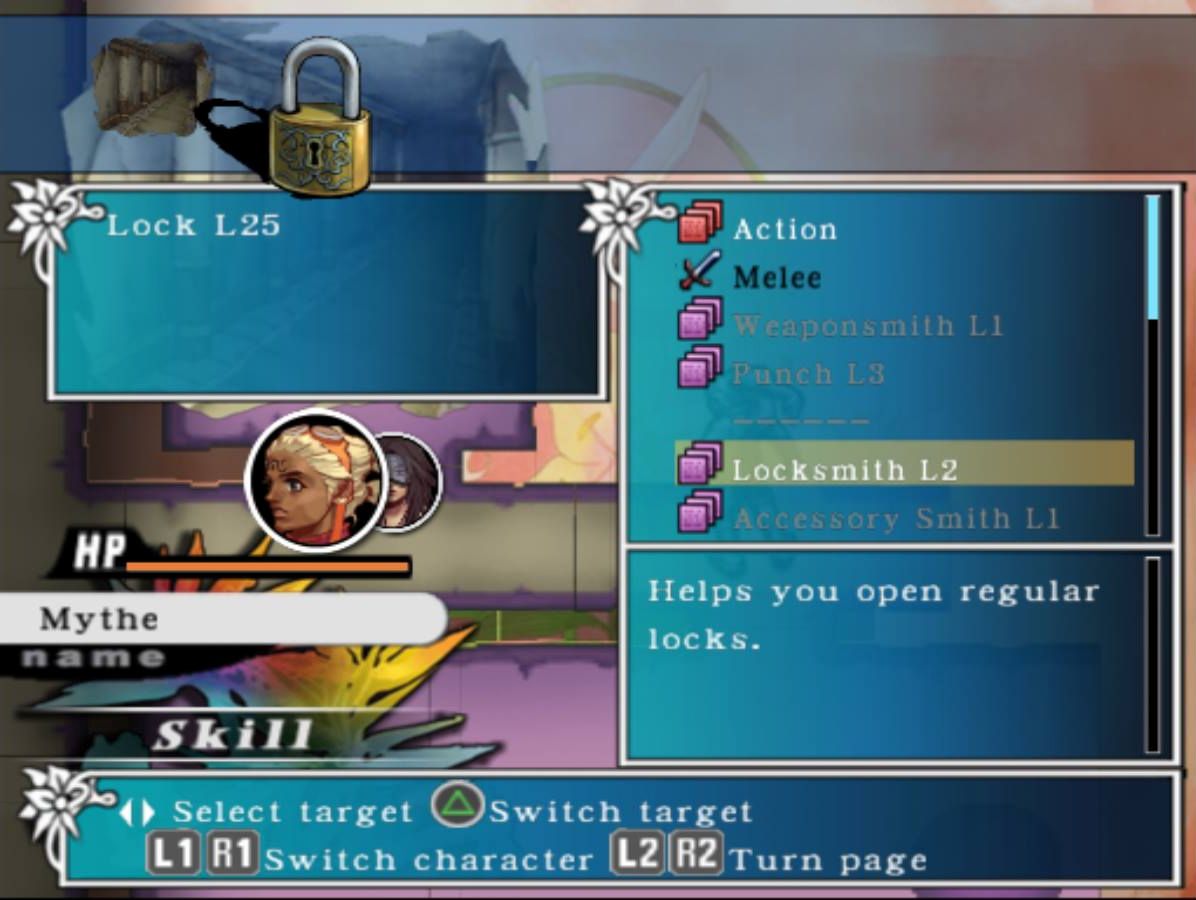 I can use Locksmith on the padlocks, actually, but I figured you're not expected to have it here, and I haven't even finished exploring this place. There's a whole second floor, and I'm not even done with this floor.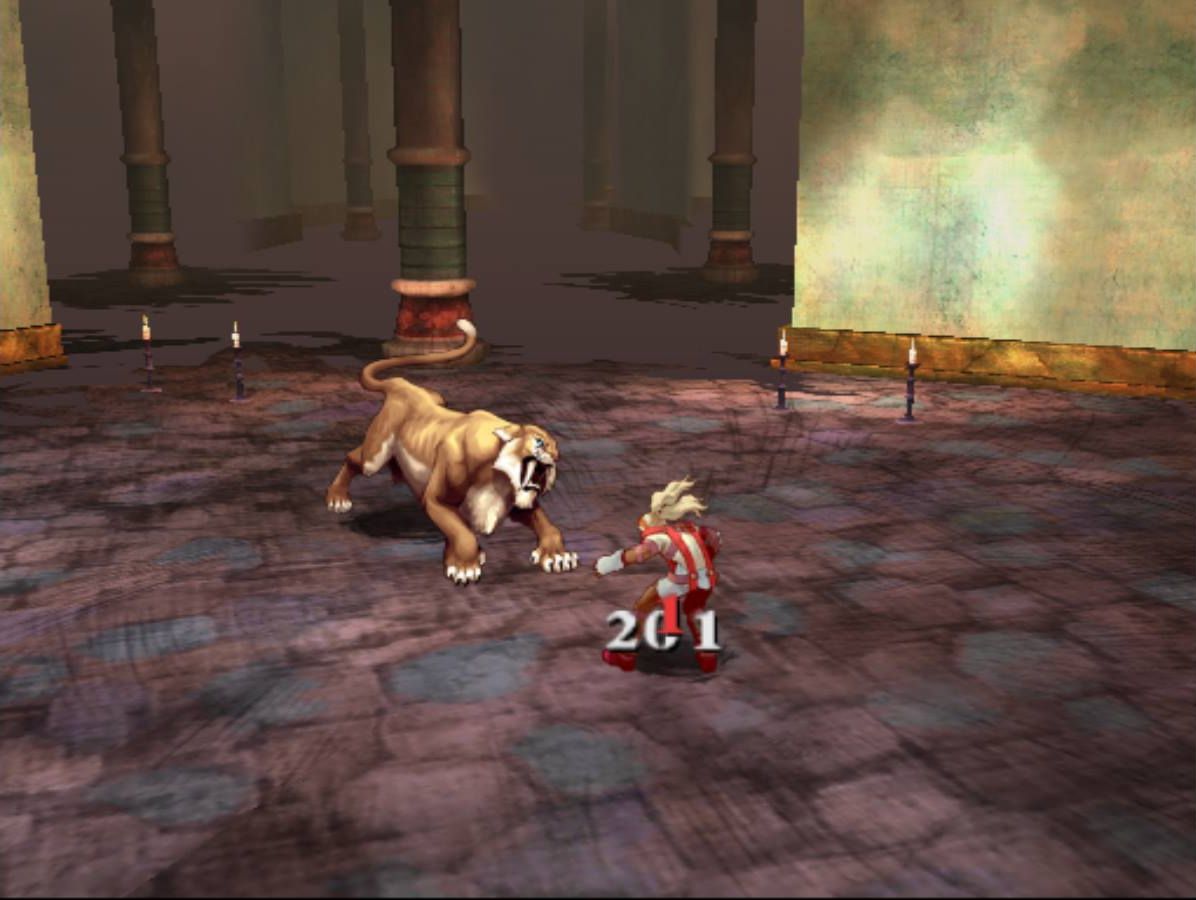 When I step into the northern half of the easternmost room, a Sabretooth appears. I didn't get a cap of it, but it had a special introduction, so this is a scripted battle, it seems. A Sabretooth is a bit... much... for this point in the game? This is also the same monster that appears as the sub-boss of Night Desert, which you're intended to get through without (hopefully) ever having to actually fight it. With a full party. Because it's that dangerous.
Before I can even get much attacks in, this thing starts mauling Mythe...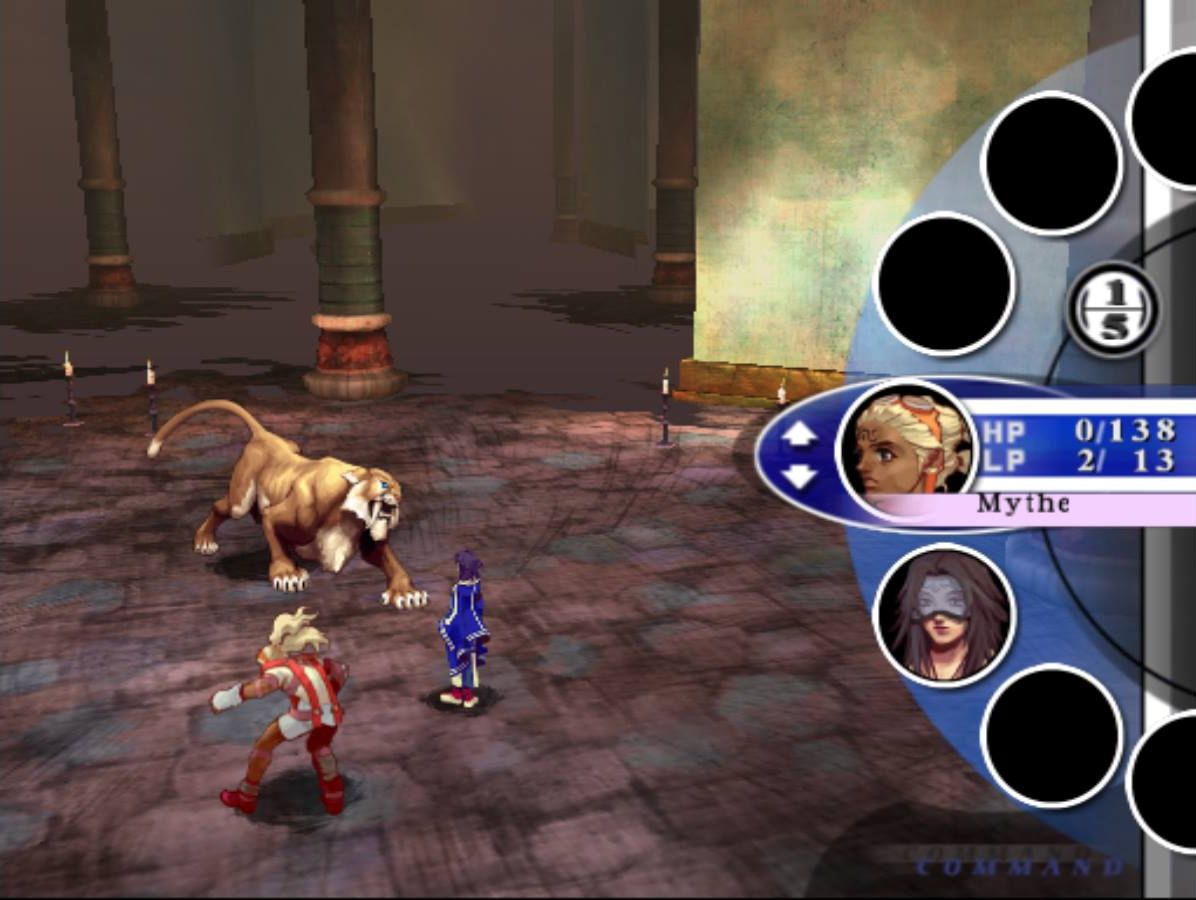 Mythe lost 11LP. In one turn.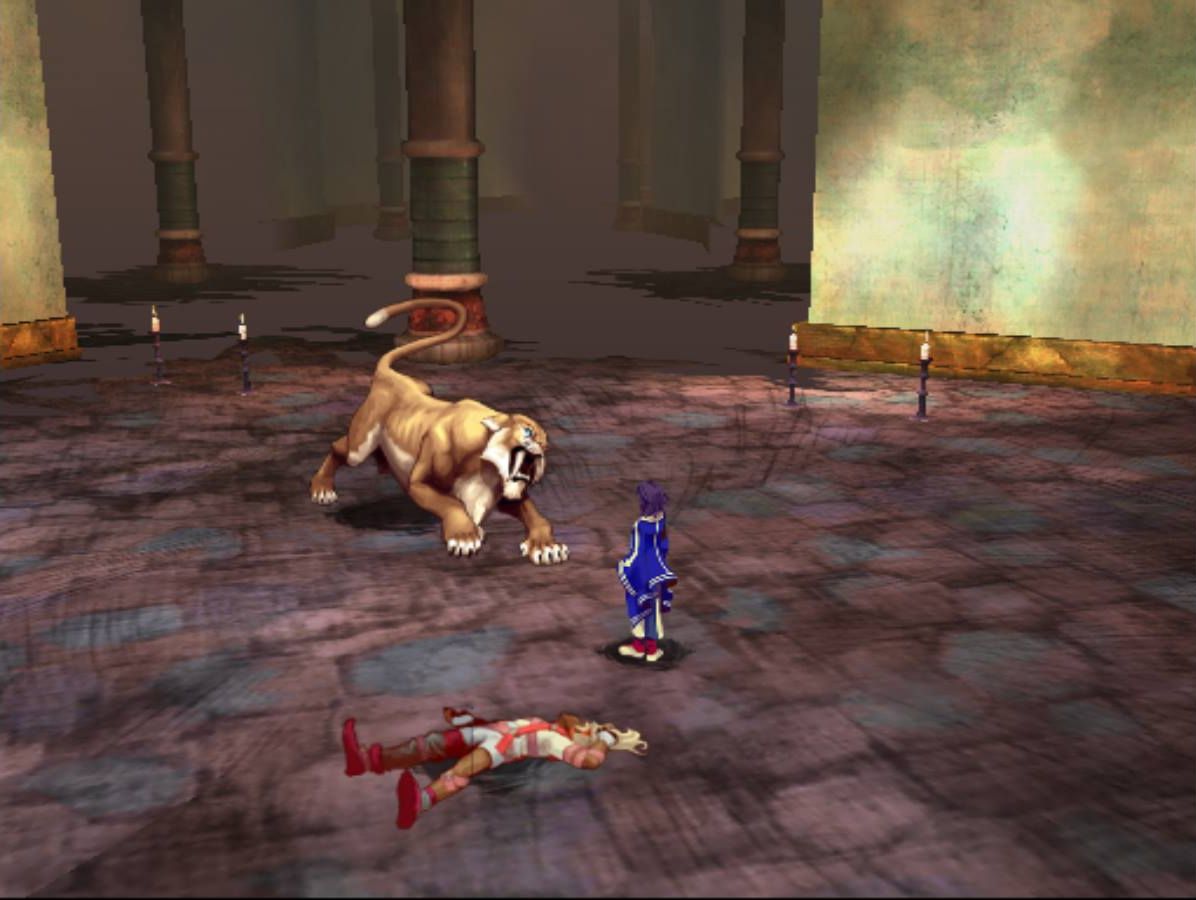 Well, that's that...
Time to load our last save, I guess :( And, annoyingly, I saved before ever meeting Tiffon in Gadeira, so I have to go through that whole thing again (but I got to see Joachim's lovely face once more, so I guess that's good!)
I make sure to save again after all that's over. I should probably avoid this fight, but... if you're going to give me a challenge like this, I'm going to try my best to overcome it.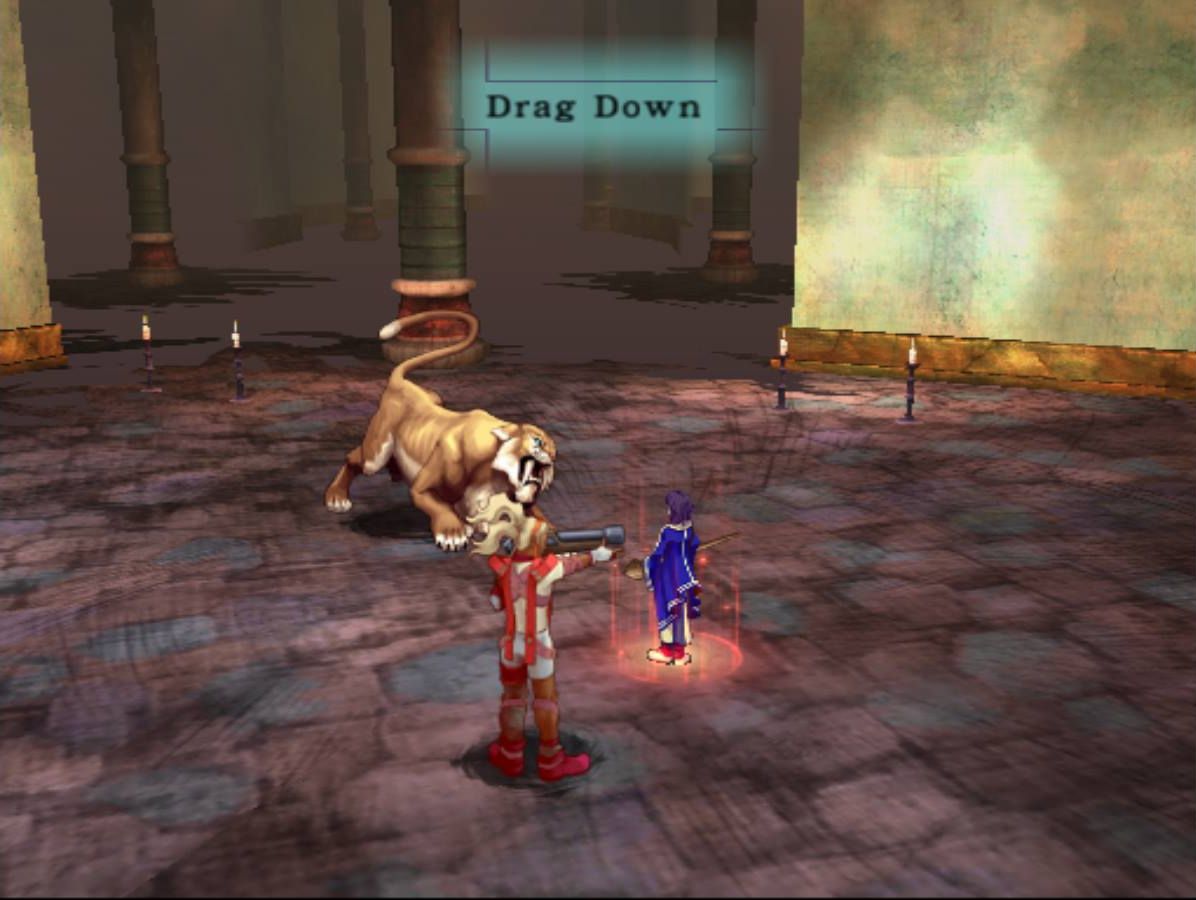 New strat this time -- I'll have Sapphire try to tank the damage (loooollllll) as well as use her staff to try to debuff. I mean, it's really unlikely that she'll glimmer Drag Down, but I'll try. Just kidding, she somehow glimmered it on the very first action! Also, if you're curious, Sapphire's starting abilities and everything are exactly the same as in Ruby's quest. Mythe's were the same in Ruby's quest as they are here, too.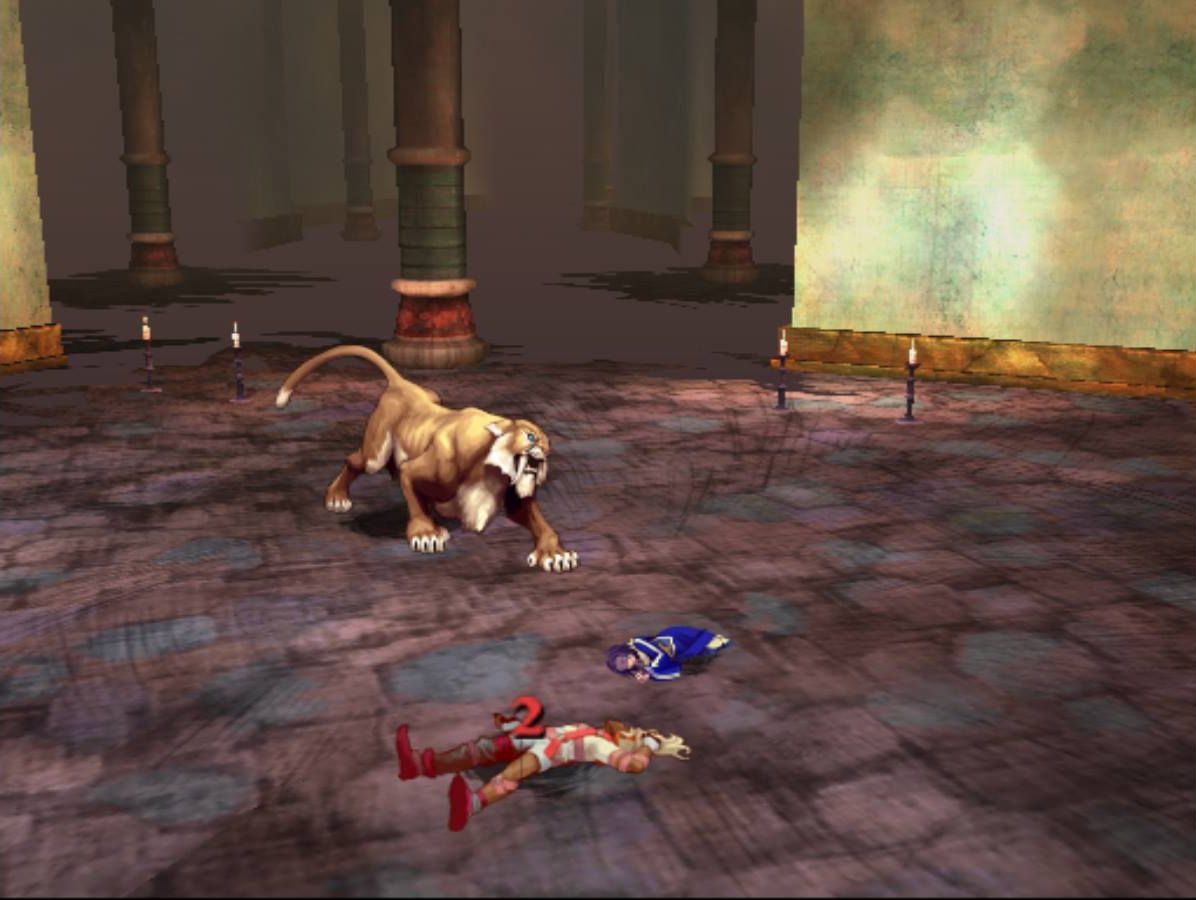 Strat didn't work. The thing tore through Sapphire in a single turn, and it wasn't long before Mythe fell too. Even with spamming his gun and always hitting the strongest shot, I wasn't able to do any LP damage, and I think the sabretooth has like... 4-6 LP?
OK, one more try, and another new strat. I have that armlet that allows anyone to use Boulder, and Mythe has Purify and I did get that other accessory with Water Arts. I'll give Sapphire the Boulder armlet, and have her stand in front again... then queue for Mythe to heal her... and then after both of them have used their magic, I should be able to chain two gunshots into a sword attack easily, which should do big damage, right?
Well, it didn't work how I planned... Even healing Sapphire, the sabretooth depletes all her HP and still does 2 LP damage with every attack every action it gets. And it gets like ~5 actions per round.
But it kinda worked. I did almost 1000 damage. Still no LP damage. Second round starts... Sapphire is dead and I use a modified strat to have Mythe heal himself and still try to combo more. I did manage to get 1LP damage in, but before the round of combat even ended...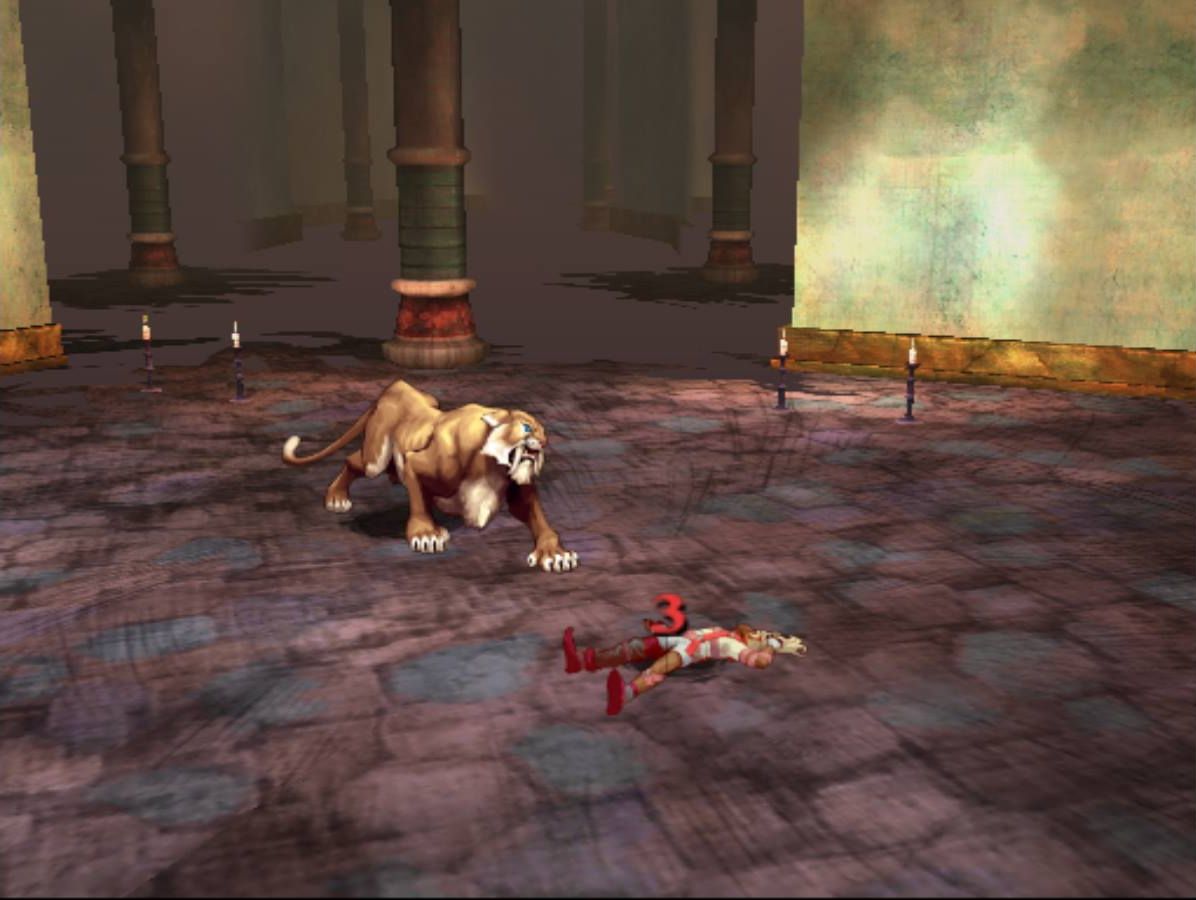 Okay, this isn't going to work. What if that thing is guarding the keys?! Well, I still haven't gone to the second floor, yet... I guess I'll just come back to this as a last resort... and I mean, I have locksmith so I don't really need any keys... but what would you do if you didn't have locksmith at this point?!
BTW, I also have lost that ~7,000kr that Sapphire found for us...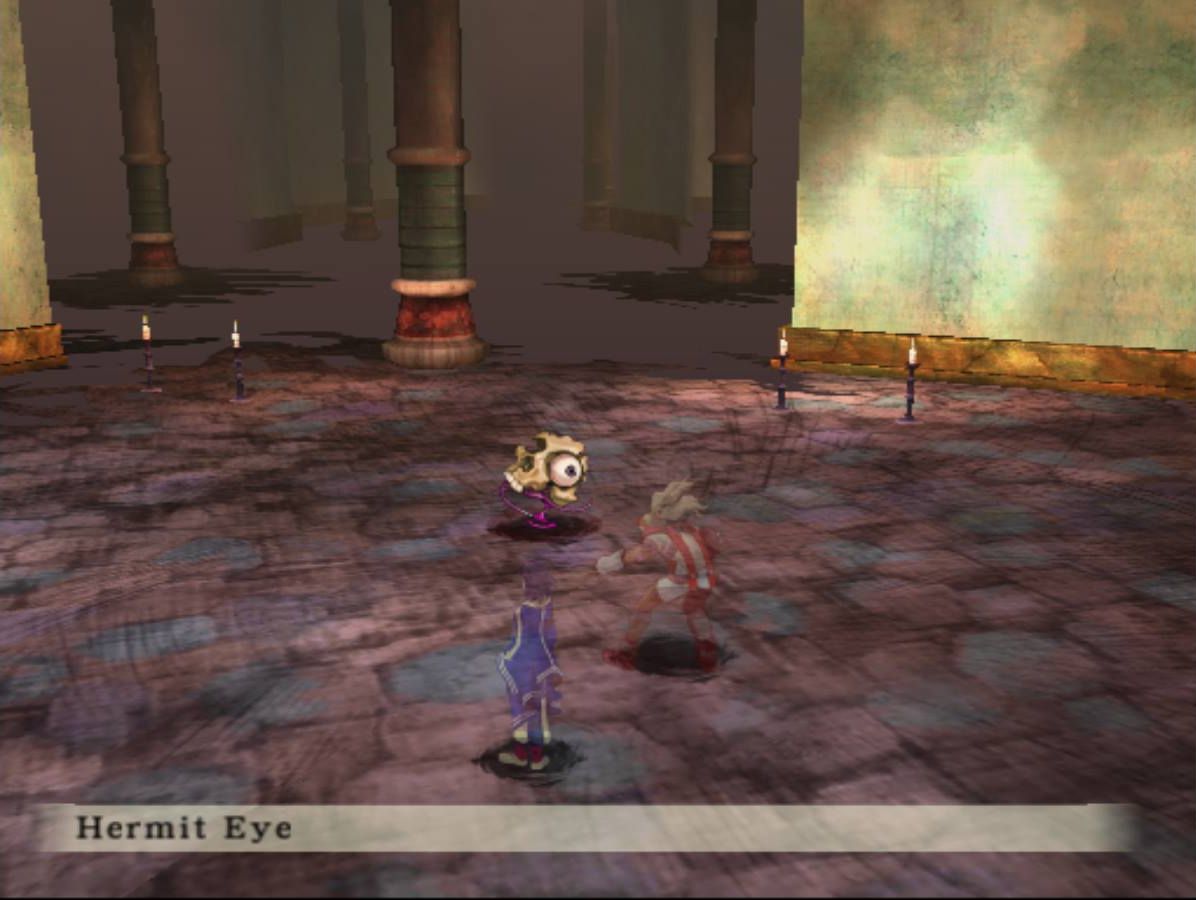 Exploring around and avoiding that room with the sabretooth, I run into a Hermit Eye. I love these guys -- they're just a really cool design. With the way they're looking at you, you kinda interpret their head as the rocky thing around them, and they're some kind of cyclops. but if you look closer, this is a fragment of a broken skull, which is actually turned sideways, and they're peering out of the left eye socket! One of its attacks is called "Slingball" and it actually like... flings its eye at you as if it were attached to a rubber sling. It makes a really weird sound, too. Not like an eyeball smacking into you should. It sounds kinda like those dodgeballs you use in school being hit with like a wooden stick or something. I can't really explain it, honestly.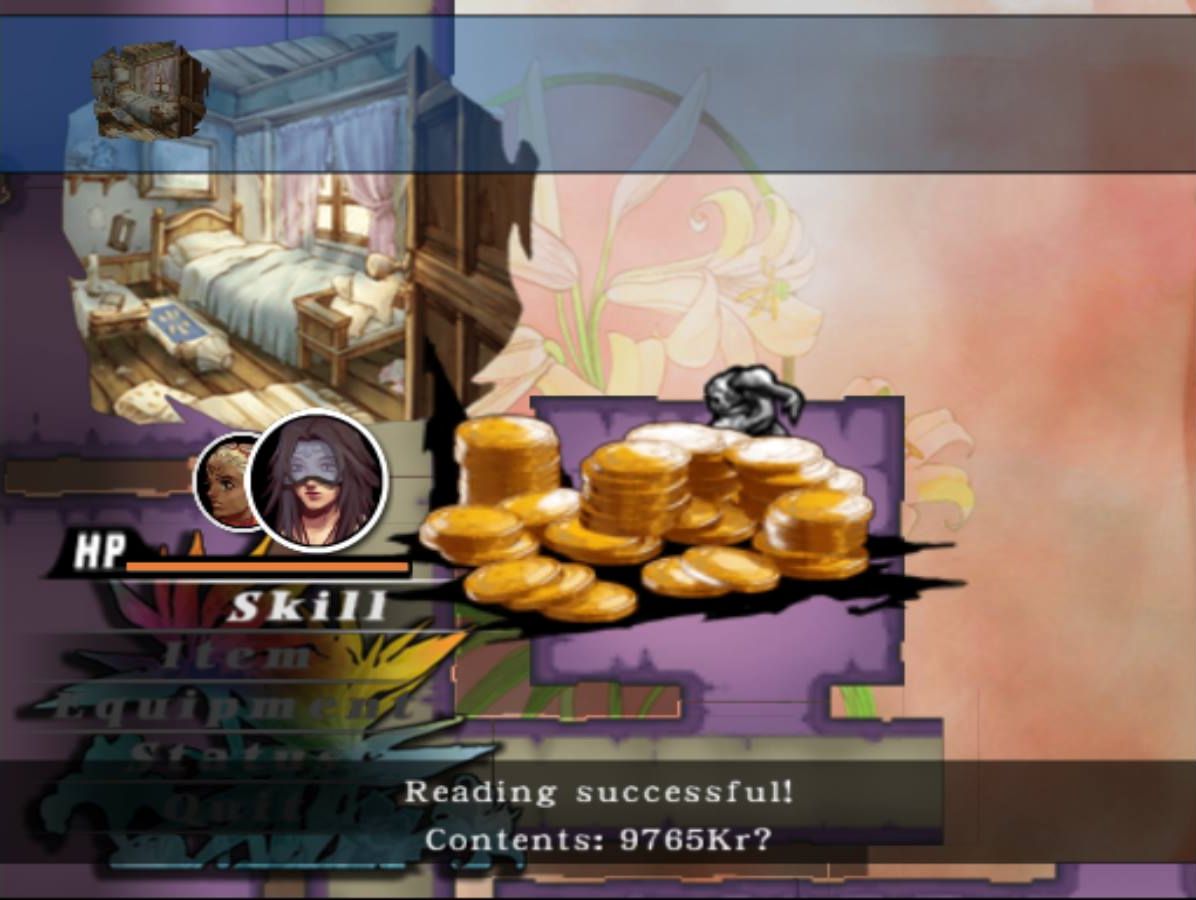 I managed to get even more from another treasure this time! How much the level of the treasure increases with each Fortuneteller is pretty random, sometimes it only goes up a couple levels, sometimes like 10 levels. I mean it's within a limited range, but sometimes you get lucky and it goes up a bunch. That happened here.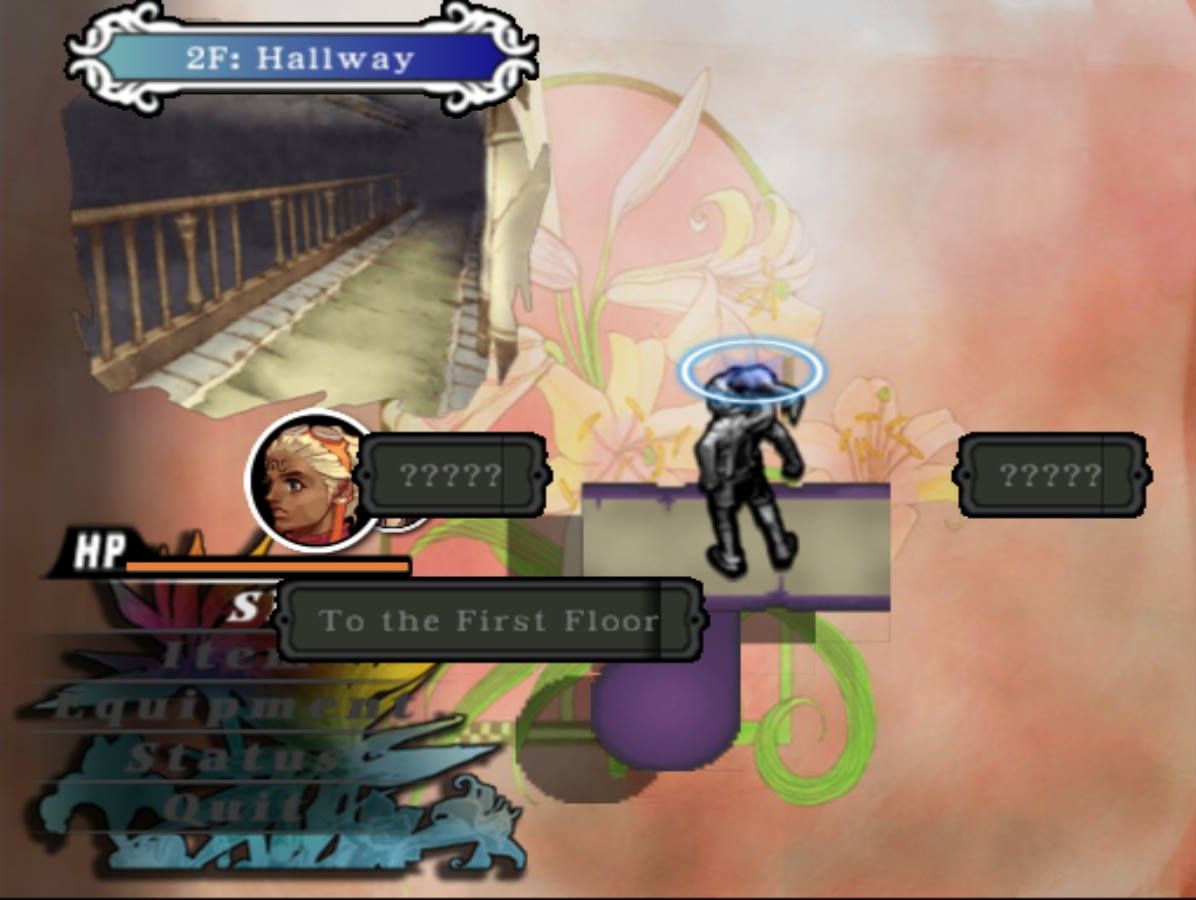 I finally head up to the second floor, which seems to be quite similar to the first. I'm being very careful about even moving onto yellow spaces now, in fear of another scripted enemy like the sabretooth lying in wait. If I see a yellow space, I will just sit and do "Action" on the space I'm on like 10 times and see if the monsters seeks me. If it doesn't, I'm not stepping there! Fortunately, I didn't run into anything like that, though.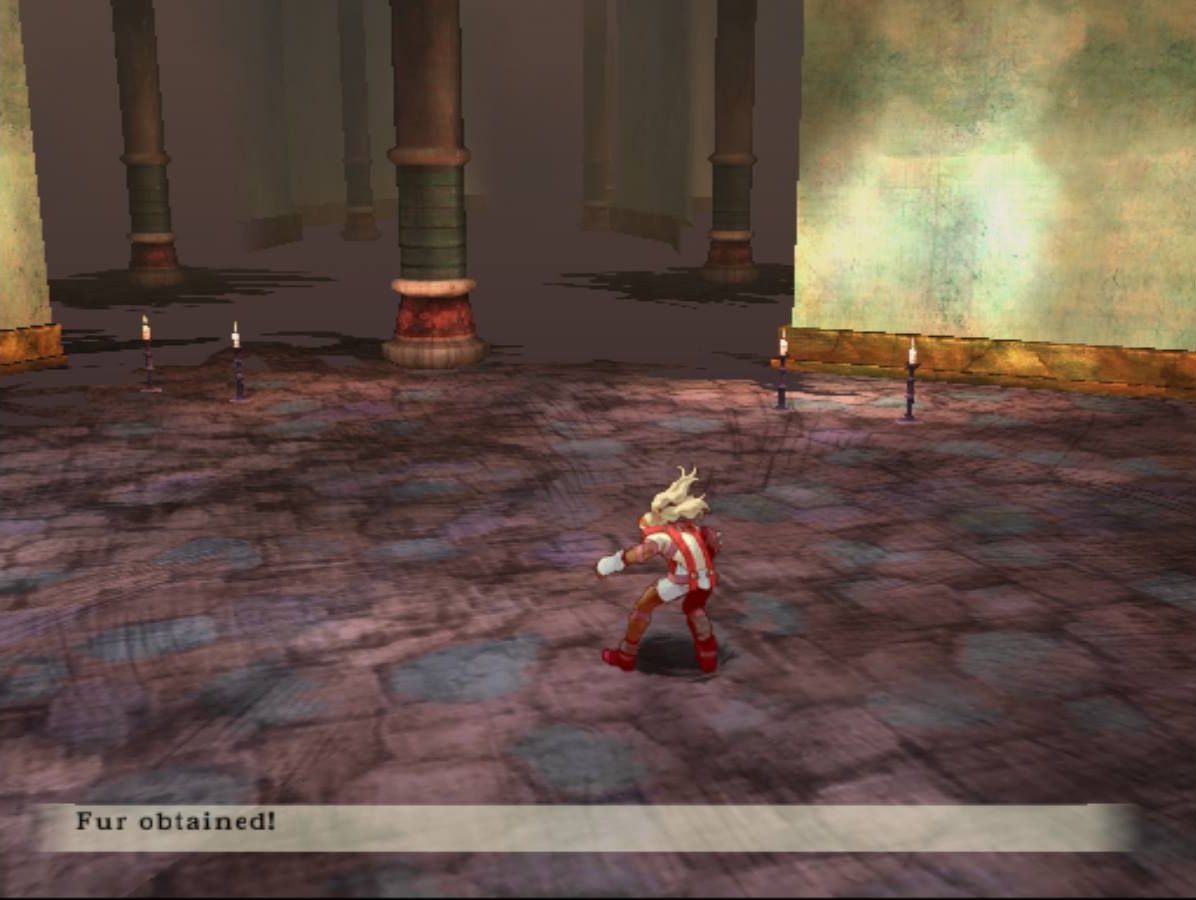 Now and then, monsters drop materials. They were completely useless in Ruby's game. Even though you can't make anything out of fur except maybe an accessory, it can still work as a secondary material for a weapon, so you can create a new weapon or repair a weapon without having to buy more materials thanks to these drops.
Upstairs, we found yet another ransacked room.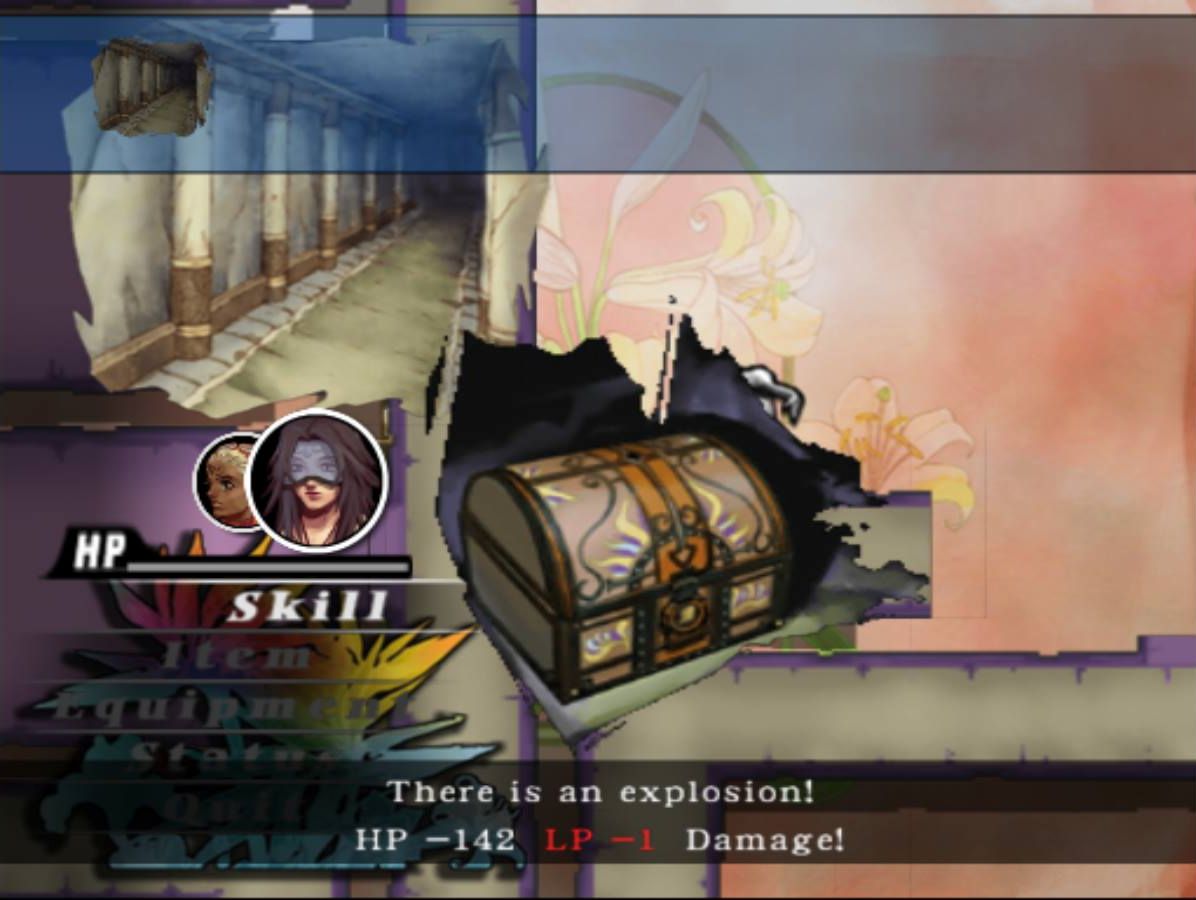 I found another chest with like 8,000kr in it, but it exploded so we lost it all, and Sapphire got hurt, too :( I'm actually not really using Sapphire in battle really, since I plan to eventually bench her when I get more characters. We already used her very prominently in the last scenario, so it's time to let some other girls shine. I'm still using Grace though when we find her hahaha.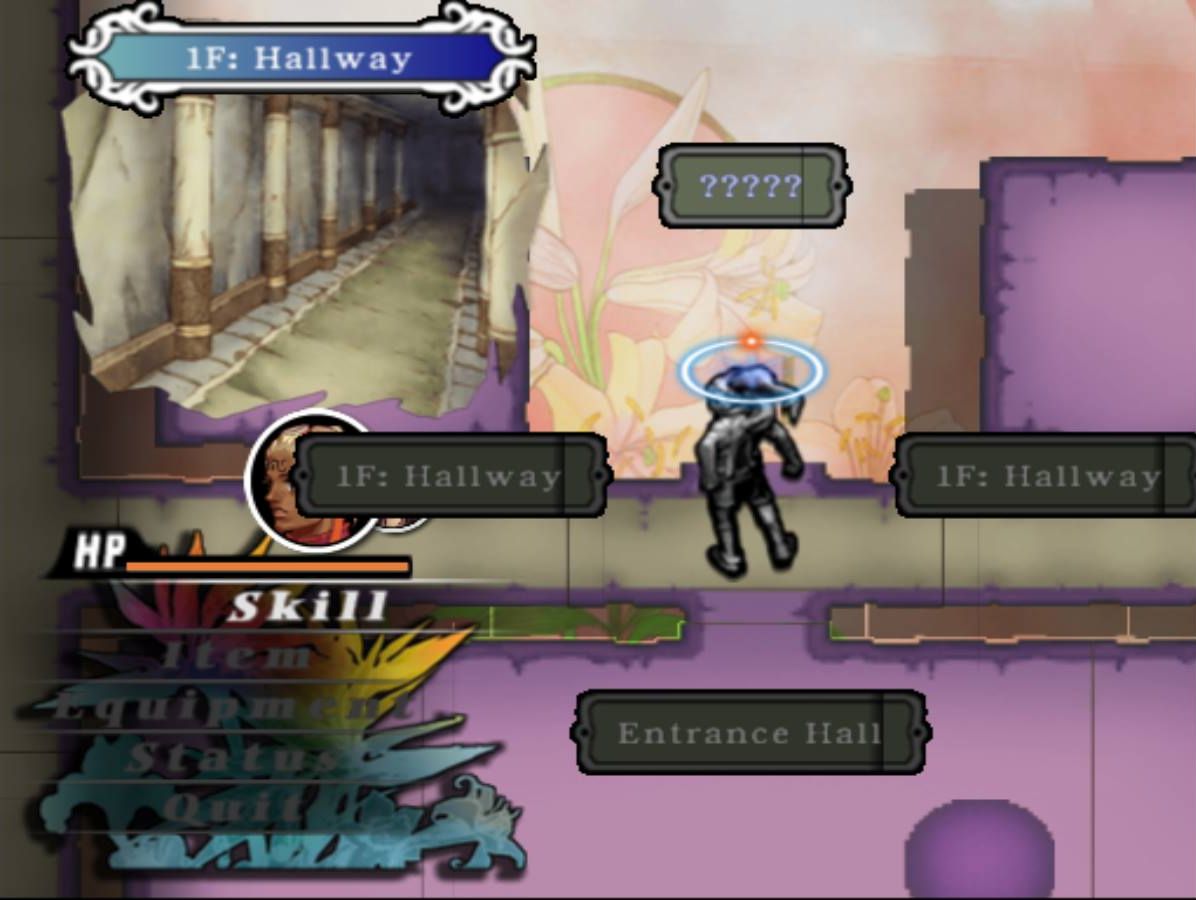 After exploring the entire first floor, I didn't find any keys. Even if the intended path is to fight the sabretooth and find some keys there, there's no way I'm doing that now. And I don't feel like going through subadventures with just Mythe and Sapphire to try to power them up enough in hopes of defeating it, when I still might not even be able to...
So, I'm gonna go just use Locksmith. But... when I got to the door, it was just... open. Padlocks gone. I could just walk through! I guess we were supposed to search thoroughly for Tiffon, and then maybe she opened this door?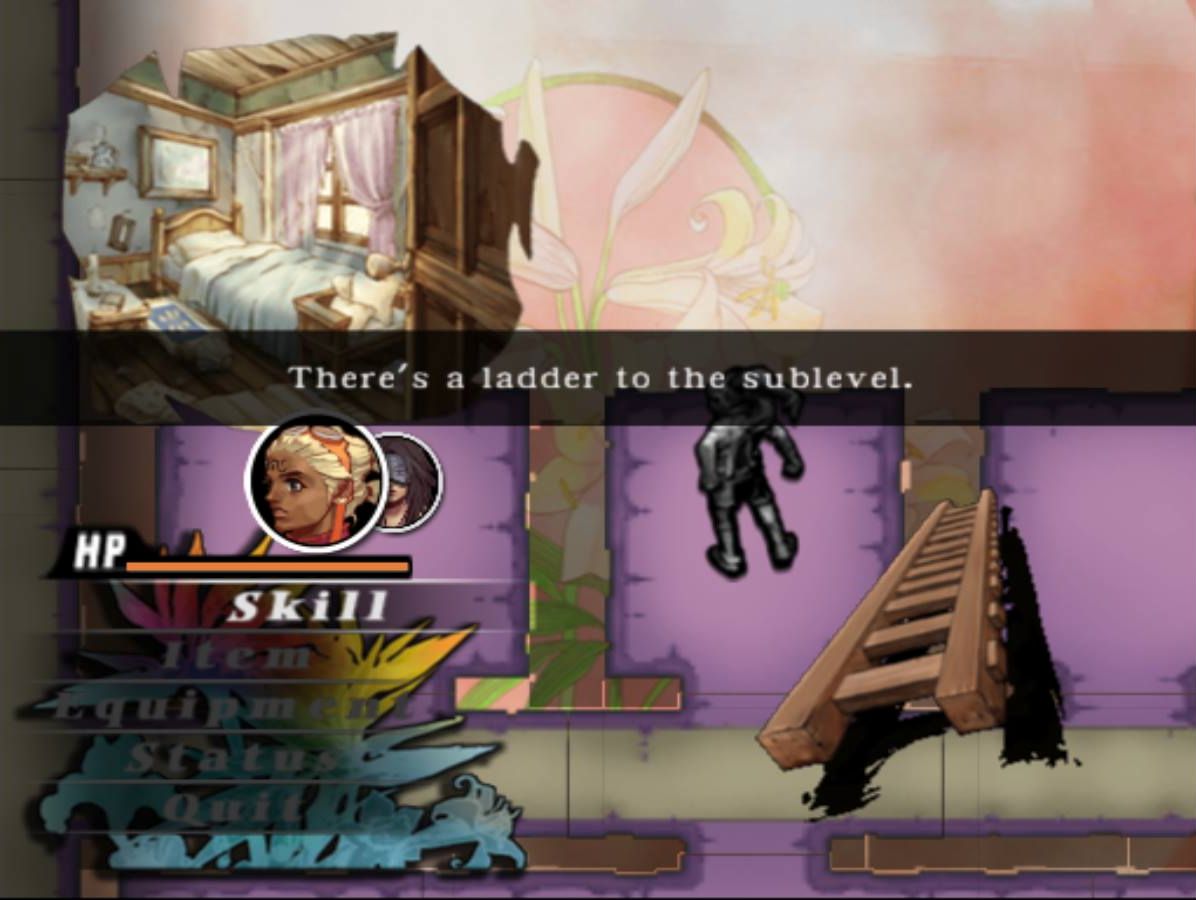 This room was ransacked, too, and we found a ladder leading into a basement. A-ha, this is the place Sapphire was talking about. Tiffon definitely came this way!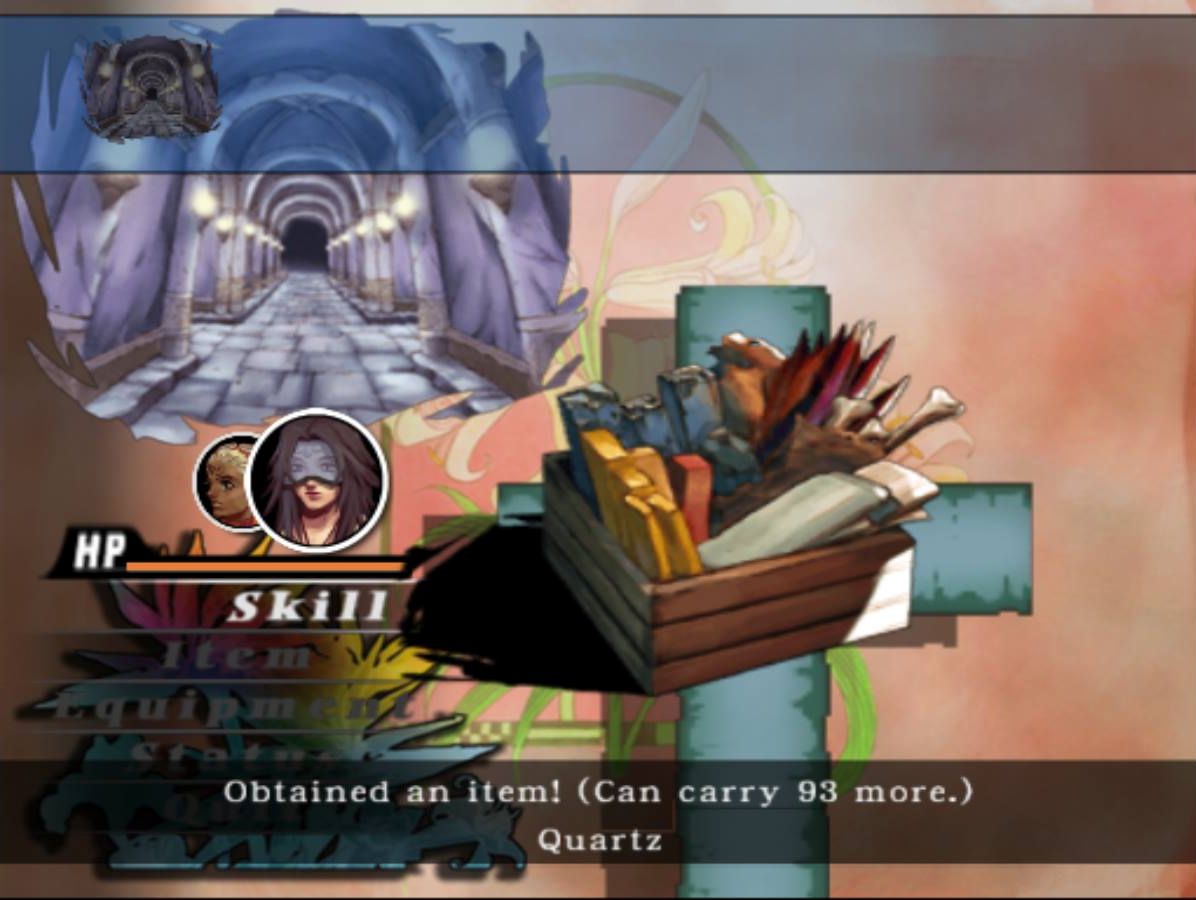 In the basement, Sapphire fortunetold a chest into some Quartz. This will make for a pretty good base for a weapon considering it's no-cost right now.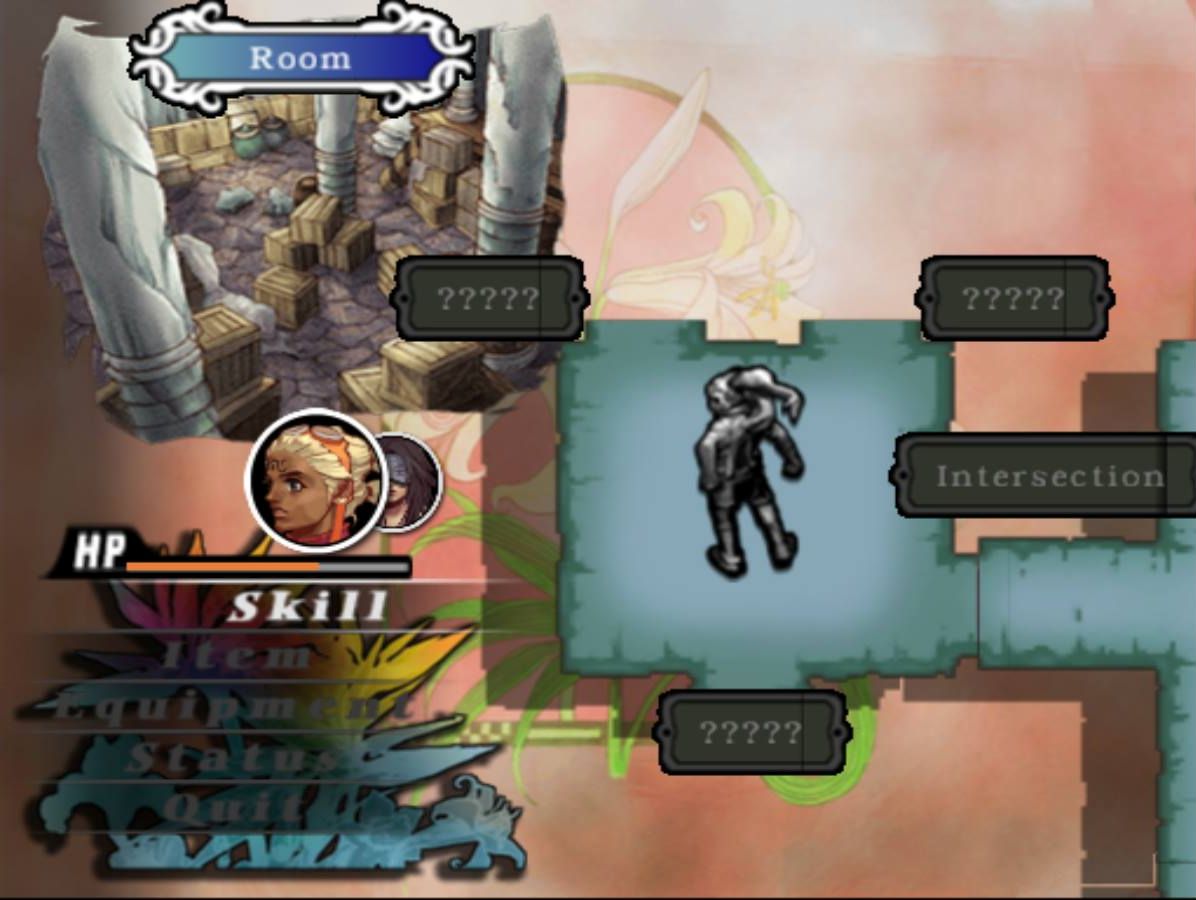 The basement had a ton of rooms, and there was quite a variety. What seemed like some kind of tea room, some more like banquet hall-looking places, these kind of storage areas...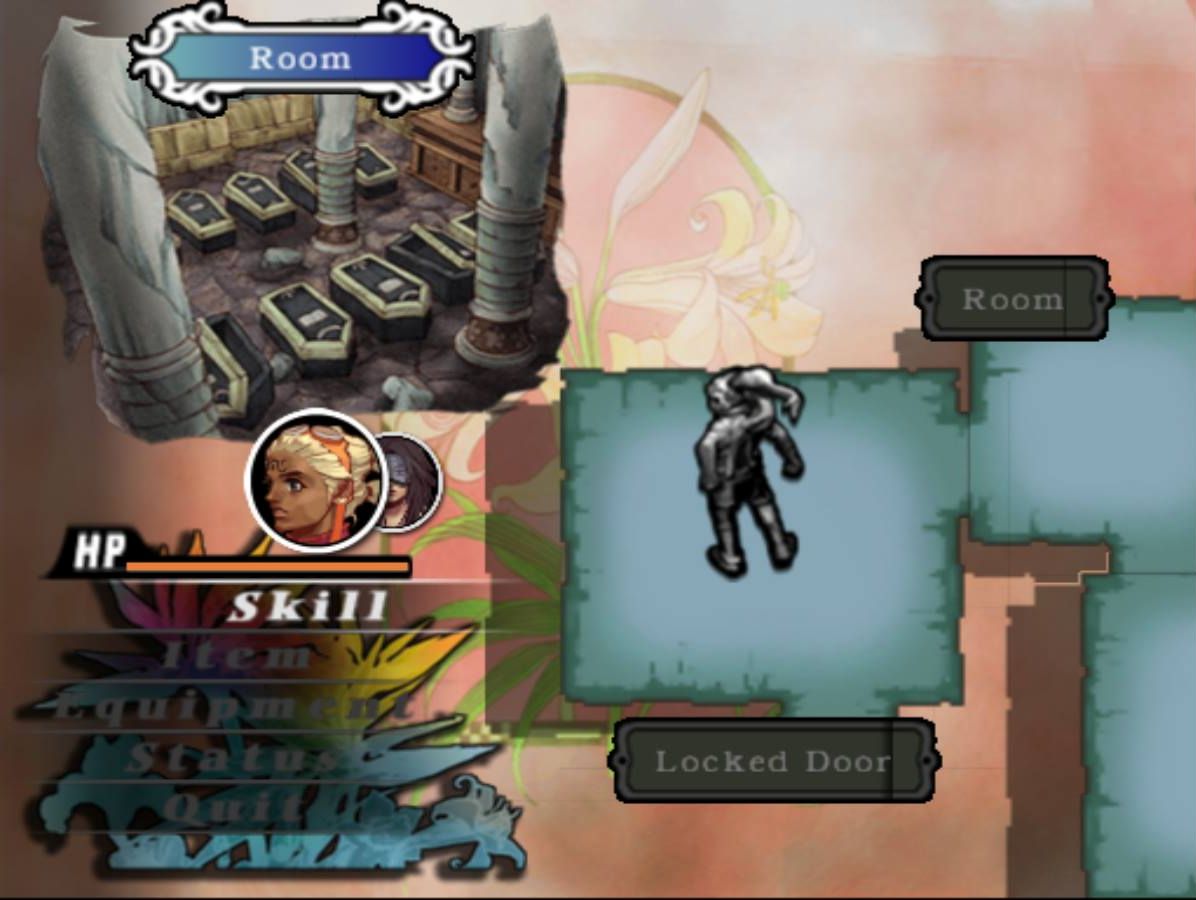 ... Even a room with a bunch of caskets...
There was a locked door in there at level 50! It took a few attempts, but Mythe was able to pick the lock.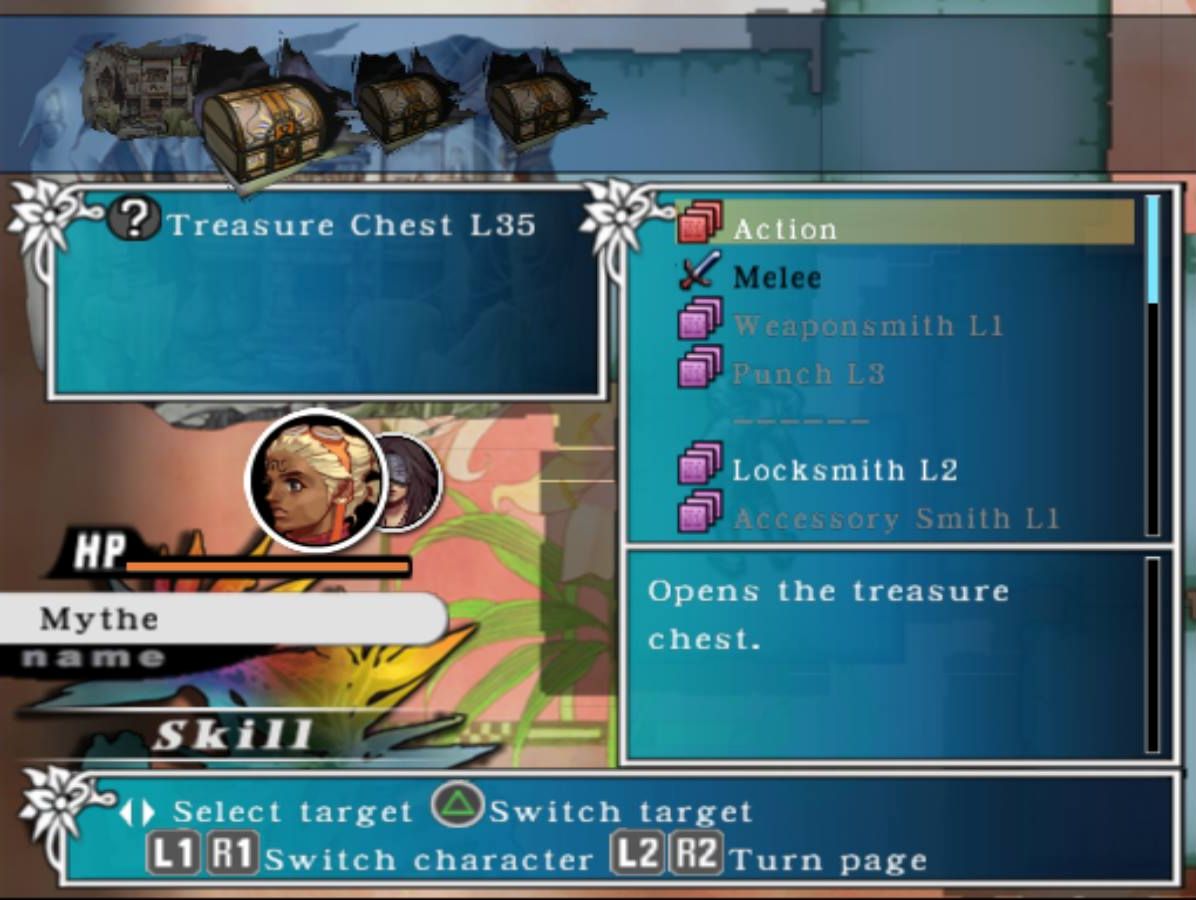 Inside there were three treasures! One was locked with magic, but the others had money and a copper sword. The copper sword has an attack of 32, which is a lot nicer than our fang one. But our fang one was not made in vain, because we've already been able to glimmer a sword art with it, and it's proved very helpful so far. Now Mythe can use it on this much stronger sword. And hopefully we'll actually unleash a Deflect ability...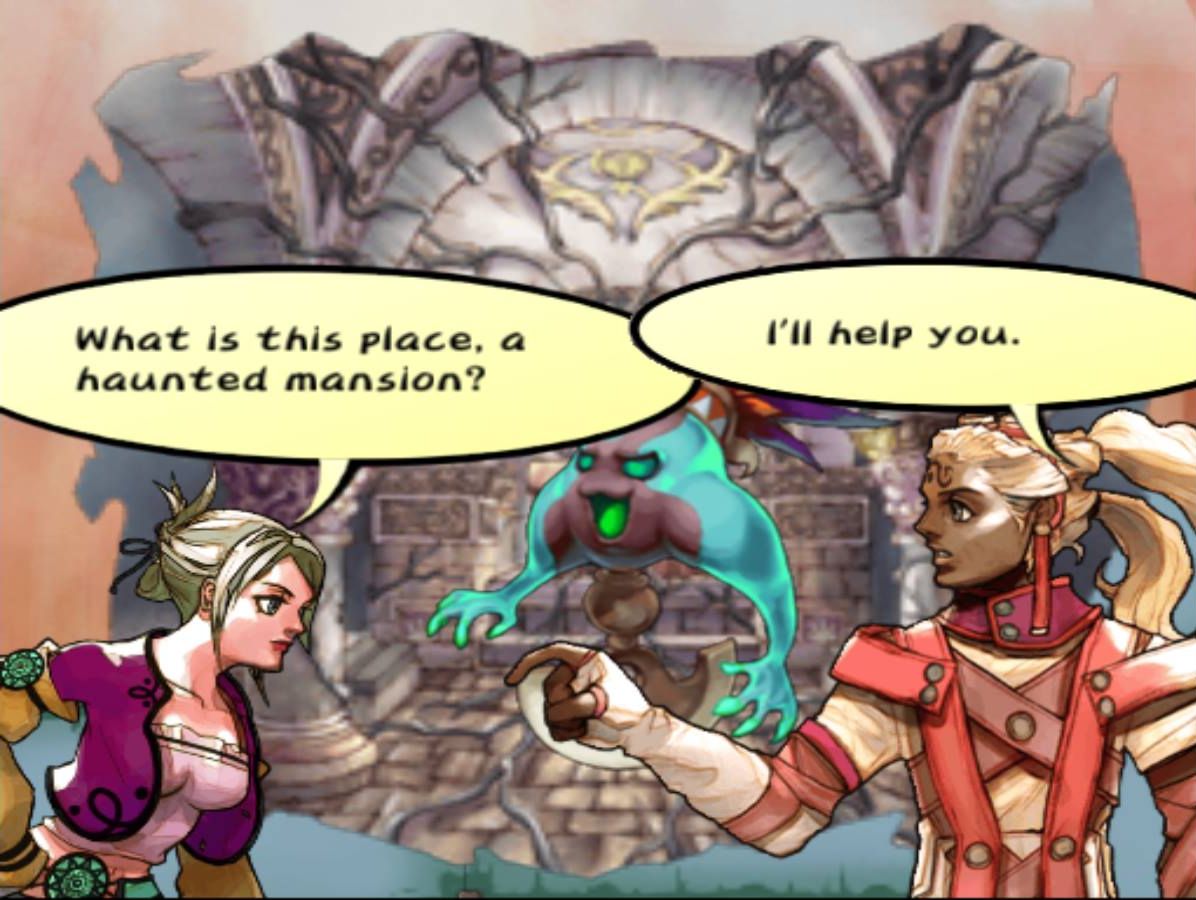 Eventually we run into Tiffon faced with this sorta-powerful-for-where-we-are undead. Mythe offers to help her. Also, either Tiffon is also very small like Sapphire or Mythe really is large?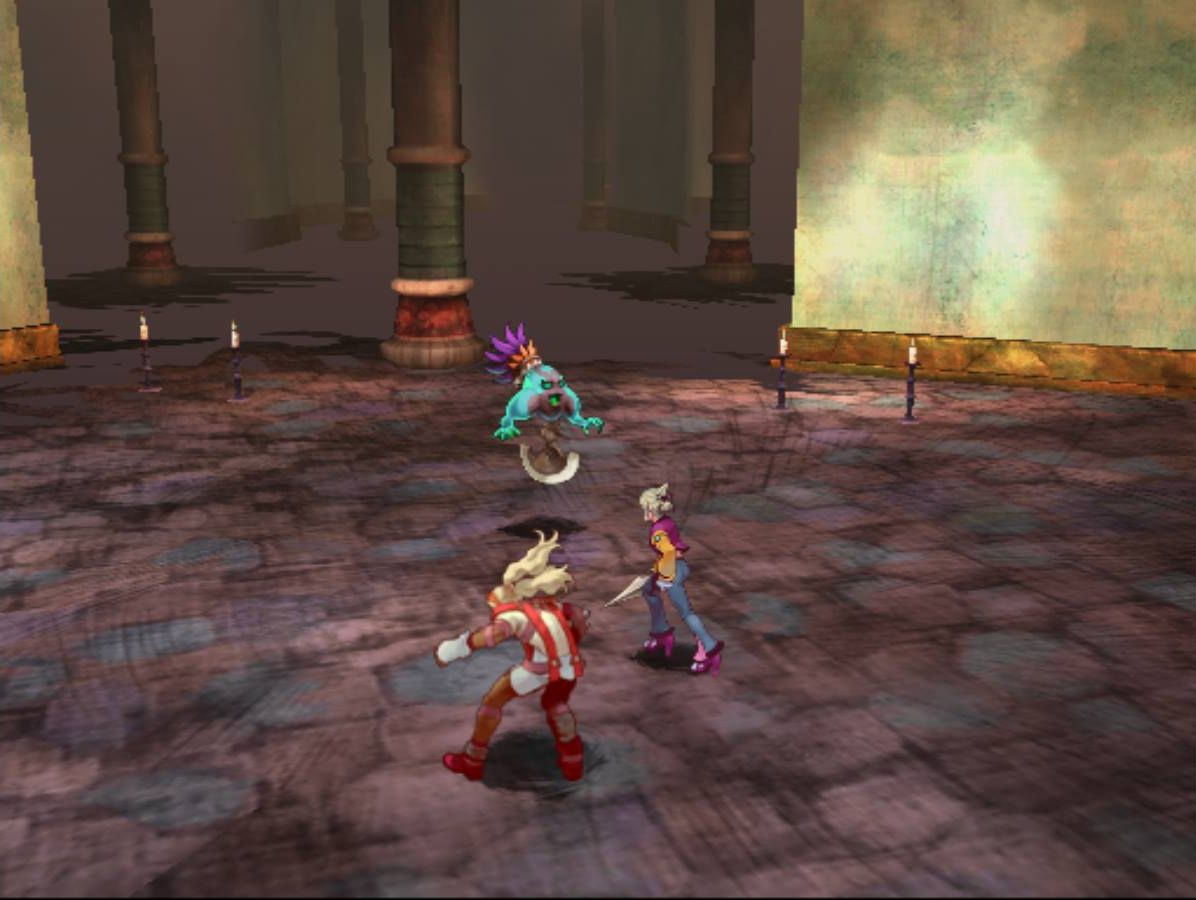 Tiffon's got a knife, so we can stab the boss with that, and Mythe's LP has been slowly depleted, so Tiffon joins with full LP (she also has 13) and can also stand in front and absorb a bit of damage, and keep Mythe and his gun safe behind him. Sapphire cheers them on, I guess.
But Tiffon stabs the thing and... it doesn't miss, but... it does no damage. It doesn't even show a 0, it's just... nothing.
Oh, yeah. I forgot. I'll explain exactly why later, but Tiffon will unable to do any damage at all this battle. She can still land attacks, but no damage will incur.
She can still stun, though! Since the attacks are at least hitting, we can still get the secondary effect from a Throw. Stuns aren't guaranteed, but they're common enough that it's worth doing them even though we're doing taking off any HP.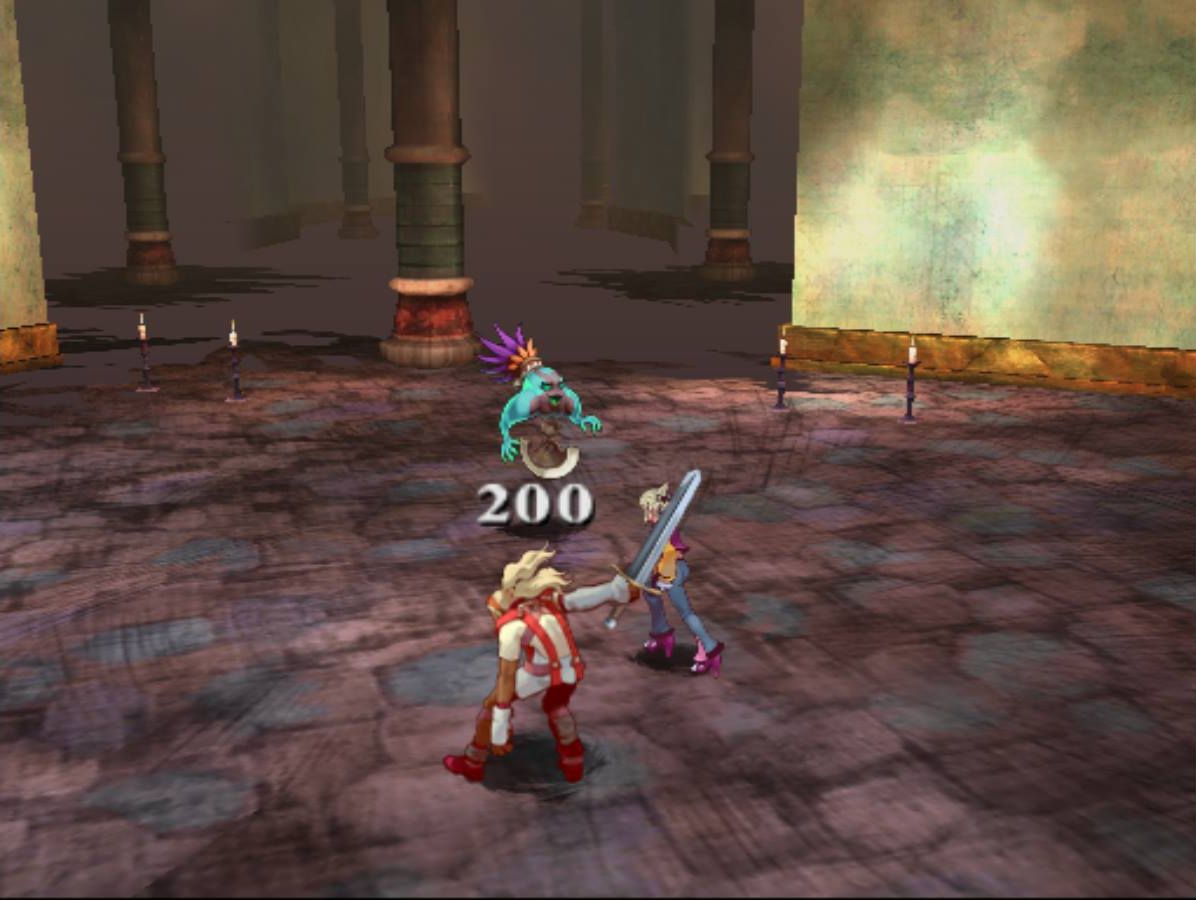 Also note how Mythe's sword looks different now (same stupid pose, though.) It... doesn't really look copper, but it's quite different than the fang sword. I didn't really mention this in Ruby's scenario, I don't think, but weapons have unique looks like this. Neat.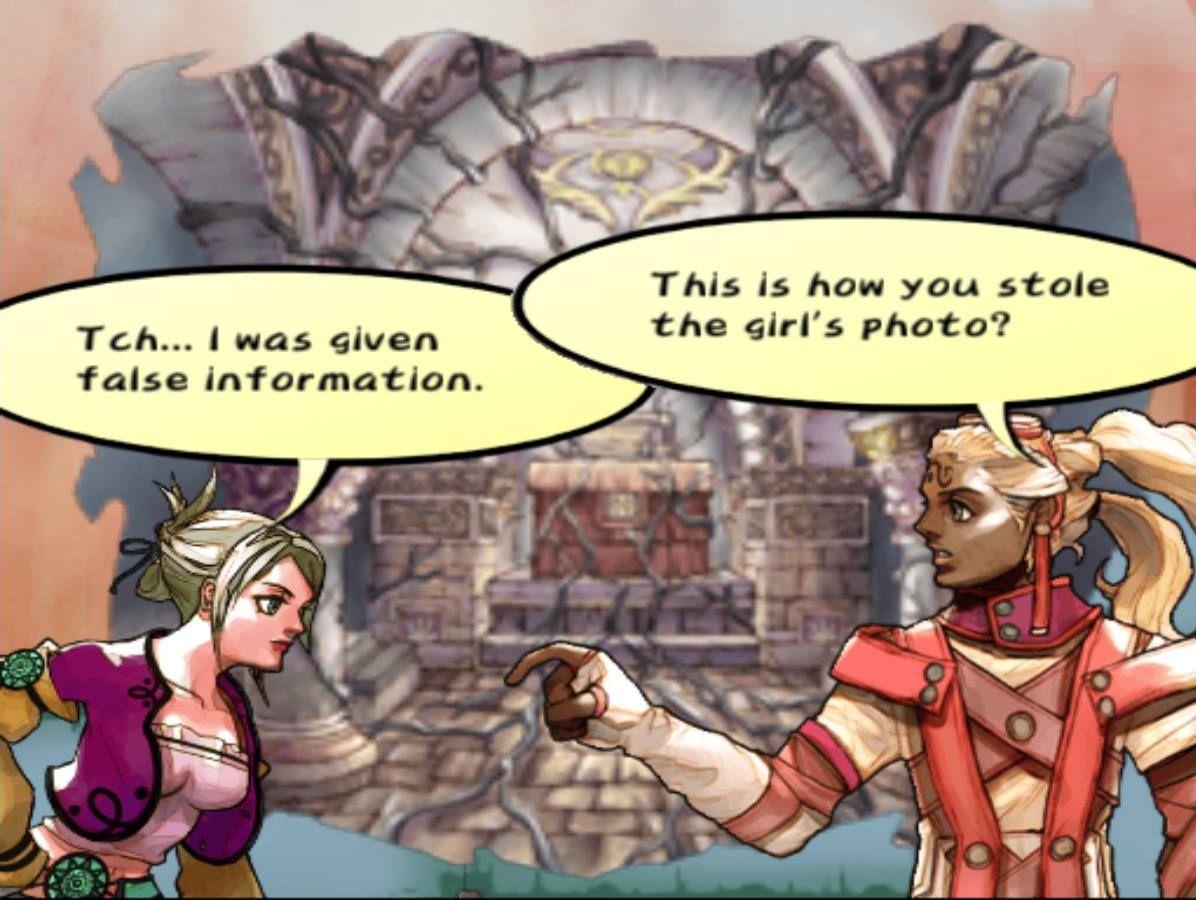 Tiffon seems disappointed about being given false information, and Mythe asks her if this is how she obtained the photograph. Tiffon responds with a bit of attitude, "That's right. I make my living selling stolen items to guys like Fugar. Are you taking me to the Knights now?"
But Mythe lets her know that he doesn't care who she is or how she gets her goods. He just wants to know where she got the photograph.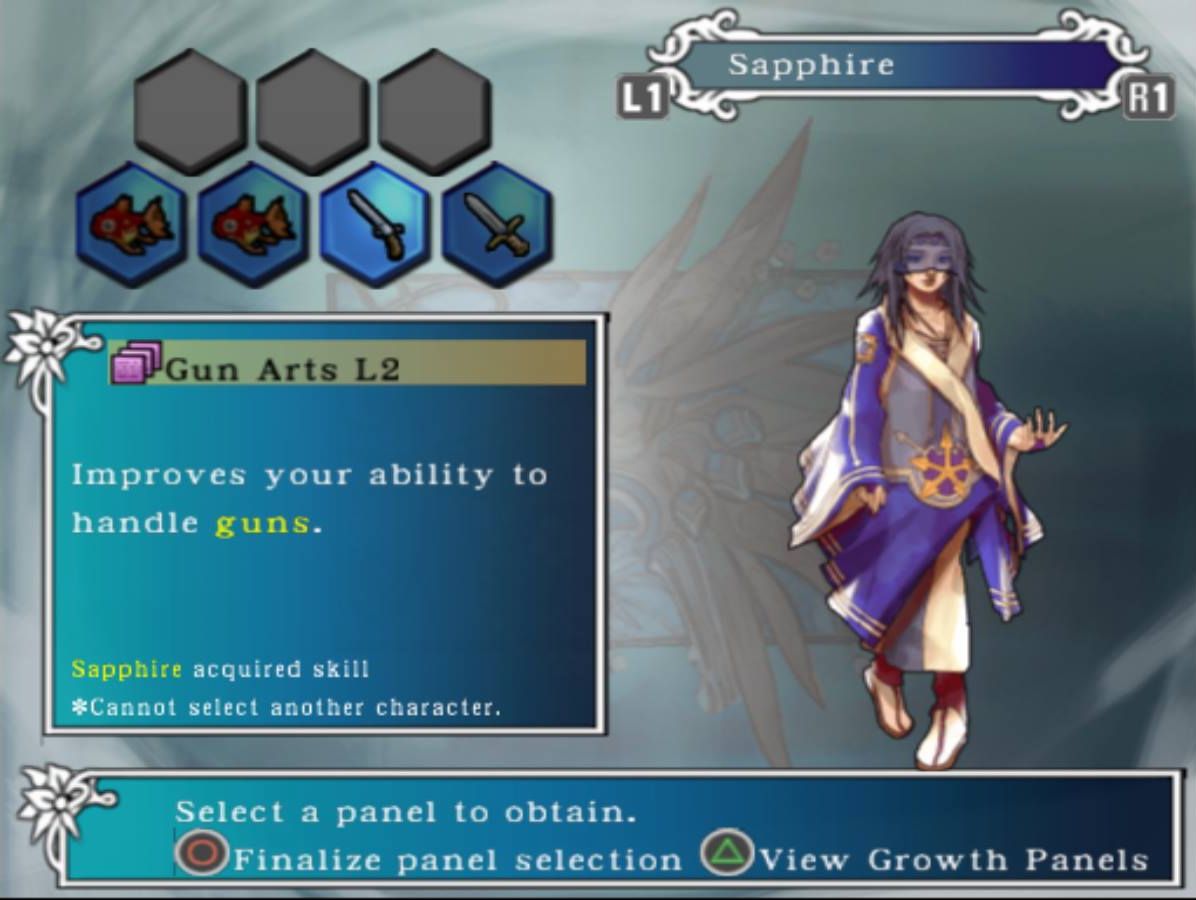 With that, the adventure is complete. Sapphire got a gun panel. Hey, why not. I'm not going to be using her much, but if I need to suddenly throw in a gunshot in a pinch, this wouldn't be bad. I'm hoping to land some more nice shop skills on Sapphire over time, too.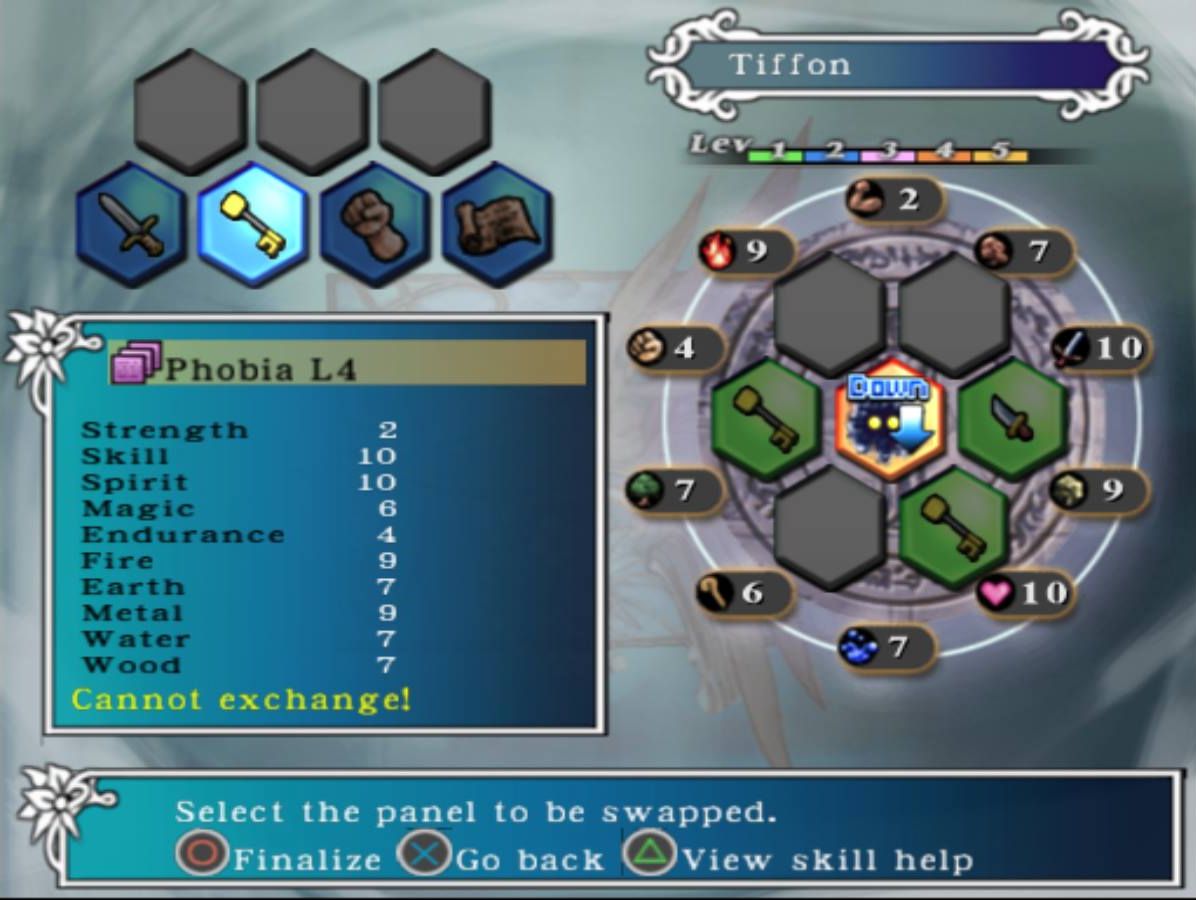 And this is why we couldn't damage the undead with Tiffon earlier. She's got a big, fat phobia panel right in the middle of her development panel. And you can't get rid of it. The reason behind this probably won't be revealed in Mythe's story, but we'll learn more about this in Ventus's scenario.
For now, though, she did get a L2 locksmith, so I gave that to her. I'd rather have Tiffon working on locks than Mythe, since I'd like to eventually make Mythe into a mage-type character, and having keys all over his panel will not help that. Tiffon is a natural thief, anyway, so why not build her that way?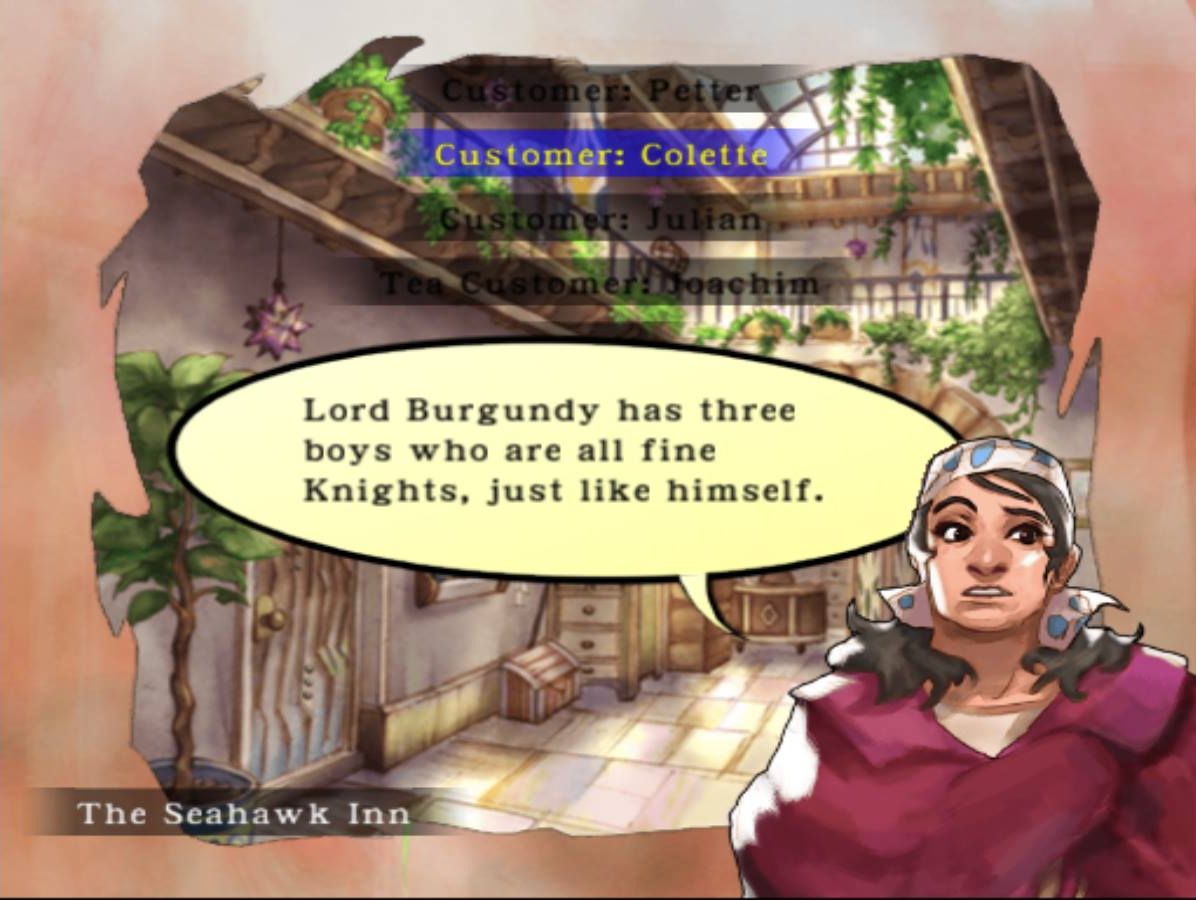 Returning to town, the people in the inn now talk about Maximilian instead of just saying "Tiffon?" Basically, we learn that there are three types of knights: Temple Knights who guard the mausoleum and keep order in Vaftom, the Gaurdian Knights who are stationed in large cities and led by Maximilian Burgundy here in Gadeira, and Outland Knights who cover the little villages and roads and stuff. Maximilian Burgundy is a very famous knight who also has three sons, who are all knights, too. Without him, there would be no Knighthood. And like I said before, he tolls the Carriers to make money for Gadeira and the Knighthood. If you can't guess, this means Carriers and Knights don't always get along too well.
None of this is relevant to our quest, though. We gotta capture this little girl. Apparently some discussion happened between Tiffon and Mythe off-screen, because we already have a new adventure available. Tiffon stole the photo from a woman named Grace (!!!) and she's offered to go help us find her.
Grace apparently lives in Nivacolina, which is WAY up north. It's the last stop before Torle, I think. Very very north. And we're in Gadeira which is... very very south. I wonder if this will just be a single "travelling" mission or what? Even Zomar is not that close to Nivacolina. remember all that traveling with Iskandar we had to do to get even just to Wanda? Nivacolina is even past that...
But that's for next time!
---