The Water Elemental Gear
After learning about the Elemental Gears from King Foujant's books in Escata Palace, four new adventures open up in the inn (drowning out subadventures, too). We're able to search for the Elemental Gears in any order we want, so we're going to head to Chapa to ask about the Boots of Vayu.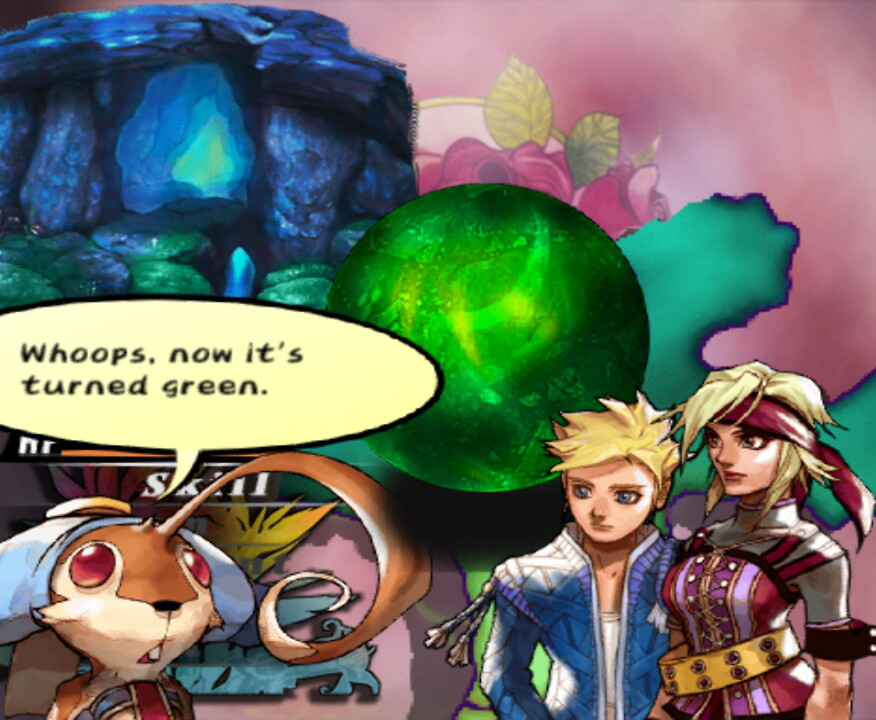 The Chapa send Armic as a guide for Henri, and they go together to the Regal Lion's cache, which is somewhere between Loch Vaan and Chapa.
Armic has the orb that the Mayor of Loch Vaan normally holds onto, but he doesn't seem to know exactly how to use it. He can't remember what blue and red mean, but then it turns green. He just says he'll try his best, and we're given control of the party with a new member.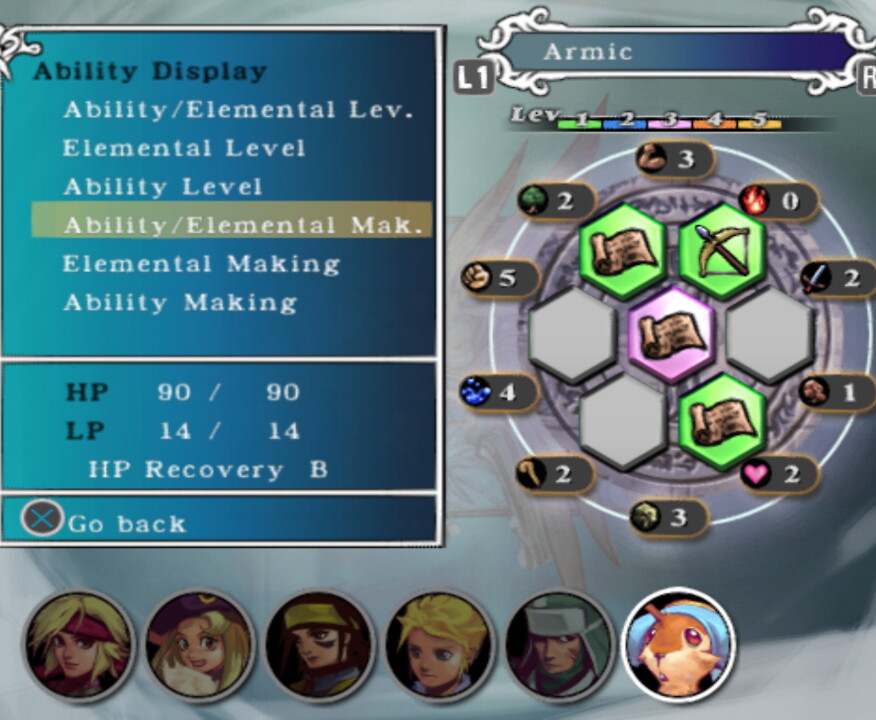 Armic is just like he was at the beginning of his own scenario, specializing in Endurance and Water Arts. Importantly, he comes with some map skills like Swimming and Road Guide, which will lead to more map skills. Not only will these boost his water level if we put them in a formation, but we're also going to need map skills soon since we'll be losing Judy and her familiars once the party gets too full.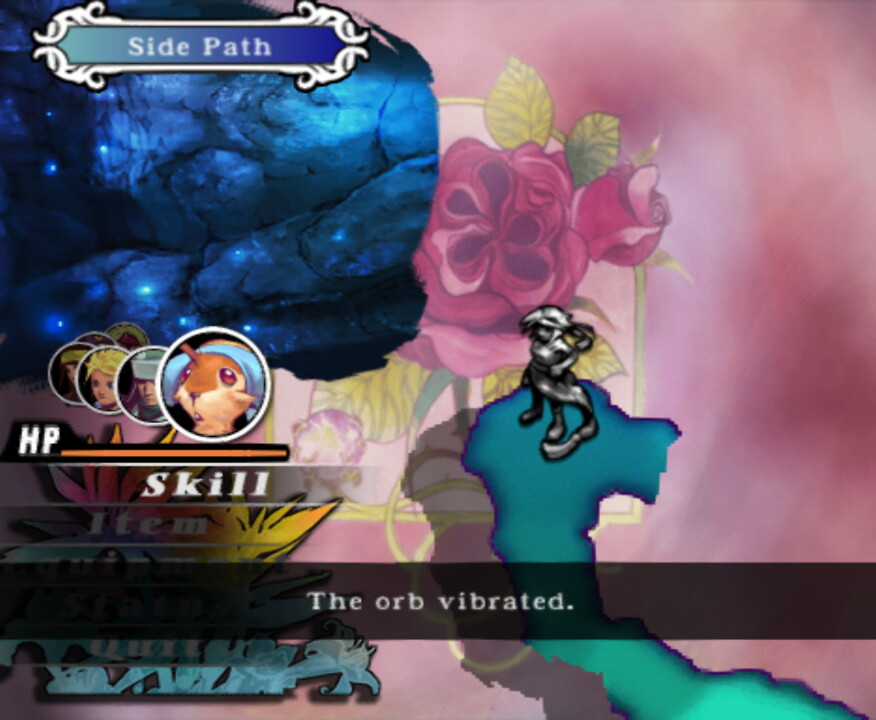 The solution to this area is the same as before -- the orb will constantly heat up and move from blue to green or green to red after enough turns have passed. You can also douse it with hot or cold water to turn it immediately red or blue respectively.
There are holes throughout the cave, and the ones named after the Regal Lion's crew are the ones we need to insert the orb into. But each special hole requires the orb to be a certain color when inserted, and inserting it into the hole with the wrong color or into one of the other holes that aren't a part of the solution will start a fight with a tentacle monster.
Thankfully, if the orb is the right color when you're on the space just outside where a special hole is, it will vibrate, so you can tell if you have the right color without having to risk a fight.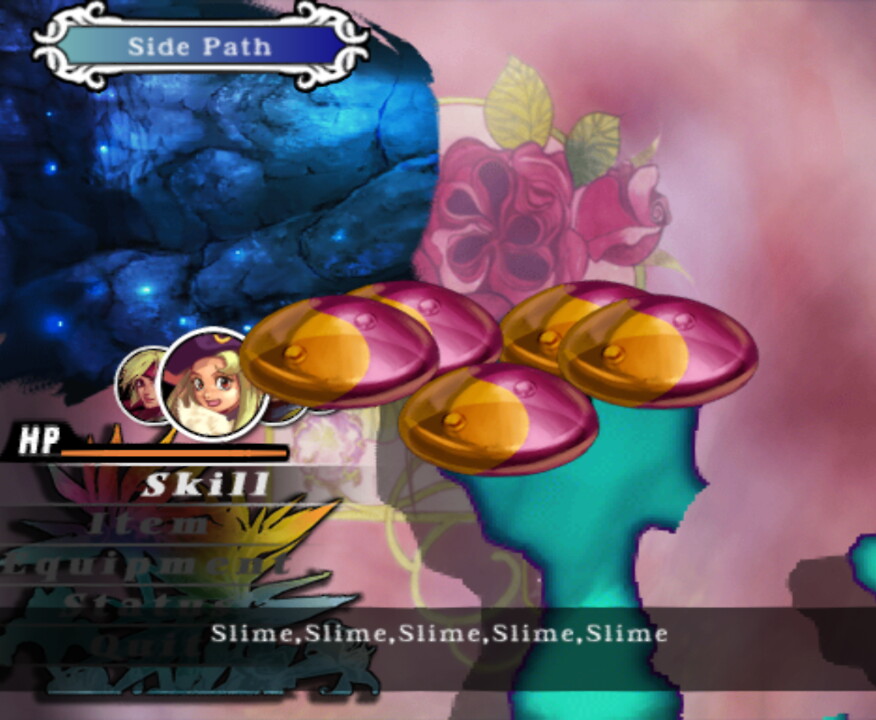 While there are a lot of obnoxious Aquans in the cave, there are also plenty of Slimes and things to practice Diplomacy on. Though it really sucks if you're on a space with a bunch of Slimes and then an aggressive Aquan happens to wander over...
Anyway, I normally viewed the solution to this place as requiring you to take the red orb through at least one set of the monsters who will attack if the orb is red when you pass through. But I realized there is a better way! I will have to try this on the subadventure version to see if there's enough time, but it's easy to do here, as this is a story adventure for Laura and we get unlimited turns.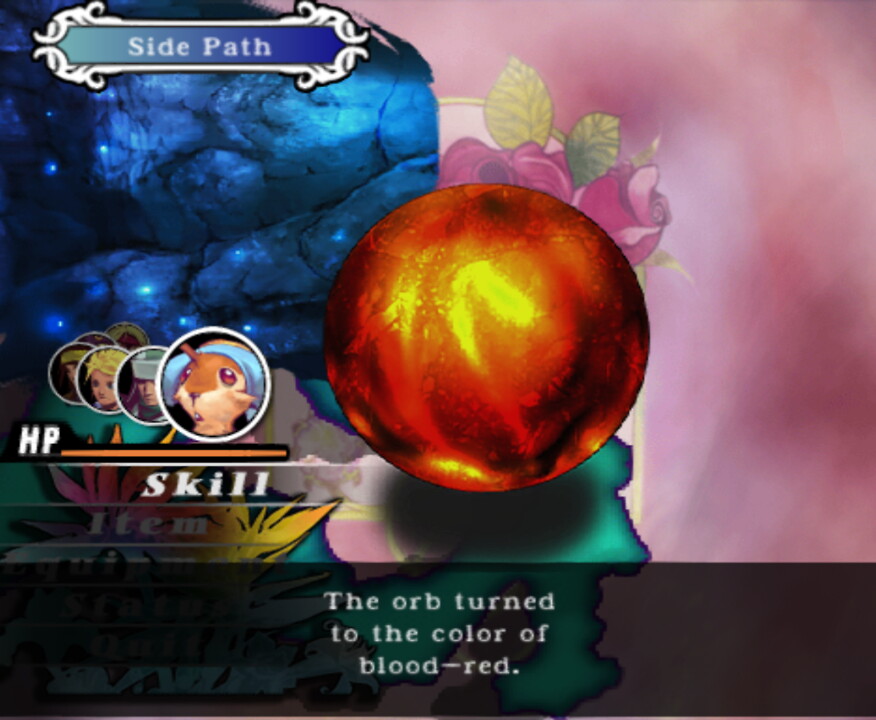 Since the orb continues to heat up as turns pass, why not travel to the last hole while it's still green, and then just wait for it to turn red on its own, instead of dousing it in the hot water and then breaking through the enemies who attack on the way?
I dipped the orb into the cold water first to turn it blue, then went to the blue hole. After placing it, I explored around hunting for treasures near the green hole, then when it turned green, I placed it there, and headed straight for the red hole. I stood there and skipped turns until it turned red, and was able to place it in the hole and have it disappear without having to ever fight the special Aquan encounters.
Feeling pretty proud of myself, I went to go explore the areas of the cave in which I hadn't gotten to search for treasures yet, and ran into a Guckie, which seemed kinda weird. Beasts normally aren't very aggressive, but this one happened to aggress before I could even try out Diplomacy...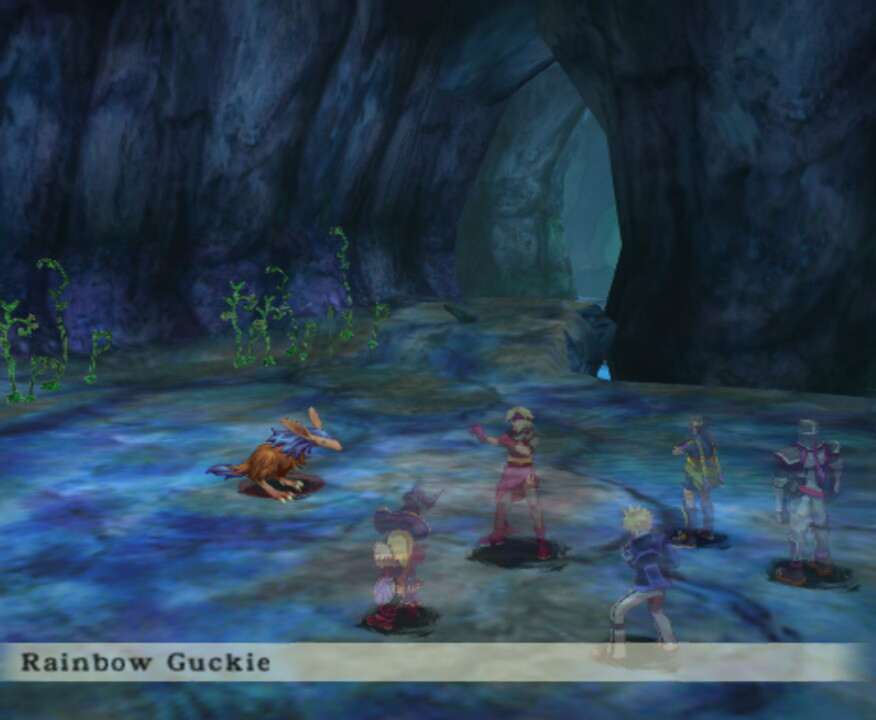 And, uh... oops?
We've only just got Armic, and have hardly had an opportunity to raise Francis. Henri and Laura may be doing well for this point in the game, but... we're nowhere near Rainbow Guckie levels...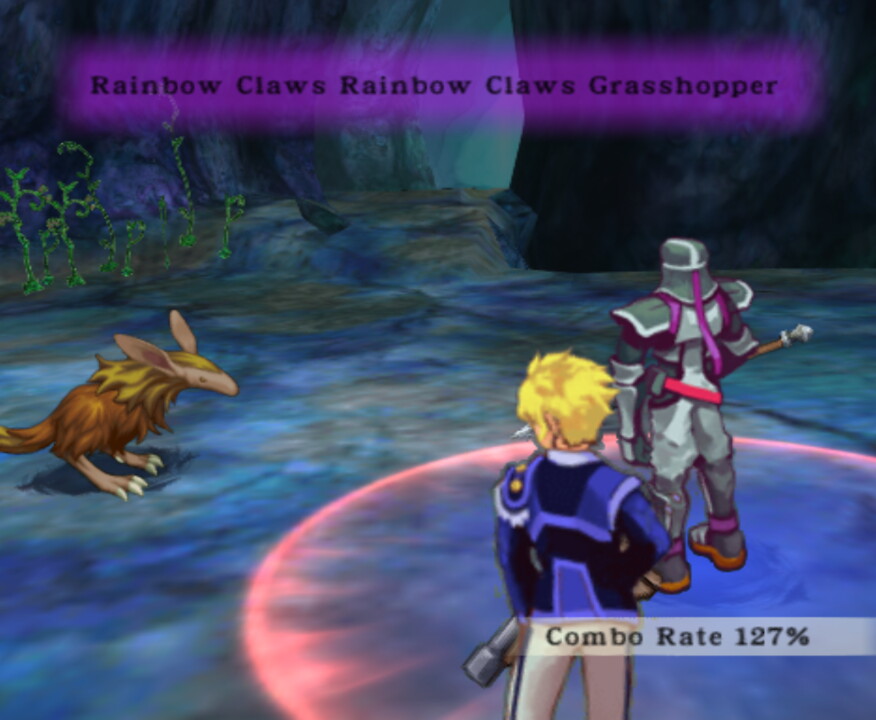 I decided to just see how it went anyway, using whatever strategy I could come up with. This "strategy" ended up being to have various characters swap out of the front position and have Henri fire his gun at the thing over and over...
If you want a testimony to the power of guns in this game, I was actually able to do at least 12 LP damage to the Rainbow Guckie before it annihilated Laura, causing a Game Over. Only 32 short! But still, 12LP damage is a lot for this thing, and I did them all one at a time. Usually I had to shoot it a couple times each turn before it would take an LP damage from the gun, if it would at all.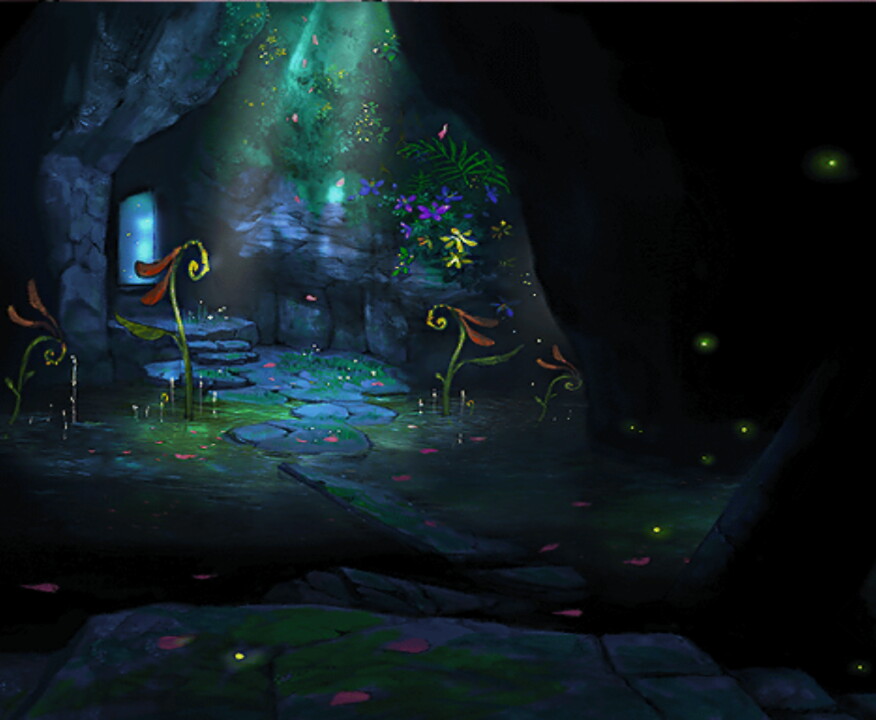 So, after the game over, I had to load my save and start the whole adventure over from the beginning. It wasn't too hard, and I even found better treasures this time. After placing the orb in all the proper holes, the grotto drains and we can find a secret passageway to where the Regal Lion hid his treasures.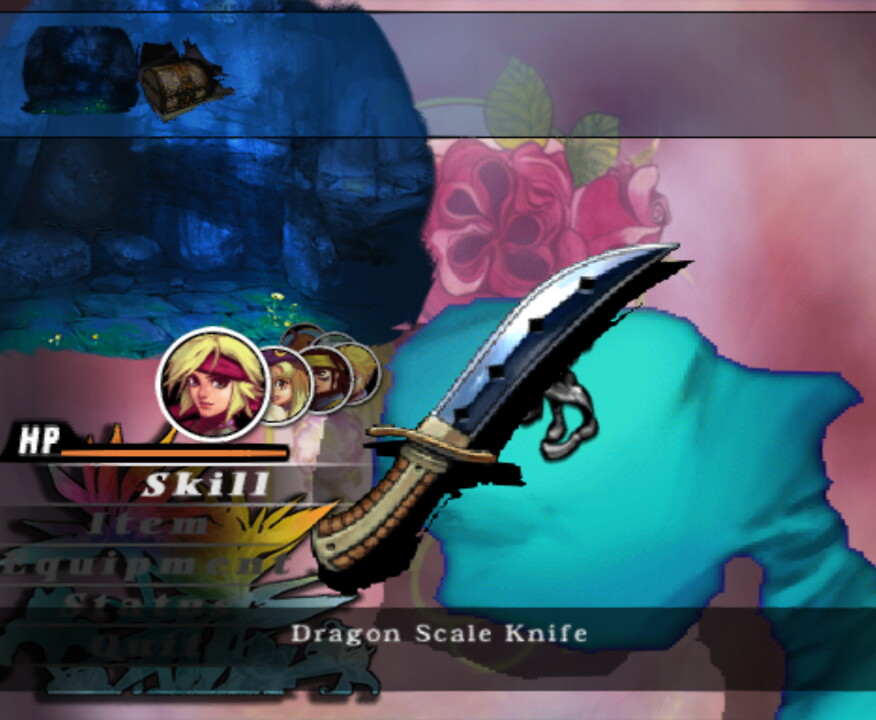 The Dragonscale Knife, which was important to Armic's scenario, is still here, and now we've gotten a really great crafting material. While Damascus is typically the strongest material for things, swords and spears are actually a little stronger when they're made of Dragonscale.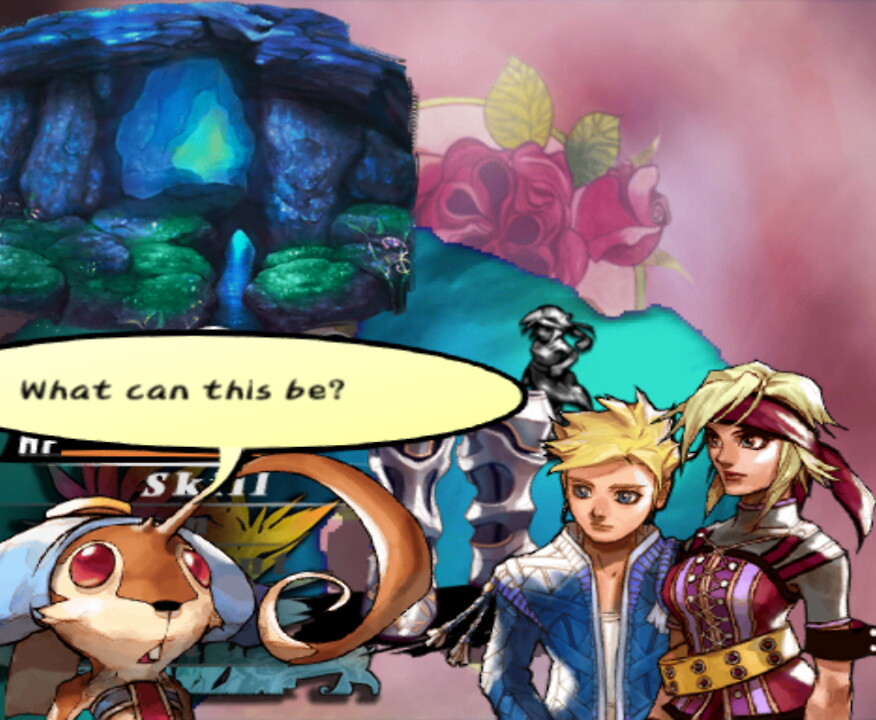 As we peruse the treasures, we come across the Boots of Vayu. I'm not sure exactly how they ended up among the Regal Lion's treasures, but considering the Regal Lion was a pirate and Chapa is quite close to his home base, I guess he could have stolen them from there. But the Chapa seemed to know they were here? Which is kind of strange.
Well, I guess that makes sense, too. Even if they realize the Regal Lion and his gang stole the Boots of Vayu, whare are they going to do? They're a peaceful tribe who likes fishing. Plundering the secret hideout of a vicious pirate probably isn't something they would do, even to retrieve an Elemental Gear. I guess they figured it wasn't safe either way.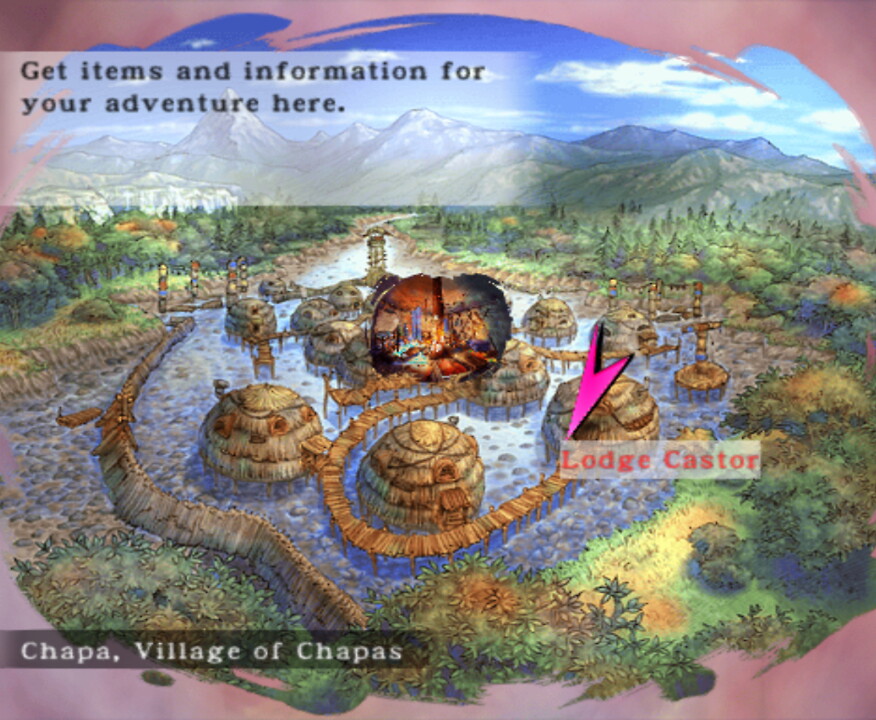 After picking up the Boots, the adventure ends. Laura gets Defuse L3, which is great. Our treasure hunting abilities are not falling behind. Armic had to choose between Punch L3 and Cave Guide. Neither is that rare, but I'd like to start using Armic in battle more, so I forewent Cave Guide in favor of Punch. I'm going to try to build Armic to use light martial arts this game, since I've only done that with Fae so far, and she didn't really get to use them to their full potential, I feel.
Putting the Punch Panel at the right of Armic's Growth Panel, we increase his Skill Level from 6 to 21, which is a very welcome boost.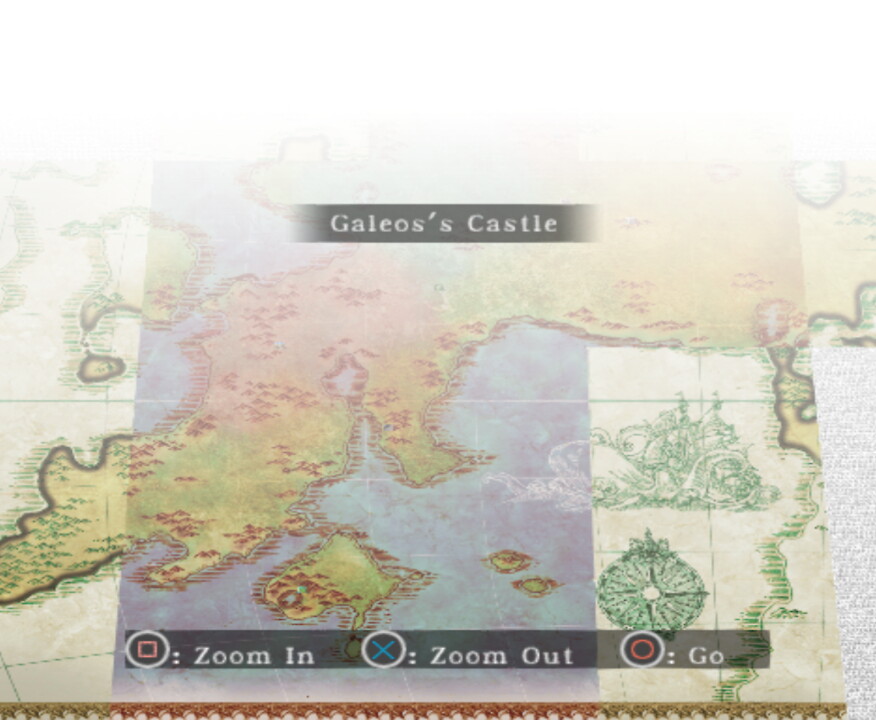 Something I forgot about before heading off to find the Boots was the fact that you can visit Lord Galeos at any time now by going to his castle on the world map.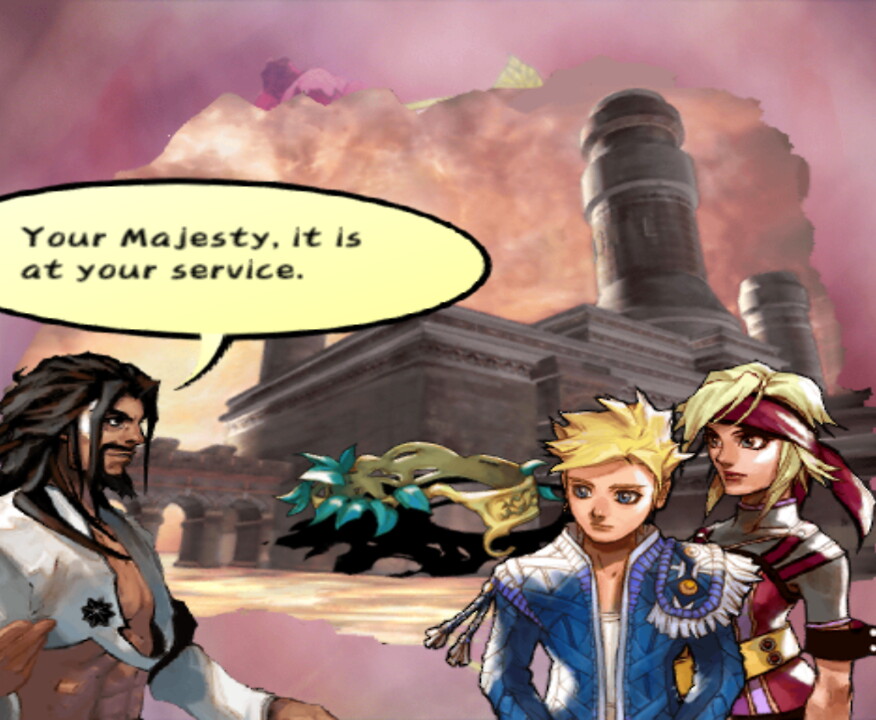 If you remember from King Foujant's books, the humans were the retainers of the Crown of Ares, and it was entrusted to the House of Galeos. Henri explains the situation to him, and he gladly hands over the Crown, wishing the best for Henri.
Also LOOK AT HOW HOT HE IS.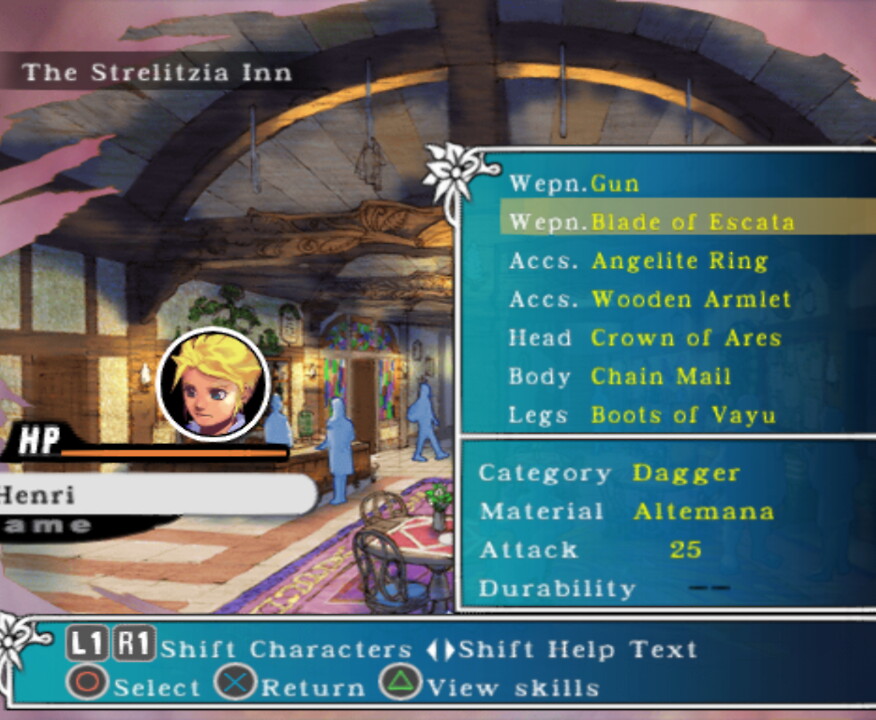 Now that we have some of the Gears, we can see the Blade of Escata is becoming more powerful. Its power has risen from 11 to 25 points. Just being near the Gears powers it up -- they don't even need to be equipped to the same person or even equipped at all!
Not only that, but the Gears themselves make really great equipment, too. The Boots of Vayu only have a defense of 4, which is not the best that legwear can get to, but they also have Life Protection, which is otherwise unobtainable on boots.
The Crown of Ares is a headgear with a defense of 7, which is huge! Most of the bandannas and stuff we have have a defense of 1 or 2, and stone masks and the like may get up to 4 or 5 if we're lucky. It also has Life Protection, too!
All of the Gears have their material listed as "Altemana," and these are the only Altemana items in the game. Sadly, you can't try crafting them into other things :P
And with two Gears already in our possession, we're off to gather some more.
---