Subadventures Digest
feat. Secret Adventure
Hello, friends! It has been... about three months since I updated any play diary at all. Well, I've mostly been working on building the website, playing some online and mobile games, and largely dealing with health stuff. But the site is almost done, and I'm not sure if I'm even going to submit this to DW or just keep it on the site alone.
When we last left Laura and Henri, they had decided to go face Dagul Bos once and for all, especially since he seems to have stolen one of the Elemental Gears. But so that he doesn't get his hands on all of them and the Blade of Escata at once (which would be terribly dangerous), we're headed to the House of Galeos to drop them off for safekeeping.
But before doing that, I wanted to clear subadventures with the Blade and Gears still in our posession. And there's another reason I wanted to clear all of the subadventures all at once at this point in the game... which you'll understand in just a bit. But first, let's review what happened on our subadventuring.
There are a lot of subadventures, and none of them are ones we haven't seen before in other scenarios, and on many of them had not much interesting happen, so I won't go over them one-by-one.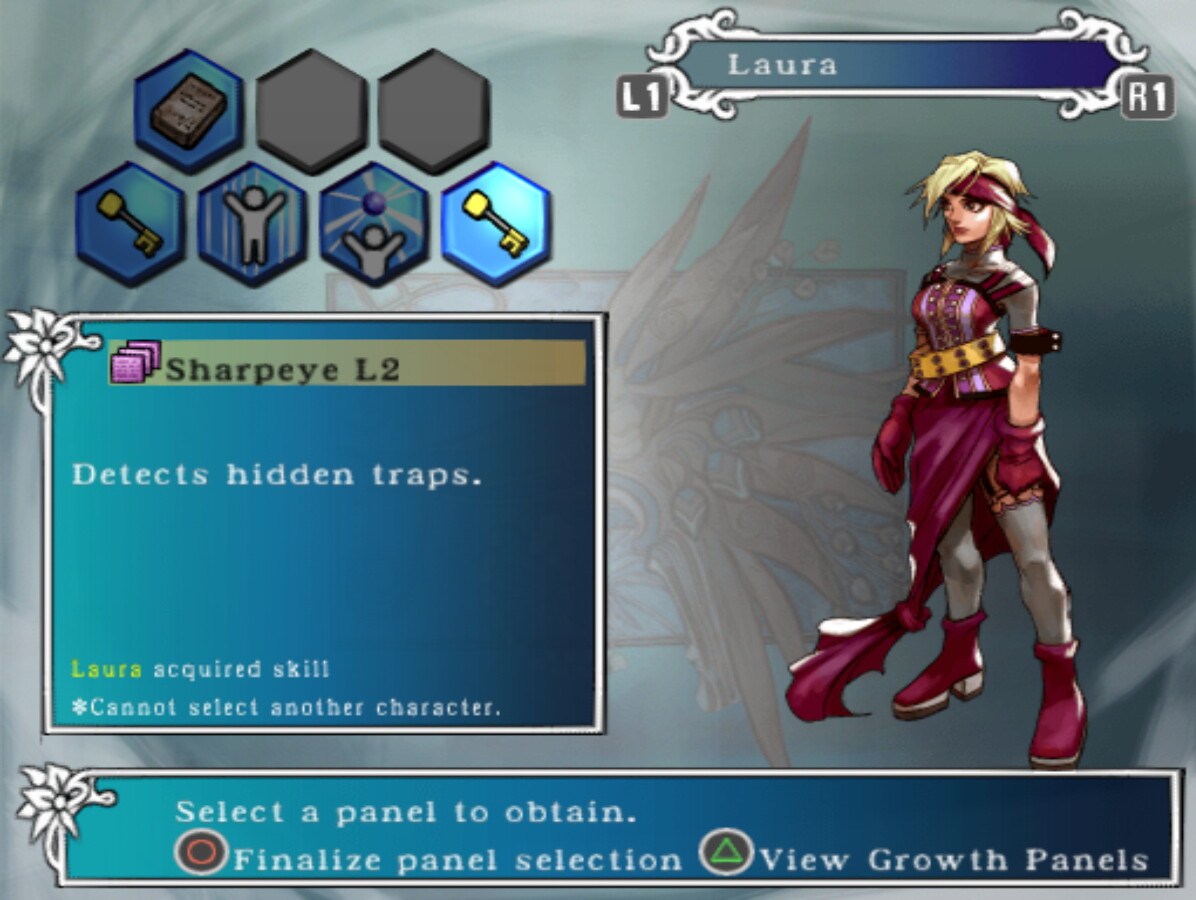 The first subadventure we did was Fugar's Mansion, because of the free magic tablet. It ended up not being useful, and usually Fugar's Mansion gives junk panels since there's not really anything to do other than pick up a jewel. But Laura got Sharpeye Lv 2, which is really nice, since we lost access to Sharpeye now that Michelle is out of the party and I decided to give Laura a Sword panel last time instead of Sharpeye. And Musol got Architect L2, so we now have access to all the searching skills without the ability to utilize Judy's familiars for searching anymore. Pretty lucky for what I was expecting to be fruitless!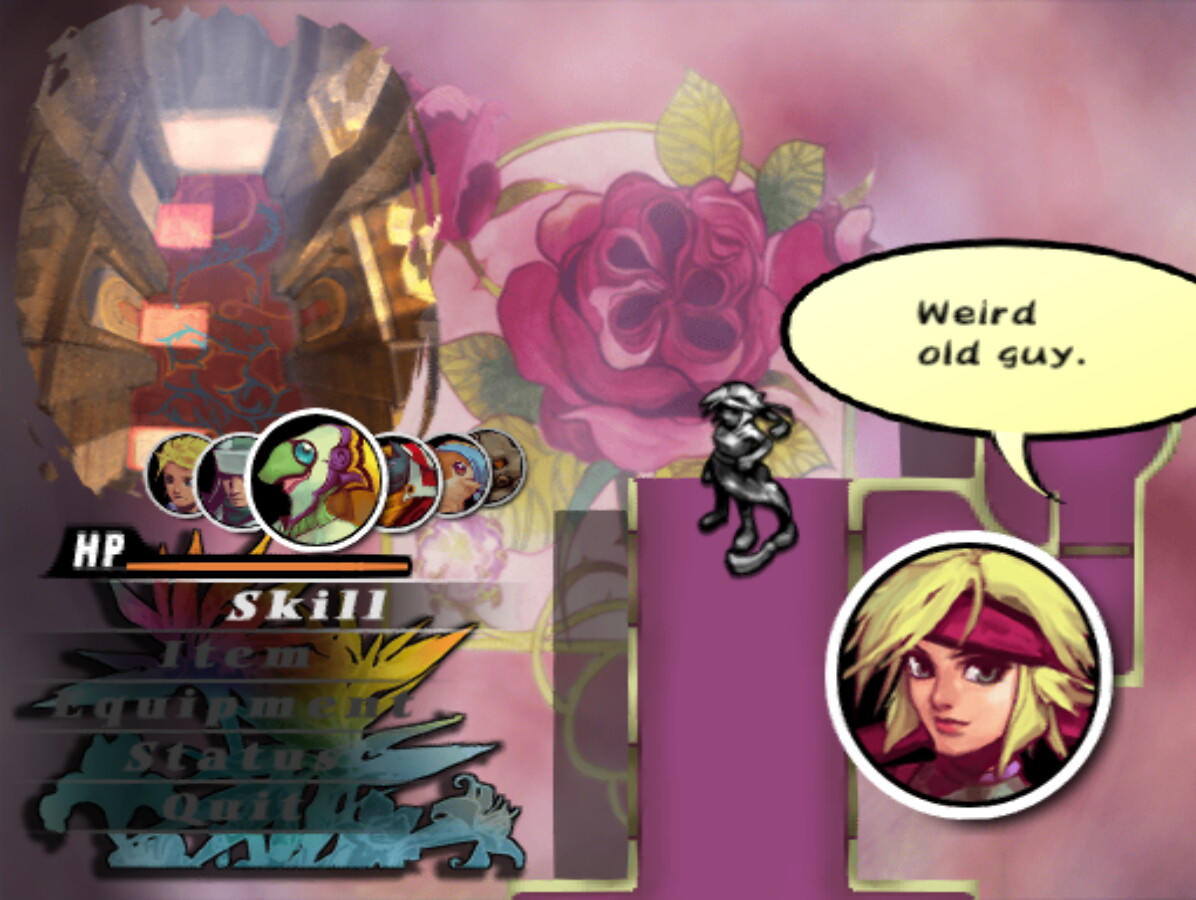 Abandoned Castle is always a nice adventure because you get free Obsidian Boots, and it's always fun to see the different things the characters say. Laura was able to glimmer Gust, which can lower the enemy's Skill (I always kind of forget about this Sword Art lol). Otherwise, progress was fairly slow for a while. This was probably partially because I was doing a lot of the "easy" subadventures first like Lumina Stone and Healer's Hills to grab stuff like free tablets and healing herbs, rather than focusing on adventures that would give good panels and treasures. Though we did manage to slowly build up some nice equipment.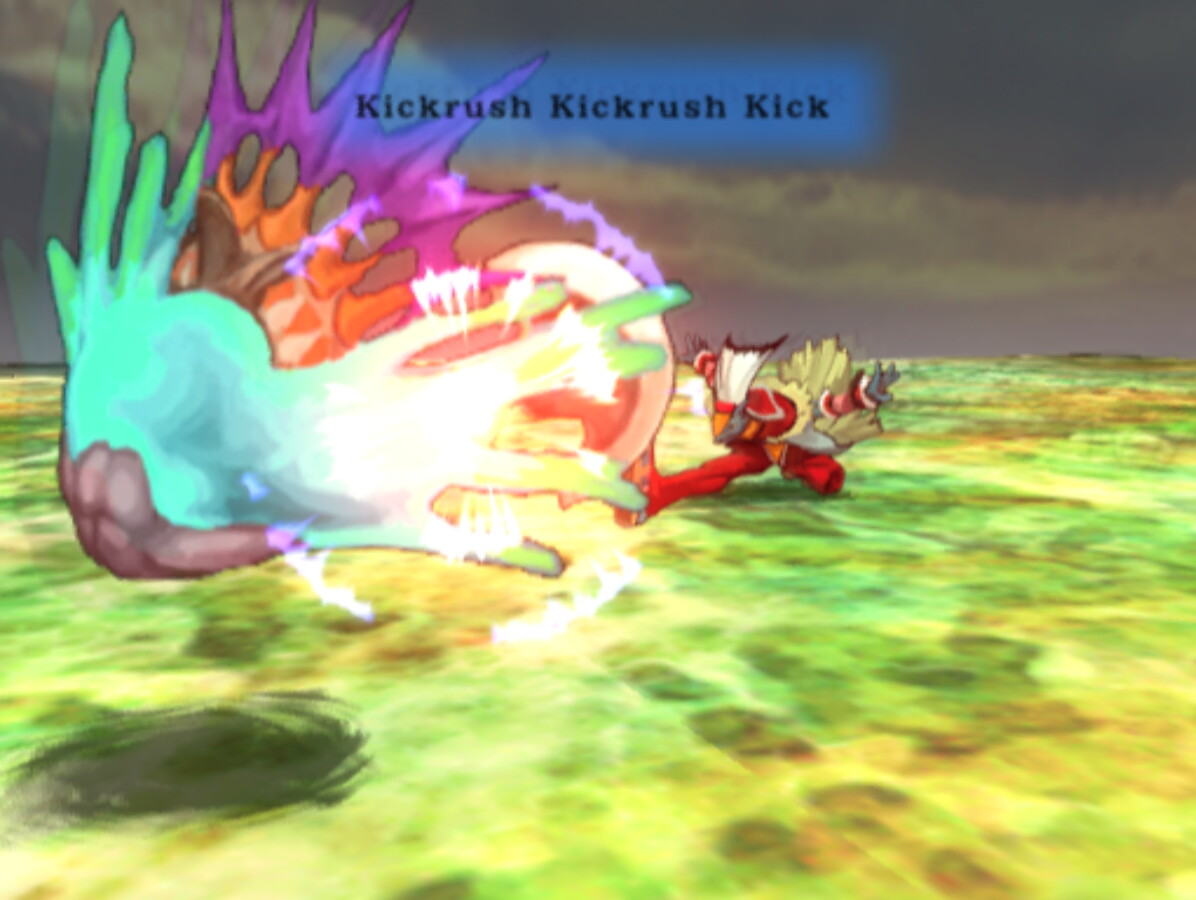 After a while, we started embarking on adventures that were more character-growth-friendly, like some of the Seven Wonders. Laura doesn't have access to all of them, but we did get to do some nice ones like Hanging Garden. We also finally got Metal Arts to "drop" on Musol's axe so we can at least try to utilize stuff like Magic Lock with him. And Shock would be a nice option for crowds.
In Garden of Death, I found that if you interact with the weird poison plants that bump you to other spaces, they'll shrivel up and then spring back to their normal size. Then if you do this again, they'll turn into free items! We got some Metal Greaves from them. Of course, this is a bit obnoxious to try since most of the time you step on a space with them, they'll push you away. But this also makes them go away, so they won't do that anymore once you've accomplished it!
At the end of the same adventure, I also opted to read the letter rather than return it, since I hadn't done that yet for the diary...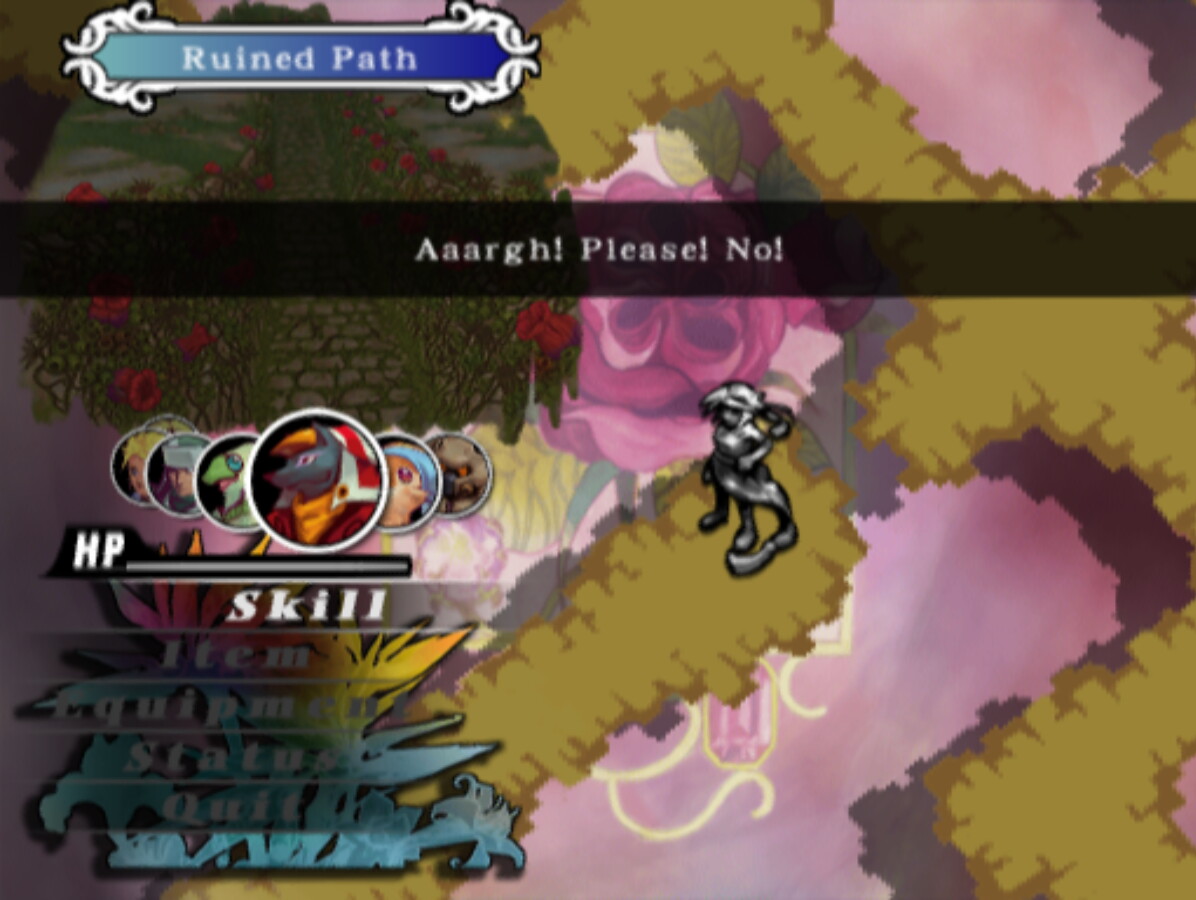 Understandably, he gets upset. But it seems that rather than an actual lost letter, we found what seems to be some kind of diary entry of the man... where he's confessing his love for someone named Marie. Could this possibly be Judy's sister? She is very popular with men, after all... In his anger and embarrassment, he snatches the page away from us and runs off.
And speaking of alternate choices, I also returned the mogul to his angry wife in Vanished Mogul. Pretty much she just beats him up and that's the end...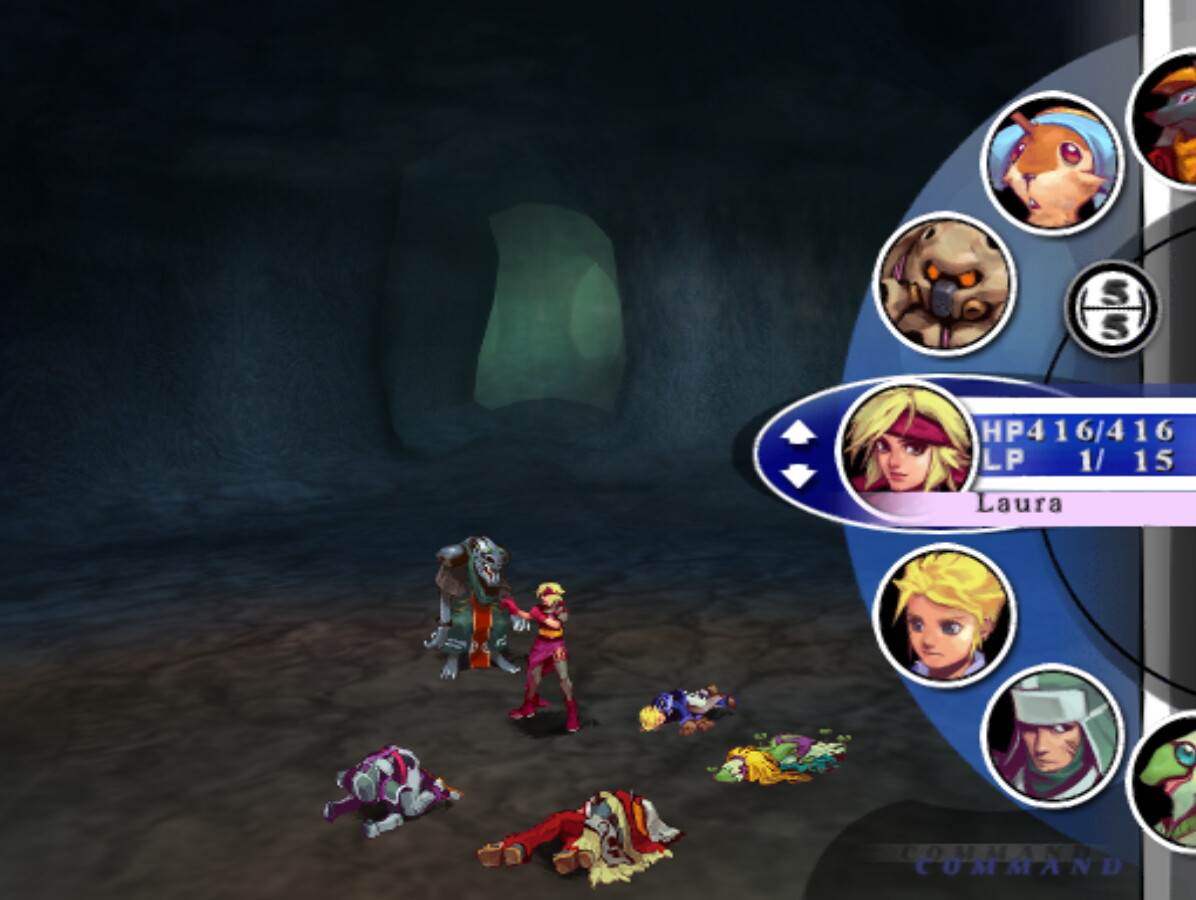 While running through the tower for the Titan's Flute subadventure, I managed to clear the "back route" and make it up to the guardian boss fight with plenty of turns to spare... but then a Rainbow Guckie appeared and almost wiped the party. In a stroke of luck (and the fact that this was one of the later subadventures, so we were getting pretty strong), I actually managed to defeat it! But... Laura was the only character left alive, and with only 1 LP left... (I was really freaking out when it died with her in that condition -- I really thought we were done for!)
... And running into lots of undeads and aggressive monsters on the way out, she ended up dying anyway, so we had to start all over from the beginning of the adventure...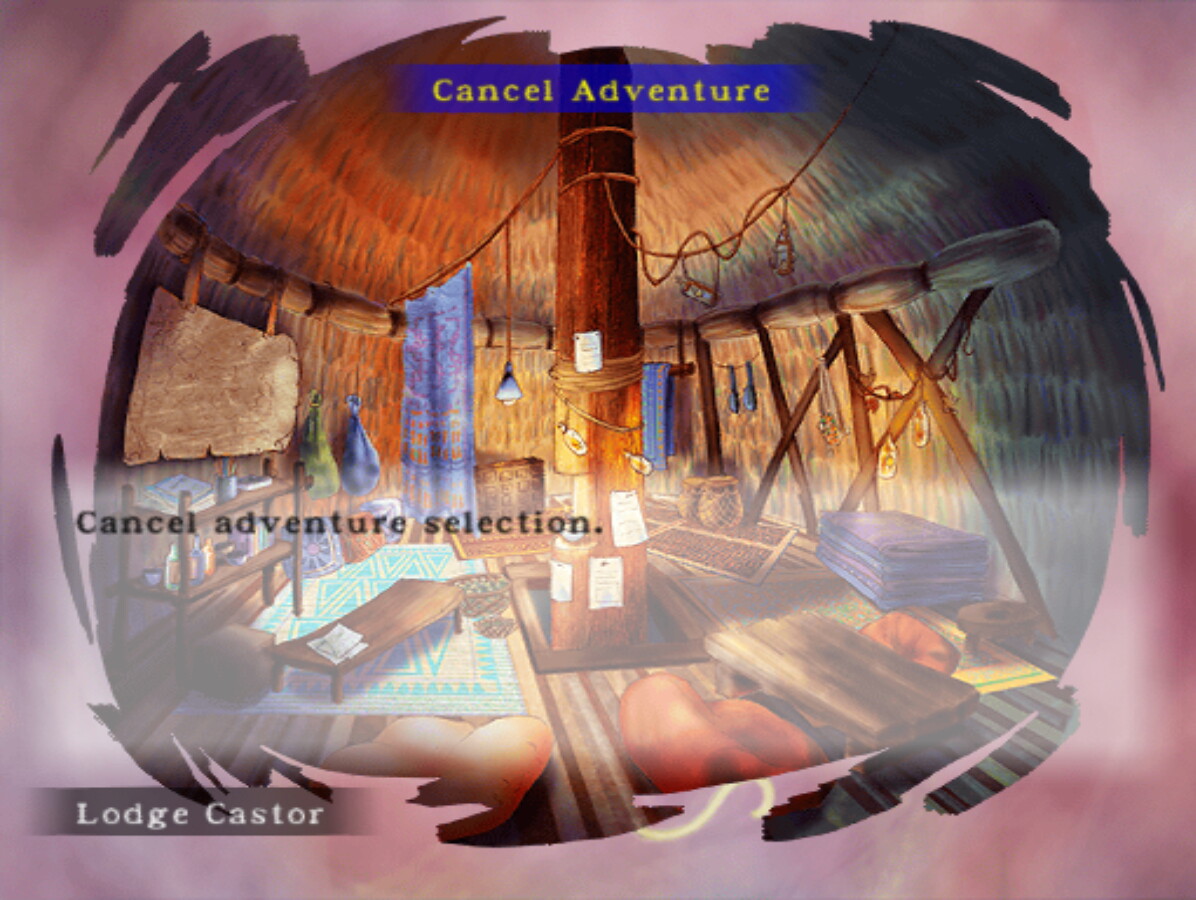 Eventually, we finished up all of the subadventures. The same kind of stuff we did in all the other scenarios -- heading to Leith Torles's Tower to try to glimmer against the Gold Elder Dragon, taking time in Wonders to hunt for treasures and tablets, and more. Laura doesn't have access to the Nakle Lines subadventure, so there wasn't too much of a challenge throughout. We got some good stuff and powered up the party well enough. We even found some Mullock in a chest at Starship Anchor, and were finally able to forge some Damascus!
But what if you get to this point and you want to do more? There are no adventures available from any inn -- importantly, there are also no story adventures, either, since our next task is to visit Lord Galeos, which isn't an adventure itself -- so it seems like there's nothing to do, right?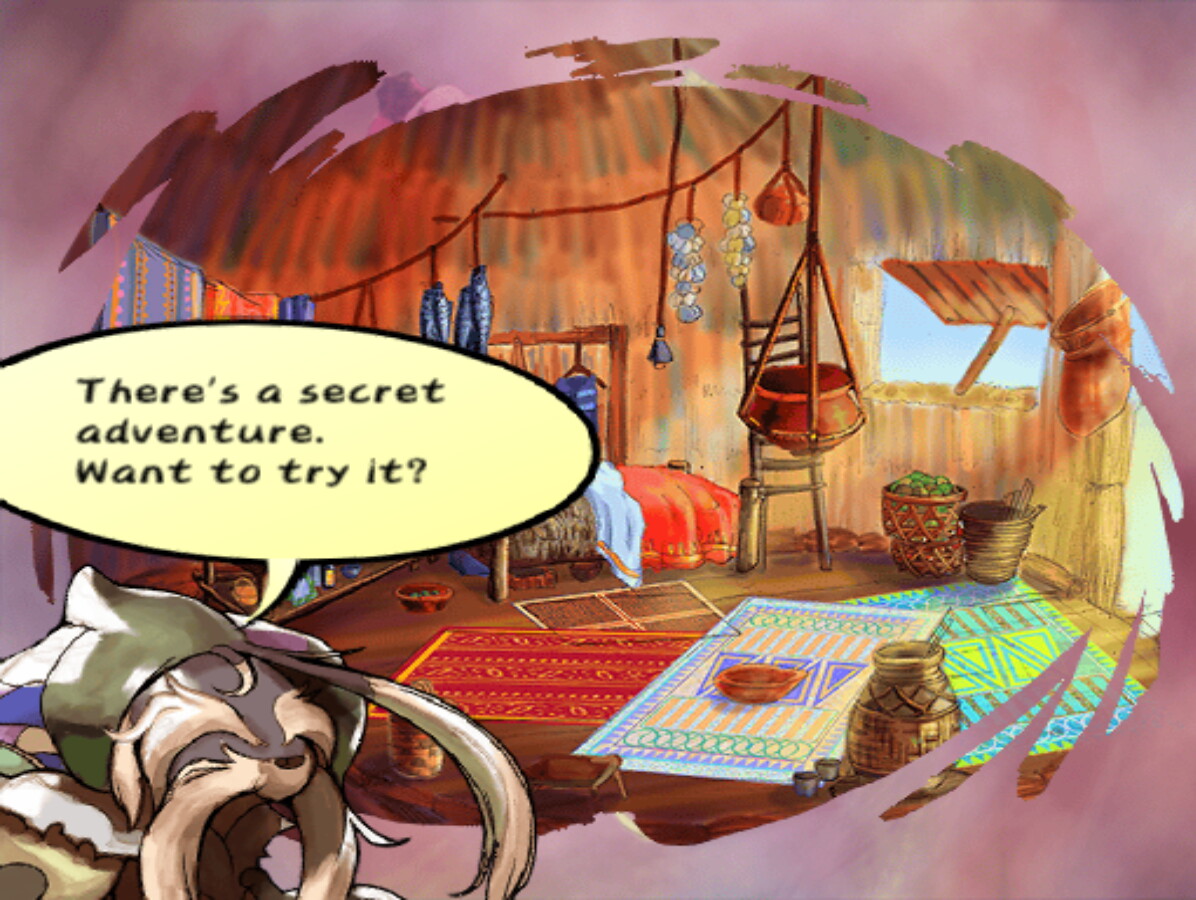 Well, if we head to Chapa and go to the Chief's hut, he tells us that there's a "secret" adventure and asks us if we want to try! This largely exists because of the nature of Armic's scenario -- it would be possible to finish all the subadventures in the game, but not have completed the item list enough to unlock the next part of the story. Since the Chapa Village Chief is relevant to the story, you're likely to go back there to ask him what to do next, and you'll discover this. This adventure can be accessed again and again, so you will never fully run out of adventures. And it's accessible not only to Armic, but anyone who can reach Chapa during their scenario!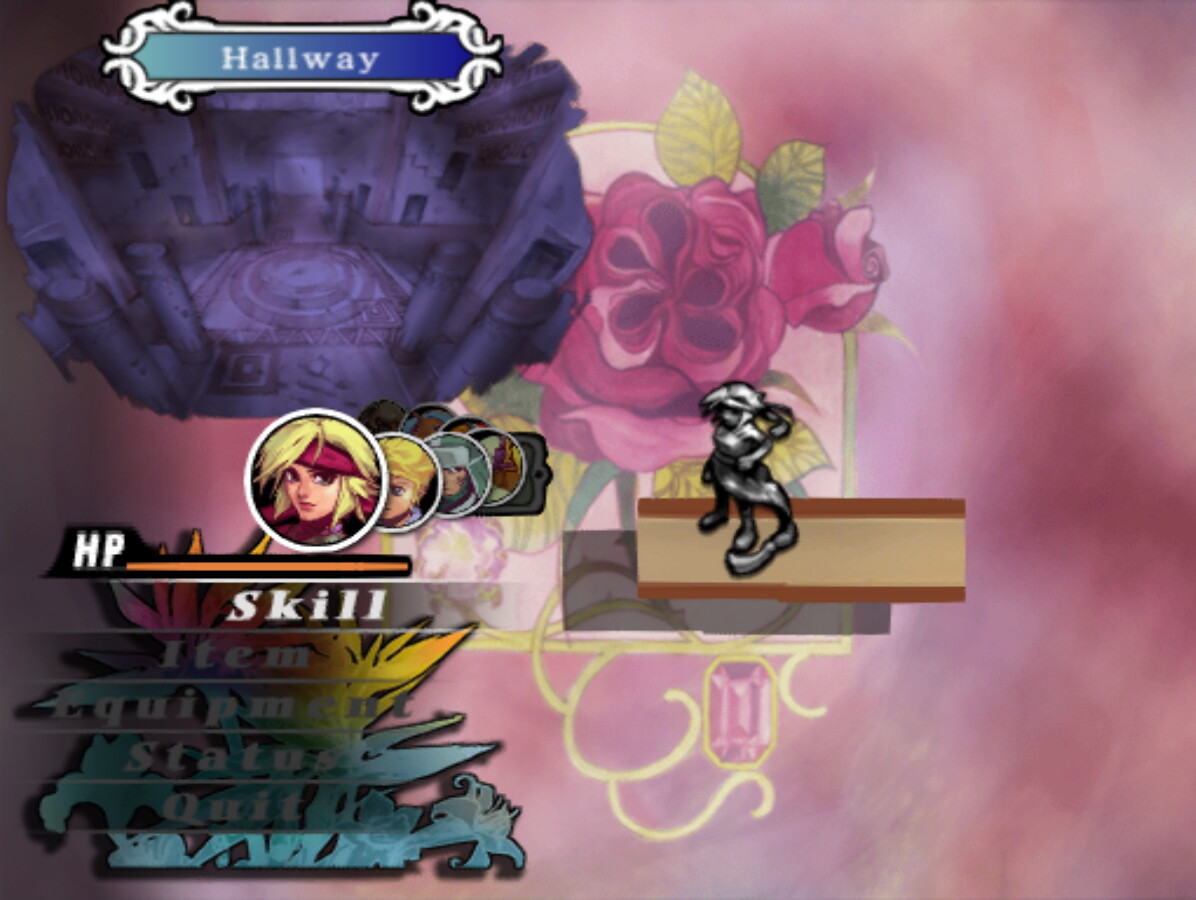 When we agree to go, the Chief warns us that we won't be able to come back on our own accord (like most adventures, there's no real 'exit' so we'll have to finish the adventure to get back to down), and we have to tell him again that we'll go. Then he just says "Off you go." and we just... appear... in this building.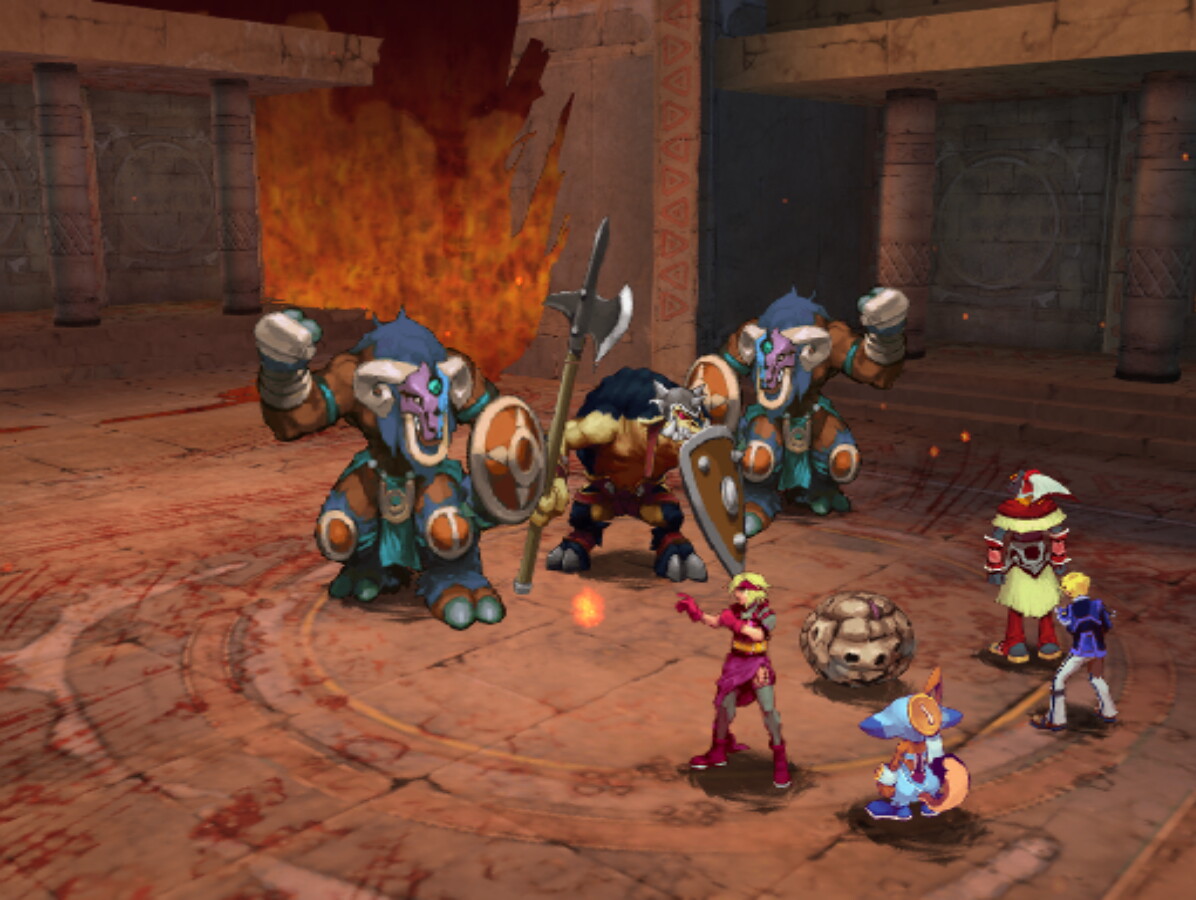 The building is on fire and loaded with a lot of powerful monsters, mostly wildlings and undead. There are also those corpse "treasure chests" everywhere (but that also means no mimic traps, so you can't farm for magic tablets here, sorry!) so we can grab some extra goodies if we need them, like hunting for extra bestial stones when we're not allowed to shop...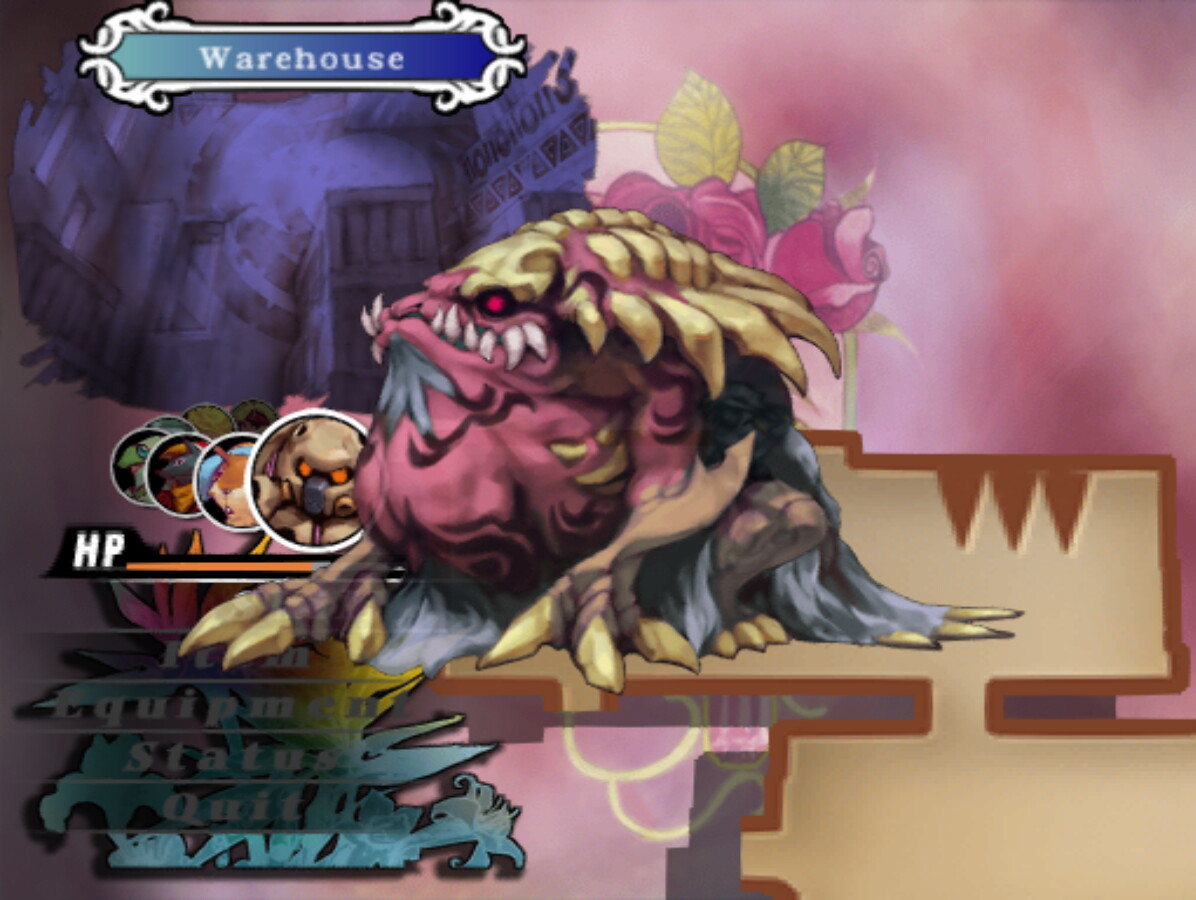 Each turn, there is a small random chance of Nergal appearing before you and forcing you into a fight. This is the same as the boss from the Warmth of the Throne subadventure, but if he appears when there are enemies on the space you're on, they'll join in the fight, too. Plus because his appearance is random, there's a chance you'll have to fight him multiple times per adventure.
There are two floors and some rubble to climb over, and treasures everywhere. Other than that, there's not much to do here. There's no objective to clear the adventure; you just have to survive for 57 turns. (Yes, fifty-seven. I have no idea why they chose that number...)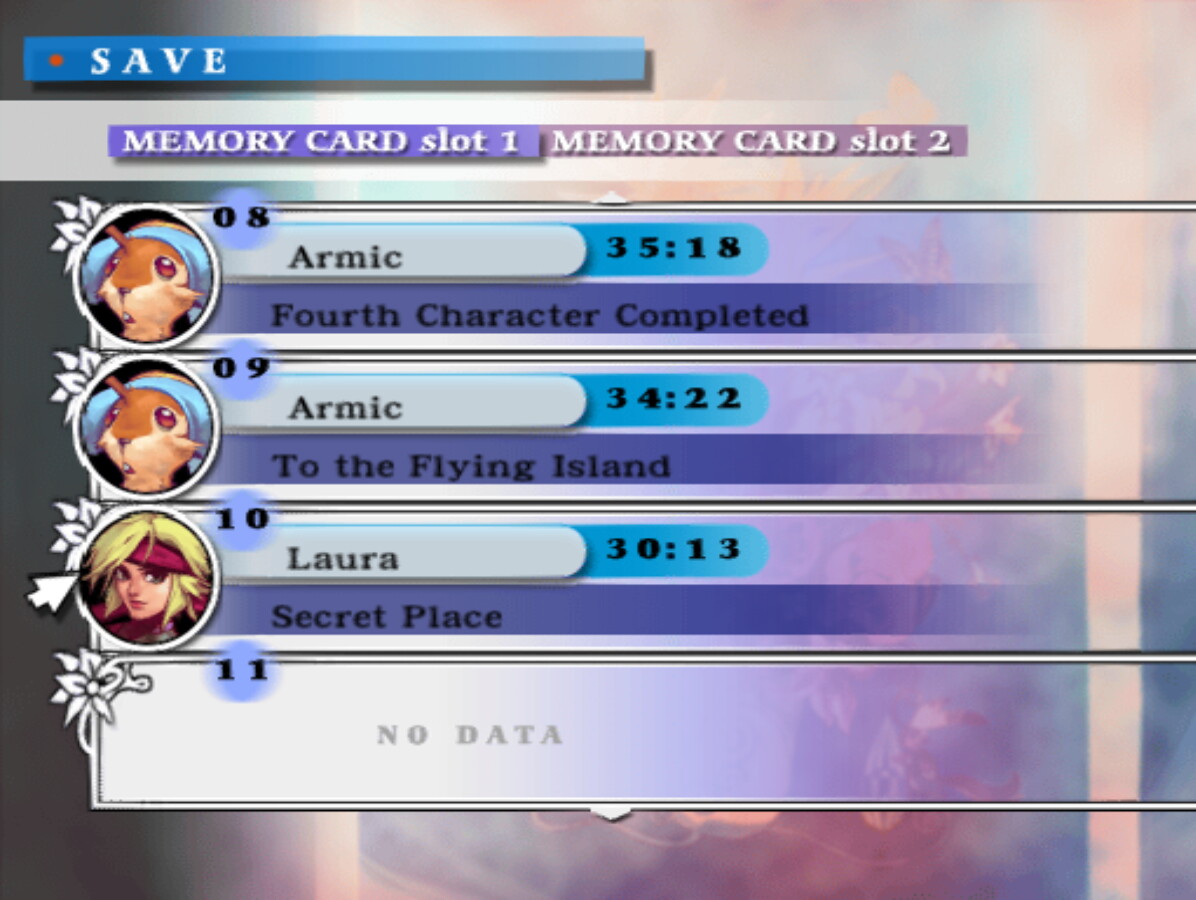 After you get to turn 57, the adventure abruptly ends. If you save your game here, your save file will be entitled "Secret Place." And that's about it for the secret adventure... I was planning on going to it over and over to try to get a super-powerful Laura party, but it just will take way too long. I wanted to at least finish studying some tablets, but even that is getting pretty tedious, so I'll probably just move on now. I at least wanted to talk about the Secret Adventure in this play diary at some point, and this was a good opportunity to do it. I was actually planning on running into it 'normally' during Armic's scenario, but I got through it surprisingly quickly, so I didn't have the opportunity.
So next time, we're off to have our showdown with Dagul Bos...
---