The Road to Vaftom
Parts 2-4
Last time, Laura met Henri, the Prince of Escata, as he was escaping assassins and literally ran into her at the funeral for her late husband Pablo. Laura agreed to escort Henri to Vaftom, which is the only place he's ever been besides Vaftom.
A quick stop at the inn, and we're ready to embark on the road again south.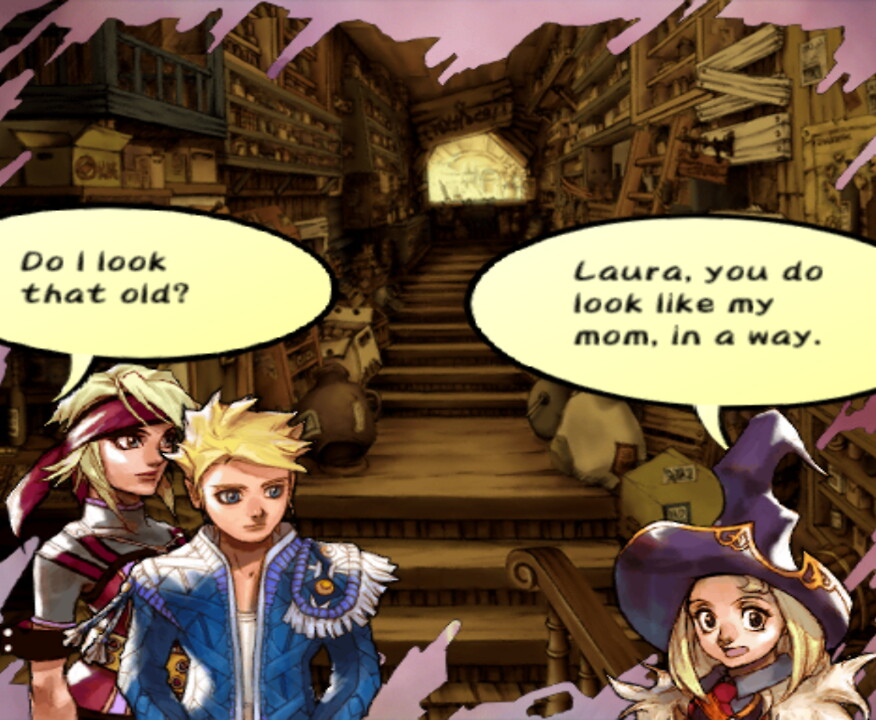 But before we can leave, we run into another little kid. She says she's looking for her mother, and asks Henri if the woman he's with is his mother. Henri gets flustered and isn't sure how to respond, as he's not sure exactly what his relationship with Laura is, and he can't very well say "she's my bodyguard," as it might raise questions and he's trying to be incognito.
Laura quickly rescues the conversation by telling the girl she is his aunt.
Henri invites the girl to travel together with them while she searches for her mother, so she doesn't have to travel alone. Laura seems a bit perturbed that now she has to babysit two little kids.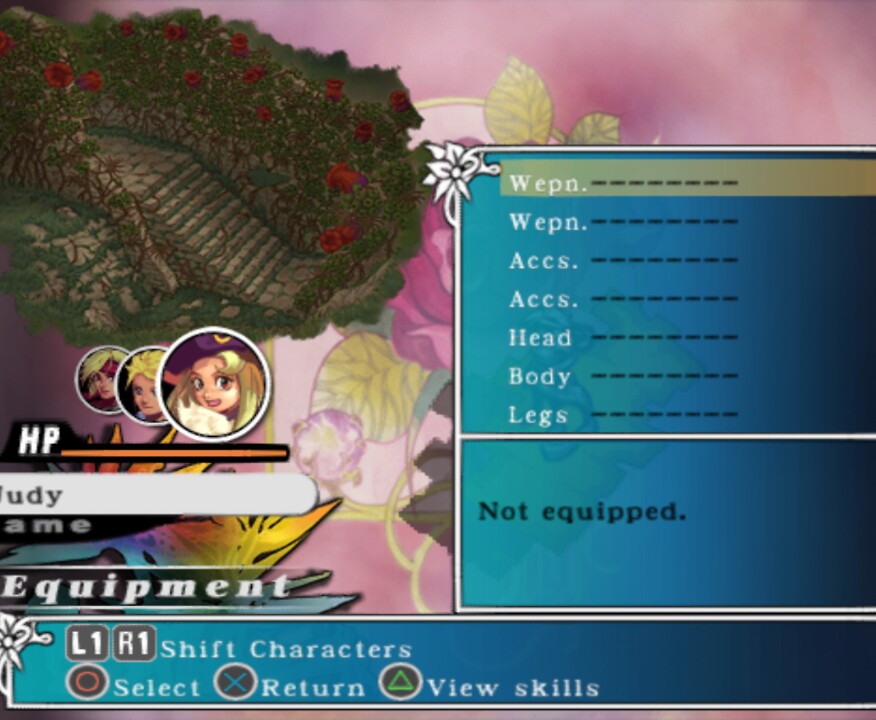 This is Judy, who has her own scenario, so as soon as we set out on the road, we loot all her stuff so we can use it for ourselves. Judy is a fun character to play with, but since we'll be playing her scenario next, she's getting benched this time around.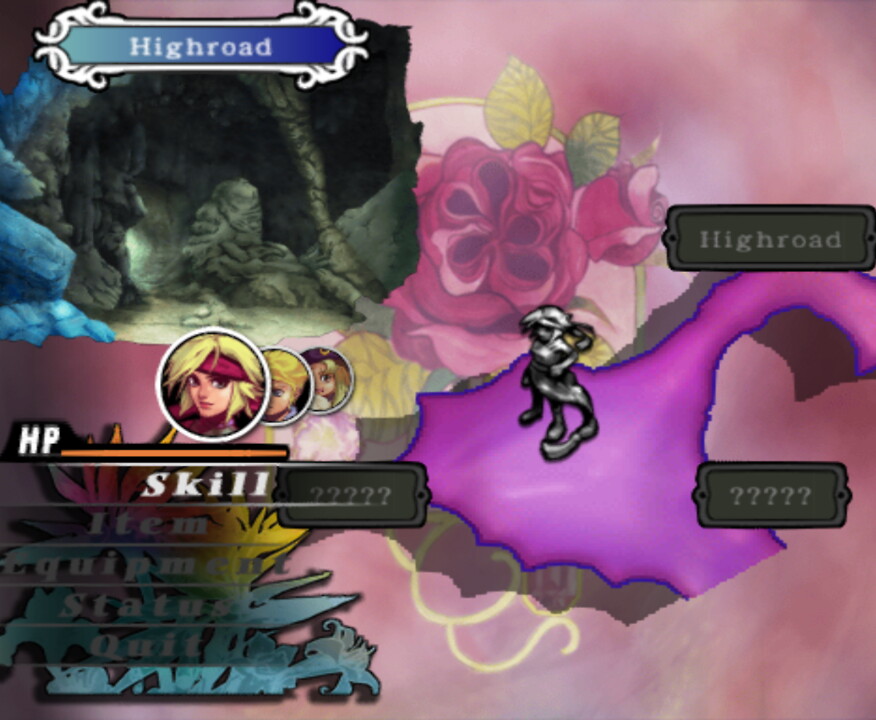 As we travel, we have to navigate a cave. There's really not a lot to say about these adventures, because very much like the "travelling" adventures we've played before, they're pretty much just about getting to point B from point A.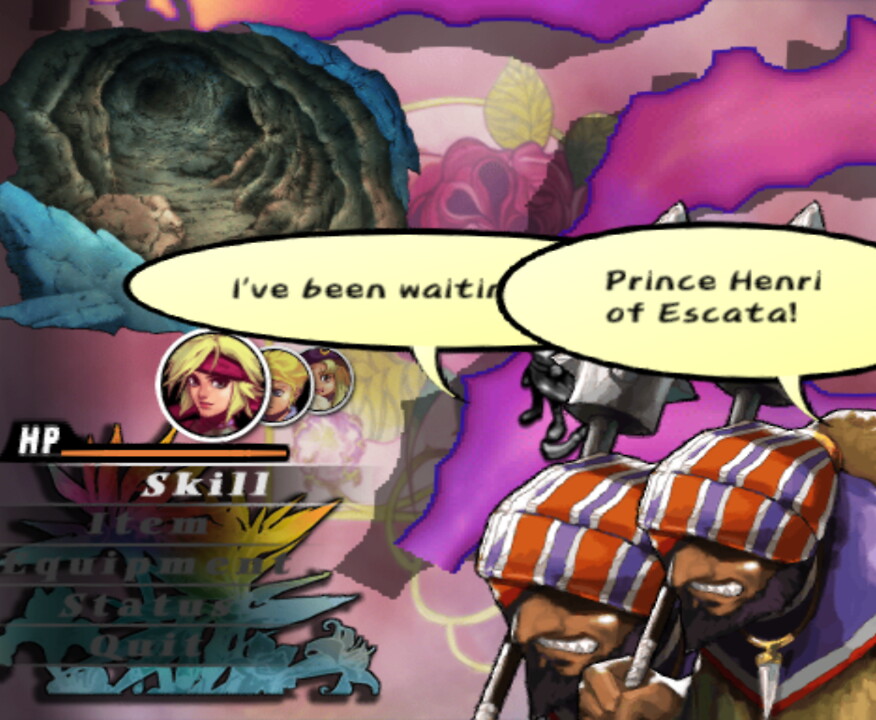 Though at least we get ambushed by assassins a lot on these...
Even though there are always two of them in the little talking scene, there's always only one of them in the actual battle.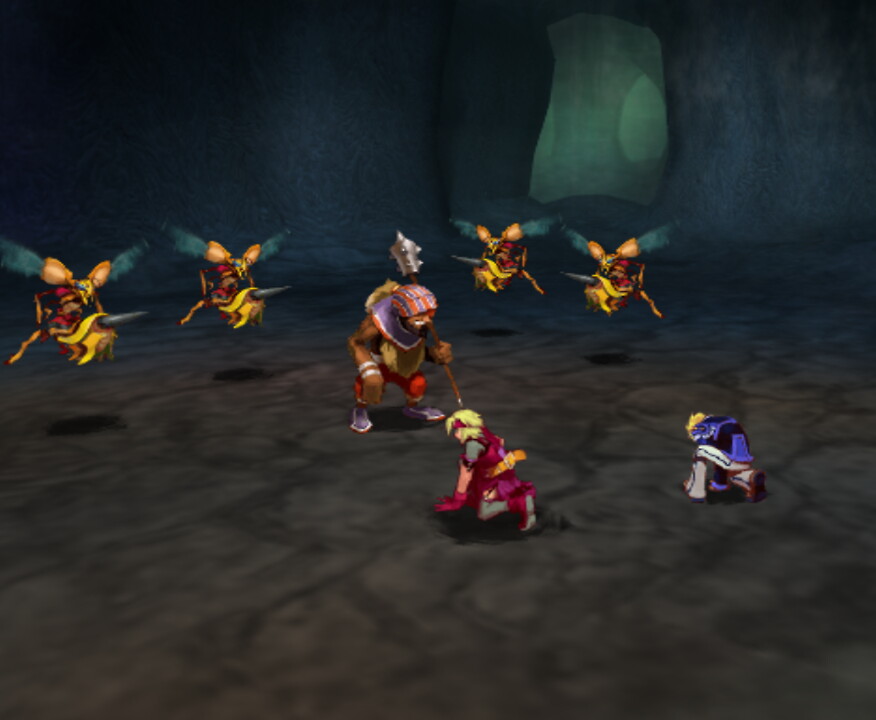 This time, instead of a team of Guckies, we get these insects. I forget their names, but they're much nastier than Guckies. They can use Dart to poison Laura and Henri (and I guess Judy), and they have pretty good LP damaging rate, too. The Pursuer is the same as before, really. If there's a difference, it's not enough to tell.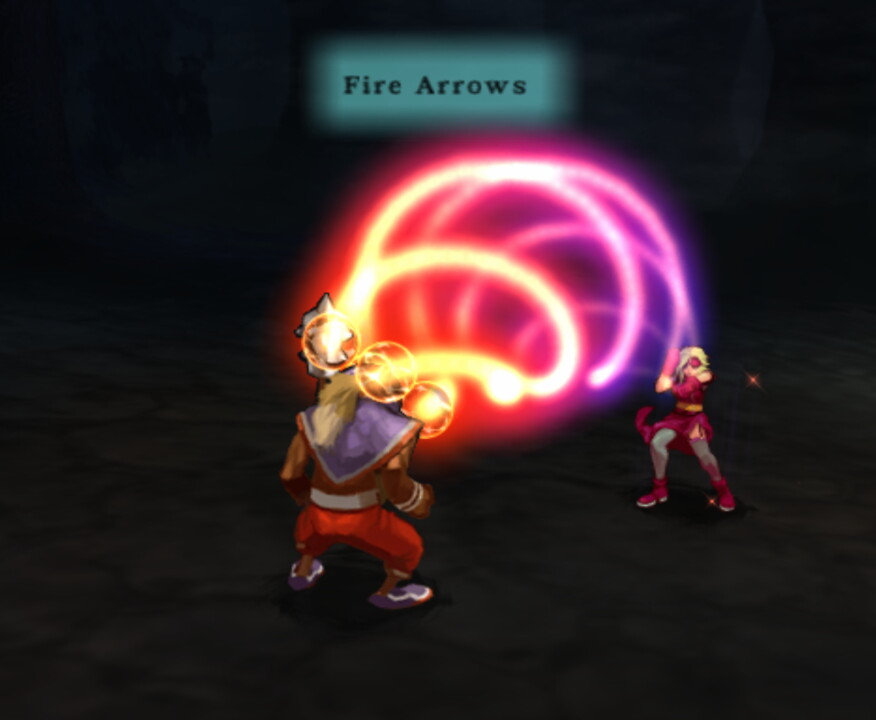 Though poison doesn't really do much to us at this point, since we're not letting Henri or Laura have time out from the battle to rest. We use the same strategy again -- Fire Arrows on Pursuer, then combo stab the bugs.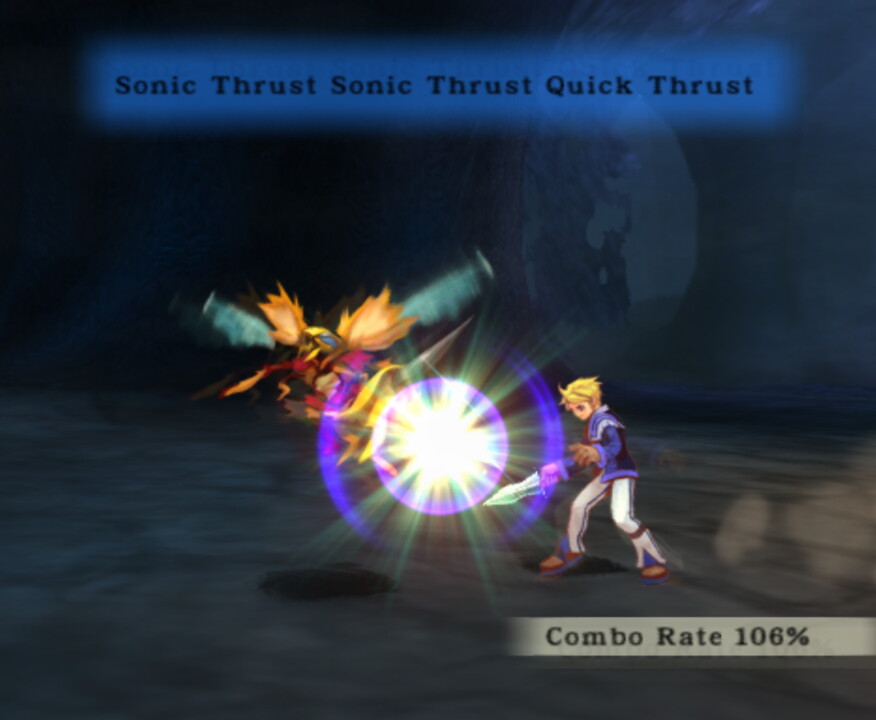 They're a bit more resilient than the Guckies, though, so instead of trying to combo on all four, I stab each twice per turn. They seem to love not losing LP (don't we all?) so it takes a while to wear them down.
But fortunately, we got ambushed this time just before our destination, so we don't have to worry as much about surviving the rest of the trip.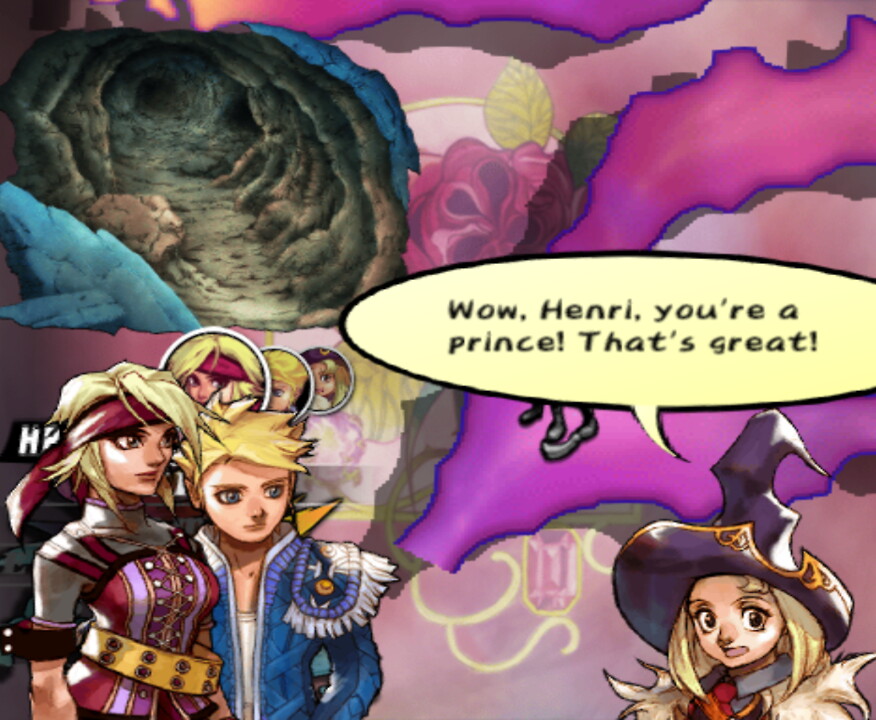 Since the Pursuer identified Henri as the Prince of Escata, Judy has found out about his identity. She thinks it's pretty great that Henri is a prince, but he seems to think otherwise.
He says, perhaps to himself (it's a voiced line, so it could be narration/internal thoughts) that if he had not been born royalty, his mother and father would not have been killed.
Laura tells him that some kids are born into poverty and struggle to just stay alive, so he needs to live up to his title. Whatever that is supposed to mean.
We have access to the blacksmith in Wanda now, but they don't handle swords, so I can't make a sword for Laura even though I'd like her to use one. And we haven't run across any in the treasures, yet, either.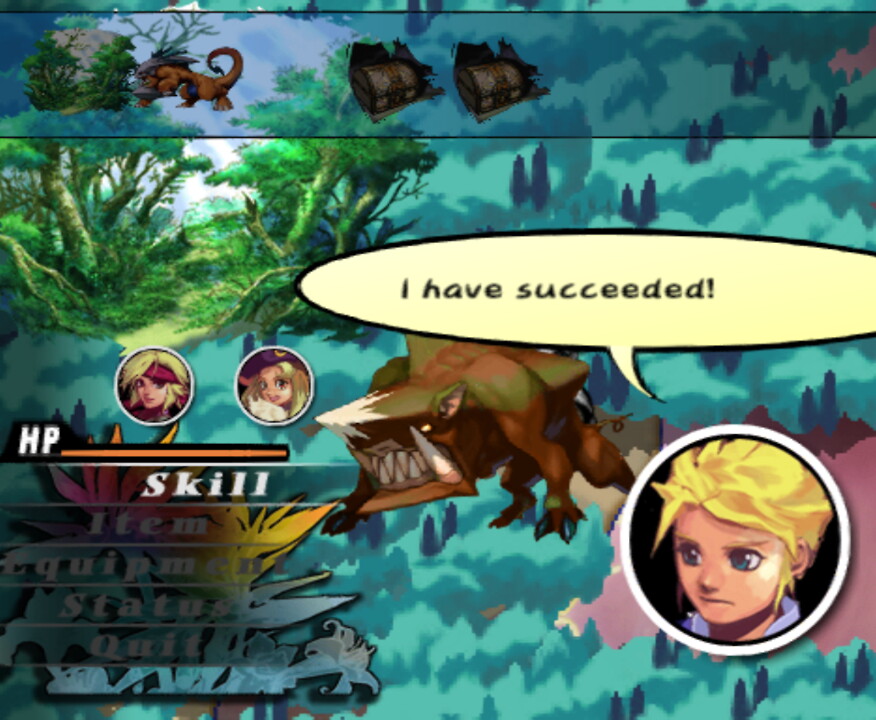 Our next journey south is toward Longshank, which will be our last stop before Vaftom, as we can take a boat from there to the island. When Laura and Henri first met and she agreed to escort him this far, she actually said we could stop by Gadeira, where she was born, on the way. Gadeira is a bit west of Longshank, but we never end up going there (in fact, Laura never gets access to Gadeira at all during her scenario).
Later in a developer interview, the director said that the intention was originally to have Laura go to Gadeira during this part, but in the end they felt that it distracted too much from the main storyline and so that little side trip was cut from the game.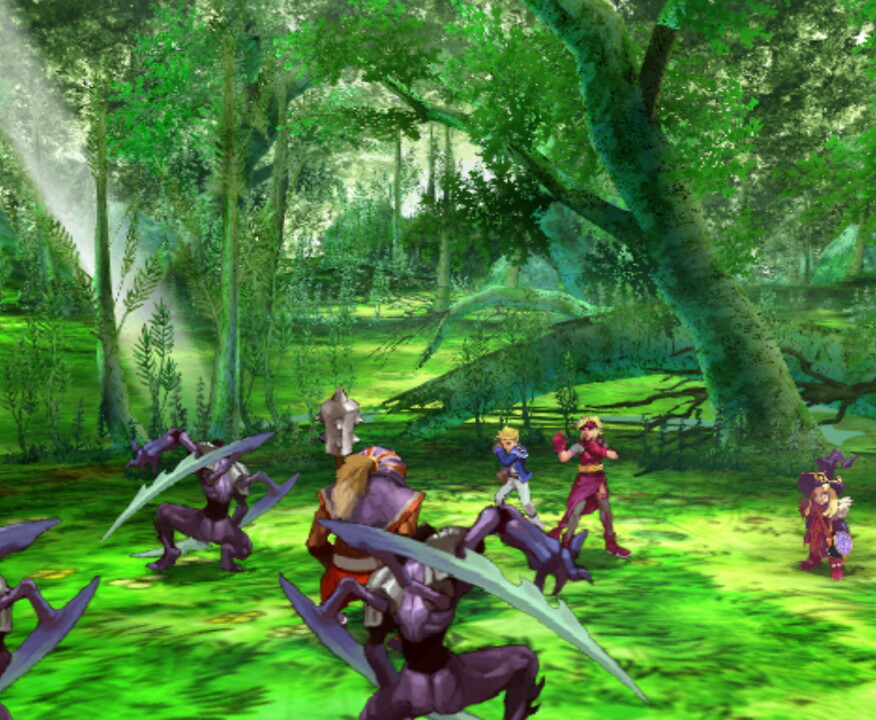 As we approach Longshank, we're ambushed yet again by the assassins after Henri. This time we fight a team of... undeads or bugs, I forget which (they are like mild recolors of each other so who knows!) and use the same strategy as before. Fire Arrows and stabby stab.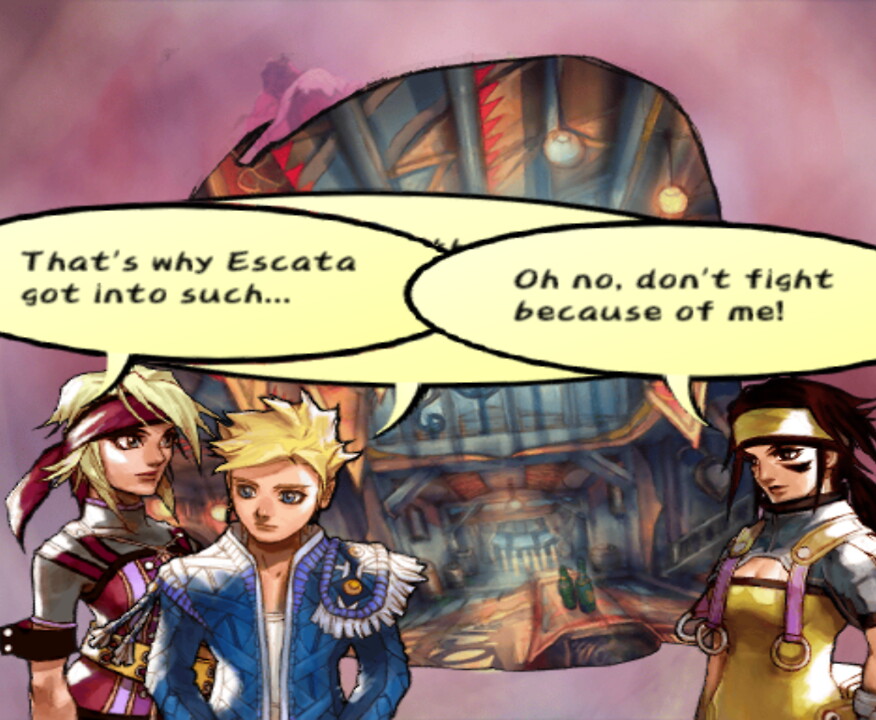 Once we arrive in Longshank, we run into a girl who is eager to dump all her problems on us. She goes on and on about how she came here looking for Mythe but he is not here, and now she doesn't know what to do, and she always has such horrible luck...
Henri offers to help her, but Laura tells him that he has enough of his own problems and shouldn't be helping others right now. Henri tells her that his father valued kindness because it brought people together. But Laura seems to think this "kindness" was responsible for the downfall of Escata.
The girl doesn't want the two to start a fight over her, and leaves, complaining about her bad luck.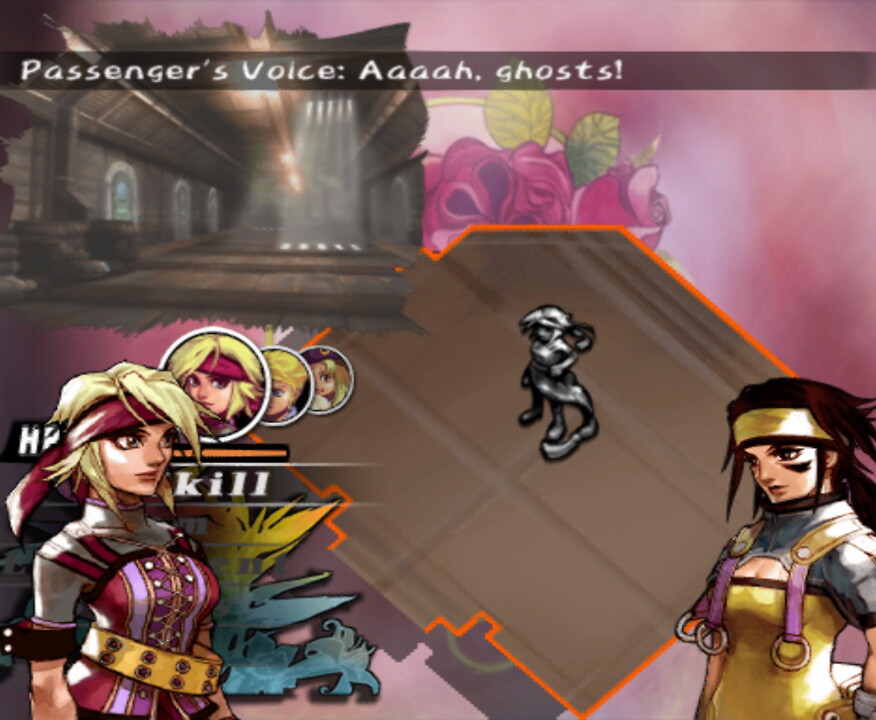 A few days later, we catch the boat to Vaftom, and Laura sees the girl sighing a lot on the boat. She tries to cheer her up, but she starts going on about how unlucky she is. Laura mentions that she talks a lot.
Another passenger somewhere on the boat screams out that they've seen a ghost, and the girl blames herself for attracting bad luck. Laura tells her that she can't be worried about luck, because she's in charge of her own destiny herself. She encourages the girl to join in the fight against the undead on the boat.
And yeah, it wouldn't be a SaGa game without a Death Boat!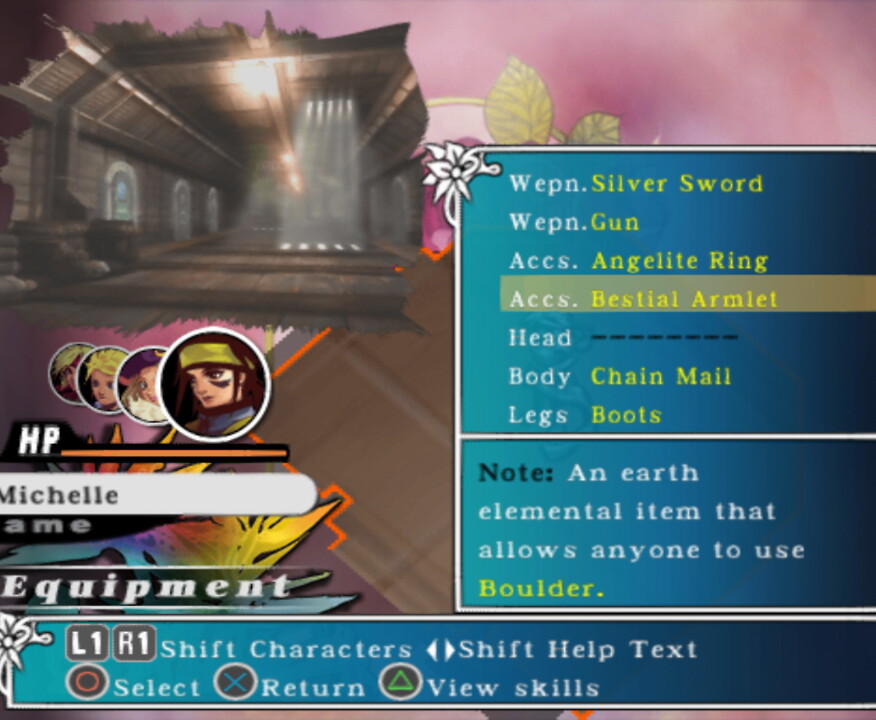 If you read Mythe's play diary, you already know Michelle well. And because of that, she's getting benched this time, too. Actually, I planned to keep all the story-relevant characters in the party throughout all of these play diaries, and Laura actually has a full seven characters that are relevant to the main plot, so Judy and Michelle have to sit out as they play the most minor roles.
Michelle does come with some nice equipment we can swipe, though, including an armlet that lets anyone use Boulder, and a gun. Henri gets the gun and starts his practice.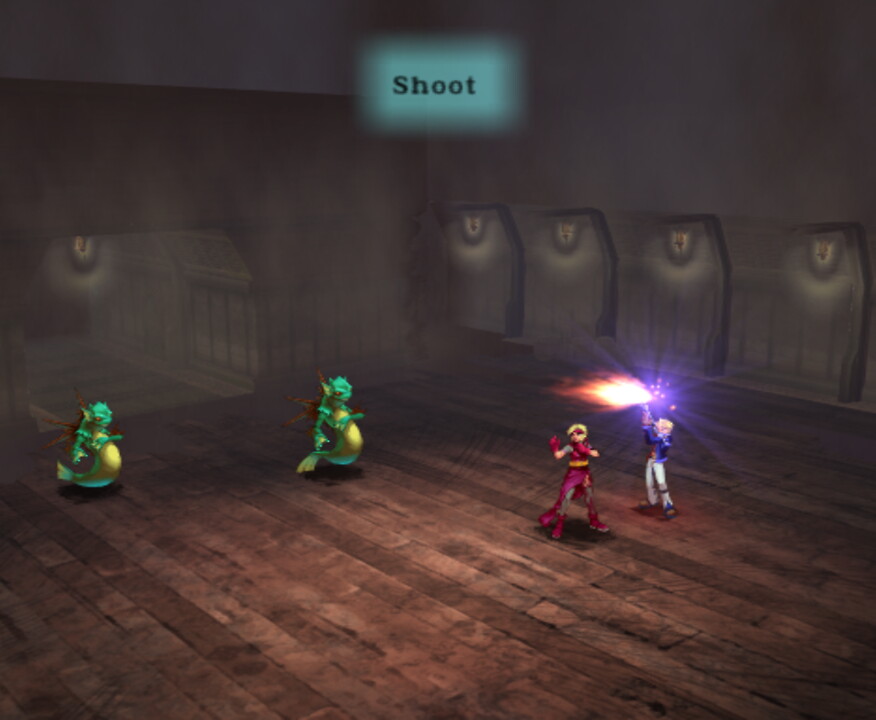 There are a lot of aquans, demons, and undead running around the boat, and since the place is pretty cramped, it's common to run into multiple enemies at once. Of course, they're no match for the power of GUN. I talked about it a bit before, but guns are very powerful early in the game because you have access to their best art (L4 Shoot) right away. There's no need to glimmer anything with guns, you just need to hit the right reel panel. Increasing your skill level with a Gun Arts panel will make the reel easier and increase your damage output.
Usually a single shot does 1 or 2 LP damage at this point, even if the enemy hadn't been hurt at all previously.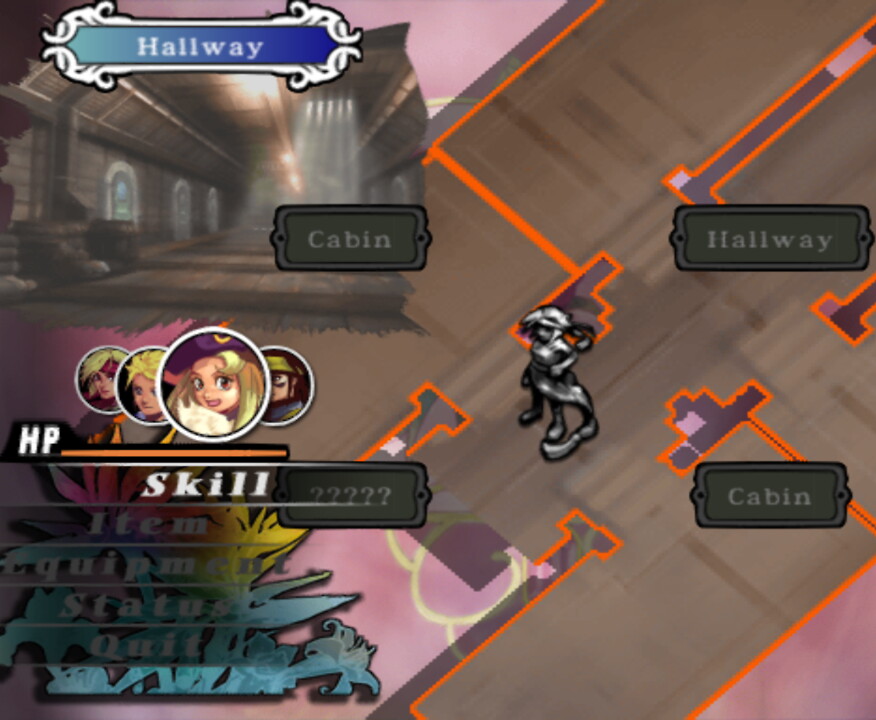 There are a lot of various little rooms throughout the ship, though the goal of the adventure is to get to the upper deck and walk out to the front. But we can explore all the rooms, using Judy's familiars to search for treasures, and unlock doors and stuff with Laura. There's also these "VIP" rooms which I noticed have the area quality of "Noisy." I've never really noticed this before, but I can't even imagine what the status of "Noisy" would do. Stuff like hot, cold, and 'in water' make more sense as qualities that would affect the party's abilities in some way, but... what does noise affect?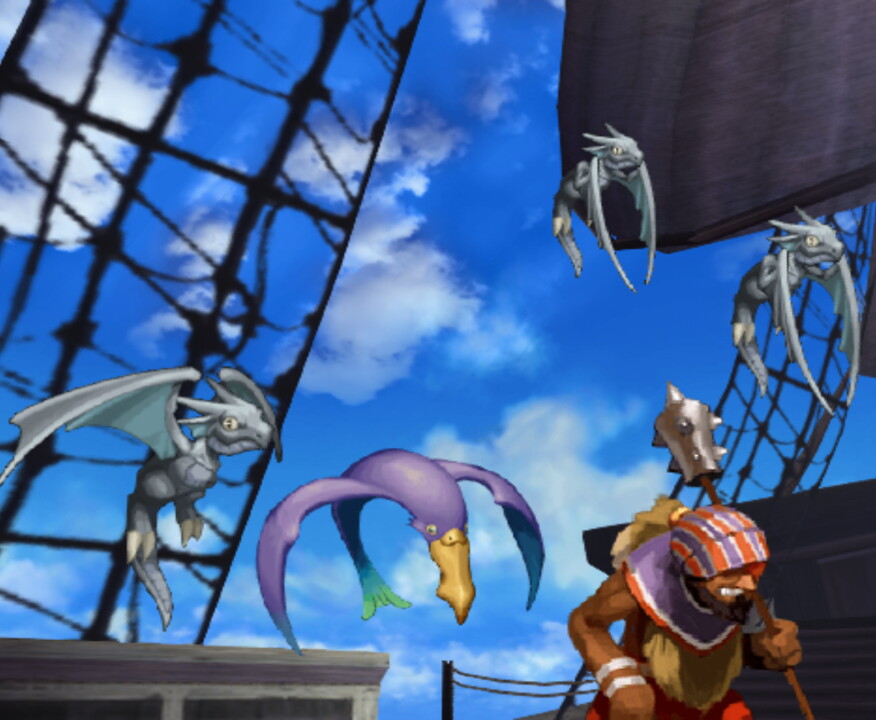 When we get to the front of the upper deck, we find yet another assassin waiting for us. Perhaps it is their fault that there are undead loose the ship, or maybe it's just coincidence, since necro stuff seems to love boats in this series.
Either way, we have another fight, this time with three White Windsors and a... Perryton? I think that's what it's called. The Perryton is kind of difficult for this stage in this game, and even seems to hold up well enough against the gun. Comboing the gun isn't very reliable, so Henri shoots them one at a time, instead.
Eventually, they do fall, though, just like all the others we've seen so far, and the boat arrives safely (?) in Vaftom. But it seems that the attack may have slowed the boat down a bit, because Laura says that we're already late for the festival.
---