Waiting for the Shrine
It's finally time to head to Kimbali.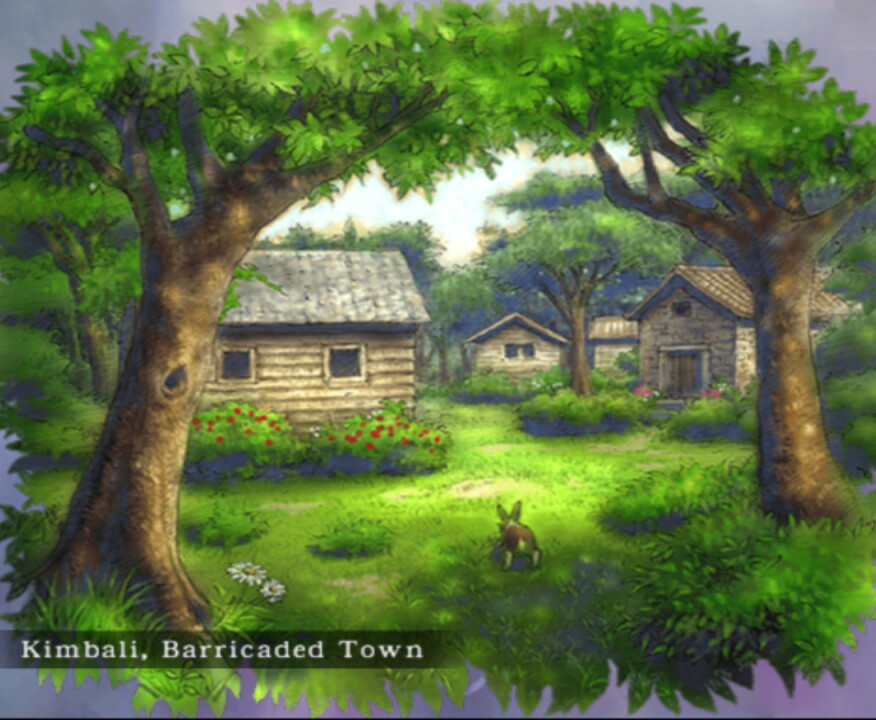 When we head to Kimbali, it's labeled as "Barricaded Town," and instead of the normal town menu, we're immediately shown a cutscene. Kurt arrives in Kimbali and wonders if his friend Edel is doing well.
We're taken to the inside of Edel's home, where we see Edel. Kurt knocks on the door, and Edel knows it's Kurt already. Kurt is surprised that Edel knew he was here, and Edel responds that all his senses are sharpened. "Dying embers grow brightly." Kurt seems uncomfortable and asks him not to say such things, but Edel is certain he will die soon.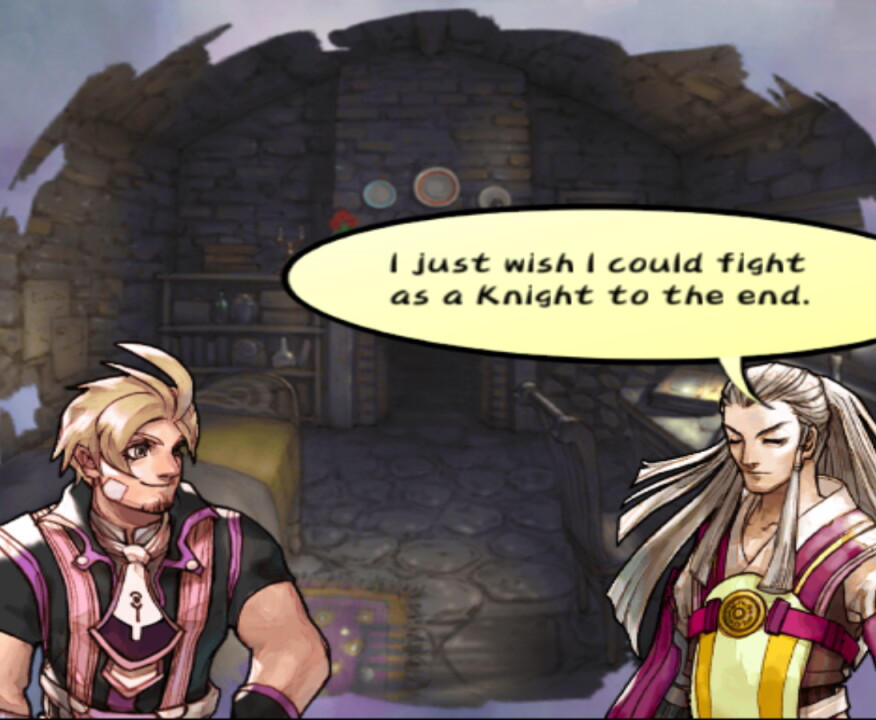 Although I don't think it's really explored in the game, Edel has some kind of terminal condition that also caused him to lose his eyesight. But despite being blind, he seems to have extremely keen senses everywhere else to make up for that, and can perform in battle just like anyone else.
Edel says that the Outland Knights, of which he is also a part of, are a dying breed, as a new faction of Knights have moved into Kimbali to protect the new Shrine of Iskandar being built nearby, and are taking over the protection of the town as well. Edel seems pretty sad about it, because he doesn't want his final days alive to be spent sitting around, but rather fighting as an Outland Knight.
Edel suggests that he and Kurt go check out the building site.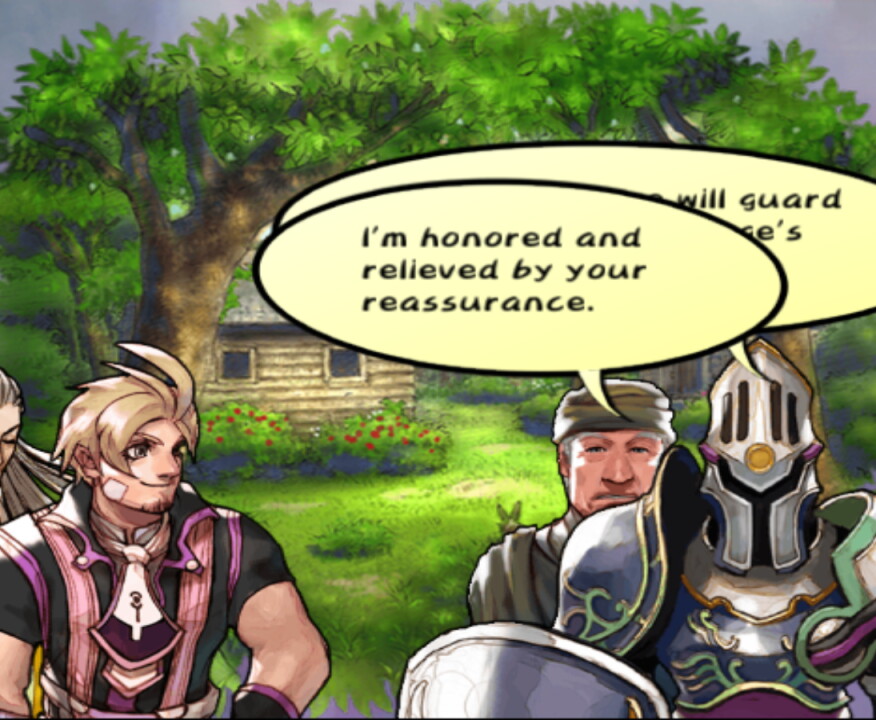 A Shrine Knight is here, convincing the village chief that the Outland Knights are no longer needed, because the Shrine Knights will protect the shrine, so the village will be safe.
When Edel and Kurt arrive, the chief asks about Edel's well-being, and then introduces Edel to the Temple Knight, letting him know that Edel has protected the village for years.
The Shrine Knight immediately insults the Outland Knights, saying that it's hard to tell if they're real knights or not because they don't know how to dress properly. He says that the Shrine Knighthood will protect the village, not a broken-down fighter.
Kurt and the Knight have a little bickering match, and then Edel interrupts politely, and advises the Knight that it's of prime importance to protect the main gate of the village, because it would be absolute destruction for the people living here if monsters breached that point.
The knight refuses to take advice from a "weakling," and Kurt and Edel retreat back to Edel's home.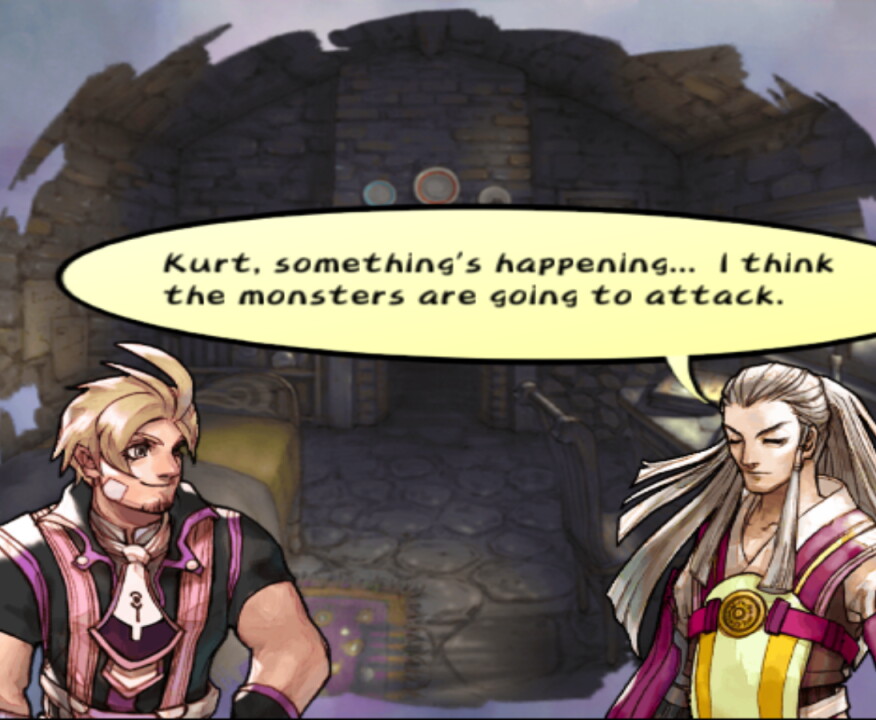 That night, Edel is able to sense an oncoming monster attack. The monsters probably feel it's a good time to attack when the village seems to have no defenses. Edel and Kurt both seem worried that the Shrine Knights will only bother to protect the Shrine, leaving the village helpless.
So, taking the adventuring party as a makeshift militia, Kurt, Edel, and friends head into town. Edel's house must be on the outskirts of the village, because the place is already flooded with monsters.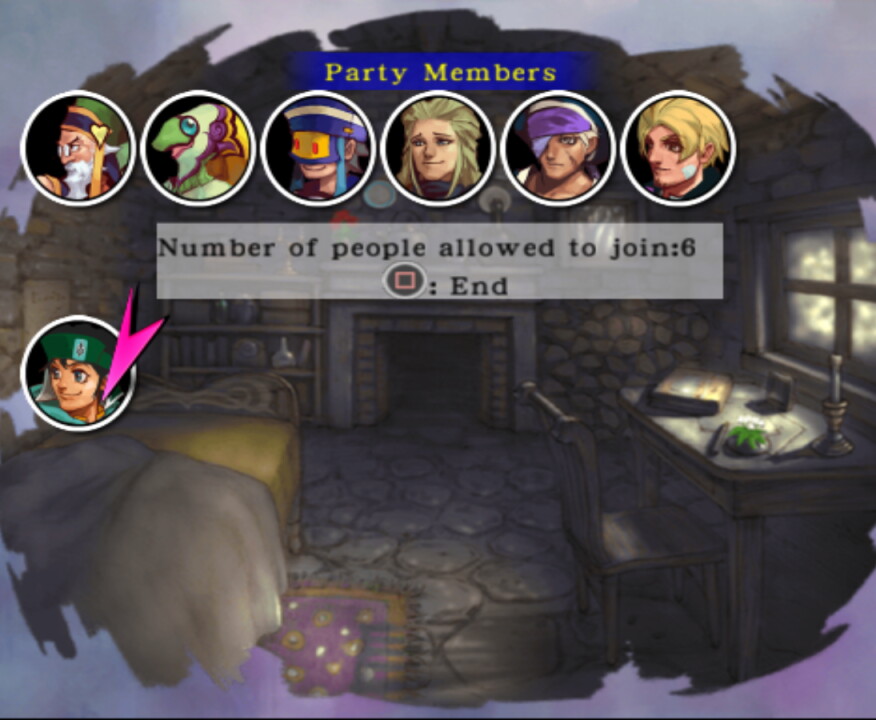 We're thrown into an adventure without a chance to save or anything, so this is why I didn't go to Kimbali last time. We're also allowed only six party members, so Ventus is finally performing his fated role as bench-warmer.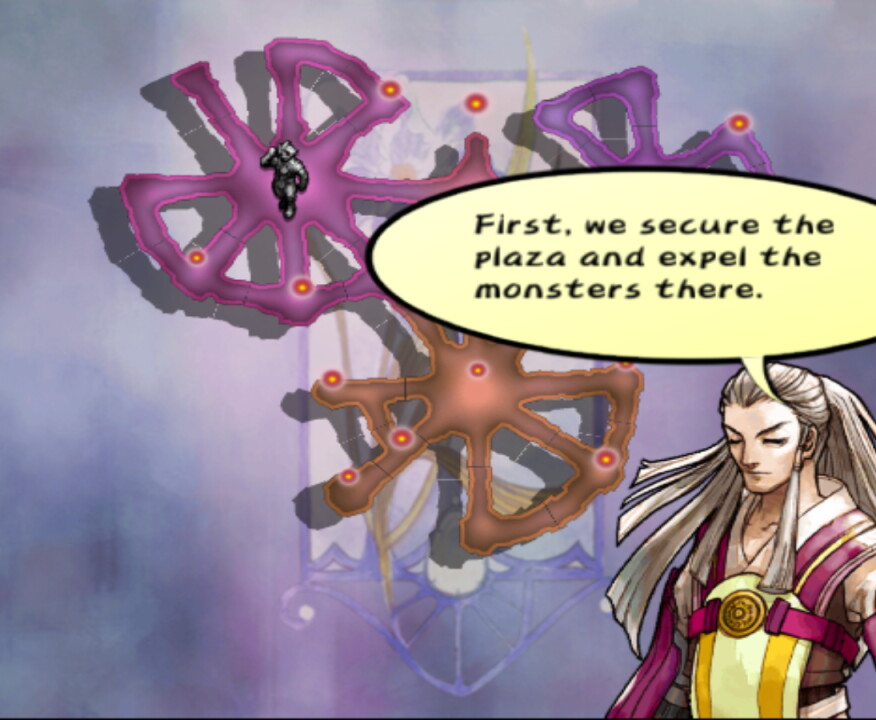 Edel goes over the battle strategy with the crew. Essentially, we are to clear all of the monsters from a district and then barricade that section, then continue with all the districts, until the monsters have nowhere to go from the main gate. Then they can secure the main gate area with no monsters in the village.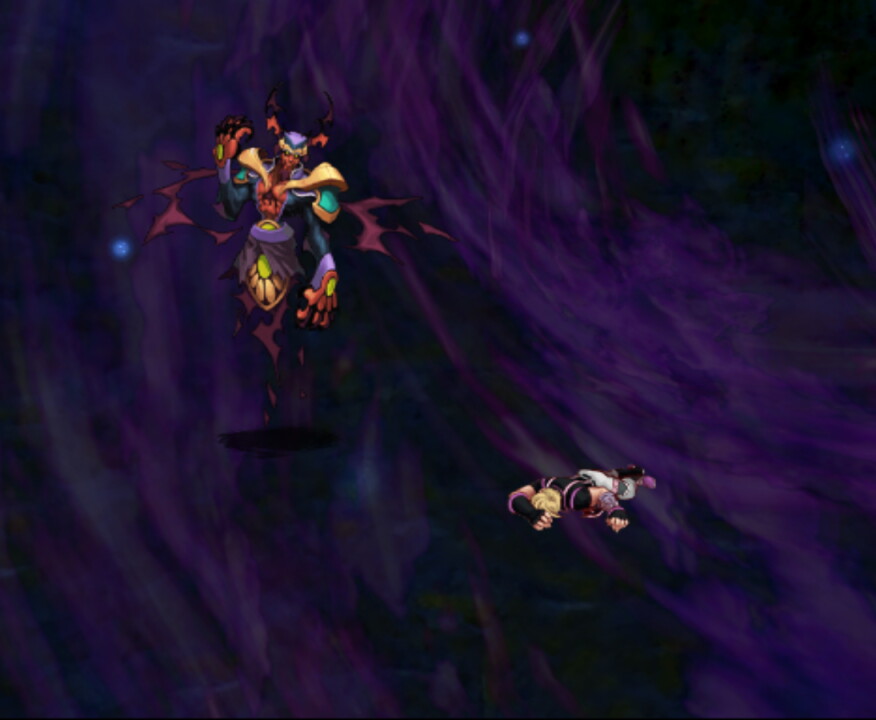 Of course the first thing Kurt has to do once we're given control is let Domliat kill him. I had to die to Domliat like 4 or 5 times over the course of this adventure...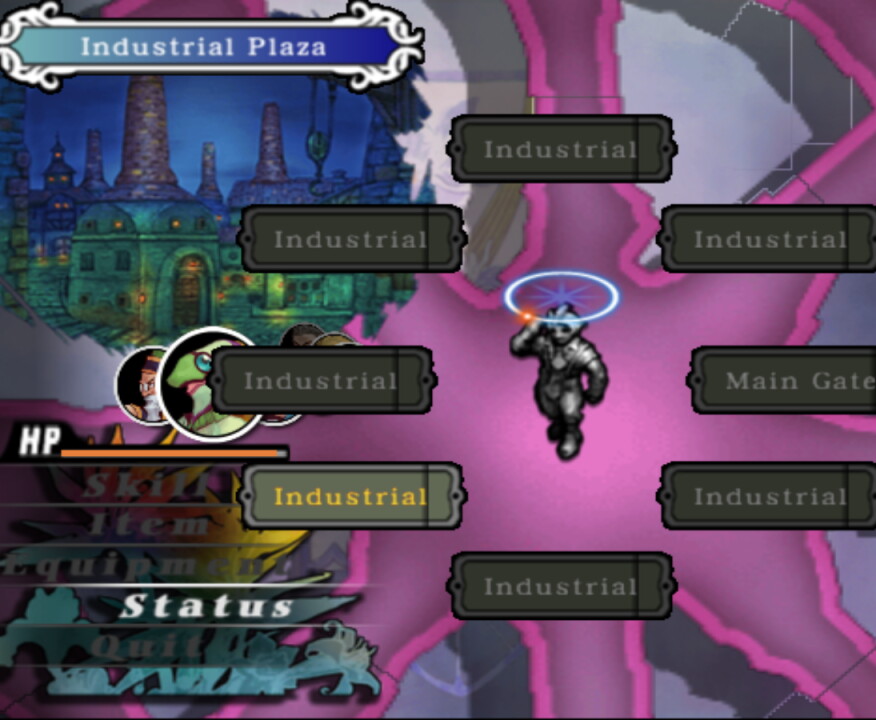 I was really dreading this adventure because I remember it being extremely difficult when I played it before. Basically, you start in the plaza and have to eliminate all the monsters from each district. All the while, monsters are regularly flooding in from the gate in the center -- and when I say "regularly" I mean that I'm pretty sure more than one monster gets added per turn. And the gate is only a few spaces away from each district... so if you can't defeat monsters quickly, they're going to fill up faster than you can fight them.
And there are a lot of spaces to check. Fortunately, each district is essentially composed of a central area space with a bunch of "spokes" surrounding it. These spokes connect to each other, but there aren't many additional spaces that aren't also connected to the central area, so you can just spin the control stick around to check the location of nearby monsters, or use an ability like Eavesdrop (which Edel comes with, I think).
Also helpful is that monsters behave a little differently than normal on this map -- they seem more concerned with congregating in the central areas (possibly to attack people or major buildings?) rather than chasing the party. Often when you move to a space, you'll find the monsters moved away to meet up with others in the center. Then you can hop back to the center and fight many monsters at once.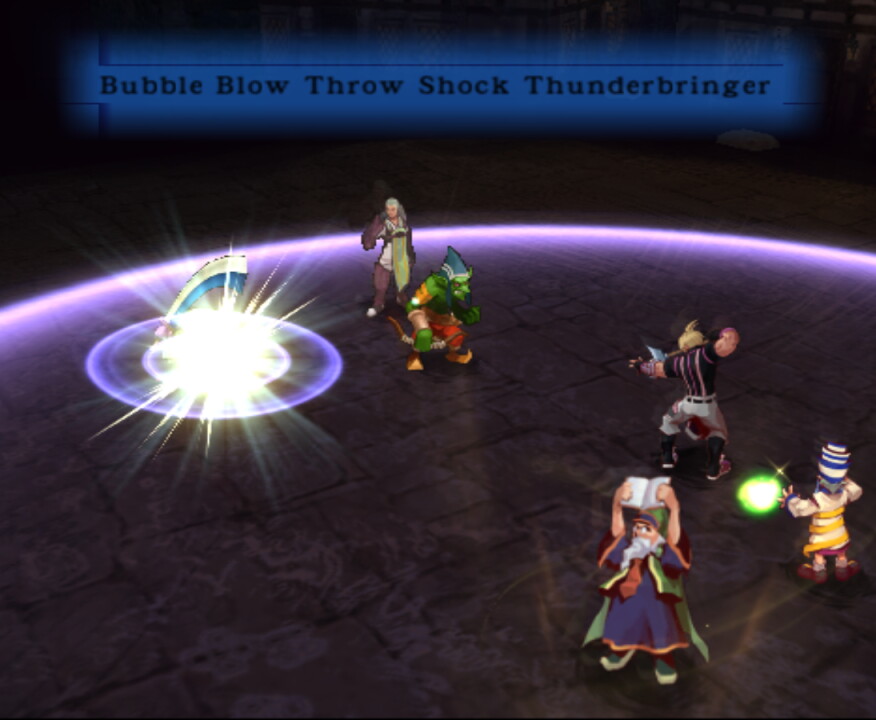 One nice thing about having a party of mages is that it's very easy to make large combos in battle. Magic arts in general are extremely slow, so the enemy often will take all its actions after you use a single one, letting you combo your remaining four actions together. Or in the case of queuing five magic arts at once, you may even be able to combo all five arts together.
I did manage to pull that off once, but usually monsters were in such large numbers that they just had tons of actions, and monster actions tend to get spread out over a wide variety of speeds the more there are.
There's also special voice clips for 5-art combos, but they're pretty rare. I didn't get to hear one this time.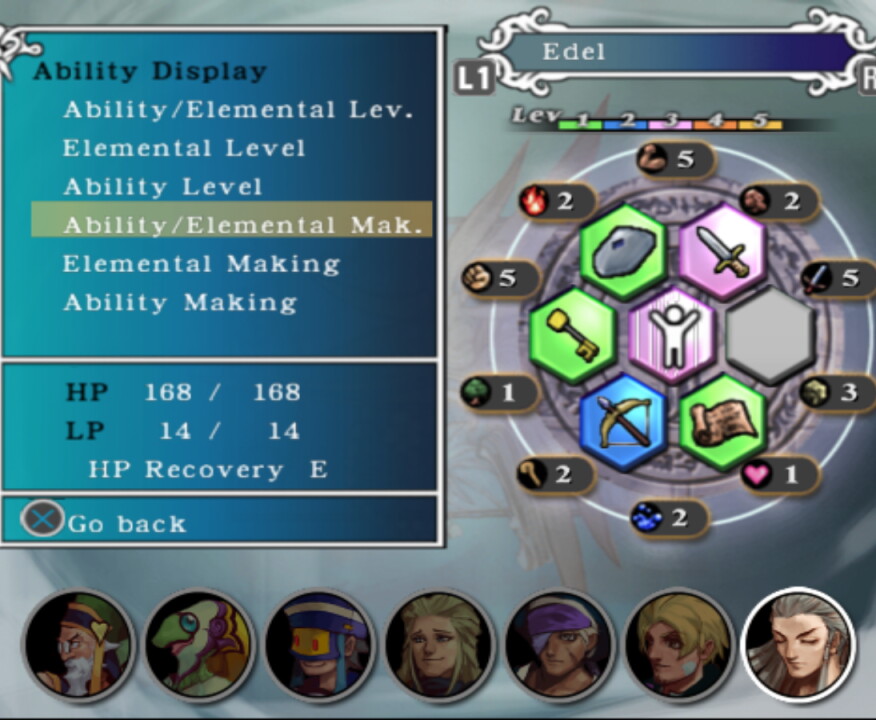 We're also able to fight with Edel in the party! Edel's starting HP is a little low, and his HP Recovery is abysmal, but he has the highest Strength and Skill Making, like Michelle! His Endurance Making is the highest possible, too, making him perhaps the most powerful character, physically, in the game.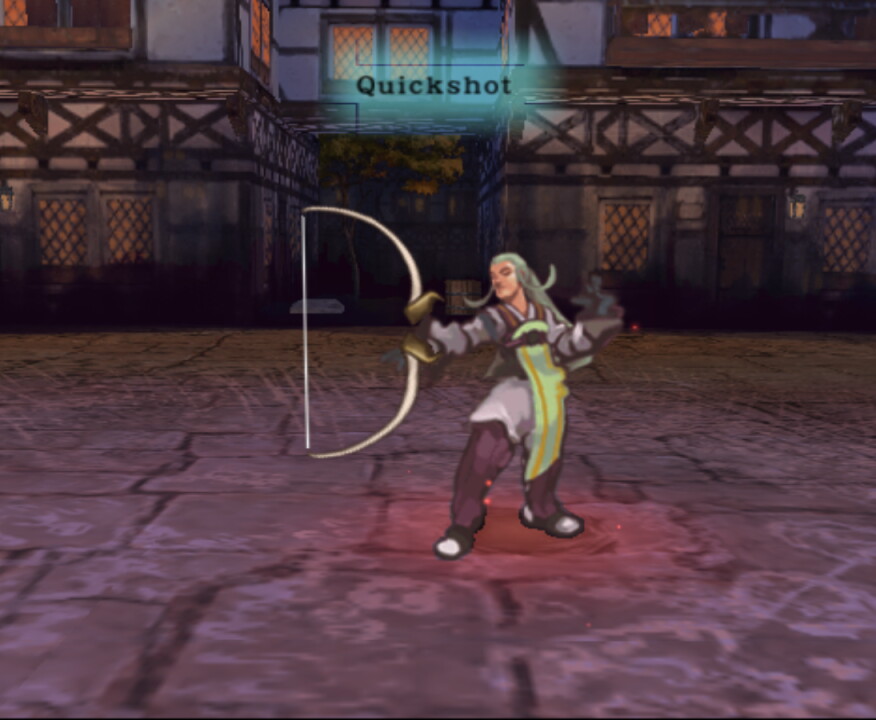 Edel starts with a sword or something, but since he has a L2 Bow panel as well, I took the bow that I had bought and given to Armand and gave it to Edel instead.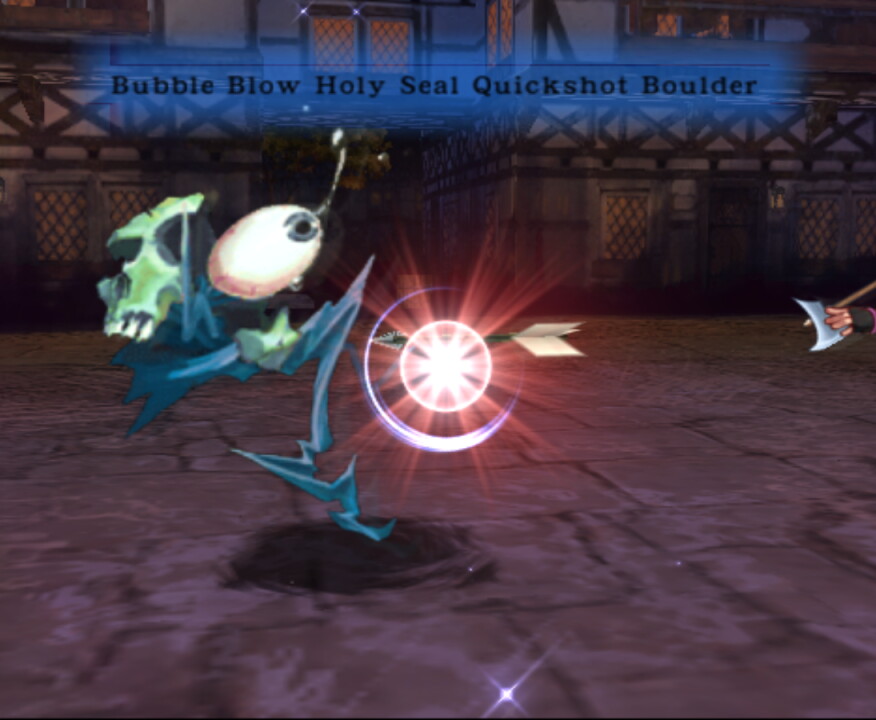 Also, while trying to capture a screenshot of Edel with the bow (it's on the screen for like 2 frames X_X), I got this great cap of the eyeball skull thing getting shot :)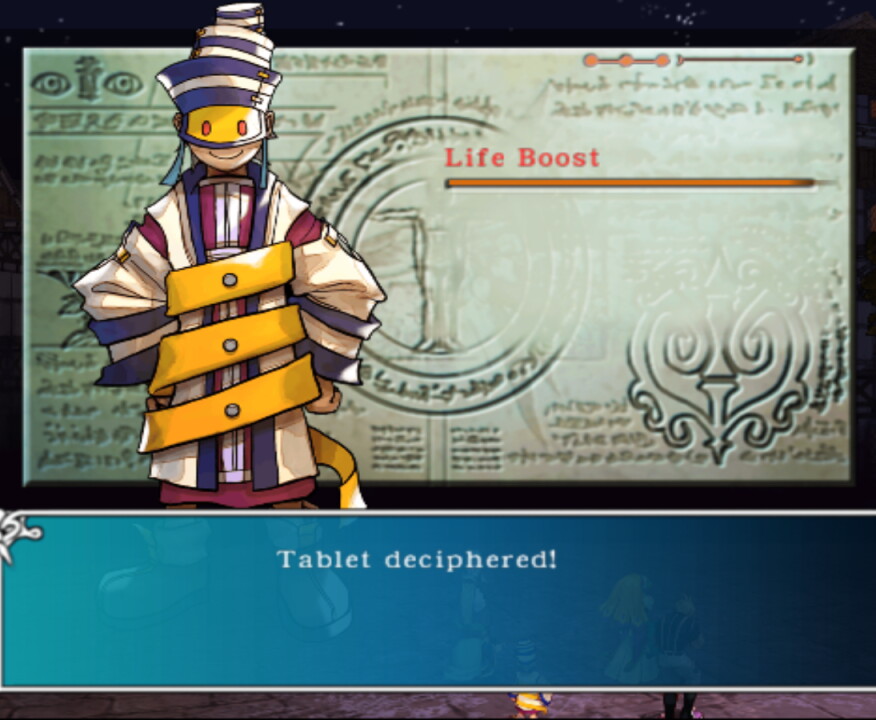 Norff finished studying his tablet pretty early in the adventure. Kurt learned Sleep, and Platy and Josef are chugging away slowly at Thunderbringer and Psycho Noise, which take forever to learn. I forgot that Mordeus even had a magic tablet and didn't start him studying it til like halfway through the adventure, but he did get to learn Boulder and Sleep, as well, before it was over.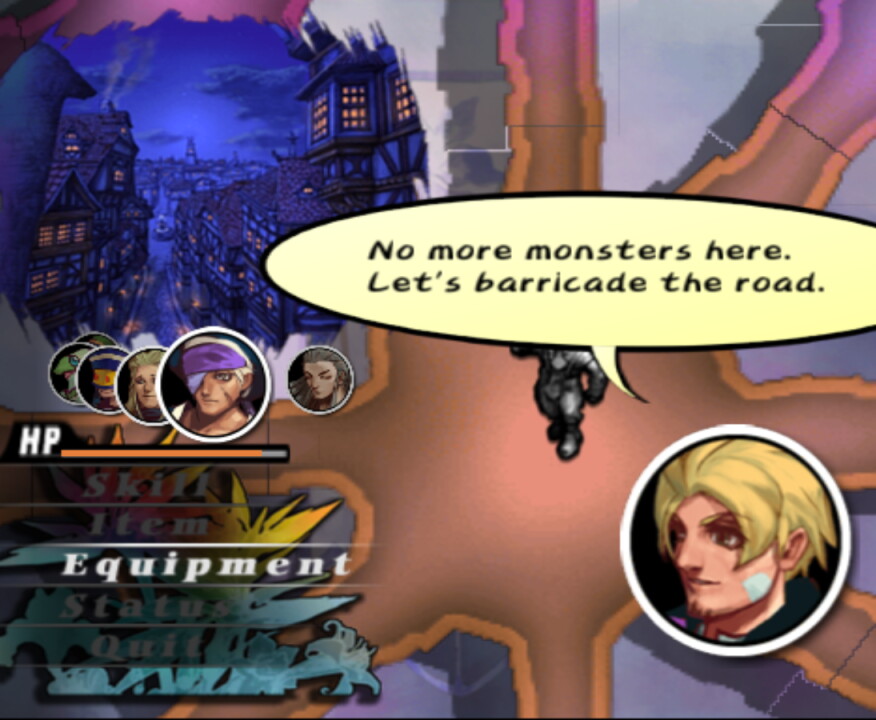 Once you are able to make one of the districts completely free of monsters, the party will barricade the area so no more monsters can get in. Though, monsters will still continue to move there on the map, but I think you're just supposed to pretend that isn't happening.
My first time doing this, I didn't realize this is what you were supposed to do -- there would be a monster somewhere I didn't notice, but I thought I had finished them all, so I'd just move on. I actually did that this time, too. I didn't see any monsters in the first district, so I moved on to the second. When I got the barricade message in the second district, I realized I needed to go back and do that in the first district, too...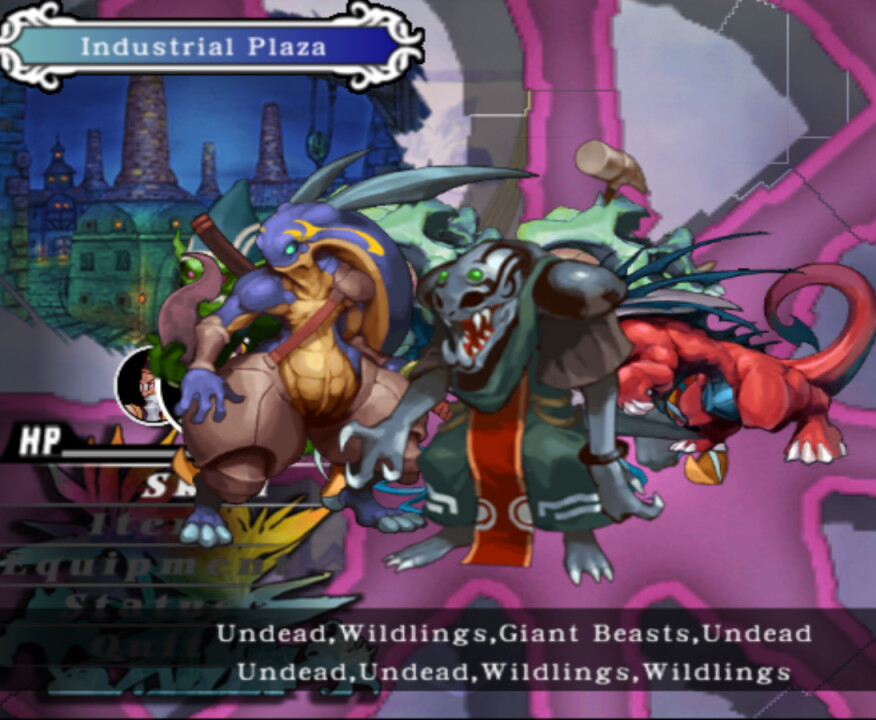 Since monsters are constantly pouring in, this can be quite difficult. You often run into HUGE hoards of monsters all at once, and if you don't dispatch them quickly, more will gather while you're fighting, since each round of combat completed spends one turn of the adventure.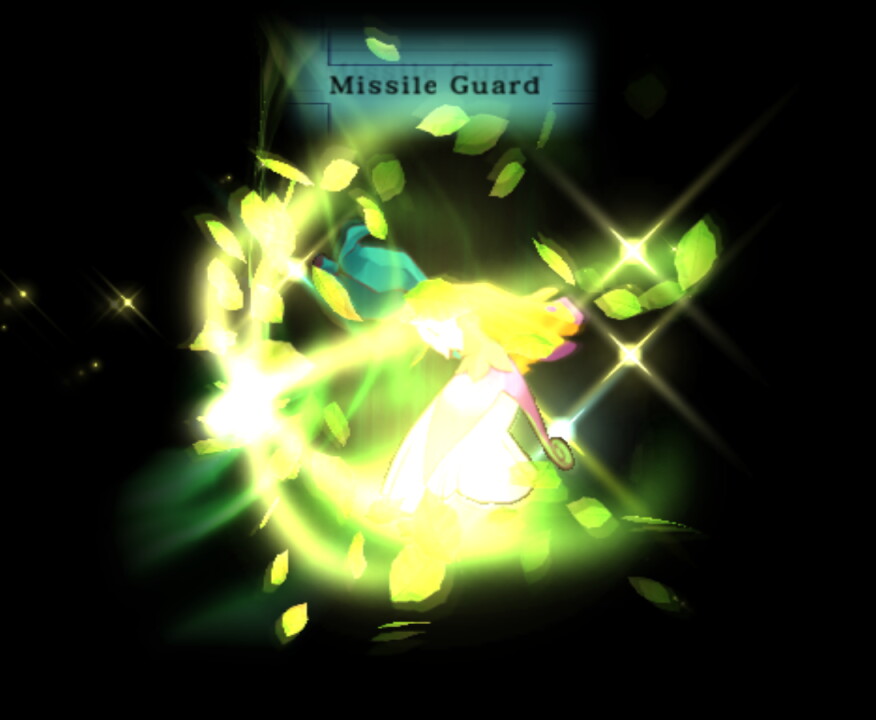 There were a lot of Dobbies (bow-wielding green goblins), so Platy's Missile Guard magic art was a huge help. Missile Guard is a really underrated magic art -- it casts upon the entire party, and it makes all attacks with the 'piercing' attribute do 0 HP damage. They can still do LP damage, but if you're fighting enemies that primarily or only use projectile attacks, you won't be losing much HP except from the HP cost to use magic arts or martial arts, which is pretty minor.
Dobby only attacks with a bow, so Missile Guard rendered it pretty much useless. And getting in a fight with like 5 Dobbies was a bit of a relief -- especially if there was another tough monster alongside them. Most of the enemy actions would go to a Dobby, so with Missile Guard, the party was pretty safe for the battle. This was nice since many of the party members were getting down to having only 4 or 5 LP left by the end of this adventure.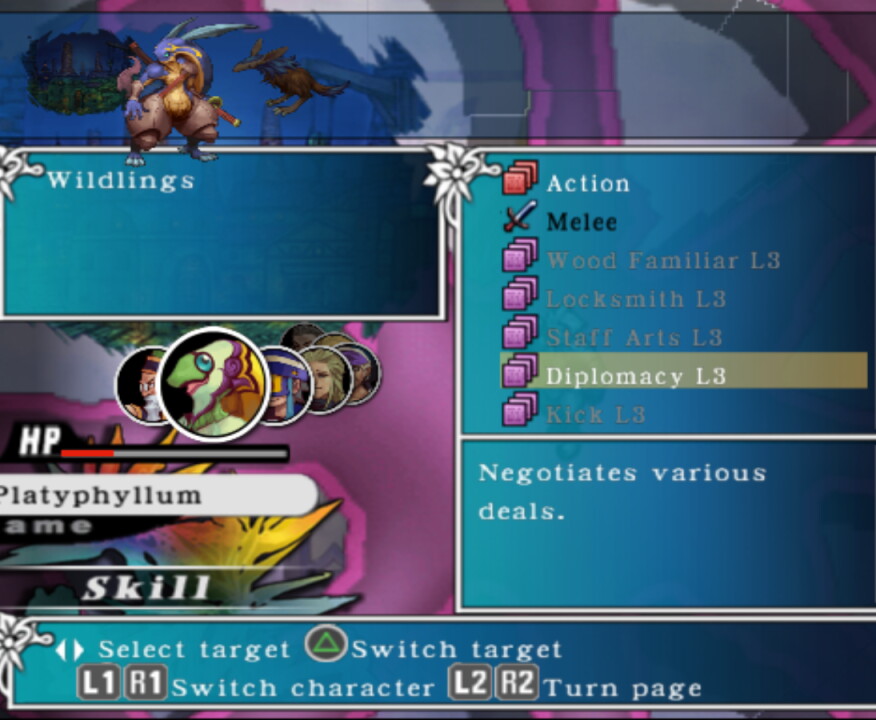 With tons of monsters occupying a single space at once, it was really unlikely that you'd be able to get by without a single one aggressing, especially since half the monsters were undead or demons, which always aggress.
But I did get a single opportunity to use Diplomacy, and on the sexy wildlings, too! I normally don't use a ton of Diplomacy, but I've been using it as much as I can this playthrough because I want Platty to get negotiation panels, and I've noticed that monsters who voluntarily leave the area seem to be more likely to leave behind treasure chests. I got another bow from the chest this guy left me. I guess not only are you convincing them to leave, but maybe you're convincing them to give you a gift, too? Platty the silver-tongued...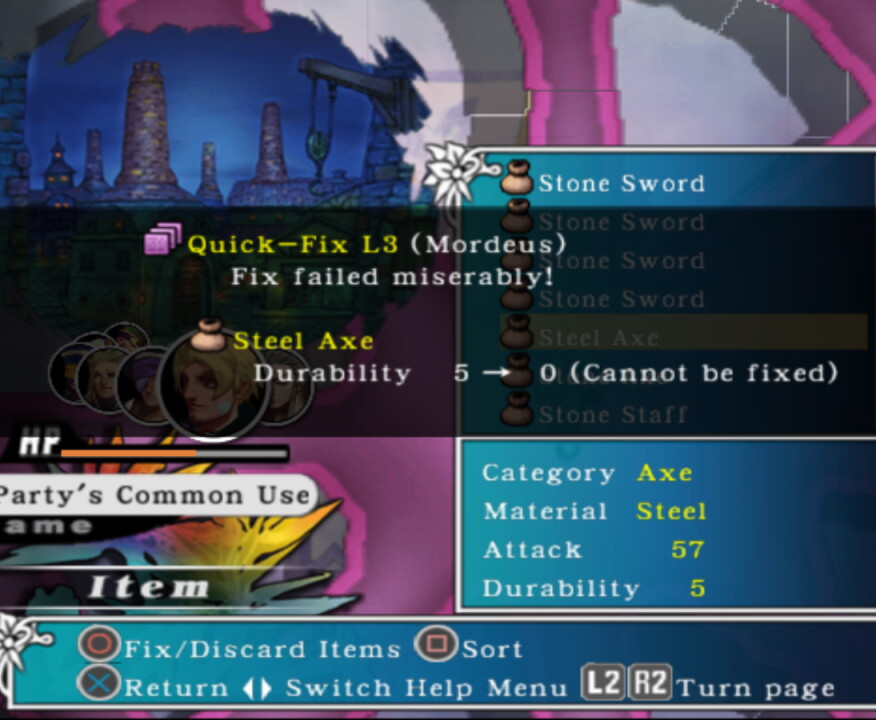 I forgot that I had drained a bunch of weapon durability on Kurt's axe while fighting Domliat (I still try to defeat him half the time because I'm hoping I'll just get lucky somehow and win XD) and then kept using it in battle without checking the durability, and then needed to go fix it when the durability was almost gone. Mordeus ended up breaking the damned thing, so I had to switch Kurt over to a knife that had Water Arts on it. (The one that was in the inventory at the start of the game.)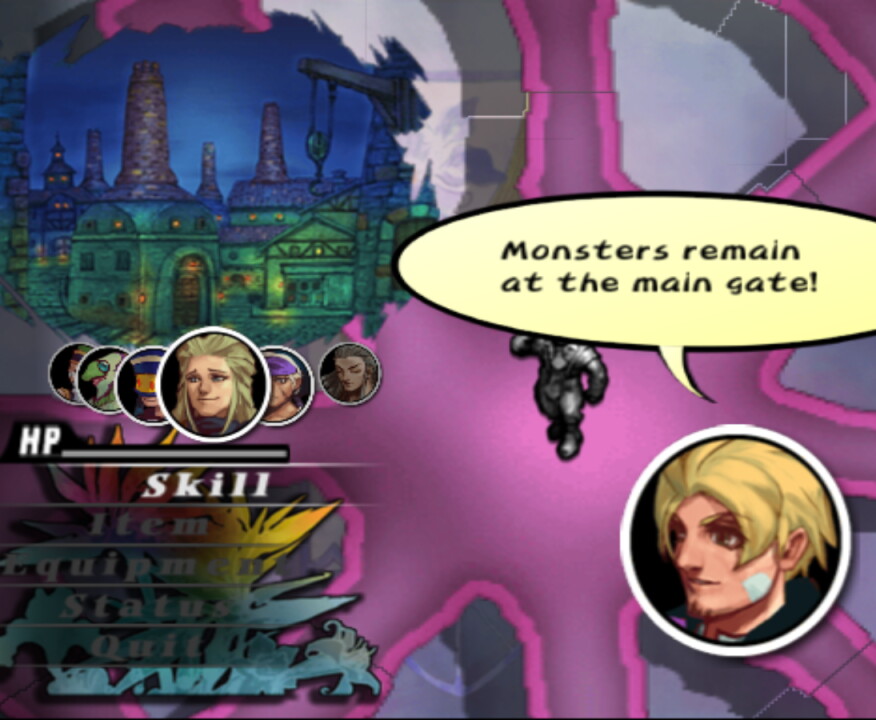 After barricading all three districts, the final task is to clear the monsters at the main gate. There's no boss, but a ton of monsters will have congregated here, and fighting all these large groups is honestly more scary than fighting a boss.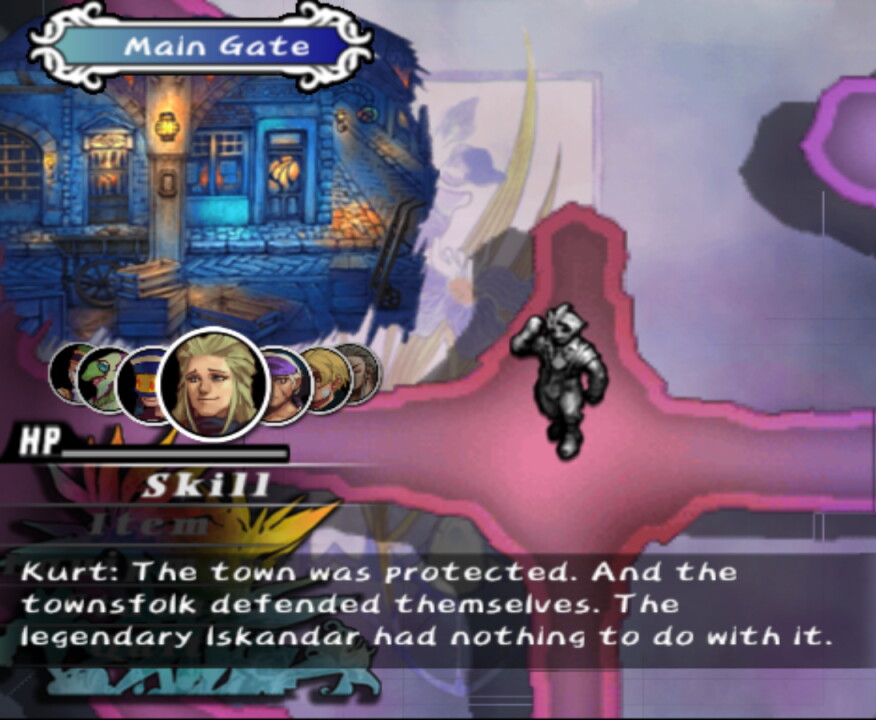 Afterward, Kurt narrates that the town was protected and the townsfolk defended themselves. I think it's interesting that he added that part -- because we were defending them. But I like that it implies that the people themselves fought alongside us, like the whole town got together to fight the monsters. I think that's kind of cool. And it goes along with the progression of the pioneers Kurt mentioned to his father at the beginning of the game, as in by educating people in the frontier, they are learning how to defend themselves against monsters.
Kurt also notes that monsters have been getting more aggressive lately in general, and he wonders if this may not be an indication of something worse to come.
And with that, we've cleared the adventure!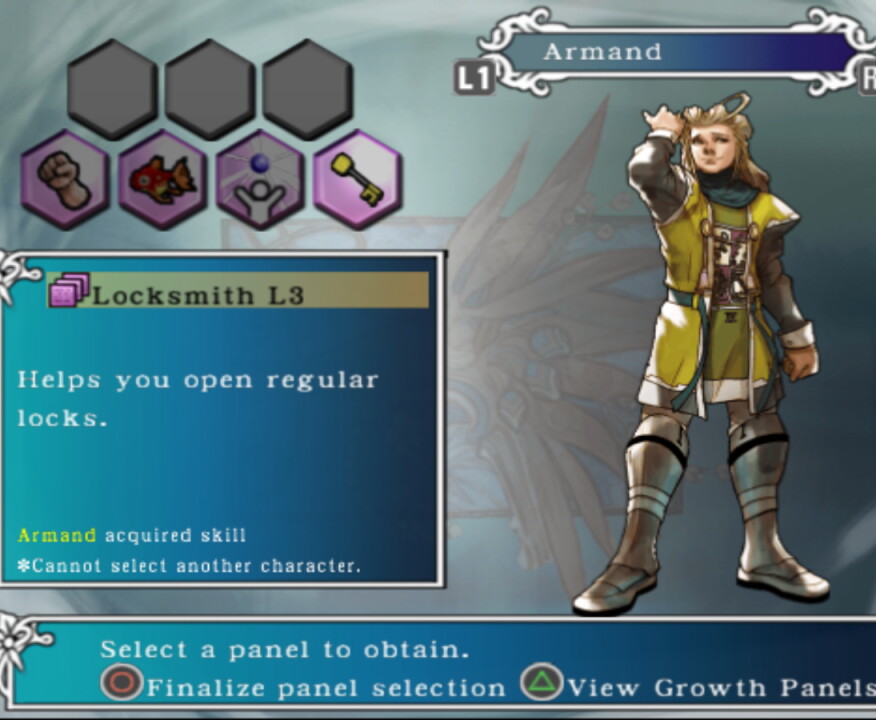 Armand finally got the ability to unlock things! So now he can do more than look at them, hahaha. Still hoping for a Defuse -- haven't really seen one pop up on anyone...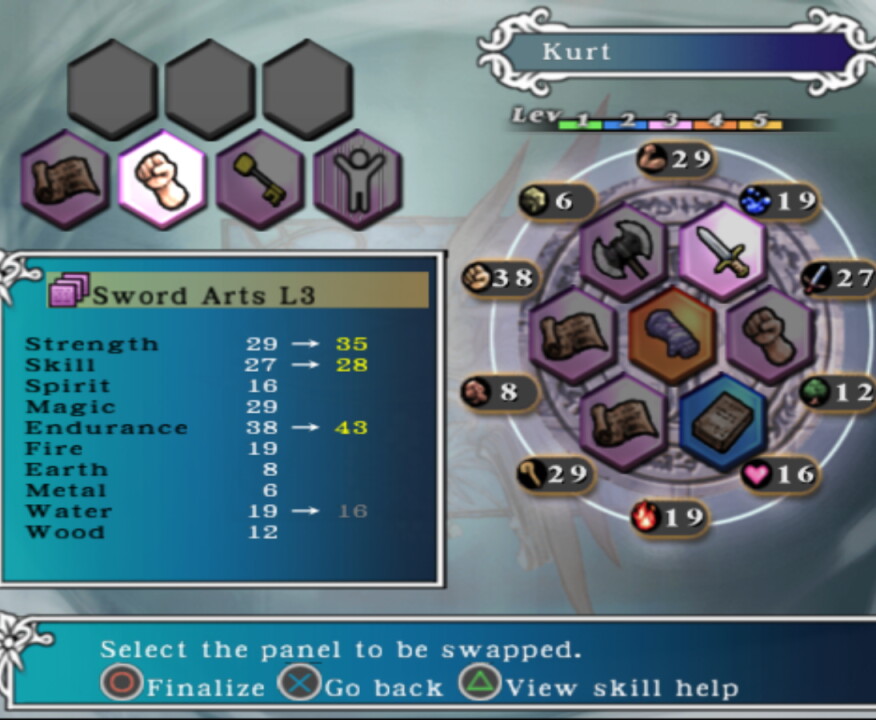 I replaced Kurt's Sword panel with a Kick panel. I had already had him not really using the sword anyway, and the combo with the Throw panel boosted his Strength and Endurance, too. Maybe this will be enough to push him over the damage threshold to beat Domliat. Probably not, but that would be nice.
Josef's Max HP also reached over 500. Which is way more than anyone else in the party. Most have something in the 200's, Kurt may be in the 300's? Edel doesn't even have 200 yet.
This adventure took quite a while because there were so many battles and many of them lasted a while. So at the end, I was a bit fatigued and hungry and didn't do the shopping I'd normally do after an adventure, so I can't report on that just yet.
But stay tuned for more Kurt adventures :)
---