Cemetery ~
Healer's Hills ~
Sunken City
When we last left Kurt and friends, we had recently spent way too long wandering around caves with our new friends Norff and Mordeus, and then smashed up Fugar's Mansion mostly so we could steal his daughter's magic tablet.
We also just... happened to defeat Agares very early and opened up Kurt's final adventure. Oops.
But we're still far too weak to try to go take on Chaos, so we're going to do some adventuring to pass the time, and maybe see what's going on in the Temple of Iskandar again.
Cemetery
The first subadventure we're going to tackle is Cemetery. If you don't remember, this is the one with all the graves that we for some reason can only search three times each, and the grumpy groundskeeper who kicks us out if we approach his door.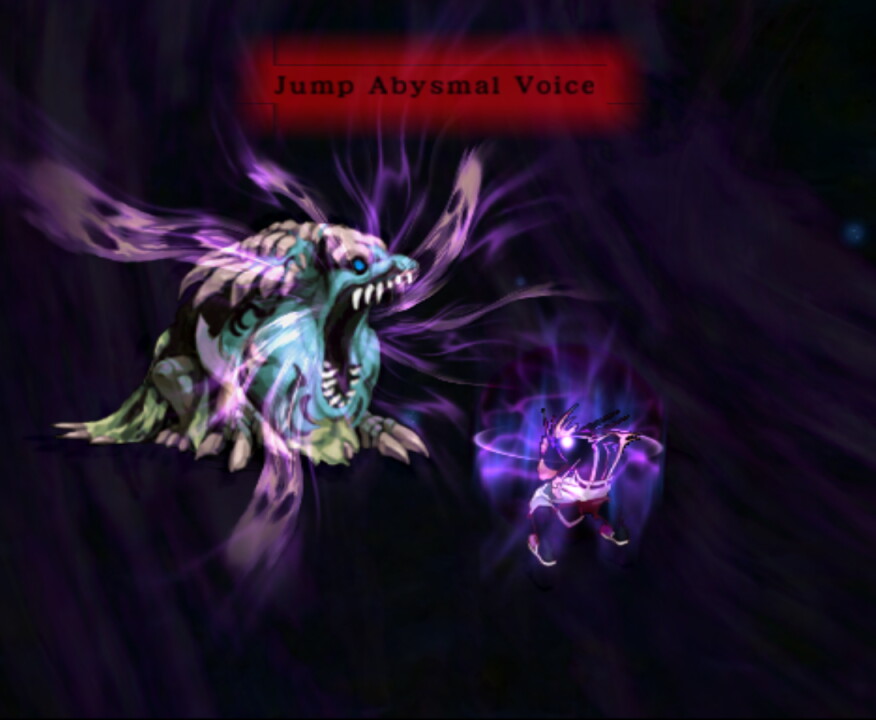 But before we can really get into anything, of course, it's Gauntlet time! Oh, how I cannot wait for these to be over at this point XD
This big lug is Abaddon, a recolor of Greed. It's pretty tough, dishing out tons of LP damage and it has the ability to inflict status effects on Kurt. Thankfully Kurt has Purify to get rid of physical effects, but stuff like confusion sticks until he gets over it on his own.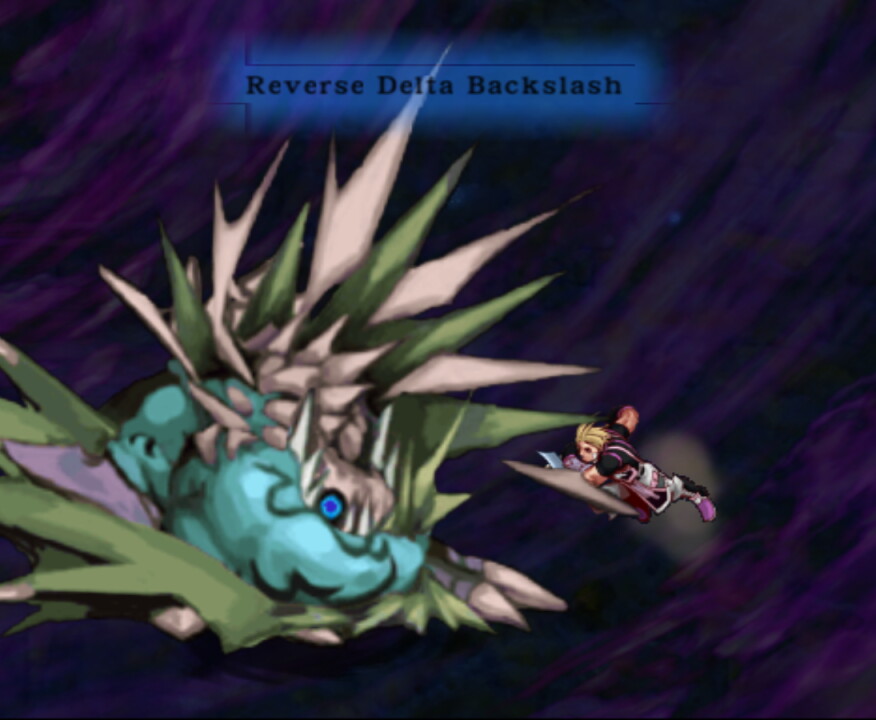 Even with Reverse Delta, Kurt barely scraped by with only 2 LP left when he defeated it. I wasn't sure I was even going to be able to defeat it, but we did it! By the way, I really love the enemies' 'hurt' animations in this game.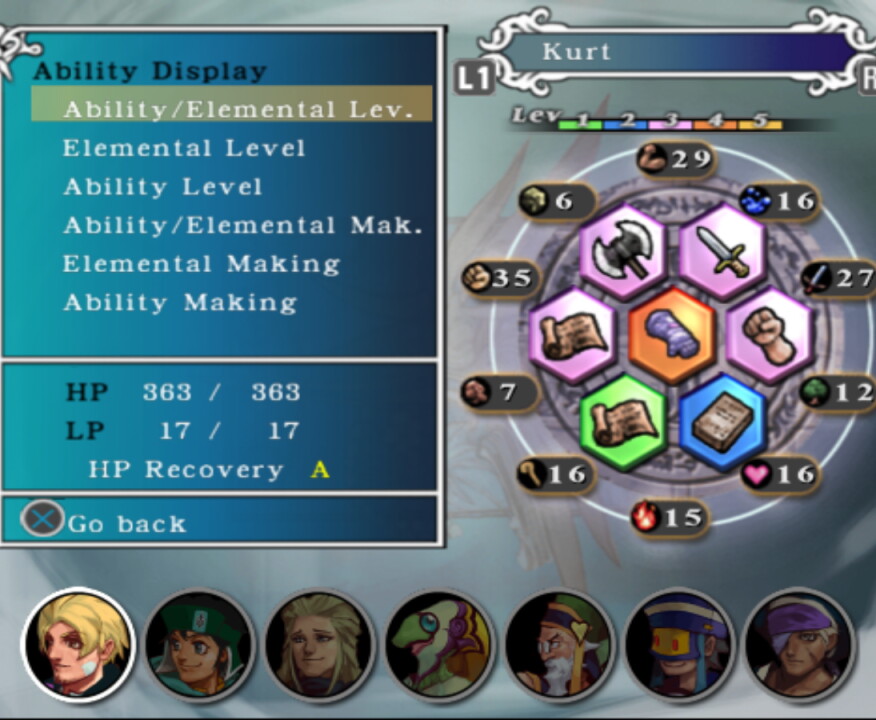 Kurt's Gauntlet panel is now L4. We're almost to L5! Gauntlet has the highest Ability growth of any panel in the game, so getting it to L5 will give Kurt a pretty decent boost to his five Ability Levels. The Elemental growth sadly isn't anything too amazing.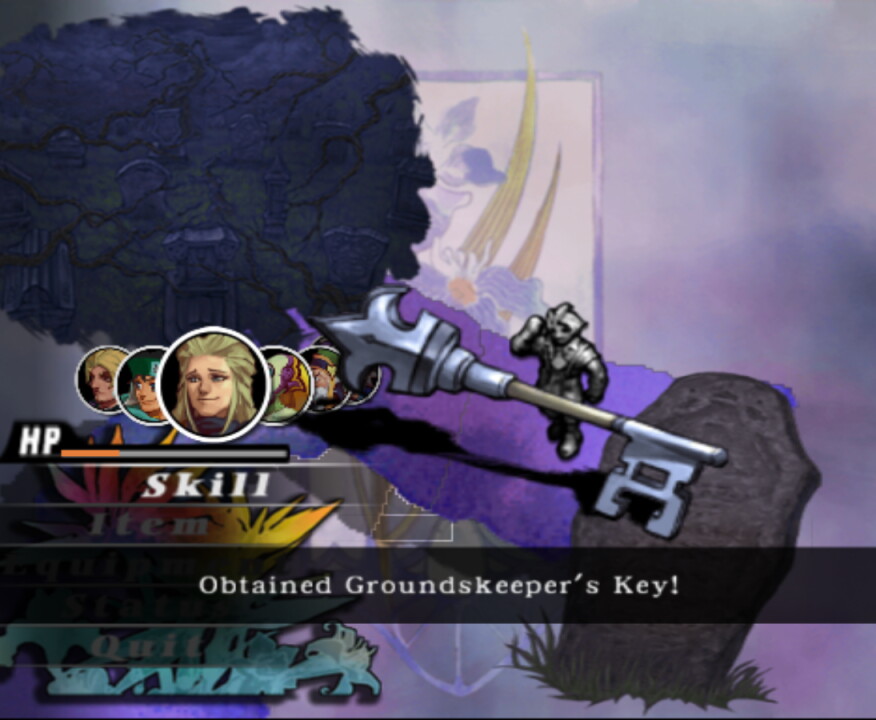 After Abaddon goes down and Kurt realizes where he is again (from fighting Undead in weird alternate dimension to fighting Undead in weird dark graveyard, poor guy), we begin to explore the cemetery and search the graves. If you remember from last time, I failed the reel to search the grave with the key three times, so we never ended up finding it and had to leave empty-handed. But this time, I successfully nabbed the key!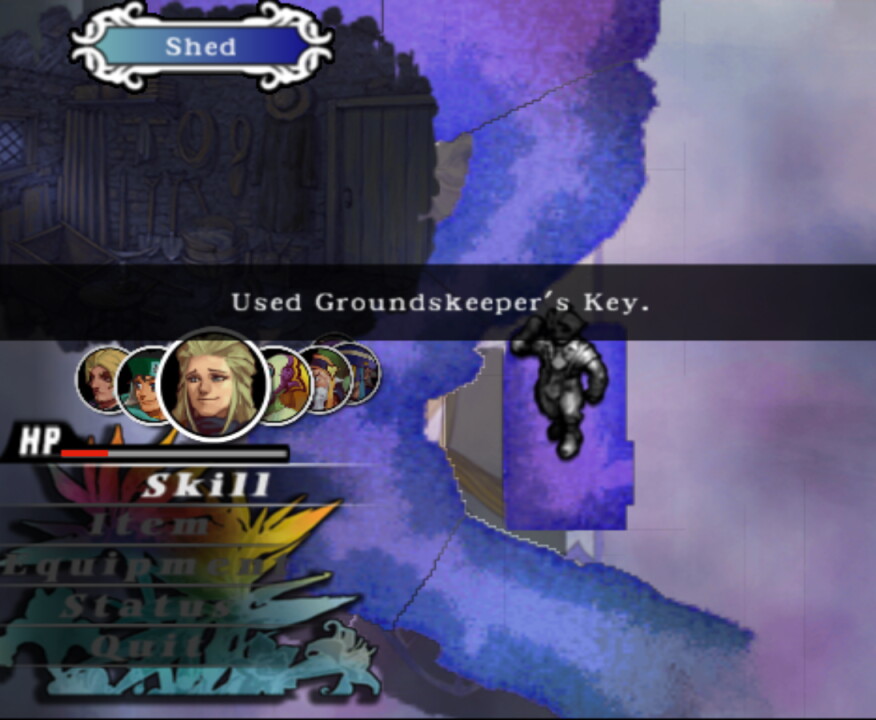 So now we can go break into the guy's house. While he's in there. Why he's inside but his key is outside, I don't know. Maybe it's like how people hide their spares under a flowerpot or whatever. He hides his in a grave. Because, well, you know how people are in this universe...
So, we barge in through the front door and say hello to our new friend Groundskeeper.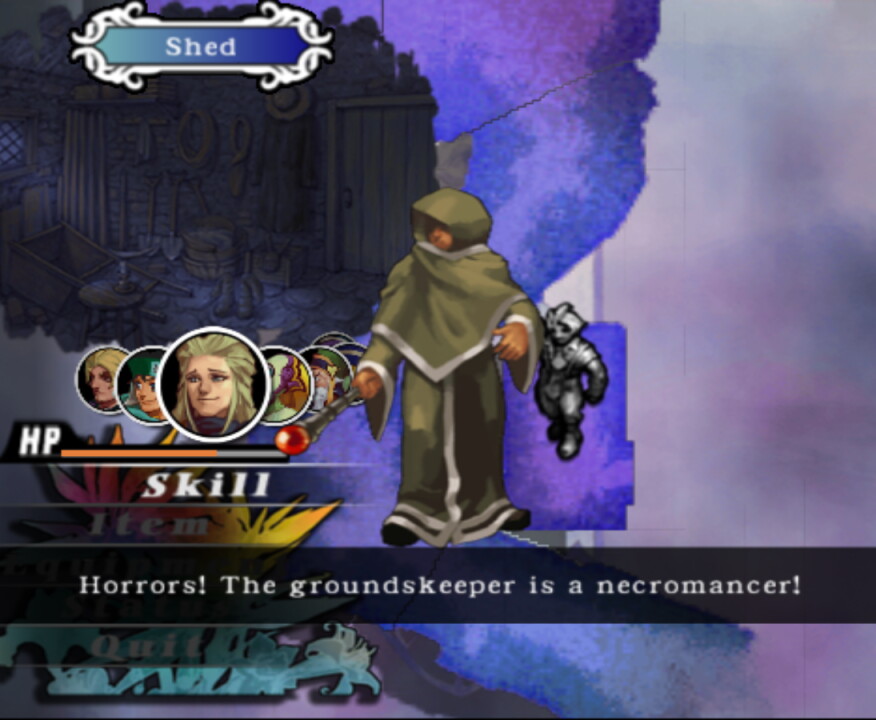 Oh, another necrophile. Well, someone to share our interests with!
Oh, hey, let me introduce you to my friend. He's like... almost dead, and kinda dresses like a dead person, so you'll probably really like him. *nudges Mordeus toward the groundskeeper*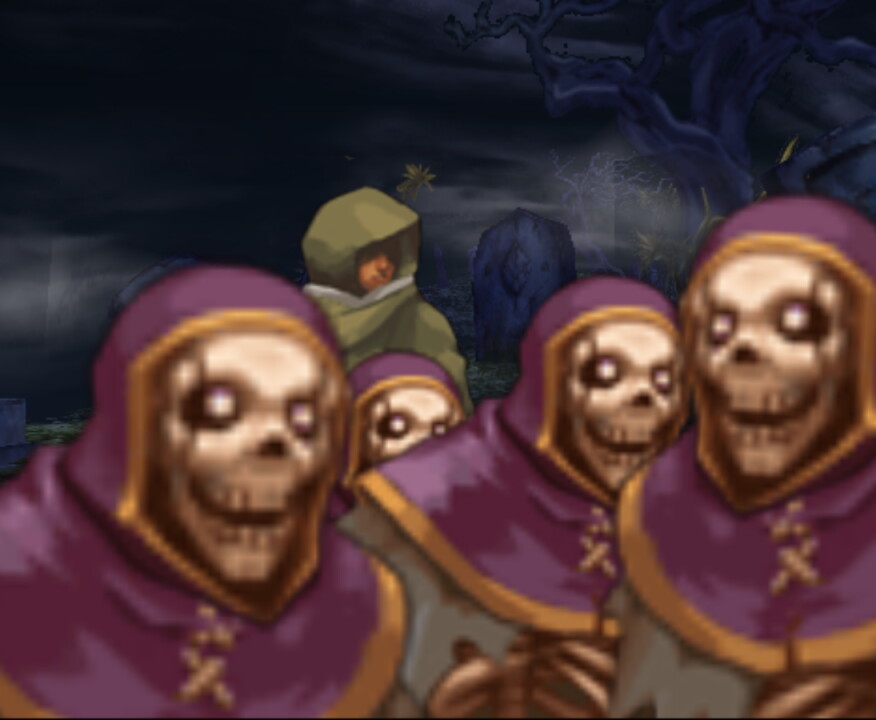 ... Oh. Well, it seems this guy doesn't like it when a gaggle of complete strangers steal his key and break into his house, and now he's going to try to attack us. Talk about rude!!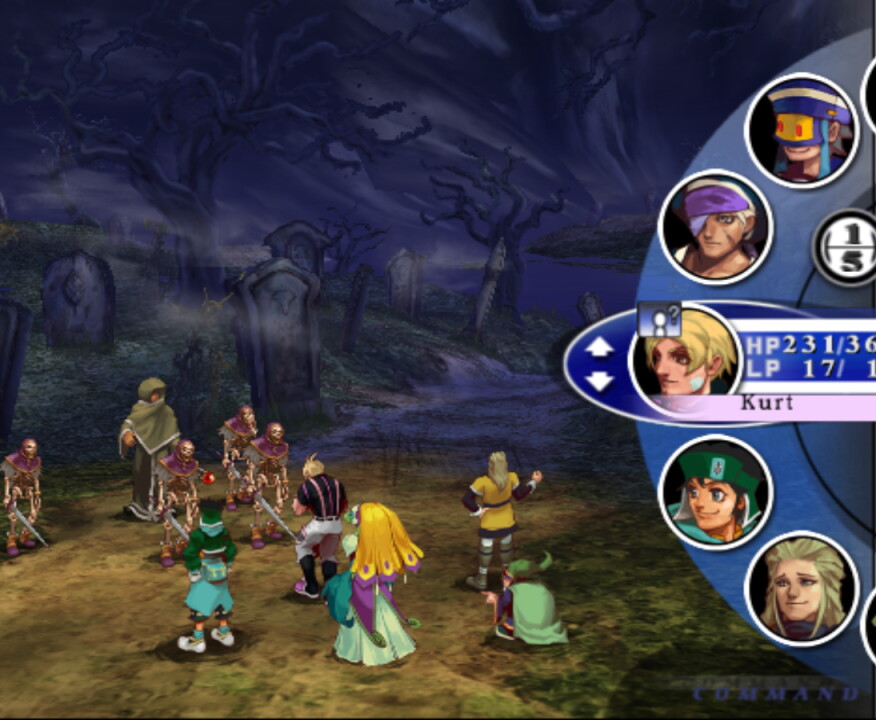 For some reason we're outside now. I guess they didn't want to make a battle environment scene solely for this guy's house. Or maybe he shoved us out. Anyway, he's pretty much a clone of the last necro that we fought, but now he has four skelly buddies instead of two. Pretty easily dispatched.
He also dropped a magic tablet!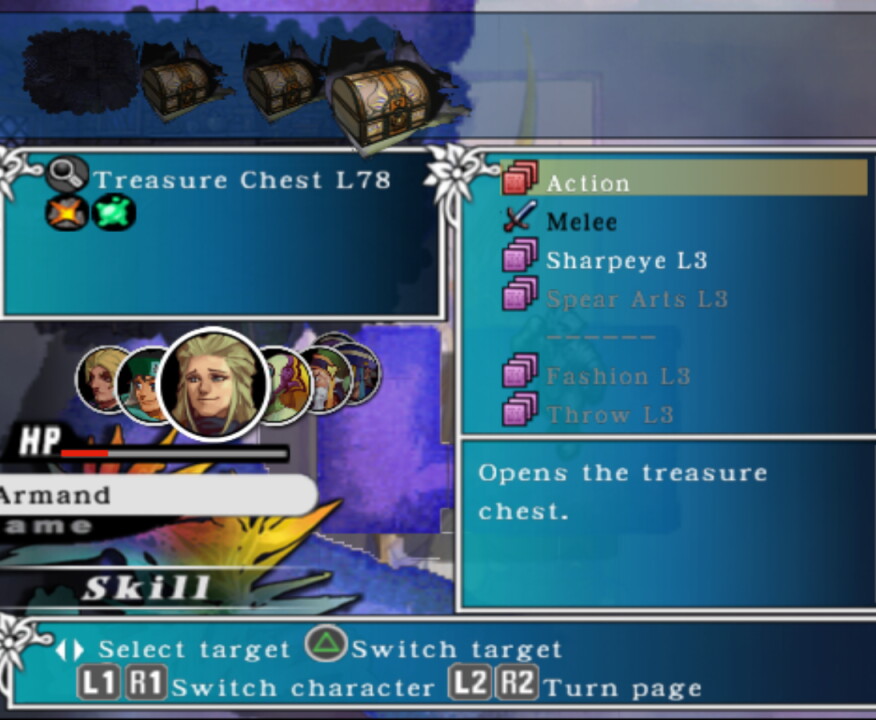 So now that we murdered the dude as punishment for defending his home from intruders, we decide to go in and loot the place. Not only do we loot the dead, we loot the dead who raise the dead and... wow. Necroception?
Anyway, he's got three high-level treasure chests stored away in here. Sadly, one had an explosive trap on it, but it at least summoned a Treasure Slime. Another had another Slime, but we didn't get a magic tablet from either. I had to punch the other two open, and one broke, but we managed to get 29,000kr from the other.
Also sadly, the magic tablet that the necromancer dropped wasn't anything good.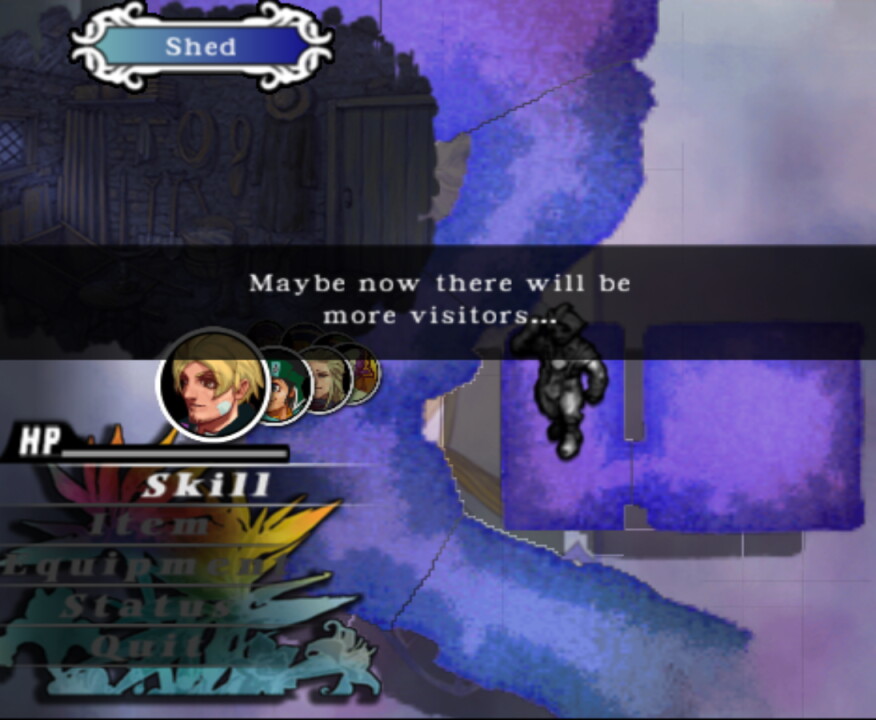 Healer's Hills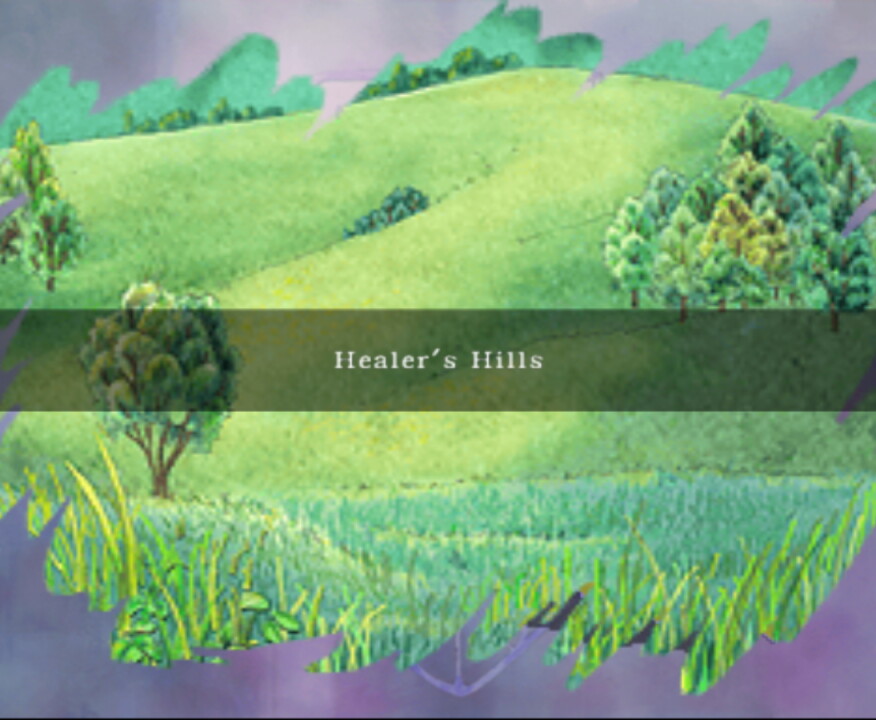 Remember this place?
These are the hills outside Chapa. It's herb-gathering season again, so we go to pick some herbs. Pretty uneventful, but we do get a stock of those LP-restoring herbs.
Though we did end up... in a new Gauntlet battle, of course!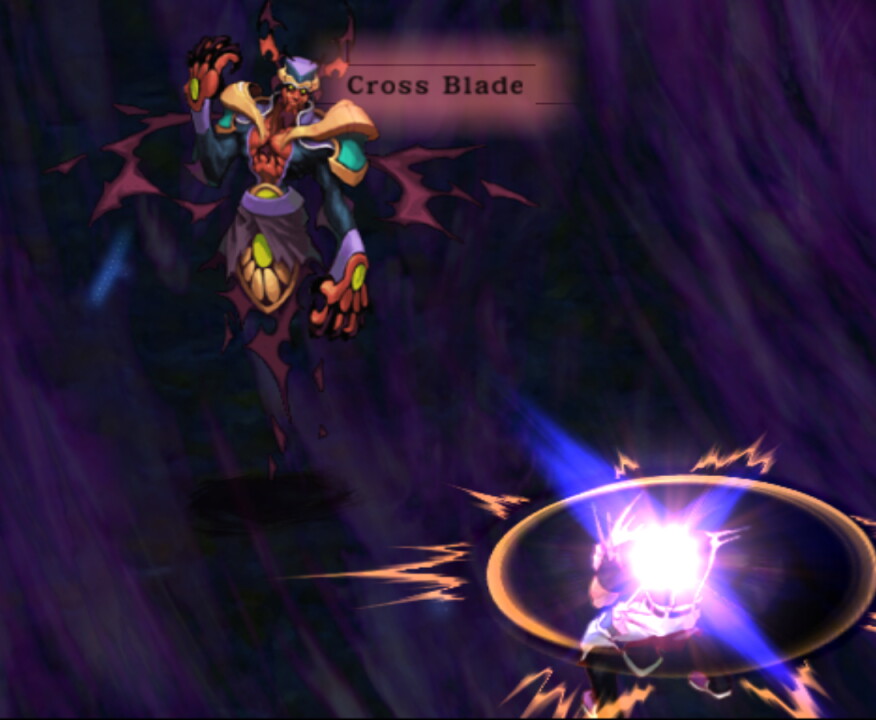 Meet Domliat. He's a recolor Tagut, the boss from Nakle Lines. Yeah, that one. And he's probably even more tough! Instead of lightning abilities, he has fire abilities, and he can easily drain Kurt's LP in two or three rounds of combat at the most, from its full 17. Kurt's not even able to deal a single LP damage to him, even with tons of Reverse Delta.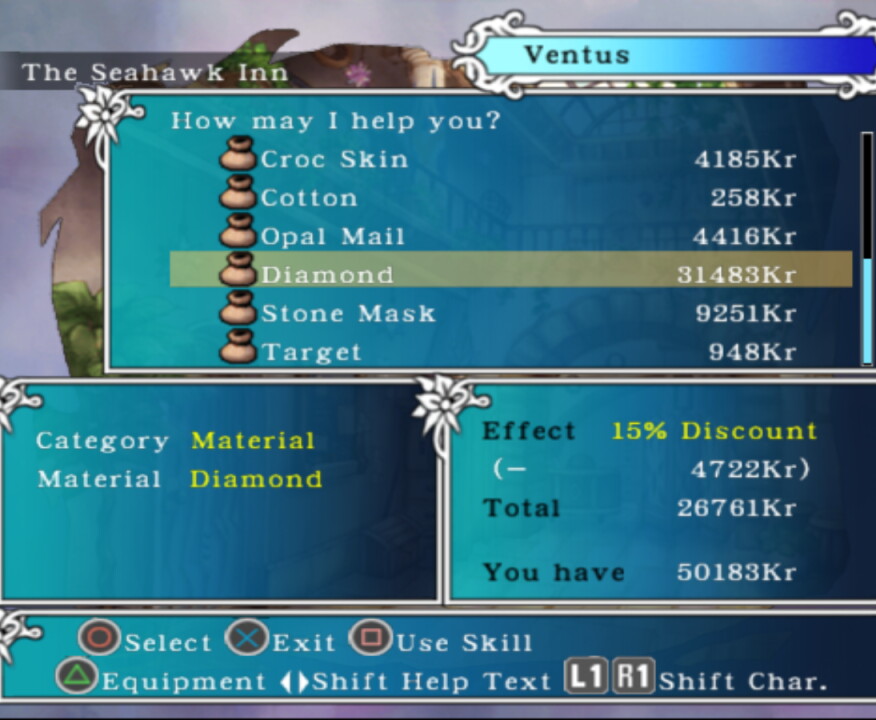 After herb-picking, I found a Diamond in the shop. I thought this would be great to make an axe for Kurt that has Time Lapse in the third slot and Hammer in the fourth, so I could put Water Arts in the second.
Well, it turns out you can't make axes out of Diamond? I don't know why, but it seems like you can only make Knives, Spears, and Staves with them. So I bought this Diamond for nothing... I might make it into a Knife for Josef or something, though. But I'm pretty sad that I spent half my money on something that I'm not even going to really use now.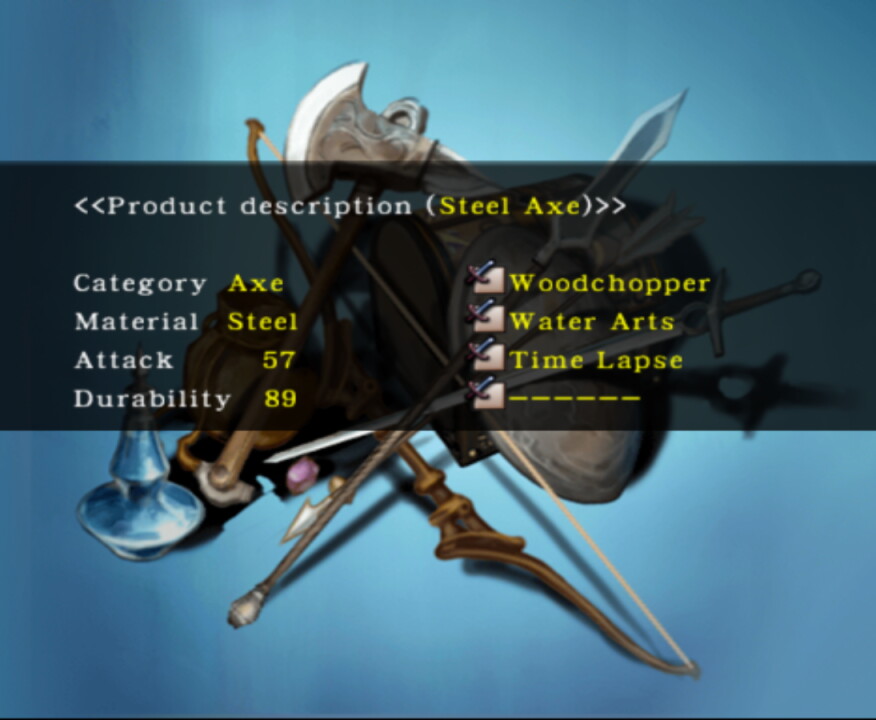 So I ended up re-making Kurt's steel axe again, this time with a feather as the secondary material, to get a set with Time Lapse as the third ability, and Bash as the fourth. Steel is too heavy to ever get the set with Hammer in the last place no matter what we mix it with.
I bought all the Ravenite I could find and kept repairing the new axe with it until it got Water Arts for its second ability.
Sunken City
The next adventure we take on is Sunken City, the one with the rooftops where you need to find a memento from the city, and can hop into windows to hide from gathering killer fish.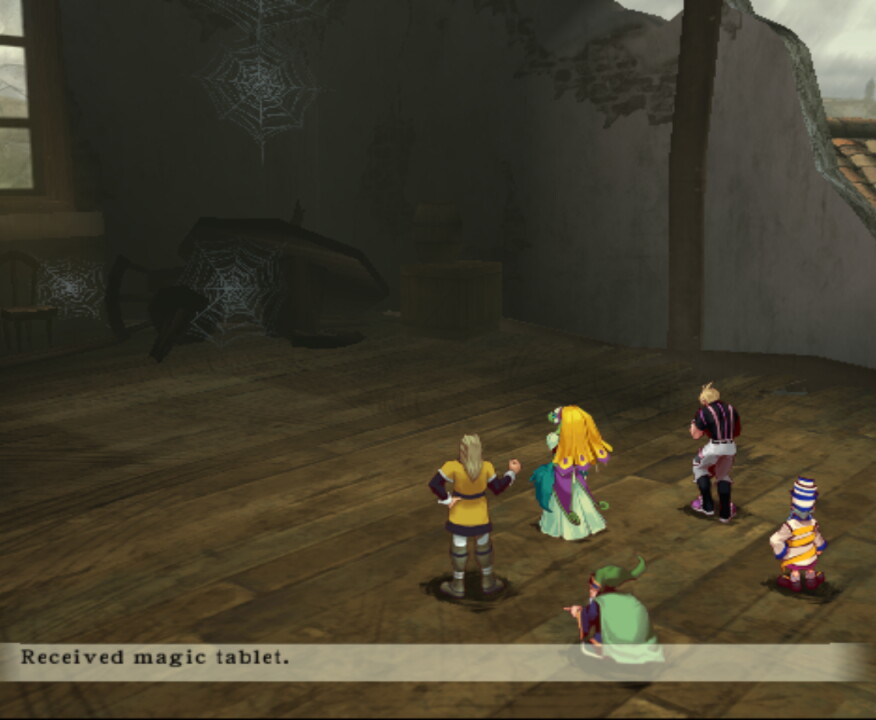 A Treasure Slime finally dropped a magic tablet! Also, Domliat attacked Kurt like 4 times over the course of this adventure.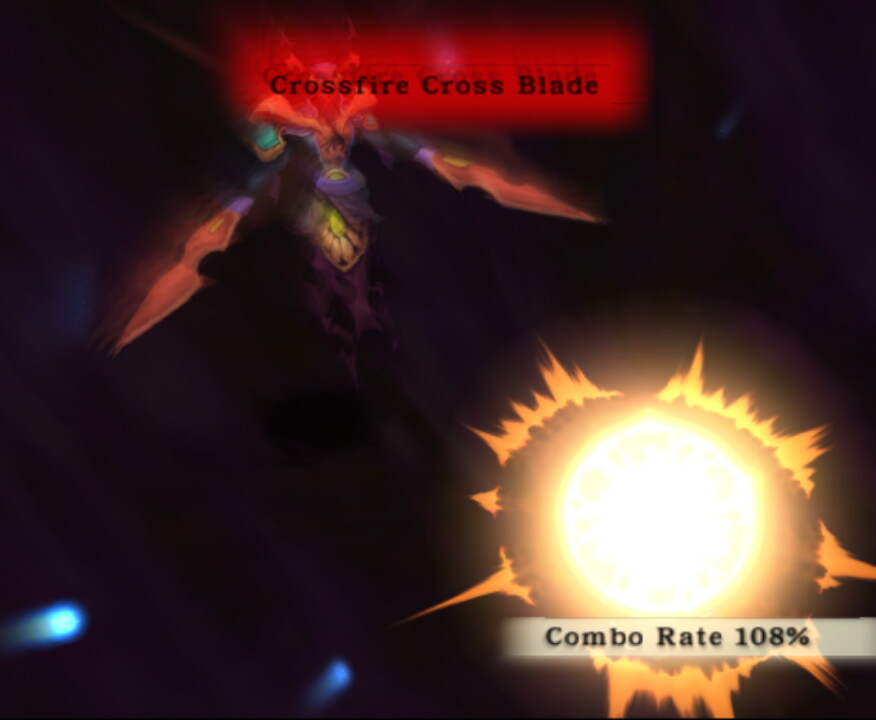 It would be nice to get the Water Shield magic art, because it can block Domliat's Crossfire. A Shield panel would be great, too.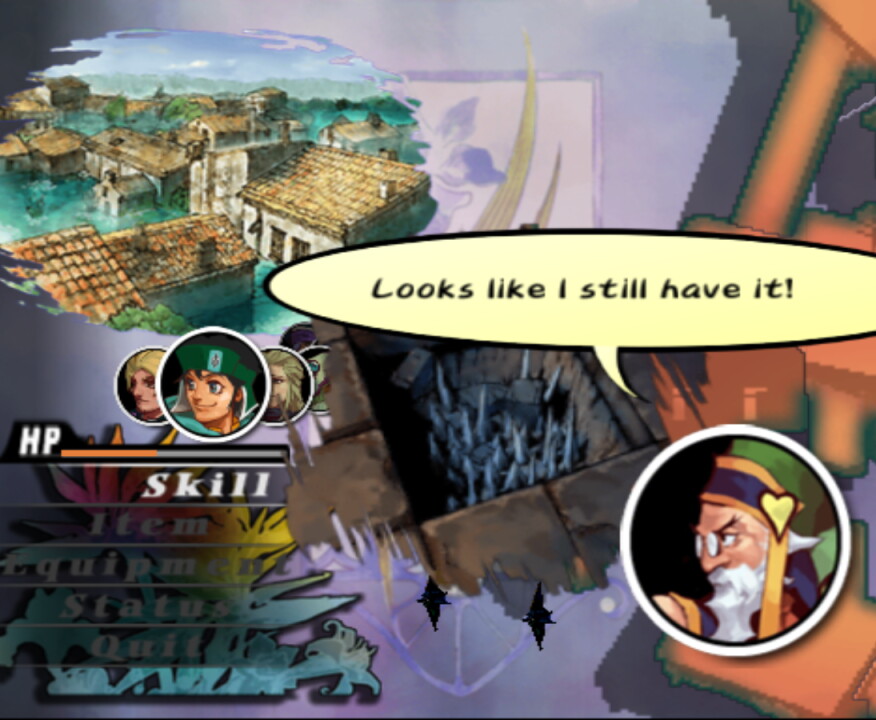 I took this screencap because yes, Josef, you've still got it ;)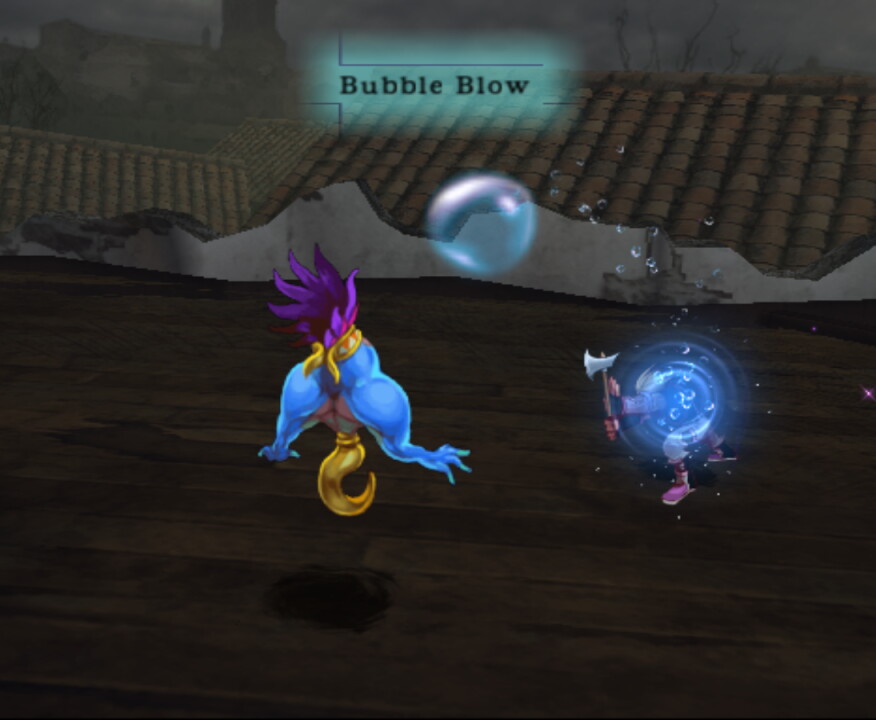 Kurt learned how to blow bubbles...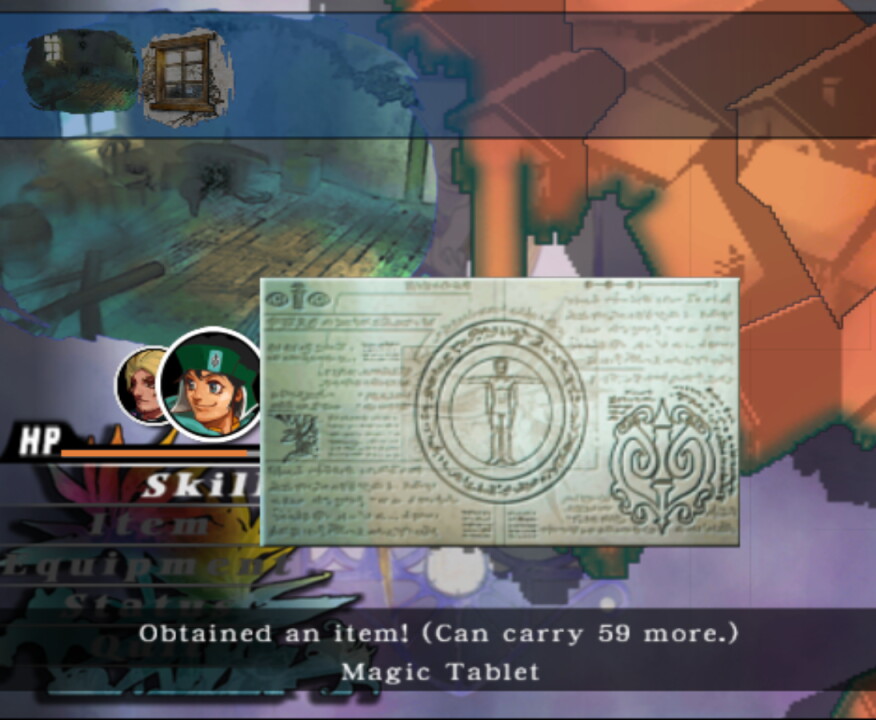 ... there was a magic tablet in a chest...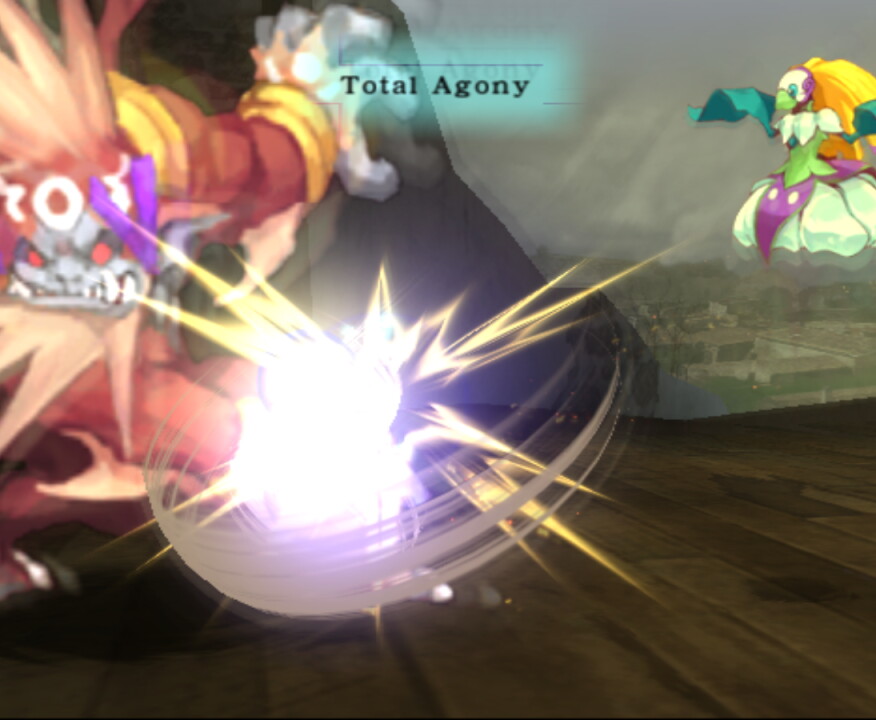 ... and Platy glimmered Total Agony! I didn't get a good cap of it (it goes pretty fast), but this is the best Staff art for dealing LP damage. Not that Staff arts are good for dealing LP damage in the first place, but of all of them, it's the best.
The boss of this subadventure also dropped a magic tablet. We're getting so many magic tablets...!
The three tablets we got were a L3 Druidical Scroll (Wood), and L1 and L2 Earth tablets. The Druidical Scroll has Thunderbringer on it, so it went to Platy right away. Hopefully we'll get to make great use of their great Wood Making. They already know most of the other arts from this tablet, so with Arcane Tongue, hopefully they'll be able to start studying Thunderbringer right away.
The Earth magic tablets went to Mordeus (since he had the great Earth Making) and Kurt (since the L2 has some nice support abilities to learn from it).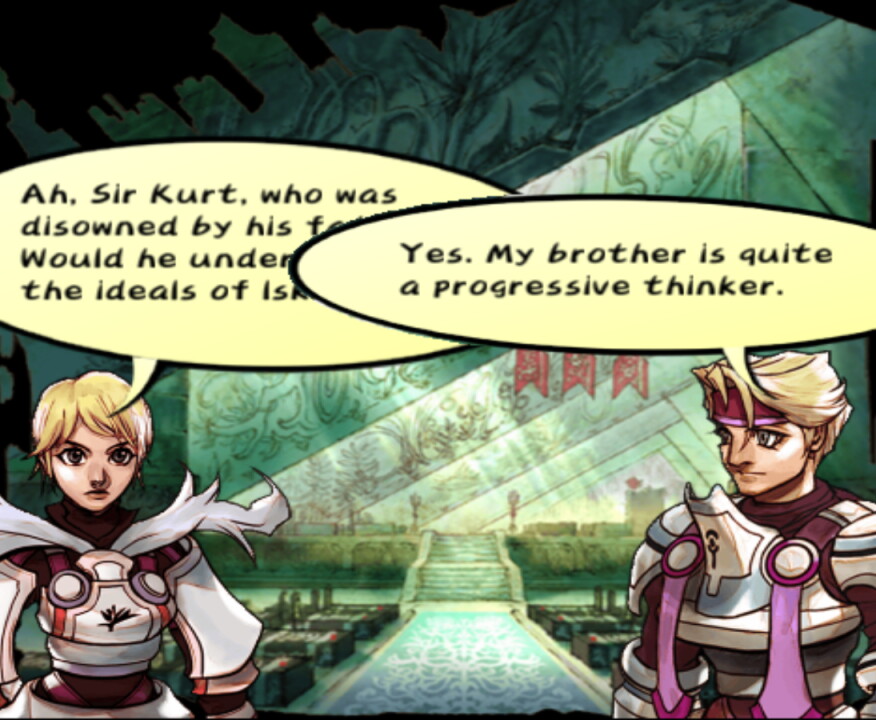 Enough time has passed after clearing this subadventure that we see a little scene at the temple, and now Jeanne actually gets introduced into the story other than Kurt mentioning her out of nowhere.
Jeanne approaches Leon and tells him she believes they are accomplishing nothing by meditating in the temple, and they need to be involved in the world outside. Leon agrees that interacting with the outside world like the Outland Knights do would be better, and mentions that his brother was one.
Jeanne seems to know of Kurt, and knows that he was disowned by Lord Burgundy. She asks Leon if he believes Kurt would understand the ideals of Iskandar, and Leon assures her that he would, since he's a progressive thinker.
Following the "ideals of Iskandar" is what got Jeanne into trouble in Ruby's scenario, so you can probably guess where this is going. It doesn't help that in this tale, she's also teaming up with Leon, who desires the power of the gauntlet. They can only be a misguided disaster together...
And with that, Kurt now has access to Zomar, Wanda, and Kimbali. Because we can go to Wanda now, I can finally craft Bows (the Gadeira and Longshank blacksmiths don't work in Bows), so I made a Fang Bow and gave it to Armand. He happened to get a Bow Arts panel at the end of Sunken City. I managed to get Earth Arts onto an armlet for Kurt, and bought a Bestial Dagger with Earth Arts on it that allows anyone to use basic Earth skills, and I gave that to Mordeus. Platy already has a familiar, so now everyone can study their tablets when we start the next adventure.
I purposely stayed away from Kimbali because I know what's going to happen there. And we'll see that in the next entry!
---