We Have a Baby?!
From Cindrea to Gladion
This game is so weird lol.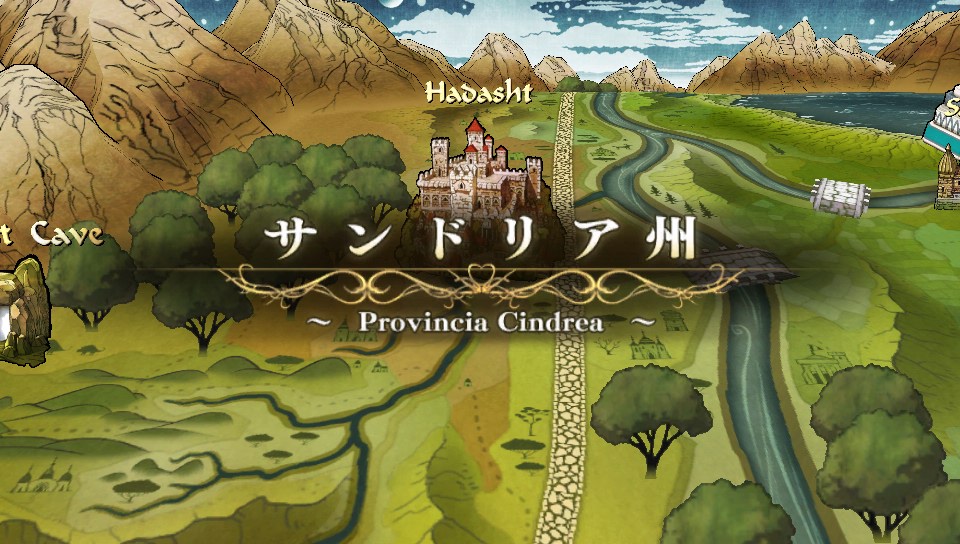 So, I did stop by the people opposing the tower, and I got the option to trade materials with them, too, so I just left and went on to "Sandoria," or as I guess it's called, "Cindrea."
It seems like we're getting closer to the Imperial Library now, at least according to Liz's strangely detailed geographical knowledge.
So, let's start to explore this place, and --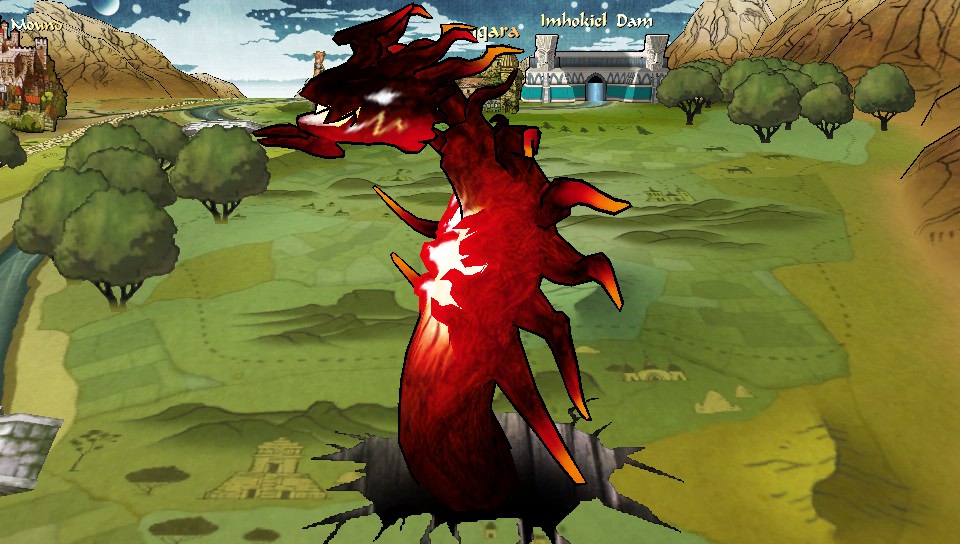 Oh, Big Long popped out again. Hello, Big Long.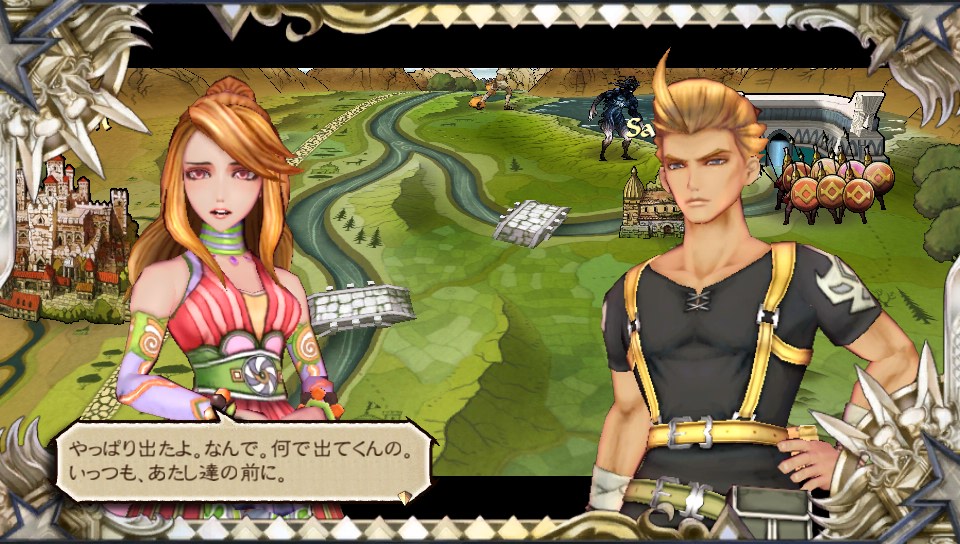 Liz wants to know why it keeps popping up like that, and always right in front of us. That's a very good question. Why do I have a feeling the game will never answer it...?
Also, if you can kinda see in the background (because I think I forgot to get a screenshot of it), there's a monster going after Imhokiel Dam back there, and a little troupe of soldiers heading toward the monster. Right behind that town called Saqqara. Or whatever it's called. Why are the names like this...
Before trying to fight Big Long, I went to see what else was nearby since I just got here. I found some guy fishing in the lake behind the dam.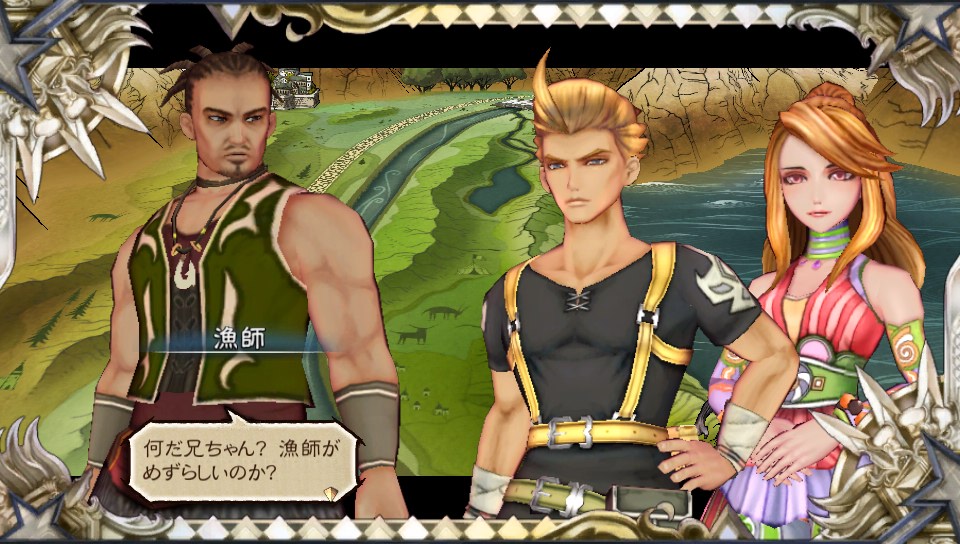 I talked to him and it's... recolored Gabriel, I guess. He asks us if we came to see the legendary fish, and Liz gets super excited and starts screaming about it?? And then she scares off the fish and the guy gets pissed and storms off lol.
But where he left, now there are some bubbles at the edge of the water. We wonder if they are from some kind of gas or if there's a living thing there (lol??) and inspecting them starts a battle.
The battle was pretty easy, but it may have been because Liz got a really cool glimmer.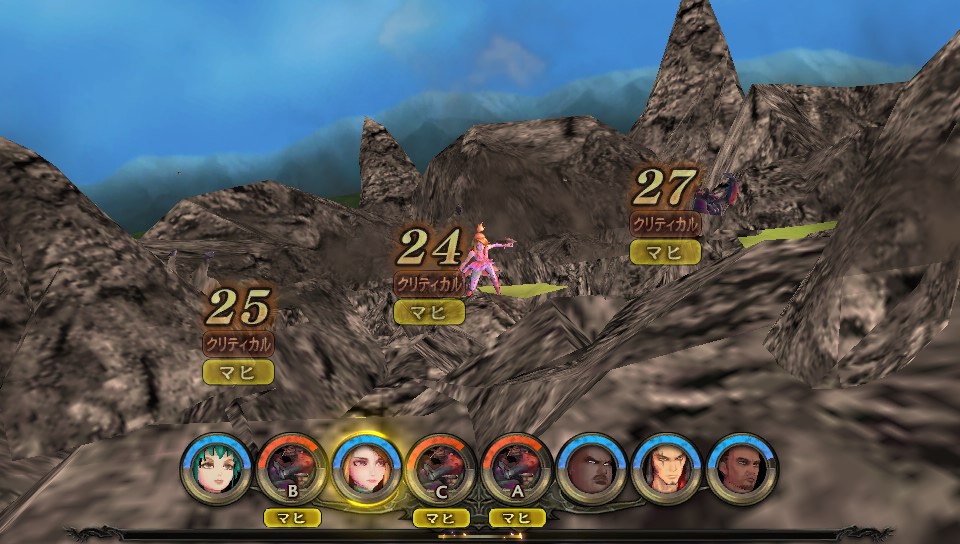 She got an Interrupt hammer art called like uh "Big Earthquake Attack" lol. But basically, the way Interrupts work, is you select them, and then if an enemy does an action that triggers it, you'll jump ahead of them on the timeline and use your attack first.
What's cool about this one is she smashes the ground with her hammer and not only hits all enemies, but paralyzes them too. It's not a 100% rate of paralysis, though, but on the time she glimmered it, she paralyzed all three enemies!
It's a really great move. It triggers if the enemy uses a bludgeoning attack, which... a LOT of stuff is blunt damage, so it's not too hard to trigger. And when you're selecting it, it will let you know if an enemy is a valid trigger or not, so you don't have to memorize the damage type of all enemy attacks or something.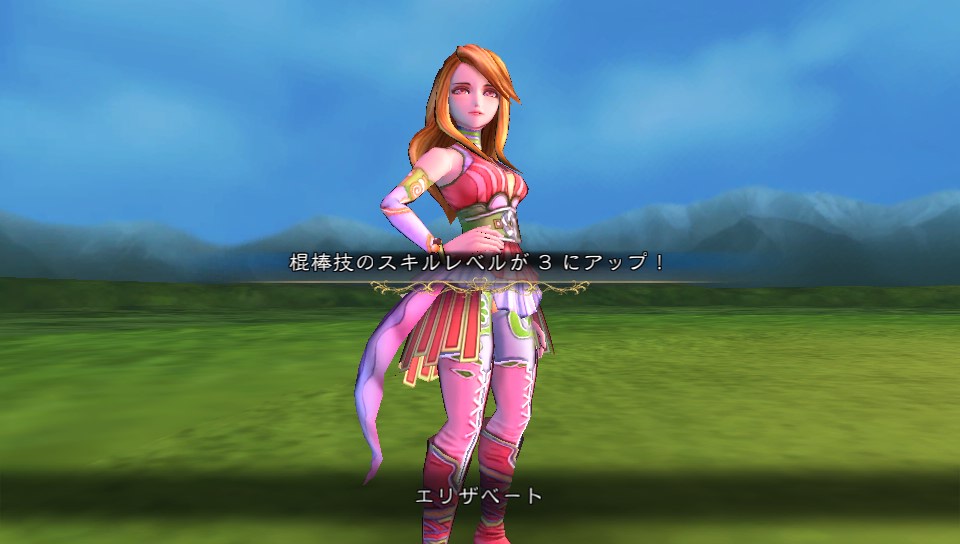 Liz's Hammer Level went up to 3 at the end of the battle and she did a badass pose and she is my fav character XD
When we got done, Recolor Gabriel came back and was like "wtf was that, that wasn't the legendary fish..." and... that was the end of that. He's gone, the bubbles are gone... I don't know what the point of it was lol.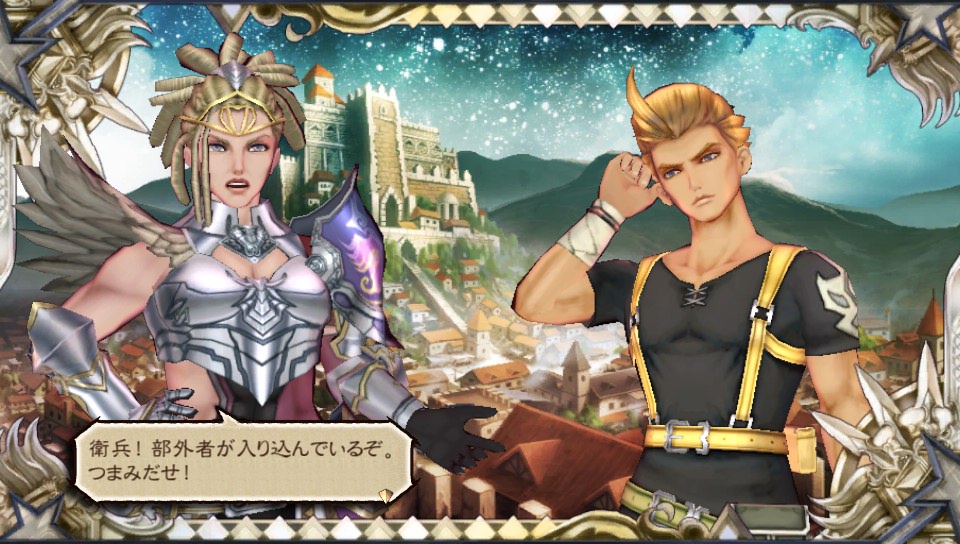 I went to this place and I don't really know what was going on, but this poorly-dressed lady was commanding some knights around, and Leo just walks up and is like "HEY, do you know about Ai Hanumu?" and she's just like WTF??? and calls the guards, and we get dragged away by a knight lmao.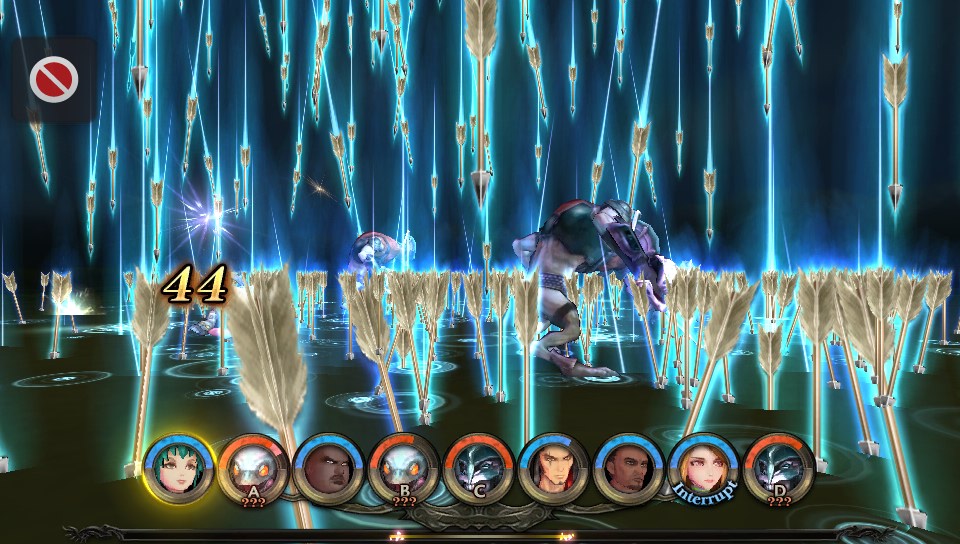 I must have gotten in another fight, because I have screenshots from it, but Cecilia glimmered Arrow Rain, which is super awesome, because it's not too weak and it hits all enemies. Costs a lot of BP, though, of course.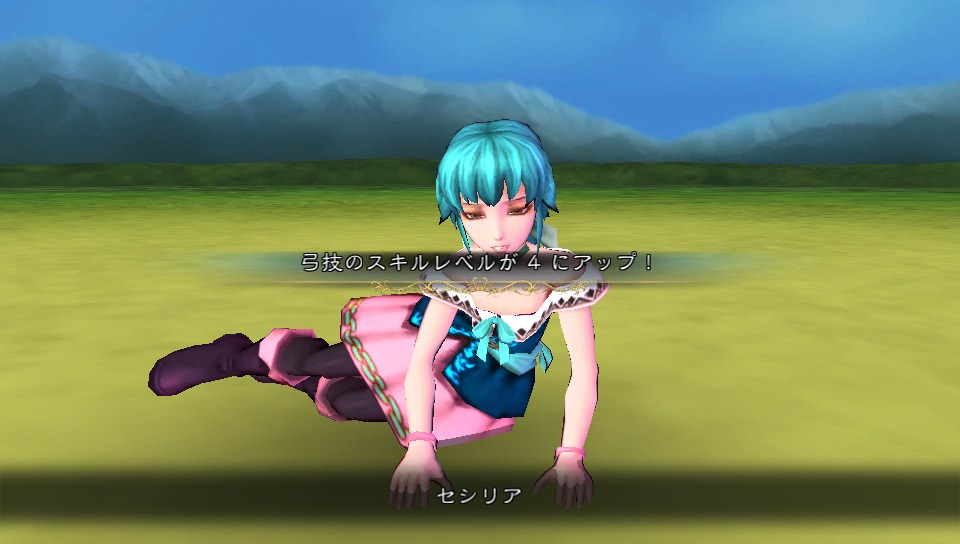 Also, if someone dies during a battle, at the end of the battle, they're shown getting up and looking weak when they get their stat-ups. They do their normal happy dance otherwise, or a more 'tough' pose when they get weapon level up.
I went to Saqqara, where I got an item called "Windshell" and them immediately forgot about it, only remembering now because of the screencaps.
OK, I went and looked at it, and it's an accessory that gives +2 Speed -2 Endurance, so I gave it to Balmaint, since I feel like he's bulky enough to handle the Endurance drop, and wouldn't hurt from being faster.
Anyway, in Saqqara, Leo asked about Ai Hanumu, and this old lady says that Saqqara is a legendary village that was built by the fallen emperor (?) and they imported a lot of materials from Ai Hanumu during that time. But none of them are left now. She laughs at how boring of a town it must be??????
I don't know. So, this weirdo didn't help us at all.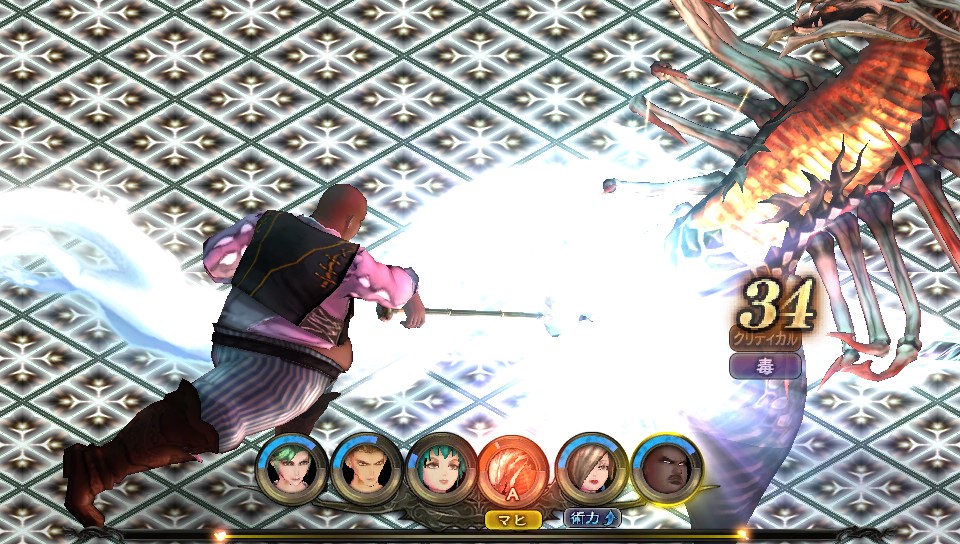 So, I decided to just go fight Big Long. It was pretty easy. It's pretty susceptible to poison and paralysis, and it fights alone except when it calls some minions that are easily dispatched, essentially wasting its turn.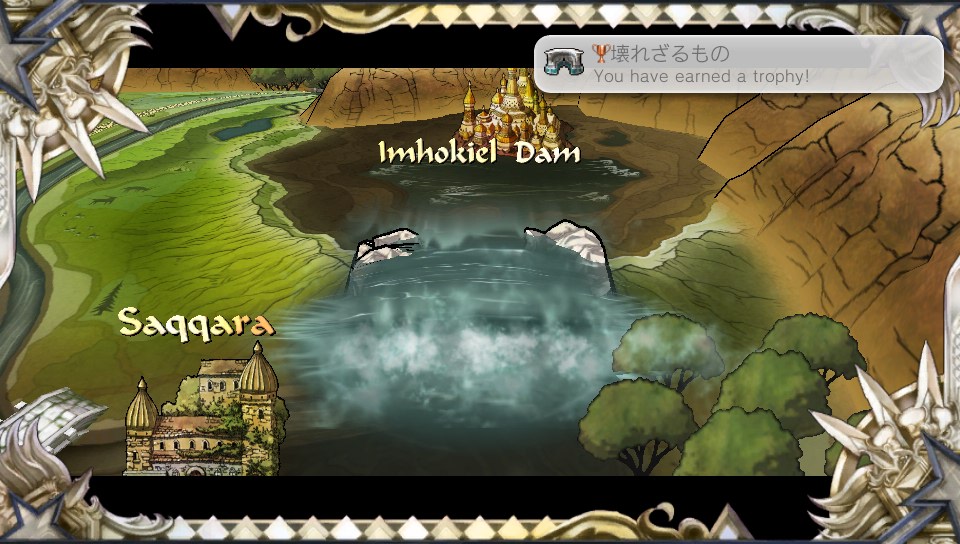 But after I defeated it... the dam got destroyed?! And I got an achievement for it O_o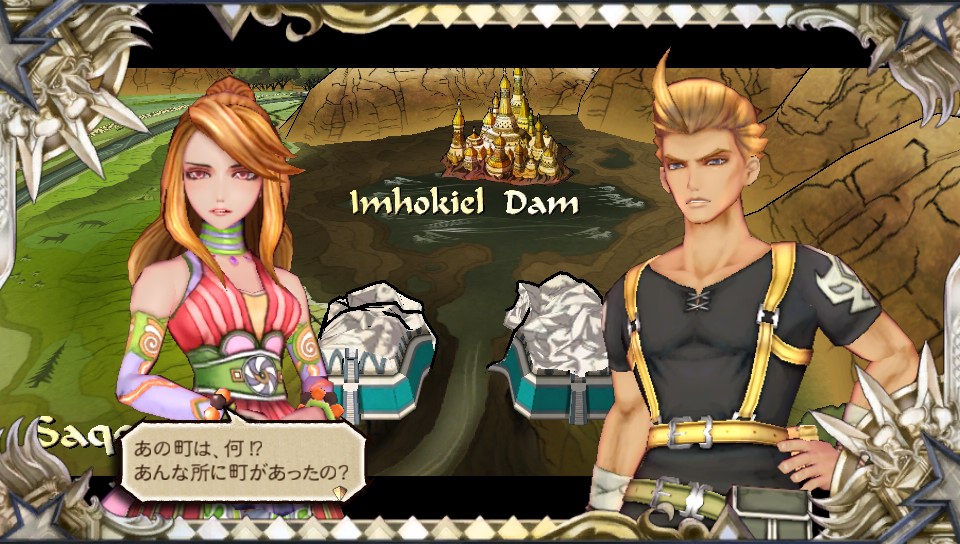 And inside the dam was a city?! Liz seems pretty surprised, and rightfully so.
After this happens, the phoenix suddenly appears again, and Liz seems delighted to see it.
It just kind of flies around for a bit, hovers in front of the weird golden city that appeared in the big lake, and then flies off.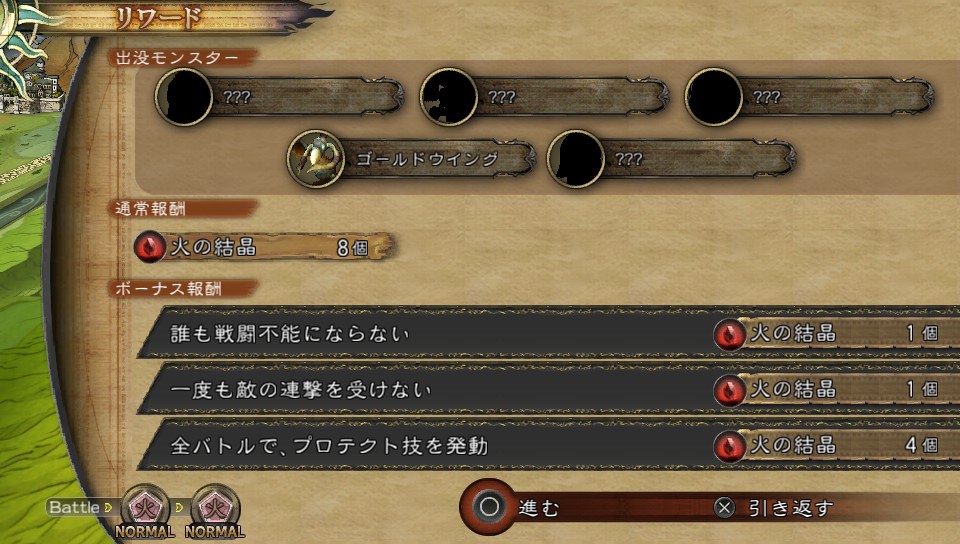 Approaching the city in the lake just wanted to trigger some battles, so I tried it out. (Oh, and it said this must be the "Real" Legendary city of Saqqara in the description.) Wasn't too difficult, and Gerome glimmered Submission, which is a martial arts grappling attack that does damage and lowers the enemy's strength in the process. It's pretty cool.
Afterwards, instead of being taken to the map, an event started!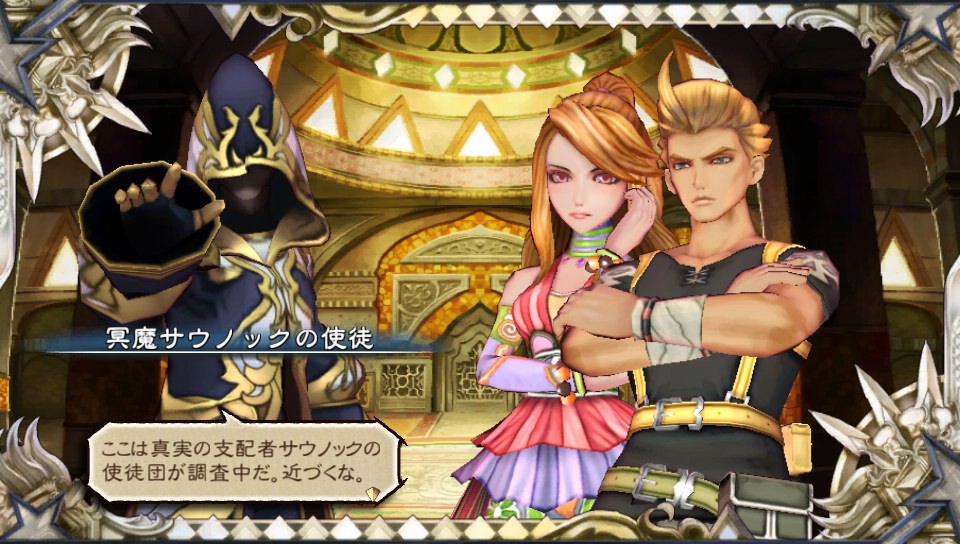 We travel a bit into this palace or whatever it is, and suddenly we're stopped by some hooded creeper. He warns us not to come any closer because the disciples of the "True Ruler, Saunoc" (I'm just guessing on the spelling here) are conducting an investigation. (EDIT: Apparently, it's Savnok.)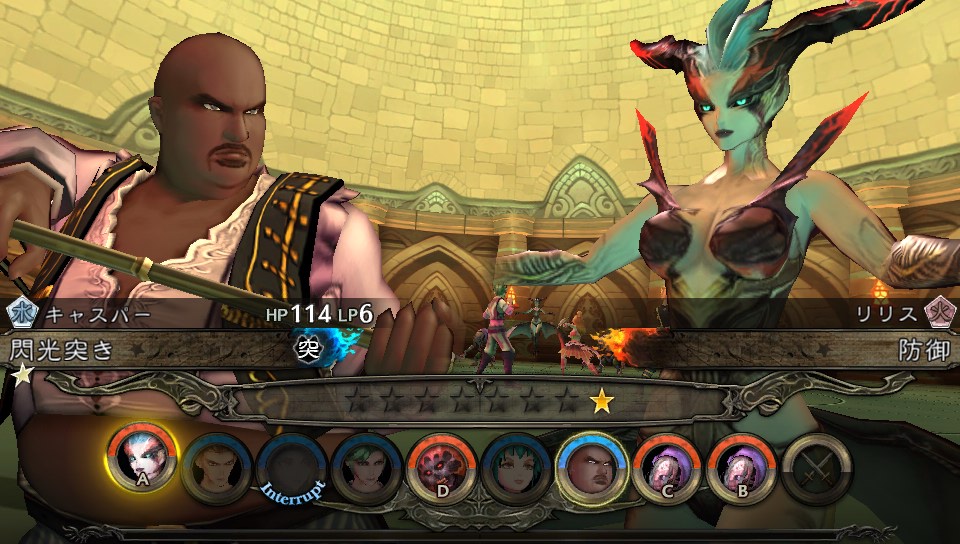 And we end up drawn into a battle with them. I should have taken more screenshots, because I can't remember if I had the option to confront or run, or if it just forced me to confront. Anyway, we fight Boobie the Necro (her actual name is Lilith) and some zombie buddies of hers.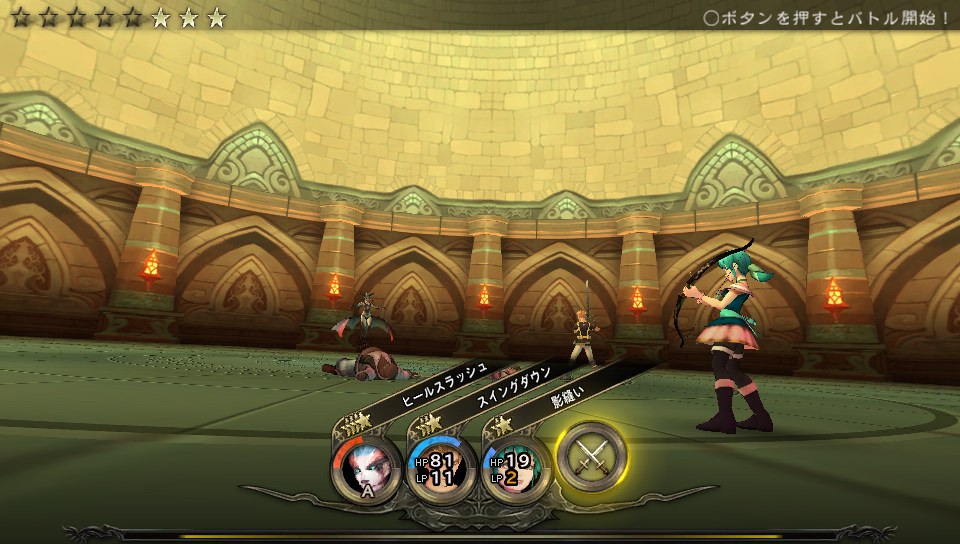 It was a very tough fight -- Lilith was fast and strong, plus having minions only made it harder. It came down to just Leo and Ceci, and fortunately I was able to paralyze her with Ceci's Shadow Sew (which is like my faaaavorite weapon art I have lmao, paralyze is so ridiculously useful) and Leo was able to finish her off with Swing Down.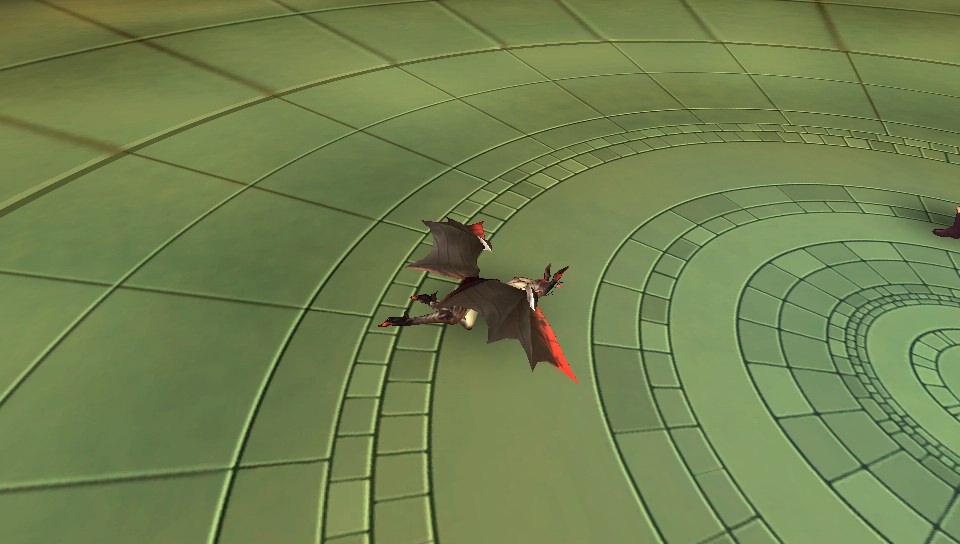 Dead. Again.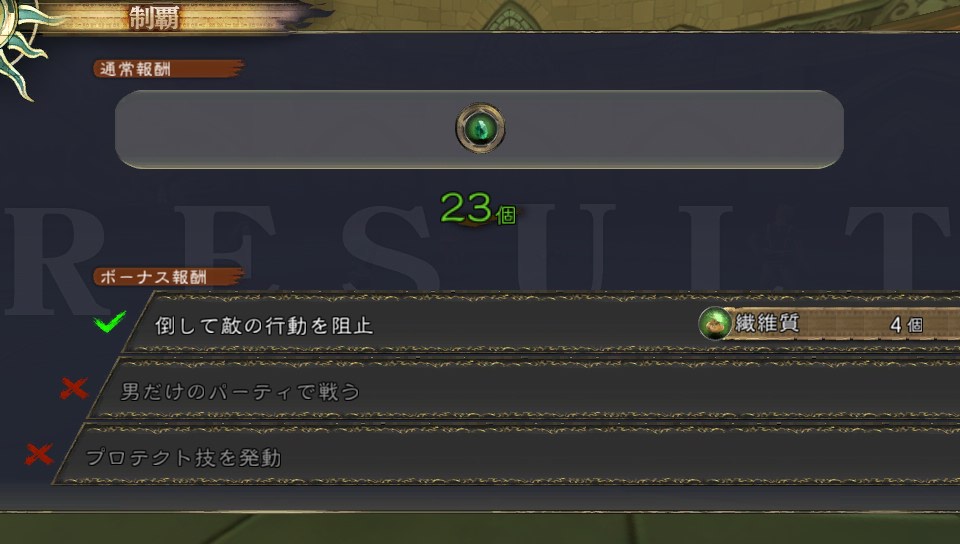 I wish I would have read the bonus conditions -- when fights appear like this, you can swap over to a screen with the bonus conditions before you actually start the battle, but I always forget. One of them was just to use a protect weapon art, so that would have been easy. Another was to have an all-male party, which I think is impossible for me at this time? (No, I could do it... Leo, Gabe, Caspar, Gerome, Balmaint.)
I wonder what rewards I missed out on...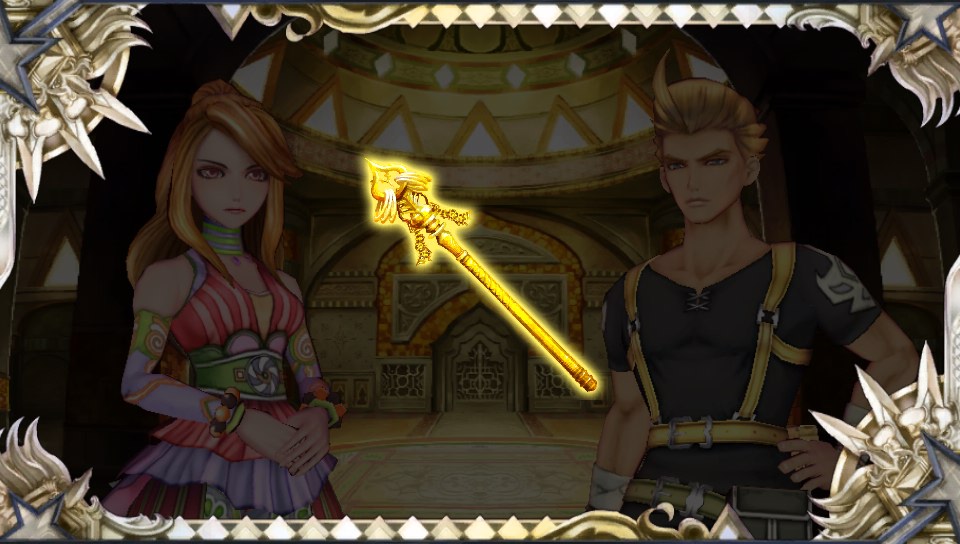 Afterward, we find this rod thing, and comment that it must have been what Savnok was looking for. Why we are able to assume that, I have no idea. And what is it? I have no idea about that, either. Like the iron ore, it didn't appear in my inventory, even though we obtained it.
Leo comments that we should get to Azhuacan (where the Imperial Library is) before the people from the House of Iracurios discover it. I don't know exactly what "it" is referring to and I don't know who Iracurios are so ummmm I have no idea what this comment was about.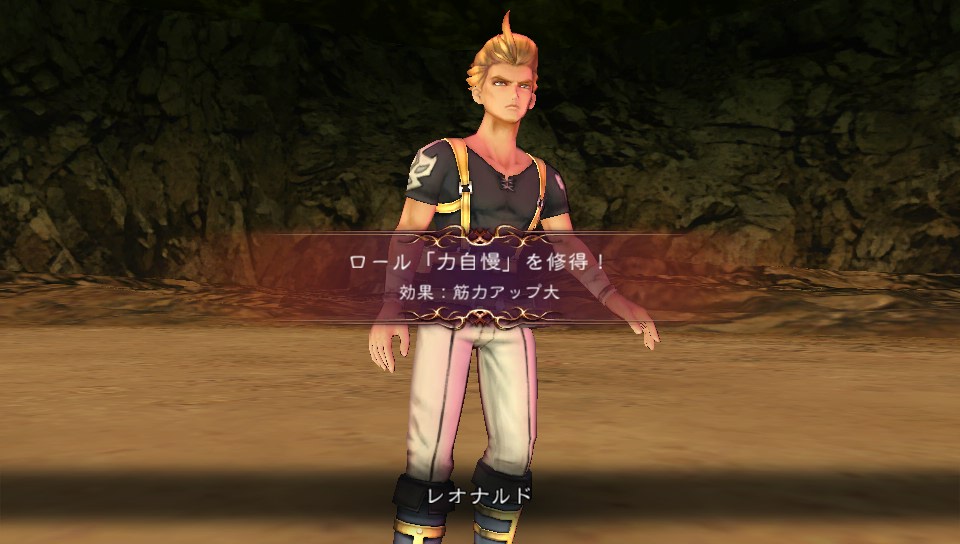 Afterward, I kinda ran around fighting some random stuff and upgrading some equipment. Leo learned a new role; this one just ups his Strength. I went and looked at his list of roles and under the two new ones he's learned, it has "required arts" and then lists a couple arts. He learned this one after glimmering Vandalize, which is a pretty strong sword art that costs tons of BP. And in the little "required arts" list, it has Heat Beat and Vandalize. Since I don't ever remember glimmering Heat Beat with him, I figured that maybe you have a random chance of learning a new role when you have one of those two weapon arts. The other role he learned before required Random Arrow and Swing Down, and I definitely never had him using a bow. But Liz and Cecilia have known Heat Beat and Random Arrow for pretty much the entire game, and they've never gotten any new roles.
So I went and looked at Leo's full list of weapon arts... and under hammer and bow he actually does have those! So I guess he starts the game with a few learned weapon arts, and it seems like you'll unlock the role as soon as you glimmer all the arts in the role.
So perhaps it would be wise to try to mix up weapons a bit across the characters to try to uncover more roles, since the required arts seem to be from different weapons each time.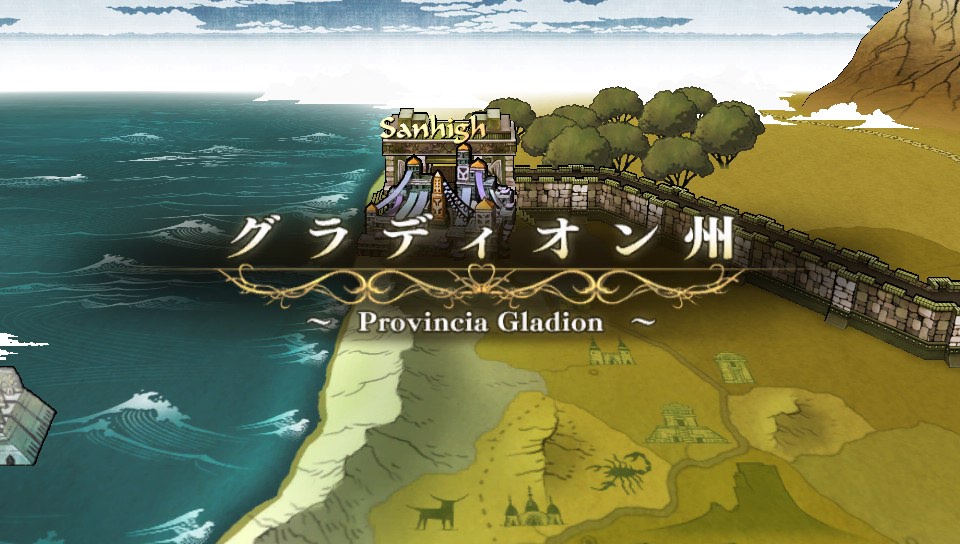 Anyway, south of Cindrea, there is Gladion Province. Upon entering, Liz says we're almost to Azhuacan, and Leo wonders if there's any Scarlet Shards around. Liz seems kind of offended that he's "still looking for those things" and tells him to just do whatever he likes. To which Leo responds, "Okay, I will."
So, I go into the menu and try to use the Shard again, figuring this was some kind of clue. And another shooting star came down!
And when I went to the spot where the shooting star fell...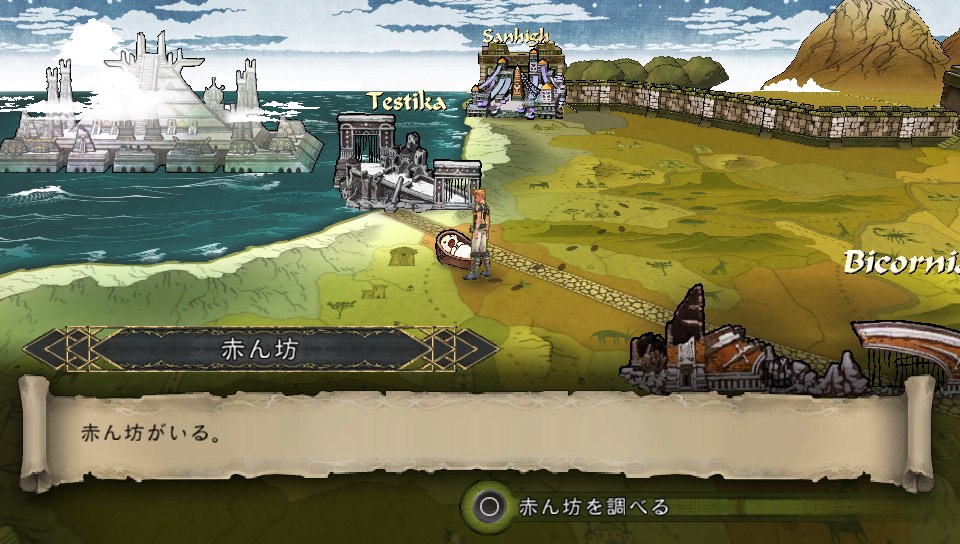 There was an abandoned baby...
Leo's first response was that there were no Scarlet Shards. But since this is where the Scarlet Shard pointed us, and because it'd be terrible to just leavea baby alone out here...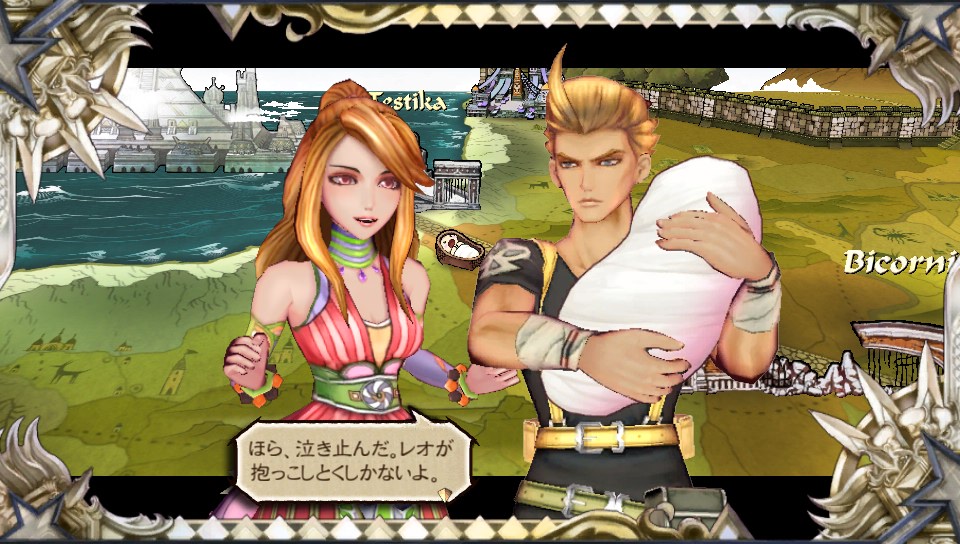 We decide to take it with us...
The baby stops crying when Leo holds it, to Liz's amusement.
And now we're carrying a baby.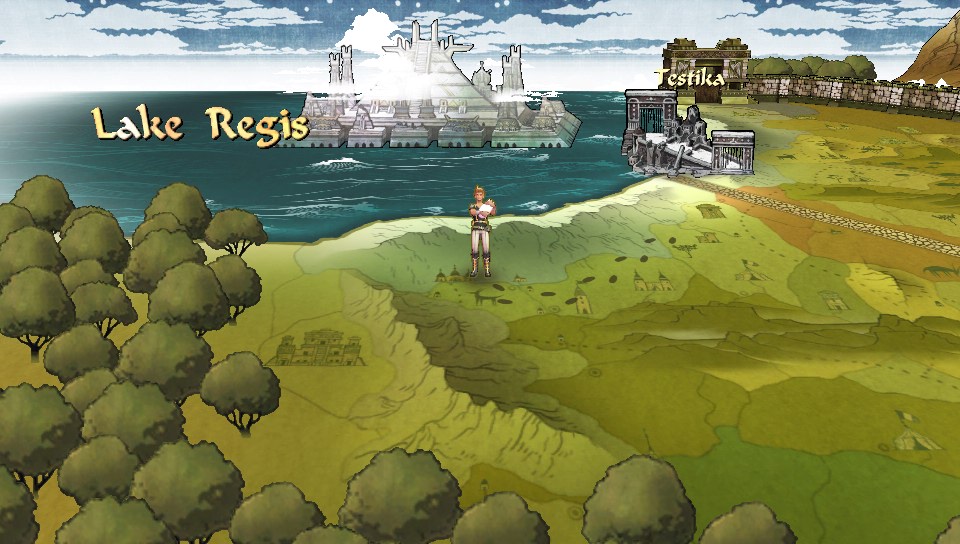 Like... permanently. So anywhere I go, Leo is carrying this baby around. It also prevents him from running, so even on roads, we walk now. Baby makes me slow, so baby makes me ANGRY.
At this point, I'm just completely flabbergasted with this game and decide it's a good time for a break. With Big Long popping out everywhere, Mystery Phoenix stalking us, finding weird stick in a town under a lake with some weird cult guarding it, and suddenly adopoting a child, I think I've had my fill of very random adventure for a bit.
I also remember someone on the GameFAQs board saying they "never figured out what to do with the damn baby" and I didn't know what they were talking about at the time. But from the sound of it, they had this baby even until the end of the game. So uh... fun??!?!
Maybe we need to take it to the Forbidden Point and feed it a meal there XD
---